So what are the top places to visit on the east side of Hawaii Island AKA The Big Island (updated 2023)
The Big Island of Hawaii is quite large in terms of size and many Hawaii points of interest of places to see and visit on the east side of Hawaii. In order to give a more adequate coverage of Big Island sightseeing sites to visit from tourist attractions in Hilo and historic sites on the east side of the Hawaii island. We will cover areas of interest from Volcano through the Puna district and downtown Hilo and the Hamakua coastline areas and places worth visiting. Covering a lush area, East Hawaii is green and full of tropical forests, beautiful waterfalls, botanical gardens and untouched verdant landscape. There's so much to see and discover in this area, but here are some of my favorite and top places to visit on the east side of Hawaii Island.
Things to do on the east side of Hawaii Island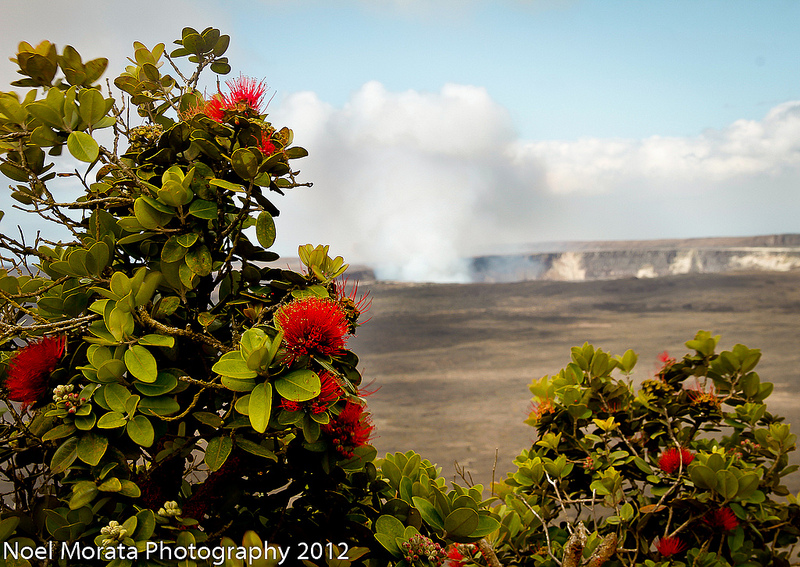 Why visit the east side of Hawaii on the Big Island?
Lush rain forests, plentiful east side waterfalls, an active lava eruption at Volcanoes National Park, tree tunnels and gorgeous coastal roads in the Puna district and the unchanged small-town vibe of Hilo makes this a fun area to explore and an authentic Hawaiian experience. You'll enjoy visiting all the east side attractions and activities in the Puna district with Pahoa town and the Hilo area at a slower and more enjoyable pace and lifestyle.
Best time to visit East Hawaii
If you are visiting the Big Island, it really is a year-round destination with the winter months being the most popular time frame followed by the summer holiday season. The winter months here though is the rainy season with unpredictable weather patterns and wetter conditions. If you are looking for the ideal sun and clearer weather, then aim to visit during the timeframe from May to August for better weather and dryer conditions. Average temperatures in winter tend to be in the 60s at night and mid 70s during the daytime. In spring to summer average temperatures hover around 70s at night to the mid 80s during the daytime.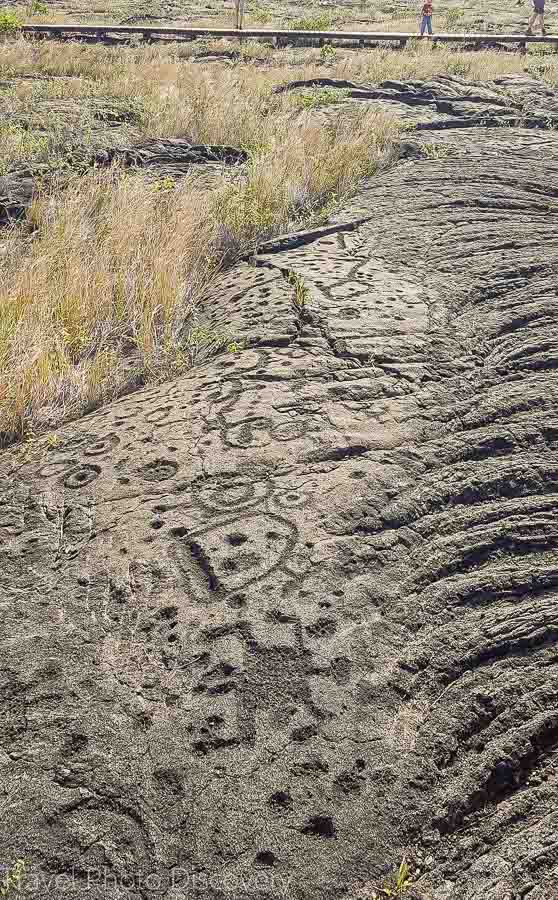 Visit East Hawaii at Volcanoes National Park
Probably the most popular destination on the east side of Hawaii island would be Volcanoes National Park at Kilauea. It's worth spending an entire day or even a few days to enjoy the national park and the vast area that it covers. There are a variety of activities, hikes and fascinating places to explore and experience within the park for tourists and even locals to visit. The visitors center is a good starting point where you can learn about many facets about the volcano and the legends of the goddess Pele who lives in the crater of Halema'uma'u, visit a lava tube at Nahuku or explore all the thousands of petroglyphs at Pu'u Loa fields. One of the top Big Island sighting seeing venues, Volcanoes National Park in Hawaii is the must visit park if not the top attraction to see on the island when you come to visit.
If you can stay until evening time when the fumes and red glow of Halema'uma'u crater come's alive along with the amazing amount of brilliant stars that come out at night. it's an experience worth staying up for while you are visiting the park and one of the top Hawaii point of interest things to do in the park at night. Volcano Village is a great place to base yourself and also explore the lush rain forest and unique attractions in the immediate area.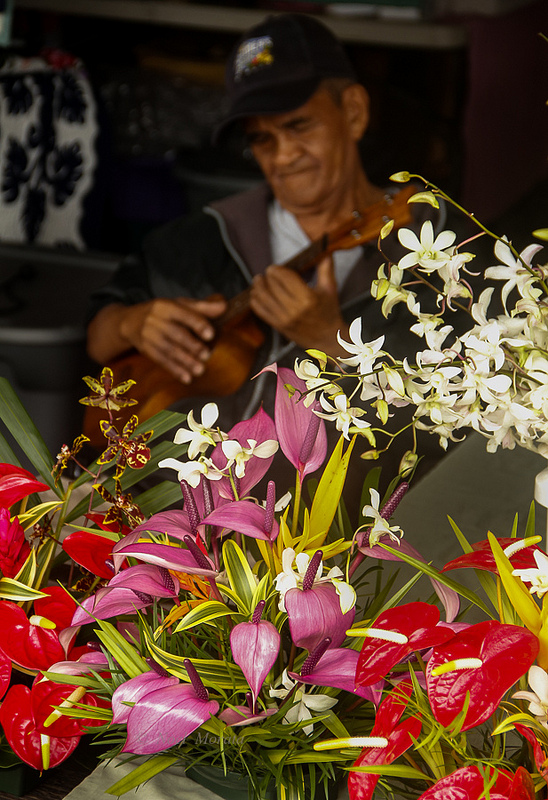 East Hawaii Farmers markets
There are many local farmers markets worth visiting on the east side of Hawaii island which caters to locals as well as tourists. The most popular being the Hilo farmers markets occurring on Wednesdays and Saturdays. Other busy markets include the Maku'u farmers market and the Pahoa markets in the Puna district, and the Volcano markets on Sunday mornings. Uncle Robert's in Kalapana has a very lively market night on Wednesdays with live music, dance and ono(delicious) local style food for sale. Don't forget to try some of the local specialties, fresh produce and locally made products available at these markets, it's so good to support small and sustainable companies on the island while you are visiting and try something unique from the island.
Tip – One of the most popular attractions in Hilo, come to visit the Hilo Farmer's markets on their busy days on Wednesday and Saturday mornings to early noon.
Tropical Gardens of East Hawaii
Sightseeing in Hilo and the surrounding areas is lush with so many gorgeous tropical gardens to explore. The east side of the Hawaii Island is lush and filled with tropical splendor and bounty and the gardens here are pretty spectacular to visit. Some of the gorgeous botanical gardens are public like Akaka falls in Onomea, the Hilo arboretum, Coconut Island, Rainbow Falls and Liliuokalani park in Hilo and even the Hilo zoo is an amazing botanical garden to visit. There are also private gardens to visit like the Hawaii Tropical Botanical garden in Papaaiko and the World Botanical Garden and waterfalls in Hakalau. If your into orchids then don't miss out on the amazing Cattleya and other varieties of orchids in bloom at Akatsukas Orchid garden in Volcano. A beautiful garden and art gallery is the Volcano Art Center in Volcano Village, it's a fun place to enjoy art, visit the scenic gardens  and enjoy a delicious organic lunch in their café overlooking the gardens.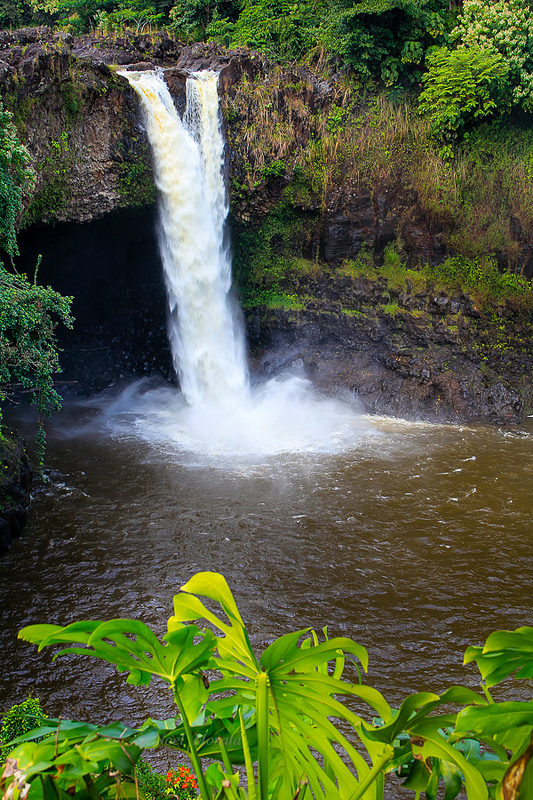 Scenic Waterfalls
East Hawaii has so many waterfalls that are easily accessible just off the side of the road or a short hike to reach them and capture some beautiful images. In Hilo, you can get to Rainbow falls and Pe'epe'e falls (also known as boiling pots area) with beautiful vista points. Or even more spectacular is Narnia, an area above Hilo with five waterfalls converging into one area.  Akaka Falls in Honomu has a beautiful botanical garden and walk along with two large waterfalls to visit.  Also, driving along highway 19 on the Hamakua coastline are many waterfalls that you will also pass Umauma falls and so many other falls just by driving down Highway 19 and passing any of the gulches along your route. Visiting the many waterfalls on the east side is one of the must do activities on the Big Island and fun sightseeing in Hilo activities that you can do easily by car or walking.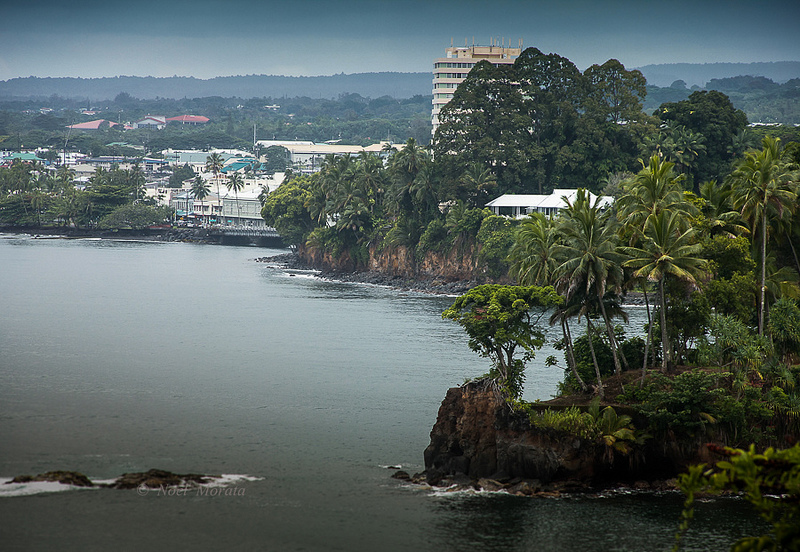 Hilo town
Little Hilo town is charming like time stood still, and it is a little faded and worn but still maintains a wonderful and friendly atmosphere with lively people. Walking through the bay front, check out the many interesting shops or have a local meal in any of the cafes. The farmers market is just on the end so try out some of the local delicacies or fresh tropical fruit while you're visiting.
Popular attractions to visit in town include:
Beach time at Richardson Beach Park
There are many beautiful natural landmarks, waterfalls, parks and beaches to visit while you're in town, so don't miss out on some scenic places to photograph and enjoy spending some time relaxing or touring the many things to do in Hilo on the east side of Hawaii island.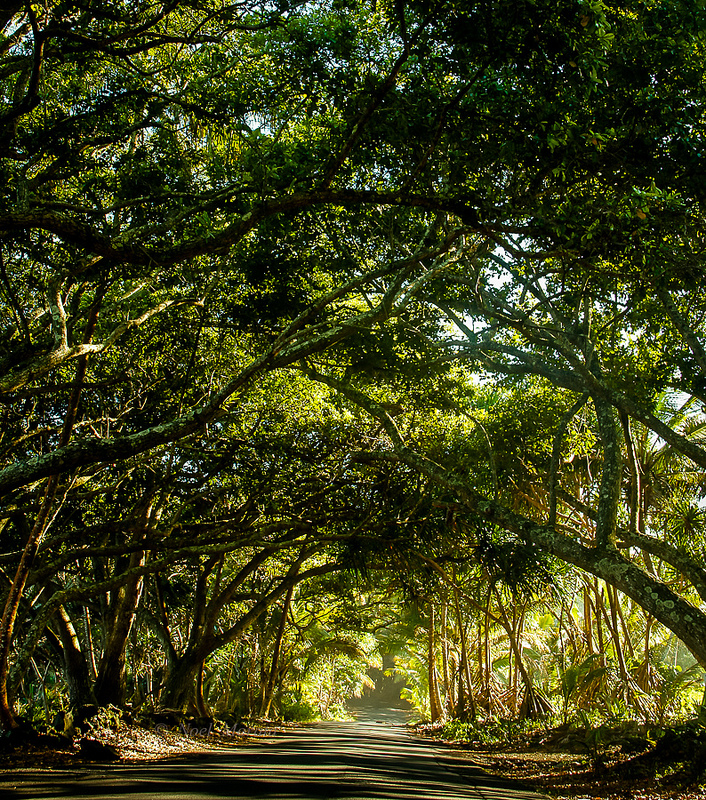 The Red Road/Puna loop
The gorgeous drive around the Puna coast on the highway 137 AKA the Red Road  is a beautiful loop road of some of the most scenic and unspoiled areas of Hawaii Island. You can drive through lush forest canopies, visit sheltered coves with secret beaches, snorkel in amazing coral lagoons and even soak into warm ponds by the ocean. Stop by historic sites like Pohoiki and MacKenzie State Park along the way on the scenic Red Road.
It's worth the time and drive to visit this unique part of East Hawaii and see nature at its best. If you can spend a few hours or even a day discovering this unspoiled and scenic loop, you will discover another part of East Hawaii that remains unchanged and a nice diversion from busy or tacky tourist venues.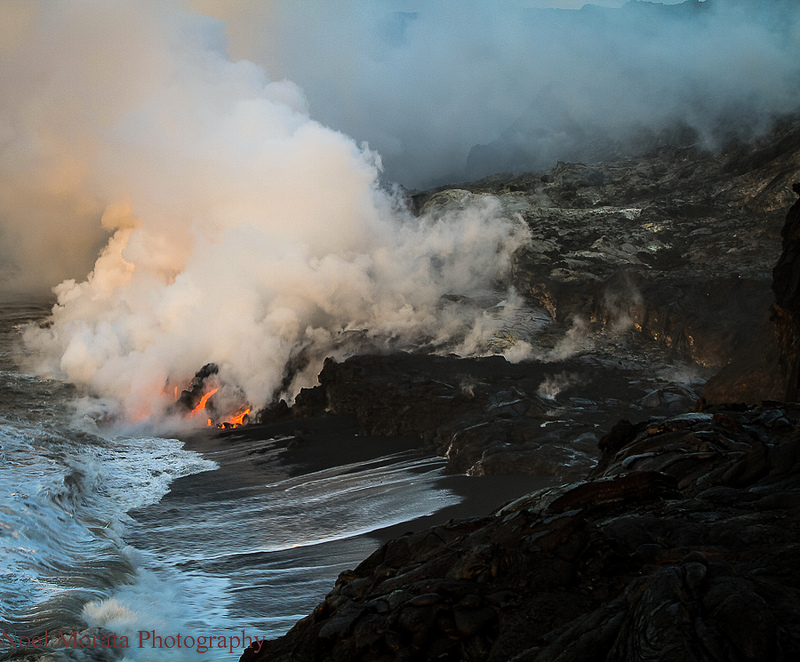 Trek, boat or fly to see live lava
Anyway, that you can see live lava on the Big Island is once in a lifetime experience. You can take a walking trek with various local touring companies from the area. You can also charter a helicopter or small plane to see the coastline and above views of the lava fields and lava entry or you can even take a boat tour along the Puna coastline to the lava entry into the ocean – it's a spectacular experience to see nature in its most amazing moments with lava still active and emptying into the Pacific ocean and creating new land in East Hawaii. Depending on the time that you visit, you may still see lava pouring out into the ocean or along the cliffsides going down to the ocean.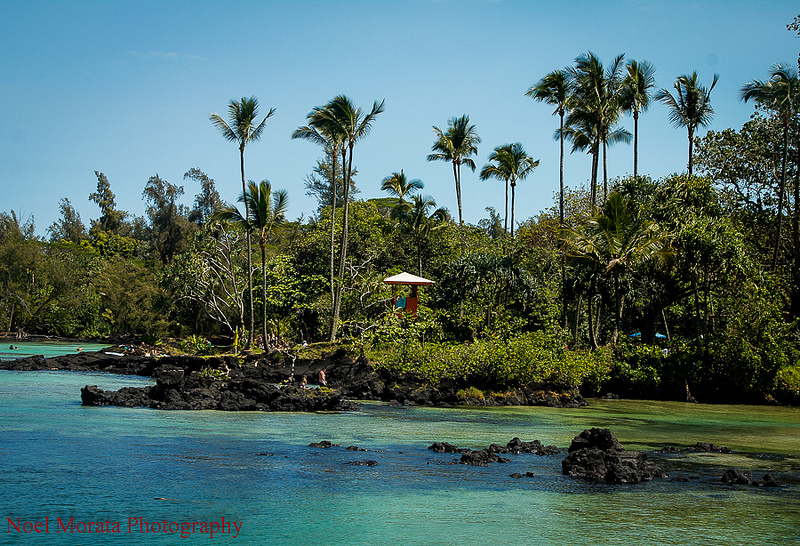 East Hawaii beaches
There are so many beaches on East Hawaii that have beautiful lagoons, crystal clear water and dazzling aqua colors with gorgeous views of the coastline.  Driving down Kalanianaole Avenue fronting the coastline from downtown Hilo is a string of sweet inlets and beaches including Reeds bay beach park, Keaukaha beach park, Carlsmith beach park and Richardson Ocean Park. The drive alone is wonderful and reminiscent of bygone days of traveling to an older part of island and beach cruising.
These are just some of the highlights of East Hawaii attractions, there are so many other wonderful areas, towns and scenic spots not mentioned but worth exploring if you have some free time. If you also spent some time here and had a unique experience, please share with us in the comments below.
I also posted recently about this wonderful hike to scenic Waipio Valley and some of the gorgeous areas to visit in the valley floor, come and take a look at this post if you haven't done so yet.
If you enjoyed this post, please check out these other Big Island stories
Exploring the Puna district in East Hawaii
Popular foods to eat in Hawaii
Big Island key attractions on the West side
Things to do on the Big Island with kids
Big Island locally grown foods
Road trip to the Hamakua district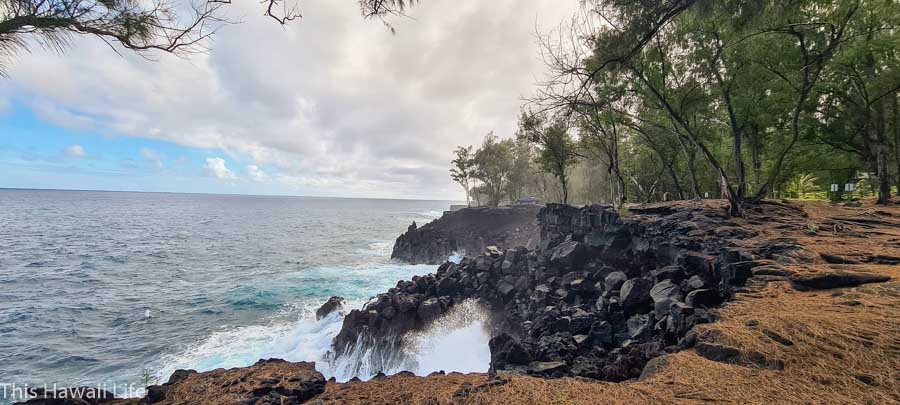 Conclusion to Big Island Sightseeing on the east side of Hawaii
Which places stand out here to visit in East Hawaii that you would like to explore? Please share those in the comments below, thanks
If you like this post on Hawaii Island, top places to visit on the east side, please consider subscribing below – also share this post with any of the social media buttons located around the post, thanks for visiting!