Koloko Honokohau National Park – Travel Photo Mondays
It's Monday morning, time to enjoy some gorgeous travel photography and inspiration from around the world. Let's banish those Monday blues by sharing gorgeous imagery and story telling
.
Kaloko Honokohau National Park
I'm taking you today to this beautiful national park located along in West Hawaii Island, an ancient Hawaiian sanctuary along a protected shoreline with fish ponds, temples other historical treasures. In ancient times hundreds of Hawaiians lived sufficiently farming, fishing and conducting daily activities with their ohanas or extended family groups along these coastal areas.  Volcanic rocks were extensively used to build their heiau (religious temples), rock foundations for their dwellings,  walls for the fish ponds and built-up agricultural beds to protect their plants from harsh winds and lack of soil.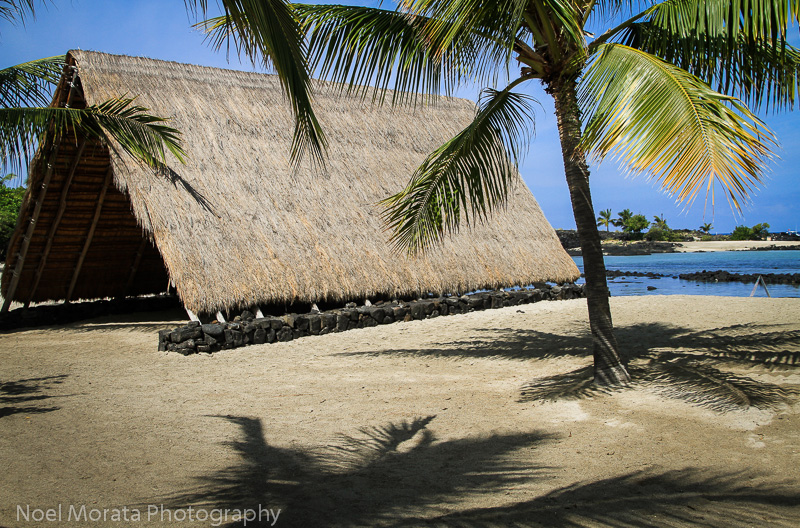 Kaloko Honokohau large canoe house along the shoreline
The remains of an ancient heiau and platform are still present on the far end of Koloko  Honokohau National park. The heiau was built as a tribute to the gods to serve religious ceremonies dedicated to war, agriculture, fishing, navigation, and other purposes.  Hawaiians gave offerings and tributes at the heiau in addition to ceremonial prayers, chants, dances, song and food. Even to this day traditional Hawaiian practices are done in this sacred temple. Following are images of the entry to the heiau and remains of the platform.
There are two major fish ponds at Koloko and a fish trap which were reserved for the Alii or chiefs of the area, but also used for feeding the people in this area. The Hawaiians fished extensively and built and maintained these ponds to feed the needs of the population. The coastal dwellers also traded the fish and seafood with those further mauka (upland) for fresh produce like Ulu(breadfruit) Kalo(taro) and other staple dietary products that were hard to grow along the coastline.
This area is very sacred to the Hawaiian people and has a lot of mana (spiritual power), native Hawaiians speak of a mo'o or water-dwelling guardian spirit who rests on the rocks and watches over the fish ponds.  As long as the pond is maintained and treated with respect then the mo'o will allow for bountiful fishing.  Kaloko Honokohau was recognized by the federal government as a national treasure and park in 1978. There are many things to do and see at the park including hiking any of the coastal trails, visiting the information center, the fish ponds, and the historic sanctuary and heiau at Honokohau.
Thanks for visiting Kaloko Honokohau National park for Travel Photo Mondays, hope that you enjoyed your visit and may someday explore this sacred place in person when visiting Hawaii Island
If you like this post on Koloko Honokohau National Park – Travel Photo Mondays, please consider subscribing below – also share this post with any of the social media buttons located around the post, thanks for visiting!