Discover the Beauty of Hawaii Island: Key Attractions on the West Side Await
Experience the magnificent West Side of the Big Island, the largest island of Hawaii, which features an array of natural wonders that are sure to leave you amazed. From the glistening turquoise waters of the Pacific Ocean to the towering peaks of Mauna Kea and Mauna Loa, this region is a paradise for both nature lovers and adventure enthusiasts.
Take a stroll along the rugged coastline to discover hidden coves and beaches or opt for a scenic drive through the lush green valleys and coffee plantations. Embark on a hike through the surreal landscape of the Kona Coffee Living History Farm or go for a swim with the gentle giants of the sea at Honaunau Bay.
As you delve into the fascinating culture and history of this ancient land, you will understand why the West Side of the Big Island is a destination that should not be missed by any traveler. Whether you seek a relaxing retreat or an unforgettable adventure, the West Side of the Big Island has it all. So pack your bags and get ready for an unforgettable experience!
There are so many fantastic Hawaii attractions to explore on the west side of the Big island of Hawaii. Most visitors come to the island primarily in Kona town or the Kohala coastline and enjoy some relaxing time at the Waikioloa resort area and a little bit of time exploring the west side. Gorgeous sandy beaches, luxurious resort areas, fantastic golfing and other outdoor adventure activities or just enjoying a nice sunset view with a delicious tropical drink vibes are some of the best things to do on the Big Island along with so many of these other fantastic ideas below on exploring things to do in Kona Hawaii and the entire west side of the island.
Why you should visit the west side of the Big Island
Visiting the west side of the Big Island of Hawaii is a captivating experience for several reasons:
Stunning Beaches: The west side boasts beautiful, sunny beaches like Hapuna Beach and Mauna Kea Beach, known for their soft sands and crystal-clear waters. Ideal for swimming, snorkeling, or simply soaking up the sun.
Kona Coffee: It's home to the famous Kona Coffee Belt, where you can tour coffee farms, taste fresh brews, and learn about the coffee-making process.
Historic Kailua-Kona: Explore the historic town of Kailua-Kona, filled with cultural sites like Hulihe'e Palace and ancient Hawaiian temples, along with charming shops and restaurants.
Snorkeling and Diving: The west side offers fantastic snorkeling and diving opportunities. Kealakekua Bay, in particular, is renowned for its clear waters and vibrant marine life.
Cultural Sites: Visit Pu'uhonua o Honaunau National Historical Park, a place of refuge with ancient temples and a rich history. It's a UNESCO World Heritage Site.
Volcanic Landscapes: While the Big Island's active volcanoes are on the east side, the west side still offers stunning views of volcanic landscapes and the majestic Mauna Kea and Mauna Loa mountains.
Manta Ray Night Dives: Experience the thrill of night dives with manta rays. It's a unique and mesmerizing adventure available on the west coast.
Sunsets: Witness breathtaking sunsets over the Pacific Ocean, creating picture-perfect moments at places like Anaehoomalu Bay.
Adventure Activities: From zip-lining to hiking and horseback riding, there are numerous adventure activities to enjoy in this region.
Cultural Events: Don't miss cultural events and festivals that often take place, showcasing Hawaiian traditions and arts.
Visiting the west side of the Big Island offers a well-rounded Hawaiian experience, with a mix of natural beauty, cultural richness, and outdoor adventures that make it a destination worth exploring.
Big Island activities on the West Side 
After showing you some of the beautiful spots and attractions to visiting on the east side of Hawaii Island, this post will explore some of the best Hawaii attractions and historic sites on the west side of the island.  Blessed with sun and clear skies, the west side of the island is drier and hotter compared to the lush east side. What it lacks in lush rain forests and tropical jungles is offset with beautiful sandy beaches, warmer weather and resort style living with plush resort living, ultra lux dining experiences and outdoor adventure travel experiences.
The west side of the Hawaii Island caters to more outdoor, resort and travel lifestyles with a focused attention to tourism, adventure travel along with many levels of tourism to attract every budget and personal interest when visiting Hawaii.
Things to do in Kona, Hawaii
Kailua Kona once a sleepy fishing village and a royal Hawaiian retreat, the town is bustling with restaurants, tourist shops and affordable accommodations. nicknamed Kona, Kona town Kailua Kona derives it's name meaning 'two seas' or the two currents that meet at Kailua Bay. There are a few historic sites which are walkable and easy to visit in town including the royal summer palace at Hulihee Palace, the Mokuaikaua Church and Ahuena Heiau, located at the Kamehameha hotel, is a reconstructed temple rebuilt by King Kamehameha the Great  (The Hawaiian king that unified the Hawaiian Islands.) There are many activities to do in town including visiting farmers and crafts markets, boating and snorkeling excursions, luaus, and enjoying a nice drink or meal at sunset in many of the fine dining venues around the village.
Check out this post on what to do around Kona town here for more inspiration and ideas on what to do and see around Kona town now.
Here's a video highlight of top things to do in Kona town
Things to do along the Kona Coast
Exploring the Kona Coast is a must-do activity for anyone visiting the Big Island of Hawaii. This stunning region is home to a variety of attractions, including the famous Kona coffee farms, ancient Hawaiian temples, and beautiful beaches. You can hike to stunning waterfalls, take a snorkeling excursion, or simply relax and soak up the sun on the pristine shores. With its year-round warm weather and vibrant culture, the Kona Coast offers something for every traveler.
West Hawaii island – Pu'uhonua o Honaunau or the Place of Refuge
This National historic park of Pu'uhonua o Honaunau  is located in South Kona on Honaunau bay. Once the home of Hawaiian royalty and at the same time a place of refuge to ordinary commoners that have broken a kapu (Hawaiian sacred law sometimes punishable by death). If the maka'ainana (commoner), makes it to a place of refuge then absolution is eventually given and they can return back to society. It was believed that the mana (spiritual energy) of the chiefs bones gave additional protection to the place of refuge so no harm could be done to those seeking protection in this sacred sanctuary and life begins anew for those ancient Hawaiians. The park has several historic and recreated structures including: the Hale o Keawe Heiau (sacred temples housing bones of the chiefs), rock walls, wooden carved images, and the royal compounds. . Close-by to the park is a wonderful snorkeling spot called Two Step which is one of the nicer places to see some beautiful coral and Hawaiian tropical fish and honu (turtles) basking in the sun.
There are many attractions and historic landmarks to visit in the park, here is the official national park website to visit and get more information on this historic sanctuary. Definitely one of the most historic and insightful things to do on the Kona coast when you are doing a road trip through this area.
Here's a video tour of visiting the Place of Refuge or Pu'u honua
South of the Kona International airport is this coastal area and national park that depicts an early Hawaiian settlement along the Kona coast. The national park is home to two fish ponds, petroglyphs embedded on lava rocks, heiau (sacred temples), rock walls and other historic monuments. There are many coastal trails to take and discover wildlife including honu(turtles), native birds, and even the rare Hawaiian monk seal. This national park has a welcome center and official website that you can also visit here to learn more about this beautiful Hawaiian sanctuary.
I also wrote a recent post on this beautiful sanctuary here, there many beautiful trails, scenic vistas, the heiau and fish pond that I visit on this tour and included more images of the gorgeous coastline. If you are looking for that perfect combination of nature and ancient sites, this is one of the best Big Island activities that is free and fun to explore without the crowds visiting the west side of the island.
Check out this video of the national historic park at Kaloko Honokohau below
Big Island White Sandy beaches on the west side of the island
The West Side of the Big Island is home to some of the most beautiful beaches in Hawaii. From the crystal-clear waters of Hapuna Beach to the secluded paradise of Makalawena Beach, there is something for everyone. The black sand beaches of Punaluu and the white sands of Kua Bay are both popular destinations for swimming, snorkeling, and sunbathing. Whether you're looking for a peaceful retreat or a fun-filled day with family and friends, the beaches of West Hawaii will not disappoint.
Kona and the sunny areas of the Kohala coastline are blessed with sunshine and beautiful sandy beaches and coves worth exploring. Favorite local and tourist beaches include the popular white sandy beach at Hapuna Beach and stunning Makalawena Beach, Kua bay and A bay along the Kohala coasts and in Magic Sands, aka White Sands, Kahalu'u beach park are easily accessible. For beach camping popular spots include Spencer beach, Kehaka Kai In the Kohala area and Hookena in South Kona. There are many more hidden or not easily accessible beaches throughout the west side of the island also worth discovering with their own unique charms, beautiful beaches or snorkeling appeal. There's so many fantastic marine life in the bays and just off shore, you can even go swimming with dolphins in the wild in certain locations where they frequent.
Check out these top beaches to visit in the Kona area below
A visit to the Kohala region of the Big Island
The west coastline of Hawaii Island is also lush, serene and beautiful with charming towns like Hawi and Kapa'au with their art galleries, shopping and cafes to draw visitors from all around the island. Close-by is the dramatic coastline and cliffs of the Polulu Valley with a fantastic look out to the coastline and beaches. You can hike down to the beautiful black sand beach below and enjoy some scenic views of the valley. The surf is usually rough currents along the beach so swimming is generally discouraged unless it is an extremely calm period during your visit.
Explore the gorgeous Polulu Valley below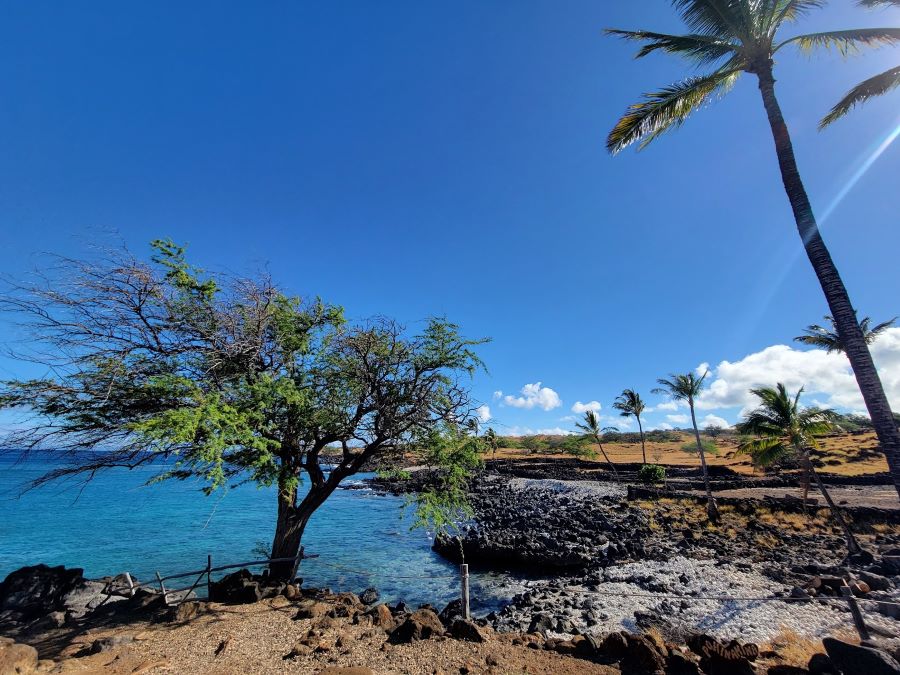 Explore Lapakahi State Historical Park
Lapakahi State Historical Park, located on the western coast of Hawaii Island, is a captivating destination that allows visitors to step back in time and explore the remnants of an ancient Hawaiian fishing village.
As you enter the park, you'll be transported to a bygone era, walking amidst the ruins of a once-thriving community. The park showcases the remains of house platforms, stone walls, and other archaeological features that offer insights into the daily lives of the indigenous people who inhabited the area centuries ago.
The self-guided walking trail takes you through the village, allowing you to imagine the vibrant community that once called this place home. Along the way, you'll find informational signs that provide historical and cultural context, enriching your understanding of the site and its significance.
Check out our post on visiting Lapakahi State Historical Park here for more images and information.
Big Island attractions with Coffee Plantations and Holualoa
Hawaii is an agricultural island and Kona coffee is very well-known internationally for its exceptional taste and quality. There are many coffee tasting rooms and some farms open to the public for touring in the South Kona area and up in the cloud forest belt in Holualoa, an artist community with many small art boutiques, shops and cafes along with coffee tasting rooms. To see a more detailed map of the many tasting places and coffee farms in West Hawaii, visit this link with maps to each location.
Exploring the Kona coffee plantations is a unique and fascinating experience that should not be missed on a visit to the Big Island of Hawaii. These historic farms offer a glimpse into the rich history and culture of the region and the process of coffee production. You can take a tour of the farms, learn about the various stages of coffee cultivation, and even taste some of the finest coffee in the world. As you explore the beautiful fields and meet the friendly farmers, you'll gain a deeper appreciation for the art of coffee making and the importance of sustainability in agriculture.
Coffee tasting in Holualoa – check it out below
Big Island attractions with snorkeling spots and wildlife nature areas
There are many popular snorkeling spots and touring companies that offer boating tours of harder to reach places where the snorkeling is outstanding on the west side of Hawaii Island.  There are even popular tours for whale watching, manta ray diving and deep-sea fishing.
The more popular areas that are easier to reach by driving include places like Two Step in Honaunau, the beginner beach at Kahalu'u and White Sands in Kailua Kona and Hapuna or Spencer Beach in the Kohala areas. Very popular but only accessible by a long downhill hike, via kayak or boat cruise is at the Captain Cook monument at Kealakekua bay, it's definitely a unique and beautiful area to snorkel and visit the monument for the famous British Captain, James Cook who was killed here in 1779.
Hawaii island – Pu'ukohola National monument
Pu'ukohola Heiau and National Park is a significant heiau in Hawaii that was created by Kamehameha the Great in honor of the Hawaiian god Ku. The heiau means 'Temple on the hill of the Whale' is built on an older temple built in 1580. Constructed from stones with no mortar, a human chain of thousands of civilians forming 14 miles from the Polulu Valley to the heiau and passing the rocks along this chain. It took one  year to complete the heiau in 1791 and starting Kamehameha's campaign to unify the entire island chain. The heiau is still used regularly for spiritual ceremonies including a yearly event commemorating the building and unification of the Hawaiian people.
Along with the heiau, there are a few more heiau in the park including a shark heiau underwater, a visitors center and trails leading to various historic monuments around the park. There is a beautiful visitors center and gallery and website, to learn more about this historic sanctuary visit the national park's website here.
Check out our post on visiting Pu'ukohola Heiau here for more images and information.
Check out the national monument and walking tour around Pu'ukohola
Big Island adventure sports and off the beaten path
West Hawaii is the epicenter of adventure travel activities covering water and land recreation and sport. This includes fun land adventure sports like ATV drives along the Hamakua coasts, hiking around the Big Island, horseback riding in Waipio valley, Ziplining in Hawi. On the water you can go on a variety of snorkel and diving adventures, Manta ray night dives, deep-sea fishing and parasailing, boogie boarding and surfing. There are many outdoor adventure activities that can keep you busy for any adventure related travel.
Hawaii island – Fine Dining and, luaus and resort lifestyle
West Hawaii is a fine dining destination with its world class resorts and upscale restaurants. Each hotel also sponsors a regular Hawaiian luau on site which is a representation of a tradition form of celebration and gathering along with festive hula shows, crafts exhibits and other sharing of Hawaiian culture and history.  Ocean front dining is at its best with world-class restaurants like the Kamuela Provision company, Browns Beach House, Manta and Pavilion , 'Ulu Ocean Grill and the Canoe House, you can't go wrong having a fantastic meal especially with a spectacular sunset view. Take a look at some of these amazing restaurant venues if you want excellent service, food and a beautiful sunset view to cap off a wonderful dining experience in West Hawaii.   Thanks for taking a tour of some attractions and key sites in West Hawaii, there are so many other beautiful places not mentioned in this post. If you also visited someplace worth noting from the west side of Hawaii Island, please share it with us in the comments section. Also take a look at some of the top sites to visit on the east side of the island on this post
Here's some new favorites to visit on the west side of Hawaii island
Weather and best time to visit the Big Island
The Big Island, also known as Hawaii Island, offers a diverse climate due to its varying elevations and geographical features. It's essential to consider the weather and the best time to visit based on your preferences and planned activities. Here's some information to help you decide:
Weather on the Big Island:
Kona (West Side): The western side of the island, including popular areas like Kailua-Kona, is known for its sunny and dry climate. It experiences warm temperatures year-round, with average highs ranging from 80°F to 87°F (27°C to 31°C). Rainfall is relatively minimal on this side, making it a great destination for beachgoers and sun-seekers.
Hilo (East Side): The eastern side of the Big Island, including Hilo, has a more tropical climate. It tends to be wetter and cooler compared to the west side. Average highs range from 79°F to 84°F (26°C to 29°C), and it's more likely to experience rain throughout the year.
Volcano Areas: The higher elevations, such as the Volcano National Park, can be cooler, especially at night. Make sure to bring layers and warm clothing if you plan to explore these regions.
Best Time to Visit the Big Island:
The best time to visit the Big Island depends on your interests and preferences:
April to October: This period generally offers the most consistent weather across the island. The west side (Kona) is sunny and dry, perfect for beach activities, snorkeling, and water sports. The east side (Hilo) experiences less rain during these months, making it a good time for exploring waterfalls and gardens.
November to March: While this period is considered the wet season, the Big Island's weather can still be enjoyable. The east side (Hilo) tends to receive more rainfall, so it's advisable to plan outdoor activities on the drier west side. Additionally, this is the whale-watching season, and you may catch a glimpse of humpback whales off the coast.
Avoiding Crowds: If you prefer to avoid crowds, consider visiting during the shoulder seasons of April to May and September to October. You'll have a better chance of finding accommodations at reasonable prices and encountering fewer tourists.
Keep in mind that the Big Island's weather can be unpredictable, so it's always a good idea to check the forecast closer to your travel dates. Regardless of the time you choose to visit, Hawaii's Big Island offers a unique and stunning landscape with a wide range of activities for all types of travelers.
Where to stay on the west side of the Big Island
With so many different levels of hotels, Bnb's and inns and independent venues or home rentals, the choice of places to stay is fantastic on the islands. Check out the best rated places below.
If you are looking for hotels or inns around Kailua Kona area, check out these top rated places here for updates on availability, prices and amenities.
If you are looking for hotels or inns around Kohala coast area and Waikoloa, check out these top rated places here for updates on availability, prices and amenities.
If you are looking for hotels or inns around South Kona area, check out these top rated places here for updates on availability, prices and amenities.
If you enjoyed this post, please check out these other Big Island stories
Free or cheap things to do on the Big Island
Things to do on the Big Island with kids
Big Island locally grown foods
Visiting Keauhou on the Big Island
Road trip to the Hamakua district
If you enjoyed the post, please pin it!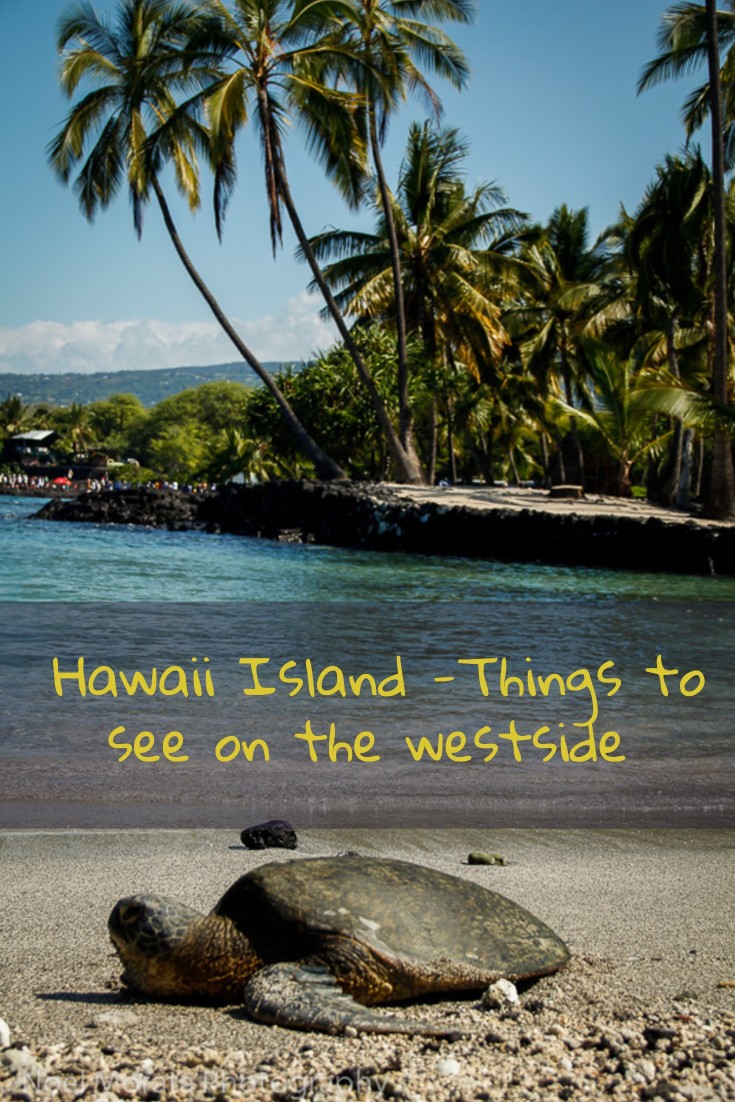 Conclusion to visiting the West side of the Big Island
In conclusion, a trip to the West Side of the Big Island is an unforgettable experience that will leave you with memories to last a lifetime. From the stunning natural beauty of the coastline and beaches to the rich culture and history of the region, there is something for everyone. Whether you're seeking adventure or relaxation, the West Side has it all. Explore the Kona coffee plantations, hike through lush green valleys, swim with the gentle giants of the sea, or simply soak up the sun on the golden sands. No matter what you choose to do, you will be immersed in the beauty and wonder of Hawaii.
Hope you can enjoy your visit to the Big Island and the west side with all these fantastic attractions, historic sites, cool towns and other places of interested suggested above. If you know of other cool hangouts and fun places, please share them in the comments below.
If you like this post on Hawaii Island, Key attractions on the west side, please consider subscribing below – also share this post with any of the social media buttons located around the post, thanks for visiting!
Some links in this article on west side to do in Kona are affiliates which provide a small commission to support this site at no extra cost to you. Thank you for reading, and happy travels