Here's why you should visit the west side of the Big Island now (updated 2021)
The west side of the Big island of Hawaii is where most people come to visit the island primarily in Kona town or the Kohala coastline. Gorgeous sandy beaches, luxurious resort areas, fantastic golfing and other outdoor adventure activities or just enjoying a nice sunset view with a delicious tropical drink vibes with what your version of vacation or enjoying the Big Island now.
Hawaii island – west side attractions
After showing you some of the beautiful spots and attractions to visiting on the east side of Hawaii Island, this post will explore some of the key attractions and historic sites on the west side of the island.  Blessed with sun and clear skies, the west side of the island is drier and hotter compared to the lush east side. What it lacks in lush rain forests and tropical jungles is offset with beautiful sandy beaches, warmer weather and resort style living with plush resort living, ultra lux dining experiences and outdoor adventure travel experiences. The west side of the Hawaii Island caters to more outdoor, resort and travel lifestyles with a focused attention to tourism, adventure travel along with many levels of tourism to attract every budget and personal interest when visiting Hawaii.
Hawaii island – Kona Town
Kailua Kona once a sleepy fishing village and a royal Hawaiian retreat, the town is bustling with restaurants, tourist shops and affordable accommodations. Historic sites are easy to visit in town including the royal summer palace at Hulihee Palace, the Mokuaikaua Church and Ahuena Heiau, located at the Kamehameha hotel, is a reconstructed temple rebuilt by King Kamehameha the Great  (The Hawaiian king that unified the Hawaiian Islands.) There are many activities to do in town including visiting farmers and crafts markets, boating and snorkeling excursions, luaus, and enjoying a nice drink or meal at sunset in many of the fine dining venues around the village.
Hawaii island – Puuhonua o Honaunau or the place of refuge
This National historic park is located in South Kona on Honaunau bay. Once the home of Hawaiian royalty and at the same time a place of refuge to ordinary commoners that have broken a kapu (Hawaiian sacred law sometimes punishable by death). If the maka'ainana (commoner), makes it to a place of refuge then absolution is eventually given and they can return back to society. It was believed that the mana (spiritual energy) of the chiefs bones gave additional protection to the place of refuge so no harm could be done to those seeking protection in this sacred sanctuary and life begins anew for those ancient Hawaiians. The park has several historic and recreated structures including: the Hale o Keawe Heiau (sacred temples housing bones of the chiefs), rock walls, wooden carved images, and the royal compounds. . Close-by to the park is a wonderful snorkeling spot called Two Step which is one of the nicer places to see some beautiful coral and Hawaiian tropical fish and honu (turtles) basking in the sun. There are many attractions and historic landmarks to visit in the park, here is the official national park website to visit and get more information on this historic sanctuary.
Hawaii island – Koloko Honokohau National Historic Park
South of the Kona International airport is this coastal area and national park that depicts an early Hawaiian settlement along the Kona coast. The national park is home to two fish ponds, petroglyphs embedded on lava rocks, heiau (sacred temples), rock walls and other historic monuments. There are many coastal trails to take and discover wildlife including honu(turtles), native birds, and even the rare Hawaiian monk seal. This national park has a welcome center and official website that you can also visit here to learn more about this beautiful Hawaiian sanctuary. I also wrote a recent post on this beautiful sanctuary here, there many beautiful trails, scenic vistas, the heiau and fish pond that I visit on this tour and included more images of the gorgeous coastline.
Hawaii island – Sandy beaches on the west side of the island
Kona and the sunny areas of the Kohala coastline are blessed with sunshine and beautiful sandy beaches and coves worth exploring. Favorite local and tourist beaches include the popular white sandy beach at Hapuna Beach and stunning Makalawena Beach, Kua bay and A bay along the Kohala coasts and in Kona White Sands, Kahalu'u beache park are easily accessible. For beach camping popular spots include Spencer beach, Kehaka Kai In the Kohala area and Hookena in South Kona. There are many more hidden or not easily accessible beaches throughout the west side of the island also worth discovering with their own unique charms, beautiful beaches or snorkeling appeal. There's so many fantastic marine life in the bays and just off shore, you can even go swimming with dolphins in the wild in certain locations where they frequent.
The west coastline of Hawaii Island is also lush, serene and beautiful with charming towns like Hawi and Kapa'au with their art galleries, shopping and cafes to draw visitors from all around the island. Close-by is the dramatic coastline and cliffs of the Polulu Valley with a fantastic look out to the coastline and beaches. You can hike down to the beautiful black sand beach below and enjoy some scenic views of the valley. The surf is usually rough currents along the beach so swimming is generally discouraged unless it is an extremely calm period during your visit.
Coffee Plantations and Holualoa
Hawaii is an agricultural island and Kona coffee is very well-known internationally for its exceptional taste and quality. There are many coffee tasting rooms and some farms open to the public for touring in the South Kona area and up in the cloud forest belt in Holualoa, an artist community with many small art boutiques, shops and cafes along with coffee tasting rooms. To see a more detailed map of the many tasting places and coffee farms in West Hawaii, visit this link with maps to each location.
Hawaii island – West side snorkeling spots and wildlife
There are many popular snorkeling spots and touring companies that offer boating tours of harder to reach places where the snorkeling is outstanding on the west side of Hawaii Island.  There are even popular tours for whale watching, manta ray diving and deep-sea fishing. The more popular areas that are easier to reach by driving include places like Two Step in Honaunau, the beginner beach at Kahalu'u and White Sands in Kailua Kona and Hapuna or Spencer Beach in the Kohala areas. Very popular but only accessible by a long downhill hike, via kayak or boat cruise is at the Captain Cook monument at Kealakekua bay, it's definitely a unique and beautiful area to snorkel and visit the monument for the famous British Captain, James Cook who was killed here in 1779.
Hawaii island – Pu'ukohola National monument
Pu'ukohola Heiau and National Park is a significant heiau in Hawaii that was created by Kamehameha the Great in honor of the Hawaiian god Ku. The heiau means 'Temple on the hill of the Whale' is built on an older temple built in 1580. Constructed from stones with no mortar, a human chain of thousands of civilians forming 14 miles from the Polulu Valley to the heiau and passing the rocks along this chain. It took one  year to complete the heiau in 1791 and starting Kamehameha's campaign to unify the entire island chain. The heiau is still used regularly for spiritual ceremonies including a yearly event commemorating the building and unification of the Hawaiian people. Along with the heiau, there are a few more heiau in the park including a shark heiau underwater, a visitors center and trails leading to various historic monuments around the park. There is a beautiful visitors center and gallery and website, to learn more about this historic sanctuary visit the national park's website here.
Adventure sports and off the beaten path
West Hawaii is the epicenter of adventure travel activities covering water and land recreation and sport. This includes fun land adventure sports like ATV drives along the Hamakua coasts, horseback riding in Waipio valley, Ziplining in Hawi. On the water you can go on a variety of snorkel and diving adventures, Manta ray night dives, deep-sea fishing and parasailing, boogie boarding and surfing. There are many outdoor adventure activities that can keep you busy for any adventure related travel.
Hawaii island – Fine Dining and, luaus and resort lifestyle
West Hawaii is a fine dining destination with its world class resorts and upscale restaurants. Each hotel also sponsors a regular Hawaiian luau on the premisis which is a representation of a tradition form of celebration and gathering along with festive hula shows, crafts exhibits and other sharing of Hawaiian culture and history.  Ocean front dining is at its best with world-class restaurants like the Kamuela Provision company, Browns Beach House, Manta and Pavilion , 'Ulu Ocean Grill and the Canoe House, you can't go wrong having a fantastic meal especially with a spectacular sunset view. Take a look at some of these amazing restaurant venues if you want excellent service, food and a beautiful sunset view to cap off a wonderful dining experience in West Hawaii.   Thanks for taking a tour of some attractions and key sites in West Hawaii, there are so many other beautiful places not mentioned in this post. If you also visited someplace worth noting from the west side of Hawaii Island, please share it with us in the comments section. Also take a look at some of the top sites to visit on the east side of the island on this post
Where to stay on the west side of the Big Island
With so many different levels of hotels, Bnb's and inns and independent venues or home rentals, the choice of places to stay is fantastic on the islands. Check out the best rated places below.
If you are looking for hotels or inns around Kailua Kona area, check out these top rated places here for updates on availability, prices and amenities.
If you are looking for hotels or inns around Kohala coast area and Waikoloa, check out these top rated places here for updates on availability, prices and amenities.
If you are looking for hotels or inns around South Kona area, check out these top rated places here for updates on availability, prices and amenities.
If you enjoyed this post, please check out these other Big Island stories
Free or cheap things to do on the Big Island
Things to do on the Big Island with kids
Big Island locally grown foods
Visiting Keauhou on the Big Island
Road trip to the Hamakua district
If you enjoyed the post, please pin it!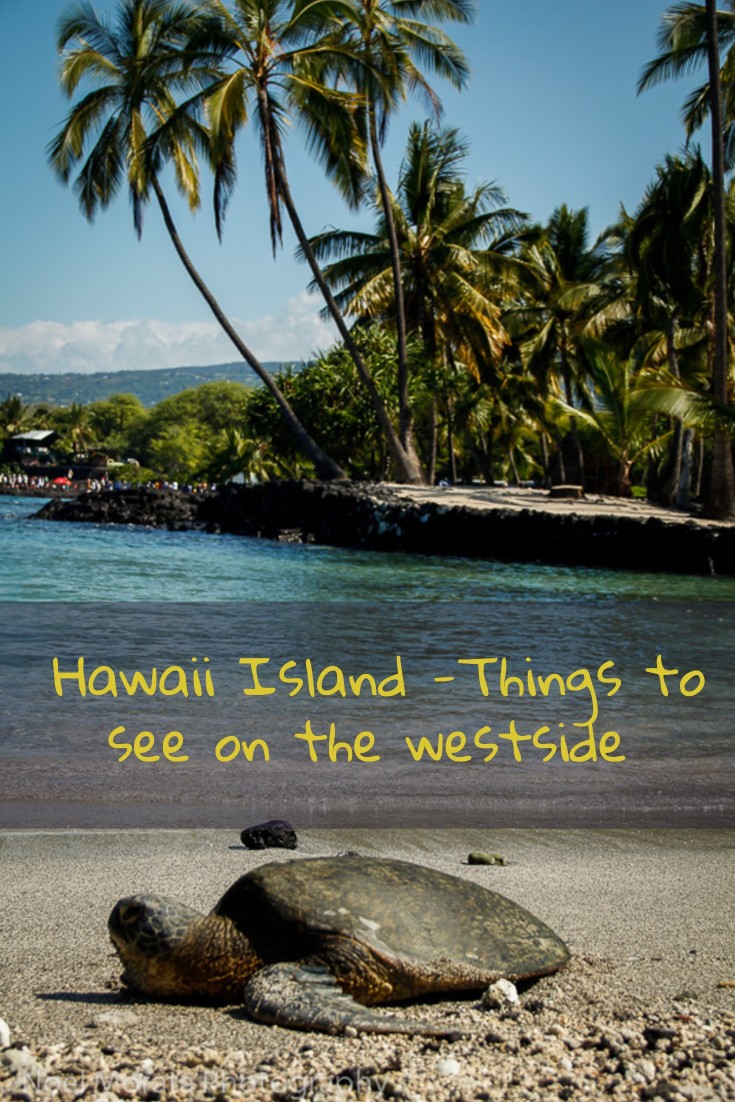 Conclusion to visiting the West side of the Big Island
Hope you can enjoy your visit to the Big Island and the west side with all these fantastic attractions, historic sites, cool towns and other places of interested suggested above. If you know of other cool hangouts and fun places, please share them in the comments below.
If you like this post on Hawaii Island, Key attractions on the west side, please consider subscribing below – also share this post with any of the social media buttons located around the post, thanks for visiting!
Some links in this article on west side to do in Kona are affiliates which provide a small commission to support this site at no extra cost to you. Thank you for reading, and happy travels