Road trip to Mission San Juan Bautista
It's an easy day road trip visiting Mission San Juan Bautista from Central California or from the San Francisco bay area. But, if you want to spend a longer time visiting various attractions and parks in Central California including Pinnacles National Park and Monterey or Carmel, then staying a few days or more would make a trip here more fun and relaxed visit to the region.

Town of San Juan Bautista
I had an early drive from the Bay Area going down Highway 880 to San Benito County and San Juan Bautista is only an hour and a half drive depending if you leave early to avoid traffic or leave later in the morning when traffic has died. I decided to leave before 6am to avoid the crazy early morning commute to the San Jose/Santa Clara business zones. Once you get from the 880/101 intersection, it is a pretty smooth and clear route going against traffic and the San Juan Bautista exit sign comes up relatively fast into the picture.
Tip – From Monterey, San Juan Bautista is about a forty-five minute drive so this is easy to do and if you want to visit Pinnacles National Park, there is also a west side entrance access to the park at Soledad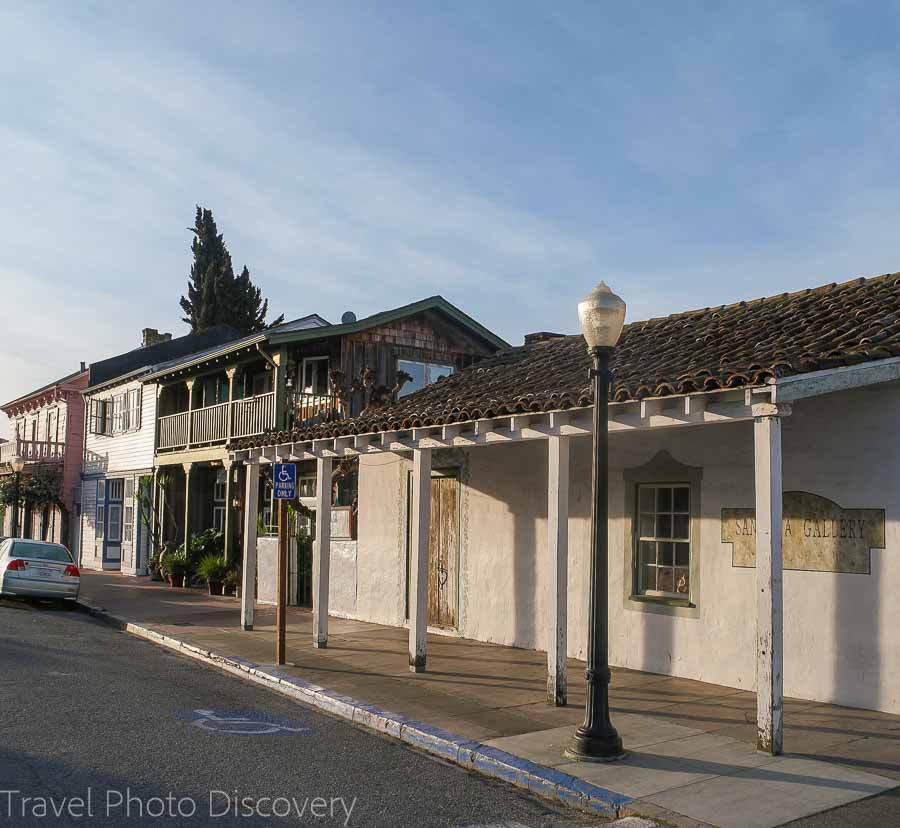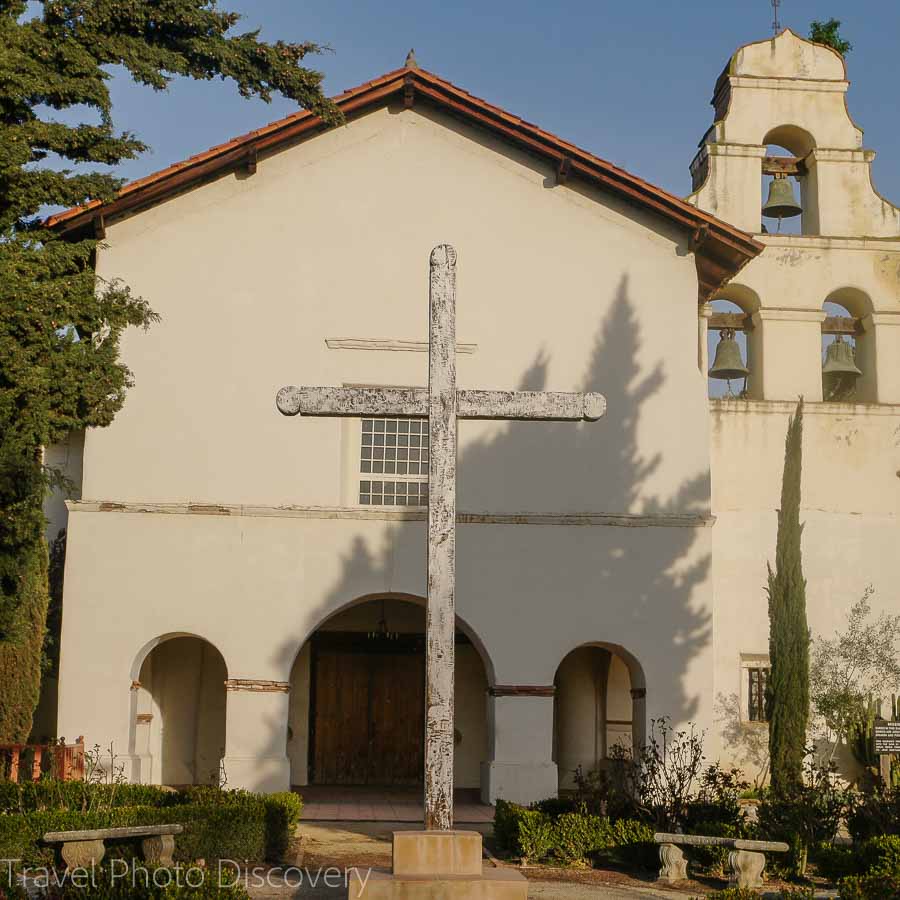 Mission
San Juan Bautista
Once you exit 101, the small town of San Juan Bautista is really a charming town that harkens back to an older time frame with a beautiful downtown area, adobe homes and cool galleries. The historic mission district is just off the main drag and is an older square that faces the mission itself. Fortunately there are no crowds this early in town or at the mission which makes it great for exploring and enjoying the area to yourself and not having cars on the street so you can take pictures everywhere. What a wonderful feeling to have all of this practically to yourself, it almost feels like being in California from an earlier time frame and without any tourists in town. I loved walking through the mission arcade, noticing all the beautiful wood details mixed in with adobe and brick, a small rose garden fronts the entry to the main church which is still closed for the morning.
A long arcade runs the length of  the main plaza to the front entrance of the church. White arches of smooth and cool stucco are accented with blue/green window and door trims. I walk down the entire length of the arcade by myself and felt transported in time in this quiet and spiritual space while walking up to the church and admiring the bronze statue of Father Serra fronting the vineyards and valley below of San Juan Bautista.
The historic plaza fronting Mission San Juan Bautista
Exploring the downtown strip
I walk around and visit the other historic buildings on the square to include a hotel, stable and another public building which all consist of the historic national monument. Afterwards, I head out to the downtown strip to check out all the galleries and cool shops in town, for such a small town – the historic district seems to have antique stores lining every other shop on the main drag. I pass a sweet little breakfast spot but decide to look for a bakery instead for some nice hot and fresh mango turnovers. I walk down one side of downtown area and back to the other and window shop all the antique shops which is great since I ended up not buying anything since all the shops were still closed for the morning.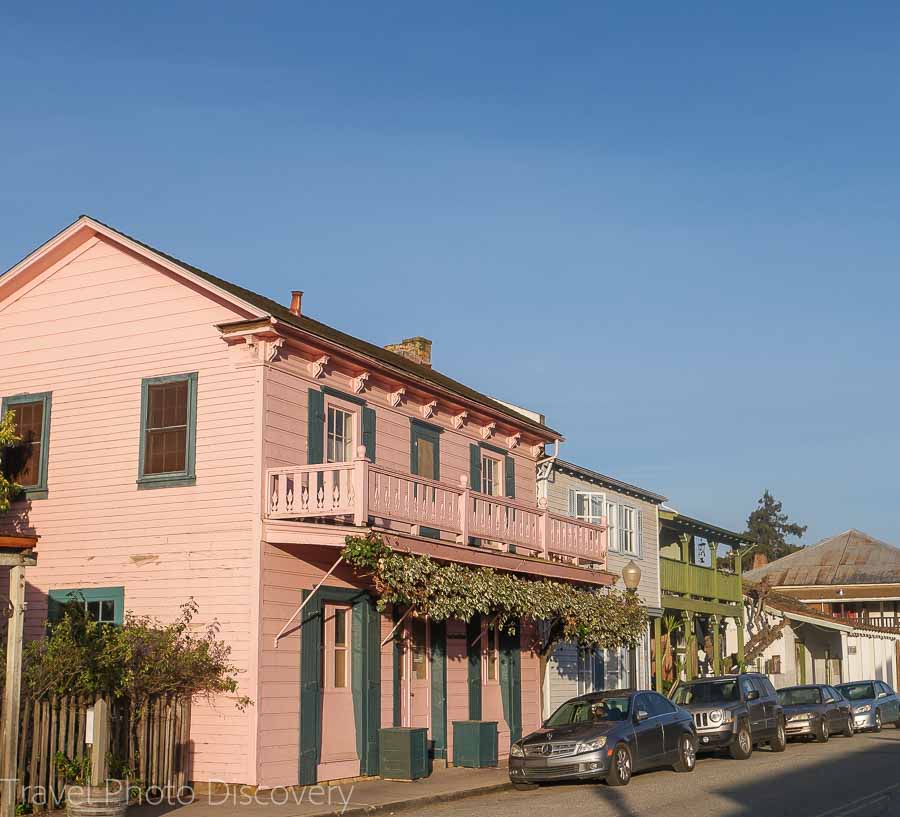 Beautiful Victorian details downtown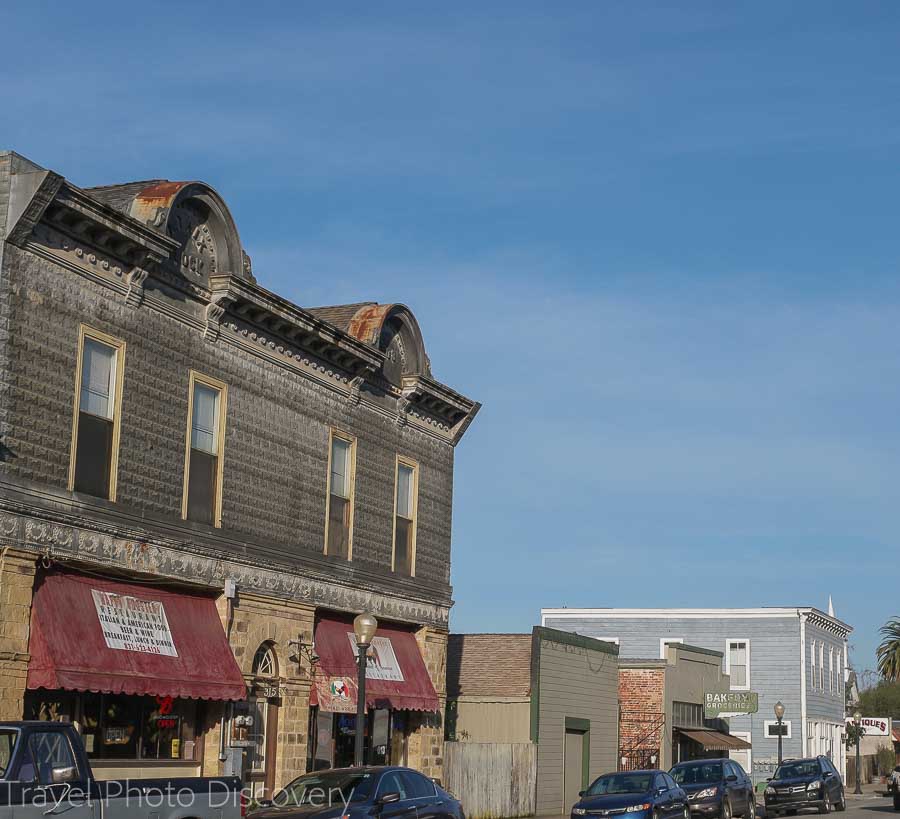 Checking out the antique stores at San Juan Bautista
I loved that there were so many antique and curio shops lining up the main street and fortunately all of them were closed which would have taken a large chunk of time if I decided to wait for most of them to open.  Fortunately, I decided to head out early and just enjoyed the window shopping without having to spend a dime from walking through this scenic downtown area.
Hollister and Pinnacles National Park
I decided to head on out to my next stop which was the main city of Hollister and then Pinnacles National park on Highway 25. Hollister is just a short 8 mile drive down Highway 152 and basically is a one street downtown called San Benito street. Even though San Benito county touts Hollister as a fun tourist town to visit, it feels more like a hub city in the county and is worth a stop for getting provisions, gas or as a place to stay for the night. I continue on towards Pinnacles National park and exit the city continuing down Hwy 25 – basically a two lane highway that goes through scenic landscape filled with rolling hills, rivers, vineyards and oak forests that the road darts in and out of. It's a pleasant 30 mile drive on Hwy 25 until you see the exit detour for Pinnacles National Park on the right and enter directly up until you see the visitors center.
If you enjoy this post, please pin it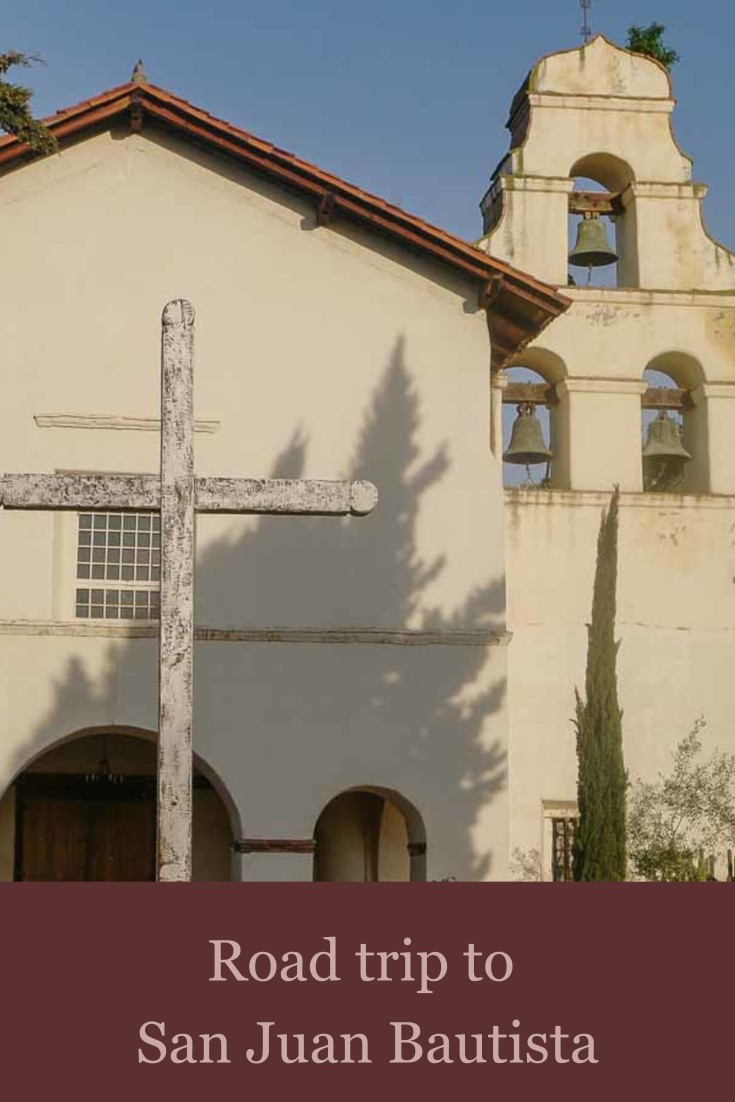 Details to visiting Mission San Juan Bautista
Tours are self guided
Admission – $4  for adults, $3 for seniors, free for children under 5
Hours – 9:30 – 4:30, seven days a week
Check out their website here for more details and a calendar of events
Thanks for visiting today and checking out this post on the Mission San Juan Bautista, if you enjoyed the images and post, could you please share it with any of the social media buttons located around the post.
If you like what you see, come and check out my other social media channels for more updates, including Instagram, Pinterest and Twitter