Must-see Vigan tourist spots, Ilocos Sur – top places to visit
Vigan city in Ilocos Sur is located in the northwest region of Luzon in the Philippines is a beautiful Spanish colonial city. The city takes pride in its colonial past while mixing in some quirky, new and fascinating places to visit in the city and region.  If you are looking for something with more history and culture in your visit to the Philippines, check out these must see tourist spots in Vigan city, Ilocos Sur.
We have some fantastic food recommendations to also check out below on your visit here.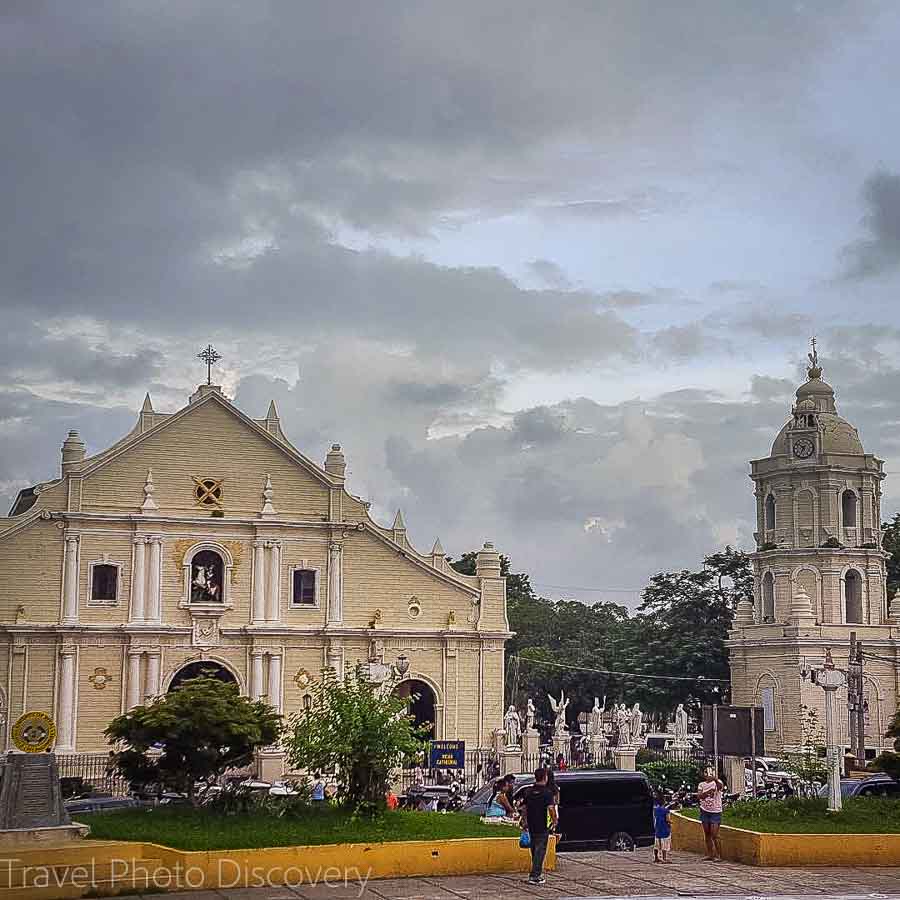 Why visit Vigan city, Ilocos Sur?
One of the few remaining historic colonial capitals of the Philippines that is authentic to its Spanish Colonial days, Vigan city is a wonderful historic and Unesco World Heritage site that is worthy of a visit especially if you stay in any of the beautiful hotels that have been remodeled from an old historic home. Walking around the entire city to visit living museums, specialty shops and markets, cobblestone streets and eating the delicious local foods, snacks and comfort foods of the area is really special and unique for the Philippines which does not retain enough of it's own historic past and references.
With so much beautiful and historic present and well preserved architecture in the historic district, it is worthwhile to visit Vigan in Illocos Sud area.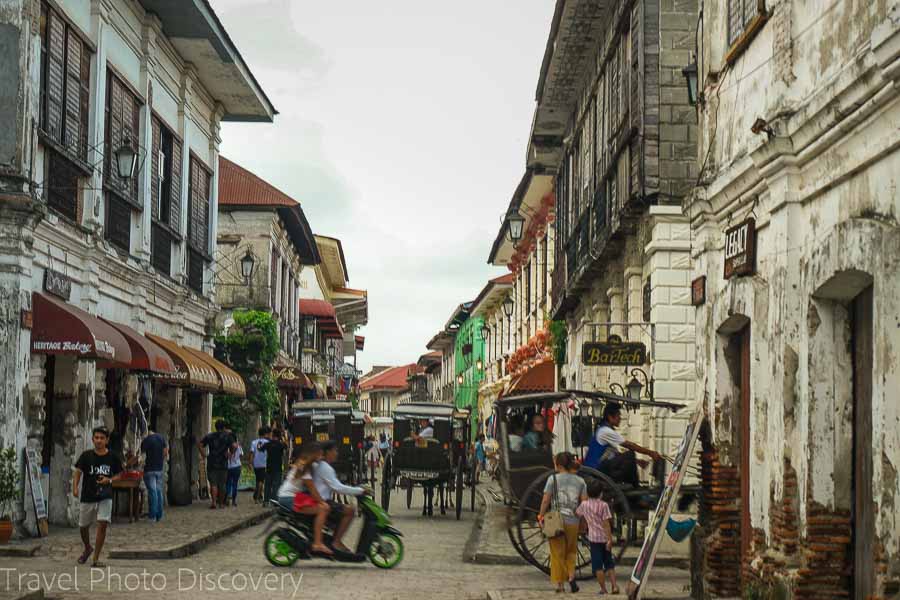 Vigan City, FAQ
Should you visit Vigan?
Visitors that love Unesco cities and historic Spanish Colonial cities will love Vigan. A rare Colonial Spanish city in the Philippines that is well intact and easy to explore, Vigan has retained many beautiful, old buildings, streets and large squares to explore in Ilocos Sud in Luzon island.
Where is Vigan city, Illocos sur located?
Unlike the ugly urban sprawl and development of Manila and Cebu City, Vigan city maintains its unique character as a authentic Spanish colonial city, in a very compact space. Designated as a Unesco World Heritage site, the entire city has many traditional homes, converted mansions and beautiful architectural zones that make this a unique travel destination in the Philippines. For those interested in Philippine culture and history from the Spanish colonial times, this city encapsulates the look and vibe of those early days but with modern conveniences to make it a pleasant visit.
The easiest way to get to vigan city is to fly to Laoag and take a short bus ride back down to Vigan. You can also catch a bus from Manila and that will be about a nine and 1/2 hour to the city.
Best time to visit Vigan City, Illocos Sur?
The best time to visit this Spanish Colonial city is during the dry season and cooler months of December to March when the weather is pleasant with less rain and humidity in the area. During the winter time you can also experience the holidays and festivities in the city to include Holy Week and Viva Vigan, New Year's celebrations and the Vigan City Festival. A perfect time to enjoy the outdoors, festivals and activities and also touring around the city and the historic attractions around the region.
What makes Vigan city famous?
Vigan City is famous for its intact Spanish Colonial city, architecture, squares and historic sites that you can visit. This Unesco World Heritage site has retained many of its Spanish roots with a fantastic look at a historic colonial city that is well preserved and worth visiting.
Top activities and places to see and do around Vigan City, Illocos Sur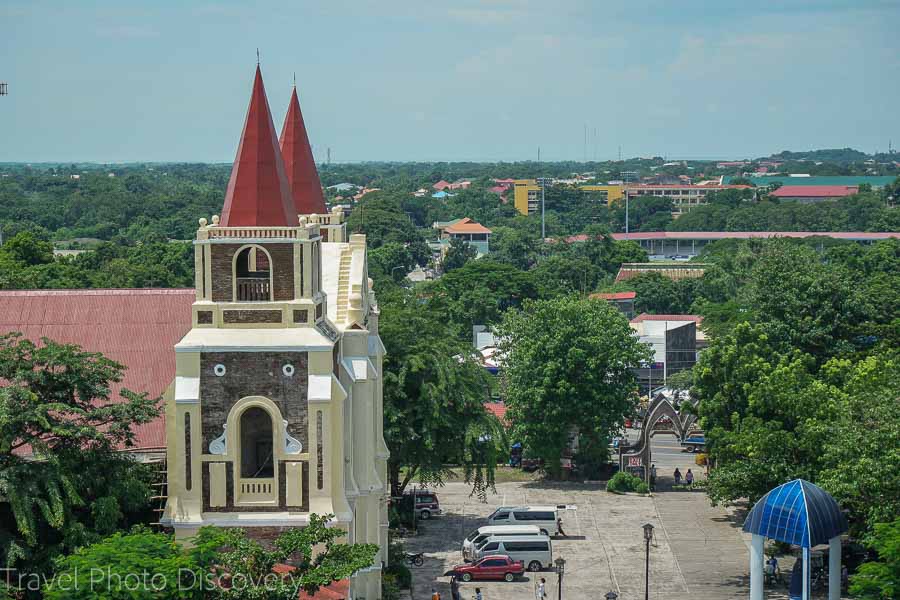 Top attractions to visit in Vigan city and surrounding area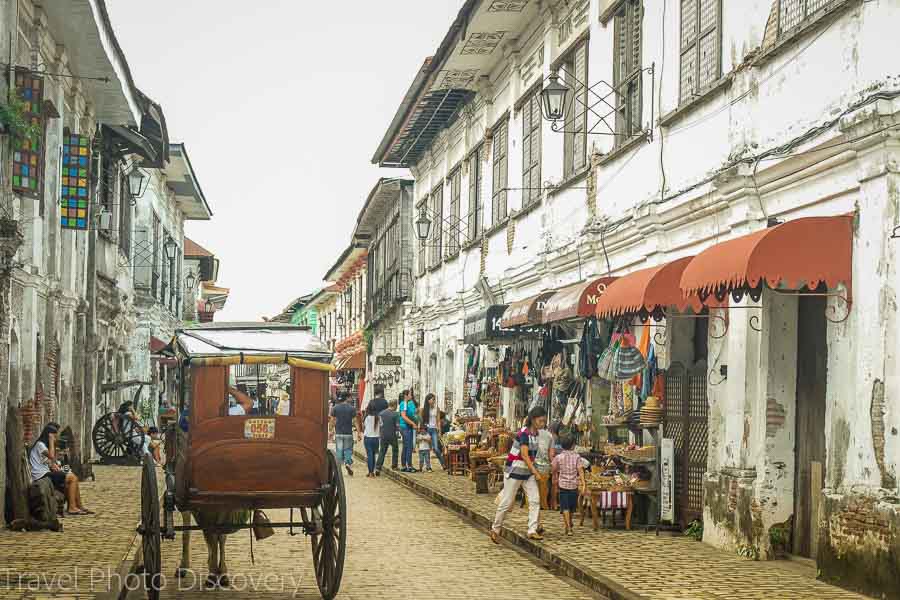 Calle Crisologo
Running over five blocks in the historic center of Vigan City, Calle Crisologo is the popular tourist destination with many of the Spanish colonial homes in the street converted into shops, restaurants, inns and other tourist attractions that give you a taste of what this colonial city looks like with cobble stone streets and kalesa horse buggies ply through the main thoroughfare.
Here's a fun night time visit and tour of this historic street to visit in Vigan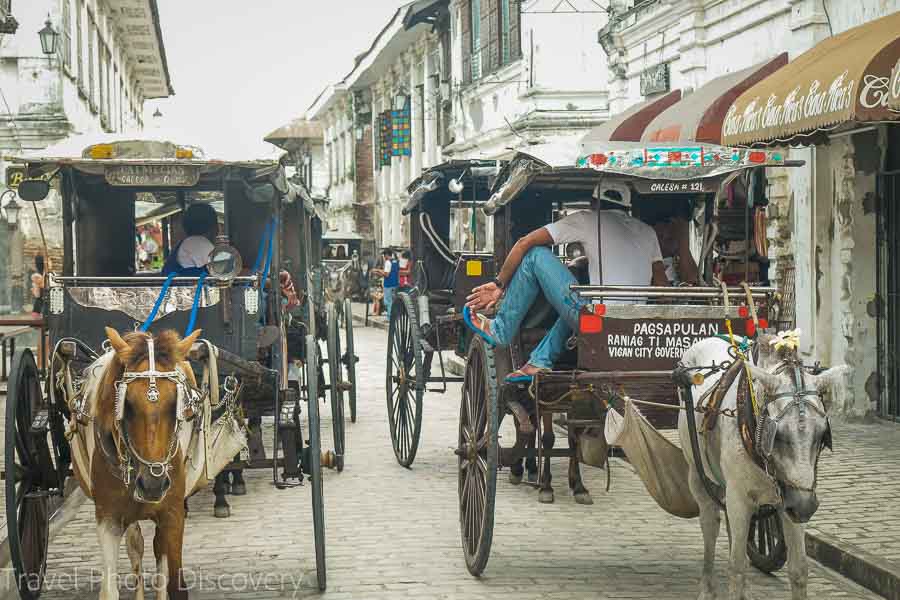 Kalesa ride through the historic districts of Vigan City
One of the best ways to slow down to the colonial lifestyle and pace of Vigan is to travel by kalesa or a horse drawn carriage with a driver. Kalesa drivers ply the main tourist areas of the city to show you the best parts of the colonial capital depending on how far you want to go and see around the city.  Most drivers will offer you a highlight tour of the important sections and attractions around the city
Tip  – Make sure you negotiate a good price up front before you step into the kalesa and what places you want to explore from the drivers highlights of places to see.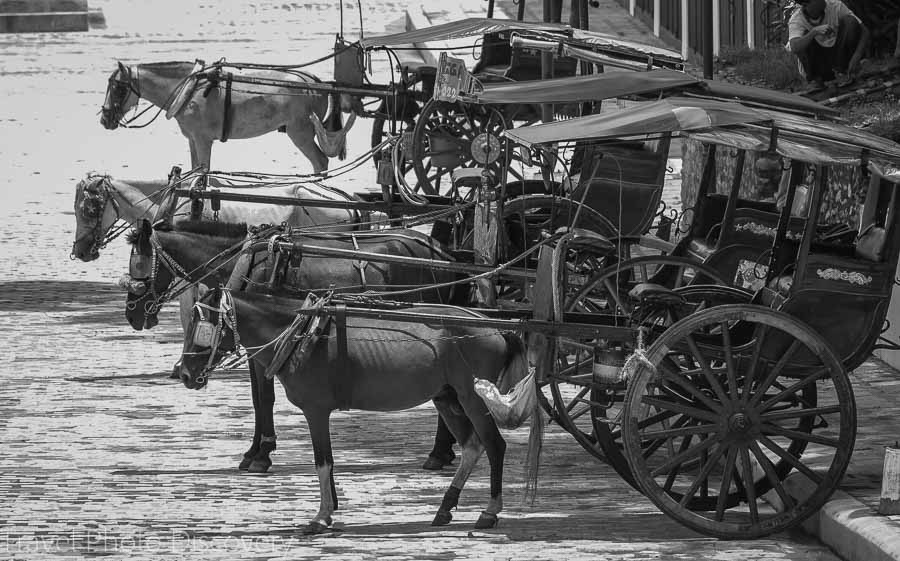 Here's a fun Calesa tour highlight in visiting Vigan city below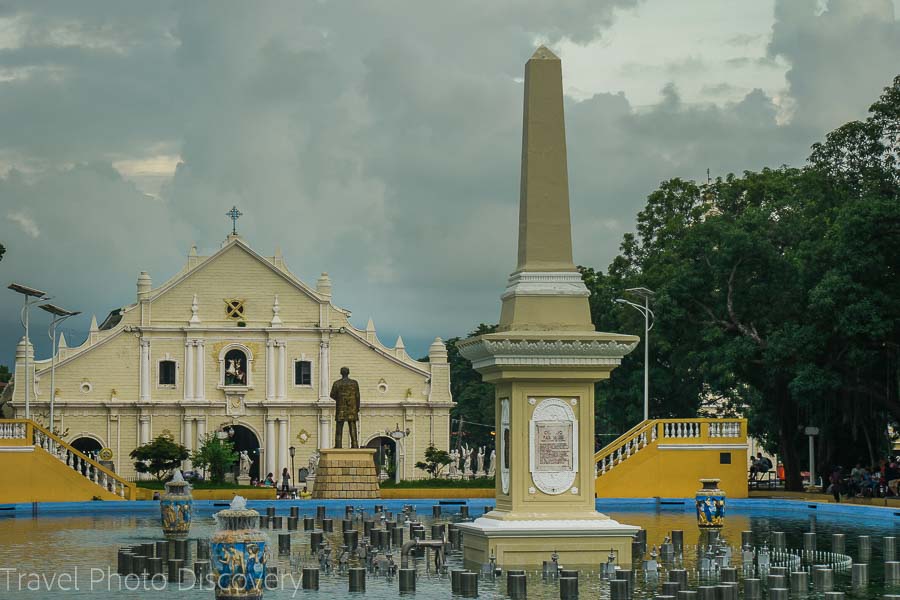 St. Paul Metropolitan Cathedral
The main church of St. Pauls sits directly in front of Plaza Salcedo – the main square of the city with the dancing fountains. St. Paul's Cathedral is part of the Unesco Heritage sites of the city and has been rebuilt many times from earthquakes, fires and other damages. The Spanish colonial style church is Neo-Gothic and Romanesque in style with the archbishop's palace located next to the cathedral.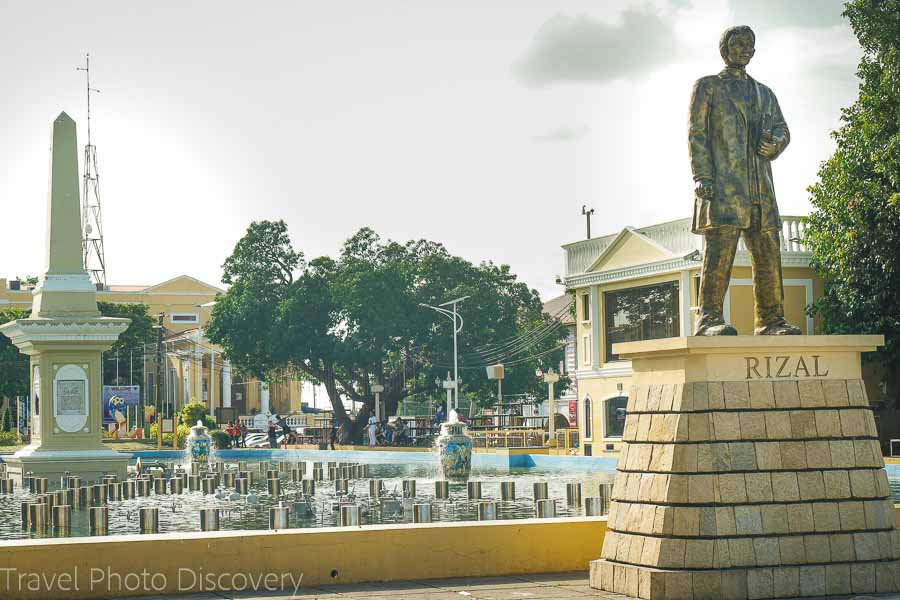 Plaza Salcedo
The large plaza fronting St. Paul Cathedral is known as Plaza Salcedo which is named after Spanish conqueror Juan de Salcedo who founded the city and region. The plaza is a very popular spot to hang out and relax in the main square of Vigan City with large monuments to check out around the square include the bronze statue of Jose Rizal (Philippine national hero), the water dancing fountains with the obelisk in the center (to honor Salcedo) and the city hall fronting the fountains. Night time is a popular time to visit with the colorful water dancing show which happens daily.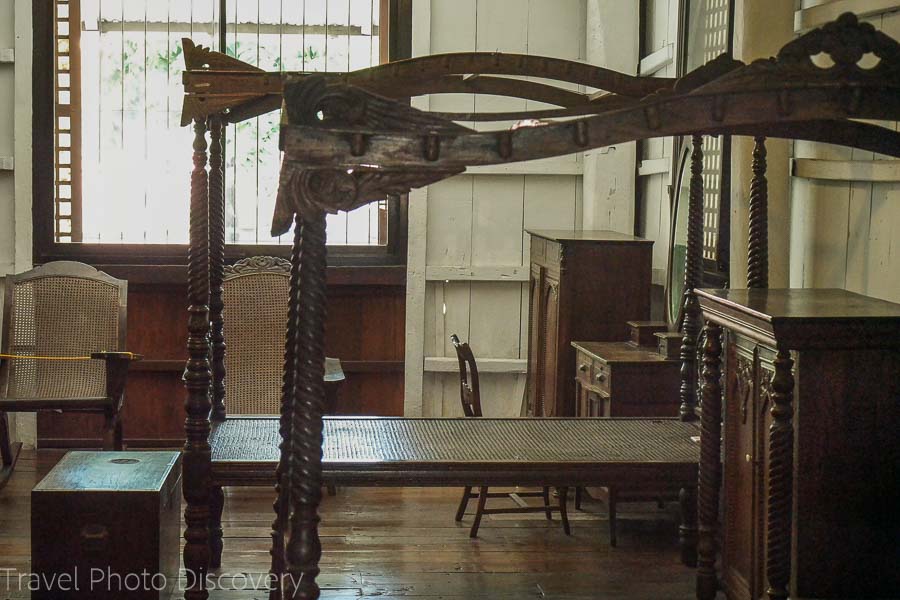 Father Burgos Museum and Home
The city has so many heritage homes and sites and this includes the Father Burgos Museum which used to be his home.  Now managed by the Philippine National museum, rotating exhibits, art collections and a visit to the home and personal collection of Father Burgos gives you an insight to the daily life, memorabilia and Spanish colonial lifestyle to living in Vigan city.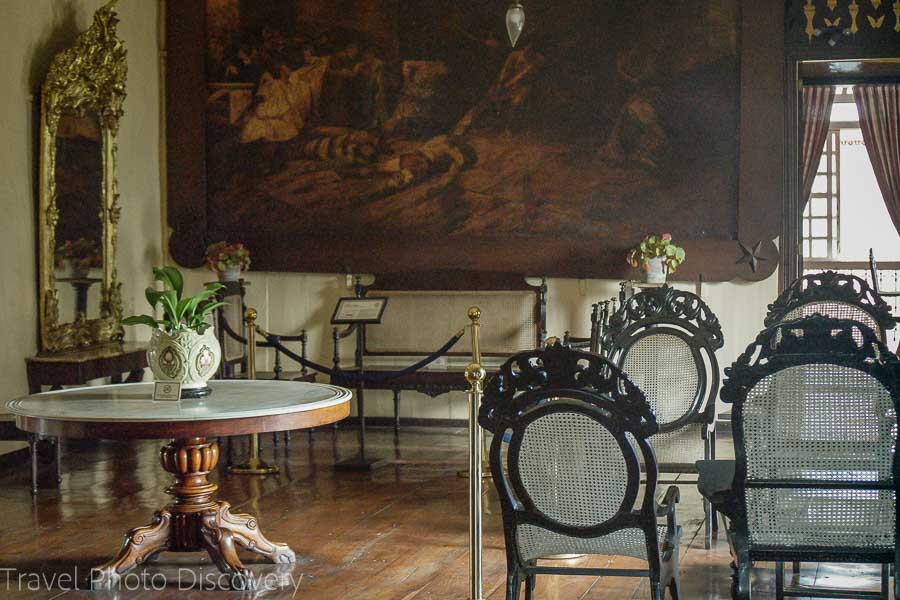 Syquia Mansion of President Elpidio Quirino
Home to the Philippine's sixth president, Syquia mansion is the birthplace of Elpidio Quirino who brought back the Philippines economic growth after World War II. You can take a self tour of the mansion with signage describing the elaborate rooms that are all open to visit in this colonial home.  The ancestral home has many of the personal effects, fine furnishings, antiques and memorabilia of this affluent family that made their fortune building trade in the Vigan area. The exquisite home, furnishings and beautiful details are perfectly preserved for you to see how the wealthy entertained and lived during this time frame.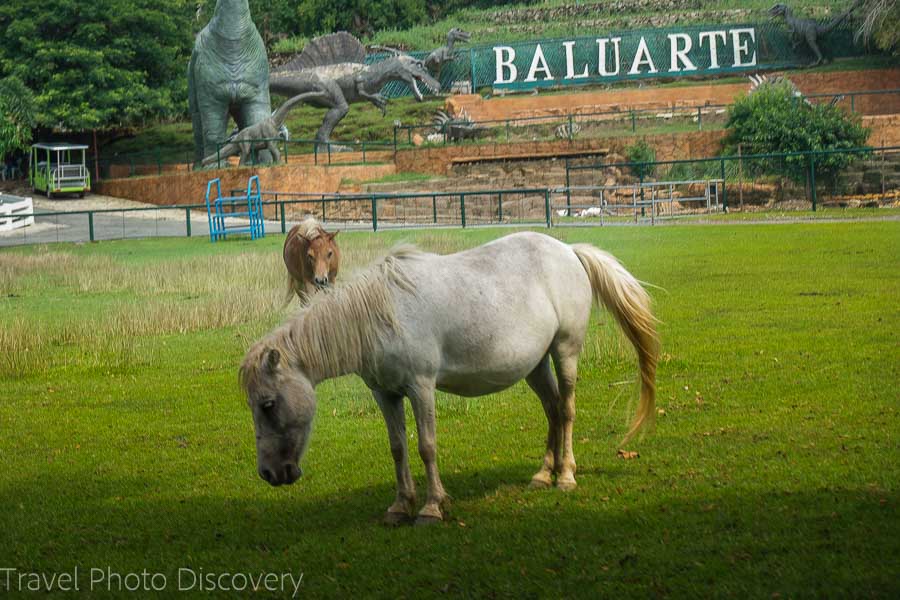 Baluarte Zoo
Part zoo and then a strange collection of the owners hunting prowess with a museum on the top of the hill with his trophy wildlife collection. This private collection gifted to the city, Baluarte is a fun distraction to visit outside of the city with a beautiful view from the top hill to the ocean with some free range animals roaming around and some other caged or fenced animals that you can view from a distance. This free zoo is open to the public, but there is a charge for the tram and visit to the wildlife museum if you're in the mood to see his trophy collection of prized heads and taxidermy.
Bizarre museum of taxidermy and prized hunts at Baluarte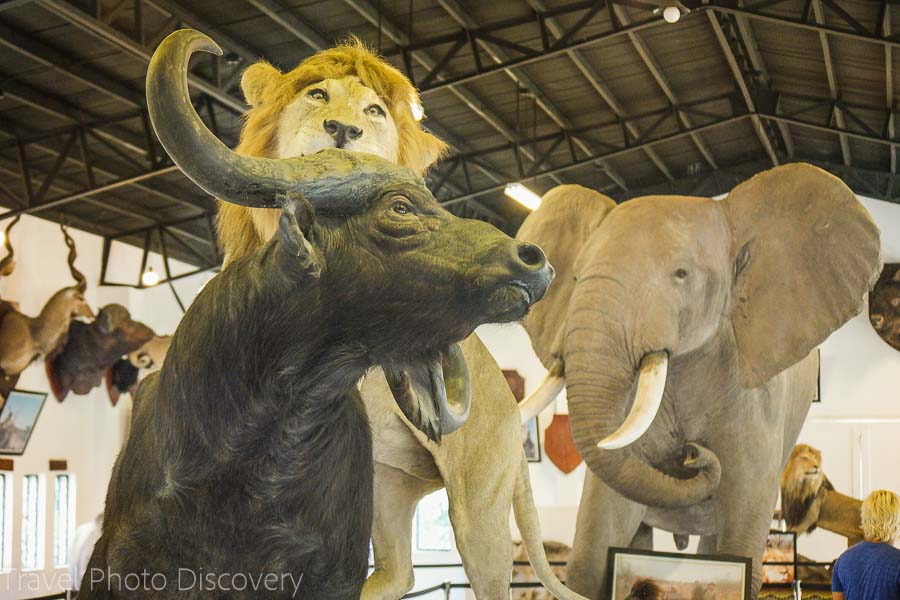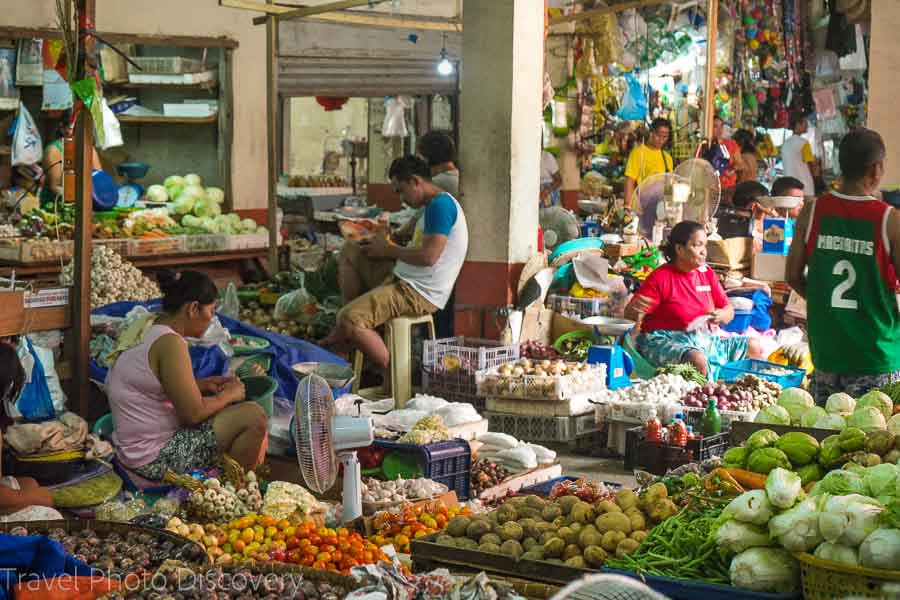 Explore Vigan City Public Market
The expansive Vigan public market is a fun place to explore to see where the locals shop for their perishables, meats, seafood and other take away foods. Housed in two large indoor buildings the top floors are the actual markets for fruits and vegetables on one side and meat, poultry and seafood with a large section of cafes, bakeries and other take away foods. The downstairs have crafts and souvenir shops, clothing and other daily sundry items worth walking around and finding some real cheap deals or gifts to take home. This is also a great market to photograph with not so shy locals also posing and hamming it up with you when you walk around the aisles.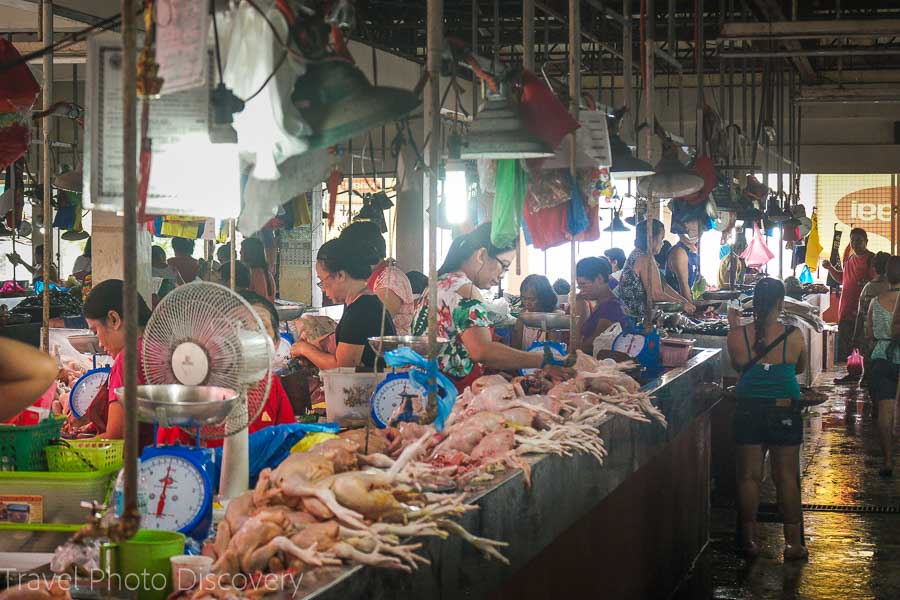 Here's a tour of the huge public market area of Vigan
The traditional craft of Abel Iloco in Vigan City
Traditional woven craft products are still hand-made in Vigan city and Ilocos Sur. There are traditional craft centers or coops that you can visit personally and pic up some wonderful and inexpensive hand-made woven crafts. Also, if you visit the Vigan public market, there is a large souvenir area that you can find many of the local fabrics turned into linens, clothing and other souvenirs at cheap prices.
Here's a video showing the craft of Abel Iloco below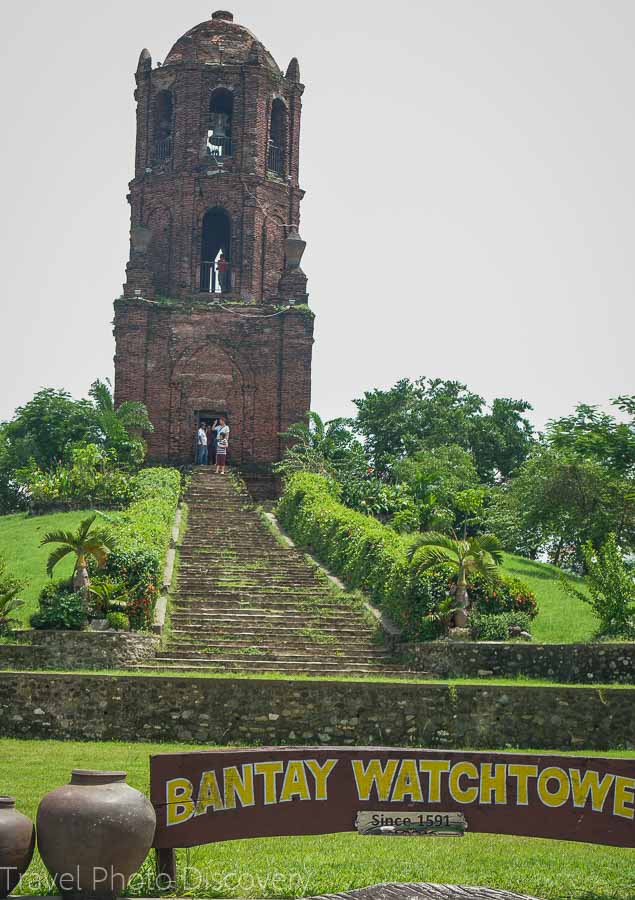 Bantay Belfry
The Bantay Belfry is in another section far from the historic district – you can catch a tricycle to get to this destination. The entrance to the tower requires you to sign in and give an optional donation to visit the tower. Once you enter, you climb up a nicely landscaped area and then enter the door where you climb two sets of stairs to two observation areas, but the top deck has great views and a nice cool breeze flowing through which made me want to stay longer to enjoy the great views from the top. The name Bantay means to watch and was used as a lookout for raiders coming close to the town.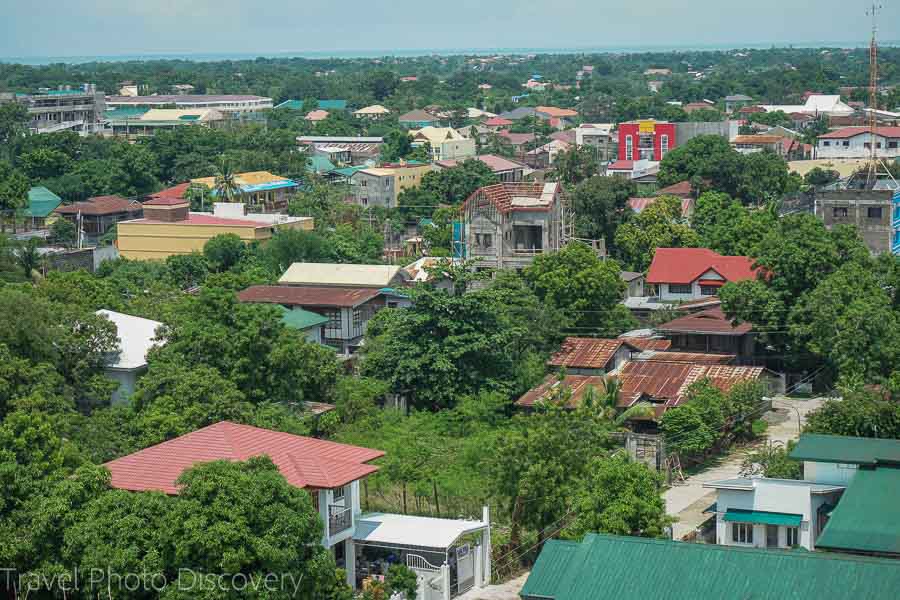 I head back down the tower and enjoy a nice last view and spot the wedding couple again taking pictures in the garden. Just outside the gate are a few more vendors selling crafts and snacks and I stop again to try another savory empanadas and fried shrimp okoy with a spicy vinegar sauce. When the temperatures are hot I usually just stick to small snack foods to keep me going instead of the typical heavy meals served in the restaurants. There are also a few cafes and small eateries just outside of the church if you are looking for a bigger meal.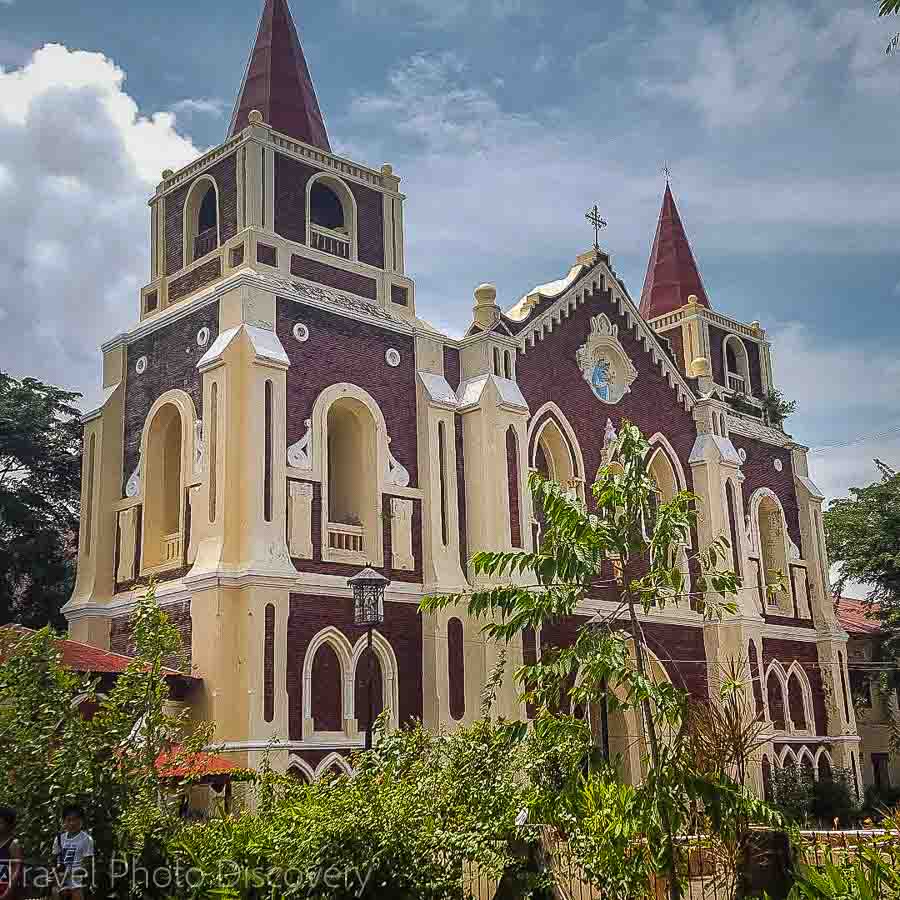 Bantay Church
The church is quite elaborate with a beautiful exterior and interior – a wedding photo shoot was in progress which made it fun to also take photos with a wedding couple. I checked out the lovely outside garden and chapel before heading out to climb the massive bell tower.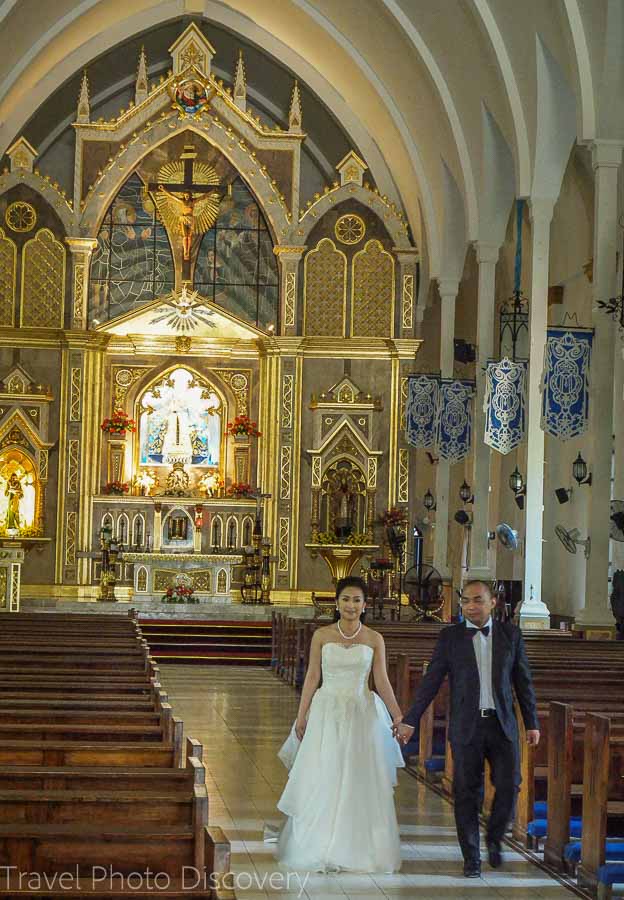 Bantay church gardens and outdoor chapel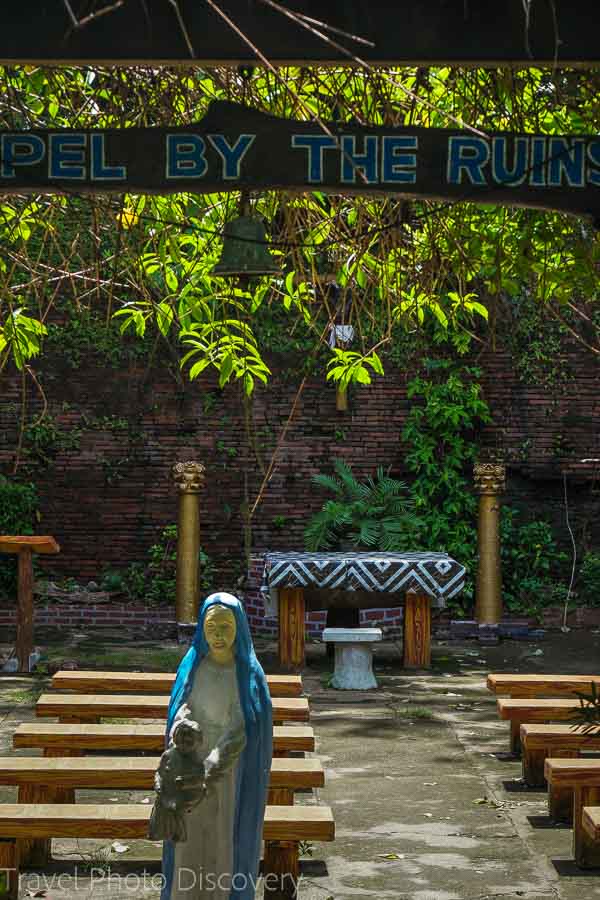 Here's a view of Bantay Church and the belfry from a drone view above
Plaza Burgos in Vigan City
Located in the historic district, Plaza Burgos is the starting point of the cobbled streets of Calle Crisologo along with a variety of fast food, take out eateries and the popular empanada shacks that Vigan city is known for its famous snack – the empanada. Old colonial structures line the square along with very well established restaurants serving a variety of Ilocano specialties from the region. If you're looking for food venues, take a walk around the square and then to Calle Crisologo and check out the menus and daily specials to the various places you pass through.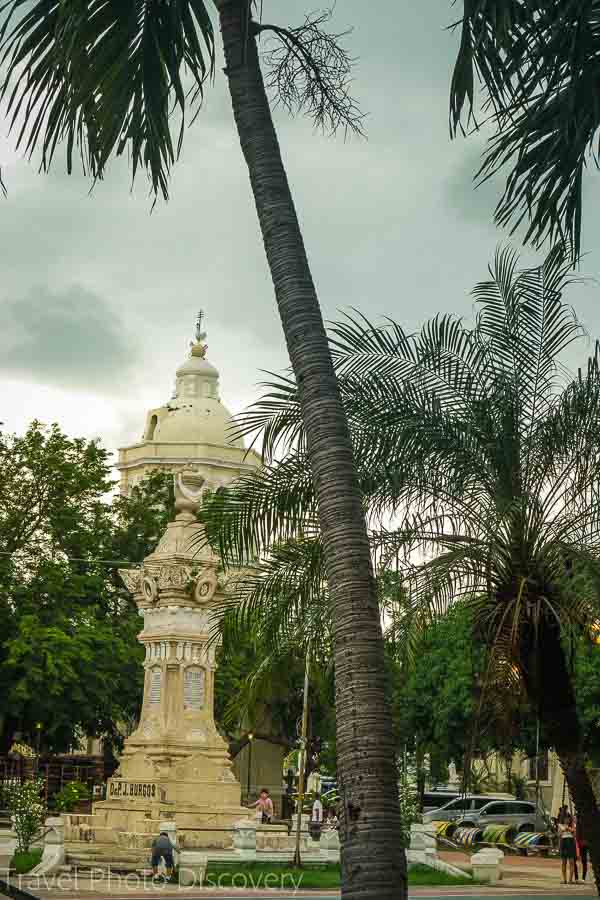 Old colonial buildings around Plaza Burgos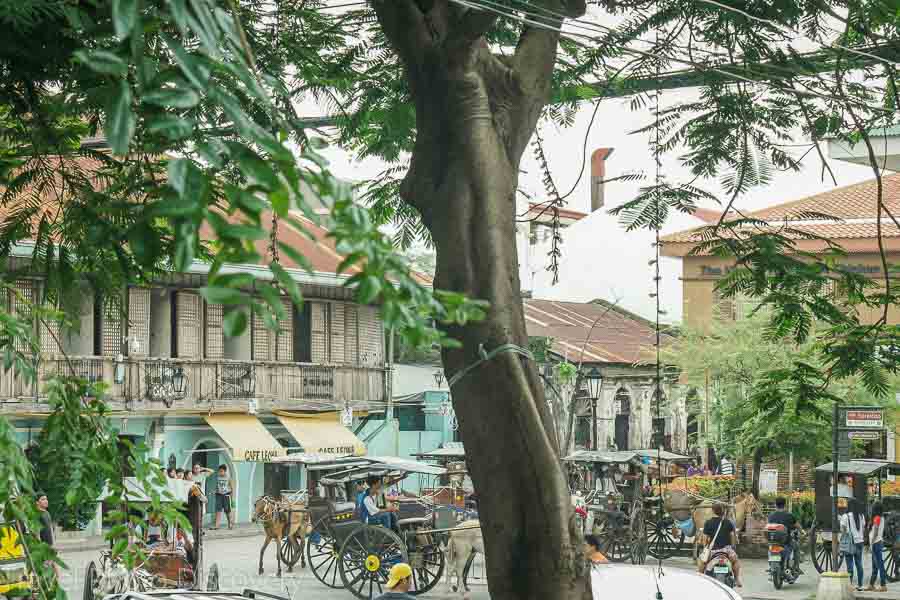 What to eat in Vigan city and where
There are many must eat types of specialty foods to try here in Vigan that are local, authentic and delicious to try. Here's what we recommend
Vigan empanadas
By far the most popular snack food or side dish in Vigan is empanadas. You will find empanada stands almost anywhere within the crowded plazas of Vigan, Empanada is something Vigan takes pride in.
Made with a combination of ingredients including Longganisang Iloko, beans, shredded cabbages, grated unripe papayas, onion, garlic and egg makes up the core of orange-colored Empanada.
It's good to visit the many stands where sellers make it right before your very eyes which is also another interesting sight.
Pinakbet
Pinakbet or Pakbet called locally is a delicious vegetable dish made with eggplants, okra, string beans, chili peppers, and bitter gourd. If you're feeling a bit conscious about your health, this is the perfect meal to try out in Vigan and a very popular local favorite dish to enjoy.
Bagnet
This popular Vigan style sausage is all the rage around the Philippines with the popular pork belly styled meat dish. Made traditionally and dried under the sun, marinated then deep-fried to make it super crispy with tender meat on the inside.  Bagnet is recognized as the region's delicacy symbol and is delicious and crunchy on the outside in fried perfection and so cholesterol-rich but oh so good to eat as a local delicacy.
Longganisang Iloko
A favorite local sausage, the Longganisang Iloko is known as Vigan Longganisa and a must try local sausage made and sold in the various markets around town. Very aromatic, plump, full of garlic, tatty and seen as a bit yellowish compared to usual sausages but one will convince you of the amazing flavors and aromas that is so well loved for this iconic sausage.
Filipinos cook them in a pan with a bit of water. After the water evaporates, the longganisa is fried using its own fat and is further fried until it turns slightly brown. It brings out its best flavor when dipped in vinegar and eaten with a plate of rice and eggs.
Royal Bibingka
For any sweet tooth, this is a must-try local dessert. The royal bibingka one of Vigan's specialties of a spongy rice cake dessert. The crusty top and the sticky but soft cupcaked-sized body makes up the crowd favorite bibingka. Topped with cheese and butter, you can never go wrong with a Royal Bibingka.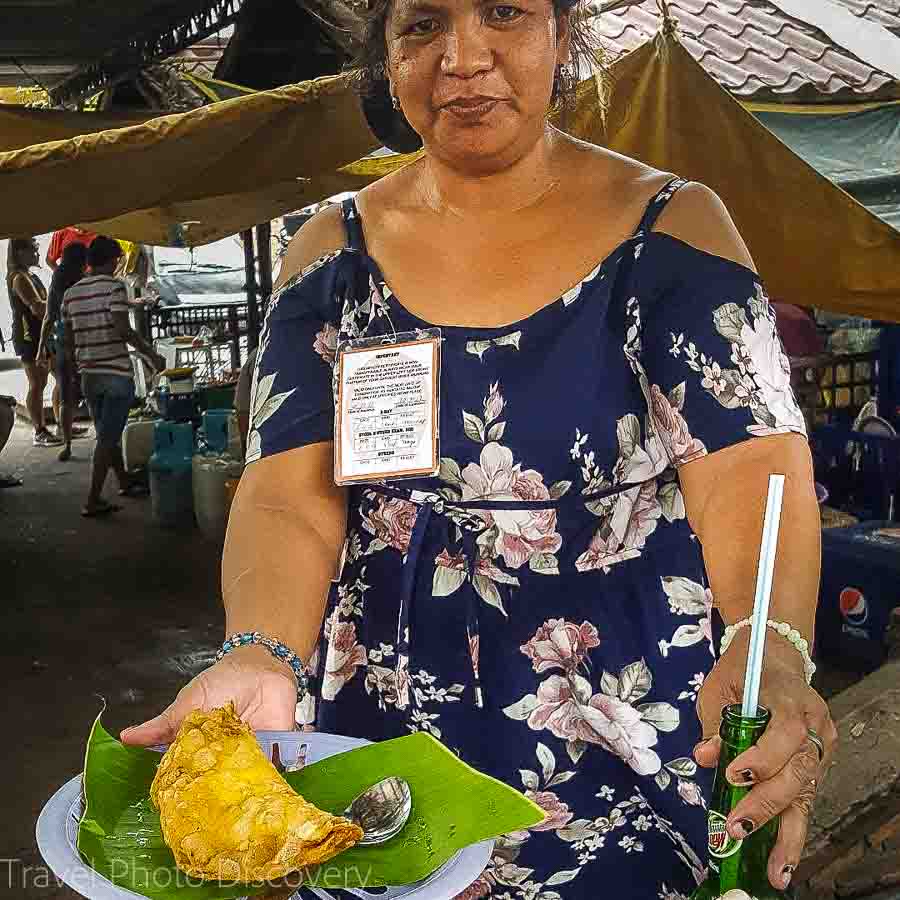 Empanada food stalls
Located on the far end of Plaza Burgos, you'll find the empanada food stalls where all the fried specialties including empanadas, okoy, grilled barbeques and soups are made fast and are an inexpensive snack or quick meal.  Around the square are a variety of shops and small malls selling a variety of souvenirs, t-shirts and clothing and other local made crafts and food items.
 Here's a video of the famous Vigan Empanadas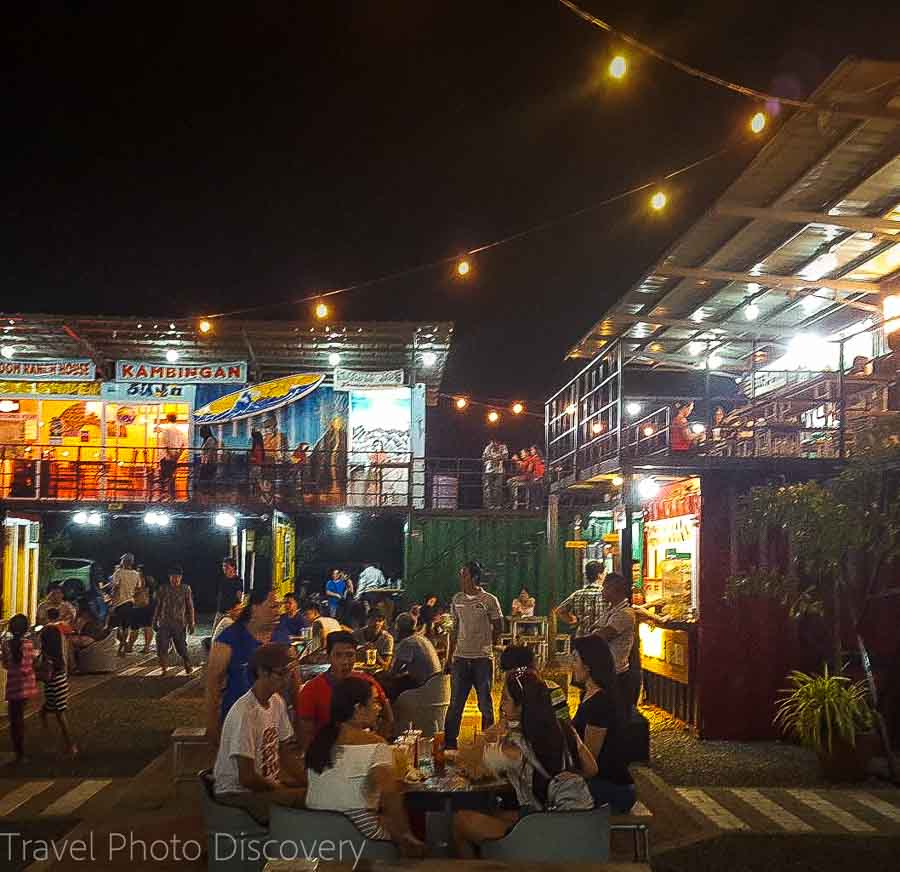 Sitio Food Park
Just outside of Vigan city is the cool new venue called Sitio Food Park which are old containers refashioned into a hip new dining, bar and hangout space with live music. Popular all day, the scene is really active at night time with live bands, neon and spotlights to create a fun vibe with many food choices to choose from snacks, desserts to local traditional food or even fusion food.  Come to Sitio if you're looking for something different and lively at night time in Vigan City.

Traditional to fusion at Sitio Food Park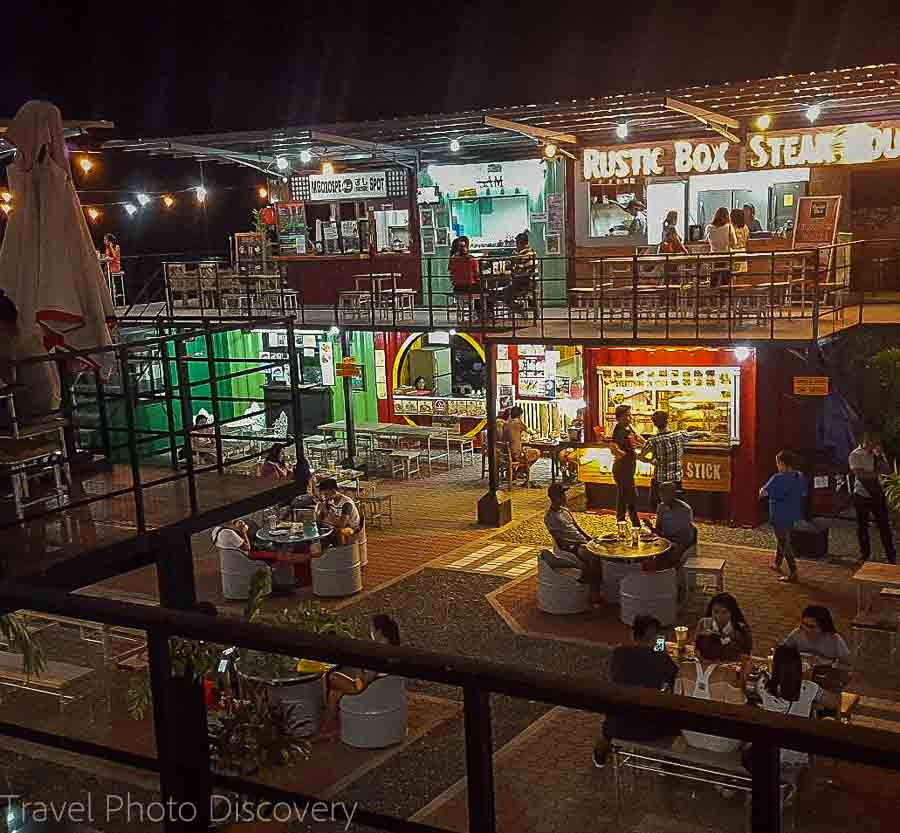 Where to eat around Vigan city
With fantastic food from the Illocano region, you'll love eating out and trying out all the delicious local food and specialties from the area. Check out this video of places to eat around the city now and the best street food venues in town.
Here's another Vigan inspired food visit below
Where to stay in Vigan City
 There are plenty of fantastic accommodations, but the best stays are in some of the beautiful homes repurposed into inns or hotels. Here are some of the wonderful choices for inns to add to your stay and visit to Vigan City below.
Hotel Luna – nicely restored with a swimming pool, the comfortable rooms and modern amenities make this stay and close proximity to Calle Crisologo ideal in the historic district.
Hotel Salcedo de Vigan – Beautifully restored colonial home in the heart of the historic district with spacious rooms, fantastic buffet breakfast and friendly front desk service.
Vigan Plaza Hotel – A grand colonial home restored with beautiful antiques, large rooms with historic details and features in the rooms and main room. In the historic district with comfortable sized rooms.
Check out these other listing reviews with Trip Advisor here for current prices and availability.
More details about visiting Vigan City, Illocos Sur
It's relatively easy to get around the city by taxi or tricycle, you can also hire a Kalesa ride to take you to any of the historic places around the city.
Try some of the local Ilocano specialty dishes like empanadas or okoy, loggonnisa (local sausages), and popular main dishes like pinakbet, bagnet (fried pork belly)
There are quite a few spas around Vigan City which are a fantastic and inexpensive way to wind down after touring around the city. You can check out the various spas here for more details
Stay in the historic district so it is easier to just walk around and see some of the main attractions and take taxis to the outlying areas..
How to get to Vigan city in Ilolos Sud
Located in the Northwest sector of the Philippines on Luzon Island, the city is very far to get to in the Ilocos Sud Region. The main way to get there is by plane, bus or private transportation. The distance from Manila to Vigan is about 264 miles and average time to get there is from 5.5 to 6 hours or quicker by plane.
Getting there by plane
The easiest way to get to Vigan City is by flying from Manila to the closest airport at Laoag and taking a bus or hired car to Vigan City. There are about 4 main bus lines from Laoag to Vigan City and the best schedule is with Partas Bus lines and you can check out their availability here.
Getting to Vigan by Bus
Getting to Vigan from Manila by bus takes about 9 hours but is the cheapest option to getting to Vigan City. If you are ready for the long ride from Manila to Vigan city there are many bus lines from Manila that cover this route. You can check out the many bus routes here for more information and current prices.
Getting to Vigan by taxi or private car
You can go by private car or taxi to Vigan for more privacy and even stop at various places of interest along the way. Or you can easily rent a car and do the trip yourself, if you want to explore many attractions and other historic sites to visit along the way.
Inspired – Please pin this post!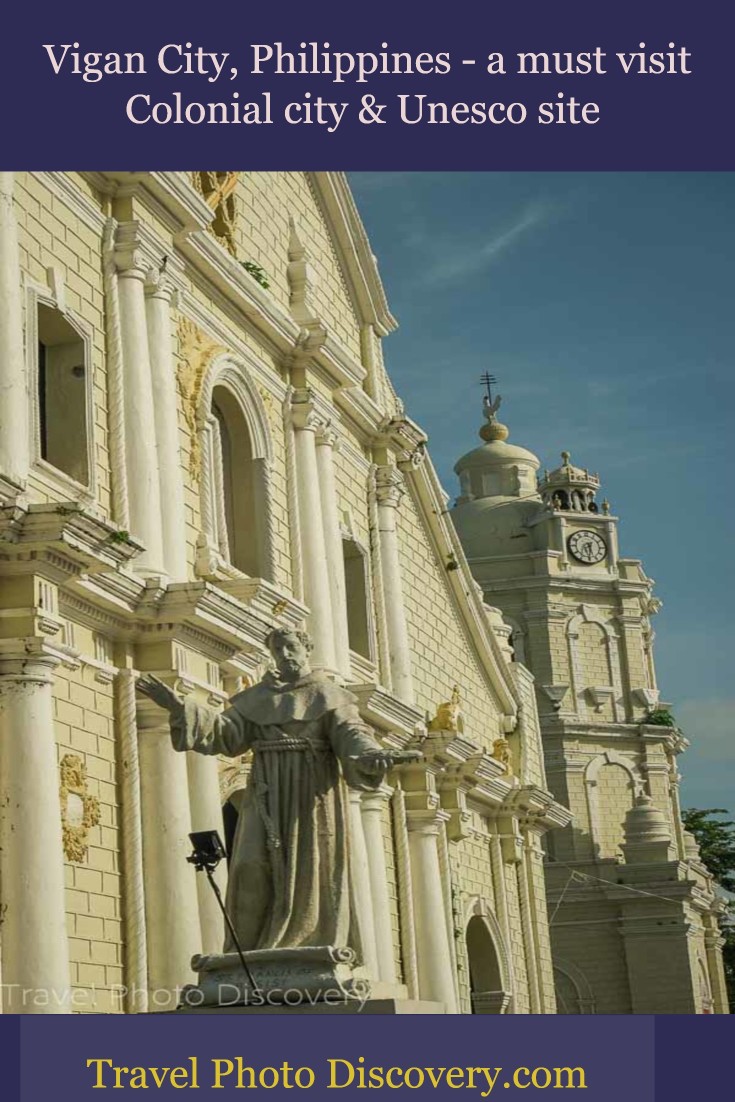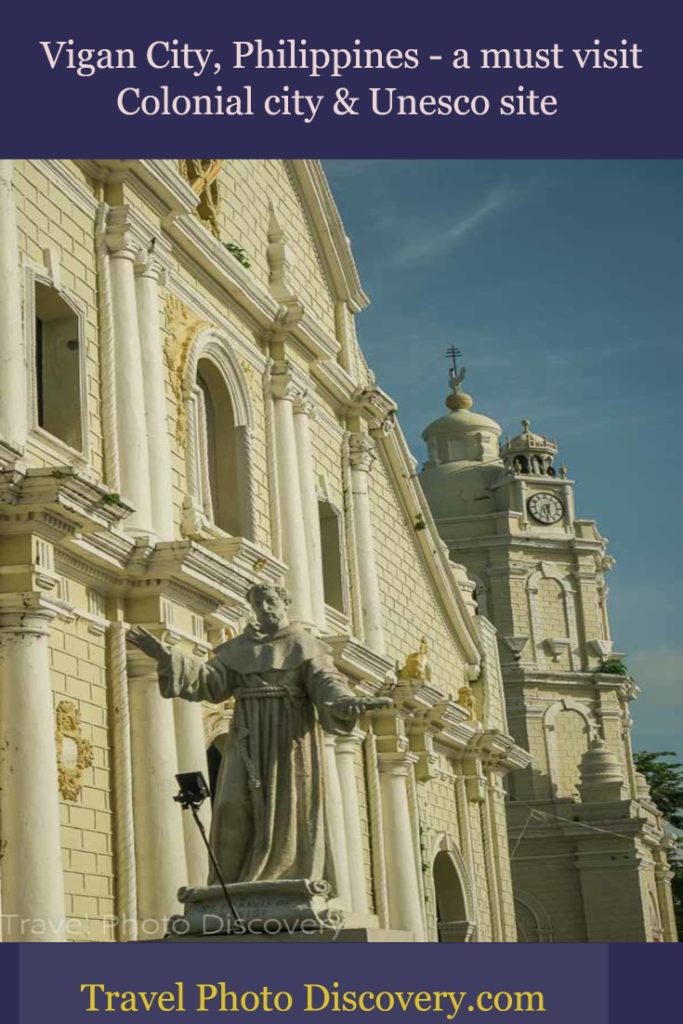 Conclusion on visiting Vigan City, Ilocos Sur region
You'll enjoy your visit and stay around Vigan to explore this wonderful Unesco site and walk around this city of restored homes, public buildings and shopping venues around the regional capital city of Ilocos Sud.
Thanks for visiting today and checking out this post on the Must-see Vigan tourist spots, Ilocos Sur, if you enjoyed the images and post, could you please share it with any of the social media buttons located around the post.
If you like what you see, come and check out my other social media channels for more updates, including Instagram, Pinterest and Twitter
Disclosure – There are affiliates links on this posts which provide a small commission to support this site at no extra cost to you. Thank you for reading, and happy travels