Exploring the Flavors of Vigan: A Gastronomic Journey at Vigan City's Public Market (updated 2023)
I love visiting local markets whenever I go to a new destination. Visiting a public market heightens all my senses with visual imagery that is fun to explore, impactful and filled with photo opportunities. Visiting the public market in Ilocos Norte at Vigan is raw and alive with daily shopping rituals and visiting friends. You can to see and even taste local snacks, foods and delicious in season tropical fruits and vegetable or even souvenir shop for locally made crafts and artwork.
Located in the heart of this historic city, the Vigan Public Market offers a delightful exploration of flavors, aromas, and cultural heritage. A huge complex in a two story structure there's a lot to see exploring around the market place. As you wander through its bustling aisles, you'll encounter an abundance of fresh produce, local delicacies, and traditional crafts. Immerse yourself in the vibrant atmosphere, engage with friendly vendors, and indulge your senses in a gastronomic journey like no other. Join us as we delve into the rich tapestry of Vigan's Public Market, where the vibrant food culture and the city's timeless charm come together in perfect harmony.
Where is the Vigan Public Market located
The Vigan Public Market is located in Vigan City, which is in the Ilocos Sur province of the Philippines. It's a bustling market known for its traditional Filipino products, local delicacies, and a wide range of goods.
Why visit the Vigan Public Market?
Visiting the Vigan Public Market offers a captivating experience filled with cultural richness and culinary delights. Here are compelling reasons to explore this vibrant market:
1. **Cultural Heritage:** Vigan City is a UNESCO World Heritage site known for its well-preserved Spanish colonial architecture. The market reflects this heritage with its traditional Filipino atmosphere, making it an integral part of Vigan's historic charm.
2. **Local Products:** The market is a treasure trove of local goods, including handwoven textiles, pottery, handicrafts, and traditional clothing. It's an excellent place to purchase unique souvenirs and gifts.
3. **Authentic Cuisine:** Vigan is renowned for its distinctive culinary offerings, such as Vigan longganisa (sausage), bagnet (crispy pork belly), and empanada. The market is a food lover's paradise where you can savor these delicious specialties.
4. **Street Food Delights:** Explore the market's alleys to discover a variety of street food vendors offering tasty and affordable treats. Don't miss trying the famous Vigan empanada, a crispy pastry filled with local ingredients.
5. **Local Interaction:** Engage with the friendly locals who operate the stalls and shops. They can provide insights into Vigan's culture, history, and traditions, creating a more enriching experience.
6. **Historic Ambiance:** The market's surroundings evoke a sense of nostalgia, taking you back in time to the colonial era. It's an excellent place to appreciate the architectural heritage of the Philippines.
7. **Photographic Opportunities:** The colorful stalls, bustling atmosphere, and intricate details make Vigan Public Market a photographer's dream. Capture the essence of Filipino life and culture here.
8. **Convenience:** If you're staying in Vigan City, the market is a central hub where you can find essentials, groceries, and local products all in one place.
Visiting the Vigan Public Market allows you to immerse yourself in the cultural and culinary traditions of Vigan, offering a delightful and authentic taste of Filipino heritage.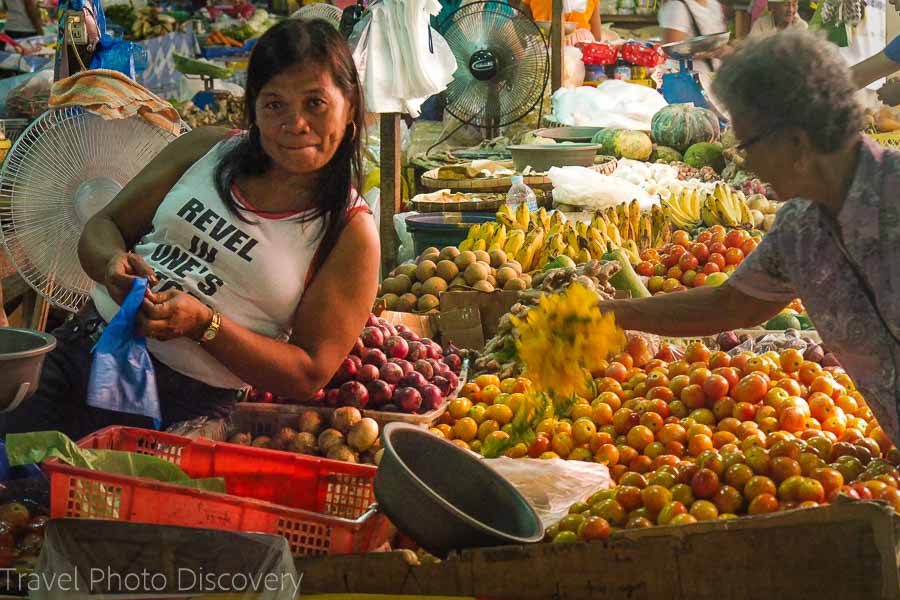 Let's tour the Vigan public market in Ilocos Sud
Busy Public marketplace at Vigan City
Surprisingly the people and vendors at Vigan public market are not shy and also love to ham it up when they see you taking photos of them. The concrete buildings are gigantic with two covered buildings that provide shade and protection from outdoor elements. The market space is not pretty with a flotilla of little tricycles parked out in the parking lots with drivers soliciting for rides around the city.  It's utilitarian, but still colorful in some spots and fun walking around the different sections that cater to the type of foods and produce being sold.  Here's how it looks around the marketplace perimeter.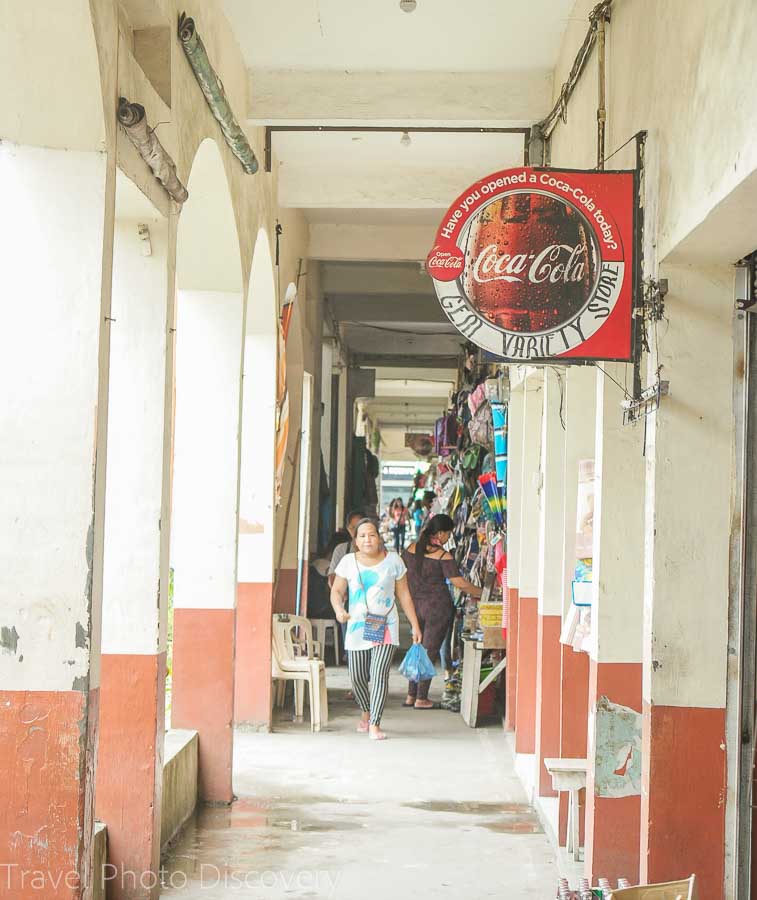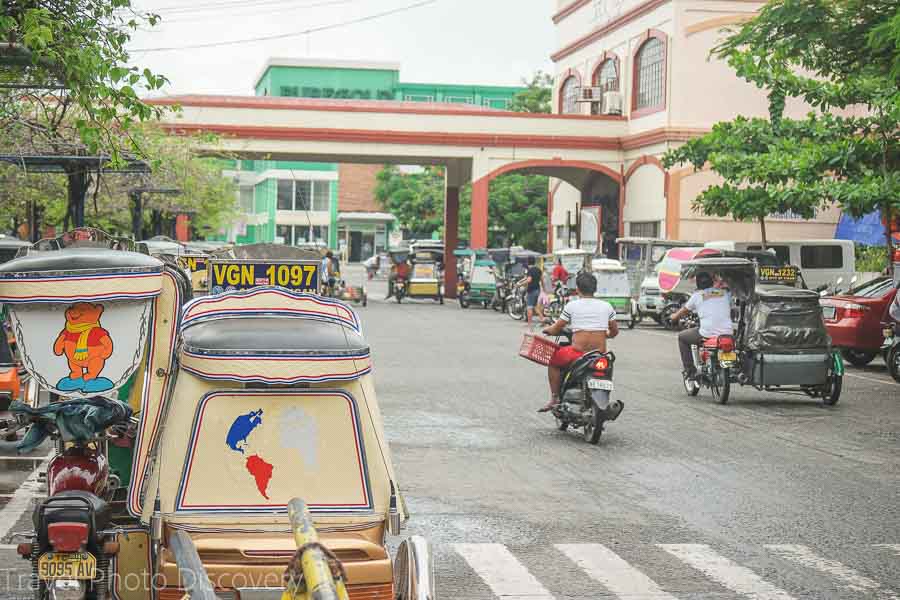 Vigan market's colorful produce section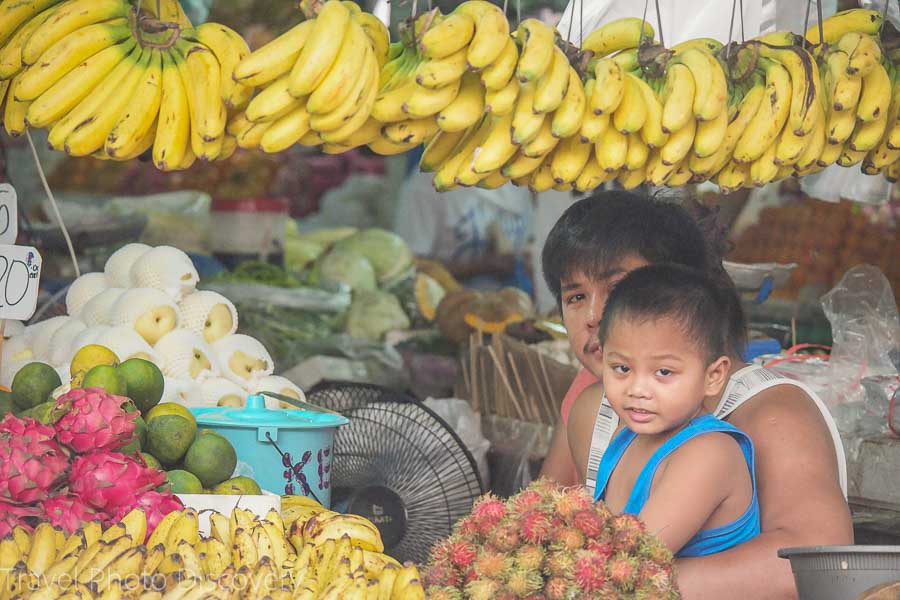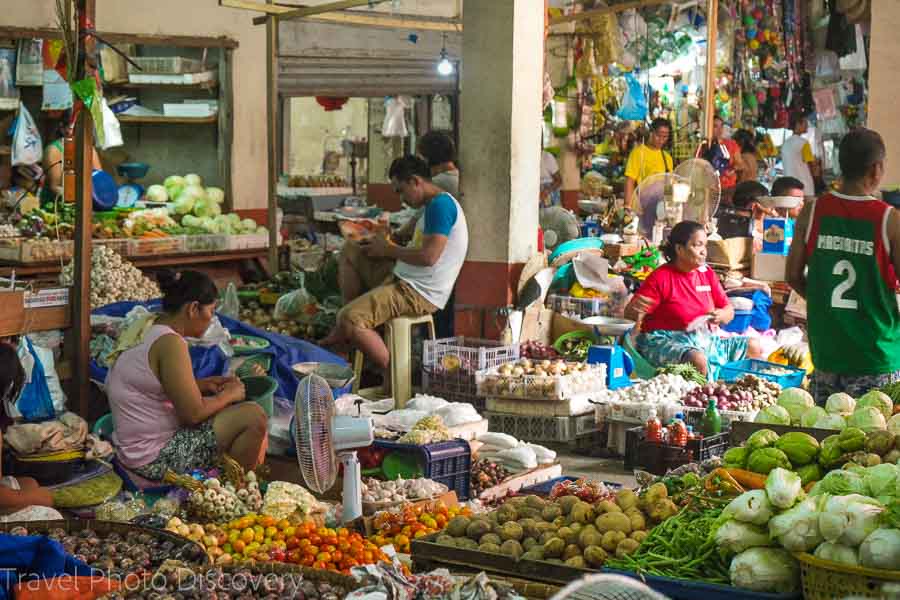 Keeping cool at the Vigan market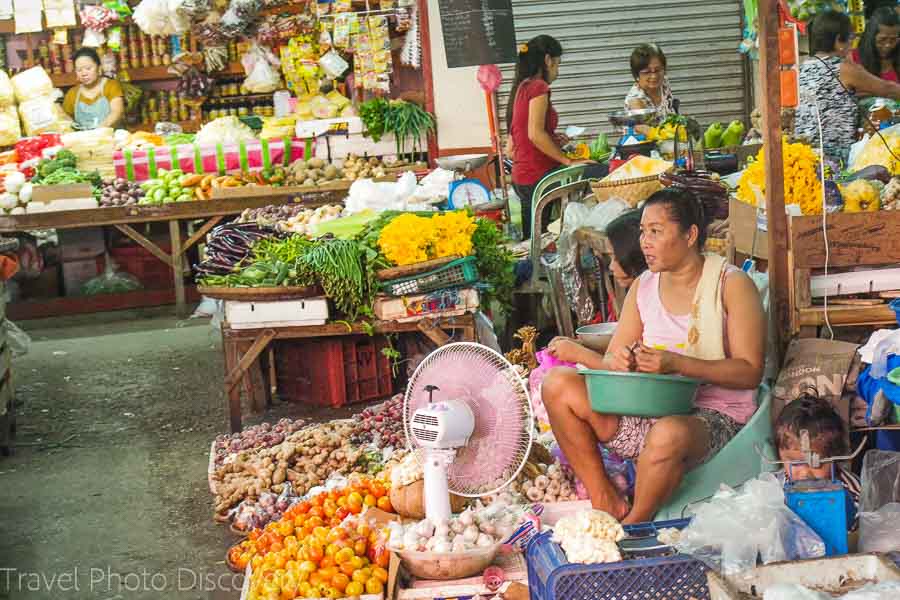 Cheap and tasty pineapples for sale at Vigan market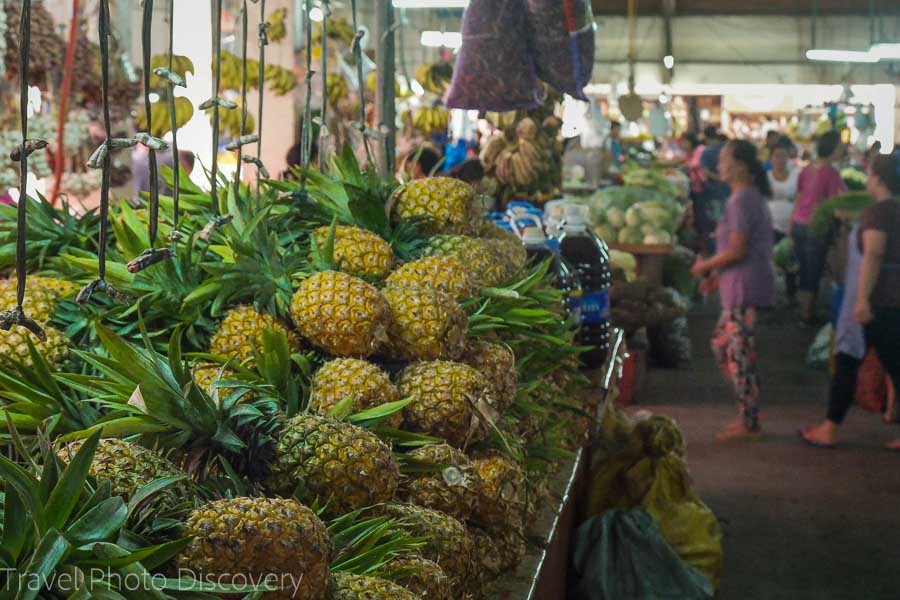 Vigan market's delicious, prepared foods and snacks
Filipinos love to snack or get a quick bite while shopping the markets here and there's plenty of food vendors to choose from. If you have a sweet tooth, then there are lots of pastries, baked goods and other sweet goodies to tempt you to try something different and exotic in flavors. Check out some of these local favorites below and you might want to explore the upstairs food area of the market to try some of these delicious foods for sale.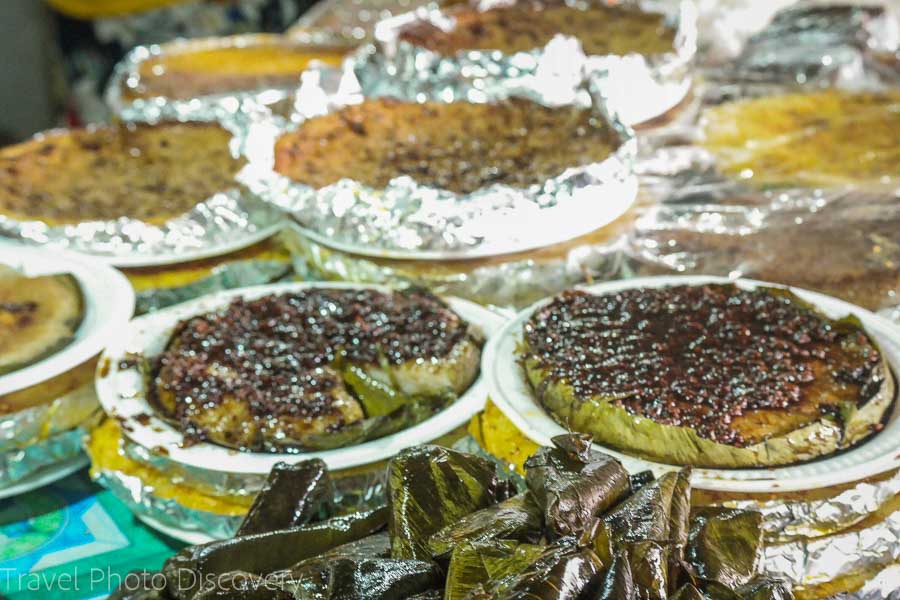 Popular take out foods like the pancit noodle dishes below for under a dollar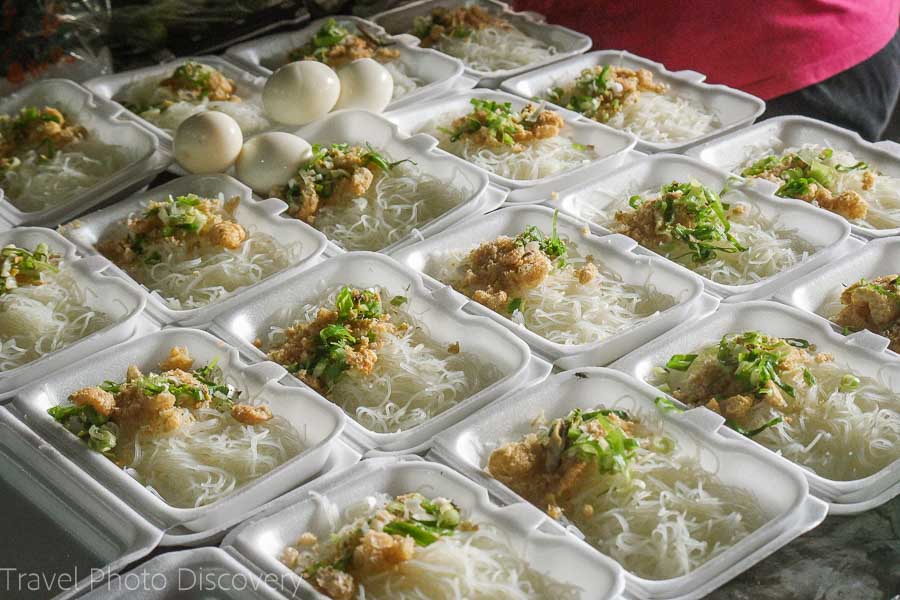 Tasting the fried empanada specialties from Vigan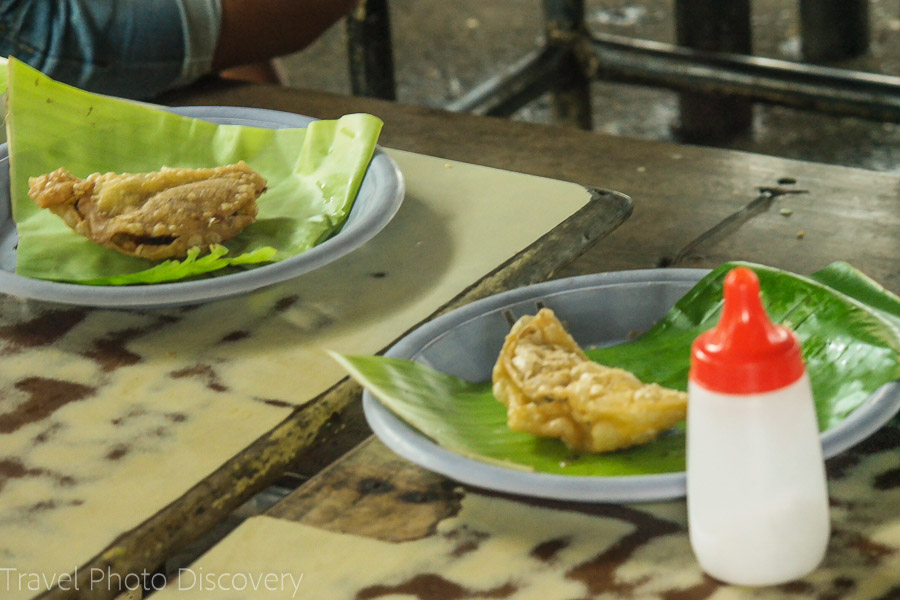 The tasty local Bagnet – crispy pork belly is delicious with a spicy vinegar dressing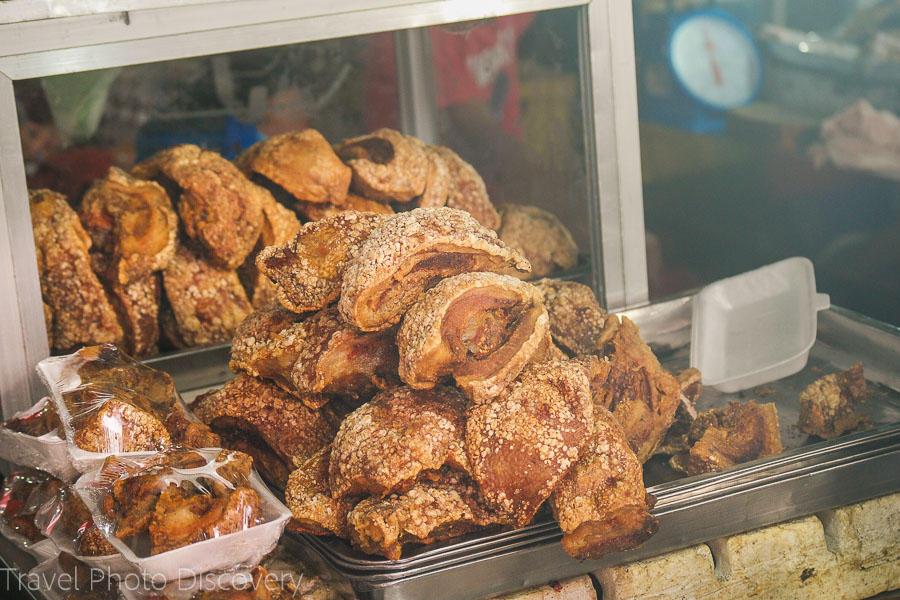 What are the specialty and take out foods at the Vigan Market
The Vigan Public Market is a culinary haven, offering a variety of specialty and take-out foods that showcase the rich flavors of Filipino cuisine. Here are some must-try specialties and take-out options:
Vigan Empanada:
This is the iconic dish of Vigan. It's a crispy pastry filled with a mixture of ground meat, vegetables, and grated green papaya. Don't forget to dip it in sukang Iloko, a local vinegar.
Vigan Longganisa:
These savory sausages are a local delicacy known for their garlicky flavor. They make for a delicious breakfast or addition to any meal.
Bagnet:
Bagnet is crispy, deep-fried pork belly, similar to lechon kawali. It's incredibly crunchy on the outside and tender on the inside, often served with a side of dipping sauce.
Okoy:
Okoy are deep-fried shrimp or vegetable fritters. They're crispy, flavorful, and often served as a snack or appetizer.
Sinanglao:
This is a Vigan specialty soup made from beef innards, often enjoyed as a hearty and flavorful dish.
Chichacorn:
These are corn kernels that have been deep-fried and seasoned, creating a crunchy and savory snack. They come in various flavors, including garlic, cheese, and barbecue.
Local Delicacies:
Look for stalls selling native kakanin (rice cakes) like bibingka, puto, and sapin-sapin. These sweet treats are perfect for satisfying your dessert cravings.
Fresh Fruits:
Depending on the season, you can find a wide selection of fresh tropical fruits, such as mangoes, bananas, and pineapples.
Local Drinks:
Try the refreshing sugarcane juice or coconut water served straight from coconuts, perfect for quenching your thirst.
Take-Out Meals:
Many stalls offer pre-packed meals and snacks that you can take with you. These may include adobo (a savory stew), pancit (noodles), and lumpia (spring rolls).
Exploring the Vigan Public Market's culinary offerings is a delightful journey into the flavors of the Philippines. Don't hesitate to sample these specialties and take some with you as souvenirs or for a tasty snack on the go.
Checking out the gritty sections of the Vigan market
The butcher, seafood and other meat market section of the Vigan market is lively, raw and absolutely in your face.  Displayed recently butchered meats range in easy to see food displays to fresh cuts hanging in an unappealing fashion on simple hooks. The good thing is that the market is well covered and the sections look very clean and well maintained – with vendors smiling or trying to tempt you to check out their merchandise. Here are some highlights  visiting this section of the marketplace.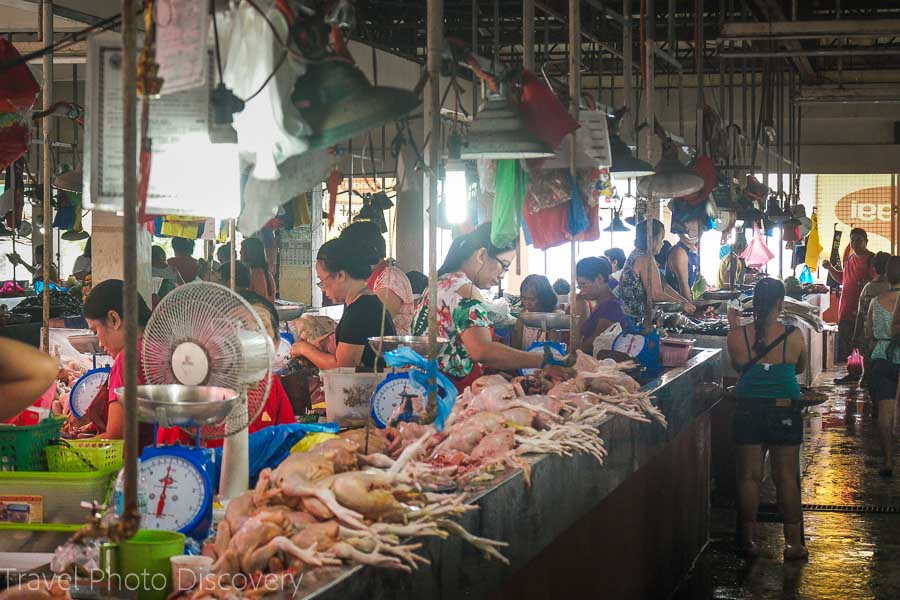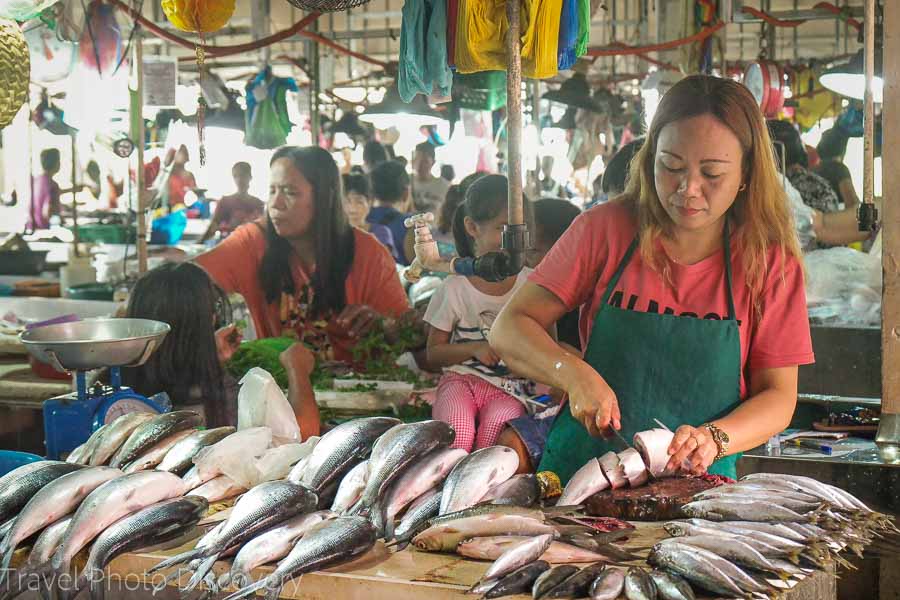 Looking to buy some dried fish?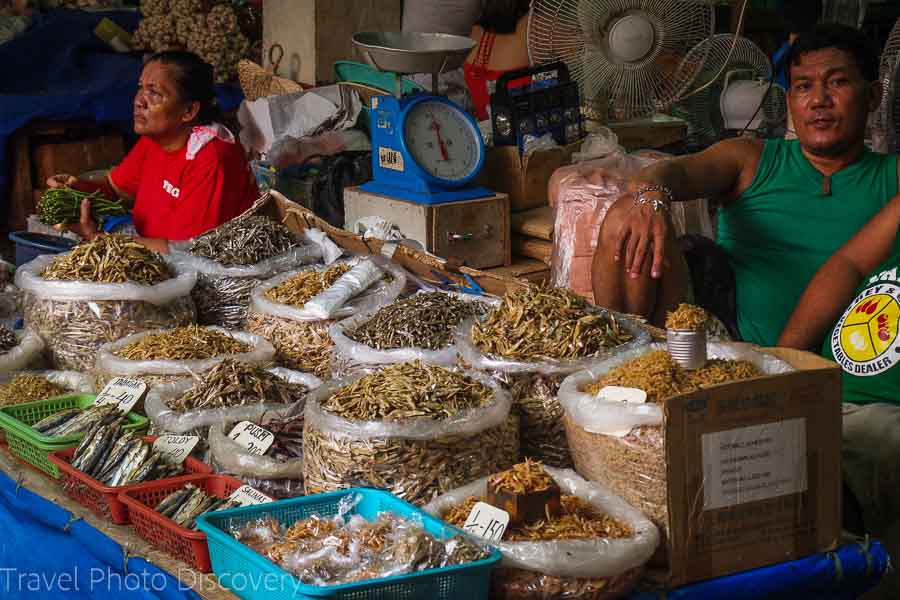 Raw meat next to take out pork belly for sale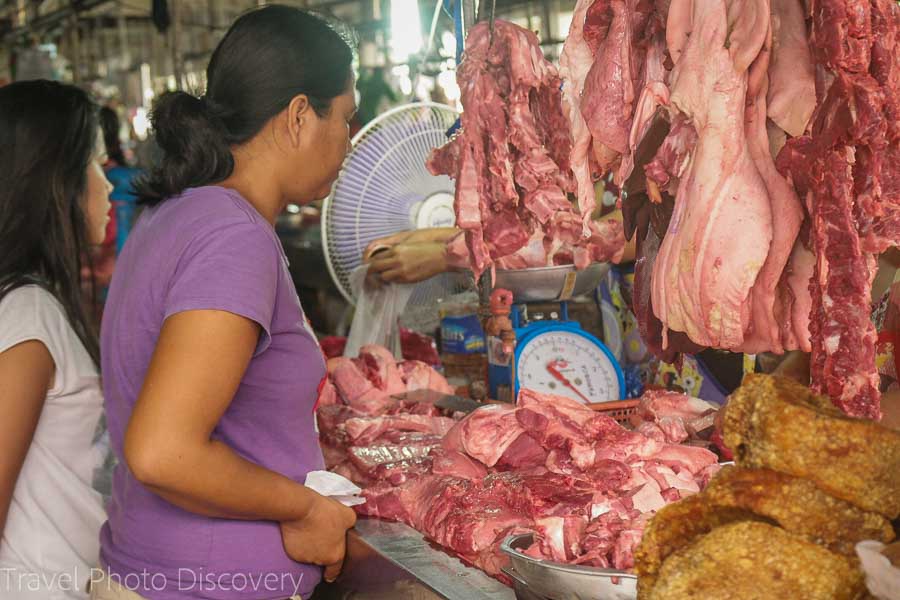 Vigan arts and local crafts
The sections below the market carries cheap sundry items, clothing stands and a section featuring local crafts and souvenirs that you can find and even bargain for inexpensive gifts. Offering a variety of handmade items including: hand woven linens, wood carvings, jewelry,  ceramics and T shirts, you'll find the best deals here compared to the tourist areas of Vigan city. It's nice that the vendors are nice and not to pushy about selling their wares here, so don't feel obligated to compare merchandise and prices from one stall to the next.
More details and tips visiting the Vigan market
Vigan market hours are early mornings to 7:30 pm and located at Alcantara Street
The market is located next to the bus station away from the historic district, it's easy enough to catch a cab or tricycle to the market.
Tricycles from the historic district should be around 20 Pesos or under 50 cents.
The upstairs sections sell the perishable goods, take out foods, baked goods and snacks and the meat/seafood vendors. Downstairs sections sell sundry items, clothing and household goods and a nice section of local arts and crafts.
Must try local foods include: Bagnet (fried pork belly), longganisa (local Vigan sausage), empanada or other fried specialties, pinakbet -(vegetable stew in a shrimp paste), Vigan Miki (savory chicken noodle soup)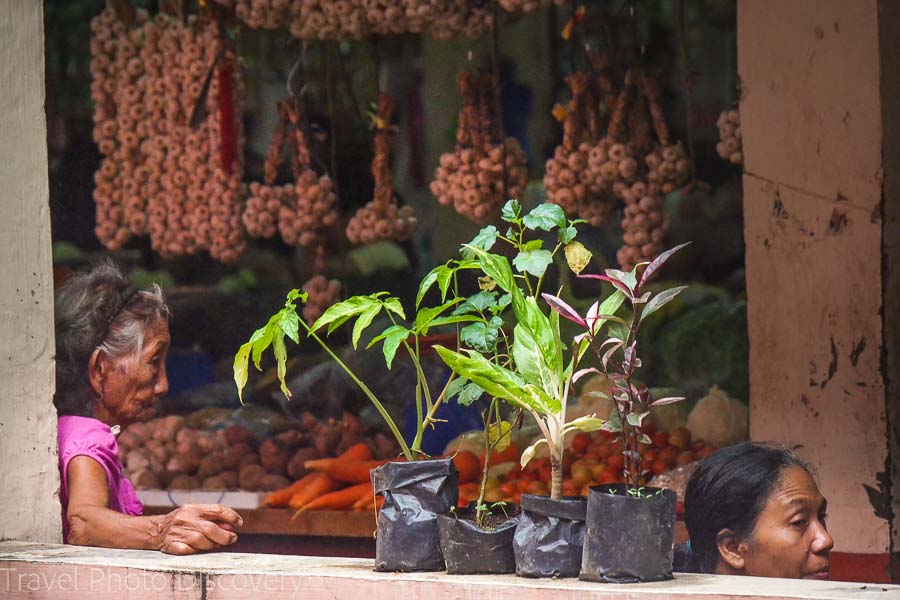 How to get to the Vigan City Public Marketplace
Here's a quick guide on how to reach this bustling marketplace:
By Foot: If you're already in the city center, the Public Marketplace is easily accessible by foot. Simply navigate towards the main streets of Vigan and head towards the bustling area where the marketplace is located. Follow the signs or ask locals for directions, and you'll find yourself amidst the vibrant market in no time.
By Tricycle: Tricycles are a popular mode of transportation in Vigan. They are readily available throughout the city, and you can easily hire one to take you to the Public Marketplace. Inform the tricycle driver of your destination, and they will take you directly to the marketplace entrance.
By Jeepney: Vigan City is also serviced by jeepneys, which are a common mode of public transportation in the Philippines. Look for jeepneys with routes that pass through or near the Public Marketplace. Inform the driver or conductor that you want to alight at the marketplace, and they will help guide you to the appropriate stop.
Check out these posts on visiting Ilocos Norte and Ilocos Sud
Must visit Vigan city attractions
Please pin this post for later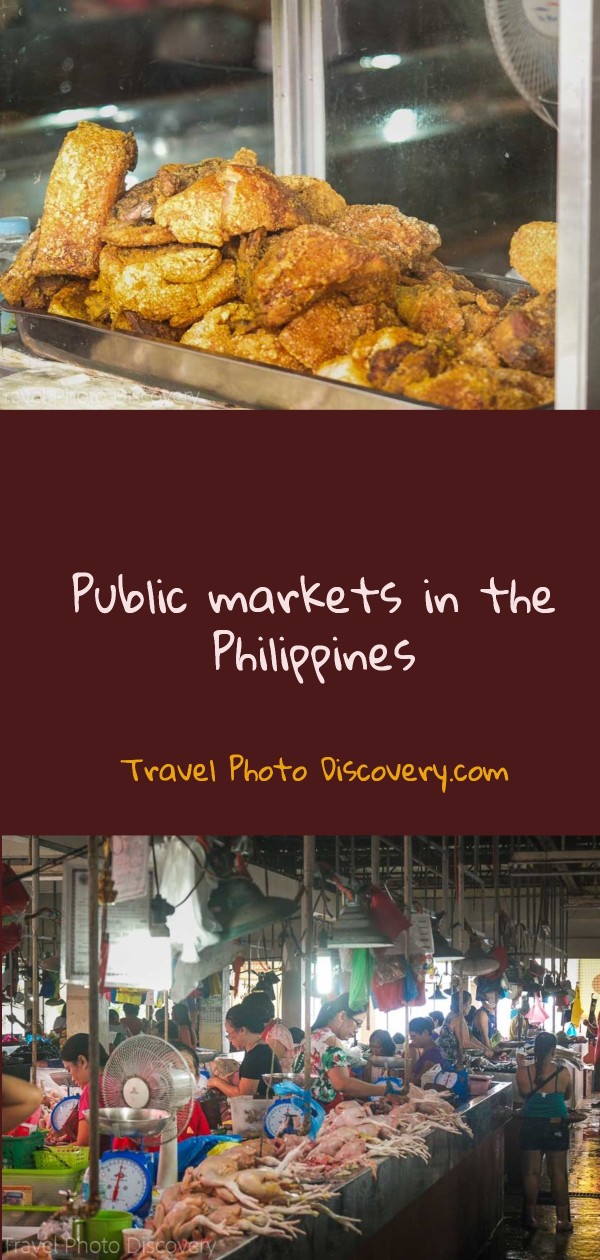 Have you explored the public markets of Vigan City?
Any favorite foods or souvenirs to take home with you from your visit there? Please share your thoughts in the comments below.
Conclusion to visiting the Vigan Public Market
Visiting the Vigan Public Market is an experience that leaves a lasting impression on every visitor. As you conclude your exploration of this bustling marketplace, you'll carry with you not just bags of local delicacies and unique souvenirs but also cherished memories of the vibrant atmosphere, the warm interactions with vendors, and the authentic flavors that define Vigan's culinary heritage.  Whether you're a food enthusiast, a culture lover, or a curious traveler, the Vigan Public Market promises an unforgettable journey of discovery and an opportunity to immerse yourself in the vibrant spirit of this historic city.
Thanks for visiting today and checking out this post on Visiting the public market in Ilocos Norte. If you enjoyed the images and post, could you please share it with any of the social media buttons located around the post.
If you like what you see, come and check out my other social media channels for more updates, including Instagram, Pinterest and Twitter
Disclosure – There are affiliates links on this posts which provide a small commission to support this site at no extra cost to you. Thank you for reading, and happy travels