Visiting the public market in Ilocos Norte
I love visiting local markets whenever I go to a new destination. Visiting a public market heightens all my senses with visual imagery that is fun to explore, impactful and filled with photo opportunities. Visiting the public market in Ilocos Norte at Vigan is raw and alive with daily shopping rituals and visiting friends. You can to see and even taste local snacks, foods and delicious in season tropical fruits and vegetable or even souvenir shop for locally made crafts and artwork.
Lets tour the public market in Ilocos Norte at Vigan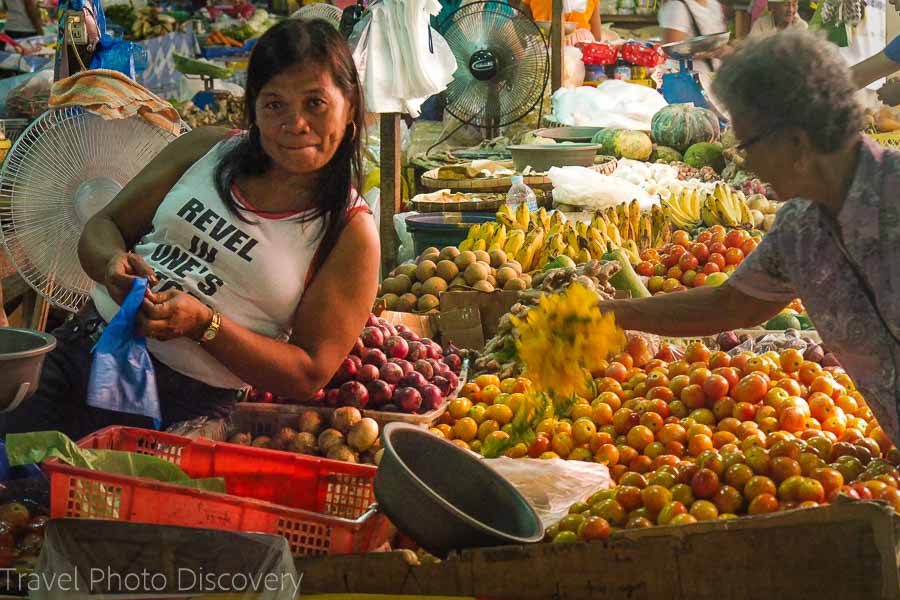 Surprisingly the people and vendors at Vigan public market are not shy and also love to ham it up when they see you taking photos of them. The concrete buildings are gigantic with two covered buildings that provide shade and protection from outdoor elements. The market space is not pretty with a flotilla of little tricycles parked out in the parking lots with drivers soliciting for rides around the city.  It's utilitarian, but still colorful in some spots and fun walking around the different sections that cater to the type of foods and produce being sold.  Here's how it looks around the marketplace perimeter.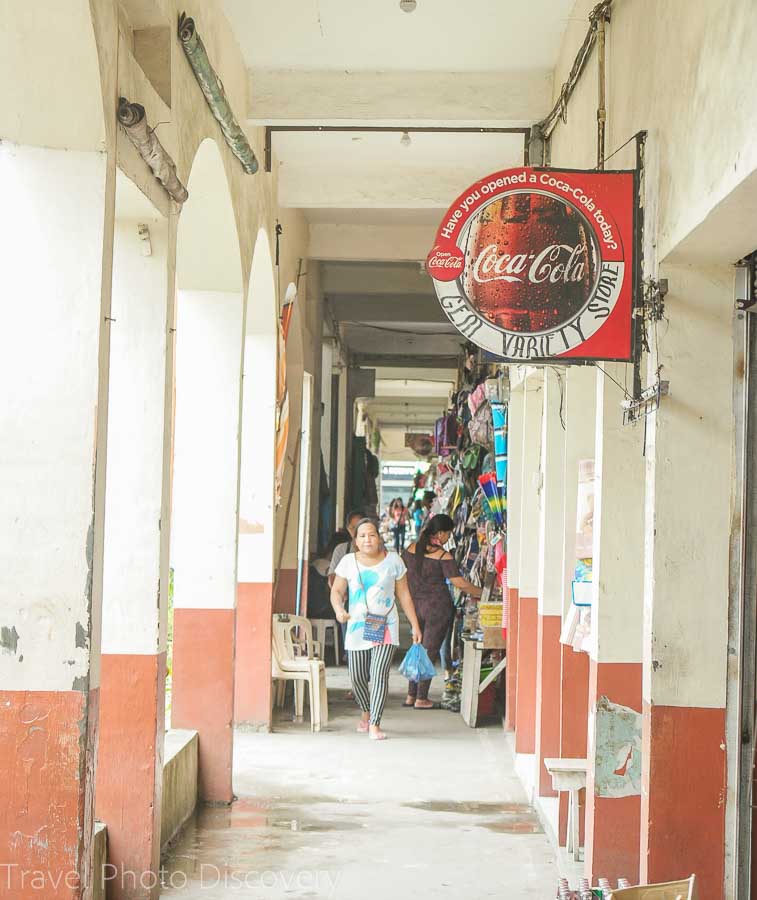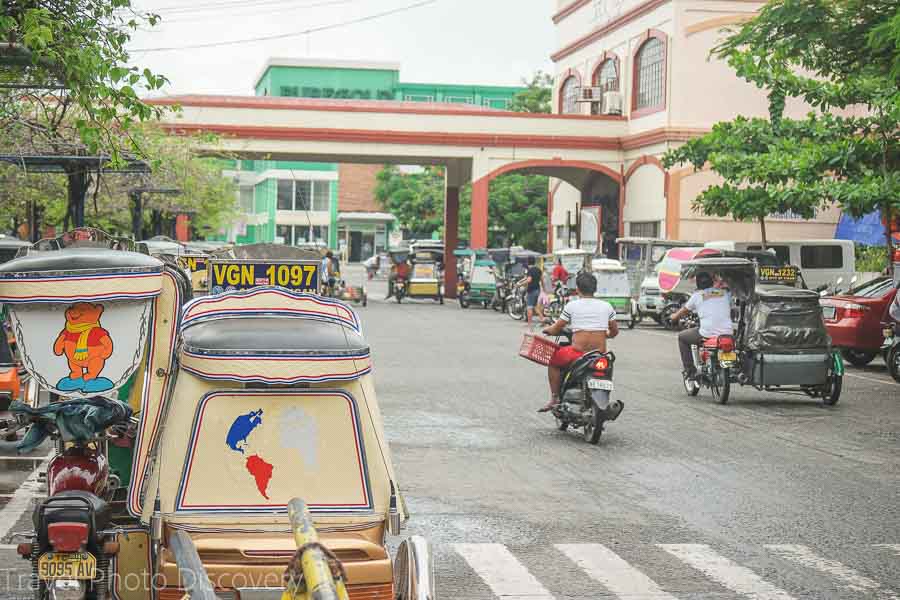 Vigan market's colorful produce section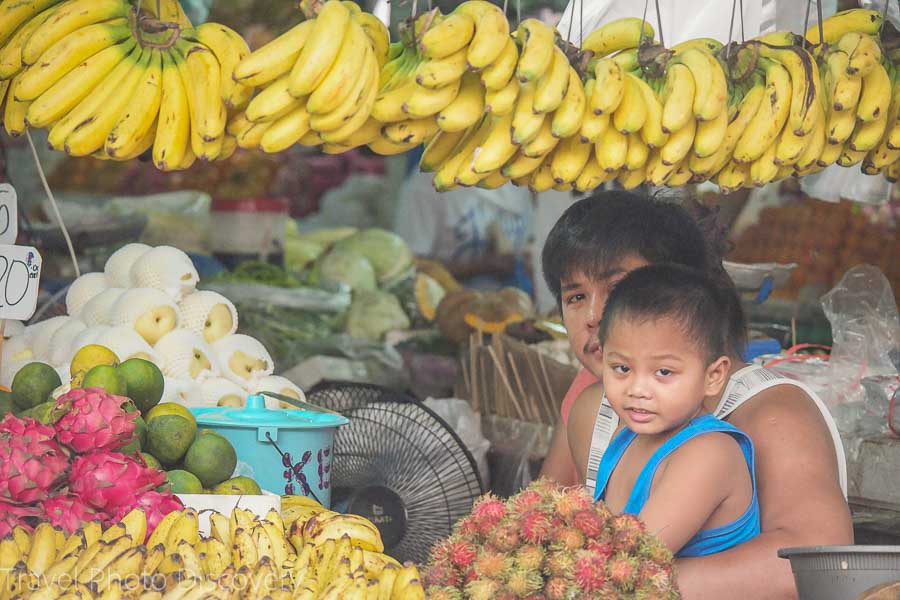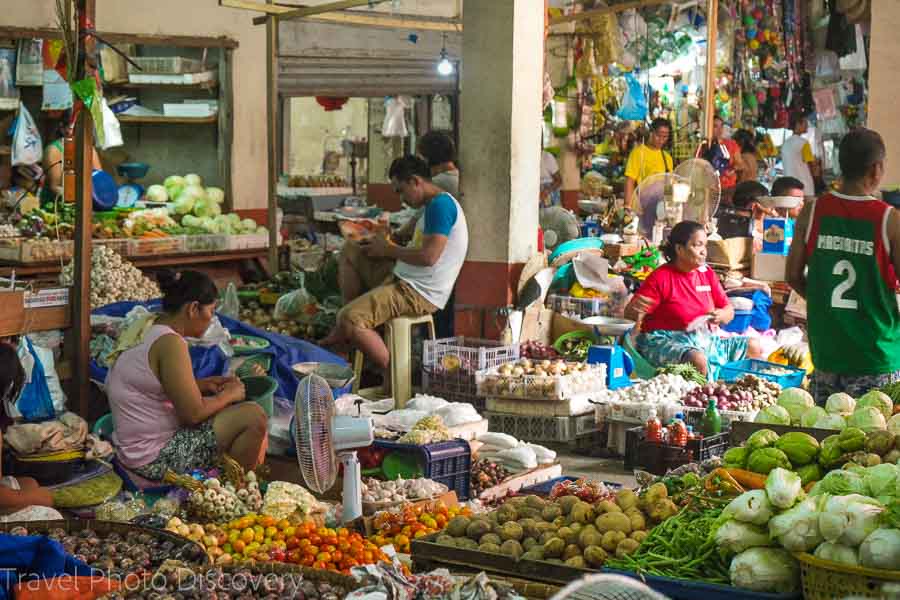 Keeping cool at the Vigan market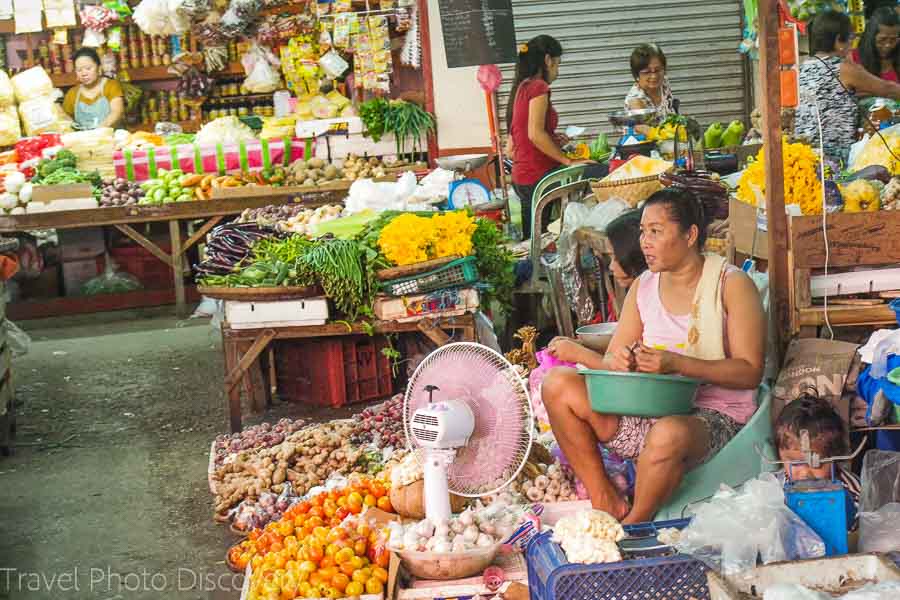 Cheap and tasty pineapples for sale at Vigan market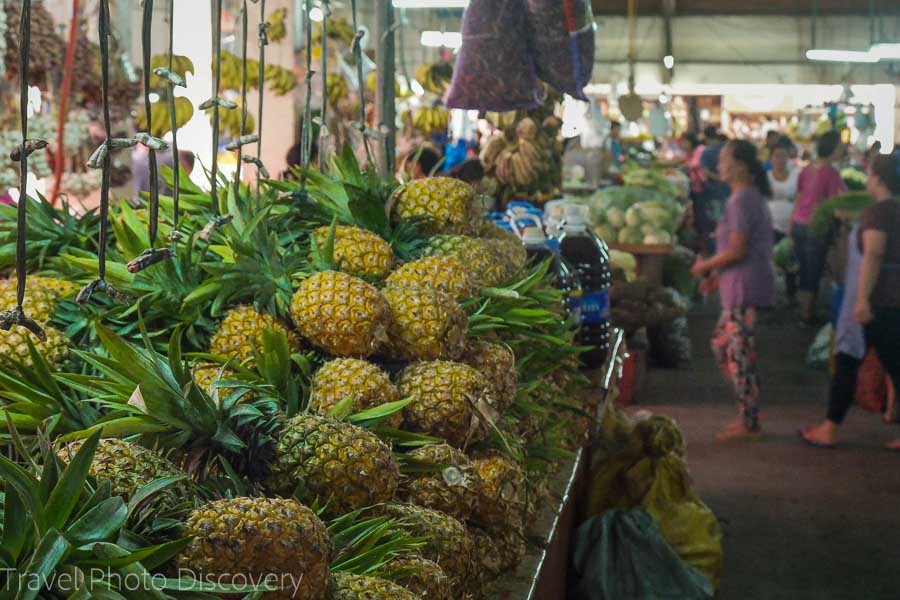 Vigan market's delicious prepared foods and snacks
Filipinos love to snack or get a quick bite while shopping the markets here and there's plenty of food vendors to choose from. If you have a sweet tooth, then there are lots of pastries, baked goods and other sweet goodies to tempt you to try something different and exotic in flavors. Check out some of these local favorites below and you might want to explore the upstairs food area of the market to try some of these delicious foods for sale.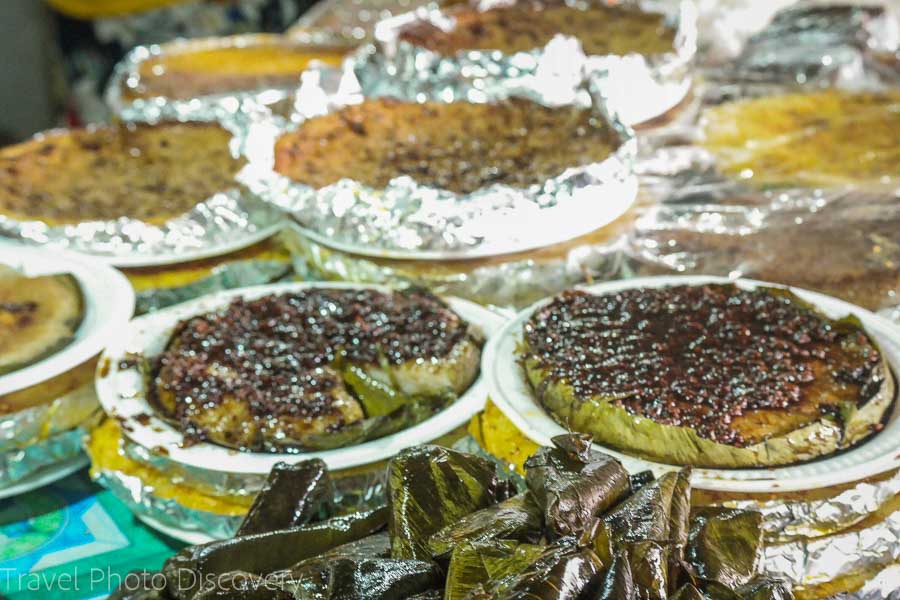 Popular take out foods like the pancit noodle dishes below for under a dollar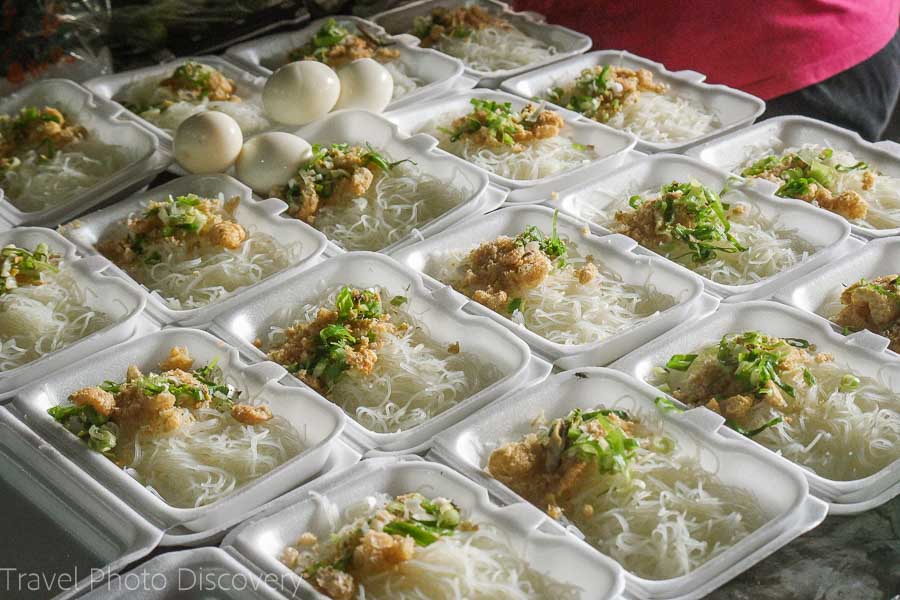 Tasting the fried empanada specialties from Vigan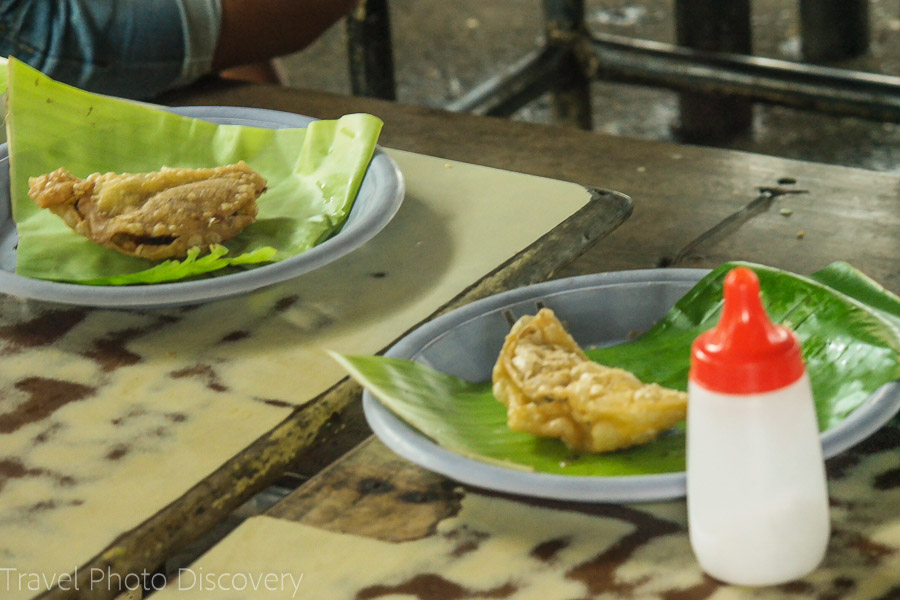 The tasty local Bagnet – crispy pork belly is delicious with a spicy vinegar dressing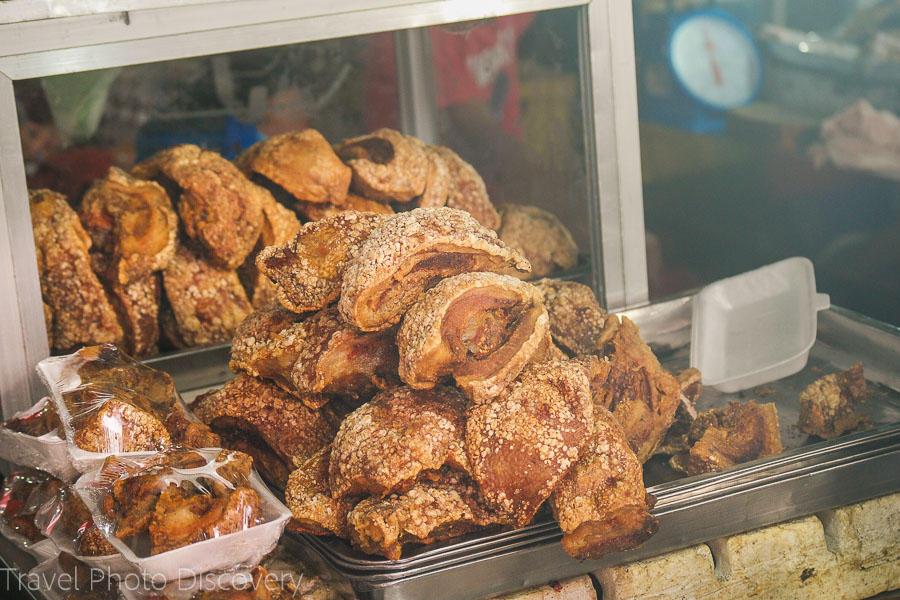 Checking out the gritty sections of the Vigan market
The butcher, seafood and other meat market section of the Vigan market is lively, raw and absolutely in your face.  Displayed recently butchered meats range in easy to see food displays to fresh cuts hanging in an unappealing fashion on simple hooks. The good thing is that the market is well covered and the sections look very clean and well maintained – with vendors smiling or trying to tempt you to check out their merchandise. Here are some highlights  visiting this section of the marketplace.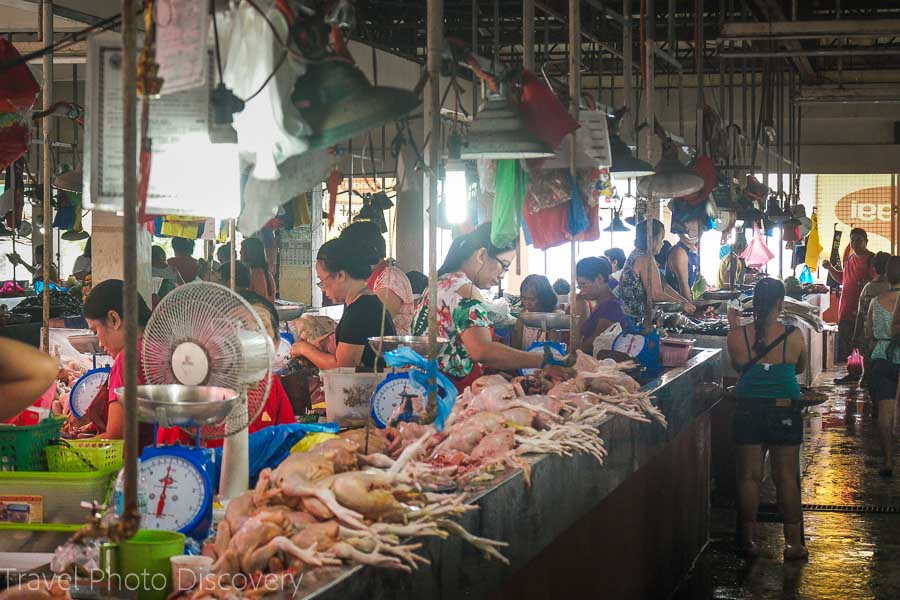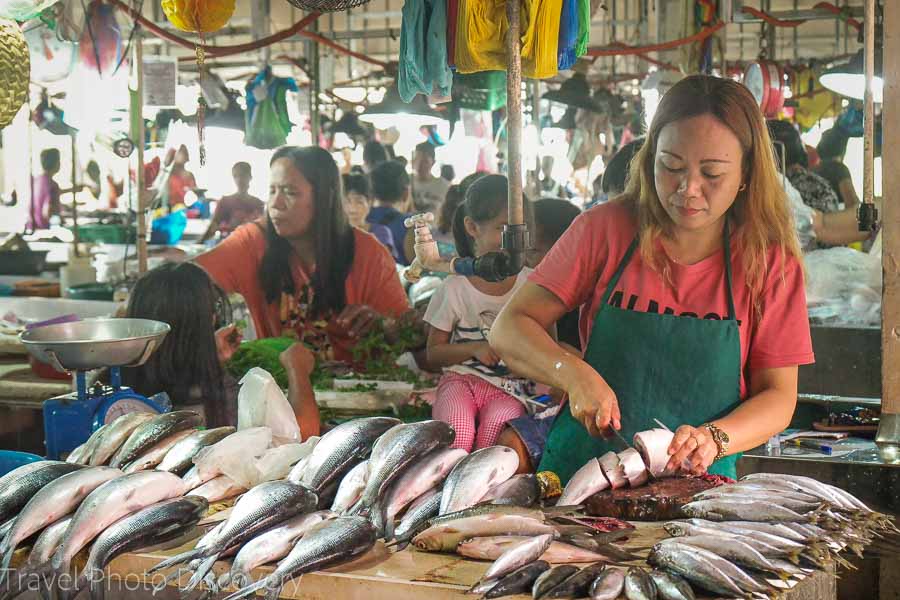 Looking to buy some dried fish?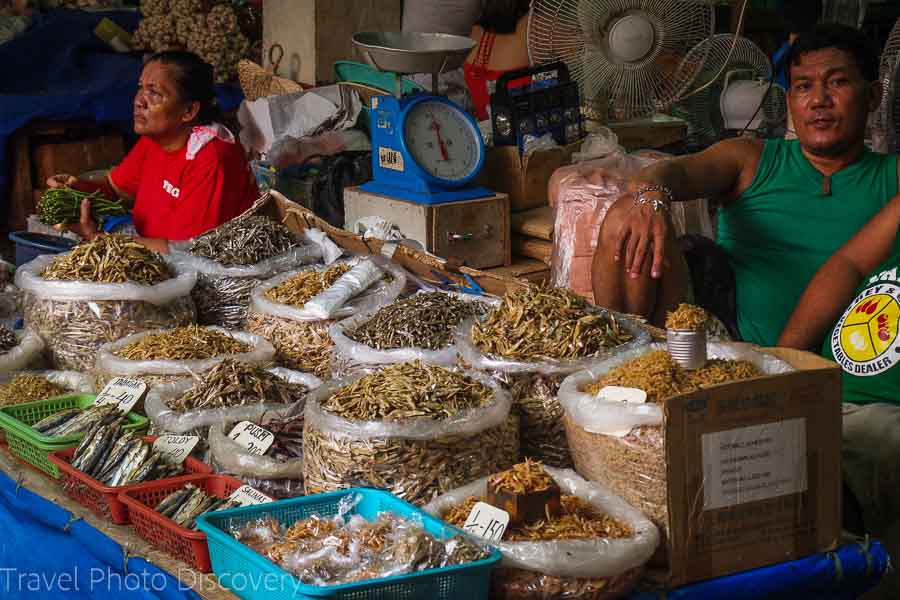 Raw meat next to take out pork belly for sale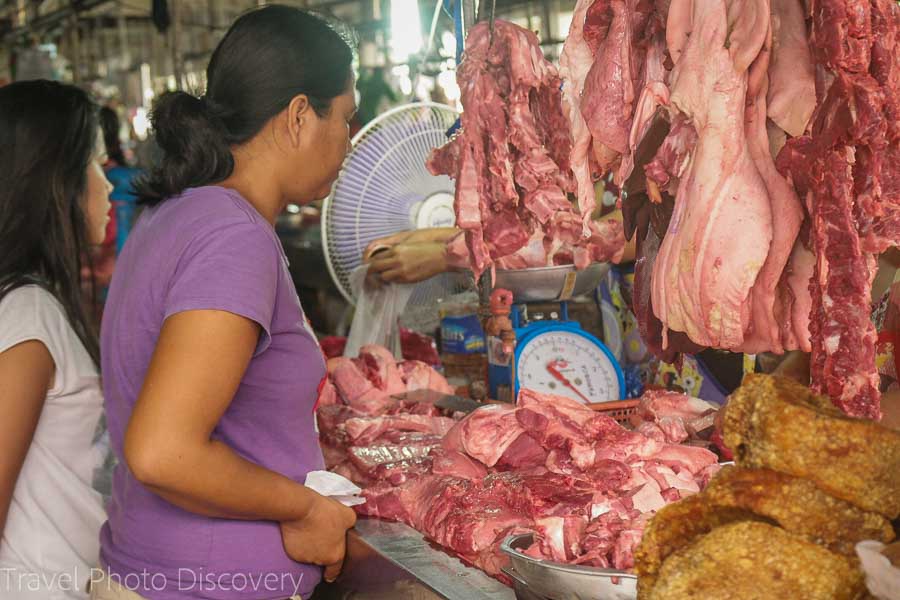 Vigan arts and local crafts
The sections below the market carries cheap sundry items, clothing stands and a section featuring local crafts and souvenirs that you can find and even bargain for inexpensive gifts. Offering a variety of handmade items including: hand woven linens, wood carvings, jewelry,  ceramics and T shirts, you'll find the best deals here compared to the tourist areas of Vigan city. It's nice that the vendors are nice and not to pushy about selling their wares here, so don't feel obligated to compare merchandise and prices from one stall to the next.
More details and tips visiting the Vigan market
Vigan market hours are early mornings to 7:30 pm and located at Alcantara Street
The market is located next to the bus station away from the historic district, it's easy enough to catch a cab or tricycle to the market.
Tricycles from the historic district should be around 20 Pesos or under 50 cents.
The upstairs sections sell the perishable goods, take out foods, baked goods and snacks and the meat/seafood vendors. Downstairs sections sell sundry items, clothing and household goods and a nice section of local arts and crafts.
Must try local foods include: Bagnet (fried pork belly), longganisa (local Vigan sausage), empanada or other fried specialties, pinakbet -(vegetable stew in a shrimp paste), Vigan Miki (savory chicken noodle soup)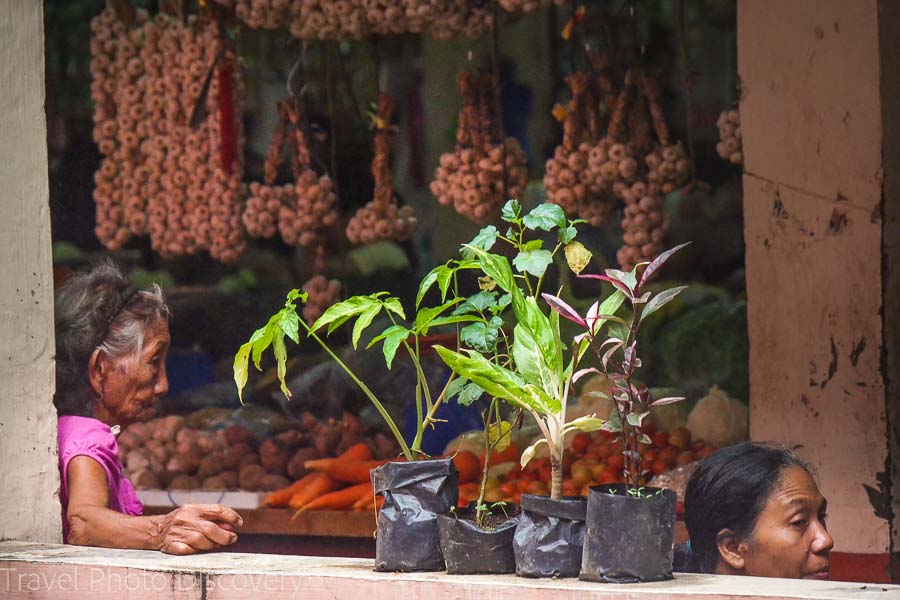 Check out these posts on Ilocos Norte and Ilocos Sud
Must visit Vigan city attractions
Please pin this post for later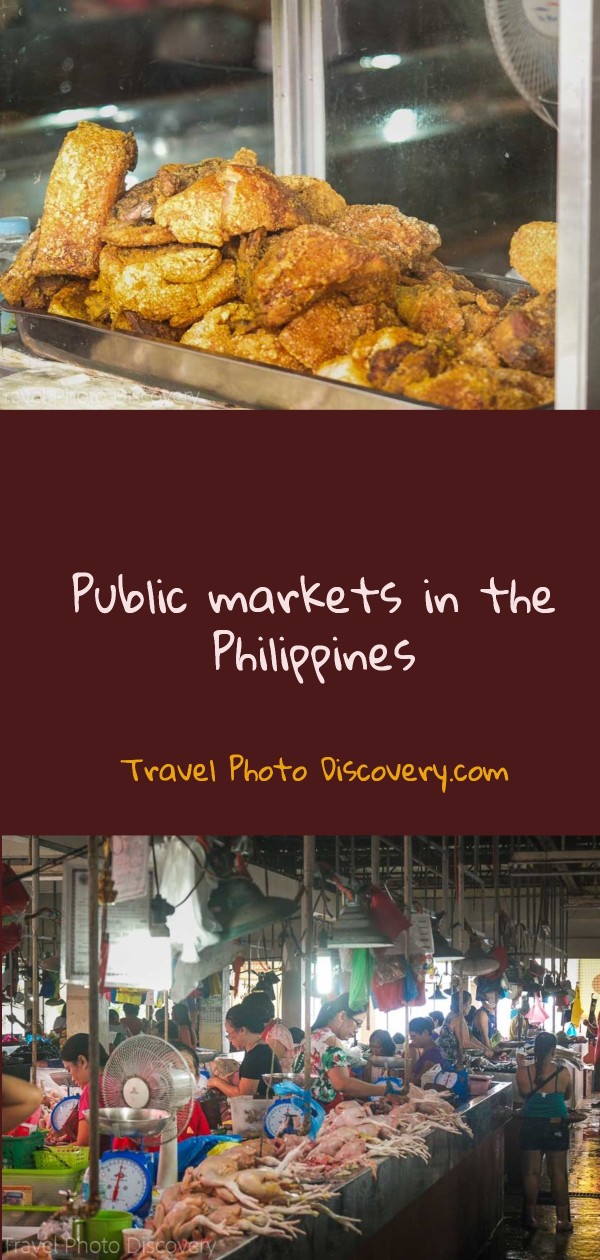 Have you explored the public markets of Ilocos Norte?
Any favorite foods or souvenirs to take home with you from your visit there? Please share your thoughts in the comments below.
Thanks for visiting today and checking out this post on Visiting the public market in Ilocos Norte. If you enjoyed the images and post, could you please share it with any of the social media buttons located around the post.
If you like what you see, come and check out my other social media channels for more updates, including Instagram, Pinterest and Twitter
Disclosure – There are affiliates links on this posts which provide a small commission to support this site at no extra cost to you. Thank you for reading, and happy travels