Phipps conservatory tour in Pittsburgh – Travel Photo Mondays
I was pleasantly surprised with my visit to the Phipps conservatory in Pittsburg. The scale of the glass houses, outdoor gardens and green inspired center and grounds is quite impressive and fun to explore. Created by philanthropist Henry W. Phipps who wanted to create a source of education, learning and enjoyment for the people of Pittsburgh. Mr. Phipps was a botany enthusiast who wanted to create a showcase Victorian glass conservatory which was very popular during its timeframe. His dream to create this private conservatory mostly for his friends and employees to enjoy eventually extended to donating the entire complex to the city and establishing a foundation and popular attraction in Pittsburgh. Presented as gift to the city of Pittsburgh in 1893, the conservatory was finally opened to the public showcasing a variety of exotic, tropical, Mediterranean, desert and other plant species from around the world.
Let's a take a tour of the grounds and gardens
Daley Chihuly Glass – front entrance
Entering a newer entrance that mimics the glass conservatory, the entry is mostly underground and doesn't detract the views of the glass houses. You see this dazzling pendant glass sculpture upon entering the entry interior courtyard. Of course this impressive modern glass chandelier is from David Chihuly, a famous glass artist from Seattle and his work is displayed in many of the tropical inspired rooms and galleries at the conservatory. Many of Chihuly's sculpture glass is placed throughout the gardens in wonderful settings that make his pieces so evocative and gorgeous to witness like the piece below.
Chihuly glass on display
The Orchid room
When you enter the first glass house, there is a map showing all the main rooms and it is quite expansive, enough to have a detailed map show the rooms and outline of what can be found in each room. One of my favorite rooms have an extensive display of orchids, bromeliads and exotic plants below.
A collection of orchid vignettes
Glass sculpture in the Orchid collection
Themed gardens at Phipps
There are many themes to the different garden rooms at the conservatory. This includes: the water garden, desert garden, walled garden, carnivorous plants, fern garden and orchid room. Also, there are a variety of outdoor rooms and special themed gardens to explore inside and outside the conservatory. Below are the water garden displays.
Wedding anyone?
One of the most popular rooms which is also used regularly for weddings is the topiary room above. I learn that weddings are really big at the conservatory and outside of ticket sales are one of the main fundraising activities for the organization. At its busy season, there can easily be three weddings a day just in this room alone. There are reception facilities and other areas that are open for wedding venues and gatherings around the conservatory. So if you are looking for one of the greenest wedding venues around the city, this would be an excellent choice – take a look at Phipps wedding site  for more information.
Let's tour more of the glass themed rooms
The desert scape with a Chihuly sculpture
More Chihuly, can you ever have enough?
A collection of ferns at Phipps
Outdoor gardens and green environment at Phipps
Even without any events going on, just touring the grounds with all the glass houses are quite spectacular with all these imaginative and colorful garden rooms. Whenever you enter a new room, your eyes jump around to many accents and interesting vignettes created by a talented design team. These passionate master gardeners take painstaking efforts to make the presentations come alive and filled with exciting texture, color, composition and vivid displays from all around the botany world.
Many of the outdoor gardens are open to the public and free of charge if you are visiting the conservatory. There are wonderful areas to explore with children along with interactive displays and fun activities to do including the froggie watering hole above.
Contemporary architecture blend in with green technology
There is also a nice blending of contemporary architecture to the environments along with eco measures and zero waste programs showcasing all the modern eco principles: Leed certification, Zero impact, water recycling and new green technology. All of these are showcased within the architecture, interiors and outdoor areas along the administration and education center and you can learn more about their focus on green technology here.
The eco center gardens and education room
Fun programs and events at Phipps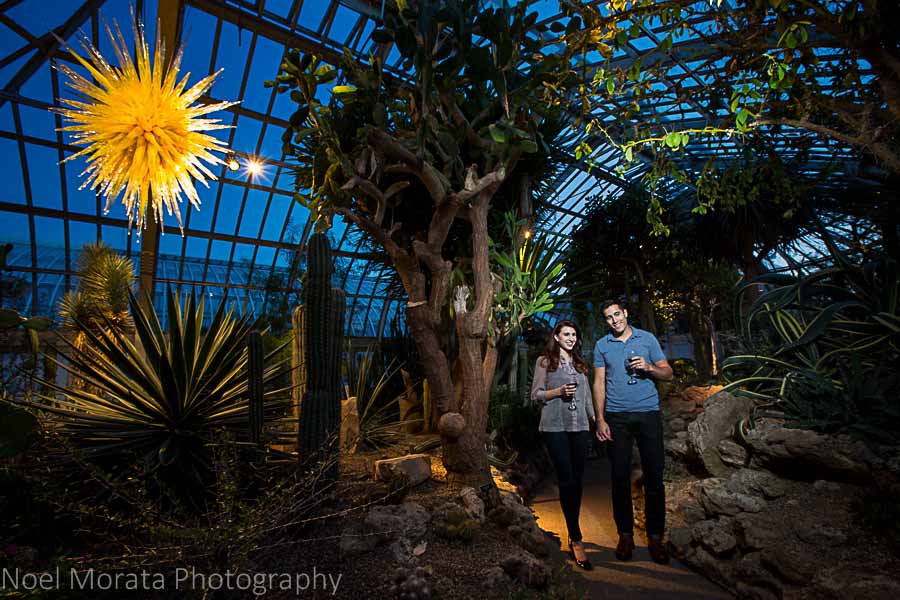 Photo credit Annie O'Neill
It takes a lot of creative fundraising events and ideas to keep up operations at Phipps which tries to target loyal and new demographic markets. This includes events like the typical wine and cheese, adult nights with a DJ and their popular annual events like the Art themed rooms and Christmas fantasy extravaganza. Opening up the conservatory to new markets that would not typically set foot in these glass houses is a very successful attempt that makes all the new programs a highly anticipated and social event in the Pittsburgh scene. Even taking a class at the Conservatory is a fun way to explore gardening, sustainability, art, healthy living and a variety of lifestyle and popular topics, here's more information on their class programs if your interested.
Thanks for visiting hope you enjoyed the Phipps conservatory tour for Travel Photo Mondays. Please do visit the other bloggers visiting for today's link up below. If you are interested in visiting the Phipps or want to learn more about their programs or calendar of events, check out their website here.
If you like what you see, come and check out my other social media channels for more updates, including Instagram, Pinterest and Twitter. Thanks for the visit and tour at the Phipps conservatory, all thoughts and opinions are my own.