Alberta is a landlocked province in Western Canada where the Rocky Mountains meet the Great Plains, akin to the US states of Montana, Wyoming, or Colorado. The province is known for its oil industry (making it the wealthiest province in Canada), cowboy culture (lending it the nickname "The Texas of Canada"), and its hockey teams. Travelers will be surprised at the staggering variety of Alberta's landscapes and things to do. The southern part of the province, where most attractions are located, is also part of Canada's Sun Belt, receiving 312 sunny days per year on average. In this guide, you'll find out how to plan an epic trip to one of Canada's most diverse and memorable provinces.
A Local's Guide to Alberta, Canada's Sunshine Province
Alberta Overview
Even though it is considered a prairie province, one of the most interesting facts about Alberta is that only 14% of it is true grassland. The Rocky Mountains run down the western side of the Alberta, forming a natural border with the neighboring province, British Columbia. The prairies are south and east of Edmonton, while everything north of Edmonton is boreal forest. The southeast also contains some dry, desert-like badlands. The jewel in Alberta's crown is Banff National Park, Canada's first and most visited national park, famous for its dramatic peaks and turquoise-colored lakes. Beyond Banff, numerous other national and provincial parks offer scenery that is every bit as stunning, but minus the tourist crowds. East of the Rockies, the foothills and prairies are dotted with a surprising number of worthwhile attractions, from dinosaur fossil-bearing badlands to unexpected cultural and historical landmarks. Last but not least, the main entry points of Edmonton (the capital city) and Calgary (the largest city) offer a wealth of fun activities, outstanding museums, and some of the best festivals in the country.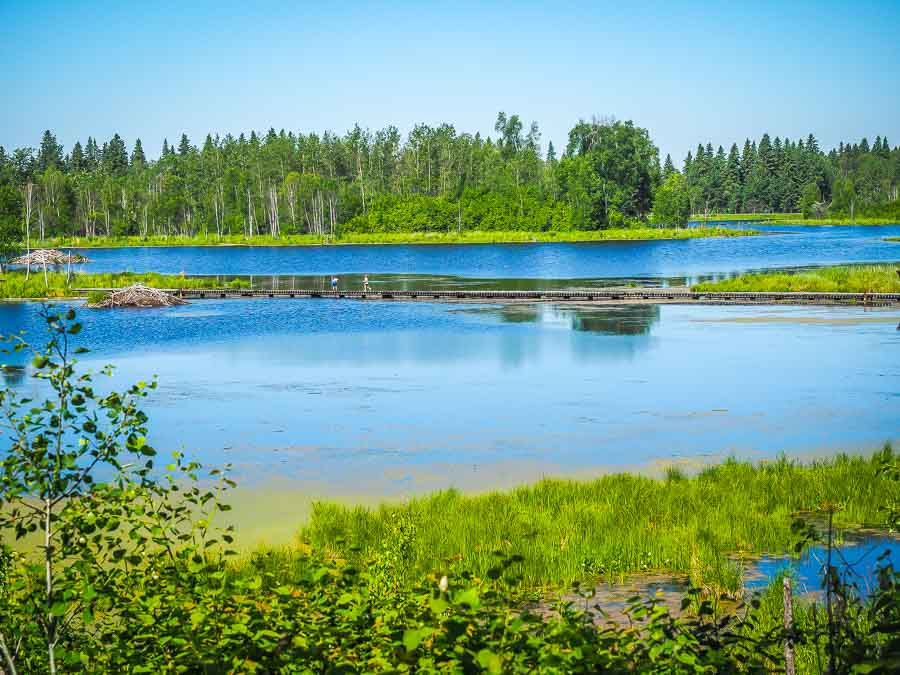 When to Visit Alberta
Summer (July and August) is by far the most desirable time to visit Alberta in terms or weather. However, it is also the busiest, not to mention mosquito season. Note that daylight lasts very long (up to 17 hours!) in summer. Fall comes early to the mountains. Late September is best for colorful foliage, but that quickly disappears as the temperatures plummet. Most of fall is chilly, too late for summer activities, but too early for winter ones. Winters are really, really cold in Alberta (sometimes dropping to -22°F/-30°C or colder), but also the best time for winter activities such as skiing in the Rocky Mountains, ice skating on frozen lakes, and Norther Lights spotting. Spring can take forever to come in Alberta and is often a slushy mess. Some lakes in the mountains don't thaw until May or even June.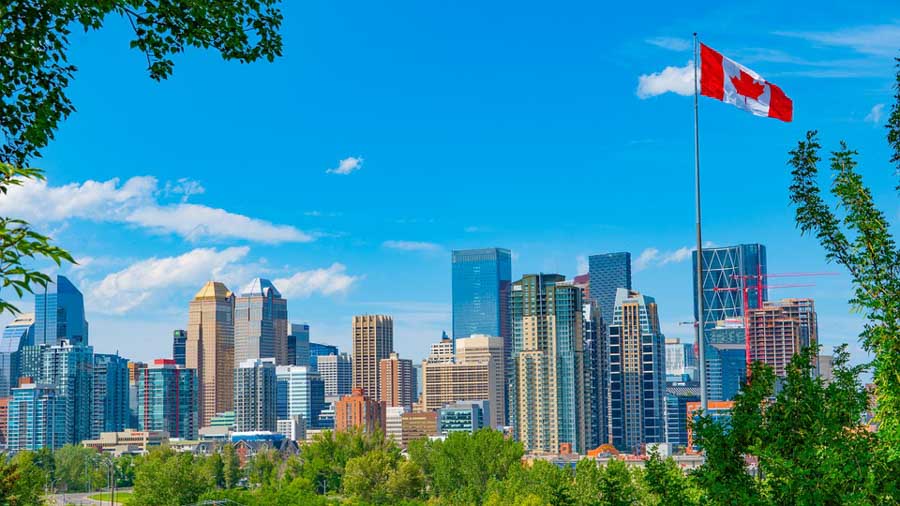 Getting Around Alberta
Alberta is larger than Arizona and New Mexico combined. While it is possible to travel between major cities and attractions by bus, it will really slow you down and limit how much you are able to see. Renting a car or bringing your own is ideal. If you're flying in, try to land in Calgary, which is centrally located relative to the province's top attractions. Most importantly, it is so close to the Rockies that you can see the mountains from the city; Banff National Park is only 1.5 hours away. In you're coming in winter, getting a car with winter tires is essential. This is especially important if you're planning to drive in the mountains. Keep in mind that it can snow there anytime from October to May.
Top 10 Places to Visit in Alberta

Banff National Park
Banff National Park is Alberta's premier attraction, showcasing quintessential Rocky Mountains scenery. Most visitors are drawn by the park's vividly colored lakes such as Lake Louise and Moraine Lake. The park also features outdoor activities galore, thermal hot springs (the reason the park was created in the first place), iconic hotels like Fairmont Banff Springs Resort and Chateau Lake Louise, and abundant wildlife (black bear and grizzly sightings are common). The park's amenities are concentrated in Banff townsite and Lake Louise. In winter, the park features three world-class ski resorts. You can visit iconic lake areas like Moraine Lake and Lake Louise while visiting this national park and surrounding area.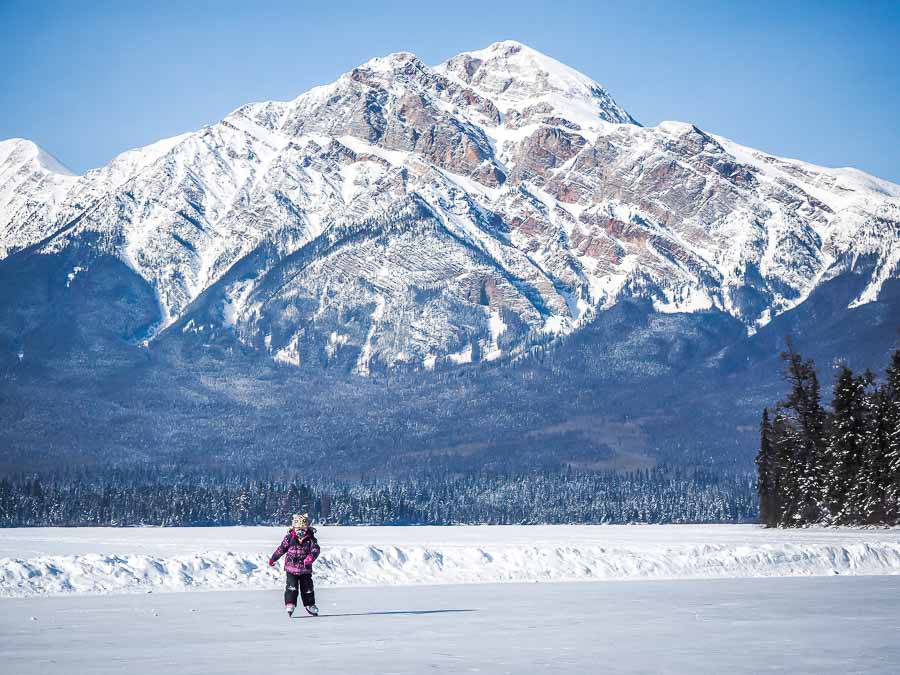 Jasper National Park
North of Banff, Jasper National Park is even larger yet less visited. It features the same awesome mountain scenery but with a more laid back and less touristy vibe. The Icefields Parkway (Highway 93), which connects Banff to Jasper, is considered one of the most beautiful drives in the world. Just after the highway enters Jasper National Park, visitors will spot Athabasca Glacier, part of the vast Columbia Icefield and the most visited glacier in North America. Jasper townsite is a more chilled out answer to Banff townsite. At the eastern end of the park, on the Yellowhead Highway (which leads to Edmonton), Folding Mountain Brewery serves amazing craft beers with mountains views, while Miette Hot Spring (summer only) offers soaks in a mountaintop setting.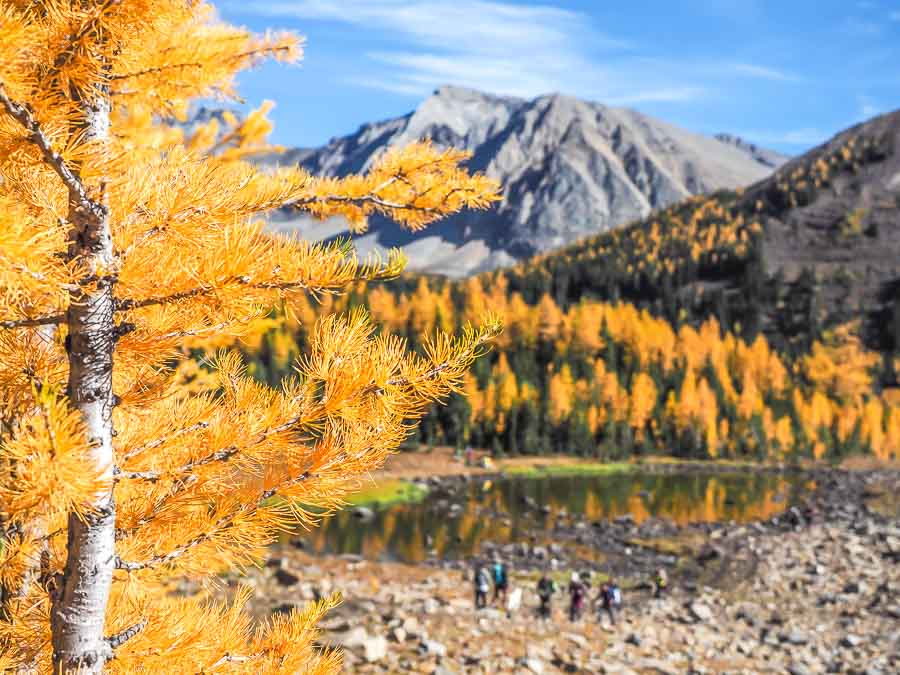 Kananaskis Country
While Banff and (to a lesser degree) Jasper draw the national and international crowds, Kananaskis is where locals go to immerse themselves in nature. Kananaskis "country" encompasses about a dozen provincial parks and protected areas south of Banff National Park. These parks include dozens of hiking trails (and in winter snowshoeing and cross-country skiing trails), stunning lakes, and waterfalls. The highest navigable road in Canada is also in Kananaskis. The small mountain town of Canmore is the gateway to Kananaskis. The town itself attracts artists and lovers of the outdoors, and being a short drive away from Banff, is a great (and cheaper) alternative to staying in the national park. There's also the much smaller Kananaskis Village, which has nothing but a couple hotels, a hostel, and a Nordic Spa.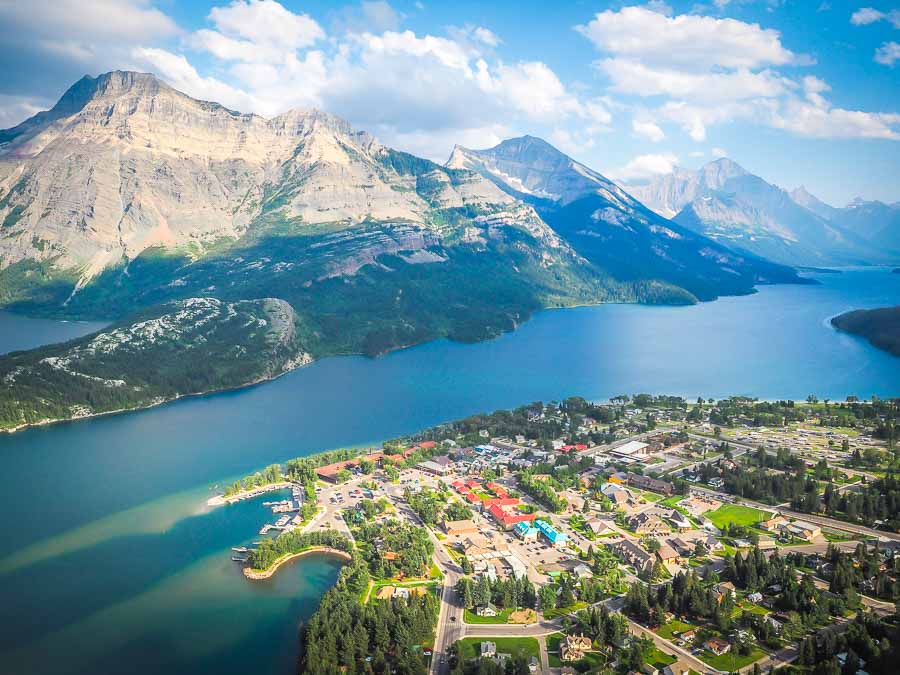 Waterton Lakes National Park
American visitors may have heard of little Waterton Lakes National Park in the southwestern corner of Alberta. This is because ever since 1932, the park has been joined with Glacier National Park in Montana to form the Waterton-Glacier International Peace Park. Despite being quite a bit smaller than Jasper or Banff, Waterton Lakes features the same awesome Rocky Mountain scenery and array of outdoor activities. The historic Prince of Wales Hotel at the lakeside offers an atmospheric stay at a very reasonable price. Most people come in summer, as the park's already limited facilities mostly close in winter.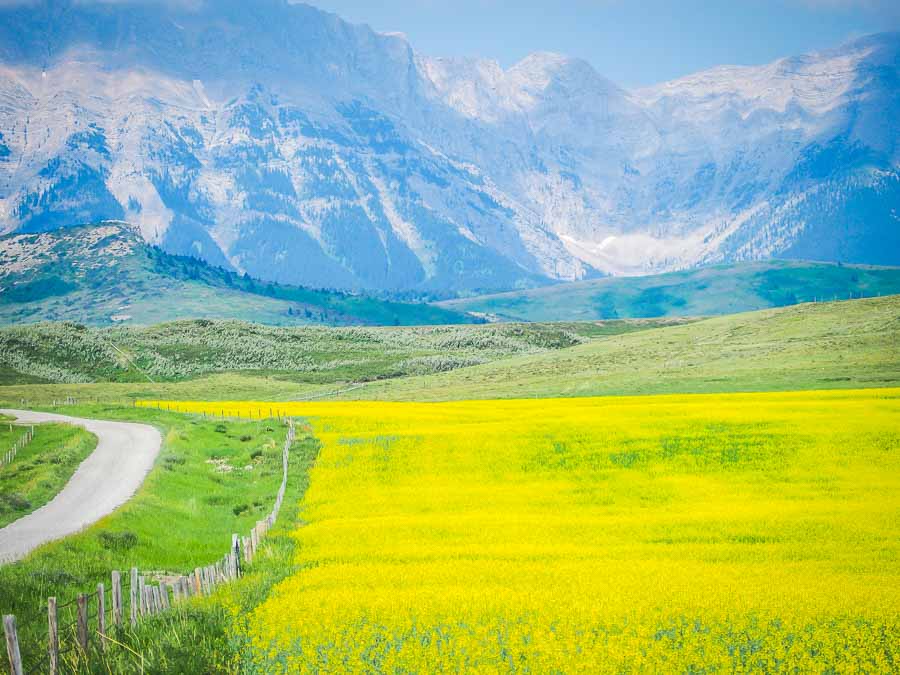 The Cowboy Trail
Alberta's Highway 22 runs north to south for over 300 miles (nearly 500 km) parallel to but just east of the Rocky Mountains. The highway runs through some of Alberta's most scenic ranch land (hence the name), but the Rocky Mountain peaks are ever-visible on the horizon. Highway 22 starts in Mayerthorpe west of Edmonton, but the most scenic portions are further south around Calgary. Some essential stops include Bar U Ranch National Historic Site, the cute Old West town of Longview, and the impressive Lundbreck Falls, which marks the southern end of the highway. A short detour from the Cowboy Trail to consider is Head-Smashed-In Buffalo Jump, where Plains tribes once drove bison off a cliff as a hunting method. The museum on site delves into local indigenous culture and history, and is constructed into the side of the hill to minimize impact of the landscape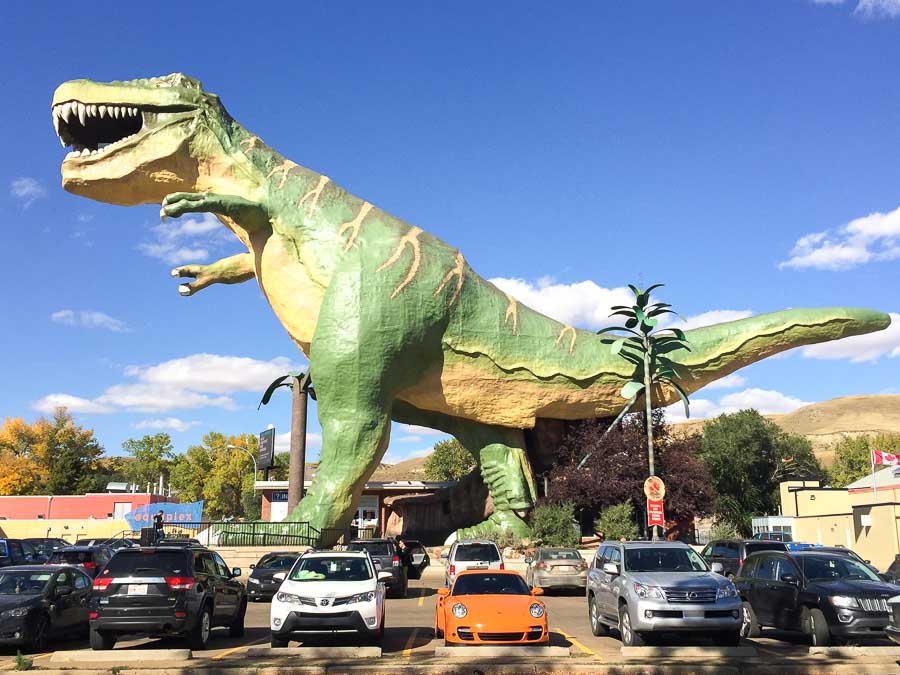 Drumheller
Drumheller is one of Alberta's top non-mountain attractions. Nicknamed the "Dinosaur Capital of the World", the town is everything a dinosaur lover could hope for and more. Drumheller's top attraction is the Royal Tyrrell Museum of Palaeontology, considered by many to be the best dinosaur museum in the world. In town, there are several other kid-friendly dinosaur attractions, including the World's Largest T-Rex, which is 4.5 times larger than a real T-Rex. You can climb right up into her mouth! Even for non-dino fans, Drumheller is worth visiting for its surreal badlands scenery, including its famous collections of hoodoos, flat-topped towers of stone created by erosion.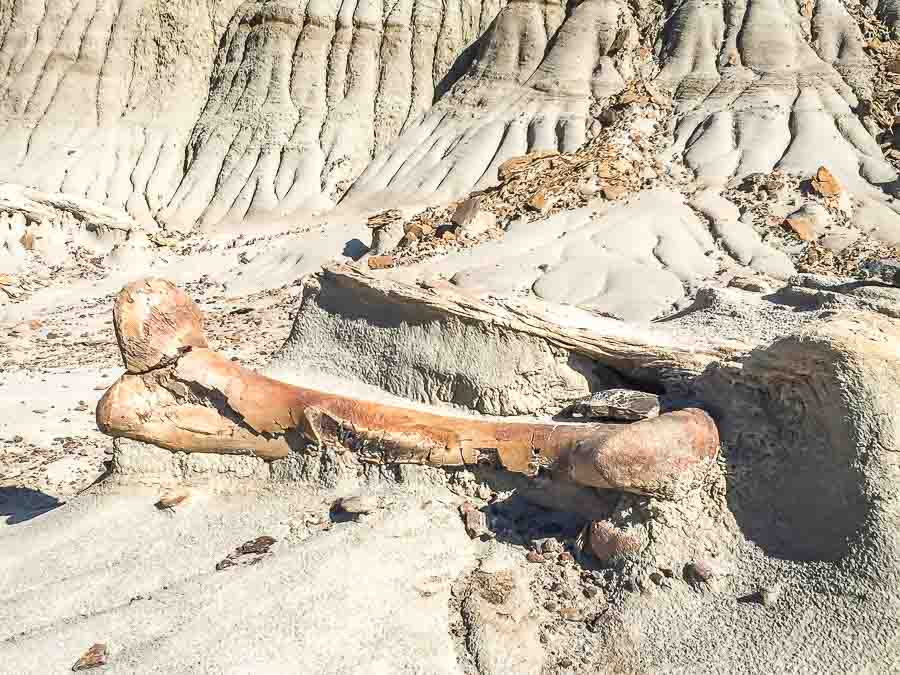 Dinosaur Provincial Park
While Drumheller offers a dinosaur experience for tourists, Dinosaur Provincial Park is the real deal. Just under two hours away, the park is remote and undeveloped. Dinosaur Provincial Park is in the same river valley as Drumheller, so it features the same awesome badlands scenery. But unlike the latter, there are no restaurants or hotels. The only accommodation choice is the excellent campground, where you can sleep amongst the badlands and enjoy the star-filled sky at night. The park boasts a half dozen walking trails, while guided tours are the only way to access the heart of the park, where the highest concentration of fossils are found. You can even see huge dinosaur fossils still half buried in the ground.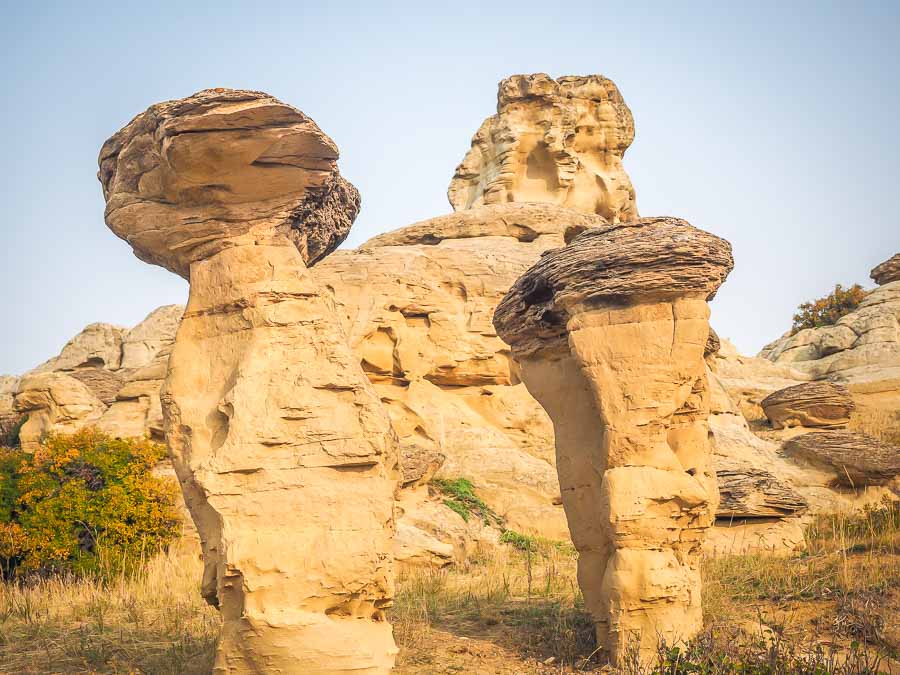 Writing-on-Stone Provincial Park
Yet another badlands park is the super remote Writing-on-Stone Provincial Park, which is a stone's throw away from the Canada-US border. Even though Drumheller is synonymous with hoodoos, the ones in Writing-on-Stone are larger and more impressive. The park gets its name from its high concentration of indigenous rock art, more than anywhere else in the Great Plains. There's also an excellent campground in the park along the Milk River.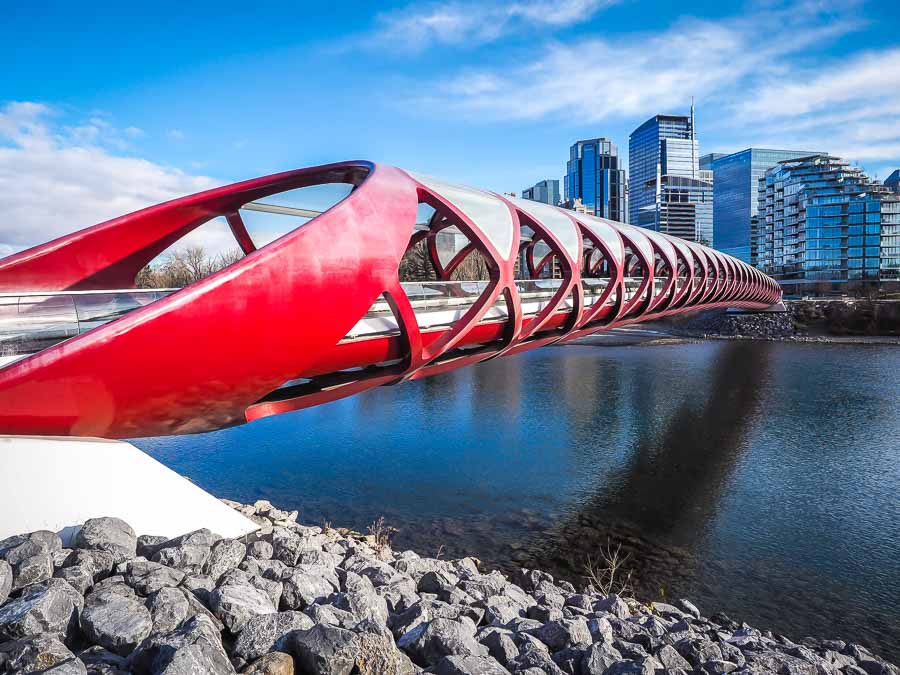 Calgary
Alberta's largest (and Canada's fourth largest) city, Calgary, is ideally situated as a starting and/or ending point of your travels in Alberta. The city gained international attention when it hosted the 1988 Winter Olympics. It's worth spending a few days in Calgary to visit its excellent zoo (one of the largest and best in Canada), the enormous Heritage Park Historical Village, and some of the best breweries in Canada (according to national polls). Every July, the city goes into full cowboy mode with the Calgary Stampede, the largest in the world.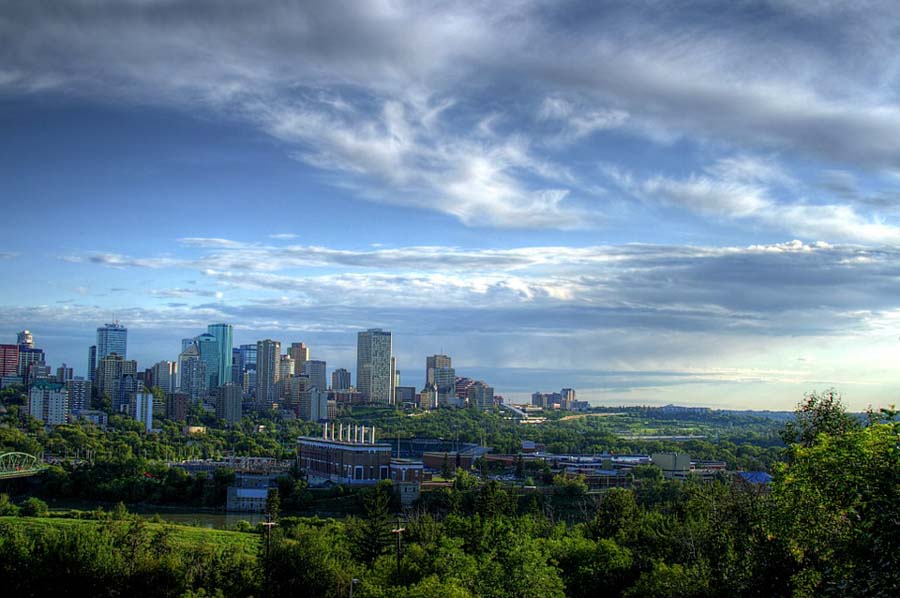 Edmonton
Edmonton is the provincial capital and only slightly smaller than Calgary. While it a little out of the way relative to most attractions on this list, it has enough highlights that you may want to consider making a detour. Edmonton's biggest claim to fame is West Edmonton Mall, once the world's largest. Besides the nearly 1000 shops, it includes an enormous indoor amusement park, waterpark, and a hotel with quirkily themed rooms. Edmonton also has Elk Island National Park on its doorstep, where you are guaranteed to spot bison, and Ukrainian Cultural Heritage Village right next to it. Edmonton is nicknamed the Festival City for its long list of annual events, especially in summer. These include a fringe festival, street performers festival, Caribbean festival, folk music festival, international heritage festival, K-Days, and more.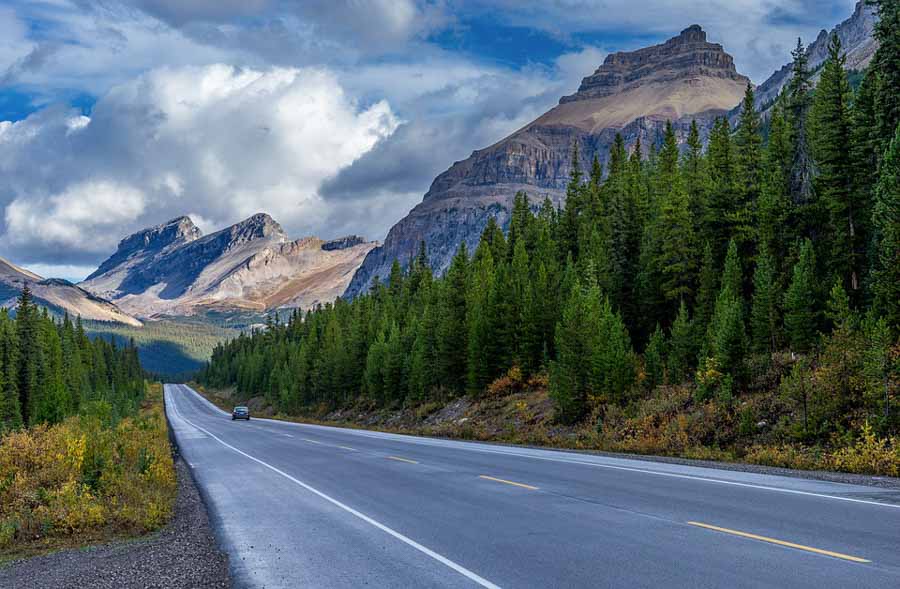 A Two-Week Alberta Road Trip Itinerary
Here's a recommended itinerary for a road trip that takes in the best of the Alberta highlights described above. This itinerary involves frequent moves and a fair bit of time on the road, so if you prefer slower travel, then you'll want to add some days or cut out a few stops. Days 1-2: Explore Calgary Days 3-4: Banff National Park Days 5-6: Jasper National Park Day 7: Drive the Cowboy trail to Lundbreck Falls Days 8-9: Waterton Lakes National Park Days 10-11: Writing -on-Stone Provincial Park Days 12-13: Drumheller or Dinosaur Provincial Park Day 14: Back to Calgary   I hope you've found some useful information here for planning a once-in-a-lifetime trip to Alberta, Canada. If you have any questions, feel free to comment below!
Check out these other posts on Alberta
RVing in Canada and the Canadian Rockies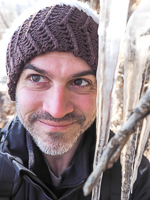 Guest Post Bio
Nick Kembel was born and raised in Alberta, Canada. After traveling to over 50 countries and living abroad for 10+ years, he's now back at home getting reacquainted with his province. He blogs at nickkembel.com and funworldfacts.com.