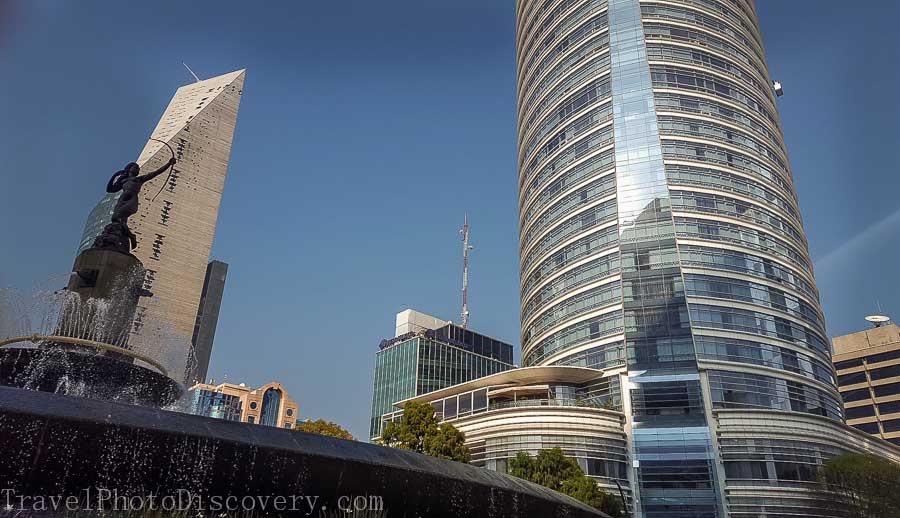 Review St. Regis Hotel Mexico City
Located in the heart and central district of Mexico City, the St. Regis Hotel is a beacon of luxury and comfort in this busy, metropolitan city. A gleaming silver and glass, contemporary structure, the St. Regis fronts the beautiful and ornate Diana fountain at Paseo de la Forma – St. Regis Hotel exemplifies the best of the chain's modern hotel and luxury residences. Catering to a clientele that appreciates contemporary appointments, comfortable luxury and lifestyle, the hotel is calm and quiet in the middle of a busy and hectic metropolitan area. I found the St. Regis makes a bold statement in the central historic district yet it is quiet and sublime with all the stunning interior spaces, just the right formula after touring Mexico City or wrapping up a business deal.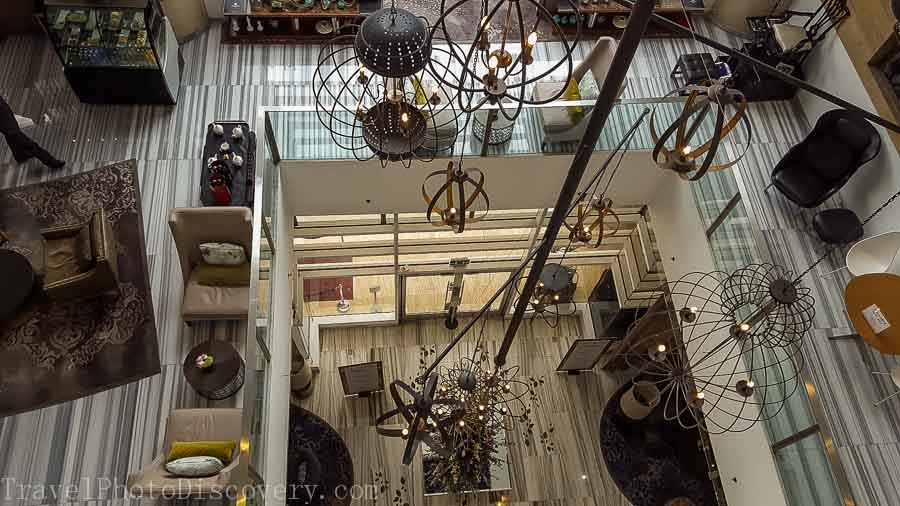 Tour of the St. Regis lobby
Spacious public rooms, bars, restaurants and other public rooms grace the various rooms in shades of greys, browns and colorful reds in a rich and comfortable palette of colors. Even though the various lounges are large, the sitting areas feel intimate, plush and relaxing. Beautiful textures, refined materials and luxurious appointments are placed throughout the lobby, lounges and public rooms.
Check in service is expedient and personalized to each visitors immediate needs and questions are quickly answered or help provided to accommodate any special needs.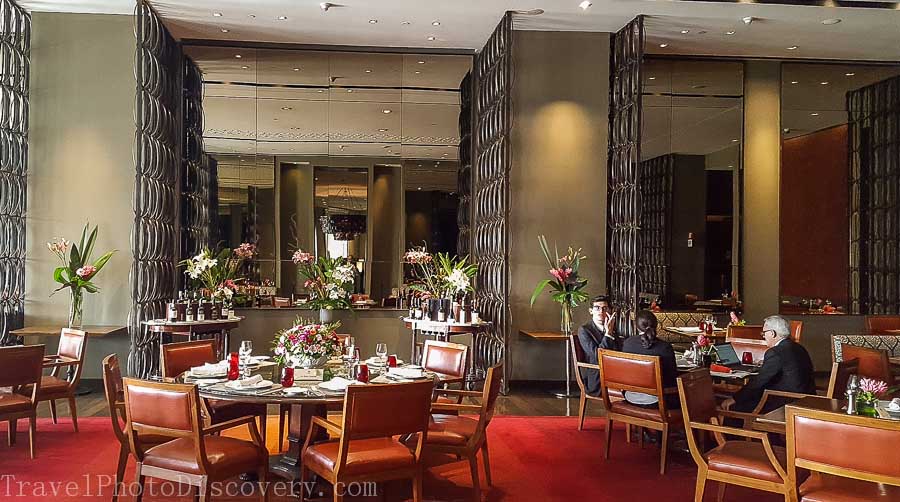 Standard bedroom with beautiful appointments
Creamy mauves, taupe and charcoal greys are the main color scheme utilizing leather, woodwork details and refined contemporary accessories and furniture to create a cohesive whole. Your welcomed instantly in the room with your bellman and shown all the key features and workings to make your stay comfortable and easy.  A nice seating area and office desk add more places in the suite to do business or relax in the room.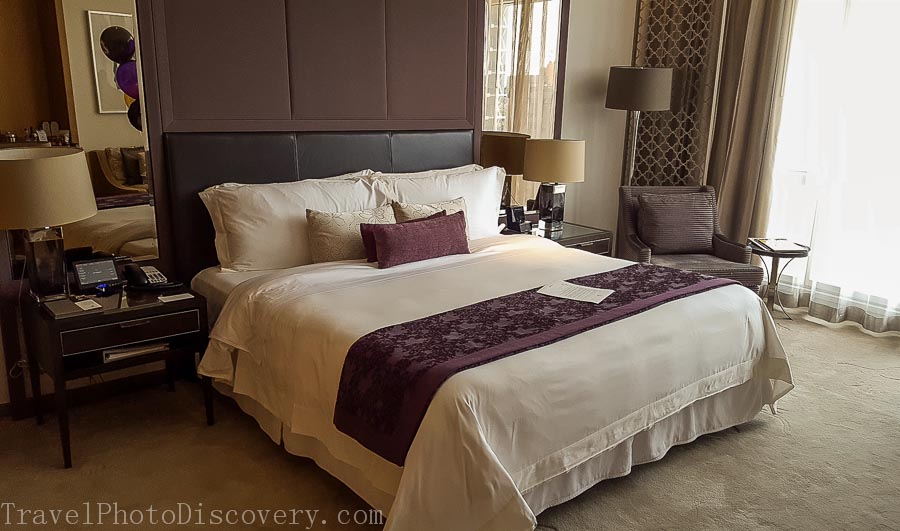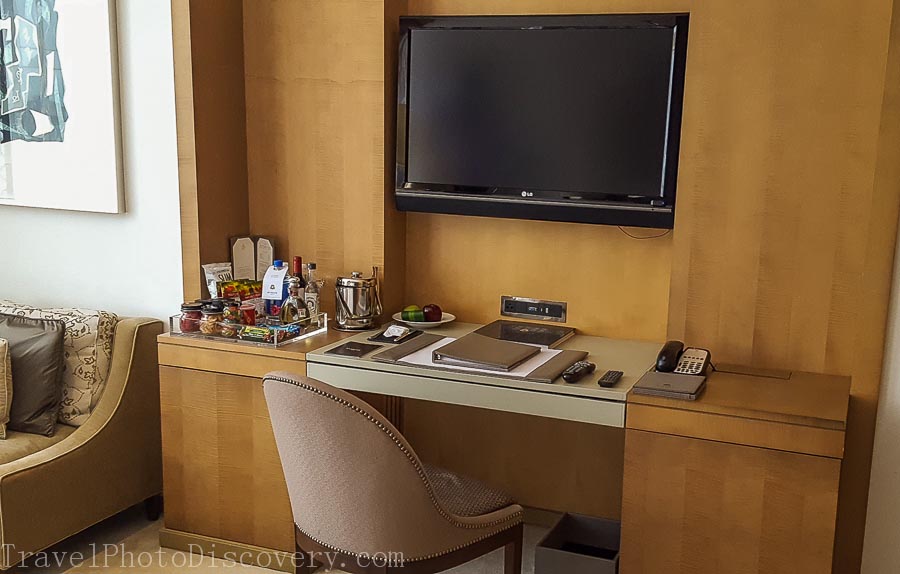 The bathroom is sublime with refined marble and tile in refined greys to taupe. The St. Regis features their own custom line of toiletry and other bath/spa accessories to pamper you with personal bath needs. I loved the extra soft robe and towels, it really makes a nice difference with plush amenities in the bathroom.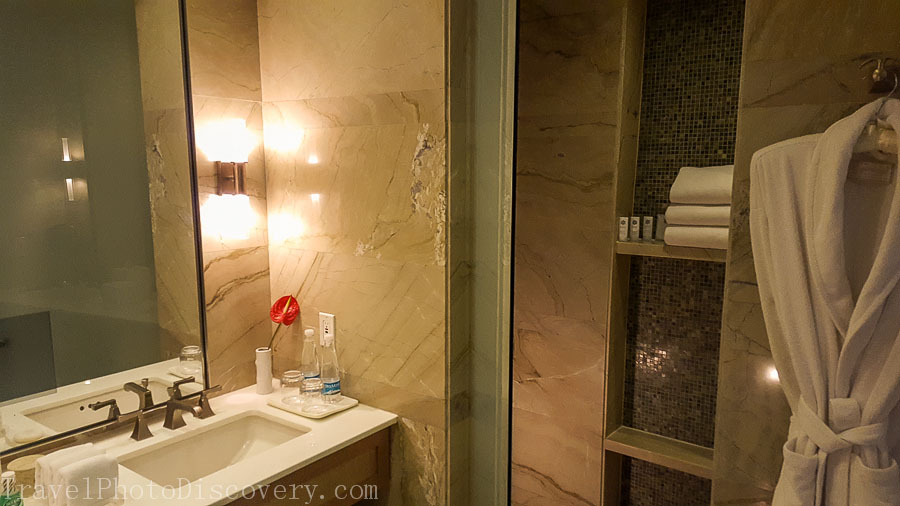 Gym and pool areas
Work out buffs will love staying fit in the Pilates/yoga studio or the exercise gym which offers the latest Technogym equiptment and other cardio trainers – quite an extensive and beautiful gym work out without all the crowds. Did I mention the amazing views of the city below?
The pool area offers expansive views of the city from above and the pool, Jacuzzi and sauna/steamroom help you relax while luxuriating from the beautiful surroundings.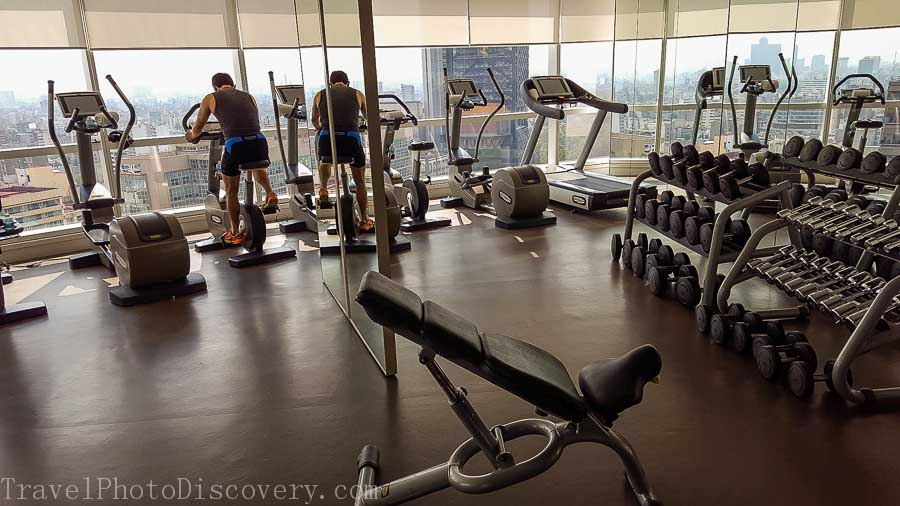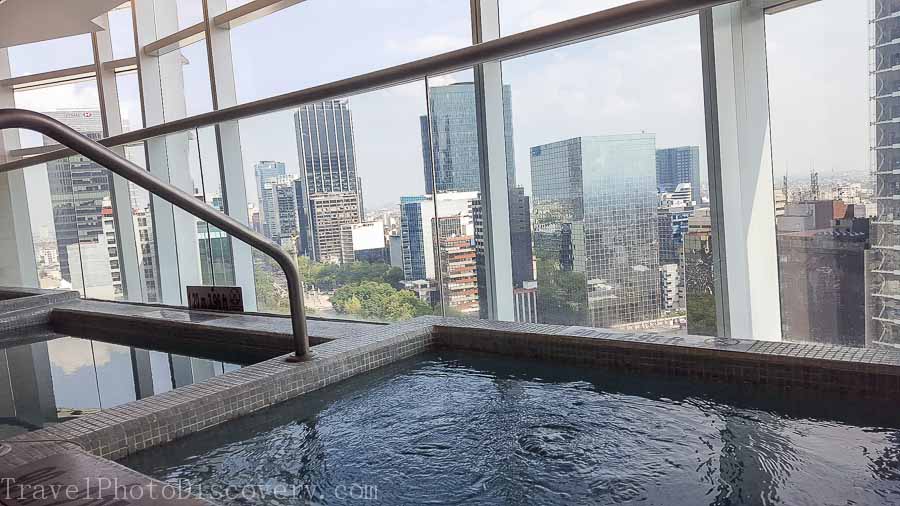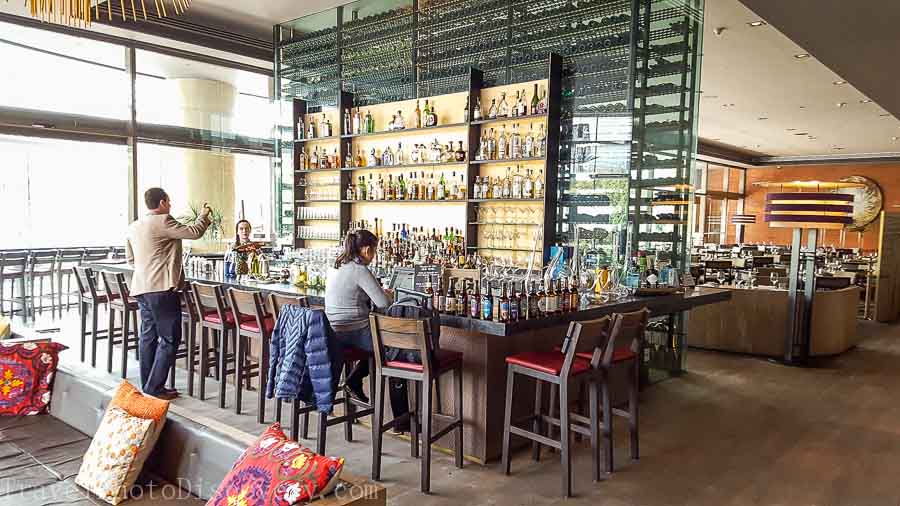 Exceptional Dining at J & G Grill
I was invited to indulged in an extended lunch, actually a six course meal featuring the new change of season menu at the J & G Grill. The dining manager was gracious in greeting me and introducing me to the wonderful new menu featuring the best of local ingredients and Mexican flavors done in an inventive way with a fusion of flavors and gorgeous presentation that wows you at each dish.
We started with a flavorful amuse bouche, and then was presented with our first course – a lovely steak tartare made with a locally sourced Kobe beef with quail eggs to add more texture and dimension.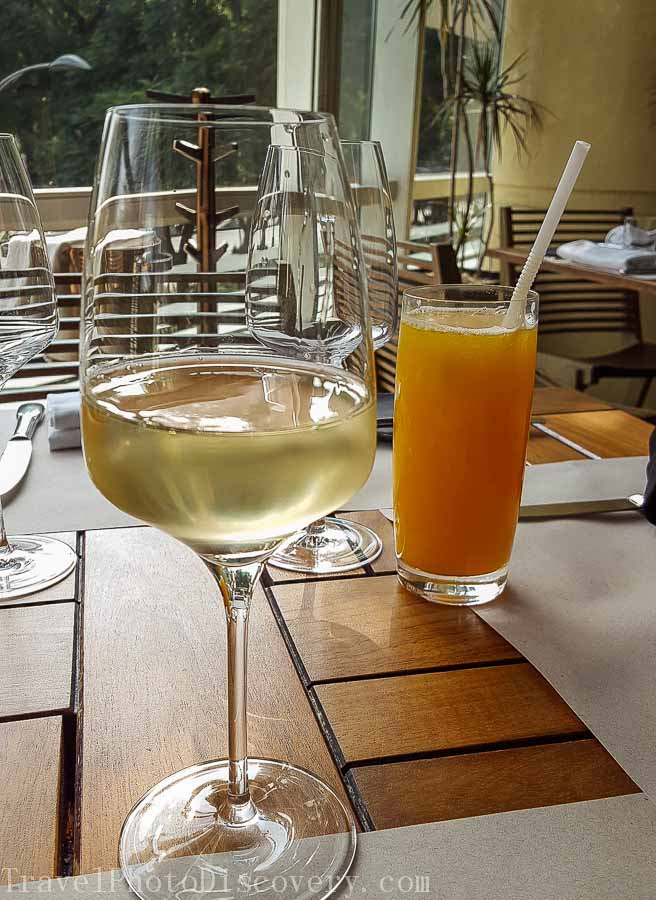 Indulge in a 6 course extravaganza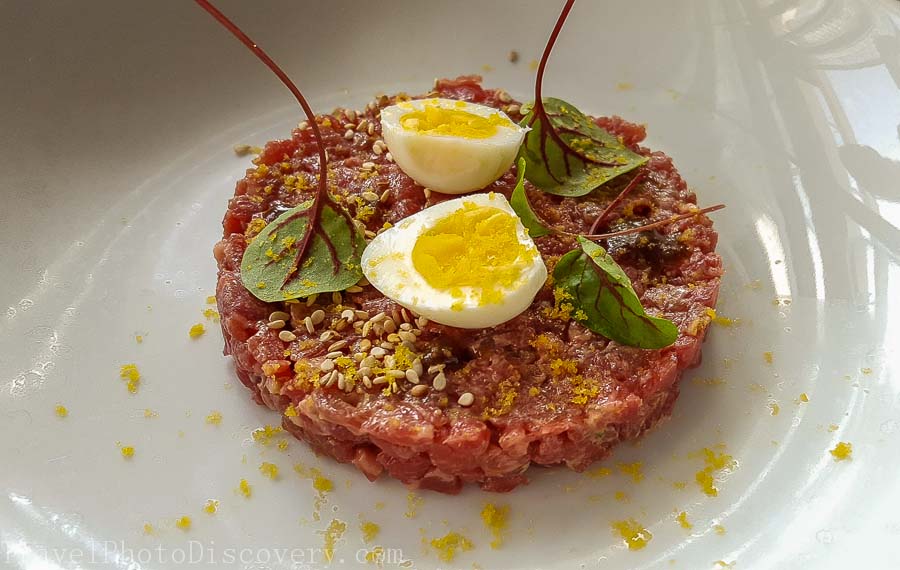 I love this riff on a fusion salad with bone marrow and fois gras. It was quite decadent and flavorful and the lovely presentation was filled with color and whimsy.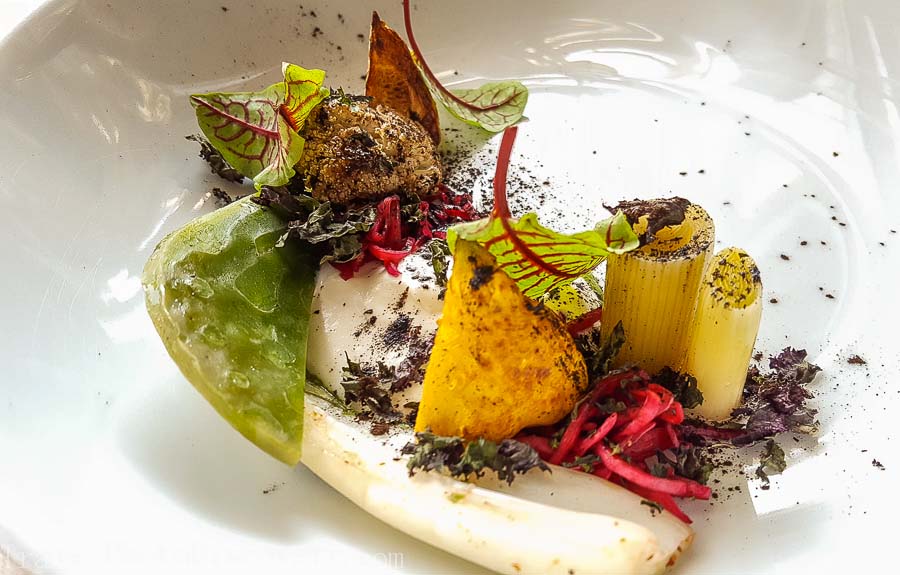 A lovely and crispy bass with dried fruit, a lovely crème base and beet puree add so much flavor and variety to this tasting dish.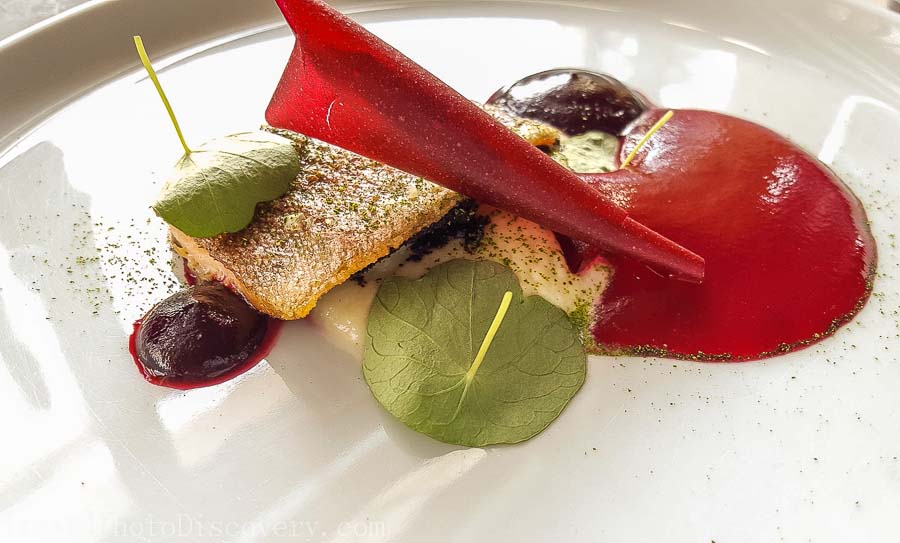 Delicious hand made ice cream, coffee profiterole and mocha froth makes this inventive dish so comforting and fast to consume – it was delicious!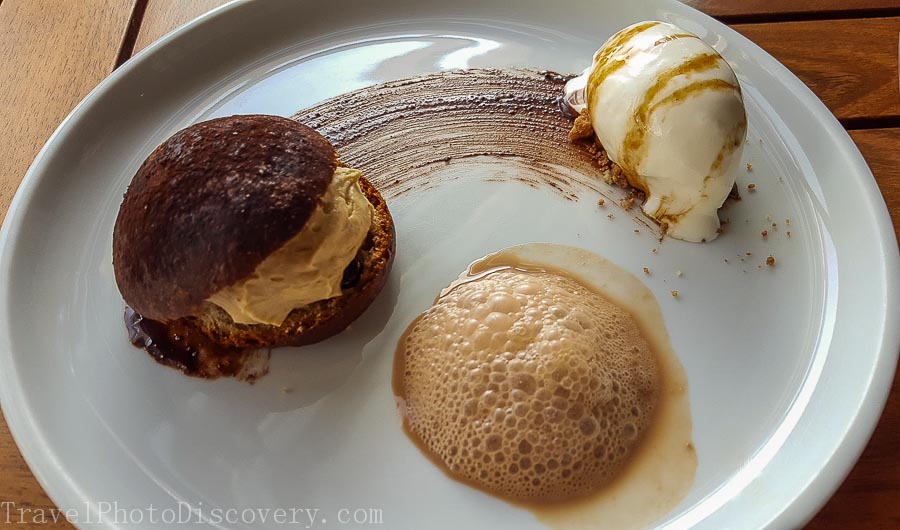 Bars and Lounge areas at St. Regis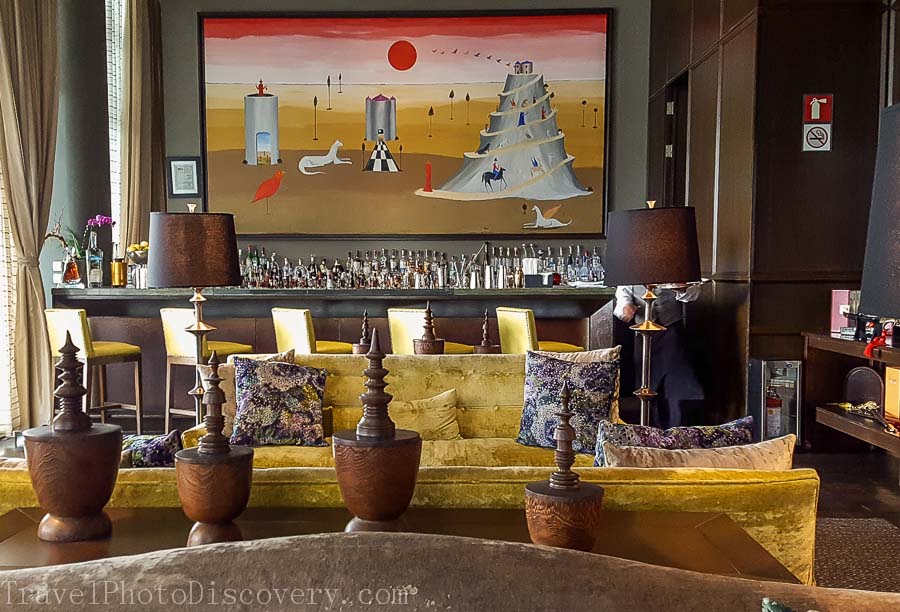 The bar and outdoor lounge areas of the St. Regis is a burst of color, art and beautiful appointments. I loved spending a little time in the outdoors lounge with a crisp local wine while enjoying the busy scene around the Diana fountain below – such a perfect spot to see the city all the way up to the hills.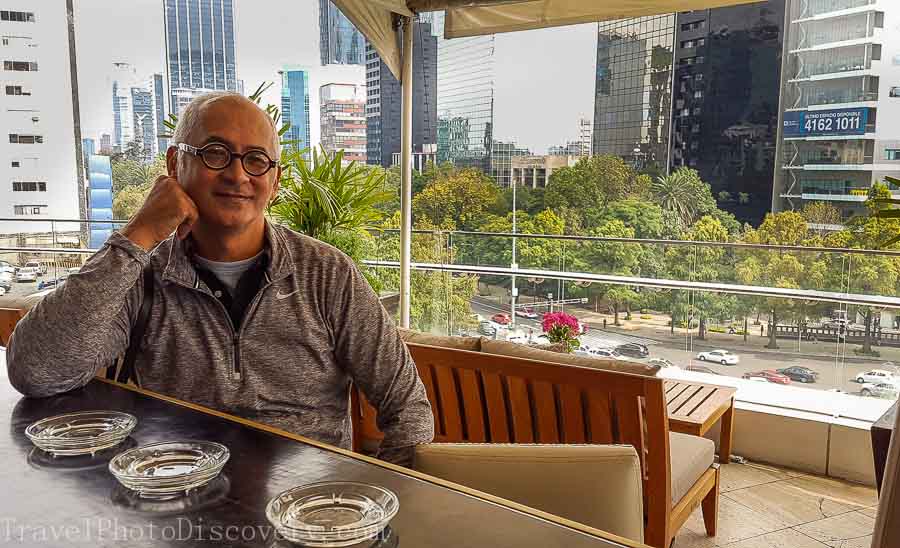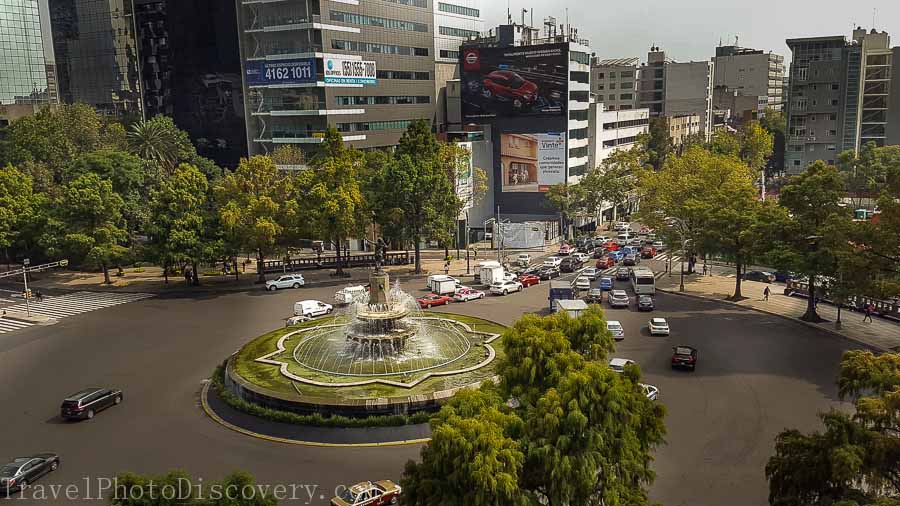 Yes to a stay at the St. Regis, it's seductive!
I loved my visit and stay at the St. Regis, Mexico City – if you're looking for a fantastic central place in the historic central district with spectacular views to the city, this is a wonderful luxury hotel to stay in. Even in such a hectic and fast pace environment, the St. Regis exudes calm and understated elegance to forget the frenetic world outside.
To find out more about staying and dining options at the St. Regis in Mexico City, check out the links below for more details
Thanks for visiting today and checking out this post on a Review St. Regis Hotel Mexico City, hopefully you will be able visit and experience this amazing city and stay and this wonderful hotel. If you enjoyed the images and post, could you please share it with any of the social media buttons located around the post.
If you like what you see, come and check out my other social media channels for more updates, including Instagram, Pinterest and Twitter
Thanks to the St. Regis for hosting and dining at J.K. Grill, of course all opinions and thoughts are my own and this is an excellent property to stay in central Mexico City.