23 Best things to Do at Bosque de Chapultepec Park Mexico City (updated 2023)
Bosque de Chapultepec Park, a sprawling oasis nestled in the heart of Mexico City, beckons visitors with its enchanting beauty and rich history. Spanning over 1,600 acres, this expansive urban park holds a special place in the hearts of locals and tourists alike. With its lush greenery, tranquil lakes, captivating museums, and captivating landmarks, Chapultepec Park offers a myriad of experiences for all who venture within its borders. Whether you seek a peaceful escape from the city's bustle, a cultural exploration, or a delightful family outing, Chapultepec Park stands as a must-visit destination that embodies the vibrant spirit of Mexico City.
The largest park in Mexico City at Bosque de Chapultepec park is massive with two large lakes, a zoo, multiple museums, a castle with a view and a variety of botanical gardens to explore. It is a big respite from the busy and chaotic city and a place for locals and tourists to enjoy, hang out and breath while exploring all the fantastic attractions around the area. Chapultepec park in my experience is like a breath of fresh air and total green in a sea of concrete jungle that is Mexico City and so much fun to explore outdoors and the many treasures in the park area.
This popular park for locals and also visitors has so much to see and do but if you just want to relax and enjoy the many gardens and open space of the park there's plenty of interesting flora and fauna to enjoy in the park and most of these attractions are free to enjoy.
Exploring Bosque de Chapultepec Park in Mexico city: 23 fun and cool things to do here
Often compared to Central Park in New York City, this expansive park is large and you can easily spend the entire day just exploring all the cultural attractions, museums, gardens and other fun venues around Chapultepec with over 1600 acres of green areas, Mexico City's Bosque Chapultepec is almost double in size to Central Park.  We will highlight some of the most popular attractions to visit all around Chapultepec Park, the most famous park to visit in all of Mexico City.
What does Chapultepec mean?
Chapultepec comes from the national language of the Aztecs and means the hill of the grasshopper with "chapul" meaning grasshopper and "tepec" meaning hill. This was the summer residence of Aztec rulers originally with palaces that served the local rulers.
During the colonial period the area housed a palace and a fortress along with a military school that was originally located on the outskirts of Mexico City and was captured by US forces in the US/Mexican war of 1847. The fortress and castle were eventually converted into a park with additional cultural attractions and museums added and more green space and gardens to make it the largest park attraction to visit in the city that locals and tourists love to visit.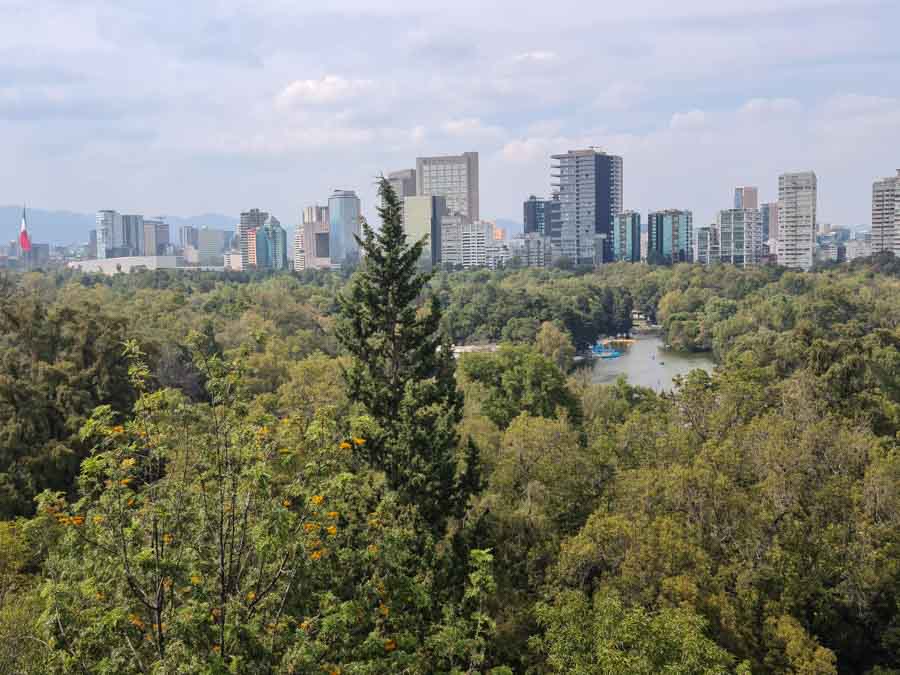 Where is Bosque de Chapultepec Park Located in Mexico City
Located in the center of Mexico City, Chapultepec Park borders the neighborhoods of Polanco, Reforma, San Miguel Chapultepec and is located near Roma and Condesa. You can get to Chapultepec Park from the metro station Chapultepec or easily catch a taxi or Uber to any of the attractions around the park to different entrances around the park.
The Metro station is right at the bottom part of the park area and you can check out the map trails when you exit the metro station.
How to get to Bosque de Chapultepec Park
To reach Chapultepec Park, one of the easiest ways is to use public transportation. The park is well-connected by metro and bus. If you prefer using the metro, you can take Line 1 (the Pink Line) or Line 7 (the Orange Line) and get off at the Chapultepec station. From there, it's a short walk to the park's entrance. Another option is to take a bus that passes by or stops near the park.
Bus routes that go to Chapultepec include those labeled "Chapultepec" or "Auditorio." It's always a good idea to check the exact bus routes and schedules beforehand. For those using taxis or ride-hailing services, simply provide the driver with the destination "Chapultepec Park" or "Bosque de Chapultepec" for easy navigation.
With its central location, reaching Chapultepec Park is convenient and allows visitors to enjoy the park's natural beauty, attractions, and cultural sites with ease.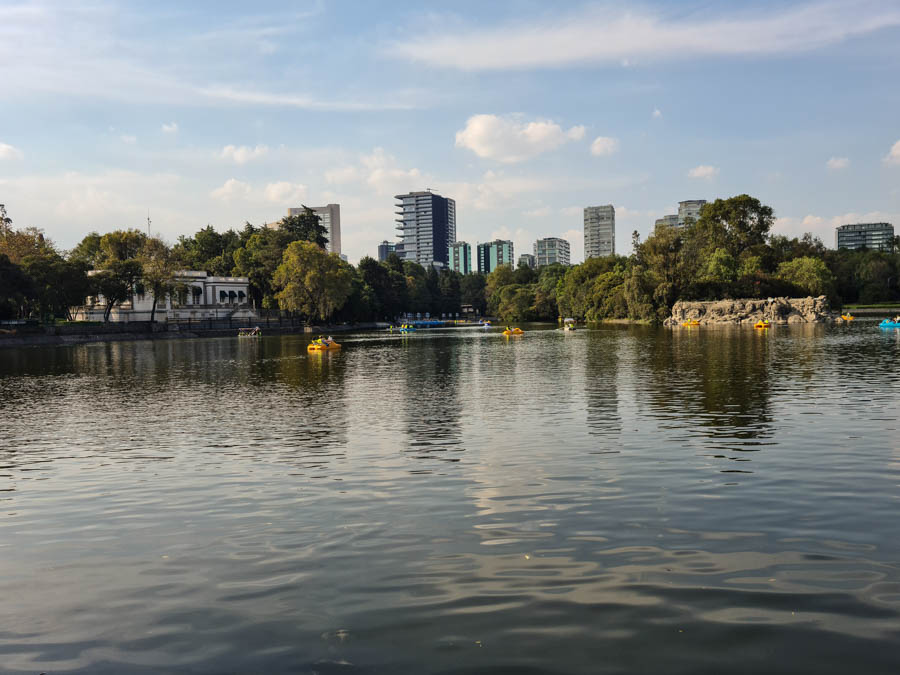 The park is broken up into three sections
Primera seccion – most visitors come to this section to visit the main attractions which includes an international zoo, Chapultepec castle, an artificial lake and several first-rate museums like the National Anthropology Museum, Modern Art Museum and the Tamaya Museum
Segunda seccion – this part of the park is family friendly with a large amusement park called La Feria de Chapultepec Magico, the Papalote Children's Museum, waterfront lake restaurants, the Natural History Museum, the National Cemetery and many other cultural sites, art installations and fountain areas.
Tercera seccion – a more natural and forested area of the park that is truly a Bosque area or wooded and natural area.
Top 23 attractions in Chapultepec Park to explore
Check out this gorgeous video of the park from above
1. Exploring Chapultepec Lake
This large artificial lake in the middle of the park area is a loved favorite spot to hang out, have a meal at the waterfront restaurants or rent a paddle boat and explore the lake area or the lake house called Casa Lago Cultural Center which is host various events and collections open for the public. There are two other smaller lakes located in the Segundo seccion called the Lago Major and Lago Menor and mostly just spots to hang out and enjoy the water views.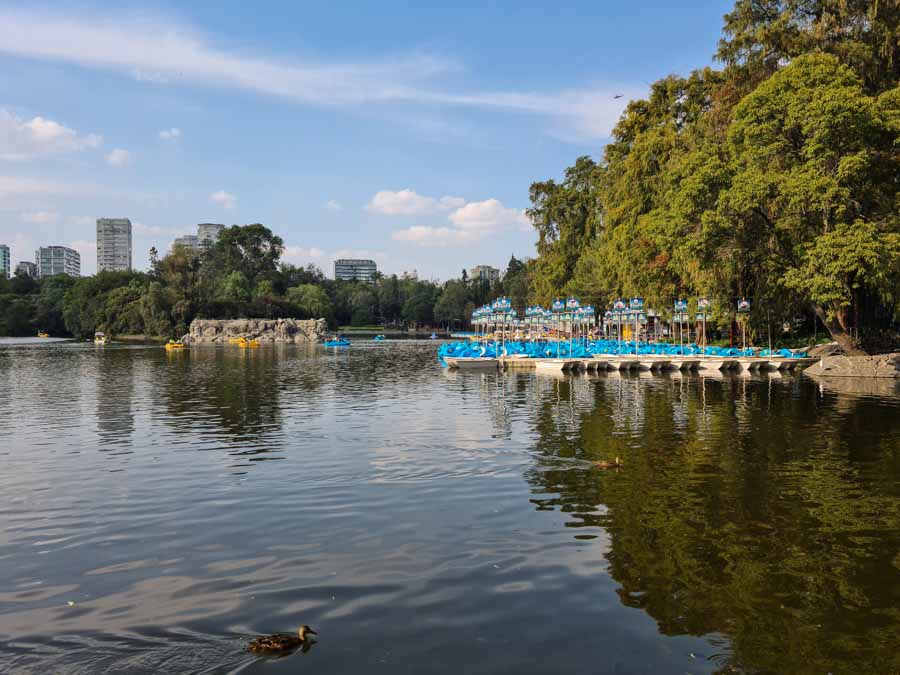 2. Chapultepec Castle
Located at the highest point of the park, Chapultepec Castle with stunning views all around Mexico City from different vantage points. Built during the Colonial period the castle housed a military academy and a castle was also constructed by the Emperor Maximilian and his wife Carlota. He also ordered a large boulevard leading from the center of the city to the castle gates called El Paseo de la Reforma which is the grandest street of the city. The castle was eventually used by presidents of Mexico and then converted into a living museum and also the National History Museum. You can visit both sections Tuesday to Sunday from 9am to 5pm.
Entrance fees
The entrance fee for Chapultepec Castle is $90 MXN pesos (approximately $5 USD) for adults aged 14 to 59. Children aged 13 and under, as well as adults aged 60 and older, can enter the castle for free. This includes entrance to the National History Museum next door.
Tip – On Sundays, you can visit Chapultepec Castle without any admission fee. However, it's advisable to arrive early to avoid the large crowds.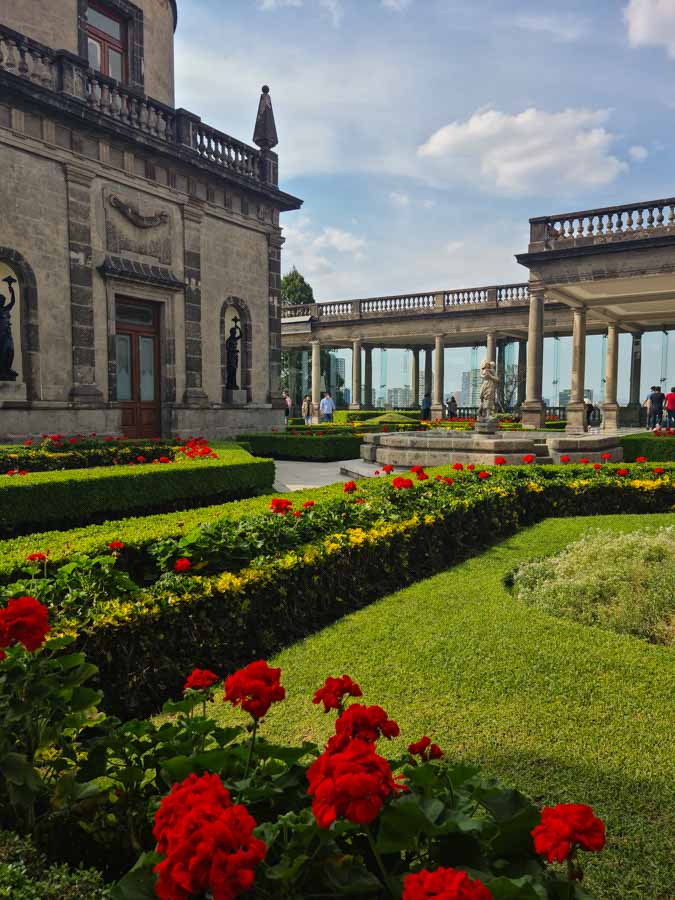 Stained glass courtyard of the castle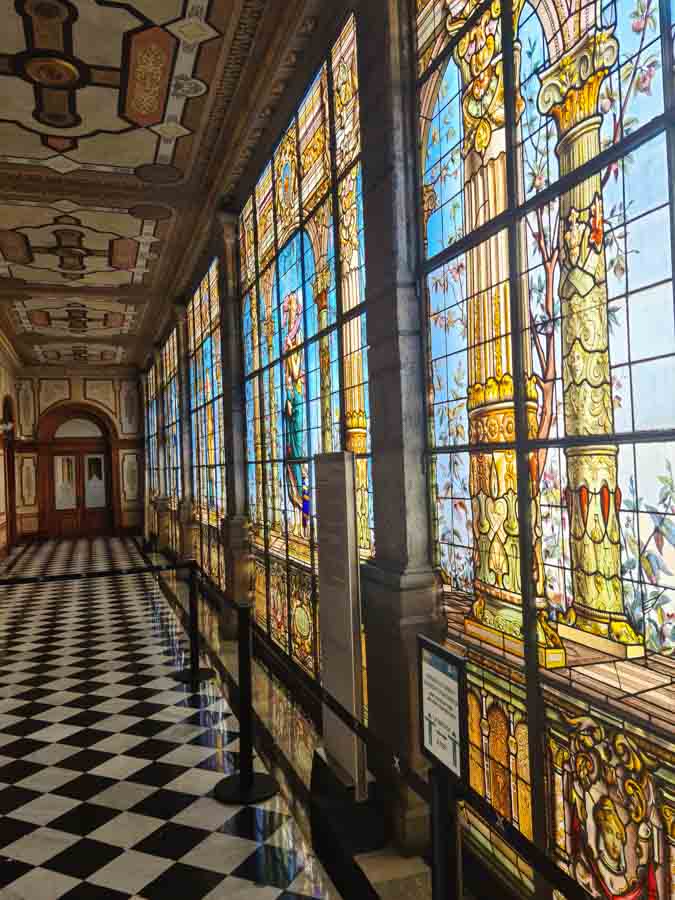 Gorgeous rooms to explore of Maximilian and his wife Carlota, the first emperor and empress of Mexico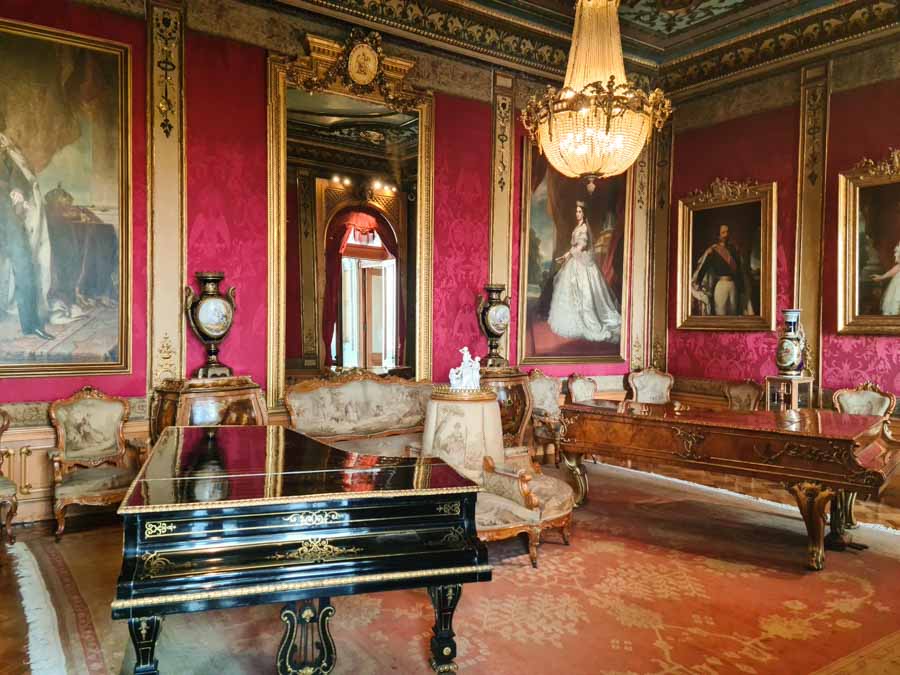 Tip – entrance to the castle is free on Sundays but is always busy so go early if you plan on visiting on Sunday or weekend.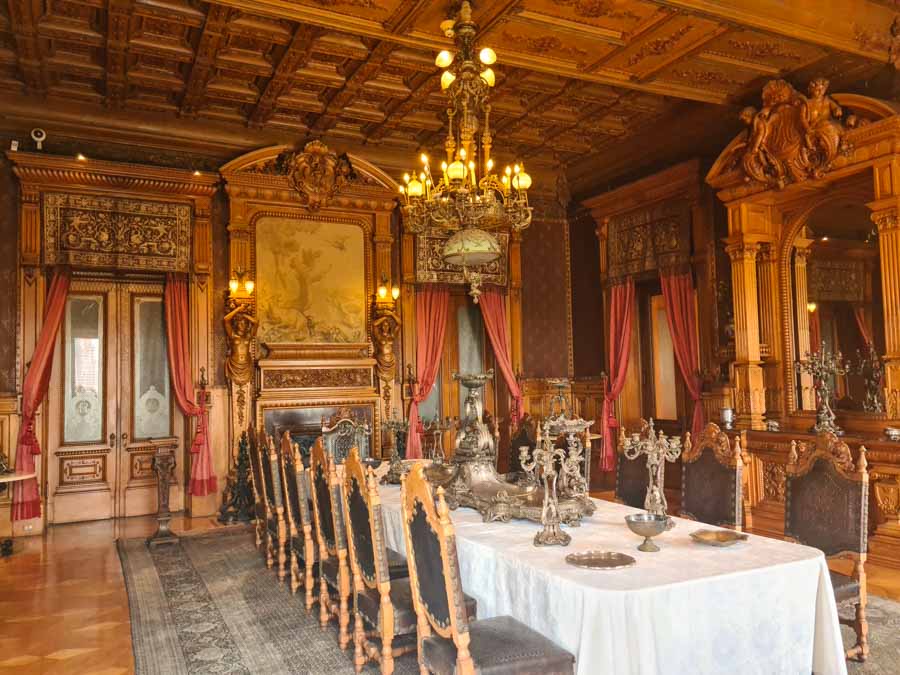 Here's a gorgeous video tour of Chapultepec Castle below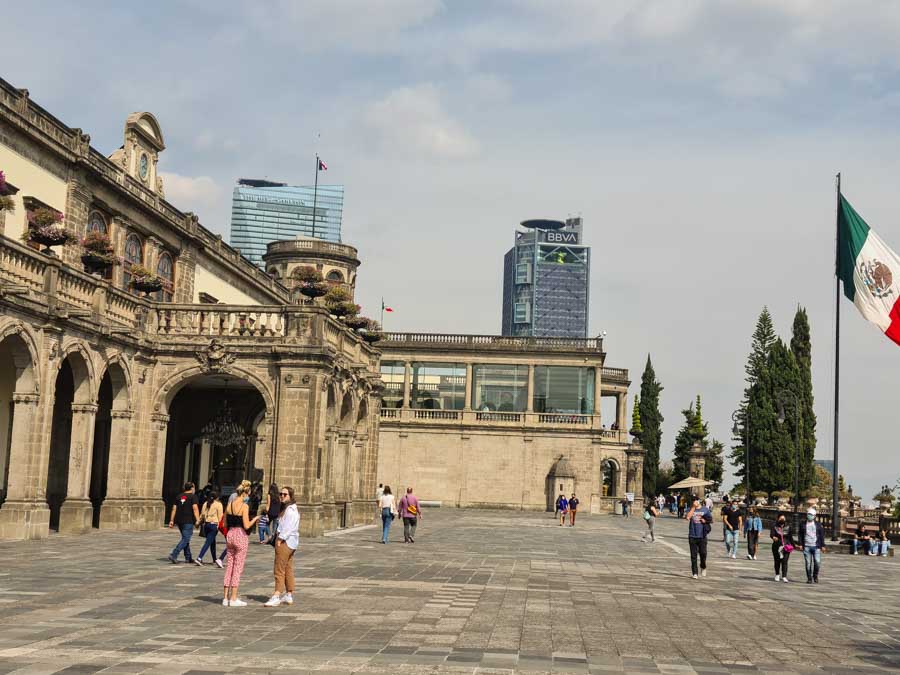 Entrance to the National History Museum section of the castillo
4. Explore the National History Museum at the Castillo
The National History Museum at the Castillo, located in Mexico City's Chapultepec Park, is a captivating cultural institution that offers visitors a glimpse into Mexico's rich history. Housed within the magnificent Chapultepec Castle, the museum showcases a remarkable collection of artifacts, artworks, and historical exhibitions spanning various periods.
Perched atop a hill with stunning views of the city, the Castillo itself is an architectural marvel. Originally built as a residence for Mexican rulers in the 18th century, it later served as a military academy before being transformed into the National History Museum in 1944. Its grand halls and ornate interiors provide an impressive backdrop for the exhibits housed within.
Visitors to the National History Museum at the Castillo can marvel at ancient artifacts, such as intricately carved stone sculptures, archaeological treasures, and ceremonial objects from Mesoamerican civilizations. They can also admire paintings, murals, and historical documents that depict pivotal moments in Mexico's past. Additionally, the museum often hosts temporary exhibitions that delve deeper into specific periods or themes, providing visitors with fresh insights and perspectives.
Entrance fees
The entrance fee for Chapultepec Castle is $90 MXN pesos (approximately $5 USD) for adults aged 14 to 59. Children aged 13 and under, as well as adults aged 60 and older, can enter the castle for free. This includes entrance to the castel area
Tip – On Sundays, you can visit Chapultepec Castle without any admission fee. However, it's advisable to arrive early to avoid the large crowds.
** Check out getting tickets in advanced to visiting Chapultepec castle here for a seemless visit to this beautiful castle and museum.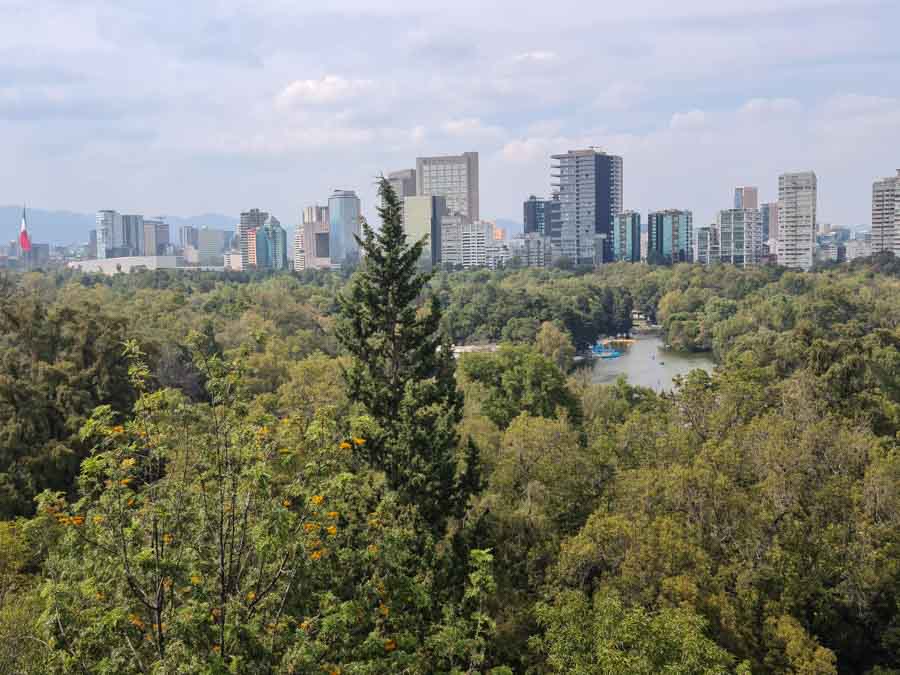 5. Capture the magnificent views from above Chapultepec Park
When you visit Chapultepec Castle, the views are magnificent and there are plenty of spots walking uphill and around the castle area to take pictures of Mexico City. The various outdoor patio areas of the palace gives the best views with panoramic shots of the entire city you can do selfies or just capture the amazing city skyline below. This is definitely one of the best features of visiting the park and enjoying all the cool vista points from above.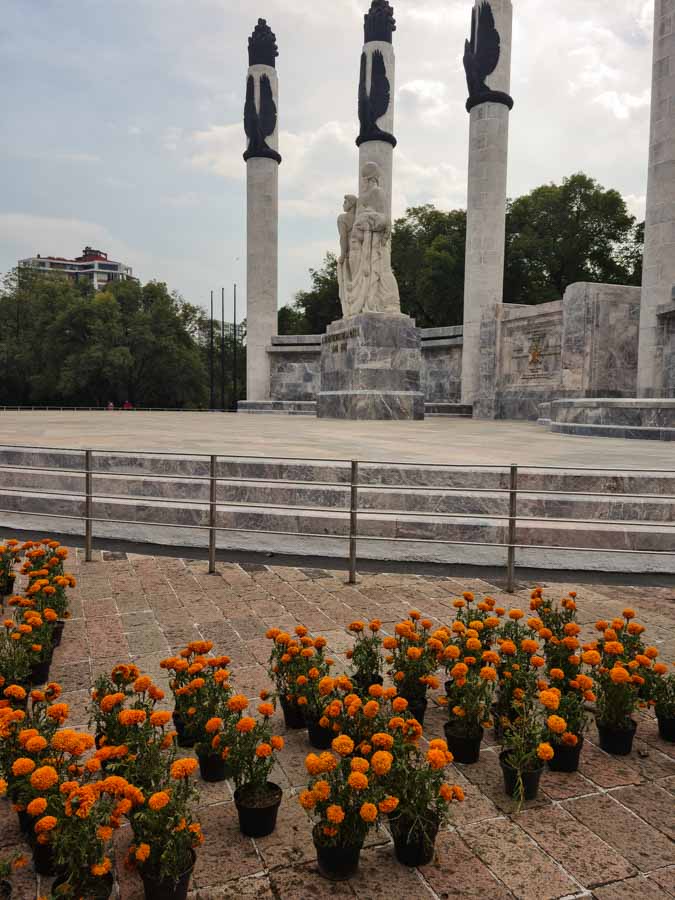 6. Monument to Los Ninos Heros
The large monument is a tribute to six cadets that lost their lives during the siege of the military academy by US forces. There are six pillars that represent each cadet with a centerpiece of a mother embracing her child hero. Created in 1952, the monument is one of the grandest monuments in the park which was initiated to create more fountains, plazas, artificial lakes and cultural tributes from 1898 to 1910.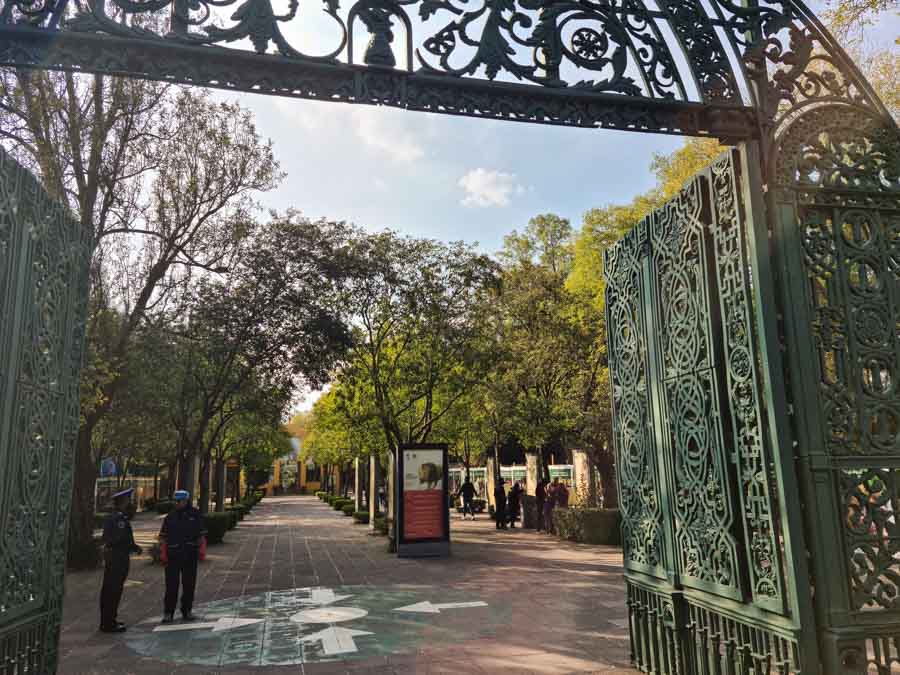 7. Chapultepec Park Zoo
The large zoo called Alfonso Herrera Zoo was created in 1927 after the founder and biologist Alfonso Herrera.  The zoo receives over 5.5 million visitors a year and is a free attraction to visit in the park. There are many conservation projects, breeding programs and even a successful breeding program of pandas where over 8 pandas have been born at the zoo and is one of the major attractions to visit here. The zoo portion of the park is quite large and is fun to explore with kids or just the kid in you.
Entrance to Chapultepec Park Zoo
The entrance is free, you just need to get in line to receive a free park ticket at the ticket box entrance.
Zoo hours – open Tuesday to Sunday from 9am to 4:30 pm and admission is free. No food or drinks allowed inside and large bags must be checked in at the check in services desk.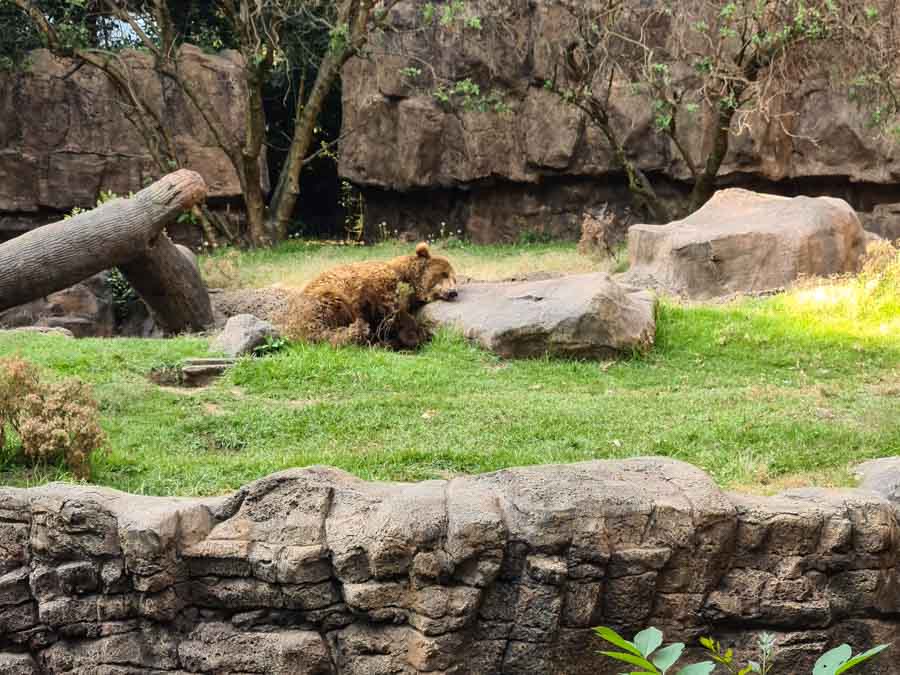 Exploring the expansive zoo at Chapultepec Park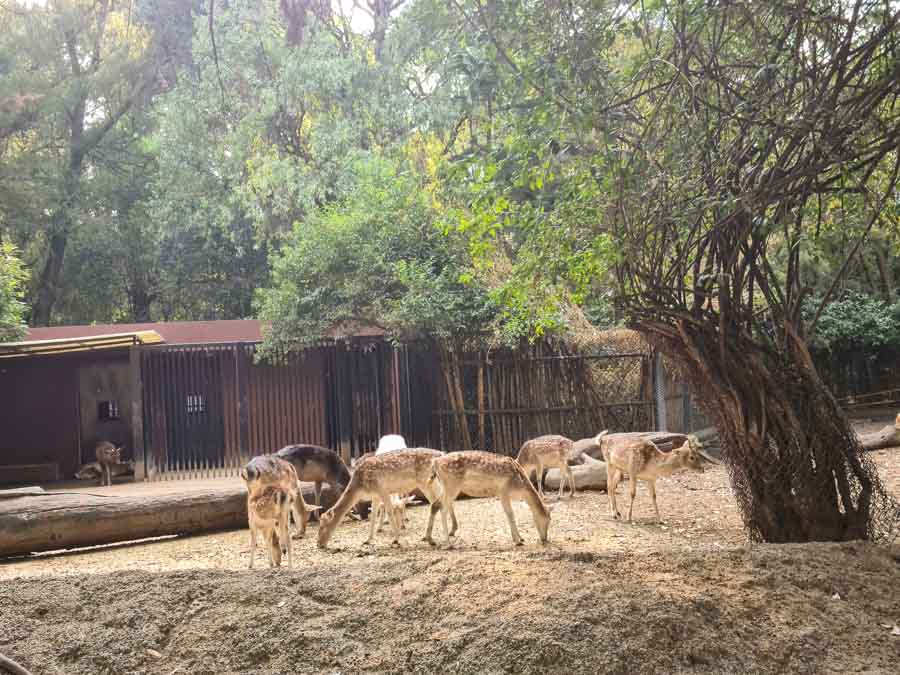 Here's a fun tour of the zoo below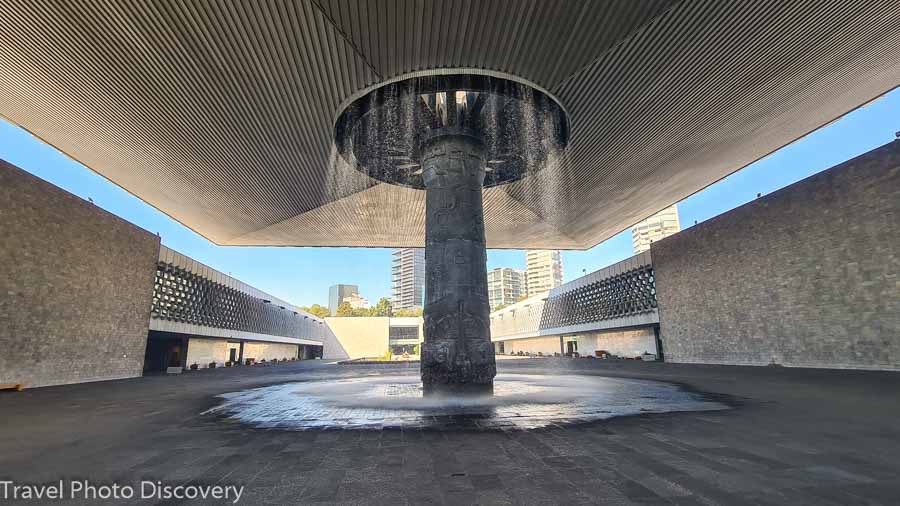 The must-see museum at Chapultepec Park is the National Museum of Anthropology with its impressive collection of the indigenous civilizations of ancient Mexico. The most visited museum in Mexico City, the museum collections are vast and housed in over 23 large exhibition spaces and covering a span of over 3200 years of Mexican ancient civilization. If you plan on visiting, it is recommended to go with a guide is to get a better understanding of the many different cultures, traditions, gods, rulers and daily life of these ancient peoples. If time is short, then go for the free one-hour tour to get the highlights to visiting the museum.
If you have reached overload with exploring all the fantastic displays, take some down time to relax and have a nice meal in the indoor/outdoor restaurant which is a real gem and respite with some delicious food and drinks.
To find out more about visiting the museum, check out their website here for more information and details.
*** Consider getting your tickets in advanced for the National Museum of Anthropology here for more information and booking.
Or a guided tour of the museum here for learning more about the history and culture of ancient Mexico.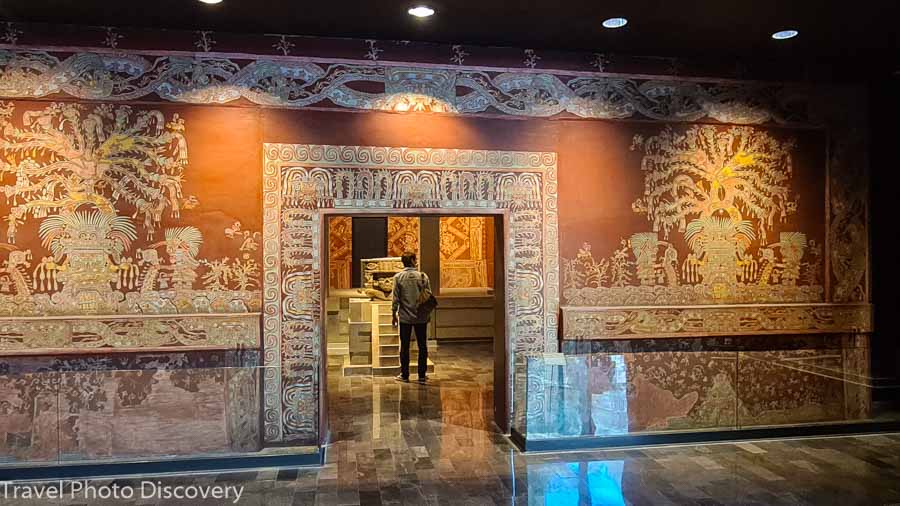 Elaborate rooms at National Museum of Anthropology Mexico City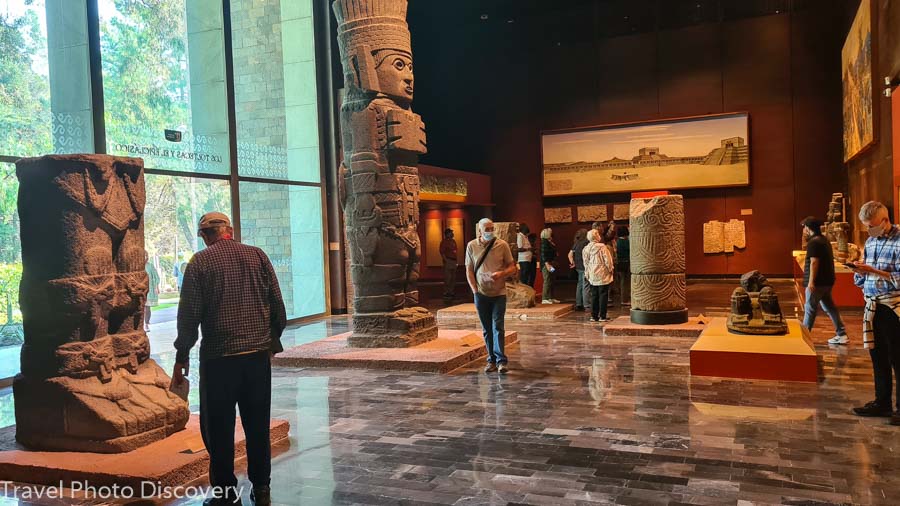 fascinating exhibits at National Museum of Anthropology Mexico City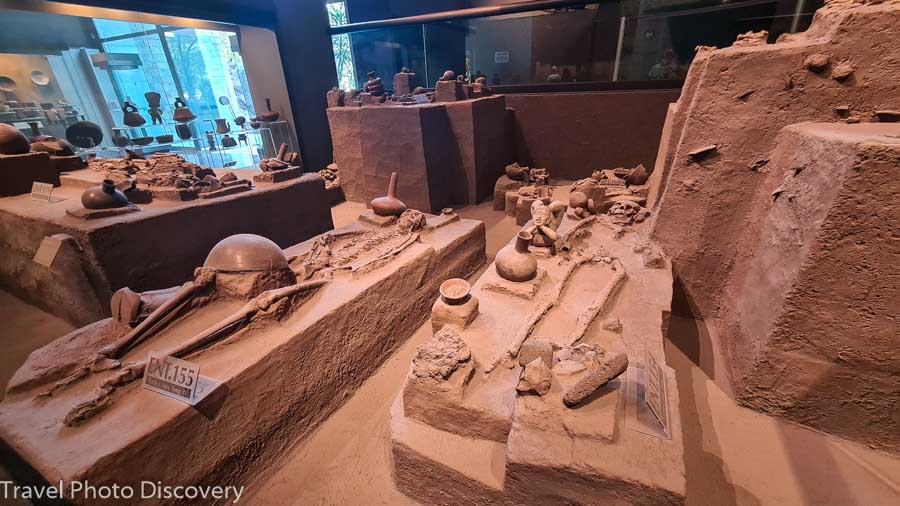 Visit the famous National Anthropology Museum at Chapultepec
9. Eating at the National Anthropology Museum
When you get too overwhelmed with all the amazing displays and artifacts to check out at the museum, its good to take a break and enjoy a fabulous meal at their restaurant. The gorgeous indoor and outdoor spaces at the main restaurant to the Anthropology museum is a nice and quiet green respite to eat and recharge before trying to see more of the fantastic exhibits at this world renown museum. The food and beverages served at the restaurant are really delicious and quite affordable in price.
10.  Eating venues at Chapultepec Park
During the day time the main streets around the park are filled with street vendors offering a variety of snacks, drinks and local street food for sale. There are nicer dining venues also located in the park with the Anthropology Museum or just outside the park grounds, check these out here:
Here are some dining options to consider when exploring the park and its vicinity:
El Lago: Nestled within Chapultepec Park itself, El Lago offers a refined dining experience with scenic lake views. Their menu features a blend of Mexican and international cuisine.
Huset: Located near the park, Huset combines local flavors with a modern twist. Enjoy dishes crafted from fresh, seasonal ingredients in a contemporary setting.
Porfirio's: Just a short walk from Chapultepec Park, Porfirio's specializes in traditional Mexican cuisine with a focus on flavors from different regions of the country.
Lalo!: A cozy café near the park, Lalo! serves delicious breakfast and brunch options, including Mexican staples like chilaquiles and freshly baked pastries.
La Casa de Tono: Savor authentic Mexican street food at La Casa de Tono. Try their tamales, enchiladas, and tacos for a taste of local flavors.
Restaurante Nicos: A bit farther from the park, Restaurante Nicos is a classic Mexican eatery renowned for its traditional dishes, including mole and chiles en nogada.
Contramar: While not right next to Chapultepec, Contramar is famous for its seafood dishes, particularly the tuna tostadas and grilled fish.
La Buena Tierra: Located nearby, this restaurant offers health-conscious options and vegetarian dishes in a relaxing setting.
Limosneros: For a contemporary take on Mexican cuisine, Limosneros is a short drive away and offers inventive dishes with a focus on local ingredients.
Mercado Roma: This upscale food hall features a variety of gourmet food stalls with offerings ranging from sushi to tacos, making it a great place to sample diverse flavors.
Whether you're seeking traditional Mexican fare, international cuisine, or a quick bite to fuel your explorations, the restaurants around Chapultepec Park cater to all tastes and preferences, making it easy to enjoy a delightful meal during your visit.There are so many pushcarts and pop up restaurant take out stands to buy inexpensive food, drinks and some tasty local foods and snacks to try and take a break while visiting the park grounds.

11. Montezuma Baths
The Baths of Montezuma or Banos de Moctezuma is a historical monument built in the 15th century when Montezuma ruled the nation. In it was a spa bath area, exotic fish grounds and water collection area from nearby springs.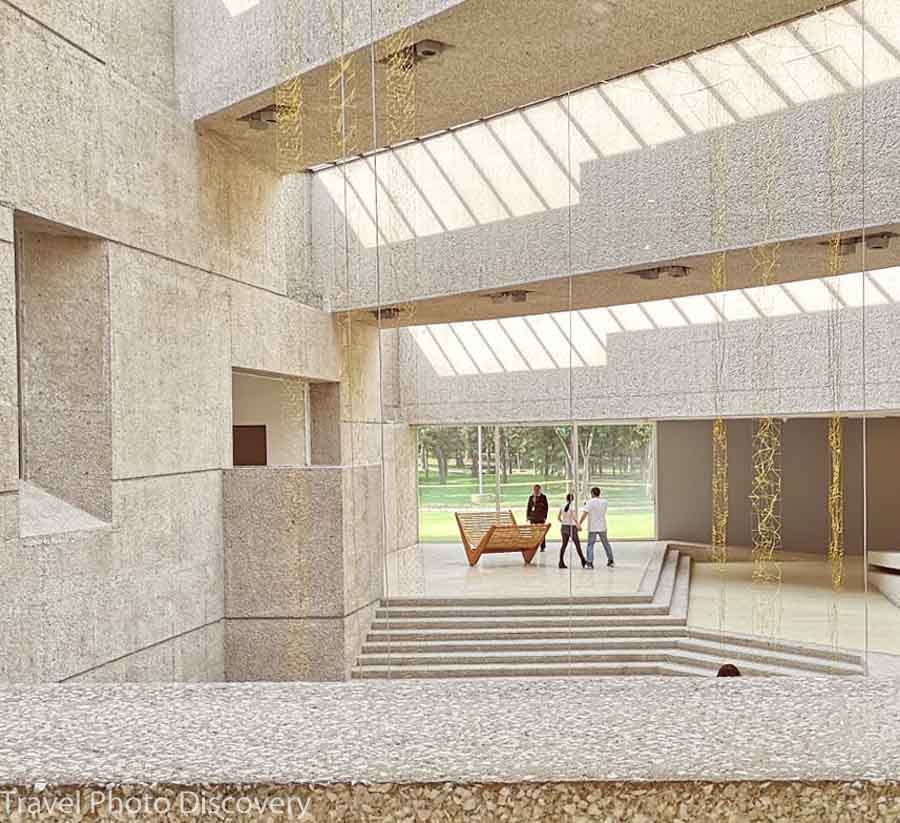 12. Tamayo Contemporary Art Museum
Founded by the artist Rufino Tamayo houses many of his works along with an international caliber of artists from around the world. The second largest contemporary Art Museum to visit in Mexico City and it is situated right next to the National Anthropology Museum.
13. Museum of Modern Art
On the edge of the park grounds in the Museum of Modern Art which houses many contemporary arts from Mexican and international Artists along with a gorgeous sculpture garden on the grounds. Popular artists that you may recognize here includes Diego Rivera, Rufino Tamayo, Jose Clemente Orozco and David Alfaro Siqueiros.
Here's a quick visit to the Modern Art Museum below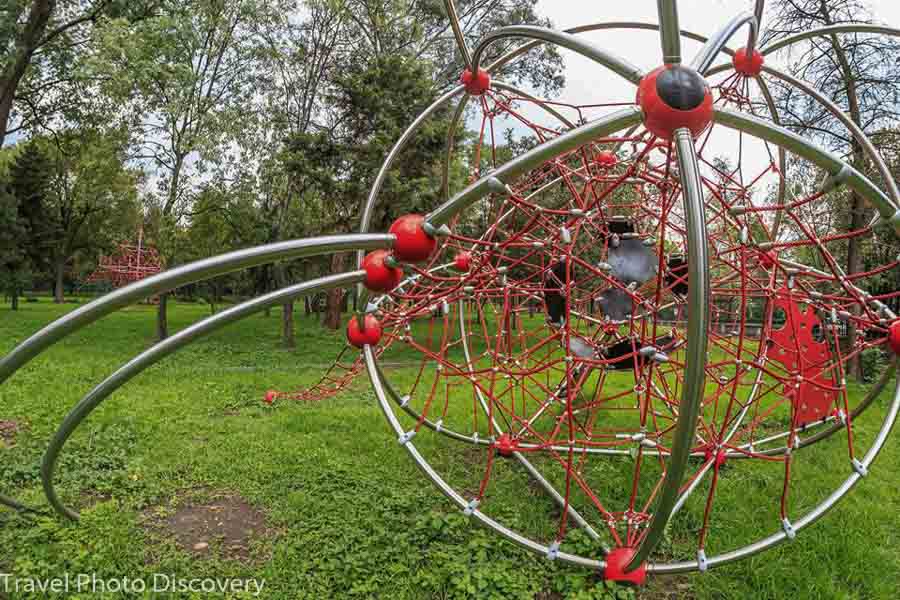 14. Ant Park – Parque La Hormiga
A popular children's park that is basically an outdoor play space for children with over 9.5 acres of open and play area with climbing structures made with ropes to resemble a large ant's nest and fun for children of all ages to explore.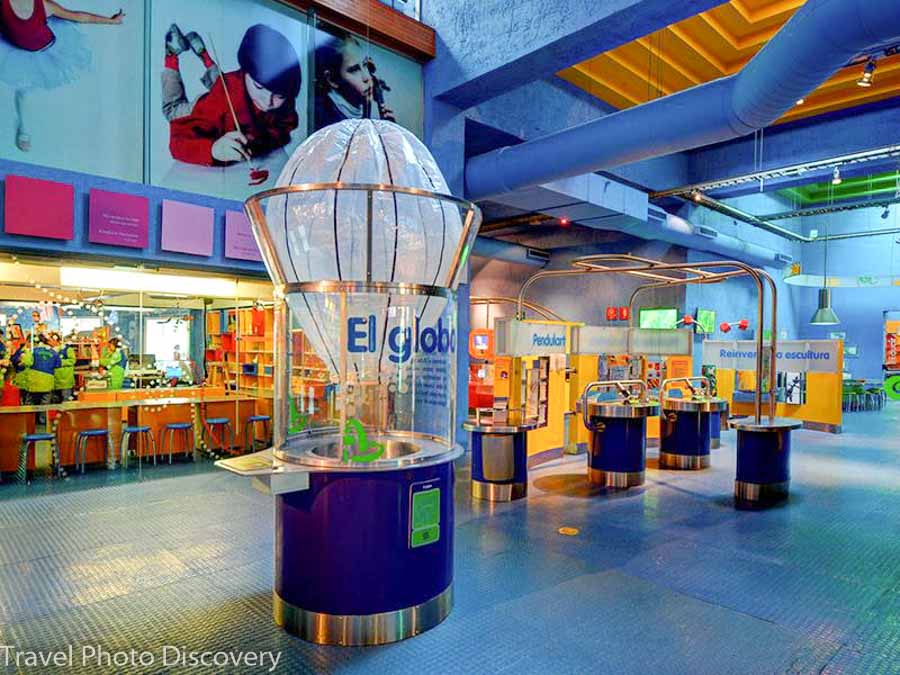 15. Papalote Children's Museum
The Children's Museum is location in section two of the park and contains many family friendly exhibits, indoor and outdoor exhibits, a beautiful garden with a Digital dome that explores the entire solar system.
Check out this visit to the Children's Museum below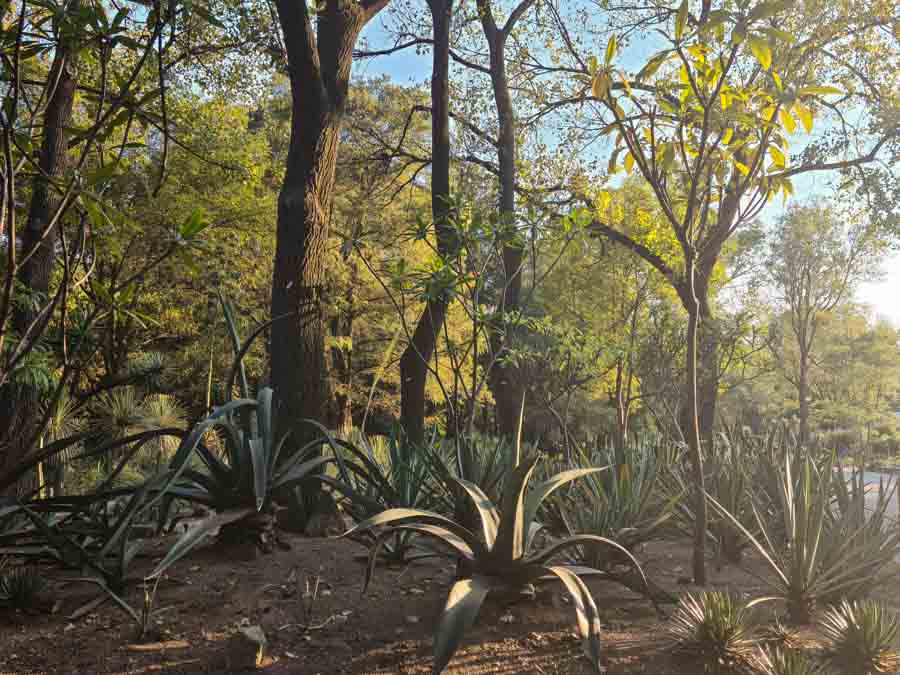 16. Chapultepec Botanical Gardens
The botanical gardens present different species of plants from around the country with over 300 plants, fruit trees, cacti and succulents along with other native plant species of annuals and perennials.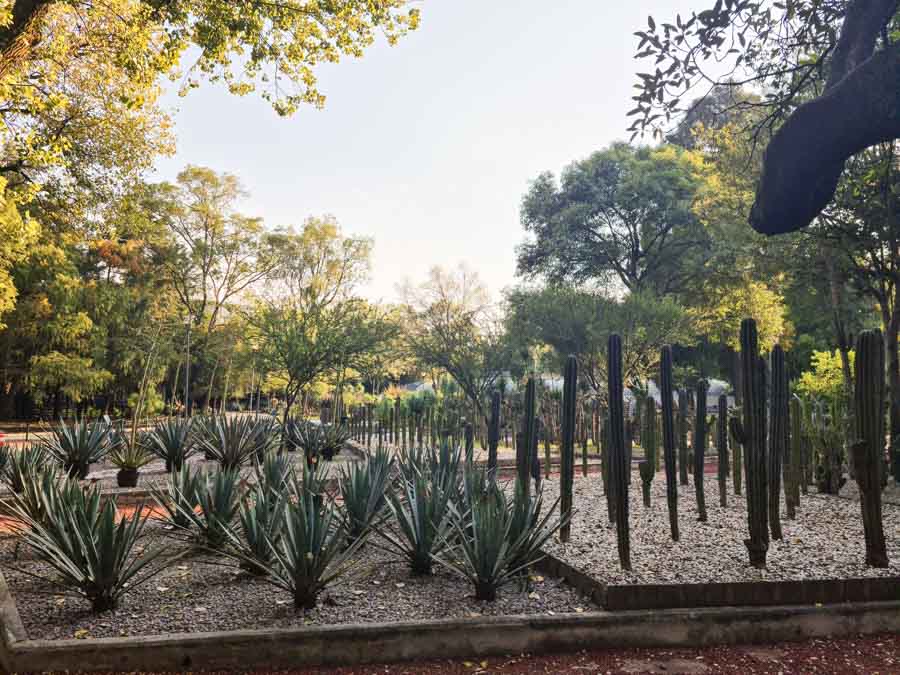 Beautiful plantings from arid and desert scape to lush subtropical collections at the botanical gardens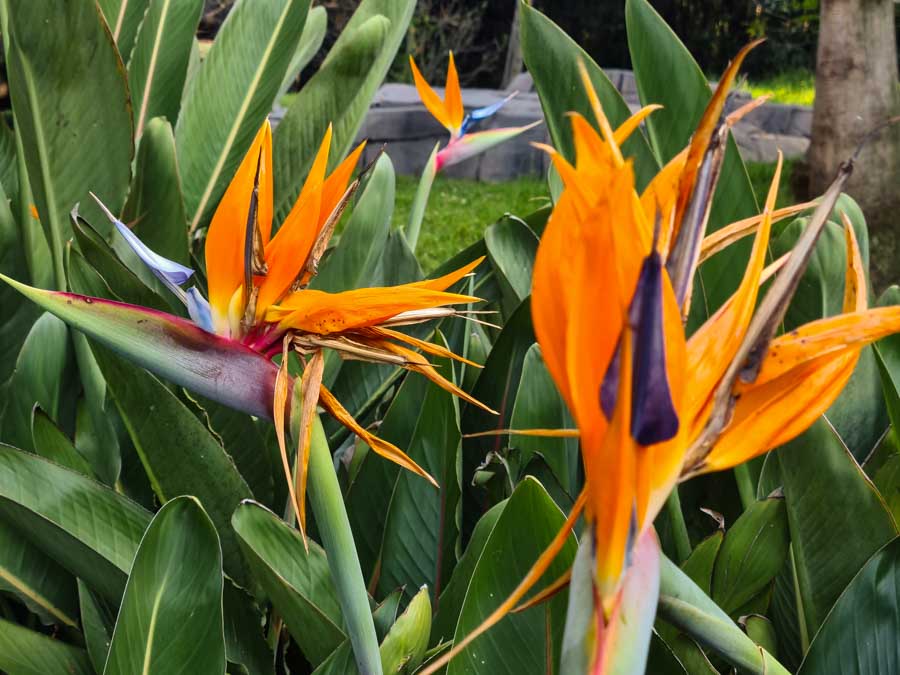 Here's a tour highlight of the Botanical gardens at Chapultepec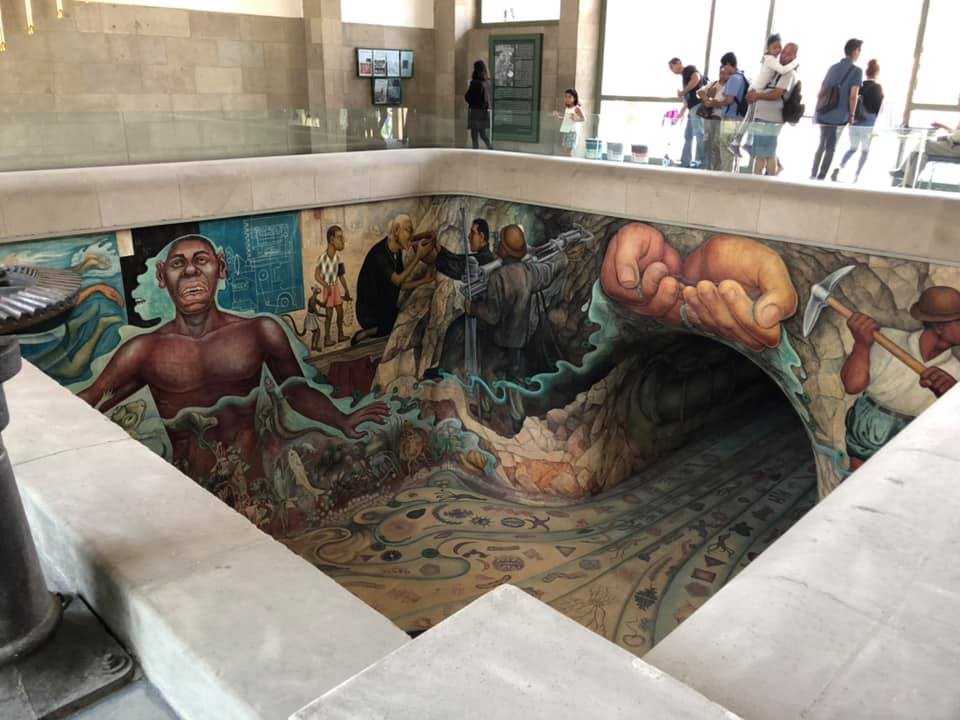 17. Cárcamo de Dolores
A really cool building and space to explore at Chapultepec park is the Carcamo de Delores. Originally, this was the main source of fresh water in the city in early times. In 1951, the pump building was ornately painted with murals from Diego Rivera mural El agua, origen de la Vida (water, the origin of life). Today you can visit and listen to the interesting sound installation called Cámara Lambdoma while viewing the gorgeous murals of Diego Rivera as you check out this off the beaten gem in the park.
If you are in the park, definitely check out this unusual and beautiful gem with beautiful frecoes that were painted by world reknown artist Diego Rivera.
18. Go rowing at the man made lakes
Here are some details to help you plan your rowing experience when you want to go boating at Chapultepec:
Rental Facilities: Within the park, there are designated rental facilities where you can rent rowing boats. These facilities are usually located near the lakeshores, making it convenient to access the boats.
Boat Options: Different types of rowing boats are available for rent, ranging from single-seaters to larger boats that can accommodate multiple people. The rental facilities will provide you with the necessary equipment, such as oars and life jackets, to ensure a safe and enjoyable experience.
Rental Fees and Hours: The rental fees for rowing boats may vary depending on the type of boat and the duration of rental. It is advisable to check the specific rates at the rental facilities within the park. Additionally, be aware of the operating hours of the rental facilities, as they may have specific opening and closing times.
Rowing on the Lakes: Chapultepec Park features several picturesque lakes where you can enjoy rowing. The most popular lake for rowing is the Lake of Chapultepec, also known as the "Lake of the Ducks." This serene body of water offers a peaceful environment surrounded by lush greenery and beautiful scenery.
19. Find the Angel Wings – Alas de la Ciudad and do Selfies
This is a fun spot at Chapultepec Park with this bronze angel wings and you can stand in front of and take some fun selfies. Created by the renowned Mexican sculptor Jorge Marin, the Wings of the City, also known as Alas de la Ciudad, are a striking pair of immense bronze angel wings.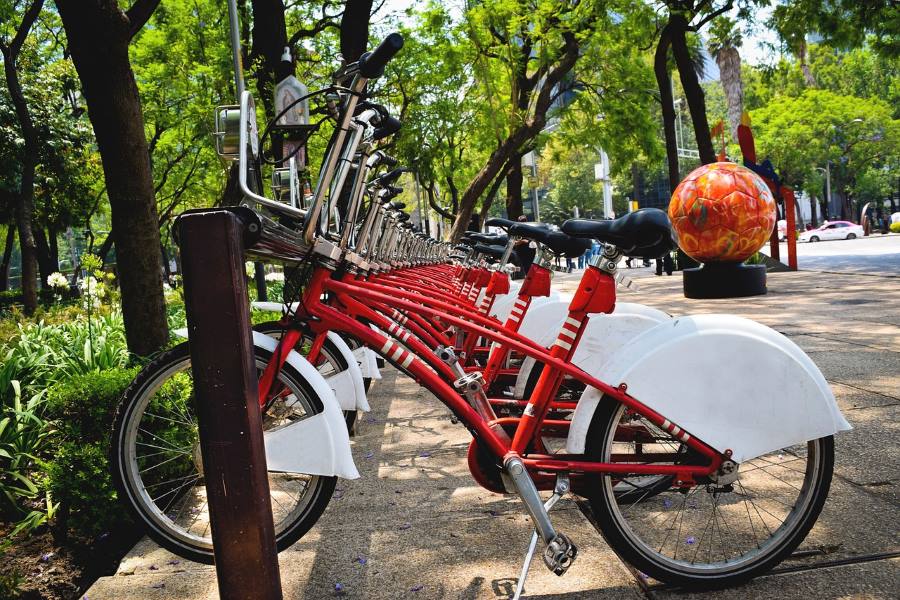 20. Go Biking around Chapultepec Park
You can easily cover a lot of ground visiting the park by bike and seeing all the many different areas to explore easily instead of walking.
Mexico City offers the fantastic EcoBici bike share program, which provides an excellent means of transportation. For less than $20 USD, you can purchase a one-week pass, granting you access to the EcoBici bikes.
With an EcoBici membership, you have the freedom to pedal around Chapultepec Park and explore other captivating areas of Mexico City at your leisure. It's a fantastic opportunity to immerse yourself in the city's vibrant atmosphere while enjoying the flexibility and eco-friendly benefits of cycling.
21. Casa del Lago Cultural Center
Casa del Lago, also known as the House of the Lake, is a remarkable cultural institution located in Chapultepec Park, Mexico City. Situated on the picturesque shores of the lake, this architectural gem serves as a vibrant center for artistic expression and intellectual pursuits.
Originally built in the 1940s, Casa del Lago underwent extensive renovations and redesigns to transform it into the cultural hub it is today. The building seamlessly blends modern design with its natural surroundings, offering a harmonious connection to the surrounding parkland.
Casa del Lago hosts a diverse range of artistic and cultural events, including exhibitions, performances, concerts, workshops, and lectures. It serves as a platform for emerging artists, as well as renowned local and international talents, showcasing a wide array of creative disciplines such as visual arts, music, dance, theater, and literature.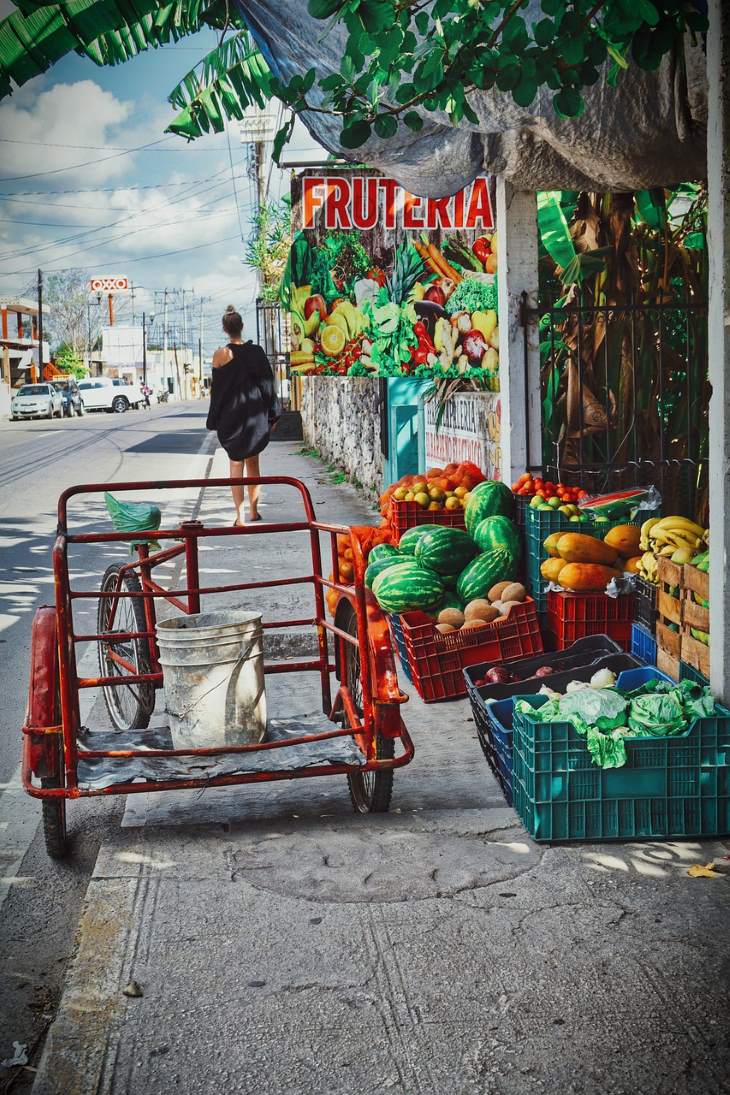 22. 
Chapultepec Weekend Street Food Market
The Chapultepec Weekend Street Food Market is a vibrant and bustling culinary destination located in Mexico City. Taking place on weekends, this lively market showcases the diverse and mouthwatering street food culture of the city.
Visitors to the market are treated to a wide array of delectable food options, ranging from traditional Mexican dishes to international flavors. Local vendors set up colorful stalls, offering an enticing selection of tacos, tamales, quesadillas, elotes (corn on the cob), tostadas, tortas, and much more. The market is a true feast for the senses, with the tantalizing aromas, sizzling grills, and vibrant food displays captivating visitors at every turn.
In addition to the food stalls, the market often features live music, performances, and other cultural activities, adding to the festive ambiance. Visitors can savor their delicious street food while enjoying the lively atmosphere and immersing themselves in the vibrant local culture.
23. 
Ride the Train Around the Park
The family friendly train ride around the park is a popular and local favorite way to enjoy the different parts of the park. Following are some details to enjoying this train experience.
Train Route: The train runs on a designated loop within Chapultepec Park, covering significant areas and attractions within the park's boundaries. The route takes you through scenic landscapes, lush greenery, and offers glimpses of notable landmarks.
Train Schedule: The train operates during the park's opening hours, which typically start in the morning and extend into the early evening. However, it's advisable to check the park's official website or local sources for the most up-to-date information on train schedules.
Accessibility: The train is designed to accommodate visitors of all ages and mobility levels. It features comfortable seating and is easily accessible for individuals with disabilities. The park strives to provide an inclusive experience for all visitors.
Scenic Views: As you ride the train, you can enjoy panoramic views of Chapultepec Park's natural beauty. From tree-lined pathways to serene lakes, the train journey allows you to appreciate the park's enchanting landscapes and picturesque surroundings.
Landmarks and Attractions: The train route passes by various significant landmarks and attractions within the park. This includes sights such as the Chapultepec Castle, the Zoo, the Anthropology Museum, and the Botanical Garden. You'll have the opportunity to admire these notable sites from the train as you traverse the park.
As of my knowledge cutoff in September 2021, the train ride in the park was free of charge. Visitors could enjoy the experience without any additional cost, making it accessible to all park visitors. But these can change when you visit so do pay attention to any future rates charged for this experience.
Check out my other Mexico City Posts for inspiration
Mexico City – Tours with Locals
Garibaldi Square and Mariachis
Weather and the best time to visit Chapultepec Park
The park is fun to explore without all the crowds of locals that visit on the weekends so plan on coming to see the park during the week. Mornings before the museums open will give you time to explore the park areas and beautiful gardens and then take an easy visit to any of the fabulous museums without hordes of tourists also coming in at the same time of day and you can leisurely enjoy most of the park area with minimal crowds
Chapultepec Park, located in Mexico City, experiences a moderate climate with two distinct seasons: dry season and rainy season. The best time to visit the park depends on your preferences for weather and activities.
Dry Season (Late November to April): The dry season is considered the best time to visit Chapultepec Park, as the weather is generally pleasant and comfortable. During this period, you can expect milder temperatures and lower humidity, making it more enjoyable for outdoor activities like walking, picnicking, and exploring the park's attractions.
Rainy Season (May to October): The rainy season in Mexico City typically begins in May and lasts until October. During this time, you can expect higher temperatures and increased humidity, with frequent afternoon showers and thunderstorms. While the park's greenery becomes lush and vibrant during the rainy season, outdoor activities may be limited due to the unpredictable weather.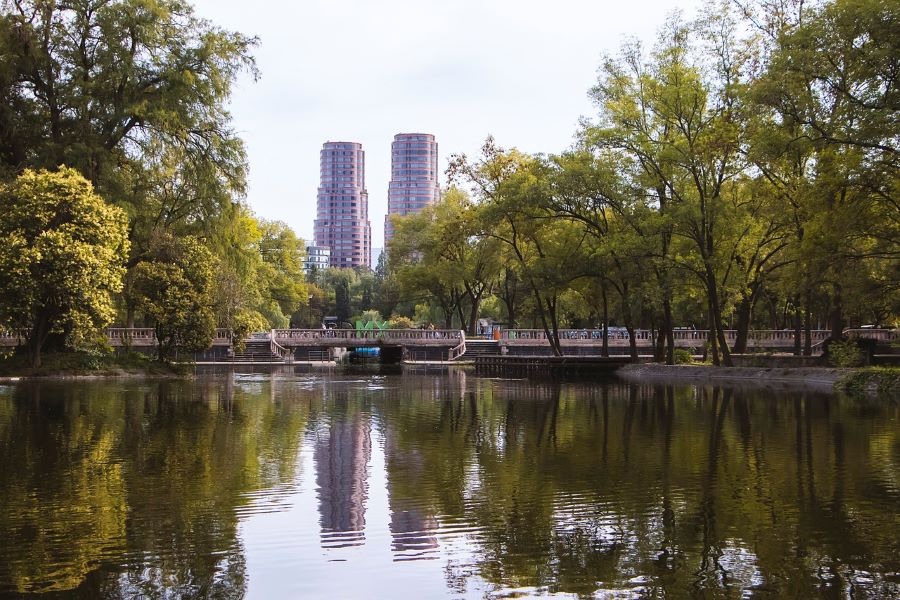 More tips and places to explore around Chapultepec park
Here are some tips to enhance your visit to Chapultepec Park:
Plan Ahead: Chapultepec Park is vast, so it's helpful to plan your visit in advance. Identify the attractions and areas you'd like to explore within the park, such as the Chapultepec Castle, the zoo, or the botanical garden. This will help you make the most of your time there.
Start Early: To avoid crowds and make the most of your day, consider starting your visit to Chapultepec Park early in the morning. This allows you to enjoy the park's serene ambiance, take beautiful photos, and explore popular sites before they become crowded.
Wear Comfortable Shoes: Chapultepec Park involves a fair amount of walking, so it's essential to wear comfortable shoes. This ensures that you can explore the park's various attractions without discomfort.
Pack Essentials: Bring along essentials such as sunscreen, a hat, and drinking water, especially during sunny days. These items will help protect you from the sun and keep you hydrated as you navigate the park.
Explore the Chapultepec Castle: Don't miss the opportunity to visit the Chapultepec Castle, perched atop Chapultepec Hill. This historic site offers breathtaking views of the city and houses a fascinating museum showcasing Mexican history and culture.
Enjoy the Nature and Wildlife: Take time to appreciate the park's natural beauty and diverse wildlife. Stroll along the paths, relax by the lakes, or have a picnic surrounded by lush greenery. Keep an eye out for the peacocks and other animals that call the park home.
Visit the Museums: Chapultepec Park is home to several renowned museums, including the National Museum of Anthropology and the Modern Art Museum. Explore these cultural gems to delve deeper into Mexico's history, art, and heritage.
Take a Boat Ride: Enjoy a leisurely boat ride on the park's lakes, such as Lake of the Ducks or Lake of the Swans. It's a serene and scenic experience that allows you to appreciate the park from a different perspective.
Respect the Environment: As with any natural and cultural site, it's important to respect the environment and follow park rules. Avoid littering, stay on designated paths, and be mindful of the park's flora and fauna.
Visiting Chapultepec Park offers a wonderful opportunity to immerse yourself in nature, history, and culture within Mexico City. By following these tips, you can make the most of your visit and create cherished memories in this enchanting urban sanctuary.
Check out these tour highlights in visiting the park below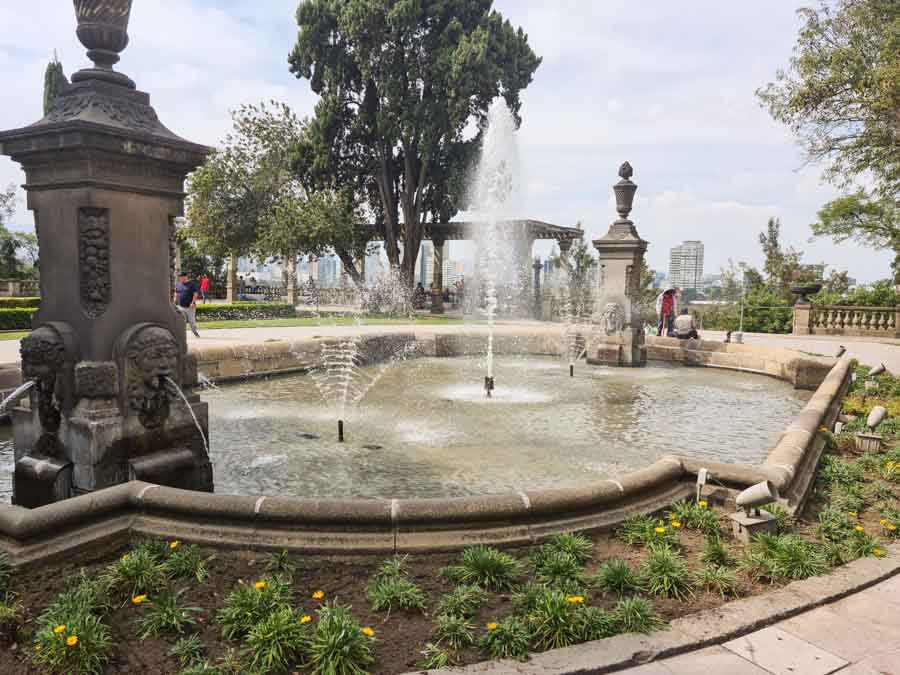 Additional details to visiting Chapultepec Park
The park is huge, a fun way to explore is on a guided bike tour of the park here for more details and booking information.
Section one of the park is open from 9am to 5pm and open Tues through Sunday and closed on Mondays for maintenance
Section two and three of Chapultepec park are open 24 hours daily and seven days a week.
Biking is permitted in the park and you can also rent bikes with EcoBici shares for inexpensive bike rentals for the park and areas outside.
Entrance to the park is free but the museums and castle do have entrance fees. The castle is free to visit on Sundays which is very busy.
The park is a popular spot to visit throughout the week, but weekends and holidays are the busiest, and you can expect the park to be crowded, particularly on Sundays. Admission to Chapultepec park is free outside of the museums and attractions mentioned above.
Where to stay close to Chapultepec Park
If you are looking to staying in this greener space around Chapultepec park, check out these listings below for more information and booking information.
Grand Fiesta Americana Chapultepec
Located close to the park, this modern hotel has it all and centrally located but easy access to the park area and Polanco district. Recently updated with spacious rooms with great views of the park area.
Overlooking the Chapultepec area and centrally located, attention to detail, service and gorgeous rooms exude the best of the Ritz experience here in Mexico City. Excellent service, food and location.
Just fronting the park area, classic and elegant hotel with exceptional service and comfortable rooms and attentive staff
For the best listings in the surrounding area, check out these listings here for more information and booking information.
Inspired? Pin it for later!
Have you been to Chapultepec Park – any suggesions?
Now that you have seen the highlights to visiting Chapultepec Park, have you bookmarked this post to reference all these attractions and have any of these places piqued your interest of places to visit in the park? If you have any other suggestions of places we missed, please share them on the comments section below.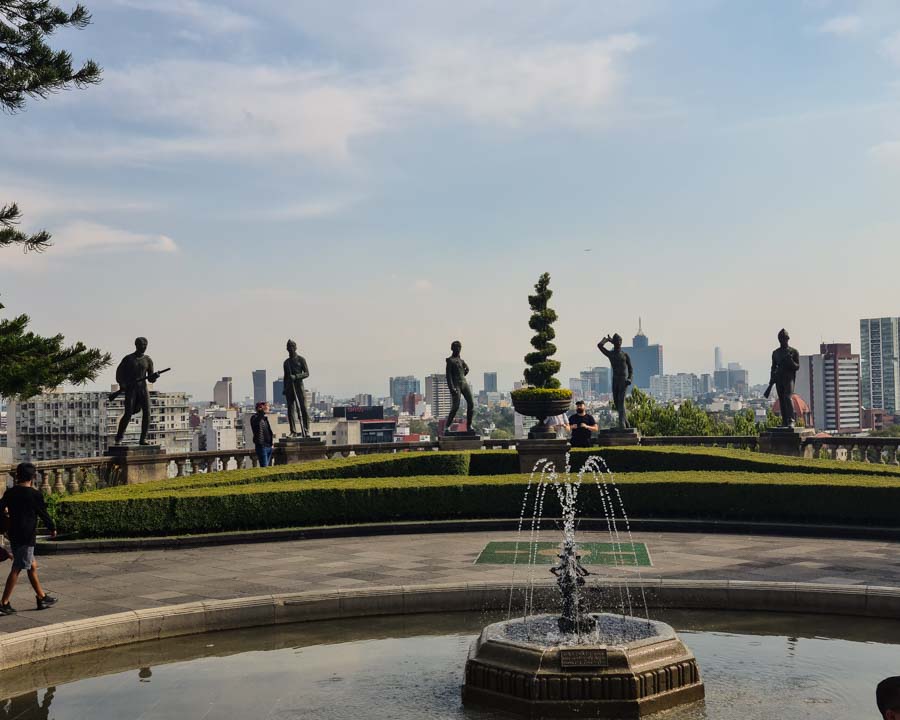 Conclusion to the top 23 things to do at Chapultepec Park
A visit to Chapultepec Park is a journey into a world of natural beauty, rich history, and cultural treasures. From the tranquil lakes and lush greenery to the captivating museums and iconic landmarks, this expansive urban park offers a truly immersive experience for visitors. By planning ahead, starting early, and wearing comfortable shoes, you can explore the park at your own pace and make the most of its offerings. Whether you find yourself marveling at the Chapultepec Castle, discovering the diverse wildlife, or delving into Mexico's history at the museums, Chapultepec Park leaves an indelible impression. Remember to respect the environment and immerse yourself in the serenity and splendor of this remarkable destination. A visit to Chapultepec Park is sure to create lasting memories and leave you with a deeper appreciation for the natural and cultural wonders of Mexico City.
Thanks for visiting the site and this post top 23 things to do at Chapultepec Park, if you enjoyed the post please do share it with any of the social media channels below.
Disclosure – some of the links above are to affiliate sites that are either reviews or recommendations if you book helps to keep our site running at no additional cost to you. We appreciate your supporting our website meanwhile.
Sharing is caring 🙂