Top Things to Do in Cádiz, Spain: Exploring the Vibrant City by the Sea
Does this look like a place you could fall in love with? Read on for 10 things to do in Cádiz!
Cádiz can be found in the south of Spain, in the Andalusia region, just below Seville. Sadly or perhaps gladly it is not always sought out by international tourists making it a destination with a different feel to the other big city greats that so often crowd a tourist's schedule in Spain. We visited Cádiz as we had a whole month to travel halfway around Spain. We were very glad we did as Cádiz has a far more laid back vibe. It's less crowded, less populous and a place that instantly relaxes you. We recommend staying in the "old town" end of the sand spit peninsula that is Cádiz, which incidentally is where you will find most of the items on the list to follow. Read on for 10 things to do in Cádiz and you will also find many more than 10 reasons to fall in love with this quieter, quainter, seaside town.
A brief history about Cadiz, Spain
Located in the southwestern part of Spain, Cádiz is a historic port city with a rich and fascinating history. It is one of the oldest continuously inhabited settlements in Europe, dating back over 3,000 years.
The city was founded by the Phoenicians around 1100 BC and was originally known as Gadir. It quickly became an important trading hub due to its strategic location on the Atlantic coast. Over the centuries, Cádiz was occupied by various civilizations, including the Carthaginians, Romans, Visigoths, and Moors, each leaving their mark on the city's cultural heritage.
During the 16th century, Cádiz played a pivotal role in Spain's exploration and colonization of the New World. It became a major center for trade with the Americas, attracting vast wealth and becoming a prime target for pirates and rival European powers.
In the early 19th century, Cádiz was a focal point of resistance against French occupation during the Peninsular War. The city's residents, along with Spanish and British forces, successfully defended it against multiple sieges, earning Cádiz the nickname "The Heroic City."
Cádiz also played a significant role in Spain's struggle for independence in the 19th century and later witnessed important political and social transformations, such as the abolition of the Spanish Inquisition and the rise of liberalism.
Today, Cádiz is celebrated for its stunning architecture, picturesque streets, and lively atmosphere. The city's historic center is characterized by narrow alleys, charming squares, and elegant buildings that showcase a blend of different architectural styles, including Baroque, Neoclassical, and Moorish influences.
With its beautiful beaches, vibrant festivals like the famous Carnival of Cádiz, and a deep-rooted cultural heritage, Cádiz continues to captivate visitors from around the world, offering a unique blend of history, art, and a lively coastal ambiance.
How to get to Cadiz, Spain in Andalusia
Getting to Cádiz, Spain, located in the region of Andalusia, is relatively easy due to its well-connected transportation network. Here are the common ways to reach Cádiz:
By Air: The nearest international airport to Cádiz is Jerez Airport (XRY), which is approximately 44 kilometers (27 miles) away. From the airport, you can take a taxi or a bus to reach Cádiz. Jerez Airport has regular flights from major Spanish cities and select European destinations.
By Train: Cádiz has its own train station, Estación de Cádiz. Renfe, the Spanish national railway operator, offers train services connecting Cádiz to various cities in Spain, including Seville, Madrid, Barcelona, and Malaga. The train journey provides scenic views of the Andalusian countryside.
By Bus: Cádiz is well-served by an extensive bus network. The main bus station in Cádiz is Estación de Autobuses de Cádiz, located near the city center. Several bus companies operate routes to and from Cádiz, connecting it to major cities in Andalusia and other parts of Spain.
By Car: Cádiz is accessible by car via well-maintained roads and highways. The AP-4 and A-48 are the main highways that connect Cádiz to other cities in Andalusia and the rest of Spain. However, it's worth noting that parking in the city center can be limited, so it's advisable to park in designated parking areas outside the historic area and use public transportation to explore the city.
By Ferry: Cádiz has a ferry port, Puerto de Cádiz, which offers connections to the Canary Islands and other destinations in the Atlantic. Ferry services are available for both passengers and vehicles.
Once you arrive in Cádiz, the city is compact and easily navigable on foot. Public transportation, including buses and taxis, is also available for getting around within the city.
The List: 10 Things to do in Cádiz:
1. Cádiz Playas (Beaches)
Cádiz is surrounded on all sides by sandy coast so it's surely little wonder that of course it boasts plenty of fantastic beaches. Our top pick would be Playa La Caleta. This is the beach that borders the historical old town of Cádiz, and was used as a natural harbour by the city's many historical societies in millenniums past. We liked Playa La Caleta as it also seemed to be the most popular and lively beach but it never felt overcrowded. Cádiz experiences daily averages of over 8-12 hours of sunshine in every season but winter, and the beachgoers hug the sand until dusk. There are 83 beaches in Cádiz to explore including Playa la Victoria, an EU Environmentally Certified beach, and Playa Tarifa for kitesurfing. We're pretty sure Cádiz has a beach to suit everyone! With 83 beaches to explore bring your sustainable backpack and fill it up with later and goodies to keep you energized to visit the whole stretch of beaches here.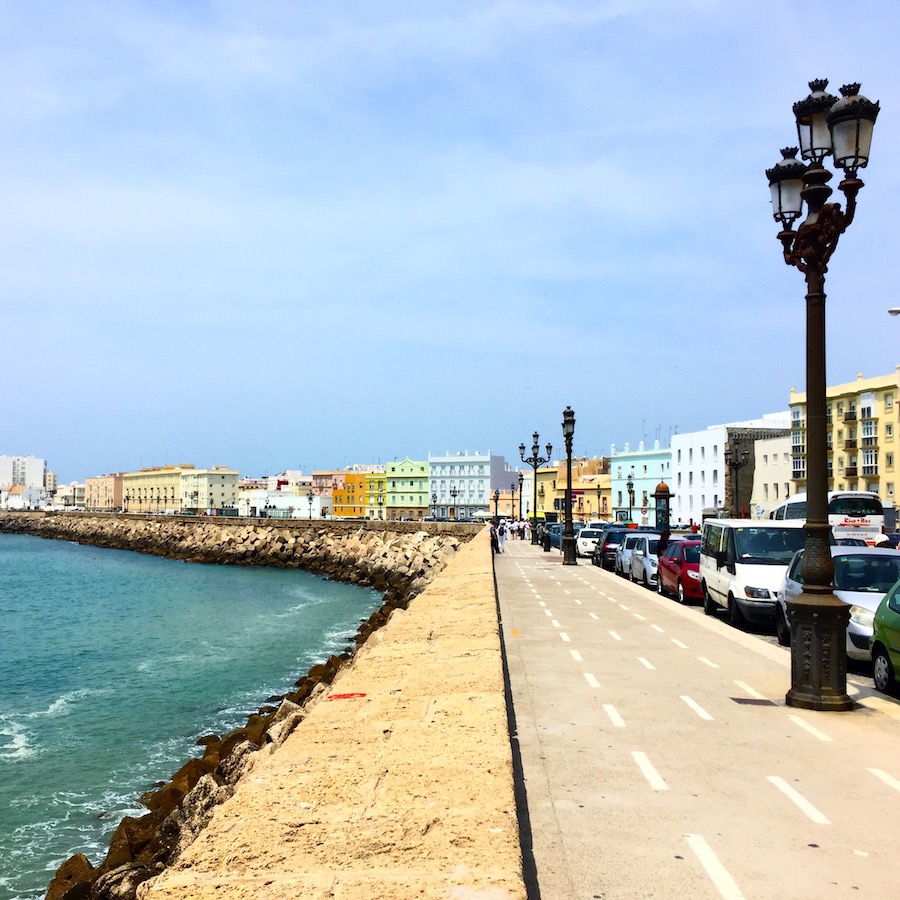 Looking back at La Caleta beach in Cádiz around 5pm and beachgoers are still hugging the sand.
2. Hanging out Beachside Cádiz
If you're the sort of person who can't stand sitting on sand, fear not, Cádiz still has myriad other ways to take in and enjoy its coastal beauty. A wide pedestrian promenade runs all along the Av. Campo del Sur, along the coast from end to end of the Cádiz old town area. The view of the coast along this promenade may seem familiar to you already: in fact it was used in the James Bond film "Die Another Day" for the scenes set in Havana, Cuba! This promenade is gorgeous for evening walks and can be broken up by taking a seat in a beachside bar for coffee or an aperitif as the sun goes down. We stopped in Quilla, Restaurante, Café y Terraza, an elegantly constructed kiosk with alfresco furniture that's brought out daily. If you alternately are one of those people who  just can't peel yourself off the beach then set yourself up down at Playa Santa Maria del Mar, and similar, where they have Chiringuitos (beach bar shacks) right on the sand.

3. A Castle in the Ocean: The Castle of San Sebastián Cádiz
Still beachside but bringing in the historical element that equally makes Cádiz so special, is the Castle of San Sebastián. This is a military fortress from 1706 built on a small island about 1 kilometre off the coast of La Caleta. Since 1860 it's been linked by a wide levee over which the waves at high tide still spray those who walk out to visit the fortress. The walk itself is an awesome adjunct to a promenade stroll (or daily jog) and if history is a passion you may wish to also see the inside of the fortress, the grounds of which are open to visitors between 9.30am – 5.30pm daily.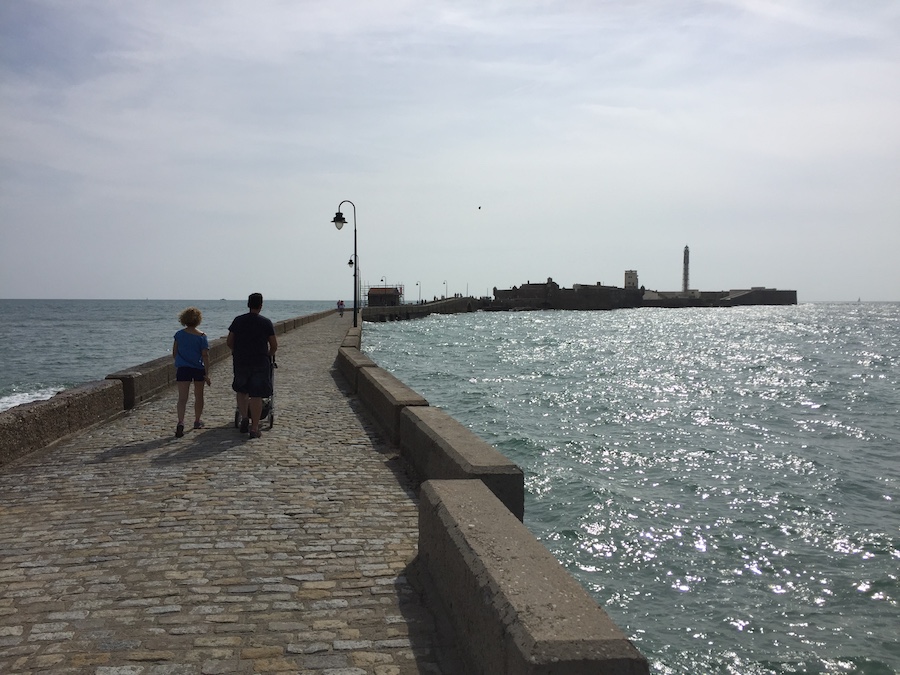 The walk out to the Castle of San Sebastián Cádiz takes around 15 minutes each way and will likely be one you remember for a lifetime!
4. Cádiz Old Town
We've skirted the historical centre of Cádiz so far, hugging the coast, but now let's delve right into the heart of it! Cádiz as a city dates back to around 1100 BC as first settled by the Phoenicians (those of phonetic alphabet fame!) They named this harbour town Gadir and today's inhabitants are known as a Gaditanos. After the Phoenician start came the Carthaginians, Romans, Moors and Visigoths! Sir Francis Drake and Napoleon also (attempted) to visit. The Cádiz old town quarter that remains today shows a bit of all this history, especially Moorish domes and arches and is a warren of cobblestoned narrow streets to explore. Most of the buildings now are from the 18th century and newer although some still date from the 16th and 17th century. Being a small area you can easily self-explore it by charting expeditions from this plaza to that parque and onto the next monument, but there is also a 2 hour walking tour available for those who want a bit more historical and cultural insight.
5. Roman Theatre Cádiz
These ruins are from the second largest Roman theatre in the world. Built around the first century BC they were not rediscovered until 1980! They are partly excavated and open to visitors. Although a small attraction, we felt it had been very well done. One tier of the theatre seating, which was cut into the stone of an existing hill, has been excavated. Under this seating the original tunnel that permitted access to the various sections of the theatre has also been excavated and can be walked through as part of viewing the ruins. The stage of the theatre remains buried under the rest of the El Populo old town neighborhood. Entry when we visited was free for international visitors, by simply answering which country you were a national of, which was a welcome bonus!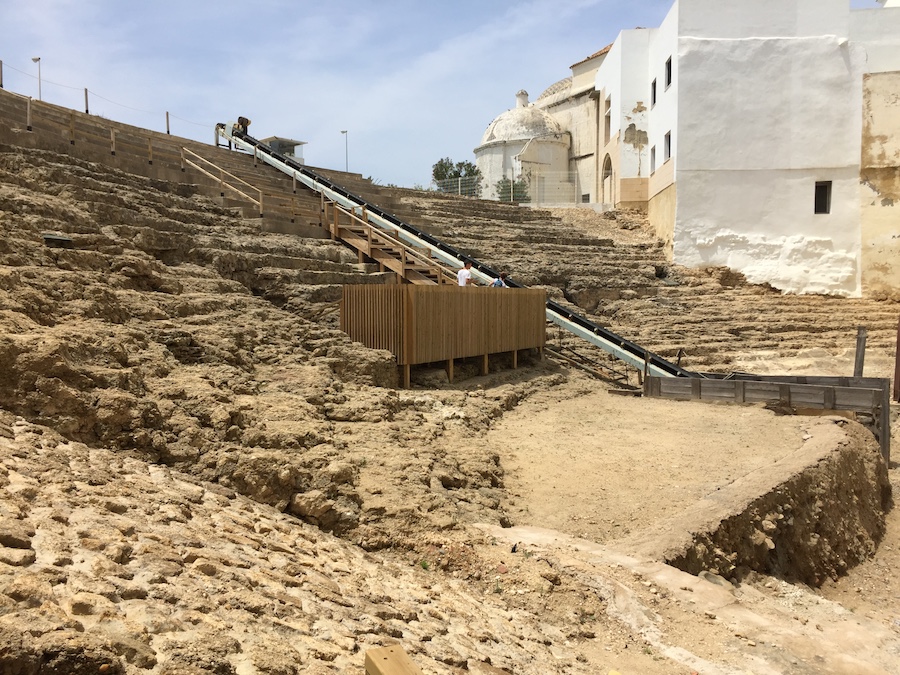 From the tunnel visitors emerge out onto a viewing platform in the middle of the theatre seating. The Roman Theatre Ruins in Cádiz do an excellent job of giving visitors the experience of what it may have been like to be a patron of this theatre 2000 years ago.
6. Cádiz Plazas (squares)
In addition to it's 83 playas (beaches) Cádiz also boasts inumerous plazas (squares), well at least 10, that time and again show up on the must-see around Cádiz lists. We explored the old town by simply charting a walking route from plaza to plaza, which provided a handy means of stopping along the way when tired/hot/thirsty. The plazas are all very good for laid back eats and drinks to while lazy afternoons away, with plenty having alfresco venues around their perimeters or just off on side streets. Plaza de Flores was a favourite for us having a colourful flower market in its middle. The Plaza Candelaria had a beautiful variety of shade trees and plenty of benches occupied by Cádiz's older residents having spirited debates across the shaded walkways.



7. Cádiz Parques (parks)
Cádiz also has parks aplenty. What made Cádiz parks so exciting were the great variety of trees to be found, many of which are touted to have been brought back from Christopher Columbus's New World expeditions. The Park Genoves is the best spot to catch these historic trees as well as over 100 other manicured types of interesting vegetation. Our favorite spot for vegetation, although technically not a park, was the Arbol de Mora with it's giant, ancient rubber (ficus) trees. Arbol de Mora in fact means mulberry tree, but this spot is named for the neighbouring hospital: El Hospital de Mora. The folklore is that the ficus trees were brought over to Cádiz by two nuns travelling from India to the north of Spain. When one nun fell ill and had to stay in the neighbouring hospital the trees took deep root and have been there ever since.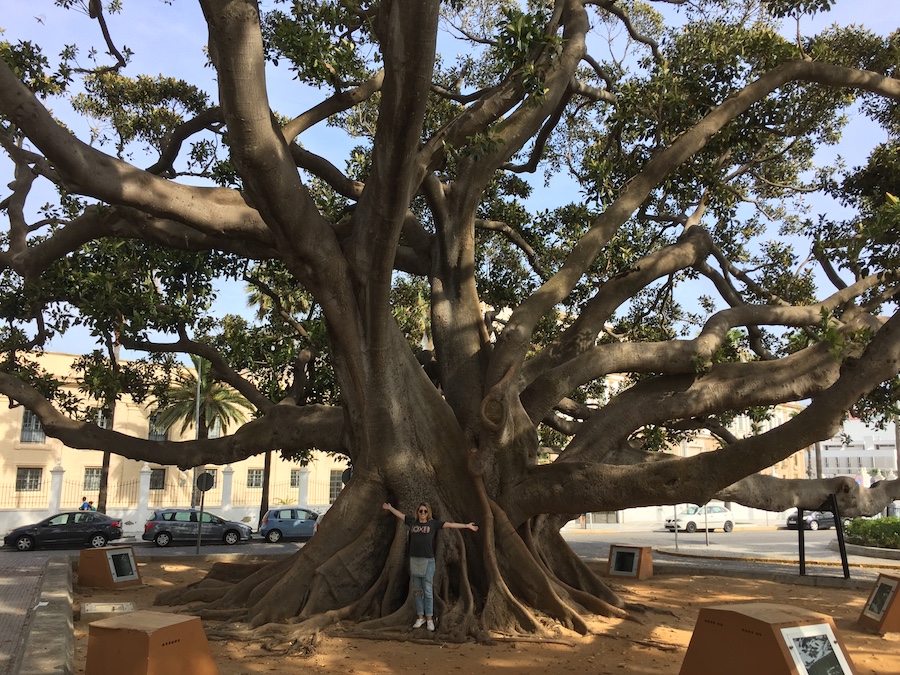 Our favourite "park" in Cádiz was the Arbol de Mora in because of the impressively sized ficus trees growing there!
Cádiz Food Market
The Cádiz Mercado Central is a must-visit, popular with tourists and locals alike. It's a permanent structure built like a square around which one can wander past the various counters of food purveyors. There are some benches and standing-height tables provided near these food purveyors if you're partial to an informal standing lunch. Otherwise grab your chosen supplies and head off to a nearby square, park or beach for a picnic! If seafood is your thing then you will be very happy in Cádiz, which as a coastal town, is well-known for it's high quality, fresh, local seafood. On Sunday's a flea market pops up around the Mercado Central.
9. Cádiz Historic Buildings
I mentioned there were a lot of squares in Cádiz, here I will mention a couple more that you must visit, if you are a fan of historic buildings and architecture. The Cathedral Square (Plaza Catedral) is home to the Catedral Nueva (new cathedral) in the El Popolo neighbourhood. The Cathedral was designed in 1722 but not completed until 1838 and is very grand in both stature (sheer size!) and decoration. Attached to it is the old cathedral: El Sagrario which was built in the 13th century but today reflects the renaissance period in which it was redecorated (1602). The square, Plaza San Juan de Dios, houses the Cádiz Town Hall built between 1799 and 1861. The building is nice but in my opinion the square is even better! An excellent spot to grab a drink and a bite in an alfresco tapas or wine bar (we recommend Restuarante Salicornia) and there were even a number of pop-up market stalls dotted around selling homemade jewellry and crafts.
The pop-up craft market stalls in front ot the Cádiz Town Hall in the square "Plaza San Juan de Dios".
10. Famous Spanish Art in Cádiz
If you love art you might love visiting a couple of the historic buildings around Cádiz to view the works of some Spanish masters in situ and in context. At the small underground church, the    Oratorio de la Santa Cueva, the ornate decorations feature paintings by Francisco Goya, Zacarías González Velázquez as well as a couple of lesser known painters and sculptors. At the Hospital de Mujeres you can enter the small chapel attached to this large baroque structure and view an El Greco: "The Ecstasy of Saint Francis".


Where to Stay in Cadiz
There are many properties worth staying in the city, the most popular option is to stay at a Pension (small inn) in the heart of the city so you can easily walk around the historic center and main attractions. You do not have to spend a lot to stay comfortably in Cádiz, although there are of course accommodation types to suit all budgets. We were perfectly happy in Pension Las Cuatro Naciones at under 50 Euros per night. Pensions are typically family run guesthouses in Spain, they are usually small and personal and often have friendly local owners who will chat to you about what to do and see as was the case at our guesthouse.
Here are some Cadiz recommendations
Occidental Cadiz – close to the beach and reasonably priced – bedrooms are clean and modern style with spacious rooms. Excellent customer service and breakfast service.
Parador de Caiz – Beach location but easy access to the city, this modern hotel is comfortable, spacious with fantastic ocean and city views – excellent front desk service.
Bahia Hotel – no frills pension in the heart of the city with plenty of restaurants and shops, rooms are clean, small but adequate. You are paying for a better priced accommodation right in the downtown area.
Following  are recommendations and reviews from Trip Advisor, click here for current prices and updates.
Weather and best time to visit Cadiz, Spain
Cádiz, Spain, enjoys a Mediterranean climate, characterized by mild winters and warm summers. The city's coastal location influences its weather patterns, with the Atlantic Ocean moderating temperatures and bringing refreshing sea breezes. The best time to visit Cádiz largely depends on personal preferences and the activities you plan to engage in.
Spring (March to May) and autumn (September to November) are generally considered the ideal seasons to visit Cádiz. During these periods, the temperatures are pleasant, ranging from around 15°C (59°F) to 25°C (77°F). The weather is usually mild, with comfortable temperatures for outdoor exploration and beach activities. Spring is particularly beautiful as the city comes alive with blooming flowers, and autumn offers pleasant temperatures for sightseeing and enjoying local festivals.
Summer (June to August) is the peak tourist season in Cádiz due to the warm temperatures and school holidays. Average temperatures during this period range from 20°C (68°F) to 30°C (86°F), with occasional heatwaves reaching higher temperatures. It's important to note that summers in Cádiz can be hot and humid, but the refreshing sea breezes provide some relief. The beaches are popular during this time, and the city hosts vibrant events and festivals.
Winter (December to February) in Cádiz is mild compared to other parts of Europe. Average temperatures range from 10°C (50°F) to 15°C (59°F). While it's not as warm as in other seasons, Cádiz still enjoys a relatively mild winter climate, making it an appealing destination for winter escapes. The city is less crowded during this time, offering a more tranquil and authentic experience.
It's worth noting that Cádiz experiences occasional rainfall throughout the year, but showers are generally brief and infrequent. It's advisable to carry a light jacket or umbrella, particularly during the transitional seasons.
More inside tips to visiting Cadiz, Spain
When visiting Cádiz, Spain, here are some inside tips to enhance your experience:
Explore the Historic Center: Take the time to wander through the charming streets of the historic center, known as the Old Town or Casco Antiguo. Discover hidden squares, picturesque alleys, and beautifully preserved buildings. Don't miss landmarks like the Cádiz Cathedral, Plaza de las Flores, and the lively Mercado Central.
Enjoy the Beaches: Cádiz boasts stunning beaches along its coastline. Playa de la Victoria and Playa de la Caleta are popular choices, offering golden sands and clear waters. Relax under the sun, take a dip in the sea, or simply enjoy a leisurely stroll along the promenades.
Try the Local Cuisine: Indulge in the flavors of Cádiz by sampling its renowned seafood dishes. Visit traditional tapas bars and restaurants to savor fresh fish, fried seafood (pescaíto frito), and the local specialty, "tortillita de camarones" (shrimp fritters). Don't forget to pair your meal with a glass of chilled fino or manzanilla, regional sherry wines.
Experience the Carnival: If you have the opportunity, visit Cádiz during the Carnival season, which usually takes place in February. This vibrant and colorful festival showcases lively street parades, costume contests, and lively performances of chirigotas (satirical singing groups). It's a unique cultural experience not to be missed.
Take a Day Trip: Cádiz is a great base for exploring other nearby destinations in Andalusia. Consider taking a day trip to the beautiful city of Jerez de la Frontera, known for its sherry wineries and flamenco heritage. Alternatively, you can visit the iconic white villages (pueblos blancos) such as Arcos de la Frontera or Vejer de la Frontera, each offering their own unique charm.
Embrace the Local Rhythm: Cádiz is known for its lively and passionate atmosphere. Take the opportunity to immerse yourself in the local culture by attending a flamenco performance, enjoying live music in one of the many bars, or even participating in a spontaneous street celebration. The locals, known as gaditanos, are friendly and welcoming, making it easy to connect and embrace the city's vibrant spirit.
Climb the Tavira Tower: Visit the Tavira Tower (Torre Tavira) for a panoramic view of Cádiz. This 18th-century watchtower offers stunning vistas over the city and its rooftops. The tower also houses a camera obscura, providing a unique way to observe the city in real-time.
Take a Boat Trip: Explore the coastline and the stunning views of Cádiz from the sea. Various boat trips and cruises are available, including tours around the bay, dolphin-watching excursions, or even trips to nearby islands like Isla de Sancti Petri.
Remember to stay hydrated and wear sunscreen, especially during the summer months, as Cádiz can get quite hot. Enjoy your visit to this enchanting city filled with history, culture, and a laid-back coastal vibe.
If you enjoyed the post, please pin it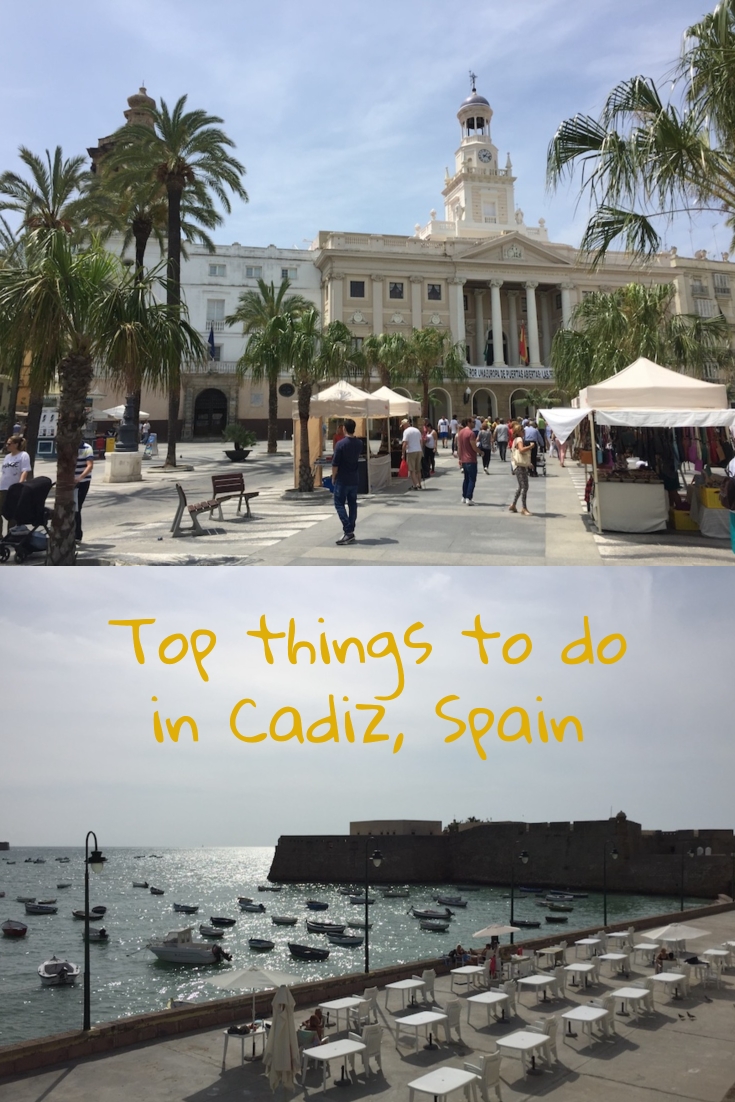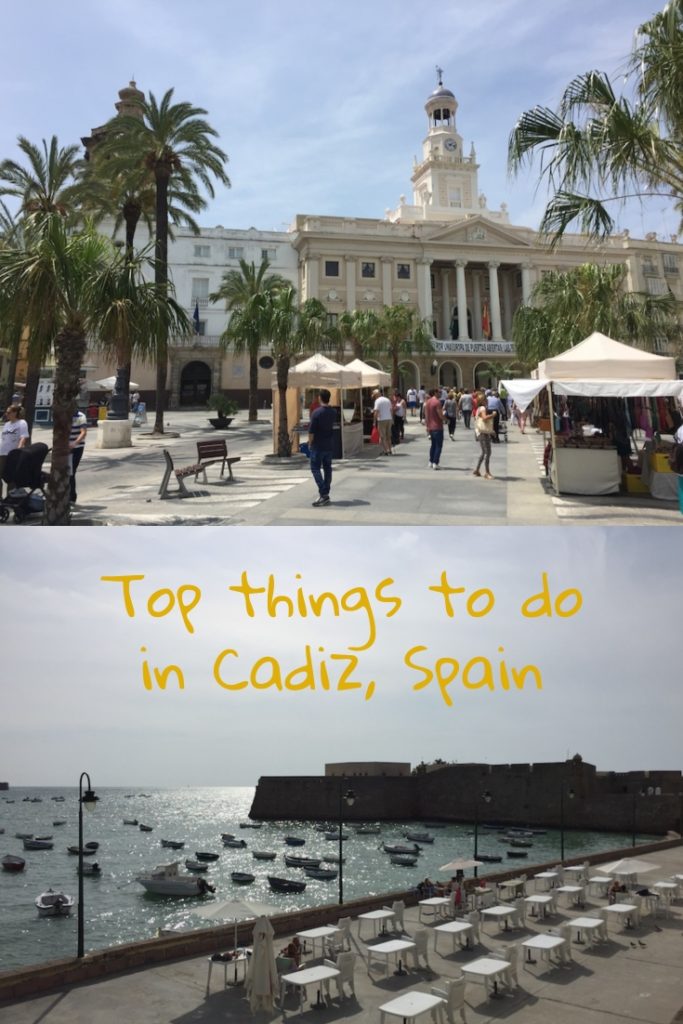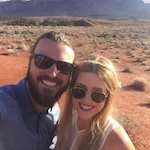 Guest writer Bio
Erin Hardie and Ryan Platten are teachers and travellers from Perth Western Australia. A mutual love of travel, Guinness and trying new flavours brought them together (til death do they part!). So they created the blog downbubble after having each travelled to over fifteen countries individually before joining forces. They now seek to bring a little taste of the places they love to others and share knowledge and travel tips with other travel lovers in a never-ending quest to become truly well-travelled!
Check out their blog at DownBubble.com
https://www.facebook.com/downbubblecom/
https://www.instagram.com/downbubbletravels/
https://es.pinterest.com/downbubbletravels/pins/
So as you can see, there are so many cool places to explore around this fabulous city in Spain. Thanks for visiting today, if you enjoyed reading this post on things to do in Cadiz, Spain, please do share it with any of the social media links below, thank you.
If you like what you see, come and check out my other social media channels for more updates, including Instagram, Pinterestand Twitter.
Disclosure – my site is supported with these sponsors with affiliate links if you book through my site and this post. Thank you so much for supporting these brands and my website, I appreciate it.