Costa Del Sol: Sun, Mediterranean vibes, white villages & coastal and beach communities to explore
The Costa del Sol embodies the quintessential Mediterranean vibe, drawing visitors into a world of relaxed elegance and coastal charm. Its numerous coastal communities are like picturesque postcards come to life, each offering its unique blend of tradition and modernity.
Mediterranean Vibe: Here, the Mediterranean spirit fills the air, characterized by a laid-back pace, warm hospitality, and a zest for life. The scent of saltwater mixes with the aroma of freshly prepared seafood dishes at beachfront restaurants. The rhythm of life on the Costa del Sol is a harmonious blend of siestas, leisurely strolls, and evenings filled with lively conversations.
Coastal Communities: From the historic charm of Marbella's Old Town to the trendy sophistication of Puerto Banús, the Costa del Sol boasts a diverse array of coastal communities. Each one carries its own unique character and allure. Estepona enchants with its colorful flower-lined streets, while Nerja captivates with its dramatic cliffs and hidden coves. Whether you seek historic charm or modern luxury, you'll find it here.
Beach Scenes: The Costa del Sol's beach scene is the heart and soul of its allure. Miles of golden sands meet the sparkling Mediterranean, creating an idyllic backdrop for sun-seekers and water enthusiasts alike. You can spend your days sunbathing, playing beach volleyball, or partaking in water sports. The beachfront chiringuitos (beach bars) offer the perfect spot to savor fresh seafood and sip sangria while gazing at the horizon.
White Villages: white villages of the Costa del Sol, are so inviting and with its unique charm. Mijas Pueblo invites you to explore its winding streets and enjoy donkey taxis with panoramic coastal views. Frigiliana blooms with vibrant Moorish influence and cobblestone alleys. Ronda perches dramatically on a gorge, offering bullrings and a rich Andalusian culture. Casares, a hidden gem atop a hill, offers serenity with whitewashed buildings. Ojén, surrounded by forests, provides rustic charm and tradition. Comares boasts breathtaking vistas in the "Balcony of Axarquía." Benahavís combines culinary delights with whitewashed beauty. Finally, Gaucín's hillside perch offers tranquil relaxation and Mediterranean views. Explore these picturesque villages for an authentic Costa del Sol experience.
In the evening, the beach scene transforms into a lively hub of activity. Sunset walks along the promenades are a must, with street performers and artisans adding to the vibrant atmosphere. As the night unfolds, beachfront clubs and bars come alive with music and dancing, making the Costa del Sol's nightlife an unforgettable experience.
The Costa del Sol's Mediterranean vibe, diverse coastal communities, and captivating beach scene invite you to immerse yourself in the beauty and culture of this enchanting Spanish coast.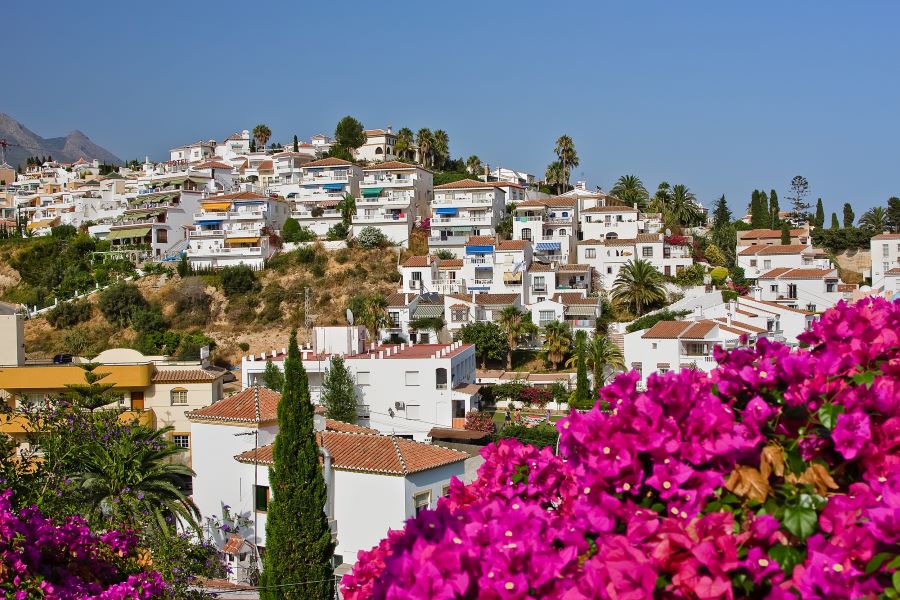 Why visit the Costa del Sol region of Spain?
Visiting the Costa del Sol region of Spain is an enticing proposition for several compelling reasons:
Sunny Mediterranean Climate: The region lives up to its name, with over 300 days of sunshine a year. This makes it an ideal destination for beach lovers and outdoor enthusiasts, offering a near-perfect climate for most of the year.
Stunning Beaches: Costa del Sol boasts beautiful sandy beaches that stretch for miles along the Mediterranean coast. Whether you seek relaxation, water sports, or beachfront dining, you'll find it here.
Rich Culture and History: Explore charming white villages, historic towns, and cultural sites that showcase the region's deep Andalusian heritage. Cities like Malaga and Ronda are steeped in history and offer a glimpse into Spain's past.
Culinary Delights: Savor the flavors of Spain in Costa del Sol's diverse cuisine. From fresh seafood to tapas, you'll find a culinary adventure around every corner.
Vibrant Nightlife: The region comes alive after dark, with beachfront clubs, bars, and live music venues offering a lively nightlife scene.
Natural Beauty: Beyond the beaches, Costa del Sol boasts natural beauty with lush mountains, scenic hiking trails, and breathtaking views. It's a haven for outdoor enthusiasts.
Golf Paradise: If you're a golf enthusiast, the region is home to some of Europe's best golf courses, attracting players from around the world.
Easy Access: Costa del Sol is well-connected, with multiple international airports, making it easily accessible for travelers from various parts of the world.
Festivals and Events: Experience local culture through festivals and events like Semana Santa (Holy Week) and the Feria de Málaga, which offer vibrant celebrations and traditions.
Warm Hospitality: The people of Costa del Sol are known for their warm and welcoming hospitality, ensuring a memorable and enjoyable stay.
In summary, Costa del Sol offers a delightful blend of sun, culture, history, and natural beauty, making it a captivating destination for travelers seeking diverse experiences in a stunning Mediterranean setting.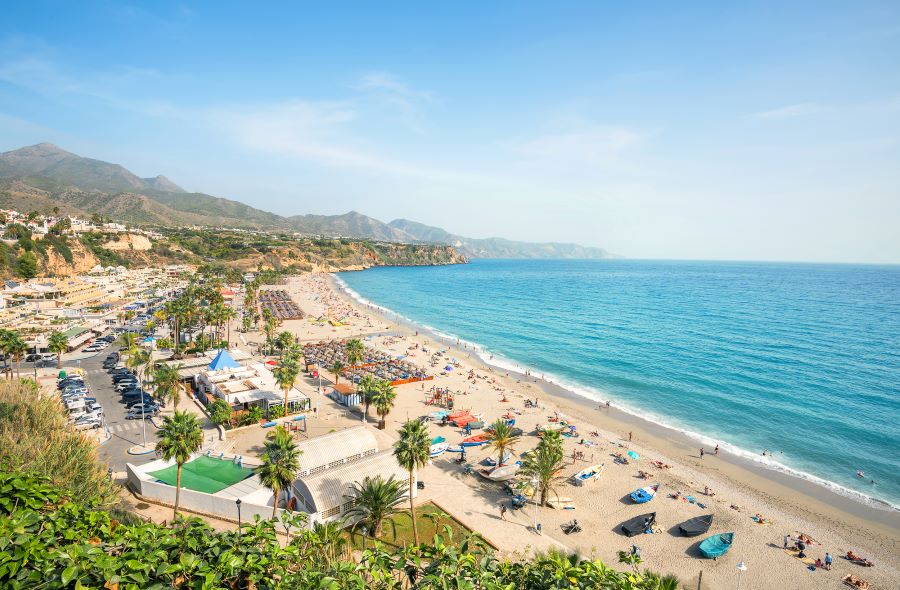 Weather and best time to visit the Costa del Sol in Spain
The Costa del Sol in Spain enjoys a pleasant Mediterranean climate, making it a year-round destination. However, the best time to visit depends on your preferences:
Spring (March to May):
Spring is a wonderful time to visit with mild temperatures and blooming landscapes.
Ideal for outdoor activities like hiking and exploring the region's cultural sites.
Crowds are thinner compared to the summer months.
Summer (June to August):
Summer is peak tourist season with hot and sunny weather.
Perfect for beach lovers and water sports enthusiasts.
Expect larger crowds and higher prices, especially in July and August.
Autumn (September to November):
Early autumn offers pleasant weather, making it a great time to visit.
Sea temperatures are still warm, and the crowds begin to thin out.
Ideal for enjoying the region's natural beauty and outdoor activities.
Winter (December to February):
Winters are mild but cooler than the rest of the year, with occasional rain.
Ideal for travelers seeking a quieter experience and cultural exploration.
Some beach activities may be limited, but you can still enjoy local festivities.
In conclusion, the Costa del Sol's climate allows for year-round travel, so the best time to visit depends on your preferences. If you love warm weather and beach activities, summer is ideal. For a more relaxed and budget-friendly experience with pleasant weather, consider spring or autumn. Winter is suitable for cultural exploration and fewer crowds.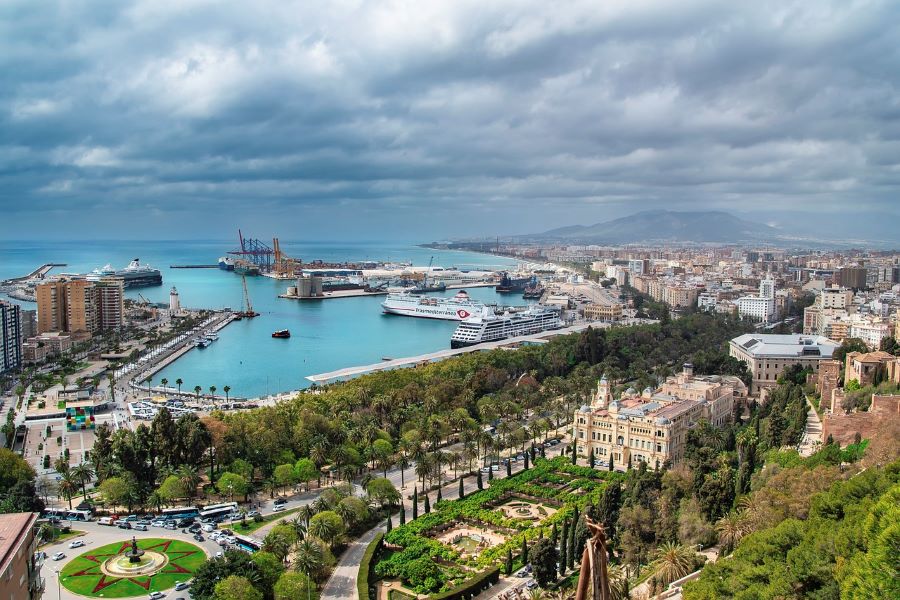 Top places and attractions to explore around the Costa del Sol region
The Costa del Sol is teeming with captivating places and attractions to explore. Here are some of the top highlights: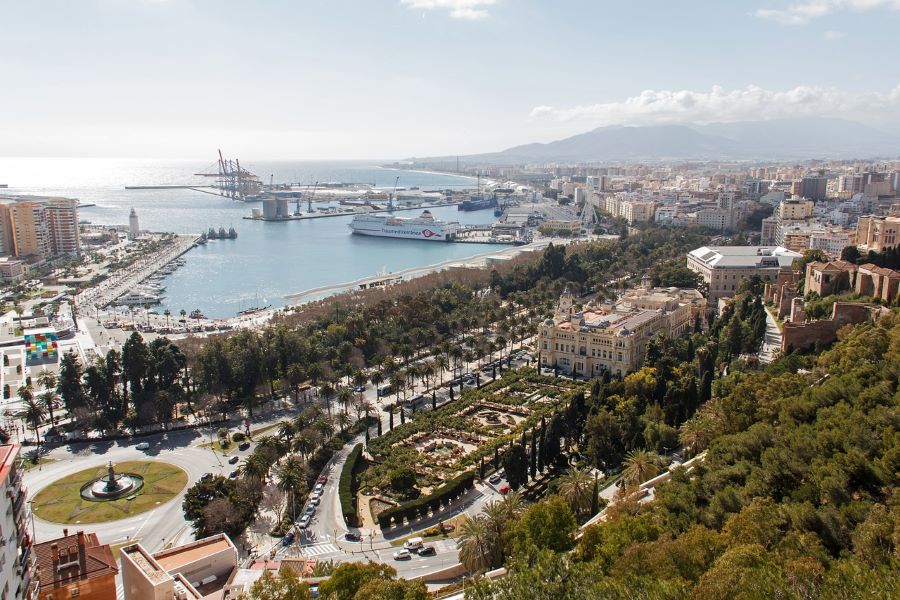 Visit Malaga City: Begin your journey in this vibrant coastal city. Explore the historic Alcazaba fortress, Pablo Picasso's birthplace, and the beautiful Malaga Cathedral. Don't miss the bustling Atarazanas Market for fresh produce and local delicacies.
Explore the birthplace of Pablo Picasso at the Picasso Museum and stroll along the lively streets of the historic center, filled with tapas bars, shops, and colorful facades. Malaga's beaches offer sun-drenched relaxation, while the Palm Grove of Surprises and the trendy Soho district provide a contemporary twist. With a bustling cultural scene, delicious cuisine, and a warm Mediterranean climate, Malaga invites you to immerse yourself in its cultural tapestry while basing yourself in the hub of the Costa del Sol.
Check out my post on Malaga City here for more inspiration and images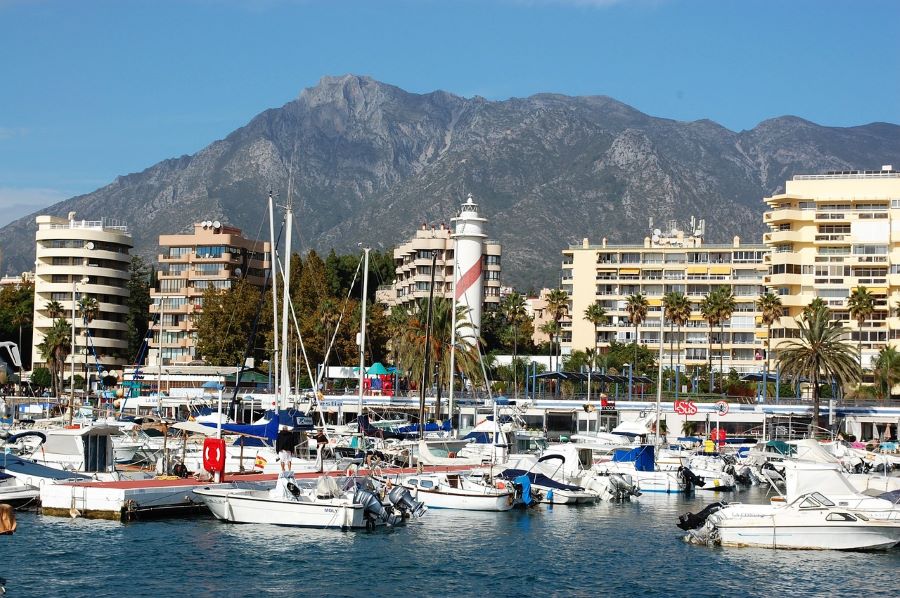 Visit Marbella: Known for its upscale vibe, Marbella offers charming old town streets, upscale shopping on the Golden Mile, and the glamorous Puerto Banús marina. Visiting Marbella, nestled along the Costa del Sol, is a journey into Mediterranean sophistication and coastal charm. This glamorous town boasts an enchanting Old Town (Casco Antiguo) with narrow streets, historic churches, and orange tree-lined squares. The Golden Mile, a stretch of coastline, offers upscale shopping, dining, and beach clubs. Explore the picturesque marina of Puerto Banús, where luxury yachts mingle with trendy boutiques and vibrant nightlife. Marbella's beaches, with their golden sands and crystal-clear waters, provide relaxation and water sports opportunities. The town seamlessly combines its rich cultural heritage with modern allure, creating an enticing destination for travelers seeking a taste of both Andalusian tradition and cosmopolitan glamour. Enjoy the beach clubs and dine at world-class restaurants.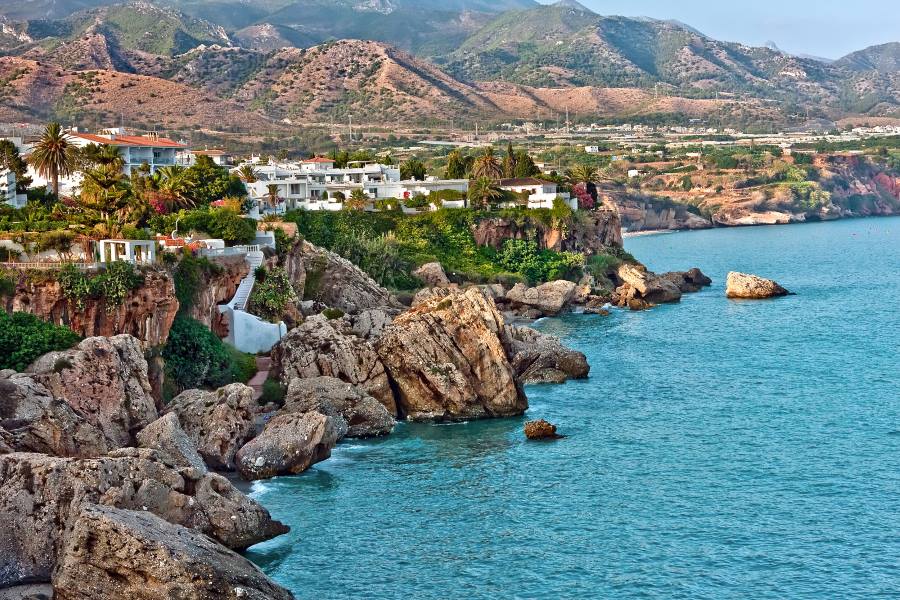 Nerja: Discover Nerja's stunning Balcony of Europe, a promenade with breathtaking sea views. Explore the Nerja Caves, a natural wonder with impressive stalactite formations. Explore the town's historic center, filled with narrow streets and cozy squares. Enjoy the town's beautiful beaches, including Playa Burriana. Nerja's relaxed atmosphere and cultural attractions make it a delightful destination for a coastal getaway in Spain.
Check out my post to spending a day in Nerja here for more inspiration and images.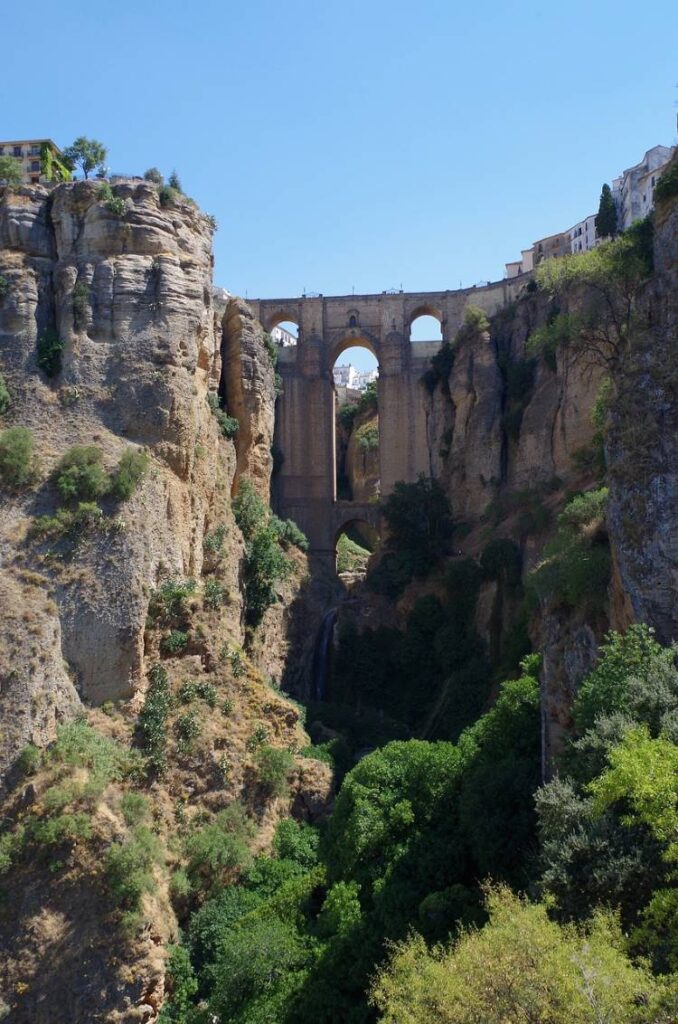 Visiting Ronda: Perched dramatically on a gorge, Ronda is famous for its historic bullring, Puente Nuevo bridge, and captivating old town. The views from this city are truly unforgettable along with vista points and miradors that overlook the stunning countryside. Explore its rich history, picturesque streets, and the unique blend of Moorish and Spanish cultures. Ronda is a must-visit destination for its dramatic landscapes and historic charm in the heart of Spain.
Check out my post on a day trip to Ronda, Spain here for more inspiration and images
Fuengirola: Explore the Bioparc Fuengirola, a unique zoo with a focus on conservation. Stroll along the vibrant Paseo Marítimo and relax on its beautiful beaches.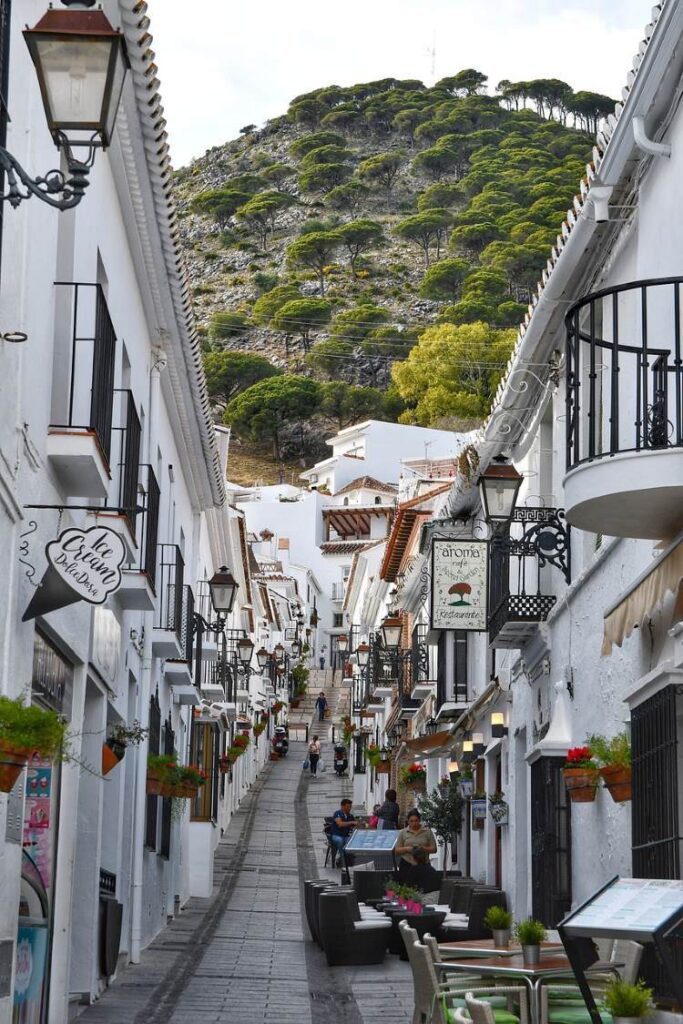 Mijas Pueblo: This charming white village offers donkey rides, stunning views, and a taste of traditional Andalusian life. Mijas is a picturesque white village in the Costa del Sol, is a treasure trove of Andalusian charm. Stroll through its winding streets adorned with colorful flowers, and don't miss the famous donkey taxis. Explore the historic bullring and the Sanctuary of the Virgen de la Peña. Mijas Pueblo offers a delightful blend of tradition and beauty, making it a perfect stop for those seeking an authentic Spanish experience.
Check out my post on visiting Mijas pueblo here for more inspiration and images.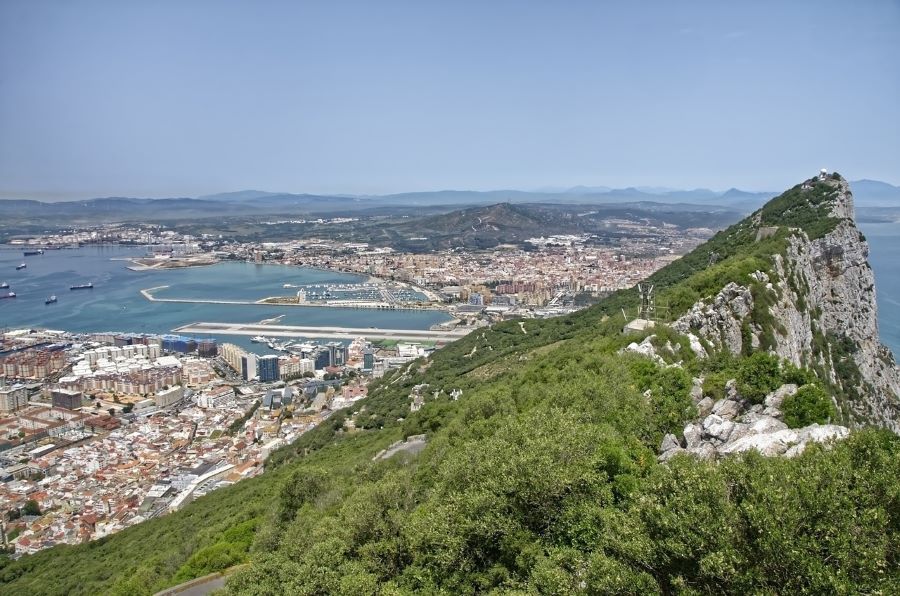 Day trip to Gibraltar: Visit this British Overseas Territory known for the iconic Rock of Gibraltar, St. Michael's Cave, and the famous Barbary macaques. On a day trip to Gibraltar, explore the iconic Rock of Gibraltar with its resident Barbary macaques and breathtaking views. Wander along bustling Main Street for shopping and classic British fare. Discover the impressive St. Michael's Cave and delve into history at the Great Siege Tunnels. Visit Europa Point for panoramic vistas, the Ibrahim-al-Ibrahim Mosque for stunning architecture, and enjoy dolphin watching on a boat tour. Explore the Moorish Castle's remnants and unwind at the Ocean Village Marina. Gibraltar offers a unique blend of British and Mediterranean culture, history, and natural beauty for a memorable day adventure.
Check out my post to a day visiting Gibraltar, the Rock here for more images and details.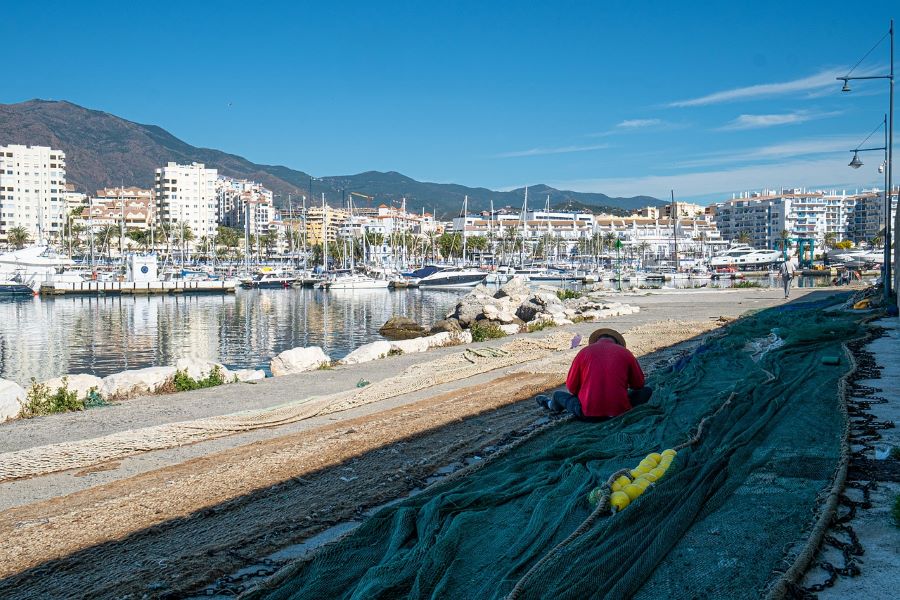 Visit Estepona: Enjoy Estepona's picturesque old town, beautiful beaches, and the Orchid House, a unique botanical garden. Estepona is a coastal gem on the Costa del Sol. Begin by strolling through the charming Old Town, adorned with cobblestone streets and vibrant facades. Relax on beautiful beaches like Playa del Cristo, ideal for swimming and sunbathing. Explore the serene Orchid House, home to thousands of orchids from around the world. Enjoy a leisurely visit to the stylish Estepona Marina, offering waterfront dining and shopping. For family fun, consider Selwo Aventura, a wildlife park where animals roam in semi-wild settings. Estepona also boasts historical sites like San Luis Castle, vibrant street art, and cultural landmarks, making it a well-rounded destination for a memorable day trip.
Benalmádena:
In Benalmádena, a coastal town on the Costa del Sol, you can explore a mix of attractions. Visit the lively Benalmádena Marina with its shops, restaurants, and nightlife. Don't miss a visit to the Butterfly Park or the Sea Life Aquarium for family-friendly adventures. Explore the Castillo de Colomares, a fairy-tale-like castle with stunning architecture. For relaxation, enjoy the town's beautiful beaches, including Playa de Bil Bil and Playa de Santa Ana. Benalmádena offers a variety of experiences, from cultural exploration to beachside relaxation, making it a well-rounded destination for travelers of all interests.
Gaucín: Discover this peaceful village perched in the mountains with stunning views of the Mediterranean.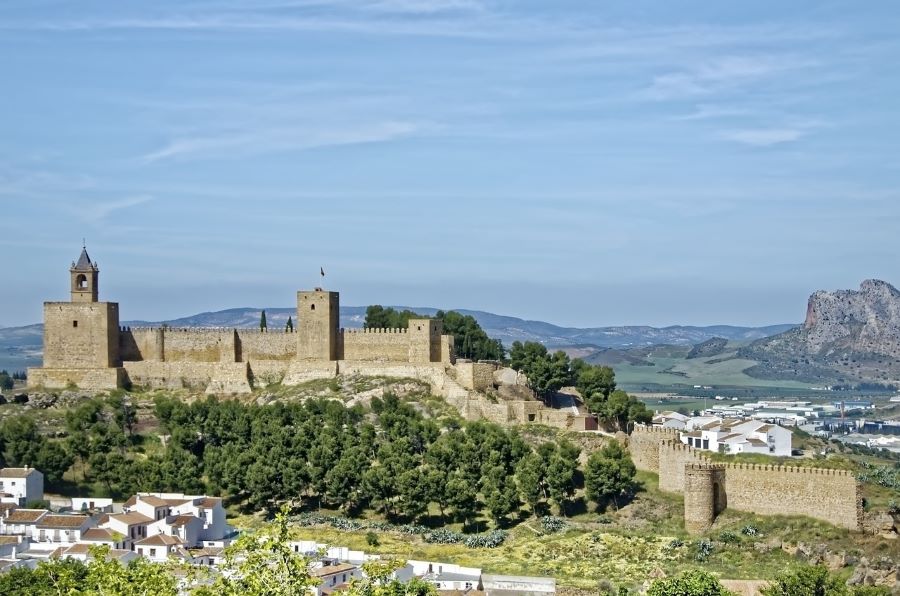 Antequera: Take a day trip to Antequera, where history and nature converge. Explore the ancient dolmens, a UNESCO World Heritage site, showcasing prehistoric megalithic structures. Visit the stunning Alcazaba of Antequera, a Moorish fortress offering panoramic views of the town. Don't miss El Torcal Natural Park with its otherworldly limestone formations and hiking trails. In this charming town, you'll immerse yourself in rich history and captivating landscapes in just one unforgettable day.
Check out my post to visiting Antequera, Spain here for more inspiration and images to visiting this historic white village in Andalusia.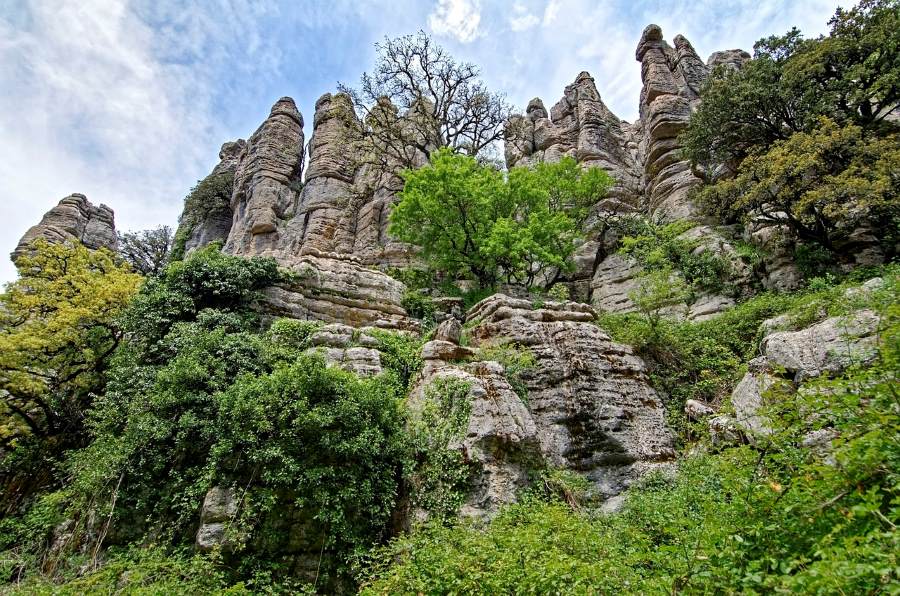 Málaga Mountains: Explore the stunning natural beauty of the mountains surrounding the Costa del Sol, ideal for hiking and outdoor adventures. Visiting the Malaga Mountains in Andalusia is an adventure that immerses you in the region's rugged natural beauty and rich cultural heritage. These mountains, part of the larger Betic Cordillera, are a haven for outdoor enthusiasts. The dramatic landscapes boast rolling hills, deep gorges, and towering peaks, making it a paradise for hiking, rock climbing, and mountain biking.
Popular destinations within the Malaga Mountains include El Torcal Natural Park, known for its surreal limestone formations, and the Sierra de las Nieves Natural Park, a UNESCO Biosphere Reserve teeming with diverse flora and fauna. Along your journey, you may encounter charming white villages nestled in the mountains, offering a taste of Andalusian tradition and hospitality. Exploring the Malaga Mountains offers not only a physical adventure but also a chance to connect with the natural world and uncover the cultural tapestry that weaves through this captivating region of southern Spain.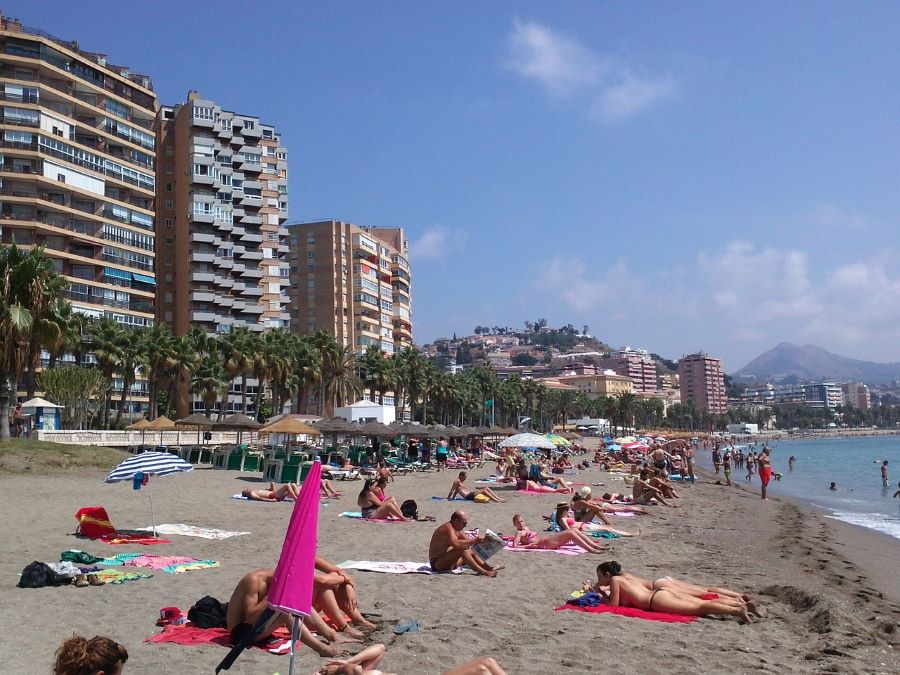 Beaches: Relax on the pristine beaches of the region, including La Malagueta Beach, Playa de la Fontanilla, and Playa de la Cala de Mijas.
These are just a few of the top places and attractions waiting to be explored in the enchanting Costa del Sol region of Spain. Whether you're interested in history, culture, nature, or simply lounging on the beach, the Costa del Sol has something to offer every traveler.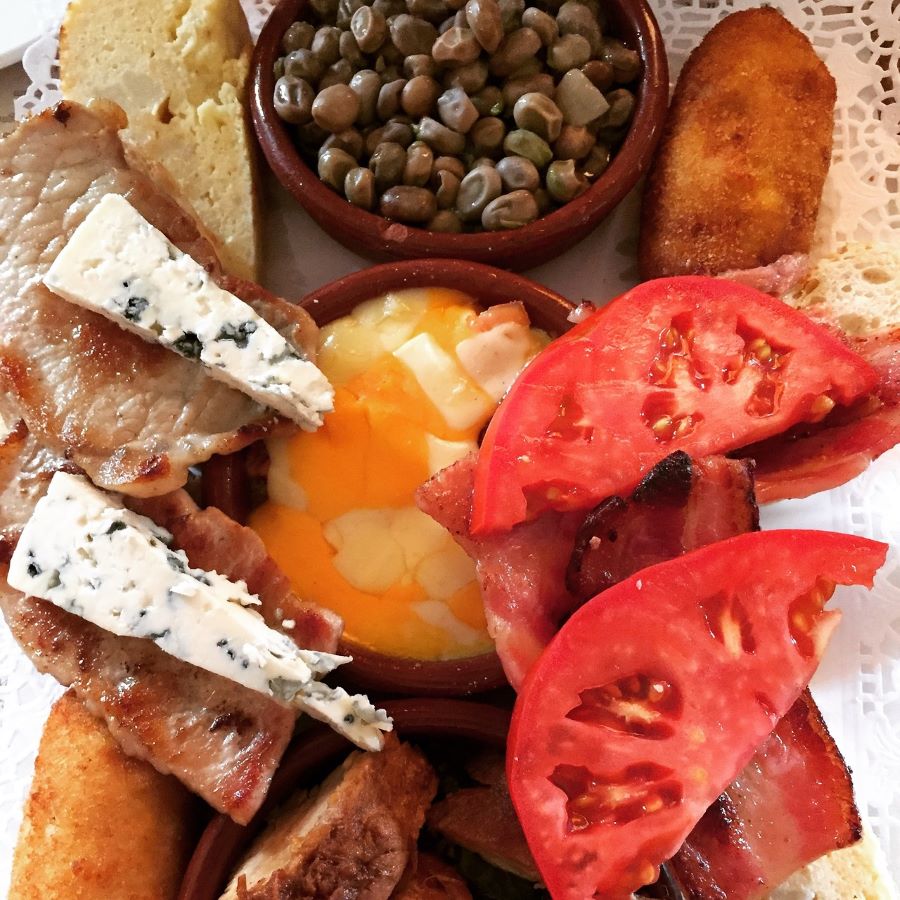 Popular regional dishes from Costa del Sol area
The Costa del Sol region of Spain is renowned for its delicious cuisine, which includes a variety of mouthwatering dishes. Here are some popular regional dishes you must try: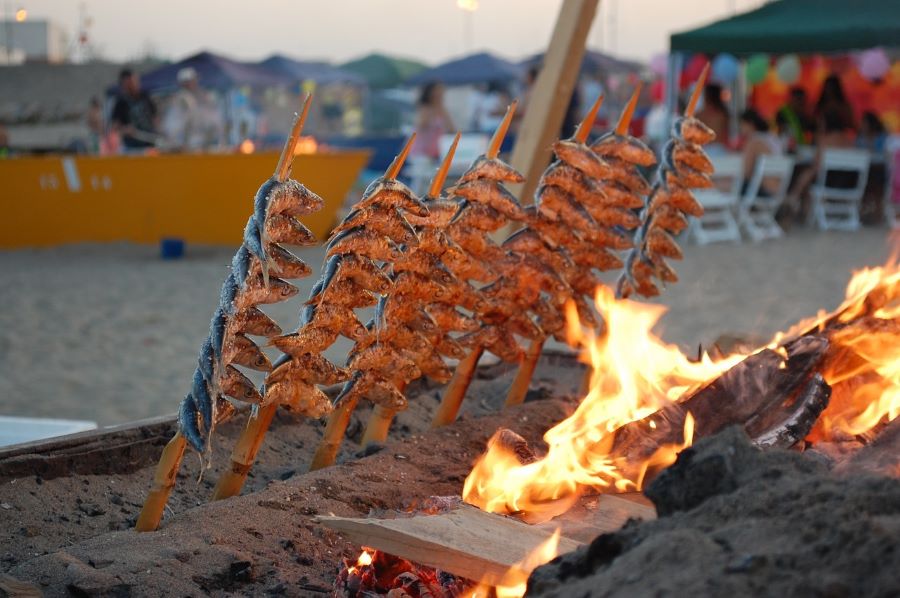 Espetos de Sardinas: Fresh sardines skewered and grilled over open flames, often enjoyed on the beach with a squeeze of lemon.
Pescaíto Frito: A delightful assortment of deep-fried fish, including anchovies, squid, and small sole, typically served with aioli or lemon.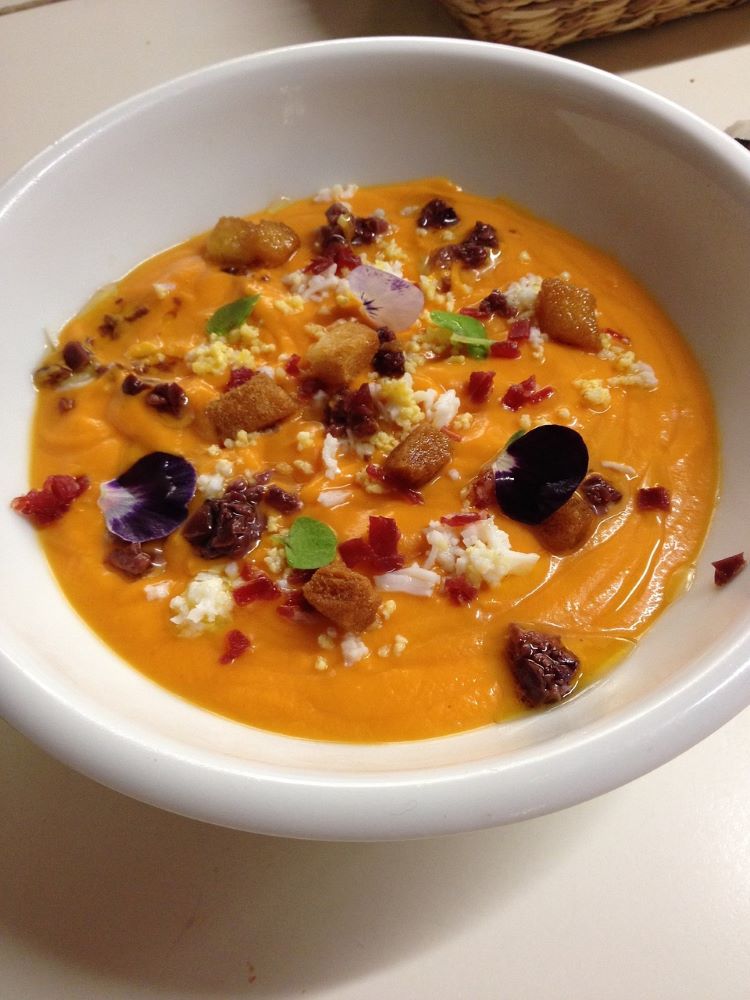 Gazpacho: A refreshing cold tomato soup blended with peppers, cucumbers, garlic, and olive oil—a perfect choice on hot summer days.
Salmorejo: Similar to gazpacho but thicker, this creamy tomato soup is garnished with hard-boiled eggs and jamón serrano (cured ham)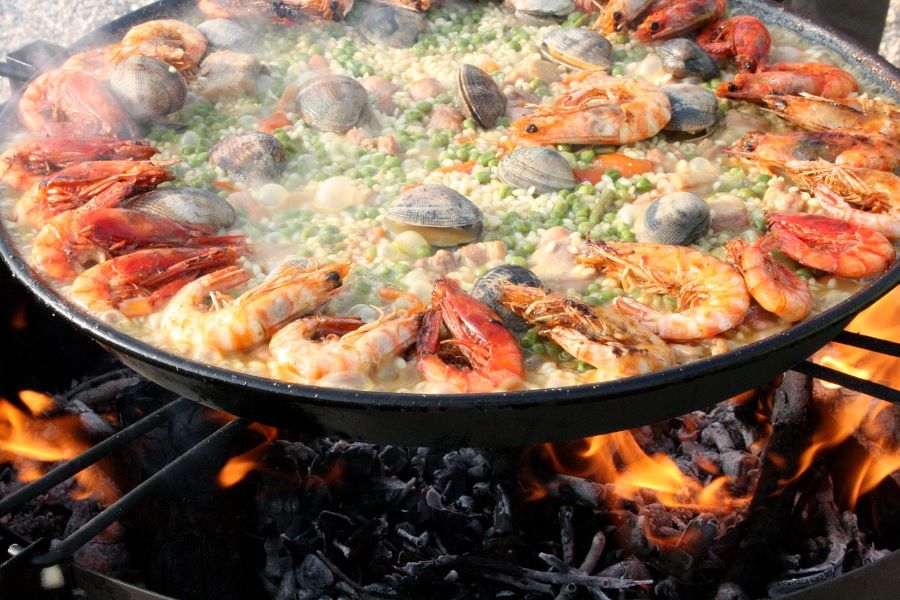 Paella: While not exclusive to the region, you'll find delicious seafood paellas along the coast, brimming with shrimp, mussels, and squid cooked with saffron-infused rice.
Ajoblanco: A cold almond soup, often garnished with grapes and served as a delightful appetizer.
Fried Eggplant with Honey: Slices of eggplant are fried to a golden crisp and drizzled with honey for a sweet and savory treat.
Porra Antequerana: A thicker version of gazpacho, this dish includes tomatoes, bread, peppers, and olive oil, often served with boiled egg and jamón.
Boquerones en Vinagre: Fresh anchovies marinated in vinegar and served as a popular tapa.
Migas: A hearty dish made from breadcrumbs, garlic, and chorizo, often served with a fried egg on top.
Pescado a la Sal: Whole fish, usually sea bream or sea bass, is baked in a salt crust to seal in the flavors and keep the fish tender and moist.
Tarta de Almendras: A delightful almond cake, typically enjoyed as a dessert, showcasing the region's love for almonds.
These dishes offer a taste of the Costa del Sol's culinary heritage, where fresh seafood, local ingredients, and a dash of Mediterranean flair come together to create unforgettable flavors. Be sure to savor these delights during your visit to this gastronomic paradise.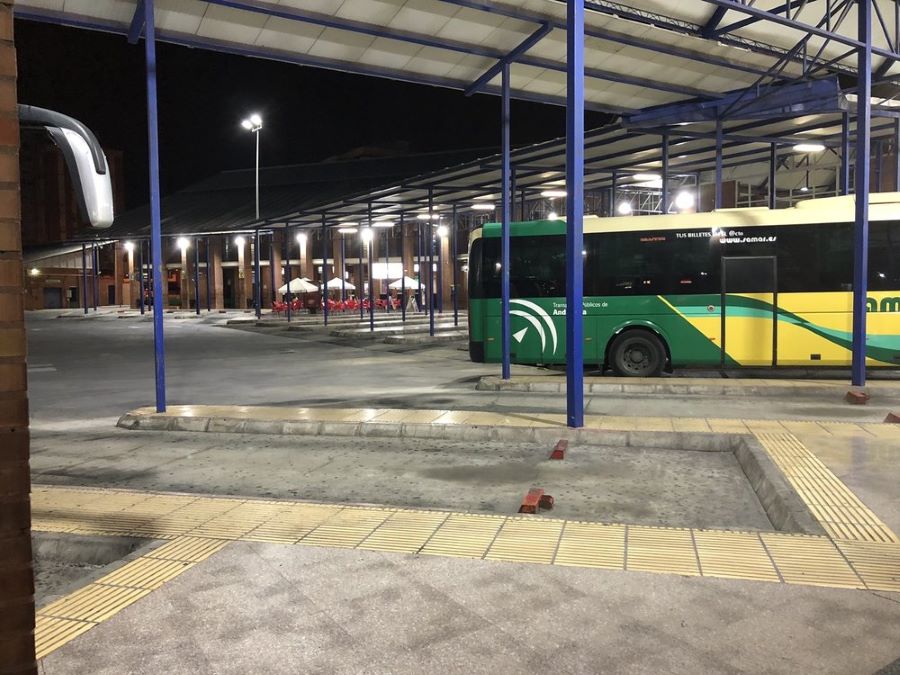 How to get around the Costa del Sol
Getting around the Costa del Sol is relatively easy, thanks to its well-developed transportation network. Here are some ways to navigate this beautiful region:
Rental Car: Renting a car is a popular option, especially if you want to explore the area at your own pace. Major international car rental companies have offices at airports and in cities like Malaga, Marbella, and Fuengirola.
Public Buses: The Costa del Sol has an extensive bus network operated by various companies. The buses connect towns and cities along the coast, making it a cost-effective way to travel. Look for "CTSA Portillo" buses, a prominent operator in the region.
Trains: The Cercanías commuter train system connects Malaga to nearby towns like Fuengirola, Torremolinos, and Benalmádena. There's also a high-speed AVE train that links Malaga with other major Spanish cities.
Taxis: Taxis are readily available in most towns and cities. They're convenient for short trips or when you prefer door-to-door service. Make sure the taxi uses a meter or agree on a fare before starting your journey.
Local Transportation Cards: Consider purchasing a local transportation card if you plan to use buses and trains frequently. These cards often offer discounted fares for multiple journeys.
Bicycles: Many towns along the Costa del Sol have bike rental services and bike lanes, making cycling a pleasant and eco-friendly way to explore.
Walking: The Costa del Sol's coastal towns are often compact and pedestrian-friendly, making walking an excellent way to explore the local culture and sights.
Boats: In some areas, like Marbella, you can find boat services that provide transportation along the coast, offering scenic views of the Mediterranean.
Tuk-Tuks: In touristy areas, you might find tuk-tuks offering short rides, which can be a fun way to get around.
Tourist Train: Some towns offer a tourist train that provides guided tours of local attractions, offering an informative and leisurely way to explore.
Remember that the ease of getting around can vary from town to town, so it's a good idea to research the local transportation options in each place you plan to visit along the Costa del Sol.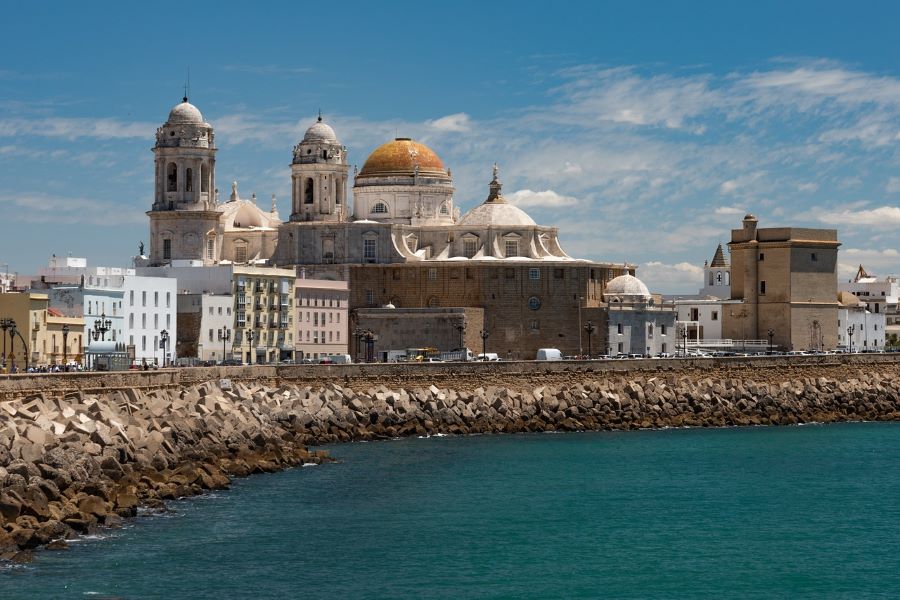 Check out these other posts of places around Costa Del Sol to Explore
Visit to Cadiz Spain in Andalusia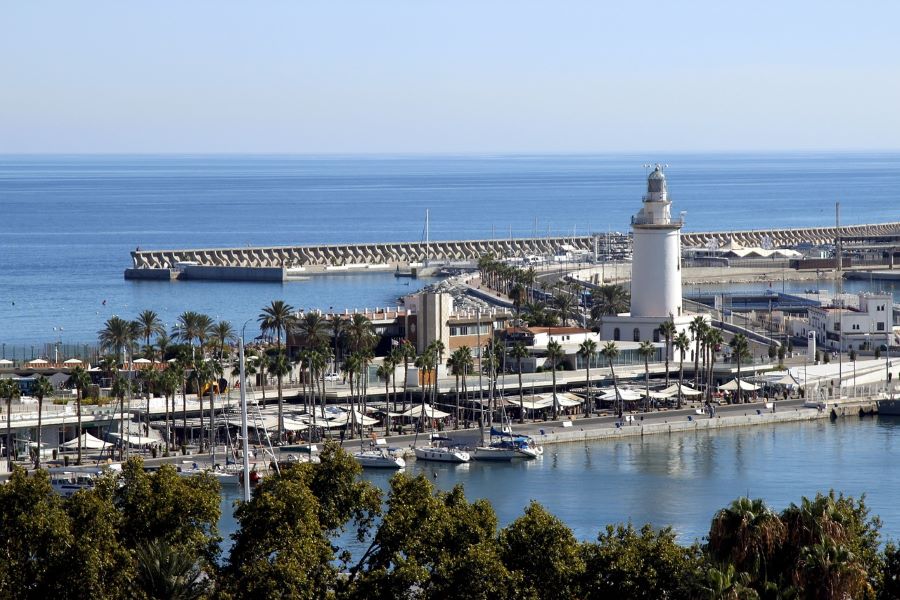 Conclusion to visiting the Costa Del Sol Region of Spain
In conclusion, the Costa del Sol region of Spain stands as a captivating tapestry of Mediterranean beauty, rich history, and vibrant culture. With its golden beaches, charming white villages, and an array of attractions, this sun-soaked paradise offers an array of experiences for every traveler. Whether you're exploring historic cities like Malaga and Ronda, indulging in delectable regional cuisine, or simply basking in the warmth of the Mediterranean sun, the Costa del Sol invites you to create lasting memories. With its mild climate, warm hospitality, and a wealth of natural and cultural wonders, this region promises an unforgettable journey through the heart of Andalusia.
Thanks for checking out this post on the Costa Del Sol region from Travel Photo Discovery – Happy touring!