Things to do in Salzburg Austria (landmarks, historic buildings and fun places to explore)
This summer we took a short trip to Salzburg, Austria for a weekend. Little did we know before heading there that Salzburg had so much more to offer than just Sound of Music and Mozart. Once in Salzburg we decided to not take any tours and explore this quaint walled city in Austria on foot. Although after returning we feel that we could have easily used more time to explore the surrounding areas in Salzburg, there's plenty of things to do in Salzburg, Austria.
Here's some of the top things to do and see around Salzburg
 
Here are the sights not to be missed in Old Salzburg
Mirabell Gardens
Although we decided not to take the Sound of Music tour, I knew I had to sing my way into Mirabell Gardens – "Do Re Mi". If you've watched sound of music you know exactly what I am talking about. If you haven't then do me a favor and watch this song before you head to Mirabell Gardens. The gardens are landscaped with colorful flowers and well-trimmed trees.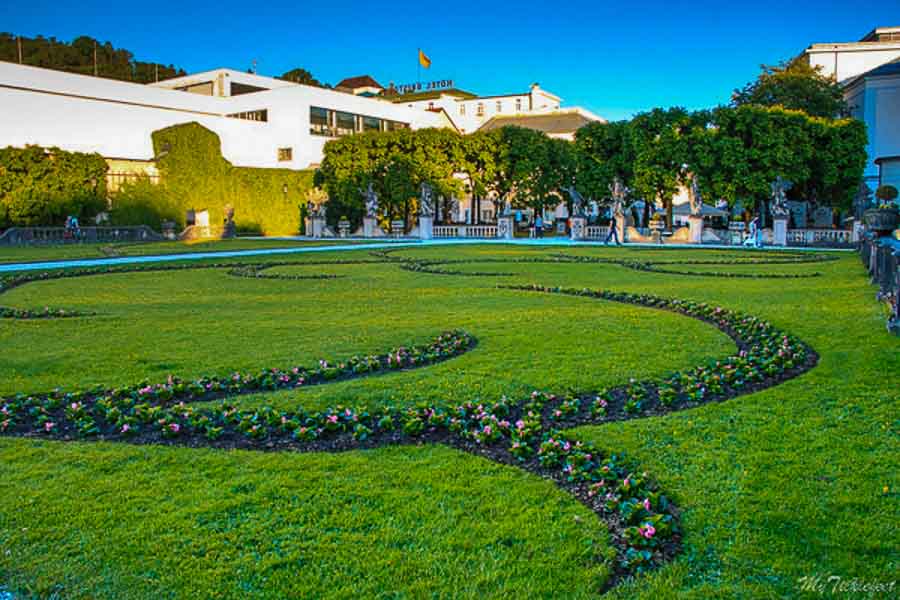 Check out the gorgeous Mirabel palace and Gardens
Salzburg Catherdral (Dom)
Dom is the biggest cathedral in Salzburg. And for our love of old churches, we walked into this dove colored cathedral looming over the tiny old town. The gothic timeless interior of Dom was one of the best in Europe. We were surprised by the high decorated ceilings.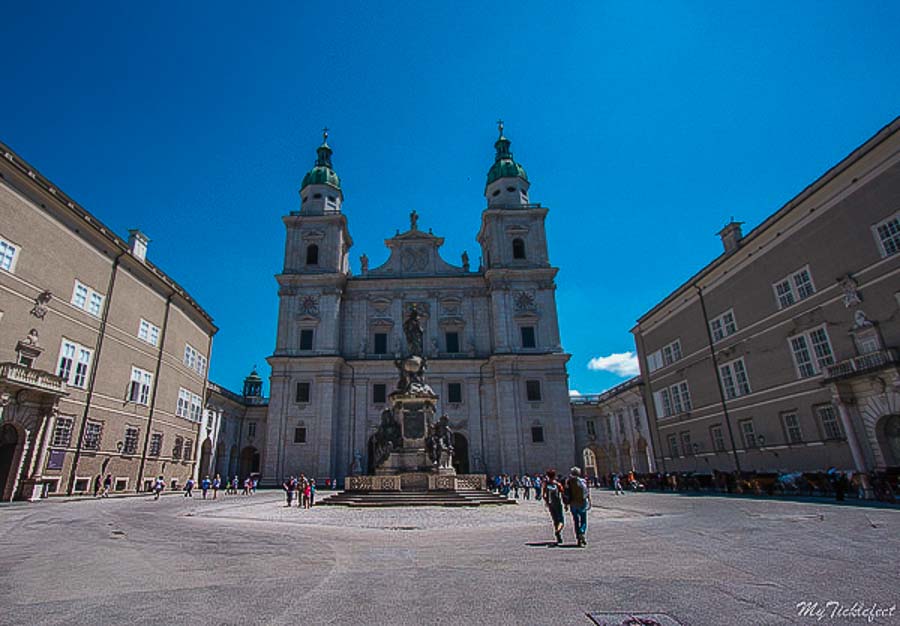 Check out this tour of Salzburg Cathedral below
Hohensalzburg Fortress
You simply can't miss spotting Hohensalzburg as this white fortress sits on top of a hill overlooking the city. There are two ways to get to the fortress, either by hike or taking the funicular. We chose to take the funicular to save time and to get an adventure ride. Once at the fortress we were speechless by the panoramic views in all directions. From Alps on one side to the aerial views of Salzach River cutting through Salzburg, we almost didn't feel like checking the fortress out from inside. But then not to miss on it, we took the audio tour of the fortress which was quite interesting.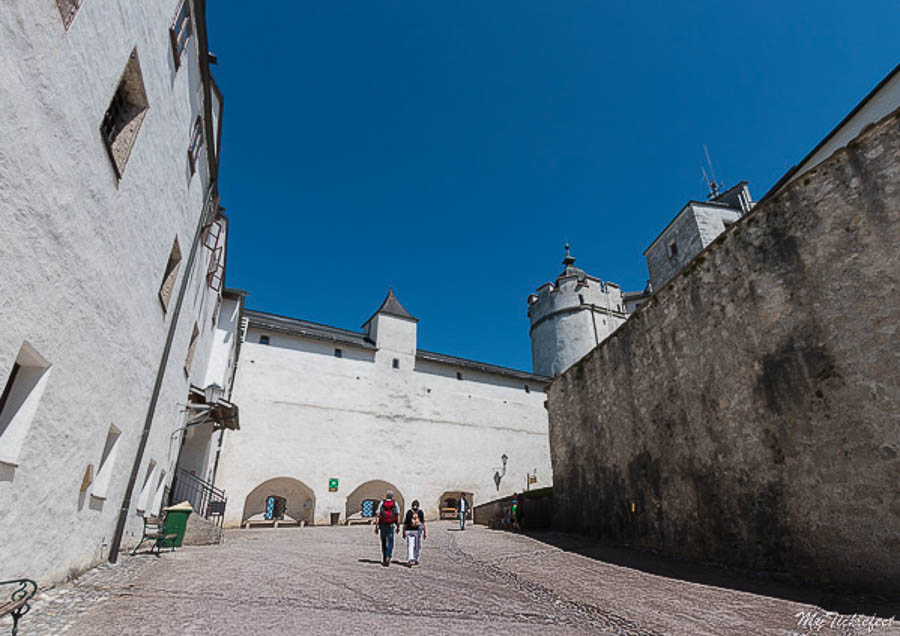 Inside Hohensalzburg Fortress
Here's a guided tour of Hohensalzbur Fortress
St. Peters Abbey
Here's an off the beaten path of Salzburg musical addition. At St. Peter's we explored the Monastery, Cemetery and the Catacombs. You will have to pay a fee to enter the Catacombs where as the cemetery is free to walk by. This hidden treasure is located very close to Salzburg Fortress.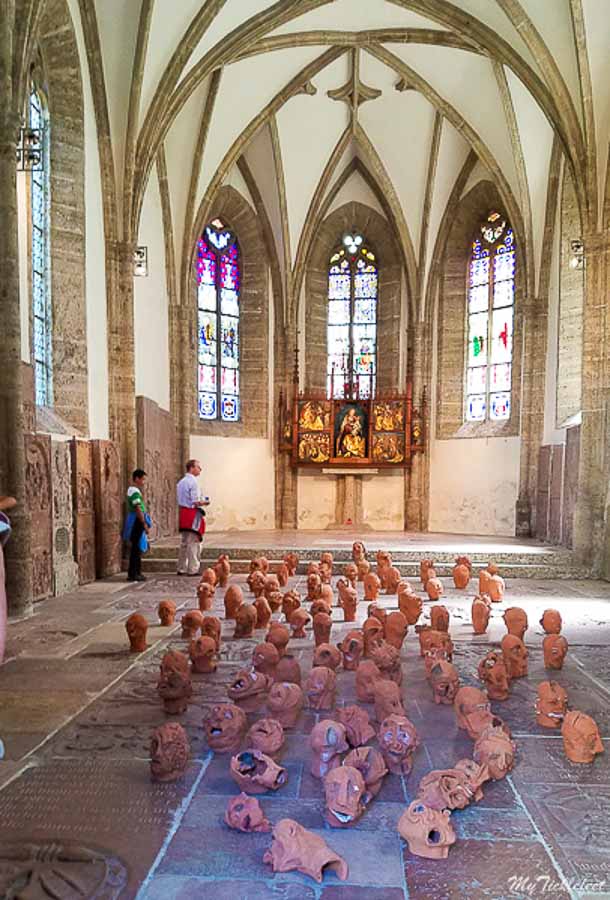 St. Peters catacombs and abbey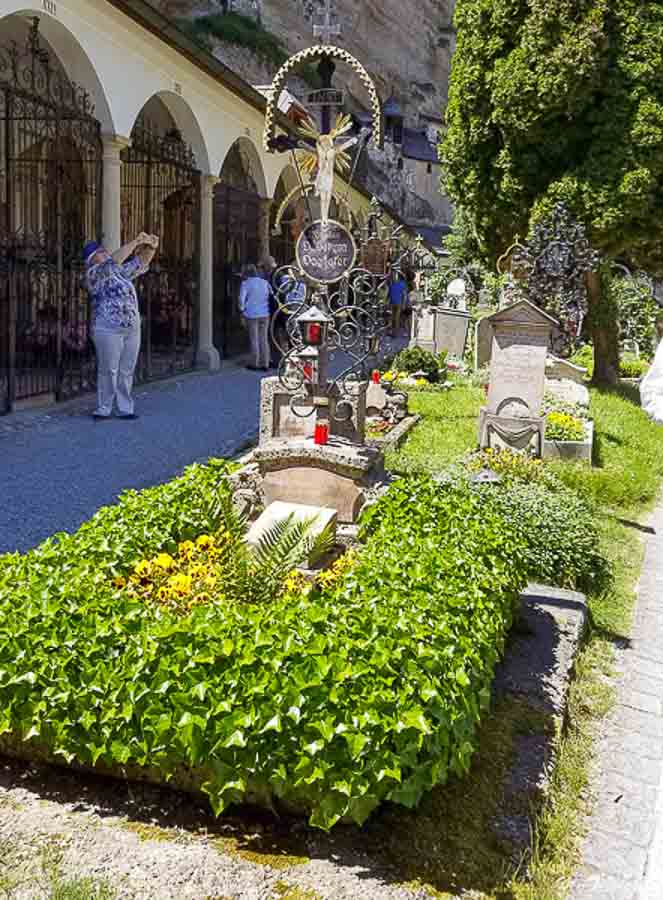 Let's check out St Peter's Abbey
Mozart's Birthplace
Strolling around the narrow streets in Old Salzburg you will stumble upon a tall yellow building with almost always a bunch of people below it. That it, this building is the birthplace of famous composer Mozart. However, let me tell you this is not the house he grew up in. Mozart Wonhaus across the river is a Museum now where they give you a tour of the house he actually grew up in Salzburg.
Here's a tour of Mozart's home and birthplace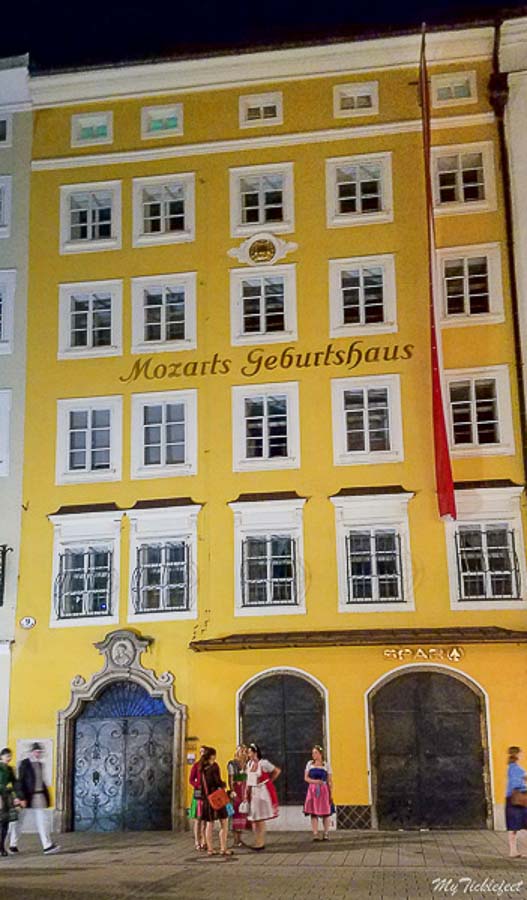 Museum der Moderne Salzburg
After seeing incredible views from Fortress Salzburg, we were hunting for spots with higher elevation to get a view of the fortress in it. We were recommended to hike Kapuzinerberg (the hill opposite the fortress) for those incredible views but then we had very limited time in Salzburg. And then we struck gold with Morderne Museum. If you are interested you can certainly view the museum as well but we just bought the tickets to the elevators to go up to their rooftop deck where there is also a restaurant one level up. On that note, you can just hike to the rooftop which will be free of cost. Since we got here right before sunset we couldn't get ourselves to leave till the sun went down. So we decided to eat supper at the rooftop restaurant. Talk about dinner with a view!
Check out the Modern Art Museum of Salzburg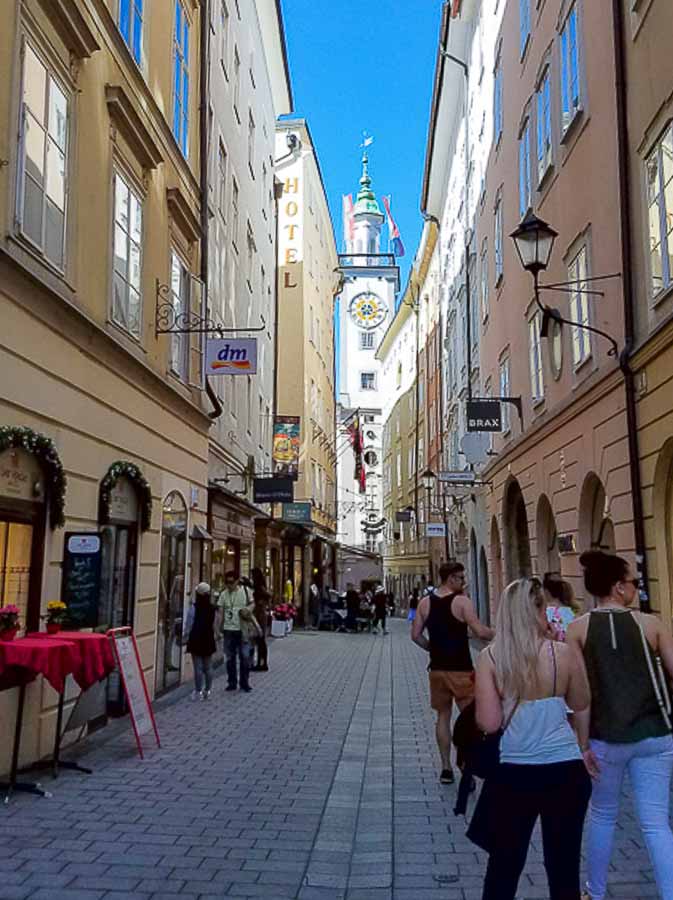 Explore the various old cobbled streets and squares in Old Salzburg
Since the old town is not very big in area it's perfect to explore it on foot. We took a map of the old town from our Bed and Breakfast before heading down there. But we ended up randomly walking on streets and only looking at the map when we needed to head to a certain place. Depending on what time of the year you go, you are in for some festivals. We saw a traditional music festival happening in Salzburg in the summer time. Because of all these different festivals in the summer we saw a lot of traditionally dressed ladies in the old town area.
Here's a fun Old Town tour of Salzburg below
Day trips from Salzburg
We didn't limit ourselves to the town of Salzburg especially given the white gold aka salt history associated with this town. To know more about the salt history we went to the Salt Mines at Hallein which is located only half an hour away from Salzburg. Although we drove ourselves to Hallein and bought our own mine tour ticket, there are many tour operators that can take you to Hallein from Salzburg. Once inside the salt mines we traversed our way under the Alps crossing borders from Austria to Germany and back hundreds of feet underground. Not to give away the thunder of this place, all we can say is that it is a very adventurous and informative tour of the salt mines.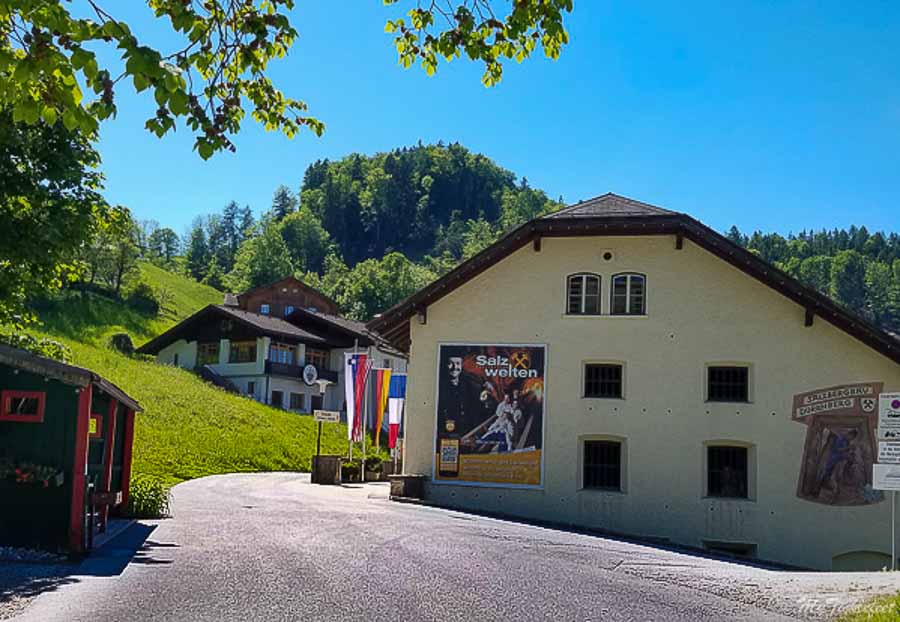 Another day trip from Salzburg would be the Sound of music tour where they will take you to the famous filming locations of that movie. If you are a big fan of this movie then I am sure you will enjoy this tour a lot. Like I said before we were on a tight schedule so we couldn't afford to spend an entire day on the tour but we did have a rental vehicle so we could explored the mountains around Salzburg ourselves.
Why not do the Sound of Music Tour in Salzburg below
Where to stay in Salzburg
A Salzburg experience wouldn't be complete without a wonderful stay at a unique inn or hotel that starts off your experience with a nice sleep. Check out these fantastic places around Salzburg for just that perfect place to stay for your visit.
Hotel Goldener Hirsh – a beautiful historic hotel located in the Old Town, filled with charm, old world details with modern amenities, great customer service and a generous breakfast
Hotel Sacher Salzburg – located on the banks of the Sacher River with nice views of the old town and fort, this elegant hotel offers classic details and charm with stylish rooms, excellent buffet breakfast and quality service.
ArtHotel Blauegans Salzburg – located in the heart of the old town, this refurbished hotel boasts individual rooms done tastefully and well appointed modern lines. Good breakfast service with attention to details handling visitors needs.
For more reviews and current prices, check out Trip Advisors 10 ten list here and for availability when you plan on visiting.
More cool and  fun things to do in Salzburg
Salzburg Salt Mine tour – No visit to Salzburg is complete without visiting the Salzburg Salt Mines and the underground Lake Boat ride, a very unique experience following the white gold of Salzburg
Baroque Hall dinner and Mozart concert – what would be more ideal than a classic dinner and Mozart concert in the famous Baroque Hall in Salzburg, a one of kind experience
Salzburg Card – get free entry at the top attractions around the city and unlimited public transportation use when touring the city.
Check out these other posts on visiting Austria
10 things you should be doing in Vienna
A visit to the Kunsthistorisches Museum
A night walking tour of Vienna
A fall garden tour at Schonbrunn
A visit to Belvedere at twilight
Enjoyed the post – please pin it!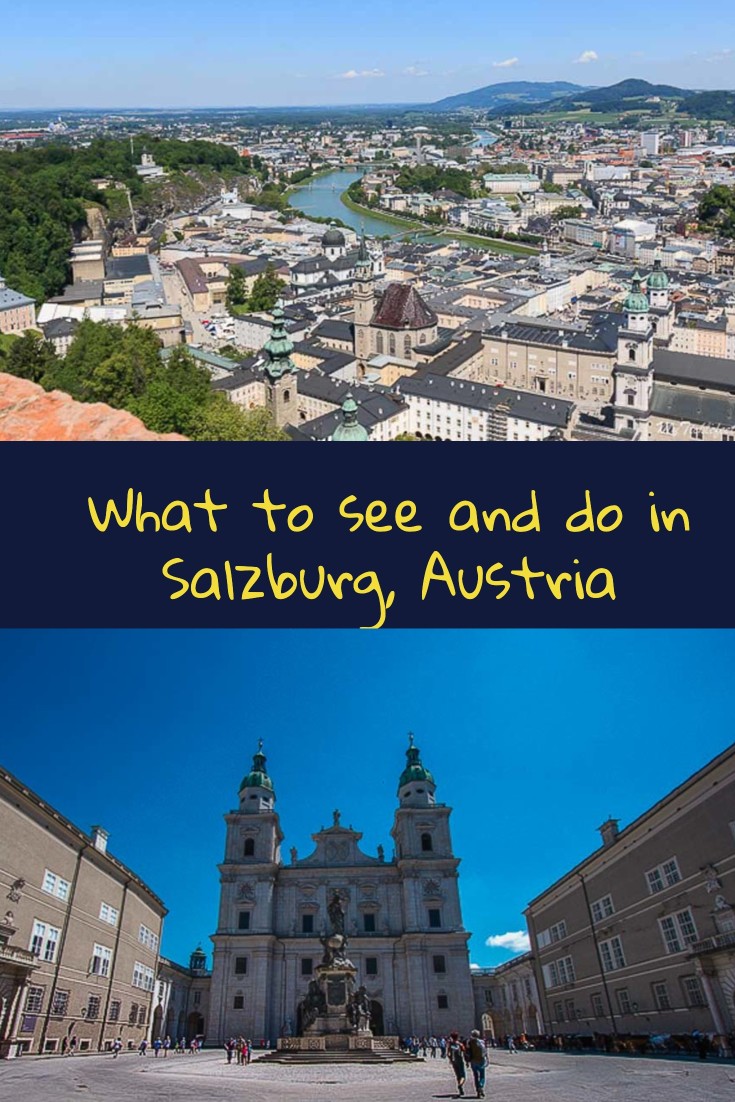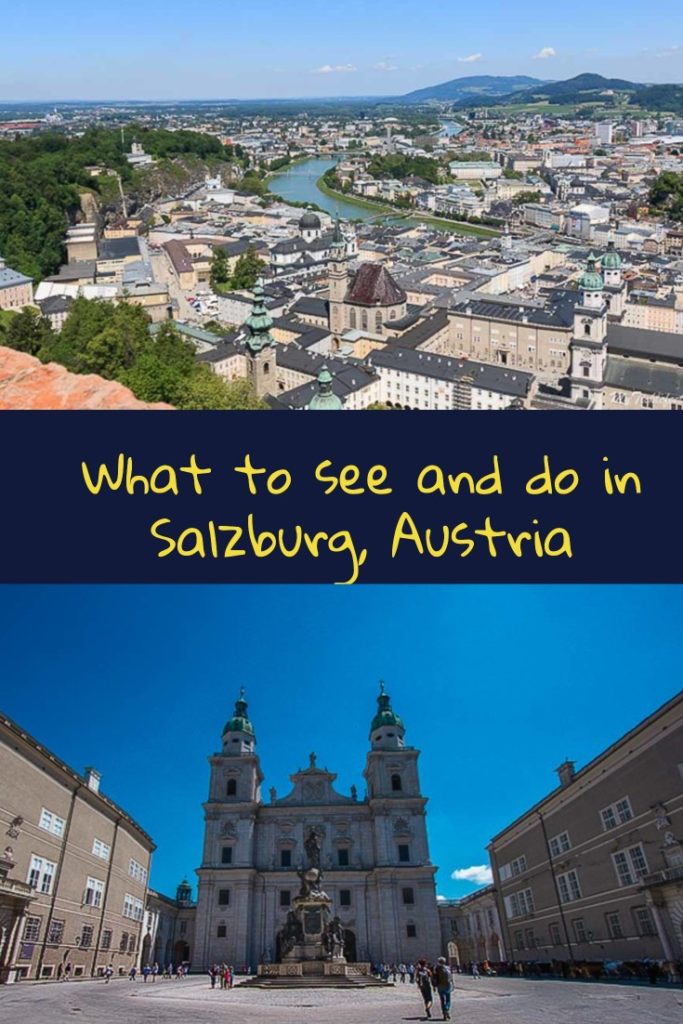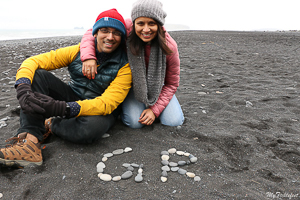 Guest post bio
 We are Gaurav and Richa, the couple behind MyTicklefeet. Working professionals by the day and travel bloggers by night, we like to travel at every chance and holiday we get. That means maximizing the most out of our limited vacation days. Based out of Washington DC, we are also professional photographers who are always seeking new adventures in new places in the world. You can find more of our articles and photos on our website http://www.myticklefeet.com/
Thanks for visiting today and checking out this post on things to do in Salzburg Austria, if you enjoyed the images and post, could you please share it with any of the social media buttons located around the post.
If you like what you see, come and check out my other social media channels for more updates, including Instagram, Pinterest and Twitter
Disclosure – There are affiliates links on this posts which provide a small commission to support this site at no extra cost to you. Thank you for reading, and happy travels