Tips for eating local and staying healthy while traveling abroad (updated 2023)
I've gotten sick many times eating abroad and not really concentrating on what I'm eating outside of buying bottled water and it's not a pleasant experience. After working through what made me sick on my travels from the food I ate, I found out the best preventive methods were quite easy and if you look out for these few scenarios, then you will decrease your chances of getting sick while eating abroad. It's easy to skip eating at local cafes or dare say vendor stalls making delicious street food, but why even travel to some beautiful destinations if you can't enjoy the local food?
Following are some keys to staying healthy while still being able to try out some local foods and even street food while you are traveling abroad.
Avoid drinking the local water
unless you are traveling in a developed country and everyone you talk says its okay to drink the water, drink bottled water. It's always good to stock enough for each daily adventure not to mention cheaper when you buy these ahead of time instead of buying on the spot at a tourist destination. Do keep hydrated and drink as much water as you can instead of alcohol or sodas.
Observe and look at cleanliness and food prep
Take a look at how a vendor or restaurant stores its food, is it fresh looking and prepped in sanitary conditions? Are the cooking stations and prepping areas neat, clean and not smelly when the food is being prepared. If you see how the cook is handling the food in an orderly fashion and has high turnover, you can be assured that this may be a safe or not safe place to eat. Trust your instincts in this way and even ask to see the kitchen if you are bold enough – usually they are on the way to the bathroom so its easy to spy on how the kitchen looks, before making a choice to dine at a place.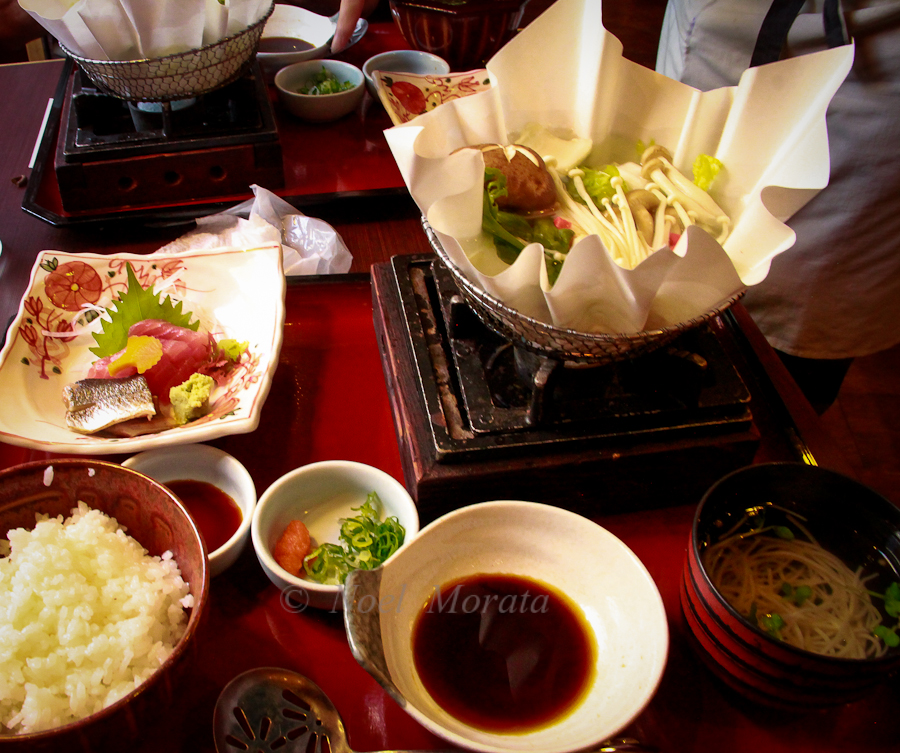 Eat at popular places or highly review cafes or restaurants
It pays to read reviews of popular places to eat on various sites like Trip Advisor, Chowhound or Yelp. most reviewers will also offer some food that's worth trying out if the review was favorable. Use your own judgement on these reviews  since there might be a few bad reviews while most might be favorable to a certain place.
Do not eat raw vegetables
Depending on the country and sanitary conditions (i.e. 3rd world environments) try to avoid raw foods and vegetables are often cleaned with local water or not. It's better to avoid raw foods especially in salads and other raw preparations unless you are in well established eateries or hotels. Even then reliance on food prep is at different standards so its better to just avoid anything raw.
Street food, look a freshness and high turnover
Make sure you watch and see how the food is being prepped and cooked. When ingredients look fresh and usually at its best right before the peak of meal prep, then it's usually a good sign.  If it is cooked thoroughly and there is high turnover, then this is also a good indicator that the vendor is careful and clean. Try to avoid food stalls that have food already prepped and just warming unless you really see a lot of people eating at a particular stall and the prepared food is replenished regularly.
Moderation in drinking while traveling
It's great to try out local wines and beverages while you are visiting a new destination. The other side of this is really indulging and drinking in excess and a party mode. This might be okay for certain age groups but definitely does take a toll for older aged travelers. Moderation in local drinking beverages is always the best answer and you will feel good the next day and more refreshed to enjoy a new travel experience.
Be Prepared
If you do end up have food problems or poisoning here are some remedies to help you to deal with any food problems and heal quickly. The body has a natural instinct to remove the cause of the illness inducing an upset stomach, vomiting, diarrhea and  other illnesses. Learning how to decrease these situations above are important but also be ready with the following remedies and treatments:
Make sure to bring along and of the following medications on your journey:
Wet Wipes – these are very practical to clean yourself quickly and use for a variety of purposes
Yogurt – Regularly eating yogurt stabilizes your stomach and keeps the bacteria stable throughout your system
Antibiotics – look to carrying generic brands like Ciprofloxacin as part of your medical kit
Imodium/Loperamide or similar brand for mild symptoms to help you with any minor problems.
Pain Killers like Tylenol or Ibuprofin, can be used for a variety of purposes including cramps or general discomfort
Rehydration packets – to help quickly dehydrate your system and water absorb quickly into the cells.
Most people fully recover from any food poising symptoms within 12-48 hours from the initially problem. If things have not progressed, make sure to see a health care professional at your earliest convenience.
Do keep these tips in mind when eating locally and you will be healthy during your trip abroad. Above all, don't let your mind make you miss out on an opportunity to enjoy some of the local foods and vendor stalls when you are traveling. If you keep the safety advice in check above and you are aware of your dining choices be discriminating when you are looking around for your next meal. By following these few tips, you can experience a whole new variety of great eats!
 I hope these Tips for eating local and staying healthy while traveling abroad was helpful, if so please share this post with any of the social media buttons below or at the side of the post, thank you.