Unveiling the Marvels: Top UNESCO World Heritage Sites in Asia that Showcase Rich Cultural Heritage
When you visit any Asian country, you'll be amazed by all the stunning temples, historic cities, landmarks and natural landscapes that have been designated as Unesco World Heritage sites that are worth visiting. Each country offers spectacular heritage sites and cultural treasures that are a must visit when you explore. Visiting Asia's Unesco sites in my experience, is a rich experience to the history and culture you visit in each Asian country.
Check out what these travel journalists share on visiting these historic Unesco sites and tips on planning your trip to the Top Unesco World Heritage sites in Asia.
Why visit the Unesco World Heritage sites in Asia?
Visiting UNESCO World Heritage Sites in Asia is an enriching and rewarding experience for several compelling reasons:
Cultural Diversity:
Asia is a continent of immense cultural diversity, and UNESCO sites showcase this diversity beautifully. Each site represents a unique aspect of Asia's rich and varied heritage, from ancient temples and historic cities to traditional villages and archaeological wonders.
Historical Significance:
Many UNESCO sites in Asia have deep historical significance, offering glimpses into civilizations and cultures that have shaped the region over centuries. Exploring these sites allows you to step back in time and better understand Asia's past.
Architectural Marvels:
Asia boasts some of the world's most stunning architectural wonders. Visiting UNESCO sites like the Taj Mahal in India, Angkor Wat in Cambodia, or the Great Wall of China allows you to marvel at the architectural genius and craftsmanship of past civilizations.
Natural Beauty:
UNESCO sites in Asia aren't limited to cultural landmarks. The continent is also home to breathtaking natural wonders, such as the Himalayan mountain range, Halong Bay in Vietnam, and the Sundarbans mangrove forest in Bangladesh. These sites offer opportunities for outdoor adventures and eco-tourism.
Preservation of Heritage:
UNESCO designation brings attention to the importance of preserving these cultural and natural treasures. When you visit these sites, you contribute to their preservation, as revenue generated from tourism often goes toward conservation efforts.
Educational Value:
UNESCO sites provide excellent educational opportunities. They offer insights into history, art, architecture, and the natural world. It's a chance to learn and gain a deeper appreciation for Asia's diverse cultures and ecosystems.
Cultural Exchange:
Visiting UNESCO sites fosters cultural exchange and cross-cultural understanding. It's an opportunity to interact with local communities, taste authentic cuisine, and immerse yourself in different ways of life.
Photography:
UNESCO sites offer fantastic photo opportunities. Whether you're a professional photographer or simply enjoy taking pictures, these sites provide stunning backdrops for capturing memorable moments.
Bucket List Experiences:
Many UNESCO sites are on travelers' bucket lists for good reason. They offer once-in-a-lifetime experiences and the chance to see iconic landmarks up close.
Sustainability:
By supporting responsible tourism at UNESCO sites, you contribute to sustainable travel practices that respect the environment and local cultures.
In summary, visiting UNESCO World Heritage Sites in Asia is a journey into the heart of the continent's history, culture, and natural beauty. It's an opportunity for personal enrichment, cultural exchange, and the preservation of these remarkable treasures for future generations to enjoy.
Explore Asia's rich heritage: visit stunning World Heritage sites 
There are over  1,068 UNESCO World Heritage sites in Asia and we share all our favorites here with travel bloggers who have visited many of these monuments. They share some inside tips, history and some details to visiting each of these Unesco sites around Asia.
Unesco World Heritage sites in China
Hiking the Tiger Leaping Gorge
Voted as China's best multi-day hike this UNESCO site is a must visit in Asia!
The Tiger Leaping Gorge is a spectacular national park in the south of China in Yunnan province. he first couple of hours of the hike on the upper trail are steep. Locals follow you with donkeys like vultures waiting for you to fail. Yet you will persevere and when the path flattens out you will be rewarded with incredible views. Rocky mountains, part of the mighty Himalayan range tower above you. Far, far below you see the mighty Jinsha River, a main tributary of the famous Yangtze River rushing through the valley. Continue through walnut groves, shady woods until you reach the Half-Way house. Linger here for a few beers and a good night's rest. The next day you will experience the true force of the Jinsha.
Wake up to one of the best views you will ever wake up to and continue along the valley. Your hike today will include a few ladders! Climb down to the river across rickety bridges and hear the roaring waters pound their way through the gorge. See if you can spot where the tiger supposedly leapt across from. Groan a little as you realise you will have to climb back up the ladders and pay different locals for using them. Then feel proud of yourself when you reach the end of your hike for you have hiked one of the most epic trails in Asia.
Try and avoid the monsoon season as it is too dangerous on the thin paths. Best times to visit to see blue waters of the Jinsha is springtime. After the monsoon season the river is bursting and rather muddy but the weather is still like summer. Bring sun cream as the UV rays are very strong here year-round.
The high trail in the Tiger Leaping Gorge UNESCO World Heritage site is an incredible two-day hike full of variety and always with breath-taking views.
Check out Anna's post on 10 must do hikes in China
Forbidden City UNESCO site
Forbidden City in Beijing is the former Imperial Palace and served as the residence of 24 Chinese Emperors from the Ming and Qing dynasties. Declared a UNESCO World Heritage Site in 1987, the vast palace complex currently houses a museum dedicated to preserving artifacts and relics of the imperial era. I visited the Forbidden City during my long layover in Beijing and thoroughly enjoyed visiting and learning more about this majestic palace.
The palace complex has over 90 majestic buildings, the most famous among which are the Hall of Supreme Harmony, Palace of Heavenly Purity, and the Living Quarters. The collections inside the palace buildings are diverse and include blue and white porcelain vases, ceramics, seals, jade sculptures, and magnificent paintings. There are also many objects used by the royal family in their day to day life. Watching all the artifacts is fascinating and provides a great glimpse of royal life in Imperial China.
The name Forbidden City comes from the fact that no one could enter the walled and gated Imperial Palace complex without express invitation of the Chinese Emperor. The palace is the largest as well as most well-preserved palatial structure in the world and hence added to the UNESCO Sites list as the largest collection of wooden structures. The best way to explore the Forbidden City is on a self-guided tour. I had a great time walking through the Forbidden City and taking in the traditional Chinese imperial architecture, ornate city gates, distinct sloping roofs, and the beautiful drawings of dragons and phoenixes.
By Ketki Sharangpani of Dotted Globe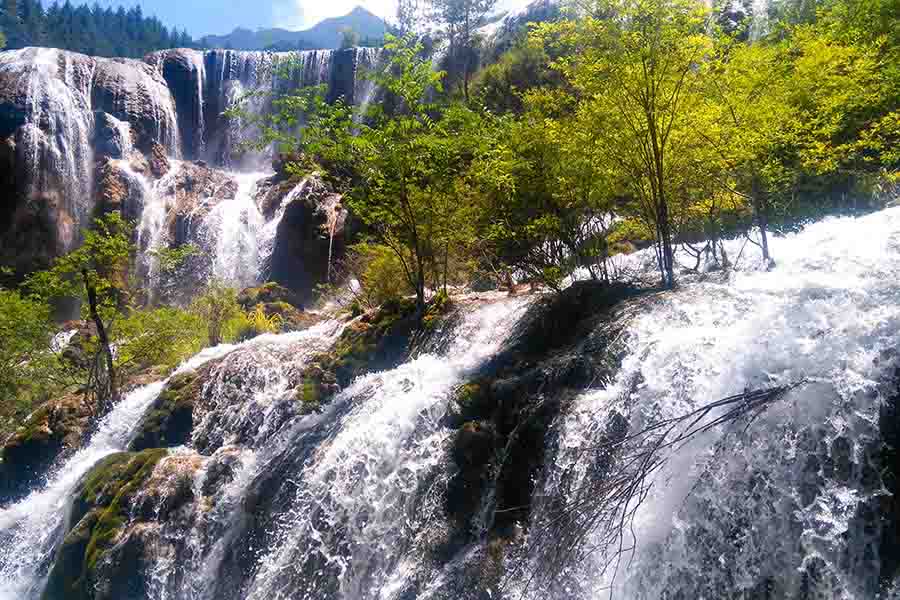 Discovering Jiuzhaigou
Beautiful Jiuzhaigou is a must-visit on any China itinerary. The national park is home to strikingly blue pools and crashing waterfalls against a backdrop of evergreen firs. It's located in the mountains of the Tibetan Plateau in the Sichuan province, about 8 hours by bus from Chengdu – the province capital.
Jiuzhaigou was sadly affected by a large earthquake in August 2017, and was closed to tourists for seven months while its safety was reassessed. It has been open since Spring 2018, but now only 2000 tourists are let in every day and they need to be in a tour – rates however, remain the same as they used to be for independent travellers.
Visitors to Jiuzhaigou can still enjoy most of its popular sites: Mirror Lake, Five-Colour Lake, Shuzeng Lakes, Long Lake and Nuorilang Waterfall are all still open for guests. Walking around the unbelievably azure lakes is a tranquil experience – and now only a tenth of the amount of tourists are allowed in each day, it's a great time to visit!
Jiuzhaigou town is scenic and has a charming atmosphere – while it is small, there are enough facilities there for a comfortable stay. There are also many small Tibetan towns and Huang Long national park, which has spectacular pools with calcium carbonate deposits, giving them a unique colour.
Claire with Claire's Footsteps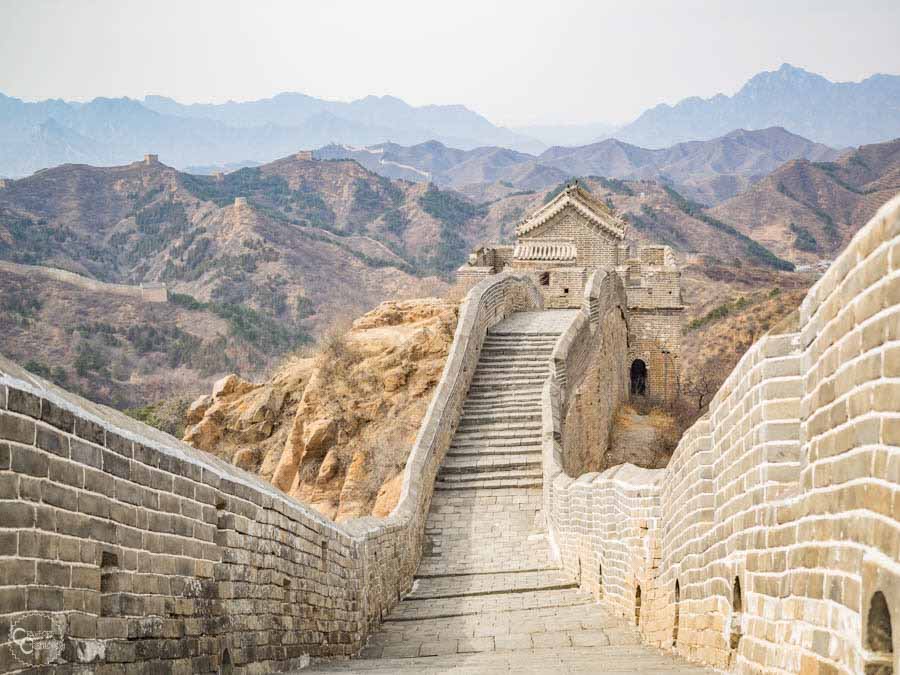 The Great  Wall of China
The Great Wall of China is an epic feat of human creation. The majority of the wall, as it stands today, was built during China's Ming Dynasty (1368 – 1644) and stretches for around 2000 miles (3000 km) from the ocean at Shanhaiguan in the East to the desert at Jiayuguan in the West. The wall was built along what was then the northern border of China to protect the country from Mongol invaders.
Since it was built to keep out intruders the wall itself served as China's high ground snaking its way over mountain peaks and along ridgelines. Basically, the wall runs along the most inconvenient places to built such a structure, which is part of what makes it so incredible to visit in person.
The sheer scale of the wall is probably what is most impressive. The Great Wall stretches from east to west as far as the eye can see, a seemingly endless structure that you could walk on for miles without changing course. It's also the only thing you can see for miles as the countryside around the wall has been left completely undisturbed.
There's something so awe-inspiring about experiencing the contrast of natural and manmade. Hiking along the Great Wall, it truly feels like you've discovered an ancient treasure.
As the wall is around 2000 miles long, there are quite a few spots you can go to see it. Of all the spots I'd recommend visiting the Jinshanling section, one of the many Great Wall sections located outside of Beijing. Jinshanling is a 2 hour bus or car ride away from Beijing and it's worth every minute in that car to get there.
Because it's so far out into the countryside, by visiting the wall at Jinshanling you'll get to experience the Great Wall crowd free while enjoying some of the best views in all of the wall's 2000 miles. Plus, the Jinshanling section is only partially restored so you'll get to experience some refurbished wall and some wild wall all in the same trip.
Cara with Crawford Creations.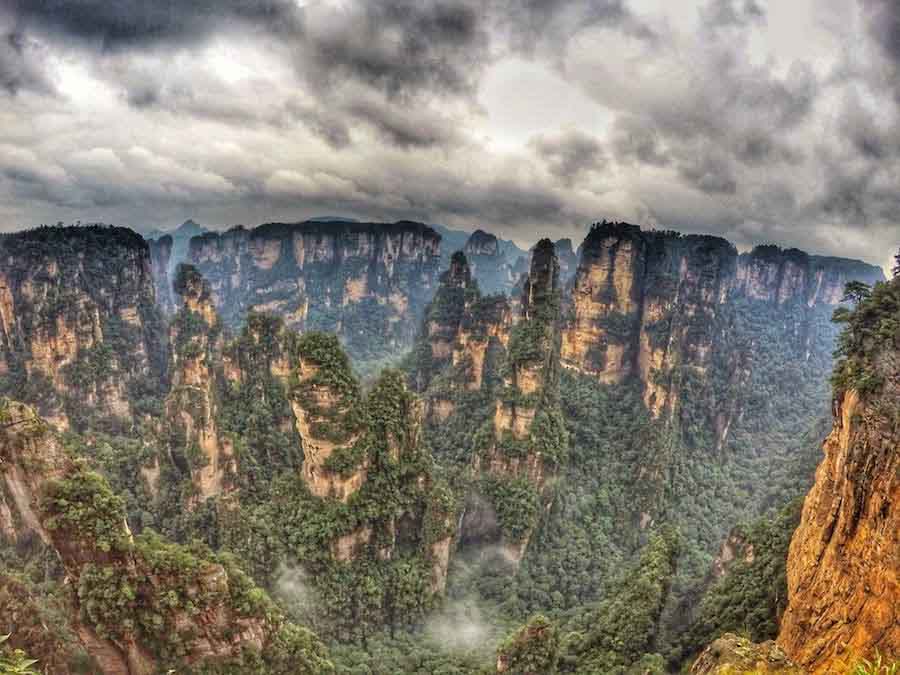 Wulingyuan Scenic Area in Hunan
Unesco World Heritage sites in Japan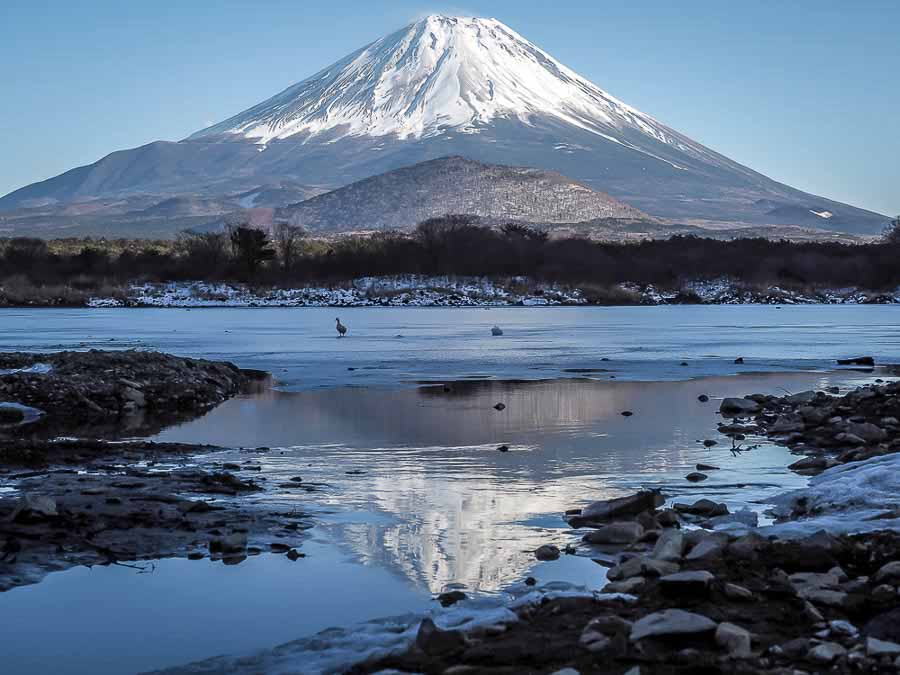 M

t

.

Fu

j

i

,

Ja

p

an
You've likely seen images of Japan's most iconic mountain a thousand times. But did you know that Mt. Fuji is a UNESCO site? The volcano officially acquired World Heritage Site status in 2013, and not as a natural site, as you might imagine, but rather a cultural one. According to UNESCO, Mt. Fuji has "inspired artists and poets and been the object of pilgrimage for centuries".
Mt. Fuji's fame throughout history is probably tied to its nearly perfectly symmetrical cone, which can be seen from as far away as Tokyo, 100 kilometers to the north. The mountain is prominent in Japanese art and poetry, and as the holiest mountain in Japan, over 300,000 people climb it every year, mostly in summer.
Even if you don't climb Mt. Fuji, there is plenty to do in the area, such as soaking in onsens with Fuji views, exploring the Fuketsu Wind Cave and Narusawa Hyoketsu Ice Cave, riding roller coasters at Fuji Q Highland amusement park, or honoring the mountain's Shinto deities at one of several shrines at the base of the mountain. Fuji Sengen-jinja Shrine is the most important one and the traditional starting
point of the Mt. Fuji pilgrimage, while Chureito Pagoda at Arakura Sengen Shrine offers what is probably the single most photographed view of Mt. Fuji.
Exploring Kinkaku-Ji in Kyoto
Kaila with Nom List
Itsukushima Shrine at Miyajima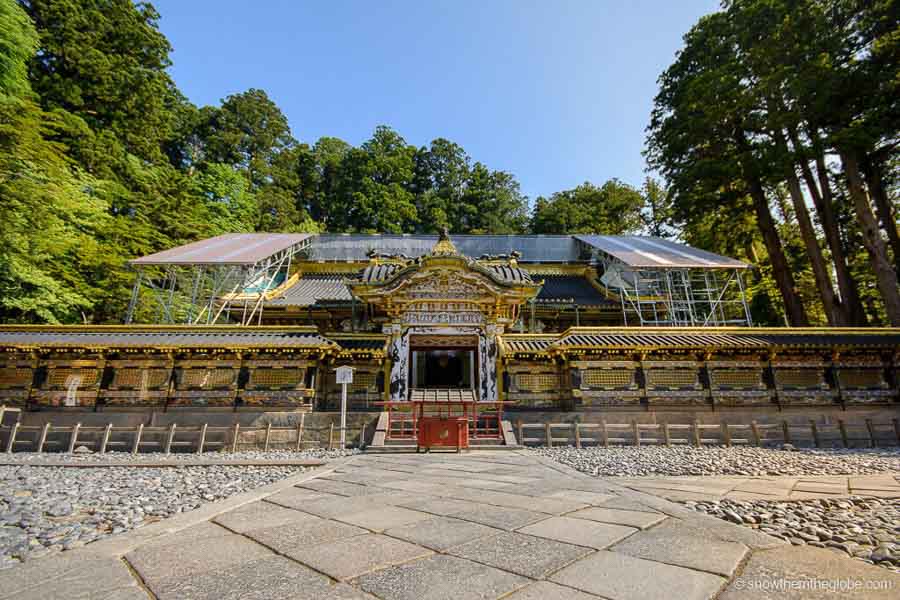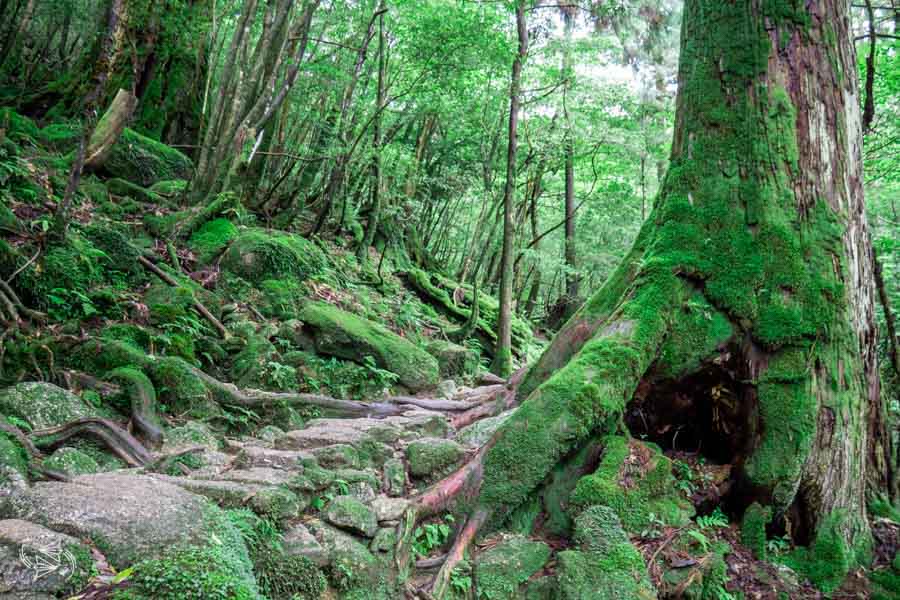 Natural wonders of Yakushima
Yakushima is hands down one of the best World Heritage Sites we have visited. It's an island full of breathtaking natural wonders, from the forest to the sea, that will leave you in awe of Mother Nature.
 The biggest draw to the island are the 'yakusugi' or Yakushima's ancient cedar trees. They are thousands of years old and can have a circumference of up to around thirty meters! One of the best places to see them is at Shiratani Unsui Ravine, which was the inspiration for the Ghibli animation Princess Mononoke.
The island gets a lot of rain, so it is hard to avoid it completely, but most visitors go in summer, when although humid, is the perfect time for swimming and snorkeling, and the lush forests provide welcome respite from the direct sun. After the rainy season is over from around mid-July is ideal, but try to avoid the busy Obon week in mid-August if at all possible.
Yakushima is also blessed with an incredible number of sea turtles and from late April to late September, you have the chance of observing the egg laying and hatching. For those wanting to do long hikes, the autumn months of October and November are popular for the more comfortable temperatures.
 Yakushima can be accessed by plane or ferry. There are no direct flights from Tokyo, but you can take a flight to Kagoshima and then either fly or take the ferry from there. You can get from Kagoshima to Yakushima on the high-speed ferry in under 2 hours.
 Check out Jessica's post about things to do in Yakushima of Notes of Nomads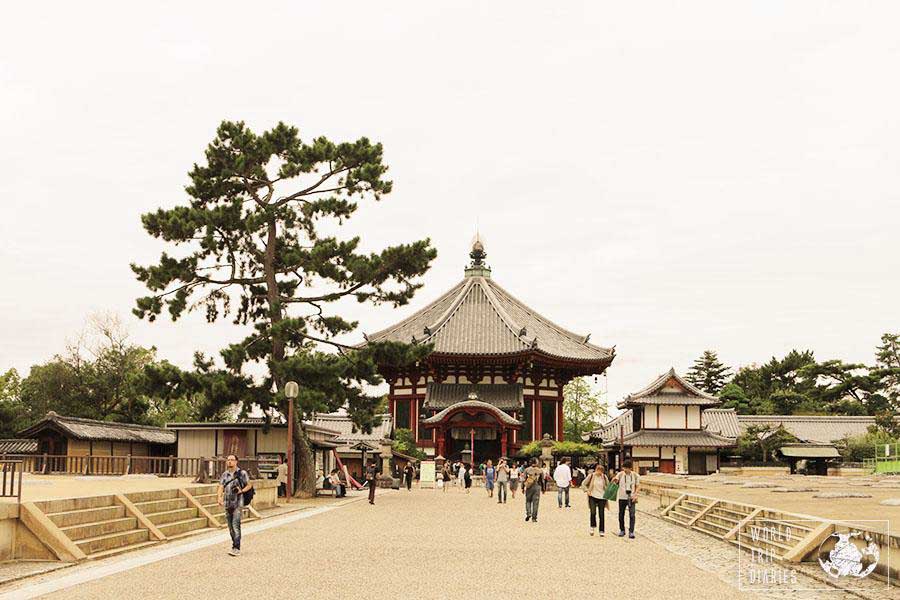 Unesco site at Nara
Hiroshima Unesco site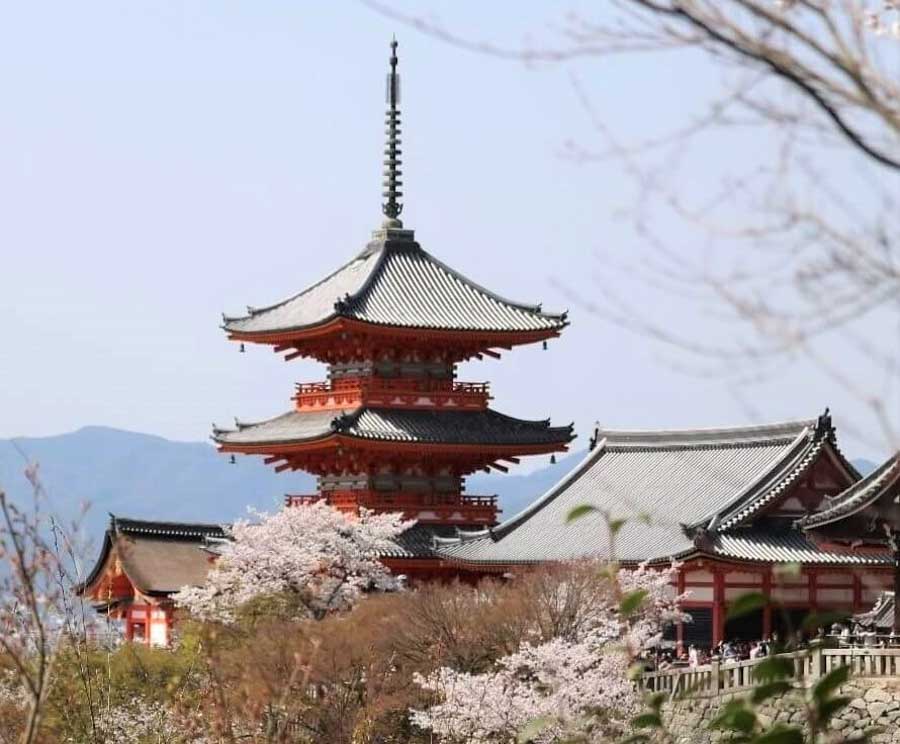 Unesco site at Kiyomizu – Dera
Kiyomizu-dera is a Buddhist temple located in the eastern part of Kyoto. This temple is included in the UNESCO World Heritage sites because it's a part of the ancient historical buildings of the region.
Kiyomizu-dera is definitely one of the must-see temples when visiting Kyoto. The best time to visit this temple is during the cherry blossom season during late March to early April. Check the cherry blossom forecast for the year before you head out. The white and pink cherry blossoms create a striking contrast against the bright orange of the pagoda at the temple which looks stunning. The other option is to visit it during the fall when the leaves change color. The orange/yellow leaves of the Maple trees look great against the black color of Kiyomizu-dera. Especially, at night, when the trees are illuminated the fluorescent orange gives it a fiery appearance.
To get to the temple, you can take the 206 bus from Kyoto Station and walk from Kiyomizu-michi for about 10 to 15 min. The walk is a bit uphill but the rise in elevation is not too bad. Besides, there are local shops along the way that you can stop at and have fun exploring.
Alternately, you can read my post on a better, less explored route to get to Kiyomizu-dera. I prefer this route as it's not touristy and very peaceful. You won't miss out on the shops at Matsubara Dori, as you can explore the shops on your way down from the. I think it's the less explored routes that give more flavor to your travels.
Pari with Traveling – Pari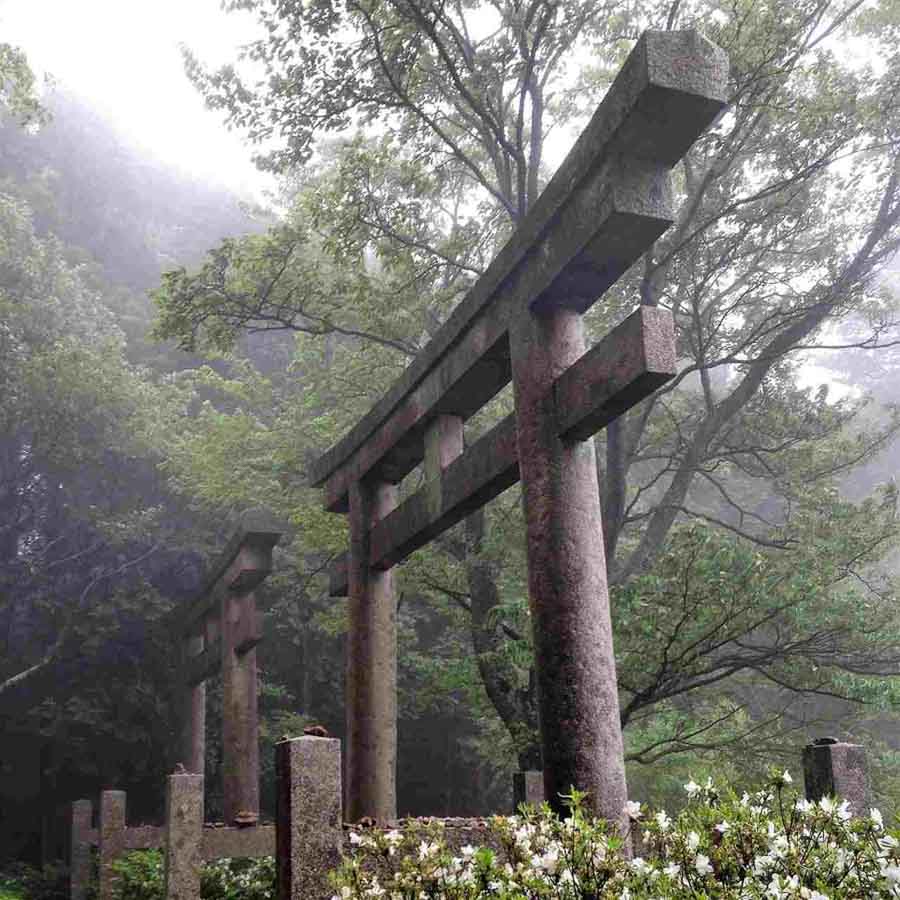 The Koyasan Choishi Michi Pilgrimage Trail
About the trail:
Not many people have heard of the Koyasan Choishi Michi Pilgrimage Trail and neither had I until a friend of mine who lived in Japan told me about it. The Choishi Michi is a Pilgrimage Trail in the Wakayama Prefecture of Japan.
The Koyasan Choishi Michi Pilgrimage Trail is a unique hike because the 24-kilometer trail is marked by 180 stone signposts (or chôishi) set at 109-meter intervals. The hike starts at Kudoyama station and end at the ancient Okunoin cemetery (there are over 200.000 tombstones!). The hike takes between 5-7 hours and ascends 800 meters in total.
When to go:
Spring and autumn are good times to hike the trail, especially if you are lucky enough to see the fall foliage. I did the track in May and though it was foggy, the temperature was a comfortable 18 degrees Celsius, perfect for hiking.
How to get there:
The easiest way to get to Kudoyama, the starting point of the Koyasan Choishi Michi Pilgrimage Trail, is by train from Osaka. You can buy a 2-day Koyasan Heritage ticket which includes the train ride from Osaka to Kudoyama (or Gokuraku-bashi if you don't want to hike), the cable car up to Mount Koya and all the buses in Koyasan and the return journey.
Check out Lotte's post on Koyasan Choisi Michi Pilgrimage trail from Phenomenal
Unesco World Heritage sites in Korea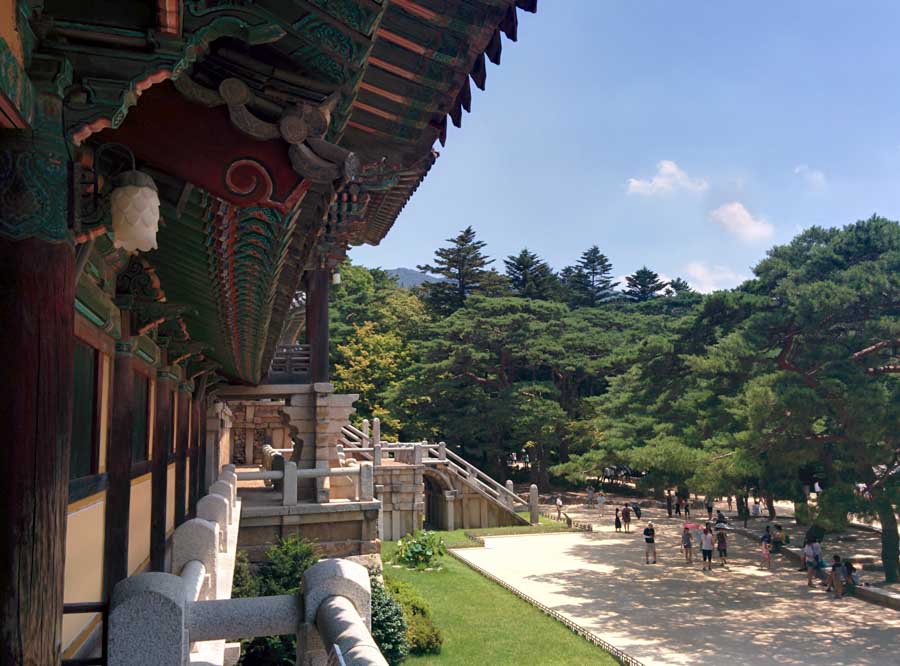 A visit to Gyeongju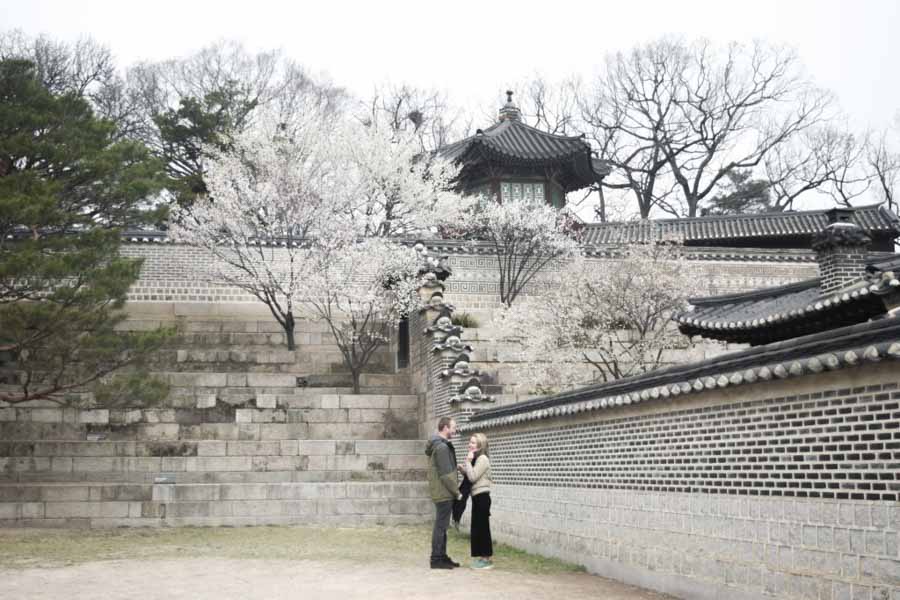 Changdeokgung Palace
Changdeokgung Palace consists out of a public area where you can find traditional houses, a royal family residence and a beautiful garden. This garden is also known as the Secret Garden. To truly embrace the beauty (and take lots of pretty photos) you need plenty of time to explore this place. 
The best time to visit Changdeokgung Palace is during Spring, as there're cherry blossoms all around the compounds. The palace is located pretty central and can be reached by the subway, bus or taxi. If you take the subway, use Seoul Subway Line 3 and get off Anguk Station (exit 3). For the bus you need to get off at Changgyeonggung Palace Bus Stop.
Unesco World Heritage sites in Nepal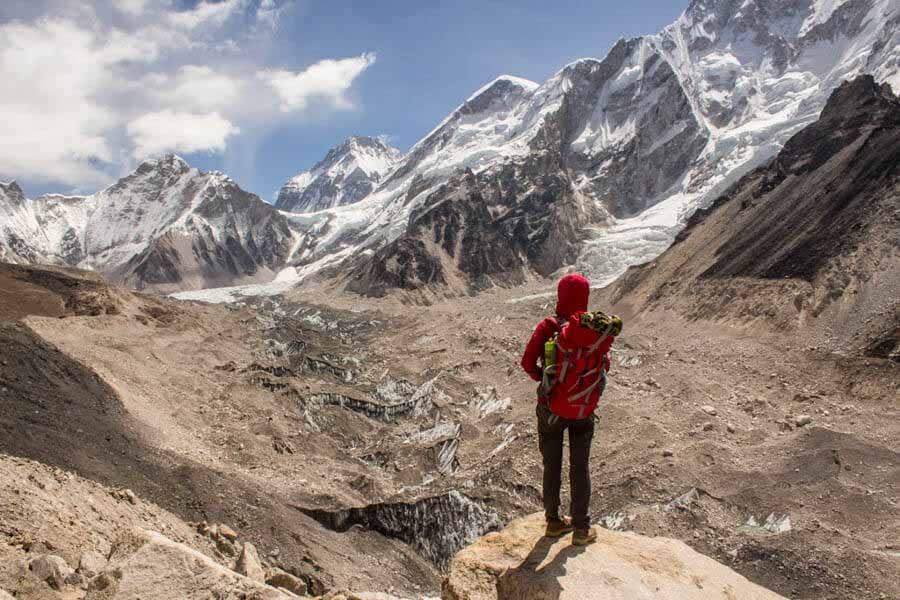 Nature at Sagarmatha National Park
Sagarmatha National Park is one of Nepal's UNESCO sites. Although for some people it might not sound familiar, it is home to Mount Everest, as well as to the Sherpa people. It's an impressive region filled with snow-capped mountains, glaciers, and wildlife.
If you have ever dreamed of seeing the world's highest mountain, then a trek in the Sagarmatha National Park is a must. The best seasons to visit are spring and autumn, with spring spoiling you with colorful Rhododendrons and autumn with its clear skies.
The entrance to the park is in Monjo village. To reach Monjo, you can take a scenic and short flight from Kathmandu to Lukla and from there trek one day to Monjo. And from Monjo, you can continue trekking all the way to Everest Base Camp. You can also choose to start trekking from Jiri, by taking a bus or a jeep from Kathmandu to Jiri. This route, however, is longer, as it takes you around 5-6 days to get from Jiri to Monjo.
The Everest Base Camp trek provides incredible views over the giants of the world and also an immersion into the fascinating culture of the Sherpas, a minority practicing Tibetan Buddhist and known for their climbing skills.
Check out Andra's post on a trek through Mt. Everest base camp.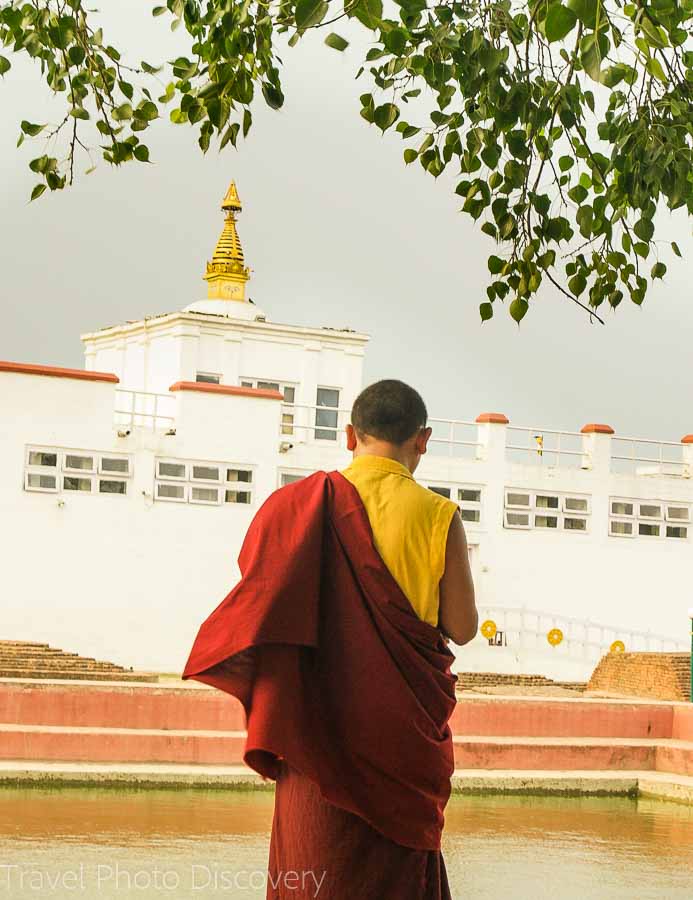 Birthplace of the Budddha at Lumbini
Located in the Southern part of Nepal at Lumbini, the Buddha's birthplace is a significant  pilgrimage site with many monasteries from around the world dedicating their temples and buildings in their own style to the Buddha and Buddhism. The site for the Buddha's birthplace retains many original features including the main temple, grounds with significant trees and gardens and other important monuments. Along with visiting the historic site, you can also visit the various international monasteries and see their unique architectural buildings and treasures. Check out more images and details to visiting this Unesco site at Lumbini here for more inspiration.
Unesco World Heritage sites in India
 
Humanyun's Tomb



Fantastic Ellora Caves
If you are interested in history & architecture, you should definitely include Ellora caves in your itinerary. These caves bring the civilization of ancient India to life. There are 34 monasteries and temples, in over more than 2 km. These were dug side by side in the wall of a high basalt cliff, not far from Aurangabad, in Maharashtra.
Located at 40 Kms from Aurangabad, Ellora Caves is a World UNESCO Heritage Site and the most visited ancient monument in Maharashtra State of India. These caves have an influence of Buddhist, Jain and Hindu monuments as the complex includes both Buddhist monasteries as well as Hindu and Jain temples.
Here, most of the Hindu, Buddhist and Jain cave temples were built during 6th and 9th centuries when the dynasties of Kalachuri, Chalukya and Rashtrakuta ruled. The five Jain caves at Ellora belong to the ninth and tenth centuries.
There are flights from Mumbai, Goa and other parts of India to Aurangabad. And from there you can hire a taxi which takes around 45 minutes one way. You can easily spend around 4-5 hours to see all the caves. You can either make it a day trip from Aurangabad or stay in some nice hotels in Ellora itself.
Any time is a good time to visit Ellora caves. The caves are numbered and you can visit them one by one. Just don't forget to visit cave no. 16 which has Kailasa Temple and is most popular. Aurangabad is also connected by train.
Nisha and Vasu with Lemonicks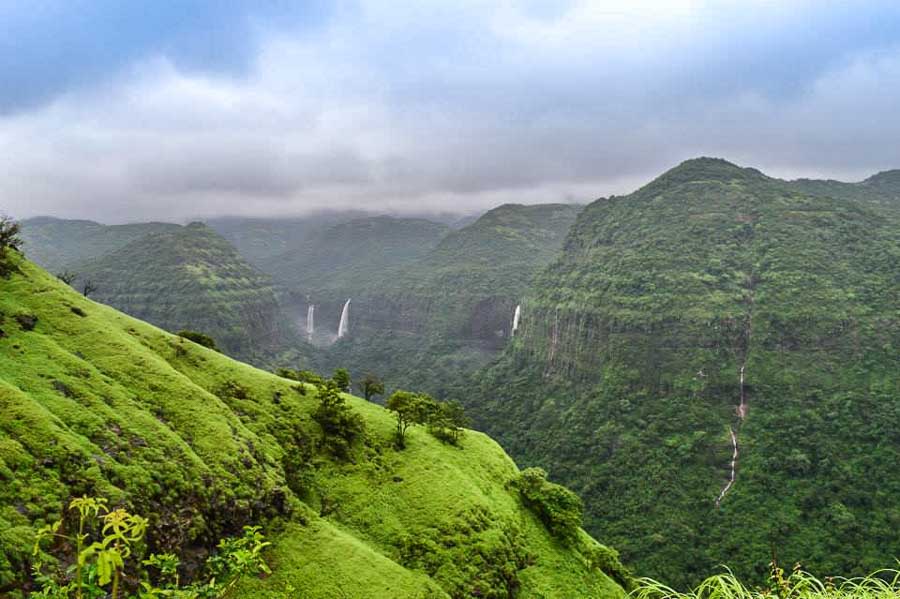 Unesco site at the Western Ghats
Although India is home to several UNESCO World Heritage Sites, few are  as unique as the Western Ghats. Also known as the benevolent mountains, or Sahyadri, the Western Ghats are a mountain range in estern India. They occupy an area of land reaching from Gujarat over Maharashtra, Goa, Karnataka, and Kerala all the way to Tamil Nadu. Not
only is it absolutely beautiful, the Western Ghats are also one of the most important hotspots for biodiversity in the world and are home to at least 325 threatened species. As such, they have been a designated UNESCO World Heritage Site since 2012.
Many explore the Western Ghats from one of the many hill stations left  behind by the British. The most famous one is, without doubt, Ooty, Tamil Nadu. Surrounded by lush green forests, it is a popular honeymoon destination among Indians. It is also a popular base for exploring Mudumalai Tiger Reserve. Those interested in tea should stop
by the town of Munnar and explore the tea plantations or even the tea museum. However, if you want quick and easy access to the Western Ghats, you can base yourself in either Mumbai or Pune. From Pune, some of the most beautiful views are less than a 2-hour drive away, such as Tamhini Ghat with its rushing waterfalls, lush forests, and friendly wildlife.
Check  out Jacky's post on best places to visit in Pune.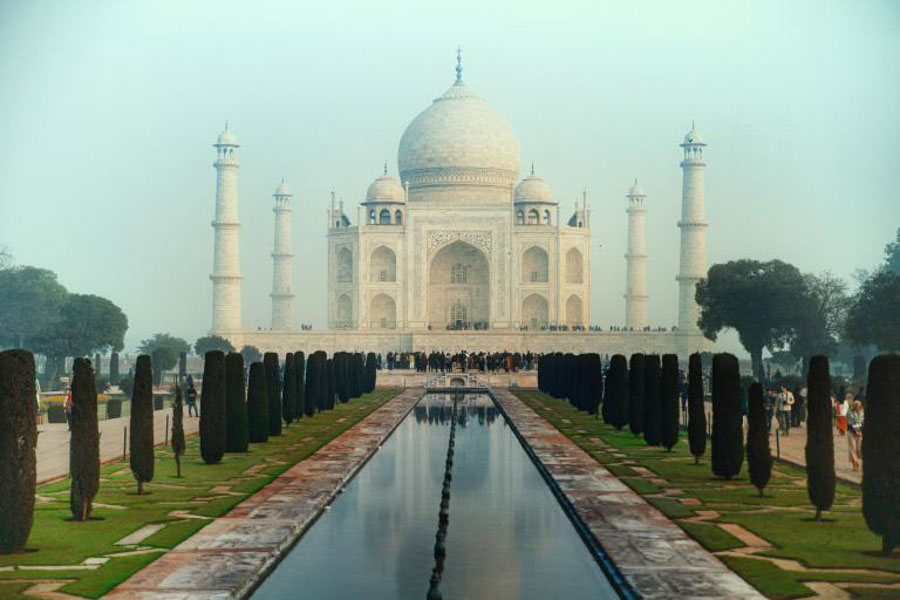 Unesco site at Jaisalmer fort
A visit to Khajuraho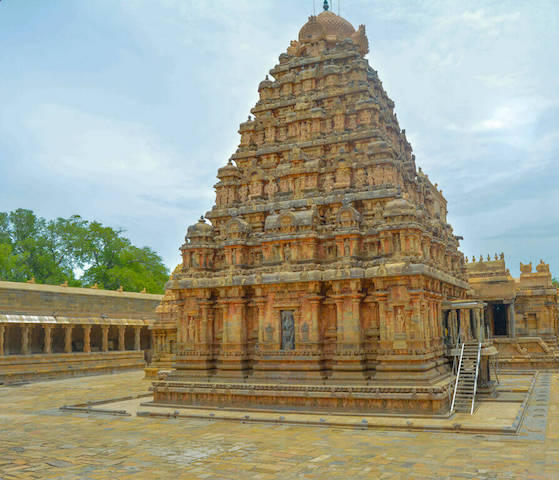 The Great Living Chola Temples
The Great Living Chola temples is a group of 3 temples in Tamil Nadu, South India and are collectively designated as a UNESCO world heritage site. The three temples are the Brihadisvara temple in Thanjavur, the temple of Gangaikonda in Cholapuram and the Airvatesvara temple in Darasuram. There is a distance of around 30-40 km between each of them. I have been to 2 of them (Brihadisvara and Airvatesvara) and both of them are among the most well-maintained temples in India. The architecture dates back to the 12th century and the intricacy of the work is marvellous. If you are driving, then it is around 5 – 6 hours from the nearest cities of Chennai or Bangalore. Alternatively, you can take a train from Chennai to Thanjavur and then catch a cab to see all the three sites in a day.
Soumya with Travel Books and Food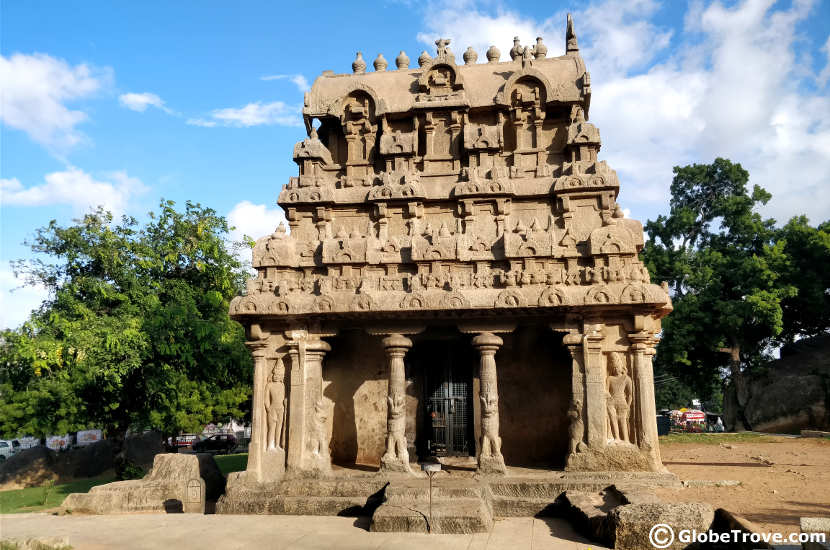 MAHABALIPURAM, INDIA
One of the most amazing UNESCO sites that I have been to in India is Mahabalipuram. Unlike many UNESCO heritage sites, Mahabalipuram isn't just a single landmark. In fact, there are many places to visit in Mahabalipuram and I would go so far as to say that it is a collection of landmarks from a bygone era. Located on the east coast of India in a state called Tamil Nadu, Mahabalipuram lies on the coast. It is a drive away from Bangalore or Chennai, both popular metropolitan cities of the country and it certainly is worth the trip.
Most people start out their day by heading to the shore temple to catch a glimpse of it at sunrise. One could not ask for a more peaceful place. The shore temple isn't the only thing that one must visit. A huge park in the city holds the remains of an ancient city. Intricately carved rock faces, temples, an oddly balanced rock and a lighthouse are popular attractions. While it is a UNESCO site, you will find that it is also a great place to spend an evening. You will find that all the locals who are not lounging on the beach, come here with their kids. If you do visit the park, climb up to where the light house stands, and you will find the view gorgeous especially if you visit on a clear day.
Penny with Glove Trove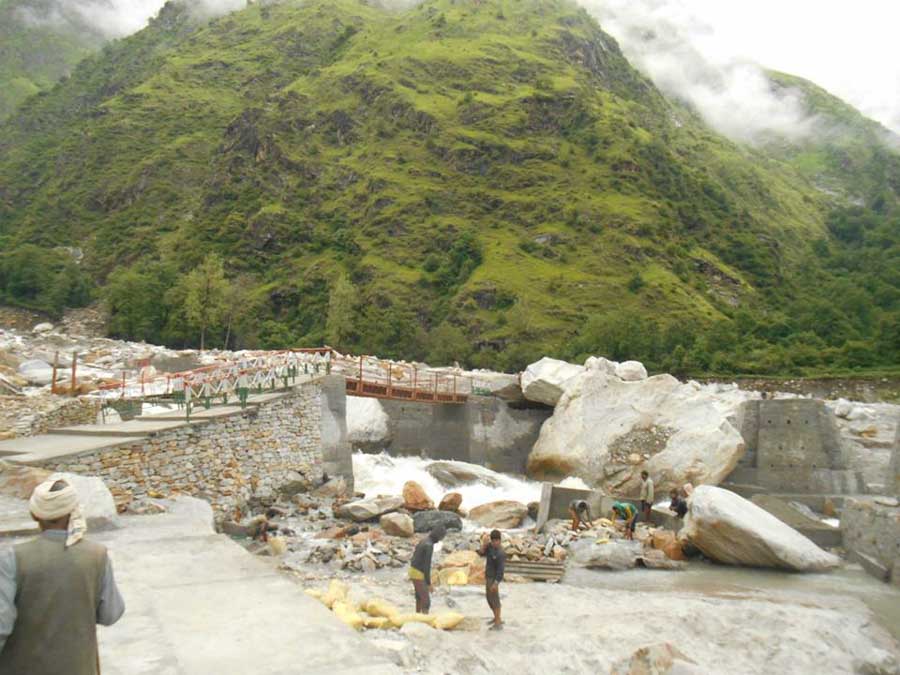 The Valley of Flowers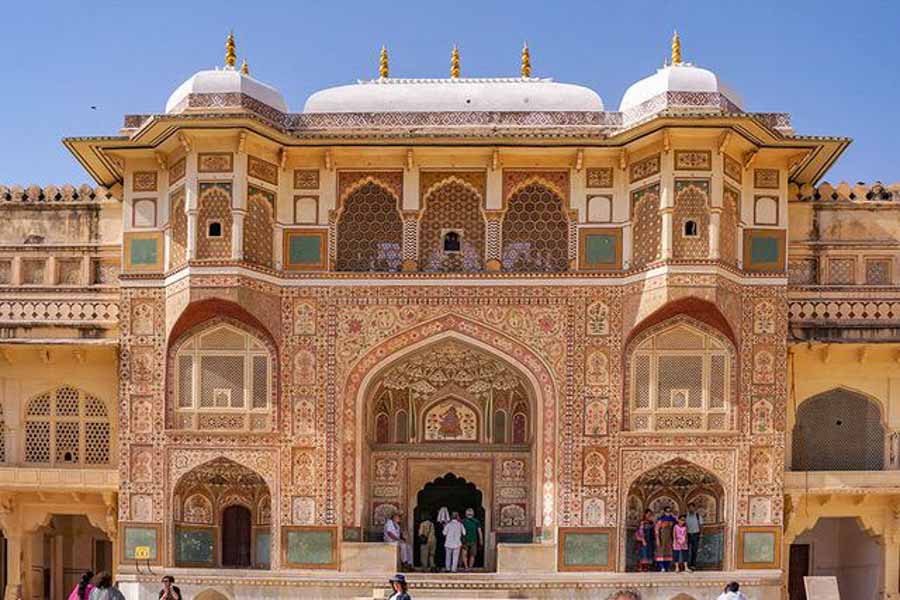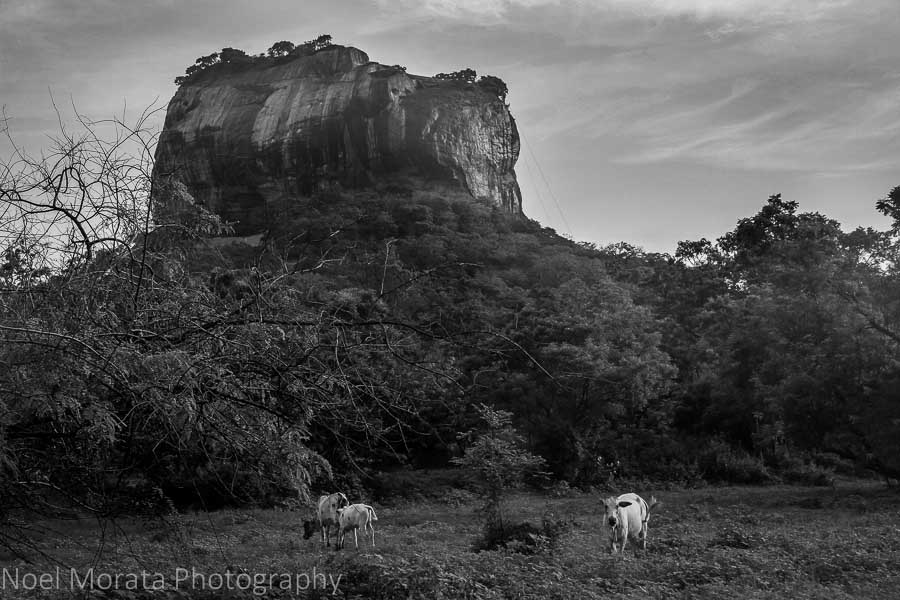 Galle – Top UNESCO Sites To Visit in Asia
Galle, the popular tourist destination in Sri Lanka, became one of the top UNESCO World Heritage Sites in Asia. The oldest Galle city is located in the southwestern part of Sri Lanka. The city established by the Portuguese in the 16th century. The Galle Dutch Fort or Galle Fort is the main attraction among tourists here. Galle Fort is the largest European fort in South Asia, and this is for why Galle got the vast popularity and listed as UNESCO's Cultural Heritage Site in 1988. Every year many European to Asian come to visit this oldest fort in Galle.
Galle is just 119 km away from the capital city of Colombo in Sri Lanka. It is possible to make a day trip here. Moreover, there are also many hotels and restaurants nearby the fort in the city. It is easy to take a taxi or bus to reach the fort within two hours from Colombo. The best time to visit this one of the top travel destinations in Sri Lanka in between March to May to avoid the monsoon in southwest Sri Lanka. The must-visit Galle Fort is open always for tourists, and no admission fee require to visit.
The landscape beauty of the entire Galle fort is very stunning for the Indian Ocean. The lighthouse is the top attraction in the Galle Fort, and there is also one oldest church, mosque, and museum to explore. You'll enjoy exploring by walking. It is just amazing to see the breathtaking view of the Indian Ocean from the fort wall and also one of the beautiful destinations for photography.
By Nafisa Habib from My Own Way To Travel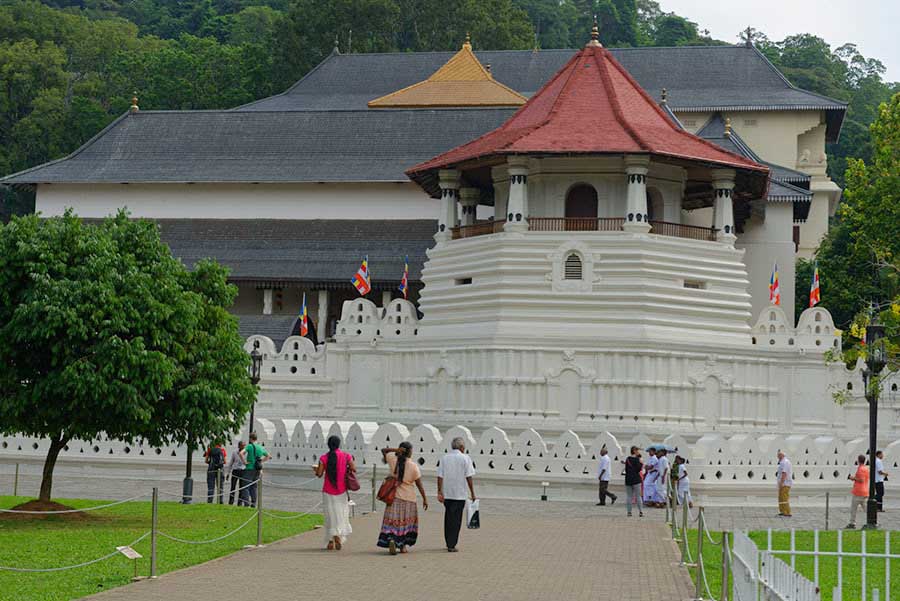 Sukhothai Historical Park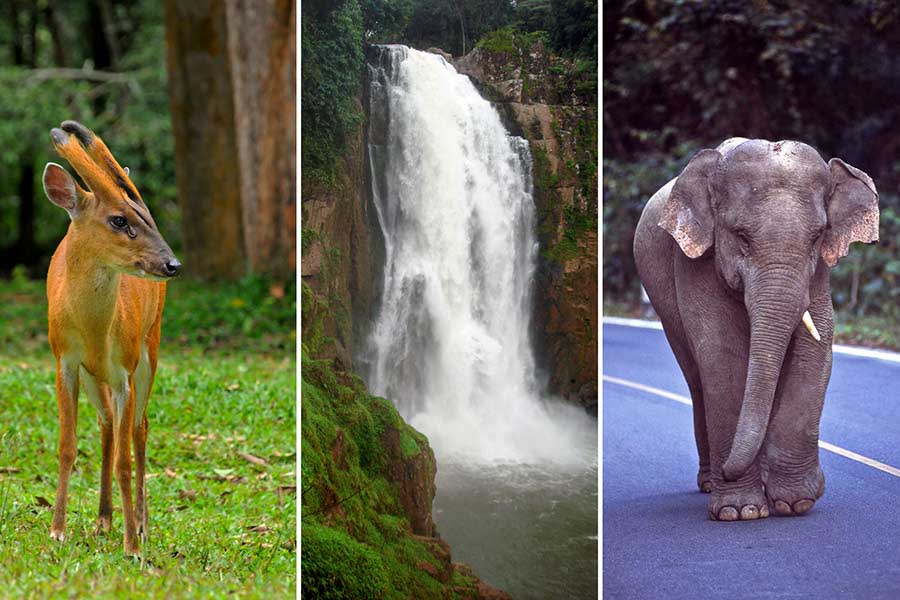 Unesco site at Khao Yai Forest Complex
The Dong Phayayen – Khao Yai Forest Complex stretches from Thai/Cambodian border to Central Thailand. This UNESCO Heritage Site comprises four National Parks and a Wildlife Sanctuary with the combined area of 6,152 square kilometres.
The easiest part of the complex to explore is the Khao Yai National Park. Located only 180 km from Bangkok, Khao Yai is one of the best places to see wildlife in Thailand. Most tour agencies in Bangkok offer day tours to Khao Yai. Alternatively, you can make your own way to Pak Chong and stay in the park for a few days.
In Khao Yai, you start seeing wildlife as soon as you drive through the park's gate. Pig-tailed macaques squabble on the side of the road, White-handed gibbons and Giant squirrels munch on fruit up in the canopy and Sambar and Barking deer browse on the grassy lawns.
As you drive around the park, you have a good chance to spot the endangered Asian elephants and the magnificent Great hornbills.
One of the most epic wildlife spectacles in Khao Yai happens at dusk, as two million Wrinkle-lipped bats emerge from their cave to hunt insects at night. Watching the bats spill over the countryside while the birds of prey try to snatch a few of them for dinner, is like being in a David Attenborough's documentary.
Khao Yai is not only about the wildlife, of course. It protects the largest primarily intact monsoon forest in South East Asia. The park is home to a number of waterfalls, including the 20m-tall Haew Suwat, immortalized in the Danny Boyle's film 'The Beach'.
So, if you would like to experience Southeast Asian rainforest and its inhabitants on your trip to Thailand, visit Khao Yai National Park and spend a day in the jungle.
Check out Margarita Steinhardt's post on Wildlife in The Khao Yai forest complex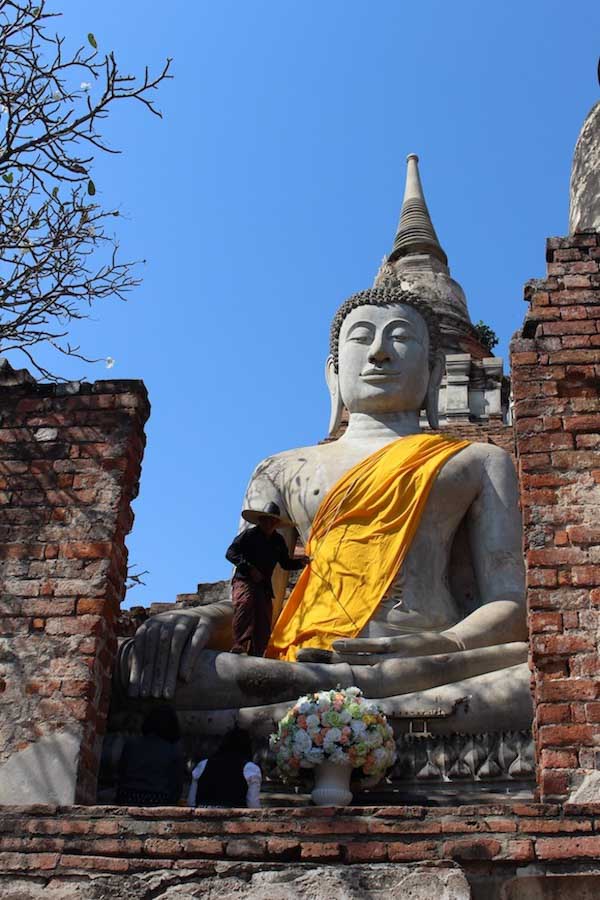 Ayutthaya Historical Park
While planning my trip to Thailand last year, several people told me to only spend 1-2 days in Bangkok. However, during my research I came across Ayutthaya Historical Park. I realized that this UNESCO World Heritage Center is home to Wat Mahathat AKA Temple of the Great Relic. One of the most recognizable images from Thailand is located here. It consists of a Buddha head entwined in the roots of a tree. I decided to add an extra day to my Bangkok itinerary in order to explore this area. Ayutthaya is located north of Bangkok. It takes about 1 ½ hours by car. We opted for a private tour with a guide. After our tour, we took a lunchtime cruise down the Chao Phraya River from Ayutthaya back to Bangkok.
Ayutthaya existed from the 1300s to the 1700s. It was the 2nd capital of the Kingdom of Siam. In 1767 during one of many wars with Burma, the Burmese invaded Ayutthaya and burnt it to the ground. The monasteries, temples and statues that remain are mind blowing. Wat Yai Chai Mongkhon, Wat Lokaya Sutha, Wat Phra Si Sanphet and Wat Mahathat are not to be missed. Give yourself at least 2 hours to explore this incredible place. It does get crowded and hot so the best time to visit is in the morning.
Nadeen White with The Sophisticated Life
Unesco World Heritage sites in Indonesia
Exploring Komodo National Park
Check out Patrick's post about backpacking in Indonesia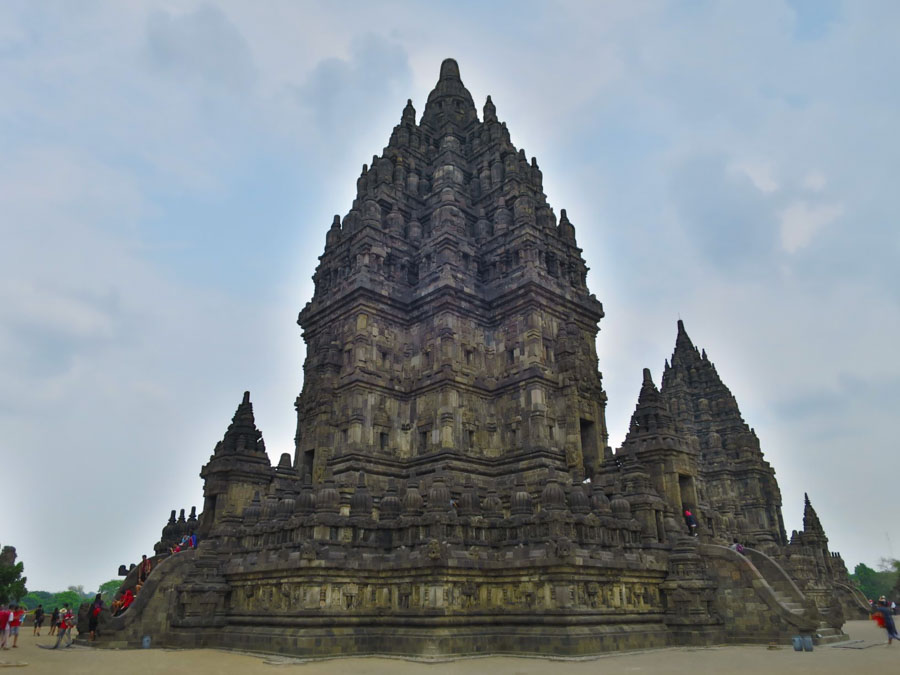 Unesco site Prambanan
While Indonesia is a Muslim-majority country, it hasn't always been that way. Nowhere is this more apparent than at Prambanan (or Candi Roro Jonggrang) in Yogyakarta. The temple complex dates from the 9th Century when the island of Java was still part of a Hindu empire.
Nicholas with Rambling Feet
Amazing Borobudur in Central Java
The stunning Unesco World Heritage Site at Borobudur in Central Java, Indonesia is an amazing historic and cultural gem worth visiting. The Buddhist temple was created from the 8th to 9th centuries and restored with the help of Unesco in the 1970s to bring this amazing monument to its wonderful state. Reaching the top of the temple site, you will find over 72 open styled stupas with Buddhas inside. The best time to visit the site is during sunrise when you see the beautiful new day and the first rays of light on the façade, details and grounds surrounding the temple. Check out more details and images to visiting Borobudur here for more inspiration to visiting this Unesco site.
Noel with Travel Photo Discovery
Unesco World Heritage sites in Philippines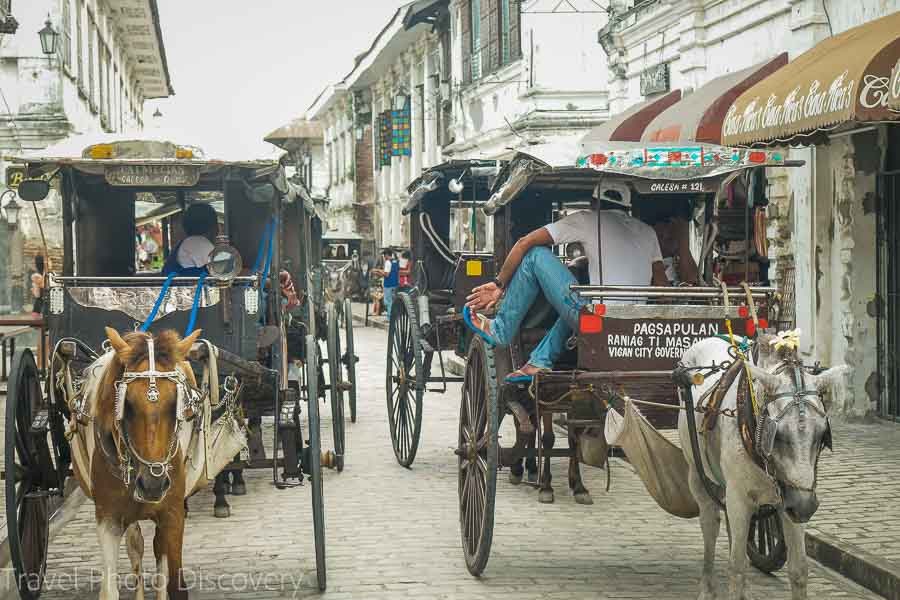 Visiting the Unesco site at Vigan City
Located in the northern region of Luzon at Ilolos Sud, the heritage site of Vigan city is a well maintained colonial Spanish city that has retained many of its architectural gems, churches and other public buildings throughout the city. You'll find beautiful public squares lined with gorgeous colonial era homes and buildings repurposed into hotels, restaurants and other tourist oriented attractions. Vigan City is delightful to explore on foot or by the traditional calesa or horse drawn carriage which visits many important landmarks in the city. Check out this post on visiting Vigan city for more images and inspiration to seeing this wonderful Colonial capital of Ilolos Sud in the Philippines.
Noel Morata with Travel Photo Discovery
Unesco World Heritage sites in Malaysia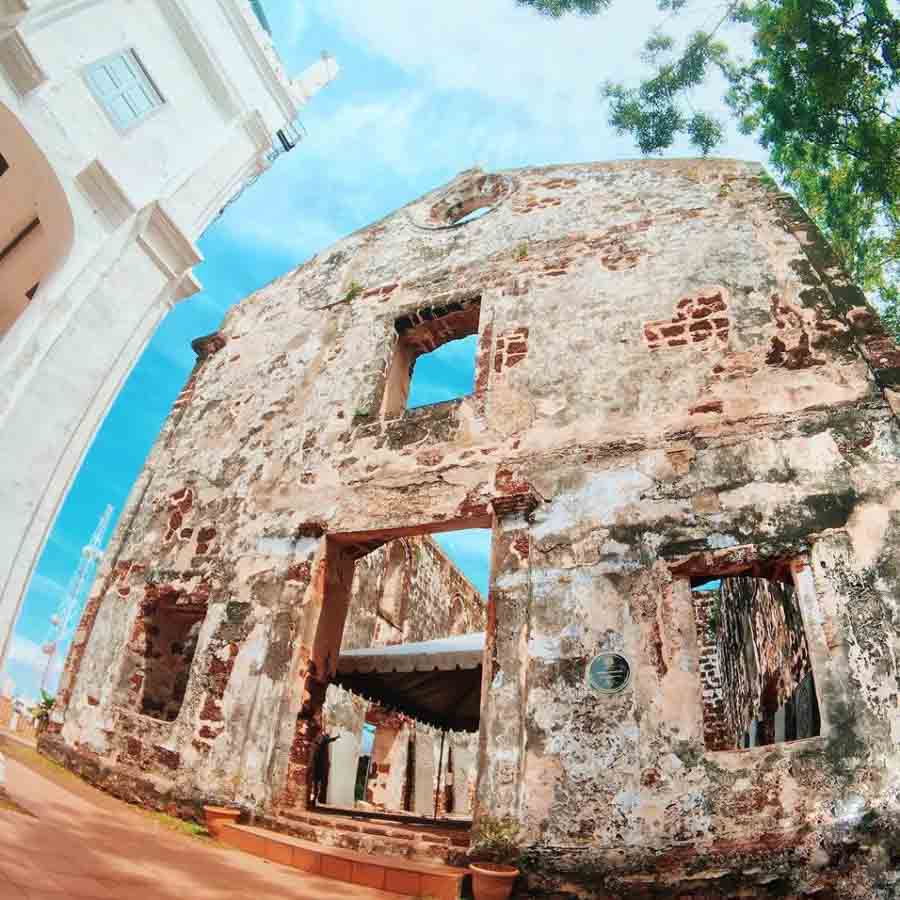 Unesco site at Melaka
If you're looking for a UNESCO World Heritage site in Asia that's diverse, easy to access and has a colorful history, Melaka is the place for you. This beautiful state in the southern region of Malaysia has so many attractions for visitors to explore. You can go around A Famosa Puerta de Santiago, an area that's full of tourists who wish to get to know Melaka's local culture. You can also see wonderful sites that represent the city's 2 most important religions and influences. St. Paul's Church is the oldest church in Malaysia and South East Asia and is the perfect spot to view the sunset. On the other hand, the Melaka Straits Mosque is a must-see even if it lies outside the city center. Other fabulous spots in Melaka include the Melaka River and the Red Square. Make sure to try the city's rickshaws, which are colorful, vibrant and musical vehicles meant for tourists who want to explore Melaka without getting too tired from walking around.
Although influenced by the Portuguese and many other South East Asian cultures, Melaka is unique in its own special way. It's a city that travelers all over the world are sure to enjoy.
What's the best way to unwind after a day around the city? Eating the local food, of course! Malaysian cuisine is so enjoyable because of the variety of flavor and influences in each dish.
Ruben Arribas with Gamin Traveler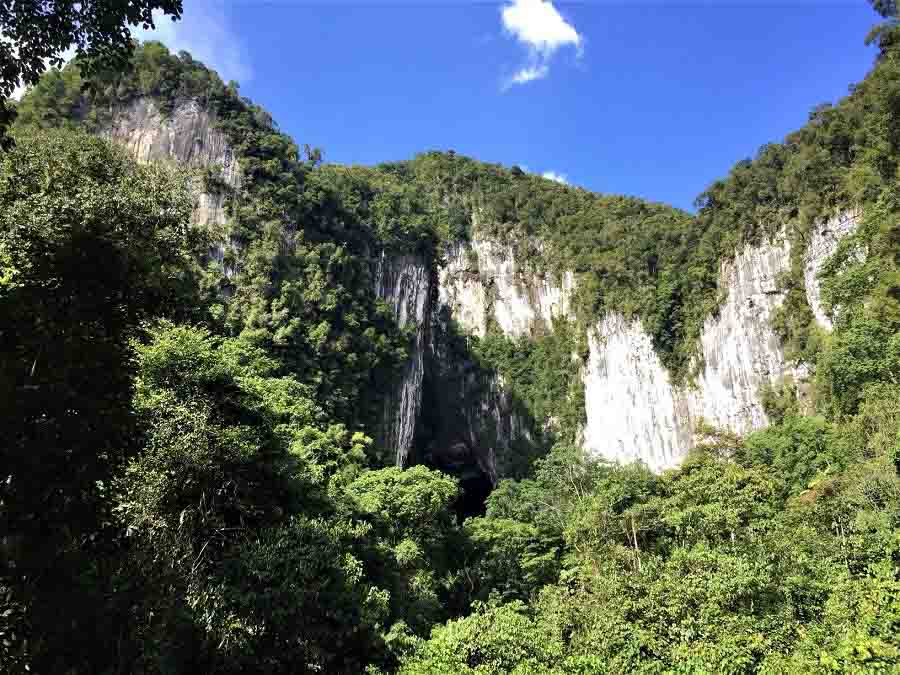 Gunung Mulu National Park
Gunung Mulu National Park is located in the north of Malaysia's Sarawak state, on the island of Borneo. When awarding World Heritage status, UNESCO commended the park's incredible biodiversity for both plants and animals, in addition to the amazing landscapes – particularly the limestone karsts (think of Halong Bay in Vietnam or Palawan in the Philippines and you're on the right track!).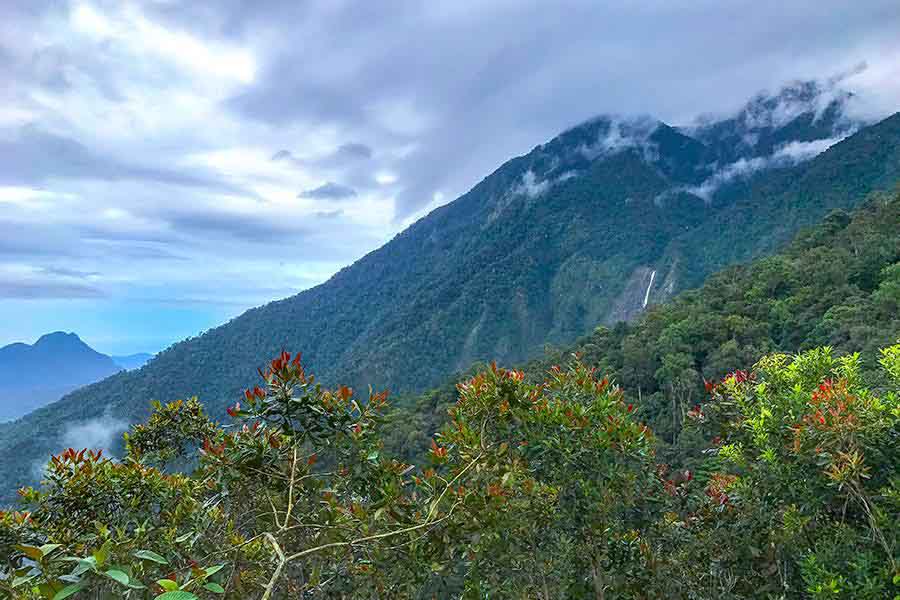 Visiting Kota Kinabalu
Kota Kinabalu, affectionately known by the locals as KK, is the capital of Sabah State in Malaysian Borneo. If you take a 2 hour drive from the capital you'll end up at UNESCO-listed Kinabalu Park, 75,370 hectares of lush tropical jungle, diverse wildlife and dominated by Mount Kinabalu standing 4,095m high.
Obtaining its World Heritage status in 2000, Kinabalu Park was Malaysia's first UNESCO site and it is absolutely worthy of its title. If you're a hiker, Kinabalu Park is absolute heaven as it ranges in altitude from 152m to 4,095m, from tropical to alpine. There are also nine different hiking courses to choose, from canopy walks to summiting the mountain, so it's a fun journey no matter what your fitness level.
Nature lovers will also be in awe of the rich biodiversity containing half of Borneo's plant species including the amazingly large and unique Rafflesia flower. Half of Borneo's birds, mammals and amphibian species also call Kinabalu Park home as well as two-thirds of Borneo's scaled creatures.
For a UNESO site in Southeast Asia that will leave you speechless and filled with awe, get to Kinabalu Park, especially between February to April (out of the monsoon months). Fly into Kota Kinabalu and book a ride from a legitimate vendor – it's the perfect weekend escape.

GEORGE TOWN, Malaysia
With attractive colonial buildings housing many refurbished and hip cafes, boutique hotels and guest houses, George Town is not just a must visit Unesco site in Asia, but one of Southeast Asia's most vibrant and artsy towns.
The Unesco listing arrived in 2008 thanks to the unique architectural and human landscape of this port town, once the Fourth Presidency of British India. A melting pot of various Asian, Eurasian and European ethnic groups, all with their particular heritage of cultures and foods, which all come together in the complex Malaysian tapestry of Penang island.
But thanks to a good public transport system, it's easy enough to leave the heritage site behind and take a bus to the other side of the island to Taman Rimba, Malaysia's smallest national park, that has a turtle hatchery and a few interesting jungle hikes that will show you another side of Penang.
Marco with Marco Ferrarese.com

Kilim  Karst Geoforest Park
The Kilim Karst Geoforest Park is one of three geoforest parks within Langkawi Geopark, Malaysia. It was endorsed by UNESCO in 2007. Many of the rocks that comprise Kilim were formed 490-370 million years ago, making it the oldest carbonate rock in the region. The Kilim Geoforest park has many caves, coastal karst, mangroves, fossils and a large variety of plants and animals to discover.
Tours around Kilim Geoforest Park take visitors around the beautiful mangroves, and to several places of interest such as bat caves, an island rich in fossils, a secluded beach, a floating fish farm, an eagle-watching area, or others depending on the tour. There are many tour boats and companies, and I highly recommend going with a responsible guide like we did. With so many tours available the area has a huge amount of people exploring it every day, making it very important to have a guide who takes preserving the area seriously.
Our tour company was educating people on other tours as we explored, teaching them practices to ensure they and the wildlife were not harmed. Our guide was also instrumental in helping other tour companies see that their practice of feeding wild eagles was actually making the birds less healthy. They didn't need to hunt as they were being fed chicken scraps all day by the multitude of tours, and this led to their eggs becoming brittle, less chicks hatching, and thus less eagles in the area to see. Now the tour boats only feed the eagles a tiny amount to bring them in view for the tourists, and the eagle populations are again thriving.
Langkawi island is good to visit pretty much all year around. We were there in November, the very start of the peak season, which runs until April. The wettest months are September and October. Tour companies arrange collection for passengers from their accommodation to the Kilim jetty, and provide life-jackets and refreshments.
Emma with Small Footprints Big Adventures
Unesco World Heritage sites in Vietnam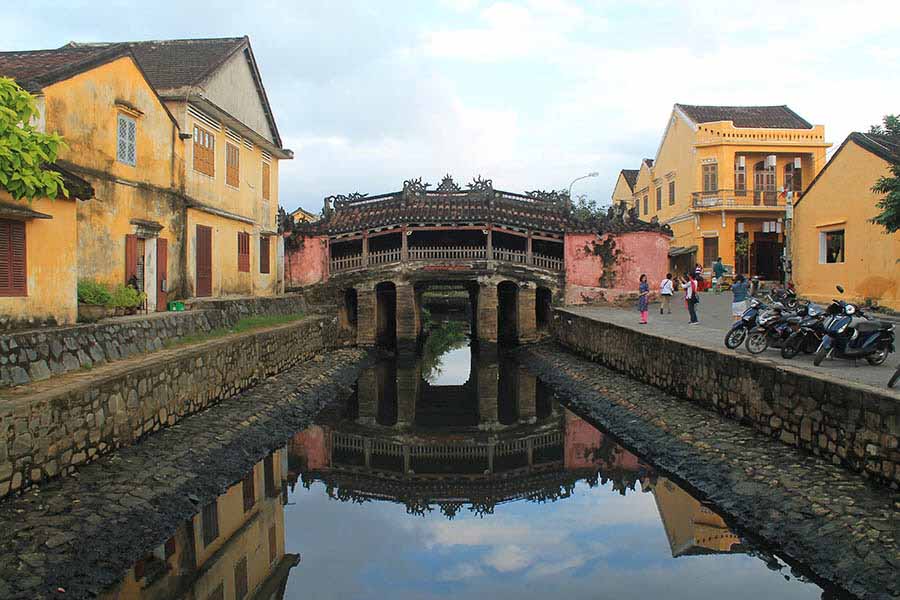 Hoi An Ancient Town, Vietnam
The perfectly preserved old town in Hoi An is home to a vast trove of buildings spanning various cultures and points in history. The quaint streets are lined with historic yellow buildings and the occasional temple or shrine. It can get pretty busy due to its popularity, but the crowds mainly gather around the Japanese bridge (which is awesome to see at night) and the bigger bridge which crosses the river. Escape that area and it's a relatively crowd-free experience. The streets of Hoi An's old town are filled with boutique shops (including heaps of tailors) and some classy restaurants, cafes and bars. There are several museums and galleries to explore and it's one of the best cities in Asia for food, from fine dining to delicious $1 meals. At night the old town is mostly lit with lanterns, giving it a unique charm. There is a lot to do in the surrounding area as well, including countryside cycling, beaches and the Marble Mountains, making Hoi An the perfect holiday destination. You can fly into Danang, which is only a 45 minute drive away, or you can catch a bus to Hoi An from most places in Vietnam.
Check out Jon's post on Things to do in Hoi An, Vietnam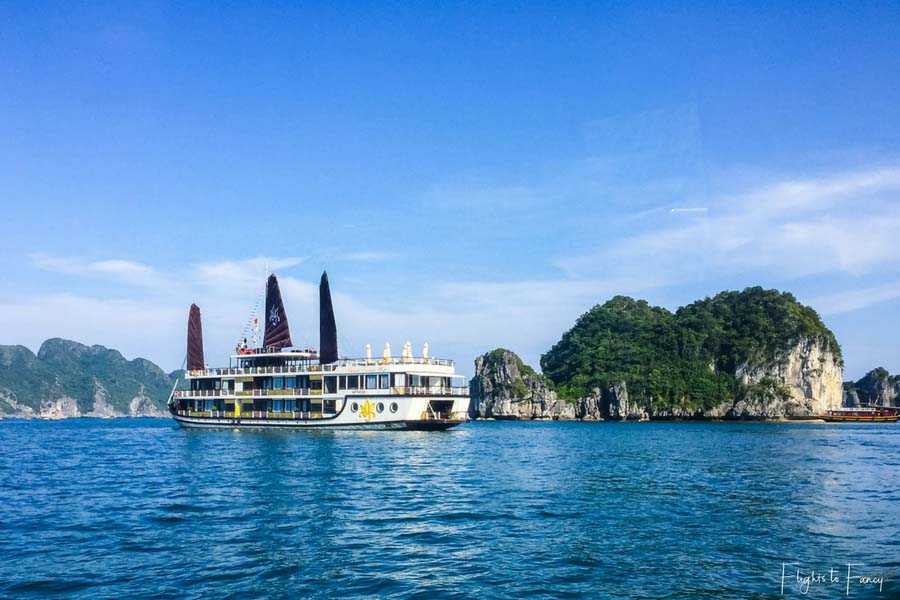 Unesco site at Halong Bay Vietnam
Asia is packed to the brim with UNESCO World Heritage Sites but if you only have the time (or the budget) to see one, it must be Halong Bay Vietnam. Halong Bay is located in the Gulf of Tonkin, about 170klms from Hanoi. The optimum time to visit is in Spring or Autumn but Halong Bay can be enjoyed year-round. The best way to experience Halong Bay is on an overnight cruise and we chose Orchid Cruise Halong Bay from the hundreds of cruises on offer. Most companies will offer a transport option from Hanoi or Hai Phong when you book your cruise. Halong Bay covers 434km2 and the scenery is truly breathtaking. It's easy to lose hours sitting on the upper deck watching the jagged limestone karsts, 1600 odd islands and vibrant emerald green waters pass you by. As one of the most visited regions in Vietnam, Halong Bay draws tourists en masse. While many boats jostle for position in the same sheltered coves, Orchid Cruises favour the lesser known areas so you get a sense of tranquillity and exclusivity while aboard. Whether you choose to kayak in the shelter waters of Bai Tu Long Bay, explore the caves of Cat Ba Island or simply admire the view from your private balcony, you will be blown away by the exceptional natural beauty of Halong bay.
Allison Smith with Flights to Fancy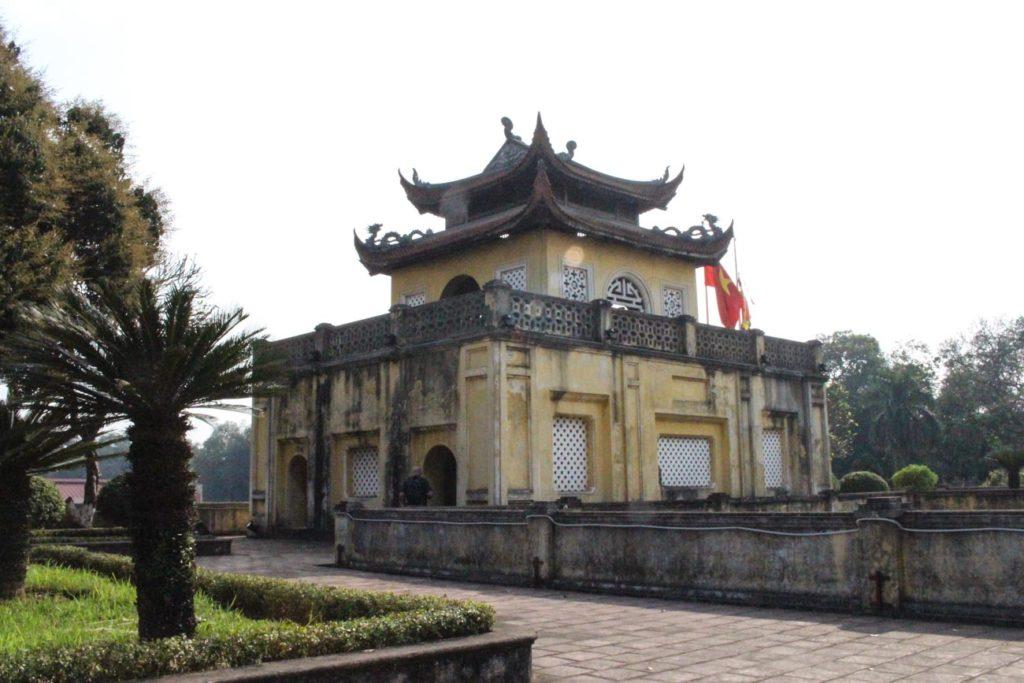 Thang Long Imperial Citadel
Hanoi is a must visit city in Southeast Asia, Vietnam's capital breathes history and one of its  main attractions is a UNESCO Heritage site worth checking out. The
Thang Long Imperial Citadel dates back to the 11th century when the Ly Viet Dynasty built their fortification on top of an old Chinese Fortress from the 7th century. The place has layers of history and it's a beautiful and calm spot to visit when you get tired of the hustle and bustle of Hanoi. If you are visiting Hanoi during summer, go to the Citadel early morning to avoid the heat and also the crowds. You will need at least 2 hours to explore the place and don't forget to visit the Hau Lau Palace, known as the Princess Palace, appreciate the design of the Doan Mon Gate and go to the excavation center just beside the Citadel.  There you can witness how the work to preserve Vietnam's history is done.

Unesco World Heritage sites in Cambodia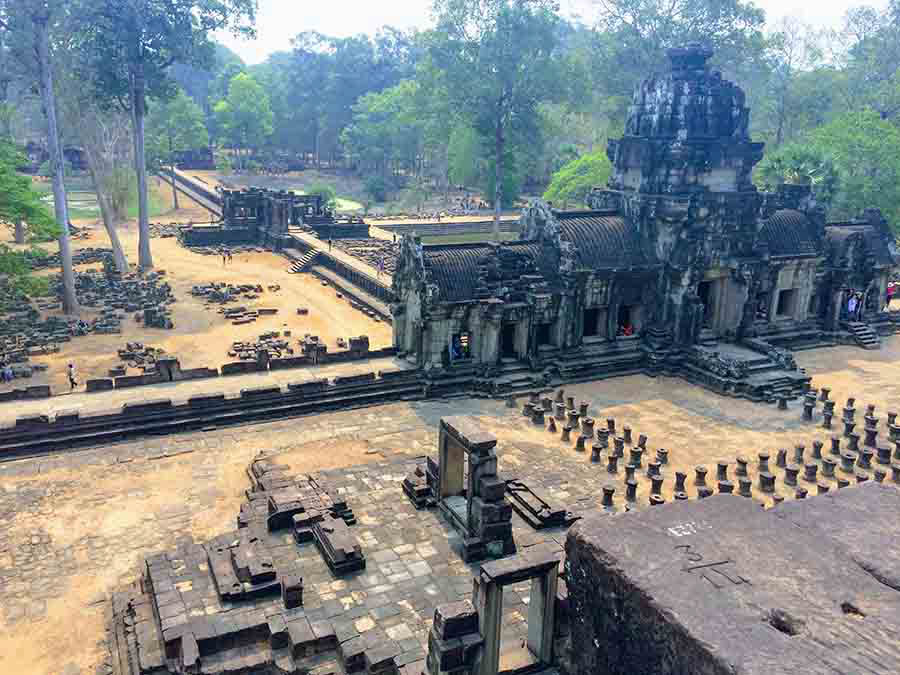 Angkor Wat complex temples
Angkor Wat is temple complex located near Siem Reap in Cambodia. It is a UNESCO world heritage site, and an absolute must-visit if you're travelling through South East Asia. Passes are sold in one-day, three-day, and seven-day blocks, and one day is definitely not enough time to see everything that you'd like to see.
Measuring 162.2 hectares, it is the largest religious monument in the world. French explorer Henri Mouhot is credited with rediscovering the ruins in 1860, or at least bringing it to the attention of Western Europe, and since then people have been travelling from all over the world to visit it.
You can visit Angkor Wat at anytime of the year, although November through March tend to be the driest months. Temperatures rarely drop below 30 °C throughout the year, and the weather can often be very humid. To get the most out of your visit, and to have as comfortable a visit as possible, it's best to get there close to dawn. Seeing the sun rise over Angkor Wat is an experience in itself, and another great reason to get there early.
There are several ways to visit Angkor Wat. You can hire a tuk-tuk driver for the day, who'll take you from temple to temple, go by bike or scooter, or go as part of a tour. Having a driver or arriving by bicycle will give you the most flexibility, allowing you to make the most of your time there.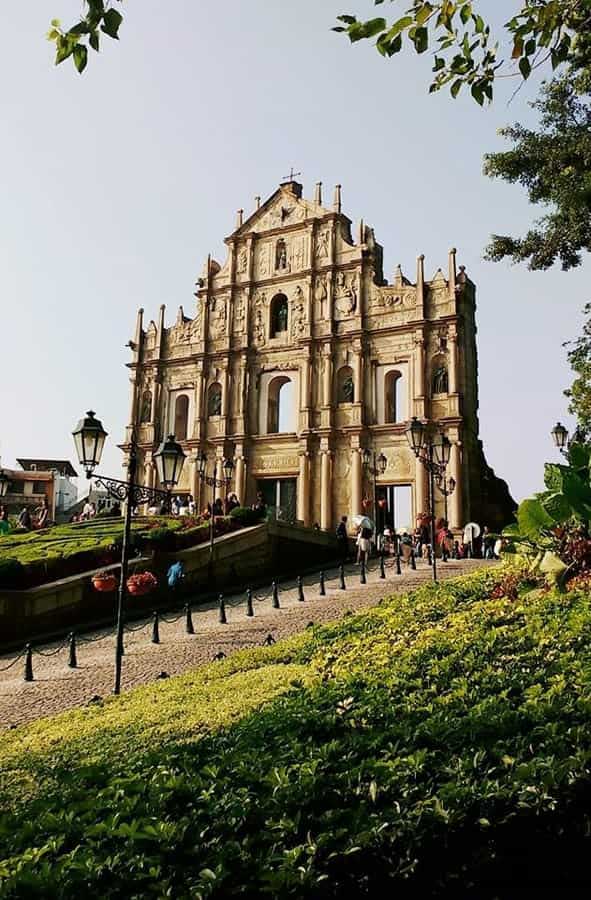 Unesco World Heritage sites in Macau
If you always thought Macau is all about the glitz, glamour, and gambling, I've news for you.
This tiny autonomous region (of the People's Republic of China) traces its roots back to the Portuguese who landed upon its shores in the mid-sixteenth century. And because of the European influence, modern-day Macau is rich in cultural diversity. A perfect mix of the east and the west.
The Historic Center of Macau is a collection of thirty sites that bear testimony to the marvelous co-existence of two very different cultures – Portuguese and Chinese. And because of this unique legacy, it was recognized as a UNESCO World Heritage Site in 2005.
Some of the most notable highlights of the Historic Center are the A-Ma Temple, Senado Square, St. Dominic's Church, the Ruins of St. Paul's, and the Na Tcha Temple. The best part about these sites is that most of them are located pretty close to each other. So, you can easily cover them on foot within a short time.
If you're on a budget, the best way to travel to sites that can't be covered on foot is to take a bus. They're pretty cheap and freely available. I would recommend using Google Maps to check for bus numbers and routes.
Don't forget to taste some of the delectable Portuguese cuisine (including the Portuguese Egg Tart) while you are there. All along Senado Square and the nearby areas, you'll come across many shops that sell these.
The best time to visit Macau is the fall – which lasts from October to December. The days are pleasant with almost no rain or storm at this time.
Chandrima Chakraborty with Travel Stories Untold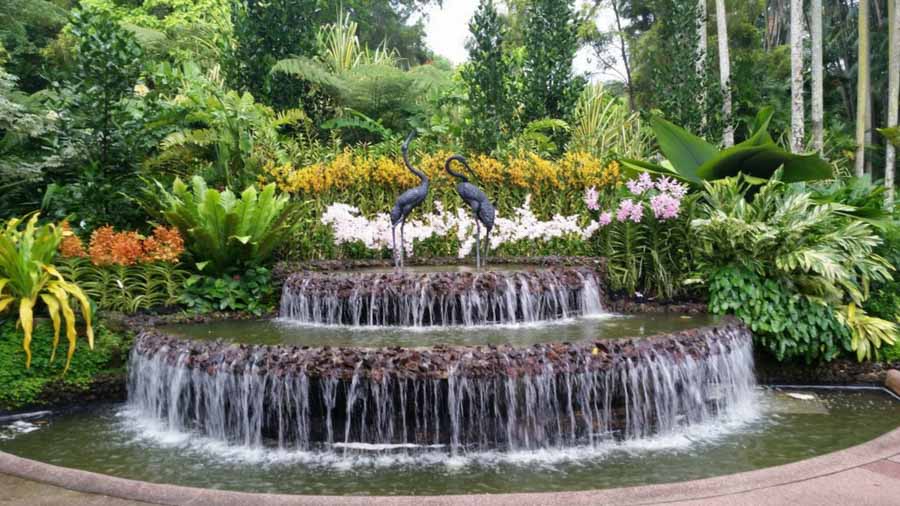 Unesco World Heritage sites in Singapore
The highlight is the National Orchid Garden which houses the largest display of orchids in the world. The Singapore Botanic Gardens are free to visit except for the National Orchid Garden which charges a small admission fee. Getting there using public transportation is easy as it is located in the center of Singapore and close to a MRT station. The gardens are open from 5 am to 12 midnight daily but as the climate in Singapore is very hot and humid it is best to visit early in the morning.
Matilda with the Travel Sisters
Unesco World Heritage sites in Laos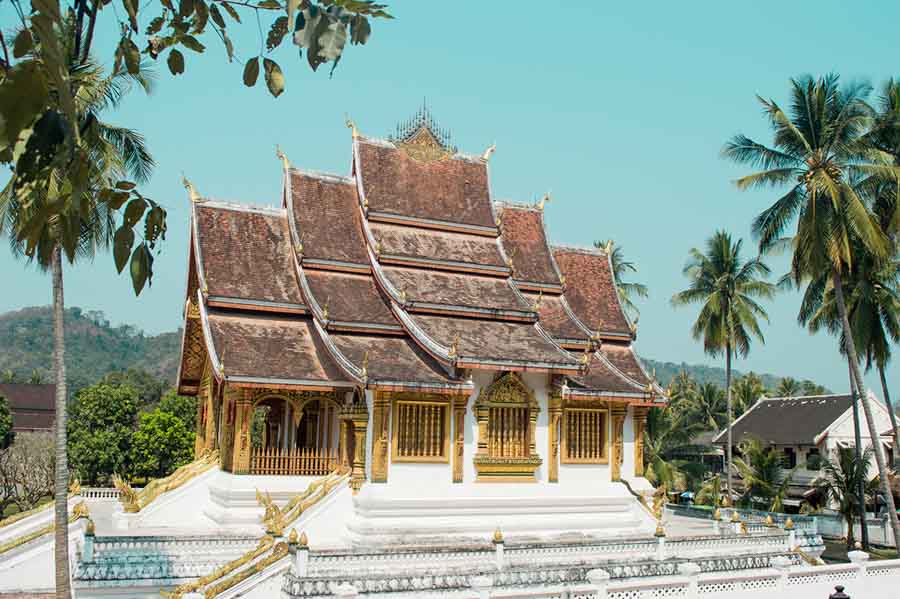 Luang Prabang Township
The gorgeous township of Luang Prabang in Laos is undoubtably on of the top UNESCO sites to visit when in Asia. With a delightful mix of traditional Lao architecture and urban dwellings built by European colonial authorities during the 19th and 20th centuries.
This well-preserved township is a photographers paradise and attracts many tourists throughout the year. The Luang Prabang Night Market, held each evening, is a main attraction and one thing you must not miss. Enjoying sitting back and having a bite while taking in the amazing blend of European and Laotian architecture with traditional wooden structures alongside the European styled brick houses. The only buildings in Luang Prabang which are made of stone are the temples.
The best time to visit Luang Prabang is between December and February. This is when it is considered the dry season so no need to worry about any crazy downpours. There is an international airport into Luang Prabang which makes it accessible to a wide range of travellers.
This well preserved town of Laotian and European fusion architecture is the  perfect illustration of two distinct cultures blending together and is one of the bets UNESCO sites in Asia.
Tasha Amy with Backpackers Wanderlust
Unesco World Heritage sites in Central Asia
Registan: Samarkand, Uzbekistan
Just a mention of the words Silk Road conjures up images of dusty caravans and cities full of traders, bustling about from all over the globe. There is not one other single site along this ancient route that can take you back like the Registan in Uzbekistan. While the camels and traders have now been replaced with tourists, it is still not too difficult to imagine how glorious this complex must have been. This was the epicenter of central Asia as Samarkand was an important city, being the capital of Timur's vast empire. As such, they saved no expense to make this square one of the grandest in central Asia.
The Registan is comprised of three Medressas, or religious schools, that date back to the 15th to 17th centuries. All three have been laboriously restored after falling into decay over the centuries. All of them have beautiful tile work inside and out, the prettiest being Sher Dor Medressa with its lions chasing two deer with a Mongolian inspired sun against their backs.
Tickets are good for the entire day so if you plan to come back, be sure to tell the guard your intentions so that he does not rip your ticket. In the evening, there is also a sound a light show that you can watch for free. Inside the medressas, craft and artisan shops now occupy what were once the schools' dormitories. Have a look around and if you find something you like, be sure to bargain hard.
Uzbekistan is blistering hot in the summer and bitterly cold in the winter so the best time to visit is in the spring or autumn when temperatures are pleasant. Samarkand is easily reached from the capital, Tashkent, by fast train but be sure to book tickets well in advance. If you fail to obtain a ticket, you can always take a share taxi which will take no more than three and a half hours to complete the journey.
Some tips to visiting these Asian Unesco World Heritage Sites
Here are some tips for visiting UNESCO World Heritage sites in Asia:
Plan ahead: Before visiting any UNESCO site, do some research and plan your trip in advance. Check the visiting hours, ticket prices, and any rules and regulations that you need to follow. Some sites require advanced booking or have limited access, so plan accordingly.
Respect the site: Remember that UNESCO World Heritage sites are cultural and historical treasures that need to be protected. Respect the rules and regulations of the site, avoid littering, and take care not to damage any structures or artifacts.
Dress appropriately: Some sites may have dress codes, especially religious or sacred sites. Make sure to dress appropriately and respectfully.
Be prepared for the weather: Many UNESCO sites in Asia are located in hot and humid areas or in mountainous regions with cold temperatures. Check the weather forecast and bring appropriate clothing, sunscreen, and insect repellent.
Hire a local guide: To fully appreciate the history and culture of the site, consider hiring a local guide who can provide insights and context. They can also help you navigate the site and answer any questions you may have.
Be mindful of other visitors: Some UNESCO sites can be crowded, especially during peak season. Be patient and respectful of other visitors, and avoid blocking pathways or taking up too much space while taking photos.
Take your time: UNESCO World Heritage sites are often vast and complex, so take your time to explore and appreciate them fully. Don't rush through the site or try to see everything at once. Take breaks, sit down and soak in the atmosphere of the site.
Final thoughts or tips?
So which sites attracted you the most to start planning a visit to any of the Unesco sites in Asia? Please share any of your experiences in the comments below, we would love to hear your observations.
Conclusion to visiting the Top Unesco World Heritage sites in Asia
In conclusion, visiting the UNESCO World Heritage sites in Asia is a captivating journey that immerses you in the rich tapestry of the continent's cultural heritage. These extraordinary sites, recognized for their outstanding universal value, offer a glimpse into the history, artistry, and ingenuity of civilizations that have shaped Asia.
Thanks for visiting today and checking out this post on Top Unesco World Heritage sites in Asia,  if you enjoyed the images and post, could you please share it with any of the social media buttons located around the post.
If you like what you see, come and check out my other social media channels for more updates, including Instagram, Pinterest and Twitter
Disclosure – There are affiliates links on this posts which provide a small commission to support this site at no extra cost to you. Thank you for reading, and happy travels.