Visit the national parks of the USA now (updated 2021)
The national parks of the USA are the must see attractions when you travel across the country or just specific regions in the United States. Inspiring desert scape, amazing canyons and bluffs, serene lakes to magnificent forest lands and spectacular landscapes, the top USA national parks by state listed below inspires and my fellow travel bloggers will show you the best tips, photo spots and other inside stories to visiting these wonderful parks. Take a look at this collaboration of the best national parks in the USA and start planning your trip soon to seeing these gems and must visit natural and historic monuments.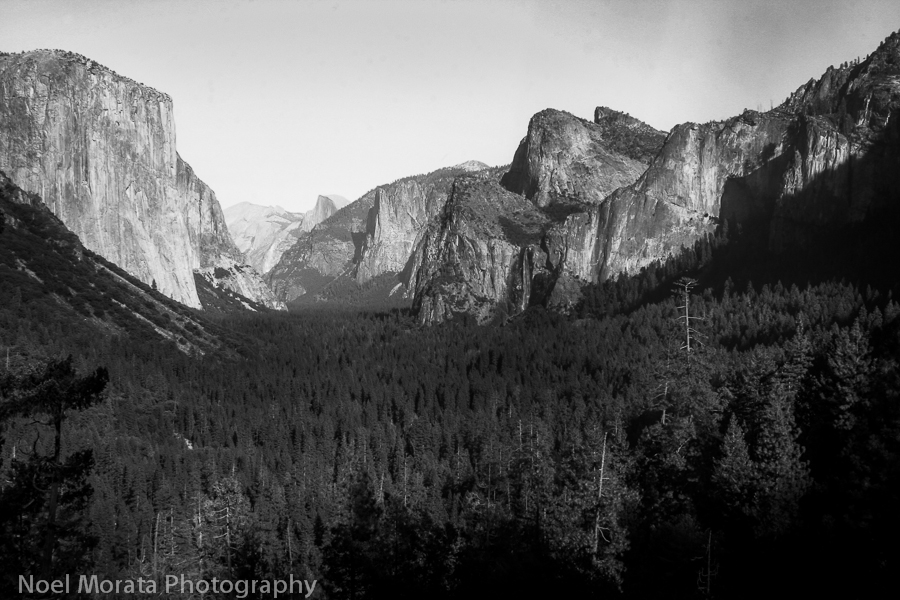 Check out these top list national parks in the USA
Alaska National Parks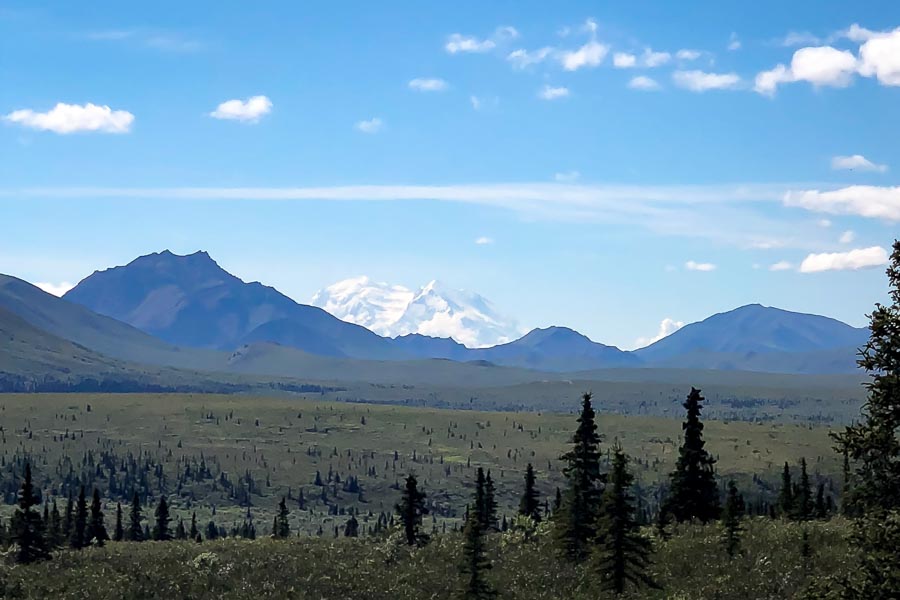 Denali National Park
Denali National Park & Preserve is probably one of the most visited regions of Alaska. Previously known as McKinley National park, this six million acres of mostly untouched wilderness is home to magnificent bears, caribou, wolves, and over 35 species of mammals including lynx, marmots, marmots, and snowshoe hares.
Although I've driven to Denali Park and love the scenic views including the restaurant stop where the "Into The Wild Bus" replica sits, I particularly enjoyed taking the train from Fairbanks train depot straight to Denali.
Denali which means The High One in Athabaskan is so tall that it often creates its own weather. And with the almost 24 hours of daylight in the summer, you stand a good chance of seeing this mountain. Take your trip to the max by visiting this national park in the fall for the opportunity of a lifetime: the Northern Lights and North America's tallest peak.
Although some people might argue that one day is all you need to experience Denali, you might need to stay longer to truly get the most out of your time at this national park.
TIP: Plan ahead as the lodges in the park can be a little pricey. And if you're not keen about spending too much money, get on the morning train from Fairbanks to Denali and use the last return train back to Fairbanks. There is plenty to see and do in Fairbanks including Chena Hot Springs, Santa Claus House, Pioneer Park, the Reindeer Ranch, Creamers' Field and Migratory Reserve, and the cultural center.
Contributed by Louisa Moje of La Passion Voutee
Check out reviews and prices to hotels here close to Denali National Park
Arizona National Parks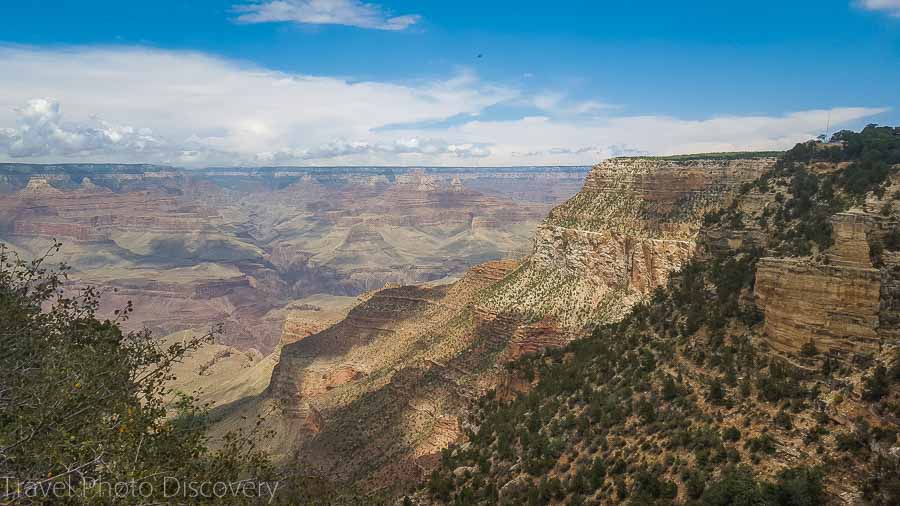 Grand Canyon National Park
One of the grandest and must visit national parks to visit in the USA, Grand Canyon National Park is a real jewel and stunning showcase of the incredible showcase of national parks in the United States. The Grand Canyon has a fascinating geological history with layered rocks of red an other colored rocks showing millions of years in its making. Not only is the Grand Canyon a national park but it is also a Unesco World Heritage site established in 1979 and considered one of the seven natural wonders of the world.
For fantastic views and photo opportunities a South Rim trail hike also known as the South Kaibab trail head is an easy and flat 1.7 miles one way from Monument Creek Vista to Hermits Rest in the Grand Canyon Village. For the best photography spots, look out for scenic viewpoints like Avapai Observation Station, Mary Colter's Lookout Studio and her Desert View Watchtower, Mather Point and Lipan Point, with wide views of the canyon and Colorado River. Check out my post about walking through this trail and historic highlights of the Grand Canyon Village here for more inspiration, images and details to visiting the area.
Noel with Travel Photo Discovery
Check out reviews and prices to hotels here close Grand Canyon National Park
California National Parks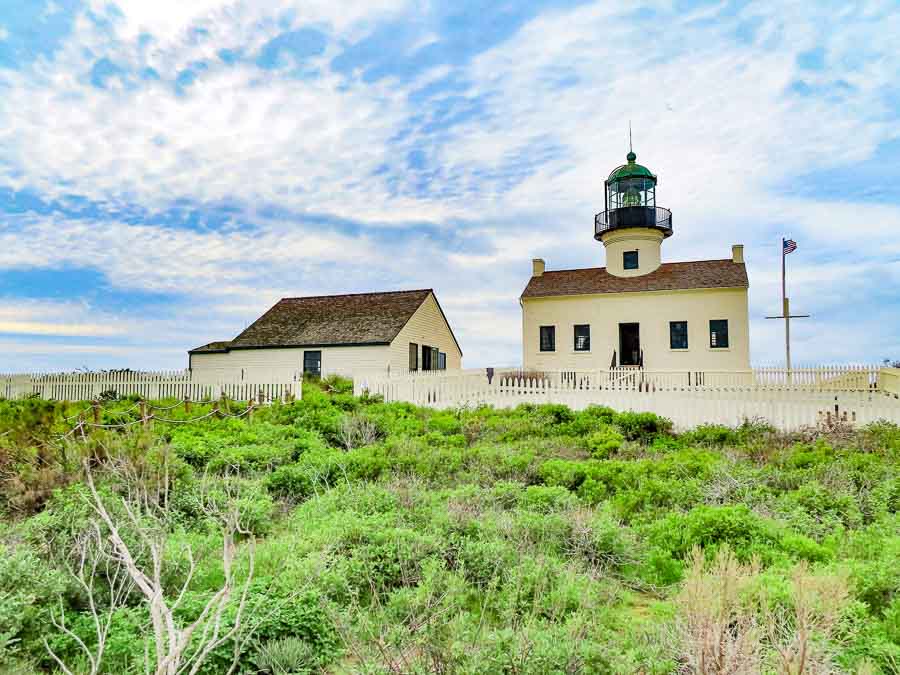 Cabrillo National Monument
Visiting San Diego in Southern California? Make sure you put a visit to the Cabrillo National Monument on your itinerary for America's Finest City. Located at the tip of the Point Loma Peninsula on a hill overlooking San Diego Bay, Cabrillo National Monument is both historic and beautiful.
You will find many interesting things to do at Cabrillo National Monument. Start by heading to the Visitor Center, where you can watch a film that gives you more information about the history of the monument. From the grounds of the Visitor Center, you can see Ballast Point, where a European expedition set foot in California for the first time, in September of 1542.
The Juan Cabrillo Monument was gifted to the USA by the government of Portugal. The original statue was damaged by the elements, and the statue that stands in the park today is a sandstone replica of the original. From the viewing area around the statue, you can get beautiful views of the San Diego skyline.
The park also has a couple of easy trails, an old lighthouse, west-facing view points from where you can see migrating whales in season if you are lucky, and some of the best tide pools in the area. Whether you love history, hiking, views, or photography, you will have a great time at Cabrillo National Monument!
Dhara from It's Not About the Miles
Check out reviews and prices to hotels here close to Juan Cabrillo National Monument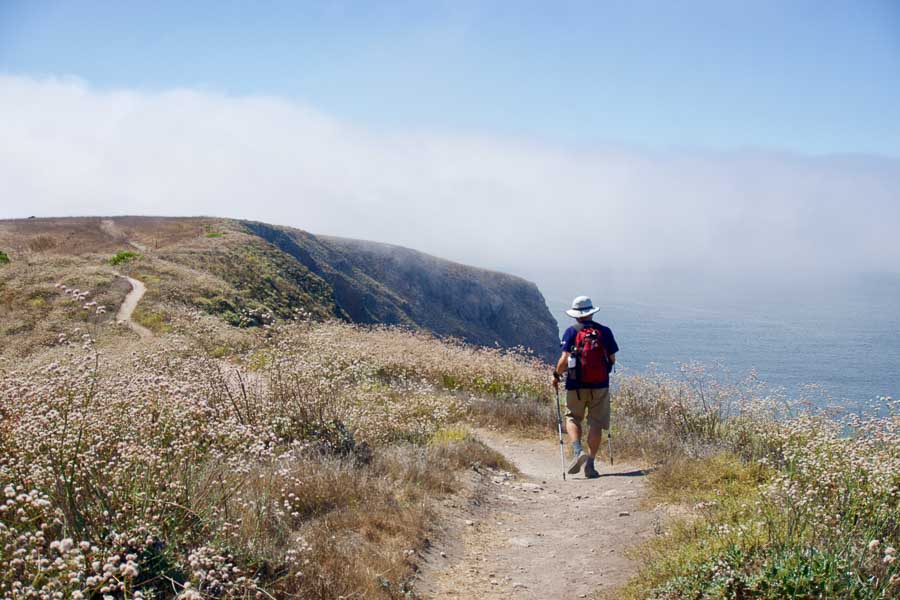 Channel Islands National Park
Channel Islands National Park is located off the coast of California, about a one hour ferry ride from Ventura or Oxnard Harbors. Comprised of five islands; Anacapa, Santa Cruz, Santa Barbara, San Miguel and Santa Rosa, this is one of the least visited national parks in the U.S. So if you are looking for a more peaceful experience, this is the place for you.
In addition to the land being protected by the National Park Service, the ocean waters surrounding the islands are a National Marine Sanctuary. As a result, the opportunities to enjoy marine life are excellent and visitors should spend some time in the water either kayaking, snorkeling or diving. Kayaks can be rented on some of the islands, or guided tours can be booked. Similarly, snorkeling and diving can be done alone, or as part of an organized group. Channel Islands is home to the largest concentration of sea caves anywhere in the world, so be sure to get out on the water while visiting.
It's very common to see whales, dolphins, garibaldi, sea stars, sea urchins, and harbor seals in these waters. Avid bird watchers will also love the Channel Islands since several species of birds nest here.
Hiking is among the most popular activities with trails available on all the islands. Distances and levels of difficulty vary, so consult with the volunteers at the Visitors Center in Ventura Harbor for maps and guidance. On some islands, short, guided nature hikes are available and a great introduction to the flora and fauna.
The Channel Island National Park ferry should be reserved in advance through Island Packers, especially if you opt to visit on a weekend. There are no services on the islands so be sure to bring all food and water needed for the day, and to bring trash back to the mainland. Primitive camping is also available and can be reserved through the National Park Services website.
—
Wendy Lee with Empty Nesters Hit
Check out reviews and prices to hotels here close to the Channel Islands National Park

Yosemite National Park
California's Yosemite National Park has to be high on everyone's 'must visit' list. Which it certainly seems to be as it welcomes over 4 million visitors looking for outdoor fun every single year!
But it's not just for the sporty types amongst you. Yosemite can be as relaxing as you want it to be by just drinking in those spectacular views and soaking up the natural beauty of your surroundings.
Driving into Yosemite Valley, which is a good 60-90 minutes drive from the entrance, you'll first approach Tunnel View. It's possibly the most iconic vantage point, taking in fabulous views of Half Dome, El Capitan, Bridal Falls and the entire Valley.
You'll be astounded by the granite rock formations towering above you. But you'll need to get up high to really appreciate the sheer scale of the landscape. Our tip is to start out early. Really early. Plan on being at Glacier Point for sunrise, before the crowds arrive, and sit with your breakfast beverage of choice whilst surveying the jaw-dropping geological spectacle in front of you.
The summer months of June, July and August bring the best weather and the biggest crowds. But we'd thoroughly recommend mid-to-late May when the waterfalls are at their best as the melting ice and snow plunge into the valley.
Day hikes are plentiful and suit all physical capabilities. But our favourite has to be the hike to Taft Point with its mile-high vertical drop and panoramic views across the valley.
Our tip for getting the most out of the park? Stay as close to Yosemite Valley as your budget will allow and get out early before the crowds!
Check out Nicky's post on visiting Yosemite valley in three days with AboveUsOnlySkies
Check out reviews and prices to hotels here close to Yosemite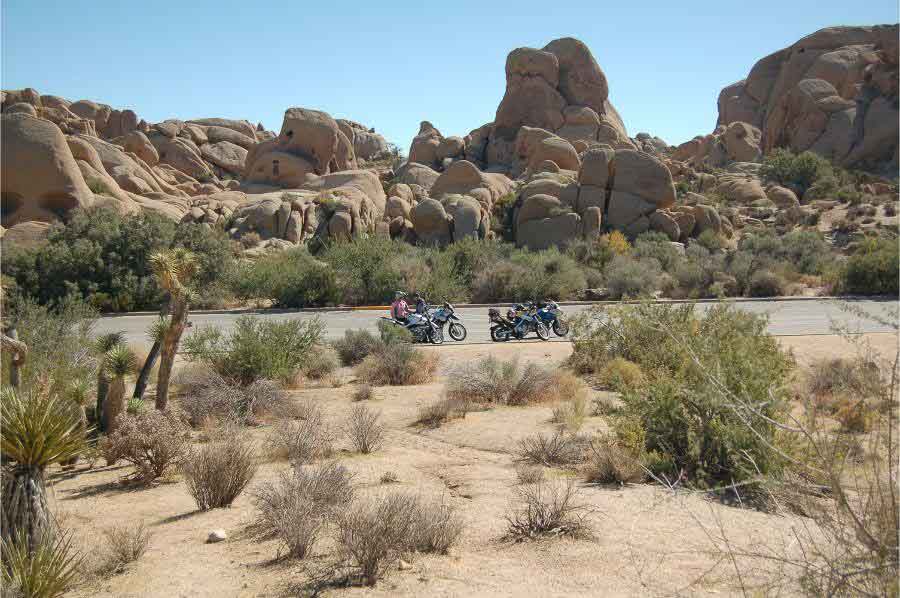 Joshua Tree National Park
Joshua Tree National Park covers about 800,000 acres of epic wilderness and gets nearly 3 million visitors a year. During the years I lived in the Palm Springs Area, I visited this park many times to hike, take photos, and sometimes just to drive through to our favorite lunch spot, Joshua Tree Country Kitchen. Anthony Bourdain even loved this little hole in the wall – make sure you order one of the Cambodian dishes posted on the fridge. Most of my visits to the park were on two wheels, my favorite way to enjoy the twisty roads and otherworldly rock formations. The park fee for cars is $30, $25 for motorcycles, this gives you a 7-day permit.
The drive through this national park is spectacular so take your time and be prepared to stop a lot to take in the scenery. There are several iconic sites to visit, like Skull Rock, Arch Rock, Barker Dam, Keys View, Cholla Cactus Garden, Ocotillo Patch, and Cottonwood Springs. There are campgrounds and a few tiny homes you can rent, complete with hot tubs and fire pits.
Things to know:
There is no cell service in the park, but there is public wifi at the Oasis Visitor Center in Twentynine Palms, and at the Joshua Tree Visitor Center at the West Entrance. There are 4 visitor centers with restroom facilities. Check the weather before you visit and bring appropriate clothing, water, and sunscreen. The busy season is Oct-May and the temperatures during these months can vary greatly. They even got snow this year!
Lizzie with Lizzielau.com
Check out reviews and prices to hotels here close to Joshua Tree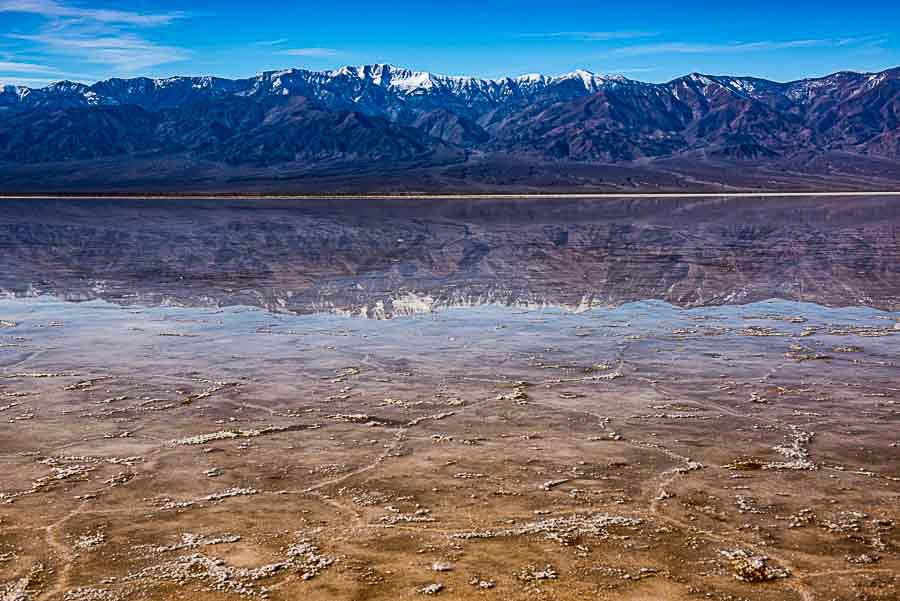 Death Valley National Park
Death Valley is a driving park. The distances between interest points are long and the roads are often curvy and steep. So, you'll spend a lot of time in the car.
But, there are plenty of hiking trailheads at various spots along the road, and winter is a great time to hike in Death Valley. Although it can be a bit chilly in the morning, the afternoons warm up nicely into the 60s and made for perfect hiking weather. Death Valley is the hottest place in North America, so if you visit in the summer, be very prepared.
Our favorite spots for scenery and a bit of hiking include:
Zabriskie Point on the east side of the Park. The viewpoint near the road overlooks the Furnace Creek formations, and the stark badland landscape photographs well in bright sunlight. If you like, you can hike a way into the area or start the hike around Badlands Loop. Connector trails lead to Golden Canyon, Gower Gulch, and Red Cathedral.
Mesquite Flats Sand Dunes are an interesting, but a bit difficult, walk in the fine sand. There are no paths into the dunes, so if you want to get back to the more pristine and higher dunes, you'll be walking half an hour through the deep sand. The further you go, the fewer footprints of other hikers you'll find.
Badwater Basin is the actual name for Death Valley. Being there in the winter means you'll get to see little bit of water in it if you're willing to walk a mile or so from the parking lot. And, if there's water, there can be an amazing reflection of the Amaragosa Mountains to the east. That's the prime photo spot in the Park.
Tom with Travel Past 50
Check out reviews and prices to hotels here close Death Valley
Colorado National Parks

Garden of the Gods, Colorado Springs
Garden of the Gods is one of the most visit park and National Landmark in the country. There are many great reasons for the huge popularity, such as proximity to popular tourist and urban areas; free of charge all year long; tons of activities; and absolutely gorgeous. I visited Colorado Springs as part of my first ever solo trip and I had a time of my life.
For a relatively small park in the region, Garden of the Gods has numerous must do activities such as –
Visit state of the art visitor center with broad spanning views
Outdoor Rock Climbing at various levels
Photography of stunning scenery and wildlife
Hikes and strolls surrounded by beautiful red rocks
Jeep tours
Segway rides
Horseback rides
Wildlife viewing
The red rocks and lush greens of The park make for some amazing photos. Any spot is great for taking pictures but some are outstanding. A couple of my favorites photo spots are –
Pictures of the entire Garden of the Gods from the top of the red rocks at the end of my first mountain climb with Front Range climbing company.
Drive around the park and look down at the valley. Mind you there is no parking on the road but you can park elsewhere and walk over for full views of the red rocks. People launch their drones from the road at the back of the park for shots of rock climbers. I know because I saw a drone filming me as I was climbing.
Check out Jyoti's post on rock climbing at Colorado Springs.
Check out reviews and prices to hotels here close to Garden of the Gods

Black Canyon of the Gunnison National Park
Duane Vandenbusche writes in his book, Images of America, "Several canyons of the American West are longer and some are deeper, but none combines the depth, sheerness, narrowness, darkness, and dread of the Black Canyon." This is a perfect description of the canyon you will find in the Gunnison National Park. I promise that once you arrive, you will be taken aback by the sheer magnitude.
The park is situated across the Rocky Mountains in Western Colorado, so you can either fly into Grand Junction or drive from Denver and enjoy some beautiful sights, including Vail and Breckenridge. Be sure to check local information for weather conditions in the winter and road construction in the summer. Of course, there is plenty of camping in the area, but if you want to relax, find a comfortable Airbnb in Montrose, meet some locals, and enjoy a fantastic farmers market during the summer months.
Once you are ready to make your visit, there is a north and a south entrance to the park, but only the South entrance is open during the winter. Try to give yourself plenty of time because you pay for a day pass, whether you use 8 hours or 8 minutes. Keep in mind that parking is hard to find at the visitor center, so park in one of the scenic stops and enjoy a flat, easy hike there instead. They ticket aggressively, so avoid parking on the road.
Fun Fact! Black Canyon was a film site for the 1964 acclaimed comedy, The Unsinkable Molly Brown. The movie inspired us to visit the national park, and it was just as breathtaking as the movie depicted. If you are ever in Colorado, you should visit the park. You will be glad you did.
Contributed by Zeb from That Movie Site
Check out reviews and prices to hotels here close to Gunnison National Park
Hawaii National Parks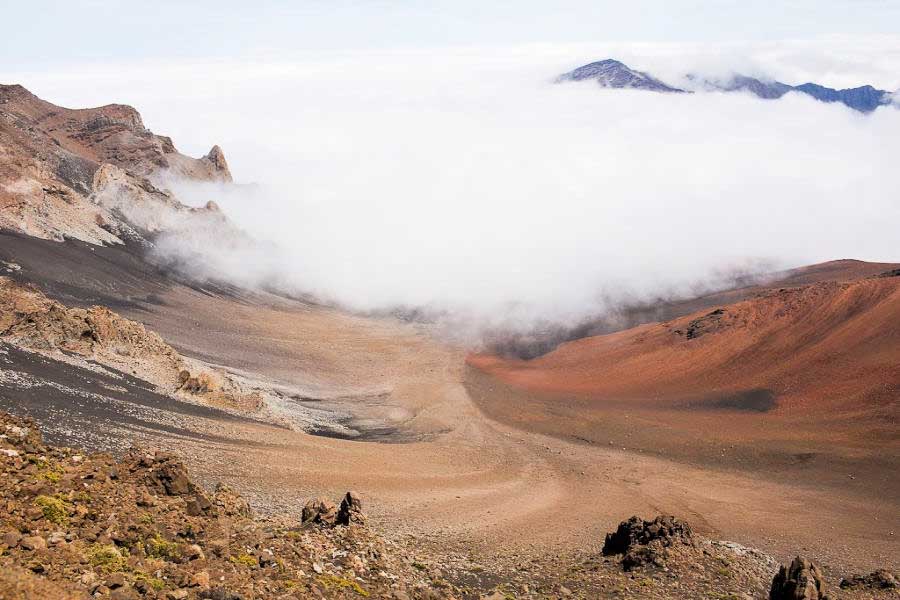 Haleakala National Park
The crater of the Haleakala volcano can be seen from almost every point on the island of Maui, in Hawaii. This inactive volcano is 3055 meters above sea level and is one of the most incredible places on the island. You can drive to the Haleakala Visitor Center. It takes approximately 2 hours by car from Kaanapali and Wailea to the top of the volcano.
If you travel to Maui, be sure to climb the Haleakala volcano, one of the best places to visit in the US. It is best to climb to the top of the volcano an hour before the sun goes down, so you can watch, above the clouds, one of the most beautiful sunsets in Hawaii.
But there are more things to do in Haleakala National Park, such as a hiking trail between red sand and volcanic rocks. Best trails are located in Kipahulu area, including the Keoneheehee Trail and the Pipiwai Trail. You can tour the park on your own or with a guide that will take you through the most beautiful areas with panoramic views. Besides, you can e lucky and watch some of the endangered species that live here. Visitors can also camp in the park, as there are campsites and cabins available.
Sara with Mindful Travel by Sara
Check out reviews and prices to hotels here close to Haleakala National Park
South Dakota National Parks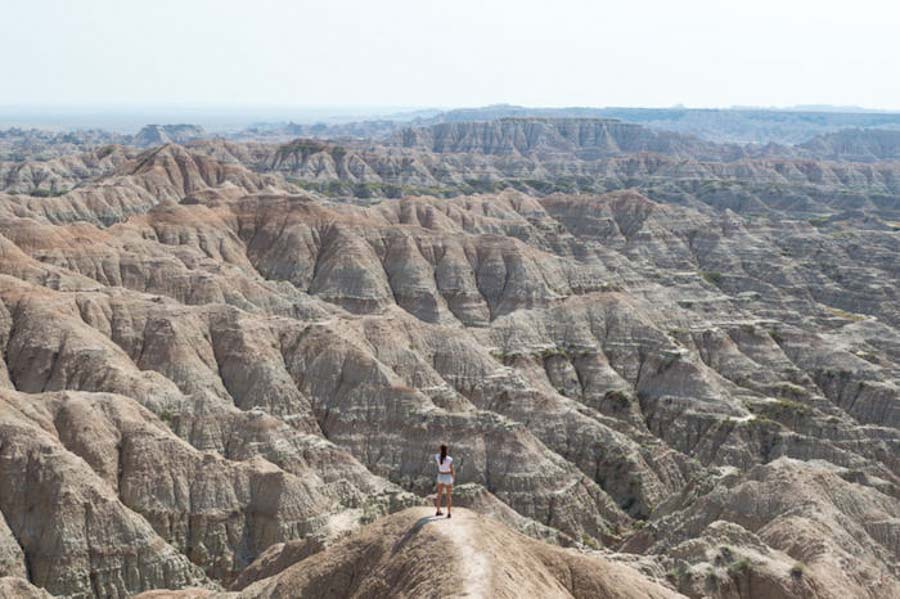 Badlands National Park
The Badlands National Park in South Dakota is a unique place with layered rock canyons. While the park is fairly large, a lot of it looks very similar. It's easy to drive around to different viewpoints or drive through the canyons, but you can also find some fun hiking trails as well that lead you into the rock formations.
One thing to keep in mind is that the Badlands can get very hot and there is no shade. In the middle of summer, temperatures were too high to do any hiking and the only times we could get out and explore were mornings or evenings. If you want to brave the heat or are there during milder temperatures, the Door Trail, Window Trail and Notch Trail are popular hikes to do!
If you drive along the rim roads, you'll be able to stop at any of the viewpoints for a great view of the rock formations. Camping is also allowed in the National Park without any permit. You can even camp among the spires if you follow the park requirements of being far enough away from any of the trails. Just be prepared that you will have to drag your camping gear out there in the heat!
Even if you don't have much time to visit, the Badlands National Park is still a great place to visit because the viewpoints are accessible and the views from the car and pretty great too.
Check out Ashley's post on visiting Badlands National Park
Check out reviews and prices to hotels here close to Badlands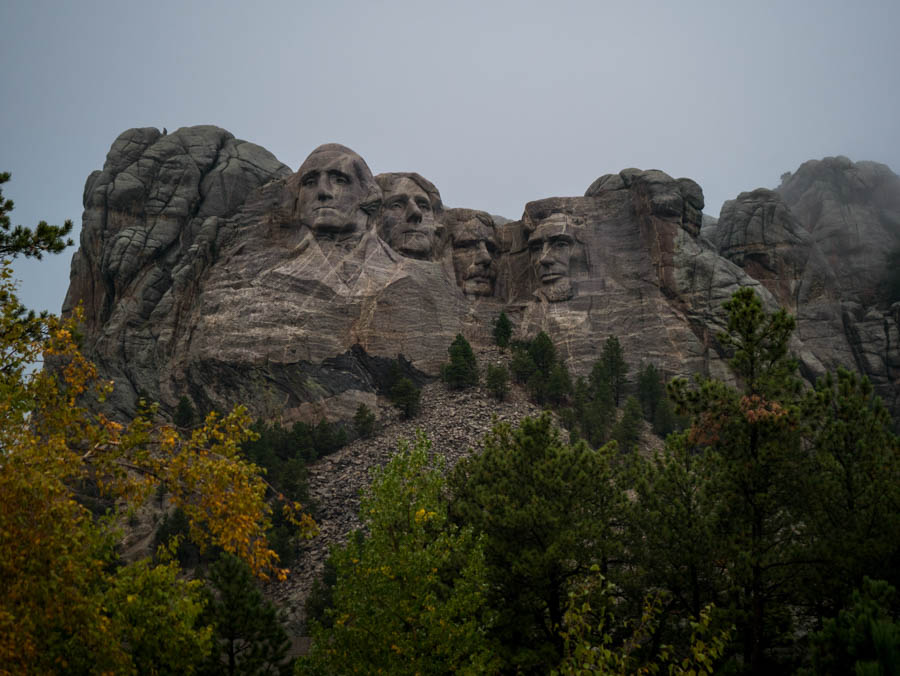 Mount Rushmore National Monument and Crazy Horse Memorial
Mount Rushmore National Memorial and Crazy Horse are two of the most popular national parks in South Dakota, located close to each other in the Black Hills in the west. Mount Rushmore is the better known of the two, with four US presidents carved into the towering Black Hills to celebrate America's great experiment, democracy.
Rushmore is the state's most-visited national park unit, seeing nearly 2.5 million visitors per year. George Washington, Thomas Jefferson, Teddy Roosevelt and Abraham Lincoln tower above, with their 60' faces carved in the granite. It is easy to access the main viewing point, but there are a few options for hikers wanting to stretch their legs. On summer nights, visitors can watch the evening lighting ceremony, complete with the national anthem, a flag retreat, a ranger-led talk.
Mount Rushmore was carved from 1927-1941. After campaigning for nearly 10 years for Rushmore to include Crazy Horse, Ogalala Lakota Chief Henry Standing Bear traded his land for a bare mountain about 15 miles from Rushmore. There, he started the still-in-progress Crazy Horse Memorial with one of Rushmore's sculptors (whose family has since taken on the challenge of completing the project).
The memorial started first as a goal to show that Native Americans too had heroes worth exalting, but has since grown to include the monument, the Indian Museum of North America, a Native American Culture Center and a university.
When complete, the sculpture of Crazy Horse will be the second-largest in the world. Visitors can only see the in-process carving from a distance. Hiking up to it is allowed a few days per year, during Volksmarch. The stories of Crazy Horse and the Native American communities are better told through the attached large museum and cultural center, which honor over 300 communities.
Jessica with How Dare She
Florida National Parks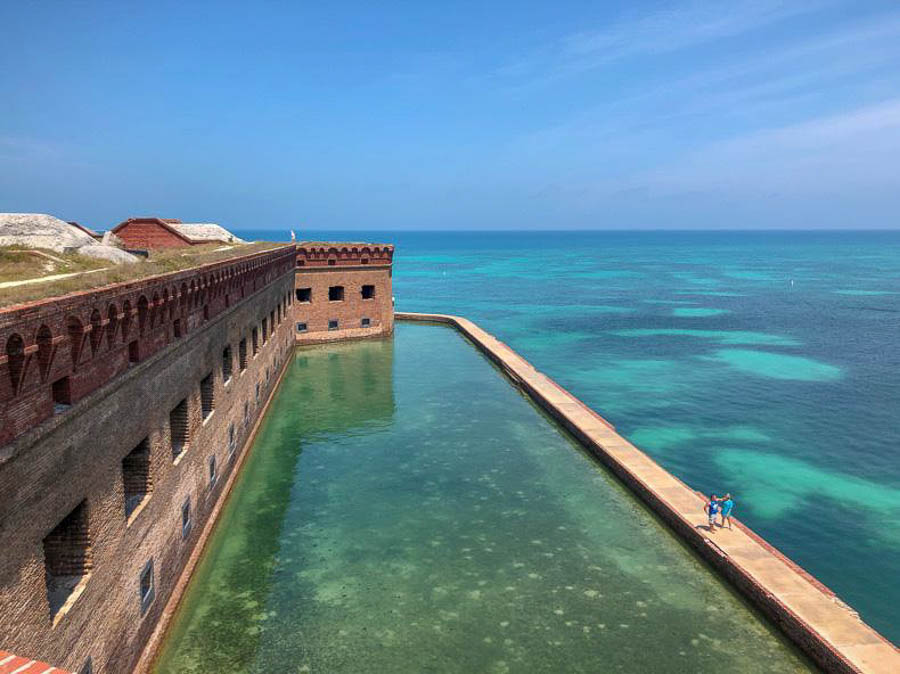 Dry Tortugas National Park
Dry Tortugas National Park is one of the most unique National parks in the USA. It is remote, only accessible via seaplane or boat, and only 1% of the 100 square miles is above water.
With the majority of the National Park being underwater you will want to spend some time snorkeling and enjoying the beautiful coral reef and abundance of marine life. And if you are a diver you will be interested to learn that this National Park has the highest concentration of shipwrecks in North America.
For land activities, I highly recommend a free guided tour of Fort Jefferson. The history of the Fort is intriguing and it also provides some much needed shade. If you rather explore the Fort on your own then a self-guided audio tour is also available to download online.
For photographers there are countless opportunities for landscape, wildlife and portrait photography. Some of my favorite spots are the many arches in the corridors as well as the cutouts with views of turquoise waters. Or perhaps the panoramic views from the top level or walking around the moat. If you decide to camp then the night photography is incredible as it is one of the only places on the East Coast where you can actually see the Milky Way.
Important tips:
– Book in advance especially if you intend to camp as there are only 11 campsites available.
– Save up because getting there is costly. The least expensive option is the Ferry. I recommend motion sickness meds as seas could be rough.
– There is no cellphone service so put your phone on airplane mode to conserve battery and pack a solar powered charger. Also a waterproof case is highly recommended.
If you are interested in learning more, then here is all you need to know about planning a visit to Dry Tortugas National Park.
Joella with Roving Jo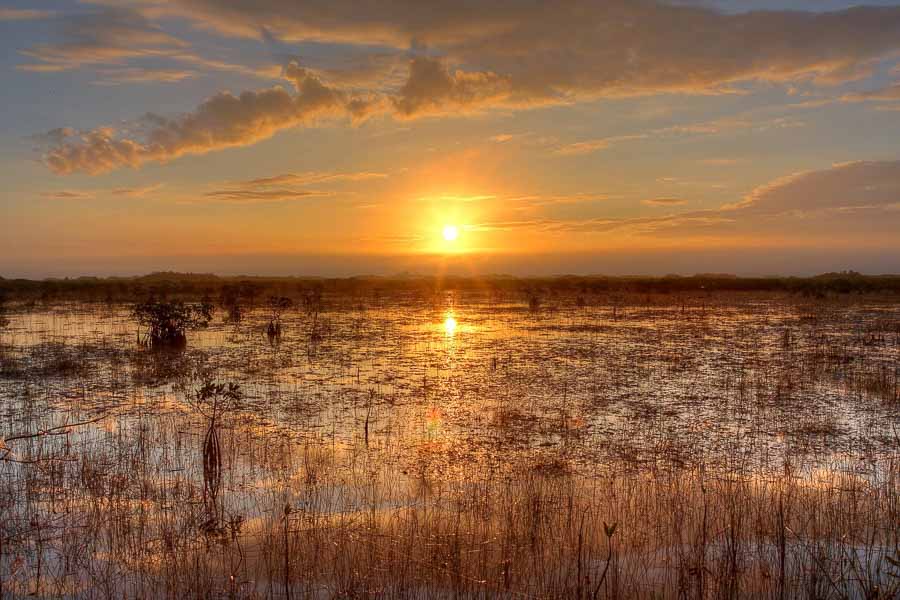 The Everglades National Park
The Everglades in Florida consists of 7800 square miles of some of the richest biodiverse lands in the USA. While there are two main entrances, the most popular is the Shark Valley Visitor Center, a short 45-minute drive from Miami. The Shark Valley Visitor center is where you will get some of the best photo ops with some of the largest alligators you have ever seen!
It is difficult for many to understand the vastness of the Everglades, but with the Shark Valley Overlook you can get a bird's eye view of the National Park. It sits at the midpoint of the Shark Valley scenic loop (which is 15 miles long).
Be sure to check out the Everglades National Park website, since you can book ahead for bike rentals or a tram tour that takes you on an informative eco-adventure. The tour often sells out, but it gives you a better idea of what you are actually looking at. Also, the tour guide is one of the best wildlife spotters and found some amazing birds and gators.
If that is not enough wildlife for you, visit the Flamingo Visitor Center entrance. Here is where you can go to canoe through mangroves, crossing paths with manatees and the American crocodile. The National Park Service actually organizes free tours, so be sure to check out the calendar and reserve ahead of time!
Check out Sarah's post on Visiting the Everglades
Check out reviews and prices to hotels here close to the Everglades
Pennsylvania National Parks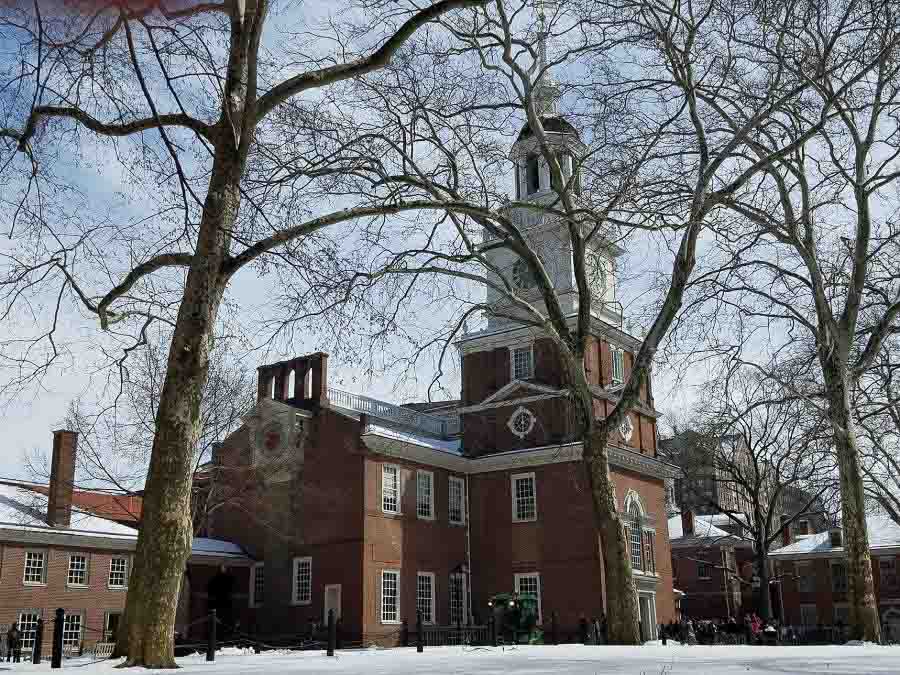 Independence National Historical Park, Philadelphia, Pennsylvania
In addition to its famous scenic national parks, the U.S. National Park Service also manages sites of cultural or historical interest. One of the most visited is the Independence National Historical Park in Philadelphia, Pennsylvania.
Philadelphia boasts the most historic square mile in the United States. Most of the 18 sites encompassed by Independence National Park are located within that eminently walkable square mile in Old City Philadelphia. You can easily get to Pennsylvania by train, air or other transportation method.
It is best to begin your visit at the Independence Visitor Center, conveniently located very close to Independence Hall and the Liberty Bell Center.
At the Visitor Center, two films run continuously throughout the day. Here you can also obtain timed tickets to visit Independence Hall where both the Declaration of Independence and the United States Constitution were debated and signed. At a concierge desk in the Visitor Center you can pick up information about other places to visit in the Park and in Philadelphia generally. There are also a café and bathrooms. Parking is available under the building.
It is only possible to visit Independence Hall as part of a ranger led tour. From March through December, you can obtain free timed tour tickets at the Visitor Center. It is also possible to reserve a ticket online for $1.00. During the spring, summer and fall, reserving a ticket online will ensure you are able to visit Independence Hall on your schedule.
After going through security, you can visit the Liberty Bell Center which houses museum exhibits telling the story of the Liberty Bell and ultimately, the Liberty Bell itself. If the lines are too long, you can also see and photograph the Liberty Bell through the glass windows of the Liberty Bell Center.
The Park has a very useful website to help you plan your visit.
By Suzanne Fluhr, Boomeresque
Check out reviews and prices to hotels here close to Independence Hall
Maine National Parks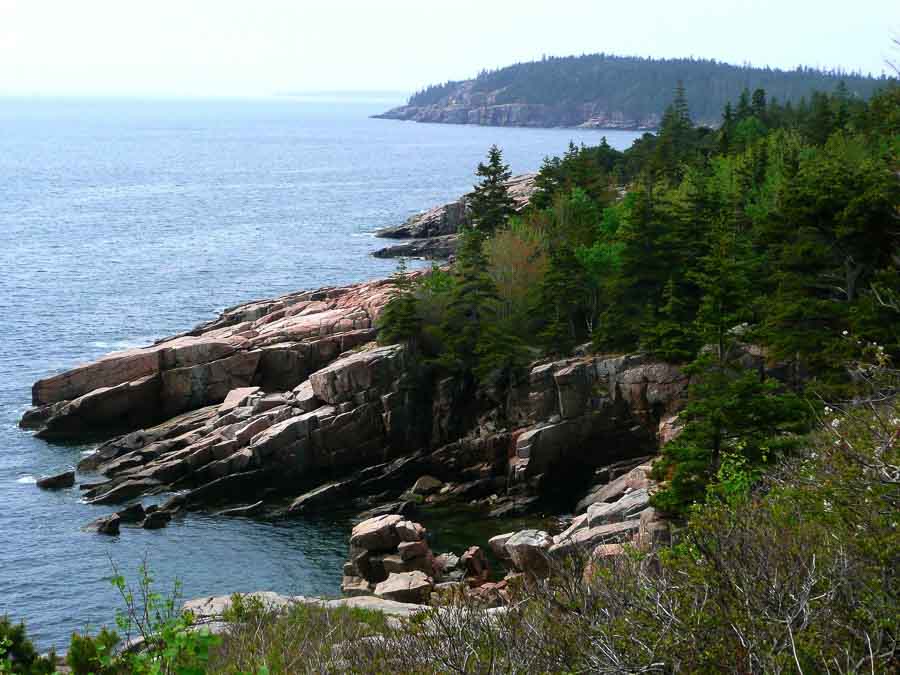 Acadia National Park
Acadia National Park is a picturesque location filled with natural beauty. Located on the northeastern corner of Maine, it is one of the most remote national parks in the country. Some of the best hikes in Acadia are the most visited spots and those with the best photo opportunities. If you're looking for an easy, but scenic ocean stroll, the Ocean Path Trail is it. The gentle paved trail takes you right along the water for some beautiful ocean views, granite cliffs, and rock scrambling opportunities. Bubble Rock Trail is a nice easy to moderate hike that takes you pretty high up for some spectacular scenery of Jordan Pond and forested area. For something a little more challenging, you can attempt the Beehive Trail. This trail is an Acadia classic, although it is not for those with a fear of heights. Once you reach the summit, there are dramatic views of the granite cliffs and rugged coastline. For those that are not much into hiking, then a bike ride down Acadia's old carriage roads should be high on your to-do list.
A drive through the park can also be quite scenic, as visitors can stop and pull off for some nice picturesque views. While camping is quite popular at Acadia National Park, staying at the nearby town of Bar Harbor is perfect for those looking for a little more luxury and great restaurants.
Margie DQ with DQ Travel
Check out reviews and prices to hotels here close Acadia
Montana National Parks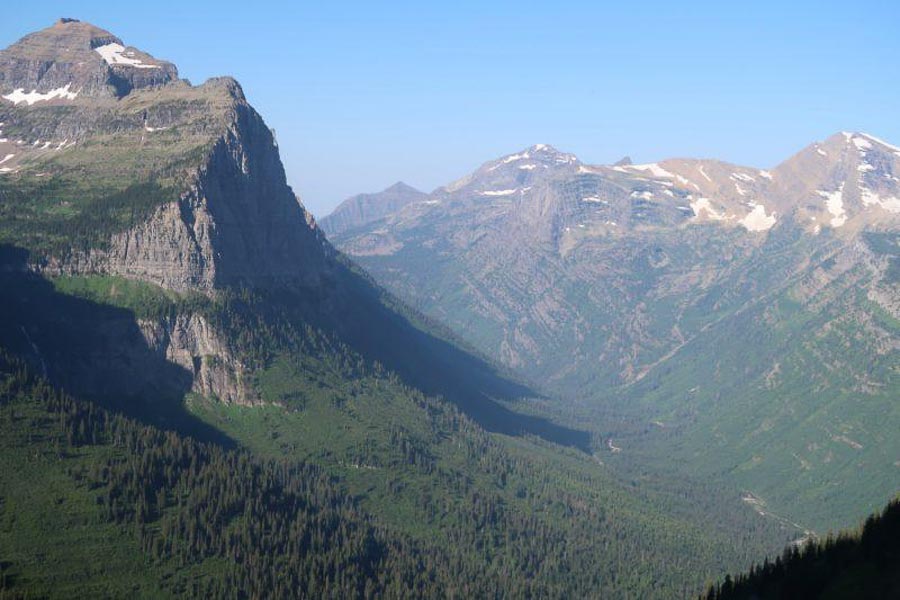 Glacier National Park
Montana's Glacier National Park is called the "Crown of the Continent," and for good reason. The park is filled with turquoise lakes, cascading waterfalls, majestic mountain peaks, and yes, glittering glaciers. It also has the most diverse and well-preserved ecosystem of anywhere in the country, with animals such as grizzly bears, moose, mountain lions, and mountain goats calling the Glacier mountains home. Its beauty makes it one of the crowning jewels of the national park system.
For hikers, it's an epic destination. That are hundreds of miles of backcountry trails to explore. The Highline Trail is one of the most famous in the country, offering 16 miles of unparalleled vistas. You can also hike directly to the foot of a glacier on the Grinnell Glacier Trail, or see icebergs year-round by taking the Iceberg Lake Trail.
There are plenty of ways for non-hikers to enjoy the park too. The historic red bus tours have been operating for decade and take visitors along the dizzying Going-to-the-Sun Road. You can also canoe or kayak on one of the park's beautiful lakes, like Lake McDonald or Two Medicine Lake.
The park is actually open year-round, but the majority of people visit in the summer when the Going-to-the-Sun Road has been plowed. For a more intimate experience, consider visiting in spring or fall. The road may not be drivable, but much of the park is still accessible and you won't have to compete with millions of other tourists.
Check out Maggie's post on a Glacier National Park itinerary
Check out reviews and prices to hotels here close to Glacier National Park
Michigan National Parks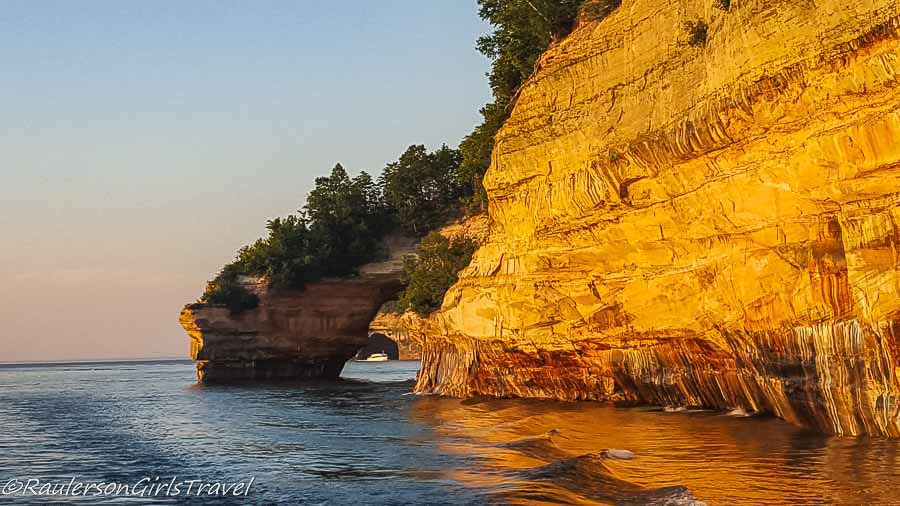 Pictured Rocks National Lakeshore
One of the lesser-known U.S. National Parks is in the Upper Peninsula of Michigan. The Pictured Rocks National Lakeshore in Munising is 42 miles long and is best viewed from the waters of Lake Superior. The multi-colored cliffs are naturally made from minerals such as copper, iron, manganese, limonite leaking out of the rocks and creating masterpieces of art. The ideal time to visit the cliffs is on the Sunset Cruise. You can book a Pictured Rock Cruise that will take you along the cliffs, point out the interesting sandstone formations, and let you get some amazing photographs. With the sun setting, it turns the cliffs to amber and the color streaks are more vibrant. The Pictured Rocks Cruises depart from the City Dock in Munising, Michigan and run from mid-May to mid-October. The tour lasts 2.5 hours and takes you along 15 miles of the beautiful national lakeshore. You will be able to see beaches, coves, and waterfalls (depending on recent rainfall). Some of the landmarks you will see on the cruise is Miner's Castle, Rainbow Cave, Bridal Falls, Lover's Leap, and Chapel Rock to name a few. Another way to see the cliffs is to rent a kayak and paddle out by the cliffs. Although you will have to be careful to not get too close as the cliffs have a tendency to break off and fall down. You can also hike the trails along the shore, but you won't be able to see the cliffs from up there. Going on the Sunset Cruise is the best way to see the cliffs but in actuality, any time of the day is a great time to see these magnificent artworks painted by Mother Nature.
Heather with Raulerson Girls Travel
Check out reviews and prices to hotels here close to Pictured Rocks National Seashore
New York National Parks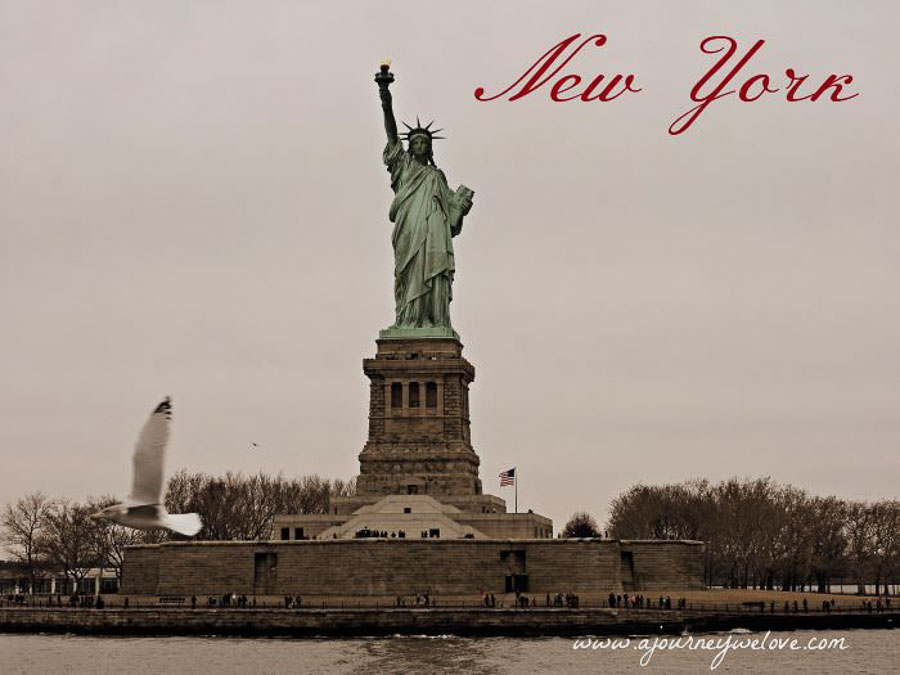 Statue of Liberty National Monument
Skip all the touts selling sightseeing tickets by Castle Clinton and book directly with the National Park Service to get on the ferry to Liberty Island. You'll get two choices: Pedestal Access (more commonly available), or access to the Crown (limited access and need to book in advance). We would recommend the crown option where you can walk up the insides of Lady Liberty and go all the way up to the crown and look through the viewpoints. It may not be as scenic as you would expect, but definitely an experience nonetheless. Afterwards, your ticket will get you access to Ellis Island. This spot is amazing for photographs with its red brick building. Go out on the side, past the ferry terminal, where it is a bit more quiet and less crowded for your selfies.
Check out Ruby's post on a 3 day New York Itinerary
Ruby Escalona with a Journey We Love
Check out reviews and prices to hotels here close to New York City
New Mexico National Parks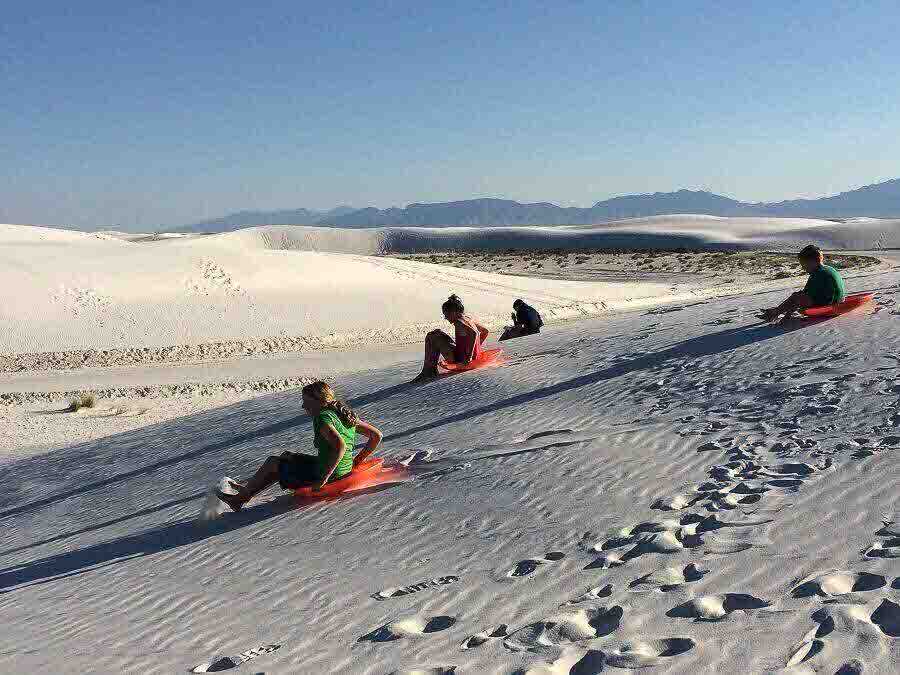 White Sands National Park
It's hard to feel more joyful than when you're gliding down a sand dune on a bright orange snow saucer. This is the call of White Sands National Park, our newest national park.
Situated in southern New Mexico, White Sands is the world's largest gypsum dune field. Start your exploration with an eight-mile (one-way) drive along Dunes Drive, which runs from the visitor center and guides visitors into the awe-inspiring dune fields.
Along the drive, you'll find hiking trails, outdoor exhibits and picnic areas. Keep your eyes open for the perfect sand dunes. At White Sands, the sand is soft, cool (even when air temps are very warm) and one of the best destinations for sand sledding.
Bring your own sled or buy a waxed-up saucer in the park's gift shop. Some nearby hotels also allow guests to check out sleds and wax them on-site to ensure they are in tip-top shape for tackling the sand dunes.
Beyond sledding, the park ranger programs are first-rate, particularly the sunset strolls and full moon hikes. Both are fantastic ways to learn more about our 62nd national park while savoring picture-perfect views all along the dunes.
Kids will love becoming a Junior Dunes Ranger when they complete an activity booklet that includes riddles, desert safety tips and word puzzles. There is no age limit, so kids of all ages (adults too) can become a Junior Dunes Ranger at White Sands.
Check out Erin's post on a sand dune guide at White Sands
Check out reviews and prices to hotels here close to White Sands National Park
North Dakota National Parks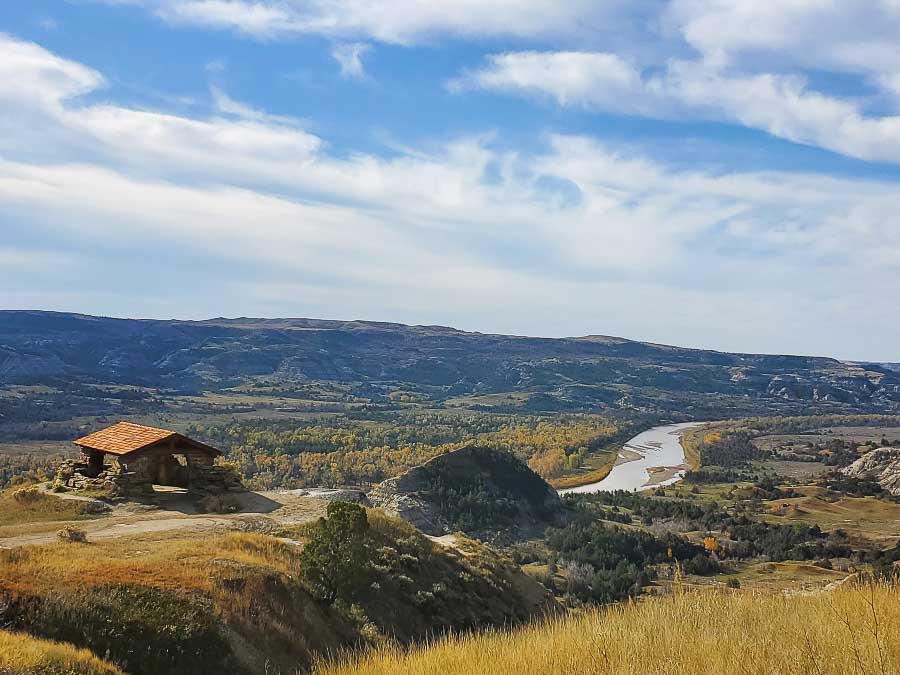 Theodore Roosevelt National Park
Having has visited Theodore Roosevelt National Park several times I has some fantastic insider tips for you. Your visit to this national park will be a good one, as long as you are prepared to get close and personal with the wildlife.
Theodore Roosevelt National Park is located along the western border of North Dakota, in Medora. The population of Medora hovers around 120, and it's a cute, charming mountain town. The entrance to the South Unit lies in the town. The entrance to the North Unit of Theodore Roosevelt National Park is approximately 40 minutes to the north. Invest in an annual national park pass, which will be good in several national parks across the country, including this one.
North Dakota is home to four seasons of weather, which bring a variety of photo opps for visitors. Wild horses roam freely, as do the bison. This is one national park that you will visit and see a lot of wildlife without having to drive for hours. When you come upon one bison, chances are that you will find a herd around the next bend in the road. Dress in layers and carry water and snacks with you into the park.
Enjoy a meal in Medora and take in the Medora Musical while you are in the area. The Medora Musical is the longest-running outdoor musical in the country, which plays nightly all summer long. Plan to spend two nights in Medora to get a good taste of the national park and all that this area of North Dakota has to offer.
Sara Broers of Travel With Sara
Check out reviews and prices to hotels here close to Theodore Roosevelt National Park
Oregon National Parks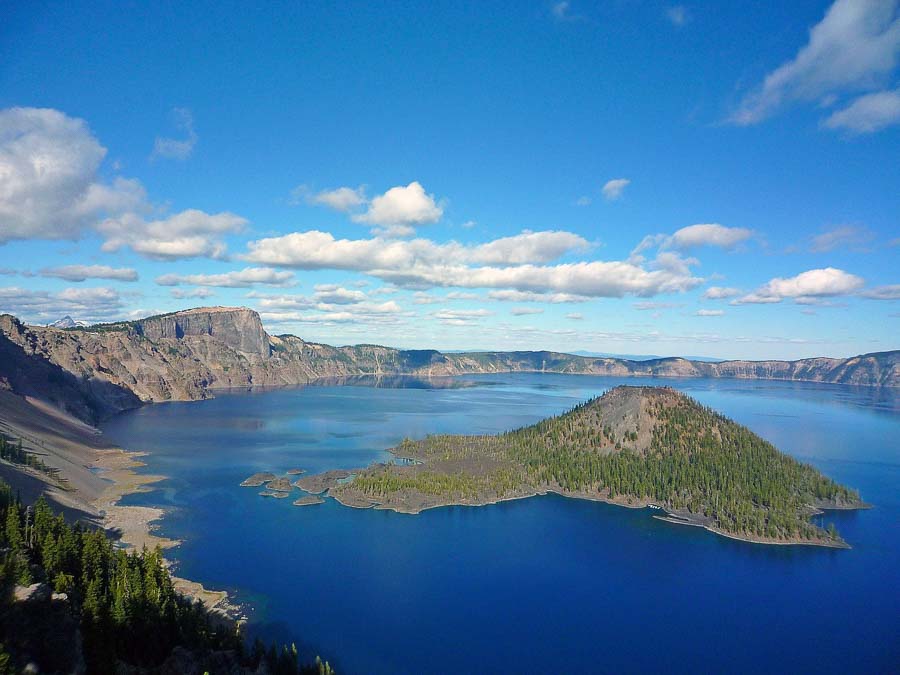 Crater Lake National Park
The parks and landscapes that are dotted across the state of Oregon speak for themselves in terms of grandeur and beauty. However, one that arguably takes the biscuit is the incredible Crater Lake National Park. The lake itself formed after the eruption of a major volcano nearly 8,000 years ago, and now prides itself as the deepest lake in the whole of the United States of America. With a depth of over 19,000 feet, its water emits a glistening, deep blue hue, with one of the clearest bodies of water you will visit. Located in the heart of Oregon, around a couple of hours drive south of Eugene and Bend, there are entrances to the park in the north and the south, with the latter being Rim Village, the main hub of the park. Entrance here costs between US$20-30 for a car, depending on the season. Your first port of call may be the visitor center in Rim Village, where you can grab a snack and learn more about the park, before heading out to explore its beauty. One of the most popular ways to explore the park is by car, with a scenic driving route going all the way around, taking in 33km with 30 different lookout spots to take in the lake from every angle. Be warned though, the full rim drive is typically only open between July-October, with heavy snowfall preventing passage for the rest of the year.
Check out Laura's post on visiting Oregon
Check out reviews and prices to hotels here close to Crater Lake
Tennissee National Parks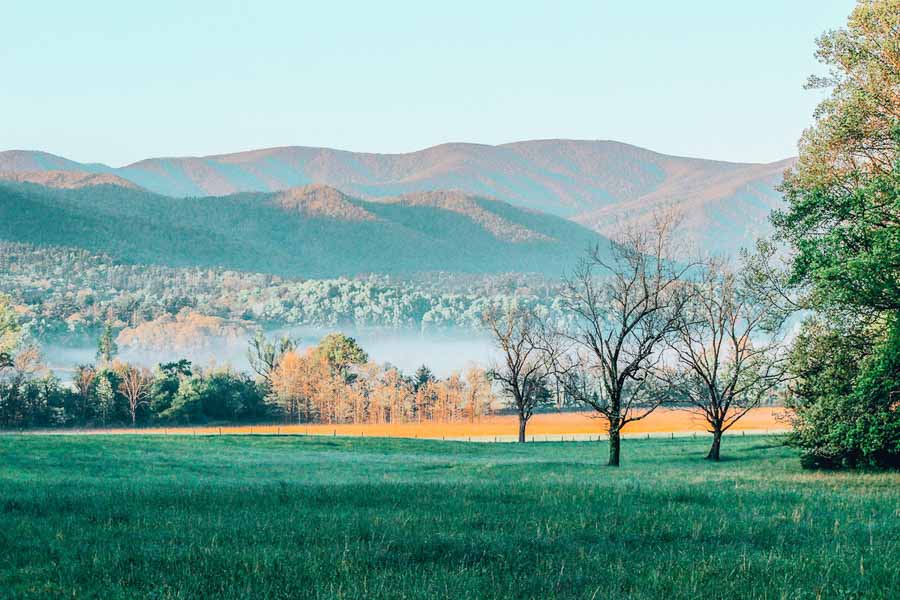 Great Smoky Mountains National Park
There are a lot of amazing choices for national parks to visit in the US so it can be difficult to make choices. As the most visited national park in the US, the Great Smoky Mountains National Park is not only an amazing choice but a popular one and for good reason. 
On top of that, it is also one of the free national parks which makes it even more appealing. Great Smoky Mountains National Park is the perfect weekend retreat to getaway from it all, as a day trip for a hike, or as a longer trip to explore as much of the park as possible.

There are a few spots that should absolutely not be overlooked. Cades Cove for the best place to spot wildlife including the best place to see black bears in the park. Elkmont in June to see a once in a lifetime phenomenon – the synchronized fireflies. One of two places [and the only place in the US] to see these amazing creatures. Also in Elkmont, make sure to check out the Elkmont ghost town – a walkable distance from the campground. 
The rest of the park can be explored via the countless breathtaking hiking trails, waterfalls, campgrounds, driving loops, overlooks and more. If you need a break from nature [but who does?!] head into Gatlinburg for some small-town fun or into Pigeon Forge for some family-friendly fun including Dollywood. 
Ashley of WIld Hearted.com
Check out reviews and prices to hotels here close to Great Smoky Mountains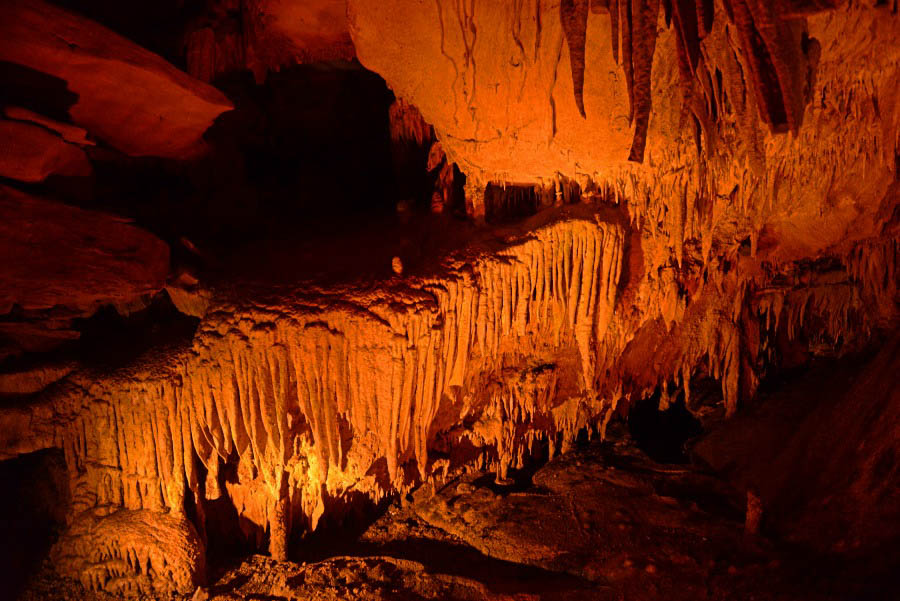 Mammoth Cave National Park
Mammoth Cave, the longest known cave system in the world, is nestled in the heart of Kentucky, USA.  It's about an hour and a half south of Louisville, Kentucky, and an hour and a half north of Nashville, Tennessee, and is best reached by car. More than 405 miles of the cave system of Mammoth Cave has been mapped, and according to the park website, "there is no end in sight."
As Mammoth Cave is a cave system, both cave tours and above ground hiking are available.  The more popular cave tours are the Frozen Niagara, the Mammoth Passage, and the Historic Tour.  Reservations are not required; however, tours sell out on busy days, so if you know when you'll be going, I'd recommend booking ahead of time.
The Frozen Niagara Tour brings you through one of the most iconic sections of the cave system where the stalactites and stalagmites look like frozen water suspended in the air.  Aside from being a fascinating tour, it's great for people who cannot walk long distances, or who struggle with stairs.  Both the Frozen Niagara Tour and the Mammoth Passage Tour are 1.25 hours long, and the Historic Tour is 2 hours.  Aside from the Frozen Niagara Tour, which has 12 steps, most of the tours have hundreds of stairs and are unsuitable for people who cannot manage stairs on their own.
If you are looking for a place to stay in the park, then you'll want to stay at The Lodge at Mammoth Cave.  If you like the comforts of home (tv, wifi, and mini-fridge), then opt for a room in the Lodge; if you're looking for something more rustic, then you'll love their woodland cottages.  For budget-friendly hotels and motels, check out the surrounding towns of Park City, Cave City, Glasgow, or Bowling Green.
Mammoth Cave stays at a cool 54 degrees year-round so it can be visited any time of year.  If you are looking for a unique and off-the-beaten-path National Park, then Mammoth Cave is for you!
Catherine Brady with Traveling with the Littles
Texas National Parks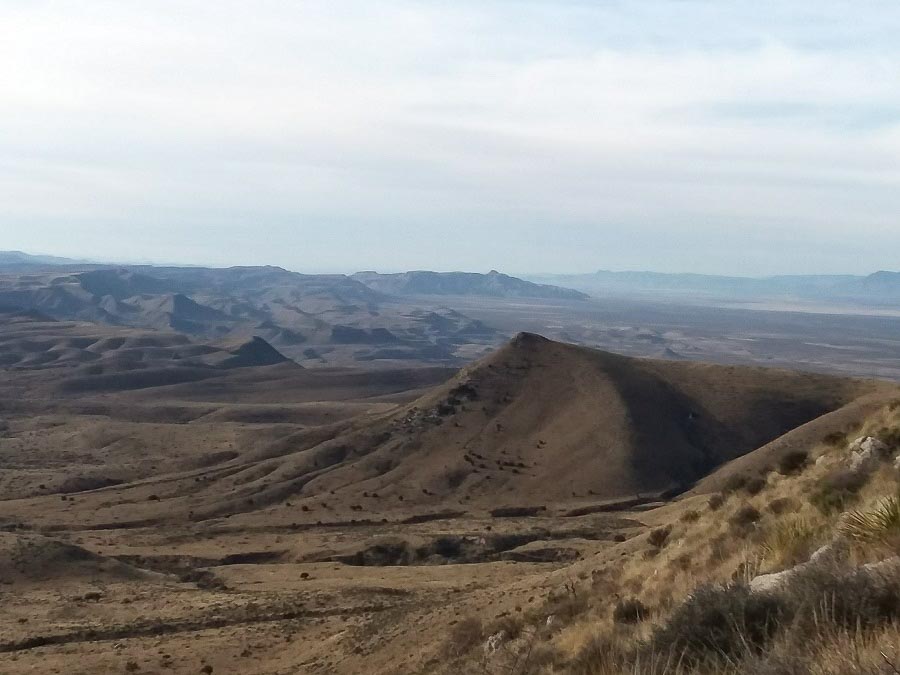 Guadalupe Mountains National Park
A majority of travelers out there may not even be aware that Texas has two National Parks! Guadalupe Mountains may be the lesser known sibling of Big Bend, but the best things to do in Guadalupe Mountains National Park easily stand on their own merit! This is a destination that is secluded and off the beaten path, which means that you will likely have the resident canyon, forest, desert, and mountain hiking to yourself, as well as a panorama of uninterrupted night skies for camping!
There are several stand out hikes that are worthy of drawing you to Guadalupe Mountains. The great thing about this National Park is that it is home to several unique and diverse ecosystems all in one region. Hiking here allows visitors to be exposed to each of these ecosystems.
For a challenging canyon hike, that includes an intriguing grotto feature, check out the McKittrick Canyon Trail. Fall is the best time to experience this trek, as the seasonal leaves put on a show that arguably rivals the Northeast! Or take on the Devil's Hall Trail, a path that leads through a breathtaking slot "hallway". For forested hiking, take on the short and shady Smith Springs Trail. For a desert experience, tackle the El Capitan Trail, a hike that traverses the shrub laden, desert base of the iconic El Capitan peak. For mountain hiking, your best bet is the state high point of Texas, Guadalupe Peak, which traverses a barren desert start, but slowly winds its way through ponderosa forests until reaching the exposed, rocky cliffs of the summit!
The best way to enjoy a day of hiking at Guadalupe Mountains National Park is to top it off with a night of camping. There are two developed, first come first serve campgrounds in Guadalupe, as well as permitted backcountry camping. There is even a backcountry site situated just minutes below the summit of Guadalupe Peak for the truly adventurous!
Kristen with Wanderlust Ramblings
Check out reviews and prices to hotels here close to Guadalupe Mountains
Utah National Parks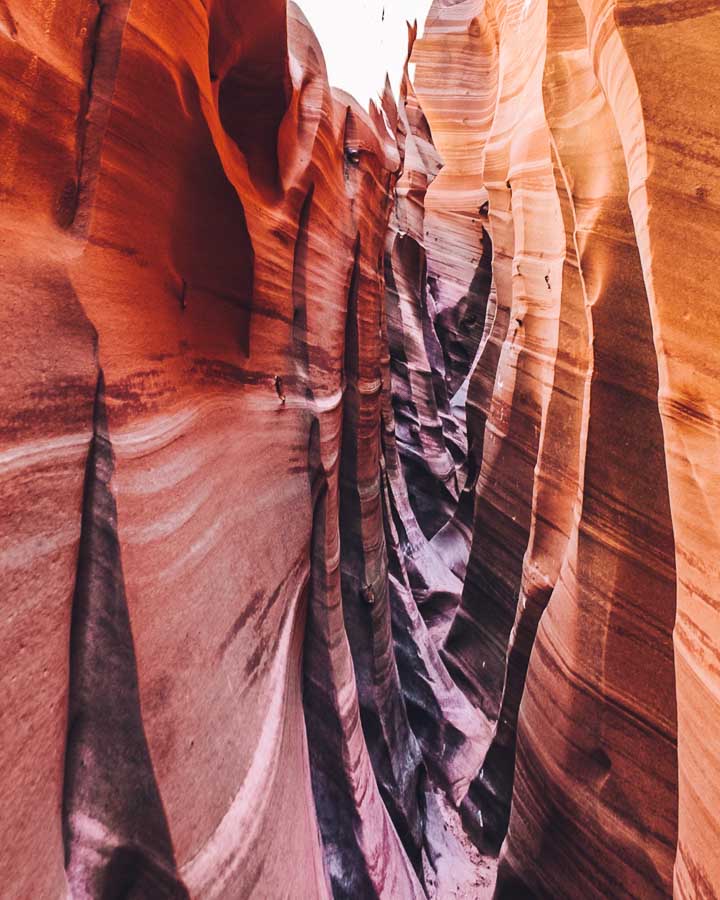 Grand Staircase Escalante National Monument
Grand Staircase Escalante National Monument is one of the most unique and incredible public land sites in the United States. Located in Southern Utah, Grand Staircase Escalante is home to many incredible sites, the most famous of which is the slot canyons. Zebra Slot Canyon and Spooky Gulch are the two most beautiful, both of which are must visit destinations in Grand Staircase Escalante.
Zebra Slot Canyon and Spooky Gulch are beautiful rock formations in the stunning Utah red rock. The slot canyons are named because they look like just that, slots. The canyons are SO tall but SO thin, at times the canyon is hundreds of feet tall and you can touch both sides with your hands at the same time! In addition to that awesome feature, the canyons, especially Zebra Slot, has a beautiful striped coloring that makes it a stunning photo opportunity.
On top of the amazing slot canyons, another activity you can do in Grand Staircase Escalante is hike. Calf Creek Falls and the Devil's Garden are two fantastic hikes that offer a different perspective on the National Monument. Make sure to bring enough water along, as the hikes can get hot in the Utah desert!
All in all, Grand Staircase Escalante National Monument is a wonderfully unique destination full of adventure and awesome sites. Zebra Slot Canyon and Spooky Gulch are the main attractions, in addition to a few awesome hikes that offer a new perspective on this beautiful place.
Check on Julie's post on Utah's national parks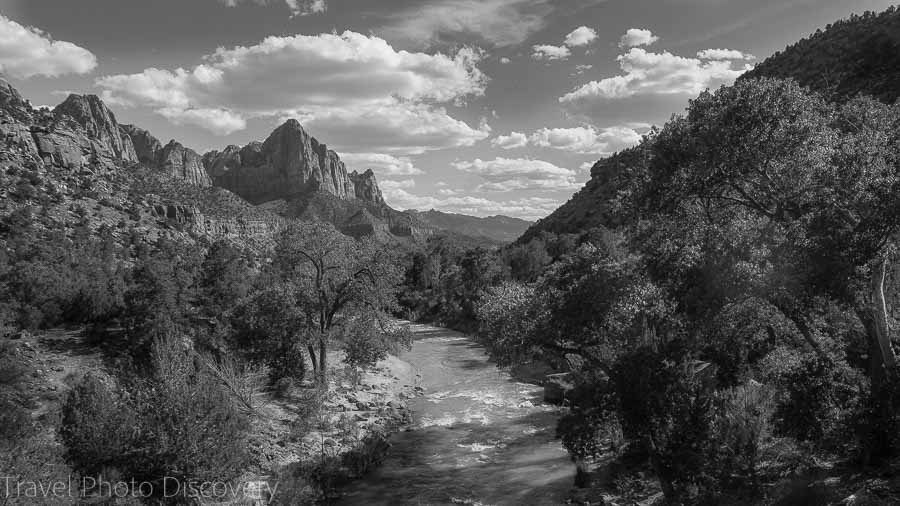 Zion National Park
Utah's first national park is such an inspiring park to visit and explore and even take some of the most scenic hikes to some spectacular vista points, amazing rock formations and fascinating landscapes to discover. This wonderful park has restricted entrance to control the traffic into the park and you can take shuttles around to see the most significant attractions and natural monuments that lie mostly on the valley floor with more extensive hikes to see some of the other wonderful views and landscapes to visit around the park.
On a photography view point, taking the shuttle first and also going to the visitors center to see the main attractions and highlights will give you an opportunity to see the best of the parks features.  Easy hikes with panoramic views to check out the significant historical places are a must if you want to get beyond the shuttle and viewpoint segment. Check out my post on Zion's the best hikes to explore here to give you an overview of each hike and what you will be able to see along the way.
Noel with Travel Photo Discovery
Check out reviews and prices to hotels here close to Zion National Park

Monument Valley National Monument
Situated in South-West USA on the Utah-Arizona border, Monument Valley is a mystical place with many spectacular photo opportunities. Located on Navajo Land, you pay a $20 entrance fee per vehicle which allows access in this national park for two days. As the park is on private land, you must join a tour to explore most of the national park. There are many tours to choose from which include overnight hikes, horse rides as well as star gazing trips. If you do not have time to join a tour you can drive the self-driving loop or explore the Wild Cat Trail on foot which is a 3-mile trail.
In terms of incredible photo opportunities, there are ample spots. On the Wild Cat Trail, you can take excellent photos of the West Mitten Butte. From John Wayne Point you can admire the national park from above. Sunset is a particularly magical time in Monument Valley making it beloved by photographers.
You could just drive through Monument Valley and stop off at the very busy Forest Gump point, but consider staying at least a few hours to really appreciate the unique landscape. You will have seen these crimson orange landforms on TV, on images and on the internet before, but nothing quite prepares you for seeing Monument Valley with your own eyes.
Anna from MyTravelScrapbook
Check out reviews and prices to hotels here close to Monument Valley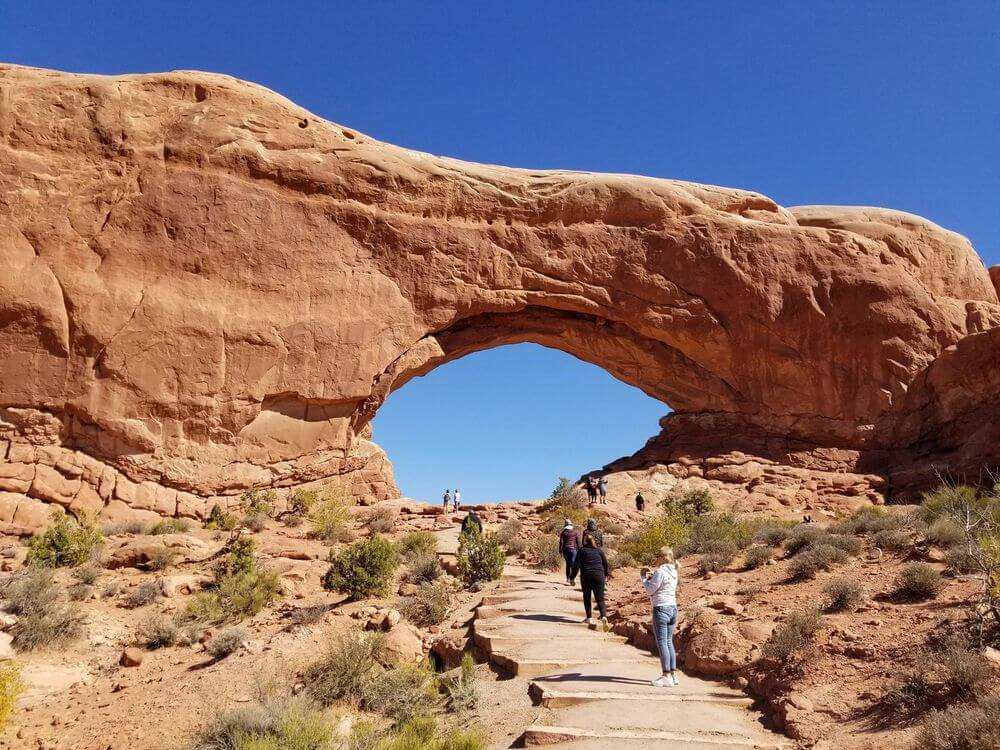 Arches National Park
Arches National Park has the world's largest concentration of natural sandstone arches, with over 2000 of all shapes and sizes. Located some 5 miles outside the small town of Moab, Utah, the park is known for its red rock formations, and you'll find the best of all of it right here. If you're feeling adventurous, there are plenty of walking paths, while rock climbing feels ancient and epic as you climb rock that has been created by millions of years of wind and water erosion.
Stunning arches like Delicate Arch, Double Arch, and Skyline Arch offer direct access to the United States' most stunning landscapes, many with once-in-a-lifetime opportunities to view unique rock formations.
Begin your exploration of Arches National Park at Park Avenue Viewpoint, then make your way to Balanced Rock. There is a short hike that, for minimal effort, can take you to a precariously perched stone. It's an easy hike and very child-friendly. It's common for the nearby parking lot to be full, but luckily cars come and go every few minutes.
Take the turn off just after it towards the holes in rock walls called windows. From here you can do the short walks out to Double Arch, which was famously featured in the opening scene of Indiana Jones: The Last Crusade. To finish the loop pass the North and South Windows and Turret Arch (one mile).
Then return to the main road and take the turn off to the right towards Delicate Arch. This is a must-see for most visitors since it is one of the few landmarks you cannot see from the main road. The hike out to the arch is three miles, with some steep sections, and it's best done in the evening as there is not much shade along this route. Alternatively, if you're short on time, you can follow the one-mile path to the Lower Delicate Arch Viewpoint. Note that the Upper Viewpoint involves walking one-half mile and climbing some rock stairs.
The Delicate Arch and the Landscape Arch are the two most famous arches in the park since they feature Utah's best landmarks. Expect to encounter stunning photographic opportunities, as well as the gaggle of photographers lined up waiting to snap pictures whether it's day or night, rain or shine, sunrise or sunset.
Ivan with Mindful Travel
Check out reviews and prices to hotels here close to Arches National Park
Virgin Islands National Park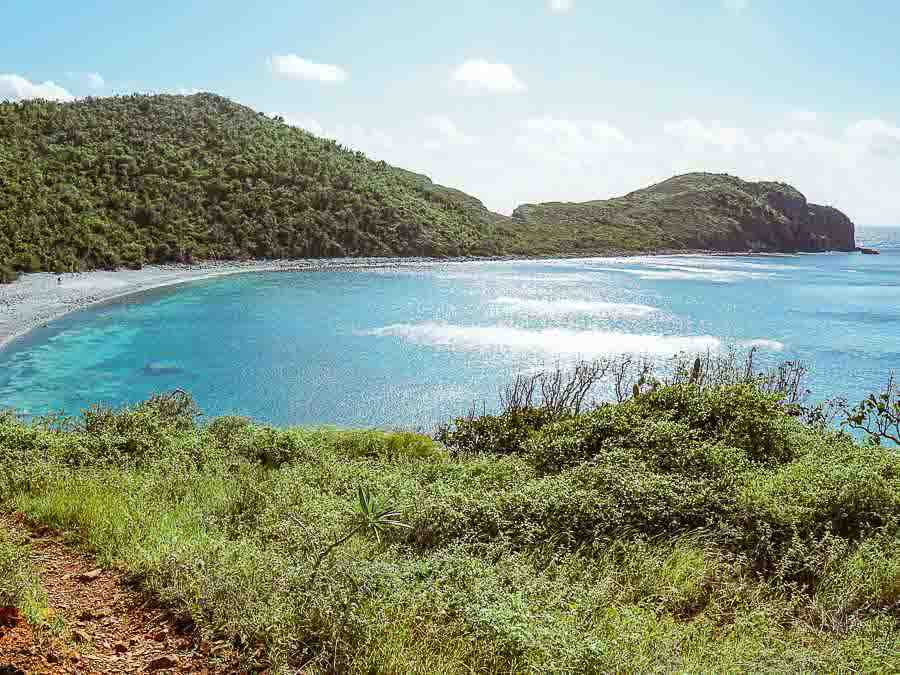 Virgin Islands National Park
Virgin Islands National Park, located on the island of St. John in the Caribbean Sea, is one of the most beautiful National Parks in the world. A visit to this stunning park offers incredible views, perfect beaches, and memorable hikes.
During a visit to Virgin Islands National Park, you will likely spend a lot of time on North Shore Road. This is because St. John's best beaches can be found all along this hilly stretch, between various scenic overlooks. These numerous beaches are truly world class and offer the ideal fluffy white sand and turquoise water that you seek.
Not only can you spend the perfect beach day simply lounging on the North Shore, but you can also get out on the water and see some wildlife. Snorkeling is popular at all of the beaches, and snorkel equipment can even be rented at Trunk Bay and Maho Bay. Kayak and stand-up paddleboard rentals are also available at Maho Bay, which is the perfect spot to see some sea turtles.
For those seeking memorable hikes, there are numerous options on the island. The Ram Head Trail provides glorious views of Virgin Islands National Park's south shore, as you climb over gorgeous rock formations and along two beaches. The Reef Bay Trail is also very popular, although takes about four hours verses the Ram Head's one to two hours. The hike to Reef Bay is worth it though, as it takes you down to a beach, past old sugar mill plantation ruins and ancient rock carvings. No matter which you choose, just be sure to remember sunscreen and bug spray!
End a fun-filled day in Virgin Islands National Park by heading twenty minutes west to The Beach Bar in Cruz Bay to catch the sunset while you sip on one of their famous Bushwackers.
Theresa with Fueled By Wanderlust
Check out reviews and prices to hotels here close to St. John
Virginia National Parks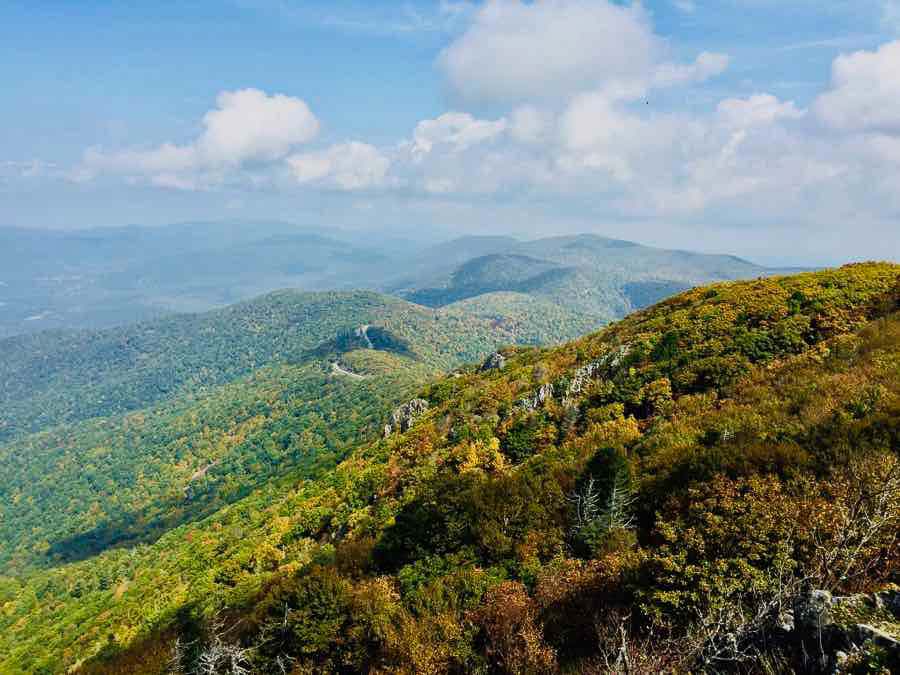 Shenandoah National Park, Virginia
Virginia's Shenandoah National Park offers a beautiful escape just two-hours west of busy Washington DC. One of the most scenic roads in the mid-Atlantic, Skyline Drive, follows the ridgeline through the park for 105 miles. The drive provides easy access to breathtaking overlooks and scenic hikes throughout the park. Two classic National Park lodges, at Skyland and Big Meadows, serve meals with a view and offer overnight lodging.
If time is too short for the full drive, focus your visit on Shenandoah Park's Central District, which has some of the best views and hikes. Choose a few overlooks on each side of the road for views of the Virginia Piedmont to the east, and the Shenandoah Valley to the west. Mary's Rock, Hazel Mountain, and Jewell Hollow Overlooks all offer beautiful vistas.
If time allows, hike the short, steep trail to Little Stony Man overlook, or the longer but easier trail to Stony Man Summit for more fantastic Blue Ridge Mountain views. Or stroll the Limberlost Trail, a wheelchair accessible walk through the forest. Popular waterfall hikes in the park include Dark Hollow Falls and Rose River. Be sure to stop at the Byrd Visitor Center, next to Big Meadows, to learn about the history and nature of the park.
Shenandoah National Park is beautiful year-round but is especially stunning when fall foliage covers the hills. In winter, check ahead for occasional Skyline Drive closures due to snow and ice.
Julie with Fun in Fairfax VA
Check out reviews and prices to hotels here close to Shenandoah National Park
Maryland National Parks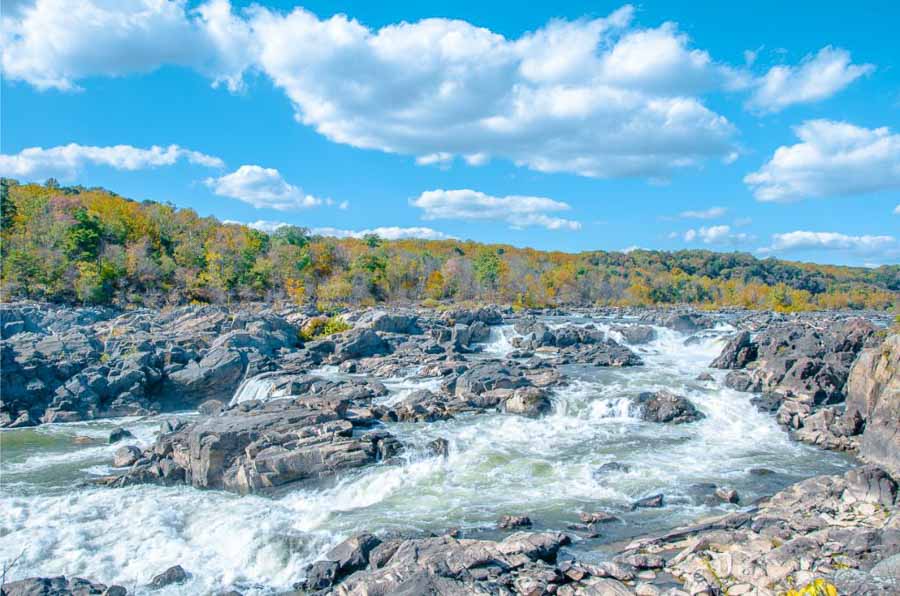 Chesapeake and Ohio Canal HIstorical Park
During my first Washington DC sightseeing trip, a local friend took me a little outside of town to go for a hike in one of the many US national parks. We stopped at the wonderful Chesapeake & Ohio Canal National Historical Park, which is in Maryland and less than an hour drive away.
If you need local maps and insider tips, stop by the Williamsport Visitors Center near the boat ramp and the Chesapeake & Ohio Canal Bridge.
There are many well maintained trails, both for easy and intermediate hikes and the views are simply stunning. The park centres around a historic waterway. But we weren't too much interested in the mule-drawn boat rides that are a popular attraction. We wanted to get active ourselves.
We got off at great Falls parking and then walked towards the Great Falls Tavern Visitor Center, where American Indians and later George Washington used to visit.
When you get to the Chesapeake & Ohio canal, take the Billy Goat trail past the river bends towards the magnificent falls. Fall season especially is a great time to visit thanks to the colourful leaves.
Before you get to the tavern, there's a small Great Falls Overlook Trailhead with bridge leading halfway across the falls. That's the best location to really take in the falls and take amazing photos.
AnneMarie with Travel on the brain
Check out reviews and prices to hotels here close to Chesapeake and Ohio Canal
Washington State National Parks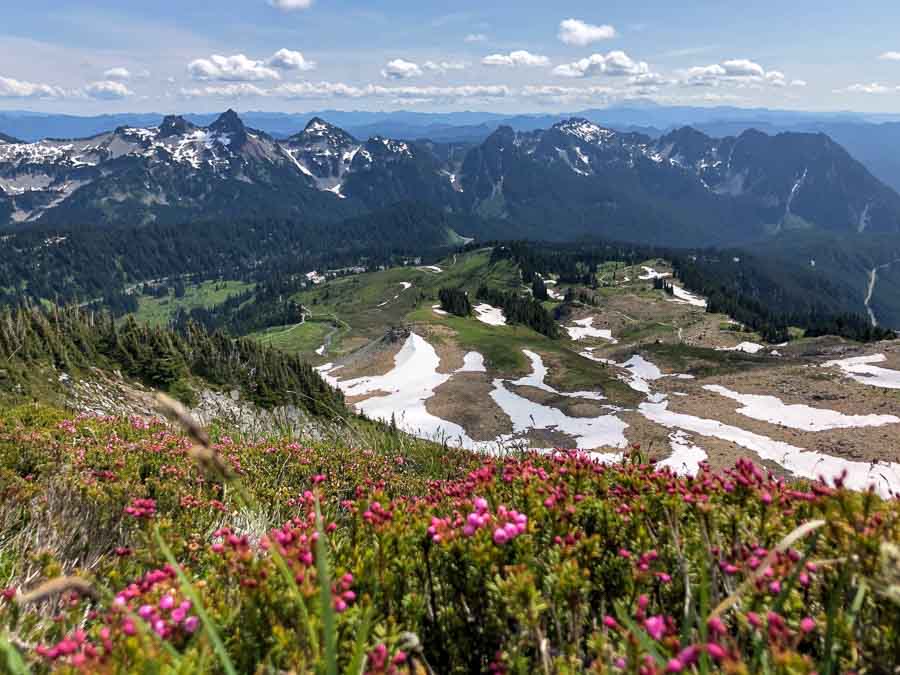 Mount Rainier National Park, Washington State
You cannot visit the national parks in the US and miss Mt Rainier National Park in Washington State. The Pacific Northwest is known for its dramatic landscape, moody rainforests and breathtaking mountains surrounding every major city, and Mount Rainier is the perfect site to experience the PNW landscape in every season. From backpacking the Wonderland Trail that circumvents the mountain through meadows splashed in wildflowers of every color in late spring, climbing across glaciers to the summit in the summertime, harvesting fresh wild berries as the leaves turn golden in the fall, to snowshoeing and skiing through the winter, there is something for everyone throughout the year.
You can stay overnight at the park in a number of different ways, from roughing it in the backcountry, to car camping within the park at sites with access to showers and electricity in the summertime, or staying in a comfy inn complete with a full service restaurant which is open year-round. However, you can easily take a day hike from Seattle in Mt Rainier National Park as well. Be sure to leave the city early, before 7 am, if you plan to hike around the mountain in the popular summer months, as there are sure to be hundreds of other eager hikers as well and parking can become scarce by mid-day. We recommend heading to a visitor's center before your hike to check on current conditions in the shoulder seasons, and the rangers can also make suggestions on where recent wildlife sightings may have been, current wildflower blooms, and other important safety information, such as avalanche danger or current snow levels on higher elevation trails.
If you are looking for an easy hike on a budget, Naches Peak Loop Trail is just outside of the paid section of Mount Rainier National Park, so you can hike for free with great views of the mountain peak, several lakes, and if you are lucky scores of wildflowers too! For a full day of the park, we recommend driving up to Paradise Lodge and hiking the Skyline Trail. Be sure to stop at Narada Falls on your way up, and snap a photo at the park sign too!
Michele with Adventures Abound
Check out reviews and prices to hotels here close to Mount Rainier
Wyoming National Parks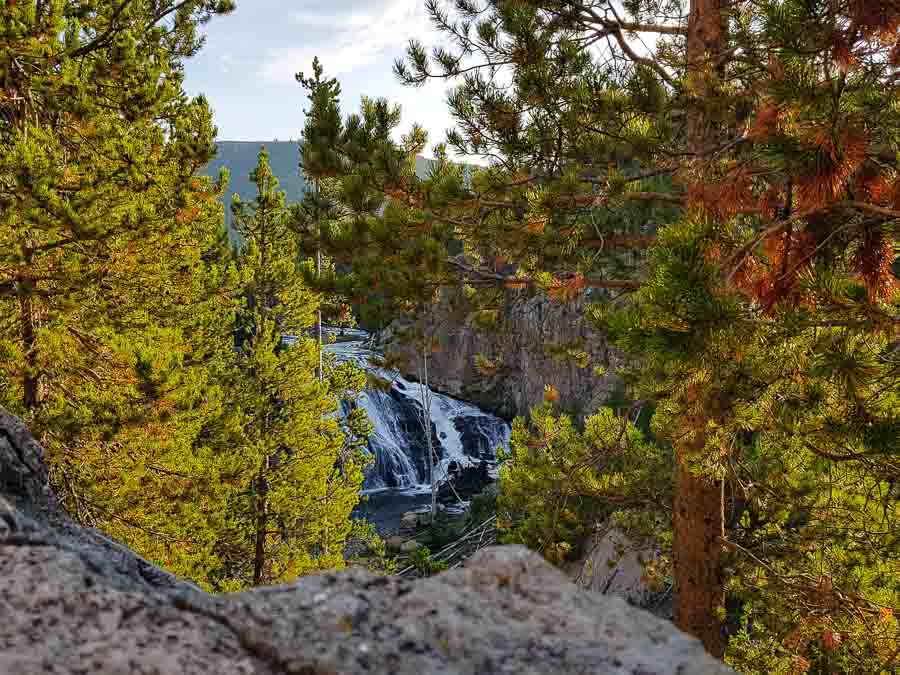 Yellowstone National Park
One of the best USA National Parks to visit has to be Yellowstone National Park. It is the world's first National Park and is filled with something for everyone. From the raw power of nature, to stunning landscapes and animals, everyone needs to put Yellowstone on their bucket list.
Located in northwest America, and containing parts of the states of Wyoming, Idaho and Montana, this UNESCO World Heritage site has surprises around every corner. One of the most popular must-visit spots is in an area called the Upper Geyser Basin. It is, of course, Old Faithful, the world's most famous geyser. It was given its name thanks to the predictability of its eruptions, which occur approximately every 60 to 90 minutes. Other places not to be missed are the Grand Prismatic Spring, Mammoth Hot Springs and the waterfalls of the Yellowstone River.
All of these spots provide great photo opportunities but there are other great gems within Yellowstone which you should visit for those all-important photos. Gibbon Falls at sunrise is a lovely place to catch a great photo. It's a smaller waterfall than those along the Yellowstone river, but it is equally, if not more beautiful. Top tip: Make sure to be in the park super early to avoid the crowds and to get parking at the popular spots if you want to get those awe-inspiring pictures.
Hayden Valley is a great place for spotting bison along the valley and river and photographing them should be relatively easy if there are a group of them. Top tip: If you spot cars pulling up on the side of the road, it's a good sign there is wildlife close by. Another great spot for a picture opportunity is along the Madison River, where you might be treated to wildlife along the waters edge, particularly at dawn or dusk. Spotting wildlife along the rivers is a great thing to do in Yellowstone with kids, just make sure to bring a pair of binoculars.
Cath with Passports and Adventures
Check out reviews and prices to hotels here close to Yellowstone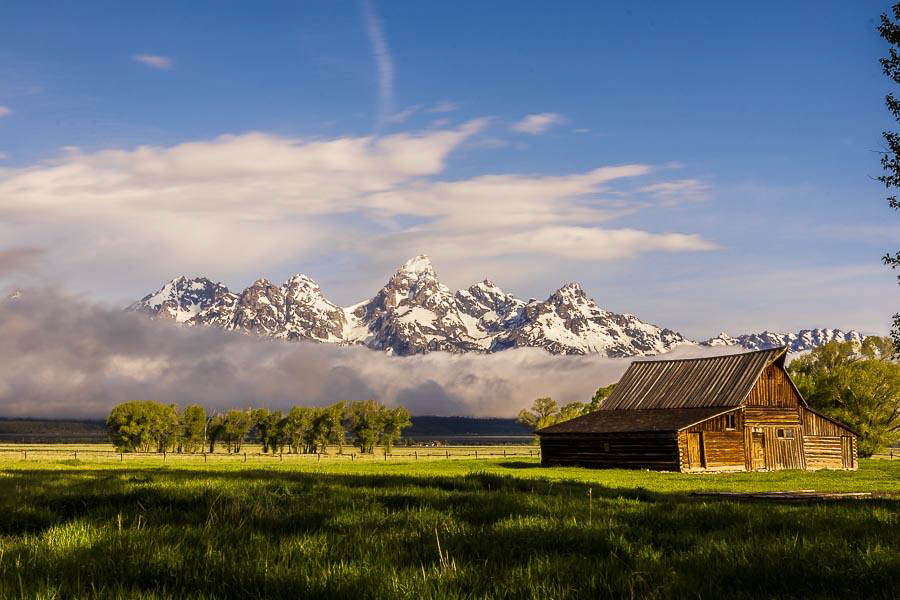 The Grand Teton National Park
On our journey across North America, we found that Grand Teton National Park is one of the most spectacular places in the US for photography – particularly at sunrise and sunset. But beware, the size of the mountains and their relation to the terrain around them lends the mountains to be consistently covered in clouds.
Still with the right timing, enough persistence and patience and the right location you are bound to capture a beautiful image or two during your visit.
Here are some of the best places to take photos within Grand Teton National Park:
Sunrise
Mormon Row. For the iconic image of the most photographed barn in America head to Mormon Row. Capture the barn with the Tetons rising in the background.
Schwabacher Landing. For a great place to capture a sunrise reflection of the Teton mountain range head down to Schwabacher Landing. You might also spot some photogenic wildlife hidden around the river.
Sunset
Oxbow Bend. For the most popular sunset reflection, head to Oxbow Bend. Be sure to get there well before sunset to get a parking spot and set up before all of the other photographers show up. There is usually some cool wildlife in the river here as well.
Jenny Lake. Jenny Lake offers some pretty spectacular sunset reflections of the Teton mountains at a much closer range. If you are not interested in the reflections, there are several great places to pull over on the road to park at nearby String Lake.
The Grand Tetons are also teeming with wildlife, particularly in the morning and evening hours. So while you are out hunting for the best sunrise and sunset photos, be ready to capture moose, elk, bear, coyote and other animals that may bolt across the road or trail in front of you!
Chris Hardy with Call to Wander
Check out reviews and prices to hotels here close the Grand Tetons
More Information on Visiting the USA National Parks Systems
If you plan on visiting the national parks, there are over 420 sites that you can visit around the country managed through the National Parks Services. Outside of the USA national parks there are also national monuments, historic sites, natural sites and forests, recreation areas and battlefields to visit across the country.
The USA National Parks are supported by visitors and mostly through the National Park Foundation which is always operating on restricted budgets so anything you can do to support visiting, staying and even making donations to the foundation is a great way to keep the operations going smoothly.
Free National Park Admission Day
You'll get free access to all the national parks on these following days and save big time on your entrance.
January 20th on Martin Luther King Day
April 18th celebrating the first day of National Park week
August 25th – the National Park service birthday celebration
September 26th is National Public Lands Day
November 11th is Veterans Day
National Park Pass
If you plan on visiting some of these national parks more than three times yearly, then consider buying an annual National Park Pass which allows you unlimited access to all the national parks for an entire year. This is a great deal if you love visiting the National Parks and also supporting them with a membership. The National Park Pass also includes special discounts to various groups, volunteers or ages. Check this site for more details on getting the national pass to the parks.
Details to getting an annual pass
The basic annual pass is $80 for unlimited annual access to the national parks
You can purchase on site at a national park or on the USGS site here
The pass is non-transferable
Please pin this for later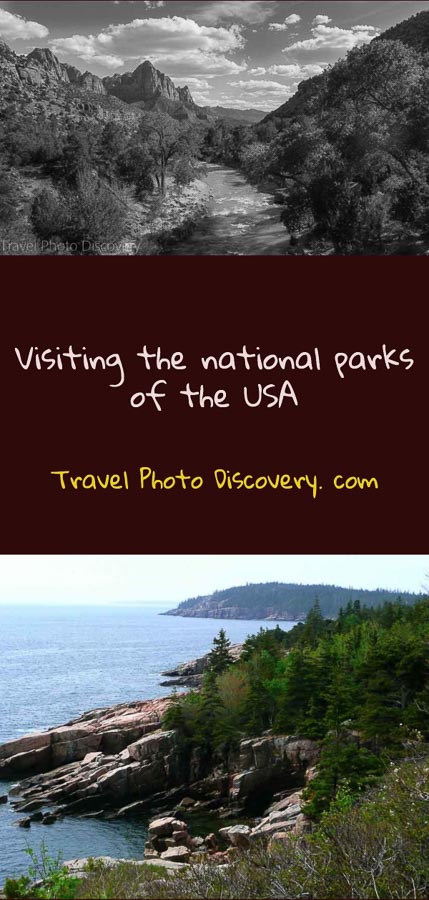 Thanks for visiting today and checking out this post on Top USA national parks by state. I hope you are inspired to plan a visit and enjoy these wonderful attractions. If you enjoyed the images and post, could you please share it with any of the social media buttons located around the post.
If you like what you see, come and check out my other social media channels for more updates, including Instagram, Pinterest and Twitter
Some links in this article on Top USA national parks by state are affiliates which provide a small commission to support this site at no extra cost to you. Thank you for reading, and happy travels