Touring Mexico City with Tours by Locals
I haven't done a custom one on one tour before so it so it was perfect for my short visit to Mexico City to do a tour with Tours by Locals and get a quick look at this vibrant city with a custom plan catered around my personal interests. And what a treat, I was booked on two tours with Nydia, who is also an artist like myself. My guide Nydia really had my interests in mind when she created a custom itinerary focused on my interest culture, art and Mexican street food.
The attention to detail on the private tour guaranteed that I would be getting personalized attention with my personal interest at hand and for such a short visit to Mexico City,  Nydia would be showing me the most popular things on my interest list with flexibility depending on what I like, the days touring conditions and if I wanted to spend more time in a particular location. A Mexico city itinerary is fantastic when you have a personalized tour that focuses on your interests and Nydia was determined to showing me the best of the city with my interests in mind. Be aware about traveling in Mexico during Covid is important to know all the necessary details.

My first tour was at nighttime to pass through the Zocalo to experience the nightlife and culture in the surrounding area. I can imagine what this area must like when they celebrate the Day of the Dead in Mexico City with the entire city celebrating in this huge area of the city planned for big events.
Nydia picked me up promptly at my hotel and she also had a driver which adds a little more personalized service so that she can give her full attention to me and show many of the landmarks that we were passing along the way to our first stop. It definitely made it easier to have a conversation with her and get her undivided attention to our conversation and questions I would ask.
We pass by the ornate Bellas Artes and the grand Opera House – two beautiful Beaux Arts styled structures located in the Zocalo district. Along the way we see the non-lit cathedral and many other Nouveau style architecture around the Zocalo and just around the corner we enter Garibaldi Square, our destination and hangout for the next few hours.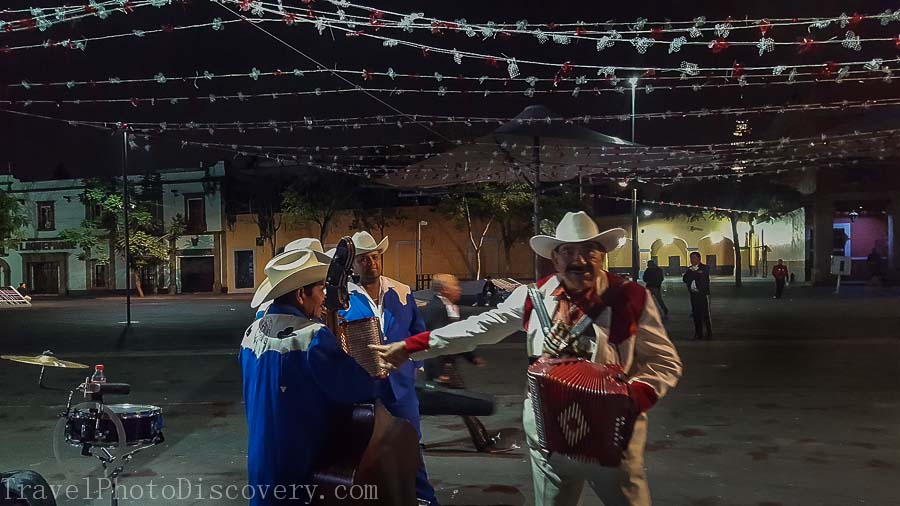 Garibaldi square, mariachi and a fiesta
Nydia mentions that the square is a little dangerous at night and we should walk as a group, but I think the area looks quite festive and filled with both locals and tourists looking to enjoy the evening, check out some of the tastiest restaurants and listen to some of the most colorful mariachi that you'll ever see congregating in one spot in all of Mexico City. This felt like just like the right introduction to the culture of Mexico City, and considering that this wasn't even the weekend, it seemed quite colorful and filled with energy.
Tequila Museum
First on our agenda though is a visit to the Tequila Museum fronting the main square. Located on the 2nd story of one of the older structures on the square, the Tequila Museum houses everything and anything to do with tequila. Sharing the history, planting and processing of Tequila in Mexico, this museum is not only interesting, but the displays of hundreds of different Tequila brands and their colorful bottles lines several walls. I also learned about the history and difference of tequila to mezcal which was filled with fantastic information on the two types of liquor. The highlight is getting a chance to taste some of the brands while sipping out on a veranda with views to the square below  – it is very festive and colorful and I'm dying to go down and photograph some of the local scenes and bands converging around the square.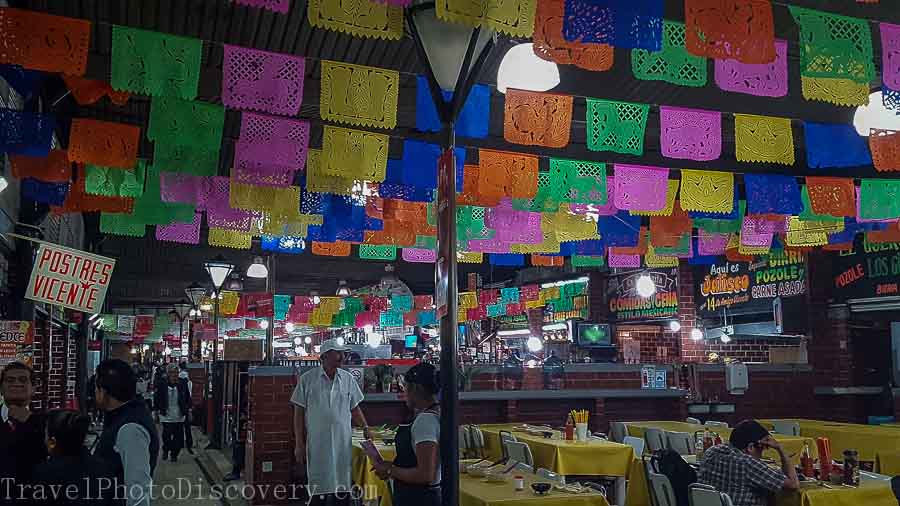 Looking for the perfect restaurant and Mariachi band
Nydia tells me that we need to find a mariachi band that will serenade us for the evening, so we also need to find a restaurant that will serve us a great meal. Easier said then done, the square is bustling and filled with Mexican restaurants trying to lure you in and have a seat. After checking out a few menu's I'm getting dizzy from all the similarity of smells and color and ask Nydia to choose a spot and the Mariachi band that will be playing for us since I'm a mariachi virgin at this point of the game. We strike out at the first venue, which was not planning on having a dinner show for another hour and it was already 9pm and I was starving. I point out an earlier restaurant that I thought was quite lively and we walk back to investigate and try out the local fermented by product of the Agave plant that is also turned into a local moonshine – a very rough drink indeed and a real acquired taste to enjoy (I almost vomited the drink back out but forced myself to swallow).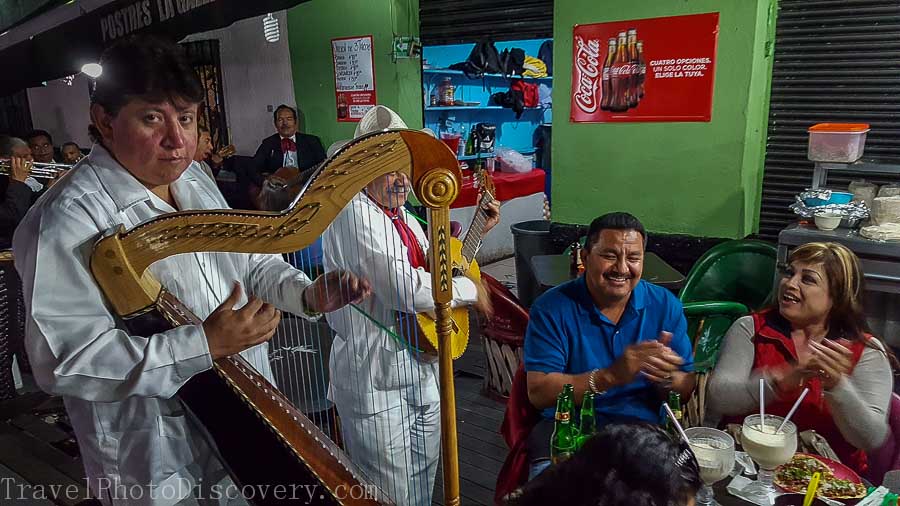 After the moonshine tasting, we finally sat down in a restaurant already bustling with activity and mariachi bands clamoring to come in and entertain for a price. Now the hard part was looking through the menu and trying to decide what was going to be my meal for the night – tacos, quesadillas, chimichangas, too many dishes to choose from.  I eventually settled on small plate samplers of local Mexican favorites and I was happy.
Finding the right mariachi band to serenade us fortunately was a lot easier than choosing dinner. After hearing a rowdy version of Guantanamera and thunderous applause, Nydia invites them over and quickly compiles a list of her favorite tunes and the band quickly surrounds the table and starts to play in full orchestral strength. Not surprisingly Nydia and our driver joined in with the singing and I would have also wanted to if I actually knew the lyrics – but it ended up being quite festive and a lot of fun. The band played all the songs and thanked us for the tips and we took another quick walk around the square before our driver brought me back to the Hotel Casa Blanca for a well deserved sleep.
Day two and touring unique parts of Mexico City
Again Nydia shows up promptly with her driver despite the rainy weather and forecasts – no worries she says, we will checking out some cool places around the city based on my interests in culture, art and some beautiful towns and architecture in the city. What I found cool about Tour by Locals and working with Nydia is that she can cater to what your exact interests are and find something cool visiting Mexico City that would be fun to explore and my second day of visiting the city was exactly that despite the rain which made it more challenging but also created different opportunities of what else we could do despite the gloomy weather. And the fun thing is that when it is geared towards your interest, you can spend more or less time at a location depending on your interest level and if you want to stay longer.
Stay tune to my day two of visiting Mexico City and what fun adventure Nydia created with my interests in mind.
Thanks for visiting today and checking out this post on Touring Mexico City with Tours by Locals, hopefully you will be able visit and experience these amazing city with a fun customized tour of this wonderful city. If you enjoyed the images and post, could you please share it with any of the social media buttons located around the post.
If you like what you see, come and check out my other social media channels for more updates, including Instagram, Pinterest and Twitter
Thanks to Tours By Locals for showing me a wonderful side of Mexico City, all thoughts and opinions are my own and I loved this customized tour of the city.