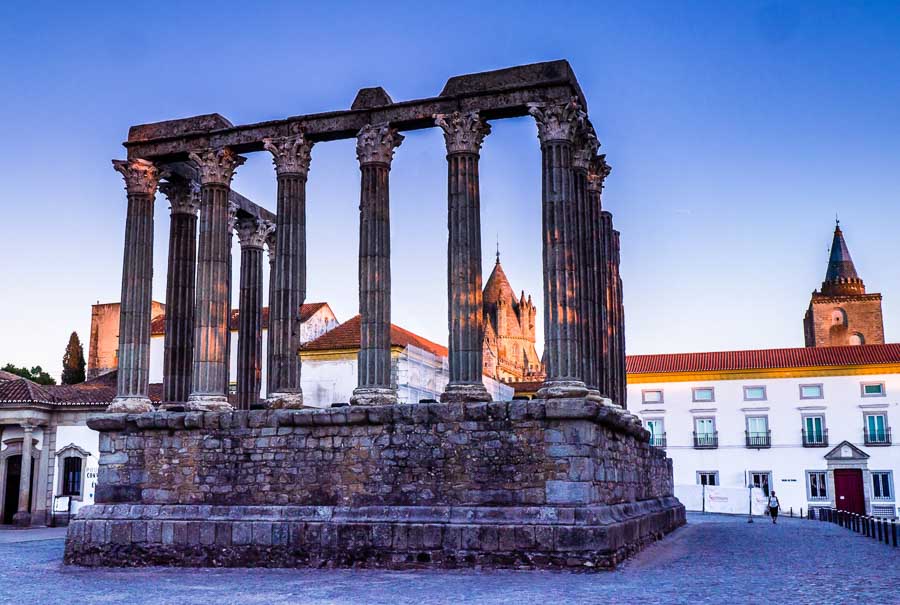 Evora, Portugal: Historic charm, UNESCO-listed landmarks, and delicious food in a picturesque setting
Visiting historic Evora in my experience is like taking you back many centuries from early Roman days to present and discovering all the layers and hidden gems by accident or just walking through the main promenades while exploring all the amazing treasures to be found. I found this gorgeous city oozing with so much culture, architecture and wonderful places to explore on foot and easily cover the entire city without stepping into a car.
Like most people, when I imagine a typical trip to Portugal, I think of Lisbon, Porto, and the beaches in the Algarve region. That is why it was a bit of a surprise when my wife, Anna, suggested we spend two weeks in Alentejo.
Evora in the Alentejo region
Where is Alentejo? And, what is there to see there? Well, it is not a region most people talk about, or have ever been to. So, I was certainly intrigued. Needless to say, it was an eye-opening, two week journey that included the area surrounding Evora.
And in this post, I am here to entice you with some of the wonders that we found in the rolling hills of Alentejo, east of Lisbon visiting the  UNESCO Towns in Evora, Portugal.
Visiting the Unesco towns in Evora Portugal (historic and cultural sites, markets, squares & cool places to visit)
It is just a short and easy two hour drive from the capital city of Lisbon towards central Portugal to Evora and some of these towns in Alentejo. A world apart from the busy metropolis, these Unesco sites feature the early settlements, Roman ruins to hilltop towns that domiinated the landscape during its time in Alentejo. Evora, the large town that dominates the region is filled with historic sites is fun to explore and wander around the historic district, exploring the town square and having some traditional Portuguese cuisine from the region and enjoyng the small town vibe and history unfolding from an easy walk around the district. A wonderful road trip exploring the castles, hilltop villages and landscapes in the region will give you an appreciation to Portugal's history and cultural past in the region.
Explore the historic sites and attractions around Evora below
Exploring Evora and the Surrounding Towns in Alentejo
One of the most popular day trip destinations from Lisbon, Evora is a beautifully maintained UNESCO historic town that is well worth visiting. I had not actually heard of it before my wife suggested we go there, but I am certainly glad based ourselves there.
It is a fabulous destination in its own right, with a Roman temple right in the heart of the old town. As well as that, the town square is a fun place to people watch. Everyone gathers there at night for the mandatory coffee and gelato.
The backstreets are also worth spending a few hours wandering, where you will be sure to trip over some of the other historic gems like:
● Evora's Cathedral – where many a picture is taken from the roof
● The Capela dos Ossos (Church of Bones) – not something everyone can stomach
● And a whole slew of local restaurants and coffee shops worth just people watching from.
We stayed in a historically restored building in the back alleys of the town, called Casa Morgado Esporão, which I can highly recommend. It was a great location for exploring Evora itself. Of course, we were also excited to explore the region, so were soon out in our rental car heading for some other historic towns.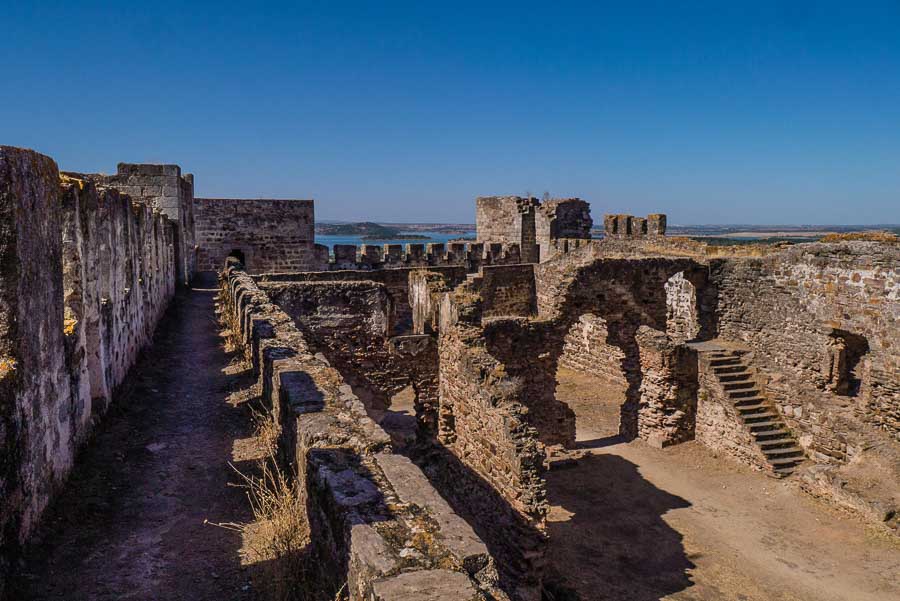 The Abandoned Castle of Mourão
Beckoning us from Google maps was a large man-made reservoir of Alqueva and the surrounding towns. A quick search online gave us our itinerary for the day, crossing the reservoir to Mourão, and then heading to Monsaraz. It was also satisfying my obsession with castles, something that eventually frustrates my poor wife.
I don't think many people make it to Mourão, as it's a quiet little town right on the border of Spain. However, given I like exploring old castles, it was worthy of a visit. And, this particular castle was well and truly abandoned. So, no entrance fee, and very few people to be seen.
If you are also an adventurer, you can not only explore the ruins, you can also get up onto the wall. Not always a simple task as they have some rather "unmaintained" rock stairs leading up to them. The views are definitely worth it in my opinion, although I had some trouble convincing my partner in crime.
Which is why the next stop was something a little more civilised, and popular, the hilltop town of Monsaraz.
Here's a look at the castelo at Mourao Alentejo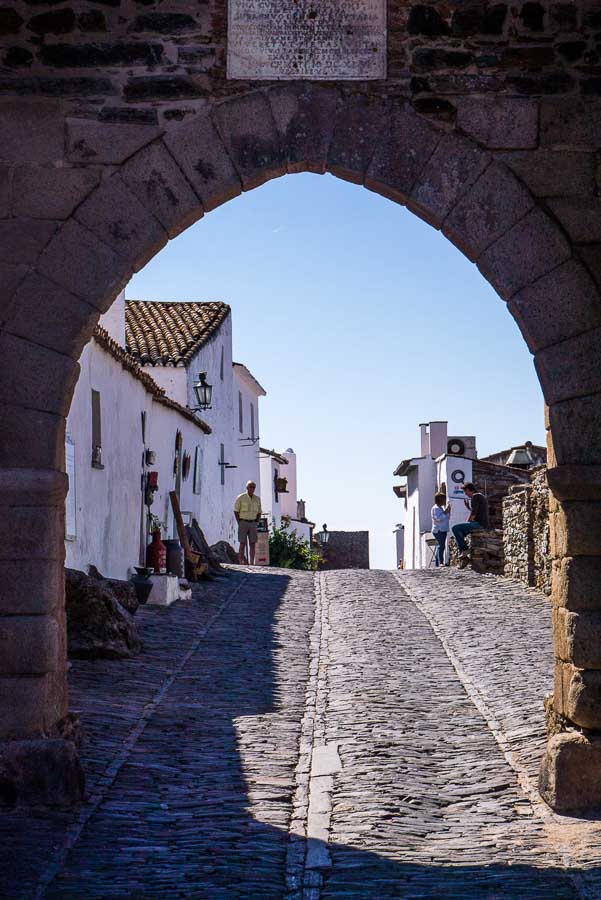 The Hilltop Town of Monsaraz
Monsaraz is where you will certainly bump into more tourists. And as you approach the town from a distance, you will quickly understand why. Towering over the surrounding area, perched strategically on one of the only large hills, Monsaraz is an imposing figure. In reality though, it is actually quite a small town that you can easily visit in a few hours.
There are three main streets running the length of the town, with white-washed houses along either side. The town itself is enclosed by a wall which ends with a castle. Perhaps because this region is not as popular as Lisbon or the southern coast, the castle is still relatively unrestored. For me, that is part of the charm of such a village. Discovering it before the masses arrive.
The town of Monsaraz is really cool and fun to explore below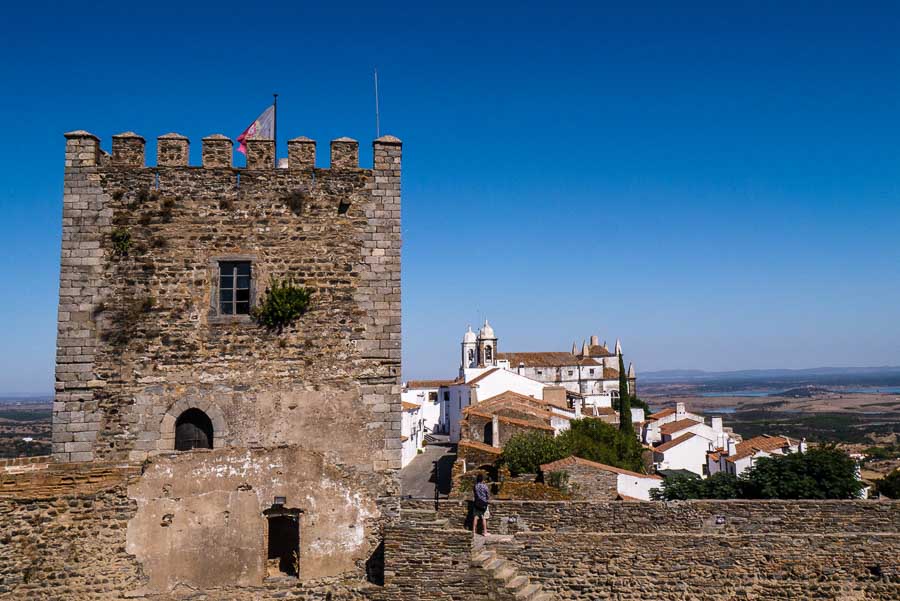 After a quick hour exploring, we had lunch at a spectacularly located restaurant called Xarez. It's right on the town wall by the main entrance. We enjoyed soaking up the views before moving on to our next stop. Elvas.


Elvas And The Amoreira Aqueduct
I have another weakness for aqueducts. So, when I saw the images online of Elvas' World Heritage Amoreira Aqueduct, I knew we had to go there. Elvas is only an hours drive from Evora, so it was easy to do on our trip.
The approach to the town leads you straight along this engineering marvel, so I had trouble keeping my eyes on the road. At around 8km (5 miles) long, with some sections towering to 30m (around 100 ft) it is certainly hard to miss.
Here's a view of Elvas and surrounding areas from above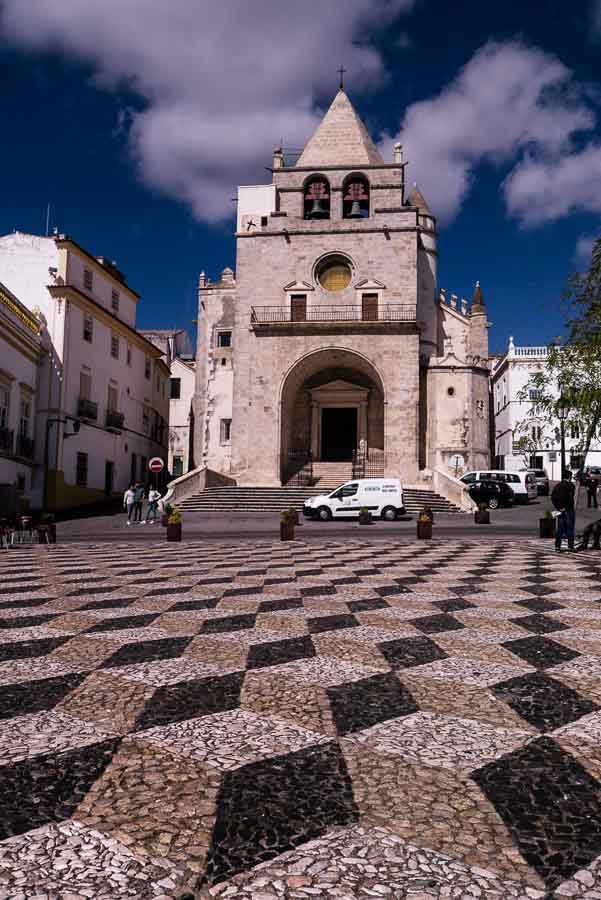 And helpfully, the aqueduct leads straight into the town. Which, of course, is another historic village worth exploring. And yet again, we did not see a single tourist in the area.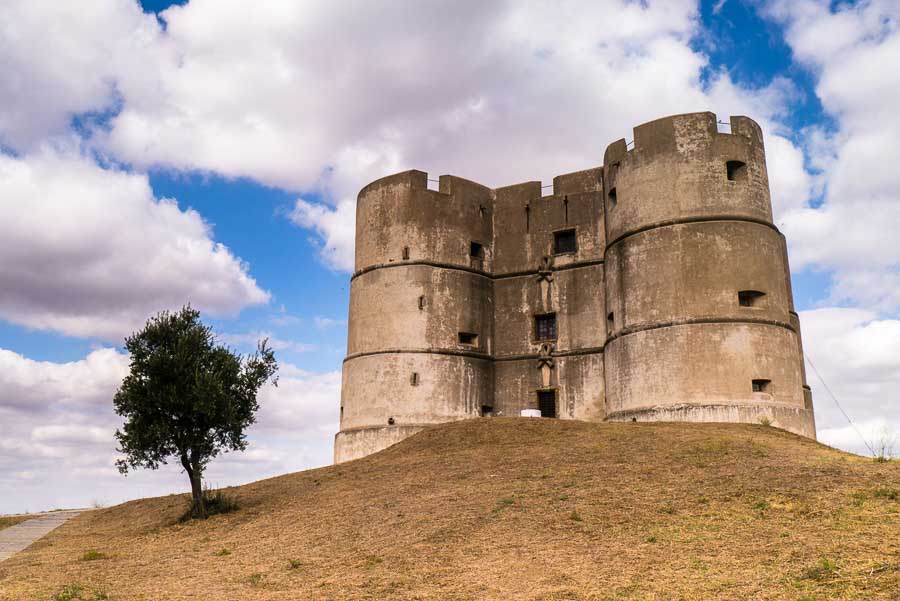 The Castle Of Evoramonte
Evoramonte's castle, with its stocky four column layout, got my attention the moment I saw it in our hotel. It is actually located on the top of a hill only 30 minutes drive from Evora.
Walking around the town, it appears almost deserted. First, I took the obligatory shot of the castle. Then we took a quick stroll along the two small streets in town. Yes, it's actually quite small, so we were quickly done.
On the way back to the car we discovered a recently renovated hotel and bar called "The Place". If you want absolute peace and quiet, this is the perfect spot to spend a night. We only stopped for a quick drink there, but the views over the surrounding countryside were certainly great for the soul.
Check out the castle of Evoramonte below
It's Worth Spending Time In Alentejo
Most people only come to Lisbon or Porto and some might even make it down to the sunny Algarve in the south of Portugal. Alentejo, however, is definitely worth your time. Not only are there majestic hilltop towns and castles to visit, but there are also some quieter beachside towns that most people ignore.
We certainly enjoyed our two weeks in the area, and highly recommend it to anyone.
Check out this gorgeous video showcasing the entire region of Alentejo below
Where to stay around Evora, Portugal
You can easily base yourself around Evora and take a few day trips to visit some of the hilltop towns, castles and other historic monuments in the area. Check out these top Trip Advisor accommodations here for inspiration to staying in the area.
Evora Olive hotel – located in this historic district with fantastic views of the old town, the modern styled hotel with modern amenities, conveniences, fantastic service and great dining service.
M'ar de Ar Aqueduto – Luxury hotels at an affordable price point with large swimming pool, outdoor areas and gardens and nice comfortable rooms and bathrooms.
Moov Hotel Evora – a historic site that has been repurposed into a modern style hotel interior, stylish and affordable for this historic district location, nice bedrooms and a comfortable stay in the historic district.
Check out these top reviews of places to stay in Evora throughTrip Advisor accommodations here for inspiration to staying in the area.
Where to eat in Evora, Portugal
With so many wonderful venues and traditional food restaurants, you'll enjoy the foodie scene here in Evora
Check out this video of favorite places to visit and eat in Evora now.
An elegant dining venue in Evora for tapas
Enjoyed the post – Please pin it!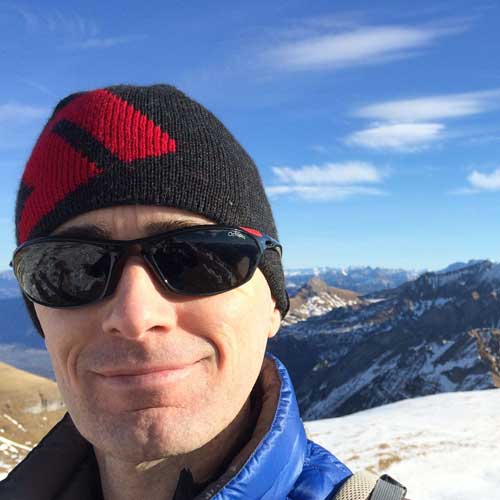 Guest writer Bio
Roger is an avid explorer and photographer who loves nothing more than finding new destinations and sharing his experiences with others. A nomad of many years, he now calls Switzerland home and spends much of his spare time roaming the Alps by foot or mountain bike.
Conclusion to visiting the Unesco towns of Evora, Portugal
Thanks for visiting today and checking out this post on visiting the Unesco towns in Evora Portugal. If you enjoyed the images and post, could you please share it with any of the social media buttons located around the post.
If you like what you see, come and check out my other social media channels for more updates, including Instagram, Pinterest and Twitter
Disclosure – There are affiliates links on this posts which provide a small commission to support this site at no extra cost to you. Thank you for reading, and happy travels