What traditional Portuguese foods should you try now?
Although most people are familiar with the cuisine of neighboring Spain, Portuguese foods and cuisine has gone relatively unnoticed. Recently, Portugal, and in particular Lisbon, has become a feature on many traveler's itineraries and trying the local and traditional Portuguese foods adds to the discovery and touring experience around the country. This has lead to more and more people asking, what should I eat when I go to Portugal? The following is just a sample of some of 8 traditional Portuguese foods to try when you visit Portugal.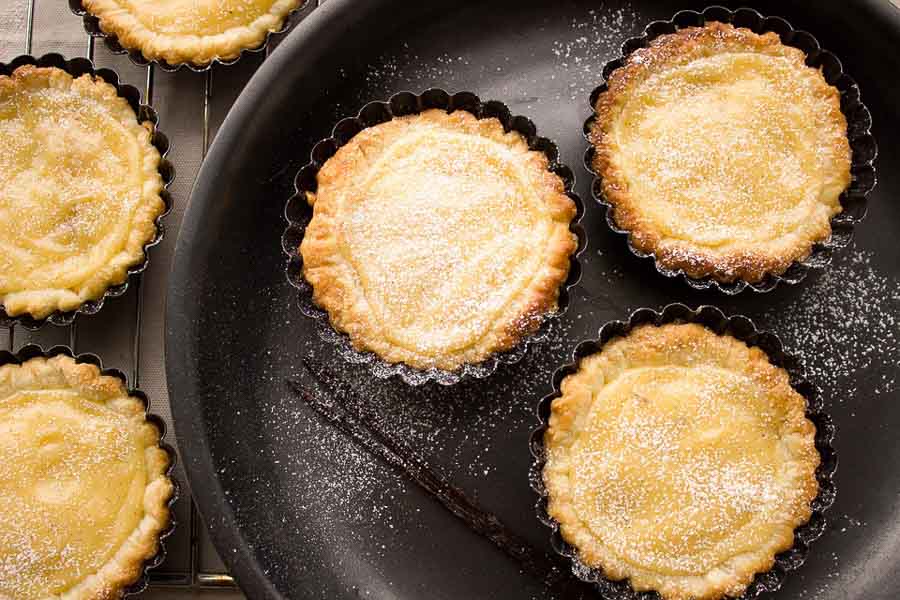 What is Portuguese food like?
What makes Portuguese food so delicious and comforting at the same time? Basically it's all the basic and local foods that have been passed down the generations from each family and each regional specialty foods. But there are some typical Portuguese dishes below that stand out because of they were originally peasant food made with fresh and local ingredients. Basic ingredients like rice, bread, local spices, pastries, local meat and especially seafood and the popular cod that is typically dried to last a long timeframe before it is reconstituted into various casseroles, baked and fried dishes. A typical Portuguese meal comprises of one main meat or seafood dish accompanied by several side dishes. Seafood is popular with a bacalau dish a seafood fish stew. Most dishes are well balance in a mediterrannean style with fresh ingredients, vegetables, spice, warm and satisfying including fruit and dessert to finish a meal in traditional Portuguese food culture.
Why try these traditional Portuguese dishes?
Many of these dishes are the popular classic dishes to try when you visit Portugal. With a strong food culture that started with simple peasant food made from the various regions, these dishes stand out as the national favorite that you will find all around the country from small mom and pop shops to nicer establishments. If you are craving something authentic and traditional to eat in Portugal, look for any of these specialty dishes and you won't be disappointed with what you ordered.
Try these delicious Portuguese foods and traditional cuisine
 
Pastel de nata
Portuguese food custard tart or pastel de nata,  needs no introduction. Over the past few years, these delicious pastries have popped up in cafes and bakeries all over the world: from Berlin to Brisbane and are now a popular Portuguese street food.
The most original recipe comes from Pastéis de Belém, a pastelaria that dates back to 1837. But, even though Pastéis de Belém are the oldest pastelaria, you'll find these cakes in every single café in Portugal.
Over the past few years, several new bakeries have launched in Lisbon. Some people say that these bakeries are even better than Pastéis de Belém, while others say you can't beat the original. There's no consensus, and the only way to get an answer is to try them all yourself.
As well as Pastéis de Belém, three places to include on your 'grubcrawl' are Manteigaria, Aloma, and Cristal. Let us know what your consensus is.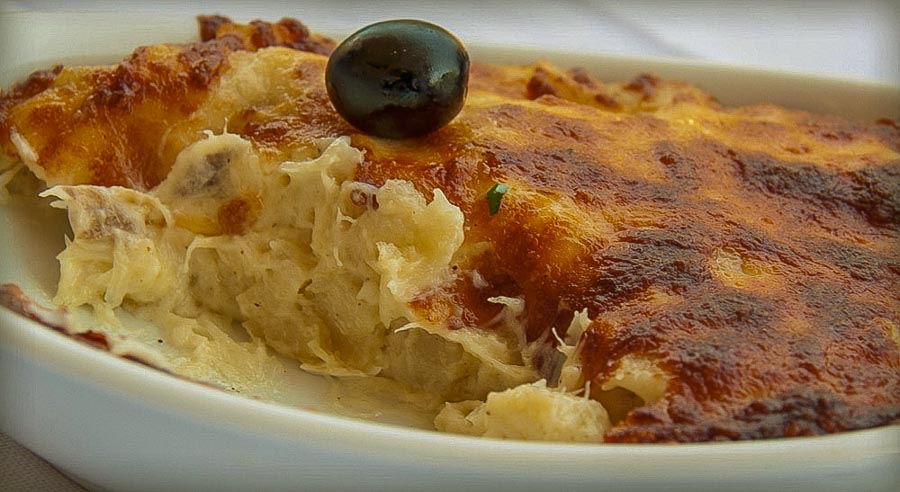 Bacalhau
Bacalhau is the national dish of Portugal, and you'll find it on almost every restaurant menu across Portugal. The Portuguese love it so much, that it's said that there are more than 365 different recipes for bacalhau: one for every day of the year. There are a variety of traditional Portuguese food recipes of this dish even though bacalhau is being used in a variety of new and exciting recipes with this ingredient.
Bacalhau is salt cod, although the dish itself is not necessarily salty. Prior to cooking, a chef will soak the bacalhau in cold water for at least 48 hours to remove the salt from the fish. If
Some of the most popular bacalhau recipes to look out for are 'bacalhau com nata', 'bacalhau à bras', and 'bacalhau a lagareiro'.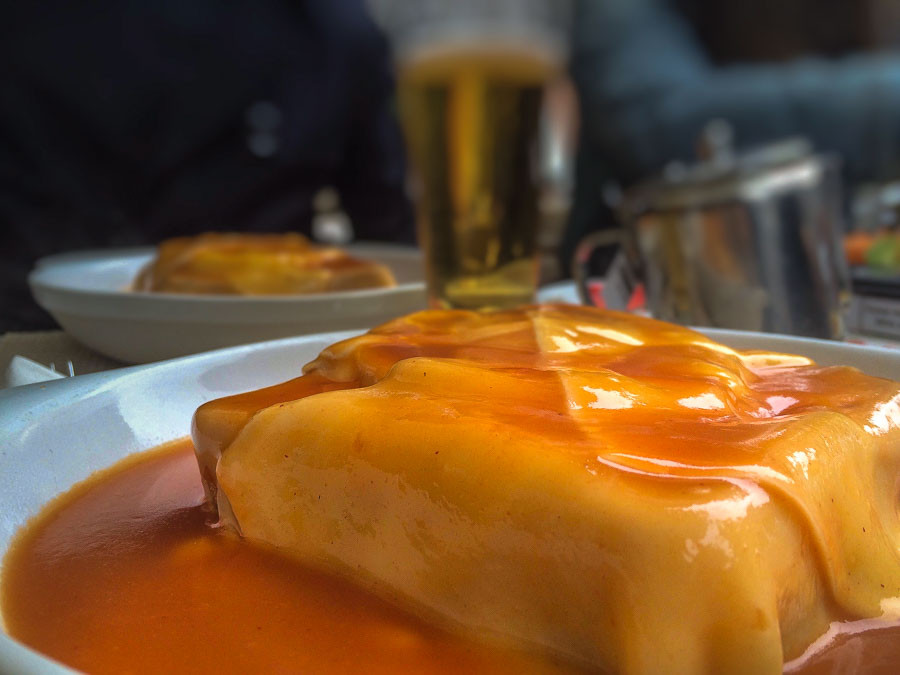 Francesinha
The Francesinha is one of Portugal's most unusual dishes. As the story goes, a Portuguese man who had returned to Portugal after living in France invented it. He wanted to adapt the Croque Monsieur to Portuguese tastes, and so made a few adjustments to the recipe.
To say he went a little overboard is an understatement. Typically, a Francesinha contains ham, sausage, steak, and cheese. It is then covered in a beer and tomato sauce and served with chips.
The Francesinha is most commonly found in Porto although, if you look hard enough, you'll find it in cafes all over Portugal.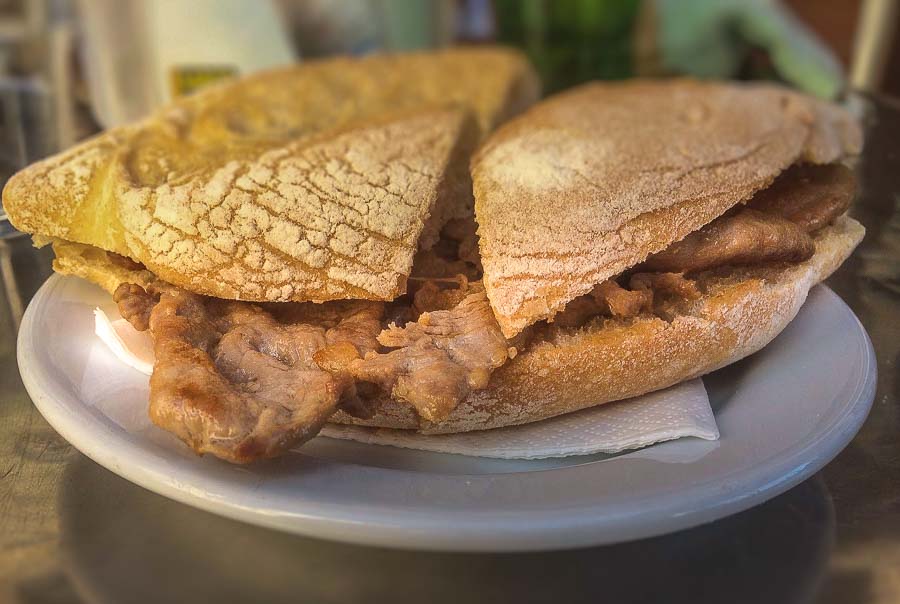 Bifana
The Francesinha gets a lot of attention for being unusual, but Portugal's best sandwich is probably the bifana. This is a pork sandwich, that's usually eaten with mustard. A great deal of preparation goes into the pork seasoning, and recipes usually include garlic, white wine, vinegar, and spices. Ironically, even though chefs spend a lot of time on the bifana recipe, it's traditional to add squeezy mustard to the bifana once served.
The best bifanas come from Porto, although the recipe originates from Vendas Novas in the Alentejo.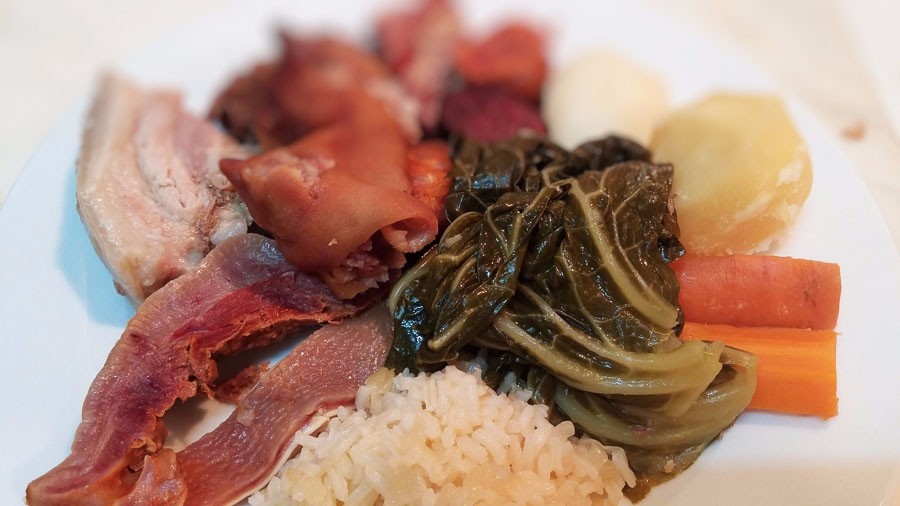 Cozido a Portuguesa
Cozido a Portuguesa is a traditional Portuguese stew. It's made of vegetables (usually beans, carrots, turnips, potatoes, and cabbage) and meat. The meat used varies, and could include sausage, chicken, pork, ribs, pork ear, or pork trotters. What you get is a bit of a lottery, much like traditional stews from many other European countries.
This is one of Portugal's most traditional dishes and, as such, you'll find it all over Portugal.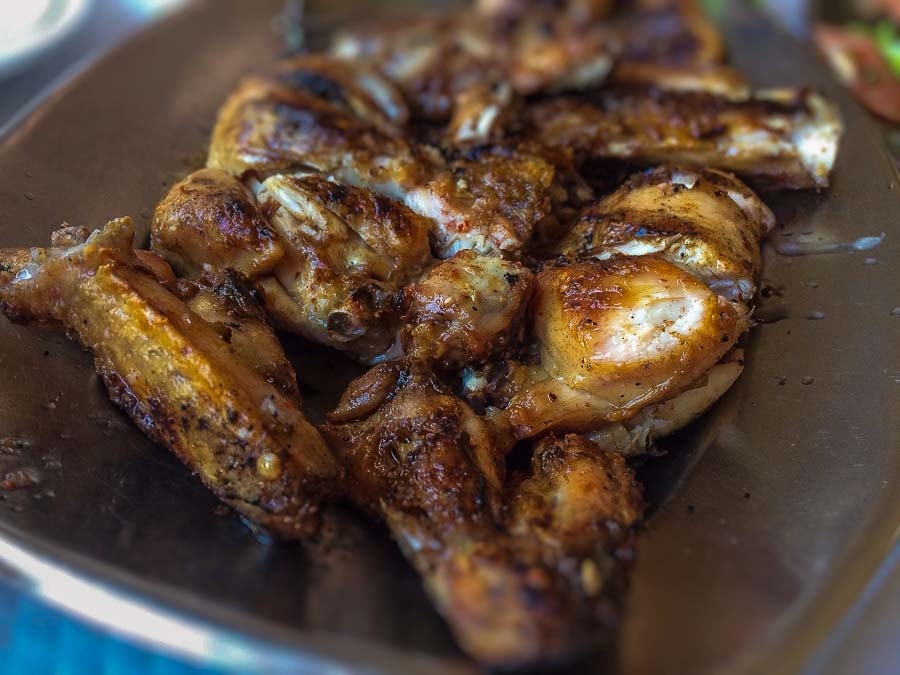 Frango Assado
Frango assado is what most of us call Piri-Piri chicken. Guia, a small town in the Algarve, claims it invented the dish using chillies that sailors brought back to Portugal from the new world. Frango Assado is one of the most popular Portuguese dishes that you will typically find on a menu or private event that is a local favorite dish being offered.
Grilled chicken and chips may seem simplistic, but it's a dish that's pretty much impossible to replicate to the same standards at home.
You'll find frango assado on menus throughout Portugal, but the best Piri-Piri chicken is definitely found in the Algarve.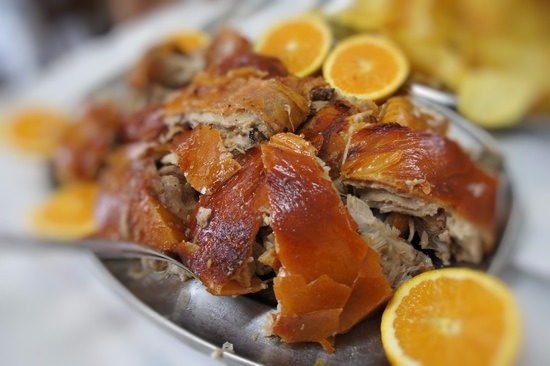 Leitão à Bairrada
Leitão is suckling pig; a young and tender pig that's roasted in a wood oven. While cooking, the meat is continually basted with a sauce that comprises of garlic, bay leaves, salt, and pig fat to keep the meat from drying out. This is a very special dish; so much so that traditionally it was something enjoyed by royalty. These days, it is often served for big events such as weddings.
While restaurants all over Portugal serve leitão , the best tends to come from the Bairrada region of Portugal.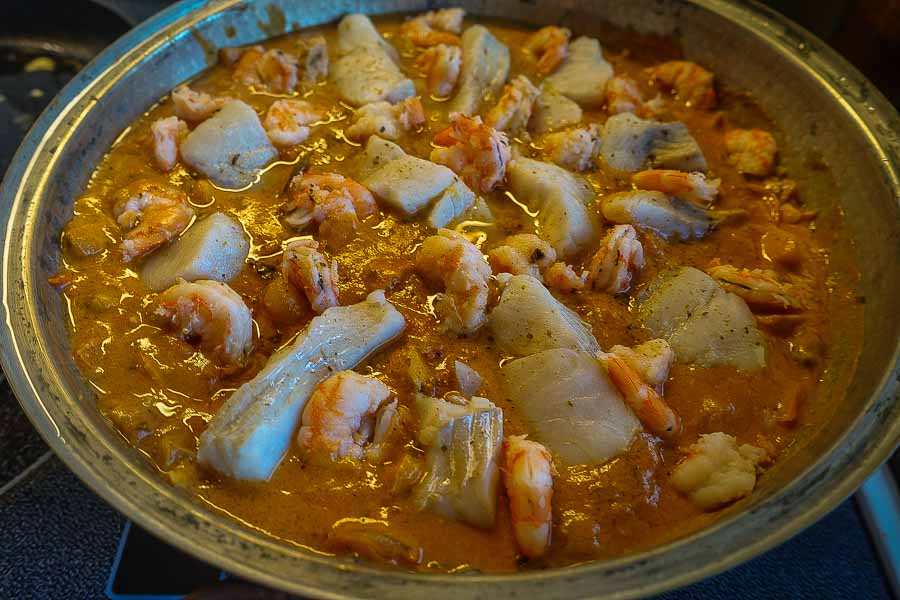 Cataplana
A cataplana is the name of a bronze cooking dish that's shaped a little like a clam and used to create Portuguese stews. The most common cataplana dish is probably a seafood cataplana. This dish contains white fish and seafood as well as a sauce that's made up of chopped tomatoes, parsley, garlic, white wine, and paprika. Other popular cataplana dishes to look out for are cataplana de polvo or cataplana Alentejana.
Cataplana dishes are most common in the Algarve, although it's possible to find them on menus all over Portugal.
If you enjoyed the post, please pin it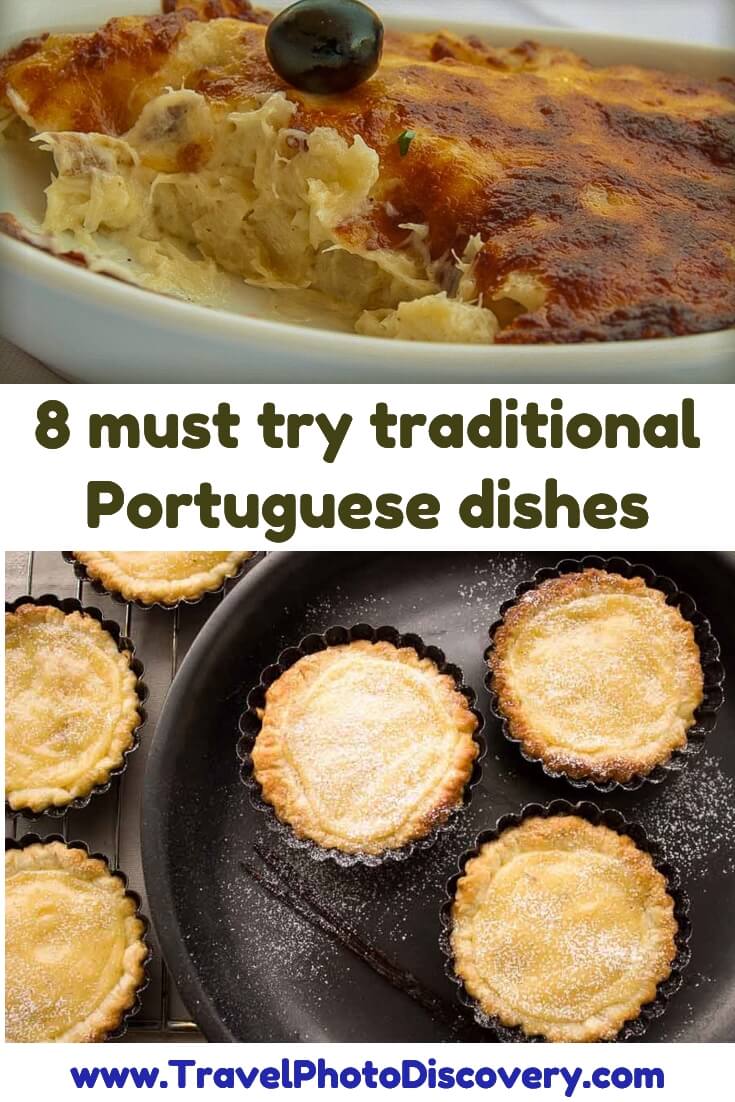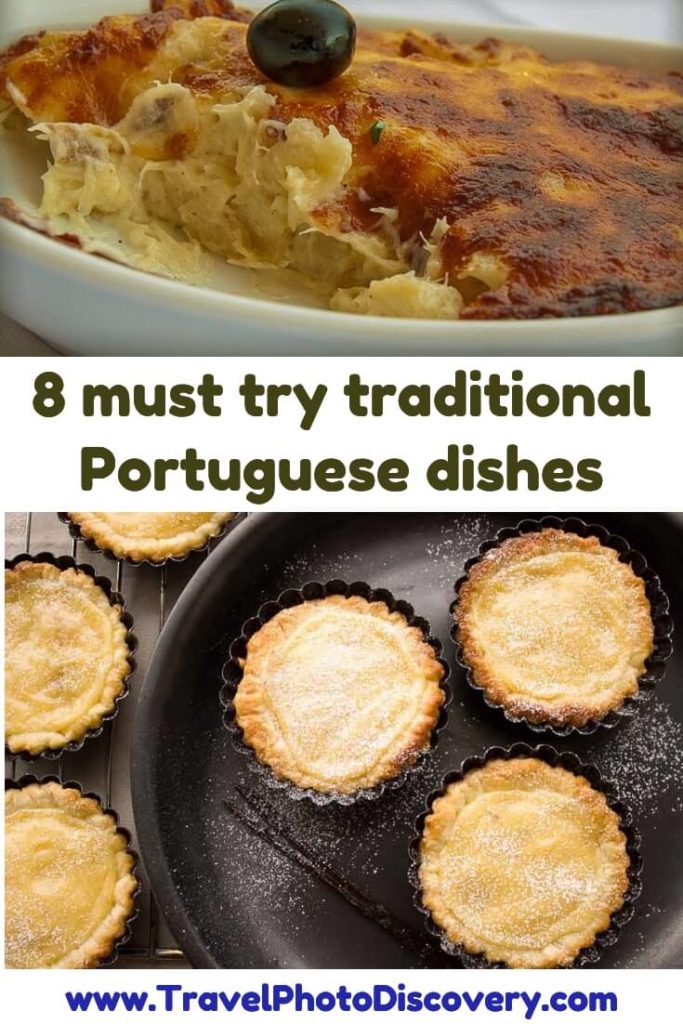 Check out these other posts on visiting Portugal
Visiting the Unesco towns in Evora, Portugal
Five best views of Medeira, Portugal
A visit to Albufeira in the Algarve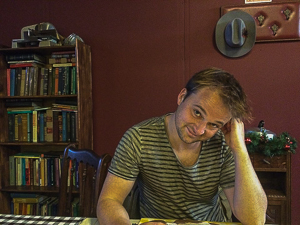 Guest writer bio
James writes for Portugalist, a travel blog about Portugal and all things Portuguese. He has spent time living all over Portugal: in Lisbon, the Algarve, and Northern Portugal. He is currently based in the Algarve, where he is writing about everything the region has to offer.  Check out his blog at  portugalist.com
Conclusion on eating traditional Portuguese foods
Thanks for visiting today and checking out this post on 8 traditional Portuguese foods to try in Portugal, if you enjoyed the images and post, could you please share it with any of the social media buttons located around the post.
If you like what you see, come and check out my other social media channels for more updates, including Instagram, Pinterest and Twitter