Wildlife tour at Grand Tetons National Park
The Grand Tetons National Park just outside of Jackson, Wyoming is truly one of the treasures in the national park system. With amazing landscapes, abundant wildlife and recreation and adventure activities to keep you busy, this park has it all for visitors. I visited with my niece Sunny and decided to take a wildlife tour operated by Jackson Hole Eco Tours based in Jackson. Seeing that our timeframe was short and my not having time to research the park thoroughly, I booked the tour knowing that we would see some wonderful wildlife and spectacular landscapes with knowledgeable and engaging guides.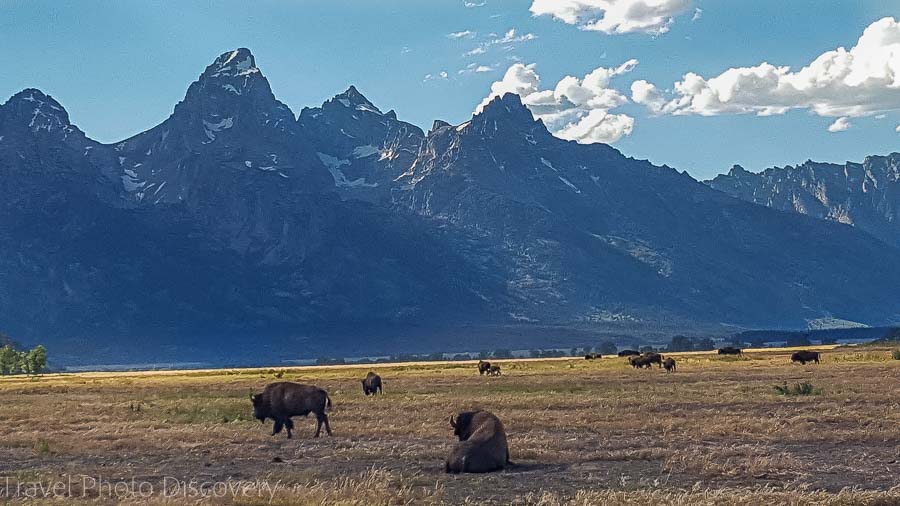 Enter Josh, our guide for the afternoon and sunset tour of the park – we met up with him along with the other tourists in a comfortable mini van with some cool costume made features set for viewing and taking photos from the van. After a quick introduction, we head out quickly and make a first stop just outside of the city at the Elk reserve to look for Elk and other wildlife in the reserve. We spot some herons, geese and unusual white pelicans with baby chicks that Josh was able to show us on a high powered scope that he was able to connect to his IPhone for everyone to view directly which I thought was a cool way to share with the group.
We continued along through some rural country roads skirting the park and enter the old historic Mormon dwellings in a farm setting just outside the national park. The first settlers where these Mormons who were the first white settlers in the area and created extensive irrigation systems to make the area more fertile. We drove pass the Mormon settlement close by to an area where an entire herd of buffalo grazed, these buffalo were introduced to the park which didn't have buffalos before and our guide tells us that the herds here are thriving because of the abundance of vegetation and milder climate for the buffalo to exist in the area. It almost looked like the herd have been used to seeing so many humans, ignoring the many cars that just appeared out of nowhere in these unmarked rural areas outside of the national park to gawk and take massive photographs of the herd.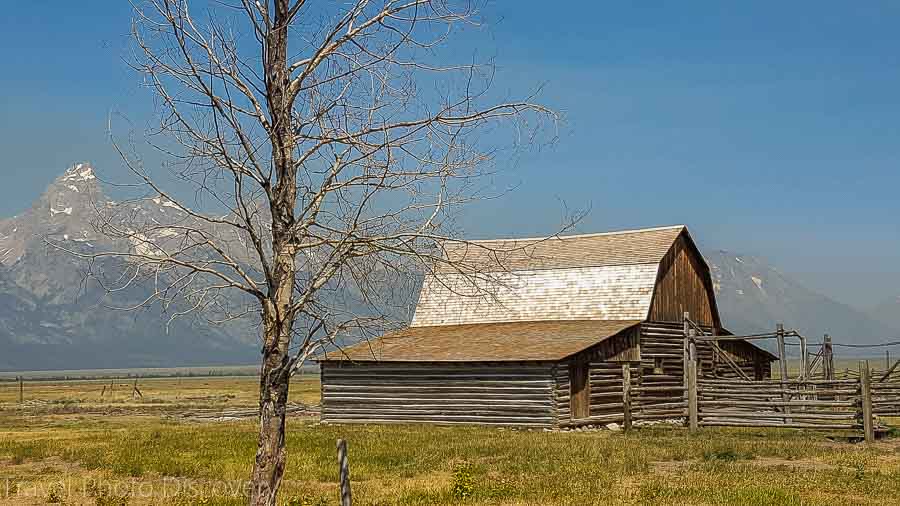 Old Mormon settle with views of the Grand Teton National Park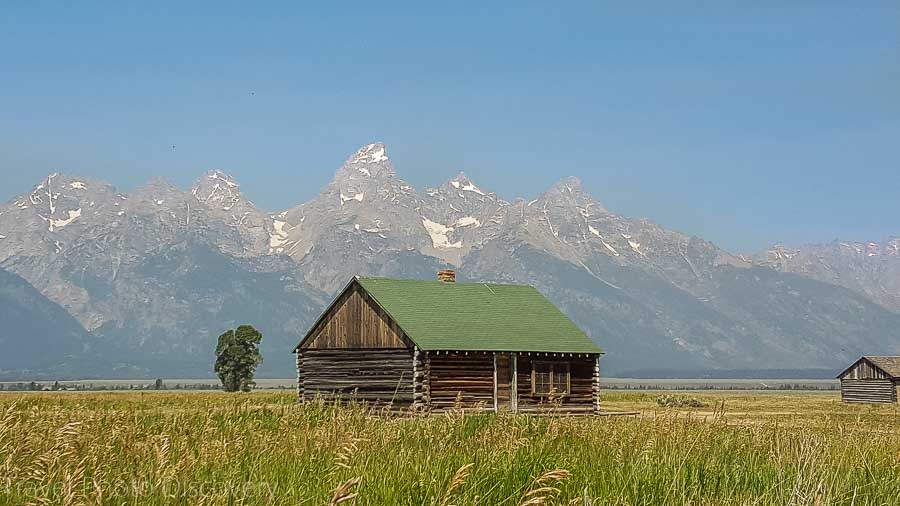 Bisons in the wild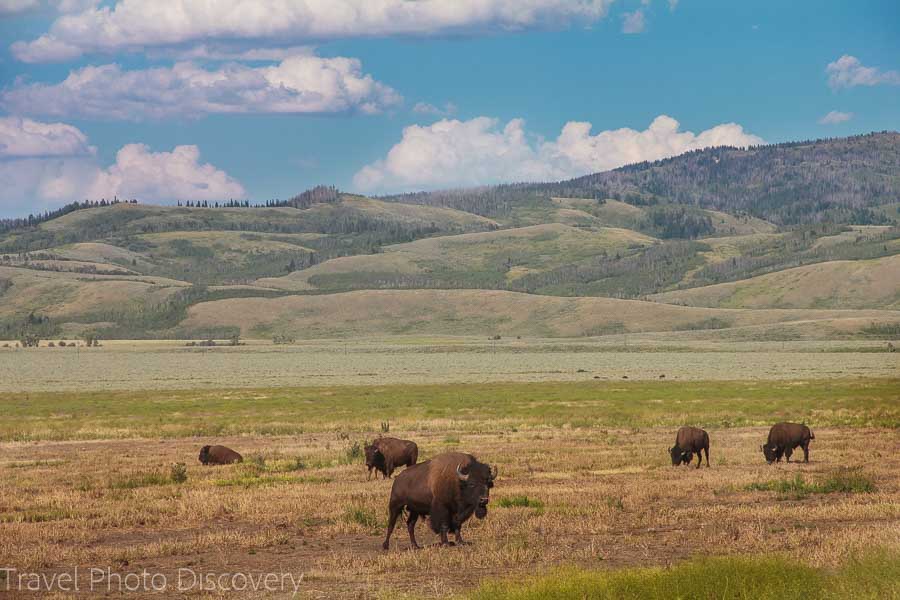 Stunning vistas of the Grand Tetons and bison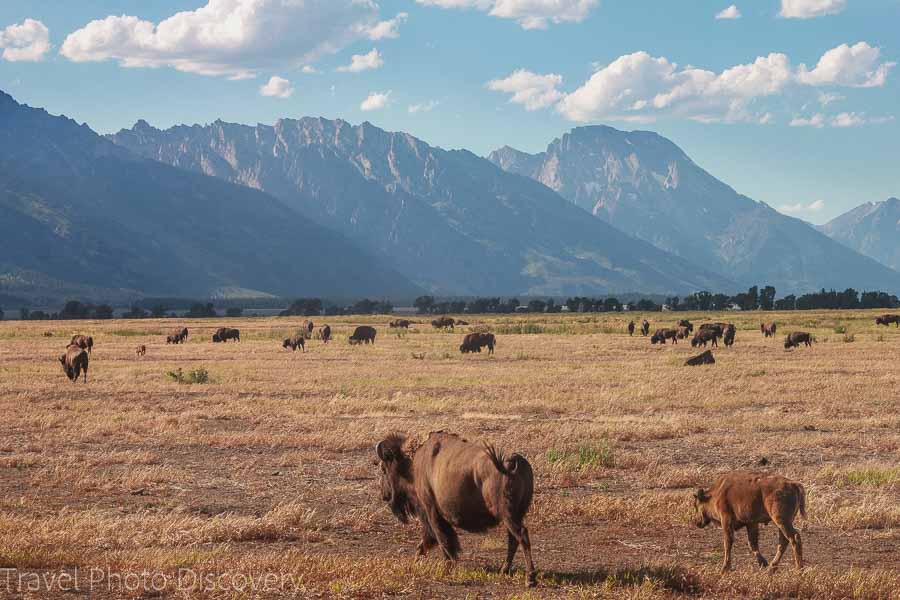 After getting our fill of seeing bisons frolicking in the flatlands, Josh drives our group to the edge of the national park in an area that is rich in wildlife habitat. We first enter the Rockefeller preserve to take a quick break and check out the elegant rest stop while looking for additional wildlife in the area. Apparently this entire valley floor was all privately owned until around 1930 when there was an effort lead by John Rockefeller to purchase additional land to add to the relatively small acreage of the new national monument at the Grand Tetons National Park which was established in 1943. This area below the mountain range is rich in plant life and meadow areas that draw the big game coming down from the mountains to forage and find some of the more delicious edibles in the park.
Mother elk and doe spotting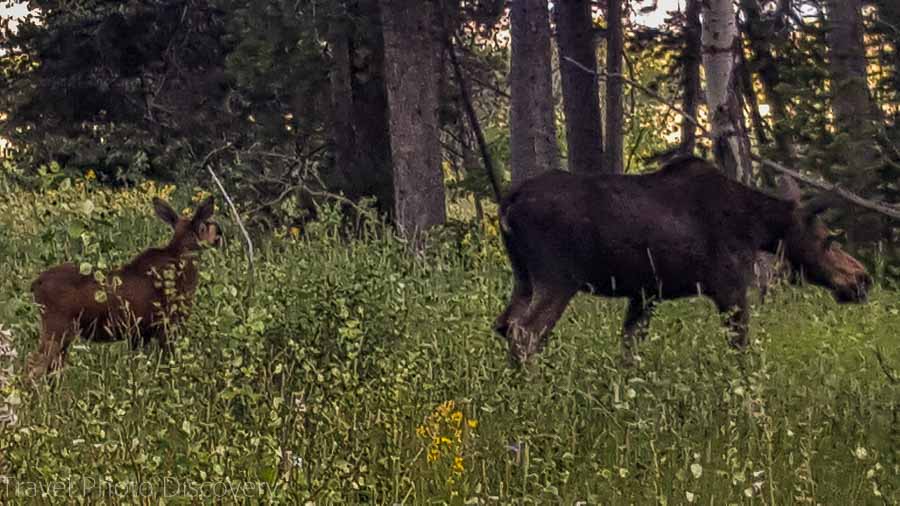 Not surprising, cars seem to again pop out of nowhere on this very small two lane road and every time there is a line of cars on the road, we know that there is some wildlife being spotted. We spot a mother elk and a baby calf in the woods being followed by a slew of photo enthusiasts. It is almost like a crazy circus with people flocking down the road with no concern for the wildlife foraging and not keeping the safe distances that the park gives as restrictions for viewing wildlife. Our guide tried to yell to everyone to stay at a distance, but it was almost impossible to stop tourists from being unruly tourists. Outside of the Elk, we spot mostly birds including blue herons, hawks and local blue jays around the meadows. It seemed like many of the big game we were hoping to spot were still up in the mountains this evening, but we did spot some more elk in the higher elevations.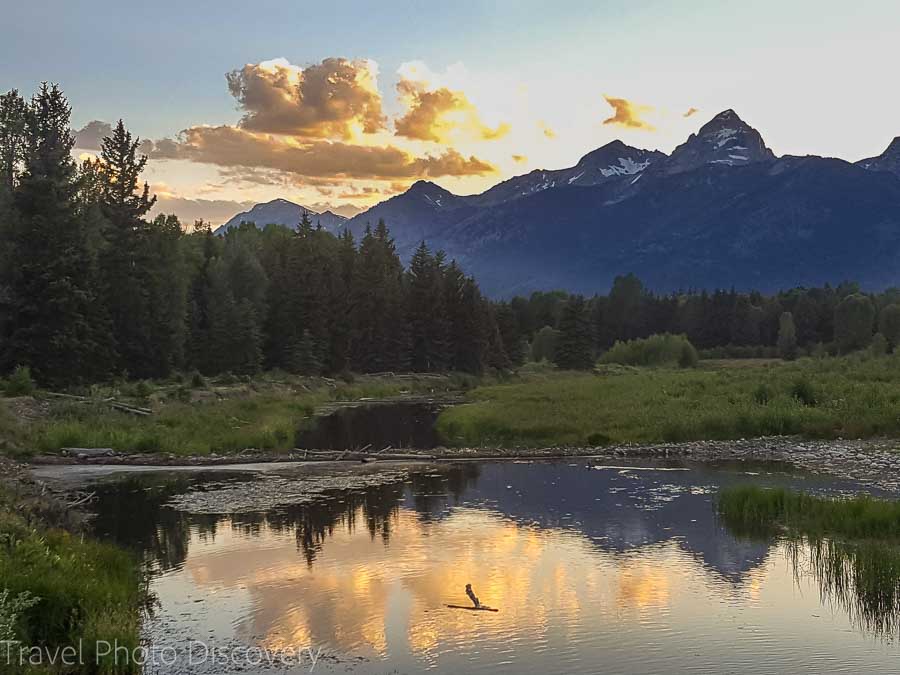 It was getting closer to sunset at this point and our guide offers us the option of visiting a tributary along the Snake river to check out some beaver dams or going higher up in elevation to see the hills lit up fronting the Grand Teton range. I piped in quickly that we could get water reflections of the Tetons and hopefully catch some beavers and other wildlife in action. We would be able to see more things and capture sunset behind the Tetons which sounded more interesting.  Josh sees that I pretty much made the decision for everyone and we head off some dirt trails headed to the Snack river tributary. We quickly hike down to the river to catch the last rays light from the Tetons and spotted a few beavers ignoring us and patching up their magnificent creations spanning the entire creek below.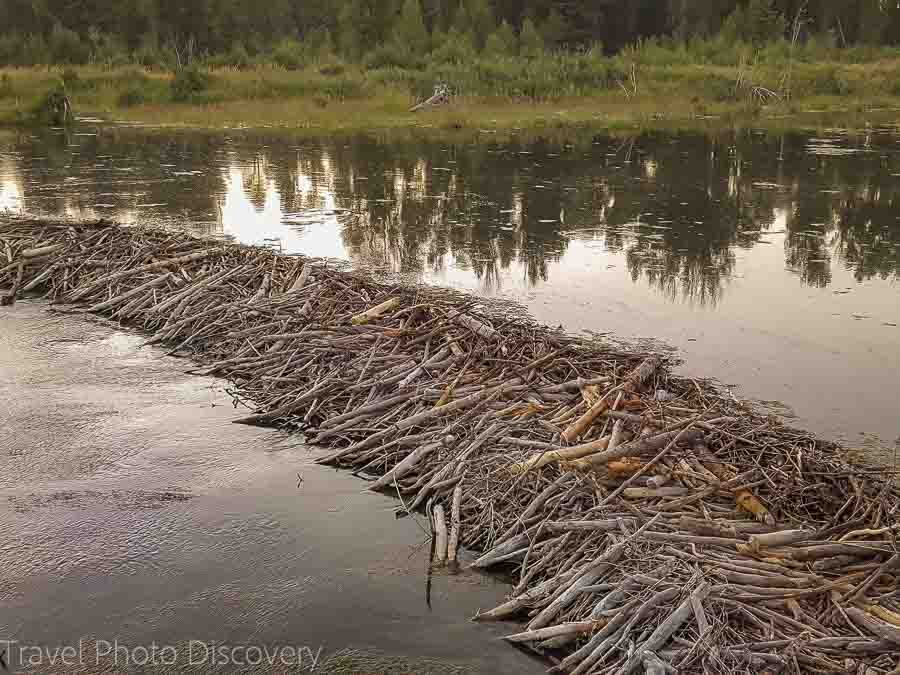 An expansive beaver dam on a Snake River tributary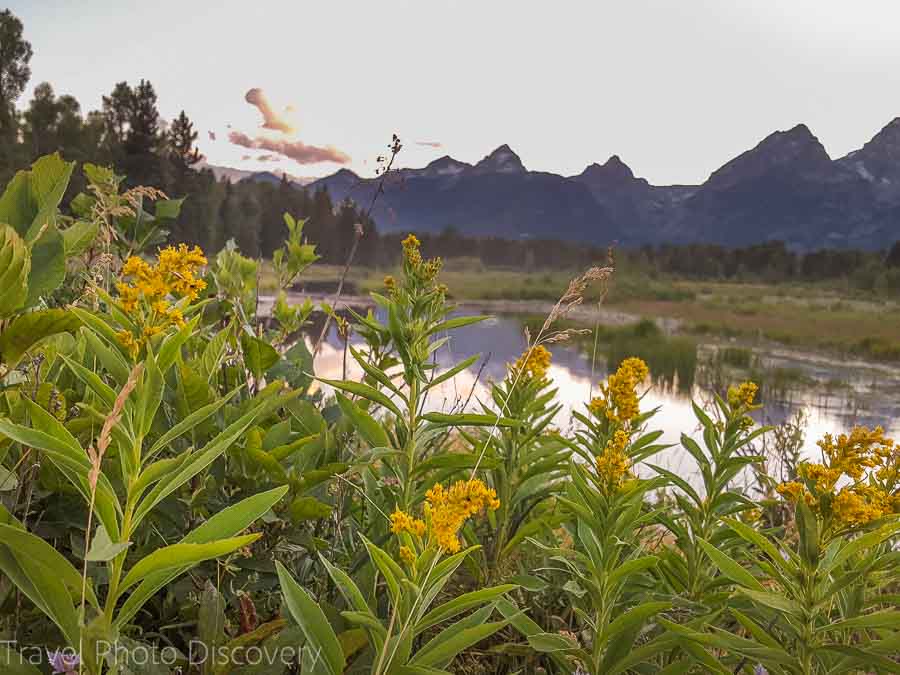 I consider a guide who is compassionate about their work and a good storyteller a key aspect of enjoying a wildlife tour and our guide, Josh shows all the best qualities and experience with sharing his knowledge and enthusiasm for the area. Despite the smaller amount of wildlife and big game we were able to spot on the tour, I think everyone was completely satisfied with seeing all the stunning scenery and learning more about the natural beauty and history of the area through Josh's stories. We were able to cover many scenic stops along the way and enjoy the experience and attentive service that Josh offered. I think if you have limited time and want to have a guide show you some of the unique and hidden places not readily available to find, then this would be the ideal tour to take in Jackson of the Grand Tetons. For more information and prices of the tour with Jackson Hold Eco Tours, you can check here for updated information and details.
A Jackson Hole Eco tour experience
Book your lodging before you go
For a nice stay right in the Grand Teton National Park, a stay at the fantastic Jenny Lake Lodge is a wonderful experience. Set in a stunning location with rustic cabins, every attention to detail to make this a fantastic stay  is warranted from the excellent service, fine dining and multiple hiking options around Jenny Lake. For more information and reviews of this lodge, check out this website here for details.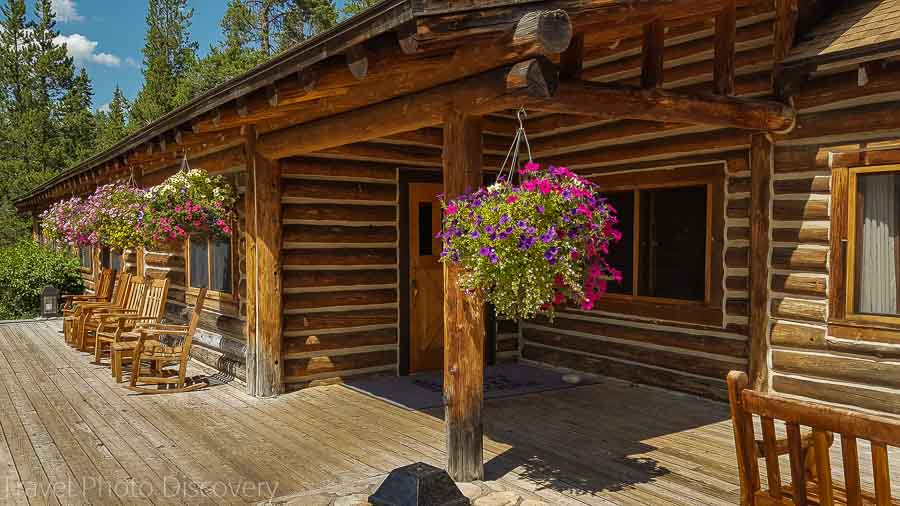 The main lobby and dining hall at Jenny Lake Lodge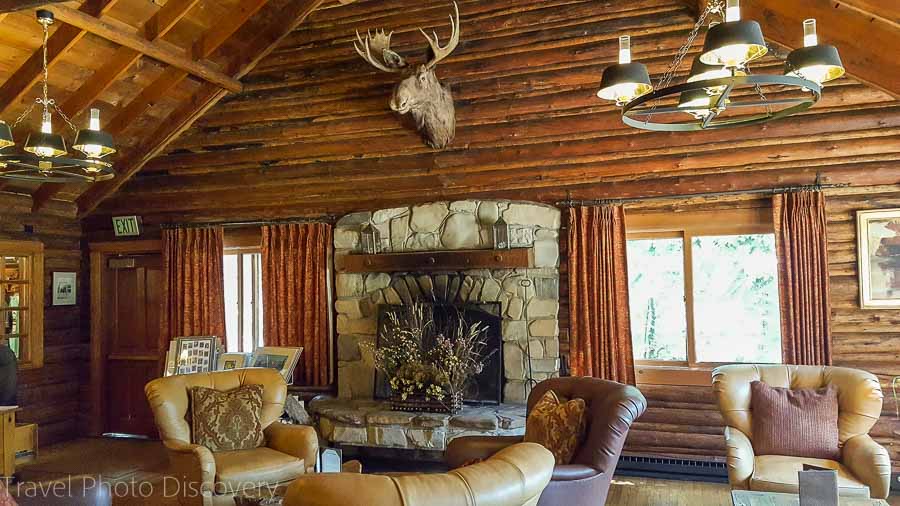 Elegant dining at the Lodge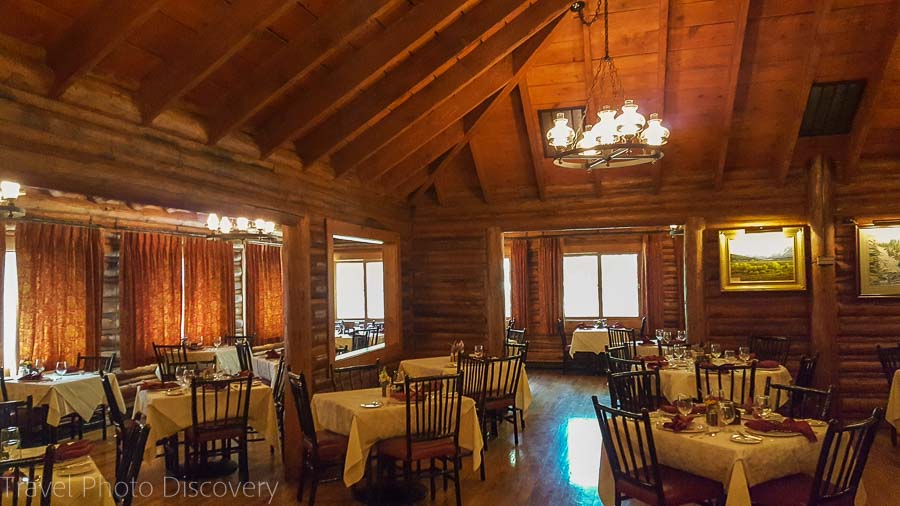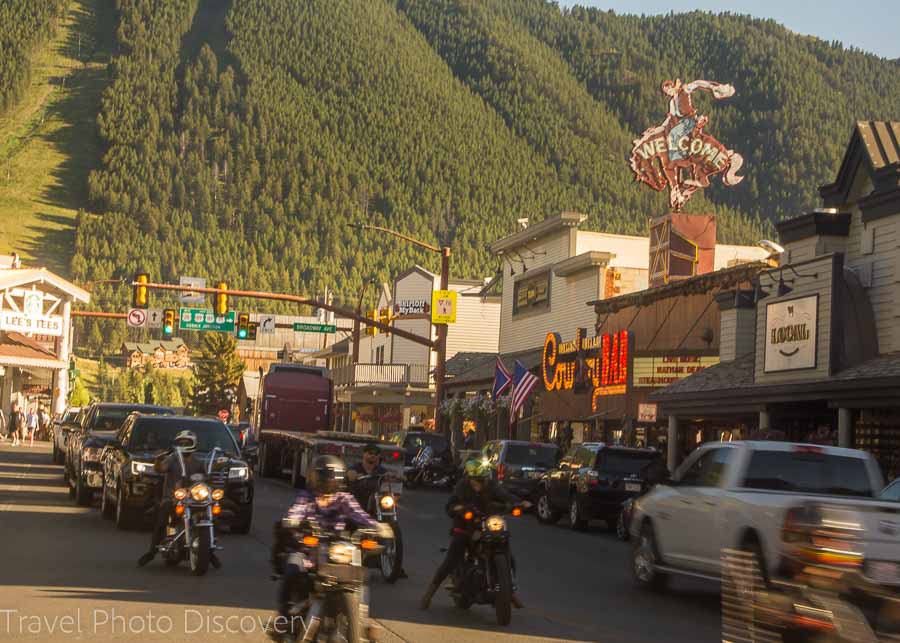 Essentials to get you there
If you are planning  on visiting Jackson and the Grand Teton National Park, you need to book your flights, hotels, rental car in advance, especially during the peak traveling seasons to this area when everything reserves quickly and prices skyrocket. Here are the key travel factors to start planning for your trip
Hotel options in the area and around the city of Jackson, check out these links below
Prices for hotel/inn accommodations fluctuate quickly based on availability and time of year. It is advisable to book way in advance to secure the best prices for your stay at Grand Teton National park or close by in Jackson or Teton Village.
TripAdvisor reviews and details, check here for prices and availability.
Booking.com reviews and details, check here for prices and calendar
Flying into Jackson airport
The closest regional airport is located just outside of Jackson at Jackson Hole airport (JAC). You can check out the latest vendor flight information and prices below.
Expedia  – National Parks Deals
Car rental options in the area
Priceline name your price rental car
Car Rental 8 – Book now and save 50%
Travelocity rental car options
Thanks for visiting today and checking out this post on the Wildlife tour at Grand Teton National Park, hopefully you will be able to see and experience these amazing national park and take a wildlife tour with Jackson Hole Eco Tour Adventures. If you enjoyed the images and post, could you please share it with any of the social media buttons located around the post.
If you like what you see, please pin it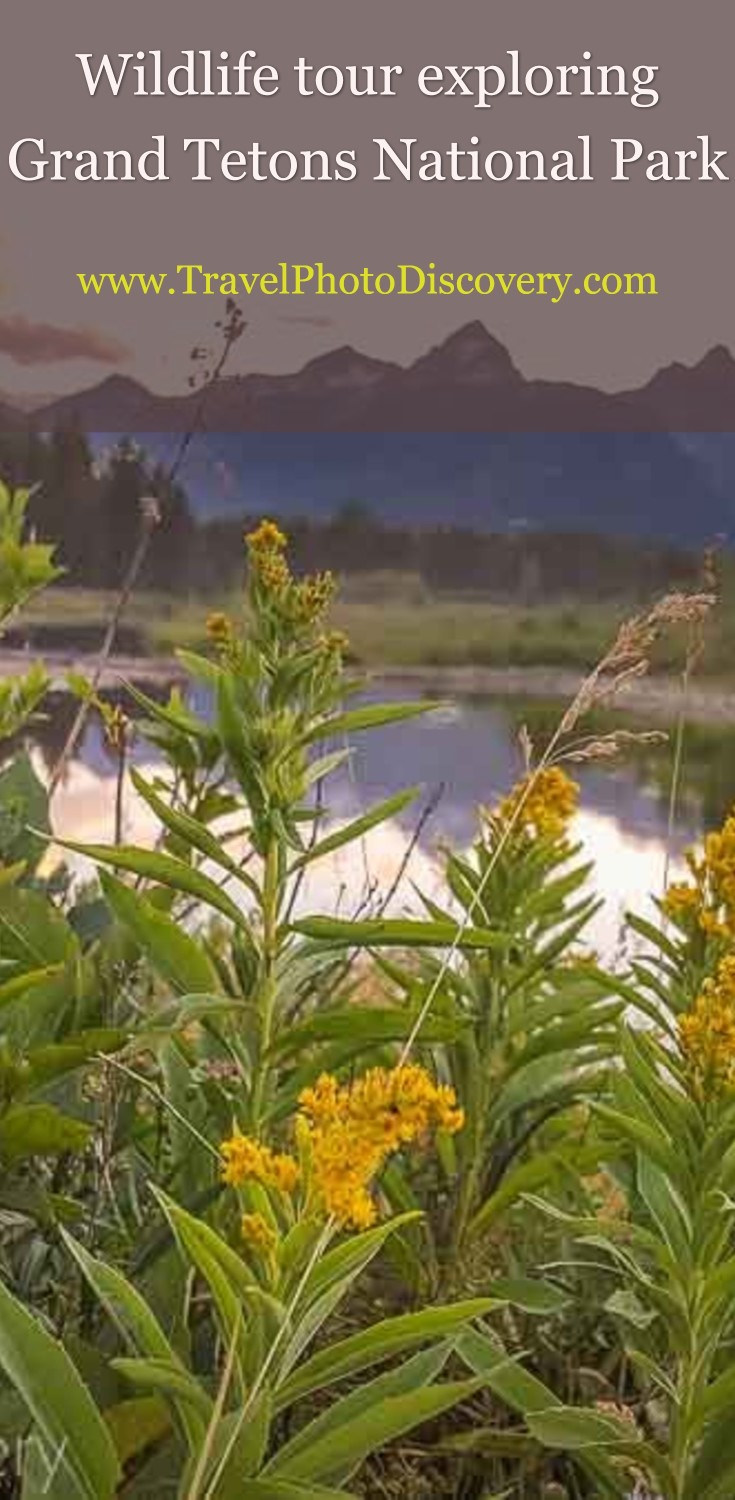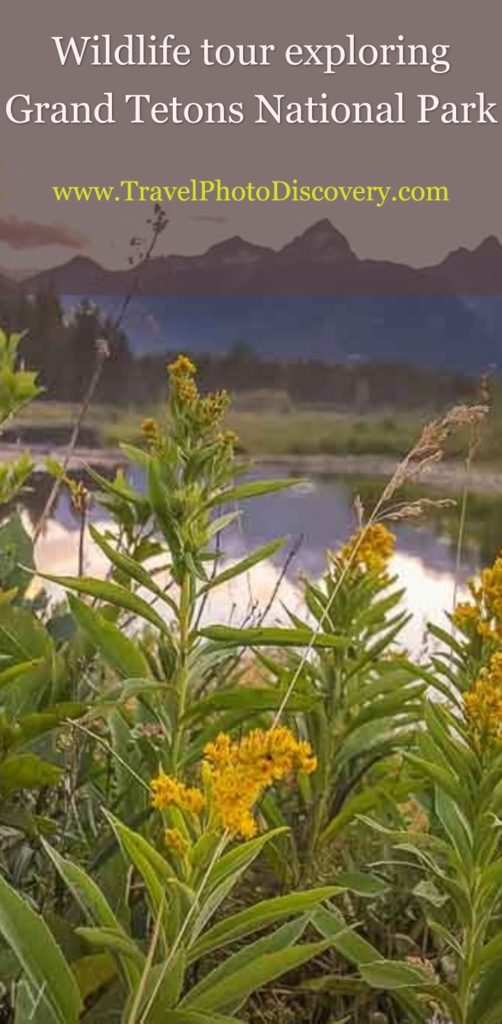 Conclusion to spotting wildlife at Grand Teton National Park
In conclusion, spotting wildlife at Grand Teton National Park is a captivating adventure that requires patience, respect for nature, and a keen eye for observation. Whether you're a seasoned wildlife enthusiast or a first-time visitor, the park's diverse ecosystems and breathtaking landscapes provide ample opportunities to connect with the local wildlife.
By following responsible wildlife-watching practices, such as maintaining a safe distance, staying quiet, and using binoculars or spotting scopes, you can enjoy the beauty of these creatures in their natural habitats while ensuring their well-being and conservation.
Grand Teton National Park's stunning vistas, pristine lakes, lush forests, and majestic mountain ranges offer an ideal backdrop for encounters with a variety of animals, from elk and bison to bears and eagles. Each moment spent in the park's wilderness brings you closer to the heart of the natural world and leaves you with lasting memories of the extraordinary wildlife that calls this place home.
As you explore this remarkable national park, remember that the thrill of spotting wildlife is not just about the sightings themselves but also about the profound connection to the wild that they inspire. It's a reminder of the importance of preserving these pristine landscapes for generations to come, ensuring that future visitors can continue to share in the wonder of Grand Teton's wildlife wonders.
If you like what you see, come and check out my other social media channels for more updates, including Instagram, Pinterest and Twitter.
Disclosure – This post was done in collaboration with Jackson Hole Eco Tour adventures, all thoughts and opinions are my own and I would definitely recommend the tour. There are also affiliate links posted on the site with no additional cost to you but helps to fund the site if you book directly through these links and we appreciate your support.