Exploring the Spectacular Sights Near Yellowstone: Unveiling Nature's Wonders and cool attractions
When visiting Yellowstone National Park, don't miss the opportunity to explore the breathtaking sights that lie just beyond its borders. The surrounding areas offer a wealth of natural wonders, outdoor adventures, and cultural attractions that complement your Yellowstone experience. From towering mountains and picturesque lakes to charming towns and historical landmarks, these places provide a diverse range of experiences for every traveler. Join us as we embark on a journey to discover the captivating destinations that await you just outside of Yellowstone National Park.
Below are suggestions of places to visit near Yellowstone National park and a lot of cool places to explore outside of the park area, we share all our favorite places and easy day trips to do below.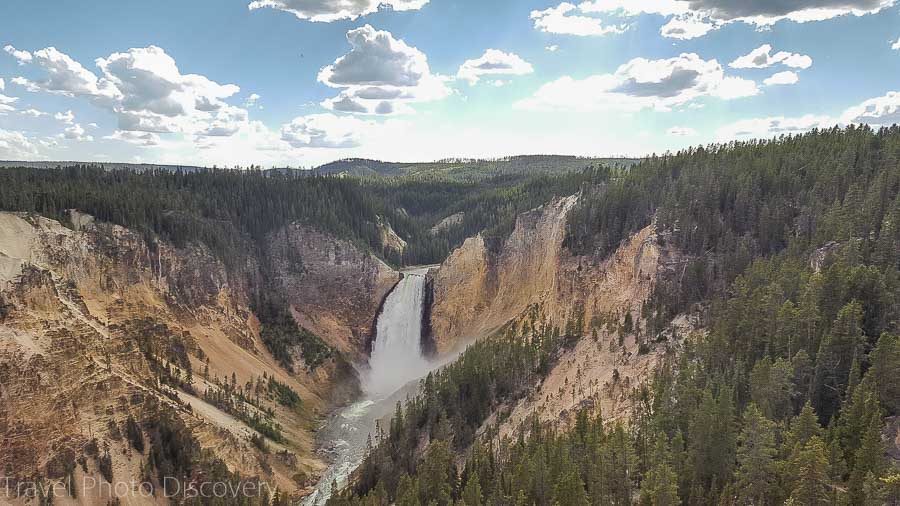 Why visit these places outside of Yellowstone National Park?
Even though there's quite a lot of things to see in Yellowstone, the area just outside is historic with fascinating and unique towns, beautiful landscapes and one-of-a-kind attractions that are worth visiting. If you have extra time to visit outside of Yellowstone, make sure you also plan some free time exploring the areas outside and you will be pleasantly surprised by some of these really cool places to explore. Up north of the park entrance is Livingston, to the south is the Grand Tetons National Park and Jacksonville. To the west you'll find the cowboy city of Cody, Shosone National Forests and Pow Wow and to the west are the really cool towns of Nevada City and Viriginia City.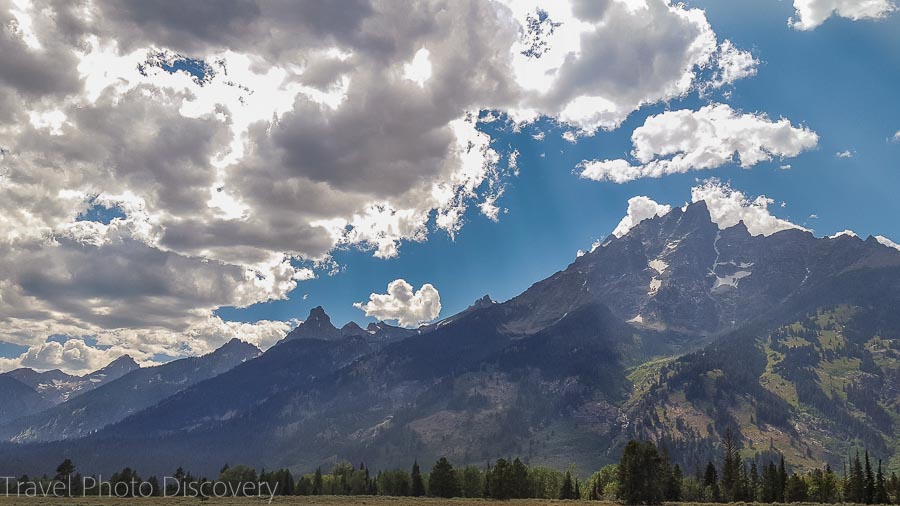 Weather and best time to visit around Yellowstone
The weather around Yellowstone National Park varies throughout the year, and the best time to visit depends on the activities you plan to engage in and your personal preferences.
Summer (June to August) is the peak tourist season and offers pleasant weather with temperatures ranging from 70°F to 80°F (21°C to 27°C) during the day. It is the ideal time for hiking, wildlife watching, and exploring the park's iconic attractions. However, be prepared for crowds and make reservations well in advance.
Spring (April to May) and autumn (September to October) are shoulder seasons with cooler temperatures. Spring brings blooming wildflowers and emerging wildlife, while autumn showcases vibrant fall foliage. These seasons offer fewer crowds, and you can enjoy hiking, wildlife viewing, and the added advantage of cheaper accommodations.
Winter (November to March) is the off-peak season, characterized by cold temperatures and snowfall. While some areas of the park are inaccessible, winter provides a unique experience for activities like cross-country skiing, snowshoeing, and snowmobiling. It's also an opportunity to witness the park's tranquil beauty and spot wildlife in their winter habitat. Note that certain roads and facilities may be closed during this time.
It's essential to check weather conditions and road closures before planning your visit, as they can change rapidly, especially in winter. Additionally, be aware that some attractions and visitor services may have limited availability during the shoulder and off-peak seasons.
Ultimately, the best time to visit around Yellowstone depends on your preferences, whether you prioritize pleasant weather, wildlife sightings, or a quieter experience. Each season offers its own unique charm, and careful planning will ensure a rewarding and memorable visit to the areas surrounding Yellowstone National Park.
Here's what to see near or just outside of Yellowstone National Park
There's plenty of fantastic places to visit just outside of Yellowstone with historical interest, beautiful landscapes, cool western towns and fantastic wildlife to spot in the region. You'll enjoy visiting these other destinations just outside of the park or a short day trip ride from Yellowstone. You'll enjoy exploring all these other places to visit near Yellowstone National Park with some other historic treasures, national parks and other gorgeous landscape to explore below.
Grand Tetons National Park
A very close drive from Yellowstone National Park, the Grand Tetons National Park is a wonderful place to explore the national park and other cool places around the park areas with historic or cultural places of interest. There are some nice drives around the park along with scenic hikes worth doing around popular attractions that can only be accessed hiking through trails. For those just looking for scenic places to photograph, there is a map of attractions that can be followed on their handout of places to explore within the park area. For more images and details of the park experience check out this Grand Teton post here for more inspiration. One of the easiest attractions near Yellowstone that you can do on a day trip or longer to explore this other fantastic national park on a road trip.

Check out the Grand Tetons National Park visit below
Jackson Hole
A fun attraction near Yellowstone that you can do on a road trip is to Jackson Hole also called Jackson specifically for the city. A little over an hours drive from Yellowstone and just south of the Grand Tetons National Park is the trendy western city of Jackson Hole which has become a very upscale and trendy place to hang out and enjoy the Wyoming lifestyle and vibe. The city of Jackson is filled with chic restaurants, art galleries, trendy stores and shops, world-class hotels and other attractions you will find in first class type of getaway.

Explore the Jackson attractions and cool places below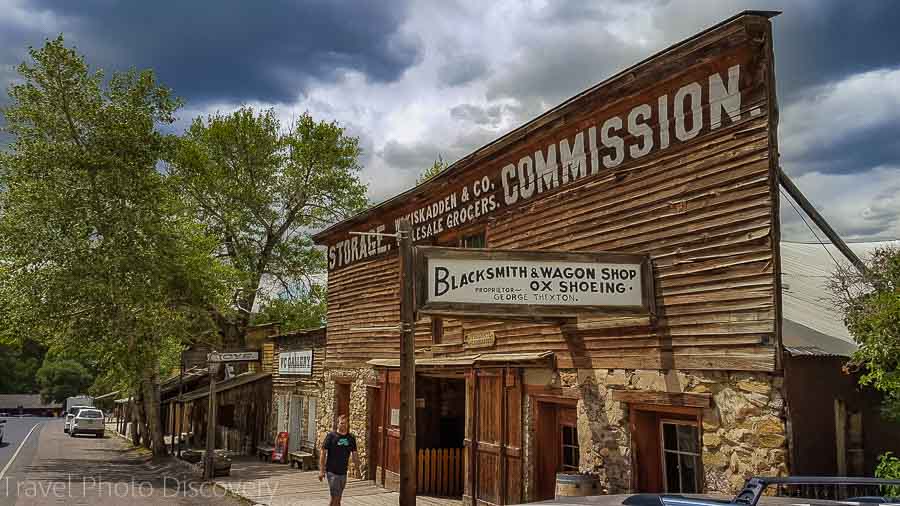 Exploring Virginia City
One of the cool places to visit outside of Yellowstone is the historic area of Virginia City. Located on the western side of the Yellowstone National park along Highway 287 is the turnoff at Ellis for visiting the historic city of Virginia City which is a really fascinating place to explore. The city is actually an actual working city and an open air style museum combined that gives a real life and historical perspective and experience to an old-time city in Montana. Even though the city has more of a tourism focus, Virginia City's main drag is well-preserved and fun to explore to see each establishment as it would look like during its active timeframe. This is a fun location to visit outside of Yellowstone and the scenic drive to get to Virginia city is spectacular with other towns along the way to enjoy.

Here's a tour visiting the open air style museum of Virginia City
A living museum at Nevada City
One of the cool places to visit near Yellowstone on a road trip through the western part of the state is at Nevada City. Located in the southeast region of Montana and just a short drive west of Virginia city, is a very cool living museum. Developed as a typical western city in Montana, buildings from all around Montana slated for demolition were brought to Nevada city and saved by a thoughtful senator. Nevada City represents a typical Montana style town with the various businesses that would support this type of community in the state and a unique look into that lifestyle and business.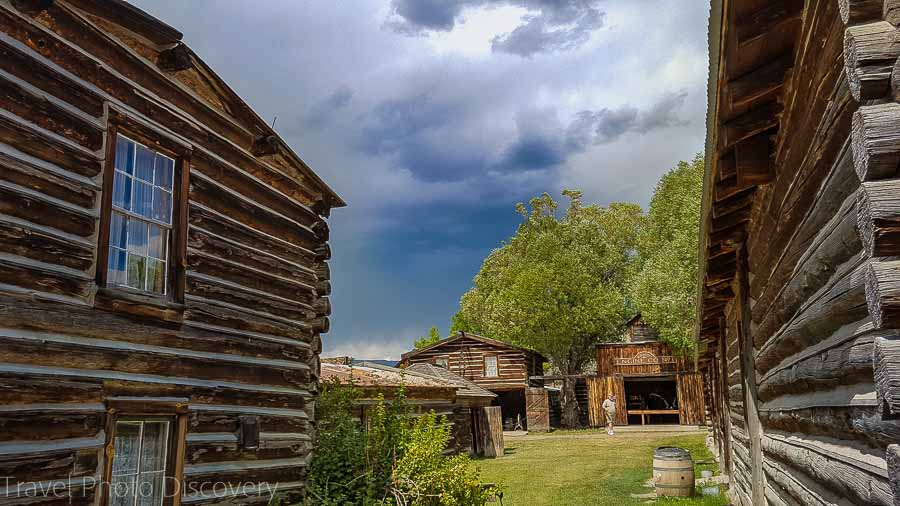 Another cool ghost town to visit at Nevada City in Montana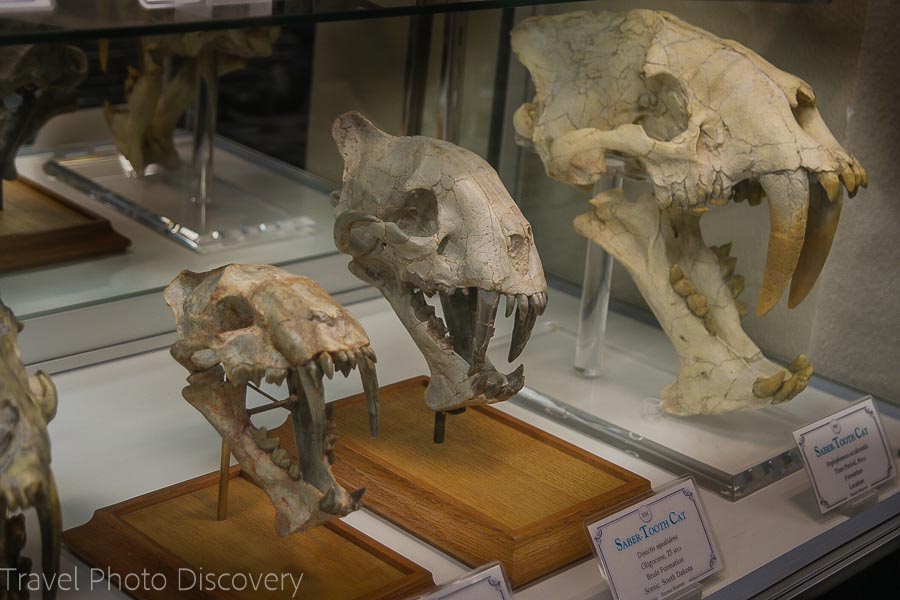 Dinosaur Center in Thermopolis, Wyoming
One of the cool places to explore on a road trip to the east side near Yellowstone National Park is the Dinosaur Center in Thermopolis.There has been a lot of dinosaur bones discovered around the state of Wyoming and many of the finds are displayed at the Dinosaur Center in Thermopolis, Wyoming. Located in the central Wyoming region west of the west entrance of Yellowstone park, The Dinosaur Center is a cool place combining a museum with beautiful exhibits, visits to current dig sites and activities and programs that actually let you take part in a current digging program  with their " Dig for a Day" program that lets you actively participate in a bone bed formed by an ancient stream that have been buried under layers of silt. To find out more about this program and visiting the center, check out this website here for more details and prices for the various programs.
A very cool dinosaur museum to visit below at Thermopolis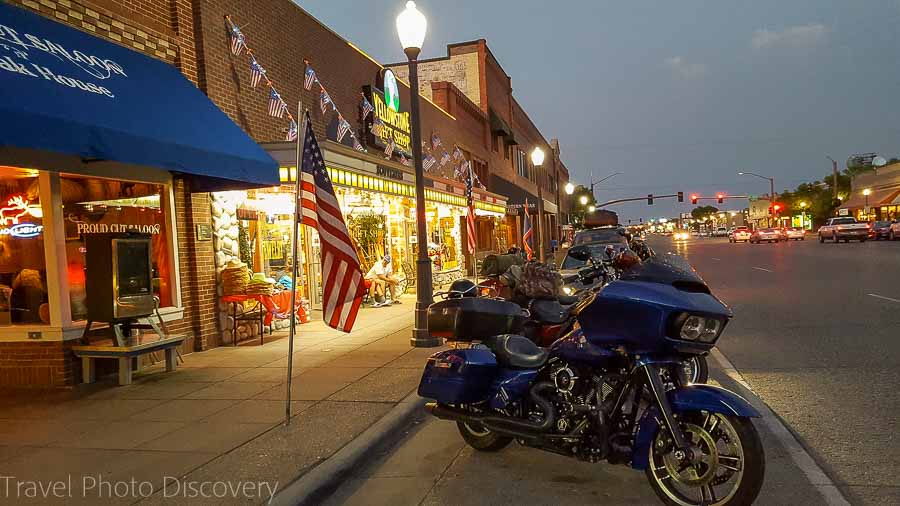 Western town of Cody
Located outside the western entrance of Yellowstone is the city of Cody which typically is like a real western town typical of Wyoming but still catering to a tourist crowd visiting the area and national parks.  The downtown area is lined with cool galleries and stores with western motif and merchandising and just on the skirts of town is the very popular Rodeo that has events happening regularly throughout the summer and daily rodeos during the peak season. Cody is also an easy place to find cheaper hotel accommodations for staying in the area and also have easy access to Yellowstone National Park and the Shoshone National Forest.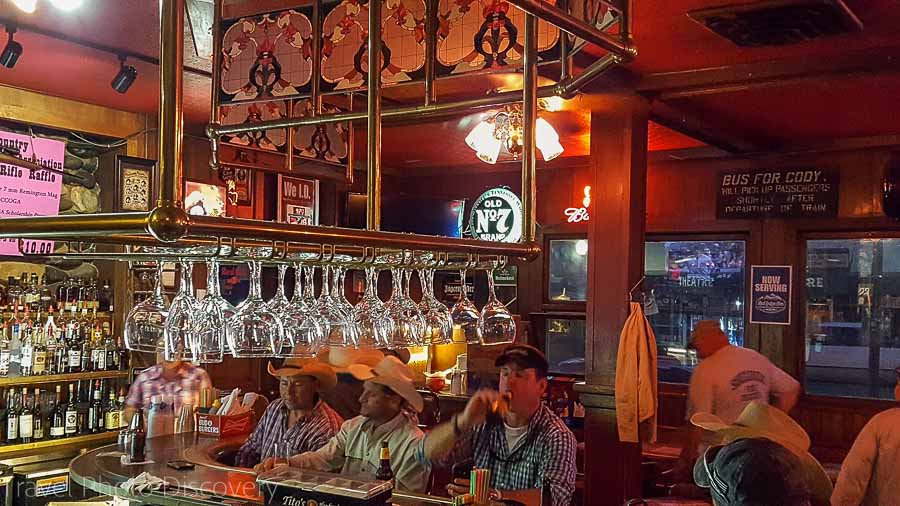 Explore the ghost town of Cody Wyoming
Pow Wows at various Native American reservations around Yellowstone
Attending a Native American Pow Wow is an excellent way to understand the native Indians that live in the immediate area east of Yellowstone National Park. There are two active Pow Wows happening during the year that are open for visitors to attend at the Wind River country and is a fabulous opportunity to see the dances, music and other tribal traditions that mark these special events and are perfect photography opportunities to capture at the events.
There are other Pow Wows that also occur just outside of the park area in reservations, for more information about visiting and attending a Pow Wow, check out the website here for more details and information.
Pow Wows are popular events to experience in this part of Wyoming area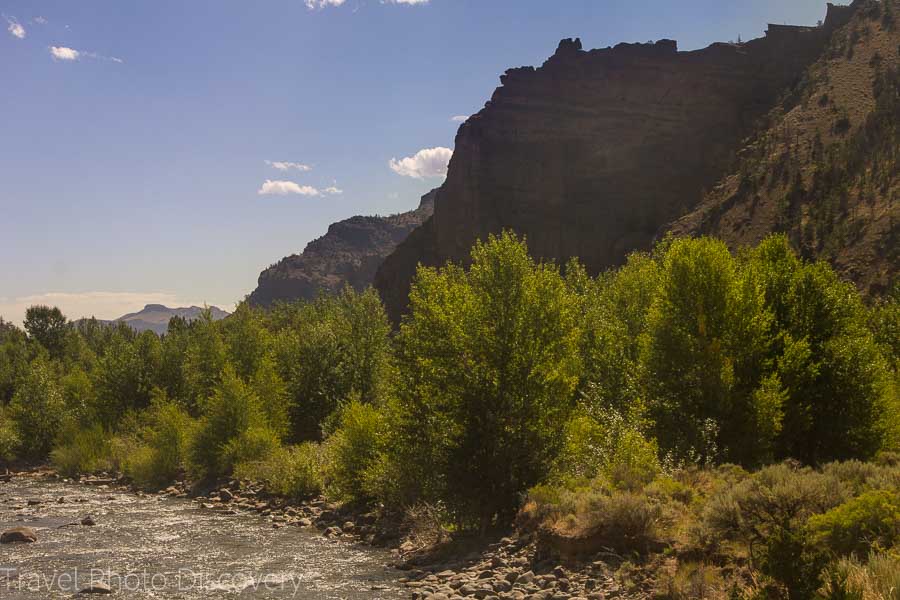 Visit the Shosone National Forest Reserve
The Shoshone National Forest Reserve located about 30 minutes east of the East side entrance to Yellowstone National Park is one of the most scenic national forests that is not on the radar of most visitors through this area but is also worth driving through especially if you stay in the areas around Cody.
The Shosone forest reserve offers gorgeous scenery and endless recreational activities for visitors from fishing, horseback riding,  camping, hunting and hiking with over 1300 miles of trails created in the park and over 32 campgrounds. There are a few beautiful driving areas for scenic driving in the park worth doing for those with less time to explore the reserve. Check out the Shoshone National Forest Reserve information site here for more details and recreational activities available in the park area.
Check out the gorgeous Shosone National Forest below
More inside tips to visiting attractions and activities around Yellowstone National Park.
Here are some inside tips to enhance your visit to Yellowstone National Park without mentioning the major attractions:
Early Mornings: Arrive at popular spots early in the morning to beat the crowds and enjoy a more tranquil experience.
Wildlife Watching: Bring binoculars and be patient to spot elusive wildlife in their natural habitat. Look for lesser-known viewing areas away from busy spots.
Ranger Programs: Participate in ranger-led programs and guided hikes to gain unique insights into the park's ecology, history, and geology.
Off-the-Beaten-Path Trails: Explore lesser-known trails and backcountry areas to discover hidden gems and serene landscapes.
Photography Opportunities: Capture stunning photographs during the golden hours of sunrise and sunset when the light is most magical.
Pack a Picnic: Avoid crowded dining areas by packing a picnic lunch and enjoying it at a scenic spot or a lesser-visited picnic area.
Geothermal Features: Seek out lesser-known geothermal features to witness the mesmerizing display of geysers, hot springs, and mud pots.
Educational Centers: Visit visitor centers and educational facilities to learn about the park's unique ecosystem and conservation efforts.
Camping Away from Crowds: Consider staying at less-frequented campgrounds or primitive campsites for a more secluded and peaceful camping experience.
Star Gazing: Witness breathtaking night skies away from artificial light sources. Look for night sky programs to learn about constellations and celestial wonders.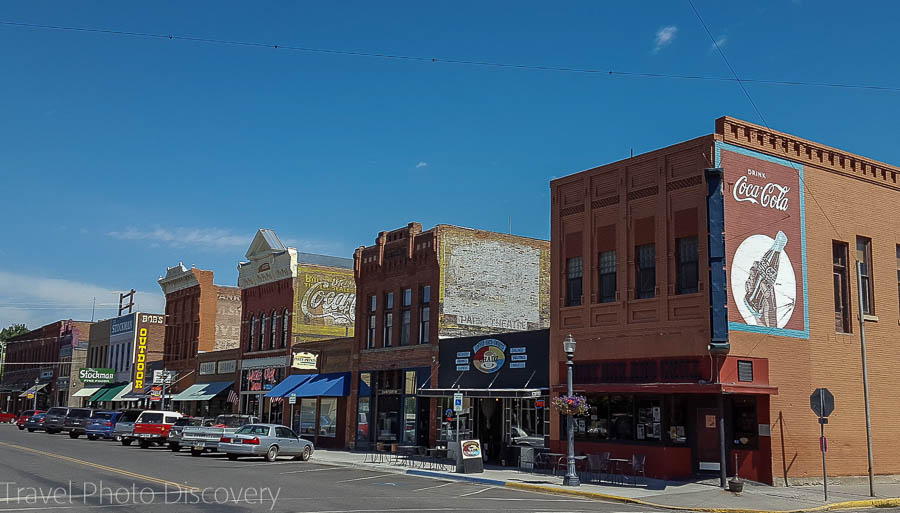 Checking out the cool and hip spots around Livingston, Montana
On the northern entrance of Yellowstone National Park right on the border city at Livingston, Montana – you'll find a very cool and hip city and with a fun old city center worth exploring. Livingston has that old western vibe but updated with hip new eateries, shops and galleries and other fun attractions for visitors to enjoy while having a nice meal or just checking out the downtown scene. It's very walkable and compact so you can spend an easy morning and meal visiting the city before heading out into the park or using Livingston as a base to explore Yellowstone and other popular attractions in the vicinity.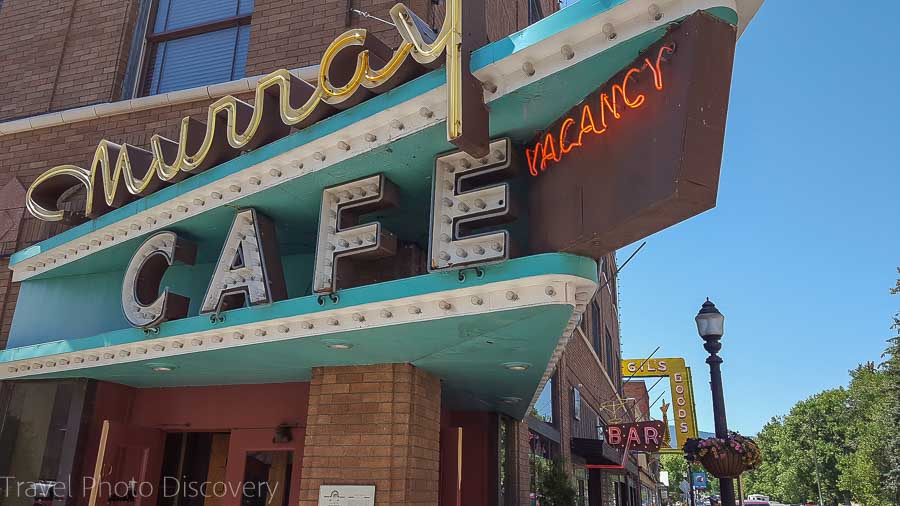 Yellowstone National park is definitely a must visit in Wyoming, but if you have more time to explore the beautiful countryside and other attractions outside of the park, there is plenty to do and see based on your interest in outdoor adventure, cultural and historic attractions and other scenic landscapes to explore outside of the national park.
Exploring cool Livingston, Montana below
Best ways on how to get to Yellowstone and beyond
Getting to Yellowstone National Park is relatively straightforward, and here are some common methods of transportation:
By Air: The nearest major airports to Yellowstone are Yellowstone Airport (WYS) in West Yellowstone, Montana, and Bozeman Yellowstone International Airport (BZN) in Bozeman, Montana. From these airports, you can rent a car or use shuttle services to reach the park's entrances.
By Car: Yellowstone has several entrances accessible by car. The most commonly used entrances are the West Entrance (near West Yellowstone, Montana), North Entrance (near Gardiner, Montana), and East Entrance (near Cody, Wyoming). The park is well connected to major highways and can be reached from various directions. However, be prepared for potential road closures and limited access during winter.
By Bus: Several bus companies offer transportation services to Yellowstone during the summer season. These services typically operate from nearby towns and cities, providing guided tours or shuttle options for visitors.
By Train: While there are no direct train services to Yellowstone National Park, you can take a train to nearby towns like West Yellowstone, Gardiner, or Cody, and then use other modes of transportation to reach the park.
By RV or Camper: Yellowstone is RV-friendly, and many visitors choose to explore the park using recreational vehicles or campers. There are designated RV camping areas within the park, offering facilities for overnight stays.
Once you arrive at Yellowstone, you can use your own vehicle, take advantage of the park's shuttle system (available in certain areas during the summer), or join guided tours to explore the park's attractions and landmarks.
Check out these other posts of places to visit in the area
Wildlife tour at Yellowstone National Park
Best National Parks road trips
Northwest National Park road trip
Glacier National Park in Montana
Final Thoughts
Yellowstone is an amazing national park to explore but don't forget to visit some of these othere fantastic attractions and places of interest nearby. Whether it is an historic village, natural landscape or unique town, the area outside of Yellowstone is filled with unique and historic places worth visiting just outside of the national park.
If you enjoyed the post, please pin it!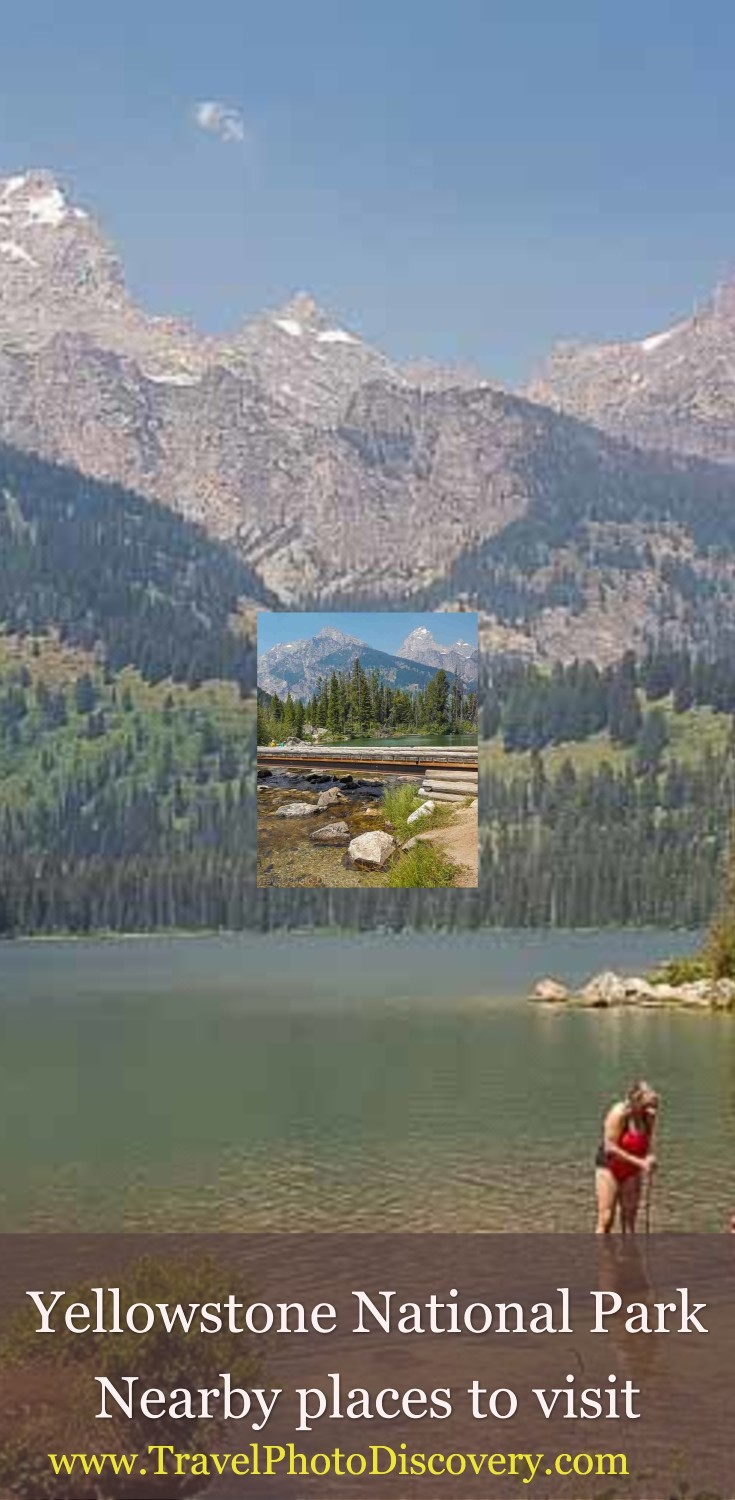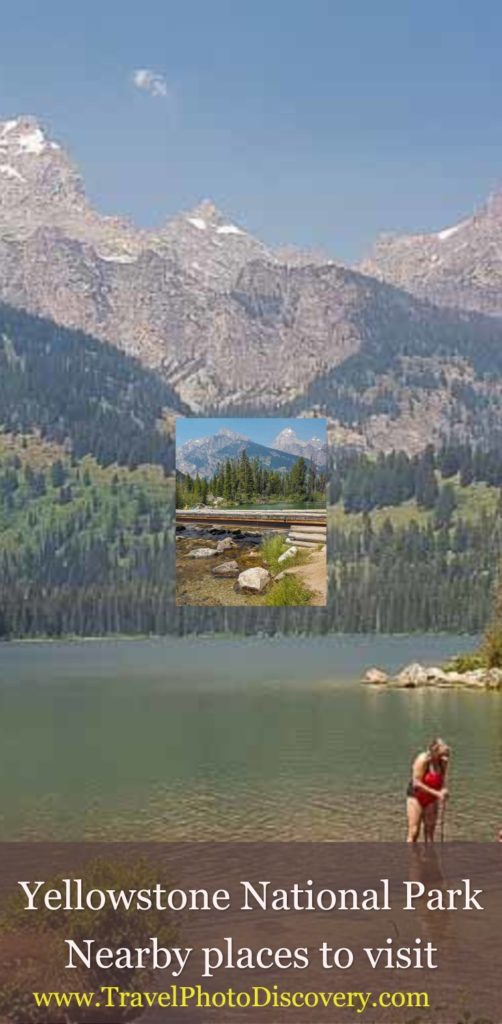 Conclusion to Visiting places around Yellowstone National Park
Exploring the areas surrounding Yellowstone National Park offers a wealth of diverse experiences and attractions that complement your visit to the park. From towering mountains and serene lakes to charming towns and historical landmarks, these destinations provide an opportunity to delve deeper into the region's natural wonders and cultural heritage.
Whether you venture to the nearby Grand Teton National Park, with its majestic peaks and abundant wildlife, or discover the charming western towns of West Yellowstone and Cody, each destination offers its own unique charm and opportunities for outdoor adventures.
The surrounding areas also provide a range of activities such as hiking, fishing, camping, wildlife viewing, and scenic drives, allowing you to create a well-rounded itinerary and immerse yourself in the captivating beauty of the region.
Thanks for visiting today and checking out this post on Places to visit near Yellowstone National Park, if you enjoyed the images and post, could you please share it with any of the social media buttons located around the post.
If you like what you see, come and check out my other social media channels for more updates, including Instagram, Pinterest and Twitter
Disclosure – There are affiliates links on this posts which provide a small commission to support this site at no extra cost to you. Thank you for reading, and happy travels