"No temple made with hands can compare with Yosemite. Every rock in its walls seems to glow with life…Awful in stern, immovable majesty, how softly these rocks are adorned, and how fine and reassuring the company they keep: Their feet among beautiful groves and meadows, their brows in the sky, a thousand flowers leaning confidingly against their feet, bathed in floods of water, floods of light." – John Muir
We are drawn to nature especially in natural landscapes filled with amazing vistas and impressive landmarks. Yosemite is no exception, drawing over 4,000,000 visitors from around the world annually, it is a pilgrimage to those who love nature and exceptional national parks. Yosemite, designated a world heritage site in 1984, is so well-loved for its natural wonders, spectacular granite mountains and cliffs, impressive waterfalls, rivers and streams and is filled with biological diversity.  It is this unique environment, the park has an impressive 7,000 species of plants encompassing chaparral, mountain forest, sub alpine and alpine zones within the park.
Highlights visiting Yosemite National Park
I'm returning to visit one of my favorite national parks in California later in the year when the crowds have died down a bit, allowing ample space and photo opportunities to re-discovering her magnificent landscapes. It's a special time for me to connect with nature, revel in her beauty, spectacular vistas and visiting those spectacular waterfalls in California. I'm also inspired to photograph this place, to experiment and create some amazing imagery which I will be presenting in a series of upcoming posts.
Photographing nature at it's best in Yosemite
Yosemite National park is filled with many attractions and iconic landscapes that are instantly recognizable.  Photos of Yosemite and it's landmarks are taken from every angle imaginable and is one of the most highly photographed national parks in the world. It's easy to return and visit each season to get a different feel and perspective of the seasonal changes. Visiting Yosemite as a photographer leaves so much to be inspired, to be creative and to see nature intimately. Outside of capturing the magnificent attractions, it's a fun challenge to think creatively and present a personal viewpoint or perspective that captures something unique to present.  It may be something simple like capturing each landscape or panorama in a different light or time of day, presenting an  interesting angle or framed view, including wildlife, seasonal flowers or foliage,  including the foreground or different ranges in-depth of field. The possibilities are limitless as long as one comes with open eyes, loves to create and engages with the environment.
Yosemite is a year round destination with four seasons to come and revisite with each change of season in the park. It's worth visiting Yosemite in winter, the gorgeous wildflowers blooming around the landscape in fall, the warm weather and outdoor areas outside of the valley floor in summer and the gorgeous fall season changes of the autumn season.
There are so many things to do in Yosemite, you'll love checking out all these highlights below and do some of the main attractions and places that really inspire and can in your photography.
A simple hike at Tenaya
Taking an easy hike along the valley floor up through Tenaya Canyon and Mirror lake is an easy introduction to Yosemite. Even though this is a popular hiking area, it is not so congested with tourists and immediately gets you in touch with nature and the gorgeous canyon views of Yosemite. With North Dome and Half Dome at the base of Tenaya Canyon, it doesn't take long to see nature at her best looking from either side of the Merced river. Trails run along both sides of the river and it's fun to explore one  side and then return on the other side to get a totally different view of the area.
 Iconic Yosemite landmarks
The main attractions you immediately find when driving around the valley floor loom so impressively in front of you – that you  have to stop immediately and gaze up at their commanding presence. These are the iconic landmarks of Yosemite: Half Dome, El Capitan, Yosemite Falls, the Three Brothers, North Dome, Cathedral Rocks and Toulumne Meadows all commanding impressive views within the valley floor.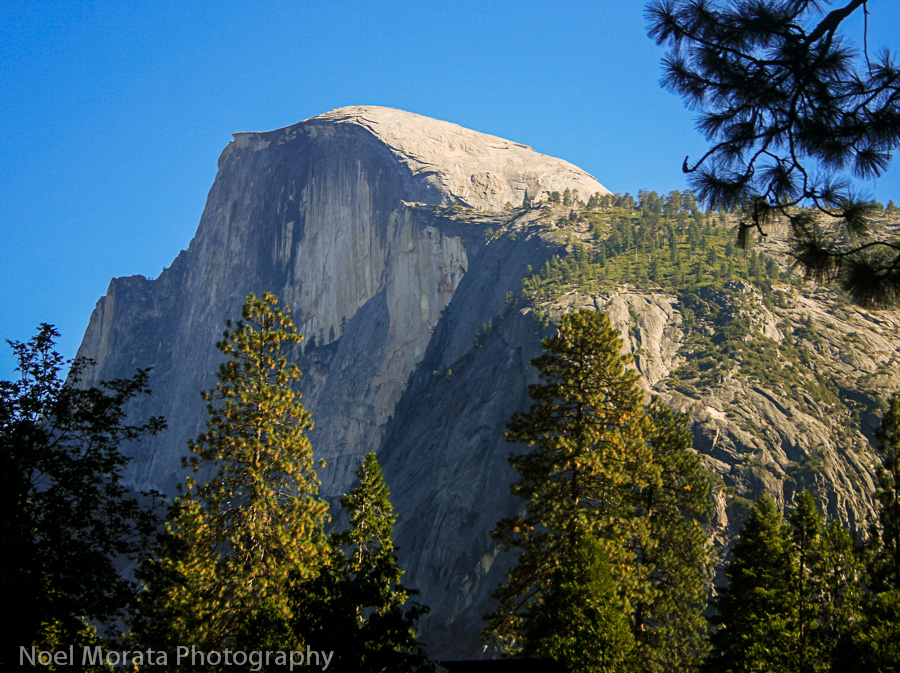 "Yosemite Valley, to me, is always a sunrise, a glitter of green and golden wonder in a vast edifice of stone and space."
– Ansel Adams
Later in the afternoon the sky turns golden and twilight comes quickly through the canyon, it darkens quickly on the valley floor and the golden light over Yosemite is no more. You have to consciously take the effort to enjoy a beautiful sunset or even sunrise when you visit Yosemite, because it truly is special and will be in forged into your memories of this gorgeous place for a very long time. Here's an image of Half Dome at sunset – stunning isn't it?
Where to stay in Yosemite
There are many options in visiting the area either if you stay in the valley, camp or just outside in the smaller communities leading up to the national park. Places do book up early during the visiting season, so plan well ahead for your visit and book in advanced. Here are some suggestions on where to stay in the area.
Yosemite View Lodge – located in El Portal just on the outside of the park entrance, with large rooms overlooking the river, large baths with Jacuzzi, friendly service and park shuttles.
The Majestic Yosemite Hotel – called Awhanee before this classic national park hotel is stunning and with period details and modern amenities.
Yosemite Valley Lodge – centrally located in the park village area with plenty of choices to dine and shop in the village, clean rooms and pick up for shuttle service.
Half Dome Village – Camping accommodation set up close to Half Dome – if you want to experience camping with heat, bedding supplies and bathroom services close by  without the hassle of slepping stuff.
For more reviews of places to stay around Yosemite, check out this link for current prices and availability.
Check out these other posts on Visiting Yosemite
Yosemite history and indian culture
Yosemite captured in Black and White
A scenic hike to Glacier Point
Awhanee Hotel visit and brunch
Hetch Hetchy reservoir and dam
If you like this post on Yosemite Photos – key attractions and landscapes, please consider subscribing to the blog by email  below for updates – also 'like' my Facebook page on the sidebar, I show more images, tips and inspiration on my Facebook page, come and visit!
If you like what you see, come and check out my other social media channels for more updates, including Instagram, Pinterest and Twitter
Disclosure – There are affiliates links on this posts which provide a small commission to support this site at no extra cost to you. Thank you for reading, and happy travels!