15 top places to visit in Northern Thailand – cool attractions, scenic landscapes & exotic venues (Updated 2023)
There are so many amazing places to visit in Thailand, but the northern provinces have some of the most unusual and authentic locations worth exploring and are not as touristy compared to different regions of Thailand. But if you are interested in a slower pace and a genuine Thai experience you should visit Northern Thailand and explore these unique things to do in Thailand and we have these 15 top places to visit in Northern Thailand, that you will love that are so different than the rest of the country.
Explore these unique and fun places to visit in Northern Thailand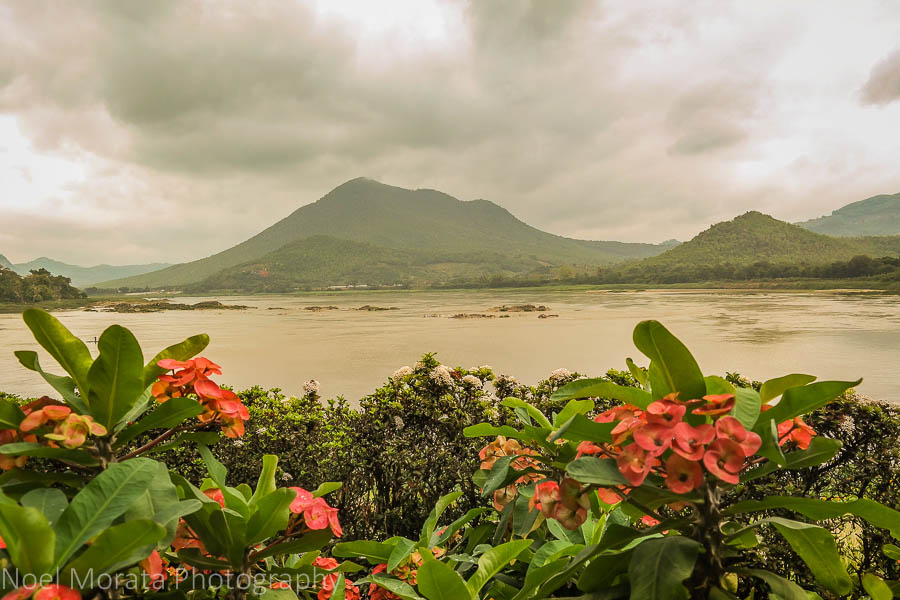 Why visit the Northern Thailand region vs the southern regions
The many provinces of Northern Thailand are distinctive and uniquely showcase the beautiful landscapes, quaint towns and villages, historic sites and temples and fun outdoor adventures and recreation you can enjoy visiting the many regions around the northern part of the country.
Not as well known as or popular compared to the southern parts of the country, Northern Thailand is very beautiful, scenic, low key but truly authentic. You'll enjoy exploring all these places to visit in Thailand that are very real and authentic compared to the resort islands and towns in the tourist areas of the south.
In any case a Thailand itinerary to the southern or northern region of the country is always going to be a fun experience depending on what your interests to visiting the different parts of the island.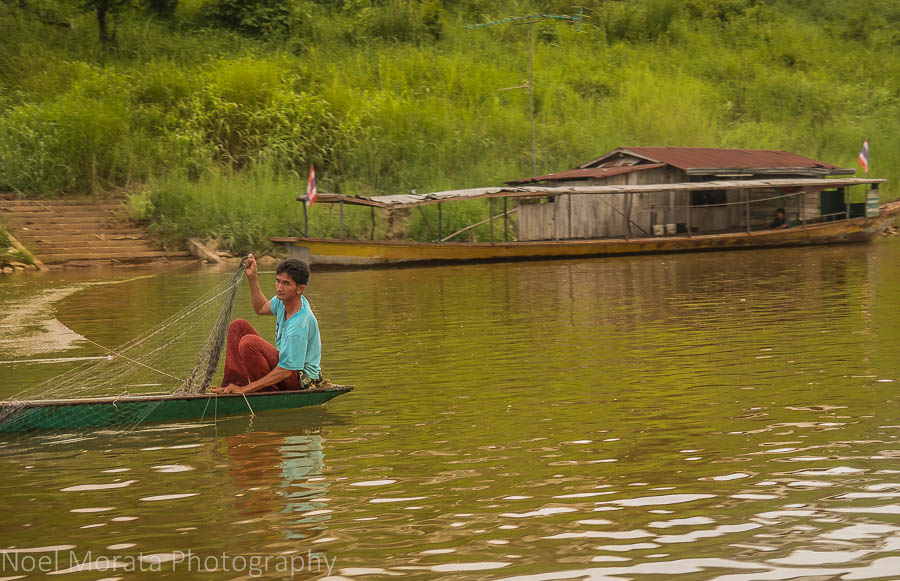 Northern Thailand FAQ
What is the best time to visit Northern Thailand?
Thailand is a year round destination to visit and the Northern areas are a little cooler to visit especially in the more mountainous areas. Winter time is a great time to visit when the weather is cooler in the mid 70s to mid 80s all day and still warm at night time but not scorching hot weather and humidity. Peak season to visit Thailand tends to be in the winter season but the northern regions are not as crowded and busy compared to the islands in the south where most tourists flock for beach time experiences making this a temperate and relaxing area, truly one of the best places to visit in Thailand for that authentic Thai experience.
When should I visit Northern Thailand?
Thailand has two basic seasons, dry and wet with the wet season from June to October. This time of the year is more pleasant with milder temperatures, lush and green countryside and daily showers that make visiting more fun and spontaneous. Some do prefer the dryer times of the year with the ideal times in November to April for less rain in the area
What is the climate in Northern Thailand?
The climate in Northern Thailand is very warm for the country with the average temperature hovering around 33 degrees. Many prefer visiting during the dryer season from November to April when their is less rain. Although the wet season is more lush and rain brings the temperature down from the extreme heat in the area.
Explore the best Northern Thailand places to visit in the region
Following are my suggestions of the best of Northern Thailand cities, historical attractions, national parks and landscapes to these must see Northern Thailand points of interest. Hopefully this will inspire you to visit and explore Northern Thailand, the cities of Thailand in the Northern region and experience something unique with these fun and different regions to tour around the northern parts of the country.
1. Take a cruise along the Mekong river
The mighty Mekong river is expansive and separates Thailand to neighbor country Laos. A cruise along this majestic river especially along the corridor from Chiang Khan to Luang Prabang on the Laos side is quite scenic. A day trip or even sunset cruise will give you a wonderful insight to the people living and farming around the various communities and it is quite beautiful.  Check out my recent post of the Mekong River at Chiang Khan here.
Cruising on the Mekong River is one of the best Thailand places to visit that actually divides two countries with Thailand on the south and Laos on the other side of the river.
Here's a quick update on the Mekong River around the Thailand side
2.
Visit the hill tribes of Northern Thailand
The northern provinces of Thailand are inhabited by Northern Thailand hill tribes that have immigrated to the area from various parts of China, Tibet and Burma and have built villages and small farming communities in the mostly foothills. The Hmong, Lisu, Akha and Karen tribes are located in different agrarian areas of Northern Thailand. One of the Chiang Mai tourist spots to visit in the northern region, there are many tour companies that do visits to all the four tribes. I used this tour outfit called Asian Oasis and visited both the Lisu and Akha tribes and villages. You can check out a recent post that I did about visiting the Lisu and Ahka tribes here. any of these areas and tribal towns are open for the public to visit, but it is probably easier to work with a local guide to get a better understanding and translation of what is taking place and what the daily lifestyle is like for many of these native hill tribes people.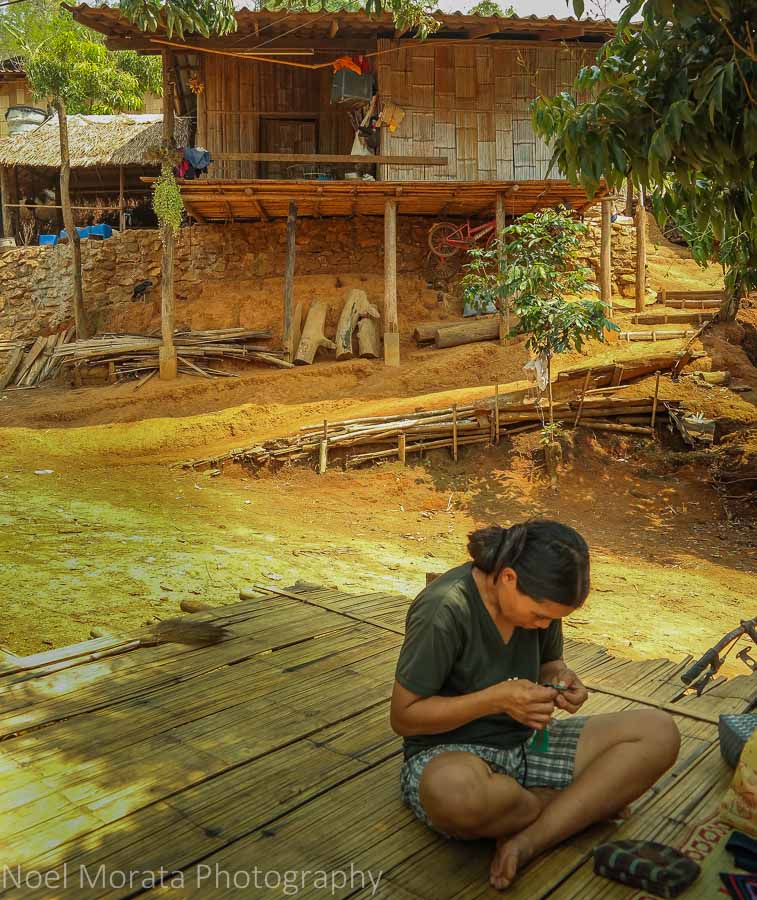 Here's a quick overview of the Northern tribes of different indigenous people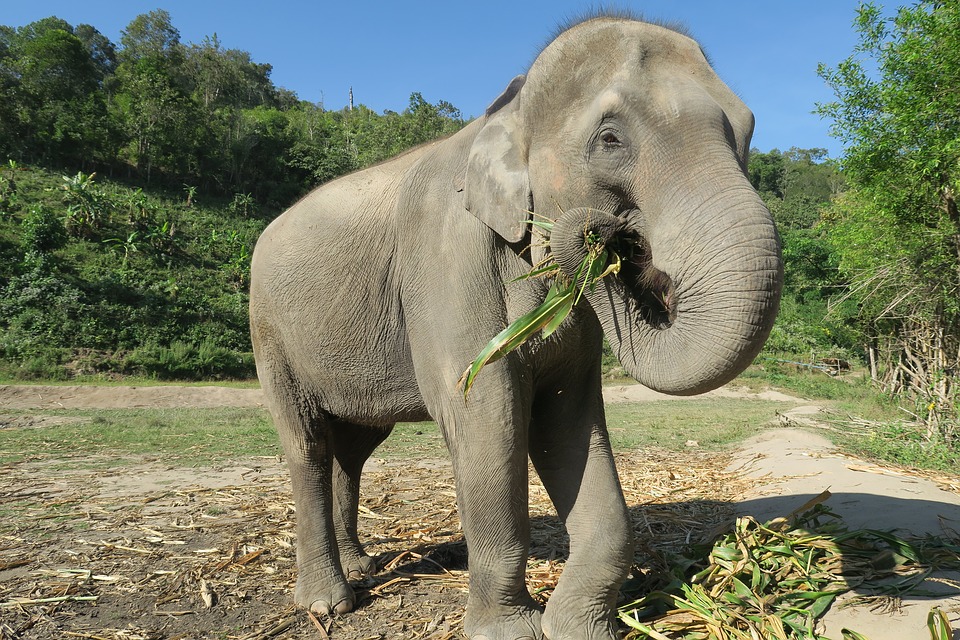 3. Northern Thailand's

Elephant Nature Park 
One of the best eco and popular attractions in Thailand to visit is the Elephant Nature Park. A fantastic eco tourism site, the Elephant park was created as a rescue and rehabilitation center for abused and neglected elephants and is one of the few elephant sanctuaries in the world. Visitors come to see the Asian elephants and learn about their history and plight in Thailand's tourism and work trade. All the proceeds from the tour go directly into feed the elephants and taking care of the caretakers and volunteers.  It's a worthwhile organization to visit and a fantastic way to get connected with these magnificent creatures and help this cause – you can find out more information on their website here.
The oldest Elephant Nature Park is open again after the Pandemic
4.
Phu  Ruea National Park in Loei
This is one of Thailand's largest national parks and one of the most unique Thailand places to visit. Phu Ruea National Park  is famously known for it's thick fog and spectacular views of the entire region and is a wonderful and unusual place to explore due to its cooler climate and persistent fog. Unfortunately coming here and hoping for a perfect day instead of fog is unpredictable but it's also part of the fun in exploring this gorgeous park and the nature trails and views. If it's too foggy or cold for you, check out the waterfalls, rock gardens and even the Chateau de Loei Winery, a huge vineyard offering different tastes of wines grown in the region. Even though it is foggy some days, it is spectacular on clear days and one of the best scenic things to see in Thailand in the Loei region.
Here's a video tour of Phu Ruea National Park area
5. Northern Thailand water rafting adventure
One of the Thailand must see adventure experiences is doing a rafting adventure rafting tour in the region above Chiang Mai. There are many rivers and tributaries in Northern Thailand that offer outdoor water and rafting recreation. One of the most popular places for enjoying rafting and other outdoor activities is along the Mae Taeng river or Po river, about an hour drive north of Chiang Mai. The area hosts a variety of rafting companies offering a series of easy to more challenging parts of the river. While, in the area, you can visit elephant centers or take elephant tours, mountain biking or a variety of other outdoor recreational activities in the area. You can check out my post of rafting the Mae Taeng river here, along with a whole day of other outdoor activities.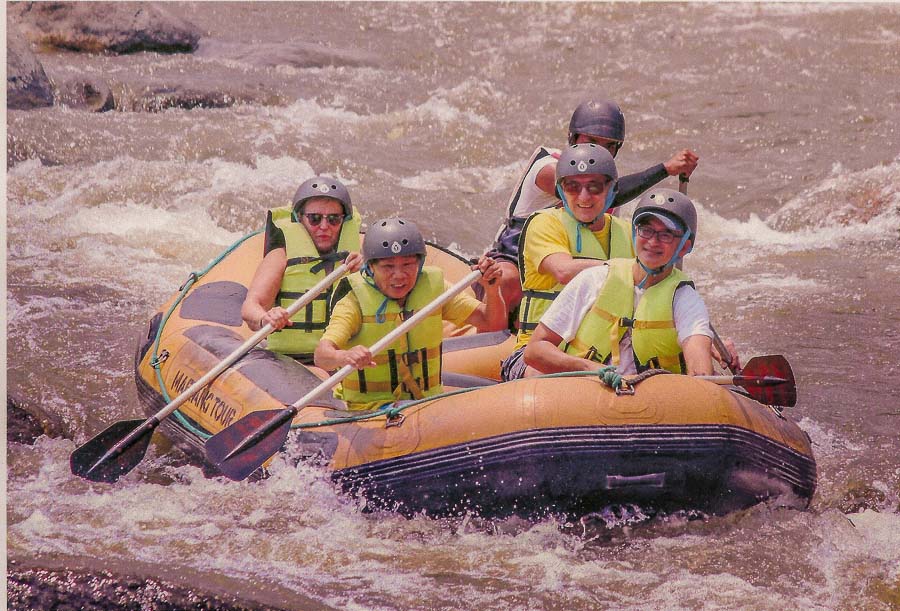 Here's a fun water rafting tour in the river Mae Taeng River below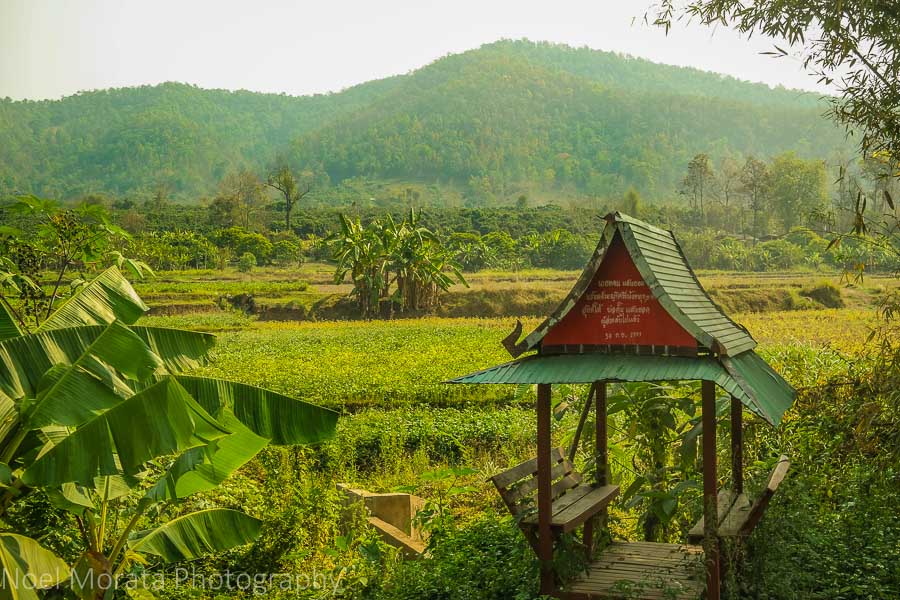 6. Explore the Golden Triangle area
One of the Thailand tourist spots that is off the beaten path is the Golden Triangle area of Northern Thailand. This region and park about 45 minutes north of Chiang Rai is where the mighty Mekong river separates the nations of Thailand, Laos and Myanmar. With an exotic history of being the largest opium producing region in the past you can visit the Golden Triangle monument and check out the Hall of Opium Museum close by. Along with wonderful scenic views of the Mekong, you will find many local restaurants with nice river views in the area.
The gateway to this is area is the city of Chiang Rai which the largest city in Northern Thailand. While you are based in Chiang Rai, you can visit a variety of fascinating landmarks and attractions like the Mae Kok river, Wat Phra Kaew and Wat Doi Chum Thong, the hillside temple of Doi Tung and the Hill tribe museum and educational center.
** Check out this tour of main temples of Chiang Rai here for more inspiration and details to this guided tour.
Here's a video tour highlight of the Golden Triangle area below
7. Visit a tea plantation
Surprisingly, one of the Thailand tourist spots is more of a delicious tea experience visiting a local tea farm in Northern Thailand. There are a variety of tea plantations a short drive from either Chiang Mai or in Chiang Rai province and up in the cooler mountain ranges where many of the hill tribes live and also work in these plantations. All the tea plantations here grow and process the popular Thai Oolong, black, green and white teas. There are a few of the plantations that are open to the public for tours and tastings. Some of the well known tea companies in this region includes: Doi Chai Tea,  Raming Tea Co. Ltd, Araksa and a variety of small tea operations around the hills of Mae Salong. One of the nicest and larger tea plantations about an hour north of Chiang Mai is the Araksa Tea Plantation, which you can tour and also stay overnight at the Lisu Lodge I wrote about this visit to the Araksa Tea Plantation along with a day of eco tours in the region sponsored by Asian Oasis tours.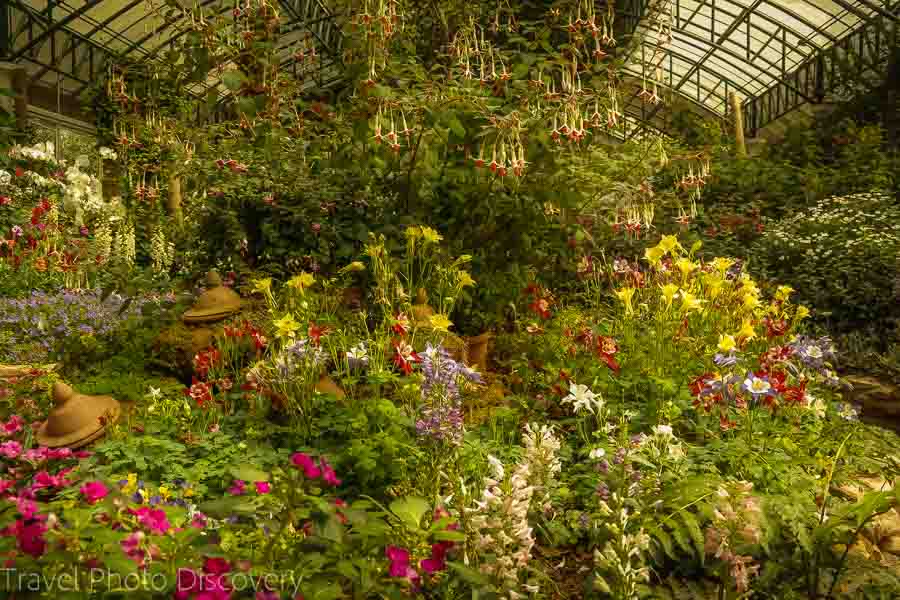 8. Visit the Chiang Mai palace of the Thai royal family
One of the beautiful places in Thailand to visit is the Royal Palace in Northern Thailand. Located just outside of Chiang Mai, (the largest Northern Thailand city you can fly into) and past the famous Golden Mount temple is the royal families private residence at Bhubing Palace, in which the grounds are open to the public. The gorgeous gardens and outdoor spaces are a massive tropical botanical garden and royal complex which gives visitors a glimpse of how the Thai royalty lives in their summer palaces and enjoy the cooler temperatures at Chiang Mai.
Of course, when the royal family is actually visiting the palaces, the entire grounds are closed off from the public viewing and access, so you do need to pay attention to the website for times when tours are open for the public to visit the royal palaces at Chiang Mai. You'll enjoy this beautiful and colorful attraction in Thailand with stunning gardens, royal palaces and a unique place to visit in Thailand.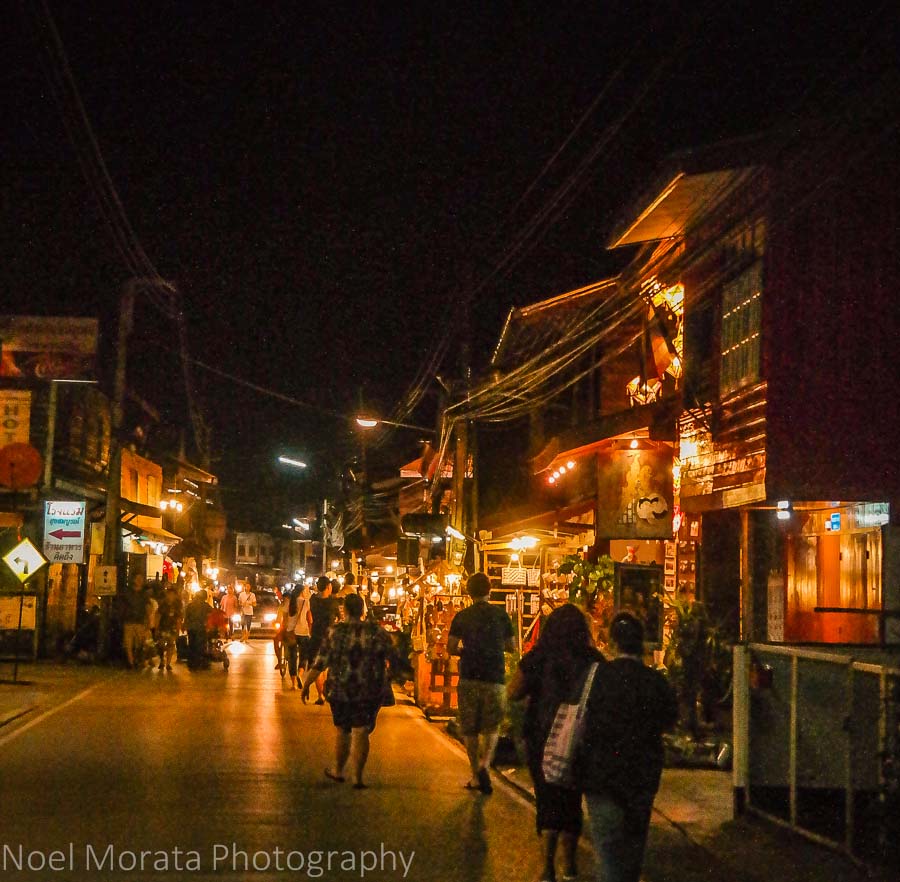 9. Explore the funky town of Pai
About a drive north of Chiang Mai is this hippie and Thai fusion like city. Lately this city and area has been very popular with the backpack set looking for really cheap and authentic experiences north of Chiang Mai. Apart from beautiful landscape with rolling hills, canyons and other panoramic views, you can visit beautiful temples or shrines, a giant white Buddha, water falls, a fantastic night market and just a nice low key vibe compared to bigger tourist focused cities like Bangkok and Chiang Mai.
Here's the low down and fun things to do in Pai and the surrounding countryside
Where to stay in Pai
Pai is a great place to stay overnight or as a hub to visit other local attractions in the area. Check out some of the best places to stay here for reviews and current prices.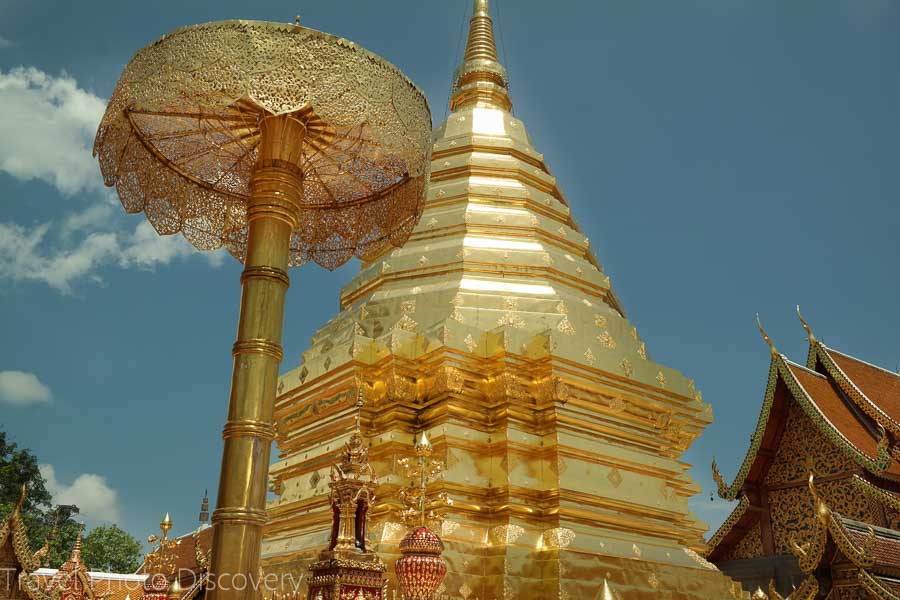 10. Visit the Golden Mount at the temple or Wat Phra That Doi Suthep
One of Chiang Mai's iconic must visit temples, this temple is a nice uphill drive into the cooler hills outside of Chiang Mai with gorgeous views of the city and valley below. This temple often nicknamed Doi Suthep from the myriad of taxi drivers that want to drive you roundtrip for a higher taxi fare, but you can also take the small buses for a cheaper price on the round trip fare to the temple and royal palace which is a few miles further down the road. This sacred Thai complex is filled with many small temples and ornately decorated with carvings, murals and gold everywhere. The complex is located on Doi Suthep National Park which offers a variety of recreational activities and hiking areas to explore.
I share this site and other popular attractions in Chiang Mai here for more details. When you are visiting Chiang Mai, make this your first Thailand must see attraction when visiting the city.
** take this easy morning guided tour of Doi Suthep here, one of the holiest shrines in Chiang Mai and worth having a experienced guided tour.
Here's a fun video tour and walk around the temple grounds of Wat Phra That Doi Suthep
Where to stay in Chiang Mai
Chiang Mai is a great place to stay a few nights or as a hub to visit other local attractions in the area. Check out some of the best places to stay here for reviews and current prices.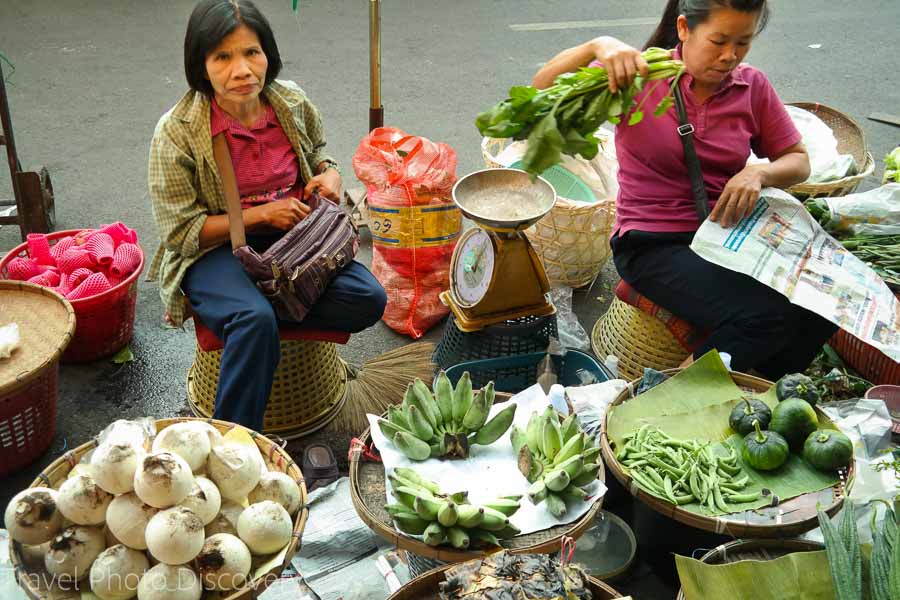 11.
Go to any of the outdoor markets in Chiang Mai
There are 9 main markets in Chiang Mai in this tourist regional capital, most can be found in the old section of town.  The two main markets are the massive night bazaar that is held daily and then the regular Walking Sunday Market on Ratchadamoen road.
The Sunday market tends to attract both locals who shop actively on Sunday and tourists looking for some cheap deals. Along with these two main markets are smaller local markets that you can also visit almost every day and this includes the Student market, Saturday walking market, Wororot market, flower market, amulet market, Muang Mai, fresh market and the JJ market. Check out my Chiang Mai post here for more images and story about the markets at Chiang Mai.
** Here's a fun Michelin walking tour here for a fantastic and guided food tour of the huge Warorot market in Chiang Mai.
12. Visit the scenic river town of Chiang Khan
A beautiful riverfront city on the Mekong, this city has all the charming small town vibe and feel hin its historic riverfront areas that offer nice riverfront walkways, a quirky and cool downtown walking district, Buddhist temples and a pleasant evening market. A visit to Chiang Khan is like going back to rural life in Northern Thailand with simple pleasures, enjoying the river and daily activities including markets, temple visits and shopping the quirky and fun trendy shops in the old district.
Where to stay in Chiang Khan
Chiang Khan is a great place to stay overnight or as a hub to visit other local attractions in the area. Check out some of the best places to stay here for reviews and current prices.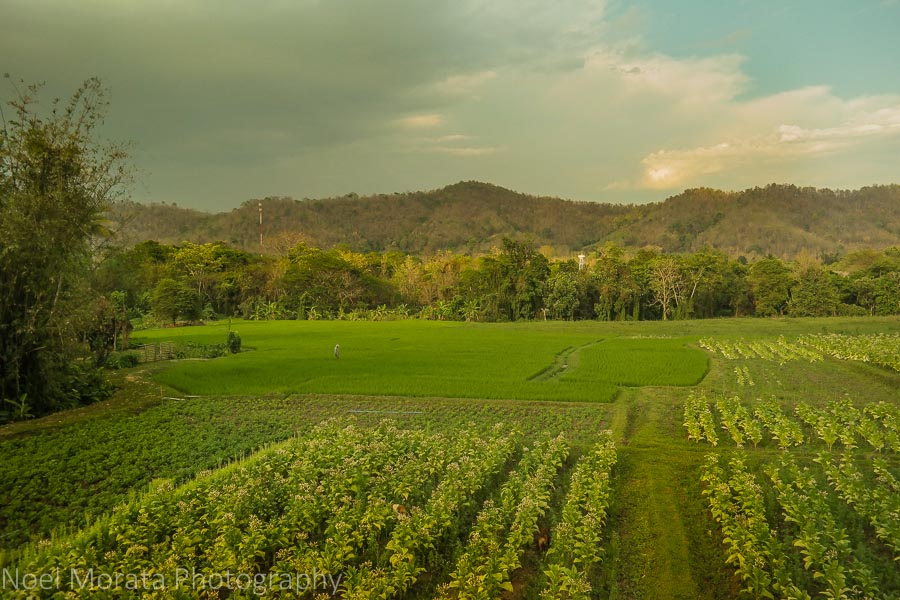 13. Rural charms of Nan
Lan Na is the provincial region and Nan is situated in a valley just across the border from Laos. Formerly an autonomous kingdom, The region is quite isolated and mostly given to agriculture, and nature trekking which is popular with hikers from the country and internationally. There are also six national parks, including the stunning Doi Phu Kha National Park, with mountains touching 6,500ft. Nan city has low key vibe for visitors with a variety of popular temples, restaurants, galleries and cool shops that you can visit fronting the town's riverfront area.
Where to stay in Nan
Nan is a great place to stay overnight or as a hub to visit other local attractions and national parks in the area. Check out some of the best places to stay here for reviews and current prices.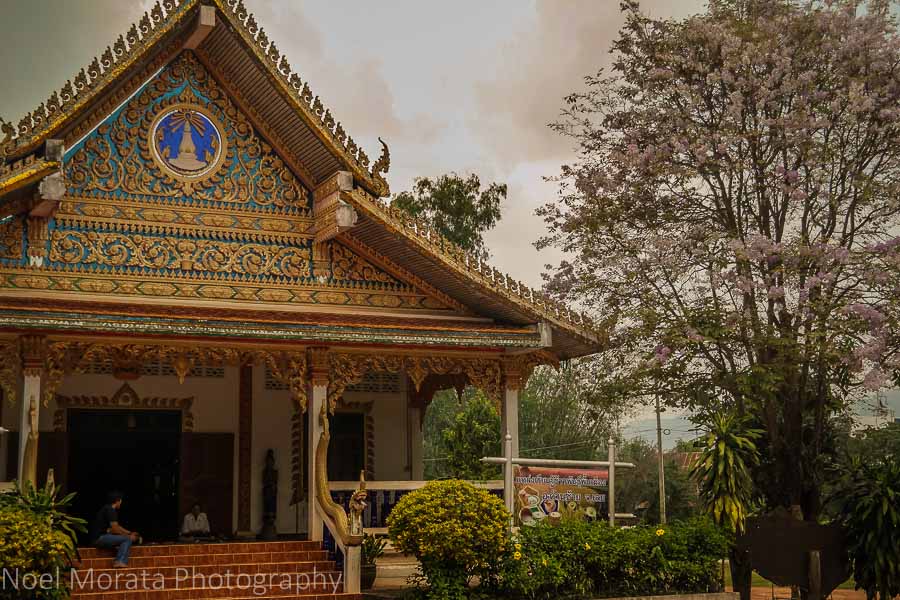 14.  Visit the Loei city attractions and monuments
It's easy to take a quick one hour flight from Bangkok to the Northeast region of Thailand at Loei. In this less touristy and crowded region your can see nature, landscape and beautiful communities untouched from mass tourism. There are not as many large cities in Northern Thailand but smaller towns and villages. There are many interesting places to visit around Loei region of Northern Thailand to include: Phu Kradueng National Park, Phu Luang Wildlife Sanctuary, the charming river town of Chiang Khan, Kaeng Khut Khu with is set of islets in the middle of the Mae Khong River along with a variety of museums, holy temples, and scenic landscapes.
Where to stay in Loei City
Loei City is a hub to stay and visit other local attractions and national parks in the area. Check out some of the best places to stay here for reviews and current prices.
15. Stay at an Eco Retreat in the hill tribe area
For a more relaxing stay and natural adventure in the countryside, a stay at an eco retreat is a nice way to experience the countryside and maybe visit a few of the hill tribe people that reside in these rural hill communities. I stayed at a wonderful eco retreat called the Lisu Lodge which offered a variety of stays and soft eco tours to various parts of Northern Chiang Mai region. It was fun to do a bike ride and water rafting tour as well as visit a tea plantation in the area.
Following are some other fantastic places to stay while visiting the best of Northern Thailand.
There's so many cool places to explore here in Northern Thailand
The Northern provinces of Thailand really offer a unique visit to explore the exotic landscape, visit small cities and communities and see a different part of Thailand that isn't all beaches and large scale metropolis.
There is so many unique places to visit in Thailand and these are the highlights of what to see in Northern Thailand when you visit this region. There is so much to see and explore here, but these 15 attractions are definitely the best places to visit in Northern Thailand. Hope this has inspired you to plan your trip to Thailand soon and visit many of these wonderful provinces of Northern Thailand soon!
If you enjoyed this post, please check these Northern Thailand must see attractions
Thailand travel – 10 tips and suggestions
Eco tours in Northern Thailand
Hill tribes of Northern Thailand
A Loatian village in Northern Thailand
Hill tribe stay in Northern Thailand
Untapped Loei in Northern Thailand
If you enjoyed this, please pin it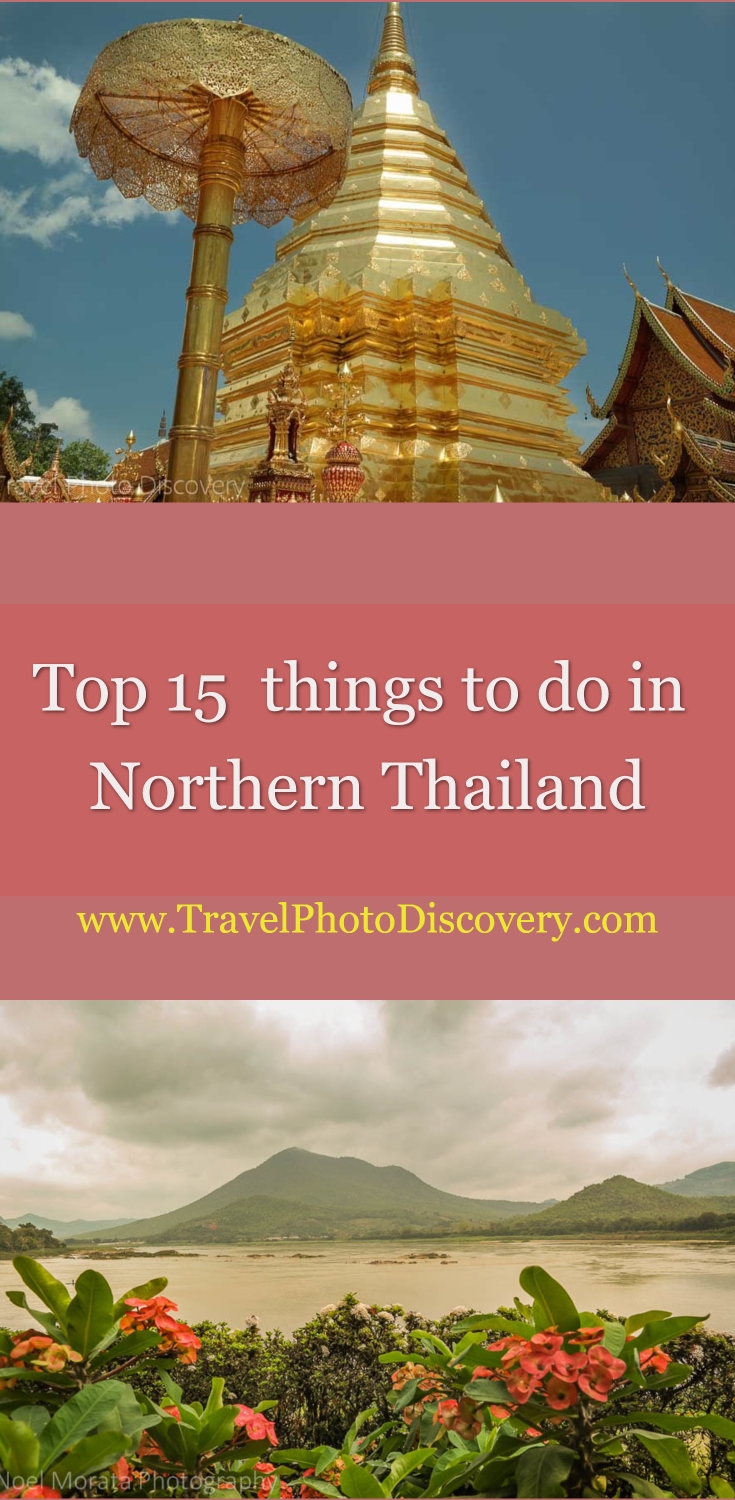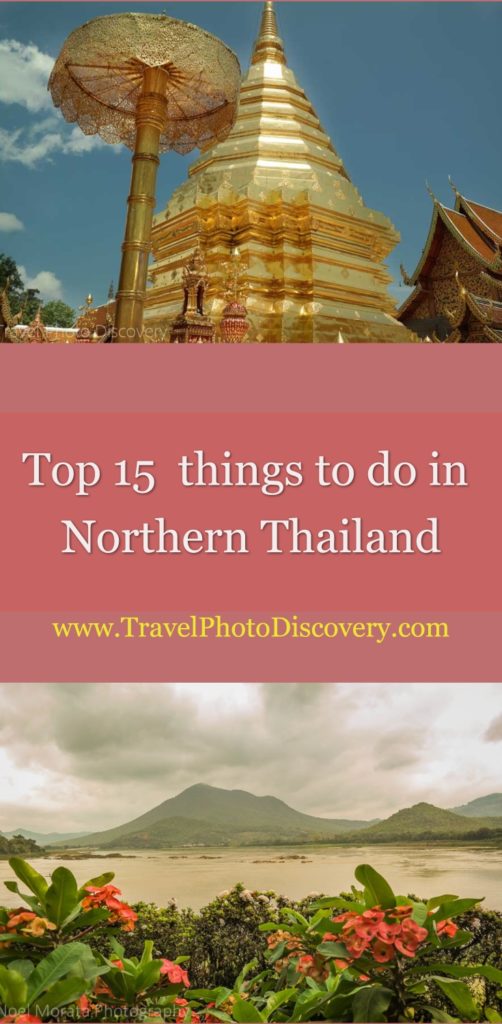 Conclusion to visiting Northern Thailand landmarks and attractions
I hope you enjoyed this post on the 15 top places to visit in Northern Thailand. I hope that it was helpful in showing you some Northern Thailand destinations – if so, would you please share this post with any of the social media buttons that are located around the post, thanks so much.
If you like what you see, come and check out my other social media channels for more updates, including Instagram, Pinterest and Twitter
Disclosure – There are affiliates links on this posts which provide a small commission to support this site at no extra cost to you. Thank you for reading, and happy travels