Bordering Laos at the northern region of Thailand is the province of Loei, an area that is rapidly starting to get on the tourist map for authentic and still off the beaten path in Thailand. This area of Thailand is blessed with cooler climates, mountain areas filled with waterfalls, caves and rivers with riverside villages and hamlets still living an agricultural lifestyle. Visiting Northern Thailand in my experience is a fantastic way to absorb and enjoy the combination of hitoric and cultural sites along with outdoor venues and adventure in this beautiful region of the country.
For the enthusiasts seeking an outdoor lifestyle combined with pure Thai history and amazing food, this untapped area is a wonderful place to explore the many river communities and natural landmarks in the area. Check out all the latest on this post on Untapped Loei in Northern Thailand below.
Untapped Loei in Northern Thailand (historic sites, Mekong River, cool towns and scenic landscapes)
Why visit the Loei region in Northern Thailand?
Truly of the beaten path in all of Thailand that only locals from Thailand visit this more remote region of Northern Thailand to get a local slice of life, explore nature, amazing cuisine and a slower pace of life that celebrates the special places here in the Loei region and worth exploring. You can fly to the regional capital at Loei and arrange for a tour or explore on your own time and way of travel.
What is the best time of the year to visit Northern Thailand?
Northern Thailand is a beautiful region with stunning landscapes, vibrant culture, and delicious cuisine. However, the weather can vary greatly depending on the season, so it's important to choose the right time to visit.
The best time of year to visit Northern Thailand is from November to February, during the cool and dry season. This is the peak tourist season, and for good reason. Temperatures during this time are comfortable, ranging from 10 to 25 degrees Celsius, making it perfect for outdoor activities such as trekking, sightseeing, and cultural events. The dry weather also makes it easy to explore the region's natural beauty, including national parks, waterfalls, and historic temples. Additionally, this season is known for the blooming of beautiful flowers, adding to the already breathtaking scenery.
However, keep in mind that this is also the busiest tourist season, so it's important to book accommodation and tours in advance to avoid any disappointment. If you prefer a quieter experience, consider visiting during the shoulder months of October or March. While the weather may not be as pleasant, you'll still be able to enjoy the region's attractions with fewer crowds.
On the other hand, visiting during the rainy season (June to October) can be a good option for budget travelers as hotel rates are lower. However, the weather can be unpredictable, with occasional heavy downpours and flooding in some areas. Some activities, such as trekking and outdoor adventures, may also be limited during this time.
In summary, the best time to visit Northern Thailand is from November to February, when the weather is cool and dry, and the natural beauty of the region is at its best. However, if you prefer a quieter experience, consider visiting during the shoulder months, while budget travelers may find the rainy season to be a good option. Whatever season you choose, Northern Thailand is a destination worth exploring.
Explore the Mekong river that separates the two nations
The mighty Mekong river separates the Vientiene region of Laos with the Loei region in Thailand and the river communities are alive and fun to explore the area and stunning landscape including:  Kaen KhuKhu – small islets with colored boulders, fishing communities and riverside temples dotting the area. This is truly one of those untapped and off the beaten path areas of Thailand to discover.
Untapped Loei: A undiscovered region in Northern Thailand
The colorful city of Chiang Khan
Chiang Khan is one of the most colorful and picturesque cities along the Mekong and Loei province. The river front and adjoin streets are filled with interesting towns, quirky galleries and shop,  and there is a lively night market that happens nightly with the riverside street closed off from traffic. I woke up early to do the morning alms to the Buddhists walking the streets towards their temple and giving blessings, it was a fantastic experience and I toured around the temple grounds afterwards. I wrote about that experience recently in this post.
Cycling tour around the main streets of Chiang Khan
 Cruising the Mekong River
One of the most popular attractions in this area is to take a river cruise on the Mekong. You can practically hop on a long tail boat in many areas and you can easily take a cruise from Chiang Khan and see both sides of the Thai and Laos riverfront communities and landscape. It is an easy  and panoramic cruise which typically run an average of two hours or more in length. Late afternoon is the perfect time for beautiful light for photography and a magnificent sunset if the skies are clear.  The day I took this cruise, it was completely socked in with clouds and fog, but fortunately things took a better turn and we had cloudy but some open skies breaking up the landscape. I just did a post with more images on the cruise, you can take a look at this post here.
Here's a quick video tour of the Mekong and waterfront communities
 Explore Phu Ruea National Park
One of the largest national parks in Thailand is the Phu Ruea National Park which is famously known for it's thick fog and spectacular views of the entire region. It's supposed to be quite spectacular when it is a clear day, but unfortunately for me, the fog was as thick as soup. In this instance you just have to make the best of it and enjoy the moment and capture the mist/fog in the landscape like the image above, quite moody and unexpected for tropical Thailand.
 The spectacular views from Phu Tok Mountain 
Another panaromic ride and tour is taking a morning ride to the vista point overlooking Phu Tok Mountain close to Chiang Khan. This bumpy and fun ride on a Songthaew ( a type of jeep bus) all the way up to a lookout point to Phu Tok and the surrounding region. Coming here to view the sunrise and morning is a spectacular way to spend the morning and enjoy the 360 degree views of the entire region.
Panoramic views of the Leoi region in Northern Thailand
Phi Ta Khon Museum
Visiting the Phi Ta Khon Museum is fun at this educational attraction. It houses a colorful Buddhist temple along with a mask museum that shows the traditions of the local mask festivals that happen in the nearby Loei regions. Demonstrations of mask making and creating your own is offered on site and is a lot of fun to do for visitors into local craft.
Making your own ghost mask at Phi Ta Khon
Local trainees at the Buddhist temple at Phi Ta Khon
Tai Dam Village
A unique place to visit is the Loatian village at Tai Dam Village which is a preserved village that now serves as a cultural center and village. This area is home to these ethnic Loatian tribes that showcases some authentic homes, people, daily lifestyle and crafts of the region. The group occasionally gathers  to share some of their dances and culture with visitors to their village and you can see their craftwork and purchase some traditional snacks from the various vendors. For more information and pictures about the village and visiting, check out my recent post on the Ta Dam village here.
This cultural village is worth the effort to understand the traditional, culture and lifestyle of these people who immigrated to Northern Thailand to avoid persecution from regional wars in their area and have been supported by the regional government to keep up their customs and village crafts and architecture. On our visit, we were treated to local dances, singing and musical instruments that were used in the performances. We also got to sample some of the local delicacies and sweets made by the indigenous people of this tribe.
Gorgeous bamboo architecture at Tai Dam Village
Here's some fun circle and traditional dances below
Morning Buddhist alms
Attending a morning Buddhist alms offering at a local temple is a great educational experience to understand this old tradition that pays respect to the Buddhist monks that support each local community. The large Buddhist temple at Chiang Khan is fun to explore after the offering so you can visit the temple grounds where the monks live and practice. For more pictures and insight to this regular morning tradition, check out my recent post on the morning alms here.
I hope that you enjoyed this post on Untapped Northern Thailand at Loei.  If you liked the post, could you please share it with any of the social media buttons located around the post, thank you. Also, please visit the other bloggers below that are joining for Travel Photo Mondays below.
Thank you to the Thai Authority of Tourism and the local Loei tourism group for hosting me in collaboration with Tbex Thailand, all opinions and thoughts were my own.
More details to visiting the Loei region of Northern Thailand
Fly direct from Bangkok to the regional Capital of Loei
You can base yourself at Loei and do daily trips around the region to the attraction mentioned above
Or you can book several tours to visit many of the places of interest in the region.
Check out the website here on visiting Loei here for more details.
If you enjoyed this post, please check these Northern Thailand must see attractions
15 top places to visit in Northern Thailand
Thailand travel – 10 tips and suggestions
Eco tours in Northern Thailand
Hill tribes of Northern Thailand
A Loatian village in Northern Thailand
Hill tribe stay in Northern Thailand
If you enjoyed the post, please pin it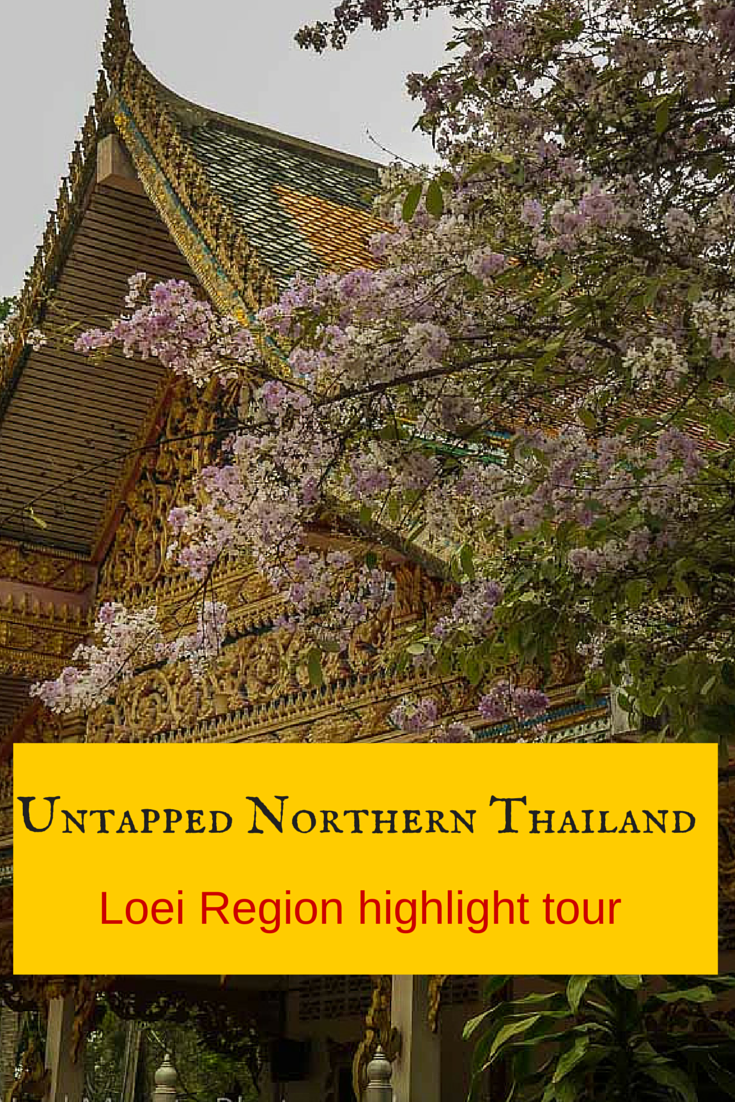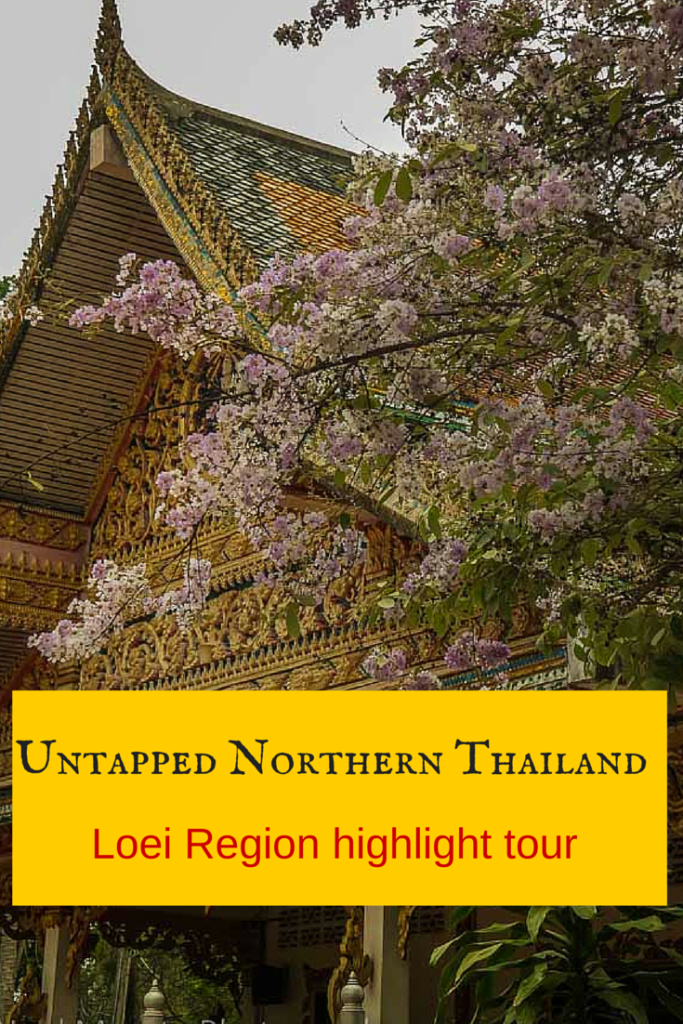 I hope you enjoyed this post on the Untapped Loei in Northern Thailand – Travel Photo Mondays. I hope that it was helpful in showing you some Northern Thailand destinations – if so, would you please share this post with any of the social media buttons that are located around the post, thanks so much.
If you like what you see, come and check out my other social media channels for more updates, including Instagram, Pinterest and Twitter
Disclosure – There are affiliates links on this posts which provide a small commission to support this site at no extra cost to you. Thank you for reading, and happy travels