A perfect backpack ECBC
I've worn out so many backpacks on my multiple trips around the world and have not found anything really long lasting with a variety of features to make it a versatile day pack. Unfortunately, I have a tendency to abuse my day packs, throwing it around and just taking for granted that it will hold up in every condition, but after a short timeframe, it typically gets worn out and moldy by the time I'm done with it. Fortunately, I've started to use this new day pack series from ECBC with a fantastic cool feature called a Fast Pass System and almost indestructible fabric called Ballistic Nylon, so I'm ready to put it to the test.
What is a Fast Pass System
For those who always overload their backpacks for hand carry scenarios on planes know how much of an inconvenience and effort it takes to carry electronics while going through the TSA check points efficiently without creating a mess. ECBC ingeniously created a new way of not having to take out your laptop and electronics by creating a flap to place your equipment which can be opened in a fold and sent through the X-ray machines. Apparently, all you have to do is unzip the Fast Pass compartment with all the electronics and cables exposed and lay it flat against the X-ray scanning equipment and voila, no unnecessary opening, taking out and repacking while you make a dash to your gate.  This feature is available on their Lance Executive day pack which is a great size and has many compartments to store different items you need to have easy access to including your documentation, electronics, snacks and other valuables that you bring along with you on a hand carry. I love that the laptop compartment can fit up to a 17 inch laptop which is what I have and it is a perfect fit.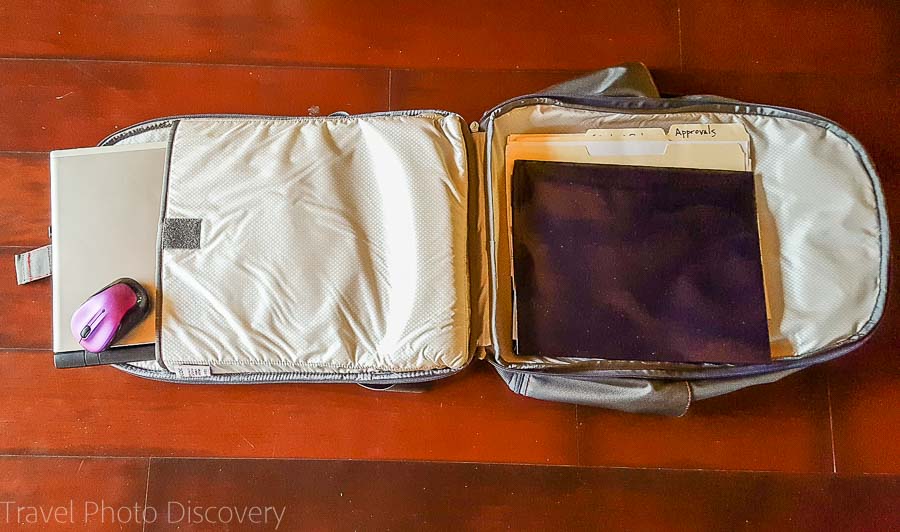 Indestructible Ballistic Nylon
The day pack is constructed with ballistic nylon which ECBC touts as nearly indestructible which is perfect for me since I tend to be careless with handling and storing my backpacks. Most of my day packs start to fringe and get destroyed around the straps, zippers and tearing up around the bottom area and other pressure/stress areas around the straps. The ECBC fabric body, base and lining is made with Ballistic Nylon (created by Dupont during WWII) which is a specific type of nylon created for maximum durability and abrasion resistance. The upshot for this upgraded material is a stronger and longer lasting daypack which for me is worth the investment and not having to constantly replace my backpacks. It definitely is one of the best travel backpacks for men and using for active lifestyles.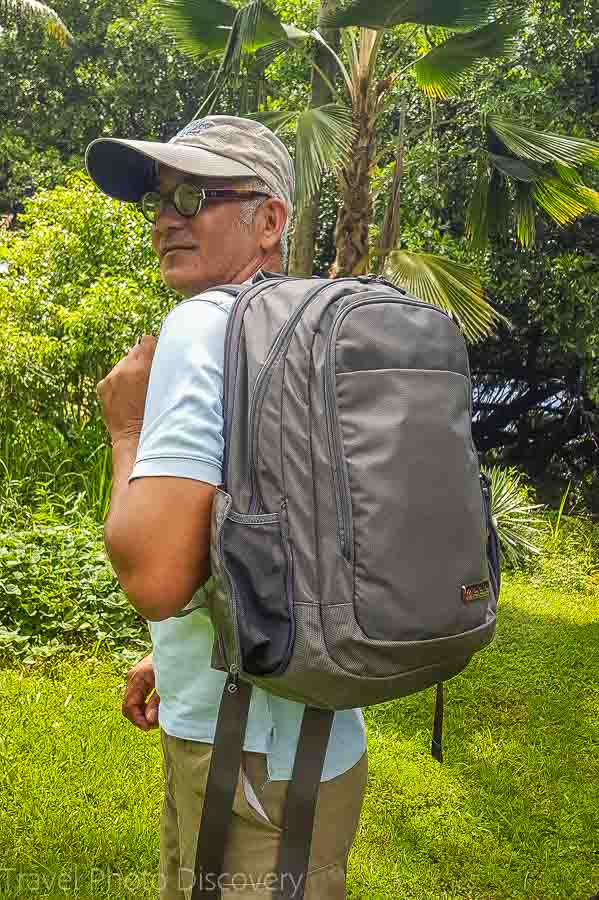 Water Resistant
I don't have to spray this day pack since it is water resistant. This is another plus because I tend to carry my packs in a variety of wet environments which is always unavoidable when you travel. When you combine this feature along with the Ballistic Nylon, it ends up being the perfect day pack to have when I typically carry a variety of electronic gear and camera equipment that is sensitive to different changes in the environment.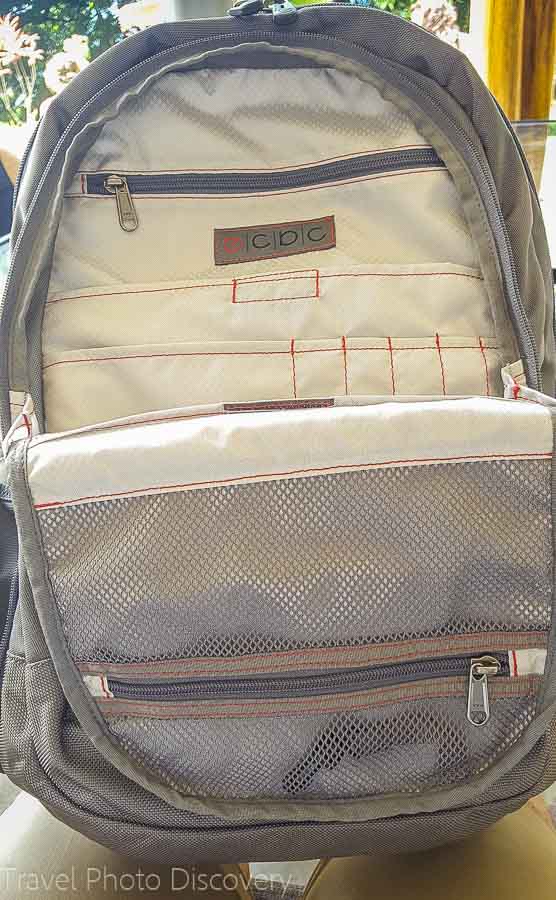 Lots of compartments
The Backpack is broken up into a variety of areas that each have separate compartments that are can be used for specific uses including documents, laptop storage and electronic gear. This top zippered compartment above has separate pocket areas for carrying pens/pencils, passports and other special documents including a mesh zippered area for anything that needs to breath (including not so fresh underwear). I like to bring a variety of electronics including camera equipment so this is  perfect for storing smaller objects and gear that need to be separated and can be accessed quickly without having to dig into the entire bag to find a specific tool or piece of equipment. The extra pockets and zippered compartments for me is a real plus for carrying a variety of objects, documents and equipment all in one bag.
Conclusion – so far so good
I've used this day pay for the past month and I really like it so far. Between bringing it to wet, humid to cold environments, the bag is holding up very well and not getting moldy from all the changes in environment. I intend on taking this on more challenging trips and I think this time it will be a keeper for a very long time. If you are looking for a business travel back pack, check out this other worthy brand to use.
Thanks so much for visiting and checking out this post on A perfect backpack ECBC. If you are in a shopping mode for a perfect day pack, you should consider this bag. If you are looking for more details and information, check out their website here for their product line and pricing. If you are interested in this particular executive daypack, you can check their product page here.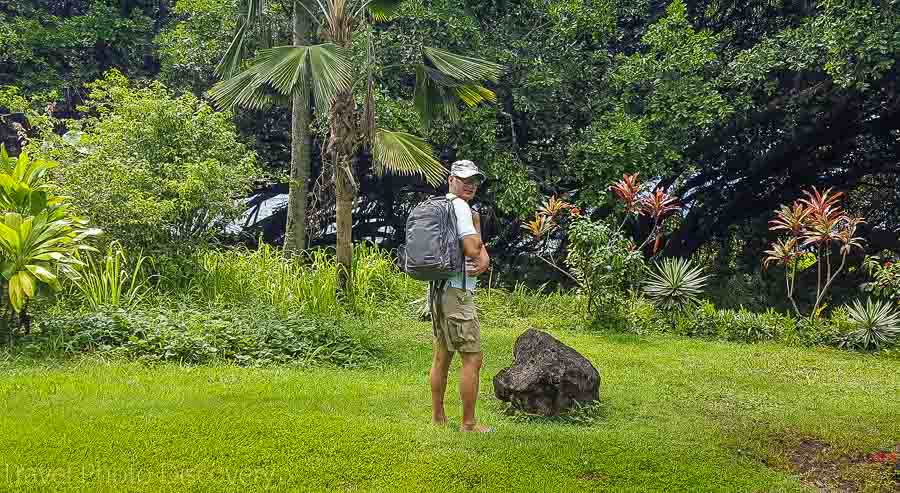 Disclosure – this post was done in collaboration with ECBC and I was given an executive day pack to review. All opinions and thoughts are my own and I would definitely recommend purchasing a day pack like this as a hand carry and overall day pack.