Visit Alcatraz Island: Explore the Enigmatic History of America's Most Notorious Prison
Hard to believe that it has been over 20 years since I've visited Alcatraz island in the middle of San Francisco bay.  I haven't had a desire to visit the island until I heard about a current show happening at the same time which is a first time event on the island. The exhibit featuring Ai WeiWei, a contemporary Chinese artist who is also under house arrest in his home country makes the show at Alcatraz, even more poignant.  WeiWei features prisoners from around the world also of like mind: composers, poets, artists and literary people that are being imprisoned for their own personal beliefs and speaking out about the personal and political injustice happening in their own countries.
The exhibit centers on these artists who in spite of being or having been incarcerated, have produced some wonderful artistic contributions in their own right and continue to create. Quite an inspiring place to visit and see an exhibit that imbues that complete feeling of isolation and imprisonment and yet creating hope and inspiring work for the world to appreciate the human spirit and art.
A brief history to Alcatraz island
Alcatraz Island, located in San Francisco Bay, California, has a rich and fascinating history that spans centuries. Here is a brief overview:
Native American Occupation: The island was originally known as "La Isla de los Alcatraces" (The Island of Pelicans) by the Spanish explorers. Native Americans from various tribes, including the Ohlone, inhabited the island for thousands of years before the arrival of Europeans.
Military Fortification: In the mid-19th century, during the California Gold Rush, the United States military recognized the strategic importance of Alcatraz and began fortifying it to protect the San Francisco Bay. A fortress was constructed, armed with cannons to defend against potential threats.
Federal Penitentiary: In 1934, Alcatraz was transformed into a federal penitentiary, often referred to as "The Rock." Its remote location, strong currents, and frigid waters made escape seemingly impossible. Alcatraz housed some of America's most notorious criminals, including Al Capone and George "Machine Gun" Kelly. The prison's strict regulations and harsh living conditions earned it a fearsome reputation.
The Indian Occupation: In 1969, a group of Native American activists, led by Richard Oakes, occupied Alcatraz for over a year, demanding the island's return to Native American control. The occupation brought attention to issues of indigenous rights and became a significant moment in Native American activism.
Closing and National Park Status: Alcatraz Federal Penitentiary closed its doors in 1963 due to high operating costs and deteriorating facilities. In 1972, it was added to the Golden Gate National Recreation Area and later became part of the National Park System. Today, the island serves as a popular tourist destination, drawing visitors from around the world to explore its history, including the abandoned prison and the remnants of its military past.
Morning ferry to Alcatraz
The morning was so typical for a winter day in San Francisco, cool and foggy morning that may perhaps burn off or maybe not and remain cold and dreary. It was hard to tell and from our first walk down North beach to the wharf area at Pier 33, it didn't seem likely to clear up. I picked up my friend Colleen, herself an artist and art instructor in San Francisco, from her North Beach apartment with stunning views of the downtown skyline. In no time we arrive at the Pier which is already packed with visitors. I'm sure it must be busy the entire day for every ferry ride to the island. In fact, I read somewhere that Alcatraz is the number one attraction in San Francisco for travelers (maybe that is why I haven't really had a desire to visit until recently). We board the ferry amidst the thick fog and it is quite eerie, I don't recall ever being out on the bay where you can barely see a few feet in front of you. The captain gets on the intercom, welcoming everyone and mentioning the thick fog which prompts them to sound off a very loud bull horn sound every few minutes which really adds to the mysterious and somewhat scary ferry crossing on the bay.
Then as if, it were there was never any fog, the island comes into view and the fog quickly starts to burn off.  Just some fog impressions linger which makes for some great photo captured moments  (photos above). It really does feel like you are coming into a very different world, far removed from the congested streets, traffic and noise of the city. After disembarking, there is a ranger that gestures to everyone so she can give an overview and history to the island – apparently when you arrive, you are free to wander anywhere but she gives an orientation to the days happenings and tours that maybe happening on the island.
An art exhibit on the island
We head off directly to where the art exhibit is happening in an old building never opened to the public except now for this special exhibit. It's in the new exhibits building within an old decaying structure facing the Golden Gate bridge –  huge paneled windows take up a complete side, some with broken panels, creating interesting graphic patterns and aged patina on the walls.  I'm already fascinated with this dynamic and cool space. Right when you enter the front doors, you are greeted with this huge dragon head crafted with paper and balsa wood –  brightly festooned with colorful patterns and imagery. It's striking and WeiWei, the artist,  is introducing the dragon not as a dangerous authority figure, but instead it represents personal freedom and individual strength and power.  The contemporary Chinese artist Ai WeiWei is world-famous and was also imprisoned during this time frame. His customized work at Alcatraz centers  on political activism and personal freedom – it's only too sad that he was not allowed to leave China to attend his own art exhibit in San Francisco.
Occasionally, you'll find revolving art shows in the galleries to international and local artists looking for cool venues like Alcatraz island.
Colorful kites fly around the prison walls
The various kites around the dragon have personal quotations from activists and are forms alluding to stark human reality and restrictions of civil liberties and human rights.  Putting the kites within the prison walls symbolizes the contradictions of restriction and freedom, creativity, personal expression and cultural pride. Gorgeous and I totally get the restriction of space and freedom from these lovely kites.
All of WeiWei's work is huge and takes up three large buildings and I am in awe of the scale and how it actually works with the decaying walls and milieu of the spaces. The work is both colorful, some graphic and very thought-provoking. The next installation is completely made with Lego tiles depicting over 176 prisoners detained for their beliefs or affiliations. A short bio/summary describing each prisoner is posted on the window areas and WeiWei calls them 'Heroes of our time'.
The exhibit space was also wonderful to explore with broken glass and dilapidated rooms with their aged patina and fading colors, I loved walking through and playing with my camera in these spaces filled with so much texture and history. Even people walking beyond  the broken glass added to the photo composition, adding details and interest to the images below.
Visiting the Penitentiary of Alcatraz
We head out and walk uphill to the main penitentiary on top of the hill and the views of the city and surrounding bay and landscape are simply breathtaking.  Even if it was a prison, the daily views to the city must have been some consolation to the prisoners who were confined to harsh prison life, if not for just a few minutes outdoors with these amazing views.
Exploring the Penitentiary of Alcatraz
Penitentiary Tour: Upon disembarking, visitors are greeted with a self-guided audio tour of the penitentiary. The tour allows you to explore the cell blocks, common areas, and solitary confinement cells while listening to accounts from former inmates and guards, providing a hauntingly immersive experience. You can easily start and stop the audio tour at your own pace and explore the prison at your comfort and pace.  Here are the main attractions to explore inside and around the prison.
Cell Blocks: Inside the penitentiary, you'll walk through the cell blocks where some of America's most notorious criminals were once incarcerated. The cells are small and sparsely furnished, offering a stark reminder of the harsh conditions prisoners endured during their time on "The Rock."
Dining Hall: The dining hall, known as the mess hall, offers a glimpse into the daily life of inmates. You can visualize them gathering here for meals under the watchful eyes of the guards.
Recreation Yard: The recreation yard is an outdoor area where inmates had limited time for exercise and fresh air. Today, the yard offers stunning views of the San Francisco skyline, providing a striking contrast to the prison's bleak environment.
Guard Towers: As you explore the grounds, you'll encounter the guard towers scattered throughout the island. These towers were instrumental in maintaining security, as guards kept a constant watch over the prison grounds from their elevated positions.
Lighthouse and Nature: Beyond the penitentiary, you'll find the historic Alcatraz Lighthouse, which has guided ships safely through the bay for over a century. The island's gardens and natural beauty also offer a serene escape from the penitentiary's grim history.
Escape Attempts: Throughout the tour, you'll hear stories about the infamous escape attempts made by prisoners over the years, including the daring 1962 escape by three inmates who are believed to have vanished into the treacherous waters of the bay.
Visiting Alcatraz Penitentiary and its guard towers provides an immersive and thought-provoking experience that sheds light on the harsh realities of prison life and the island's captivating history. The combination of the striking scenery, gripping narratives, and the historical significance of the penitentiary makes Alcatraz Island a truly unforgettable destination for history enthusiasts and curious minds alike.
Decaying façade entry detail to Alcatraz
Entering Alcatraz penitentiary
What a foreboding and cold entry with steel bars everywhere you see. It really feels like maximum security for those who are beyond help – this is where the hard-core criminals from around the nation where shipped to for complete isolation from the rest of the nation.
Even for cold steel and thick walls and bars, there was a strange beauty and architectural details that actually made the place very interesting and filled with gorgeous details like the staircase image below and the rusted windows below.
Cool window treatments, right?
I must admit some of the rooms were quite morbid and disturbing to view, you can only imagine the bizarre and unfortunate things that might have taken place in some of these rooms and far away from the public to see or hear.
Alcatraz hospital scene
A few more of WeiWei's art installations were featured in the main penitentiary including this room filled with porcelain ceramics all in white and titled 'Blossom'. The installation has transformed these utilitarian fixtures into sculptural pieces with the white porcelain flowers.  I learn that in Chinese symbolism, white, flowers and porcelain represent many different meanings to include: death and ever so fragile nature, condolences or comfort to the imprisoned or even the Chinese Hundred Flowers campaign of 1956 where government tolerance for free speech was followed by severe crackdown against the dissent.
Porcelain details
Even the walls at the penitentiary were artful in details
Weather and best time to visit Alcatraz Island
The weather on Alcatraz Island can vary throughout the year due to its location in the San Francisco Bay. It is influenced by the cool, maritime climate of the region. Here's an overview of the weather and the best time to visit:
Weather:
Spring (March to May): Spring brings mild temperatures with average highs ranging from 14°C to 18°C (57°F to 64°F). Nights can be cool, so bringing layers is recommended. Rainfall is common during this season, so having a raincoat or umbrella handy is a good idea.
Summer (June to August): Summer is the peak tourist season with average highs around 20°C to 22°C (68°F to 72°F). It can get crowded, but the weather is generally pleasant. Fog is a common occurrence, so even on sunny days, be prepared for sudden changes in visibility.
Fall (September to November): Fall offers mild and comfortable weather, with temperatures similar to spring. It is generally less crowded than summer, making it a good time to visit. However, occasional rain can still be expected.
Winter (December to February): Winter temperatures range from 10°C to 13°C (50°F to 55°F) on average. It's the least crowded time to visit, but rainfall is more frequent, and the island can be quite chilly. Dress warmly and be prepared for wet weather.
Best Time to Visit: The best time to visit Alcatraz Island is during the shoulder seasons of spring and fall. March to May and September to November offer milder weather, fewer crowds, and a more enjoyable experience overall. If you prefer warmer weather and don't mind the crowds, the summer months of June to August can also be a good time to visit.
It's essential to check the weather forecast before your trip and dress accordingly, especially due to the possibility of fog and sudden temperature changes on the island. Regardless of the season, Alcatraz Island's history and breathtaking views make it a remarkable destination to explore year-round.
For some reason I'm drawn to all these heavily barred windows with their views of the garden and bay, I can just imagine how precious those quick views much have meant so much for all the time a prisoner spent in solitary confinement.
More inside tips to visiting Alcatraz Island
When visiting Alcatraz Island, there are several inside tips that can enhance your experience:
Book Tickets in Advance: Alcatraz tours are extremely popular, and tickets often sell out quickly. To secure your spot, it's advisable to book tickets well in advance, especially during peak tourist seasons.
Choose an Early Tour: Opt for an early morning tour if possible. It tends to be less crowded, allowing you to explore the island at a more leisurely pace and take better photos without too many people in the background.
Dress in Layers: The weather on Alcatraz Island can be unpredictable, with chilly winds even on sunny days. Dress in layers to stay comfortable, and consider bringing a jacket or sweater.
Wear Comfortable Shoes: Exploring the island involves walking on uneven terrain and up steep inclines. Wear comfortable, sturdy shoes to navigate the pathways with ease.
Audio Tour: The included audio tour is a must-do. It provides a captivating narration by former inmates and guards, offering deep insights into the history of Alcatraz and its penitentiary days.
Explore Beyond the Prison: While the prison is the main attraction, Alcatraz Island has other interesting spots to explore. Take time to visit the beautiful gardens, the historic lighthouse, and enjoy the breathtaking views of San Francisco.
Allow Ample Time: Alcatraz tours usually last around 2-3 hours, including the ferry ride to and from the island. Plan your day accordingly to allow ample time to fully experience everything the island has to offer.
Bring Snacks and Water: There are no food services on the island, so it's a good idea to bring some snacks and water to keep you energized during your visit.
Respect Wildlife and Nature: Alcatraz is also home to various wildlife, including seabirds. Respect the island's natural environment by not disturbing the animals and refraining from littering.
Capture Sunset Views: If you're lucky enough to be on the island during sunset, you'll be rewarded with stunning views of the city skyline. Capture this magical moment on your camera.
Here's what the views of the trees and bay looks like from outside the prison walls, stunning don't you think?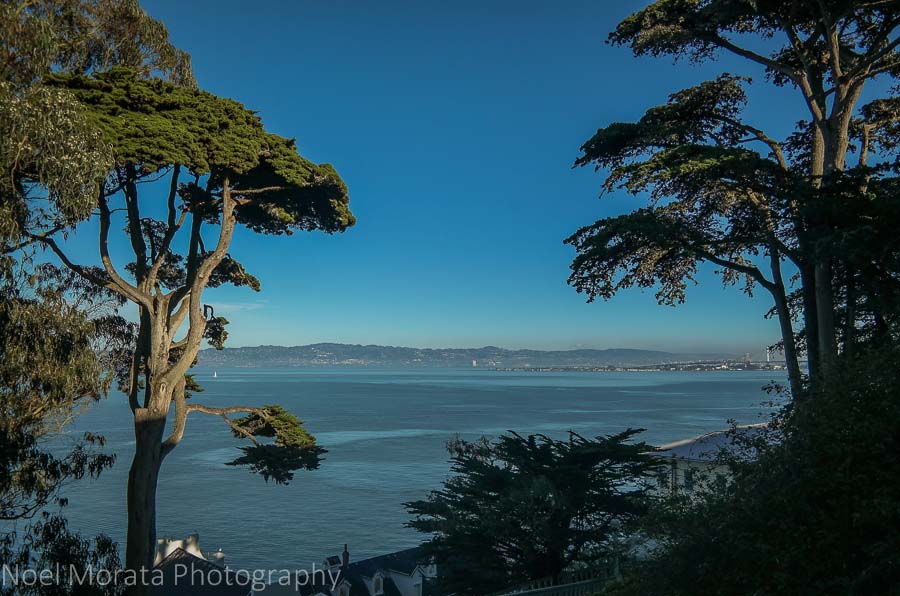 Trees and bay views at Alcatraz prison – island of Alcatraz
Final thoughts to visiting Alcatraz
I could have easily spent the entire day exploring the island and even bringing a picnic and sit outside with views of the city skyline. I guess, I'll just have to come back again when the park service introduces another special art exhibit on the island. At least I hope they continue to do so because the rooms and the WeiWei's exhibit was quite sublime, don't you think so?
How to get to Alcatraz Island
Alcatraz cruises to get to the island. I would advise making a reservation in advance since they are always booked weeks in advance. You can check out the schedule and reserve ticket on their website here.
Check out th
ese Alcatraz tours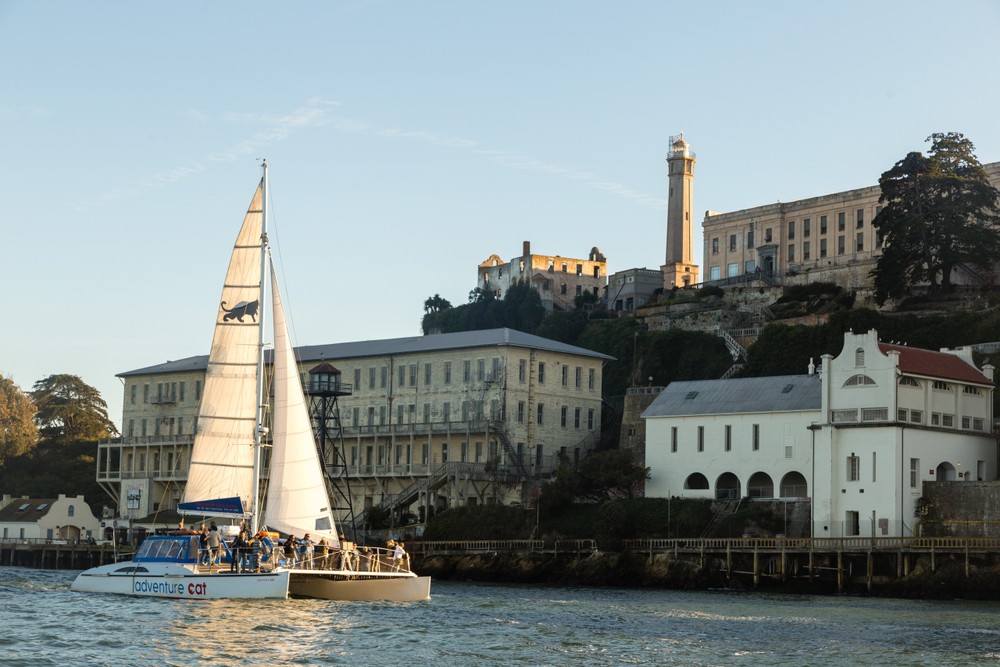 Experience double the excitement on the Bay with our Sail 'n Jail package! Combine the thrill of an exhilarating Bay Cruise on Adventure Cat with a separate trip to the world-famous Alcatraz Island!
Once housing some of America's most notorious criminals, the federal penitentiary that operated on Alcatraz from 1934 to 1963 exuded a dark mystique, earning it the nickname "The Rock." The presence of infamous inmates such as Al "Scarface" Capone and the "Birdman" Robert Stroud contributed to the island's enduring notoriety. Even today, Alcatraz remains renowned as one of the world's most legendary prisons.
Duration – 1.5 hours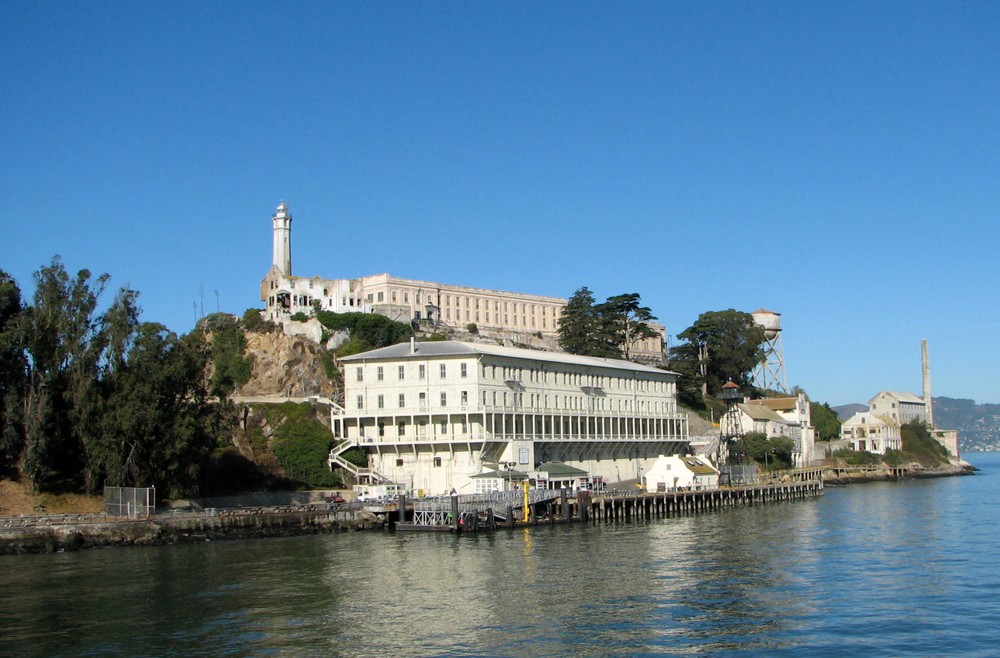 Explore the stunning sights of San Francisco Bay with our 60-minute Bay Cruise tour, offering breathtaking views of Alcatraz Island and a passage under the iconic Golden Gate Bridge! With multiple daily departures from Pier 39, you have the flexibility to choose a time that suits you best.
Enhance your San Francisco experience with a visit to Alcatraz Island, where you can delve into its intriguing history. The Alcatraz Tour takes approximately 2.5 to 3 hours and departs from Pier 33.
For a convenient way to explore the city, hop on and off with our Hop-on Hop-off Bus Tour. You'll enjoy unlimited 1-day or 2-day access, allowing you to discover the city's top attractions at your own pace.
With Bay Cruise tickets valid for any day, you can plan your ideal itinerary and make the most of your time in San Francisco!
How It Works
You will receive your tour tickets by email after the booking is complete.
Alcatraz Location: Pier 33 (Alcatraz Landing)
Departure Time: TBD
Bus tour starting point: 99 Jefferson st. Hours: 10am to 5pm daily. Frequency: every 15-30mins between buses.
Bike rental location: 1465 Lombard street, San Francisco. Hours: 9am to 5pm daily.
Check out these other posts to visiting San Francisco
San Francisco's Golden Gate Park
Lands End lookout point and trail
Famous streets of San Francisco
Quirky and fun places in San Francisco
Top things to do around San Francisco
San Francisco views from above
Exploring North Beach and the Greenwich steps
Conclusion to visiting Alcatraz Island and exploring the island
In conclusion, visiting Alcatraz Island is an extraordinary experience that offers a captivating journey into the past and a chance to immerse oneself in the intriguing history of this iconic destination. From its Native American occupation to its transformation into a federal penitentiary, Alcatraz holds a unique place in American history.
Beyond the prison walls, take time to explore the island's natural beauty, including its gardens and the historic lighthouse. Embrace the breathtaking views of the San Francisco skyline, especially during sunset, which adds a touch of magic to the experience.
I hope that you enjoyed this post on Alcatraz island and exploring the island. If you did enjoy reading it, could you please share the post with any of the social media buttons listed around the post, I appreciate it. Thanks for hosting me on the ferry ride with Alcatraz cruises, all opinions and thoughts are my own and the service was fast and fantastic.