San Francisco Soaring: Mesmerizing Views from Above Capture the City's Beauty
Not surprising, there are so many fabulous places in the city that you can go to see and photograph San Francisco and the entire bay area. Some of these are open for the public while others may only be available to guests staying at that particular hotel. So if you are in the area check out these San Francisco views from above, and enjoy these cool places to hang out and capture some nice photos of the city and bay area from above.
San Francisco, with its iconic skyline, rolling hills, and breathtaking bay, offers a myriad of stunning vistas that are sure to leave you in awe. Finding the best views of this vibrant city is like embarking on a treasure hunt, where each vantage point unveils a new perspective and a fresh appreciation for San Francisco's beauty. Whether you're seeking panoramic views of the Golden Gate Bridge, glimpses of the shimmering city lights at dusk, or a serene outlook over the vast Pacific Ocean, San Francisco has it all. Join us as we navigate the city's diverse neighborhoods, explore its scenic parks, and uncover hidden spots that promise unforgettable views. Get ready to elevate your San Francisco experience and discover the best views that this enchanting city has to offer.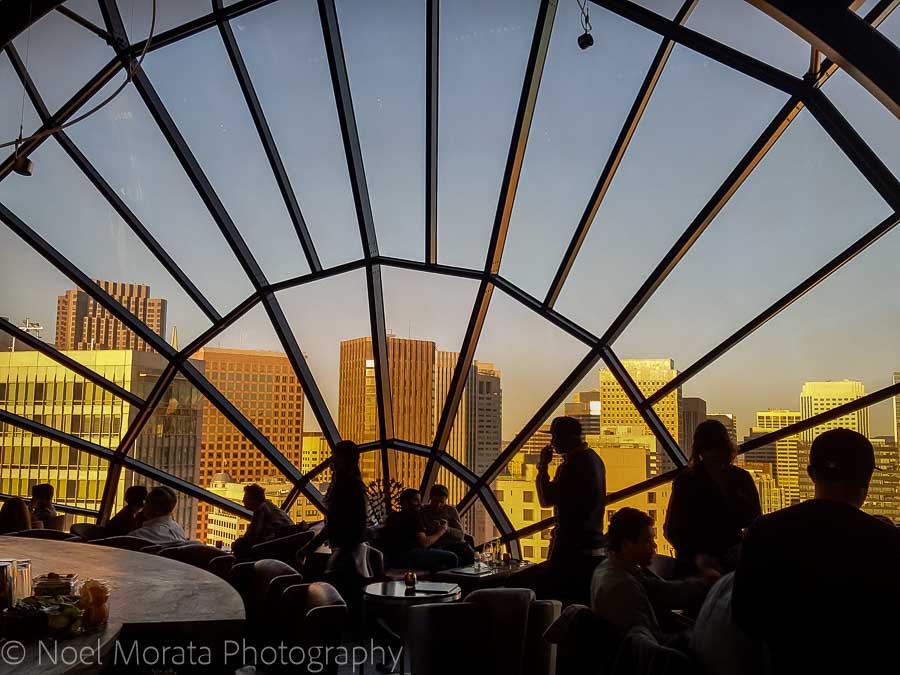 Why look for the best views of San Francisco from above?
There's nothing like seeing a city from above and checking out all the major monuments and landmarks and the grid patterns that shows the major parts of a city. San Francisco is dazzling from above during the day or night and really showcases the unique parts and neighborhoods of the entire city which is fun to see from high above. Use this easy guide to show you some of the best and inspiring viewpoints of San Francisco and the surrounding areas from above.
Weather and best time to visit San Francisco
San Francisco's weather is characterized by its cool summers, mild winters, and the ever-present coastal influence. The city's microclimates can bring dramatic changes in temperature and fog patterns throughout the day. The best time to visit San Francisco depends on your preferences and what you plan to do. Here's an overview of the weather and the ideal times to visit:
Summer (June to August): San Francisco experiences its foggiest and coolest weather during the summer months. Average temperatures range from the mid-50s to mid-60s Fahrenheit (12-18 degrees Celsius). If you're planning to visit during summer, be prepared for the possibility of fog and cool breezes. However, summer in San Francisco also brings some of the city's most iconic events, such as the Pride Parade and Outside Lands Music Festival. It's advisable to dress in layers and have a jacket or sweater on hand.
Autumn (September to November): Autumn brings more stable weather conditions, with fewer foggy days and milder temperatures. Average temperatures range from the mid-50s to low 70s Fahrenheit (12-23 degrees Celsius). This season is considered one of the best times to visit San Francisco, as you can enjoy pleasant weather, vibrant fall foliage in nearby parks, and fewer crowds compared to the summer months.
Winter (December to February): San Francisco's winter is characterized by mild temperatures, occasional rain showers, and the possibility of some sunny days. Average temperatures range from the mid-40s to mid-50s Fahrenheit (7-13 degrees Celsius). Winter is considered the low tourist season, which means you can find better hotel deals and experience fewer crowds at popular attractions. However, it's advisable to pack a raincoat or umbrella and be prepared for cooler temperatures.
Spring (March to May): Spring brings moderate temperatures and blooming wildflowers to San Francisco. Average temperatures range from the mid-50s to low 70s Fahrenheit (12-23 degrees Celsius). It's a great time to visit the city, as you can enjoy pleasant weather and witness the beauty of springtime blooms in parks like Golden Gate Park and the Botanical Garden. Spring is also a popular time for festivals and outdoor events.
It's important to note that San Francisco's weather can be quite changeable, and it's always a good idea to carry layers and be prepared for temperature variations throughout the day. Additionally, due to the city's microclimates, weather conditions can vary from neighborhood to neighborhood.
No matter the season, San Francisco's unique blend of cultural diversity, stunning architecture, and natural beauty make it an attractive destination year-round. Whether you're exploring the Golden Gate Bridge, wandering through the colorful streets of Chinatown, or enjoying the vibrant waterfront, San Francisco's charm and allure will captivate you in any season.
Fabulous San Francisco views from above (and where to find them)
Most of these places are easy and accessible to the public and others only available to visitors staying at that particular venue. Most of these are relatively easy to get to and spot those amazing views during the day, sunset or even evening photographs of the city from above.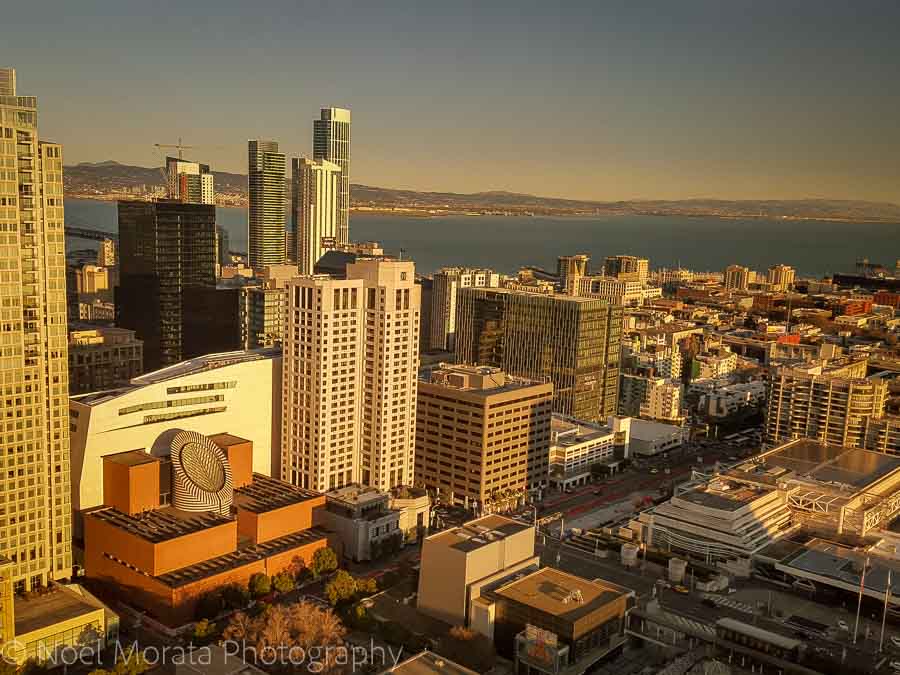 San Francisco views at the View Lounge, Marriott Marquis
You take an elevator to the top floor which offers a bar lounge and amazing 360 degree views to the city below and the surrounding landscape including both bridges coming into San Francisco. Since the View Lounge doesn't open up until 4pm in the afternoon it is advisable to come early and secure the best seats in the house and those are usually the ones by the window facing downtown and the Bay Bridge. On a clear day, you get beautiful light and sunset views into the night which is perfect for taking any photographs of the city. Views from this hotel are spectacular, but if you are looking for something more unique check out these cool boutique hotels in San Francisco to consider staying in.
If you're looking for accommodations in San Francisco, consider a stay here at the Marriott Marquis, check the reviews and current prices here for your information and availability.
Check out the gorgeous views to the city from the top of the Marriott Marquis below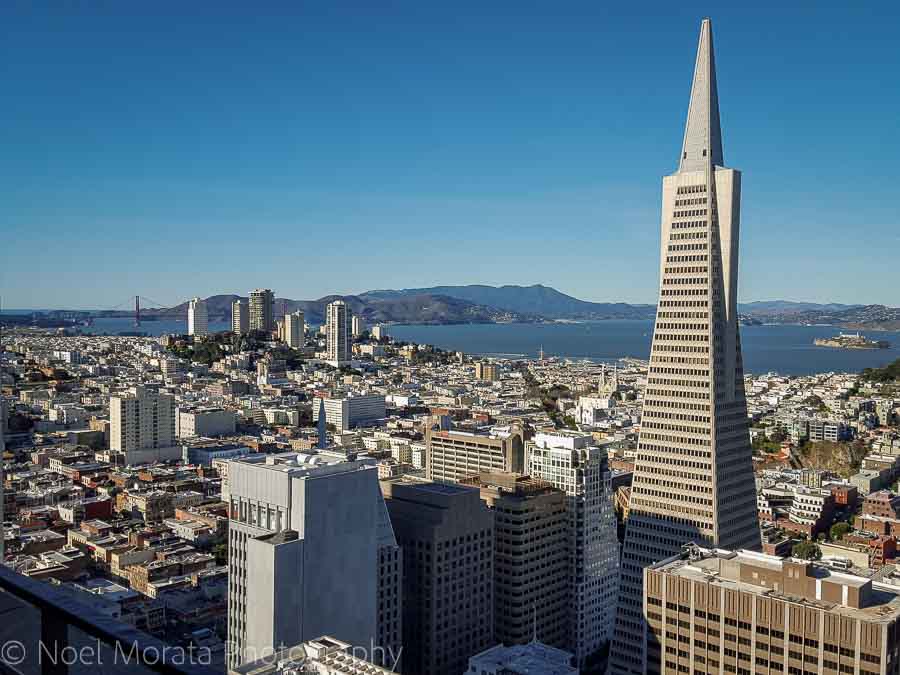 San Francisco views from The Mandarin Oriental
Just as spectacular as the View Lounge, the Mandarin observation areas and outdoor balconies are unique and out of this world with stunning views downtown. Close to popular landmarks like the Trans America building, Coit tower and the Golden Gate bridge, everything seems even more intense outside on the two balconies. If you are a guest of the hotel, most of the upper floor bedrooms have these views, but you can also check out the balconies from above if you contact the concierge desk to have access to the balcony. Or better yet, you can get married at the hotel or even host a special function at the hotel to secure these stunning views for your event.
Here's some of that gorgeous panorama view from the Mandarin Hotel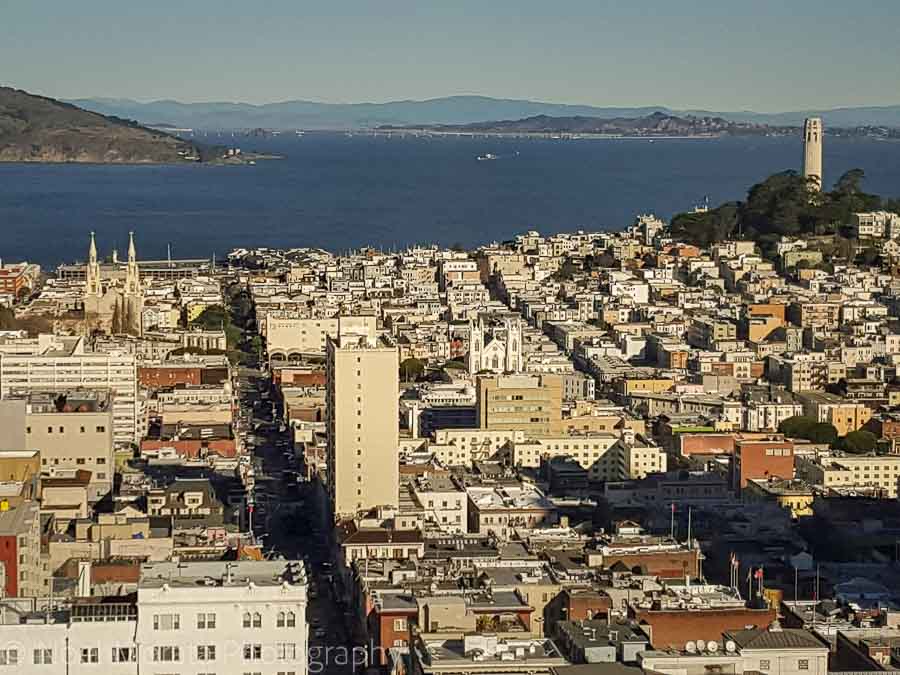 San Francisco views from the Marriott Union Square observation area
Located on the 36th floor of the hotel, the main observation area has sweeping views of the bay and key landmarks areas like Union Square, Chinatown, North beach and other popular landmarks. An easy site to visit and check out the lovely views from Union Square, the Marriott observation is open to guests and the public for any special functions or events that are booked on the observation area and meeting rooms. You can inquire at the front desk for access.
If you're looking for accommodations in San Francisco, consider a stay here at the Marriott Union Square, check the reviews and current prices here for your information and availability.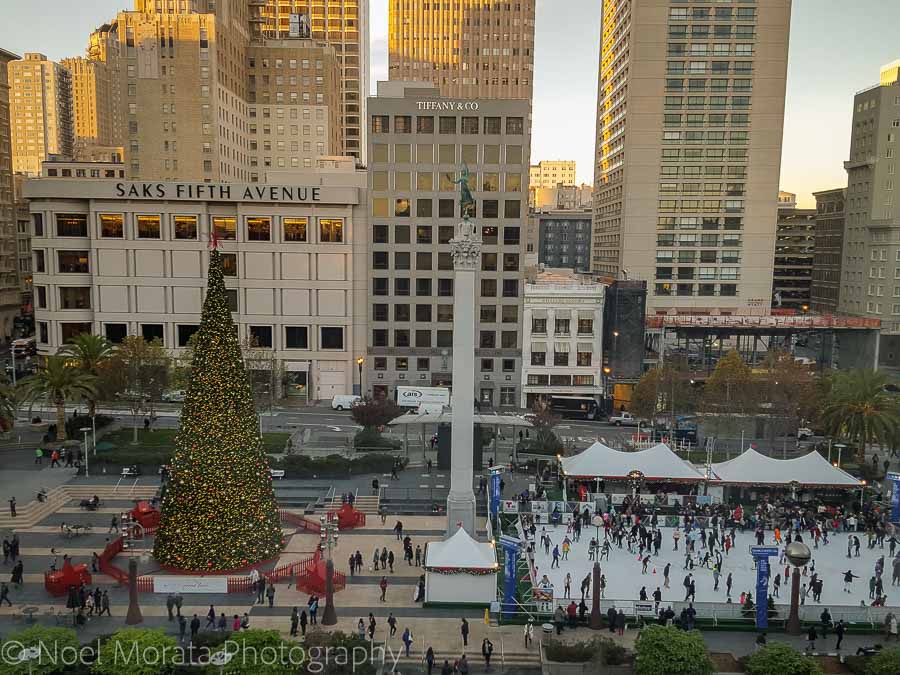 San Francisco views from above the Cheesecake factory balcony at Macy's
Only on the 7th floor of Macy's at Union Square, the outdoor balcony area of the Cheesecake factory has the view of the immediate Union Square plaza below and surrounding areas. It's busy, festive and a great place for people watching and if you are willing to wait for your name to be called from the waiting list, there's enough great views to soak in before you can grab a bite or an out of this world cheesecake with a view.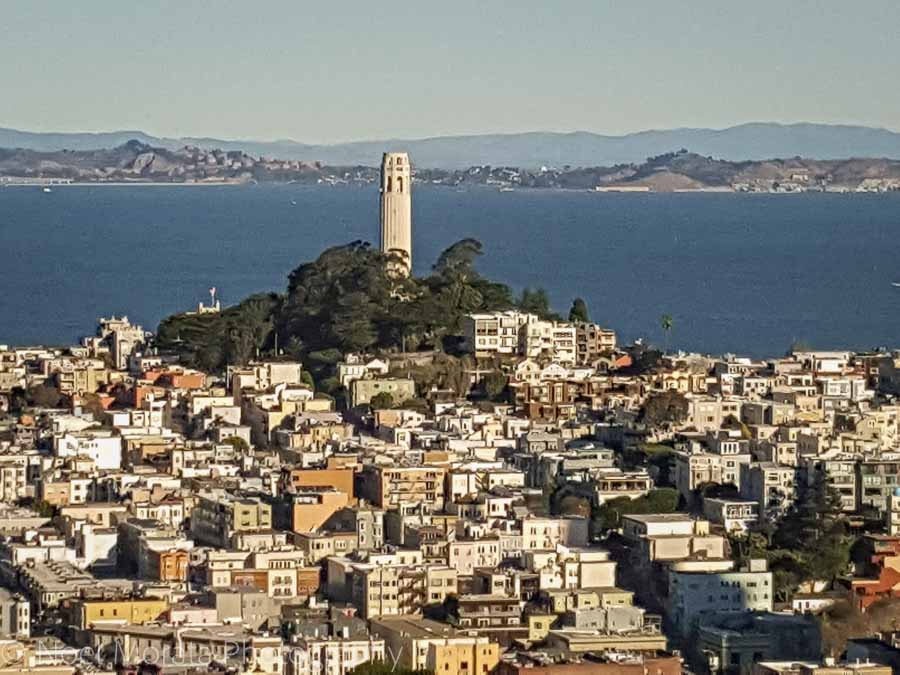 San Francisco views from above looking at Coit Tower in North Beach
This is a very popular tourist destination and extremely busy with long lines for the elevator ride to the top. If your willing to brave the wait, you will be rewarded with great views of the downtown area and Embarcadero along with magnificent unobstructed views of both the Bay bridge and Golden Gate Bridge.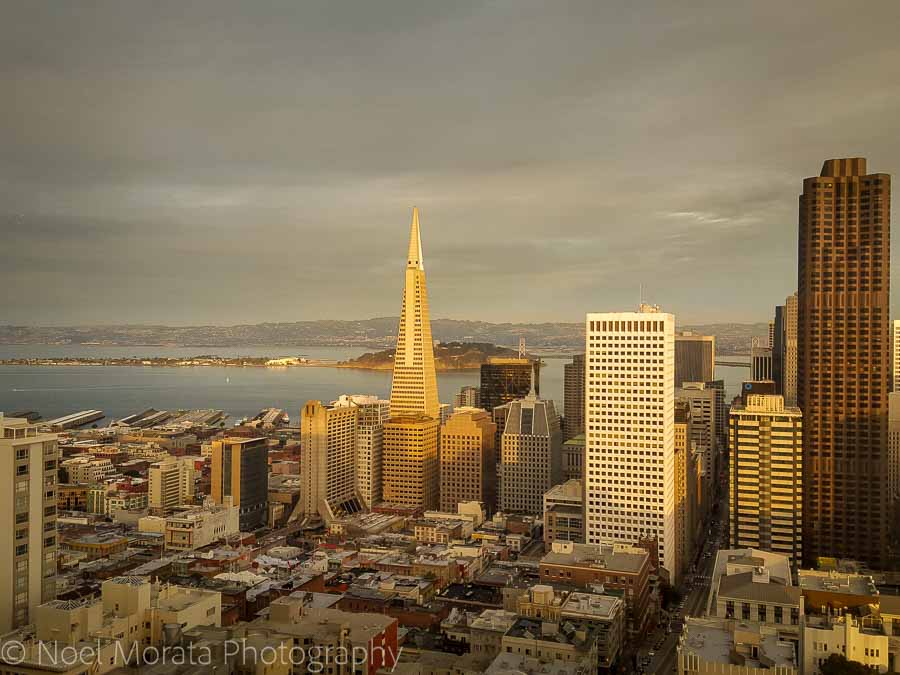 San Francisco views from the Top of the Mark Hotel
Another historic hotel located on Nob Hill the Top of the Mark has huge windows that offer incredible views below to different areas in the city including downtown, Fisherman's Wharf and the Embarcadero and gorgeous San Francisco Bay. A 4pm opening time, this is a very popular venue so reservations are mandatory when visiting the Top of the Mark. Yes those drinks and appetizers are going to be pricey but chalk this up as one of those once in a lifetime types of experiences and it will be worth it (Just make sure you reserve a spot on a nice sunny day)
If you're looking for accommodations in San Francisco, consider a stay here at the Mark Hopkins Hotel, check the reviews and current prices here for your information and availability.
Here's the stunning views from the Sky Lounge that dazzles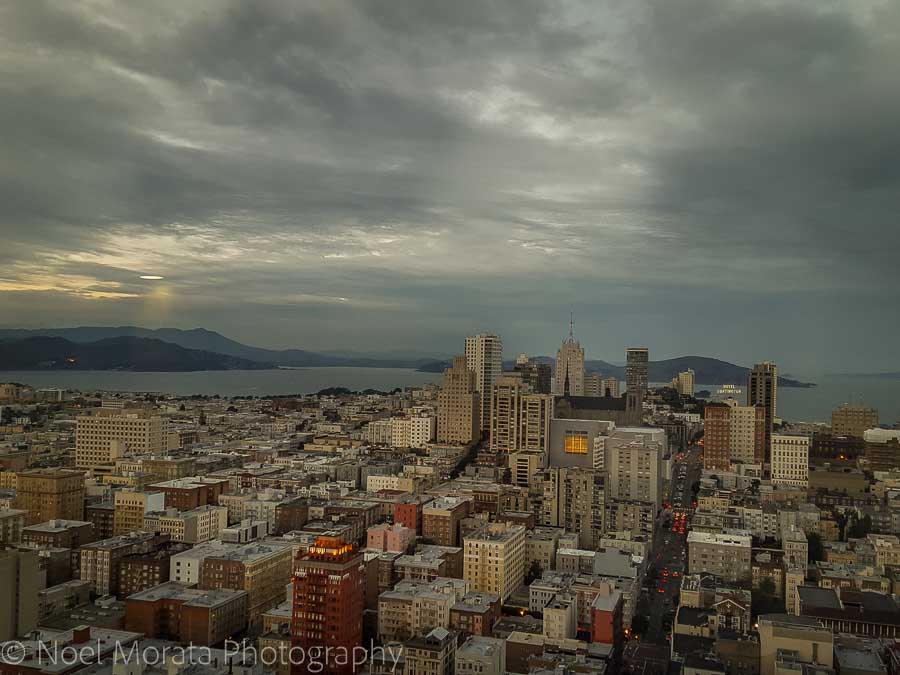 San Francisco views from the Hilton Union Square Cityscape Lounge
For the price of a cocktail at the view lounge on the 46th the 360 degree views at the Cityscape Lounge at the Hilton Union Square are simply amazing to see. Along with the expansive lounge area with gigantic windows (you can walk around the entire lounge for different views of the city from the hills down to San Francisco bay) you can also dine above with their dinner buffet with a view.  This is possibly the highest and most complete wrap around views of the entire city and worth a cocktail or dinner when you want to enjoy fantastic views from above.  Sunny days are great time to come to Union Square or late afternoon into sunset so you can capture some wonderful photographs of the city into the night.
If you're looking for accommodations in San Francisco, consider a stay here at the Hilton Union Square, check the reviews and current prices here for your information and availability.
Here are the gorgeous views from the Hilton's City Scape observation area and bar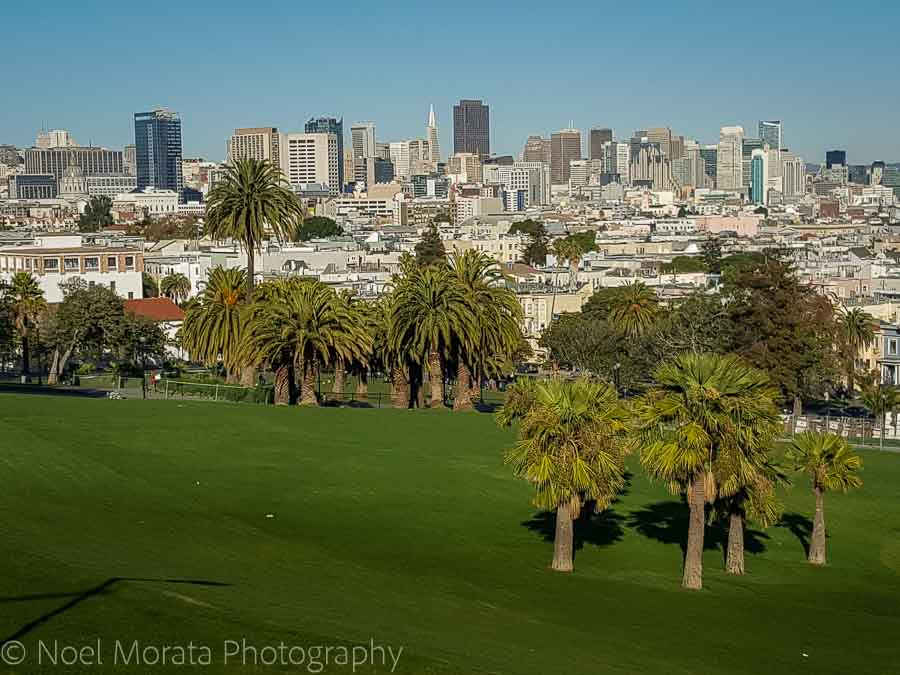 San Francisco views from Dolores park
A short ride from downtown on the J line Muni, Dolores park next to the Castro and Dolores area is a large grassy area with spectacular panoramic views of the Mission and entire downtown district. The upper terraced grass areas have just been planted and are off-limits, but you can still get dramatic views from the lower terrace areas closer to the tennis courts below. If you want to sit on the grassy areas, then head out to the lower terrace next to the tennis courts. Weekends are very busy and fun for people watching and picnicking at Dolores park.
Here's the scenic views of the city and Dolores park area below
 
San Francisco views from the Twin Peaks lookout point
For the best view of San Francisco and the surrounding Bay Area, you need to drive all the way up to Twin Peaks. Not an easy place to access without personal transportation, it's still worth the effort because you will  get panoramic views of the entire downtown area and surrounding outer neighborhoods which makes this one of the most popular view areas to visit in the city. If you have extra time take some of the trails to surrounding lookout points behind the viewpoint and you will get different vistas to enjoy and a more unique experience than just the scenic lookout.
Check out these Twin Peaks views to the downtown and bay views below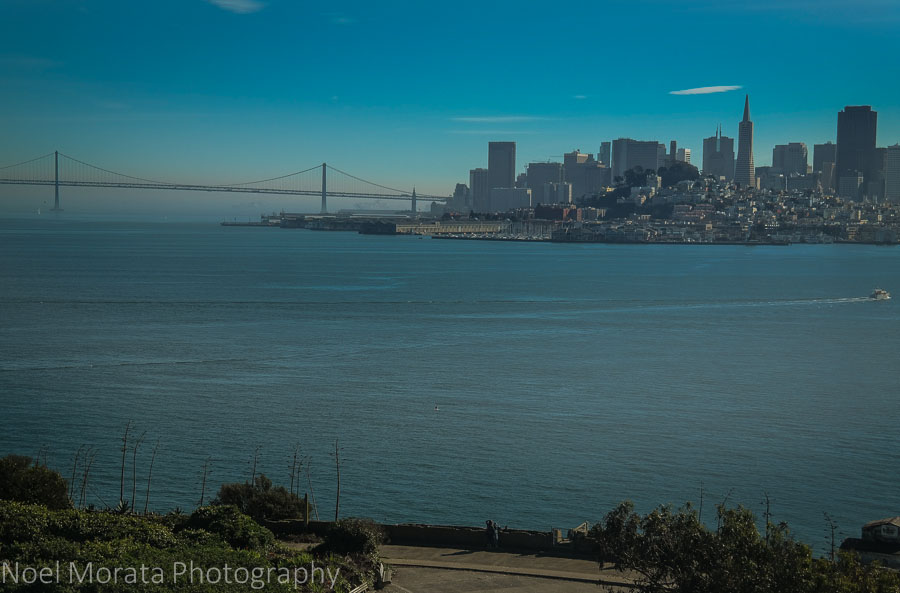 San Francisco views from the Alcatraz prison lookout
From the top of Alcatraz island fronting the prison, if you walk to the edge at the look out point, the views back to the city skyline are really stunning. From the prison lookout, you can practically see all the major landmarks and attractions around the city. This is probably one of closest areas to the city where you can get a great view to photograph of the San Francisco skyline along with touring a historic penitentiary.
Here's the city skyline view from Alcatraz Island below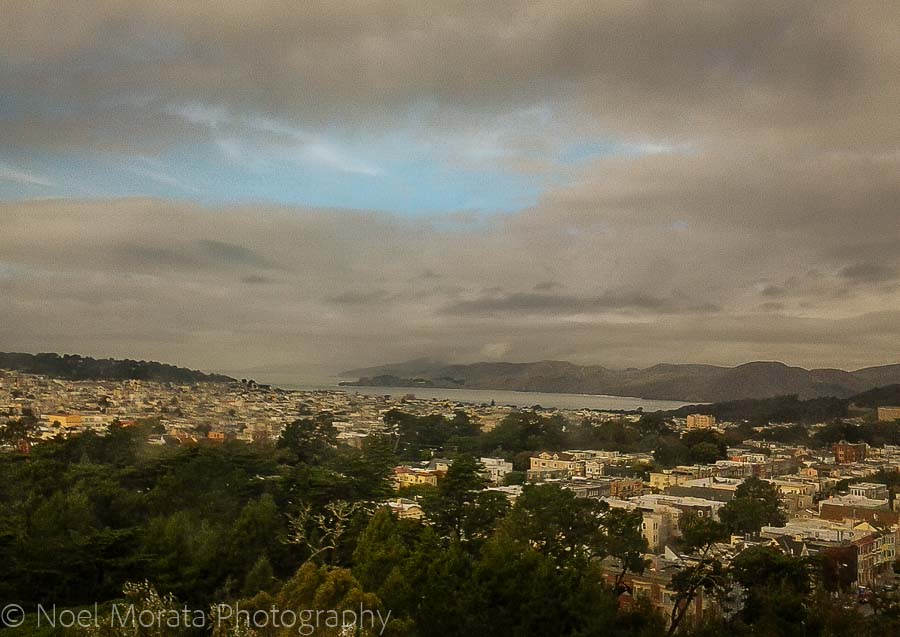 San Francisco views from the De Young Museum tower
After you have visited the many unique art galleries at the De Young Museum, take an elevator ride up the tower and you get some fantastic views of the main square at Golden Gate Park with views to the Richmond district and out to the Pacific ocean. You can also see the Golden Gate bridge and bay area from the tower. Also in the distance you will also be able to see views of downtown San Francisco, making this visit one of a kind in this area of the city with completely different views of the area from above. You can visit any time to check out the views but sunny days are preferable to see more details from the tower view.
Check out the views to the park at the De Young Museum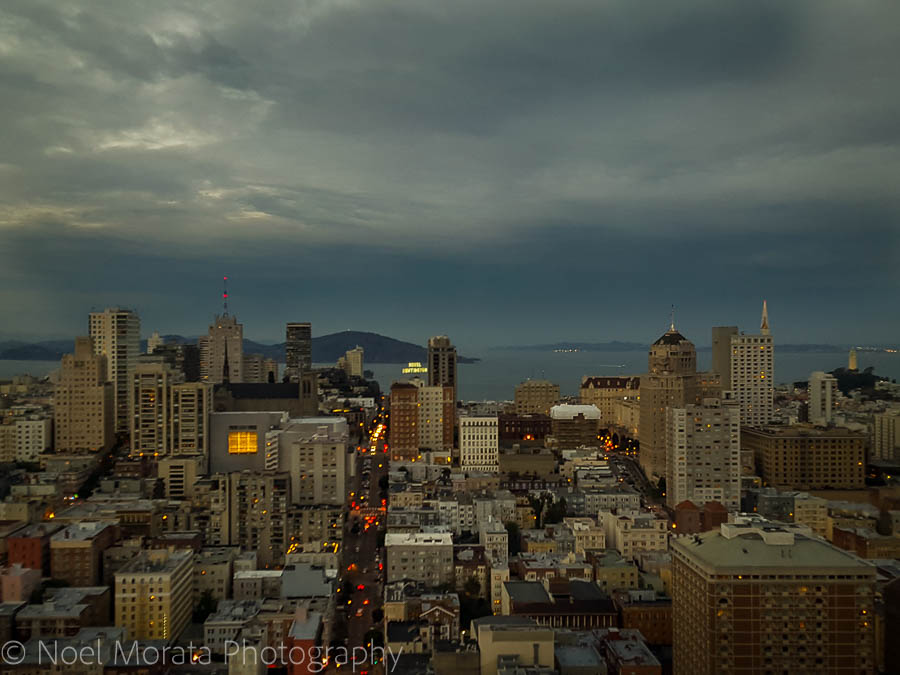 You'll always be inspired seeing San Francisco from above and with little effort, you can see the city different vantage points with killer views to the city and some fantastic photo opportunities.  Do you have any other ideas or places to take an incredible shot of San Francisco or the Bay Area? Please share with us in the comment section below, thank you.
How to get around San Francisco
Getting around San Francisco is relatively easy, thanks to its well-connected transportation system. Here are the main modes of transportation you can use to navigate the city:
Cable Cars: San Francisco's iconic cable cars are not only a mode of transportation but also a beloved tourist attraction. They run along three main lines: Powell-Hyde, Powell-Mason, and California Street. Riding a cable car allows you to experience the city's historic charm while conveniently moving from one neighborhood to another. Note that cable cars can get crowded, especially during peak hours, so plan your ride accordingly.
Buses: San Francisco has an extensive bus network operated by the San Francisco Municipal Transportation Agency (SFMTA). Buses cover virtually every neighborhood in the city and offer a convenient way to reach destinations not served by other modes of transportation. Pay your fare with exact change or a Clipper card, which can be loaded with value for multiple trips.
Muni Metro: The Muni Metro is a light rail system that operates underground in the city center and on the surface in other areas. It includes several lines, such as the J, K, L, M, N, and T lines. The Muni Metro is an efficient way to travel within the city, connecting downtown San Francisco with various neighborhoods. Remember to purchase a ticket or use your Clipper card before boarding.
BART: Bay Area Rapid Transit (BART) is a regional rapid transit system that connects San Francisco with neighboring cities and towns in the Bay Area. BART trains run underground in San Francisco and above ground in other areas. It's a convenient option for traveling to and from the airport or exploring destinations outside of the city. BART fare varies based on distance traveled.
Ride-Sharing and Taxis: Services like Uber and Lyft are widely available in San Francisco. You can use their apps to request a ride and be picked up from your location. Taxis are also available throughout the city, and you can either hail one on the street or find them at designated taxi stands.
Walking: San Francisco's compact size and pedestrian-friendly streets make walking an excellent way to explore the city. Many of its attractions, such as Fisherman's Wharf, Chinatown, and Union Square, are within walking distance of each other. Just be prepared for the city's hilly terrain and wear comfortable shoes.
It's worth noting that driving and parking in San Francisco can be challenging, especially in busy areas and neighborhoods with limited parking spaces. Additionally, biking is a popular mode of transportation in the city, with bike lanes and rental services available for those who prefer cycling.
When using public transportation, consider obtaining a Clipper card, which allows you to pay for rides on various systems in the Bay Area with a single card. Plan your routes ahead using online maps or transportation apps for real-time information on schedules and service updates.
With its diverse transportation options, getting around San Francisco is both convenient and enjoyable. Explore the city's vibrant neighborhoods, soak in its stunning views, and immerse yourself in the unique cultural experiences that await you at every turn.
If you enjoyed the post, please pin it!
Check out these other fun things to do in San Francisco
Check out the cool graffiti at Clarion Alley
Filbert Steps in San Francisco
Explore Northbeach and the Greenwich Steps
Best views of San Francisco to photograph
Places to eat in San Francisco
Fun and unusual activities in San Francisco
20 quirky, fun and trendy places to explore in San Francisco
Conclusion of seeing the best views of San Francisco from above
San Francisco's aerial views leave an indelible mark, showcasing the Golden Gate Bridge, vibrant cityscape, rolling hills, and the Pacific Ocean. From helicopters, lookouts, or tall buildings, these awe-inspiring panoramas captivate. Let these views draw you back to explore the city's neighborhoods, landmarks, and rich cultural tapestry. Prepare to be captivated by San Francisco's best views from above.
Hope this post inspired you to enjoy all of the spectacular San Francisco views from above and that you may visit and check out some of these spots yourself soon!
If you enjoyed this post on San Francisco views from above, please share the post with any of the social media buttons surrounding the post, thank so much for visiting today.
If you like what you see, come and check out my other social media channels for more updates, including Instagram, Pinterest and Twitter
Disclosure – some of the links above are to affiliate sites that are either reviews or recommendations if you book helps to keep our site running at no additional cost to you. We appreciate your supporting our website meanwhile.