Alila Hotel and journey
The driver came to pick me up an hour earlier to accommodate for the crazy traffic in Kuta, Bali. He quickly introduced himself while offering me a nice and cold towel lightly scented with fresh ginger. It was a marvelous start entering my private car to paradise, then there was a whole tray of snacks and cold water to keep me satiated and happy despite the intense traffic on the narrow streets of Bali. While I was busy snacking away my driver diverted my attention from the congested streets and put me in a zen mode, knowing that I will arrive refreshed and happy with all the delicious treats and relaxed conversation on the drive to Alila Soori.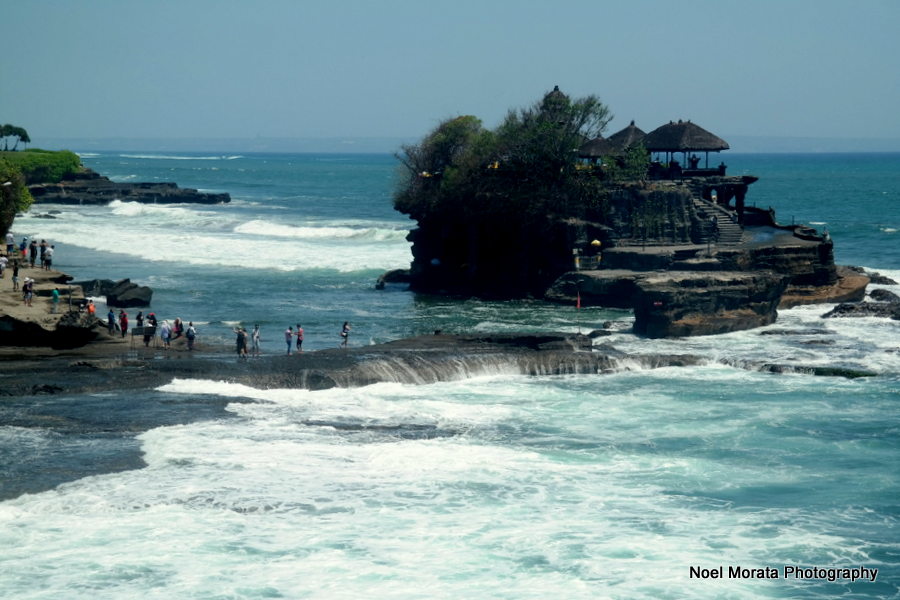 Visiting Tanah Lot Temple
Knowing that I wanted to also see the famous Tanah lot which is along the way to the resort, the driver asks me if I would like to visit the temple which I readily said "Yes please!" In no time we were at the entrance and I paid the nominal entry fee while my driver drove us directly to the main entry area with all the typical vendor souvenir stalls. I could feel the fresh ocean breezes and walked the short trail to the two main temples located on the coastline and what an amazing first view. The tide was quickly coming in making it difficult to access the temples and isolating the main temple into its own island. The temples create such an exotic view along the rugged coastline and I can already picture how dramatic sunsets must be here, but I'm off to my luxury stay at the Alila Soori so we head out so I can get started with my dream retreat.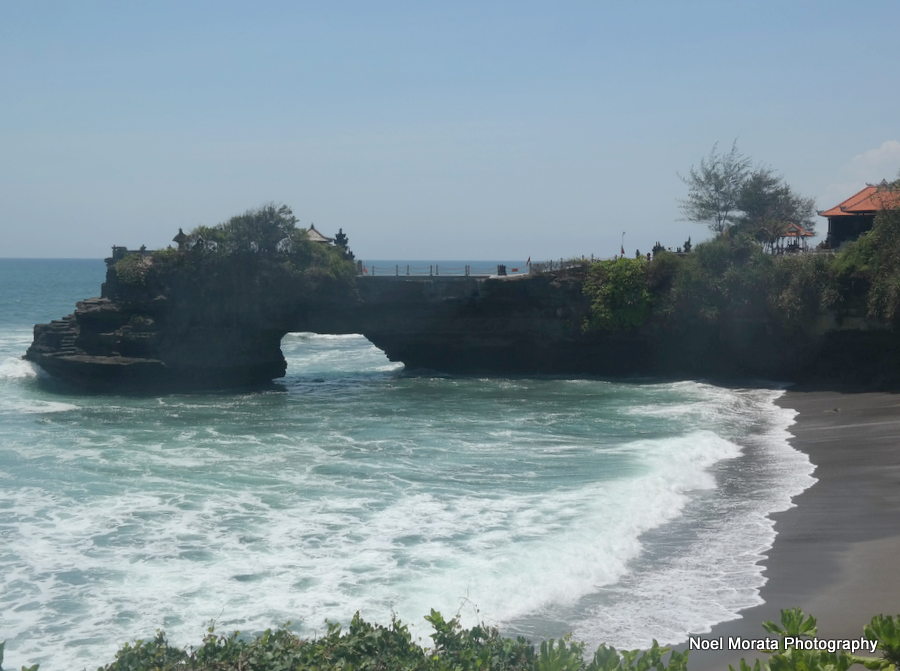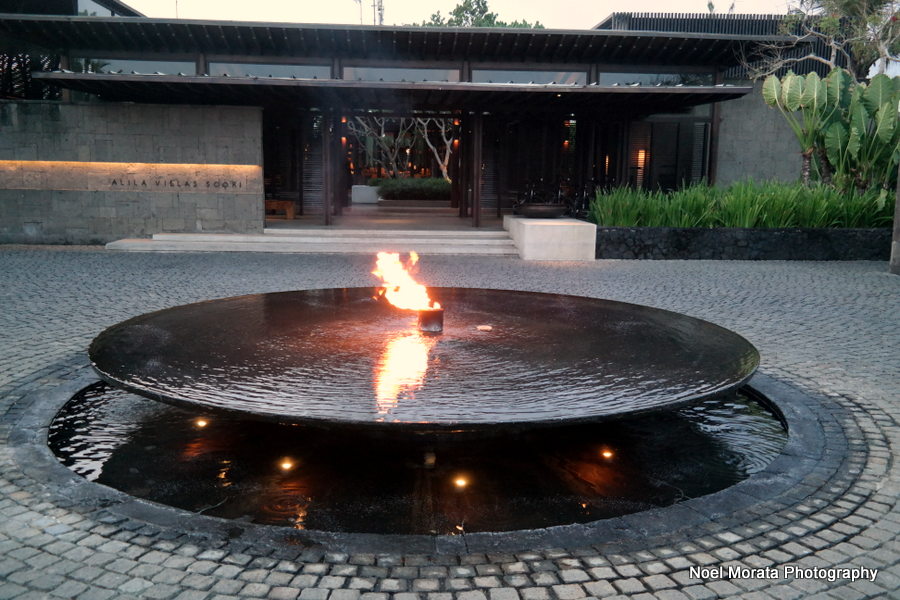 Entering Alila Soori
The arrival is just as dramatic passing through endless rice fields on an elevated cobble stone pathway, it looks like Bali unspoiled compared to the busy and crowded tourist areas of the rest of the island. Tall lava rock walls create this secure impression that you are arriving a secluded retreat and finally the drive opens into a simple roundabout with a circular fountain, the entry building has these beautiful courtyards and seating areas. Immediately, you are drawn to the coastline views with an infinity pool looking out to the expansive white beach. After an intense stay in the heart of crazy Kuta, I could finally relax with little on my agenda outside of exploring the local area, some pool time and eating at the resort's signature restaurants.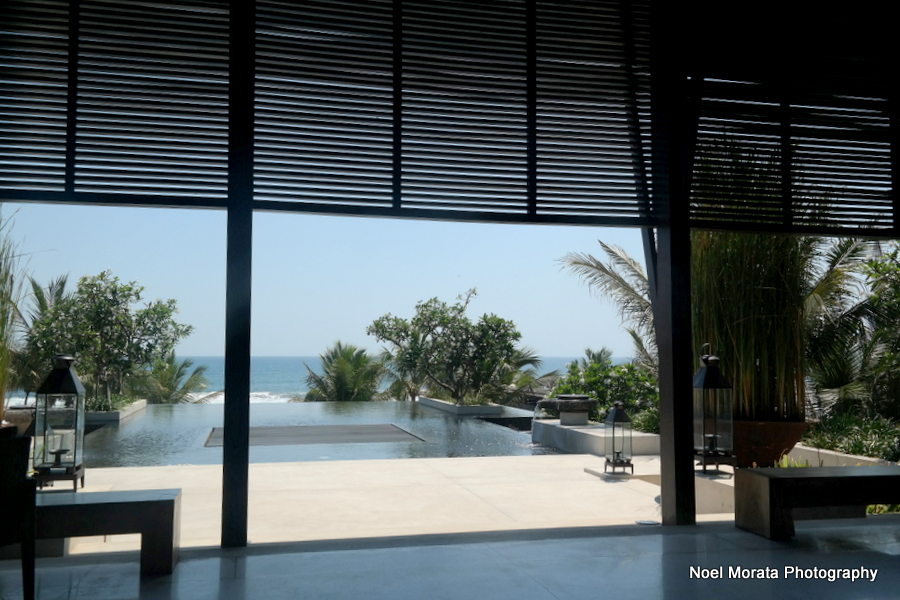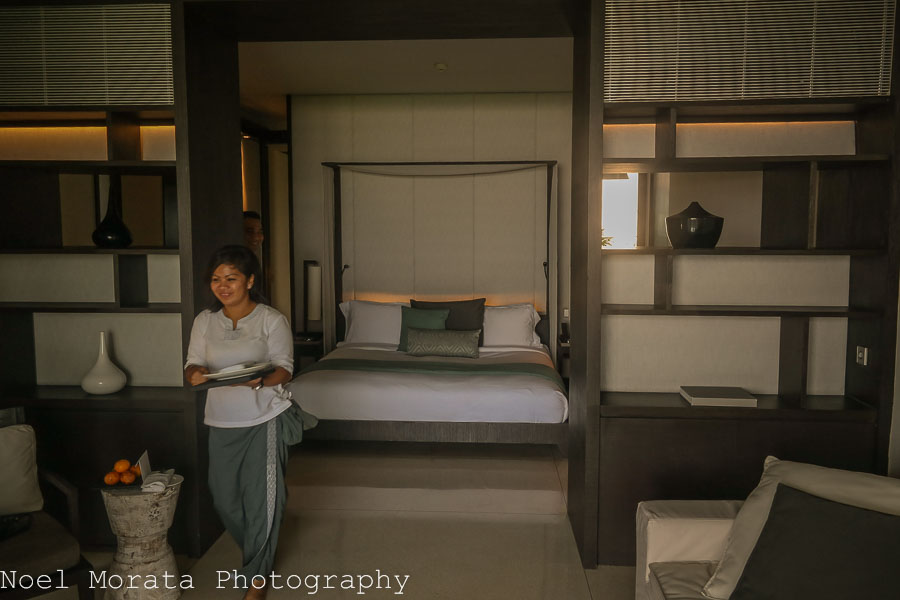 A personal Villa at Alila
I'm whisked off quickly with my bags in a golf cart along a secluded alleyway of tall lava rock walls hiding luxurious villas that are completely private and secure. It's all effortless as the valet escorts me to my gorgeous villa which you enter through a private courtyard and into a bedroom and living room suite with your own infinity pool and yes ocean front views of the coastline. The room is already prepared with the air conditioning comfortably set to a relaxed temperature, although opening all the sliding doors to let in the natural breeze would have been just as comfortable. Next to the living room area is a French door leading to the private outdoor lanai with comfortable sofa seating and dining and then there's that wonderful infinity pool that I have to myself. This is really on of the most luxurious hotels in Bali.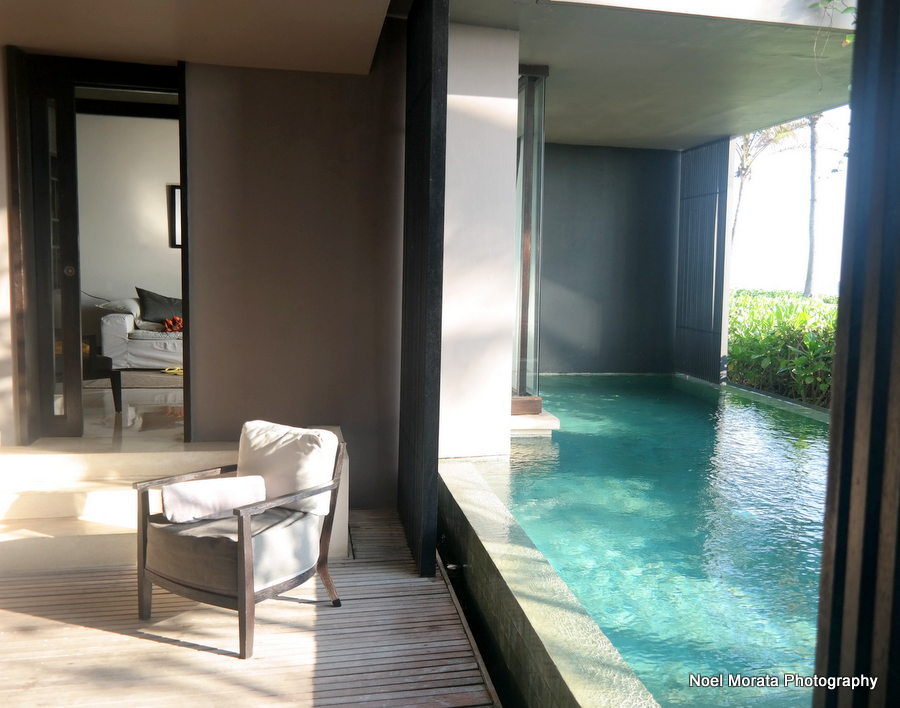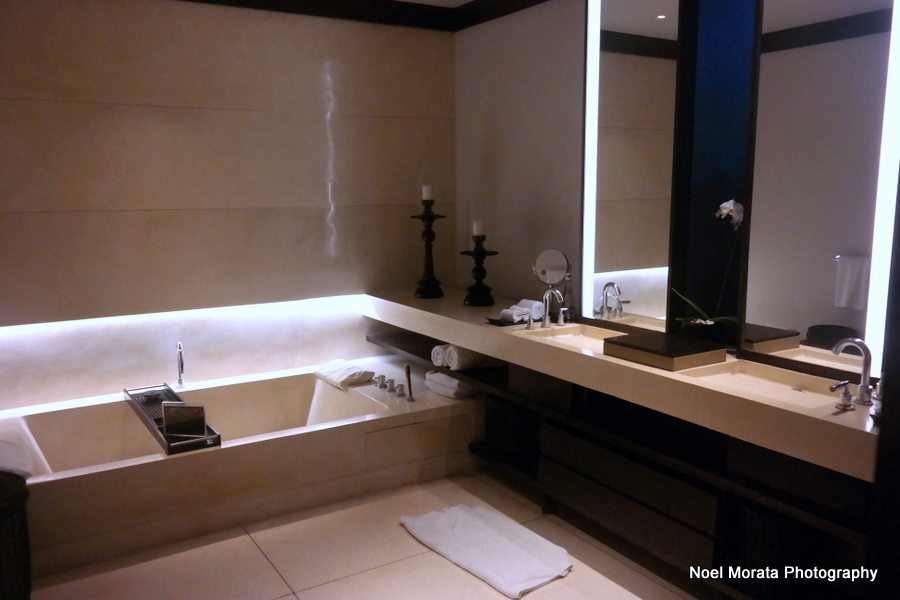 Oh my, I'm completely floored that the bathroom is almost the same size with a large marble tube, large vanity sets, wardrobe and separate shower and toilet areas – wow this really is an amazing bathroom. There is a special box just for the bath amenities which are smartly partitioned into specialized compartments, you almost want to open up everything and use it immediately.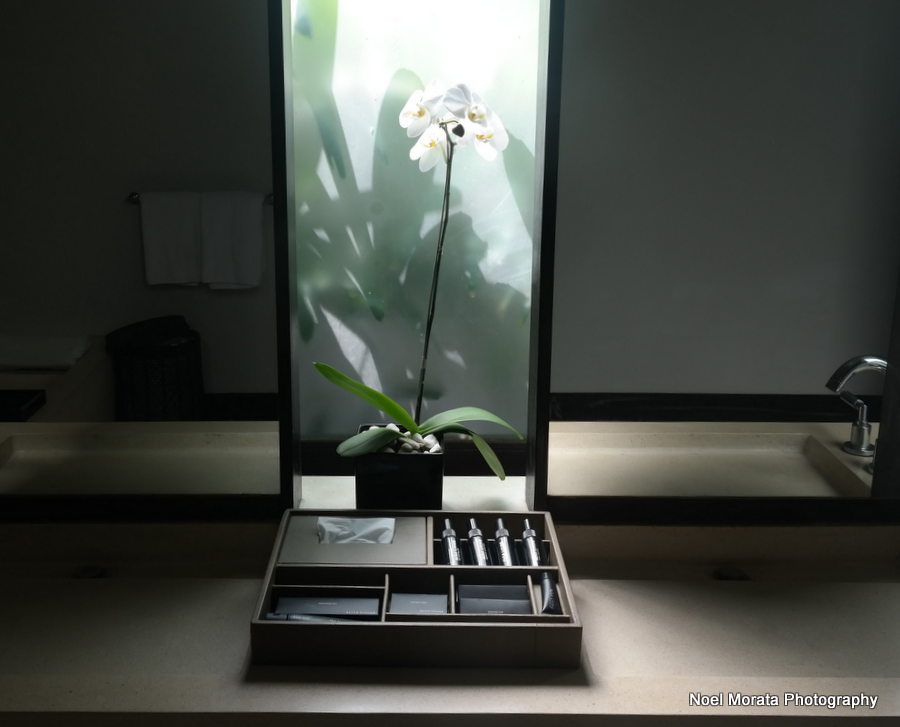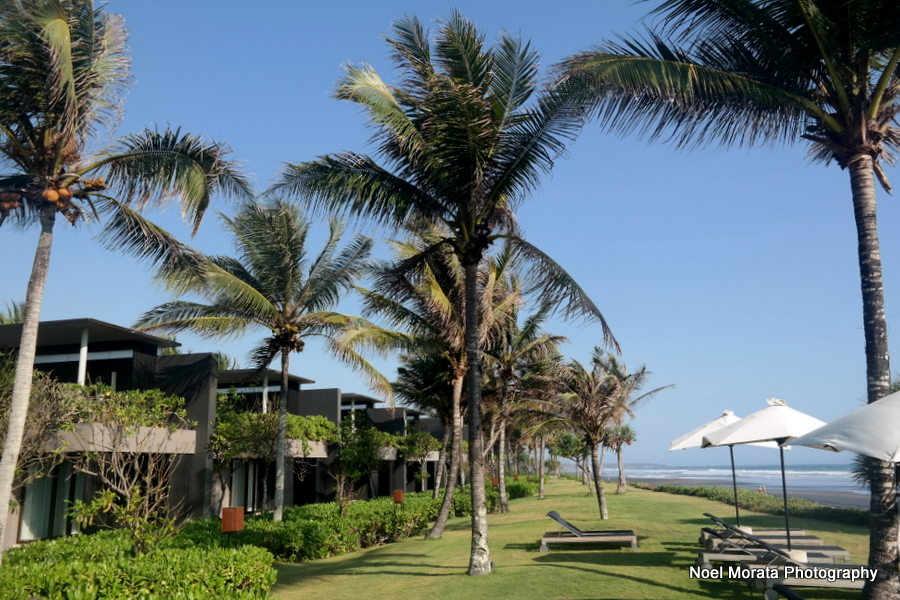 Exploring the bat caves and temples next to Alila
From my private villa it's an easy walk through a manicured lawn that fronts the beach area and I stroll around to check out the other villas and lovely public areas. Arriving the main pool and dining pavilion, I'm drawn again to the wonderful use of local materials in an earthly palate of classic greys, whites and natural stone. The expansive pool, library areas and dining pavilions tie in effortlessly with a natural flare.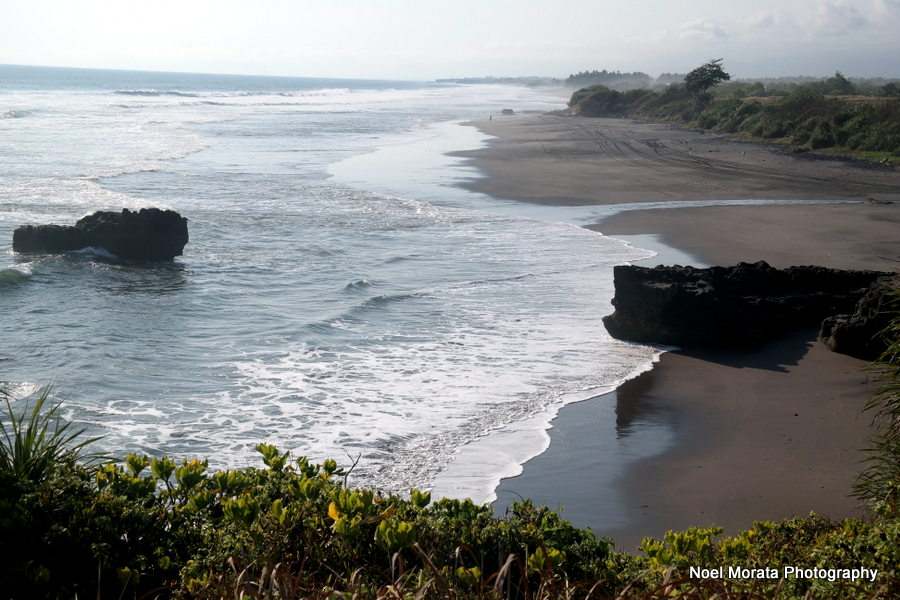 Entrance of the local temple at Alila Soori
I explored the beach area with some small cliffs with bat caves and cliff temples that look intriguing from a distance. There is a trail that you can take up through the rocky outcropping to reach the temples and the views from there to the coastlines are magnificent. Later, I drop in to check out the bat temple and cave and immediately you can smell the offensive stench of bat guano while checking out the thousands of bats hanging from the ceilings. In the evenings right before sunset, the bats fly out in a dramatic fashion in an endless stream into the night air to hunt all night long before returning in the morning.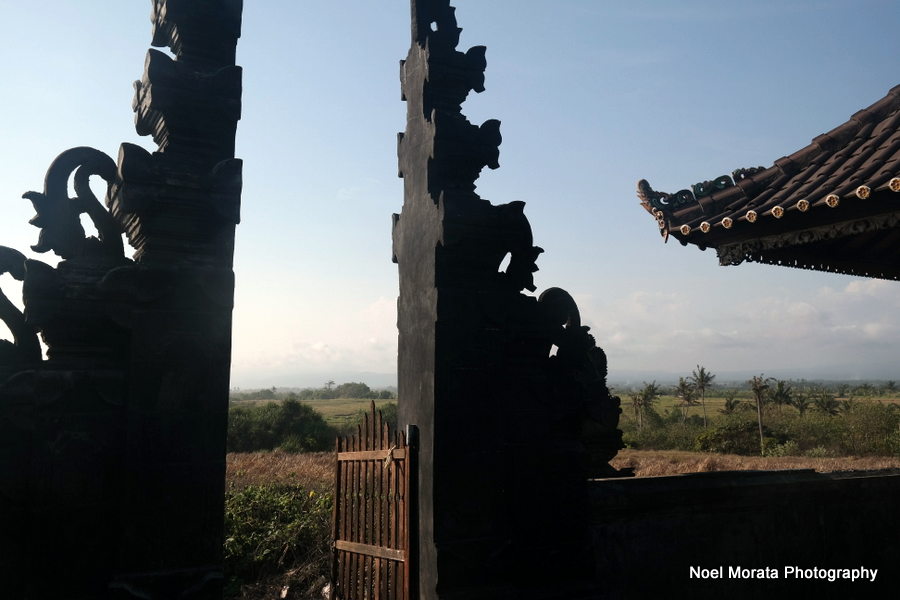 The bat temple cave along the cliffs at Alila Soori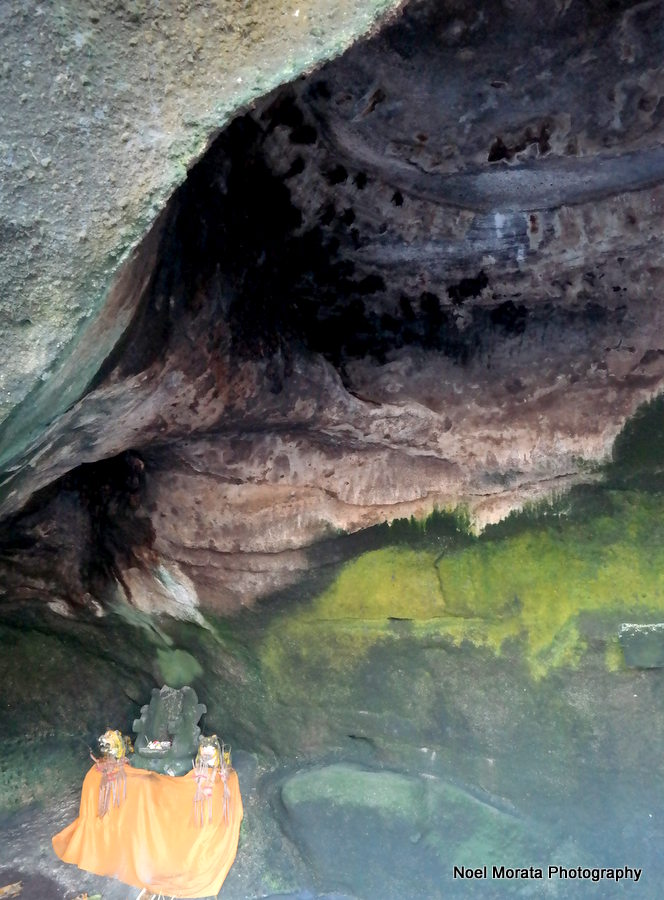 After exploring the beachside cliffs and temples, it's still a few hours before dinner so I decided to check out the spa and sign up for a massage session. The spa at Alila Soori is is unlike any spas I've been to before – dark and mysterious and a living room/waiting area that is both dim and contemplative at the same time with a gorgeous reflecting pool at the middle that gives just enough light and details with the fresh plumeria floating on the water. The waiting room has a nice tropical and floral scent and almost feels like you are in a dark womb. The attendant shows me some of the different massage rooms and they are also dark but also lit up nicely up with simple details to keep you in a blissful state of mind like the huge marble tubs fronting the massage tables with large carved panels.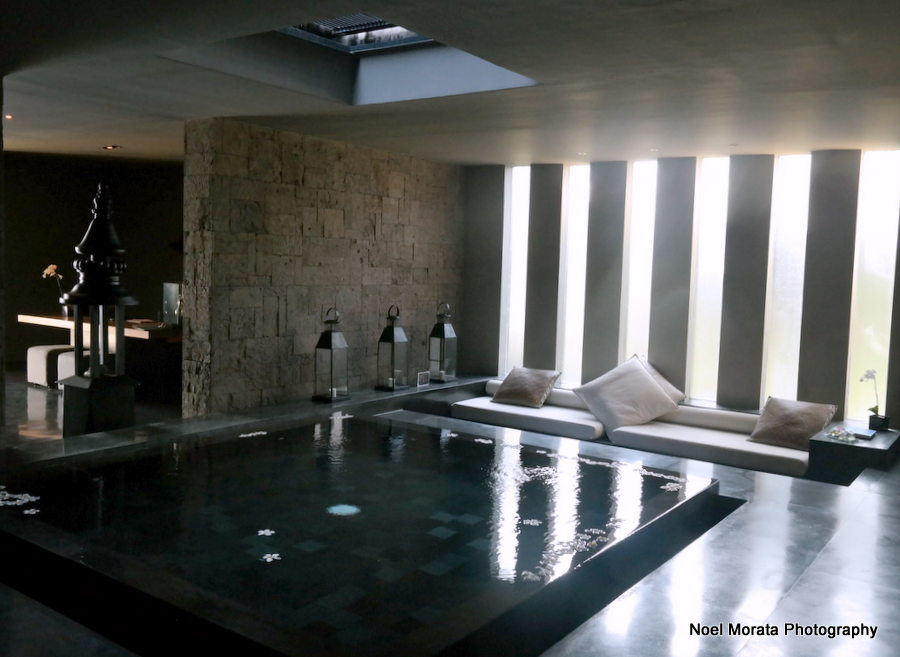 Alila interior design
Alila creatively infuses earthy palates and organic indigenous materials that you easily gravitate to: lava rock walls, expansive water features, open air pavilions and courtyards. It's a simple and yet sublime environment with stunning coastline that takes the spotlight, the resort almost hidden from most views. It's a clever technique that combines stunning vistas with ultra luxe appeal and amenities and matched with attentive service. The relaxed lifestyle combining indoor and outdoor living along with open courtyards allowing for natural breezes for circulation is both comfortable and also environmentally eco friendly. Alila Soori is very environmental friendly and active with reducing the need for lighting, electricity, using local materials, food resources and labor to run the entire resort.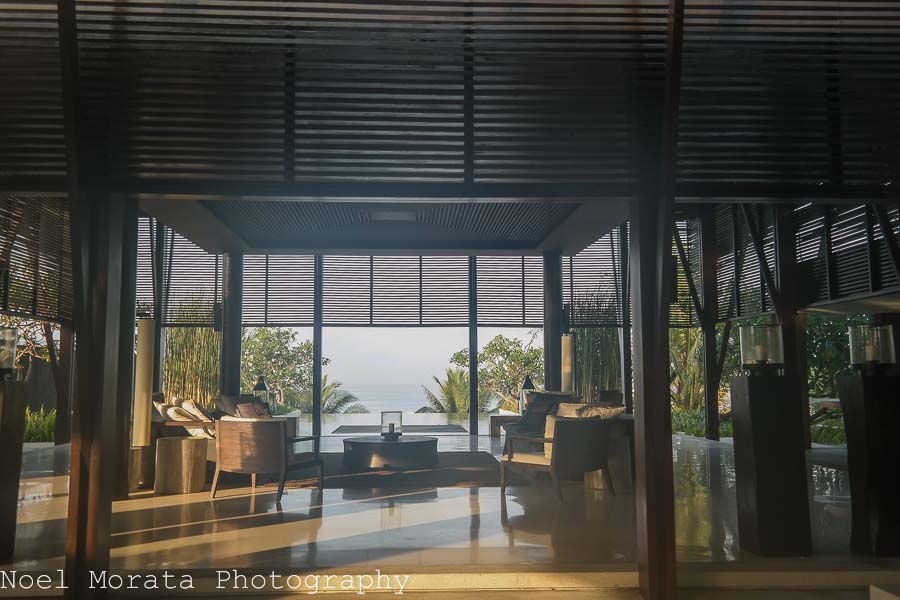 Comfortable indoor and outdoor design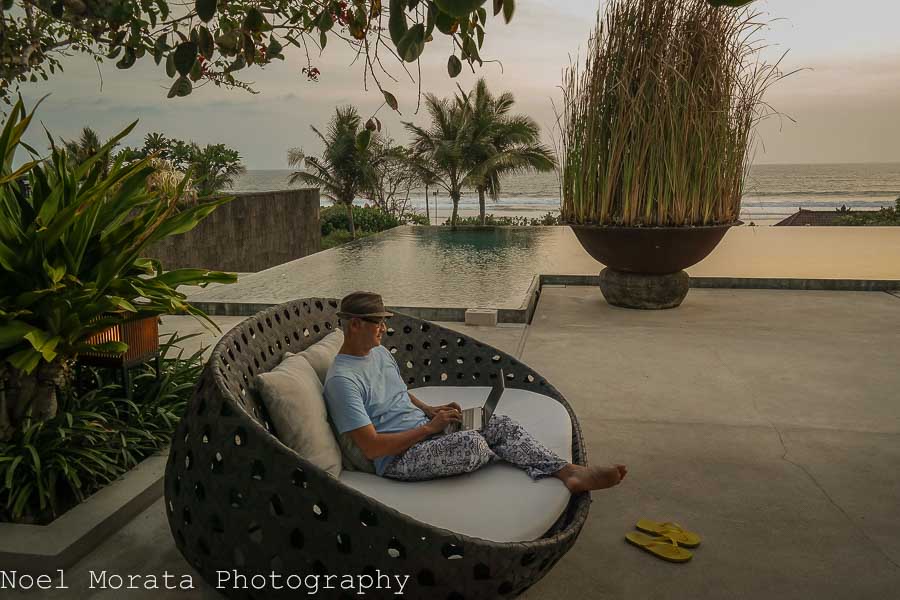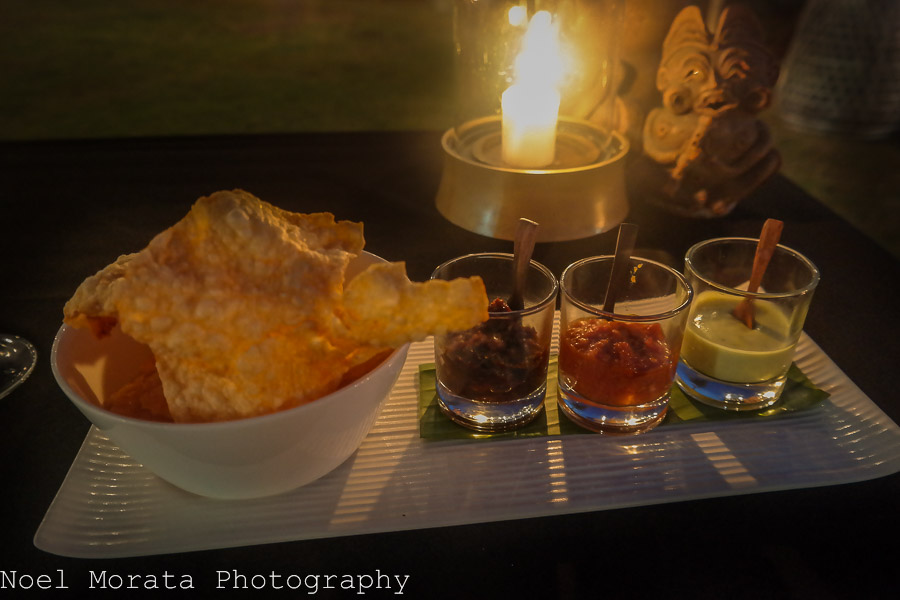 Ocean front dining
Dining at Alila typically happens in their signature restaurant Ombak or Cotta, the open air Bali restaurant. Because of a wedding happening at both locations, dining was served al fresco on the grass lawn in front of the beach and what a spectacular view and experience. Dinner tonight was a delicious seafood lovers menu from the wonderful amuse bouche, three different seafood salads and then an amazing seafood grilled platter. I just love eating outdoors and the Saturday seafood feast are worth going to even if you are not staying at the resort.
Here's some pics that I took of the amazing feast (might be a little blurry because of dim lighting). Seafood salads three ways.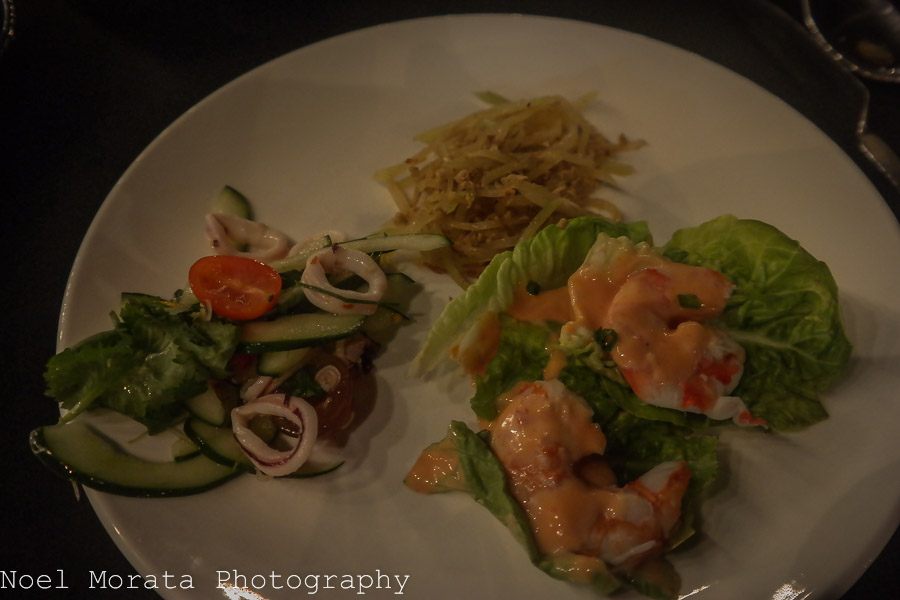 Lobster bisque done perfectly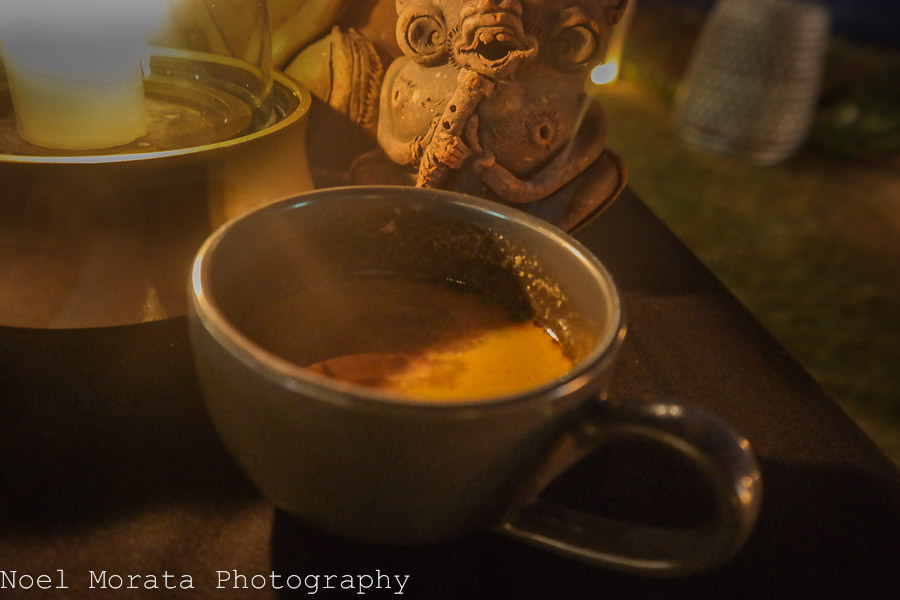 Mixed grilled seafood entrée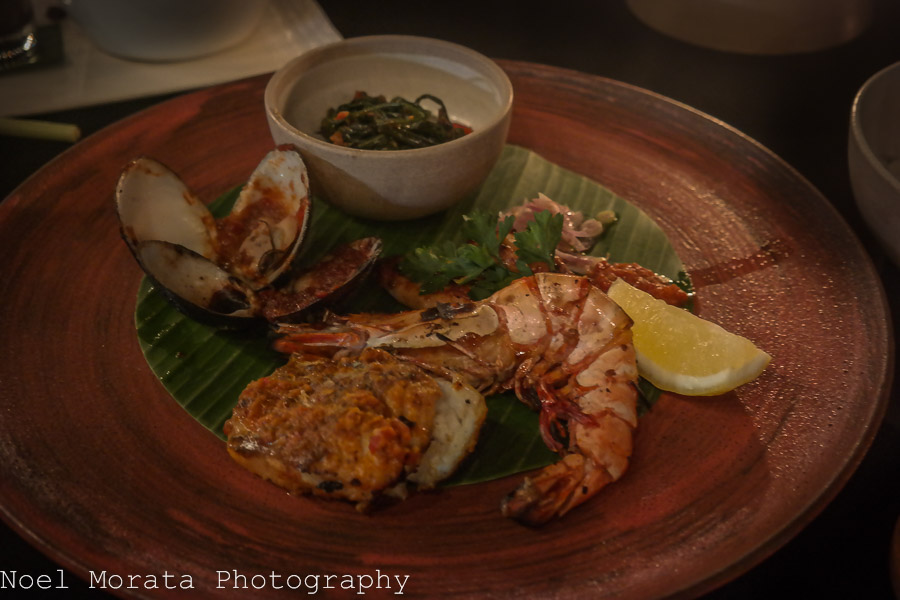 A simple sorbet and tropical fruits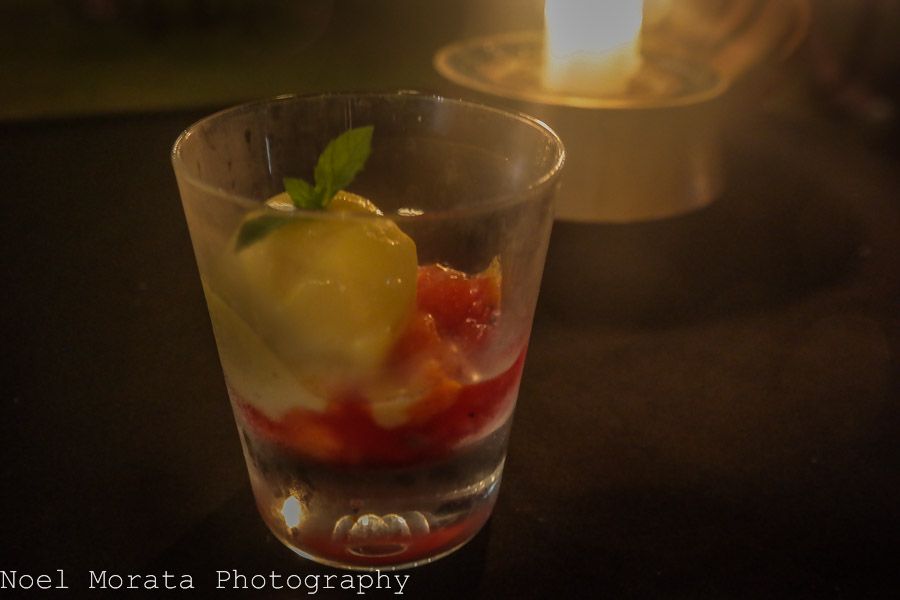 After such an amazing dinner, it was an effort to roll back to my suite and crash for the night. The sunset views out to the ocean and walk back to my private Alila villa made it a perfect night to remember. I think my favorite part was definitely falling into my oh so comfy king sized bed and having a very long and relaxing sleep – that's a truly luxurious experience.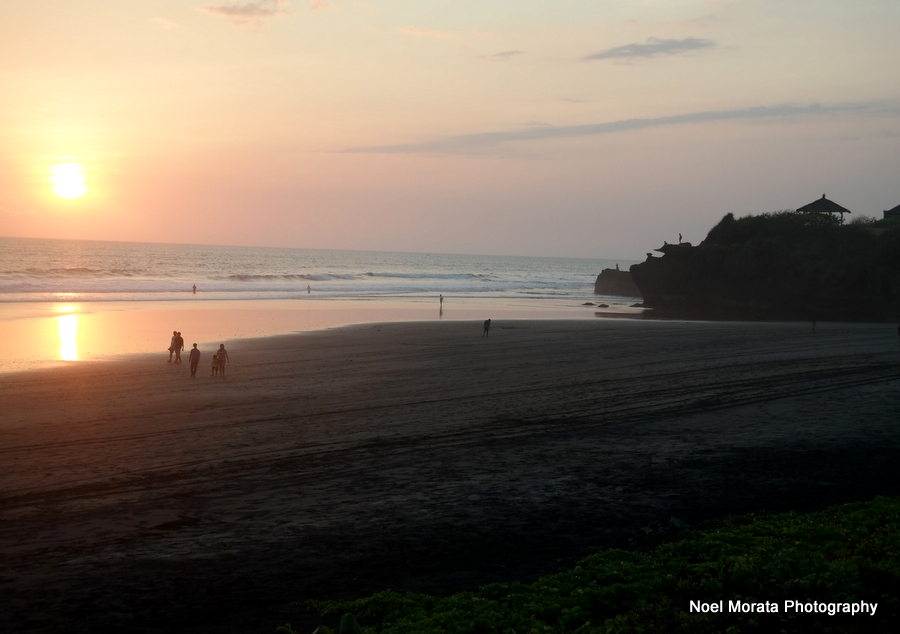 The next morning, I'm taking an Alila Journey to the hill country of Tabanan where all the lush terraced rice fields are located. Please join me on this wonderful tour, here are the highlights. Thanks for visiting Alila Hotel and journey. If you enjoyed the images and post, could you please share it with any of the social media buttons located around the post. Thank you for hosting me Alila hotels on this stay and tour, all thoughts and opinions are my own. If you are interested in finding out more information about this amazing resort and wonderful site in Bali, check out their website here. For updated prices and available, please check here.
If you like what you see, come and check out my other social media channels for more updates, including Instagram, Pinterest and Twitter
Disclosure: This post was done in partnership with Alila resorts and I was offered a stay at Alila Soori as part of a luxury stay experience in Bali, all thoughts and opinions of the visit are my own and this is an excellent resort to relax in a refined environment if you are looking for a beautiful hotel in Bali, Indonesia.