Markets in Bali (what to see, try and buy in a local market)
There are so many markets all around the island of Bali, most of them are tourist driven with the typical assortment of vendors selling cheap clothing and other souvenirs that everyone flocks to for cheap buys to bring back home. But, I was more interested in visiting a local market that serves the regular community, and I did find something authentic without the tourist displays and tacky souvenirs sold in every other tourist area of Bali. What I enjoyed seeing and photographing was the everyday activity of locals shopping for their daily meal and interacting with the vendors. The Balinese people consider food quality and freshness very important in their lives and their social gatherings, thus they place a greater emphasis on shopping daily to find the best ingredients that one can afford in the market.
Why you should visit an outdoor farmers market in Bali
Daily life and shopping always begins at the local farmers market and villagers go daily to shop at the market for the freshest produce, ingredients and even goods and sundry items to buy. This is also a fantastic learning and photo opportunity for visitors to explore the markets and see all the colorful displays, unusual fruits and vegetables and daily life and vibe happening at the markets here in Bali.
Highlights visiting the Tabanan market – a tour in Bali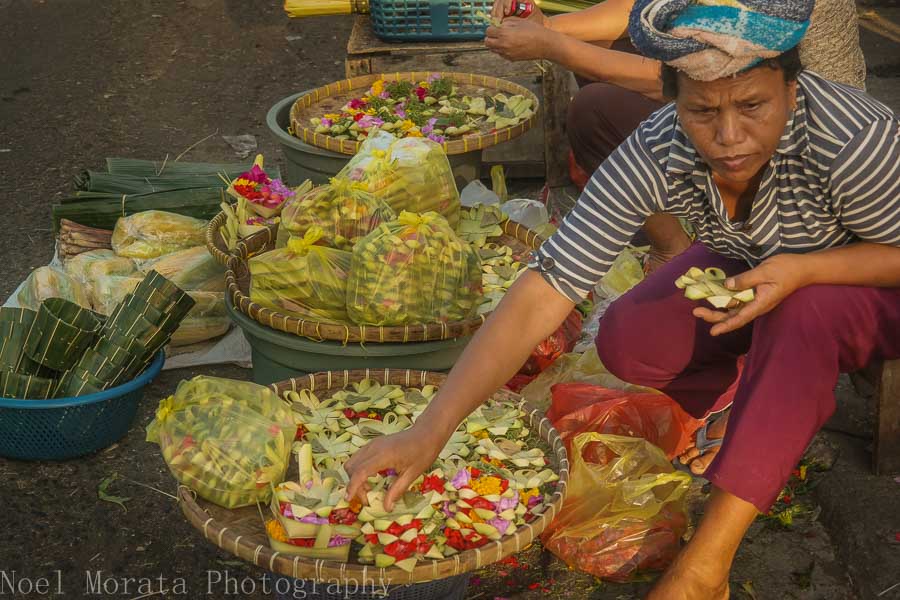 I had signed up for a Thai cooking class at the Alila Soori Resort with the in-house chef and one of the first activities was to tour the local town market in Tabanan. The morning market tour started at 7am so I had an early wake-up call and sipped a quick cup of coffee before the driver picked me up to visit the local town market which was only a few miles from the resort. Every small town on the west coast of Bali in Tabanan has a small marketplace and this market was larger than most with both an indoor and outdoor section. With vendors selling everything from fresh produce, meats, seafood, flowers for temple offerings to inexpensive clothing and fabric, there was a lot of activity already going on when I arrived at the market.
One of several markets around Bali, the market day starts off very early to accommodate locals that want to buy their fresh provisions and maybe a meal to take home for later in the day.
Everything is on full display and is inexpensive to purchase or even eat on the spot.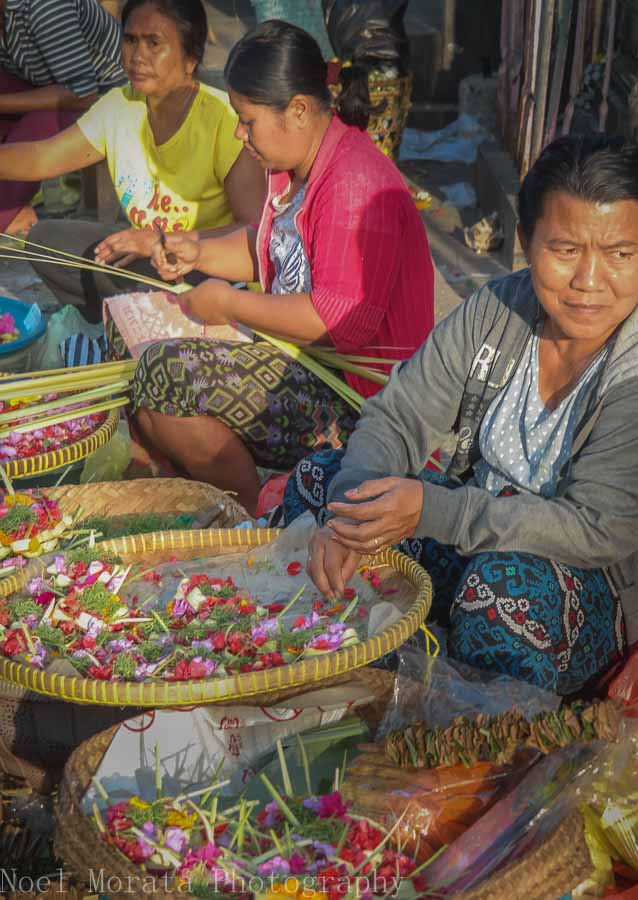 Of course, I'm drawn to the colorful displays made with the flower vendors selling their floral offerings for religious visits to the local Hindu temple. It's fascinating seeing how quickly these vendors have to make these floral baskets including the leaf base made with a hardy leaf material. Considering that the offerings sell for under USD .25cents, the vendors make them very fast and they create beautiful baskets with in a variety of colors, texture and shapes to make them attractive displays.  The floral offerings with scented flowers of jasmine and plumeria just give these wonderful aromas to the entire market, which is probably why they are all on the outskirts of the market to entice shoppers first before their daily shopping requirements.
Here's a sample of the flowers and arrangments that they typically do to make these offerings
Now let's explore the interior of the market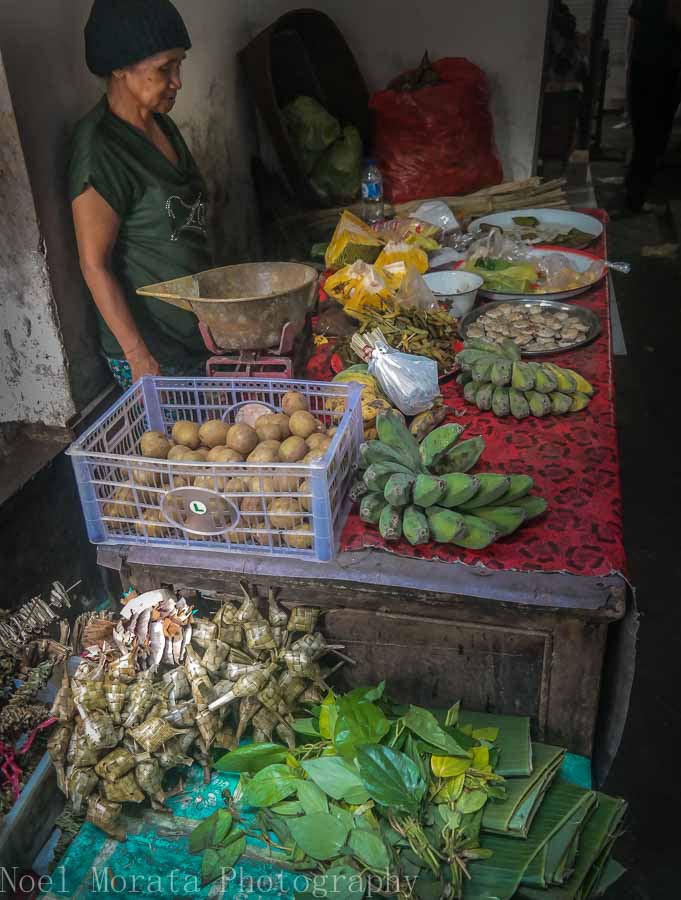 The morning tour was fun and casual with my driver and guide who helped explain the many the colorful displays, exotic fruits and in your face meat carcasses and live seafood that you could not see in typical western markets. He was also helpful in answering any questions that I may have with any of the vendors or food being sold that morning. Visiting the market gives you an impression of how important the daily shopping is with the local women shopping very in the earl before they can start the rest of their long day. It is interesting to see how typical products and produce are displayed, prepared and sold in the marketplace along with other seasonal favorites products .
Check out these exotic fruits in Bai markets to taste below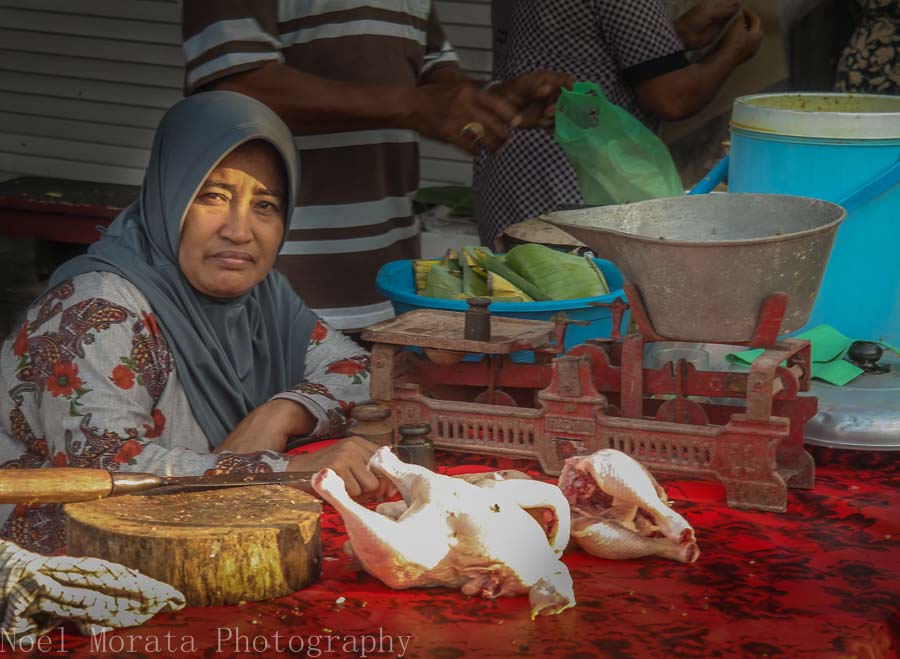 For me, visiting a morning market is a wonderful way of seeing how locals shop in their daily life while visiting their favorite vendors that most have built a relationship with, you could see that there is a lot of camaraderie and local gossip going on while the women were picking up the freshest ingredients for the evening meal. Markets like these are not for the faint of heart since everything is displayed raw and in big piles for customers to sort through, it's about selling what is fresh and quick to pick up for the daily meal.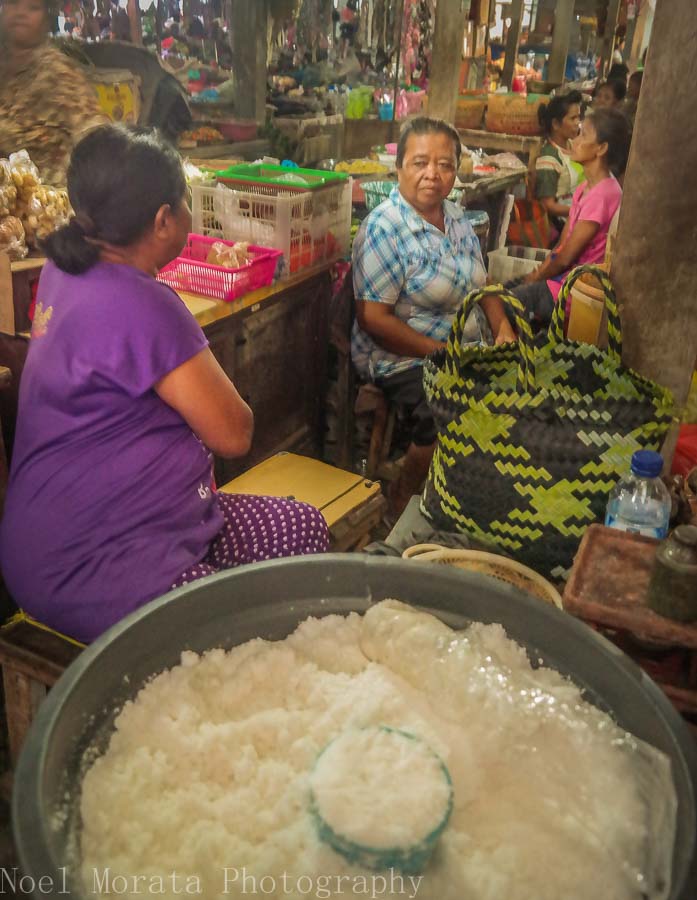 Local salt for sale by the cupful in Tabanan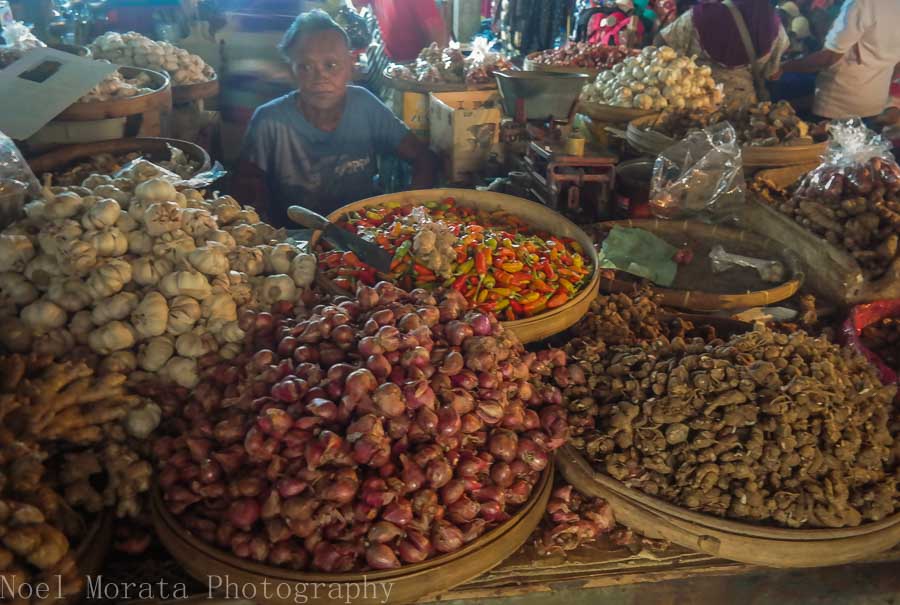 Graphic details and fresh chicken for sale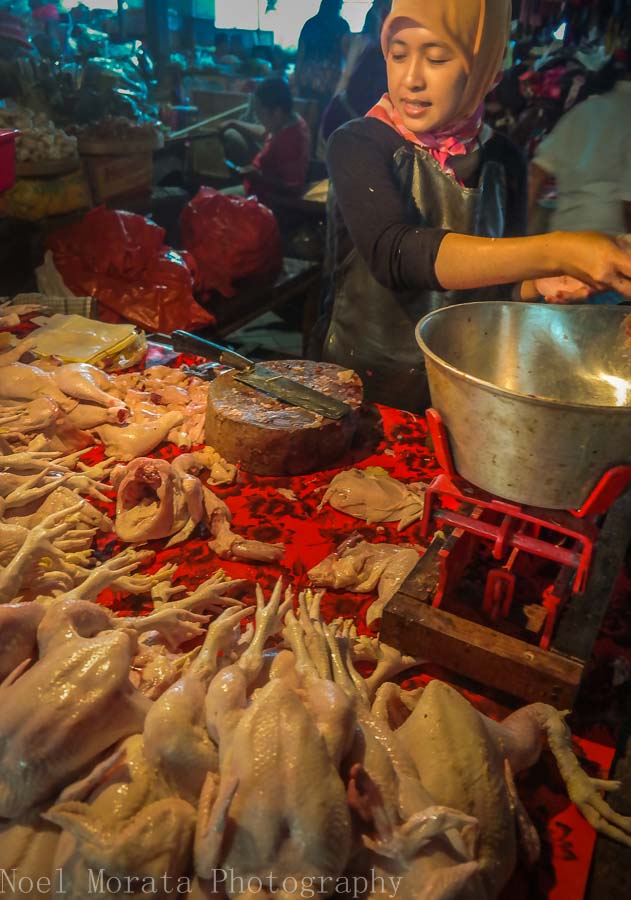 I was attracted to this unusual green tofu with rice against this graphic wrapper cover. I was intrigued to try it, but unfortunately didn't have the means to cook it, although I would have tried it on the spot if it was cooked for takeout service.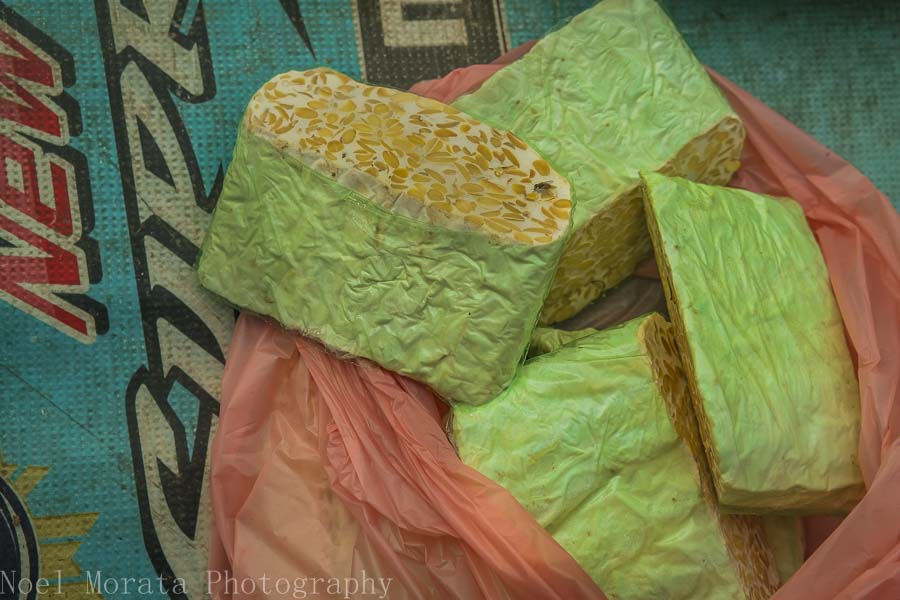 More colorful displays of fruits and vegetables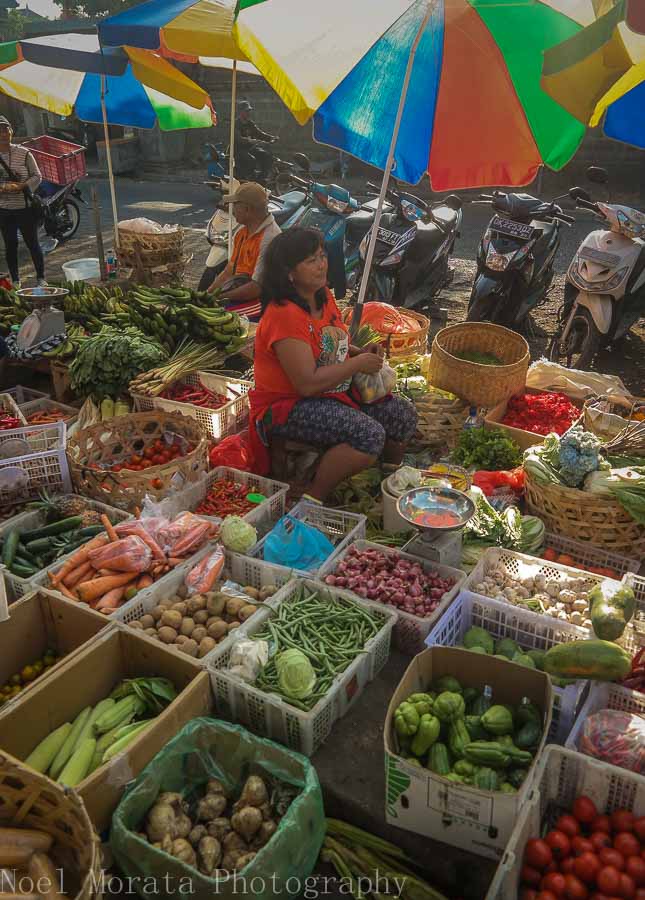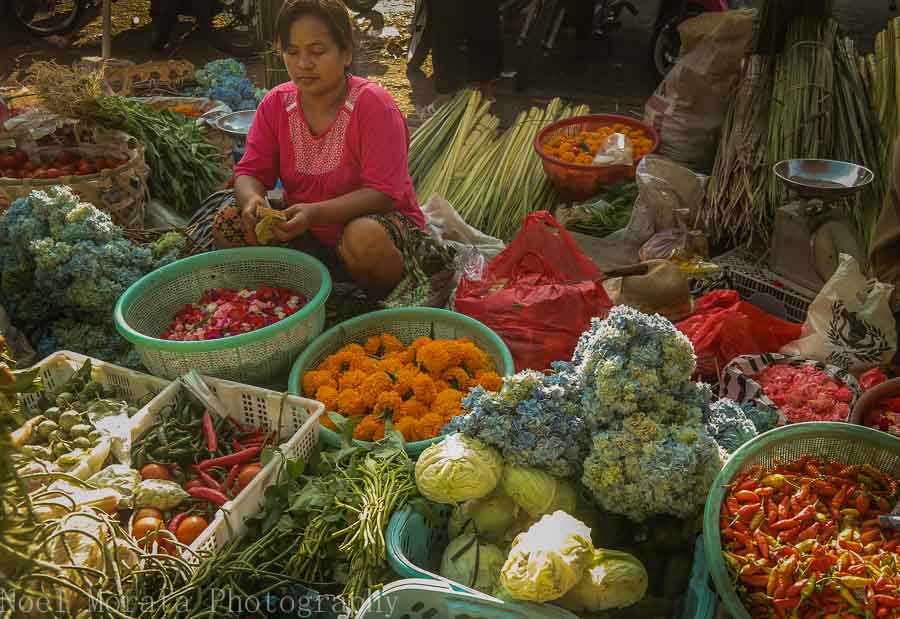 Blue umbrella and eggs for sale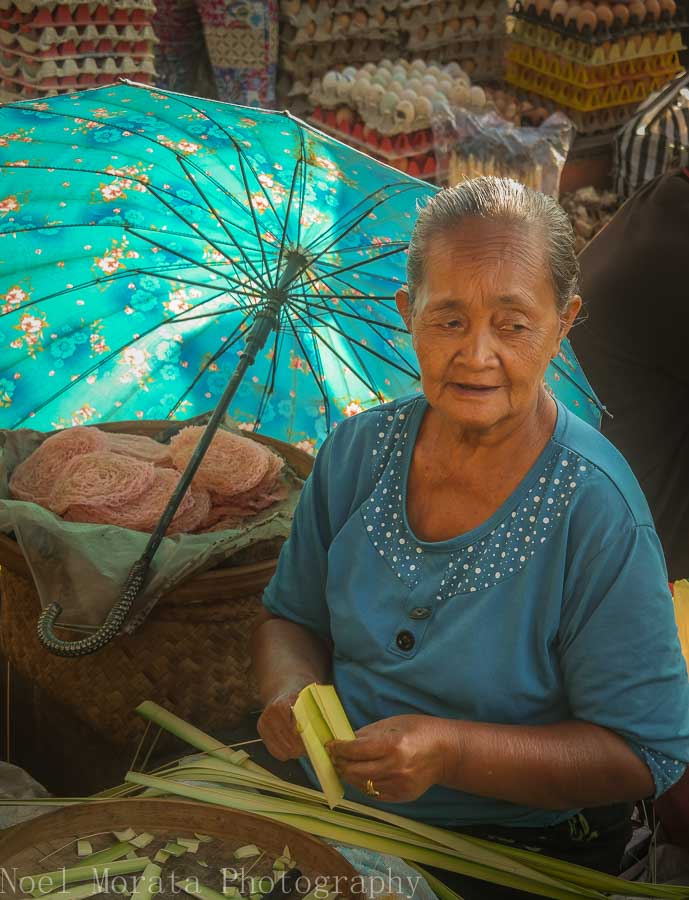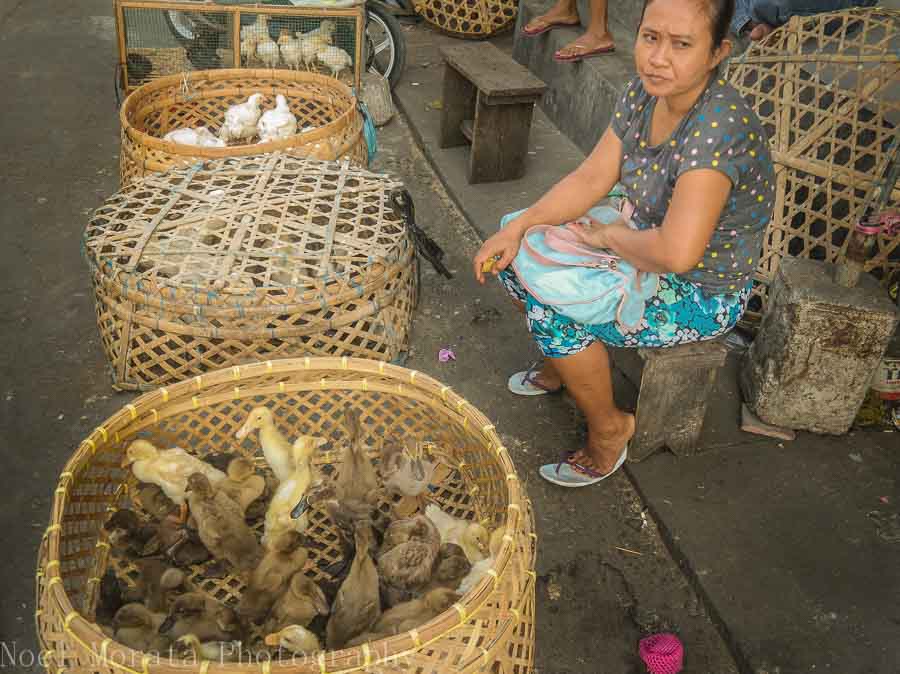 The smells from this barbecue vendor below made it difficult to concentrate seeing what else was on sale for takeaway and it look really good except that the meat was not yet ready and I actually had a full breakfast to eat when I get back to the resort. I should have waited to sample these unfortunately, but at least I did get a nice shot of the vendor and his barbecue.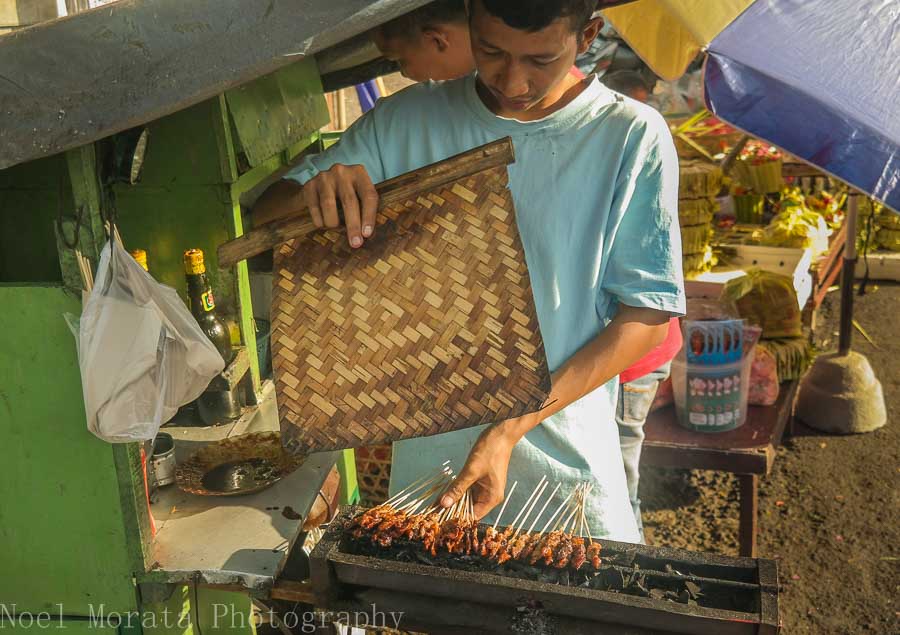 I did see a lot of interesting snacks, local candies and desserts for sale at the Tabanan market and wished I knew what most of these tasted like but didn't get to sample enough of the sweet stuff. Although I did get to taste some from the resort and did some research on some of the more popular desserts and used this Indonesian dessert guide as a reference for other visits around markets in the country.
If you're curious about the street foods of Bali, check these out below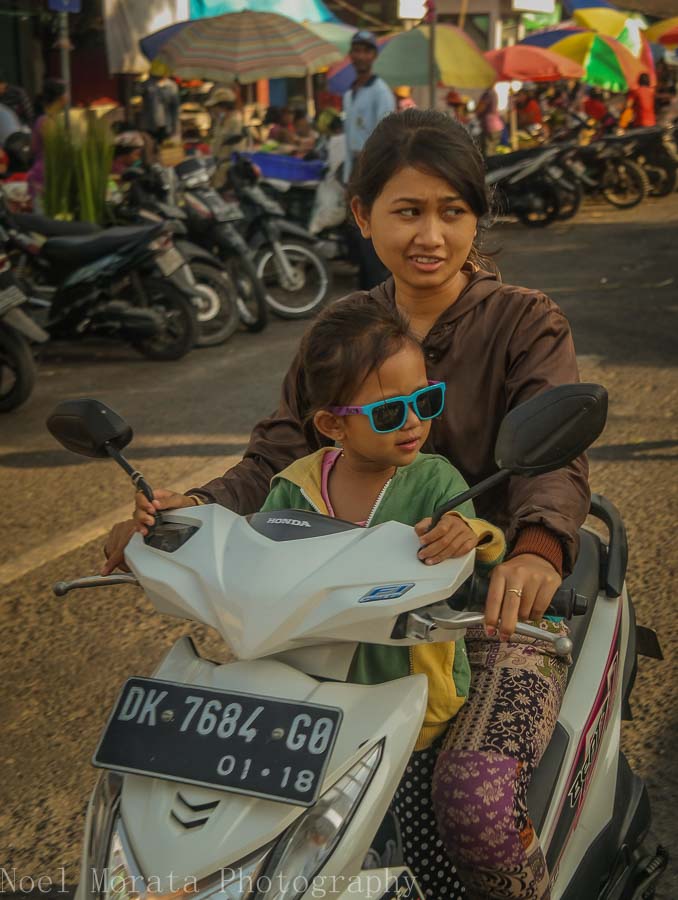 Check out this local market in Bali below
I went back to the outside perimeter of the market to check out what I could find that was interesting and took a few more shots of displays on the streets. This last picture below shows the market better with all the umbrellas protecting the different food being sold from wilting in the hot morning sun. At this point I decided to check out the local palace and temple next door and then head back to the resort for a hearty breakfast and a cooking class with the resident chef using many of the local ingredients that my guide had shown me at the local market in Tabanan.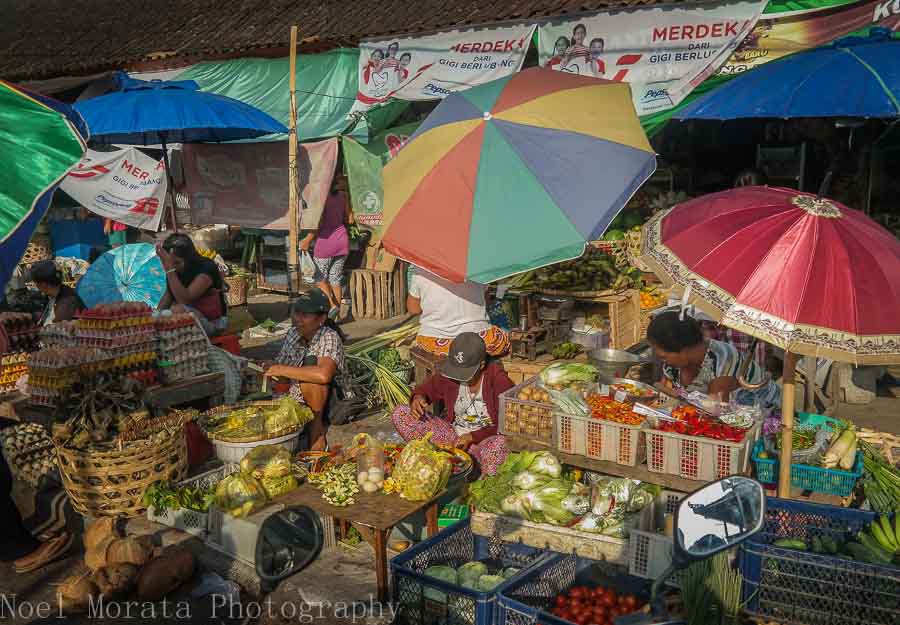 A word of advise photographing markets in Bali
Although many vendors are okay with you taking photos from a distance, this is a business for them so please be respectful and shoot if you get some acknowledgement that it is okay. If not, then move around and shoot something else. Most people are friendly and know that many visitors come to the markets to explore and try something new but you also have to be aware and courteous about being on their turf. Full on portrait shots is typically not allowed so try to keep your captures of the market and people in a broader scope and not individual captures.
If you are in Ubud check out their crafts market below
Conclusion to visiting a farmer's market in Bali
Thanks for visiting this post on the Markets in Bali. If you enjoyed the images and post, could you please share it with any of the social media buttons located around the post. Thank you for hosting me Alila Resort Hotels on this stay and tour, all thoughts and opinions are my own. If you are interested in finding out more information about this amazing resort and wonderful site in Bali, check out their website here.
I also did a few posts about my stay at the gorgeous resort and outdoor adventures, take a look at these when you have the time.
A stay at the luxurious Alila Soori resort in Bali
An Alila adventure and trek to the rice paddies at Gunung Salak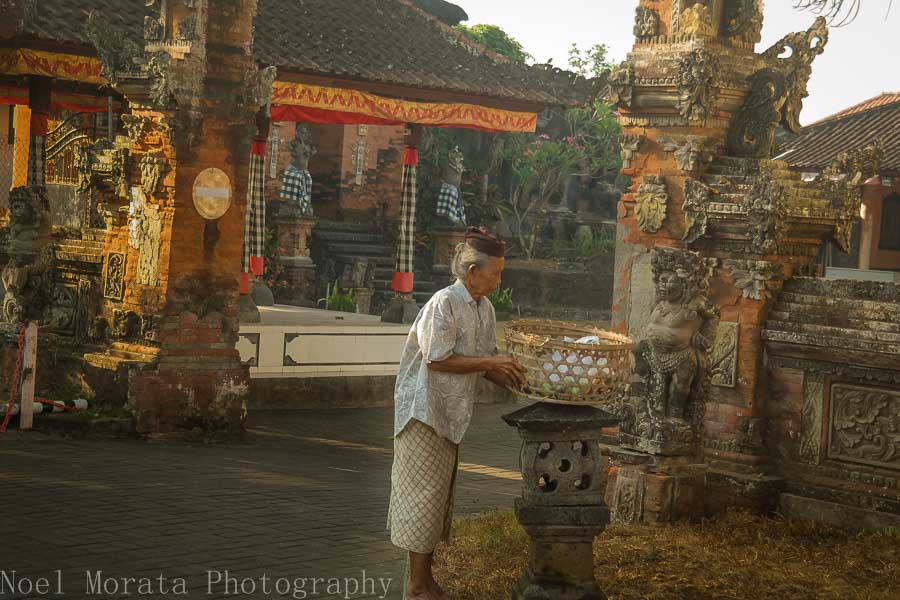 If you like what you see, come and check out my other social media channels for more updates, including Instagram, Pinterest and Twitter