Experience the best places to visit in autumn in Europe with stunning color displays now (updated)
If you are looking for some fall inspirations and places to visit around Europe check out the best places to visit in autumn in Europe below. I've ask a few travel bloggers and friends to share their favorite spots for colorful landscapes, beautiful cities with autumn foliage and national or local parks that are full of vivid displays of seasonal changes and color. Use this post for inspiration on planning to visit the best places to visit in autumn in Europe and enjoy the change of season and last hurrah in many European countries.
Here are the best places to visit in autumn in Europe
Best places to visit in Autumn in Eastern Europe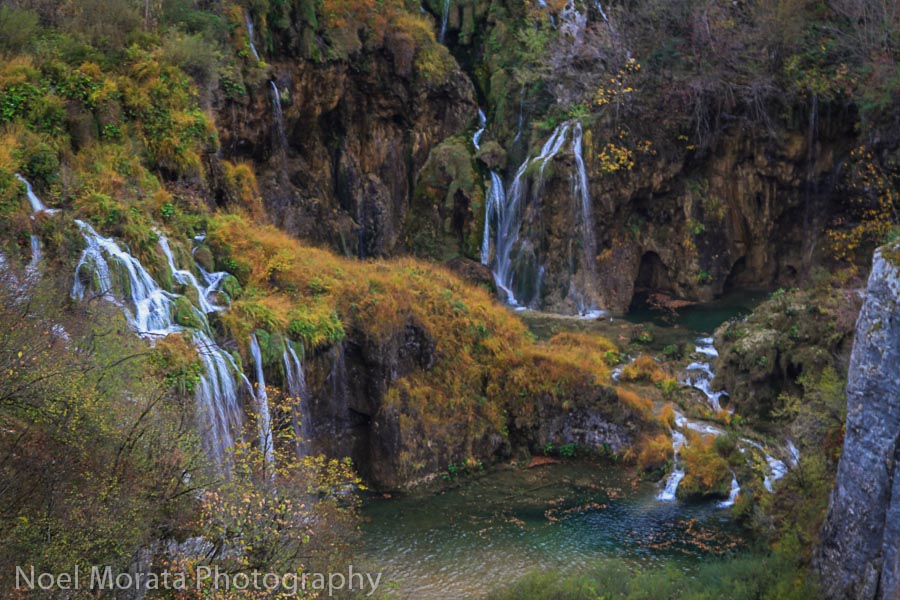 Enjoy autumn color at Plitvice National Park in Croatia
Autumn in the central regions of Croatia at Plitvice National Park is filled with a stunning landscape of fall colors in vivid reds, oranges, yellows and browns. The national park is a fantastic place and relatively quiet from all the tourists and crowds visiting spring and summer so autumn time at the park is ideal with the added plus of seeing the change of colors instead of the usual lush green landscape. You'll enjoy walking through the wooden board walks and experiencing all the splendid waterfalls upfront and with the added burst of fall colors.
The boat ride on the lake is not to be missed seeing all the fall colors on the hills and shorelines in such stunning and dramatic hues all over the landscape. This is definitely one of the most scenic places to visit in Croatia and without the hordes of visitors trampling over narrow wooden board walks, you'll have more time and space to revel at all the magnificent landscape that makes this national park unique and outstanding to visit now.
Check out my post on visiting Plitvice National Park in fall time here for more inspiration to planning a trip out to Croatia's premier national park system.
Noel with Travel Photo Discovery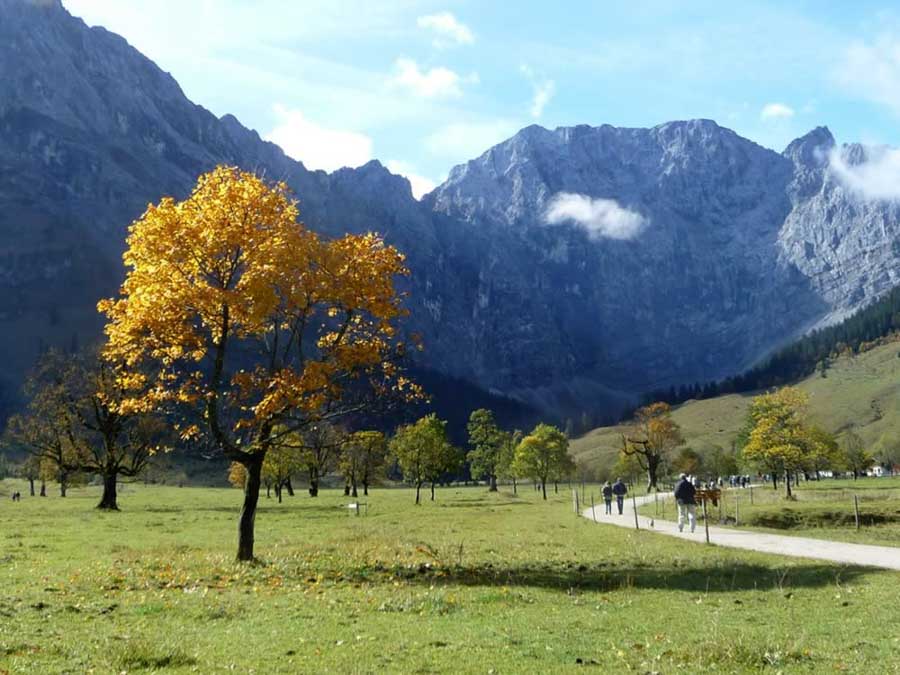 Autumn Season in the Austrian Tyrol Region
The Eng Alm is a summer pasture at the heart of the Naturpark Karwendel in the west of Austria. It is also home to more than 2000 sycamore maples as well as a small community of mountain farmers. When the trees change color in the fall, the spectacle of the leaves against the grey rock faces of the towering mountains behind draws thousands of visitors to this isolated location.
The valley itself lies at 1200 meters (just under 4000 feet) above sea level. Some of the trees are more than 600 years old and are slowly reaching the end of their life.
The international nature reserve which protects the Karwendel mountains includes parts of Germany and Austria. Indeed, even though it is on Austrian soil, the Eng Alm can only be reached by road through Germany. Visitors arriving by car must walk the last few hundred meters into the valley. Hikers, of course, have a choice of mountain trails to get to the area, from both Germany and Austria.
Those who are planning to take in the fall colors should not miss the opportunity to sample the produce of the Eng Alm. Five hundred cattle graze on the alpine meadows during the summer months. Two hundred of those are dairy cows and the local farmers produce their own butter, buttermilk, and mountain cheese varieties. A farm shop is available for those who want to take some local specialties away with them.
Check out Steve's post on visiting Karwendel Alpine Park in Austria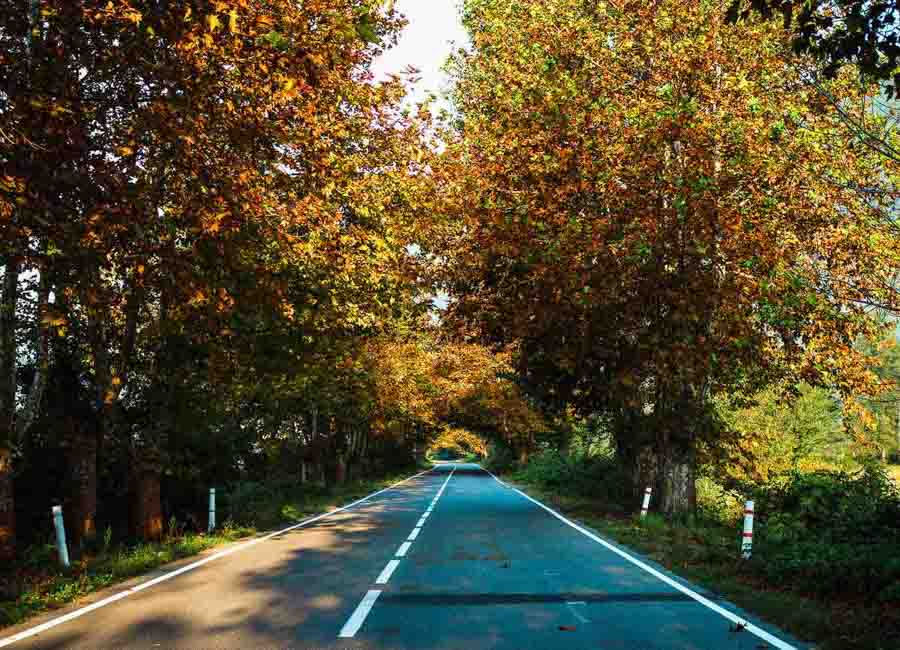 Fall season in Western Georgia
Sitting at roughly the same latitude as Tuscany and Southern France, Georgia in the Caucasus undergoes a similar transformation in fall. September-October is one of the best times to travel to the region, making this a great alternative place in Europe to see fall colors.
Around 40 percent of Georgia is covered by forest. The Western part of the country, particularly Racha and Samegrelo-Zemo Svaneti regions, have deciduous forest that starts to take on sepia tones as soon as summer ends.
Racha is located 120 miles or so west of the capital, Tbilisi. It's relatively remote and infrastructure is less developed, thus it's best to travel with your own car. Hire a rental in the city and head across the country, taking in Ambrolauri, Oni and Shovi in Racha before arriving in the second-biggest city, Kutaisi.
Neighbouring Samegrelo region also boasts vibrant fall foliage, particularly around the village of Martvili. Fall is the perfect time to go hiking to canyons or lakes, and to soak in the natural hot sulfur springs in Nokalakevi. In the lower part of the region near the Black Sea coast, you'll find more monasteries, including the beautiful Khobi Convent, old synagogues and palaces linked to the old royal family. The biggest city in Samegrelo, Zugdidi, boasts a beautiful Botanical Garden where orange, yellow and brick-colored leaves are on full display.
The leaves start changing in mid to late September, coinciding with the country's rtveli, the annual wine harvest. Make sure you organize to visit a vineyard or two as well. Although Georgia's main wine region is in the East, in Racha, you can try Khvanchkara, a semi-sweet red wine with berry notes that's only made from grapes endemic to this region.
Emily from Wander-Lush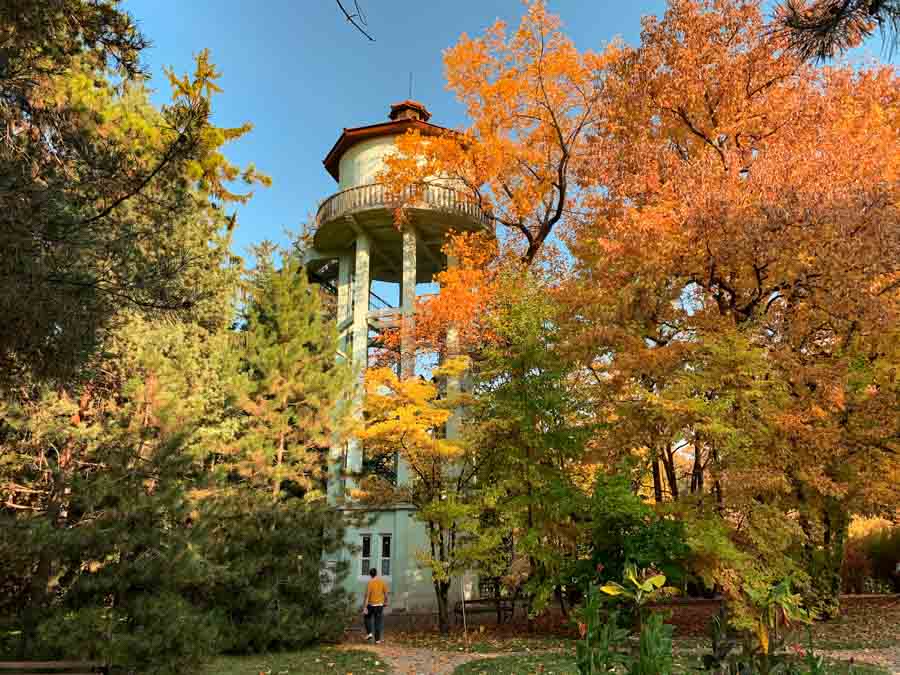 Best places to see fall color in Ciuj-Napoca in Romania
If you want to see some beautiful fall colours in Europe, then I'd recommend Cluj-Napoca in Romania's Transylvania region.  I visited last October and absolutely loved it!
There's lots of things to do here that make it an ideal destination for a weekend break.  This includes visiting the Assumption Cathedral, a stunning orthodox cathedral, as well as St. Michael's Catholic Church in the city's square, Piata Unirii. A statute of Matthias Corvinus, a Hungarian king, sits in front of the church. Across the road is the old town, which although small, has an array of restaurants and bars to choose from (with some wonderful Romanian food to experience).
But for your fall colors, you need to head to two places in the city.  The first is the Alexandru Borza Cluj-Napoca University Botanic Garden.  Covering over 35 acres, this is a perfect place to see fall colors.  Aside from the tropical palm house that you really don't want to miss – it has the biggest water lilies I've ever seen – you should head to the part of the garden with the tower.  You can climb up to look out over the trees with their leaves of orange, yellow and red.
My personal favorite, however, is Cluj Parcul Central, with its casino, boating lake and restaurant with outdoor seating.  It's an absolutely lovely place to wander around and spend some time in. You can walk here from the old town via a pretty tree-lined boulevard with tiny bridges on either side. The colors on the leaves were just amazing.
Cluj-Napoca is around 450 km from the capital, Bucharest.  You can also fly directly to the city.
Emma with Travel on a Time Budget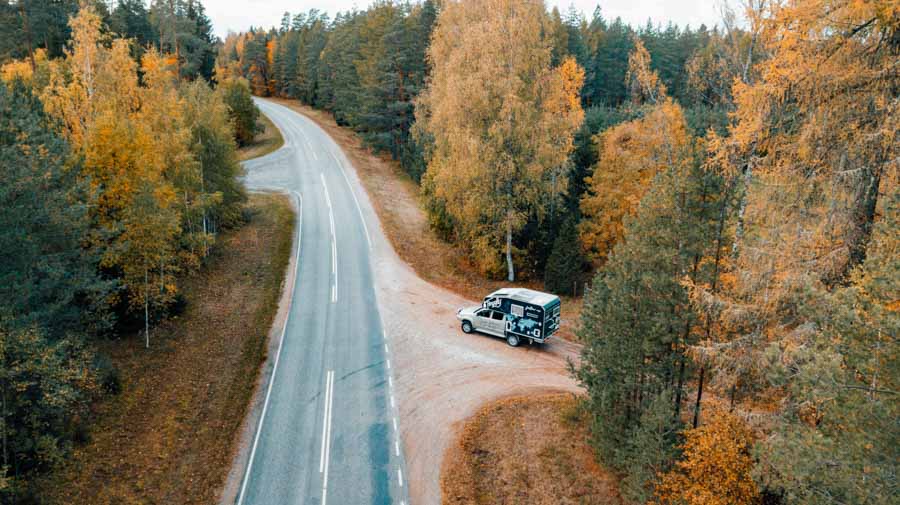 Visiting Estonia in the autumn season
Estonia is a country full of natural beauty, but fall is when it all comes to life. Estonia is packed with great national parks in which you can walk around and experience the beautiful foliage of Autumn, but even just driving throughout the country you'll be greeted with wonderful shades of oranges, reds, yellows, and browns. The colors on offer will remind you of beautiful, vibrant Indian spice colors. What's great about visiting Estonia in Autumn, is the fact that there are fewer crowds, and the temperatures are still pleasant. A trip to the capital, Tallinn will feel magical with the backdrop of fall colors surrounding every corner of this historic city and some of the best national parks to visit include, Karula National Park and Lahemaa National Park which offer stunning views of fall colors.
Getting to Estonia for fall is quite easy. You can either fly or drive there depending on where you are coming from. Estonia is a great country to road trip thanks to its size, and you could even take a trip to the neighboring Baltic states of Latvia and Lithuania for even more beautiful fall colors. Another great way to experience Autumn in Estonia is to wild camp in one of the many beautiful forests and lake areas available throughout the country. You'll be sleeping among beautiful shades of Autumn in a serene, picturesque environment.
Cazzy with Dream Big, Travel Far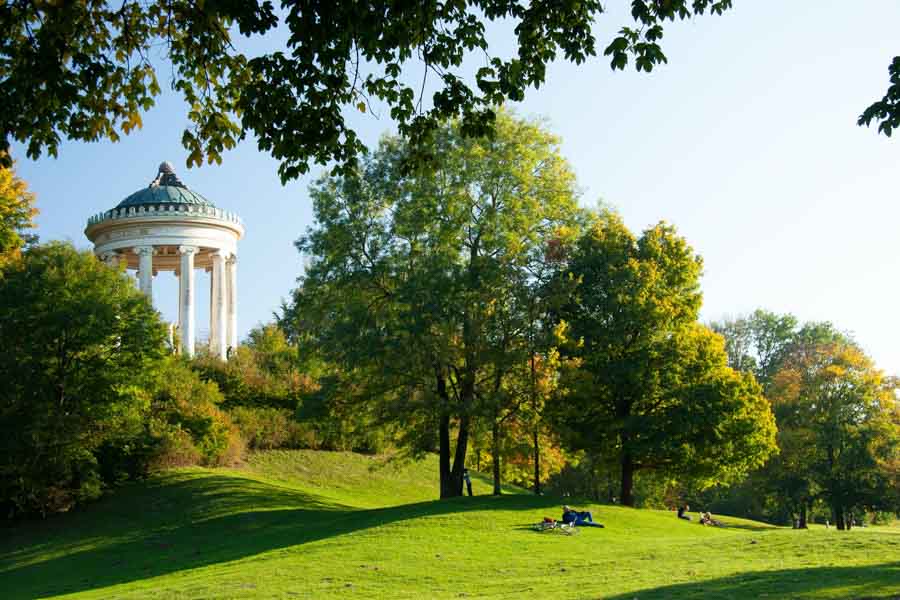 English Garden in Munich
Last October, on our way to Berlin, we stopped for a night in Munich. We knew this German town was famous for its annual Oktoberfest, but that's about all we knew. So with the help of an experienced friend, we quickly chose a few sights to see. After twenty-four fun hours in Munich, our favorite sight was definitely the English Garden (Englischer Garten in German). This large 910 acres public park was full of trees with green, yellow, and red leaves, making it the perfect autumn destination. The weather was slightly chilly, but still pleasant for strolling through the park's 48 miles of paths. Along the way we were passed by cyclists, parents pushing strollers, and many, many dogs. We took a break at a small outdoor beer garden, and then proceeded to walk along the Isar River.
While we spent most of our time just enjoying the trees and large grassy lawns, there are many other sights within the park. The largest beer garden in the park is near the Chinese Tower and seats 7,000 people. Nearby is Seehaus, a lovely indoor restaurant serving breakfast, lunch, and dinner. And the Eisbach River is a short, 2 kilometer waterway popular with river surfers. At the south end of the gardens is a Japanese teahouse and garden.
Since the English Garden is centrally located in Munich, it is easily accessible by public transportation including the S-Bahn, subway, and bus. The gardens are open year-round and there is no admission fee.
Wendy with Empty Nesters Hit the Road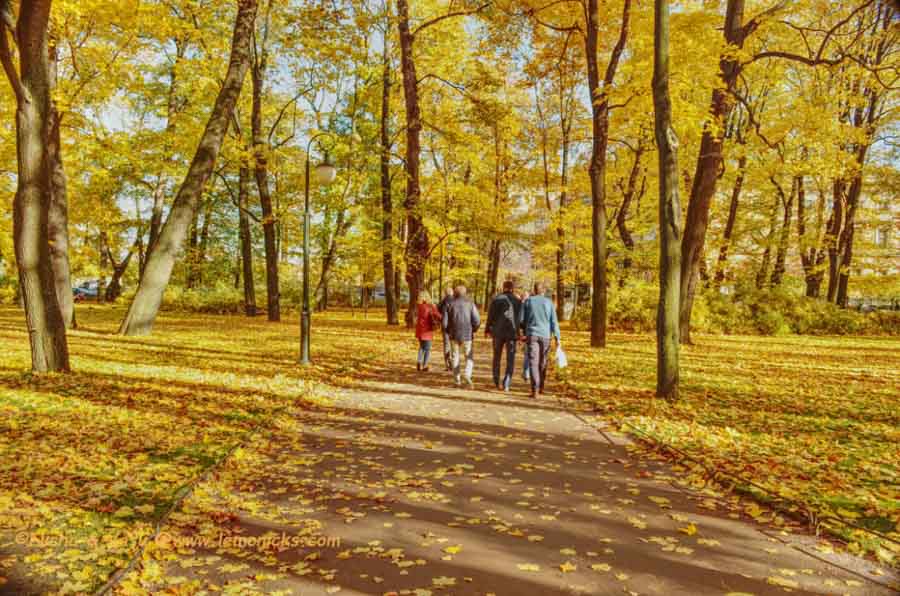 Best places to see fall color in Europe – St Petersburg 
Autumn in St Petersburg is an extremely beautiful season and is known as Golden Autumn. With Russian Imperial Palaces beautifully framed in glowing sun, the parks reflecting the striking autumnal colors and the crisp air cleansing the city after a warm summer, it is probably the best time to visit St Petersburg. We recommend exploring the city by foot because you'd see an overabundance of golden hues everywhere.
Among things to do in St Petersburg during autumn, first I would recommend going to the State Hermitage Museum complex. The Winter Palace is a part of the complex, and you can spend time soaking in the golden sun without going inside.
 During autumn it is an excellent way to explore the parks and landscapes in St Petersburg. There are over 200 parks to relish nature in abundance. With their histories, uniqueness, own style and atmosphere, they are an integral part of life in St Petersburg. Catherine Garden is one of the most popular parks located in front of the Alexandriinsky Theater. It is named after Catherine the Great, whose statue is in the middle of the garden.
Spread over 12 hectares, Summer Garden is another gem which can't be missed. With beautiful vistas, sculptures, Arbor tunnels, fountains and paths it is one of the most captivating places of culture and leisure in St Petersburg. The park has Summer Palace, Coffee and Tea House and can accommodate a few thousand people during cultural events.
Moskovskiy Victory Park is a huge park consisting of bronze monuments of Heroes of the Soviet Union. 
Nisha with Lemonicks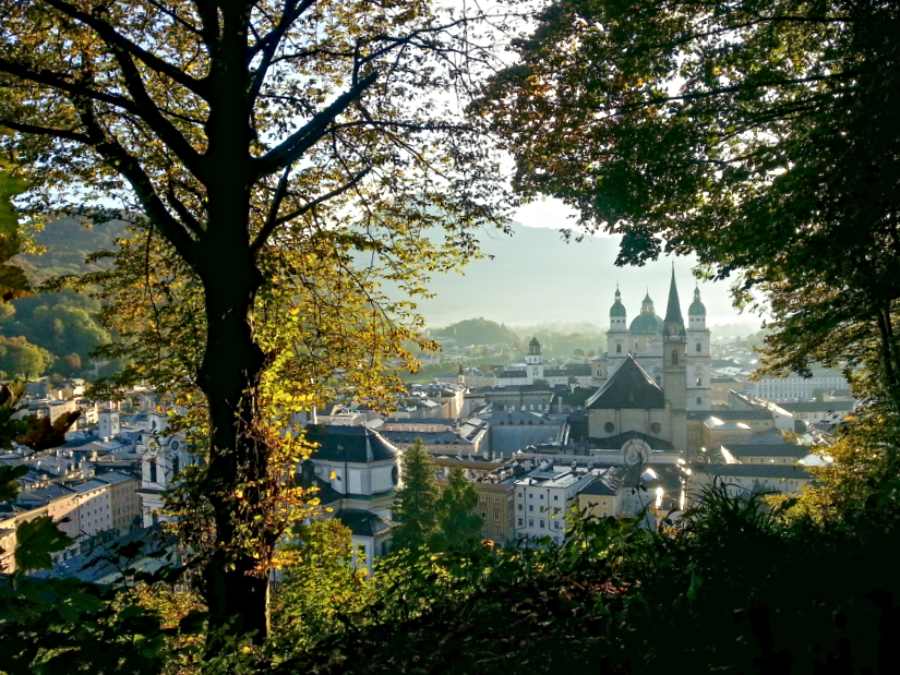 Salzburg, Austria in the fall season
The region of Austria offers some of the best scenery in the Schengen area, with endless Alpine forests and historic castles. Salzburg, the popular tourist destination known for Baroque architecture and notable old town, provides an ideal opportunity to witness the changing of the season. Take in the scenery in a public park, where fallen leaves make for a welcome sight. Scenic overlooks are also a great way to view the changing landscape and hiking is a popular activity in the fall. Other activities include a visit to the Dom Zu, Mirabellgarten, or Schloss Hellbrunn. The ideal time to visit for fall colors is the end of September to the beginning of November. During this time the city plays host to a number of festivals with the most popular being the Rupertikirtag. This event in honor of Salzburg's own patron saint is the highlight of the season where locals and visitors alike are given the opportunity to indulge in art and craft markets, enjoy the fairground rides, or spend a fun day with friends and family in the beer tent. Other noteworthy events during this time of the year include Almabtrieb and Erntedanksonntag. This tourist friendly city is relatively accessible having connections to all major cities in Europe and is well worth the visit.
Rai with A Rai of Light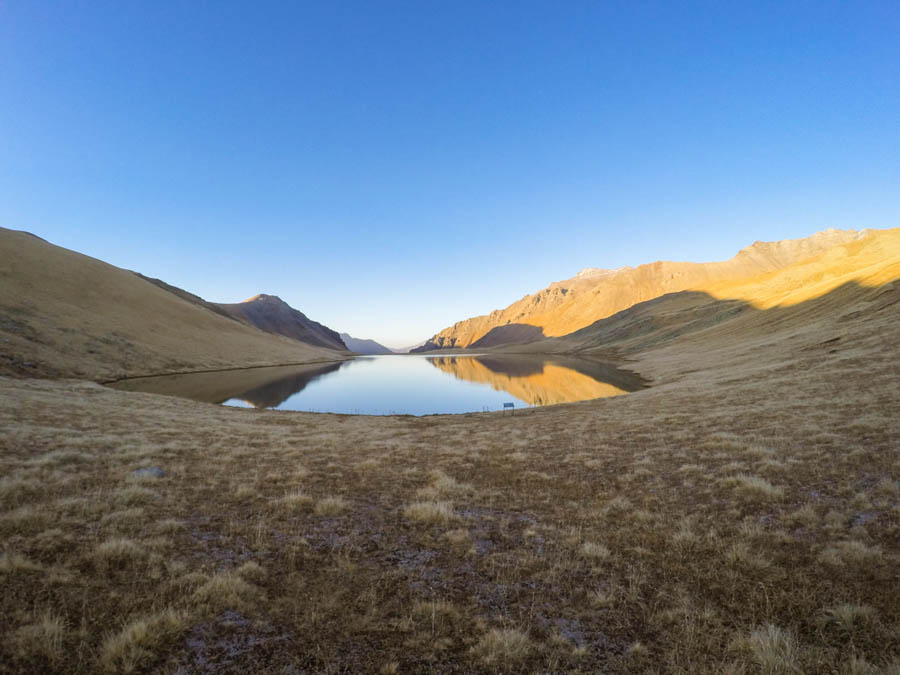 Black Rock Lake in Georgia
Black Rock Lake in the Lagodekhi Protected Areas of Georgia is one of the best places to see fall color in Europe. Seating at the 3,000 meters above the sea level, the lake is a natural border between Dagestan and Georgia.
Being so remote, the only way to get to the lake is to hike. This three or four-day getaway is ideal for hiking and nature lovers as the park is home to unique flora and fauna.
The pathway to the lake is absolutely impressive with stunning landscapes all around you. What makes this 38km loop hike so gorgeous in fall is that you traverse from dense beech forest to high alpine meadows. You have to walk a long vertical gain, but the hard work surely pays off with mouth dropping landscapes over the Caucasus mountains.
Along the hike, there are two shelters to stay overnight for a small fee. But don't expect heating or any comfort. Alternatively, for an even smaller fee and more adventure, you can bring your own tent and overnight there.
The difficulty of the hike depends on how physically fit you are. For some, it's quite challenging, but others say it's of moderate difficulty. Nevertheless, everyone who's been here agrees that hiking the Black Rock Lake trek is one of the most gorgeous and interesting hikes to do in Georgia.
Baia with Red Fedora Diary
Best places to visit in Autumn in Central Europe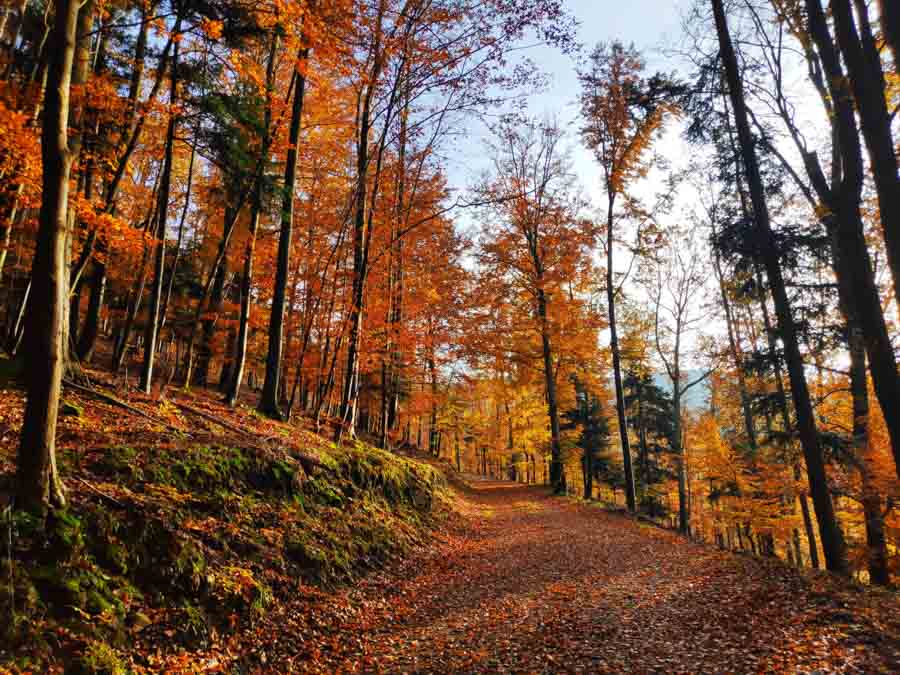 Autumn time in Alsace
Any season in the Alsace is beautiful but fall may just be the most perfect time to visit. People flock to this region for the fairy tale houses and the wine route but there is so much more to the area and to get the best fall colors you head straight to the Vosges mountains.
The winding roads can take you from picturesque towns to delightful villages surrounded in grape vines, that then make way for the mountains. Around every corner is a new color either in the trees or on the ground where it has fallen.
After you have had your fill of the world famous Alsatian cuisine the best way to work it off would be a walk or a hike through the towns. If you are unable to hire a car and get out of the built up areas to enjoy the fall colors in the Alsace you will find even on the outskirts you will be blessed with an amazing experience. There are so many amazing things to do in the Alsace.
Bec with Wyld Family Travel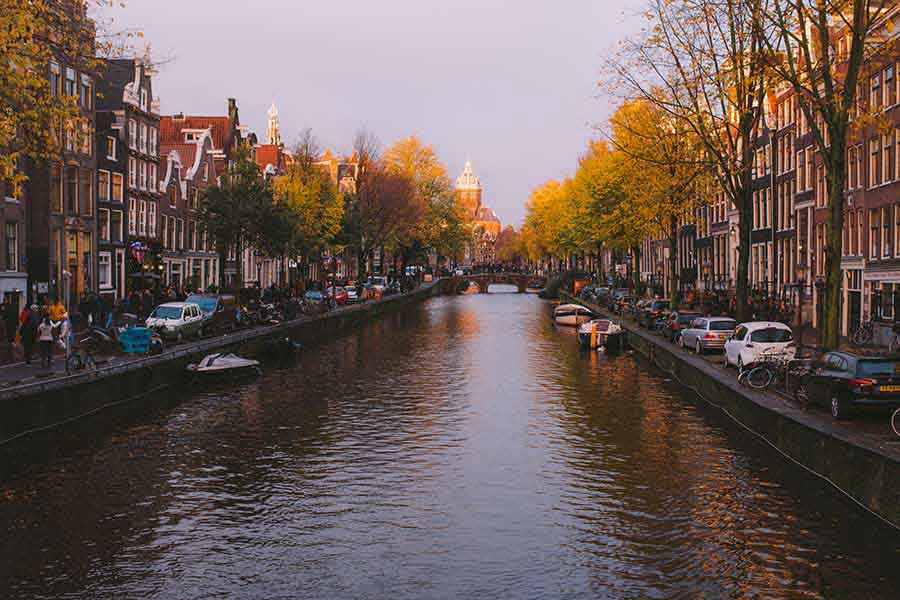 Amsterdam in fall season
 Amsterdam is hands-down one of the best places to see fall colors in Europe. The orange-hued gingerbread houses and charming canals contouring life in the lively city only add more magic to the whole scenery. To experience and photograph the best of fall in the Dutch capital, take a stroll at the Vondelpark in Oud Zuid–which is one of the best places to stay in Amsterdam. Here you get the chance to see locals jogging, walking their dog, and of course, the beautiful fall foliage!
But if you want to experience the autumn colors in an urban background, simply wander through the streets of the city center. The trees lining Amsterdam's canals turn into dark shades of orange during this time of the year, coloring the landscapes, and every bridge makes an excellent photo opportunity!
Is it a little too cold outside? Then head over to the Winkel 43, a café notorious in town for having the best apple pie of Amsterdam! Order that together with hot chocolate, and you will boost your energy levels to discover more spots in this pleasant city. To finish your day in style, sip a beer or two at Arendsnest, a Dutch beer café that only serves local craft beer.
By Bruna Venturinelli from Maps 'N Bags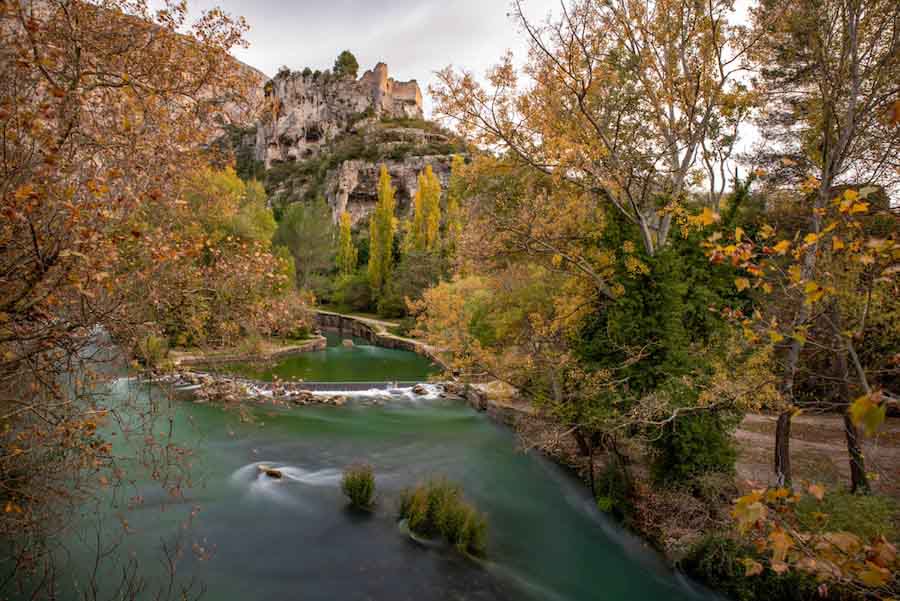 Luberon Valley in Autumn
While most visitors flock to Provence in the summer, fall is when the region really shines. The naturally golden tones become emphasized under a canopy of fall leaves and the region takes on a new glow. Nowhere is this transformation more picturesque than in the Luberon Regional Nature Park. An area of Provence most famous for its 
hilltop villages
 and lavender fields, the Luberon is also an area of immense agricultural importance. Vineyards and olive groves dominate, but stone terraced gardens are peppered throughout the plateau. Fall is a great time to conquer some of the best walks in the area, such as the Ochre Trail in Roussillon, the Colorado Provençal in Rustrel, or the Fôret des Cedres in Bonnieux. After taking in the most stunning scenes at Gordes, be sure to pop over to the hidden gem that is the Village des Bories – an ancient village that's now an open-air museum. On Sundays, head to L'isle-sur-la-Sorgue where you'll find one of the most popular antique markets in the country, then fill up on lunch in a canal-side cafe before going for a stroll to the source of the river Sorgue in Fontaine de Vaucluse. The Luberon is just a short drive from both Aix-en-Provence and Avignon, and there are plenty of tours on offer from either city too.
Nadine with Le Long Weekend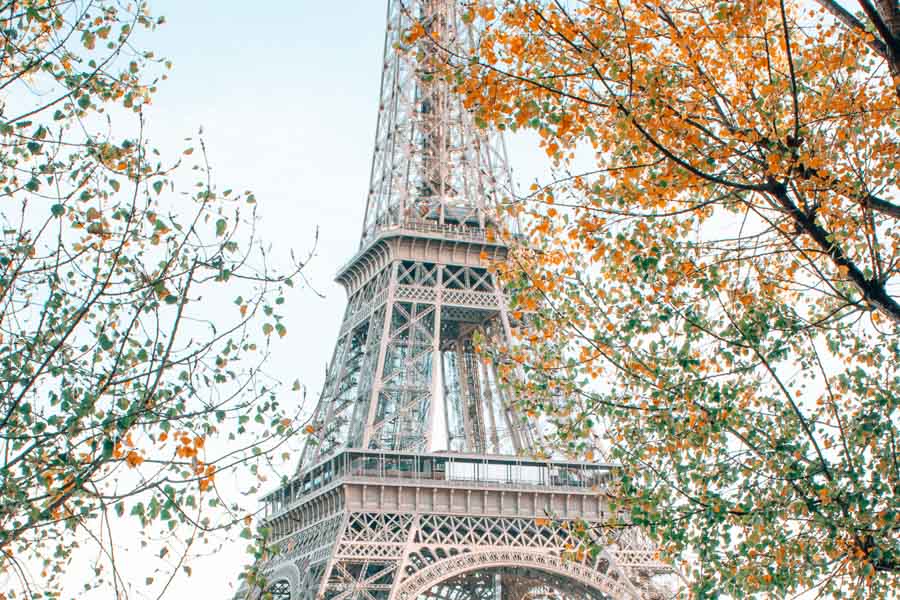 Paris visit in autumn
Paris is a very beautiful city to go to in fall. There are many places where you can experience fall because of the beautiful fall colors.
There are several ways to get to Paris. Paris has two airports, Orly and Charles de Gaulle. From the airports, you can get to the city center by public transport, taxi or you can rent a car. Also, there are domestic and international trains that arrive in Paris. Another way to get to Paris is by bus. There are several international bus companies that go to stations in Paris. Furthermore, you can drive to Paris yourself.
There are several amazing things to do in fall. Walking through Montmartre is magical in fall, as there are beautiful fall colors. Several buildings are covered by leaves and these leaves turn red. For example, one of these buildings is La Maison Rose. Another great place to see in fall is Jardin du Palais-Royal. There are many trees in this park that are lined up in a symmetrical way. In fall the leaves come down, which looks great.
My favourite thing to do in fall is to see the Eiffel Tower from Port Debilly and Champ de Mars. Champ de Mars is a park close to the Eiffel Tower with trees that turn orange. Port Debilly is a path along the river with many trees. The leaves turn orange in fall and you can see the Eiffel Tower between the trees. It looks amazing!"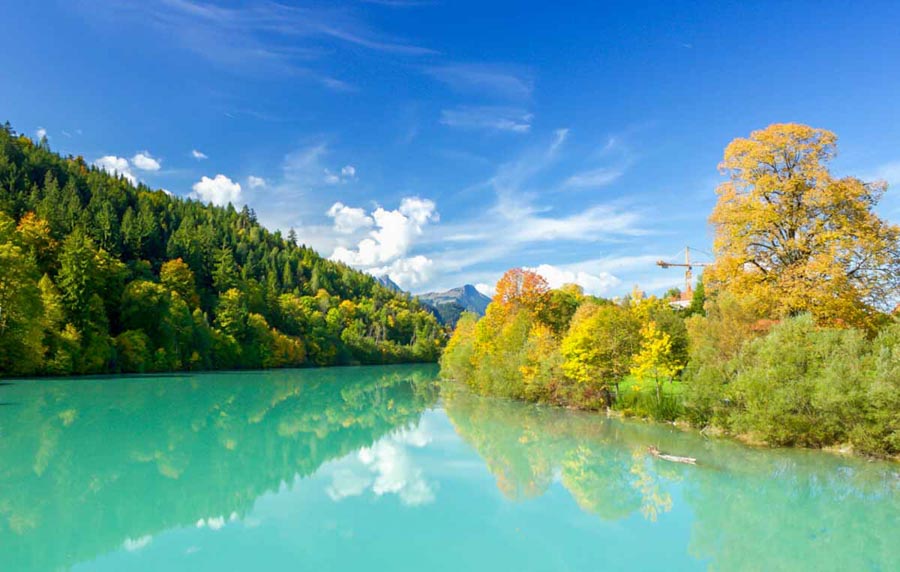 Füssen Germany in the fall season
One of the best destinations to see fall foliage in Europe is Füssen, a small town in Bavaria, Germany just a kilometre away from the Austrian border. It's a charming town and one of the best things to do there is simply wander the  streets of Old Town and admire the Bavarian architecture. During the fall, the streets become even more picturesque with the surrounding trees changing color.Another thing you must do in Fussen is visit Neuschwanstein Castle, one of the most stunning castles in Europe. The best way to get from Fussen to Neuschwanstein Castle is by bicycle. Along the way, you will pass by turquoise lakes and brightly-colored forests. Fall is the perfect time to visit Neuschwanstein, as the castle surrounded by autumn leaves looks like it came straight out of a fairytale.
Another reason to visit Fussen during the fall season is that you can plan your itinerary to also include Oktoberfest in Munich, one of the largest beer festivals in the world. Oktoberfest typically ends in early October, which is when the fall foliage starts to appear in Fussen. The best way to get there is by train, Fussen is only a two-hour scenic train ride away from Munich.
Lora with Explore with Lora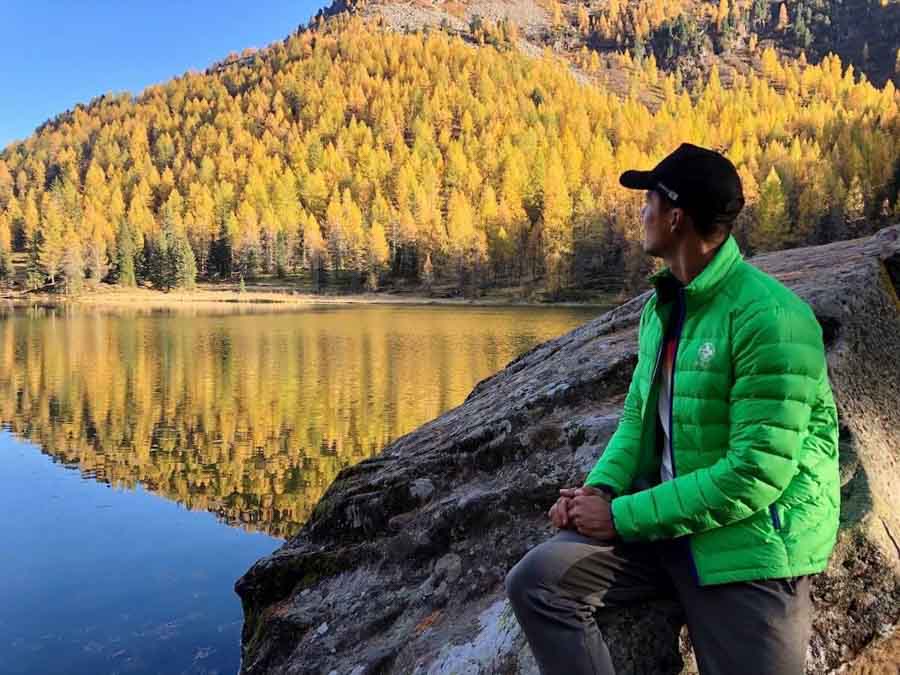 Visit Italy's Dolomites for autumn color
If you're looking for the best places to see fall color in Europe, the Dolomites must be on your list. This mountain range located in northeastern Italy and part of the Southern Limestone Alps, is widely regarded as being amongst the most beautiful and attractive mountain landscapes in the world.
Featuring 18 peaks above 3000m, narrow, deep and long valleys, lush pine forests, meadows, picture-perfect lakes and charming small towns with picturesque churches, the Dolomites was declared a World Heritage Site in 2009 by UNESCO for its outstanding universal value.
It is the dreamy place for hiking, cycling, skiing, mountain climbing, paragliding, hand gliding and anything in between.
My favorite thing to do in the Dolomites is visiting the fascinating lakes. Some of them look like they came straight from an impressionist painting. The easiest way to get to the Dolomites is flying into nearby cities, such as Venice (Italy) and Innsbruck (Austria), and then driving into the Dolomites by car. The Dolomites become even more beautiful during the autumn, when the fall foliage brings a new rage of colors.
Some of the most scenic spots that you should not miss while in the Dolomites are: Lago di Braies, Tre Cime di Lavaredo, Santa Maddalena, Cortina D'Ampezzo, Val di Funes and Selva Val Gardena.  I absolutely loved visiting the Dolomites. It has become one of my favorites places in the world.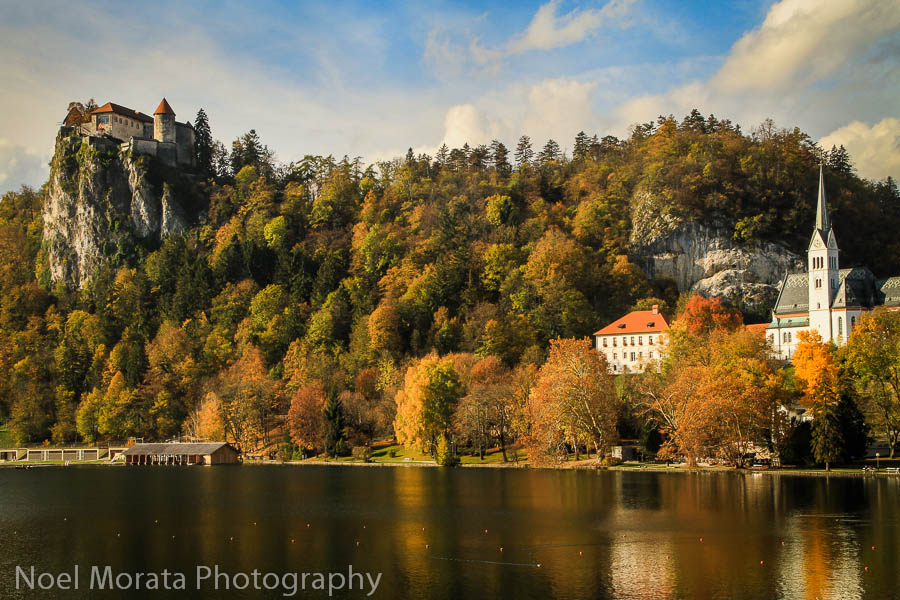 Autumn colors at Lake Bled, Slovenia
It's a great time to get out of the capital city at Ljubljana for a short day trip or overnighter at Lake Bled. Fall season is a spectacular time to visit the lake which is filled with magnificent fall colors around the lake and surrounding hillsides. You'll love walking around the paved trail that goes around the lake and visiting the many attractions with beautiful views of different parts around the lake. Popular places to stop and enjoy the views includes Bled island with the Church of the Assumption, Bled castle with its striking views looking above from a high perch or lakeside at Bled town and enjoying the local favorite Bled cream cake. Or if you actually want to be on the lake,you can ride on a local gondola called a Pletna that a local oresman can take you and a party of over 12 to fill the boat on a fun cruise around the lake.
For more inspiration, check out my post on fall time at Lake Bled here for planning your visit to this wonderful natural beauty just a short train ride from the capital.
Noel with Travel Photo Discovery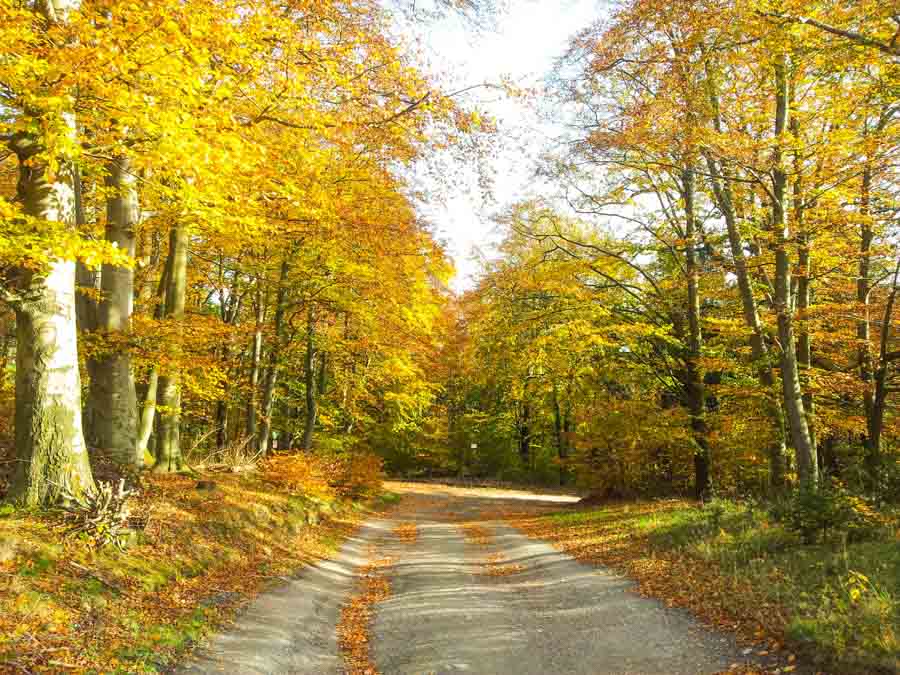 Harz Mountains, Germany
One of the most underrated areas in Germany is the Harz Mountains. With breathtaking nature and fantastic hiking opportunities, the Harz is a perfect holiday destination for nature lovers, hikers, families, and winter sports enthusiasts.
Although a trip to the Harz is great in every season, a visit in fall is particularly worthwhile. On the drive up into the mountains, you can already see the vivid colors that the forests now present.
Especially on sunny days, there is a merely unique picture when the sun's rays fall through the colorful wall of leaves and bathe everything in an orange-yellow light. The Harz is full of spectacular hiking trails and mountain bike trails that are just waiting to be discovered by you. There is something for every level – whether it's a long peaceful walk or a strenuous hike.
In addition to kilometers of pure nature, there are also many beautiful small towns in the Harz with UNESCO World Heritage Sites, half-timbered houses, and a medieval atmosphere. Arguably the most beautiful town in the Harz is the medieval town of Goslar. It's perfect as a starting point for some great nature trips. But a visit to the city itself is also worthwhile. At the UNESCO-protected Rammelsberg, you can not only take an exciting tour through the former mine but also stroll along beautiful forests and lakes.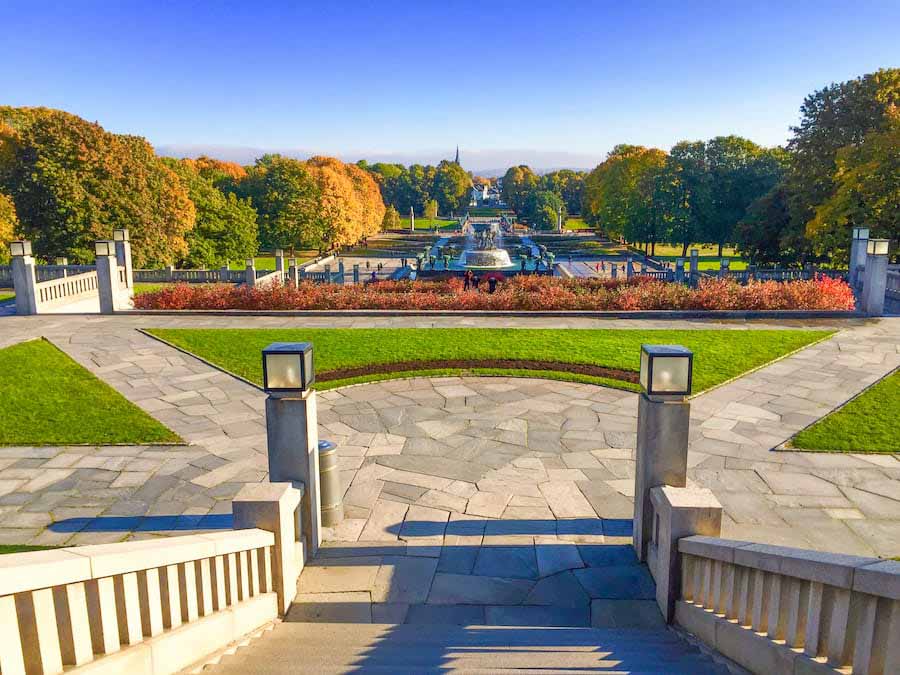 Fall time in Oslo, Norway
Fall in Oslo is one of the most beautiful times of the year. It is a period of colorful bliss before the interminable cold and darkness of winter in Oslo. As the trees start to turn, there is nothing better than walking through Vigeland Park where the contrast of the brown against the often grey skies of autumn and the wonderfully strange statues embrace Norway's quirkier side. 
As you walk through the charming streets, there are few better ways to escape the cold than by popping into cozy Scandinavian cafes that are littered throughout Oslo. Alternatively, take advantage of the city's closeness to the unparalleled beauty of Norway and head to the Holmenkollbaken Ski Jump. Around the jump are wonderful trails that wind through the hills and forests. Throughout the winter, the routes are normally covered in snow but during fall, you can enjoy the last snow-free walks and keep an eye out for any fall fruits that may appear. 
The ski jump and surrounding area can easily be reached on the Oslo Metro system with Line 1 taking you directly there in the direction of Frognerseteren. In the evenings as the darkness sets, visit one of Oslo;s fantastic restaurants where local chefs highlight the best of Norway's fall produce.
Megan with Megan Starr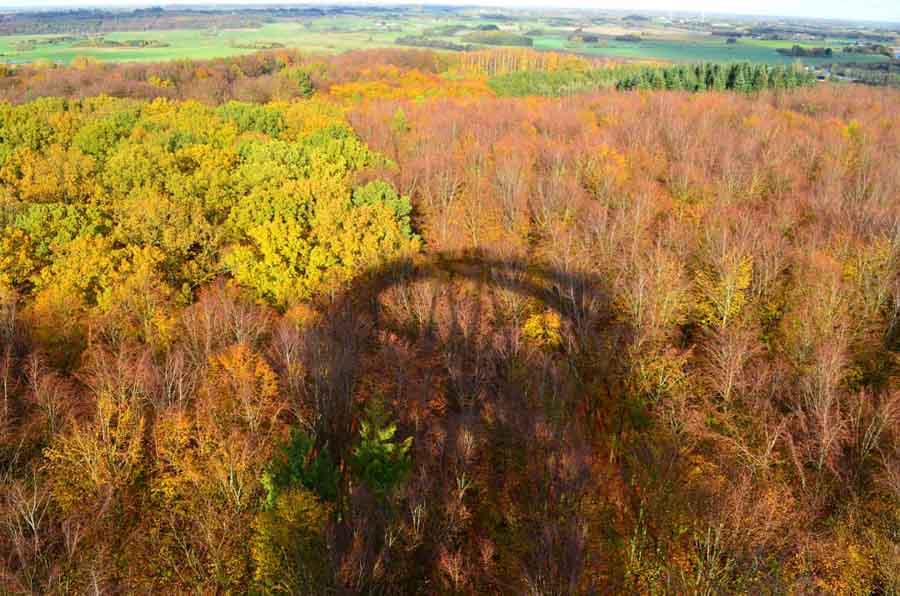 Camp Adventure in Denmark at Fall
About an hour south of Copenhagen, Denmark you can find one of Europe's best destinations for fall foliage. There you'll find Camp Adventure, one of the most unique natural attractions in the world and home of the best views of fall foliage.
Camp Adventure is an incredible nature park with the noble mission of making nature accessible to everyone. The park uses the local beech and oak forest as a staging area to deliver a truly memorable experience.
As the centerpiece of Camp Adventure is the Forest Tower, a 45 meter (147 foot) tall structure that carries visitors above the treetops for sweeping views of the forest from above. On a clear day you can see all the way to Sweden, but the main focus is the canopy of the forest below you. There are a cluster of trees in the center of the hourglass shaped tower which offer perspective of your height as you climb the tower.
Reaching the tower is easy for anyone, even visitors with mobility issues. The park includes a boardwalk from the welcome center to the center of the forest where you'll find the tower. This boardwalk provides a scenic access path through the tranquil forest so visitors can truly experience the fall colors from every angle.
Derek with Everything Copenhagen
Best places to visit in Autumn in Western Europe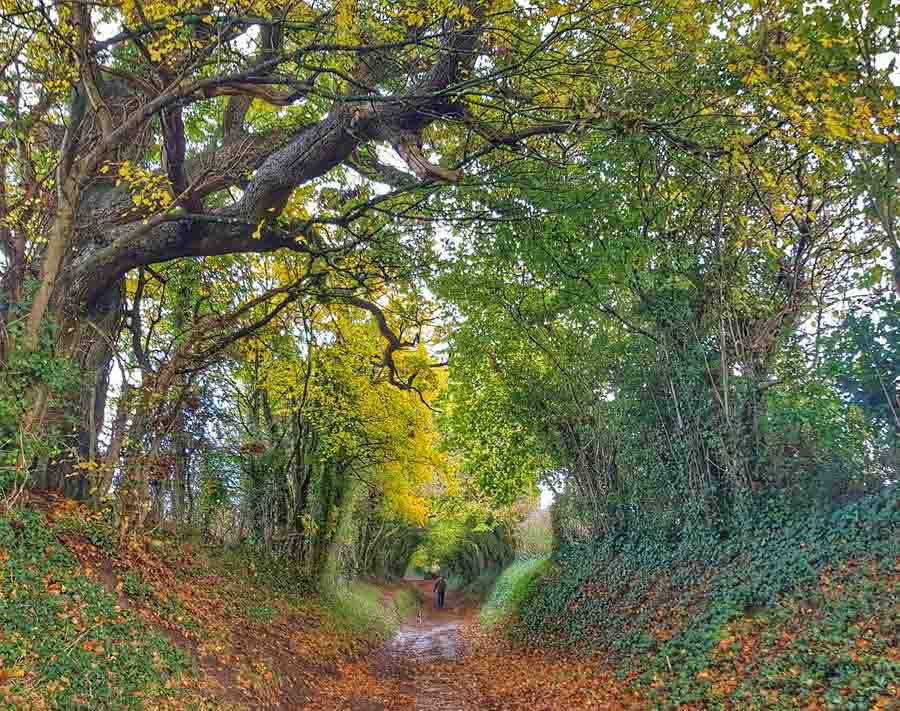 South Downs National Park  
The South Downs in Southern England is a range of hills running from Winchester in the county of Hampshire through West Sussex and into East Sussex where the dramatic white cliffs, known as the Severn Sisters, plunge into the sea.
Covering an area of 1,627 square kilometres (628 sq mi), the South Downs has more woodland than any other National Park in England or Wales. Each autumn it puts on a spectacular display.
These hilltops and forests are home to a rich variety of birds, butterflies, orchids and more. They are also steeped in ancient history with no end of prehistoric sites, including the remains of Iron Age forts, Neolithic settlements and burial mounds. Plus there's the Roman villa at Bignor as well as numerous ancient villages and hamlets.
The best way to enjoy the park is on foot, bike or horseback via the intricate network of trails and public footpaths. The long-distance walking route, The South Downs Way, leads you across some of the most spectacular scenery along a 160 km bridleway (open to walkers, cyclists and horse riders alike).
One of my favourite spots is Halnaker, a tiny village dating back over 1,000 years, where a magical tree tunnel leads to the foot of a hill atop of which stands a restored windmill built in 1740. From here the 360-degree views across the rolling hills, covered in ancient forests, is particularly superb.
The park is within easy reach of London by road or rail, perfect for a short break or even a day trip from the capital. Railway stations include Winchester, Amberley, Lewes and Eastbourne all with regular direct rail links to either London Waterloo or London Victoria.
Kathryn with Sussex Walks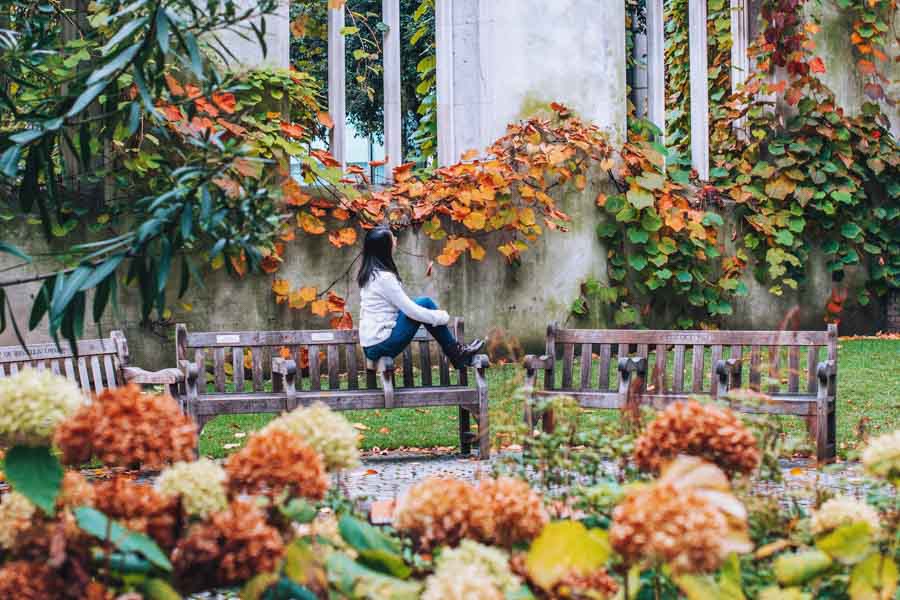 Fall colors in London
One of the best places to see fall colors in Europe is London, UK. This bustling capital has plenty of parks and hidden gardens that get filled with red and orange leaves every autumn. One of these places is Kynance Mews, a very iconic spot in town for fall colors. The arched gate to this mews is covered with stunning red leafs during this time of the year, and it's also hands down one of the best photo spots in London. You'll also find blankets of orange leafs covering the houses inside this mews!
Another beautiful place to see fall colors in London is St. Dunstan in the East, a mystic garden that used to be a church. You can walk around and explore the eerie vibes of this place, or simply sit on a bench with a book. Either way, you'll be surrounded by breathtaking red and orange leaves there as you soak in the relaxing atmosphere.
Some of the other must-see spots in London during the fall are Chelsea Embankment (where there's a big row of orange-leaved trees), Kew Gardens (a large botanical garden with autumn colors all around), St James's Park (head to the lake bridge there for the best autumn colors view) and Richmond Park (where you can also find deer!).
Jiayi with The Diary of a Nomad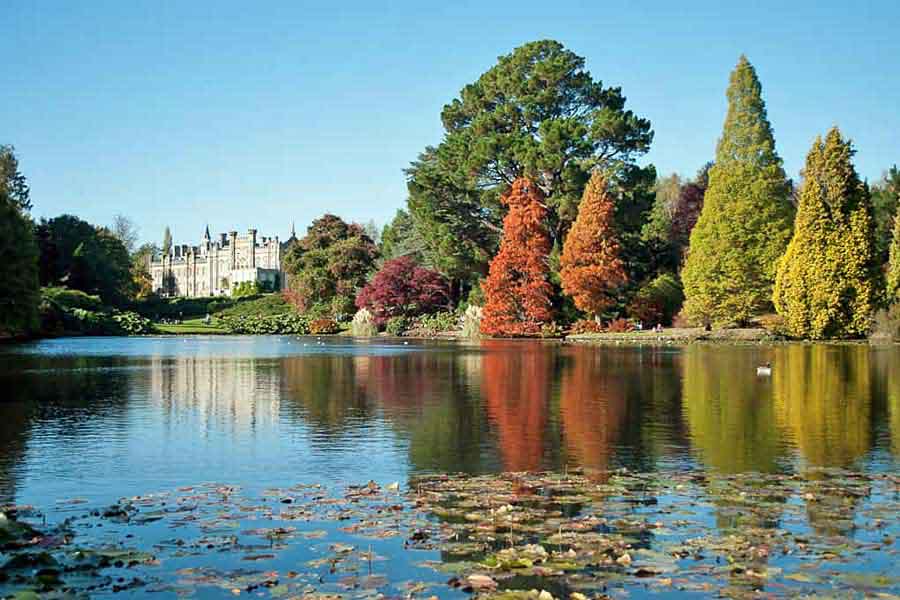 Sheffield Park Gardens
Sheffield Park and Gardens near Uckfield in East Sussex, is rather unique in that it was specifically planted with autumn's fall foliage in mind. It's owned by the National Trust and while Sheffield Park House is private, the gardens, parkland and woodland surrounding it are open to visitors. It's the perfect spot to wander through beautifully planted landscapes amongst the rich golden and russet-coloured trees.
The gardens have developed over several centuries with influences including Capability Brown and Humphry Repton but it was Arthur Soames', the owner of Sheffield Park in the early twentieth century that was primarily responsible for the planting that gives us the rich autumnal hues we see today.
At the heart of the gardens is a series of five lakes with footpaths winding around them, through woodland glades and out into the surrounding parklands. The reflection of the trees in the lakes is particularly striking.
A traditional tearoom near the entrance and a café in the park itself offer hot and cold refreshments. As well as a gift shop and secondhand bookshop, plants from the gardens are also for sale for anyone with green fingers.
Sheffield Park is about a 2-hour drive from the centre of London. It can also be reached by bus from Lewes but only on Saturdays. However, the Bluebell Railway, a beautifully restored steam train runs from East Grinstead, Kingscote or Horsted Keynes to the Sheffield Park station which is less than a one-mile walk away across the parkland.
Check out Suzanne's post on autumn foliage at Sheffield Park Gardens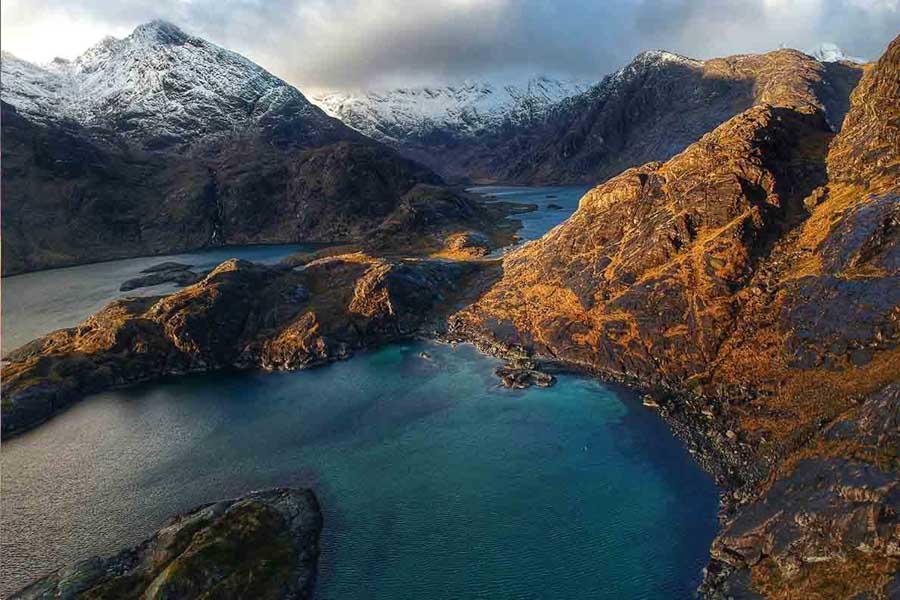 The Isle of Skye in Fall time
If you're looking for amazing scenery and fall foliage, the Isle of Skye, Scotland is one of the best places in Europe. The scenery is beautiful normally, but with the additional colours of the Fall foliage, combined with the backdrop of the sea the entire thing is just breathtaking.
There are so many options for your Isle of Skye itinerary – beautiful waterfalls (including the famous Fairy Pools), castles, whisky tastings, distillery tours and plenty of mountains to hike and explore. If you enjoy nature, photography and stunning scenery, you'll be in your element.
Fall is by far the best time to visit Skye- the crowds have mostly gone, but the weather is still generally warm and there's enough daylight to make the most of it. You'll be able to get closer to the main attractions- some of them you might even have all to yourself!
Most restaurants, cafes and bars remain open in Fall, so after a day exploring you can relax and unwind. You'll also find plenty of hotels and B & Bs still open for business, many of which have fantastic views of the fall foliage from the rooms.
Kat | Wandering Bird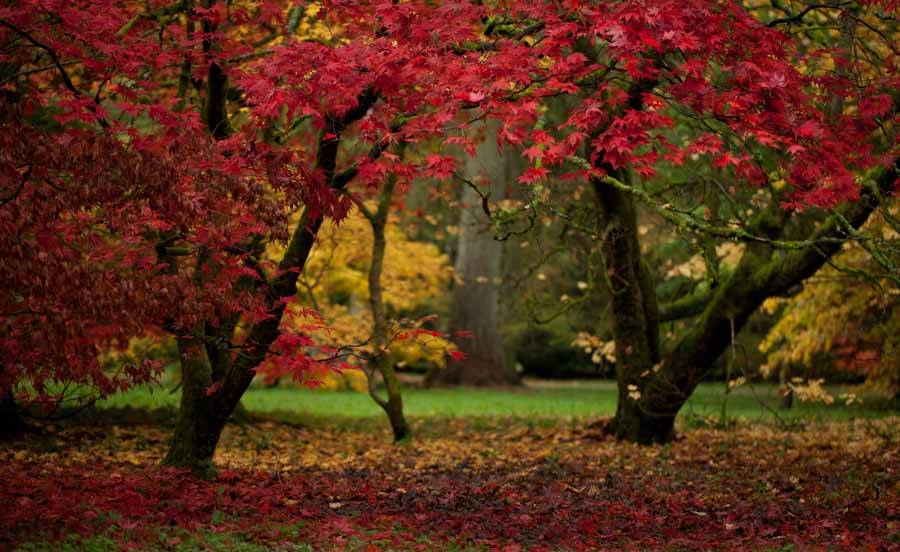 Westonbirt Arboretum, Cotswolds, UK
Tucked away in the picturesque Cotswolds area of England is one of the best places in Europe to see fall colours. Westonbirt Arboretum is located near Tetbury and is accessible by car from the M4 motorway.
Westonbirt Arboretum, the National Arboretum, is a famous botanical experience attracting visitors far and wide. Showcasing trees, shrubs, and plants from around the world, it is best known for autumn colours.
Start your time wandering around the Old Arboretum where you can view oak trees, horse chestnuts and awe at the colours in Acer Glade. Be aware that dogs are not allowed in the Old Arboretum. After this, head across to the Silk Wood, the newer part of the Arboretum where dogs are allowed. You will find more spectacular colours, especially in the Maple Loop where you'll find maple trees and Japanese acers in abundance. There is also a Gruffalo sculpture trail for those visiting with children.
The colour show at Westonbirt Arboretum is one of the best ways to see fall colours in Europe and is easily combined with a visit to London, so long as you have a car to reach the Cotswolds. As mentioned, it attracts visitors from far and wide and many budding photographers will be among them, so don't forget your camera. Fall colours begin in late September and start to fade in early November, so time your visit well. The Westonbirt Arboretum website gives regular updates during this season.
Check out Cath's post on the Westonbir Arboretum autumn watch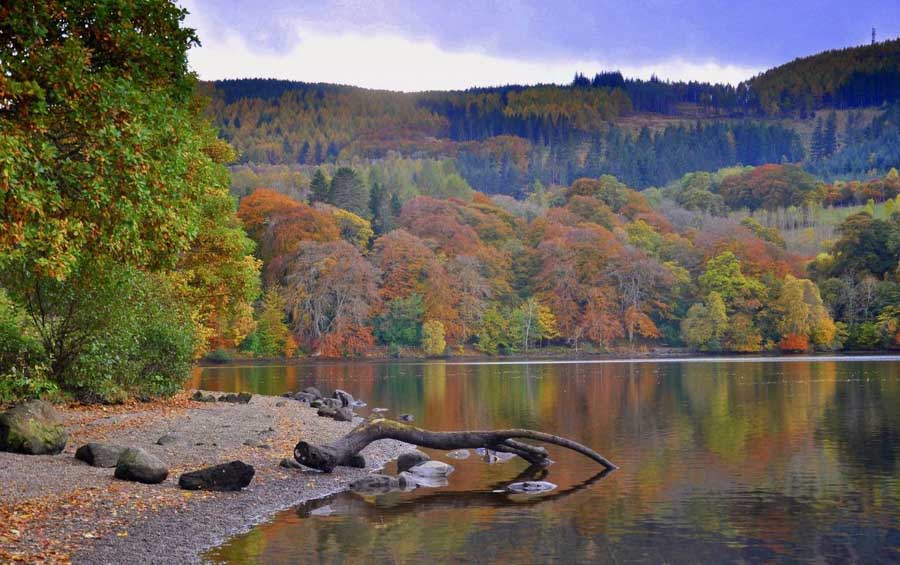 Perthshire, Scotland
Often referred to as Big Tree Country, Perthshire is a hands down winner when it comes to witnessing autumn in UK. The spectacular region blazes with red, orange and golden during the autumn, and draws visitors from all over UK and Europe. Here you will find the massive Douglas fir trees, supposedly the tallest trees you can find anywhere in UK. Deer, red squirrels and pine martins welcome you as you walk through the magical woodlands, that are sprawling 200,000 acres spread across Perthshire. Autumn is also rutting season for deers, so make sure to catch a glimpse of nature's spectacular battle, while maintaining a safe distance.
Visit the Hermitage and see the roaring waterfalls crash into the rocks from Ossian's Hall. Or catch a glimpse of Queen's View, a stunning viewpoint across River Tummel.  Why not take a quiet stroll in Lady Mary's Walk, along River Earn taking a glimpse of 150 year old trees.
While every town in Perthshire is special and has plethora of things to do, I recommend staying in Pitlochry. Visit Blair Atholl distillery, watch a show in Pitlochry Festival Theatre, stroll through the magical woodlands, and don't miss to 
visit the enchanted forest, an award winning light and sound show
 that happens during the month of October in Faskally woods.
An array of things to keep you occupied whether you are travelling as a family, couple or solo. Well marked walking and biking trails, waterfalls, and plenty of wildlife spotting makes Perthshire a must visit destination.
Explored by Anu from Country Hopping Couple
Please share or Pin to your Europe Pinterest board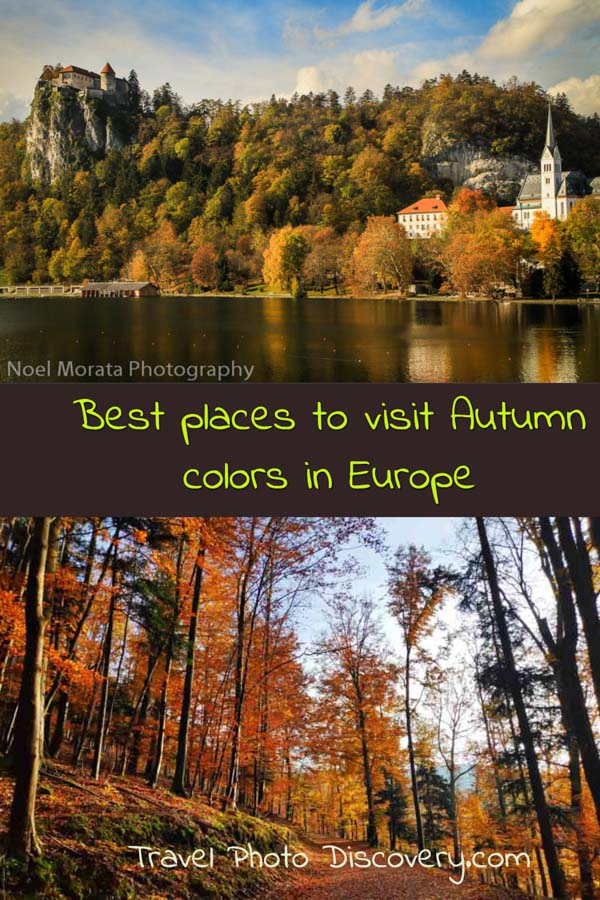 Have you explored any of these beautiful autumn destinations in Europe?
Any of these gorgeous fall destination in Europe or other favorite places around the continent? Please share your thoughts in the comments below.
Thanks for visiting and checking out this post on Best places to visit in autumn in Europe. Bookmark this post for future reference when you are looking for some Hawaii activities, adventure or fun experiences.
Please do share this post with any of the social media icons on the side bar and thanks for visiting today!
Some links in this article on a Best places to visit in autumn in Europe, are affiliates which provide a small commission to support this site at no extra cost to you. Thank you for reading, and happy travels