Discover the 24 warmest places in Europe for a winter getaway or longer
You might not consider Europe a warm weather destination to visit in winter with average temperatures in the warmer regions of the continent ranging from 12-18 degrees Celsius (45-65F) to not be warm. With the rest of the continent freezing or snowing, these temperatures are good for being outdoors, exploring shopping, eating and living just like a local in the area.
You'll find some wonderful areas of Europe are fun to explore during winter and warm for European standards. You might want to consider the areas of Andalusia, the Algarve, the Balearic Islands, Greek Islands, Malta, the coastal areas of France and even Italy with Sicily and Puglia regions being quite pleasant.
We recommend many fantastic destinations and the travel writers below share some of their favorite warm winter spots around the continent to discover and some helpful tips to visiting a city or region in Europe below.
Why visit Europe in winter?
There are several reasons to visit these warm weather destinations during winter and the biggest reason is cheaper prices for travel, hotels and even tours. You'll get to book places to visit and eat that are typically difficult to secure a time slot to visit or eat, get to wander around without the hordes of tourists and really live like a local with people that are from the area and living a day-to-day life without the tourist season creating havoc and bottlenecks to logistics, visiting favorite spots and really enjoying that destination during the off season.
Here are the warmest places in Europe to visit in winter.
What are the warmest countries in Europe?
Europe"s warmest countries tend to be the southernmost destinations and also closer to the equator. Those countries closer to the equator tend to be close enough to still experience a pleasant mediterranean style climate to be outdoors, be active and enjoy some of the historic and cultural sites within a country. The mediterranean zone offers sunny days and warm weather and typically a draw for year round living and lifestyle. This includes the Mediterranean zones of Andalusia, Algarve, Sicily, certain Greek Islands, Southern France and Italy along the coastline areas and also many islands that are located in the Mediterranean zone.
24 Warmest places in Europe for winter: Sun, fun, exploring outdoors, no crowds &live like a local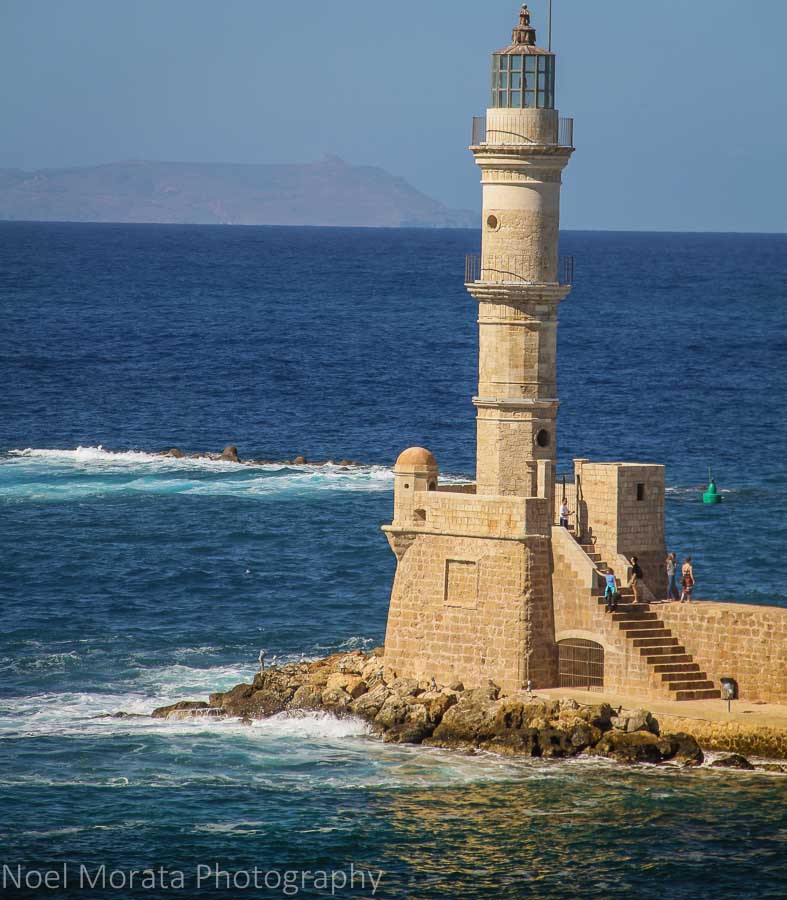 1. Crete island during winter
Being the largest island in Greece and located midway between Europe and Africa, Crete is very pleasant in the winter time with average temperatures reaching 10-15 degrees Celcius (50-60F).
You can enjoy an outdoor lifestyle, go hiking, biking or spend some time visit the historic cities of Chania, Knossos and the capital city of Heraklion.
While the ocean scene might be a little a little chilly to enter, hanging out the many beaches or even doing some fun water activities like sailing, boating or kayaking is quite pleasant, along with land-oriented activities such as hiking, biking, mountain climbing, caving and even extreme sports and recreation.
Popular activities includes visiting the harbor and historic center of Chania, checking out the museums and markets, go on a wine tour and visit some wineries. You can spend a day exploring the capital city of Heraklion and enjoy the restaurant and bar scene there or experience the Heraklion Christmas market which is in full swing in December.
How about doing a road trip around different parts of the island or even visiting the Minoan palace at Knossos which is a short drive from the capital city. There's so much to do an see here so I would recommend renting a car during your visit to enjoy the entire island on a discovery tour.
Check out the best hotels to set in Crete here
Noel with Visit Spain and Mediterranean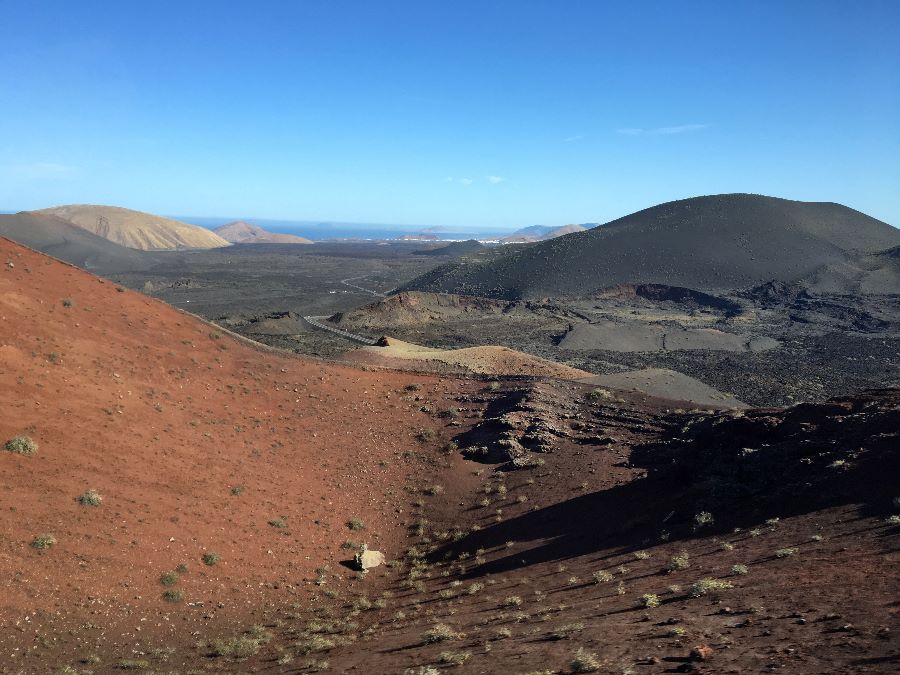 2. Lanzarotte at the Canary Islands for winter
The Canary Islands are a great destination when the weather turns chilly. Lanzarote is the easternmost of these volcanic islands, and it's very dry. The unique volcanic landscape gives you the impression of having landed on another planet, but that's Lanzarote's special charm. The average daily temperature is 65 Fahrenheit (18.3 Celsius) in December, 63 Fahrenheit (17.2 Celsius) in January and February. While night time temperatures are still mild, you should definitely pack a light sweater for mornings and evenings. This is the time of year when there's the occasional shower, but they are few and far between, and never last long.

Lanzarote is most popular with tourists in the summer months, but winter can still get busy, especially around the holidays. However, it's possible to get away from the crowds and find quieter spots. If you are in the northern hemisphere, where the weather is cold, rainy, and dark, then Lanzarote is just the right destination. 300 sunny days annually make it one of the best places to go when depressed by gloomy winter weather.

These temperatures are perfect for outdoor activities, of which you'll find plenty on this beautiful desert island.
First, visit Timanfaya National Park. The only way to do so is to take a 1.5 hour bus tour which leaves from the visitor center. There are no photo stops, but you'll learn a lot about the history of the island.
To truly explore the volcanoes, go to the natural park on your own, or book a guided tour, which is incredibly interesting and informative.
The Jardin de Cactus, a cactus garden, is a must-see. It was designed by one of Lanzarote's most famous persons, César Manrique.
Don't miss exploring the Cueva de los Verdes, a 3,000 year old lava tube in the northern part of the island.
These winter temperatures might not be warm enough for you to take a dip in the ocean, but if you fancy a walk on the beach, you should take a drive to Playa de la Arena, a black volcanic beach, and one of Lanzarote's prettiest beaches.

Tip – There is no sales tax in Lanzarote, so don't forget to shop 'til you drop!
Jenny with Girls who Travel
Check out the best hotels to set in Lanzarotte here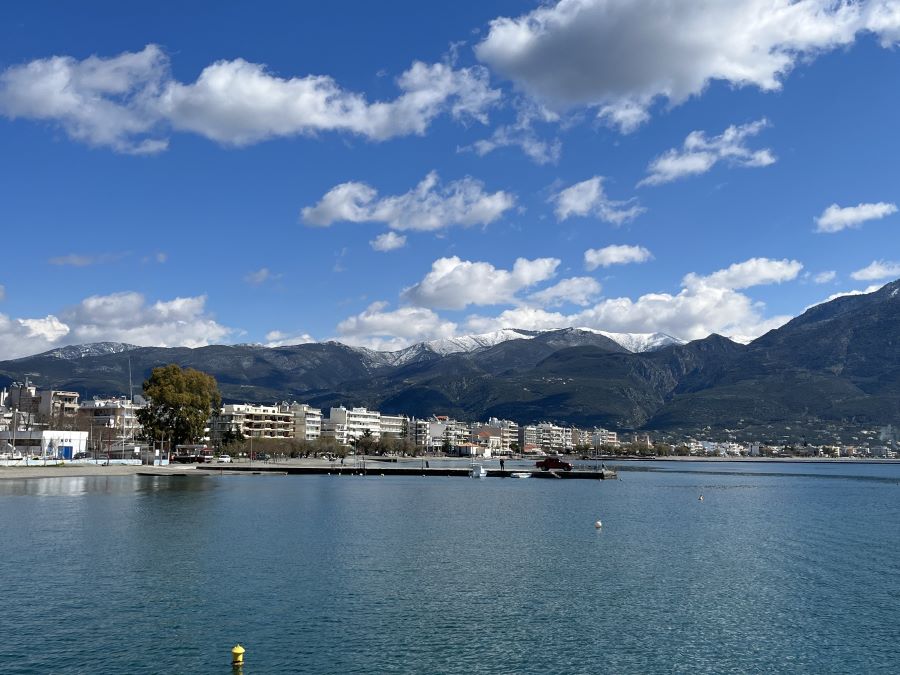 3. Kalamata Greece for your winter destination
If you're looking for warm weather destinations in Europe, Kalamata in Greece must be on your list!
I've travelled many times to this town and since 2 years ago I call it my home.
Kalamata is located in the south of the Peloponnese peninsula in Greece. It's the second-largest city in the region of Peloponnese region with 60,696 citizens.
The average daily temperatures for December, January and February are the following:
In December, the average daily temperature in Kalamata tends to range from 8°C (46°F) to 16°C (61°F). It can get quite chilly, especially in the evenings.
January sees slightly cooler temperatures with averages ranging from 6°C (43°F) to 14°C (57°F). It's the coldest month of the winter.
February starts to show signs of spring with temperatures averaging between 7°C (45°F) and 15°C (59°F). While it's still cool, it's a bit milder than January.
Keep in mind that these are average temperatures, I have seen days in December of 20°C (68°F) and February days of a minimum of 5°C (41°F) at night.
The temperature will also depend on the wind speed and humidity, so it's wise to check out the forecast before booking your tickets.
There are plenty of activities you can do in Kalamata. Some activities you can do in winter in Kalamata are hiking, beach walks, exploring its museums and olive harvest.
The mountain that surrounds Kalamata is called Taygetos, and it offers many hiking trails. The cool weather is perfect for a trek in the mountains.
Moreover, while swimming might be too chilly, the beaches are great for long, leisurely walks.
Kalamata has a rich history, and you can explore its museums like the famous Museum Of Traditional Greek Costumes "Victoria Karelia" and the Railway Park.
Simina of Travel with Simina.
Check out the best hotels to set in Kalamata here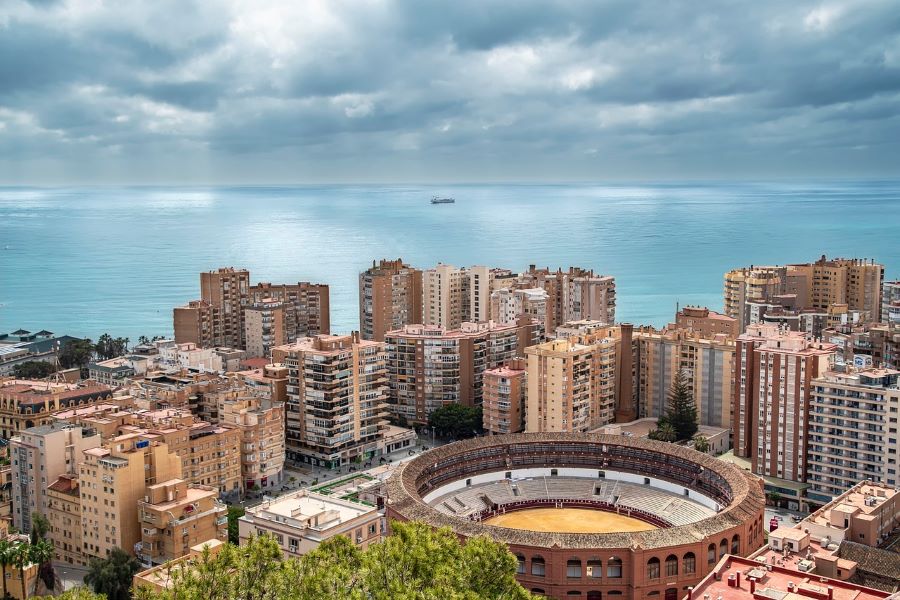 4. Malaga Spain in winter time
Malaga is a livable city year-round and wintertime temperatures are quite mild compared to the rest of Europe. The average temperature in Malaga during the winter from December to March is around 16-18 Celcius (50 – 64F)
You can spend a lot of time outdoors, exploring the city and visiting the main attractions in the area with sunny skies and relatively warm weather during the daytime. whether you decide to go hiking around popular venues like hiking the Caminito del Rey, go skiing at the Sierra Nevada or just doing more in town activities like visiting the Alcazaba fortress, the Roman Theatre and the cathedral off the main square of Malaga.
The food scene with food markets, fantastic tapa bars and amazing restaurants featuring fantastic seafood, tapas, soups and stews to warm up those colder nights while you explore the city from twilight and late into the night like most of the locals love to hang out past 9pm and just starting their dinner service at most restaurants.
If you are adventurous why not take a day tour of close by attractions like Granada, Ronda or Nerja along the coastline east of the city.
You can easily fly into Malaga airport and take easy local transportation into the heart of the city and start your discovery tour of Malaga during the winter season.
Noel with Visit Spain and Mediterranean
Check out the best hotels to set in Malaga here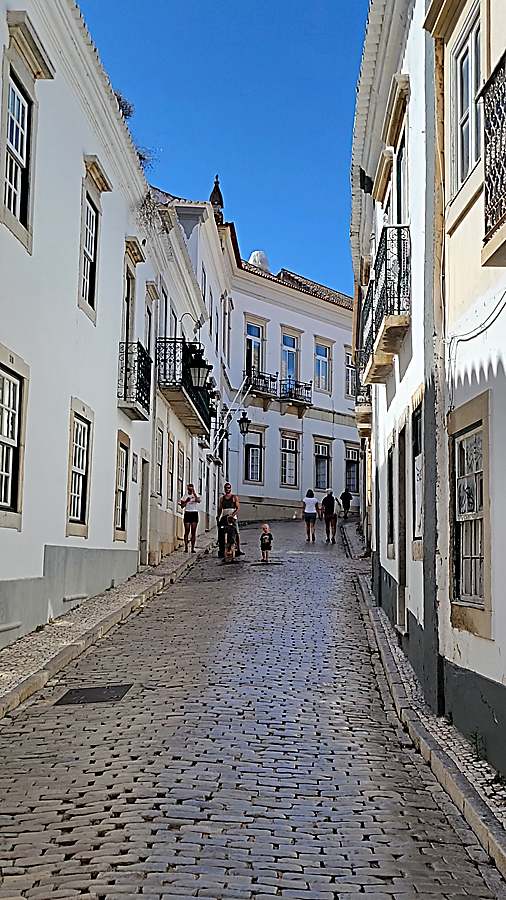 Located in the Southern Algarve region of Portugal, Faro offers a mild and sunny winter climate to this normally hot year round destination. The average temperature in the Faro area during the winter from December to March is around 10-15 Celsius (47 – 61F).
You can easily enjoy an outdoor lifestyle and recreation exploring the outdoors, wide beaches and estuary or stay in the city and explore the historic and cultural gems, go shopping or wander through the major promenades and plazas around the city lined with cafes, coffee shops and bakeries or take away foods to go.
If you love exploring nature and beaches then the large marsh and marine preserve at Ria Formosa Nature Reserve is fun to explore on a boat cruise and you can hang out at any of the many barrier beaches across from Faro for a fun beach day, picnics for beach coming.
For more traditional tours around the city, explore the harbor area, the old town of Faro with it's Morrish past and architecture along with modern shopping, strolling promenades and large plazas to grab a bite or imbibe in a local drink while relaxing and people watching.
Check out our post to visiting Far, Portugal here for more inspiration and images of what a visit is like and some outdoor adventures in the area.
Noel with Visit California and Beyond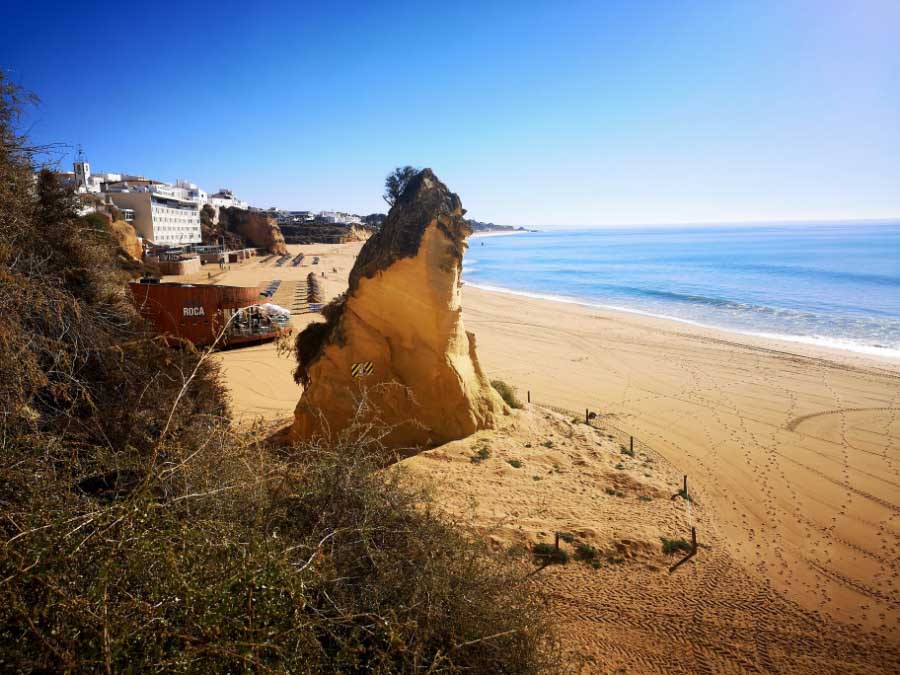 6. Winter at Albuferia in the Algarve
Albuferia in Portugal is located on the sunny mediterranean side of the Algarve district. This is one of sunniest areas in all of Portugal to enjoy a winter vacation which is typically the off season for visiting the region. Albuferia is a very popular year round destination and winter is a great time to visit without all the tourist crowds visiting. The average weather in Albuferia in winter is 15-17C during the day time and 8-9C at night or (46 -46F). The City and surrounding are has a mild winter with sunny skies and allowing for more outdoor activities.
If you have an active lifestyle, you can participate in a host of different. outdoor adventures to include hiking, biking, mountain climbing to water activities like kayaking, boating and caving.
For more traditional touring experiences in the city, you can explore the old town, visit the different shopping venues and walking promenades and check out the historic sites, architecture and many other cultural sites around the old town and newer segments of the city center.
Check out my post to visiting Albuferia here for more inspiration and images.
Noel with Travel Photo Discovery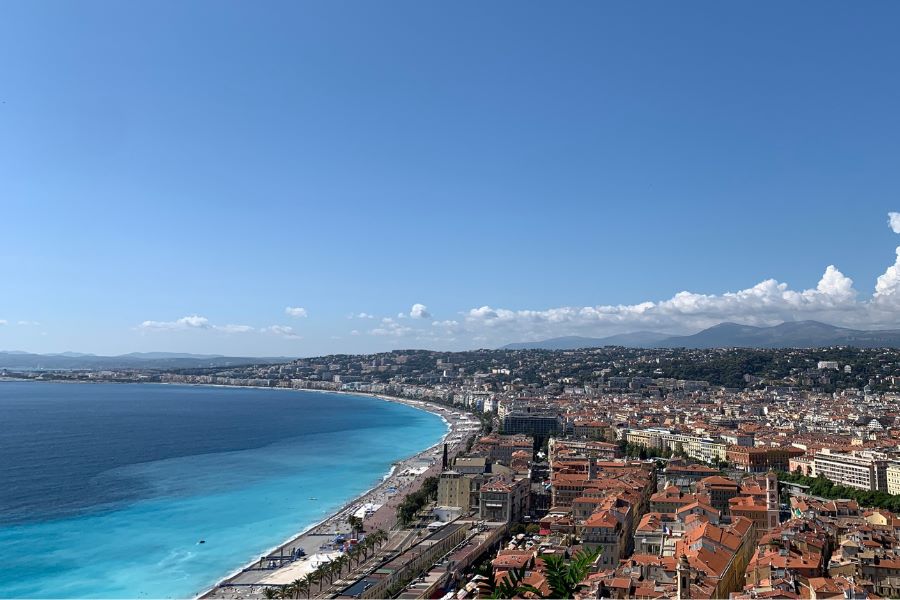 7. Visit Nice in Winter
Dreaming of a getaway on the French Riviera? A wonderful place to escape the cold is Nice, France. During the winter season, the average high temperature is 55°F and the average low temperature is 46°F. And while these temperatures may still be on the colder side for some, it's warmer than most other places in Europe!
Warm weather aside, another reason to visit Nice is because there are all kinds of fun events and activities to partake in. For instance, if you visit during December, walk around Nice's Christmas market. It's open the entire month and includes 50+ stalls selling everything from must-try culinary Niçoise delights to hand-crafted souvenirs perfect to bring home as gifts. Meanwhile, those visiting during February can look forward to observing Carnaval de Nice! This is a huge two-week-long festival full of colorful parades, lively music, dancing, and intricate flower floats.
In terms of crowds, a perk of visiting Nice during the winter is the absence of the heavy summer crowds. For instance, popular tourist attractions, such as Castle Hill, take on a more relaxed ambiance, allowing you to explore at your own pace. So, if you're keen on a warm beach getaway, consider visiting Nice this winter!
Contributed by Kristin of Global Travel Escapades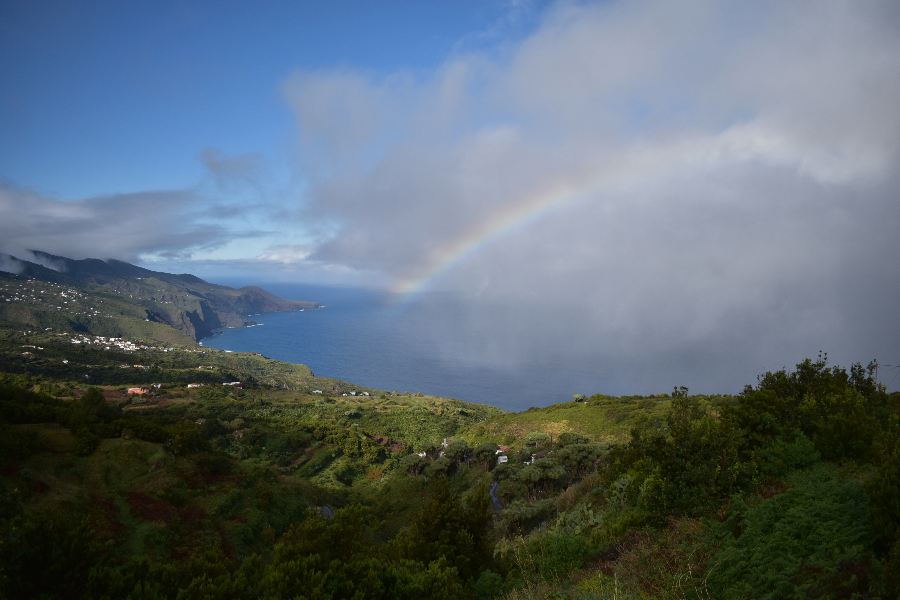 8. La Palma for a Warm Winter break
La Palma is known as 'La Isla Bonita', and for good reason. It is the greenest of the Canary Islands, with lush vegetation and black sand beaches. It's the ideal destination for those who love the outdoors.

The weather in December, January, and February is pleasant, with average temperatures around 65 Fahrenheit (18.5 Celsius) during the day. High temperatures can reach up to 71 Fahrenheit (21.8 Celsius), with low temperatures only falling to around 62 Fahrenheit (16.7 Celsius). There is, however, a reason why this island is so lush and green: rain. December has an average of 8 rainy days, January only has 5, and February an average of 4.

The best way to get around La Palma is to rent a car, but if mountainous roads make you dizzy, that might not be a good option for you.

La Palma is a hiker's paradise. Some of the best hikes, such as the Cascada de Colores, are located at the Caldera de Taburiente National Park, La Palma's main attraction. It's a huge volcanic crater, surrounded my mountain peaks and lush forests, with waterfalls winding their way through the scenery.

Other great things to do are a visit to the Salinas de Fuencaliente, the salt pans, a hike around the Volcán de San Antonio, and a trip to Playa de la Veta, a stunning black sand beach. If you are not claustrophobic, explore the caves at Cueva de Las Palomas. Last but not least, a road trip on La Palma should include a stop at the Bosque de Los Tilos, a UNESCO Biosphere Reserve that's so beautiful it will surely take your breath away. La Palma is one of the most amazing warm places to go to in December and beyond.
Jenny with Girls Who Travel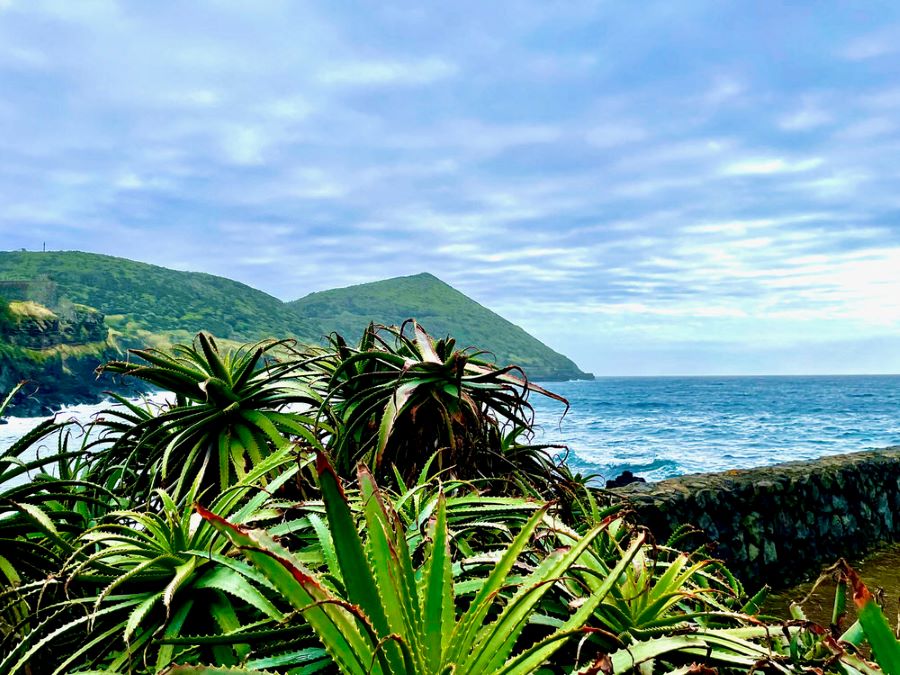 9. Visit the Azores in Winter
If winter has you longing for palm trees and beautiful vistas, consider heading to Portugal's Azores. These remote volcanic islands sit in the middle of the Atlantic Ocean. Located approximately 1000 miles off the Portuguese mainland, the Azores are an especially convenient warm weather destination for North Americans.
Warm breezes from the gulf stream keep the nine Azores Islands temperate year-round. While it's never really hot in the Azores, it's also never cold. Expect high temperatures in the mid-60s and low temperatures in the upper 50s all winter long. Do pack a rain jacket; winter is the Azores' rainy season.
With nine islands, each with their own unique character, you'll want to plan to stay at least a week in the Azores and visit multiple different islands. Winter's mild weather makes it an excellent time to check out the Azores' extensive network of hiking trails. You're only ever 10 miles from the ocean on the Azores, so enjoy quiet beaches during the off-season. Be sure to soak up Azorean culture in historic cities like Angra do Heroismo and Ponta Delgada.
You'll find evidence of geothermal energy all over the islands. You can bathe in natural hot springs in Furnas on Sao Miguel Island, or, if the ocean is calm, take a dip in Ponta da Ferraria, an ocean pool warmed by a geothermal spring. Don't miss trying Azorean wine or touring Cha Gorreana tea plantation, the only tea plantation in Europe!
Submitted by Ada from Beyond the Yellow Brick Road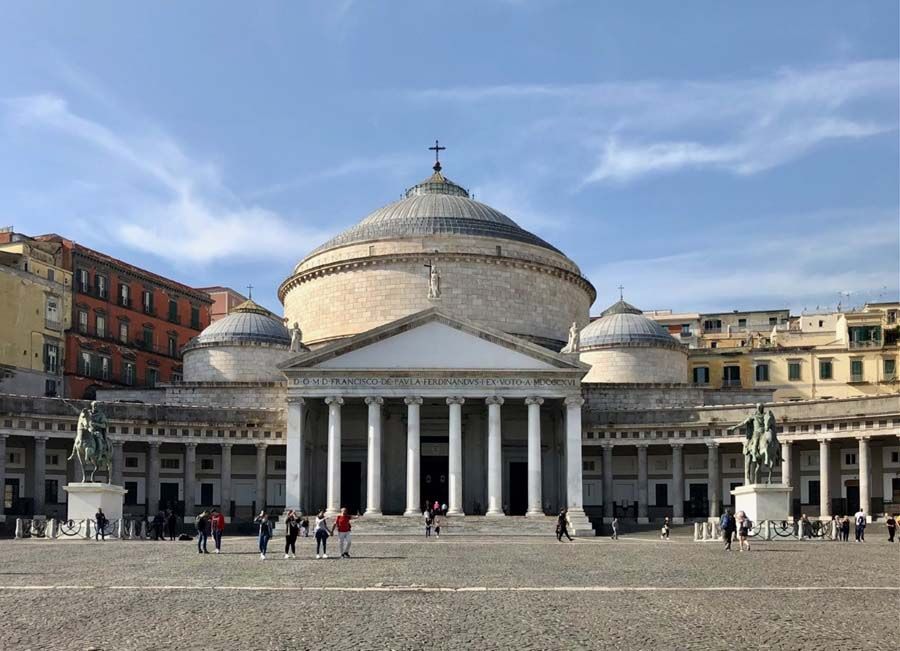 10. Winter visit to Naples, Italy
Naples, Italy is a great warm-weather destination if you're visiting Europe in the winter. It's the perfect way to avoid the crowds and the heat of summer. You'll be able to take your time exploring all that this city has to offer.
Since Naples is on Italy's Mediterranean coast, temperatures don't vary much between the months of December, January, and February. You can expect high temperatures around 57°F and low temperatures around 43°F. This means you can walk along the seaside with just a light jacket.
Many of the top Naples attractions are within a short walking distance of each other, so bring a comfortable pair of walking shoes so that you can start exploring! The Piazza del Plebiscito is the largest piazza in Naples. Admire the stunning San Francesco di Paola Basilica and take a tour of the Royal Palace of Naples. You'll be amazed by the ornate decorations and artwork in this former palace.
If you're a history buff, you're going to love Naples. Naples has three historic fortresses – Castel Nuovo, the waterfront Castel Dell'Ovo, and the hilltop Castel Sant'Elmo. Be sure to take the funicular to the top of the hill, then enjoy the fabulous views of Naples and Mount Vesuvius!
If you visit Naples during the Christmas season, you can enjoy holiday traditions including enjoying handcrafted nativity scenes, called presepi. And the fireworks celebrating New Year's Eve are spectacular!
Recommended by Lisa Garrett of Waves and Cobblestones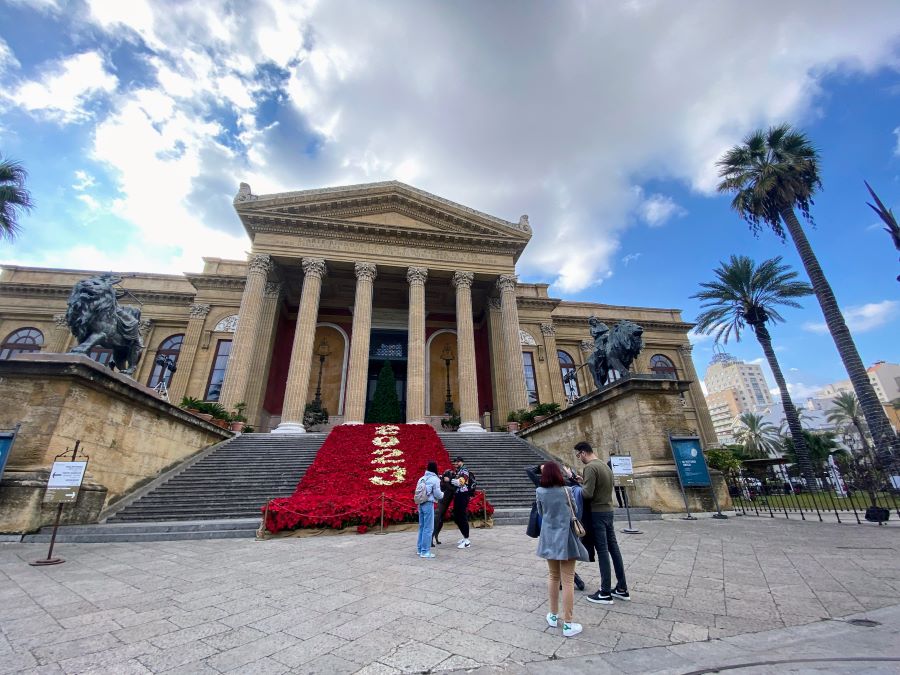 11. Warm Weather Destinations in Europe – Sicily
Sicily is Italy's Southern island, just North of Africa with a very mild climate with welcoming off-season temperatures. Expect average daily temperatures of 54-62°F (12- 17°C) in the coldest months in December, January and February.
Sicily is one of Italy's richest regions in terms of architecture, art history, religious monuments, and history, as it has been a melting pot for cultures from all over the world from the begining of time. Because of this, Sicily has developed a unique cultural identity that is at its best on the off season when temperatures have cooled off and tourism has gone down.
Sicily has a large marine life with some of the most beautiful beaches in all of Italy. While the water temperatures are unpredictable, it's not uncommon to find some of the best beaches with the greatest deals and open waters warm enough to swim in.
The colors in Sicily are at their best in the winter when all the flowers, crops, wild vegetation and citrus plants have come back to life. After a long summer and warm fall, Sicily becomes muted, covered by dust and thirsty vegetation. With new rain, cooler temperatures and more time to dedicate to the soil, Sicily's earth is given a second life.
Naturally, domestic and international tourism is at its lowest point at this time of year, making it possible to enjoy some of the islands' grandest monuments and attractions without the overwhelming crowds.
Sicilian food is also something to write home about in the winter months. You can smell the citrus growing no matter where you are on the island, much of which makes its way into the winter regional dishes such as orange and fennel salads, ricotta and grapefruit cake and of course, plenty of gelato.
December is the best for travelers who wish to immerse themselves in Italy's religious events and culinary traditions during the Christmas festivities. Sicilian Christmas tradition is unlike any other in Italy and the local specialties are one of a kind. January is best for travelers who wish to explore the island in peace while February is when the Italian Carnevale celebration commences, which is full of local traditions.
Louisa with Eating around Italy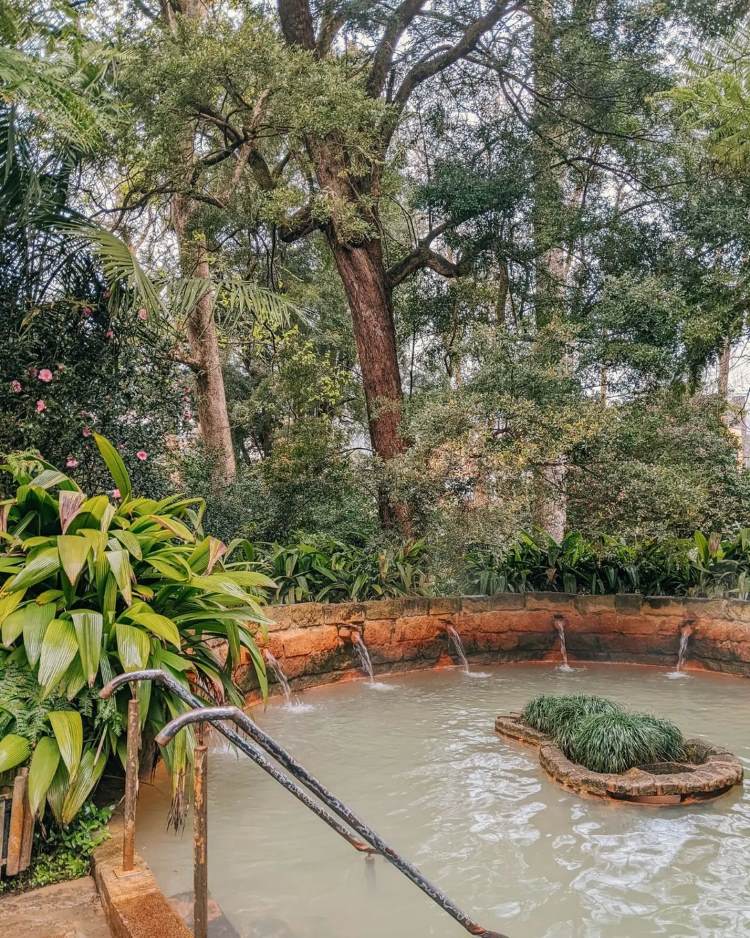 12. The Azores
The Azores, a nine-island archipelago in the North Atlantic, is a Portuguese gem with an idyllic climate that makes it the perfect December getaway! While the majority of Europe is freezing around this time, the Azores Islands enjoy a mild, temperate climate with temperatures ranging from 55°F-65°F.
But the best part? The Azores Islands are full of some of the most sought-after thermal hot springs in the world! This place is a total score for anyone craving a warm escape with plenty of outdoor adventures.
The weather at this time of year is perfect for nature enthusiasts who want to explore the island's impressive biodiversity and marvel at its stunning landscapes. You can enjoy a ton of outdoor activities like hiking lush forest trails, visiting the famous volcanic crater lakes, or simply relaxing in the warm geothermal pools.
December is also a great time to avoid the typical tourist crowds and get a feel for local life as you explore the culture and cuisine. One can't-miss activity is to try Cozido das Furnas, a traditional Portuguese stew cooked by the steam from volcanic hot springs in Furnas. Talk about a great way to stay warm in the wintertime!
From plunging waterfalls to crystal-clear natural pools formed by volcanic lava, these islands have a lot to offer. Whether you're seeking a romantic couples getaway or an active Azores solo travel adventure, this Portuguese archipelago offers a unique retreat from the icy chill of the winter season.
Sydney with Sydney to Anywhere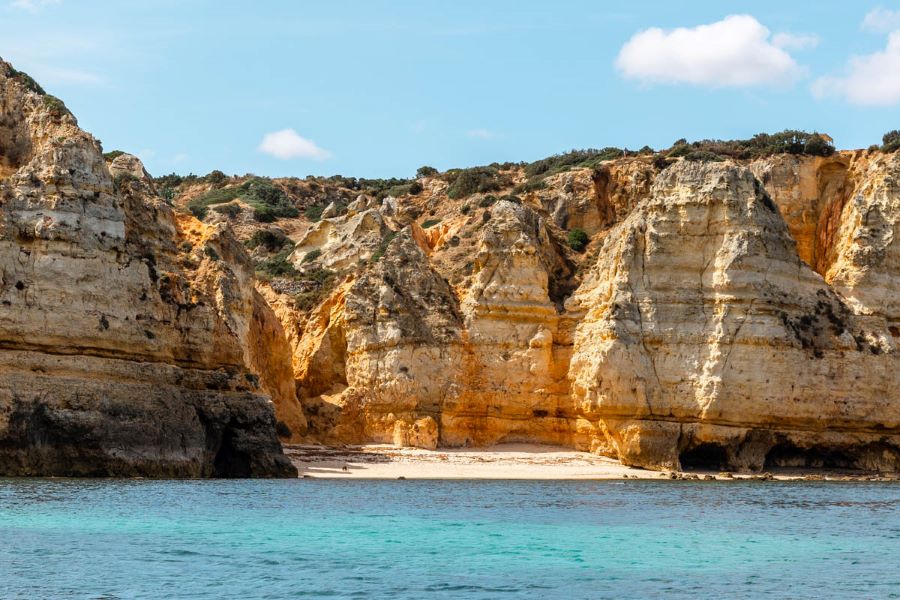 13. Winter visit to Lagos, Portugal
For vacation destinations that are warm all year round, Lagos in Portugal is a great option.
Portugal is well known for its pristine beaches, and Lagos does not disappoint. Since Lagos is a beach city, exploring the beaches is easily one of the best things to do in Lagos. With dramatic cliff views and sandy beaches, you would be remiss not to walk along some of them. 
You also won't want to miss exploring Lagos by boat. This will give you the opportunity to see how magnificent the cliffs really are while going inside grottos and sea caves.
Lagos also has a charming old town with colorful streets, shops, and restaurants to explore. Surrounding the city, you discover the Lagos Castle walls, along with several churches and museums you can add to your bucket list.
Since the weather will be cooler, this is a great time to consider hiking the Seven Hanging Valleys trail. It is one of the most scenic hikes to enjoy in Portugal and overlooks the ocean.
Lagos is best visited during the winter months because there are far fewer tourists. Hotel prices in Lagos also seem to decrease at this time. This means that you can save money on accommodation costs.
During the months of December, January, and February, you can expect temperatures to be between 55°F and 62°F. These temperatures are just warm enough to walk around in. However, I do suggest packing an extra layer, as the evenings are usually quite cool.
Suggested by Samantha Oppenheimer of Find Love and Travel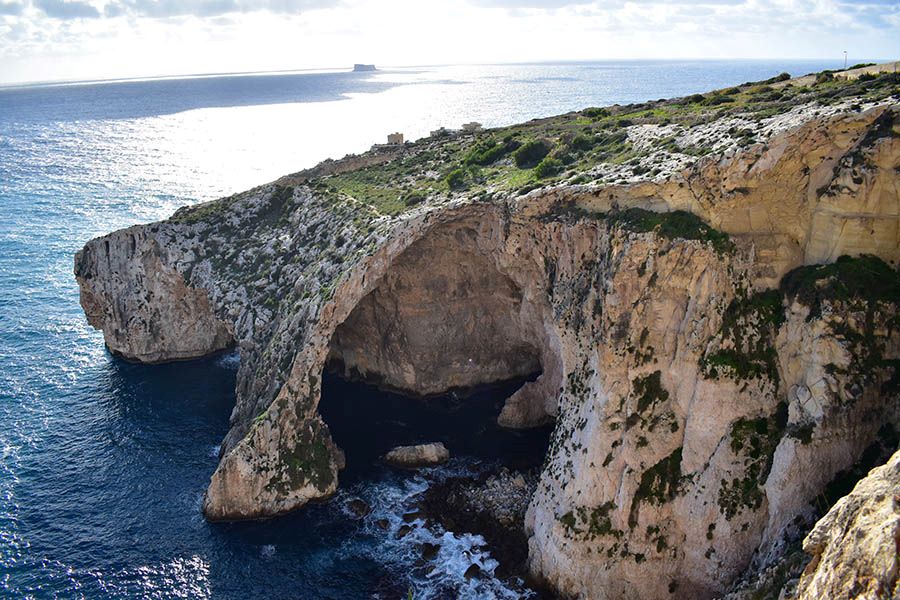 14. Warm weather destinations in Europe – Malta

The Mediterranean island nation of Malta is one of Europe's mildest winter destinations. Temperatures in December typically average around 17°C, and only slightly lower at 15°C in January and February. With long hours of sunshine each day, and nearly 200 kilometres of spectacular coastline to explore, it's a great place to get outdoors at this time of year.
The pleasant climate isn't the only good thing about visiting Malta in winter. With fewer tourists around, the popular attractions won't be so crowded, and prices are often cheaper (for example, public transport fares are lower in the off-season). It's a great time for local delicacies, too – the lampuki fish finishes its migration in December, so there's no better time to try a soul-warming Maltese lampuki pie!
In Malta you will find a captivating blend of natural scenery, historical intrigue and local culture, and a lot of the best ways to explore it involve being outdoors. You can discover 7,000 years of history around the Maltese landscape, such as the ruins of prehistoric temples like Mnajdra Neolithic and Ħaġar Qim. Around the main island coast you can witness breathtaking phenomena like the Blue Grotto, or experience local life at Marsaxlokk fish market, which takes place every Sunday throughout the year.
Take a ferry across to Gozo, the second island, and you can enjoy fabulous panoramic views from the top of La Cittadella in Victoria, or see more natural sights around the coastline like the Azure Window Ruins or the Saltpans of Xwejni.
Malta is also one of the few European destinations that has good conditions for scuba diving in winter. The water is mild throughout the season thanks to the warm climate. You can expect to see an array of colourful marine life, as well as many fascinating wartime wrecks on the seabed, telling a story of Malta's involvement at the midpoint of many cross-sea conflicts.
By Alex Trembath, Career Gappers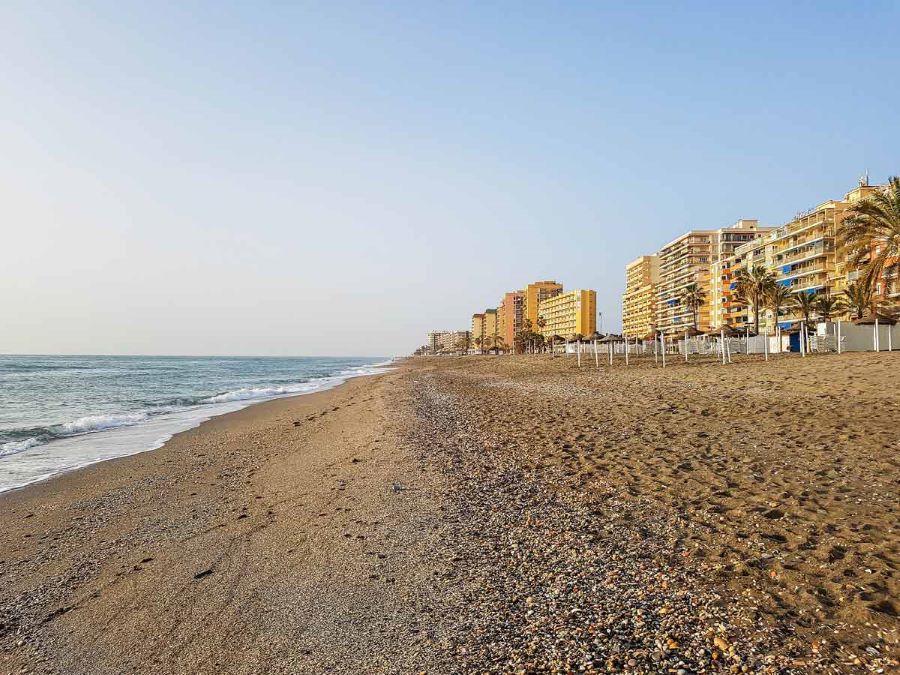 15. Visit Fuengirola, Spain at Winter
Fuengirola is a great destination if you are looking for a warm winter getaway. This beautiful coastal town in Andalucia has great weather in winter, with an average of 16 degrees during the day in December and January, and up to 18 degrees Celsius in February.
There are plenty of things to do in Fuengirola in winter. Firstly, there are plenty of sunny days, which make Fuengirola a great place to explore in winter, for its outdoors. You can expect 6-7 hours of sunshine a day.
Even if the weather might not be warm enough to swim or sunbathe, you can have relaxing strolls on the beach or try your hand at water sports such as paddleboarding or kayaking. The marina in Fuengirola offers equipment rentals. You can also go on a boat trip and try to spot dolphins, which are often present outside of the harbour.
For the less warm days, visit the Bioparc Fuengirola, a zoo focused on conservation and protection of endangered species. You can also visit the Sohail Castle or attend a concert at the Mare Nostrum historical area.
If you are visiting in Fuengirola in February, you must attend the carnival. This is when the entire town parties and celebrated the beginning of lent, for an entire week. There usually are street parades and a lot of events at the Feria Ground.
Joanna with Andaluscia in my Pocket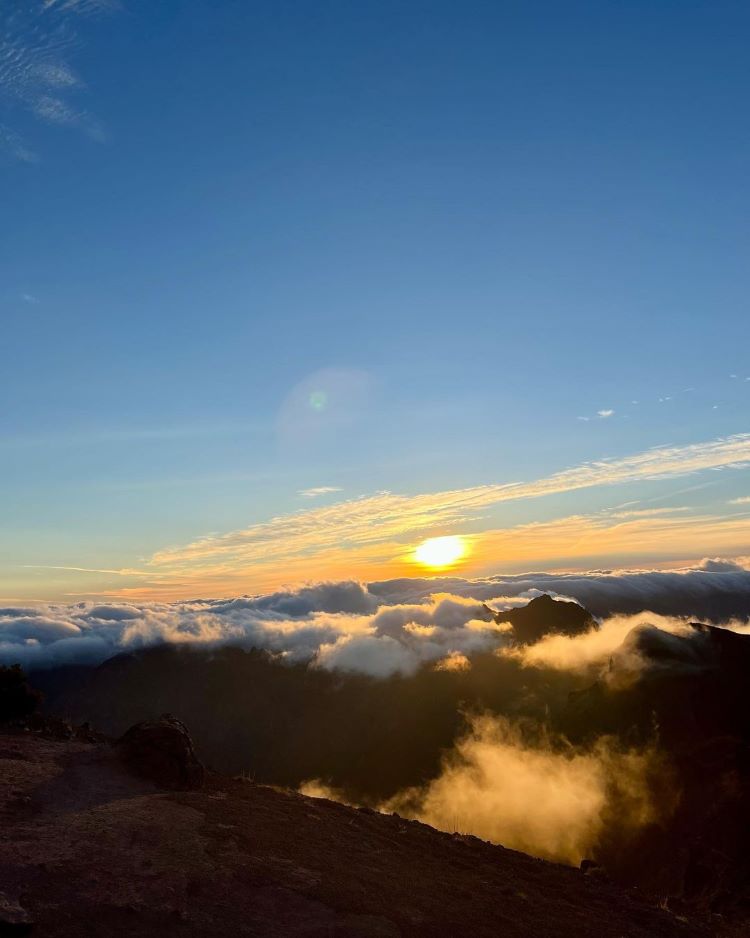 16. Winter getaway to Medeira, Portugal
Madeira, often called the Hawaii of Europe, is one of the best warm weather destinations to visit when temperatures start dropping. During the winter months, Madeira offers a comfortable daily average of 66°F in December, 64°F in January, and 63°F in February. A big step up from mainland Europe!
Known for having one of the world's largest New Year's Eve fireworks displays, this island paradise is also home to Europe's first digital nomad community. That's why Madeira solo travel is particularly popular with remote workers in need of a winter getaway!
Not only does Madeira's climate make it an ideal winter escape, but it's also home to world-class hiking, black sand beaches, and tropical jungles that will make you forget all about the snow back at home.
Hiking enthusiasts will love exploring the lush, green landscape of the island's Levadas, former irrigation channels that lead to some seriously incredible views with plunging waterfalls and stunning seaside bluffs.
One of the top places to hike is Pico Ruivo, Madeira's highest peak, where you can watch the sunset from above a layer of puffy clouds.
While there's still plenty of tourism in winter, it's less trafficked than in the summer months. However, overall, Madeira is still something of a hidden gem, at least internationally, so crowds won't be something you have to worry about.
Winter is a lovely time to visit Madeira, as the tourist season is in full swing, yet it's less crowded than in the summer months.
Sydney with Sydney to Anywhere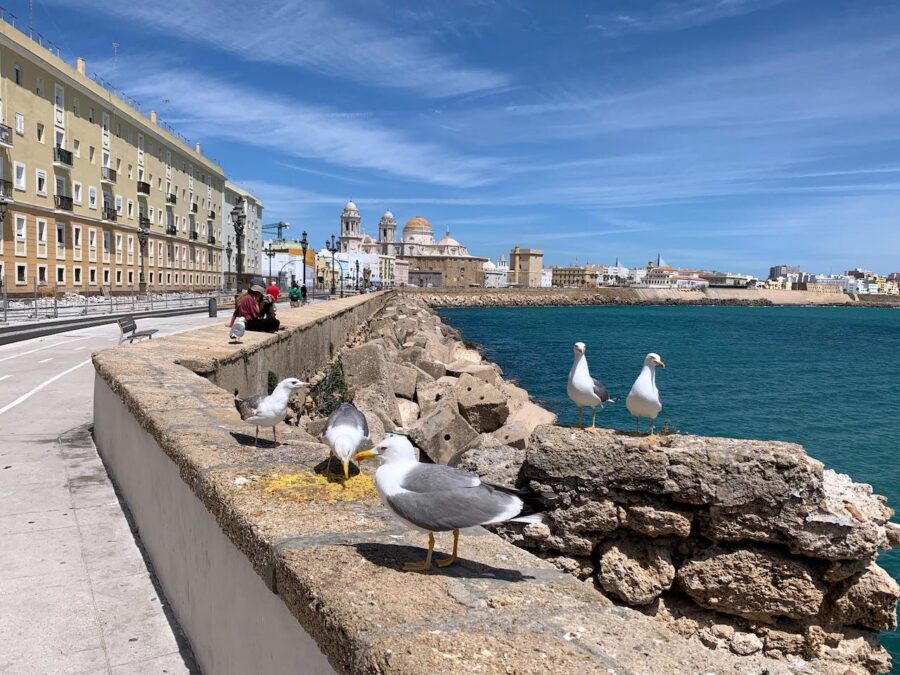 17. Winter getaway to Cadiz, Spain
Cadiz is a favorite winter European destination of digital nomads, remote workers, slow travelers, and alike. And for good reasons.
The Old City of Cadiz is in a tiny inlet of the Gulf of Cadiz in southwestern Spain. Cadiz is one of the top sunniest places in Europe. The city gets 3200 hours of sunshine (about 300 days) per year.
Winter months can be chilly, though. December and January are the coldest months in Cadiz. During these months, the lowest temperatures reach 10 C (50 F), while the highest temperatures hover around 16 C (61 F). Temperatures rise in February when the daily average goes around 18 C (64 F).
Regardless of its favorable weather, Cadiz locals hold the reputation of being the friendliest locals in Spain. And, when you add to this fabulous traditional Spanish food and great Cadiz gastronomy scene, it becomes clear why snowbirds love to spend their winters in Cadiz.
Cadiz glitters at the Christmastime, with Christmas market stalls, concerts, and a free public skating ring in the Plaza de San Antonio.
The city gets exceptionally vibrant during the Carnival of Cadiz in February. The Cadiz Carnival is one of the most famous carnivals in Spain, along with the Carnival of Tenerife. It is a 10-day event with masquerade parades, concerts, flamenco dance, and masquerade ball. It is an event of laughter, humor, mockery, joy, and the ultimate fun. There are many great opportunities for outdoor lovers in Cadiz in winter, from relaxing strolls along the sandy beaches of Costa de Luz to hiking in the Cadiz mountains. However, whale and dolphin watching trips to the nearby area of the Strait of Gibraltar are among the most popular activities in winter!
Recommended by Milijana of World Travel Connector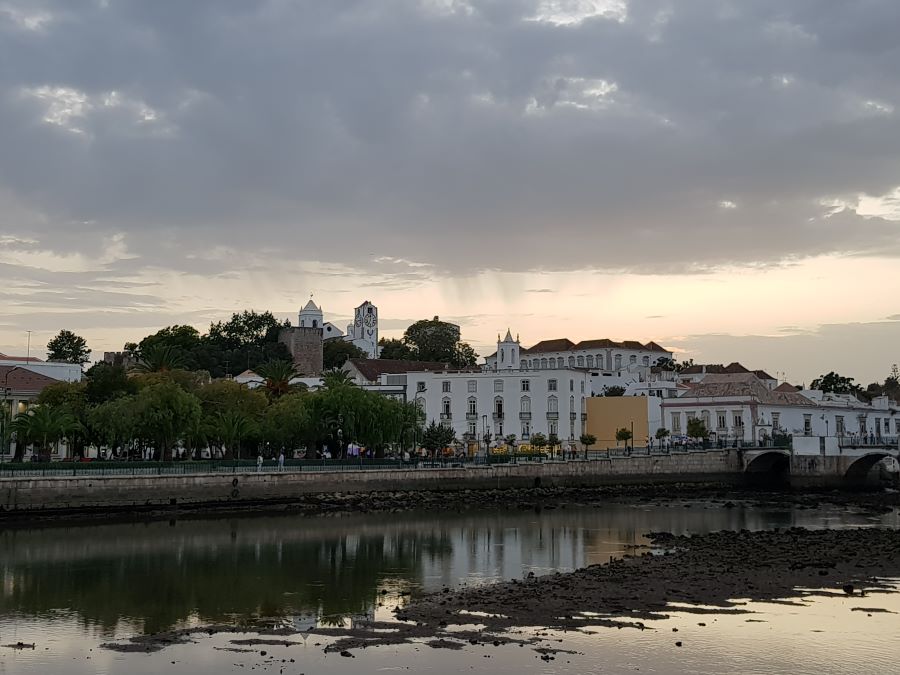 18. Tavira, Portugal in Winter

Tavira in the Eastern Algarve region of Portugal is a great warm weather destination for winter in Europe.
This traditional Portuguese town is a far cry from the British tourist hotspots of the Western Algarve. And unlike those towns, Tavira is open throughout the year, even in winter.
Cafés, restaurants, and bars are open, although some do take their holidays in January or February. That said, you can always find somewhere for a coffee and pastel de nata, or dinner.
Tavira is a quaint town sitting on the river Gilão and it has a few things you can do including visiting one of the many churches, a small, ruined castle with a lovely garden, or simply enjoy a stroll along the river before popping into a café.
The beaches near Tavira are quiet affairs during winter and you can still dip your toes in the water during a New Year's Day stroll on the beach, although the water won't feel quite as warm as summertime. Barril Beach is an interesting one to visit with the tuna fishermen anchors in the sand.
Tavira is also very popular during the winter with Northern European visitors coming to escape the cold and snow of Scandinavia. There are also lots of retired Irish and British tourists who visit during these month as it is quiet, but warm and not overrun by tourists.
Average daily temperatures in Tavira for winter are 16C (61F), while for January they are 15C (60F), and in February they are the same as December, January typically being the coldest month of the year.
December and January are the driest months of the winter allowing people to enjoy walks, hiking and even cycling. There are also some who brave the waters along the coast to enjoy swimming and even kayaking.
Tavira is a great place to visit in winter and does not have a very touristic vibe compared to its western Algarve counterparts. The locals are a friendly bunch, and the food is amazing.
Cath with Moving to Portugal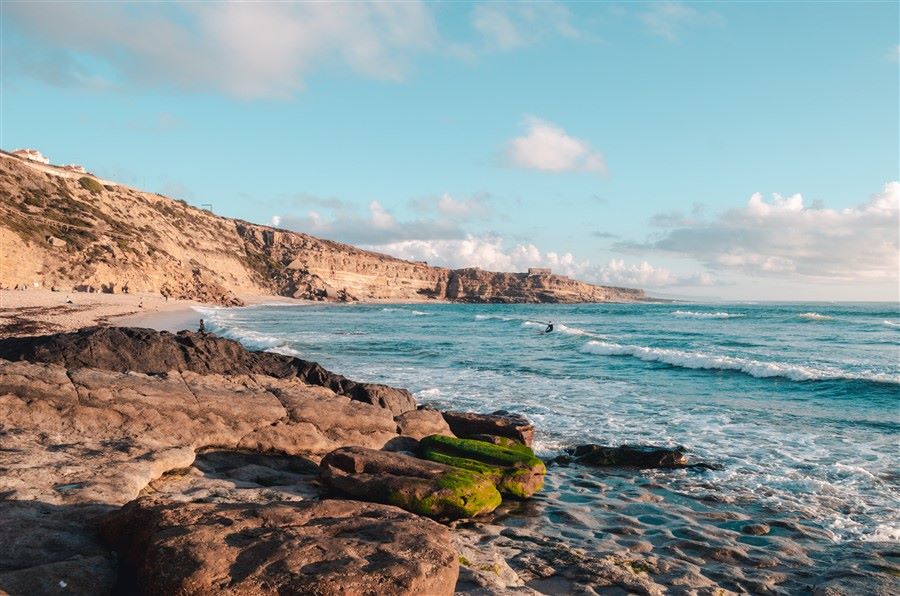 19. Visit Ericeira, Portugal during winter
Temperatures in Ericeira in winter:
December:
Average High: 15°C (59°F)
Average Low: 9°C (48°F)
January:
Average High: 14°C (57°F)
Average Low: 8°C (46°F)
February:
Average High: 15°C (59°F)
Average Low: 9°C (48°F)
Ericeira is a picturesque fishing village on the western coast of Portugal, only a 35-minute drive from Lisbon. It is known for its beautiful beaches and vibrant surf culture, not only in summer but also during the winter months. Ericeira is the first World Surfing Reserve in Europe and attracts surfers from all over the world.
In the winter months, you can especially find advanced surfers in Ericeira. This is because the Atlantic swells are at their peak in winter, which makes it the perfect spot for professional surfers to hone their skills. Nevertheless, even as a beginner, you can still take surf lessons in Ericeira at one of the more calmer beach areas.
If surfing isn't your thing, there is still plenty to do in and around Ericeira. There's an amazing cliff walk that leads from Ribeira d'Ilhas all the way to Coxos Beach and the beautiful Sintra-Cascais Natural Park is only half an hour's drive away.
Moreover, the famous UNESCO World Heritage Site of Sintra is only a 40-minute drive away. As this site gets packed with tourists in the summer months and even in the shoulder season, January and February are the perfect times to visit these amazing gardens and palaces without the crowds!After all the hiking and exploring, you can opt to take a yoga class or massage at one of the many locations in Ericera. I recommend Sandhi House for wellness, as well as one of the best places to stay in Ericeira!
Annelies of Travelers & Dreamers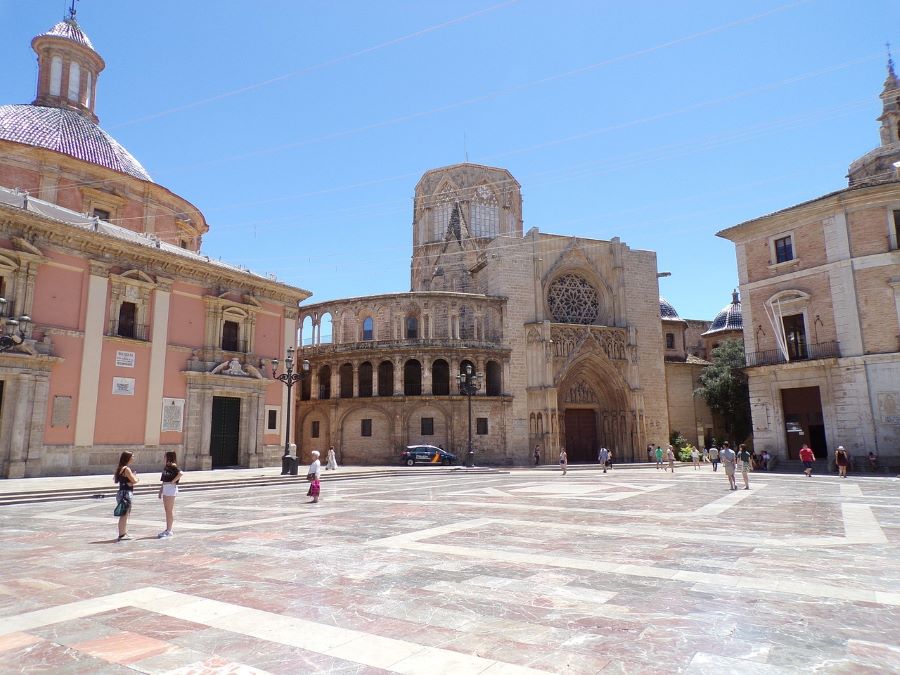 20 Valencia, Spain for winter break
Valencia in winter makes a nice getaway or longer break in sunny Spain. With average temperatures at Valencia ranging from the low sixties and nights in the mid 40s, it is easy to spend time outdoors exploring the city and surrounding attractions in the area. Coming from Barcelona to Valencia which takes about 3 hours on the high speed Ave trains, you can do this as a long day trip or longer getaway vacation. Once you arrive Valencia it is easy to walk around and visit the main central area or take busses, trams or taxis and rideshares to get around.
Popular attractions and places to visit includes the large public market called Central Market where you can see all the amazing produce and try some specialty goods and dishes like Paella, tapas, local wines and popular rice dishes like Arroz de Banda made with a rich seafood stock.
You can visit the historic sites of Valencia to include the old town of El Carmin, the modern City of Arts and Sciences, visit the silk exchange, Bio park of Valencia or participate in many of the festivities and festivals during that timeframe.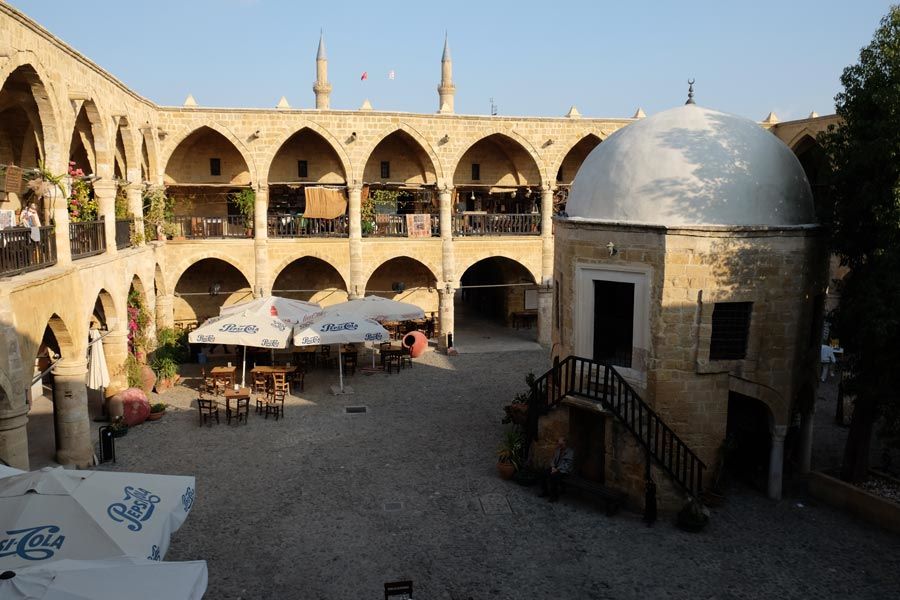 21. Larnaca, Cyprus during winter
One of the most southerly points in Europe is Cyprus, where away from the mountains the days can still be pleasantly warm, even in the winter months. In December, the average high temperature in Larnaca is 19 degrees Celsius, while in January and February it's still a very pleasant 17 degrees Celsius.
If you're visiting Cyprus for sightseeing, then the winter months are an ideal time to do it. Cyprus's archaeological sites, such as the Tombs of the Kings and Nea Paphos are much more comfortable at this time of year than under the blazing sun of summer. While it may not be quite warm enough for sunbathing on the beach or visiting water parks, it's still very pleasant to spend time sitting outside at pavement cafes during the day. There are fewer visitors than in the summer, but large towns like Larnaca and Paphos are still buzzy with tourists and locals.
One day trip which everyone should take while visiting Cyprus is to the capital, Nicosia. Cyprus has been divided since 1974, between the Republic of Cyprus and the state of Northern Cyprus, which is recognised only by Turkey. The border, and a buffer zone patrolled by UN peacekeepers, runs right through Nicosia.
It used to be impossible for people to pass between the two sides of Nicosia, but in recent years, relations between the two have thawed, and citizens of many countries can cross the border to see the other side of the city without a problem. North Nicosia has a distinctly Turkish feel, with lots of interesting sights including the Selimiye Mosque (a former Christian Cathedral) and the Büyük Han caravanserai.
Helen on her holidays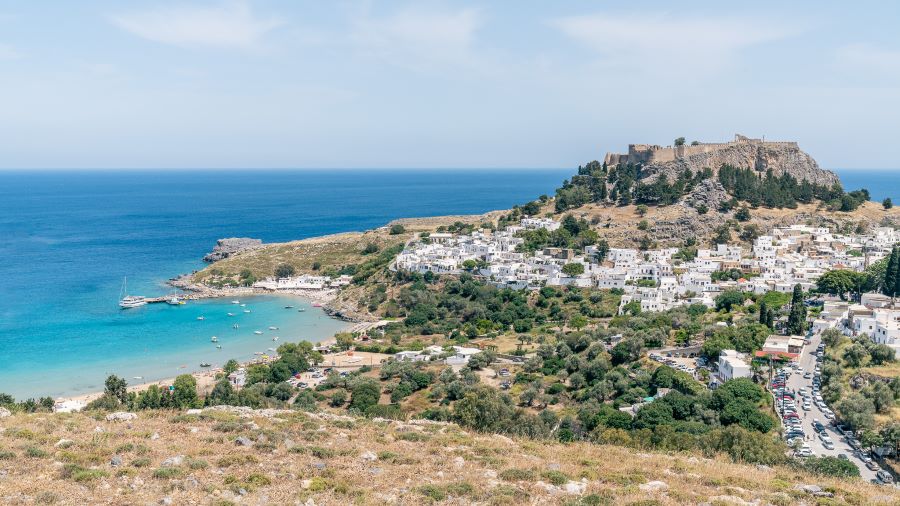 22. Rhodes in the Greek isles
Rhodes is perfect for a winter getaway in Europe. The Greek island in the country's south is known for its sunny and mild winters. In December, you can expect about 15°C (59°F), while January and February are slightly cooler at 13°C (56°F). But don't be mistaken – these temperatures are way warmer compared to many other places in Europe during this season!
In winter, you still get lots of sunshine and mild temperatures without the crowds. You can roam around the Old Town and admire historic sites like the Street of Knights and the Grand Palace without elbowing through heavy crowds.
Do not miss a trip to Lindos. Here, you can check out the ancient Acropolis and stroll through narrow, quiet alleys, enjoying a calmer vibe than during the bustling summer months.
Although the Valley of the Butterflies won't have any butterflies in the winter, it still offers lovely, quiet nature walks. The Seven Springs is another great location for a beautiful walk in nature in Rhodes.
Even though winter is the off-season, Rhodes is always lively because of its local population, as it is one of the largest islands in Greece. The quieter months allow you to engage more with locals, try traditional foods, and participate in authentic activities without big tourist groups everywhere.
Visiting Rhodes in the winter means no scorching heat, smaller crowds, and a chance to explore at your own pace – with plenty of sunshine still. This is your chance to see a different side of Rhodes and enjoy its beauty without tourist crowds.
Submitted by Jo of World Wild Schooling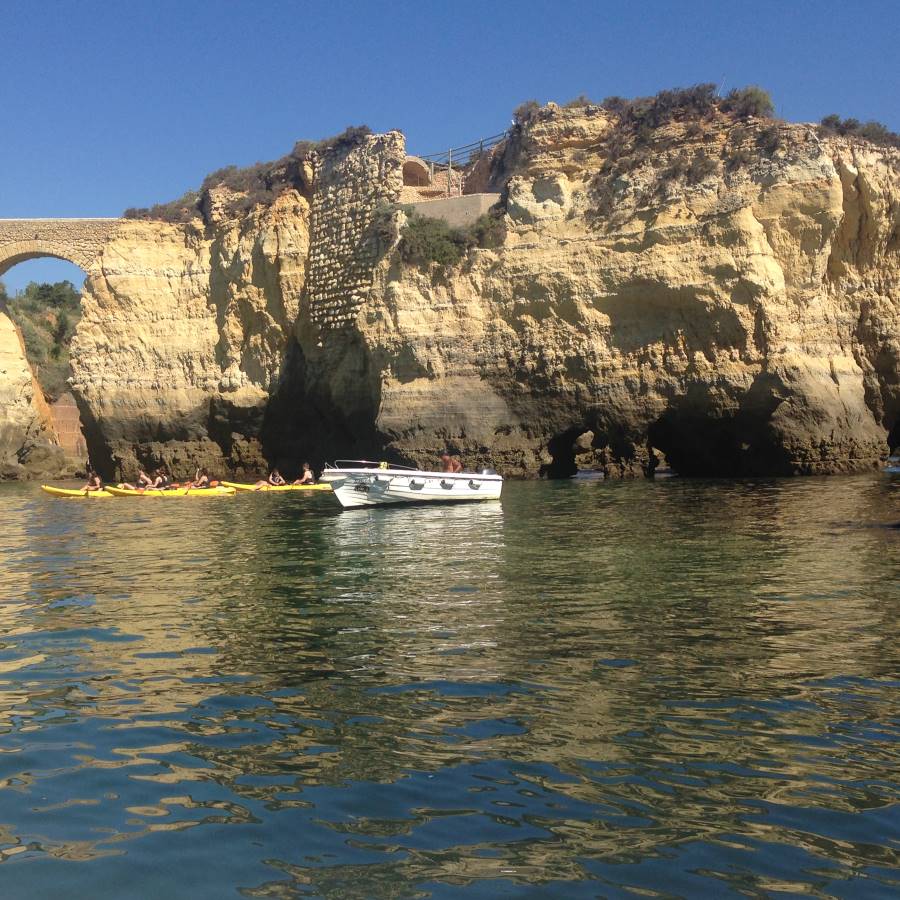 23. Lagos for winter time
Lagos is a wonderful place to visit in winter. I visited in December and the weather was beautiful, we had days of around 20°C. There were many activities to do such as boat trips, swimming, and beautiful walks throughout the surrounding areas.
You can walk through Lagos's charming old town with small cobblestone streets, beautiful buildings, and historical architecture. You should also visit local shops and enjoy the quaint atmosphere.
The area around Lagos is known as the Algarve region. It has lovely spots for hiking and biking. Explore the countryside, cliffs, and nature reserves on foot or by bike. The milder weather in December can make outdoor activities more enjoyable.
Lagos is well-connected to other charming towns in the Algarve region. Consider taking day trips to places like Portimao, Sagres, or Silves to explore their unique attractions.
The area also has lots of thermal springs to explore and enjoy. There are also lots of spa resorts which are nice after a big day of biking or hiking in the sun.
Britt from The Travelling House Sitters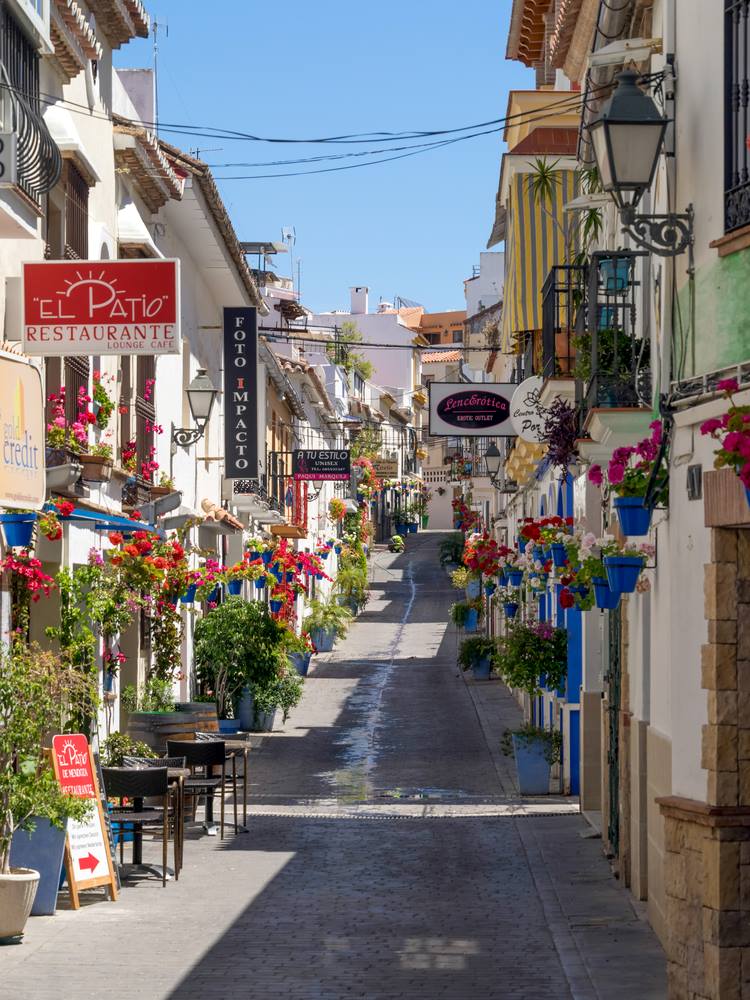 24. Estepona at the Costa Del Sol
If you are looking for a warm destination to escape the winter cold and rainy days, Estepona is perfect. Located in the Costa del Sol, Malaga, Estepona enjoys plenty of blue sky days and sunshine.
You can expect an average daily temperature of 14ºC (58ºF) in December, 13ºC (56ºF) in January, and 14ºC (58ºF) in February. However, there are days when the thermometer marks 19ºC (66.2ºF) during the day.
During these months, you won't see as many tourists as you would in spring or summer, and you will likely find better accommodation rates (and flights!)
Although going to the beach might not be on the cards, you can still do fantastic activities in Estepona.
One of the best things to do in Estepona is to visit its historic centre, home to picturesque whitewashed streets, street art, monuments and amazing places to eat, like MaduBar. You can easily spend a few hours wandering the streets and sitting on an outdoor terrace soaking up the sun while enjoying a meal.
Close to Estepona Old Town, you will also find the famous orchid house, a must for those who love plants. It has over 300 different species.
Last but not least, another fun activity to add to your list is going on a boat tour, where you can sometimes spot dolphins."
By Cristina of My Little World of Travelling
Check out my other posts on visiting Europe
Best places to visit Europe in Autumn
Unesco World Heritage sites of Europe
European destinations for your bucketlist
Final thoughts
While most might be clamoring to visit really warm places for winter around the Caribbean, Mexico or Asia, not many of us have the luxury of time and long-haul flights to deal with. For a quick getaway destination to be outdoors and maybe walk around in shorts, you should consider these destinations in Europe and also avoid the crowds.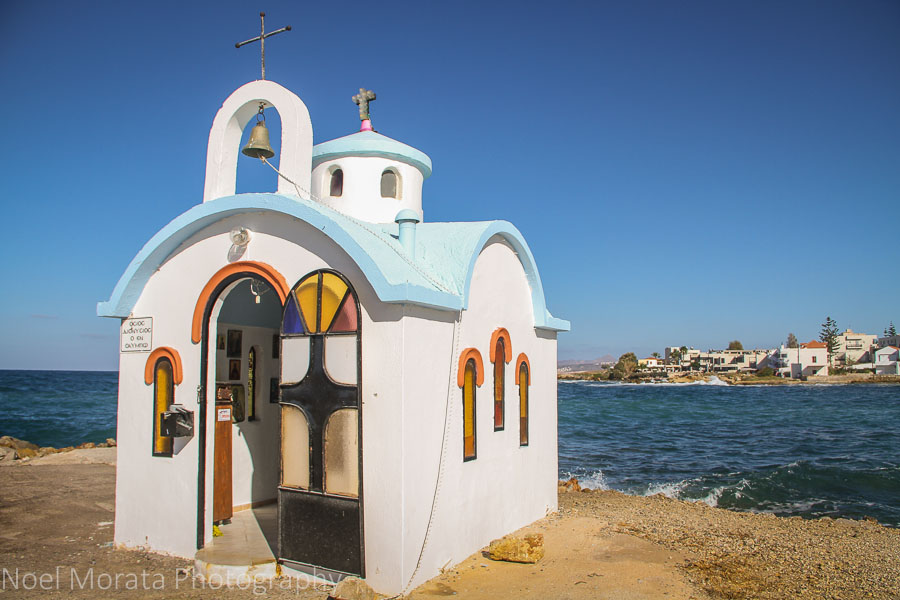 Conclusion to visiting the 24 Warmest places in winter Europe
In conclusion, exploring the warmest places in winter Europe offers a delightful escape from chilly weather. From the sun-kissed shores of the Mediterranean to the vibrant cities with mild temperatures, these destinations provide a perfect blend of relaxation and adventure. Whether you seek cultural exploration, outdoor activities, or simply basking in the sun, these European gems offer a memorable winter getaway. Embrace the warmth, savor the flavors, and create unforgettable memories as you experience the best of Europe during the winter season. Safe travels!