There are so many fantastic eating places with delicious food in Puerto Vallarta. Covering the many types of food venues from easy and cheap street food vendors, specialty food shops to wonderful breakfast, lunch and high-end restaurants, the variety of good food here is quite impressive.
The food scene here in Puerto Vallarta is low key and quite diverse depending on what you are in the mood for, your timeline and of course your budges. You'll find delicious food spots starting with divey mom and pop shops to delicious street food vendors, amazing breakfast eateries and fun bars to explore around the many neighborhoods of the city. The high end food restaurants here also capture the diversity of flavors, views and wonderful food you can get here with exceptional ingredients, preparation and service that makes the experience a real experience at these venues below.
Check out these recommendations of the best places to eat around Puerto Vallarta now to plan a delicious discovery tour eating around Puerto Vallarta now.
How to get around Puerto Vallarta, Mexico
Getting around Puerto Vallarta, Mexico, is relatively straightforward, thanks to various transportation options. Here's how to navigate the city and its surroundings:
Walking
Puerto Vallarta's downtown area, the Malecón (boardwalk), and many popular attractions are easily accessible on foot. Walking allows you to explore at your own pace and take in the local culture.
Taxis
Taxis are a common mode of transportation in Puerto Vallarta. They are readily available throughout the city. Ensure the taxi driver uses the meter (known as a "taxímetro") or agree on a fare before starting your ride.
Public Buses
Public buses, often blue and white, are an affordable way to get around. They serve various neighborhoods and attractions. Look for bus stops with route information or ask locals for guidance.
Uber and Ride-Sharing
Uber operates in Puerto Vallarta, providing a convenient and often cost-effective transportation option. You can use the Uber app to request rides.
Car Rentals
Renting a car allows for greater flexibility, especially if you plan to explore the surrounding areas or take day trips. Numerous car rental agencies operate at the airport and within the city.
Vallarta's Public Transportation System (BRT)
This modern bus system offers a comfortable and efficient way to travel along specific routes, including the Hotel Zone and downtown. Look for the blue buses with the BRT logo.
Boats and Water Taxis
Given its coastal location, water taxis and boats are used to reach nearby beaches and coastal towns like Yelapa and Las Animas. Check the schedules at the local marinas or piers.
Bicycles
Puerto Vallarta is becoming more bike-friendly, with bike lanes and bike-sharing programs. You can rent bicycles from various shops and explore the city and its scenic paths.
ATVs and Scooters
If you're feeling adventurous, consider renting an ATV or scooter to explore the city and nearby areas. Be sure to follow local traffic regulations and wear helmets.
Pedestrian-Friendly Zones
Some areas, like the Malecón and the Romantic Zone (Zona Romántica), are pedestrian-friendly and best explored on foot. You'll find shops, restaurants, and entertainment options in these areas.
Colectivos
Shared minibusses known as "colectivos" provide transportation to nearby towns and attractions. They can be an affordable way to explore the region.
Private Tours
For guided tours or day trips, private transportation may be included in your tour package. This is a convenient way to visit specific attractions with an experienced guide.
Navigating Puerto Vallarta is part of the adventure, and you can choose transportation options based on your itinerary and preferences. Whether you're exploring the vibrant downtown, relaxing on the beaches, or venturing into the surrounding natural beauty, you'll find transportation that suits your needs.
Best restaurants Puerto Vallarta – delicious street food, local and cheap to fine dining venues (updated 2023)
The food scene here in Puerto Vallarta is amazing with really good quality, fresh ingredients used from local markets, amazing seafood and of course delicious Mexican cuisine and fantastic choices of international food and fine dining experiences.
We start out with inexpensive or cheap street foods and cafes to nice and fun venues, places to have breakfast and then to more elegant and fine dining venues for you to enjoy. Check out our favorite places to eat around Puerto Vallarta with these local favorites and exciting dining venues from street foods to gorgeous fine dining venues.
Here's the best places to eat in Puerto Vallarta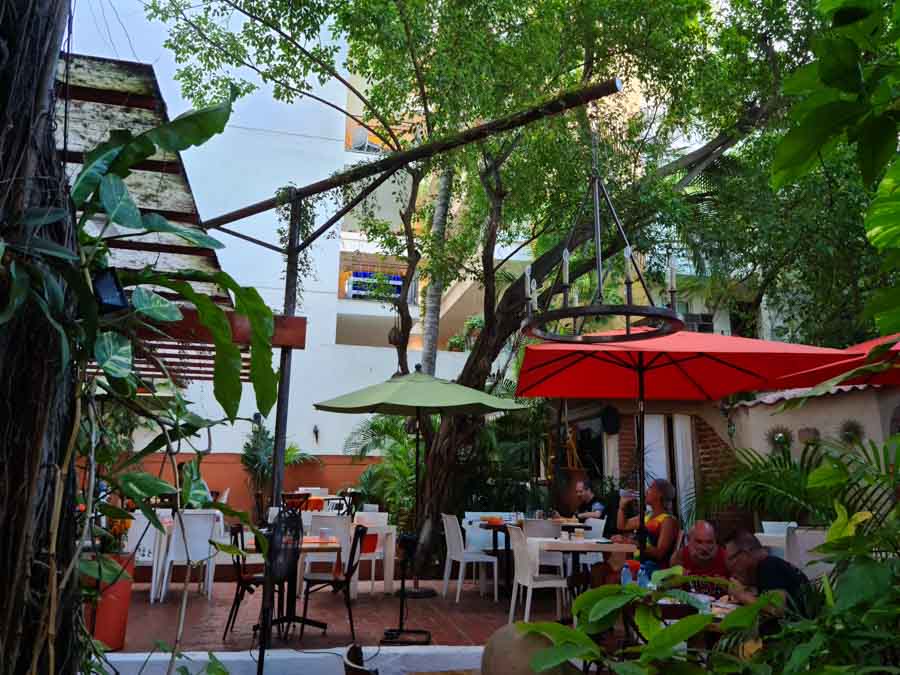 Where to find good food in Puerto Vallarta?
If you are not familiar with all the amazing foodie choices in this fantastic foodie city, why not try a local food tour to sample some of the best and local cuisine in the area. Also, you'll find all the local markets a great place to start trying some of the easy and cheap street food in the area. Below are some of the recommended inexpensive, moderately priced to fine dining venues to eat around Puerto Vallarta now.
** check out this favorite mixology, tacos and cocktail tour here for sampling a fantastic array of delicious food and drink.
Or check out this taco and street food tour here for sampling more good local foods from the city.
Another fun option is a food market tour and cooking lesson here for a great cooking and eating experience.
Enjoy this after dark taco tour here in a lively part of Puerto Vallarta and some unique experiences.
Inexpensive and local dining venues in Puerto Vallarta
There are so many fantastic, tasty and inexpensive places to dine all around Puerto Vallarta from cheap street food stalls, small and affordable local cafes and eateries and other take-out spots all around the city. If you're looking for delicious and cheap food to eat around the city, check out all these popular and favorite places to visit now.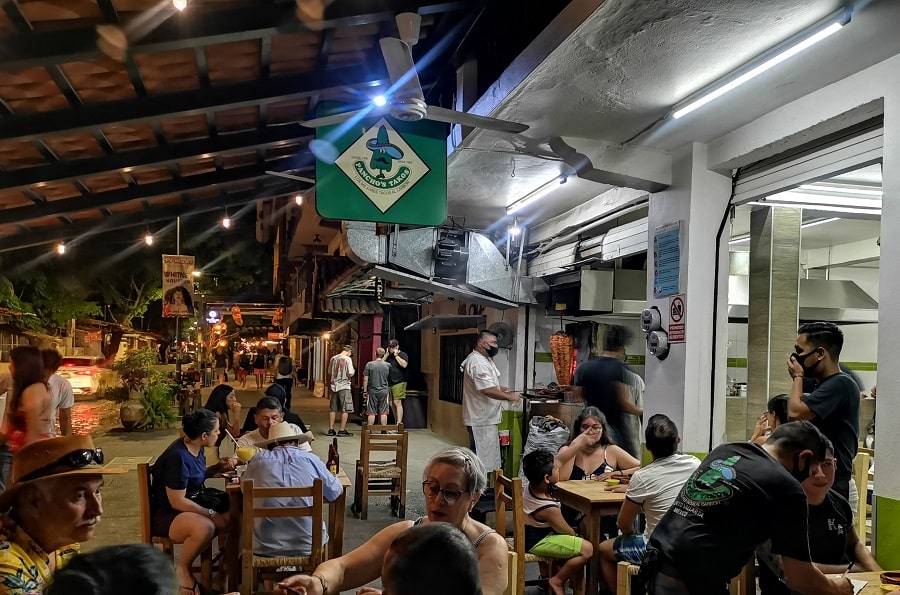 Al Pastor tacos are a staple in Mexico, so it should come as no surprise that one of the best things to do in Puerto Vallarta is to visit the most popular Al Pastor taco restaurant – Pancho's Takos! This hole-in-the-wall taco joint would be easy to miss, except for the fact that there is always a line down the street of people waiting to eat here. It's unassuming and nothing fancy, but the constant line of people tells you that the food must be something worthwhile.
And it is. The Al Pastor tacos at Pancho's are delicious. They are fresh, have lots of flavor, and most importantly, the servings are huge! Each taco is packed full of meat, and then topped with a generous amount of grilled pineapple, cilantro, and onions. Although they are just the small tortilla tacos, all of the fillings make them larger than any other Al Pastor taco I've seen. In fact, I can only eat three Al Pastor tacos at Pancho's (normally, I can eat five at other taco restaurants!)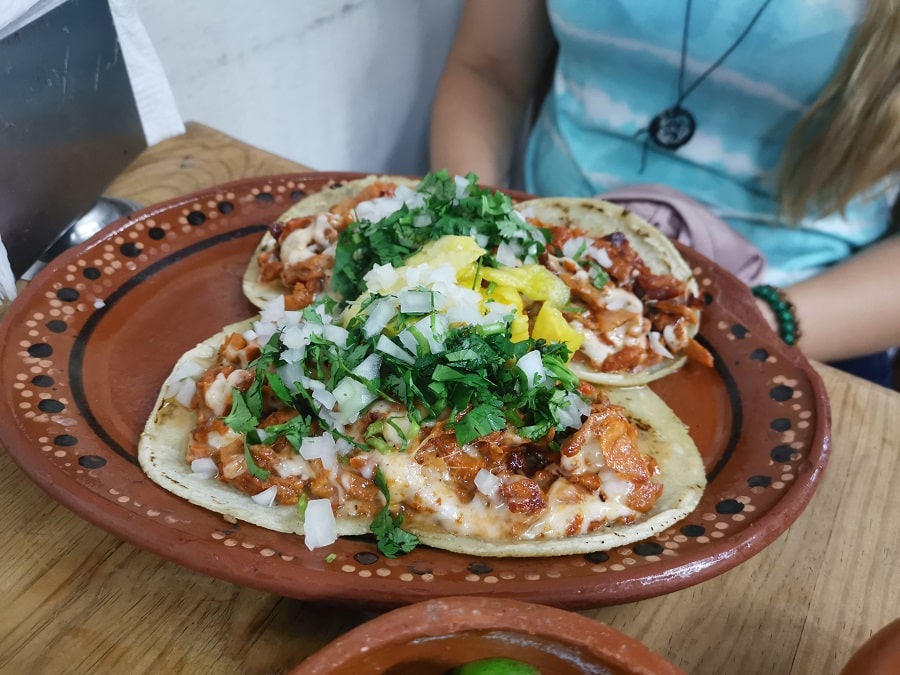 Expect to pay 20 pesos for one Al Pastor taco. They also have deals, where you can get four Al Pastor tacos with cheese for 80 pesos. Pancho's Tacos also serves other types of tacos too, however, it is the Al Pastor in which they are famous. They are only open in the evenings (after 5pm give or take) and are located in the Romantic Zone of Puerto Vallarta.
By Bailey from Destinationless Travel
Here's a look at Pancho's Tacos, highly recommended for delicious tacos below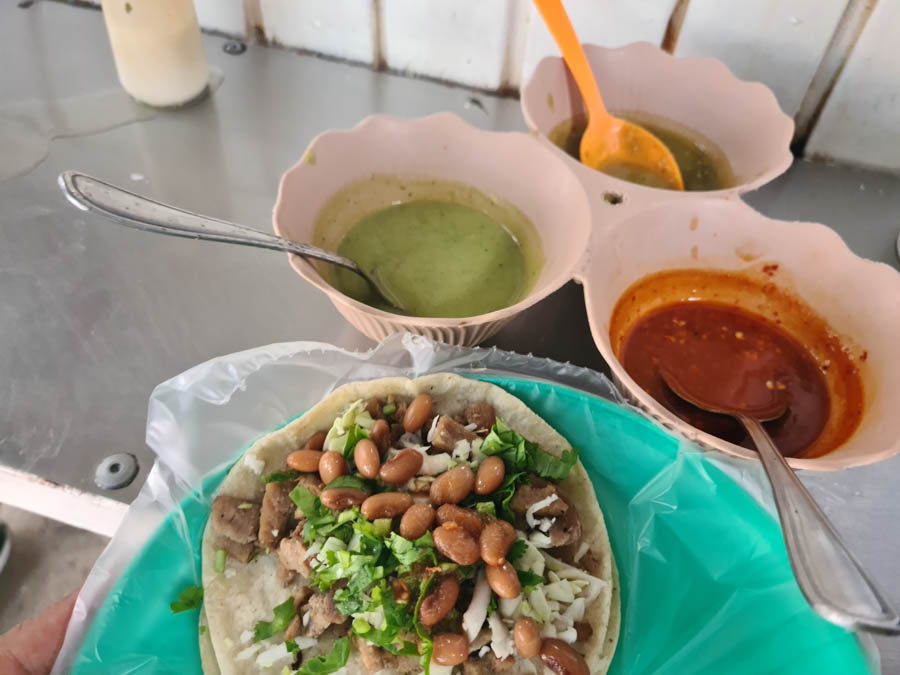 Tacos Gonzales
If you are looking for some tacos to eat that is easy, tasty and good, then head out to Tacos Gonzales in the Zona Romantica district. This family run street food venue is no frills but has been in business on a busy corner street for over 10 years and serving a variety of easy taco dishes with a variety of meats from chicken, pork or beef fast easy and cheap. A taco costing less than 20 pesos per taco is a good price with three different kinds of sauces and a variety of ingredients that you can add to your taco to include tomato, cheese, onions, cilantro, beans.
Plate ware is typically plates covered in plastic wrap so it is clean and fast with the meats grilled in front of you and your side ingredients chosen from a menu or you can point to that ingredient if you don't speak Spanish.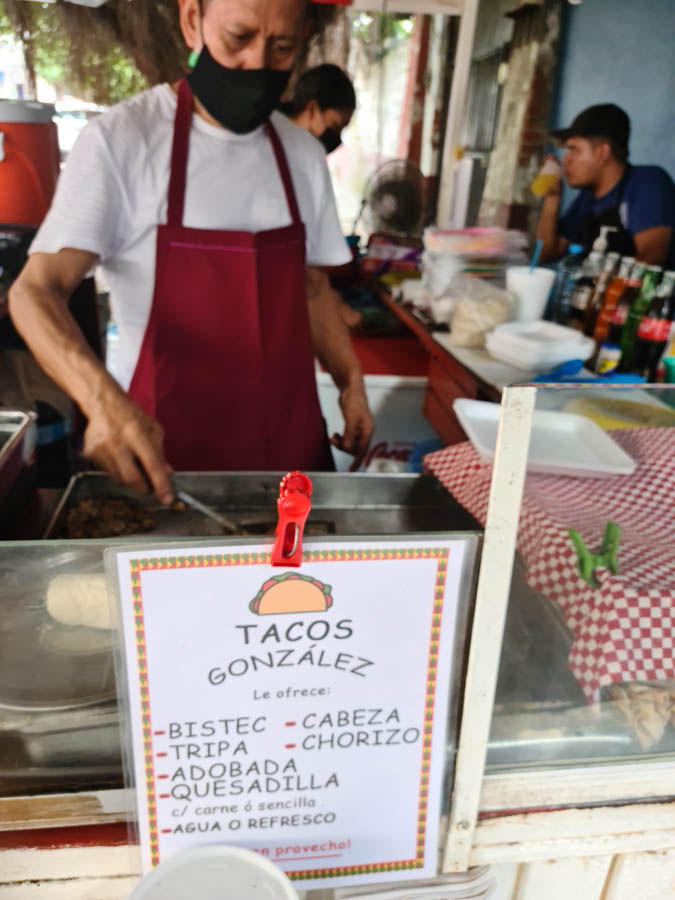 For a fast and easy snack or even a meal if you buy more tacos, Tacos Gonzales serves up good cheap food all day and into the night for hungry locals and tourists in the area.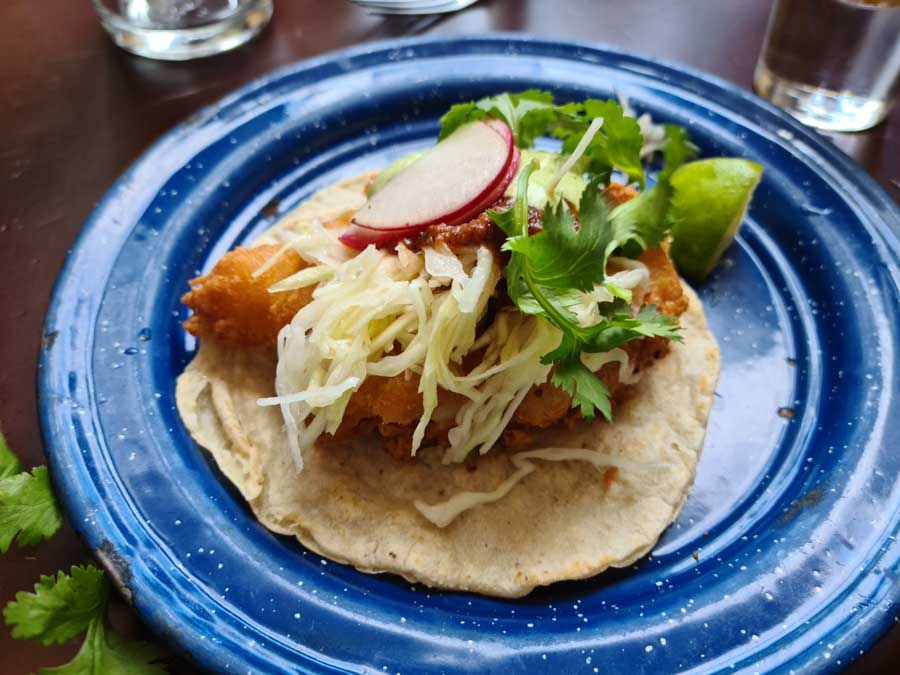 It's not every day that the ordinary fish taco transcends the ordinary into sublime. The fish tacos here at Jacks is really well prepared and delicious and their signature fish tacos are a real institution here in Puerto Vallarta. Along with the outstanding and delicious fish tacos, Joe Jack's Fish Shack serves a variety of seafood like octopus, garlic shrimp and popular fish to include mahi mahi, crudo, tuna poke, fish and chips and the freshest seafood ingredients you will find in Puerto Vallarta.
Along with the wonderful fresh seafood, their expansive and colorful bar serves up some mean and delicious cocktails that are absolutely tasty from local beers, inventive margaritas, mai tais and Sangrias with inventive ingredients and names like Kick *#** Margarita, Ancho Mezcal Martini, and Bulleit Bite, you're bound to find everything here to quench your thirst.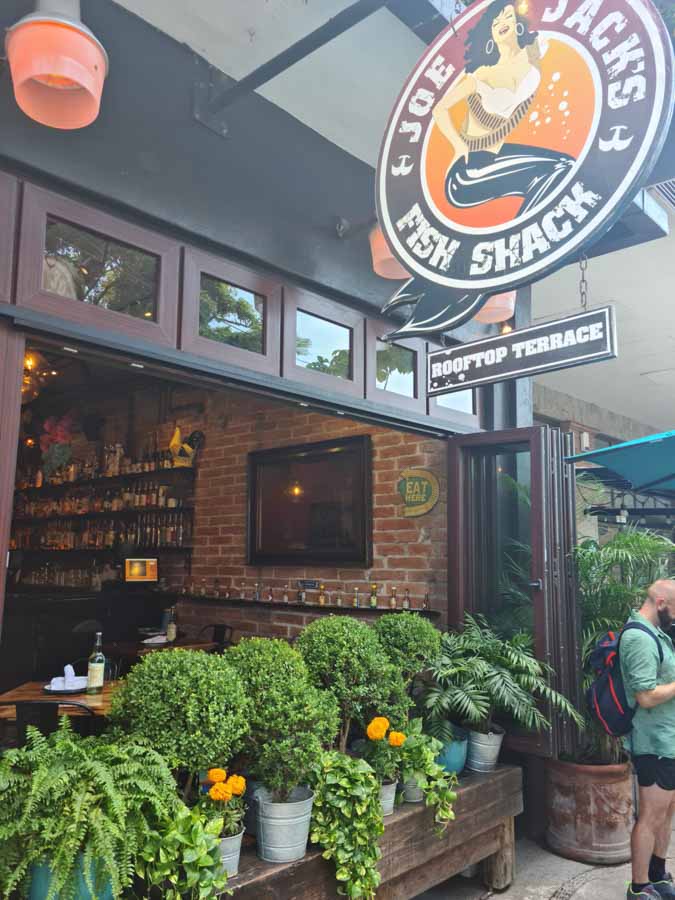 Let's hang out with Joe at Joe's Fish Shack and try some margaritas and fish tacos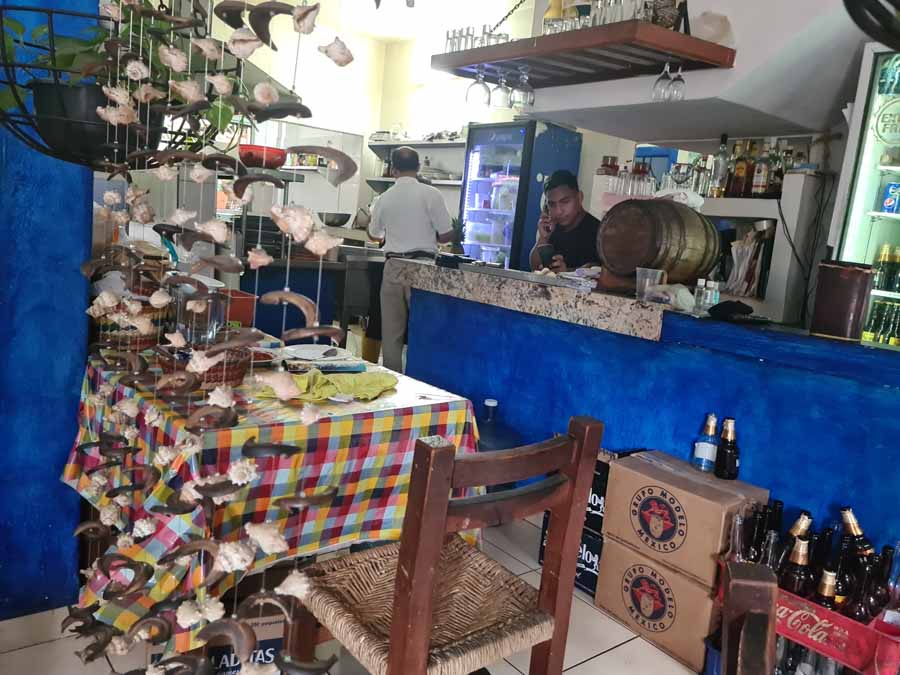 A local and tasty seafood restaurant in the Zona Romantica is Mariscos Cisneros which started off initially as a street food and eventually moved into a restaurant venue serving a variety of delicious seafood inspired dishes. Very homey and traditional, the venue is simple and really makes the food shine with fresh shrimp, crab, octopus, marlin and various fish served in tacos, rellenos, ceviche and many traditional Mexican dishes with seafood entrees.
The food is tasty and reasonably priced and served fresh and hot in this unassuming place that locals and now tourists love to go for an authentic and not fussy place for great seafood.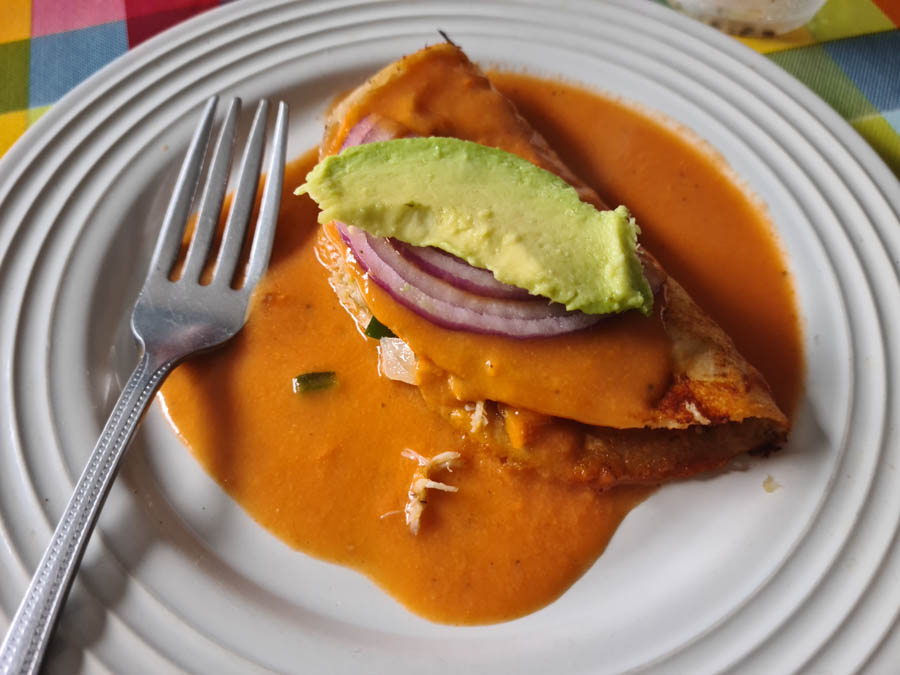 Delicious seafoods at Mariscos Cisneros made to order
Gaby's Restaurant in El Centro
A family owned restaurant converted from the family home and serving traditional Mexican food for over 30 years in El Centro. The restaurant has gorgeous views of Banderas Bay and serving well crafted traditional dishes of the area and prepared with exceptional ingredients, details and service to their local customers and visitors to the city. Specialty dishes to try includes: Chicken Fajitas, Grilled red snapper, coconut shrimp and lobster enchiladas, chicken mole or even the Gaby's burrito. Top this off with a delicious traditional margarita or how about a tamarindo margarita for starters.
https://youtu.be/SOK8Sxgp9iU

Mi Querencia Restaurante
Last night I frequented one of my favorite local restaurants in Puerto Vallarta,
Mi Querencia Restaurante Puerto Vallarta
. It's only about 3 blocks away and I haven't gained all my strength back yet. I was given a ticket for a free postre (dessert) while walking earlier on the Malecon. It was funny because I told the gentleman I had already planned on going there last night anyway.
I usually cannot pass up their shrimp Taquitos with blue corn Tortillas, but decided to get out of the box and order their main dish, a Shrimp MOLCAJETE. Molcajetes are much like the traditional mortar and pestle made from stone or volcanic rock, except these are much larger. The name is derived from Nahault, the language of the Aztecs.
When they served the dish I actually remembered to take photos. I was completely blown away by the fact that the molcajete had 12-15 medium shrimp, along with green onions, panela cheese, chorizo (excellent BTW), nopales, handmade tortillas ( which I brought home 15 for later) and a guajillo sauce that was out of this world. This dish is one of my overall favorites in Puerto Vallarta!
Dessert was a flan served over a layer of chocolate. It was delicious and I am grateful that I didn't order an appetizer to start with. I had a few chips and salsa to begin, but my molcajete came out very quickly and thankfully I didn't gorge on the chips as usual.
Mike Hinshaw with Nomadic Texan
Here's a quick view of the restaurant interiors below and the delicious foods that they serve here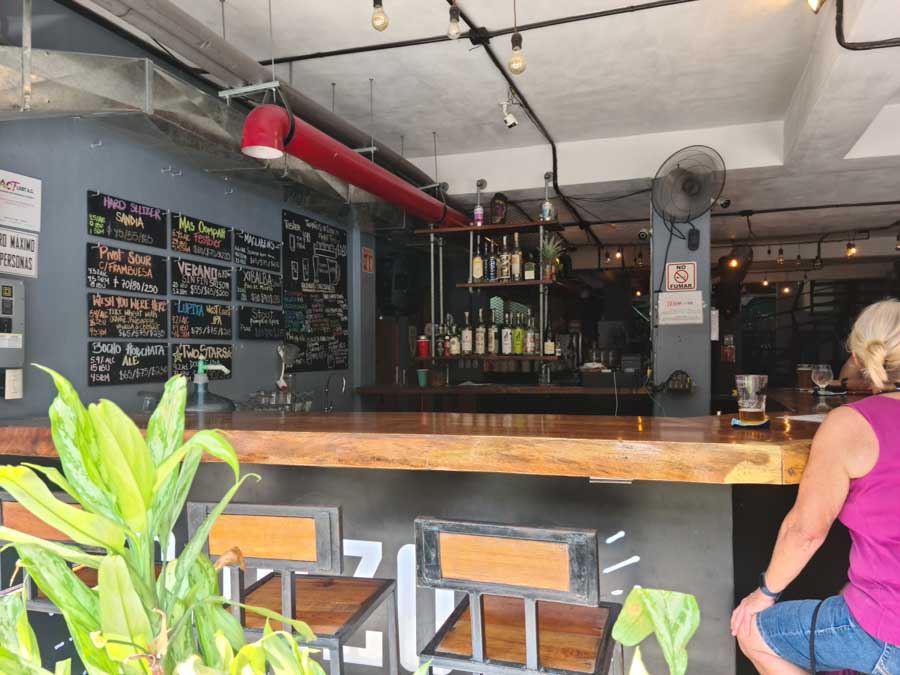 The newest brew pub in the city Monzon Brewing Company located in Zona Romantica is casual, friendly and very low key. They serve up a variety of tasty and inventive craft beers utilizing local ingredients into their IPAs, Stouts, Pale Ale and other seasonal special brews along with tasting flights that you can sample some of the favorite beers.
The bar food is typical on the menu to include fish and chips, elote with tater tots, tuna poke, guacamole and chips – all fresh tasty and a good complement to their delicious beers. The beers here shine and the food are tasty but not inventive and just good bar food.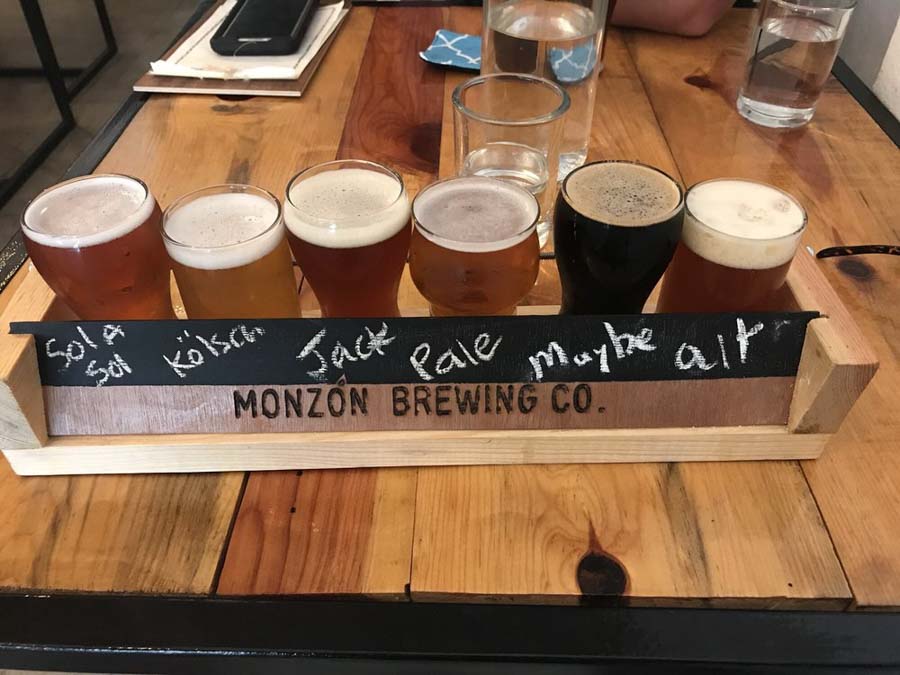 A visit to Monzon Brewing company below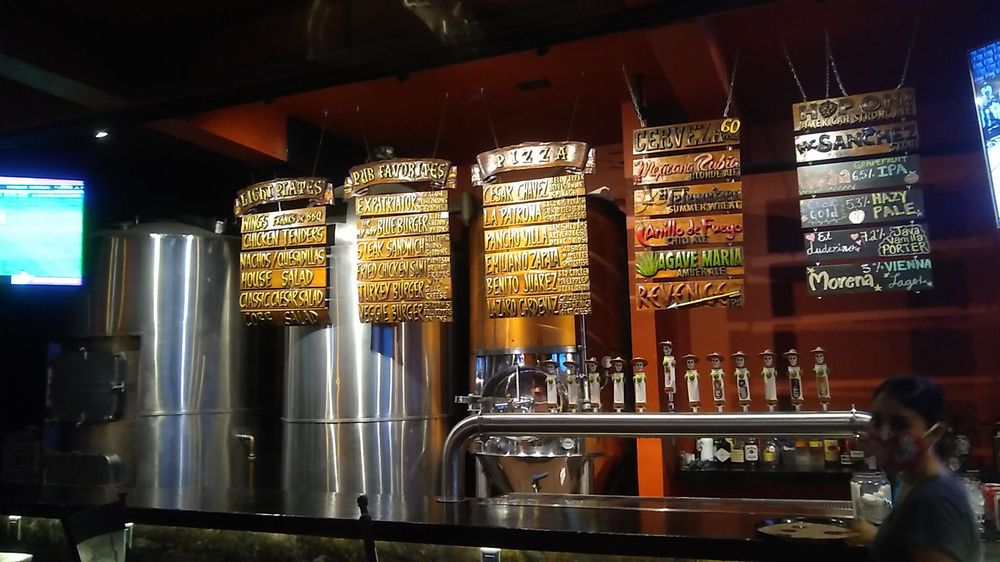 Los Muertos brewing
A craft brewery located in the Zona Romantica, Los Muertos Brewing is lively, casual and colorful. The craft brews offered here cover the gamut of IPAs, hand-crafted ales, stouts with over 14 beers on tap and seasonal favorites to try directly here from the brewery. Typical bar food is served here to complement the beer to include: various dips like Spinach, Tomato and goat cheese, and juicy chicken tenders, hot wings, hamburgers and quesadillas.
Check out their menu here for what's hot to eat and drink.
Address: Lázaro Cárdenas 302, Zona Romántica, Emiliano Zapata, 48380 Puerto Vallarta, Jal., Mexico
Let's take a look at the interiors of Los Muertos Brewing below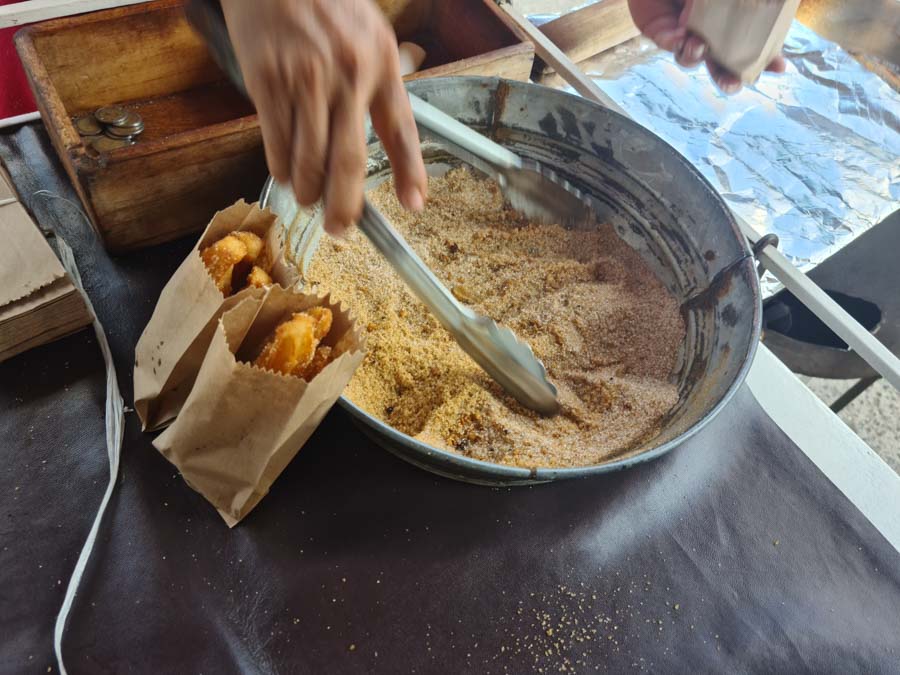 Zona Romantica, down and dirty fresh and hot churros made by this street vendor who has made churros in this corner for over 45 years. Priced to sell at 4 churros for only 7 pesos. The churros come out crispy and soft on the inside, authentic and fun to watch them churn out the churros fast and fried.
One of the most popular and cheap churro stands in Zona Romantico, this is very popular and does brisk business late at night and easier to get fresh and hot closer to when they open their stand early evening hours after 4pm.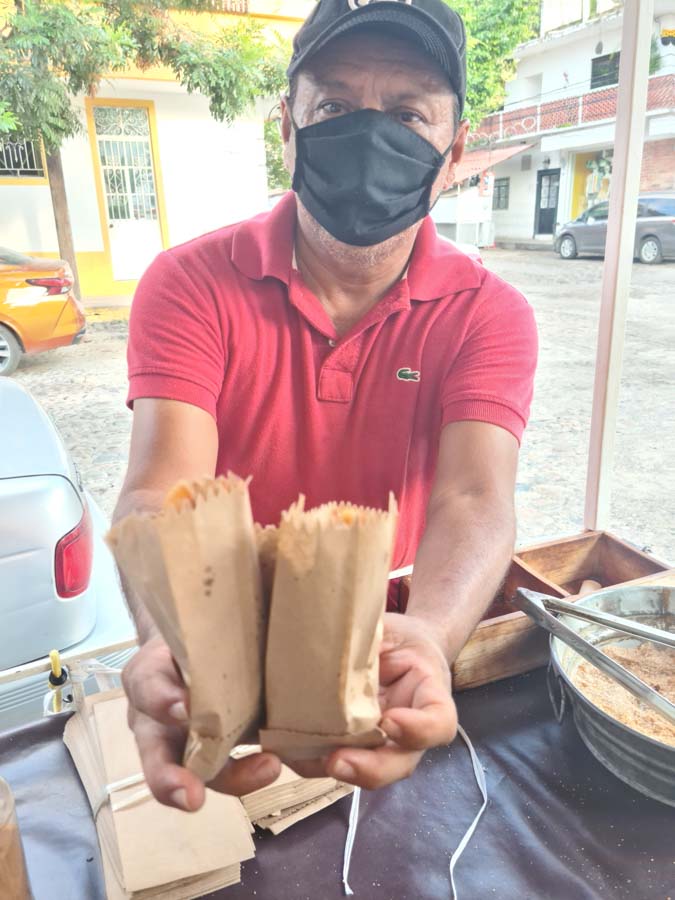 Warm and crunchy churros in Zona Romantico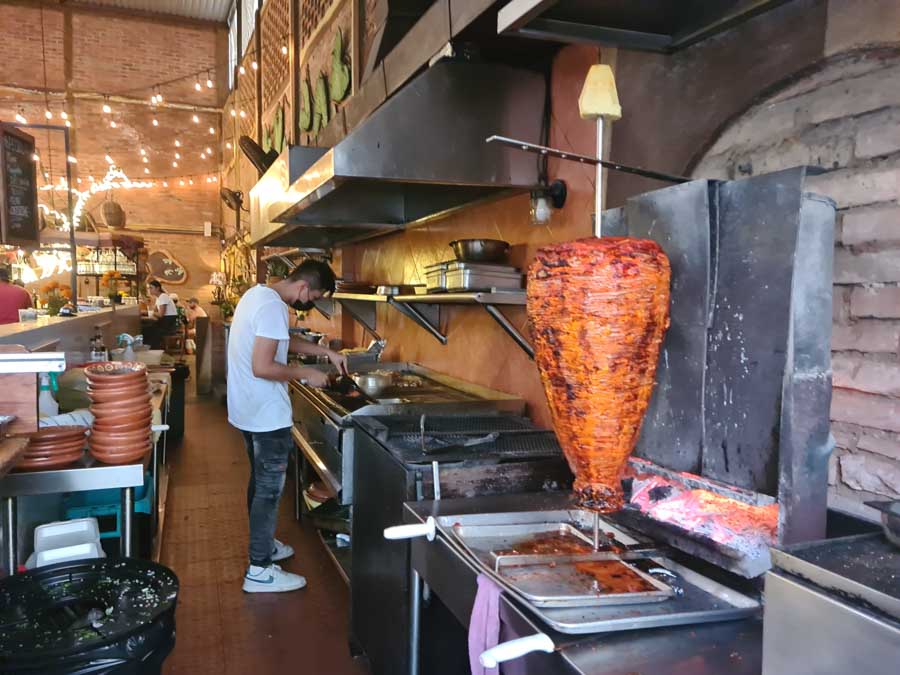 A colorful and lively indoor and outdoor venue with delicious food and drinks to match this wonderful Mexican restaurant with the tastiest Al Pastor in the city. Other stand out dishes here includes: pork chop, quesadillas, Steam or shrimp tacos. Prices are reasonably priced in this friendly eatery and the salsas are tasty and robust tasting.
Down the limited menu with a nice margarita called the Cadillac or try a nonalcoholic Horchata or even some of their delicious craft beers from Puerto Vallarta and it is the perfect compliment to a fantastic dinner at Don Chava.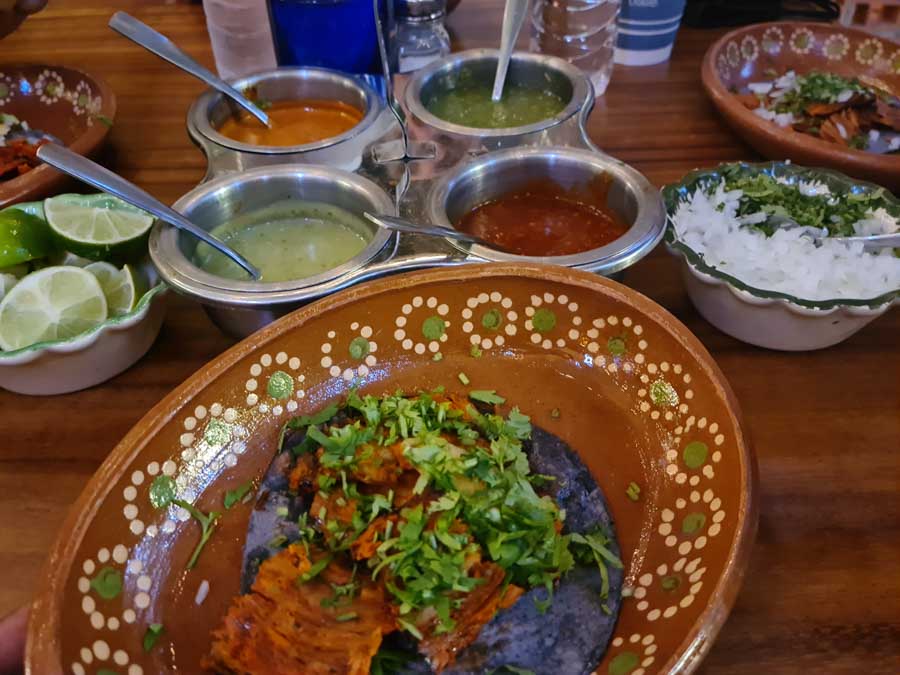 Here's a video promo for visiting the cantina and some of the delicious foods below
Breakfast places to eat in Puerto Vallarta
There's a lot of fantastic breakfast eateries to easy take-out spots, bakeries, coffee houses to full-service breakfast service to choose from. Enjoy these popular and local favorite breakfast places to eat in PV now.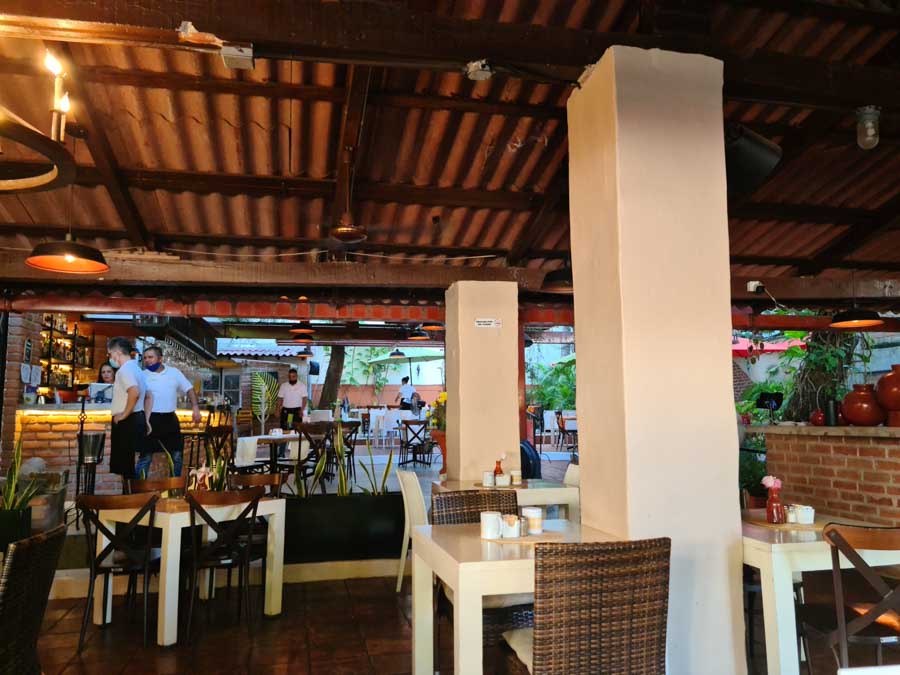 Coco's Kitchen
Located close to the ocean area off Zona Romantica, Coco's Kitchen serves up a delicious breakfast and brunch experience that is casual and friendly in their indoor/outdoor dining venue. Located outside the main drag of the Zona area, it is a nice pleasant walk through the mostly residential neighborhood to the venue. You can choose to eat indoors, in their outdoor dining venue or street side with views of the neighborhood.
Popular dishes to try at Coco's varies from traditional breakfast service to more eclectic and Mexican infused flavors. Check out these dishes from their menu: Relleno stuffed French Toast, Cinnamon French Toast, Churro pancakes, classic breakfast burrito or Chilaquiles or a large variety of egg omelet dishes to choose from. Lunch service is also eclectic with salads, seafoods and sandwiches off their extensive menu to choose from.

Coco's is a very popular breakfast place serving traditional to Mexican inspired breakfast to lunch dishes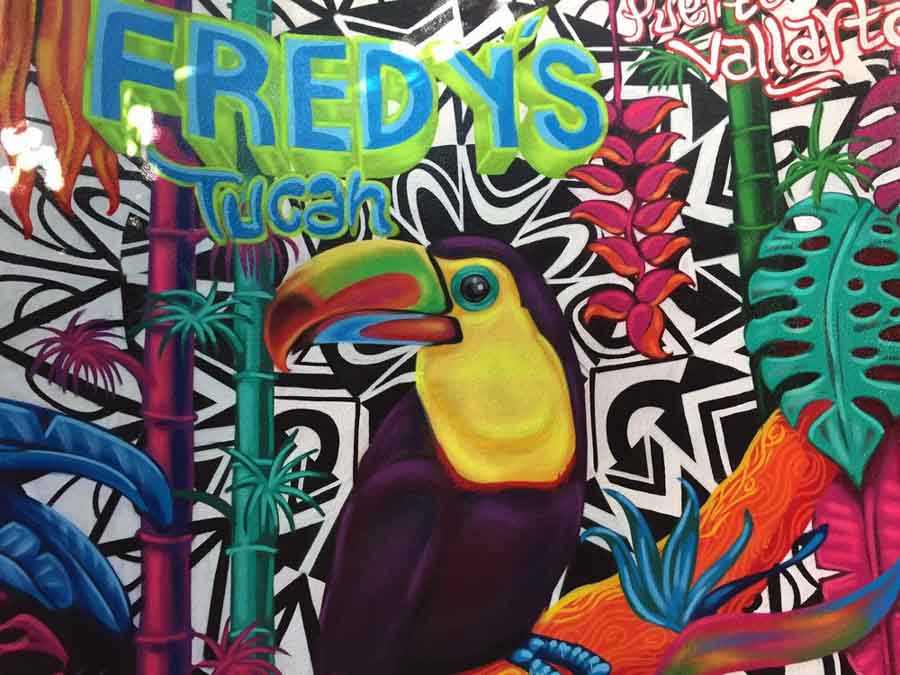 Fredy's Toucan
The go to place for breakfast or brunch in the Zona Romantica Fredy's Toucan is a colorful dining and friendly service for American or Mexican style breakfast dishes. Meals are filling here with popular favorite dishes, eggs your own way, classic huevos rancheros, eggs benedict. or even omelet your own way.  Sweet breakfast inspiration to try includes crepes, waffles and pancakes. If you want more Mexican breakfast then you can order some chiliquiles, Yelapa eggs, Mexican beef tips or a Peasant breakfast and you'll have a lot to eat off your plate.
Top this off with a nice fruit shake, milk shake or a nice mimosas and your in for a treat to a very filling breakfast experience here at Fredy's Toucan.
Noel at The Mature Traveler
Check out Fredy's Toucan highlights below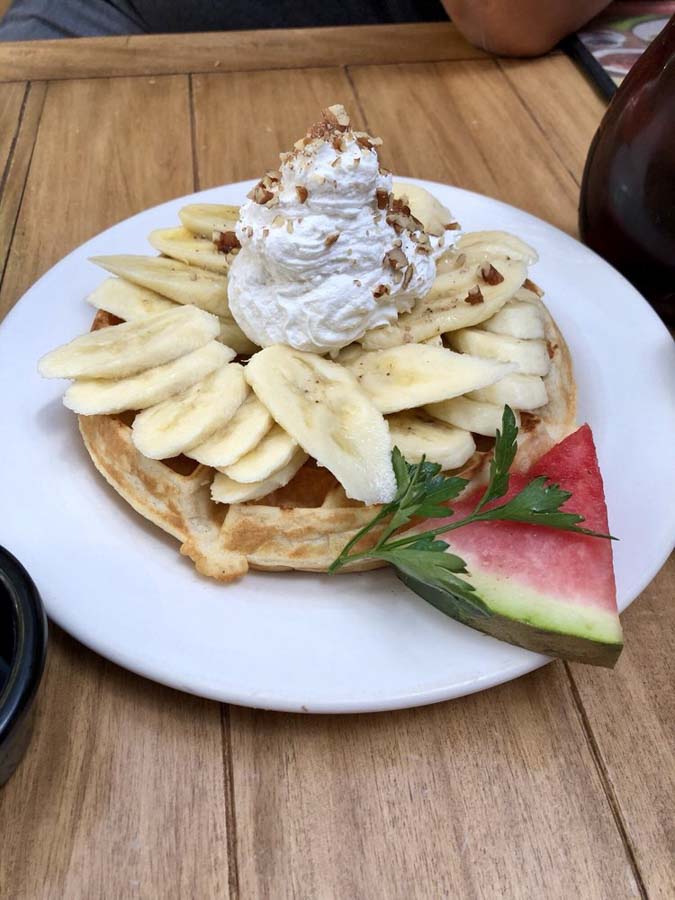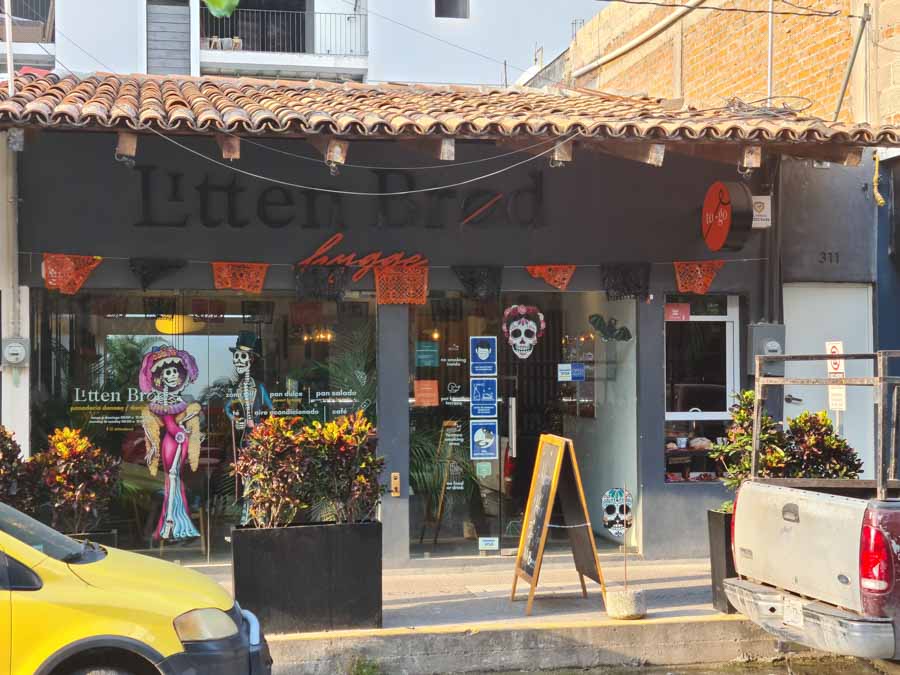 Litten Brod
Located in the Zona Romantica, Litten Brod is a little jewel and perfect for a quick breakfast bite or sit in venue. Mostly a bakery and pastry shop, you'll be hard pressed to choose just the right baked good or pasty to enjoy from here. This Danish bakery offers some really delicious treats, breakfast options and delicious coffee served hot or cold in a relaxed and cool environment. There's also sandwiches and a wine bar with a back patio area for something more secluded from the busy outdoors.
If you are looking for breakfast or a nice sweet treat and cool haven away from the hot sun, then check out Litten Brod and you'll be happy for this little slice of Europe in the heart of the Zona Romantica.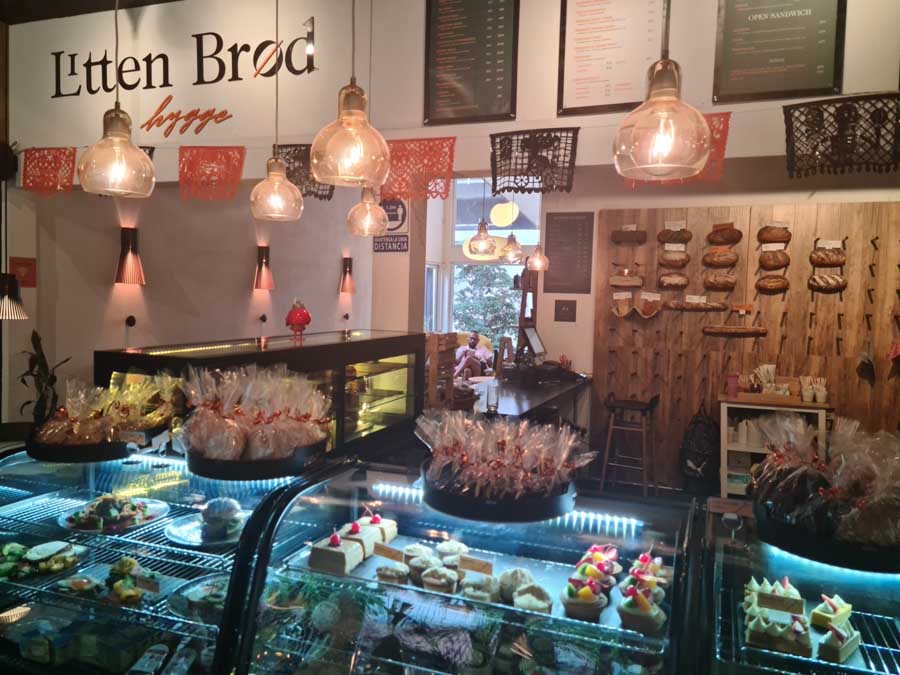 Azul
Another popular breakfast and brunch dining spot in Puerto Vallarta with a beautiful and atmospheric place complemented with friendly table service. Popuar dishes to try at their restaurant includes: the best chilaquiles, French toast, Green and red enchiladas and their signature Benadictos Mexicanos: The eggs were cooked to perfection, the steak was juicy and tender,

Fine dining restaurants in Puerto Vallarta
You can have your pick of amazing fine dining venues with fantastic views and amazing cuisine to match. Placing emphasis on the best and freshest ingredients along with beautiful interiors and exteriors, the food excels in Puerto Vallarta with these wonderful restaurants to choose from.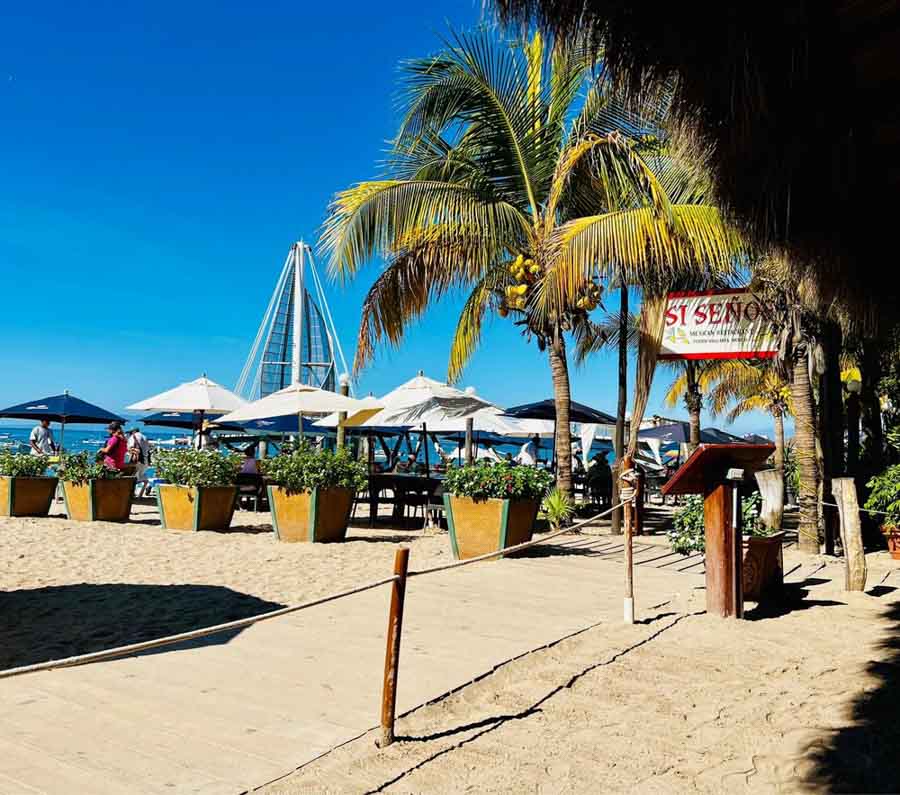 La Palapa Restaurant
Located ocean front in the Zona Romantica, La Palapa is an institution and local favorite restaurant with fantastic views right off the malecon and waterfront. You'll enter a huge palapa style interior with casual Mexican decor and service is attentive and friendly with mariachi bands serenading you while you dine on classic Mexican cuisine with seafood specialties. The seafood dishes here excel with delicious seafoods from the local ocean areas that are fresh and simply prepared.
Try some of their specialties including: local fish like tuna, snapper or sea bass, seafood ceviche, grilled octopus, lobster and other meat specialties of the house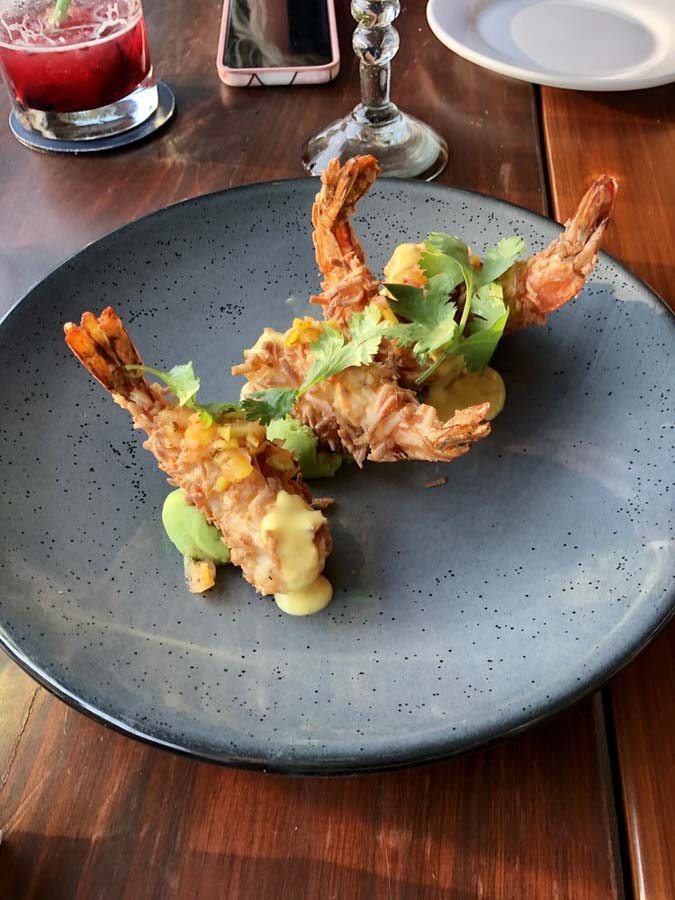 Finish off your dinner with a lava cake or creme brulee makes for an excellent meal.
La Palapa restaurant right on the bay at Playas los Muertos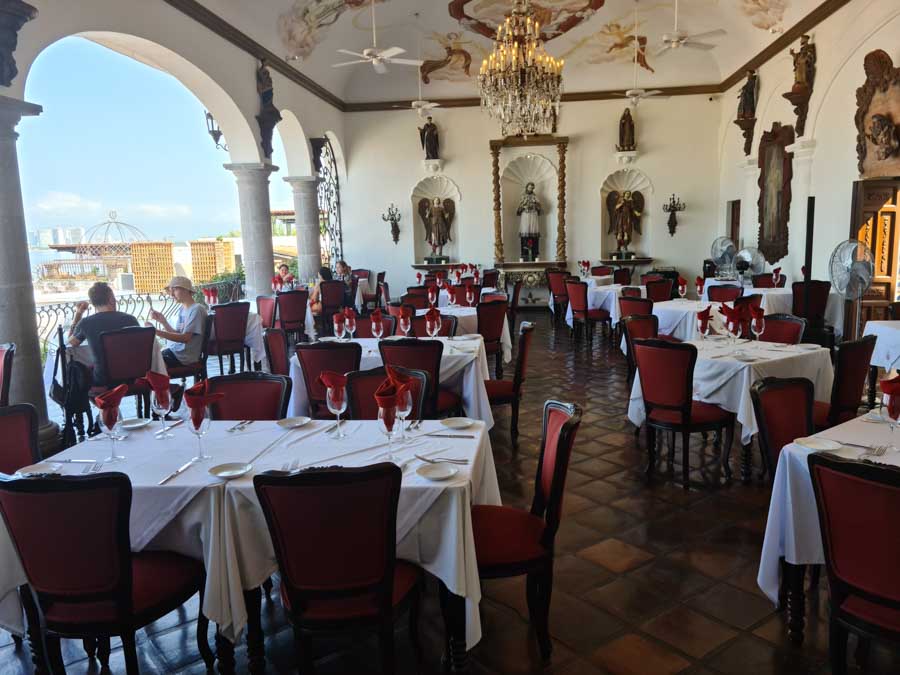 La Capella
La Cappela boast's a gorgeous setting with views to die for overlooking Banderas Bay and Puerto Vallarta from above with the Cathedral front center stage.  Service is friendly and attentive and the Italian cuisine is very good and complements the amazing views. The violin concerto is an added plus and a nice touch to a lovely dinner here.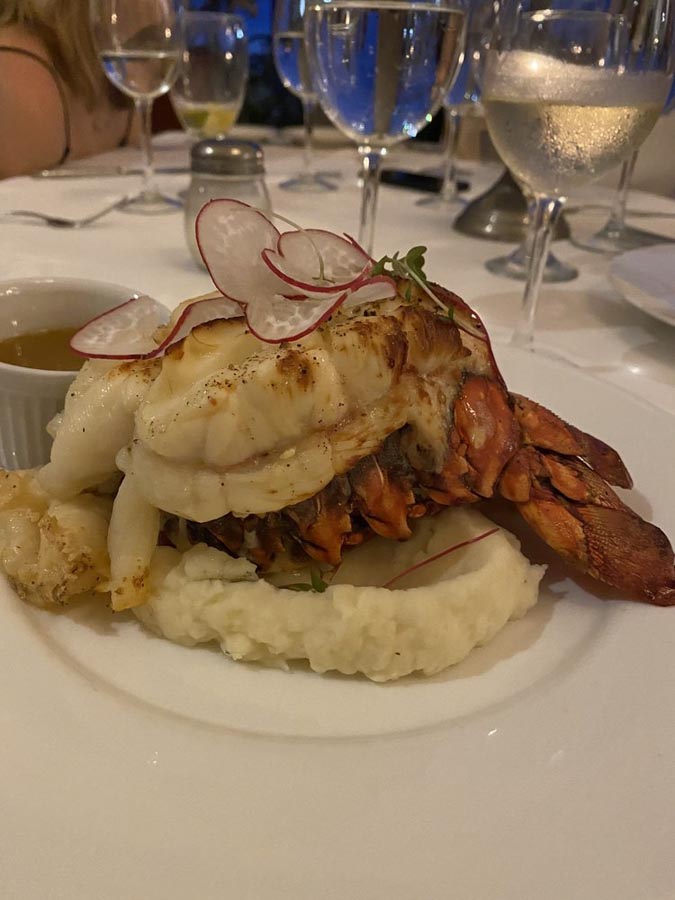 Things to try at La Capella include: scallops in red pepper sauce, Osso Bucco, Rack of lamb, Beef filet or Mahi Mahi fish chicken piccata or shrimp scampi. Follow this up with a dessert of Tiramisu al Coco, Flan Con Escencia De Kahlua or their delicious lava cake and you'll go to bed a happy camper after this delicious dinner meal.
Here's a gorgeous look at La Capella restaurant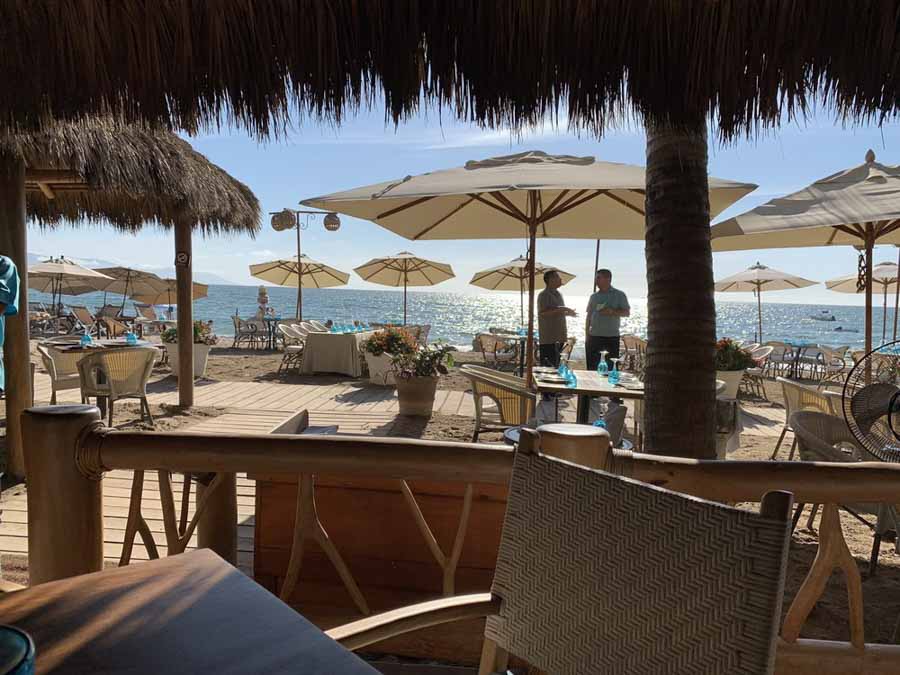 El Dorado
Located next door to La Palapa in Zona Romantica, El Dorado is the older and classic Mexican restaurant also facing Los Muertos beach with stunning views ocean front. El Dorado restaurant is a wonderful experience and dining on the beach or indoors depending on how you want to eat a fabulous meal here.
A full diner menu with lots of seafood specialties, appetizers, main course and desserts to enjoy here. Specialties on the house include: delicious appetizers like oysters, crab cakes, ceviche and calimari and then progress to main entrees like crab enchiladas, octopus tostada, seafood paela fresh catch of the day and huge lobsters cooked to order.
Eating here at El Dorado doesn't disappoint and the views and service make the experience even better, just make sure to leave some space for some delcious desserts like profiterols, coffee flan and espresso chocolate cake.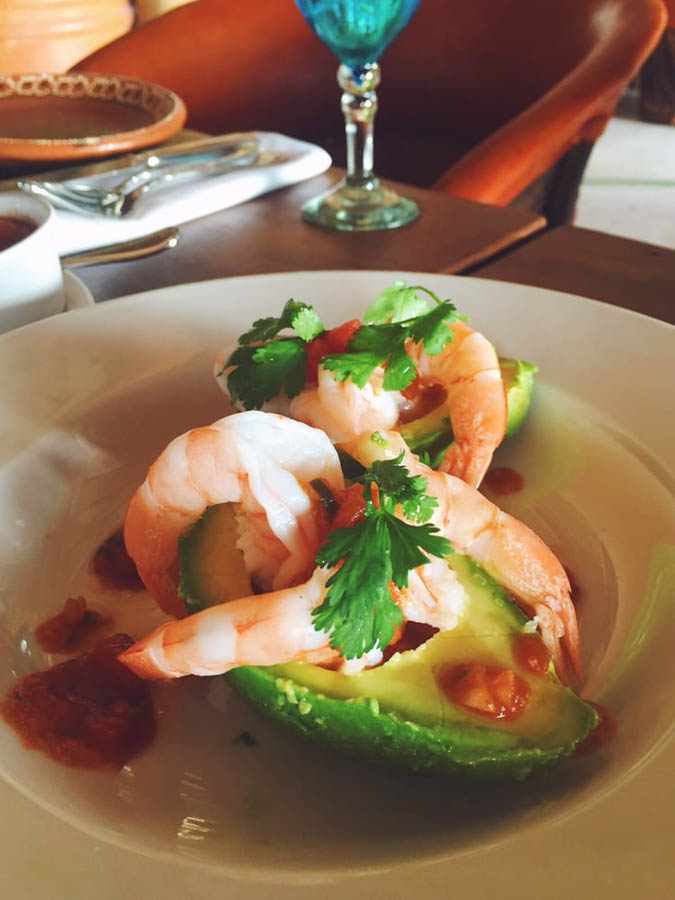 Check out this video promo to visiting El Dorado – don't you want to try it now?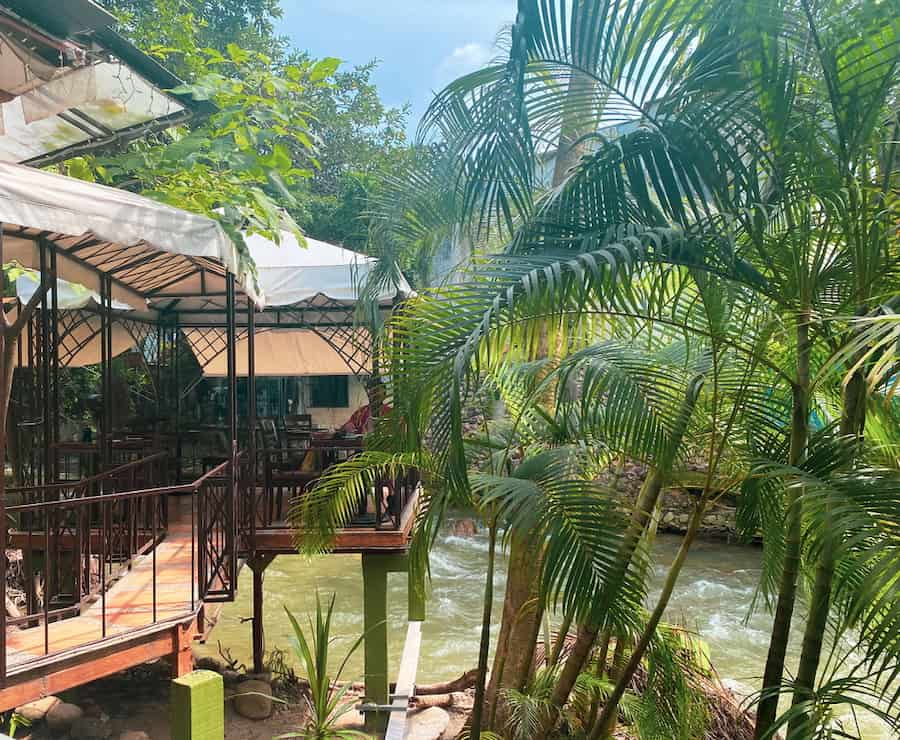 River Cafe at Rio Cuale
River Cafe has got to be one of the best eating spots in Puerto Vallarta – It strikes a balance between laid back and fancy, central yet tucked away, and traditional meets International favorites to eat for just about every meal of the day.
Located on the gorgeous Isla Cuale, a small, lush island in the middle of the river Cuale, separating the the Zona Romantica from Centro. River Cafe is a spacious restaurant sitting on the banks of the river, surrounded by palm trees and relaxing views of pelicans floating down the babbling waters.
The restaurant is fancy, yet not pretentious nor too pricey, and mixes up an excellent margarita to sip on whilst you watch the world, and the river, pass by. It's a perfect spot to swing by in the mid afternoon to escape sun, thanks to numerous palms, shady spots, and fans to keep you cool. However, the hottest time of the day is not the only time to reap the rewards of this gorgeous eatery – evenings here host live jazz where you can kick back and enjoy the atmosphere (and great happy hour cocktails!).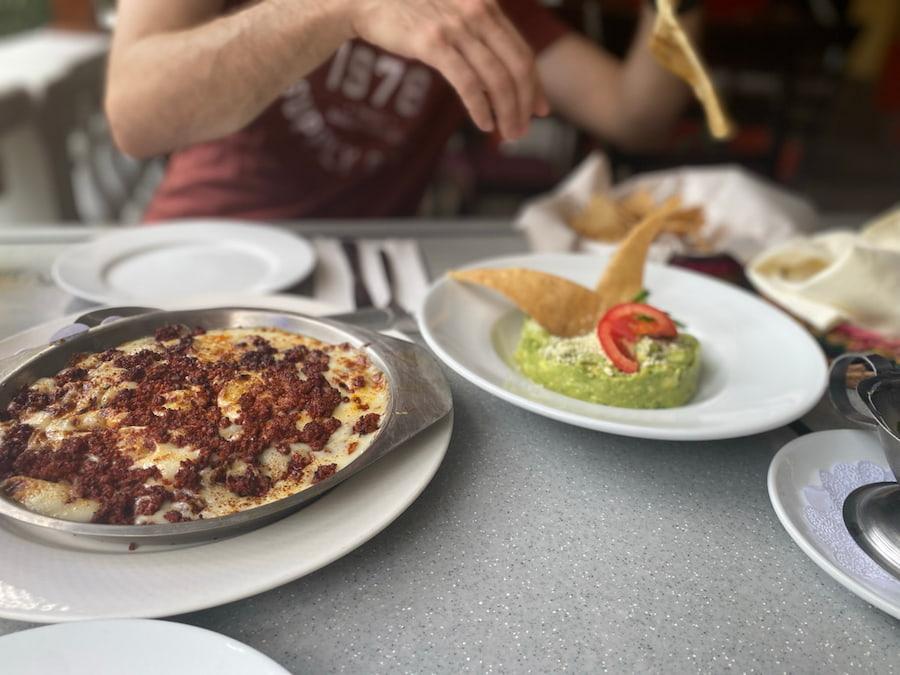 Finally, make sure not to miss the famous Sunday brunch buffet where you'll find crispy croissants, delicious chilaquiles, and all kinds of other Mexican and International brunch dishes before heading out to explore the nearby markets & beaches of Puerto Vallarta Centro
Recommended by Anna from Anna Meanders, check out her Mexico travel adventures here
A landmark in Puerto Vallarta the River Cafe is a popular favorite with locals and visitors alike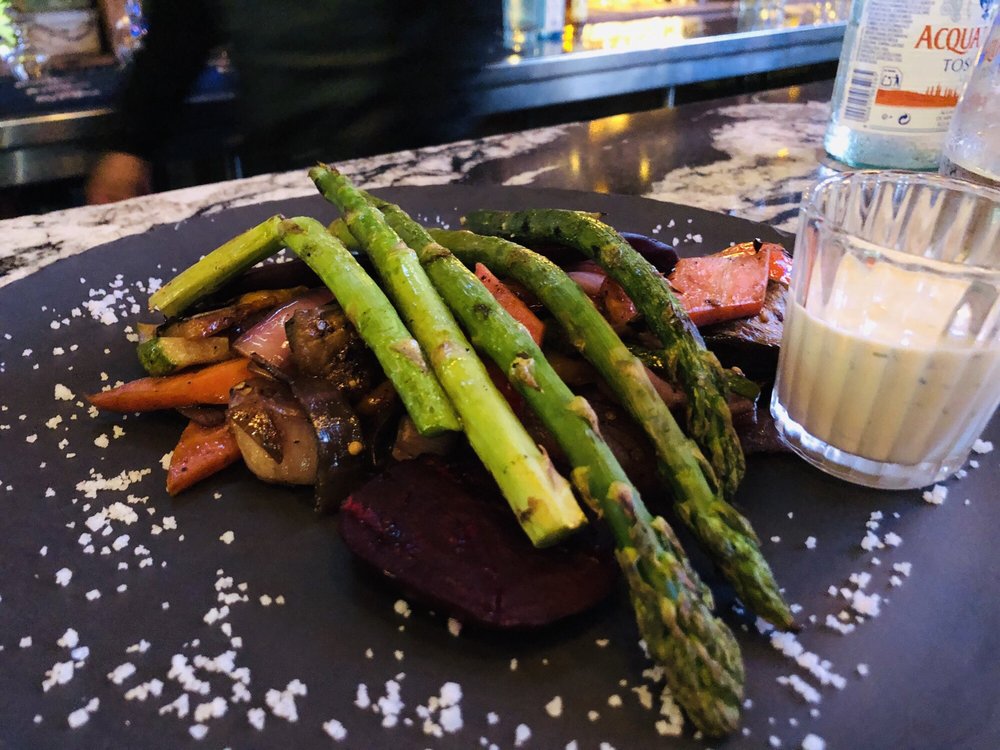 La Madelena
Exceptional fine dining restaurant and service in this seafood, Mexican and steakhouse restaurant. Must try on the menu includes: lobster tacos, tiger shrimp, beef tenderloin and prime rib eye.
Location: Blvd. Francisco Medina Ascencio 2125 Col. Las Glorias 48333 Puerto
Here's a quick photo tour of the restaurant and food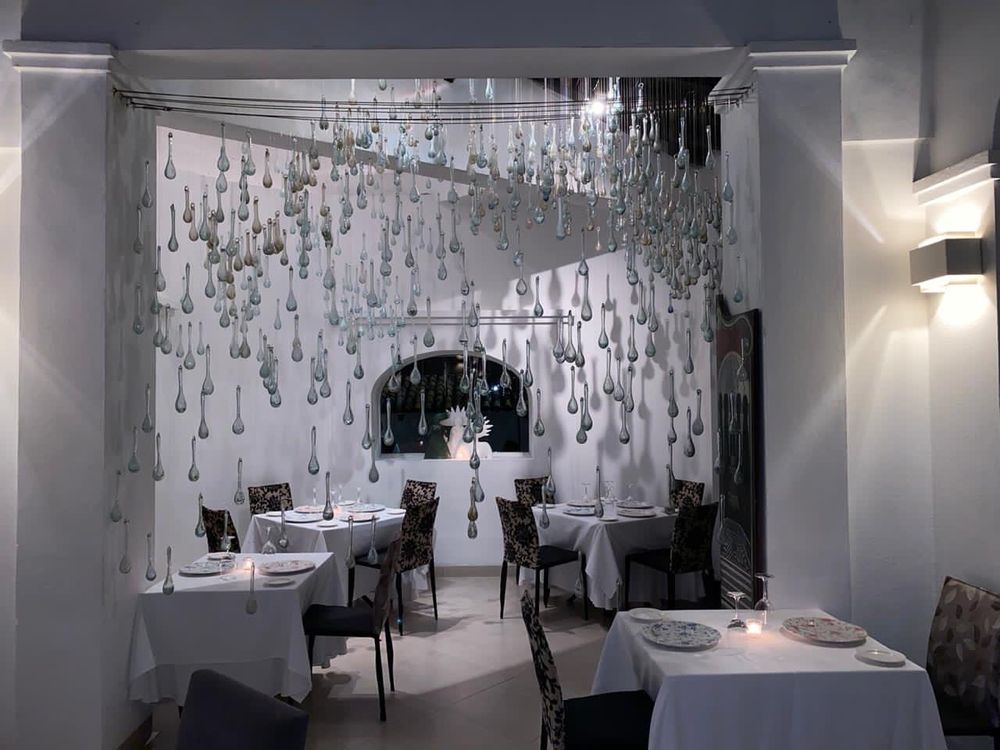 Cafe Des Artists
A French institution that has been operating in Puerto Vallarta for over 29 years by chef owner Thierry Blouet, the creative and delicious cuisine offered at Cafe Des Artists is truly haute cuisine. Specialties of the house to try includes: their daily tasting menu, beef cheek taco, seared fois gras,
Address: Guadalupe Sanchez, 740, El Centro, Tel: 322 226 7200.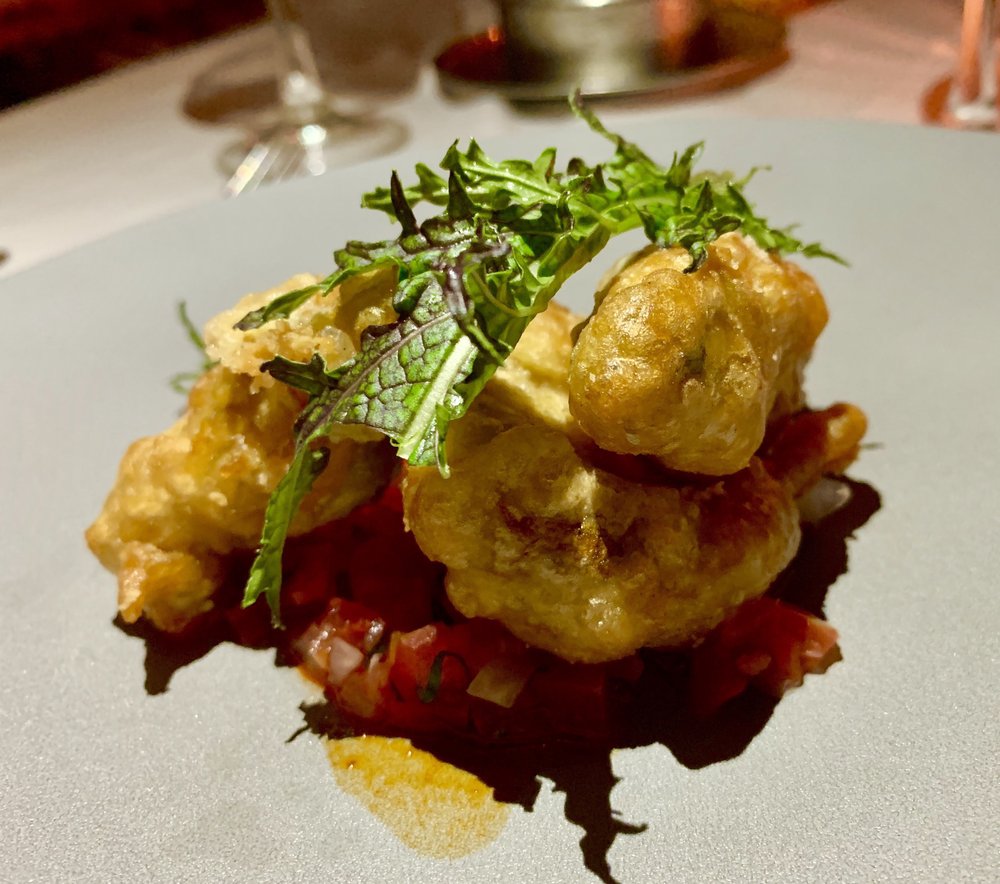 Looking for quality ingredients to make an exceptional dinner experience in Puerto Vallarta
Public markets to visit in Puerto Vallarta
Exploring public markets in Puerto Vallarta is a delightful way to immerse yourself in the local culture and discover fresh produce, handicrafts, and authentic Mexican cuisine. Here are some popular markets to visit:
Municipal Market (Mercado Municipal)
– Located in the heart of downtown Puerto Vallarta, this bustling market is the perfect place to sample local street food, shop for souvenirs, and experience the vibrant atmosphere. You'll find everything from fresh seafood to handmade crafts.
Los Muertos Market (Mercado de los Muertos)
– Situated in the Romantic Zone, this open-air market offers a diverse selection of artisanal products, jewelry, clothing, and home decor. It's an ideal spot for unique and handmade souvenirs.
Old Town Farmers' Market (Mercado Olas Altas)
– Held every Saturday from November to April, this farmers' market features local and organic produce, artisanal cheeses, baked goods, and handmade crafts. It's a must-visit for foodies and those seeking fresh ingredients.
Marina Vallarta Farmers' Market
– Located near the Marina, this market operates on Thursdays from November to April. It offers a relaxed atmosphere and showcases local products, from fruits and vegetables to homemade salsas and artisanal goods.
La Cruz de Huanacaxtle Market
– A short drive from Puerto Vallarta, this Sunday market in La Cruz de Huanacaxtle is a lively event featuring live music, fresh seafood, local artwork, and a vibrant community atmosphere.
Bucerías Art Walk
– While not a traditional market, the Bucerías Art Walk is a weekly event where local artists and artisans showcase their creations. It's an excellent opportunity to browse and purchase unique artwork and crafts.
Marina Mercado & Fish Market
– Located at the Marina, this market specializes in fresh seafood. You can watch fishermen bring in their catches and choose from a variety of fish and shellfish to take home or enjoy at nearby seafood restaurants.
Pitillal Market (Tianguis del Pitillal)
– Pitillal, a suburb of Puerto Vallarta, hosts a lively market every Tuesday that offers a mix of goods, from fresh produce and clothing to street food and household items.
These markets offer a vibrant and authentic taste of Mexican life and are excellent places to find local products, enjoy street food, and interact with the friendly residents of Puerto Vallarta. Don't forget to sample traditional dishes like tacos, tamales, and churros as you explore these bustling marketplaces.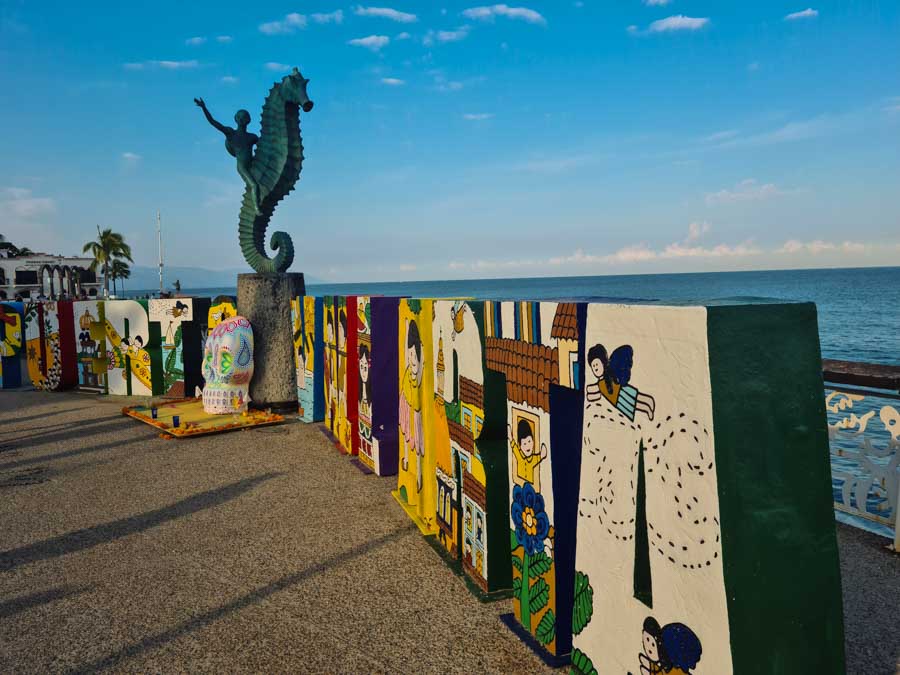 Best Beach bars in Puerto Vallarta
Puerto Vallarta boasts an array of beach bars, known locally as "palapas," where you can unwind with a refreshing drink while enjoying the sun and sea breeze. Here are some of the best beach bars in Puerto Vallarta:
1. **Mantamar Beach Club Bar & Grill**: Located in the Romantic Zone, this stylish beach club offers a tranquil atmosphere, comfortable lounges, and a pool with ocean views. Sip on cocktails and enjoy the serene beachfront setting.
2. **La Palapa Restaurant & Beach Club**: Nestled on Los Muertos Beach, La Palapa is an iconic beachfront restaurant and bar. You can savor fresh seafood and tropical drinks while gazing at the beautiful Banderas Bay.
3. **Blue Chairs Beach Club**: This LGBTQ+ friendly beach club is known for its vibrant atmosphere. Enjoy happy hour cocktails, lively music, and a welcoming crowd right on the beach.
4. **Swell Beach Bar**: Located at Playa Los Muertos, Swell Beach Bar offers a relaxed and friendly environment. It's a great spot for enjoying cocktails, snacks, and watching the sunset.
5. **Barracuda Bar & Grill**: Situated on Playa Los Muertos, Barracuda offers a diverse menu with seafood specialties and a wide selection of drinks. Their beachfront location provides stunning views.
6. **El Dorado Restaurant & Beach Club**: Located in Conchas Chinas, El Dorado offers a tranquil escape from the bustling city. You can enjoy cocktails, seafood dishes, and panoramic ocean views.
7. **Langostino's on the Beach**: This beachfront restaurant and bar is known for its seafood and casual atmosphere. Relax with a margarita or cold beer while watching the waves.
8. **La Playa Restaurant & Beach Club**: On Playa Los Muertos, La Playa offers comfortable beach loungers and a diverse menu with tropical drinks and Mexican cuisine.
9. **Beach House PV**: Enjoy laid-back vibes, cocktails, and beachfront dining at Beach House PV. It's a popular spot for watching the sunset over the Pacific.
10. **La Sirena Reina**: Located in Conchas Chinas, this beach club offers a peaceful retreat. Relax in a hammock, sip on a cocktail, and enjoy the tranquil beach setting.
Remember that Puerto Vallarta has a diverse and welcoming atmosphere, so you're sure to find a beach bar that suits your preferences, whether you're looking for a lively party scene or a peaceful spot to relax by the water.
Looking for more Puerto Vallarta Inspiration?
Top things to do in Puerto Vallarta
A delicious food tour in Puerto Vallarta
Check out all these other cool food inspired videos of bars, street food and more breakfast venues to enjoy.
Best beach bars around Puerto Vallarta – Here's the top three to check out
Breakfast foods in Puerto Vallarta
Street foods of Puerto Vallarta
Delicious Seafood venues in Puerto Vallarta
Looking for places to stay in Puerto Vallarta?
If you are looking for the best places to stay and eat at the same time in Puerto Vallarta, Check out all these top reviewed sites here for inspiration. Finding the best foodie venues tend to concentrate
in the areas of Centro and Zona Romantico districts.
Check out the best places to stay in Centro here for availabiilty and prices.
Check out the best places to stay in Zona Romantico here for availability and prices.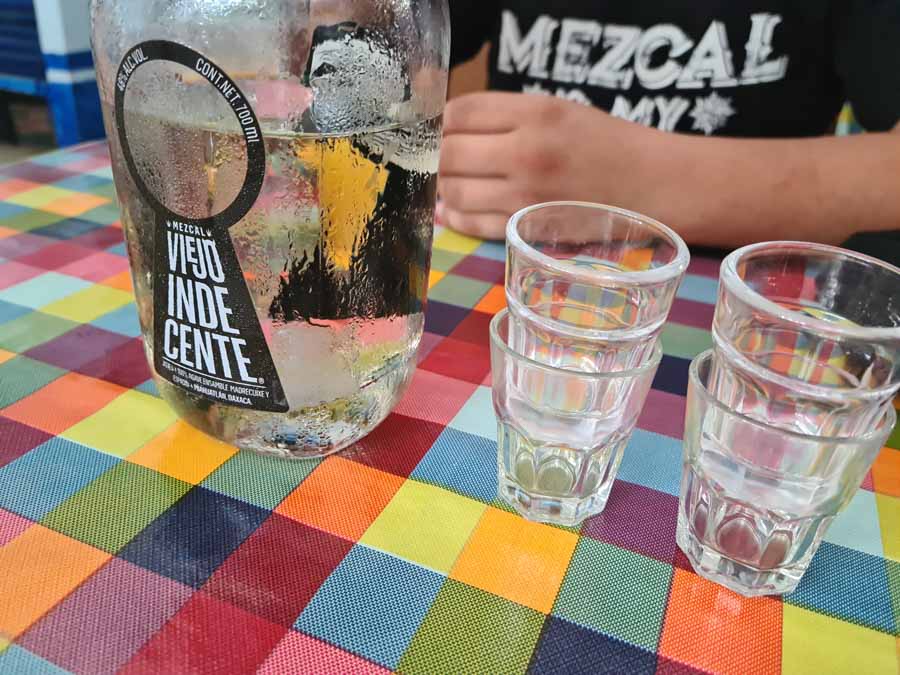 Conclusion to best places to eat in Puerto Vallarta
We hope that you bookmark this post to inspire you to try all these fantastic places to eat in Puerto Vallarta when you visit. Eating delicious Mexican food and and international fusion of flavors makes this a popular city to experience fresh and delicious food from inexpensive to luxury places to enjoy views and food combined.
If you enjoyed the post, please do share it with friends and family or even the social media channels around the post. Thanks again for visiting and reading this post.
Disclosure – some of the links above are to affiliate sites that are either reviews or recommendations if you book helps to keep our site running. We appreciate your supporting our website meanwhile. I was hosted on a tour with Guanajuato Walking Tours which does not impact any decision on my writing and featuring their tour experience around the city.