Riviera NayaritL: ow key, relaxed alternative to Puerto Vallarta (updated 2023)
The gold-sanded Nayarit playas stretch along the Mexican Pacific to the north of buzzy Puerto Vallarta. They are some seriously stunning beaches, with craggy headlands lofted above and low-stooping coconut palms dropping to meet the water.
Four weeks exploring the region took us from hidden coves to wave-bashed Mexican surf towns. We navigated lush jungles where the calls of parakeets echo between the guava trees and swinging vines. Elsewhere, there were lookout points that gaze across the breadth of the ocean, and cobbled streets lined with charming taquerias.
This photo essay is a journey through some of the most eye-wateringly wonderful parts of the salt-washed shoreline and unknown surf spots. It reveals beautiful Nayarit playas, unknown surf spots, and wild forest paths where you'll need to pull on the boots and crack out the walking poles.
Weather and best time to visit Riviera Nayarit
Riviera Nayarit, located on the Pacific coast of Mexico, enjoys a pleasant climate, making it a year-round destination. However, the best time to visit depends on your preferences and the activities you'd like to enjoy:
1. **High Season (November to April):** This is the most popular time to visit Riviera Nayarit. The weather is dry and mild, with temperatures ranging from the mid-70s to mid-80s Fahrenheit (around 24-30°C). It's perfect for beach activities, water sports, and outdoor exploration. This is the peak tourist season, so expect larger crowds and higher prices, especially during the Christmas and New Year holidays.
2. **Shoulder Season (May to June):** May and June offer pleasant weather with warm temperatures and lower humidity. It's a good time to enjoy fewer crowds and more affordable accommodation. However, you might experience occasional brief rain showers.
3. **Rainy Season (July to October):** The rainy season brings more significant rainfall, particularly in August and September. While it's not the ideal time for a beach vacation, it's a great time for budget travelers, and you can still find periods of sunny weather. Plus, you might witness lush green landscapes and vibrant vegetation.
In my opinion, the best time to visit Riviera Nayarit is during the high season from November to April, especially if you want to make the most of the region's beautiful beaches and outdoor activities. Pros include the fantastic weather and vibrant atmosphere. The cons are the higher costs and larger crowds.
However, if you prefer a quieter and more budget-friendly experience, consider the shoulder season. You'll still enjoy good weather with fewer tourists.
Exploring the Riviera Nayarit: Playas and jungles and surf towns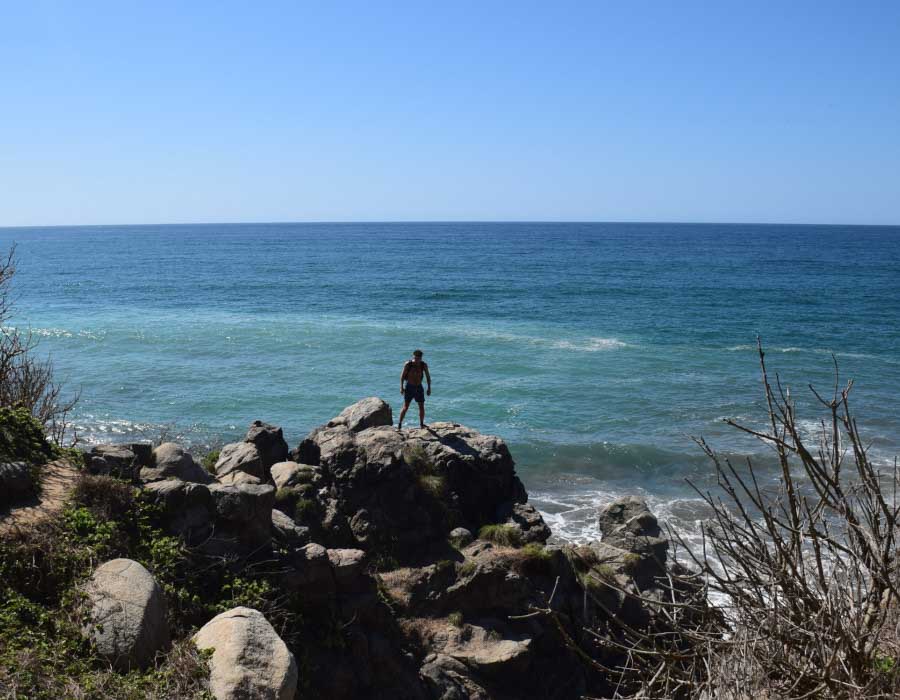 Secret beaches in Sayulita
Sayulita surf is some of the most famous surf in all of Mexico. In just 10 years or so, the town has gone from a sleepy fishing village to a happening board-rider's heaven. That's mainly thanks to the reef and the long beach that stretch out in front. You'll see both beginner surfers and pros on the waves there from morning to night.
We seized the chance to venture a little further north, on the hunt for some secret beaches that the locals had told us about. First, we trekked straight across Sayulita Playa to its northern end, where multicolored villas give way to pockets of sea oats. Then, we scrambled up the rocks and hit the trails.
It wasn't long before we found what we were after. Dropping down between waxy cecropia trees and jacaranda blooms, we strode onto an open length of shoreline without any other soul in sight. The sand undulated in perfect hues of yellow and gold before sloping steeply into the ocean where the waves were wild. We'd discovered that fabled empty beach…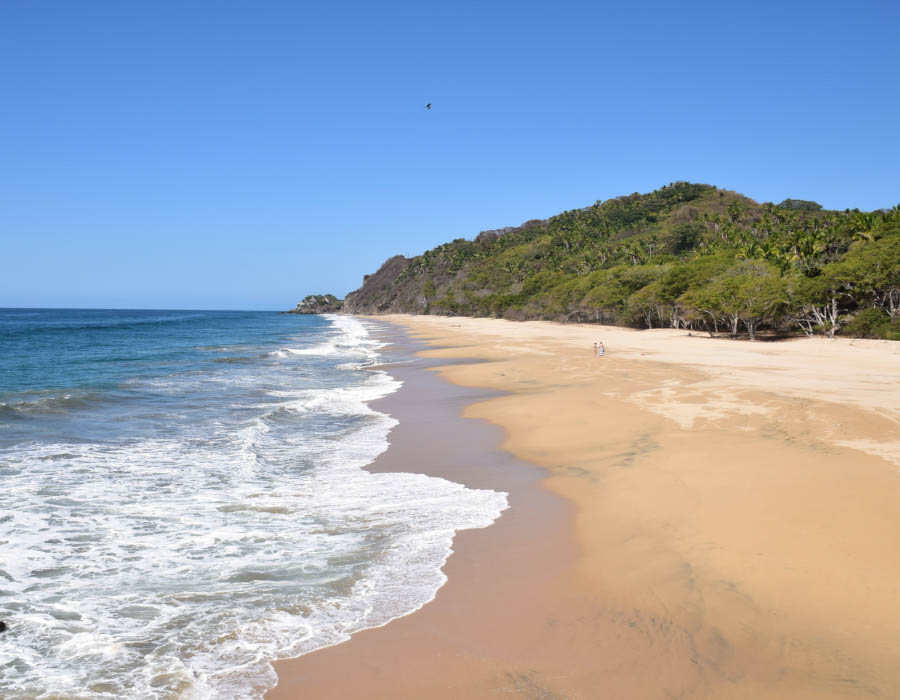 Kicking back in San Pancho
Another of the Nayarit playas that reigns as one of the top spots for surfing in Mexico can be found at San Pancho. Unlike Sayulita, this one's not boomed with huge crowds of tourists (yet – at least). It still retains an authentic Mexicana charm, with little cantinas selling mezcal cocktails and family-owned taco restaurants threading its narrow streets.
The beachfront at San Pancho is a joy to be on. The surf is challenging and breaks over the reef, so we'd leave it to the intermediates and pros. But there's a joy in simply finding somewhere to sit under the cliffs on the south side of the bay and watching the waves roll in. Oh, and the sunsets in this part of the riviera are dazzling shows of red and yellow and pink. People will gather at around 6pm each evening to enjoy them, and clap when they're finished!
If you stick around for the evening in San Pancho, be sure to make for the town's main street: Avenue Tercer Mundo. It's a hubbub of little cafés and bars where mariachi bands serenade the diners. A personal favorite for food was charming Los Arbolitos. It's got tacos for under a dollar and habanero salsas that will set your taste buds on fire!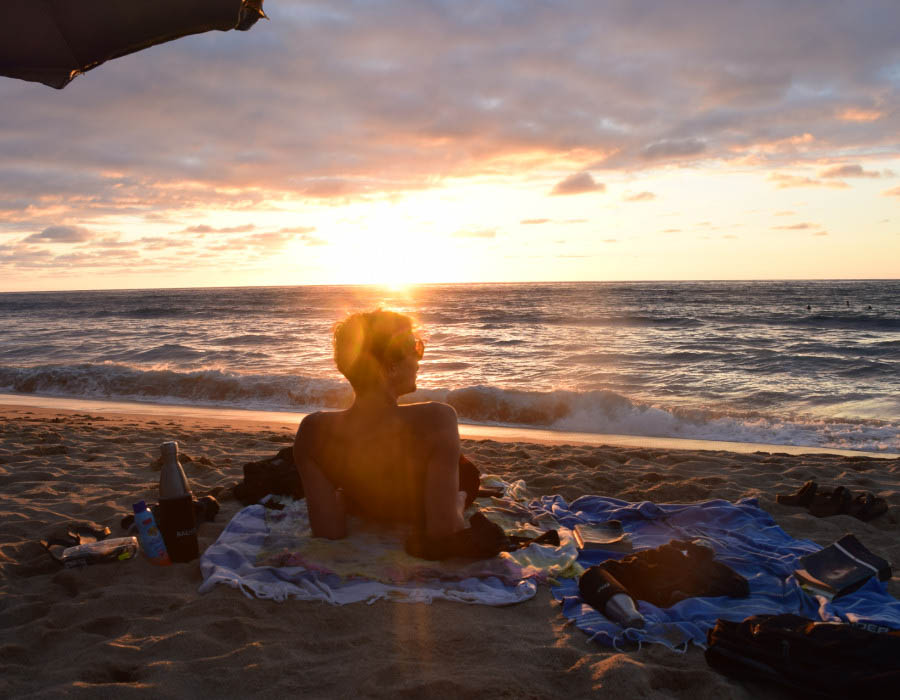 Check out the cool things in San Pancho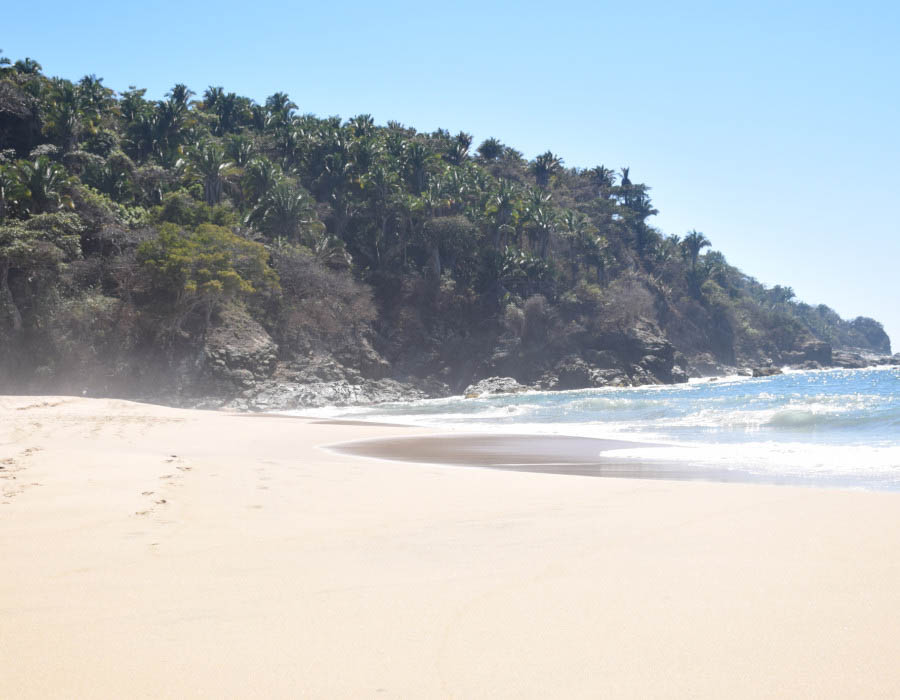 Heading north along the Nayarit: Playa de Barro
It's possible to hike northwards from the small town of San Pancho. It's a less-trodden part of the Riviera Nayarit, which hosts a few manicured golf clubs and slick hilltop villas before offering swathes of coast coconuts and dense thickets of palms.
We managed to follow a path all the way to Playa de Barro. It hides under high hills of mud and sandstone that roll dramatically into the Pacific without much warning. The route in is a zigzagging trail that's not used often, so wear a tough pair of boots and be wary of snakes!
The reward is a remote and often empty bay. Dusted with cinnamon-tinged sand, it's completely enfolded by the jungle. At its south end is a natural mud spa, which is little more than a trickling stream through pools of dirt – although the locals will tell you it's good for the complexion!
Visit PLaya de Barro below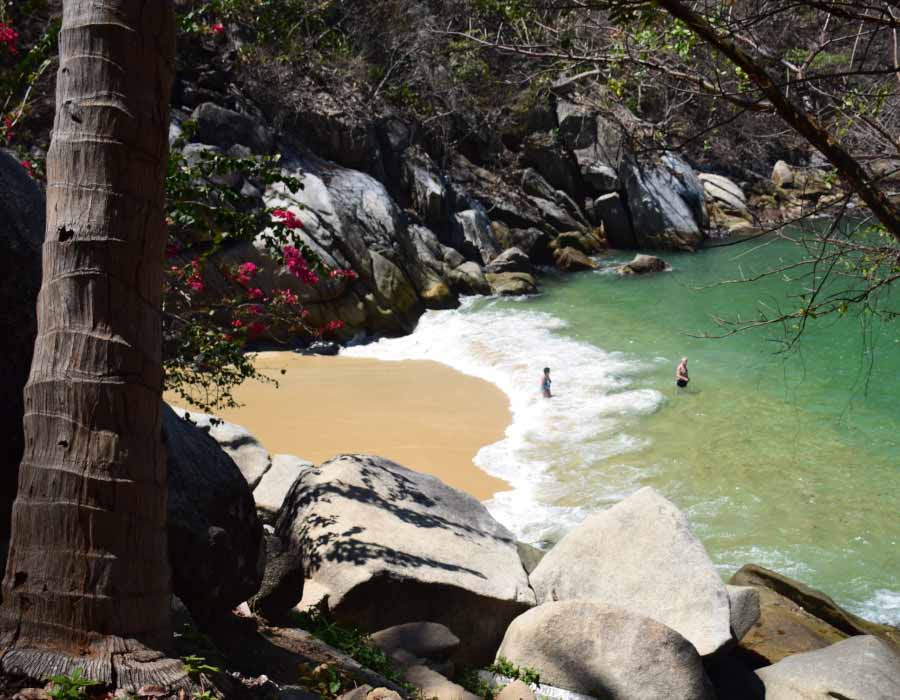 Adventure to the south of the Nayarit playas
The sprawling city of Puerto Vallarta sits between the Riviera Nayarit and the stunning coastline of the Bahia de Banderas. The trip from one to the other takes around two hours on the bus in total, but it's worth making because you'll get to see some paradisiacal beaches and coves on the Pacific edge of Jalisco state.
First, connect to Puerto Vallarta. Then, hop on a bus heading to the charming harbor town of Boca de Tomatlan. The trails start there, weaving between the paint-peeling fishing boats into a wild forest of drooping vines and buzzing beehives. The first part hugs the coast, occasionally leading out to a headland where you can gaze at the deep blues of the Pacific.
It's possible to do a walk of a few hours, finishing all the way up at Playa Las Animas. Along the way, you'll get to jump into the refreshing turquoise seas of Colomitos cove (one of the most fantastic we'd seen of all the Jalisco and Nayarit playas). You'll also scale to high lookout points that reveal Puerto Vallarta in the distance, and cross Caballo Beach where lonely palm trees spike the cloudless skies.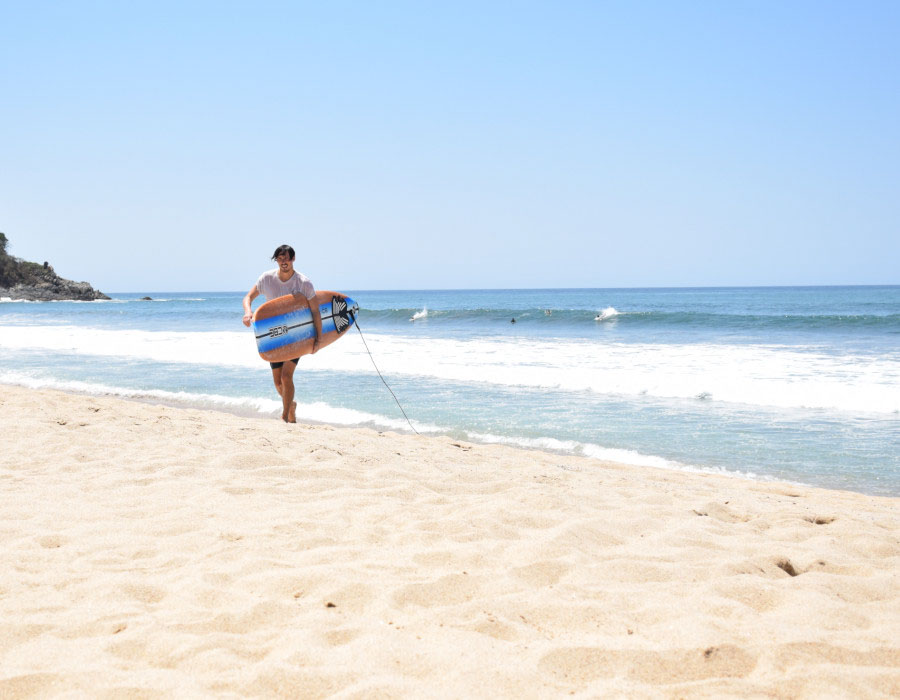 Looking for waves in Punta de Mita
Some of the best surfing waves in all of Mexico roll into the bays around the Riviera Nayarit playas. For beginners and intermediates, the spots at the headland of Punta de Mita might just be the best. What's more, they come into such pretty stretches of powdery sand that they're a doozy even if you aren't looking to get on the board.
La Lancha is one of the best of the bunch. You'll need to navigate a small pocket of coastal jungle and duck under low-lying sea grape bushes to reach it. What awaits is a cloud-hued pocket of sand where boulders lurch overhead. Paddle out to surf and you'll be greeted with shapely wedges that turn both left and right.
Hungry? The eateries of Corral del Risco beckon. They have a bit of a chic vibe thanks to their place on the side of a major upscale golf resort. Still, they're perfect for a lunch of eco avocados and healthy tacos overlooking the Bahia de Banderas.
Check out the scene at Punta de Mita
More inside tips to visiting Riviera Nayarit
Exploring hidden gems in Riviera Nayarit, beyond the popular surfing towns and cities in the area, offers a chance to discover authentic Mexican culture and pristine nature. Here are some insider tips for an off-the-beaten-path adventure:
Sayulita's Quiet Neighbors:
While Sayulita is a well-known surf town, consider visiting the nearby towns of San Pancho (San Francisco) and Lo de Marcos. These charming and quieter spots offer a more tranquil experience with beautiful beaches and a laid-back atmosphere.
Chacala:
If you're seeking a truly hidden gem, head to Chacala. It's a serene fishing village with a pristine beach, clear waters, and a tranquil vibe. You'll find local seafood restaurants and a chance to experience the real Mexico.
Marietas Islands:
These islands are a protected national park, known for their hidden beach. Take a boat tour to explore these unique natural formations, home to diverse marine life and bird species. Even though it is a popular tourist attraction, daily entrance is limited to protect the natural preserve and most visitors have to arrange private tours to reach the islands.
Explore the Sierra Madre:
Head inland into the Sierra Madre Mountains for a different perspective. You'll discover traditional villages like Yelapa and El Tuito. Hiking, bird watching, and cultural immersion are part of the experience.
Islas Marias:
If you're feeling adventurous, take a boat trip to the Islas Marias, a group of islands located in the Pacific Ocean. This destination is remote and known for its history as a former prison colony.
Hidden Waterfalls:
Seek out the region's hidden waterfalls like the El Cora Waterfall, which is a bit off the beaten path but well worth the journey for its natural beauty and swimming opportunities.
Local Cuisine:
In these less touristy areas, you'll have the opportunity to sample authentic Mexican cuisine in family-run eateries. Try local dishes like pozole, tamales, and fresh seafood.
Artisan Markets:
Look for local artisan markets and festivals, especially in smaller towns. You can find unique handcrafted souvenirs and immerse yourself in local culture.
In my opinion, exploring hidden Riviera Nayarit is a rewarding adventure that lets you experience the region's authenticity. Pros? A chance to escape the tourist crowds and discover the real Mexico. Cons might include the need for some Spanish language skills and a sense of adventure, as these areas are less tourist-oriented.
So, venture beyond the surfing towns, and you'll be richly rewarded with authentic experiences and breathtaking natural beauty.
Check out these other posts to visiting the region
Best restaurants in Puerto Vallarta
Things to do in Puerto Vallarta
Conclusion on visiting the Riviera Nayarit
The Riviera Nayarit playas and jungles are a wonderworld of adventures. Come with the surfboard in tow or simply pull on the hiking boots – there are waves and trails for all. The top joys are hidden beaches with pristine gold sand and frothing swells, along with characterful surf villages where tequila flows from the cocktail shacks on the shore.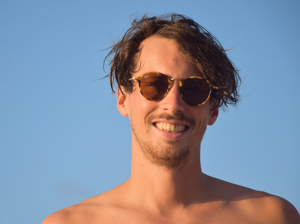 Author Bio
Rich is the co-founder of The Surf Atlas, a global surf travel guide that offers in-depth info into wave-heavy destinations all around the globe. His favorite places to get in the water are Mexico (obviously!), the sun-kissed Algarve in Portugal, and Sri Lanka.