Cheap Things To Do In Las Vegas: Exploring the Entertainment Capital on a Budget

Ever felt like your wallet was shrinking faster than a raindrop in the Nevada desert while vacationing in Las Vegas? You're not alone, and we've been there too! This comprehensive guide is loaded with insider secrets that will help you experience the best of Las Vegas on a budget.

Las Vegas is often assumed to be a destination reserved for high rollers. However, there are numerous affordable attractions that make it an exciting place even for budget-conscious travelers.

In this blog post, we'll unveil many cheap and free things to see in Las Vegas – from the dazzling Bellagio Fountain Show to the amazing scenery at Red Rock Canyon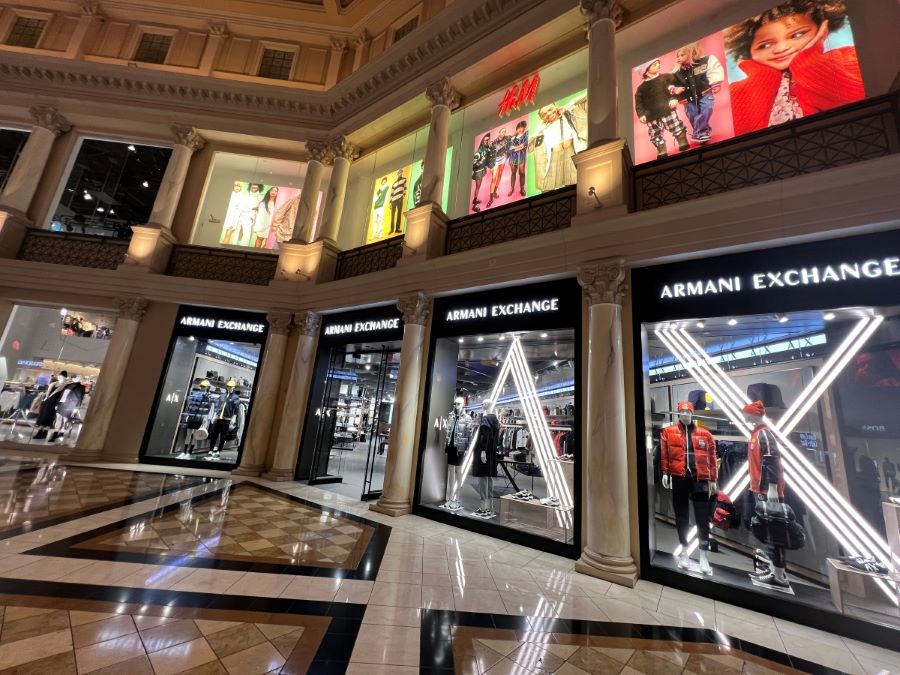 Top Budget-Friendly Attractions In Las Vegas

Looking for budget-friendly fun in Vegas? There are numerous free attractions in Las Vegas that offer entertainment and experiences for free or little cost.

The Bellagio Fountain Show, the Bellagio Conservatory & Botanical Garden, the STRAT Tower Observation Deck, Shark Reef Aquarium, The High Roller, and the lion habitat are just some of the top budget-friendly attractions to see in Las Vegas.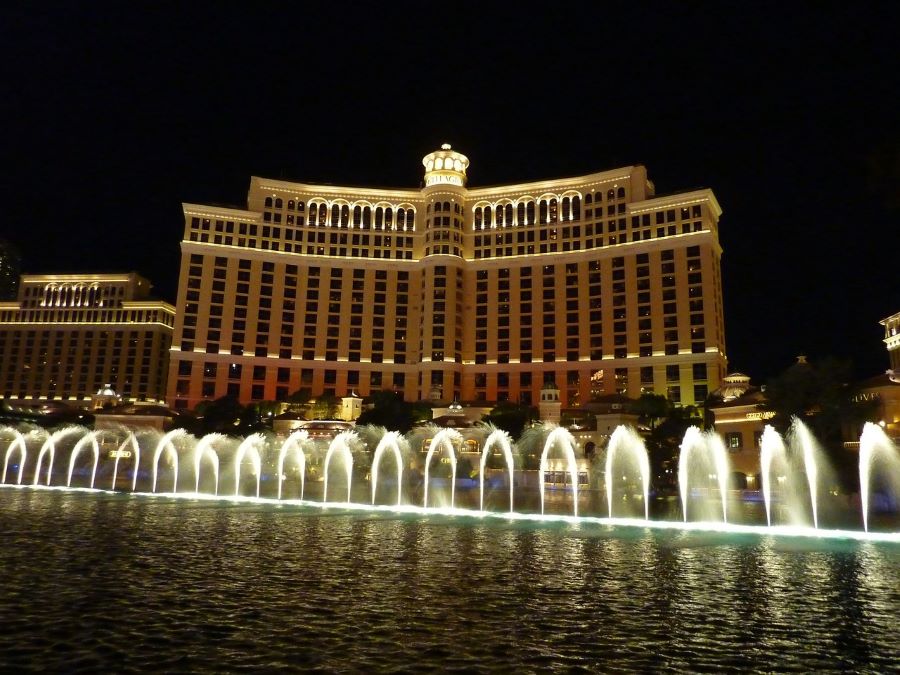 Bellagio Fountain Show

As a traveler heading to Las Vegas, you definitely don't want to miss the iconic Bellagio Fountain Show. This free attraction at the Bellagio resort is considered one of the most ambitious and complex water features ever conceived, making it a top budget-friendly activity among our list of cheap things to do in Sin City.

To enjoy this incredible show without spending a dime, simply find a comfortable perch by the lake or along Las Vegas Blvd. for an unobstructed view of these towering jets of water as they dance across the sky.

With over 1,200 individual fountains performing intricate aerial routines set against captivating music ranging from classical tunes to modern hits, there's truly something for everyone to love about this spectacular display.
Here's a fun look at the amazing water fountain show below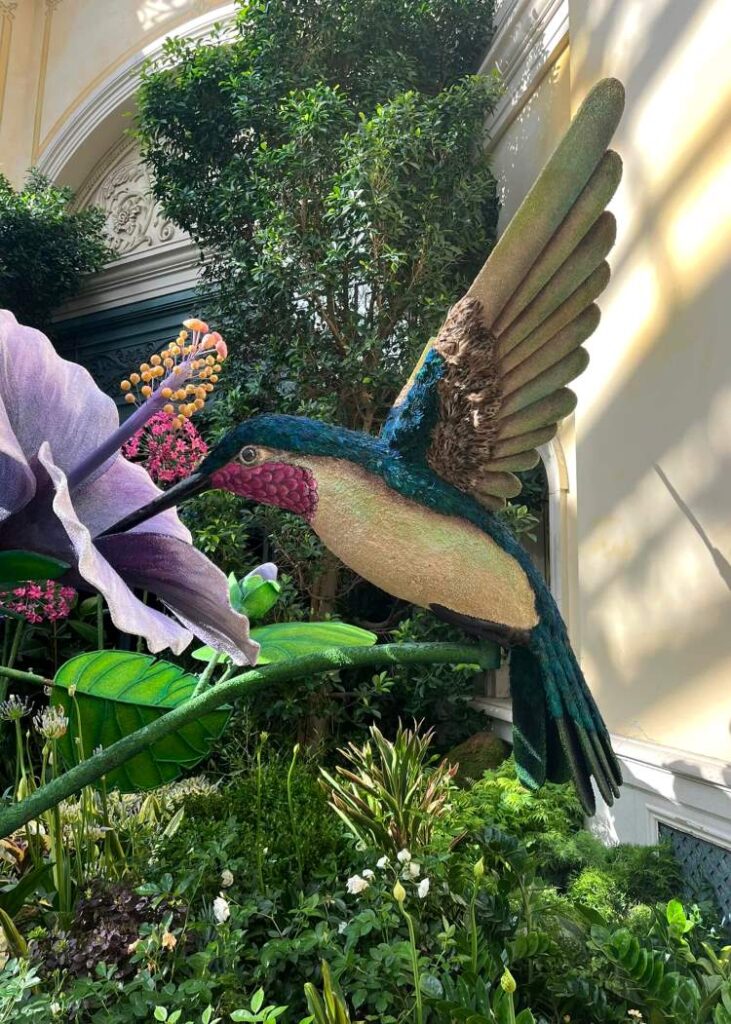 The Bellagio Conservatory & Botanical Garden

Another must-see free attraction at the Bellagio is The Conservatory & Botanical Garden, located inside the renowned hotel. Spanning a massive 14,000 square feet, this awe-inspiring garden boasts over 11,000 plants and flowers on display.

As you explore the stunning displays at The Bellagio Conservatory & Botanical Garden, it's easy to forget about the hustle and bustle of Las Vegas just outside.

This peaceful and tranquil oasis serves as a much-needed break from the city's chaos while still offering an unforgettable visual spectacle that everyone can enjoy without breaking their budget.

The STRAT Tower Observation Deck

One of the top budget-friendly attractions in Las Vegas that you absolutely cannot miss is the STRAT Tower Observation Deck. Towering above Sin City, this impressive structure stands as the tallest freestanding observation tower in the United States at 1,149 feet tall.

Visiting the STRAT Tower Observation Deck is not only an amazing experience but also incredibly affordable. With tickets priced around $24 when booked in advance, it's one of those cheap things to see at Las Vegas without breaking your budget.
Here's a video tour visiting the Strat Skypod Tower below

Pinball Hall of Fame

If you're looking for a fun and affordable activity in Las Vegas, look no further than the Pinball Hall of Fame. This quirky attraction is dedicated to preserving the history of pinball machines and arcade games, boasting the world's largest known collection.

Not only is admission free, but most games can be played for just $0.25 or $0.50! Spanning 25,000 square feet, there's plenty of space to enjoy these non-violent arcade games with your family.

The Pinball Hall of Fame also features classic video arcade games and two Disney Mold-A-Rama machines for an added nostalgic touch.
Check out this video tour of the Pinball Hall of Fame below

Shark Reef Aquarium

If you love visiting aquariums, then Shark Reef Aquarium should be on your list of must-visit attractions. Located inside the Mandalay Bay Hotel and Casino on the Las Vegas Strip, this aquarium is home to over 2,000 animals from various underwater ecosystems.

You can get up close to deadly predators like sharks, sawfish, piranhas, and even a rare golden crocodile. The exhibits also include giant rays that soar above you in an open-air habitat.

While some families may find it pricey compared to other activities in the city, Shark Reef Aquarium is comparable in price to other similar attractions across the country.

The High Roller

One of my favorite budget-friendly things to do in Las Vegas is to ride the High Roller, the world's tallest observation wheel. Towering at 550 feet above the Strip, this attraction offers stunning panoramic views of the city that are simply breathtaking! The best part? It's a luxurious experience that won't break your budget.

You can snag happy hour discounts or Groupon deals on tickets and enjoy a half-hour ride aboard one of its spacious cabins.
Here's a look at the High Roller at Las Vegas

The Lion Habitat

One of the most exciting and affordable attractions in Las Vegas is the Lion Habitat Ranch. This sanctuary for lions, exotic birds, emus, ostriches, turtles and Ozzie the giraffe offers visitors a unique opportunity to get up close with some majestic creatures. The entrance tickets are affordable and there are even discounts available via Groupon.

At this ranch located just outside Las Vegas, visitors will have an unforgettable time meeting and seeing lions playing together or lounging around in their habitats.

In addition to observing these big cats from afar, guests can also watch them being fed or interact with parrots, ostriches and other animals up close.
Check out the highlights to visiting the Lion Habitat below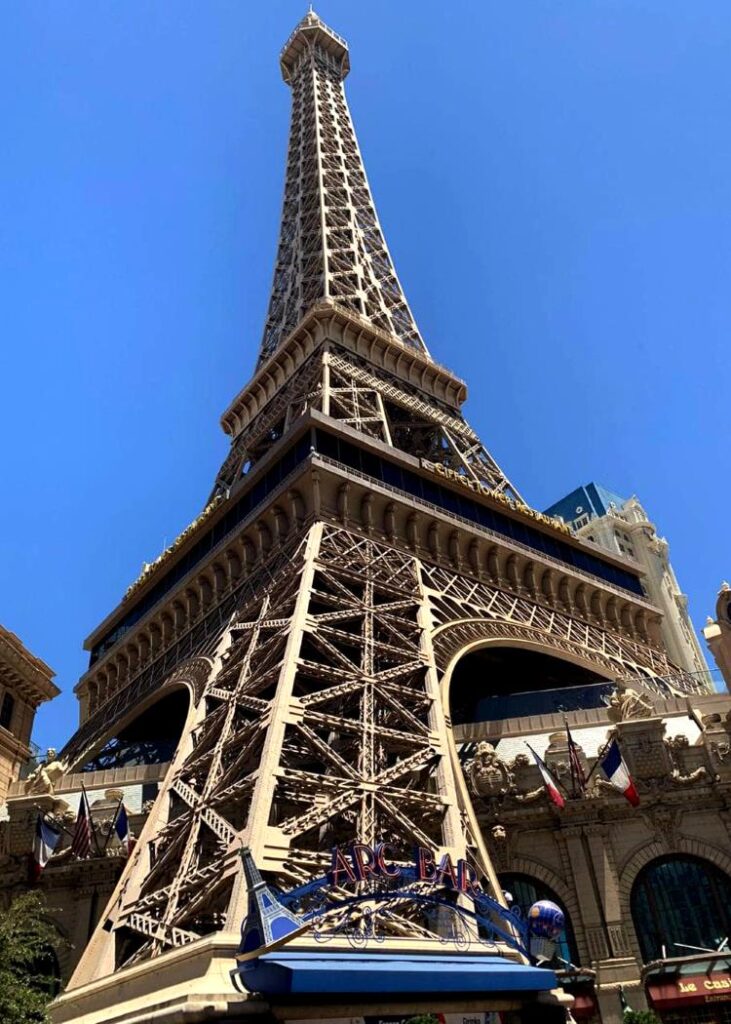 The Eiffel Tower Viewing Deck

If you're looking for one of the best views in Las Vegas, then head on to the Eiffel Tower Viewing Deck. Located 46 stories high atop a replica of the Parisian Eiffel Tower, this attraction offers breathtaking 360-degree views of the iconic Las Vegas Strip below.

Tickets to the Eiffel Tower Viewing Deck start at only $24 and can be purchased as part of your last-minute activities in Las Vegas. Compared to many other expensive attractions in Sin City, this viewing deck is relatively affordable and perfect if you're looking for cheap things to see in Las Vegas that won't break the bank.

The Marvel Avengers S.T.A.T.I.O.N.

As a huge Marvel fan, I couldn't resist visiting The Marvel Avengers S.T.A.T.I.O.N. during my trip to Las Vegas. This interactive exhibit at Treasure Island allows you to see costumes and props from the Avengers movies up close, as well as participate in games and challenges inspired by the characters.

What's even better is that tickets are currently available for under $50, making it an affordable way to experience your favorite superheroes. As a bonus, there's also a gift shop with all sorts of collectibles and apparel related to the franchise.

The Wildlife Habitat At The Flamingo Hotel

If you're looking for a free attraction in Las Vegas that's perfect for animal lovers, head to the Flamingo Hotel. The Wildlife Habitat is a four-acre oasis of streams, waterfalls, and exotic birds right on the Strip.

This lush garden features various species of birds such as pheasants, ducks, swans, and even flamingos. You'll also find turtles and fish swimming around in this peaceful environment.

It's an excellent spot to relax away from the hustle and bustle of Vegas while watching nature at its best.

Area15 Illuminarium

I discovered a truly unique and mesmerizing experience at Area15 during my last trip to Las Vegas. The Illuminarium is a 360-degree immersive projection show that takes you on an interactive journey through the wonders of nature, space, and technology.

Aside from the incredible time I had at the Illuminarium alone, Area15 as a whole is worth checking out for its diverse selection of entertainment options.

They have everything from art installations to virtual reality games to cocktail lounges all under one roof. And if you want to save even more money, look for bundle tickets or free events on their website before visiting.

The National Atomic Testing Museum

If you're looking for an affordable and educational attraction in Las Vegas, look no further than the National Atomic Testing Museum. Located just minutes away from the famous Las Vegas Strip, this museum offers a unique glimpse into the history of the atomic bomb.

Operated by a non-profit organization, the Nevada Test Site Historical Foundation, the museum features over 8,000 square feet of exhibits showcasing artifacts related to America's atomic testing program.

With admission priced at $29 (discounted rates available for military personnel, seniors, and students), it's a budget-friendly option that provides an engaging learning experience for both children and adults.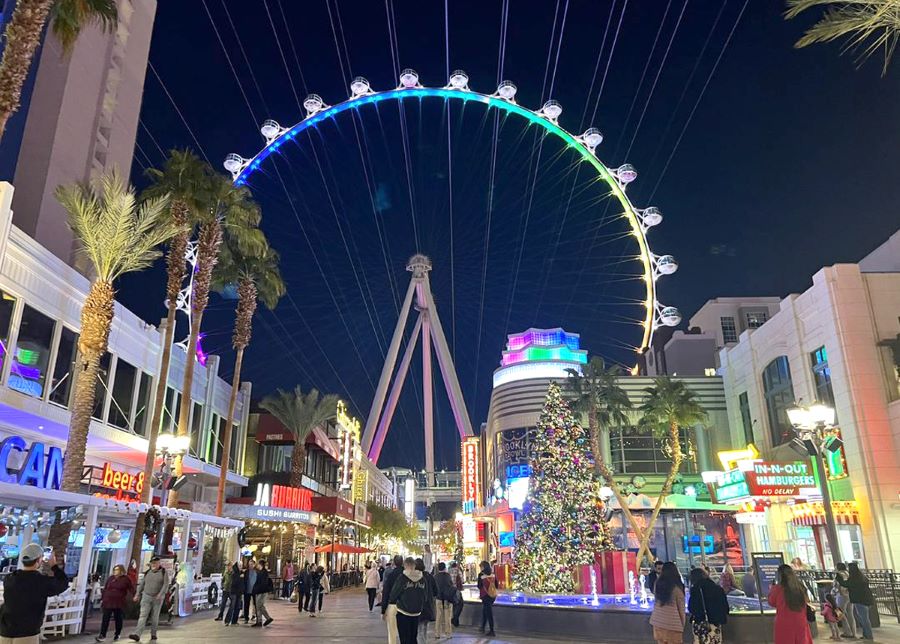 The LINQ Zipline

If you're a thrill-seeker on a budget, look no further than the LINQ Zipline. This exhilarating ride is the Strip's only zipline experience and starts on the launch tower 12-stories above ground level.

As you soar through the air, take in breathtaking views of the iconic Las Vegas skyline and catch glimpses of popular attractions like the High Roller Observation Wheel.

While at The LINQ Promenade don't forget to visit other cheap things nearby such as dining options or shopping for souvenirs.

Nathan Burton Comedy Magic Show

If you're in the mood for some good laughs and mind-blowing illusions, check out the Nathan Burton Comedy Magic Show. This family-friendly show is a combination of comedy and magic, with added elements like showgirls and stage illusions that are sure to keep you entertained.

Located at the Saxe Theater in Planet Hollywood Las Vegas, there's plenty more to do around this iconic hotel beyond catching the Nathan Burton show.

Cheap Things To See In Downtown Las Vegas

Experience the vibrant atmosphere of Fremont Street which is just one of many affordable things to do in Downtown Las Vegas (please link to https://threedaysinvegas.com/things-to-do-in-downtown-las-vegas/). As you stroll along the street, you'll be surrounded by music, lights, and street performers, creating an unforgettable experience.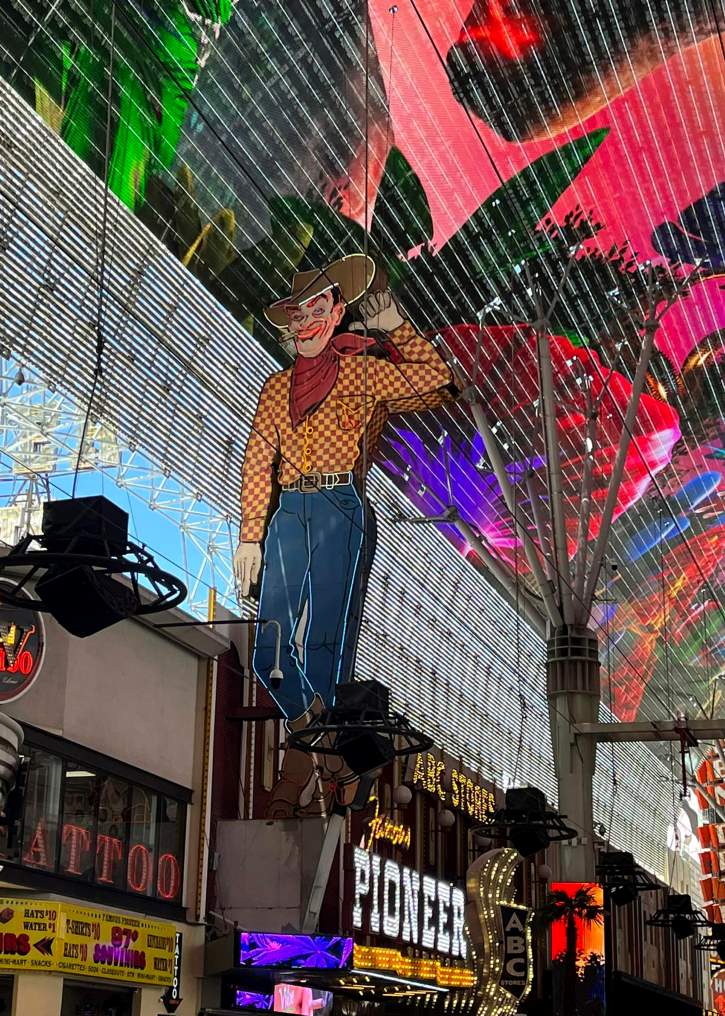 The Viva Vision Light Show At Fremont Street Experience

I highly recommend checking out the Viva Vision Light Show at Fremont Street Experience during your trip to Las Vegas. It's a completely free attraction that features stunning visuals projected onto the massive 49.3 million LED lights video screen, which is also the largest in the world.

The Fremont Street Experience itself is also something worth seeing. It's a 24-hour pedestrian mall filled with tons of things to do and see, including street performances, vintage sign collections, delicious cafes, bars, and even ziplining!
The area has an incredibly vibrant atmosphere that makes it a favorite among tourists seeking some nightlife fun without breaking the bank.
Check out the amazing Viva Vision light show below

Free Concerts On Fremont Street

One of my favorite things to do in Las Vegas when I am looking to save some money is catching the free concerts on Fremont Street. This years line up featured artists such as Gin Blossoms, Neon Trees, Young the Giant and Smash Mouth.

As one of the city's most popular pedestrian malls, you can always expect something exciting going on at Fremont Street. If you're lucky enough to visit during one of their major events like New Year's Eve or Fourth of July, then be prepared for an unforgettable experience.

These events draw thousands of visitors every year with their grandeur fireworks display and live performances from top musicians across all genres.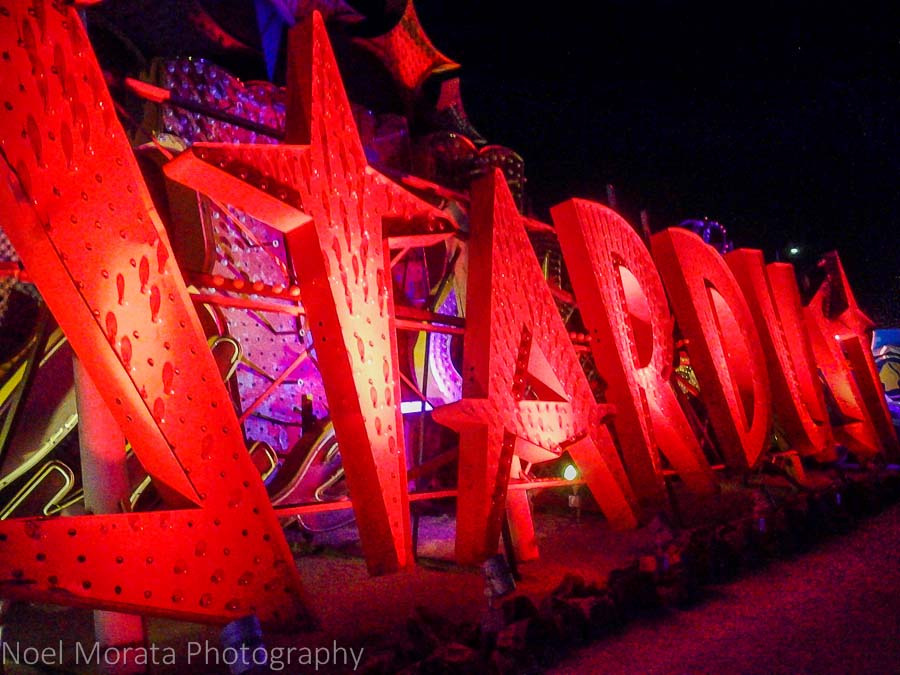 The Neon Museum

The Neon Museum is a must-see for anyone visiting Las Vegas. It's a popular museum that showcases neon signs from old casinos and businesses on 2.62 acres of outdoor display.

Located off the Strip, the museum provides visitors with a quieter experience away from the busy tourist area. You can take an evening guided tour of the Neon Boneyard to see the fabulous history of neon signs and learn about the fascinating history of Las Vegas.

The admission fee for this unique museum is relatively cheap, making it an affordable option for those looking for inexpensive things to do in Las Vegas.
Here's a look at the Neon Museum below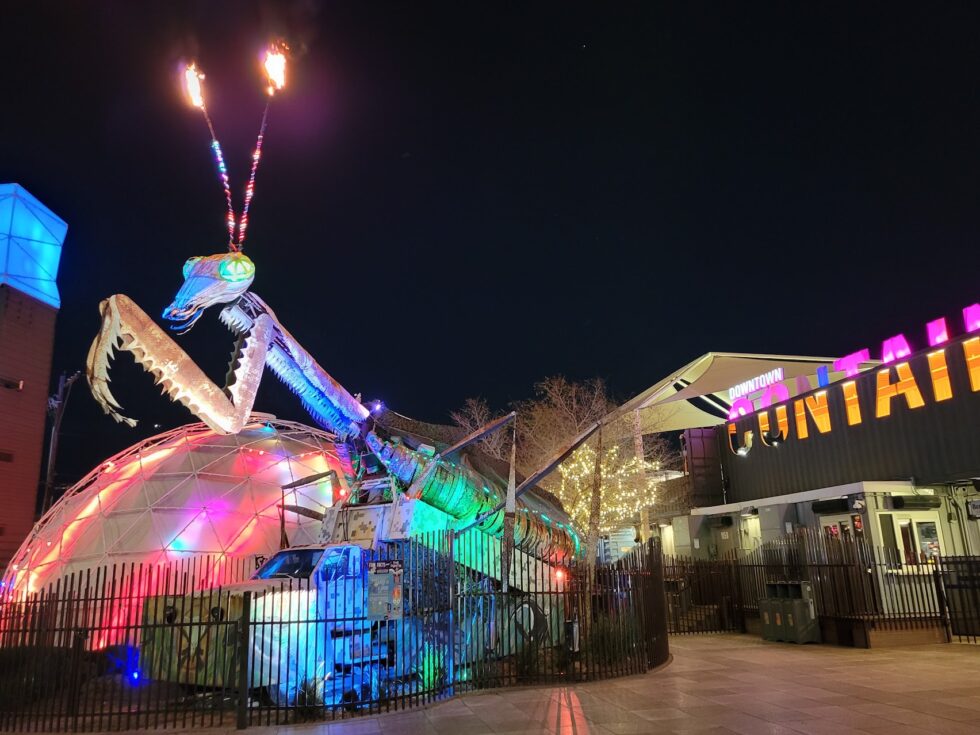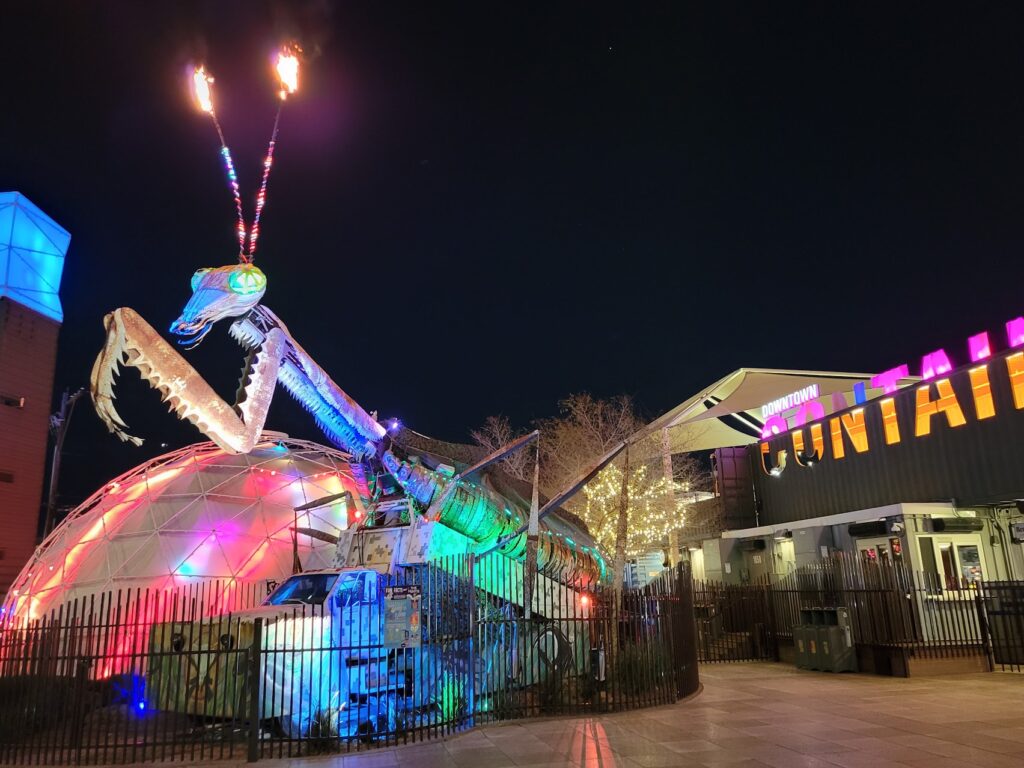 The Container Park at Downtown

As a budget-conscious traveler to Las Vegas, the Downtown Container Park is one attraction you do not want to miss. This open-air shopping mall offers an array of boutique retail shops, restaurants, art galleries and a playground for the whole family.

You can also catch free live entertainment at night or simply take in the sights of their impressive praying mantis sculpture that breathes fire – definitely something that you don't see every day! Cheap and free activities include exploring art galleries, shopping for souvenirs and enjoying bites from local eateries.

Gold & Silver Pawn Shop

If you're looking for a unique and budget-friendly experience in Las Vegas, be sure to check out the famous Gold & Silver Pawn Shop. This iconic shop has gained fame through its appearance on the hit reality TV show "Pawn Stars" and offers visitors an opportunity to step into the world of buying and selling valuable items.

Located conveniently in Downtown Las Vegas, this historic building dates back to 1934, making it one of the oldest structures in the area. With its association with affordable attractions and entertainment options in Las Vegas, Gold & Silver Pawn Shop is definitely a must-visit spot.

Plus, through a partnership with Annie Bannanie tours, you can enjoy free transportation to the shop for an even more wallet-friendly adventure. So don't miss out on this chance to explore one of Vegas' best free and cheap attractions!

Counts Kustoms

Count's Kustoms is an absolute must-visit if you're in Las Vegas on a budget. This attraction, known for its custom bikes, killer paint jobs, and vintage cars, offers free tours of their showroom to the public.

You'll have the chance to see some of the coolest hot rods, exotic cars, and choppers in all of Vegas. Count's Kustoms has gained fame through its appearances on the hit TV show Pawn Stars and is one of the world's largest places dedicated to showcasing these automotive masterpieces.

Whether you're a car enthusiast or simply looking for a fun and affordable activity in Las Vegas, a visit to Count's Kustoms should be at the top of your list. And with tours available from Monday to Friday 9 am to 5 pm (and weekends from 10 am to 5 pm), it's easy to find a time that works for you!
Here's a quick video tour of the area

Budget-Friendly Outdoor Activities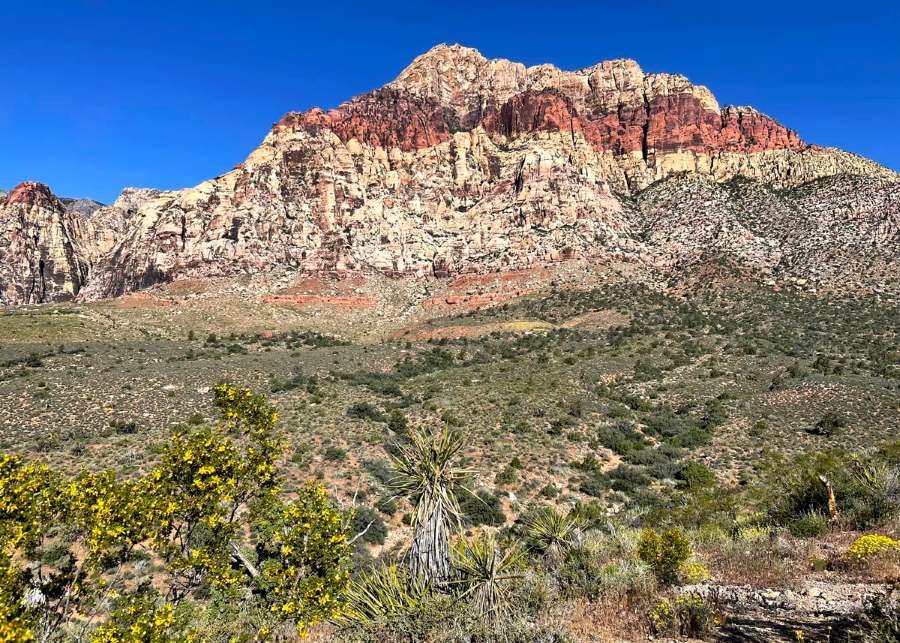 Explore the stunning natural beauty of Las Vegas with budget-friendly outdoor activities like visiting Red Rock National Conservation Area, hiking the Fire Wave Trail at Valley of Fire and visiting Hoover Dam.
Visit Red Rock Canyon

One of the best budget-friendly outdoor activities to enjoy while in Las Vegas is a visit to Red Rock Canyon. Just a short distance from the city, this stunning natural wonder offers a break from the hustle and bustle of the Strip without breaking the bank.

With its impressive desert scenery and unique geological formations, Red Rock Canyon provides an opportunity for visitors to embrace nature's beauty on a budget. Hike one of the many beautiful trails, such as the Calico Hills trail or explore Red Rock Canyon Scenic Drive for breathtaking views. Entrance to the park is only $20 for the whole day.
Don't forget your camera because wildlife spotting and photography opportunities abound! Whether you're into biking, hiking, or just taking in the awe-inspiring landscape, Red Rock Canyon is sure to be an unforgettable experience that won't empty your wallet.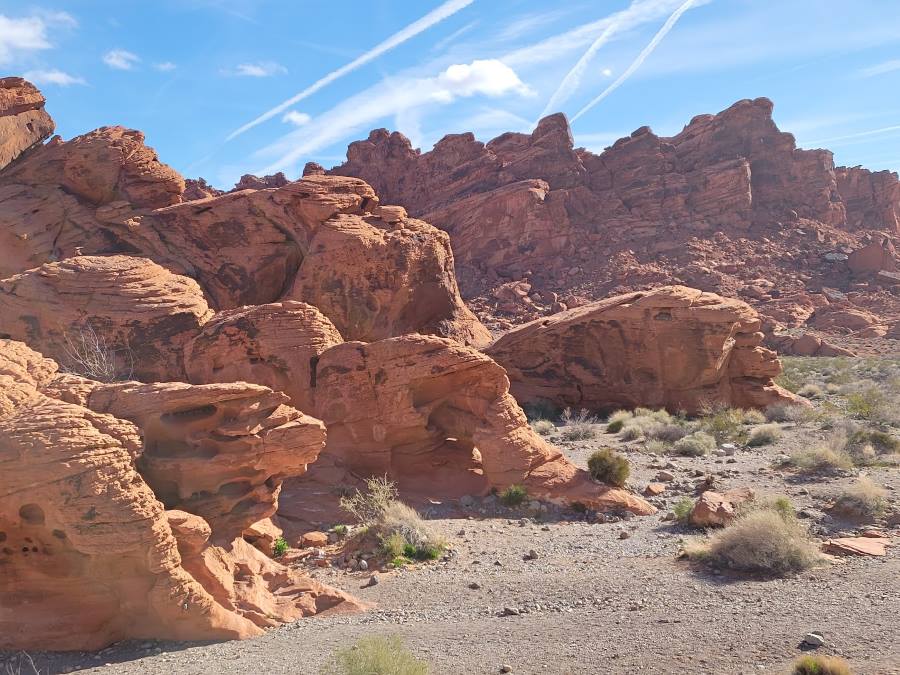 Hike the Fire Wave Trail at Valley of Fire

Another bucket list activity in Las Vegas is hiking the Fire Wave Trail at Valley of Fire. This trail offers a unique and stunning experience with its vibrant sandstone formations and breathtaking colors.

It's a manageable 1.5-mile hike suitable for all skill levels, including beginners. The trail starts in Parking Lot #3, and although there is an entrance fee of $10 per car to enter Valley of Fire State Park, it's well worth the cost.

Once you reach the Fire Wave area, you're free to explore and marvel at its beauty. Make sure to pack some snacks and enjoy this budget-friendly outdoor activity while taking in nature's wonders at Valley of Fire State Park near Las Vegas!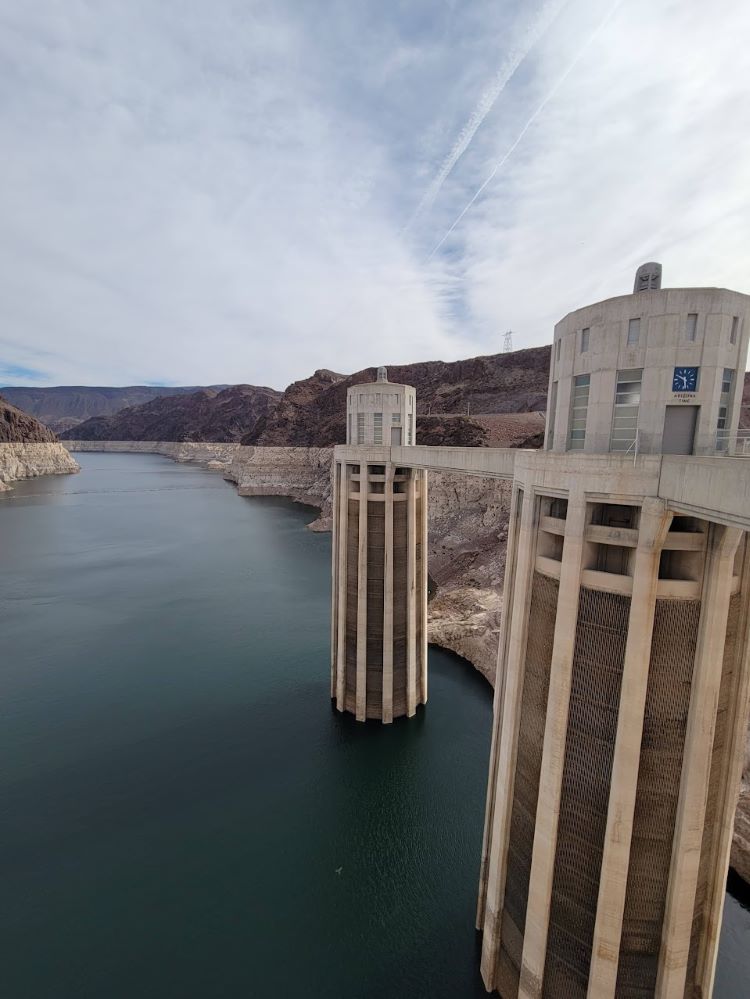 Visit Hoover Dam

If you're looking for a fun and budget-friendly day trip from Las Vegas, be sure to visit the iconic Hoover Dam. Located about 30 minutes south of the city, this family-friendly attraction offers breathtaking views and is a popular spot for taking memorable photos.

While there are guided tours available at an extra cost, visitors can still enjoy the dam's majesty for free by simply walking around and exploring on their own. The Hoover Dam Visitor Center also offers self-guided tours for just $10, allowing you to learn about its fascinating history at your own pace.

Plus, with Lake Mead nearby, you can extend your outdoor adventure with activities like kayaking or hiking the nearby Historic Railroad Trail which follows the path the workers used to take when the dam was being built. So make sure to add a visit to the Hoover Dam to your Las Vegas itinerary – it's an engineering marvel that shouldn't be missed!

Dining Options on a Budget

When it comes to dining on a budget in Las Vegas, there are plenty of affordable options to choose from. From all-you-can-eat buffets and happy hour specials to food courts and cheap eats off the Strip, you won't have to break the bank for a good meal.

You can even save money by packing snacks and drinks for those times when you're on-the-go. So go ahead, indulge in some delicious food without worrying about emptying your wallet.
Affordable buffets

When visiting Las Vegas, finding affordable dining options can be difficult. Luckily, there are plenty of budget-friendly buffets to choose from. Here are some great options to consider:

The Excalibur Buffet: Located on the Strip, this buffet offers a variety of options at reasonable prices. Enjoy all-you-can-eat dishes for breakfast, lunch, or dinner without breaking the bank.

Garden Court Buffet at Main Street Station: This Downtown buffet has always provided great food choices in a Victorian setting without breaking the bank. Open for brunch and dinner.

Off-Strip Buffets: For different choices of food and a slightly lower price point, head to off-strip buffets such as Buffet@Asia, Fresh Buffet or the Market Place Buffet. These locations often offer lunch buffets ranging from $20 to $30 and dinner buffets reaching $35 or more.

Search for Discounts: To save even more on your dining experiences, search for 2-for-1 buffet deals on Groupon. Also many websites and travel agencies offer discount packages when you book your room that can help stretch your budget further.
Look For Happy Hour Deals

One of the best ways to save money in Las Vegas is to take advantage of happy hour deals. Many bars and restaurants offer discounted drinks and food during certain times of the day, usually late afternoon or early evening.
For example, at The Park MGM's Moneyline Sports Bar & Bookie, visitors can enjoy $5 beers and cocktails from 4 PM to 7 PM daily.

Fremont Street has several bars that offer cheap drinks during happy hour like Atomic Liquors' "Reverse Happy Hour" where customers get half-off drafts between midnight and 2 AM Sunday through Thursday nights.

Cheap Eats Off The Strip

Looking for some delicious and budget-friendly food options away from the bustling Las Vegas Strip? Venture away from the Hotels and Casinos of the Strip and discover affordable dining choices scattered throughout Las Vegas.
Tacos El Gordo, Secret Pizza, Shake Shack, Eggslut, Village Pub & Cafe and countless local bars are just some of the local favorites that won't disappoint.
If you are looking for cheap eats on the strip it's not so easy, but here's some great places to check out below

Tips For Visiting Las Vegas On A Budget

When visiting Las Vegas on a budget, we recommend staying in off-Strip hotels, taking advantage of free attractions, enjoying happy hour and dining deals, and using public transportation to get around.

Stay At A Hotel Off The Strip

Staying at a hotel off the Strip is one of the best ways to save money while visiting Las Vegas on a budget. Options like the Rio All-Suite Hotel & Casino are affordable and not too far from popular attractions.

The Rio All-Suite Hotel & Casino offers comfortable accommodations with affordable family packages available. Staying here means you won't be within walking distance of all the action, but public transportation options such as buses and ride-sharing services make it easy to get around without breaking your budget.

Take Advantage Of Free Attractions And Shows

For those who enjoy live music, Fremont Street Experience offers nightly free concerts featuring local and international artists. Additionally, The LINQ Promenade hosts free performances every evening that include everything from acrobatics to magic shows.

One of the best ways to experience Las Vegas on a budget is by taking advantage of the many free attractions and shows available. From the iconic Bellagio Fountain show to the impressive Shark Reef Aquarium, there are plenty of options for visitors looking for fun things to do without breaking the bank.
Here's a video of some of the best freebie shows to check out around the city – did I mention they are free???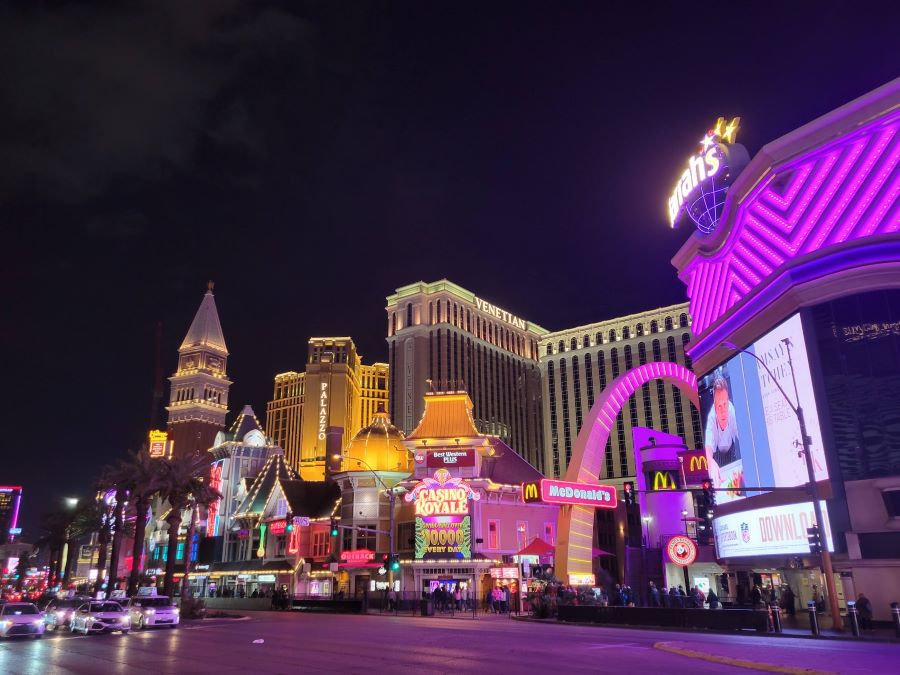 Use Public Transportation Or Walk around Vegas

As a budget-conscious traveler, I highly recommend taking advantage of Las Vegas' public transportation options or walking to get around. The Deuce bus route runs up and down the Strip and connects to Fremont Street, making it an affordable way to travel between major attractions.

If you prefer a more active approach, walking is another excellent option for exploring the city while saving money on transportation costs. Strolling along the Strip at night provides stunning views of iconic landmarks like the Bellagio fountains and Eiffel Tower replica at Paris Las Vegas.

Las Vegas was once known for its cheap entertainment options so save some cash by utilizing public transportations means such as buses or just strolling around town.

Visit During The Off-season For Lower Prices

One great tip for anyone traveling to Las Vegas on a budget is to try visiting during the off-season or off-peak season. This can mean avoiding holidays, weekends, and other popular travel times throughout the year.

By doing so, you'll find that many hotels and airlines offer significant discounts to entice travelers to visit when demand is lower.

For example, visiting Vegas in January or February – except for around Valentine's Day – can be significantly cheaper than traveling there in June or July. The weather might not be as warm, but it will certainly come at a much more affordable cost.
Check out these other posts on Visiting Las Vegas

Conclusion Cheap Things to Do In Las Vegas

In conclusion, Las Vegas doesn't have to break the bank. You can enjoy a variety of cheap and even free attractions while experiencing all the glitz and glamor this city has to offer.

From watching the Bellagio Fountain Show or visiting Red Rock Canyon to taking in the views from the STRAT Tower Observation deck or ziplining on The LINQ, there's something for everyone on a budget in Las Vegas.
Author Bio: Shannon is an adventure enthusiast, nature lover, and art dabbler who lives in Las Vegas, Nevada. Shannon is a huge fan of discovering new places to visit and the outdoor lifestyle and is a regular contributor at threedaysinvegas.com .