Treasures and Trinkets: Exploring Feira da Ladra – Lisbon's Flea Market (2023)
If you love flea markets, then this is Lisbon's most famous flea markets to visit in the Alfama district. The meaning of Feira da Labra translates into the Thieves Market which is a fun dig to visiting this popular market that happens every Tuesday and Saturday.
Experience the vibrant shopping and fun exploring at Feira da Ladra, Lisbon's legendary flea market. Located in the heart of the city, this bustling marketplace invites you to embark on a journey of exploration and intrigue. With its rich history, diverse offerings, and lively atmosphere, Feira da Ladra captivates visitors from near and far. Stroll through its lively lanes, where the past intertwines with the present, and be enthralled by the array of antique treasures, vintage curiosities, and unique crafts on display. Let the spirit of adventure guide you as you navigate through this cultural melting pot, where every corner holds the promise of unexpected finds and captivating stories. Prepare to be swept away by the vibrant energy and captivating allure of Feira da Ladra, where the essence of Lisbon comes alive in a dazzling display of sights, sounds, and hidden treasures.
I was touring the Alfama on a Saturday so visiting the Feira da Ladra was an automatic must visit at the Campo de Santa Clara. It was huge and a really fun day outdoors looking for some hidden treasures and bargains.
Where is the Feira da Ladra located?
The weekly Tuesday and Saturday market is located in the Alfama District at the Campo de Santa Clara. Spread out around the main square and spilling into the side streets, the market day on Saturdays  are the biggest turnouts and huge with street performances, all the antique shops and restaurants open and rummaging through the many stands to find some interesting finds. You'll find a lot of restaurants and cafes open and busy mid day to late afternoon so if you are also hungry, there are quite a few places to eat, hang out and people watch the outdoor market.
Keep your Google map set for the Campo de Santa Clara or the National Pantheon where the flea market is located close by.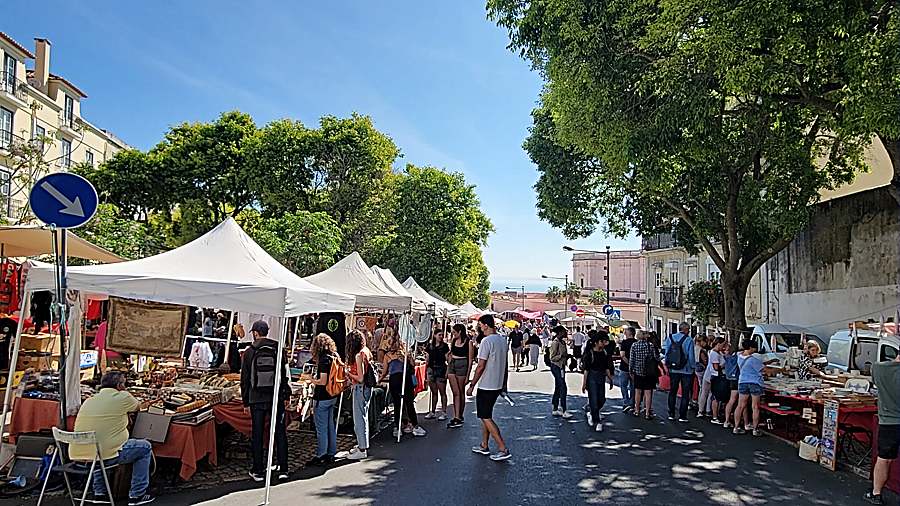 What can you buy at Feira da Ladra?
This is really a catch all for antiques and collectibles, garage sale items to unique finds like a typical flea market or a rummage sale.
There's always an eclectic selection of vintage items and second-hand goods, interesting junk that is a treasure for others along with cheap souvenirs, clothing, jewelry, paintings and so many other collectibles.
It's fun just to be outdoors and exploring the area, checking out all the nostalgic items from the past and getting a slice of local Lisbon life on the weekends here. Who knows what you will discover but just enjoying the day out here, grabbing a bite at any of the local restaurants in the market area is fun and a cool way to enjoy some time here in the Alfama district of Lisbon.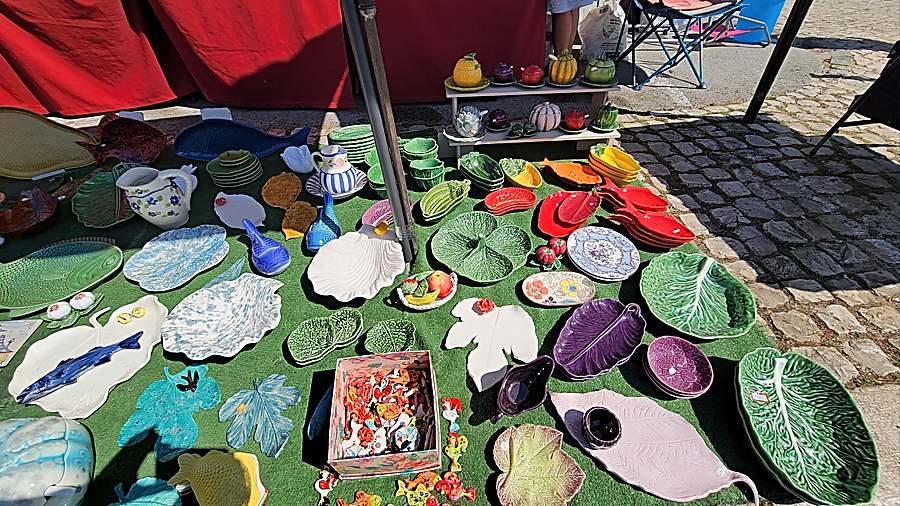 Details to visiting the Feira Da Ladra
Hours
The market is open on Tuesday and Saturday mornings from 8 to approximately 5pm. The Feira Da Ladra is located at the area around the Jardim Boto Machado and right next to the National Pantheon.
The flea market is free to enter and mostly outdoors so be prepared for full sun and bring plenty of water and sunscreen.
How to get to the market
By Metro – Take the blue metro line to Santa Apollonia station and walk uphill towards Alfama about 150 M away or you can catch an uber to get you uphill.
By Tram #28 – take the tram all the way to the main lookout points and get off there or maybe another 100m uphill and you can walk uphill towards the National Pantheon where the market located. You can follow some of the signs leading up to the National Pantheon.
Uber or taxi – the fastest option will save you time and energy since most of the walk is uphill to get to the flea market. Just place in the Feira Da Ladra or National Pantheon on the direction search to get you to the final destination.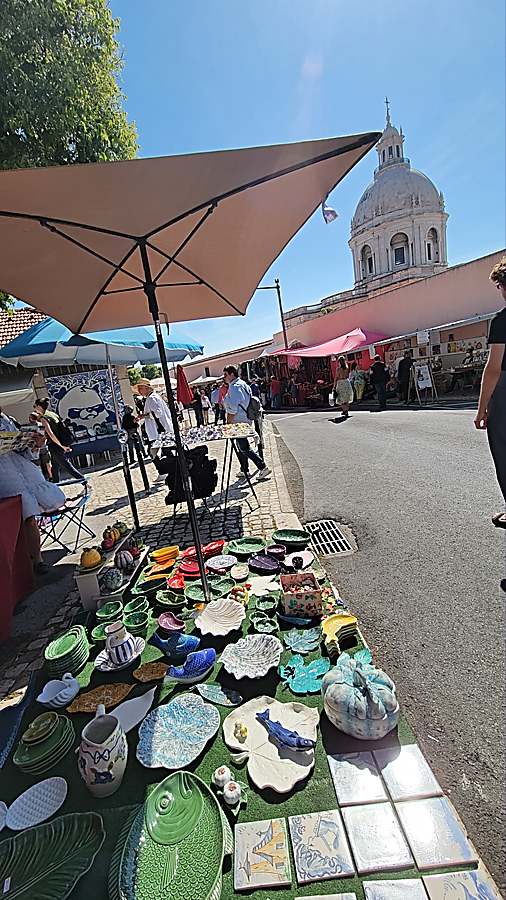 How to get to the Fiera da Ladra
Getting to Feira da Ladra, Lisbon's famous flea market, is easy. Here's how:
Public Transport: The most convenient way is to use Lisbon's public transport. Take Tram 28, a historic tram that winds through many of Lisbon's neighborhoods. It stops near Feira da Ladra, and you can hop on from various locations in the city.
Bus: Several bus lines, including 734, 735, and 712, have stops near Feira da Ladra. Check the bus routes and schedules to find the one that suits you best.
Walk: If you're staying in the Alfama or São Vicente neighborhoods, you can walk to the market. Feira da Ladra is located in the Campo de Santa Clara square.
Taxi or Ride-Sharing: You can also take a taxi or use a ride-sharing service to get to the market. Simply input "Feira da Ladra" as your destination.
Biking: If you're an avid cyclist, consider renting a bike and pedaling your way to the market. Lisbon has dedicated bike lanes in many areas.
Feira da Ladra is typically held on Tuesdays and Saturdays from early morning until early afternoon. It's a bustling market where you can find a wide variety of items, from antiques to clothing, books, and crafts. Enjoy your visit and the treasure hunt!
Here's some more fun pics exploring the Fiera da Ladra below
More inside tips to visiting Feira da Ladra
When visiting Feira da Ladra, Lisbon's lively flea market, here are some inside tips to make the most of your experience:
Arrive Early: To beat the crowds and have first dibs on the best finds, consider arriving early in the morning when the market opens. This way, you can browse through the stalls leisurely and uncover hidden treasures before it gets too crowded.
Bring Cash: While some vendors may accept card payments, it's always a good idea to have cash on hand. Many sellers prefer cash transactions, and it allows for easier bargaining and flexibility when making purchases.
Embrace the Bargaining Culture: Negotiating prices is part of the charm at Feira da Ladra. Don't hesitate to engage in friendly haggling with the vendors. Polite bargaining can often lead to getting a better deal and adding a sense of excitement to your shopping experience.
Explore Beyond the Main Path: While the main aisle of Feira da Ladra showcases a wide range of items, don't be afraid to venture into the smaller lanes and hidden corners. Often, you'll discover unique items and lesser-known vendors with their own treasures to offer.
Stay Hydrated and Snack: Exploring the market can be an immersive experience, so it's essential to stay hydrated and energized. Bring a bottle of water and consider trying some of the local street food available nearby to keep your energy levels up.
Keep an Open Mind: Feira da Ladra is known for its eclectic mix of items, from vintage clothing and antiques to quirky collectibles and handcrafted goods. Embrace the diversity and keep an open mind as you never know what unexpected gems you might come across.
Take in the Atmosphere: Beyond the shopping, Feira da Ladra offers a vibrant atmosphere filled with live music, street performers, and the chatter of locals. Take the time to soak in the lively ambiance and enjoy the cultural experience of this unique marketplace.
Other things to check out in the Alfama District
The old Alfama District is a true working-class district but has a lot of fantastic attractions to visit in this historic and oldest section of the city. From the flea market, you can visit the many attractions around Alfama and get a taste of the historic part of the city.
Check out these fun and beautiful attractions in the immediate area.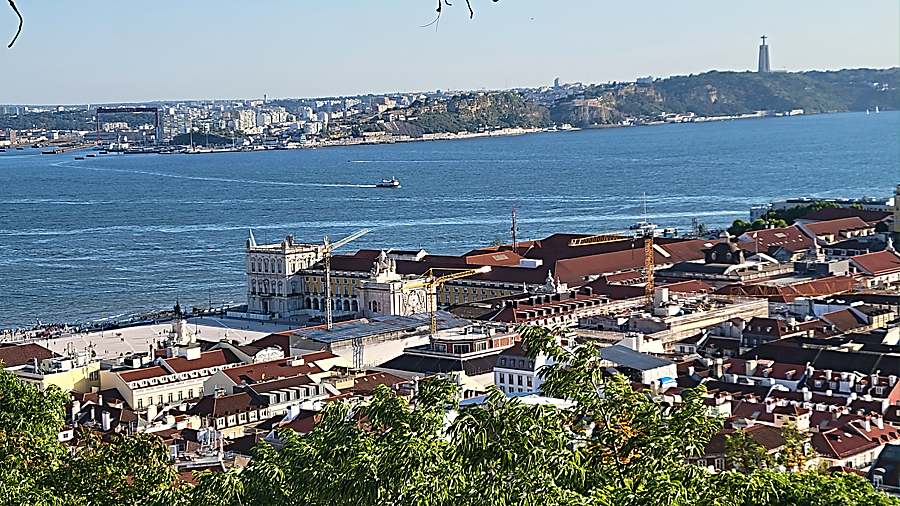 Visit the Miradouro of the Alfama
The many Miradouro or lookout points around the Alfama are very popular with visitors to see the views, take some selfies and hang out around the bars and restaurants or just seating areas to enjoy the views.
The most impressive and fun places to hang out and enjoy some drinks, food or just the views include:
Miradouro de Santa Luzia
Miradouro de Graca
Miradouro das Portas do Sol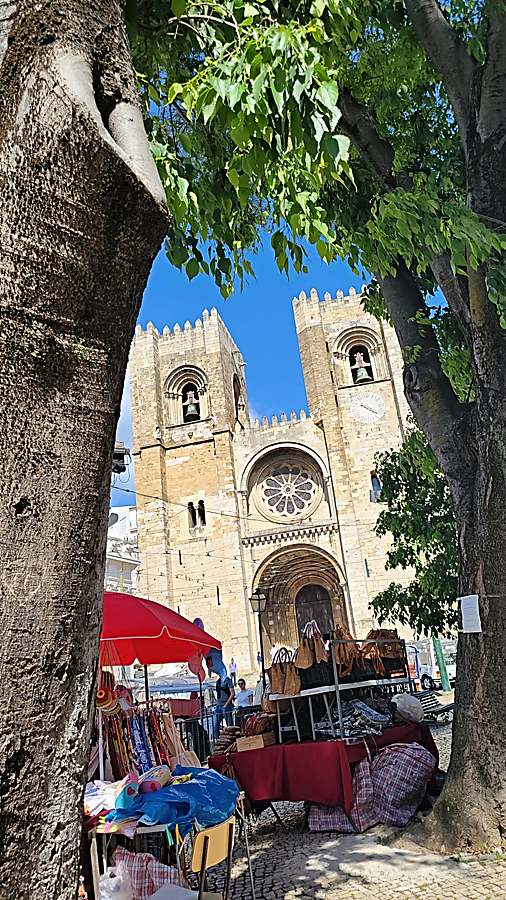 Lisbon's Cathedral Se
The Sé de Lisboa or Cathedral of Lisbon is the oldest church of Lisbon and dating back to 1147. A mix of architectural styles, the church is mostly Romanesque and Gothic styles combined. The church has been rebuilt many times and survived the great earthquake of 1755.
One of Portugal's national monuments, the church and cloisters are open for visitors to see the inside, tower and cloister areas and is open from 10am to 6pm daily.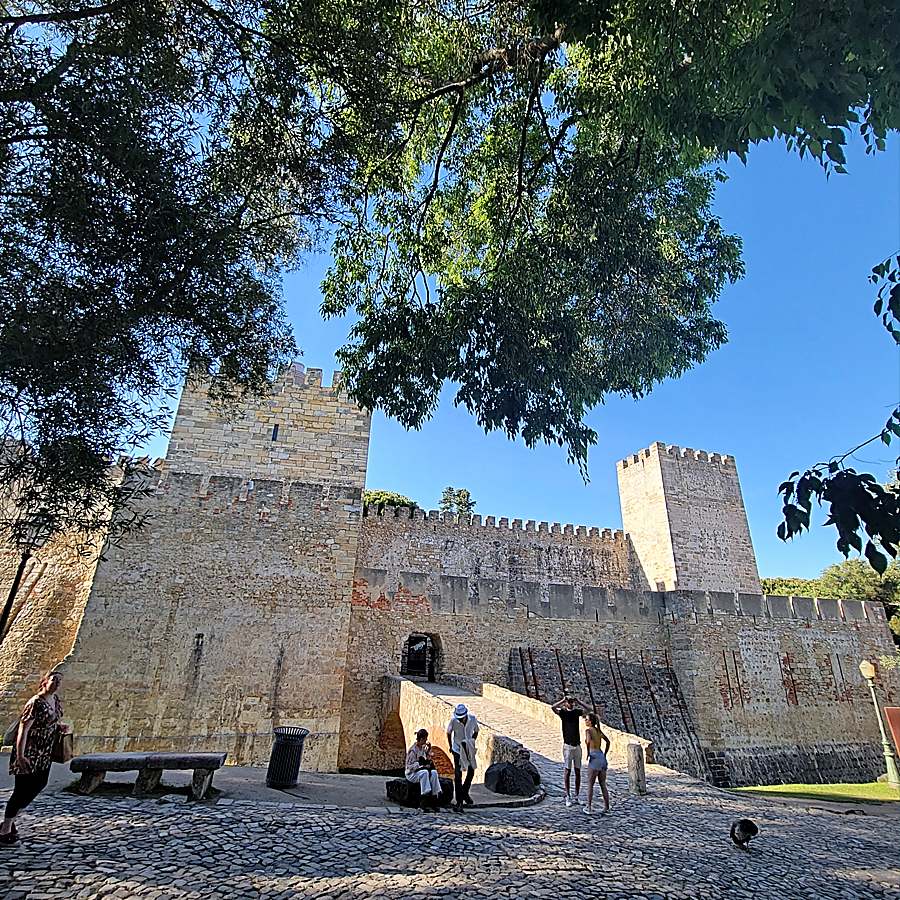 Castel de Sao Jorge – Castle of St. George
One of the most popular attractions to visit in the Alafama and a historic national monuments of Portugal, the Castel de Sao Jorge was originally a Roman castle built 200 BC and later fortified in the mid-11th century during the Moorish occupation and was used primarily as a fortress and defense for the city and housing military troops.
This was changed when the Moors were defeated and the rulers converted the castel into a royal palace. The Spanish converted it back to a fortress and military barracks after they ruled the city. Afterwards with Portuguese independence, the castel was declared a national monument and preserved as a living museum for all to enjoy.
Today the castel has a small museum and you are allowed to walk around the ramparts of the castel and check out the gorgeous views of the city below.
If you are looking for more cool things to do around the area, check out this post on seeing the top things around the Alfama district here for inspiration and more photographs.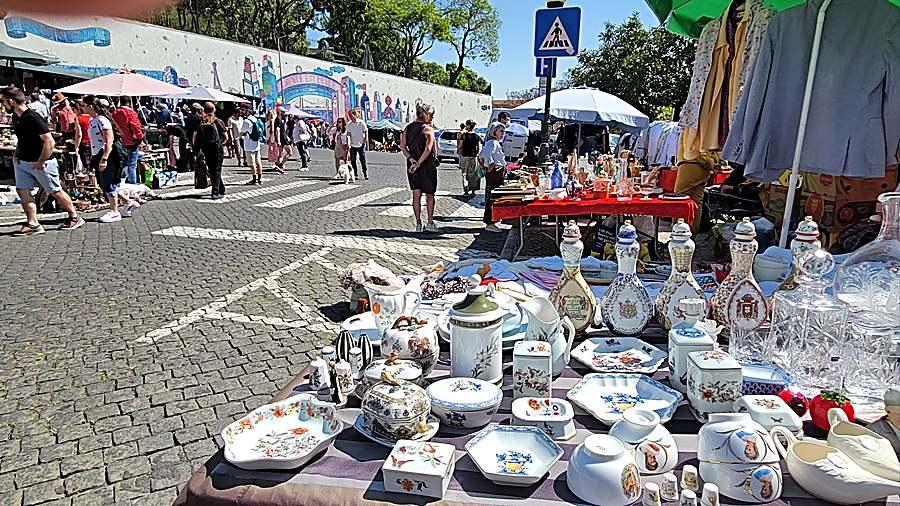 Places to eat around the Feira da Ladra
When you visit Feira da Ladra, Lisbon's famous flea market, there are several delightful places to eat in the surrounding area. Here are some recommendations for dining options:
Alfama District: As Feira da Ladra is located in the charming Alfama neighborhood, you'll find numerous traditional Portuguese restaurants offering authentic local cuisine. From cozy family-run taverns to quaint eateries, indulge in dishes like bacalhau (salted cod), grilled sardines, and hearty stews while enjoying the vibrant atmosphere of this historic district.
Graça Neighborhood: Just a short walk from Feira da Ladra, the Graça neighborhood is home to several trendy cafés and restaurants. Experience the fusion of traditional and contemporary flavors with dishes like petiscos (Portuguese tapas), gourmet burgers, and international cuisine. Don't forget to savor a pastel de nata (Portuguese custard tart) for dessert.
Campo de Santa Clara: Adjacent to Feira da Ladra, Campo de Santa Clara hosts a variety of food stalls and food trucks, offering a range of culinary delights. Grab a quick bite from one of the street vendors serving traditional Portuguese snacks, such as bifanas (pork sandwiches) or grilled chorizo. You can also find international options like falafel wraps or Asian fusion dishes.
Lisbon Food Markets: If you're looking for a wider selection of food options, consider visiting one of Lisbon's popular food markets near Feira da Ladra. Mercado de Santa Clara and Mercado de Arroios are both nearby and offer a diverse range of food stalls, serving everything from fresh seafood and local produce to international street food and artisanal products.
Street Cafés and Bakeries: As you explore the streets surrounding Feira da Ladra, you'll come across charming street cafés and bakeries where you can grab a coffee, enjoy a light meal, or indulge in pastries. Treat yourself to a delicious Portuguese custard tart or sip on a bica (espresso) while taking in the lively ambiance.
Check out these other fun places to explore in Lisbon
Visit the National Tile Museum of Lisbon
8 traditional Portuguese foods
Pin and save this for later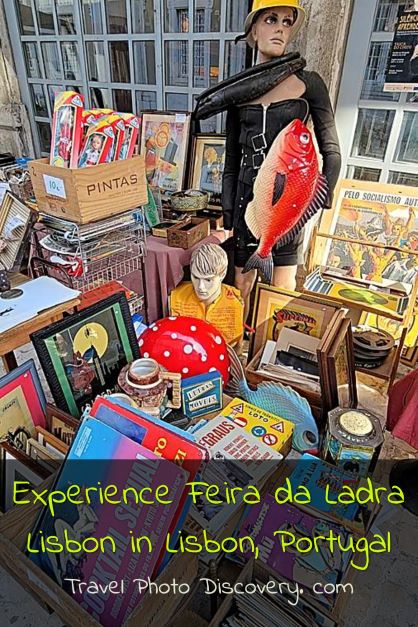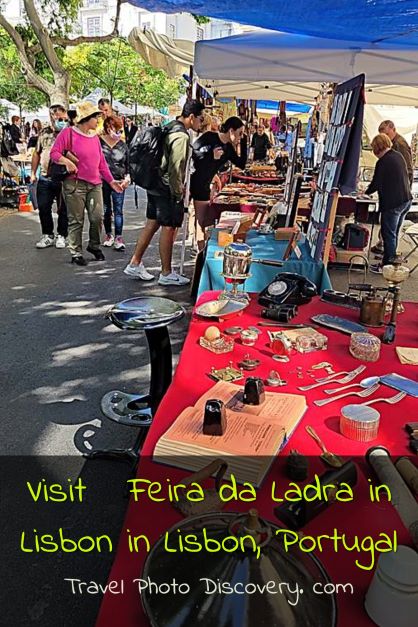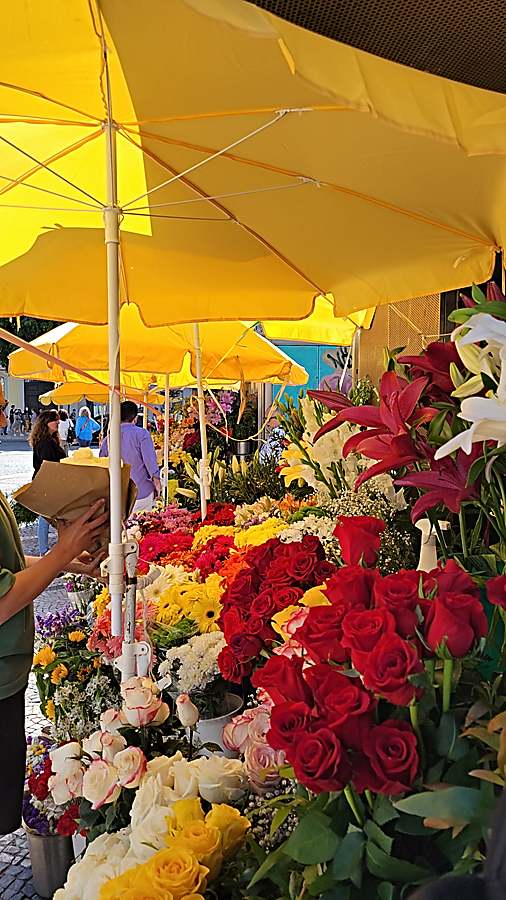 Conclusion to visiting the Feira da Ladra
Feira da Ladra, Lisbon's renowned flea market, is a captivating destination that immerses visitors in a vibrant tapestry of sights, sounds, and treasures. Whether you're a seasoned collector, a curious explorer, or simply seeking a unique experience, this bustling marketplace offers an exhilarating adventure. From antique gems to quirky curiosities, each stall holds the promise of unexpected finds and intriguing stories. Engage in friendly haggling, uncover hidden treasures, and immerse yourself in the lively atmosphere of Feira da Ladra. Prepare to be captivated by its charm, as you create memories and take-home unique mementos that will forever remind you of this extraordinary place.
Thanks for visiting today and checking out this post on the Feira da Ladra. If you enjoyed the images and post, could you please share it with any of the social media buttons located around the post.
If you like what you see, come and check out my other social media channels for more updates, including Instagram, Pinterest and Twitter
Disclosure – There are affiliates links on these posts which provide a small commission to support this site at no extra cost to you. Thank you for reading, and happy travels