What a wonderful thing to be able to capture on your vacation and of course, the delicious food you are trying maybe for the first time in that country. Of course taking candid shots of farmers markets, foodie stores, street vendors or restaurants is typical, but how do you really make those images of food look so tantalizing. You know, food you see online or in printed publications that look so good, you practically want to lick your laptop screen? Check out these tips on Food photography – making your food images pop and how to make your images look like professional food photography.
Some tips & techniques on food photography
You don't need a food stylist, just a good eye, food composition basics, some photography props and following some of these tips below. With plenty of practice, you'll be taking your food photography to a higher and better quality level of presentation.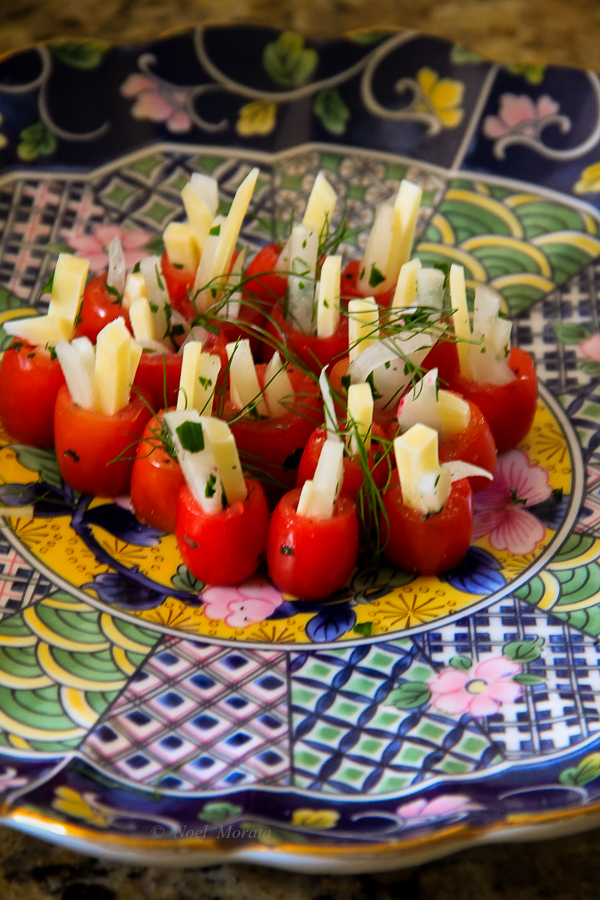 Simple tight focused details
Keep it Simple
First look for simplicity – keep things simple and take out things in the image that are distracting in your food pictures and composition. If the food is not so attractive visually (like a brown stew), just photograph a part of it and add simple props like utensils and plate ware to complete the presentation.
Show it being cooked
Yes go into the kitchen and show the cooks and prep people cooking at the stove. Focusing on colorful ingredients or the process of food being prepared and plated can lead to interesting compositions in your photography. You'll get some dynamic pictures if you get a chance to get into the kitchen while the food being prepared.
Add the human element
Including a hand stirring apot or someone serving you the entrée adds so much more to the image than just the food photos alone on the table. so do include the human element to make it more interesting.
Vary your camera angle
For food images, try different angles of the food when it is served on the table – shoot it from the top, left, bottom or right side. You'll get different looks and compositions in the  presentations of the food and the images become more dynamic and beautiful to look at. Experiment and enjoy this playful process. (But don't let your food get to cold in the process of taking many angle shots)
Try to use natural light
Use as much natural light as you can by getting a spot close to a window or a table with lighting and avoid flash at all costs especially since many diners hate flash and fussy scenes with taking multitude of pictures in a restaurant.
Look for the environmental shot
When taking a picture of street food or an atmospheric environment, try to include a shot of the vendor cooking and preparing the food or anything that identifies the scene. Make the imagery complete by including some elements of the immediate environment to define the food and its relationship to that place.
Take a look at the ingredients
If you are in a market or street food venue, consider taking pictures of the raw ingredients, small details or the food being prepared before the main dish is served. This is similar to the environmental shot, but more about the details of the ingredients and preparation. Even messy spoons, haphazard ingredients, food items or even kitchens can make interesting compositions for food photography
Take pictures of people enjoying their food
This is more effective with street food because you really get the immediate recreation from the person eating it. This is another facet of showing food with the human element to complete that food experience and how people relate to their food.
Selective focus
Try to experiment on the visual presentation of the food by selectively focusing on a certain segment, either the foreground, the middle or some visual part that you want to highlight. Keeping parts of the image sharp and the rest fading softly into the background creates a really nice composition in highlighting what is the most visually stimulating areas of focus.
Think about space
Within a restaurant or some space where food is the focus, try to show how the food relates to the subject by creating a sense of place and time. This can be done by showing the entire environment, the food being served by someone, or an interesting table setting or service that makes it truly unique to the space.
Gather around the table
The most casual or intimate moments are created when family or friends gather around the table and share a meal. Try capturing those moments in this type of setting and sharing a meal together. You can create some wonderful images and show something really unique about the place and culture you are visiting.
In the moment
Have your camera always ready for spontaneous moments that may happen with food. You may capture additional details, added visuals and colors or impromptu situations that lead to fun and fresh presentation or moments while dining.
There you go, some simple but effective ideas and advice in making your imagery with food become more alive and interesting when you include some or all the ideas above. Again, if you enjoyed reading this post, please do share it with any of the social media buttons below.
Please check out these other photography tips below
Best camera for Food Photography
Black and white photography for beginners
Capturing street images – some photo tips and techniques
15 photography tips on your road trip
Photography tips for grey sky or rainy days
Flower and nature photography – tips on making your images pop
Photographing people – some tips and techniques
Photography tips for travel Photography
Travel photography – what to pack
Photo tip – backlighting your image
Please pin this for later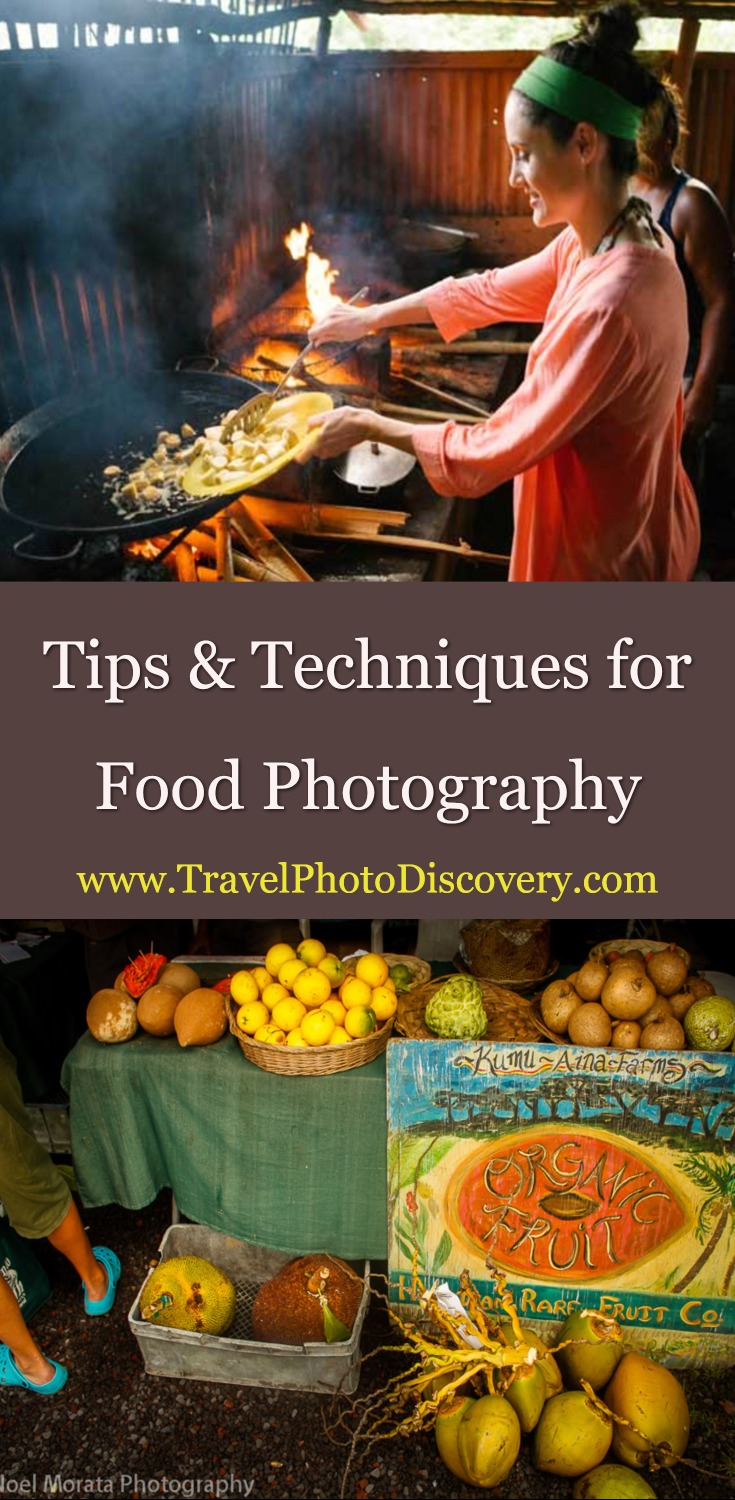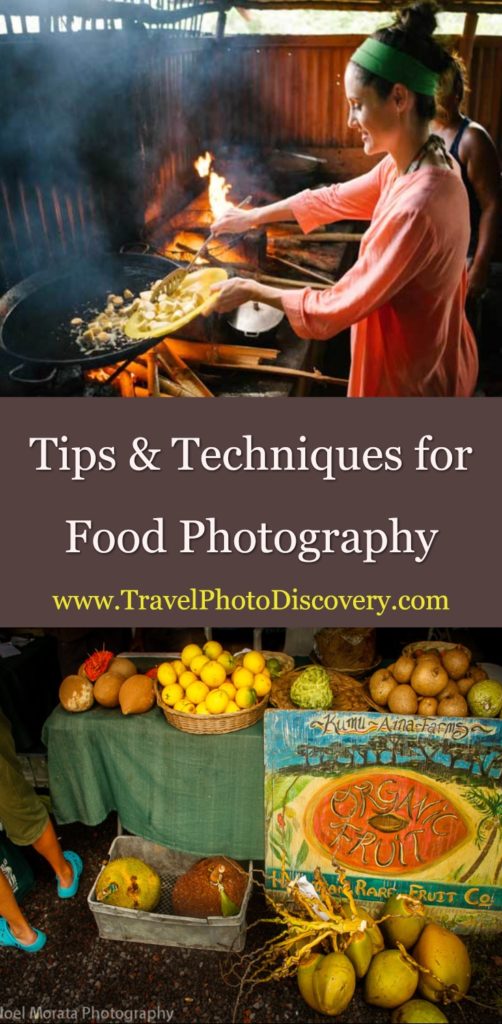 Hope you enjoyed some of my tips on food photography. If you enjoyed the post, please do share it with any of the social media buttons below, thank you.