So you want to take better photographs of People? There are many things to consider when you are focusing on people either as individuals or in group shot, indoor or outdoor, what types of lighting conditions are available.  It's important to really be active and take part in with your subject instead of just being a bystander or observer, but this really depends on where, who and how you are photographing that person (s).
Here's a few good pointers to improve your photo techniques along with tips on how to photograph people in any various conditions and environments
How to Photograph people, capture the best portraits imagery with people in your composition
 Why work on your portrait photo skills?
Eventually, you'll be at some function or event where you will be drawn to bring a camera and capture some photos. It would be great to learn a few techniques that will help you to capture some great images that you can share and friends will really be impressed. If you are ready to experiment and learn some easy techniques, try some of these tips below to help you hone your skills in portraiture, event or people photography.
How to capture people and compose better portraits
Stick to easy compositions and simple backgrounds and your halfway there. Try some of these other photo techniques and compositions below to master your people photography.
1) First interact with your subject, don't be sneaky when you take photos. Building rapport will make your subject comfortable will allow you to get closer, experiment and become more creative using various features on your camera with your subject
2) To capture children, it's better get low and do tight shots. Photograph children from their level or even lower. Play and engage with your so they are more relaxed and comfortable. Have fun and capture them when they are playing because the expressions that come out are priceless and create amazing photography
3) Always focus on the eyes to get the details, do remember what people say about the eyes telling you everything about a person's story, this is what you want to portray in your work.
4) Creating a shallow depth of field creates a nicer image focused on the subject with a nice soft/blurry background. Changing your cameras setting directly by opening up to the widest aperture (or with non DSLR to a people setting/icon) will give just the right effect of focusing on your subject and making the background soft.
5) Be involved with your subject whether you are just interacting with them, working in a more candid format or being more playful in the process. When you are building rapport and observing your subject you should try to discover some unique quality, facial expression or help bring out the subject's natural personality.
6) Be aware of the light on your subject either indoor or outdoor and look for the most natural lighting you can find. On that note try to avoid harsh light or flash, if you need, try to find some shade which will help to distribute the light and create softer light on your subject.
7) For taking group photos, I usually recommend taking more shots since there will always be off moments to each person. Taking more photos will give you a better opportunity to capture that perfect group shot. Also, try to include the environment into the group portrait to create a more complete picture that helps to tell a story.
8) For baby shots, try to create more opportunities to capture those detailed moments and zoom in. Experiment with filling in the frame, zooming in on the baby, body parts, the mother's hand touching various parts of her baby. Creating intimate moments starts with observing and then experiment photographing your subject
9) Include environmental portraits – based on your subject and their environment, clue into things that connect the subject to their environment if its their clothing, hairstyle, habits (ie smoking, eating), always try to make your subject fit or even contrast within the environment you choose.
10) Take out all the distractions and keep the background clean – If you are going for any portraits or full figure captures, try to zoom into your subject and place them in a simple background or just try to crop out any distracting areas, or you can also move your subject around to a better location.
11) Street photography with people as subjects – don't be shy – smile and try to connect with people, always ask or use gestures to see if it is okay and get better access,  try for more candid than stylized images which tend to be staged or stiff.
12) Outdoor shooting, avoid harsh daylight, find some shade or shoot on over cast days when you are outdoors and relying on natural light to photograph your subject.
13) Festivals and events – if you can get to an event, always try to shoot people at these events and in their costumes. Most subjects are open to being photographed and it's the best time to capture unique costumes, colors and especially people.
14) Don't always have your subject in the middle of the frame, put them off to the side, something in the foreground or even include leading lines that go directly to your subject like a street or building.
15) Using burst mode – sometimes in a situation where things are happening quickly especially in street photography or events, you may want to put your camera into burst mode. When you see an interesting subject, focus and use your burst to capture the moment and activity. It's so much easier to capture many images and then delete which ones that are not to your liking after the fact.
16) Be patient and wait – sometimes the best thing is to wait before you take that picture; if it's bad lighting, a very crowded venue, or the location itself that isn't working. Try and see what you what with your subject in their environment and if the timing is not good, sometimes waiting is a good option until you continue or think of an alternative solution that you can do on the fly.
These are some of my photo tips to consider when you are including people in your photography or doing closer portraiture work. Go ahead and experiment and try out these techniques and tips and hopefully you can make a difference to improving your photography skills.
If you enjoyed these camera tips, please check out some of my other photo tips below
Black and white photo tips for beginners
Capturing street images – some photo tips and techniques
15 photography tips on your road trip
Photography tips for grey sky or rainy days
Flower and nature photography – tips on making your images pop
Photographing people – some tips and techniques
Photography tips for travel Photography
Travel photography – what to pack
Photo tip – backlighting your image
Food photography – making your images pop
Please pin this for later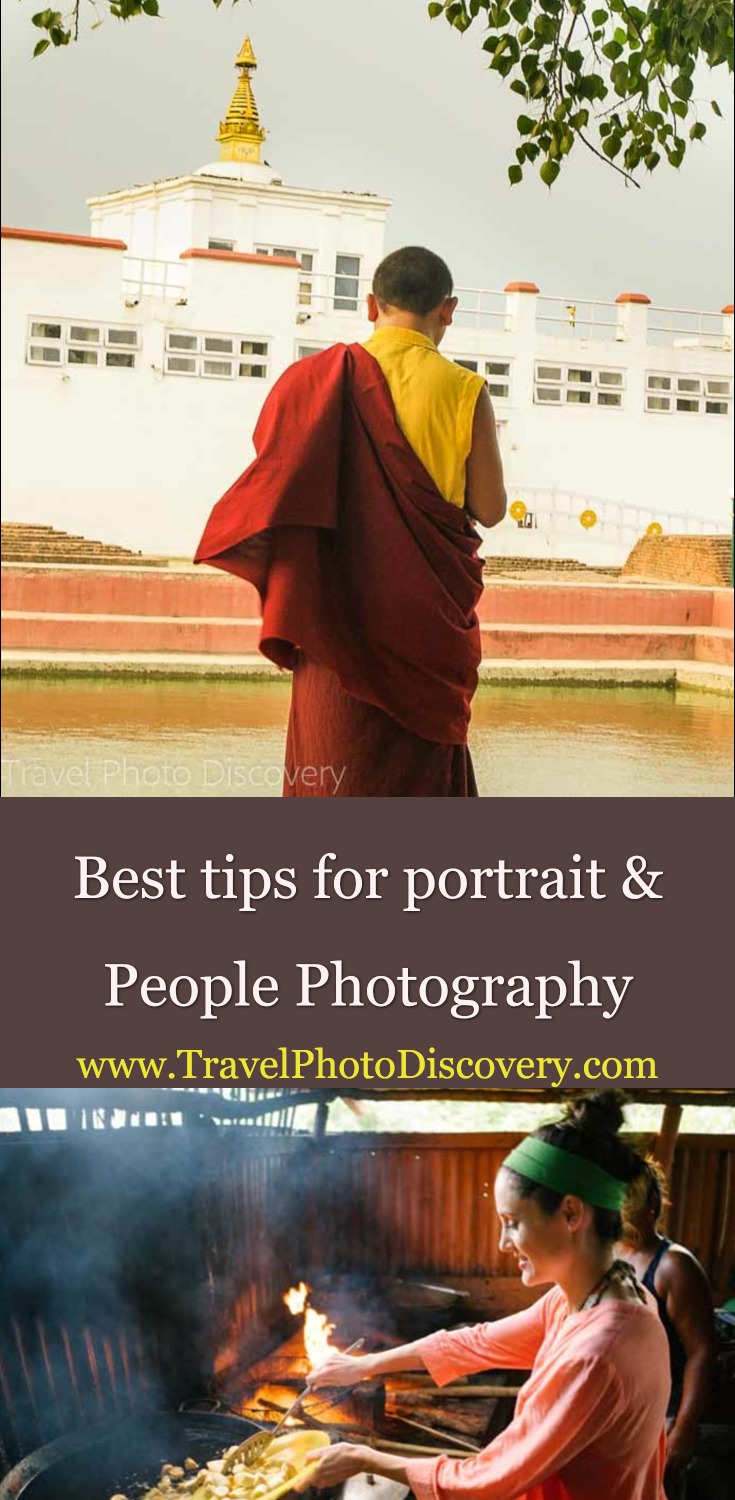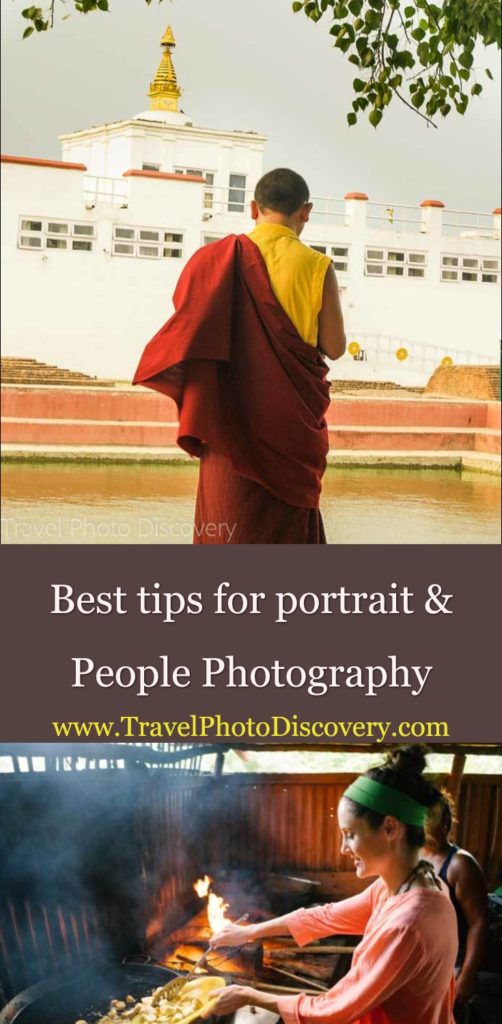 Conclusion on Photographing people: some photo techniques and tips to improve your photography
I hope that this was helpful and you enjoyed this post with Photographing people: some photo techniques and tips to improve your photography. If you have any other photography tips or observations to share along with this post, please feel free to add your comments below for our readers to learn better photography techniques and skills.
If you like what you see, come and check out my other social media channels for more updates, including Instagram, Pinterest and Twitter