10 Photography tips for grey sky or rainy days: best way to capture images on those yucky days (2023)
Taking pictures on a cloudy or rainy day is really no fun photography wise. It's hard to capture anything dynamic with grey sky photography or how to capture anything colorful with total grey skies. But you can remedy the situation with these rainy day photography ideas or how to take better cloudy day pictures when you happen to be in a destination when the weather is totally yucky and you would rather spend time indoors – but don't, just follow these grey sky or rainy day photography ideas below.
I had a quick layover in Chicago and I planned a fantastic urban outdoor adventure exploring downtown and even taking one of the iconic river cruises. Well arriving early on a very cold and cloudy day really dampened my enthusiasm and thoughts of enjoying the day outside, but I took it up as a challenge to get more creative in spite of unfavorable conditions. So what should you do when the weather doesn't cooperate and makes it uncomfortable? Get out there in bad weather and practice these 10 Photography tips for  grey sky or rainy days, hopefully you can improve your skills and creativity on impossible or no fun days outdoors.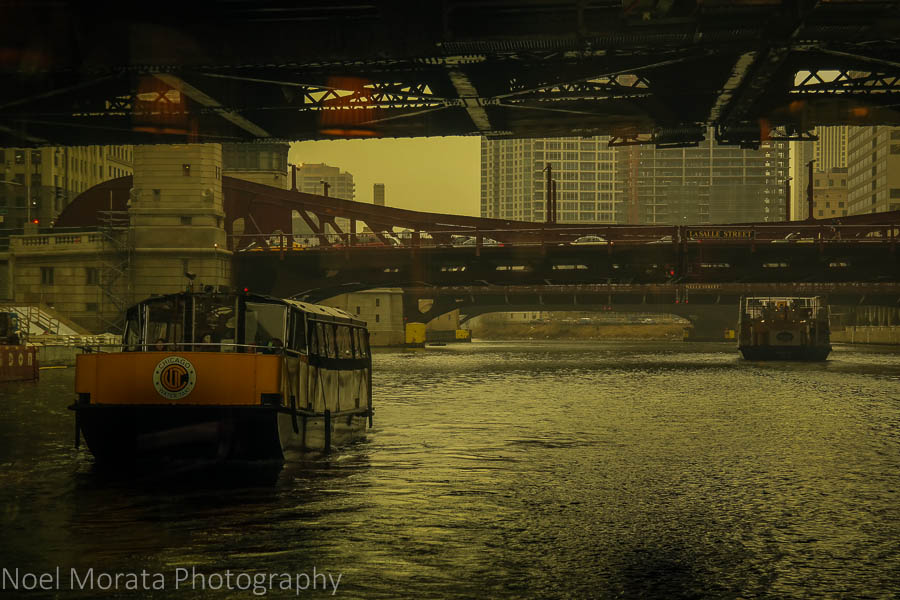 Why do any grey sky photography or taking pictures on a rainy day?
Drizzly and rainy days are not always so inspiring and even worse when you timeframe is limited to visiting a place or enjoying an outdoor event. But between all of those bad inclement timeframes, you'll find some golden opportunities that actually can work well for grey days and create better lighting situations to take advantage of. Check out some of these ideas below and you'll enjoy dreary and rainy day fun in a more challenging and rewarding aspect to doing photography.
Tips on rainy day photography ideas or how to take cloudy day pictures
1) Take out those lifeless skies – there's nothing worse than a skyline filled with flat and dull skies so the best trick on this is basically to crop out those boring skies. Crop sharply and zone in on the important features you want to highlight
2) Details, details – Just like the above in cropping and zooming, finding those interesting details and environmental shots that really give you the sense of place is what makes urban photography interesting, Keep your eyes always looking around and finding interesting architectural details, fun and quirky signs, iconic landmarks or unusual things that pop up at you when you are walking down those streets.
3) Get those iconic shots but amp up the presentation. So I've seen lots of images of the Bean in Chicago's waterfront and you always see the images with the skyline etched on the sculpture. Okay that's fun but so boring, so why not walk around it or under it and see what you can capture, you'll find some really fascinating photo ops but taking your time and observing what other people are doing in front of iconic images
4) Photograph in black and white – visualizing and photographing urban scenes in black and white is already challenging but on dull grey days, it is even more challenging but done right can make for some wonderful captures and a nice way to present your subject matter differently     5) It's raining – Yeah head under cover and forgot the outdoor shots, well yes you can concentrate on indoor images but how about challenging yourself and see how you can work with the rain. Play with your shutter speed  or f-stops and see if you can create that rainy effects or nice zoomed details with hazy backgrounds and your subject matter with raindrops or some focus on the rain effects.
6)  Capture reflections – reflections on rainy days are what makes rainy days fun! You can really concentrate on the reflections or different effects created by rain. Again, play with the creative controls on your camera or set them to some of the automatic controls that make it work better     7) Increase your ISO setting – nothing like taking a photo and it is not tack sharp because you forgot to bump up your ISO to a setting that works. Depending on how grey or dark the skies and composition is, you can start low like at 400 and see how tack sharp you are.
8) Change settings on your white balance – try some of the settings that can warm up those grey skies, experiment with the settings based on your preference and take some experimental shots to ser are what you are happy with.
9) Look for saturated color in your subject matter.  Grey skies are perfect for certain types of photography like flowers, landscape details and color which brings out more vivid details and saturation.  Look for color details and blocking while you are walking around. Finding someone wearing a bright color against some grey backdrop or with interesting texture will make your subject matter pop and make the image come alive.
10) Experiment – Grey and dull days typically produce very boring and cliché images. Why not just change your way of looking and interpreting by challenging yourself, experiment with new camera techniques, or better yet – go for that art interpretation. Why not, when the skies are grey, it's time to think out of the box and really amp up your creative juices in these conditions.
If you enjoyed these camera tips, please check out some of my other photo tips below
We share more photography tips and techniques on different aspects of Photography and learning below:
Black and white photo tips for beginners
Capturing street images – some photo tips and techniques
15 Instagram tips for better photos and compositions
10 Photography tips for grey sky or rainy days
Flower and nature photography – tips on making your images pop
Photographing people – some tips and techniques
Photography tips for travel Photography
Travel photography – what to pack
Photo tip – backlighting your image
Food photography – making your images pop
Final Thoughts
It's never fun to go out and tour on days that are less than ideal, but when you have a limited time to visit and capture the best scenes possible, you make it work. Hopefully these tips will inspire you to go out and challenge yourself within these parameters and come up with a different spin and look despite the crummy weather outside.
Conclusion on doing grey day photography or rainy day skies
Doing photography on grey, dull or rainy days should be a fun challenge for you to go outdoors and try some experimenting and some of the techniques above.
Don't let dreary skies dampen your photography opportunities especially with changing weather conditions that can create fantastic opportunities. Hope that this post gave you some ideas about what to do and try on difficult and dull days.
Thanks for visiting, I hope that the 10 Photography tips on  grey sky and rainy days was helpful and made you think about what to do despite unfavorable conditions.  If you have any other favorite photography tips on rainy, grey sky days, please do share them in the comment section below, thank you.