Exploring Guanajuato City: A Vibrant Gem of Colonial Beauty and Cultural Richness
Guanajuato city is fun with an easy walkable historic district, but with small narrow streets and alleys, it is easy to get confused and lose your bearing while exploring the historic district. With a very short time to visit this colorful and beautiful city, I decided to sign up for a fun walking tour in the historic district with a local guide. So much easier to just follow someone around the city and get a fantastic visit to all the gorgeous squares, significant architecture and unique places to explore around the city that would have easily been missed, there's so many things to do in Guanajuato. The tour with my guide, Jorge Rangel with Guanajuato Walking Tours was very thorough and easy to do. While touring with Guanajuato Walking Tours, you get a nice and in-depth visit to the most important cultural and historic sites to visit around the city and learn many inside stories of the history, important historic figures, and how the city developed from its origin until current times.
Why visit Guanajuato, Mexico?
Guanajuato city is fascinating, colorful and historical – located in the hilly areas of central Mexico is vibrant and ever changing. With a strong mining past that helped to create a stunning and attractive city with beautiful squares, monuments and beautiful public buildings, a visit to this magnificent city slowly unfolds while visiting the unique and lively, dramatic and historic and of course the delicious markets, street foods and cuisine one will discover in the city. Unlike any of the other regional capitals in Mexico, Guanajuato city is not only proud of its heritage and wealth but utilizing the unique vantage point of its hills, scenic vistas and colonial past to create a beautiful montage and fantastic experience for everyone that visits the city and exploring many different attractions and activities around the city.
Find out more about what to see and do around Guanajuato below.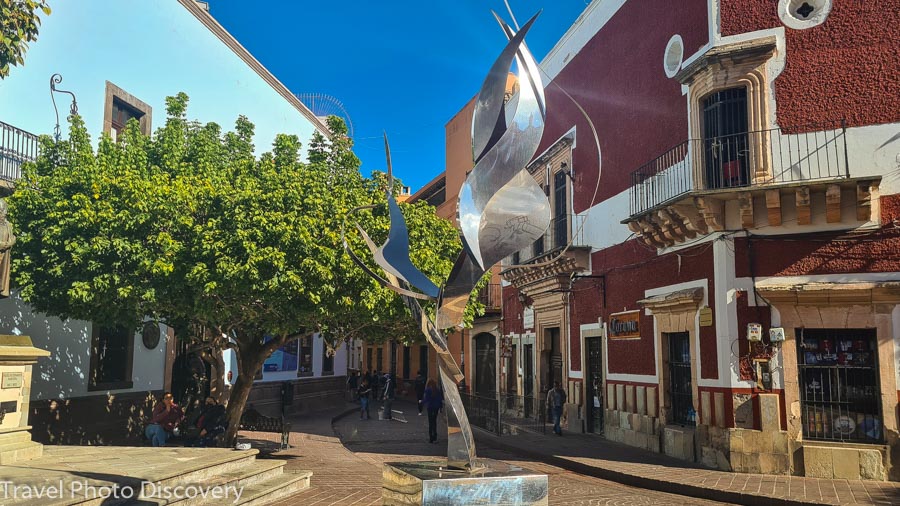 We meet up with our local tour guide, Jorge facing a small square with the impressive hot pink Templo de San Francisco and next door to it was the meeting spot at the Museo Iconográfico del Quijote.  After a quick introduction from our guide and ourselves, Jorge started with an overview at this beautiful square and the many churches and squares that we will visit around Guanajuato city. We also find out that Guanajuato means hill of frogs which lived all around the deep ravine and hill areas of the historic city.
Starting in the earliest sections of the city development and history, we walk to the outskirts of town to check out one of the earliest mines that provided the silver and other minerals to make this a wealthy city and export the minerals, silver and gold to Spain, which ruled Mexico during that timeframe. The new-found wealth of the mine owners contributed to building some of the most magnificent churches and public buildings around the city to show off the wealth and prestige of this rich mining region.
A little history about Guanajuato
Guanajuato City, located in central Mexico, has a fascinating history that stretches back centuries. Originally inhabited by indigenous peoples, the region became an important mining center during the Spanish colonial era.
In the 16th century, the discovery of rich silver deposits in the nearby hills transformed Guanajuato into one of the wealthiest cities in New Spain (colonial Mexico). The abundance of silver attracted settlers from Spain and other European countries, contributing to the city's multicultural character.
Guanajuato played a crucial role in Mexico's fight for independence from Spanish rule. The city witnessed significant battles and uprisings during the early 19th century, as revolutionaries like Miguel Hidalgo and José María Morelos sought to free the country from colonial oppression.
The legacy of its mining past is still visible today in Guanajuato's architecture and layout. The city is known for its intricate network of narrow, winding streets, alleys, and underground tunnels (callejones) that were constructed to facilitate transportation of goods and to drain the mines. These tunnels, once used for mining purposes, now serve as pedestrian walkways, adding to the city's unique charm.
Guanajuato is also recognized for its cultural significance. The University of Guanajuato, founded in 1732, is one of Mexico's oldest and most prestigious educational institutions. The city hosts the internationally renowned Cervantino Festival, an annual celebration of the arts that attracts artists and performers from around the world.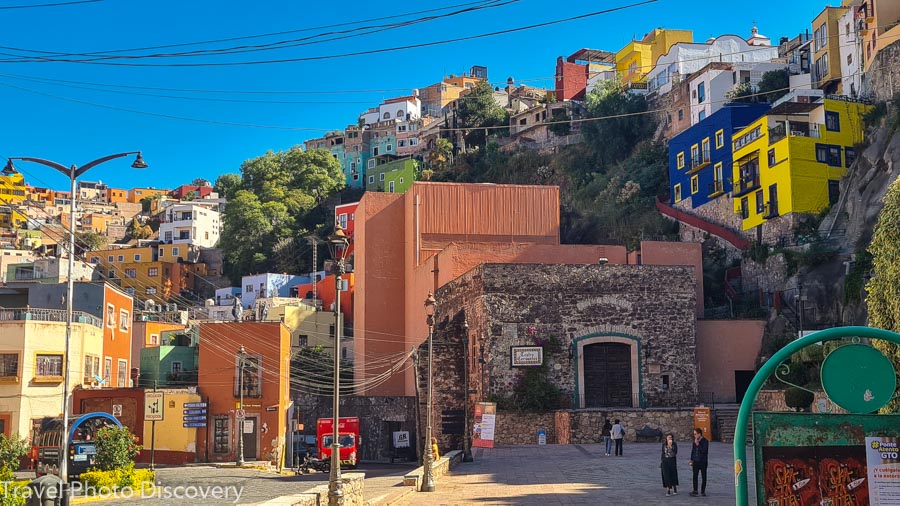 One of the earliest mines on the outskirts of Guanajuato city that created the vast wealth in the city
After walking past the mine, we toured the earliest developments and squares built around the historic city and learned about some of the famous personalities and wealthy patrons who helped to create all the stunning buildings and architecture around the city. Walking through these sites and hearing about the history and culture of the distric or area is a fantastic way of learning and seeing while visiting each of these public areas that locals socialize in.
We walked to one of the first public squares and historic sites in the old town of Guanajuato City with a simple but colorful square and water fountain. Fountains were used for water consumption and socializing around the square as is the case with locals today using them like a large living room. Our guide shared more fascinating stories on how the city developed in this section and eventually spread out across the river to the newer parts of the city after tunnels were built to divert the rivers from flooding the town..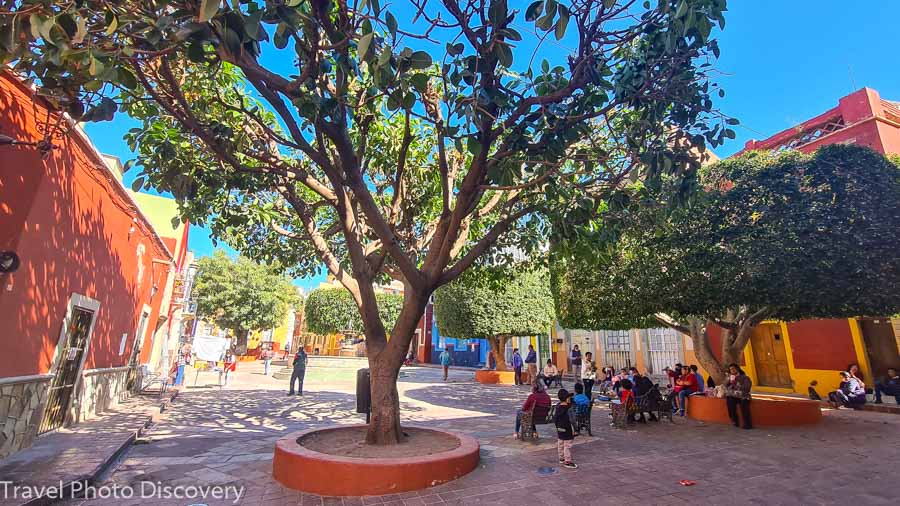 A cool walking bridge that was converted into an eating venue with fabulous views in the historic district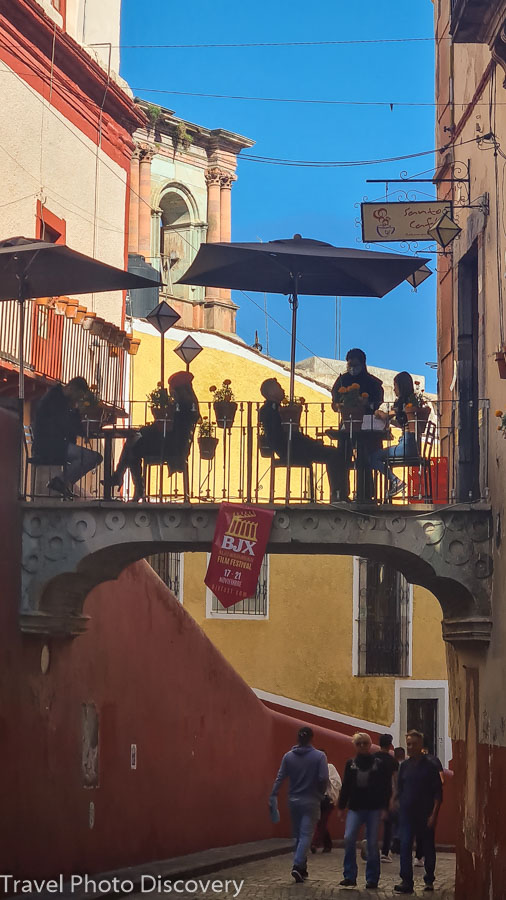 Wouldn't you love to have a nice meal here while people watching ?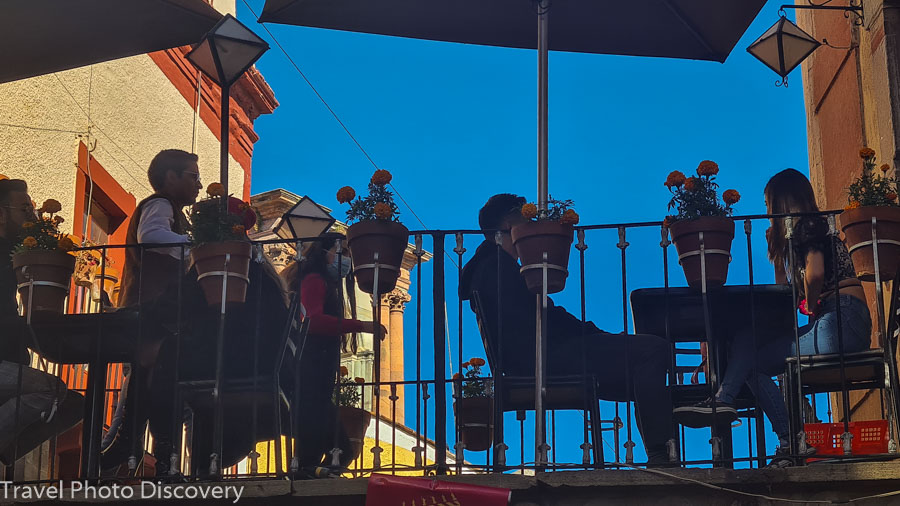 A unique tour of the tunnels of Guanajuato city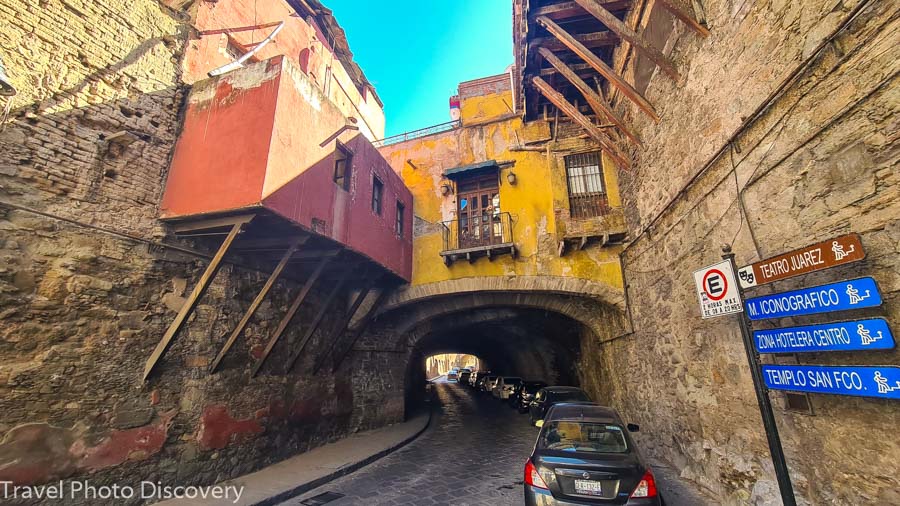 It's fascinating to know that the city had a river flowing through the center which would always flood and eventually the buildings were built highter up to thwart all the big storms and overflow of the river. Eventually the city's bridges with the high walls were converted into tunnels to direct the flow of the rivers safely through the city.
We toured walkable segments of the tunnels below the city and checked out the some of bridges and tall rock walls and cantilevered building fronts used to divert the river safely through the city and eventually the tunnels were converted into public roadways and parking areas below the city.
A little backstory on the tunnels
Guanajuato's tunnels, known as callejones, have a fascinating background rooted in the city's mining heritage. During the colonial era, Guanajuato was a prominent silver mining center, and the tunnels played a crucial role in facilitating the extraction and transportation of minerals.
The city's underground tunnel system began to take shape in the 18th century as the mining industry expanded. Miners constructed a complex network of tunnels to access the silver veins deep within the earth. These tunnels allowed miners to navigate through the hills and mountains, reaching the mining sites and transporting the extracted minerals more efficiently.
Over time, the tunnel system expanded, connecting various parts of the city. These tunnels not only served as pathways for mining activities but also served practical purposes for the growing population. They provided an efficient means of transportation, helping to alleviate the congestion and steep slopes of the city's hilly terrain.
As Guanajuato developed, the tunnels became a distinctive feature of the city. They were eventually adapted for pedestrian use, serving as walkways that meandered through the heart of the city. Today, locals and visitors alike can explore these subterranean passages, which offer a unique perspective of Guanajuato's history and architecture.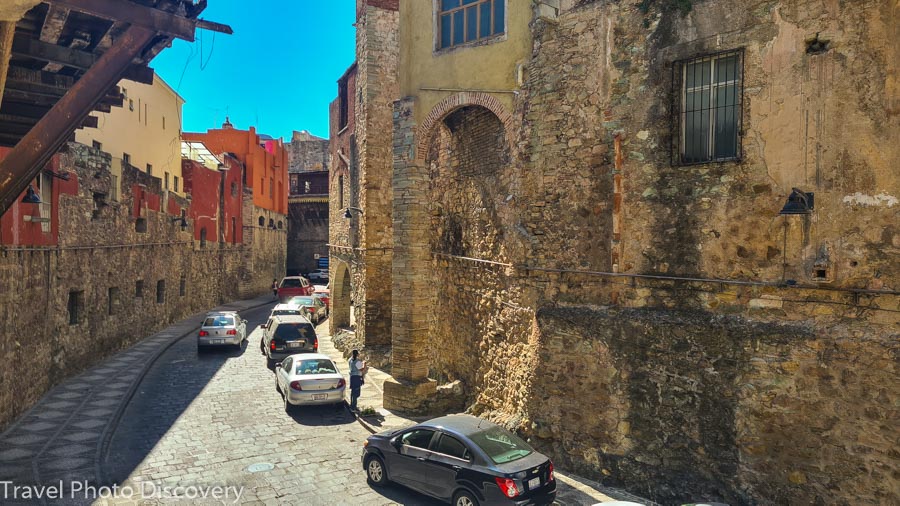 These tunnels eventually were converted into roadways when the river was diverted and you have an amazing maze of street tunnels that make many of the historic city center walkable with many walking promenades. Also parking around the tunnels made up for no congestion of parking in the areas above the old town center which is truly unique for a Mexican colonial city.
Cultural treasures of Guanajuato city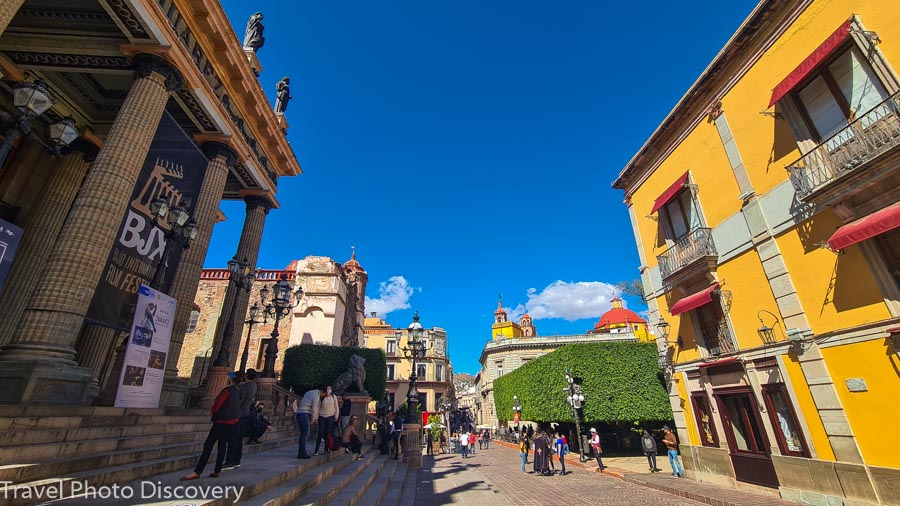 After the tunnels, we walk towards the newer sections of the city where the wealth of the city's mines funded gorgeous public buildings and beautiful squares like the Jardin de la Union, the Teatro Juarez and the ornate Templo de San Diego with ornate details beautiful craftsmanship and ornamentation. We take a tour of both interiors and learn more about the founders that help to create these public buildings. The newly rich of the city had magnificent buildings erected to socialize and show of their affluence and power in segregated parts of the theater.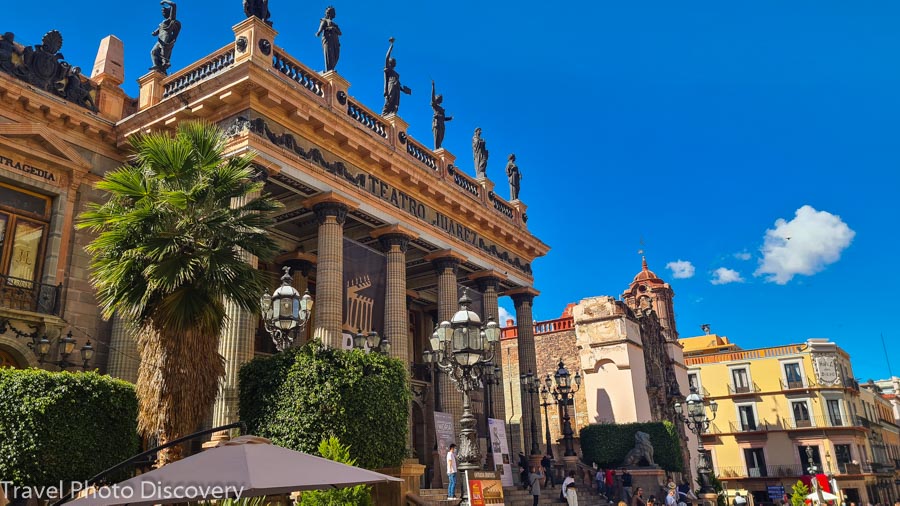 The gorgeous Teatro Juarez and interiors – we toured the fabulous inside and learn about the wealth and powerful elite of the city that created these social and prestigious places for the wealthy to gather in the city.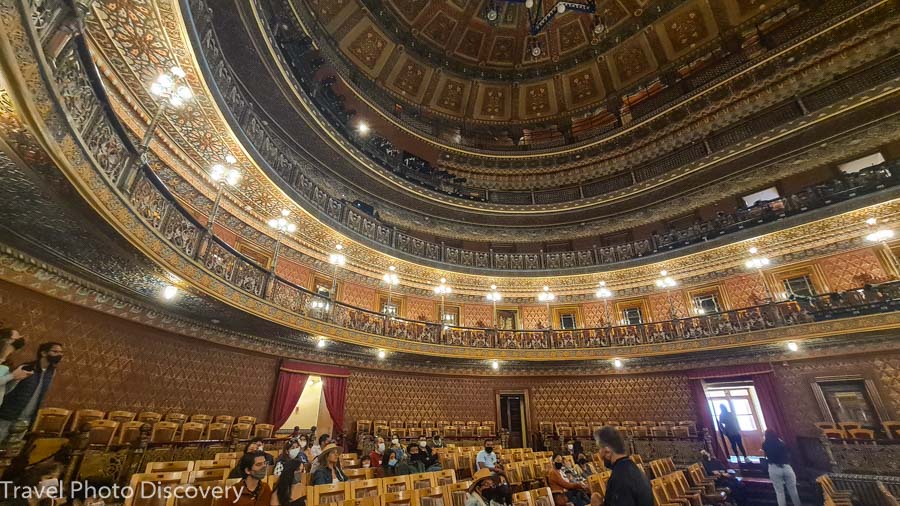 Stunning craftsman ship and details to Teatro Juarez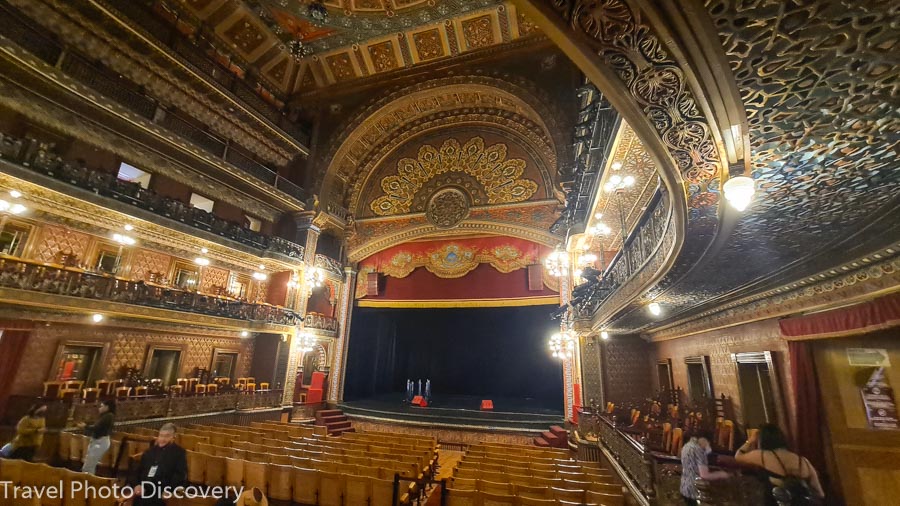 Next door to Teatro Juarez is the beautiful Templo de San Diego along with the ruins of an adjoining convent that you can visit and is seen below from windows from above. The ornate church is baroque in interiors with beautiful decorations and carvings to check out inside. Fronting the basilica is the lovely outdoor gardens of the Jardin de la Union with its topiared trees, fountains and public benches and gathering areas that make this a popular plaza to enjoy with locals and tourist alike.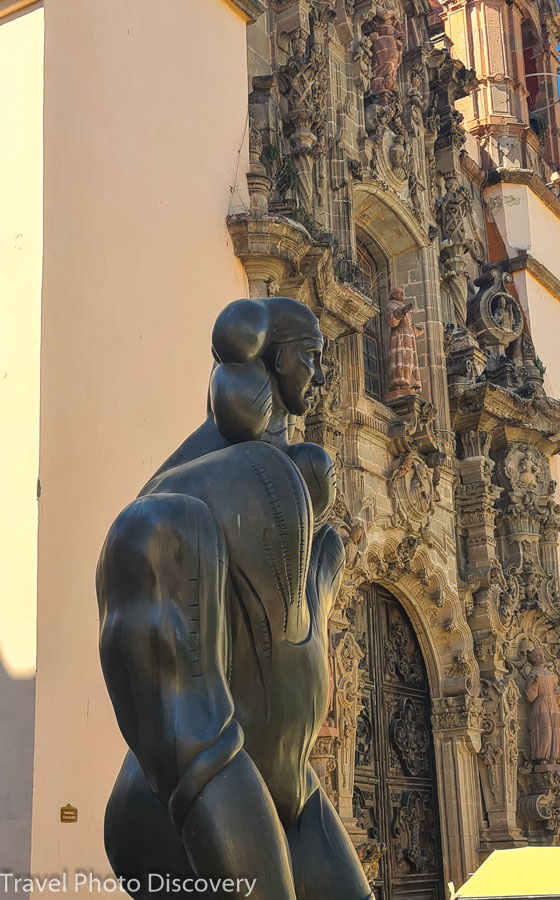 Viewing magnificent Guanajuato city from above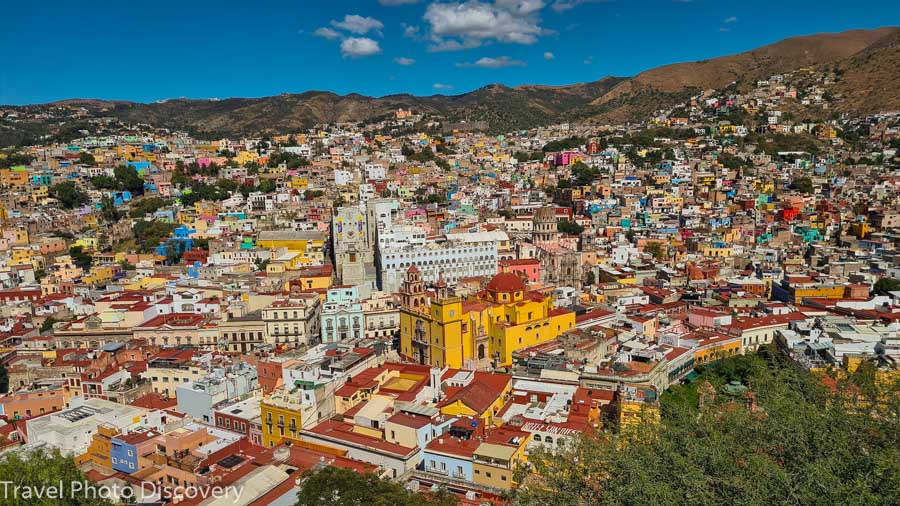 Next, we take a short and steep funicular ride up to the observation area with the statue of the Pipila Monument for one of the heroes of the city. Up on top are stunning panoramic views of the entire city in a striking montage of the many hills dotted with colorful buildings. You can't get any bad pictures up here with these Instagrammable panoramas of the city especially on a beautiful clear day like today.
Follow these directions to locate the funicular:
Head to the historic center: The funicular is located in Guanajuato's historic center, which is the heart of the city's attractions and landmarks.
Make your way to the Mercado Hidalgo: The Mercado Hidalgo is a vibrant market situated near the Teatro Juarez. It is a well-known landmark and a popular gathering point in Guanajuato.
Look for the funicular station: From the Mercado Hidalgo, continue walking towards the Teatro Juarez. As you approach the theater, keep an eye out for signs or ask locals for directions to the funicular station. It is often marked on maps and indicated by signs.
Ride the funicular: Once you locate the funicular station, purchase your ticket and board the funicular. Enjoy the short but scenic ride as the funicular ascends or descends the steep slopes of Guanajuato.
The funicular in Guanajuato provides a convenient and enjoyable way to navigate the city's hilly terrain while offering picturesque views of the surrounding landscapes. It is a popular attraction for both tourists and locals, providing easy access to various points of interest, such as the monument of El Pípila and the panoramic views from the top of the hill.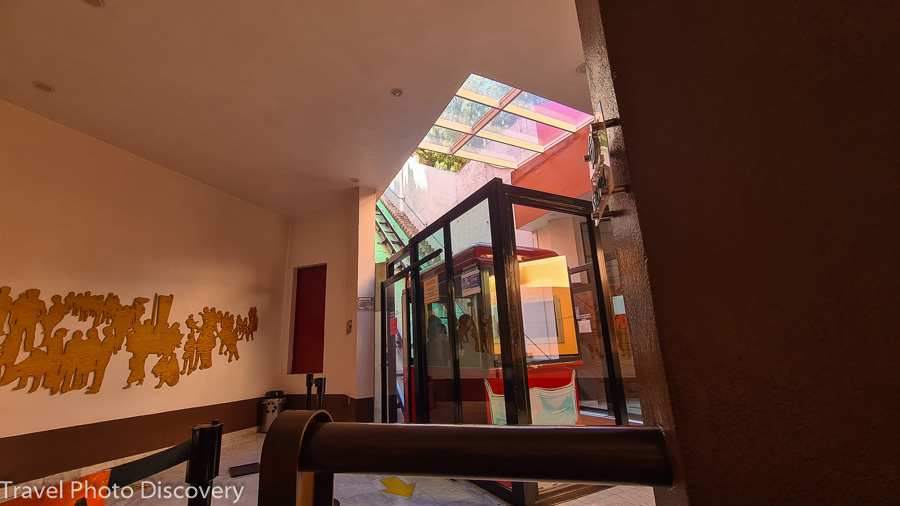 Taking the tiny funicular ride to top of Guanajuato city for some magnificent views
Look at these amazing views of Guanajuato city from above!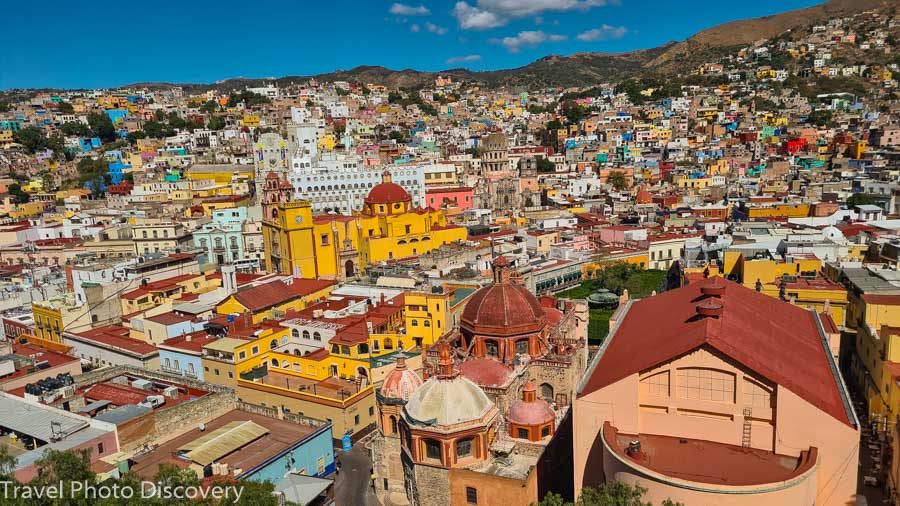 It's all Instagram perfect with panoramic views of the entire Guanajuato city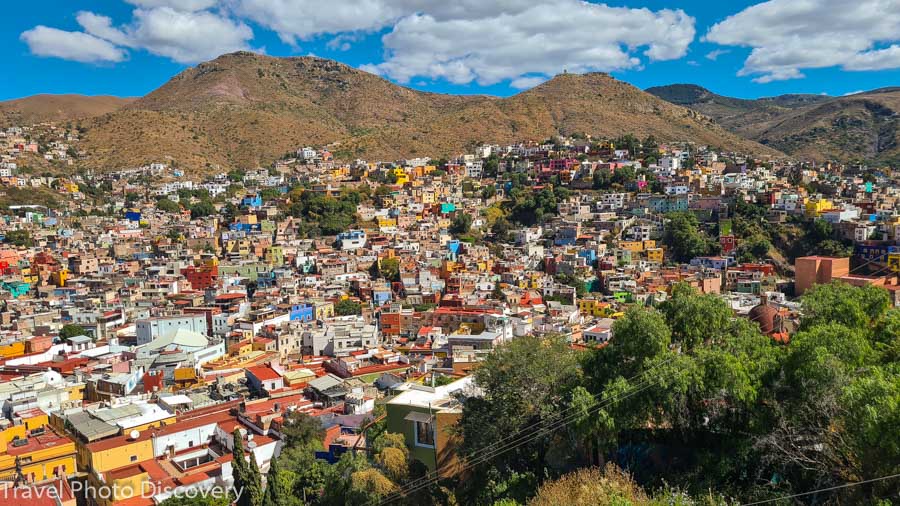 Back streets of Guanajuato city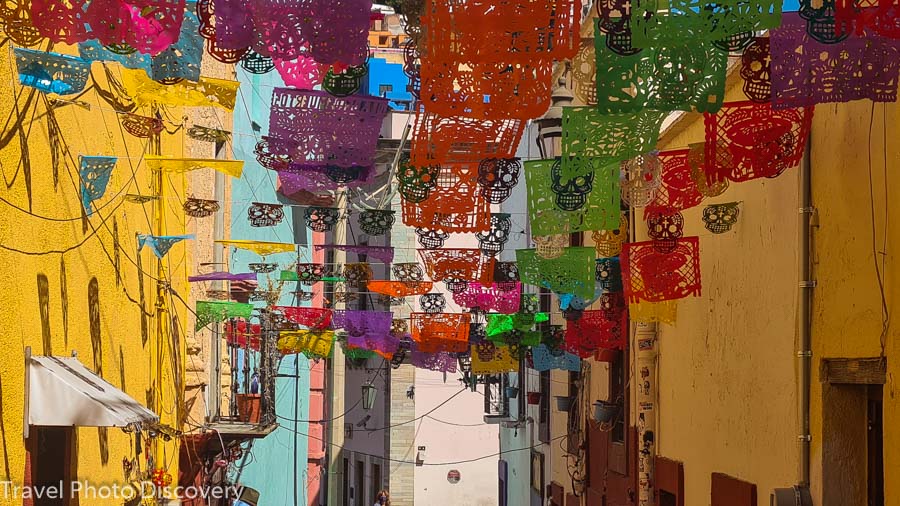 We take a quick downhill descent through narrow alleyways leading us directly to the Mexican version of Romeo and Juliet at the Alley of the kiss where a few visitors want to their own sweet re-enactment of that famous meeting between the couple.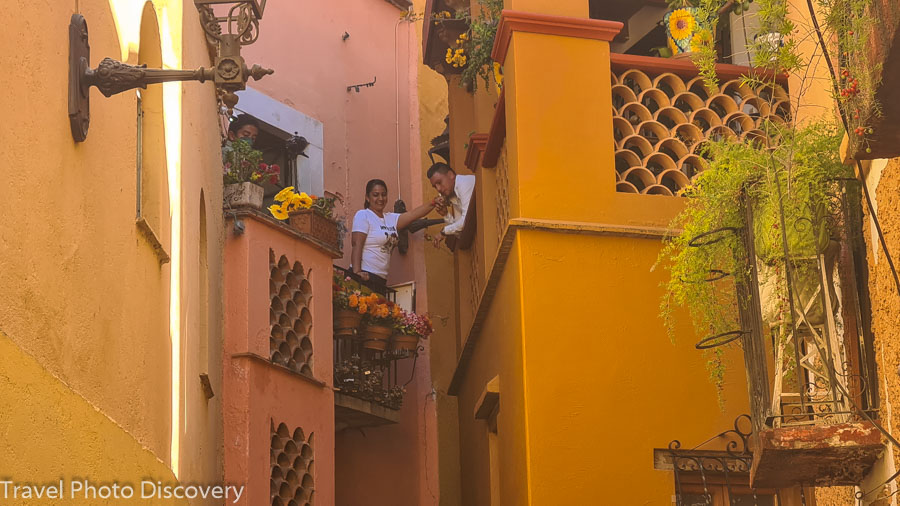 Colorful back streets of Guanajuato city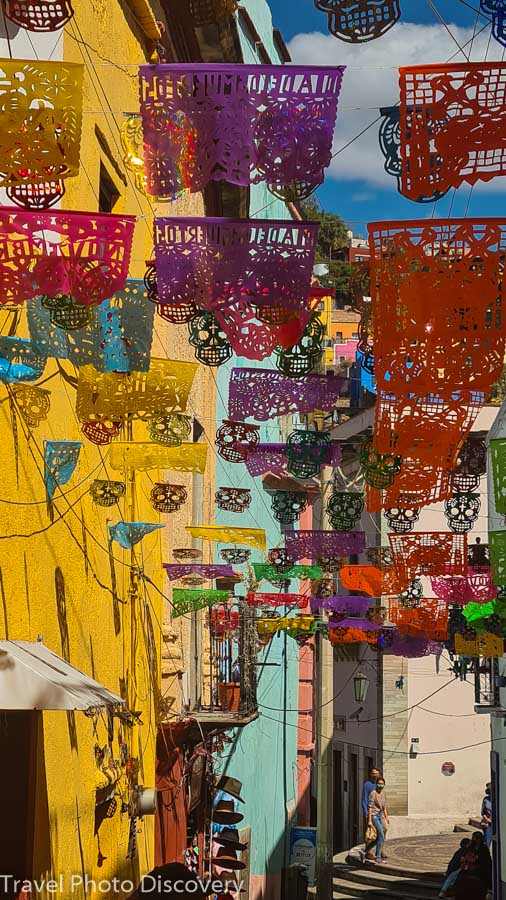 Eventually the narrow alleyway opens up into the plaza de los Angeles and we take a break and sample some local street food – a spicy sandwich called a torta from a street vendor the guide says is the best in the city. While snacking on the torta the guide shares more information about the square and enjoying the daily scene unfold in the area.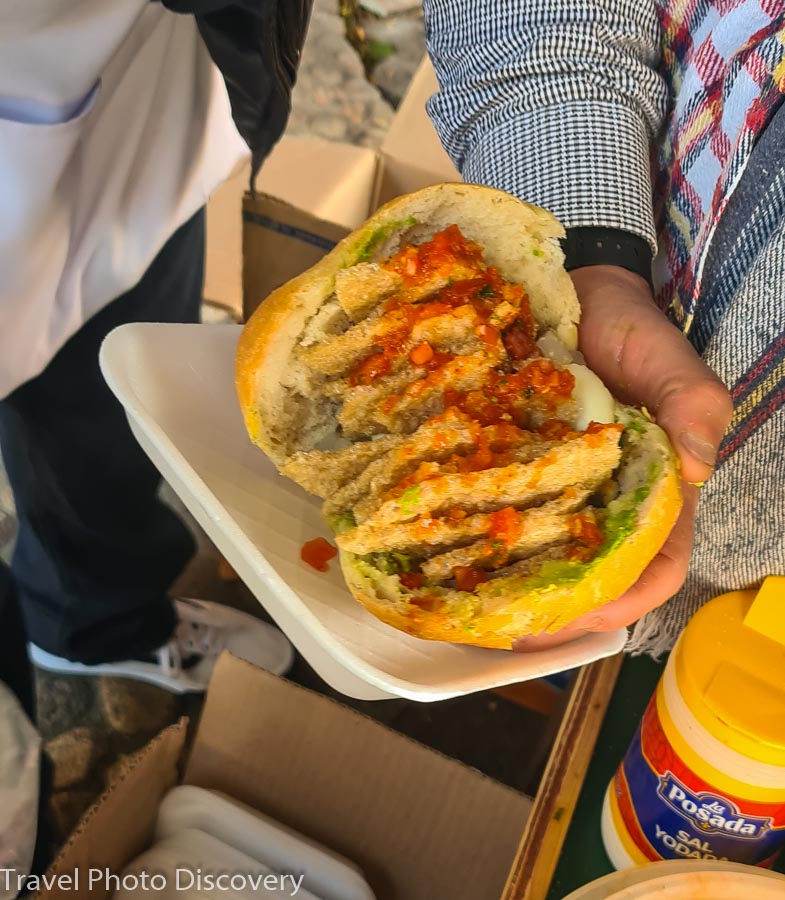 Enjoying a tasty and spicy torta sandwich at plaza de los Angeles and some people watching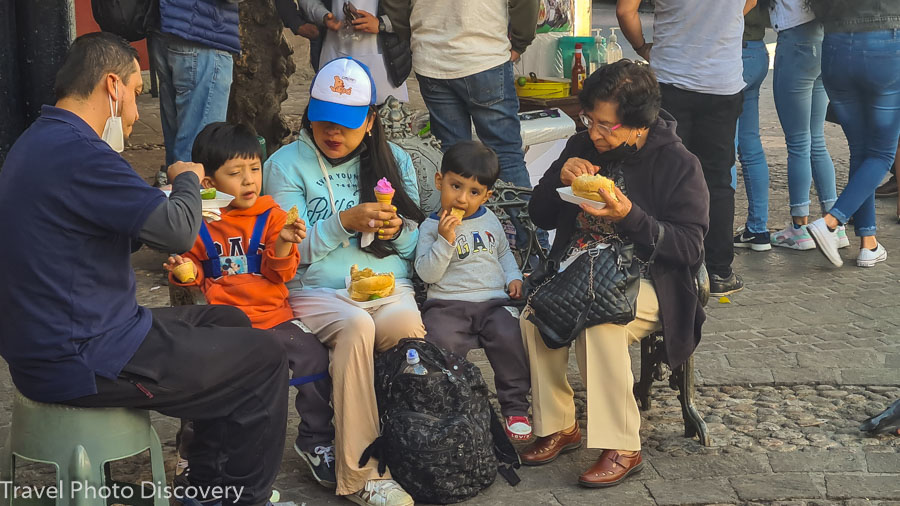 More stately squares and churches of Guanajuato city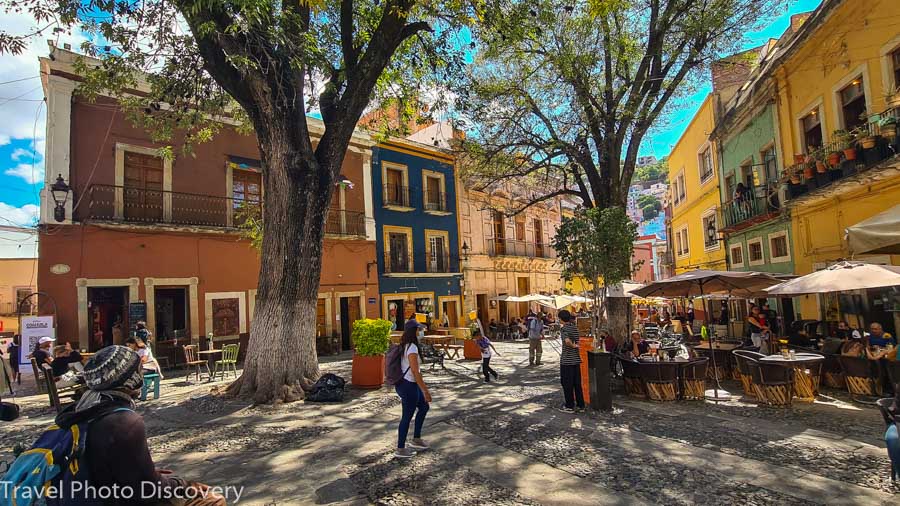 The public squares of Guanajuato city are spectacular and filled with fountains, colorful restaurants, flower vendor and of course local street food vendors you just have to try some of the local street food in the city. These popular gathering places are where the guide tells us where the locals live outdoors and we explore more of the stately areas of the Plaza San Fernando, Plaza San Roque, Plaza del Baratillo and Plaza de los Angeles to name just a few of the many plazas are so well loved and used in the city.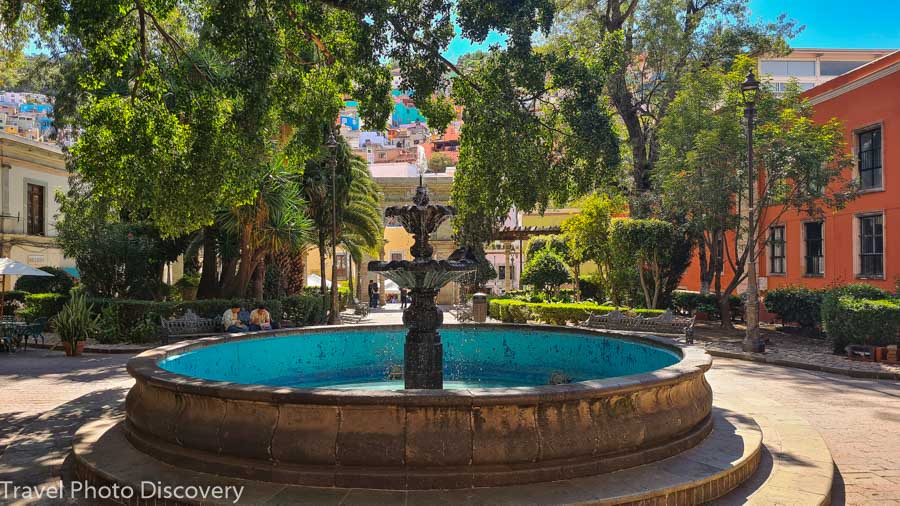 An ornate fountain at the edge of plaza xxxx
Trying some delicious and cheap tamales from a local street food vendor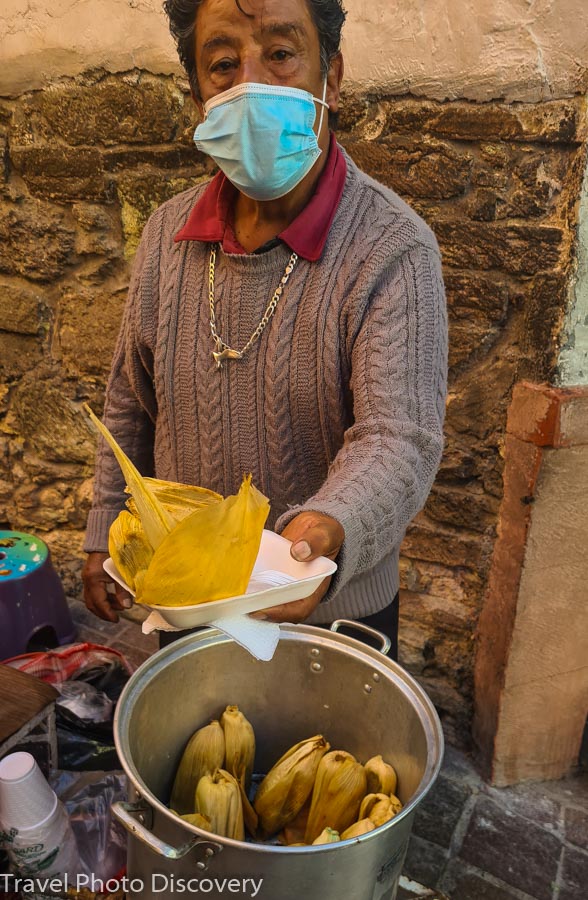 A colorful Instagram moment with a flower vendor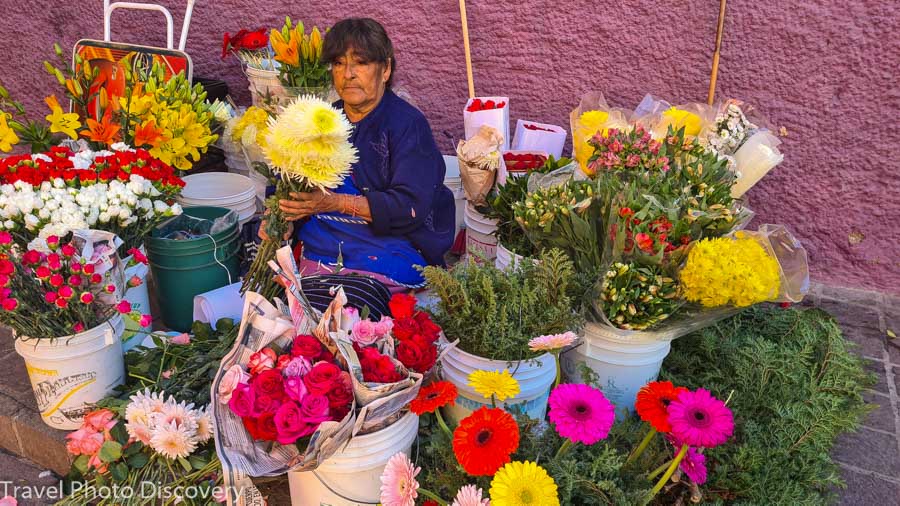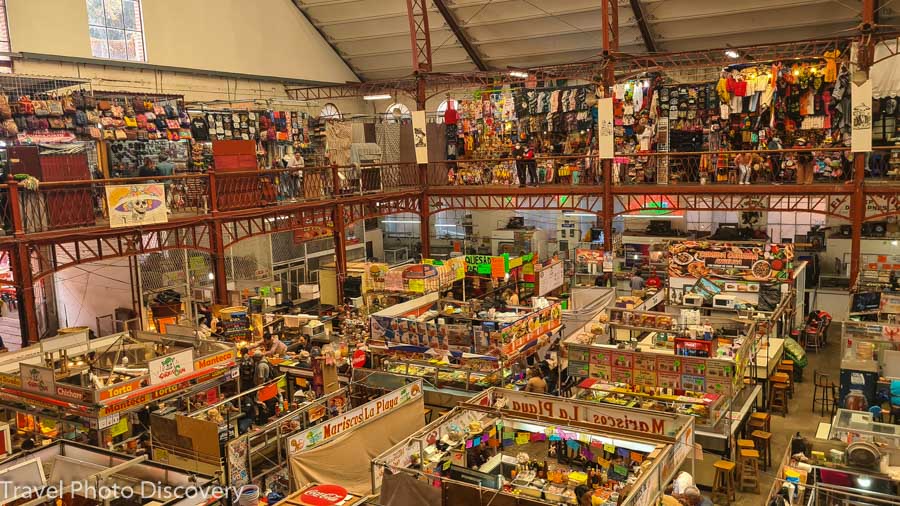 We walk through many colorful areas in the historic district and make it to our next street food stop at Mercado Hidalgo, the largest indoor market in the center. Serving both locals and visitors, there are so many local food stalls, arts and crafts vendors and typical fruits and veggie stands, meals and seafood and local specialty food choices to sample. We get to try some of the local pork tacos which are meaty and simple with onions and choice of various spicy salsas.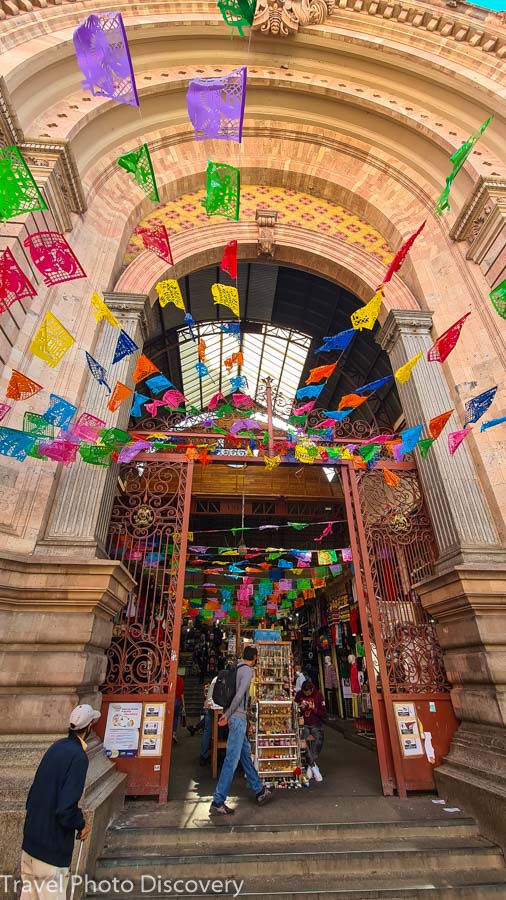 Entrance to the Hidalgo Market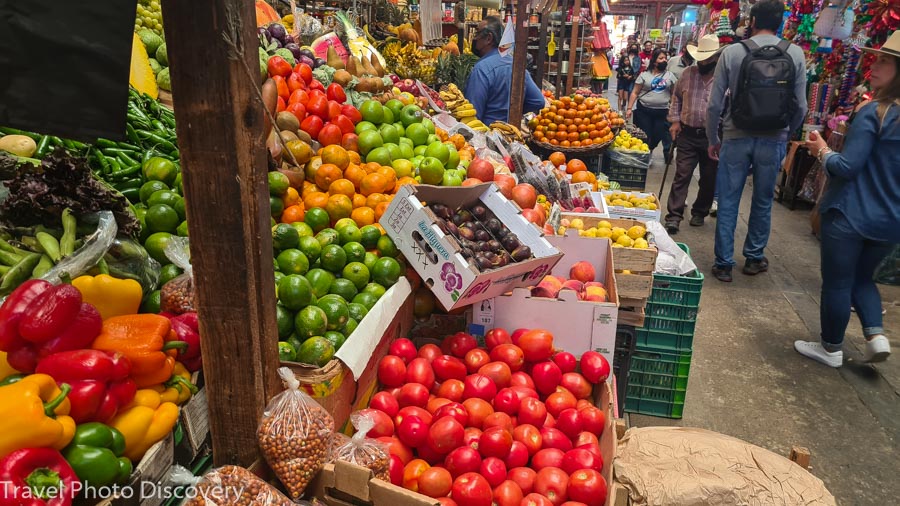 Checking out the many food vendors at Hidalgo Market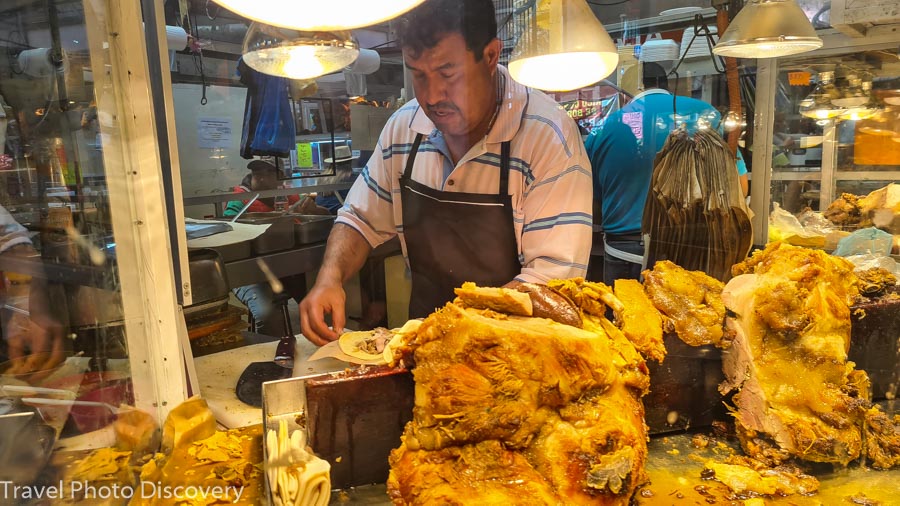 Sampling some delicious pork tacos for another snack break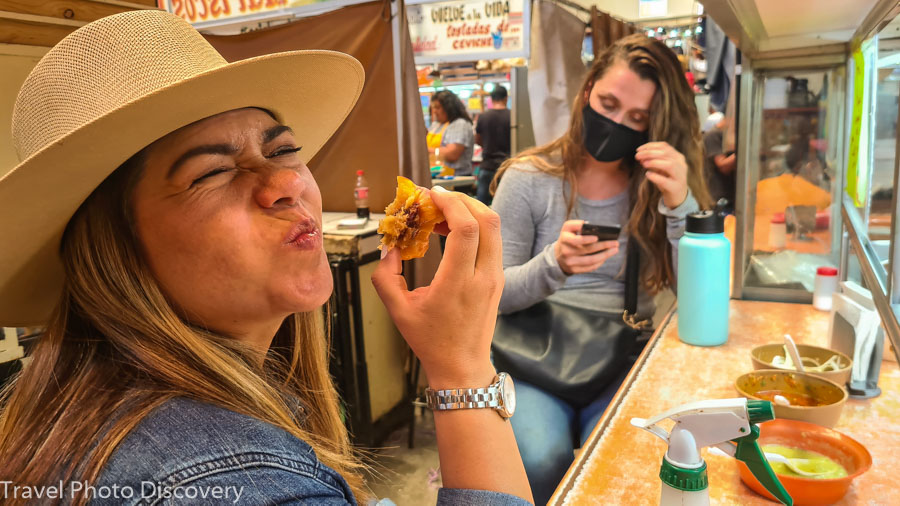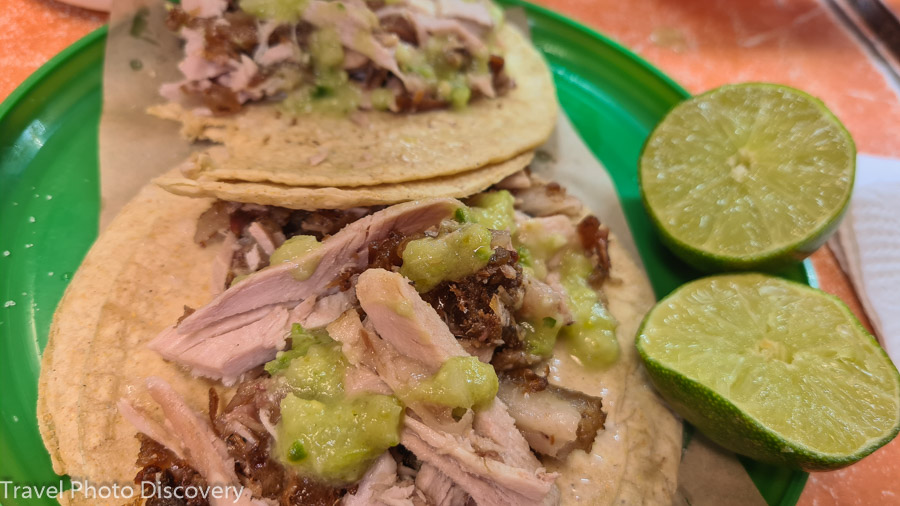 Gorgeous exotic fruits for sale at Hidalgo Market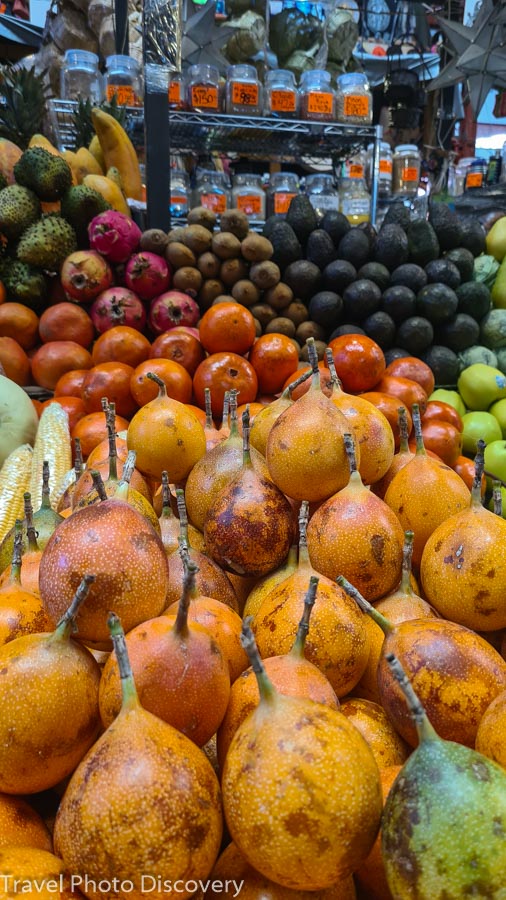 What local street foods you should to try at the Hidalgo market
Gorditas: These thick, handmade corn tortillas are filled with various savory ingredients such as cheese, beans, meat (like shredded chicken or pork), and topped with salsa, lettuce, and other condiments. Gorditas are a satisfying and flavorful street food choice.
Tamales: Tamales are a staple of Mexican cuisine, and at the Hidalgo Market, you can find a variety of delicious tamales. These steamed corn masa (dough) pockets are filled with a range of fillings like chicken, pork, cheese, or vegetables, and often wrapped in a corn husk.
Tacos: Explore the taco stands at the market and indulge in the authentic flavors of Guanajuato. Whether you prefer carne asada (grilled beef), al pastor (marinated pork), or other options, you can customize your tacos with a selection of salsas, onions, cilantro, and lime.
Elotes: Elotes are grilled or boiled ears of corn slathered with mayonnaise, sprinkled with cheese (such as cotija or queso fresco), chili powder, and a squeeze of lime. They are a popular street food snack, offering a combination of savory, creamy, and tangy flavors.
Aguas Frescas: To quench your thirst, try the refreshing aguas frescas available at the market. These fruit-based beverages come in various flavors such as horchata (rice and cinnamon), Jamaica (hibiscus), tamarind, or agua de limón (limeade). They are perfect for staying hydrated and complementing your street food experience.
Churros: Indulge your sweet tooth with freshly fried churros. These golden, crispy dough pastries are often coated in cinnamon and sugar, offering a delightful treat to enjoy while exploring the market.
These are just a few examples of the local street foods you can savor at the Hidalgo Market. Immerse yourself in the vibrant food scene, and don't hesitate to explore other stalls and discover new culinary delights that catch your eye.
Museums to visit at Guanajuato City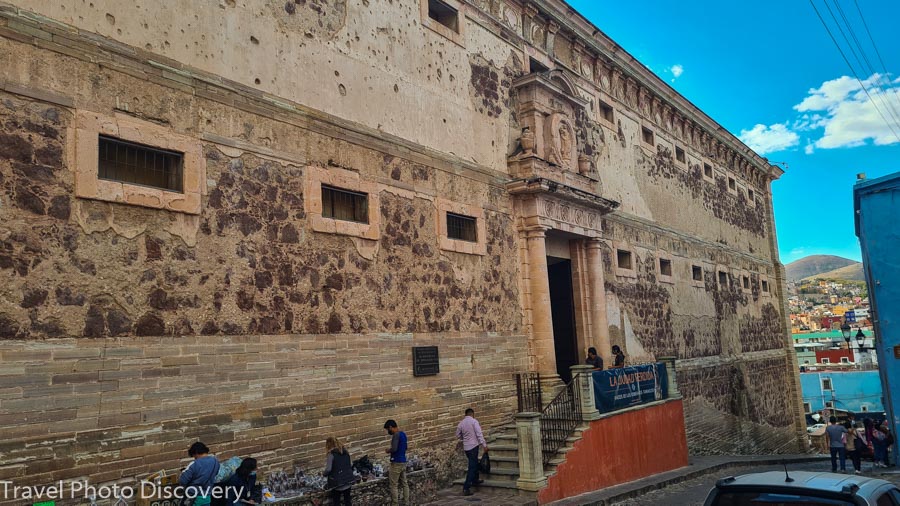 After being fortified with food and drinks we continue on to visit other historic monuments and buildings and walk up more steps to a fortified building that is now a city museum called the Guanajuato Alhóndiga de Granaditas. Once a granary for the Spanish, it was converted into a fortress and powerful stronghold in a fight with the Spanish Army invading the city and became a call to arms for the rest of the country to revolt – the Guanajuato Alhóndiga de Granaditas houses beautiful collections of arts and crafts, archeology and some history displays and artifacts.
Side entrance of Guanajuato Alhóndiga de Granaditas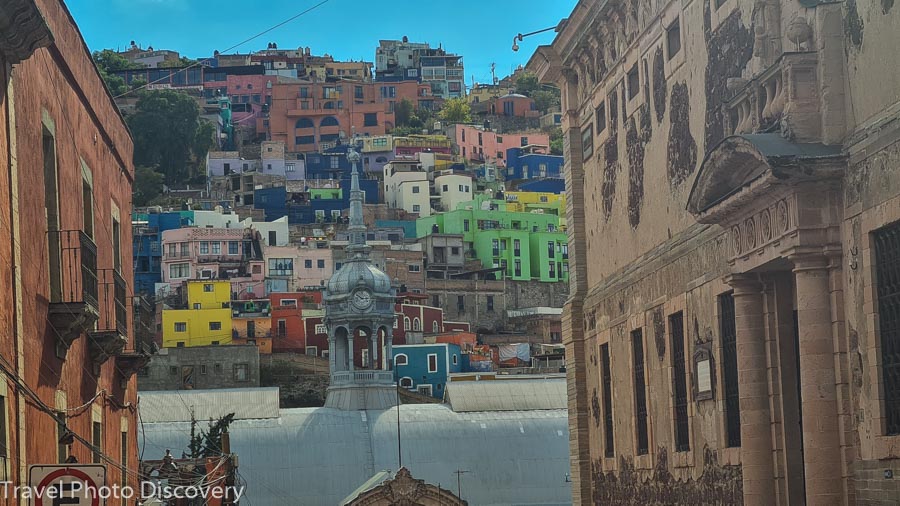 We continued our tour on a cultural tour of a street filled with museums that includes the Diego Rivera Museum (his childhood home), Casa del Conde Rul and a few other specialized historical museums housed in old family villas and repurposed into beautiful public buildings.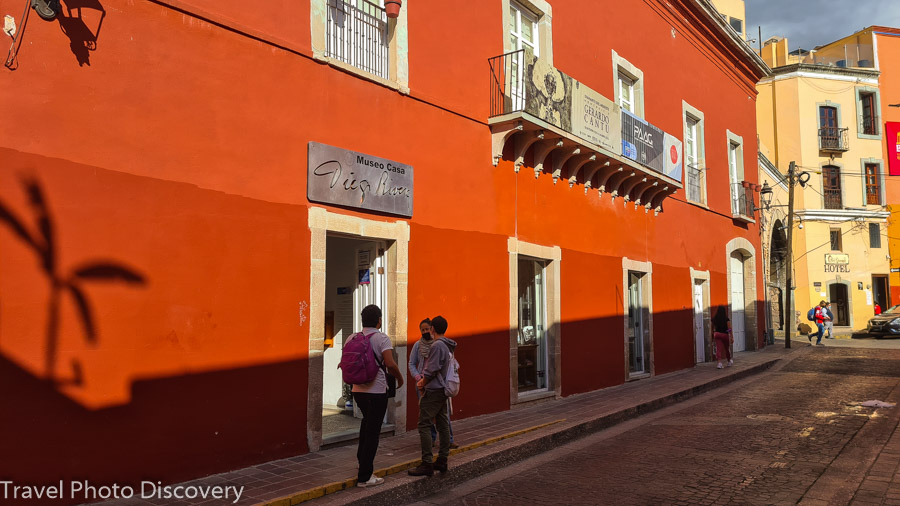 Diego Rivera Museum
Here are some highlights of what you can see and experience at the museum:
Diego Rivera's Works: The museum houses a collection of Diego Rivera's artworks, including paintings, drawings, and sketches. Marvel at his mastery of color, composition, and his distinctive style that portrays Mexico's history, culture, and social issues.
Studio and Workshop: Explore the preserved studio and workshop where Rivera worked on his artistic creations. Gain insights into his creative process, see his tools, brushes, and easels, and imagine the artist at work in this inspiring space.
Mural Reproductions: Admire reproductions of some of Diego Rivera's most famous murals. These large-scale artworks depict significant events and themes in Mexican history, society, and politics. The replicas provide a glimpse into the grandeur and complexity of Rivera's mural paintings.
Personal Artifacts: Get a glimpse into Rivera's personal life through a display of his personal artifacts. This may include photographs, letters, and personal belongings that offer a more intimate understanding of the artist beyond his public persona.
Temporary Exhibitions: The museum also hosts temporary exhibitions that showcase the works of other artists, both contemporary and from different periods. These exhibitions offer a broader perspective on Mexican art and provide opportunities to explore different artistic styles and themes.
Architecture and Setting: The museum itself is housed in a charming building that was once a grain storage facility. Appreciate the architectural features and the adaptive reuse of the space to create a unique environment for displaying Rivera's art.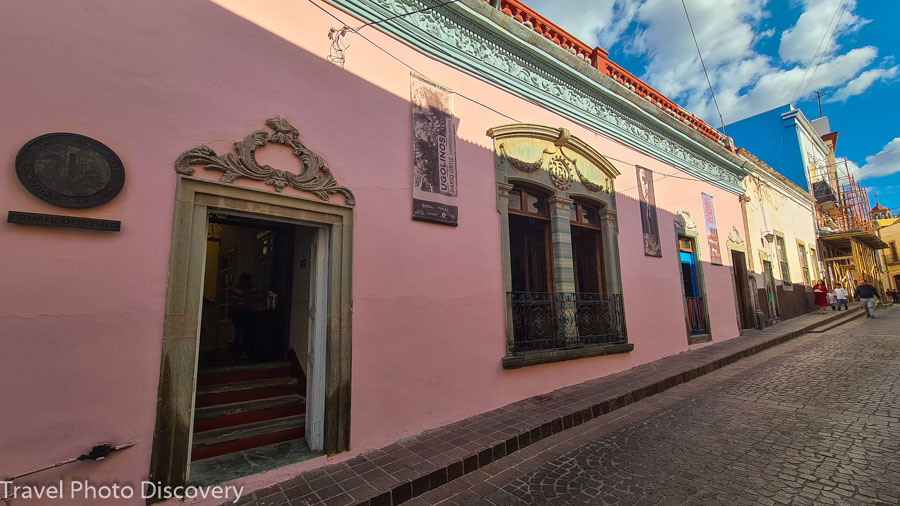 Guanajuato Contemporary Art Museum
The Guanajuato Contemporary Art Museum is a vibrant cultural institution that showcases a diverse range of contemporary artworks. When visiting the museum, you can expect to see a variety of captivating exhibitions featuring works by local, national, and international artists. The museum's collection spans various mediums, including paintings, sculptures, installations, photography, and multimedia pieces.
Explore thought-provoking contemporary art that explores social, political, and cultural themes, pushing the boundaries of artistic expression. Additionally, the museum often hosts temporary exhibitions, ensuring a dynamic and ever-changing experience for visitors. Immerse yourself in the vibrant and innovative world of contemporary art at the Guanajuato Contemporary Art Museum, where creativity knows no bounds.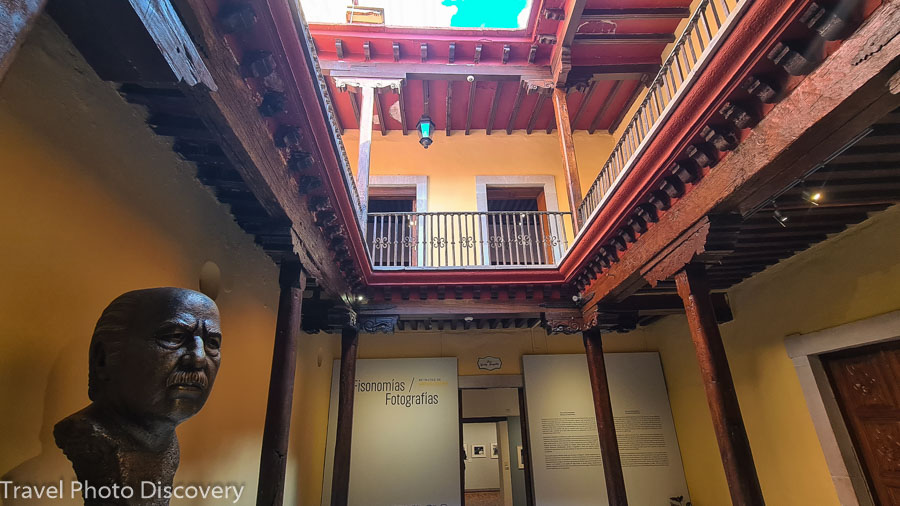 The Guanajuato City Museum
The Guanajuato City Museum offers a captivating journey into the rich history and cultural heritage of the city. Within its walls, visitors can explore a wide range of exhibits and artifacts that shed light on Guanajuato's past. Discover archaeological treasures, including pre-Hispanic artifacts, that highlight the region's indigenous history. Delve into the city's colonial era through displays of colonial art, religious artifacts, and historical documents
University of Guanajuato
A little further is the grand University of Guanajuato that stands out in all the viewpoints of the city and is one the largest universities in the city and is well known around the country as a university that has an important law school.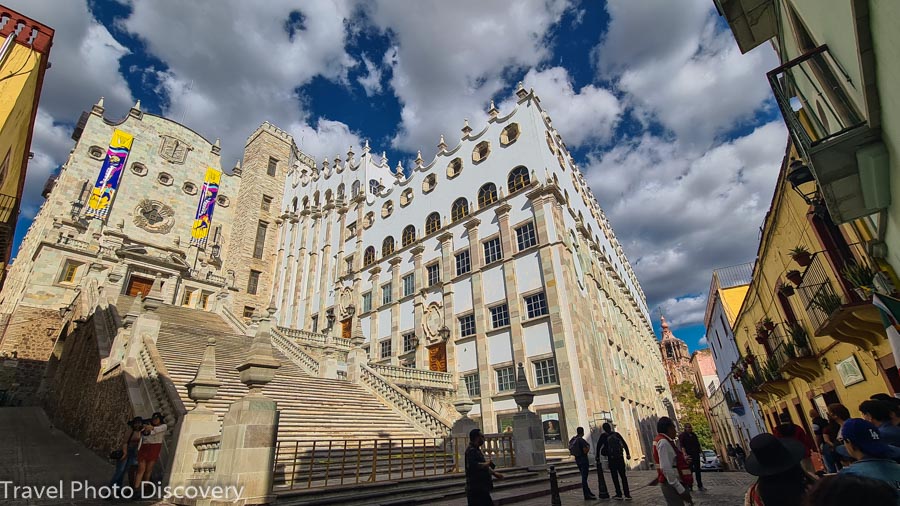 Founded in 1732, it is one of the oldest universities in Mexico, known for its academic excellence and cultural contributions. The university offers a wide range of undergraduate and graduate programs across various disciplines, including arts, sciences, social sciences, engineering, and humanities. With multiple campuses spread throughout the state, including its main campus in the city of Guanajuato, the university provides a dynamic and stimulating environment for learning and research.
Coffee break
After an intense look at all these cultural treasures, it was time to take a quick coffee break at one of the fun university coffee shops on the street.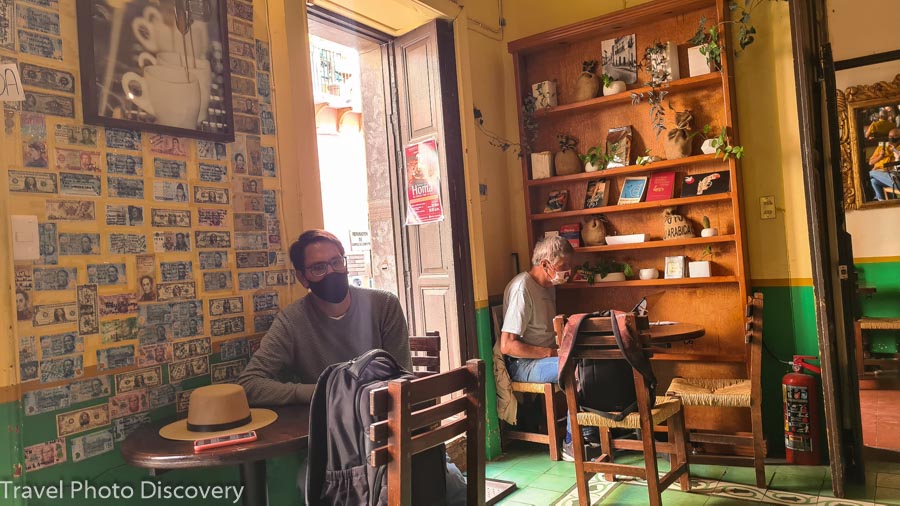 We passed a few more ornate and beautifully decorated churches along the tour, can pass up on these beautiful interiors.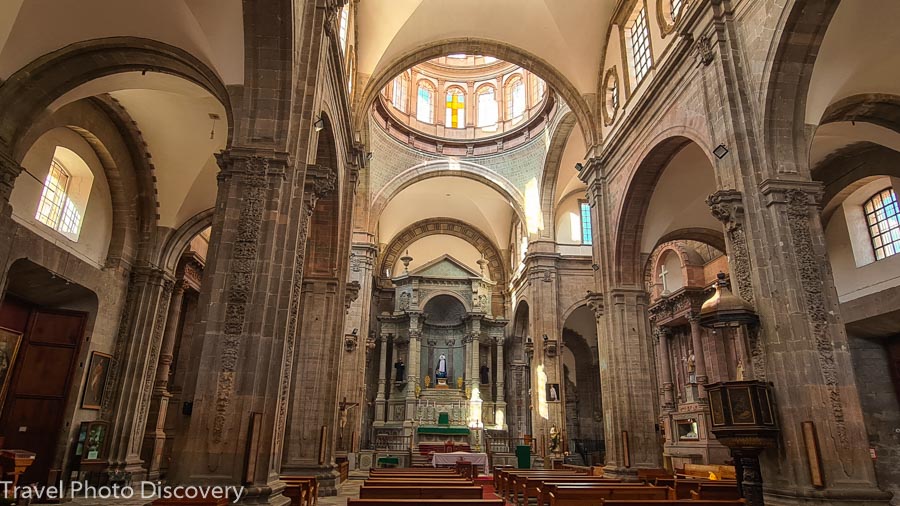 Tour end highlight at Lady of Guadalupe Cathedral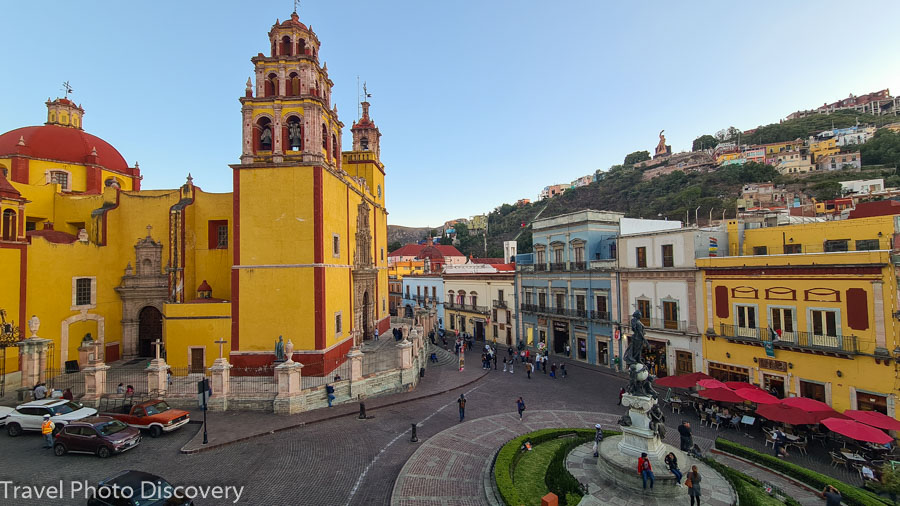 The tour finally ends at the iconic Basilica of our Lady of Guadalupe and fronting a lovely square, we tour the ornate and cool interiors as we wander around on our own in silence. After a quick chat about the cathedral outside, we say our goodbyes to each other and our guide and thank him for a fun day learning and touring around this wonderful city.
The Basilica of Our Lady of Guadalupe is a significant religious site located in Mexico City. It holds great importance in Mexican Catholicism and is one of the most visited Catholic pilgrimage sites in the world. The basilica is dedicated to the Virgin Mary, specifically to Our Lady of Guadalupe, who is considered the patroness of Mexico.
Final thoughts
It really was an interesting and lively tour of the entire historic district and learning about all local culture, buildings and historical details of this fabulous city and I would recommend you doing their history tour or their food tour (link below) of Guanajuato City.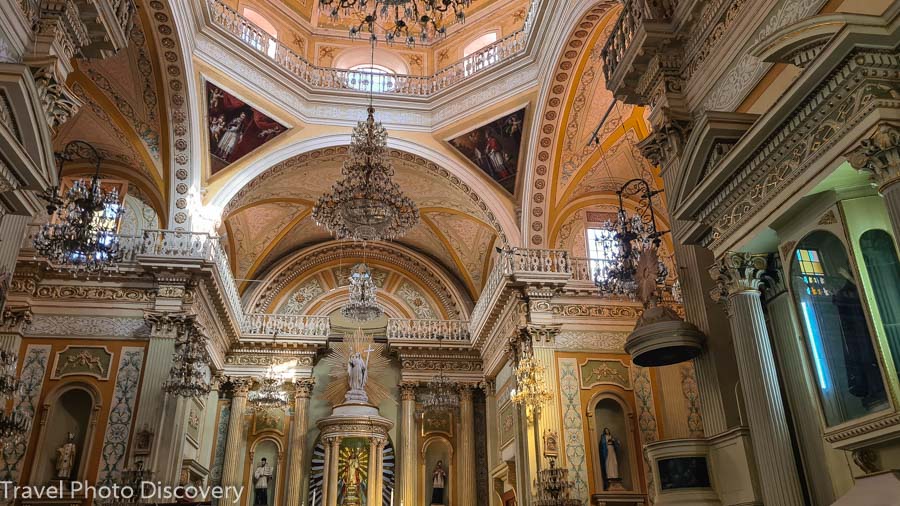 Entry courtyard of Lady of Guadalupe Cathedral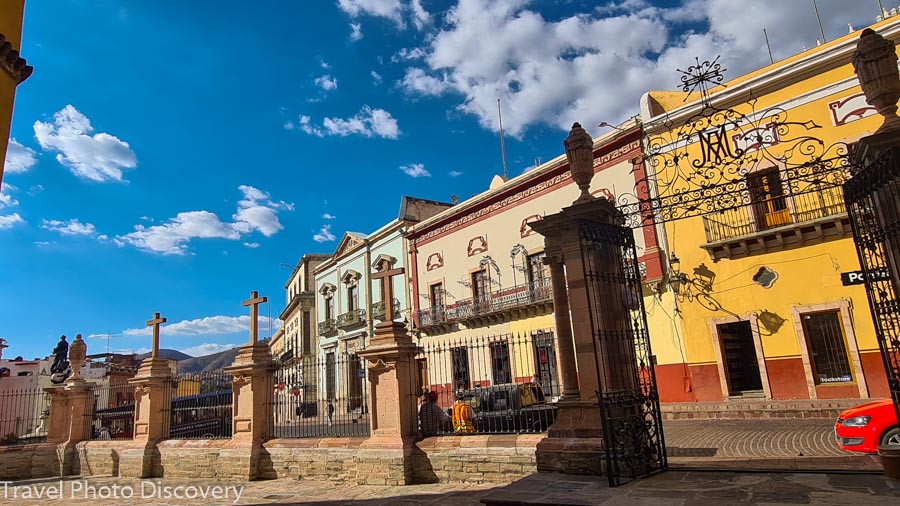 Where to stay in Guanajuato City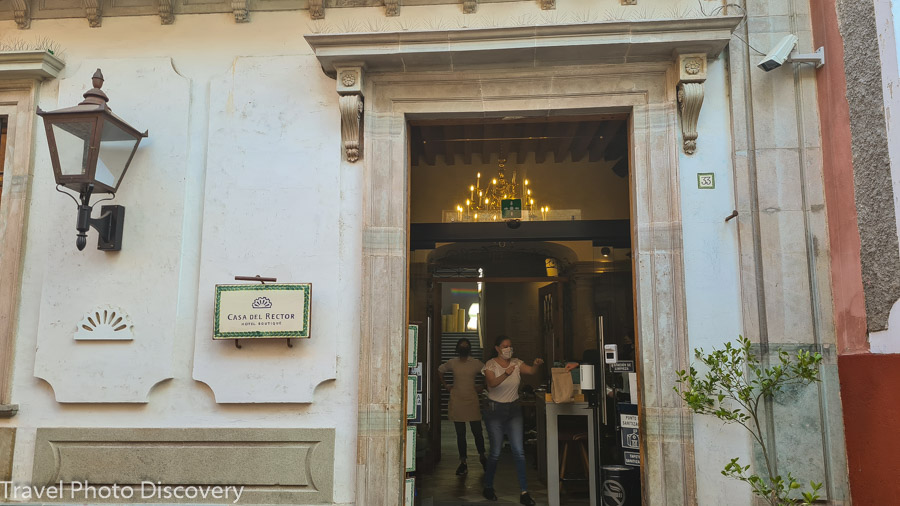 With so many beautiful inns and boutique hotels all over Guanajuato City, there's so many wonderful accommodations to have a fantastic stay and meal in the city. Here are some fabulous choices on where to stay in the city.
Casa del Rector Boutique Hotel – a luxury inn located in the historic district with a wonderful art gallery, swimming pool area and wonderful appointments and details in your room, quality service and rooftop bar and views of the city below.
Posada Santa Fe – facing a beautiful quiet square in an elegant hotel and central location, wonderful service, fantastic restaurant dining and comfortable rooms with nice amenities and services.
Quinta Las Accasias – European flare and Mexican antiques make this a stately quality inn, elegant and comfortable rooms that are beautiful and comfortable and quiet/away from the busy central district.
Check out these top Tripadvisor reviews of the best inns and hotels of Guanajuato here for inspiration and current prices of places to stay at your price range.
Check out these other posts on Guanajuato state
Things to do in Guanajuato City
San Miguel de Allende, Guanajuato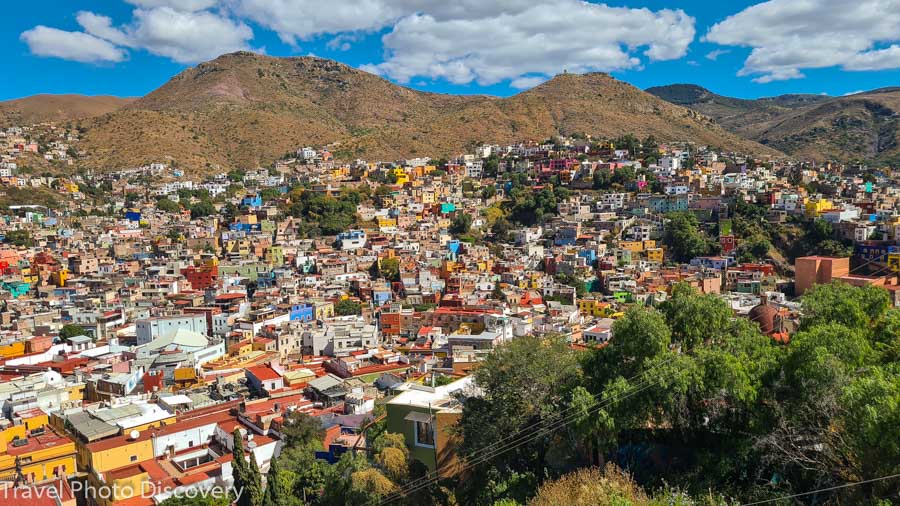 Final thoughts on the Guanajuato historic city tour
I would definitely recommend doing this Air Bnb historic tour of Guanajuato or their food tour here to get a complete look at all the fabulous attractions of this wonderful colonial city. Our guide Jorge, did an excellent job conversing in Spanish and English with ease and answering all the questions we had about this fabulous city. They also offer a fun food tour of Guanajuato's markets, street food vendors and other local favorite spots to tour and sample some delicious food in this colorful and vibrant city.
Conclusion to visiting Guanauato City
A visit to Guanajuato City is a truly enriching experience that offers a captivating blend of history, culture, and natural beauty. From its colorful colonial architecture and winding alleys to its vibrant cultural festivals and renowned museums, Guanajuato City showcases the best of Mexico's rich heritage.
Exploring the city's historic center, a UNESCO World Heritage site, unveils a treasure trove of architectural gems, picturesque plazas, and charming cafés. The city's tunnels, remnants of its mining past, add an element of intrigue and provide unique pathways to explore.
Disclosure – some of the links above are to affiliate sites that are either reviews or recommendations if you book helps to keep our site running. We appreciate your supporting our website meanwhile. I was hosted on a tour with Guanajuato Walking Tours which does not impact any decision on my writing and featuring their tour experience around the city.