Exploring the Rich Heritage: Unforgettable Things to Do in Guanajuato and colorful landscape (2023)
Guanajuato, nestled in the heart of Mexico, is a city that captivates visitors with its vibrant colors, colonial charm, and rich cultural heritage. Steeped in history and surrounded by picturesque landscapes, Guanajuato offers a plethora of unforgettable experiences for travelers of all interests. From exploring its well-preserved historic center and wandering through its maze-like alleys to immersing yourself in its lively arts scene and indulging in mouthwatering local cuisine, there is no shortage of things to do in Guanajuato.
Join us on a journey as we uncover the hidden gems, iconic landmarks, and cultural delights that make Guanajuato a must-visit destination. Whether you're an art enthusiast, history buff, food lover, or simply seeking a unique adventure, Guanajuato has something to offer that will leave an indelible mark on your travel memories.
The coolest things to do in Guanajuato, Mexico includes local festivals, delectable regional cuisine, colonial art and architecture, mummies…wait, what? Mummies? Yep…(but more on that later), and so much more. A labyrinth of roads and alleyways, this colorful city is about 4 hours northwest of Mexico City by car. It is a UNESCO World Heritage site, one of 35 in Mexico, the country with the most sites in the Americas.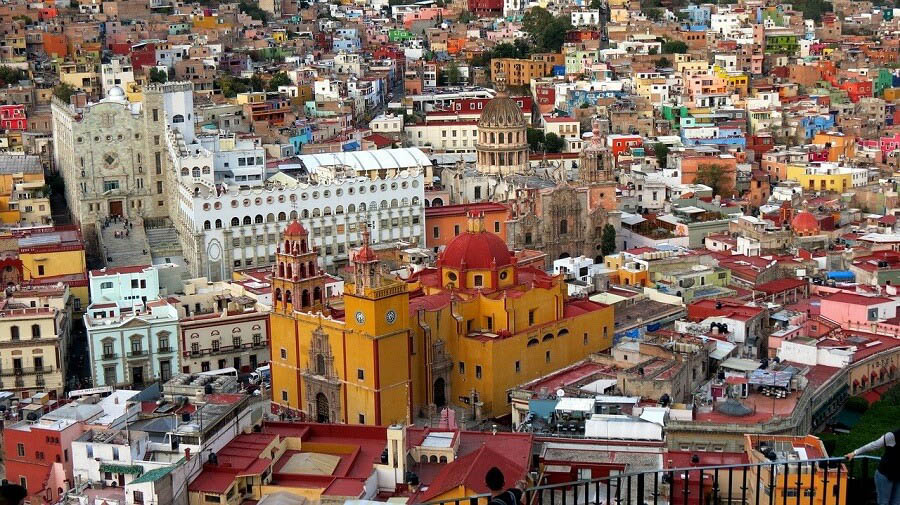 What is Guanajuato known for and what to do in this colorful city
Guanajuato is nestled in a narrow valley in central Mexico right smack in the middle of a cultural powerhouse confluence with other equally impressive cities nearby.
Due to its geographic positioning, the city branches out from the main road in narrow streets and alleyways. Too narrow for cars, the city is best explored on foot. Some of the thoroughfares suddenly turn into stairs that crawl up or down steep mountainsides and some streets are partially or totally underground. The street food in Guanajuato is not to be missed and you'll enjoy the best food experiences in Guanajuato.
That's one of the most interesting aspects of the town. Meandering through town on the narrow cobblestone streets you suddenly come upon a sun splashed plaza decorated with intricate tiles and those "strong" colors like burnt orange and cobalt blue you see so often in places like Mexico and India.
Best time to visit Guanajuato City in Mexico
The winter season in Guanajuato city from December to February are a popular timeframe to visit the city and spring time around April when the weather is warm, dry and getting their hot summers in this region which typically are during the months of April to June. In the winter months lows range in the mid 40s with highs to a comfortable mid 70s range which makes it a very comfortable time to visit and stay in the region.
How to get around Guanajuato
Getting around Guanajuato, Mexico, is an adventure in itself, thanks to its unique layout and charming streets. Here's how to navigate this captivating city:
1. **Walking**: Guanajuato's historic center is pedestrian-friendly, with narrow winding streets and colorful alleys. Walking is the best way to explore its nooks and crannies, including the famous Callejón del Beso (Alley of the Kiss).
2. **Public Transportation**: Guanajuato has a network of local buses that can take you to various parts of the city. Look for bus stops and routes to reach specific destinations.
3. **Taxis**: Taxis are readily available in Guanajuato. Ensure that the taxi has a working meter, or agree on a fare beforehand. Radio taxis are generally more reliable.
4. **Funicular**: The funicular, a cable car-like system, connects the lower part of the city to the upper part, where the University of Guanajuato is located. It offers scenic views of the city.
5. **Private Transportation Services**: Ride-sharing services like Uber and Didi are available in Guanajuato, providing a convenient and often cost-effective way to get around.
6. **Car Rentals**: While not recommended for navigating the historic center due to narrow streets and limited parking, renting a car can be useful if you plan to explore the surrounding areas.
7. **Walking Tours**: Joining a guided walking tour can be an excellent way to learn about the city's history and architecture while getting around.
8. **Bicycle Rentals**: Some shops in Guanajuato offer bicycle rentals, allowing you to explore the city and its nearby attractions at your own pace.
9. **Local Knowledge**: Don't hesitate to ask locals for directions or recommendations. Guanajuato residents are often friendly and helpful.
10. **Maps and Apps**: Use maps and navigation apps on your smartphone to help you find your way around the city and locate specific attractions.
11. **Mind the Terrain**: Be prepared for steep hills and uneven terrain, especially in the historic center. Wear comfortable walking shoes.
12. **Parking**: If you have a car, parking can be a challenge in the city center. Look for parking lots or garages on the outskirts and walk into the center.
Exploring Guanajuato's enchanting streets and vibrant culture is a delightful experience, and the city's compact size makes it manageable to get around on foot. Embrace the local pace of life, savor the sights and sounds, and enjoy the charm of this Mexican gem.
Best things to do in Guanajuato Mexico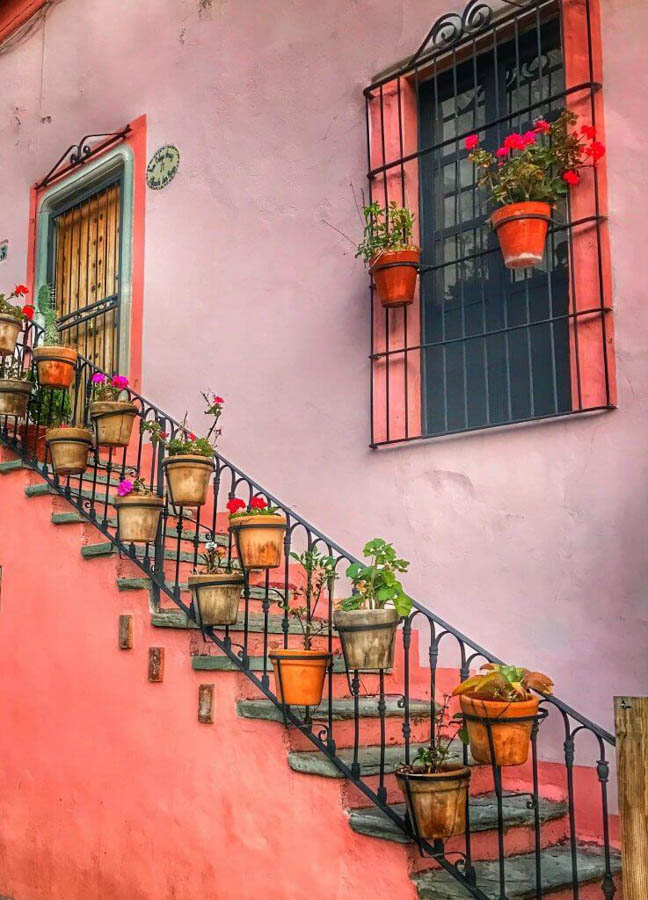 A Kiss for Luck
Some streets are so narrow that the buildings on them are so close they almost touch. One such alleyway that typifies the layout of Guanajuato streets is known as El Callejon del Beso (Alleyway of the Kiss.)
Legend has it that Carlos and Ana, two young lovers, were thwarted in their love by Ana's father who wanted her to marry a rich older man so he banished Carlos. Not easily dissuaded, Carlos noticed Ana's bedroom window faced a balcony within touching distance of the one across from it. Carlos bought the building across Ana's window and the two lovers would meet and kiss every night across the 69 centimeters that separated their balconies.
Ana's father discovered the lovers and, in a fit of rage, killed his daughter. Carlos tried to intervene but fell and plunged to his death breaking his neck on the third step of the street below.
Today, couples who kiss on that third step, conveniently painted bright red, will have good luck for the next 7 years. So, first on the list of coolest things to do in Guanajuato is to kiss in the Callejon del Beso.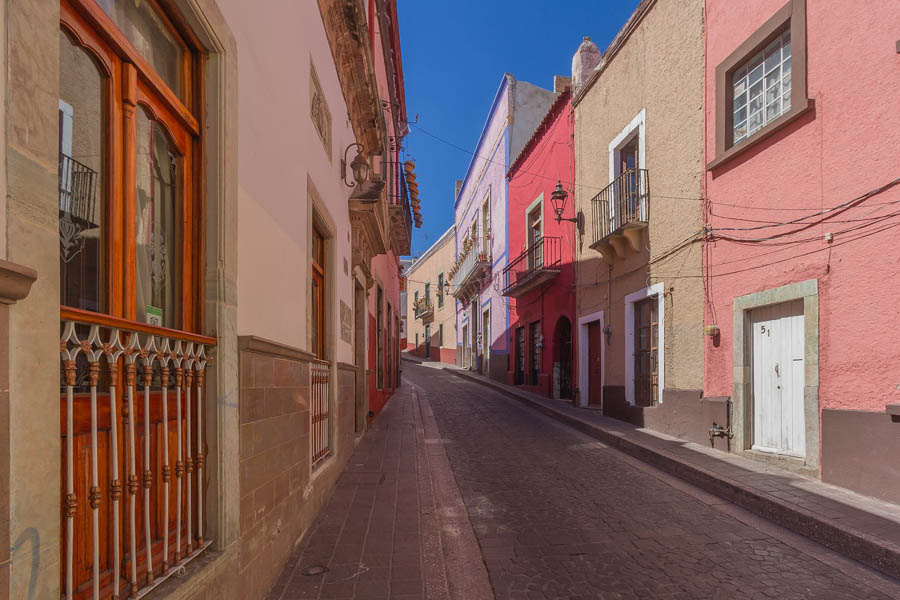 A Museum Lover's Paradise
Being that Guanajuato is the birthplace of world-renowned muralist Diego Rivera, the city takes its artistic heritage very seriously. Guanajuato's many museums range from displays of fine art to historic recreations to the totally bizarre.
If you are a museum lover and enjoy delving into the history and culture of a location, museum hopping is one of the best things to do in Guanajuato. Some of my favorites are below.
Diego Rivera Museum and home. Even if you are not an art lover, you must visit this museum. The museum is Guanajuato's homage to local-boy-done-good, Diego Rivera. On display is his art but what I found more interesting is his home. Ever wonder how an artistic prodigy decorates his own home? Here is your chance to find out.
The art is as big and brash as was the artist's life. Much is made of his romantic relationship with fellow artist Frieda Kahlo. Some of her works are also on display.
Museo Ex-Hacienda San Gabriel de Barrera. This is a large hacienda, or country home, of the former Spanish royalty that managed the silver mines during colonial times. At one point over two thirds of all the world's silver was produced in the nearly La Valenciana mine.
The building is decorated as it would have looked during the 1600 and early 1700s. The interior is also decorated with period art and furniture, but from three different time periods. This affords the opportunity to follow the town's development through its art. There is also a beautifully landscaped garden great for a pleasant stroll.
The Museo del Pueblo de Guanajuato (Museum of the City of Guanajuato) is a short walk from the Diego Rivera Museum so you can see both in a morning or afternoon. The museum explains the history of the city through interesting exhibits from the original local native populations up through the present time.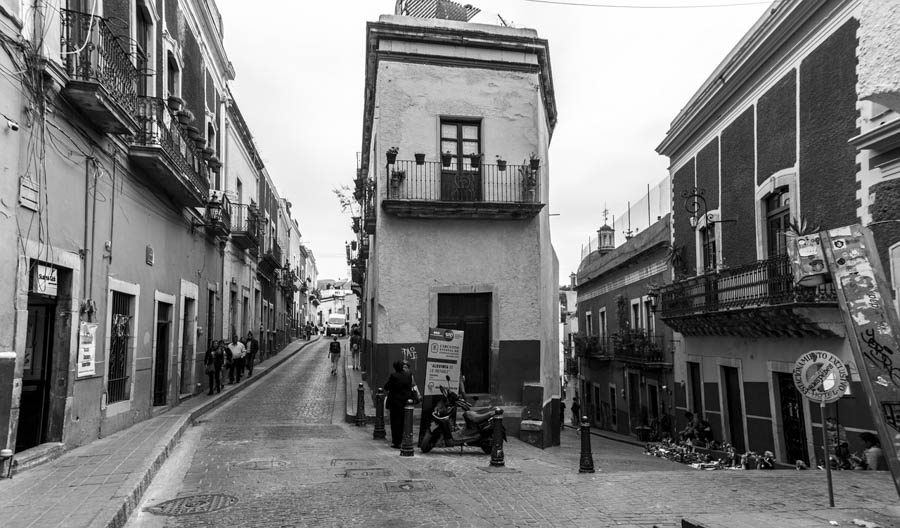 The City Center
Like many Hispanic towns, the square in the center of the city is called Plaza Mayor (Main Plaza) although the official name of the square is Plaza de la Paz (Peace Plaza).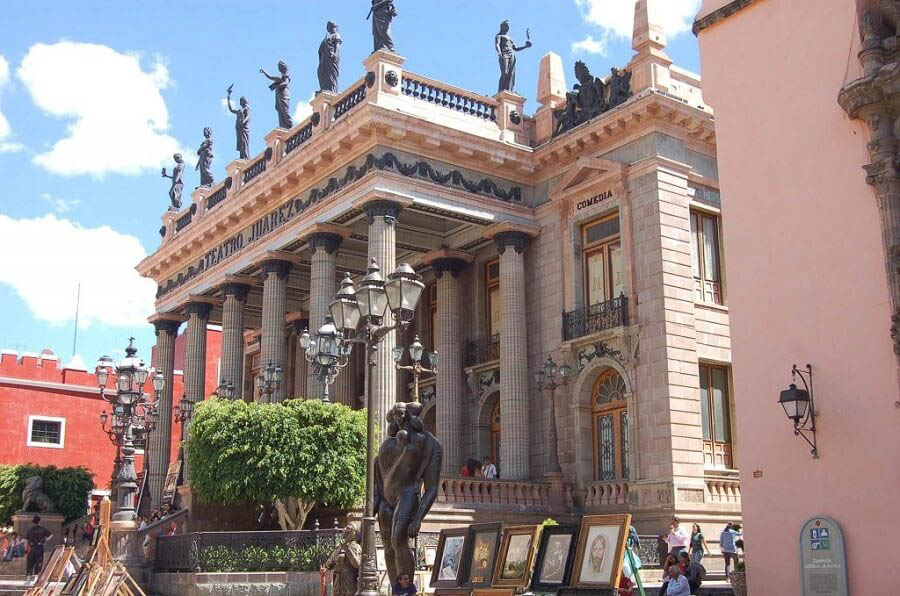 This is where many of the city's wealthiest colonial families and royalty built their homes. These elaborate structures have been maintained, and in some cases entirely reconstructed, to appear as they were in the city's 18th Century golden age. Some of these familial mansions, designed in Baroque and Greek Revival style, are now government institutes. It is interesting to look at these government buildings, some of which house dozens of employees, and think that they once housed a single family. Imagine the opulence!
Also decorating the Plaza Mayor like a colorful wedding cake is the Basilica Colegiata de Nuestra Senora de Guanajuato (Our Lady of Guanajuato.) Built in that "heavy" Mexican Baroque style between 1671 and 1696, the church is painted a bright orange-yellow color with red highlights. Its size and color combination make it visible from just about anywhere in the city, so you won't get lost using the basilica as a reference point.
The basilica's altar houses the image of Our Lady of Guanajuato, a gift from the King of Spain in the 1500s.
Nearby is an oddly shaped building that takes up an entire block. This is the Alhondiga de Granaditas, loosely translated as "grain house." It was originally built to store grain to protect the residents from a famine due to crop failure. Today it is a regional museum. But the Alhondiga's real claim to fame is its importance as the site of the first battle of the Mexican War of Independence from Spain in 1810.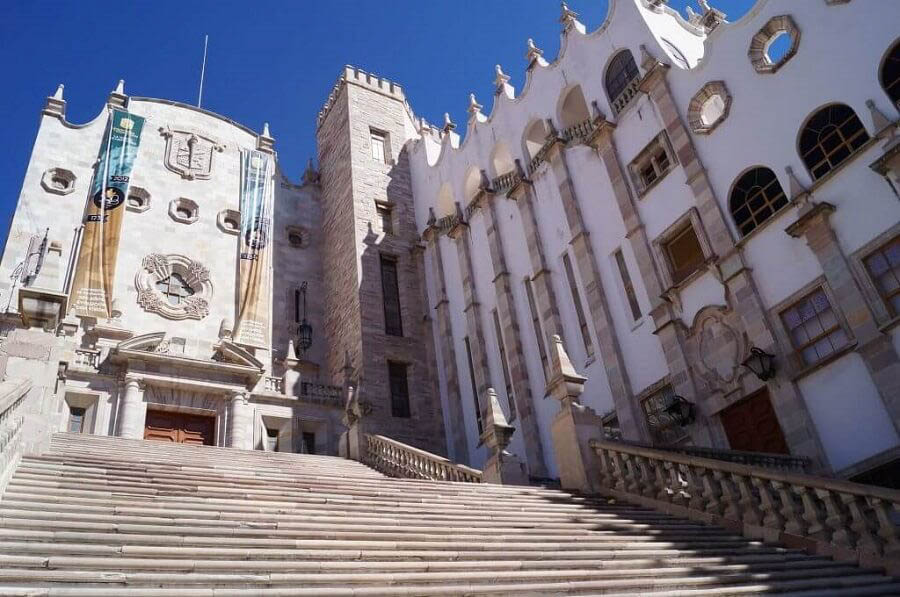 Other important and architecturally impressive structures in town include the Juarez Theatre, University of Guanajuato and the Basilica of La Valenciana.
What to Eat in Guanajuato
You won't go hungry in Guanajuato. Foodies will love the street food including local favorites tamales, tacos and gorditas (a pastry filled with meat or vegetable.) Foodie fanatics, however, will arrange to be in Guanajuato in June for the Cumbre Internacional de la Gastronomia de Guanajuato, (the international gastronomy apex of Guanajuato) a two weeklong food festival. Here lovers of glorious food can sample the cuisines of up to 10 different countries and enjoy over 120 gastronomic activities.
Whatever your eating style; Michelin-starred restaurants or a taco on a street curb, Guanajuato has got you covered.
Check out this street food tour in Guanajuato
Try these popular foods of Guanajuato
Guanajuato, a culinary paradise in Mexico, offers a variety of mouthwatering dishes that showcase the region's rich flavors and culinary heritage. When visiting Guanajuato, be sure to indulge in these popular local delicacies:
Enchiladas Mineras: A specialty of Guanajuato, enchiladas mineras are tortillas filled with chicken or cheese and smothered in a savory red or green sauce. They are typically topped with queso fresco, onions, and cream, creating a delightful combination of flavors.
Pozole: This hearty and comforting soup is a staple in Mexican cuisine. Made with hominy (dried corn kernels), meat (usually pork), and a flavorful broth seasoned with various spices, pozole is often garnished with shredded lettuce, radishes, onions, and lime. It's a satisfying dish that will warm your soul.
Chiles en Nogada: Considered a patriotic dish, chiles en nogada is a culinary masterpiece. It features roasted poblano peppers stuffed with a mixture of ground meat, fruits, and spices. The peppers are then topped with a creamy walnut sauce (nogada) and garnished with pomegranate seeds, creating a visually stunning and delicious dish.
Gorditas: These thick, round cornmeal cakes are a popular street food in Guanajuato. They are usually split open and filled with various savory ingredients such as beans, cheese, meat, or guacamole. Gorditas are cooked on a griddle until golden brown and served hot.
Cazuelas: Cazuelas are flavorful stews made with a variety of ingredients such as chicken, beef, or pork, along with vegetables, herbs, and spices. They are slow-cooked in traditional clay pots, which infuses the dish with rich flavors. Cazuelas are often accompanied by rice, beans, and tortillas.
Guacamayas: A favorite local snack, guacamayas are crispy torta-style sandwiches filled with marinated pork, guacamole, and salsa. The combination of tender meat, creamy avocado, and spicy salsa creates a delightful explosion of flavors.
Churros: End your culinary journey in Guanajuato with a sweet treat. Churros, fried dough pastries coated in cinnamon sugar, are a beloved dessert. They are often served with a side of thick hot chocolate for dipping, creating a perfect harmony of flavors.
These are just a few of the popular foods to try when visiting Guanajuato. Embrace the local flavors, explore the bustling markets and street food stalls, and savor the delicious culinary delights that this vibrant city has to offer. Buen provecho! (Enjoy your meal!)
Popular places to eat in Guanajuato
Where to stay in Guanajuato
Like the wide range of food options in Guanajuato, accommodations also offer choice in all price ranges. Want to stay in a restored hacienda, former home of Spanish royalty where you can luxuriate in the spa? Try the Hacienda de San Cristobal. You can check out all the reviews and prices for a fantastic boutique hotels in the central district here for a fabulous stay in the historic district of Guanajuato.
The Cervantino
Every fall around October the city of Guanajuato takes center stage as the host of one of the most important cultural festivals in Latin America, the Cervantino. Performers go from plaza to plaza putting on plays by Spanish playwright, Miguel de Cervantes. There are accompanying musical celebrations, and roving musicians wander the cobblestone streets dressed in 17th Century costumes. Truly a can't-miss activity in Guanajuato
.

The Gruesome Mummies of Guanajuato
But what about those mummies?
Ah…the mummies of Guanajuato. This is what Guanajuato is REALLY famous for.
Near the center of town there is a Mummy Museum. Inside there are about 120 mummies 60 of which are on display. What are they doing there? How did they come to be on display? Definitely one of the most unusual thing to do in Guanajuato and a one of a kind experience.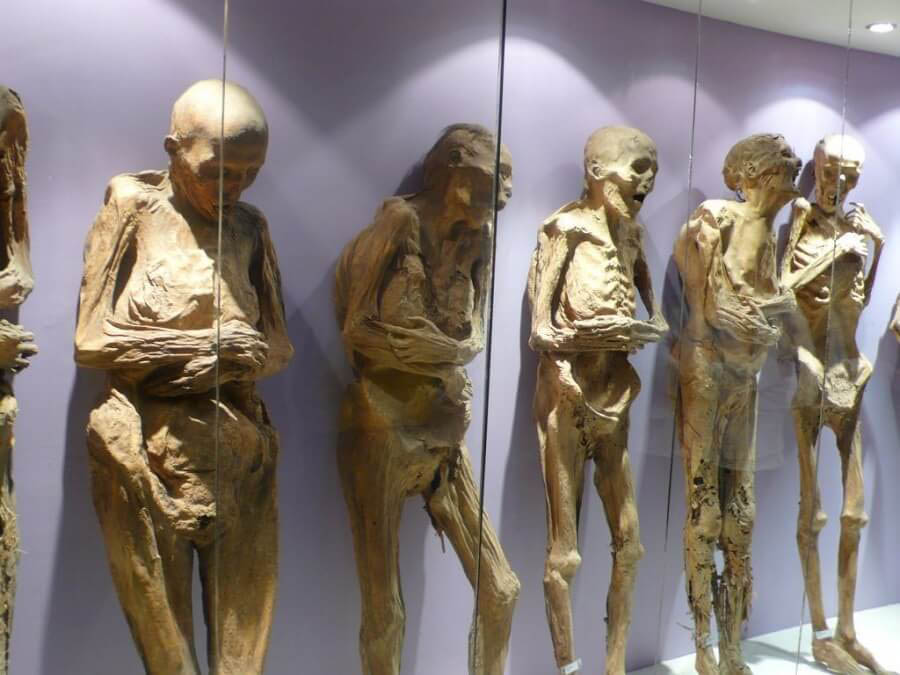 In the early 1800s Guanajuato was racked by a cholera epidemic. Many people died at once and they had to be buried quickly in the local cemetery to stop the epidemic.
Time passed. People forget about the epidemic. In the 1870s, the Church, seeking revenue, declared that if people did not pay the upkeep on relatives' cemetery plots, their long-dead loved ones would be disinterred.
When bodies were disinterred the locals were shocked to see that many bodies looked remarkably well-preserved. Scientists determined that the unique soil composition in Guanajuato was perfect for preventing corpses from decomposing.
Little by little word got out that there were mummies in Guanajuato. Visitors wanted to see them so the local authorities started charging for the privilege and that's how the museum was created.
To make things more interesting, the rumor is that some folks were buried prematurely and woke to find themselves in coffins. Some of the corpses appear screaming in terror which would appear to substantiate that claim.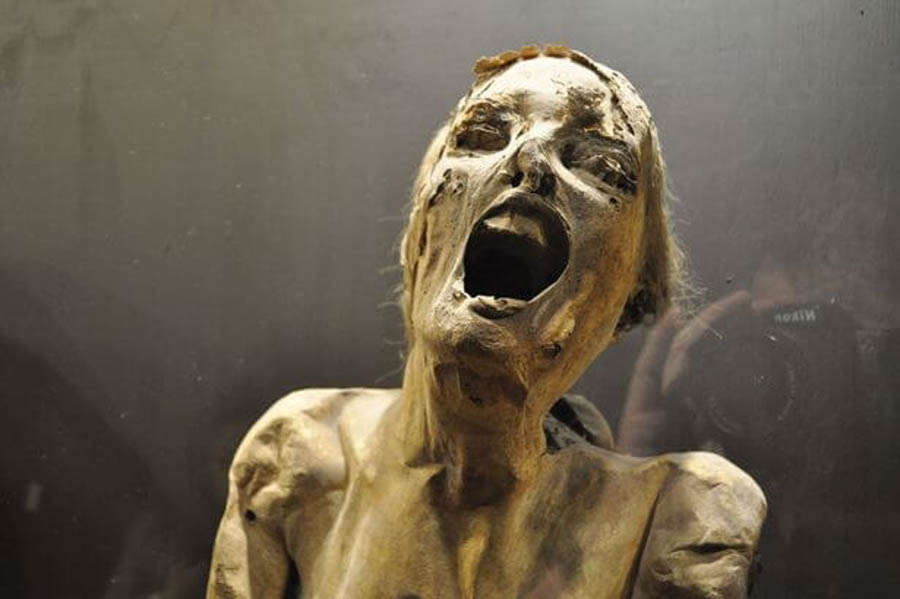 The mummies of Guanajuato are so unique, so unexpected, so weirdly Mexican that you're almost obligated to visit. Truly the most interesting thing to see in Guanajuato. The are so unique and unusual attraction to visit in Guanajuato and intriguing to explore with an open mind.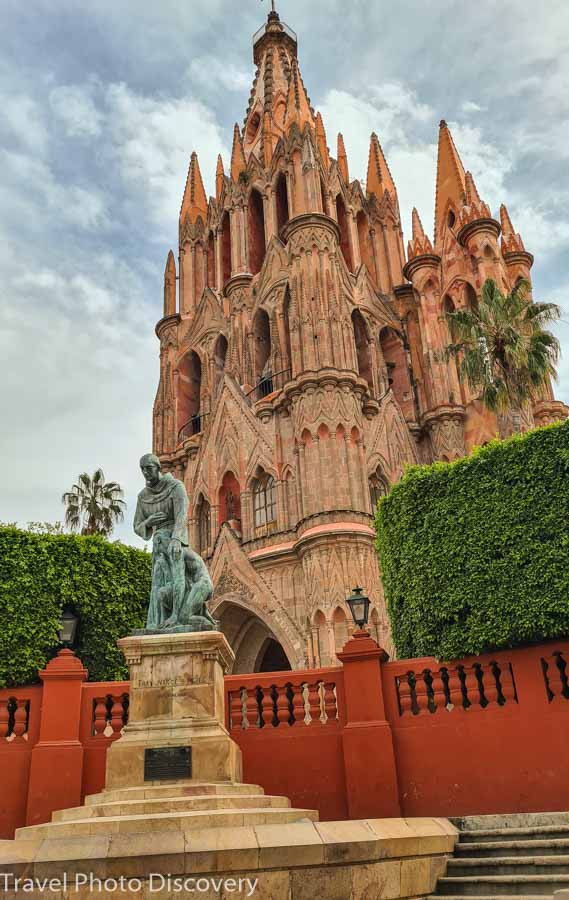 Day Trips from Guanajuato
Queretaro
Two hours southeast of Guanajuato is another UNESCO World Heritage site, Queretaro. The town has over 1,400 registered monuments (yes, not a typo), and many of the museums are free. The best part is that this is Mexico's wine producing region and a lovely place to take a wine tour accompanied by the region's gastronomy.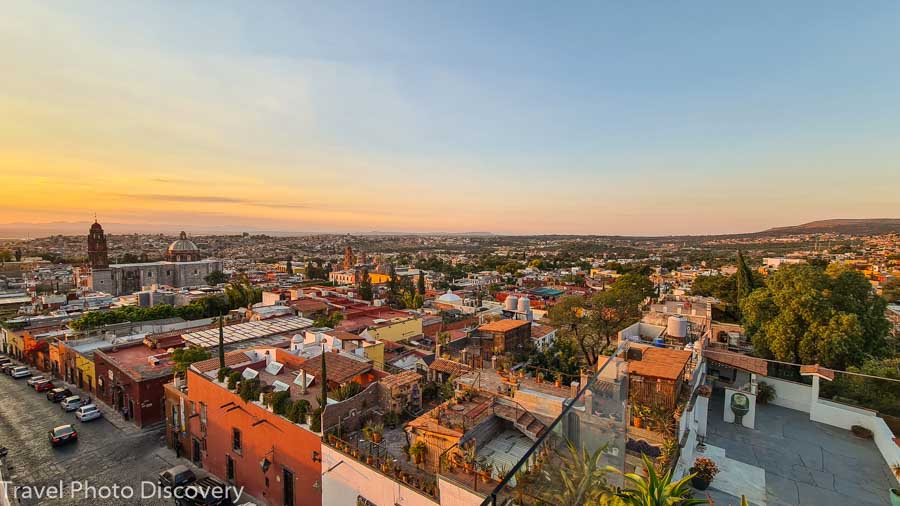 San Miguel de Allende
I know it seems like an embarrassment of riches, but closer still, about 1 ½ hours from Guanajuato is yet another colonial gem, UNESCO World Heritage site, San Miguel de Allende.
San Miguel has evolved into a major ex-pat community for retired U.S. citizens. As such, English is almost a second language. The town is known for all things colonial, especially Spanish Baroque architecture. There is a lively music and art scene and the restaurants offer traditional Mexican as well as international cuisine.
Guanajuato is the perfect location to park yourself for a few days, or weeks, to explore the town as well as the surrounding area. There is a good reason why visitors say "Mexico Magico." Visit Guanajuato and see why.
More inside tips to visiting Guanajuato
Explore the Callejónes: Guanajuato is famous for its intricate network of narrow alleyways called callejónes. Take the time to wander through these charming streets, adorned with colorful buildings and filled with local shops, cafes, and art galleries. Getting lost in the maze-like alleys often leads to unexpected discoveries and delightful surprises.
Visit the Museums: Guanajuato is home to several fascinating museums that showcase its rich history and culture. Don't miss the Museo de las Momias (Mummy Museum), which houses naturally preserved mummies, or the Museo Iconográfico del Quijote, dedicated to the renowned novel Don Quixote. The Alhóndiga de Granaditas is another must-visit museum that tells the story of the Mexican War of Independence.
Attend a Festival or Event: Guanajuato is known for its vibrant festivals and events throughout the year. The most famous of them all is the International Cervantino Festival, a celebration of arts and culture that takes place in October. The city comes alive with performances, concerts, theater productions, and art exhibitions, attracting artists and spectators from around the world. Check the festival calendar and plan your visit accordingly to immerse yourself in the lively atmosphere.
Enjoy Local Cuisine: Guanajuato boasts a delectable culinary scene that combines traditional Mexican flavors with regional specialties. Indulge in mouthwatering dishes like enchiladas mineras, pozole, or the local favorite, chiles en nogada. Visit local markets, such as Mercado Hidalgo, to sample a wide variety of street food and traditional snacks.
Take a Mina Tour: Guanajuato was once a thriving silver mining town, and its mining history is deeply rooted in its culture. Explore the underground tunnels and mines on a guided tour to gain a fascinating insight into the city's past. The La Valenciana mine is particularly renowned for its beautiful Baroque-style church.
Climb El Pipila: For panoramic views of the city, hike up to El Pipila, a statue that overlooks Guanajuato. It's a steep climb, but the breathtaking vistas of the colorful rooftops and the surrounding hills make it worthwhile. Don't forget your camera!
Watch a Callejoneada: A unique Guanajuato tradition, the callejoneada is a lively street procession filled with music, dance, and storytelling. Join in the fun as costumed musicians and performers lead you through the streets, entertaining you with traditional songs and legends.
Embrace the Nightlife: Guanajuato has a vibrant nightlife scene with a mix of bars, clubs, and live music venues. Head to Plaza de San Fernando or Plaza de la Paz to enjoy the energetic atmosphere and live music performances. Sip on mezcal or local craft beer and mingle with both locals and fellow travelers.
By following these inside tips, you'll be able to delve deeper into the heart and soul of Guanajuato, uncovering its hidden gems, embracing its culture, and creating cherished memories. Whether you're strolling through its enchanting streets or immersing yourself in its artistic offerings, Guanajuato is sure to leave a lasting impression on your journey.
Check out these other posts around the Guanajuato region
Historic tour of Guanajuato, Mexico
A visit to San Miguel de Allende Guanajuato
Share or Pin this for later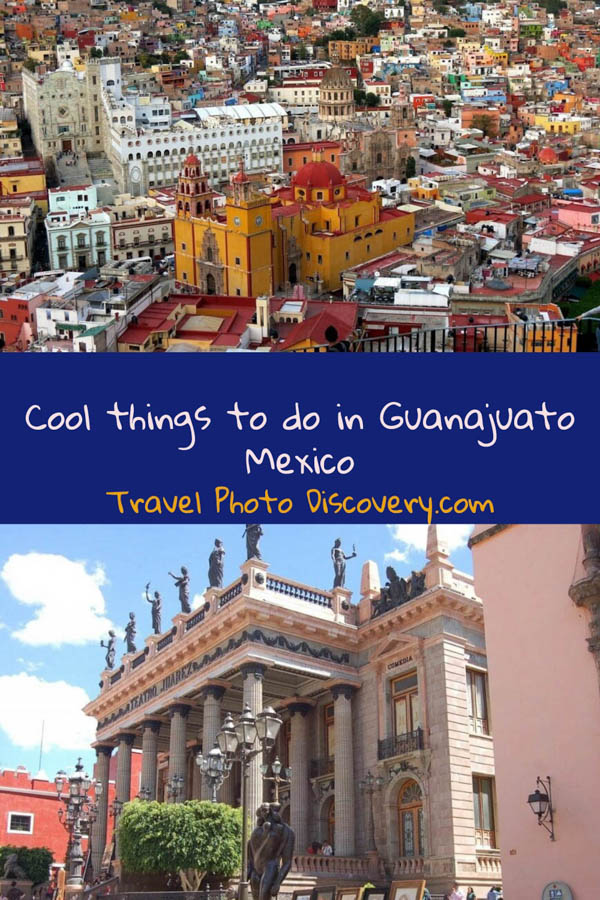 Guest writer – Talek Nantes bio:
Talek Nantes is an author and the founder of the travel blog, Travels with Talek, where she shares travel tips, advice and inspiration to help travelers create their own unique travel experiences. Talek has travelled to over 110 countries and believes that when it comes to travel, it's all about the experience.
Conclusion to visiting and things to do in Guanajuato
A visit to Guanajuato, Mexico is an enchanting journey filled with captivating history, vibrant culture, and mouthwatering cuisine. From its cobblestone streets and colorful colonial architecture to its lively festivals and warm hospitality, Guanajuato offers a unique and unforgettable experience for travelers. Explore the winding alleys, uncovering hidden gems and breathtaking vistas along the way. Immerse yourself in the local arts scene, from the world-renowned Cervantino Festival to the bustling street performances. Indulge in the flavors of traditional Guanajuato cuisine, savoring each bite of enchiladas mineras, pozole, or chiles en nogada. Whether you're captivated by its historical landmarks, captivated by its cultural offerings, or simply captivated by its vibrant atmosphere, Guanajuato will leave a lasting impression on your heart and soul. So, pack your bags and embark on an unforgettable journey to Guanajuato, where history, culture, and gastronomy intertwine to create an experience like no other.
Thanks for visiting and checking out this post on the things to do in Guanajuato, Mexico. Bookmark this post for future reference when you are looking for some Hawaii activities, adventure or fun experiences. Please do share this post with any of the social media icons on the side bar and thanks for visiting today!
Disclosure – some of the links above are to affiliate sites that are either reviews or recommendations if you book helps to keep our site running at no additional expenses to you when you book. We appreciate your supporting our website meanwhile