San Miguel de Allende, Guanajuato, Named Best City in the World for Cultural Tourism
Located in the foothills of Central Mexico, the colonial city of San Miguel de Allende Guanajuato draws you in completely the moment you walk around the main plaza and all over the cobblestone streets of this magnificent city. This magical city feels so alive, creative, colorful and celebrating a fabulous lifestyle and vibe that's easy to enjoy and absorb all her beautiful churches, plazas, colonial streets and fabulous shops. Everyone who visits San Miguel falls in love with the city and everything about the whole town from the cultural aspects, beautiful architecture, delicious foods and creative energies you will discover all over the city.
San Miguel de Allende is one of the most popular expat cities and drawing people all around the world to experience the lifestyle here encompassing fantastic food and restaurants, amazing design, arts and crafts, historic architecture and landmarks and wonderful outdoor landscape and surrounding natural areas to explore.
A brief history of San Miguel de Allende, Guanajuato
San Miguel de Allende, located in the state of Guanajuato, Mexico, has a rich and fascinating history that spans several centuries. The city's history is intertwined with the cultural, political, and economic developments of the region.
The origins of San Miguel de Allende can be traced back to the indigenous Chichimeca people who inhabited the area before the arrival of the Spanish colonizers. In the early 16th century, Spanish explorers and conquistadors arrived in the region, led by a Franciscan monk named Fray Juan de San Miguel. It was under his guidance that a Franciscan mission was established in the area, giving birth to the settlement that would later become San Miguel de Allende.
During the Spanish colonial period, San Miguel de Allende flourished as a center for agricultural and mining activities. The city became an important hub for silver production, attracting settlers and merchants from various parts of Mexico and Europe. The wealth generated by silver mining led to the construction of grand mansions, ornate churches, and elegant public buildings, many of which still stand today as a testament to the city's colonial past.
San Miguel de Allende played a significant role in Mexico's fight for independence from Spanish rule. It was in this city that Ignacio Allende, one of the key leaders of the independence movement, was born. Allende, along with other prominent figures such as Miguel Hidalgo, organized and strategized in San Miguel de Allende, setting the stage for the start of the Mexican War of Independence in 1810.
In the years that followed, San Miguel de Allende experienced periods of growth and decline. However, its architectural beauty and cultural heritage remained intact, attracting artists, writers, and intellectuals from around the world. In 2008, the city was designated as a UNESCO World Heritage site, recognizing its exceptional universal value and preserving its historic and cultural significance.
Why visit San Miguel de Allende
Winning so many international awards as a best small city to visit from re-known publications like Conde Nast Travel, Travel and Leisure and many other international publications, the city is well publicized but stands out on its own merits of a really beautiful city. Not only is San Miguel de Allende a Unesco World Heritage site encompassing fantastic history, architecture, culture and popular events to draw and international base of travelers from Mexico and around the world to visit, it is truly breath taking to visit and explore. The historic downtown just draws you in with its wonderful ambience and unique atmosphere and vibe, you'll immediately fall in love with the entire city and discovering every inch of each neighborhood.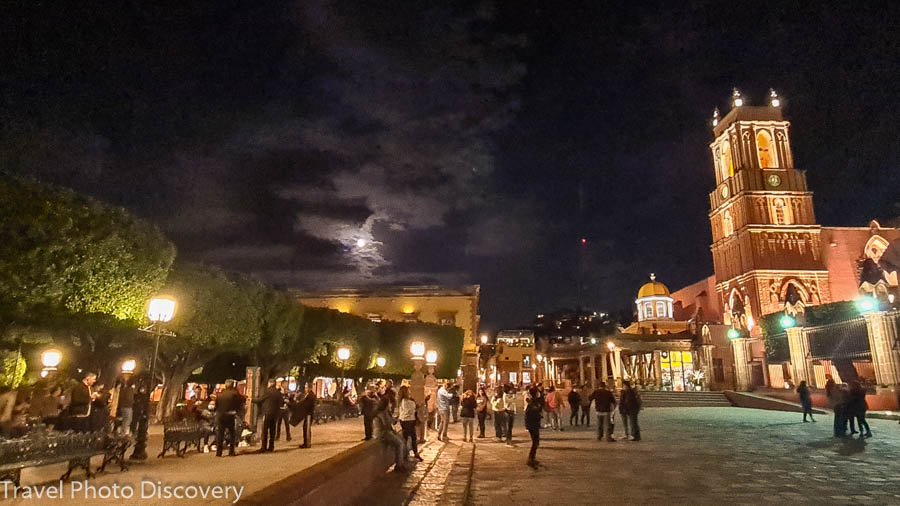 How to get to San Miguel de Allende
Surprisingly getting to San Miguel de Allende is not easy with no direct airports and routes but you definitely can fly to the regional airport at Leon/Guanajuato or take some of the direct buses from Mexico City leading to the San Miguel in under 4 hours through scenic countryside and fast highways.
Even from the regional airport at Leon/Guanajuato, you have to take the nice regional busses or arrange for private transport to San Miguel which is another hour drive to the downtown area.
You can take very comfortable buses from Mexico City with a variety of tour bus companies, check out this website for hours and prices to get you there in under 3 hours. Buses to San Miguel are departing from the Central del Norte (CDMX's north bus station) and arriving into Central de Autobuses in San Miguel de Allende. From Central de Autobuses, you can catch a cab or Uber or even a local bus to get into the historic district of town.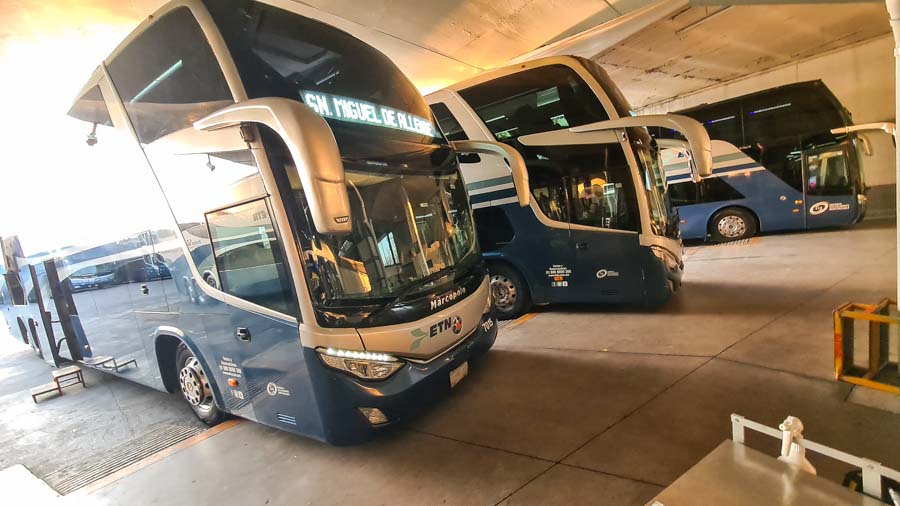 San Miguel de Allende Weather
The weather in San Miguel de Allende is pleasant for being located in the central Mexican hills and the region is cooler compared to the rest of the country. Summer time temperatures tend to range from the low 70s to 80 degrees in Fahrenheit and winter time is definitely colder in this region average in the 40s and highs to the 70s. At a higher elevation of 6000 feet, it is definitely cooler here in the winter and comfortable in spring and summer season which is one of the reasons, weather plays an important factor to expats, visitors and locals alike.
The best time to visit San Miguel de Allende is during the dry season, which typically spans from November to April. This period offers pleasant weather with warm days and cool evenings, making it ideal for exploring the city's charming streets and enjoying outdoor activities.
San Miguel de Allende experiences a temperate climate throughout the year, but the dry season is particularly appealing due to its lower chances of rainfall. This means you can expect clear skies and sunny days, creating a picturesque backdrop for sightseeing and taking in the city's architectural beauty.
Here's the best things to do in San Miguel de Allende
With a magnificent and historic downtown area to explore, there's so much to cover with gorgeous churches and public buildings, beautiful architecture, galleries and fantastic shopping venues, world class restaurants and just wondering around the many cobbled streets and discovering some of these fantastic attractions to visit around the city and explore on your own, one a trolley tour or checking out all these fantastic places to visit.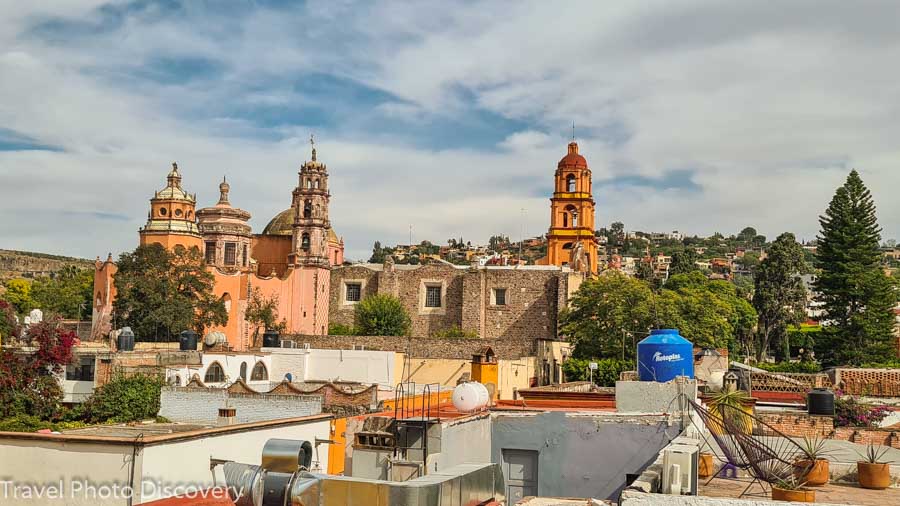 Trolley tour orientation
For a nice and easy orientation tour of the city, take the fantastic trolley rides offered in the historic district. Filled with 17th to 18th century homes and buildings, tight and narrow streets, the trolley tour visits many of the historic and cultural sites, offering some story and background to what you are seeing along the way to bookmark and visit in detail when you have bearings of the main areas to explore.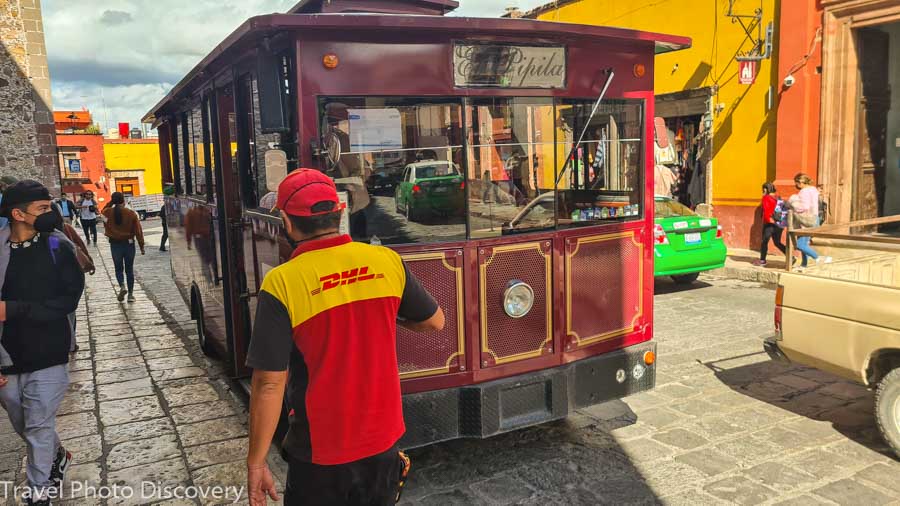 First stop at the Visitors Center
After the trolley head out to the main square in town and the visitors center is just off the main square called El Jardin where you can get a nice detailed map and check out brochures or ask any other questions about places that you maybe in interested in and the location and hours to visit. You can find the location of the visitors center here for reference.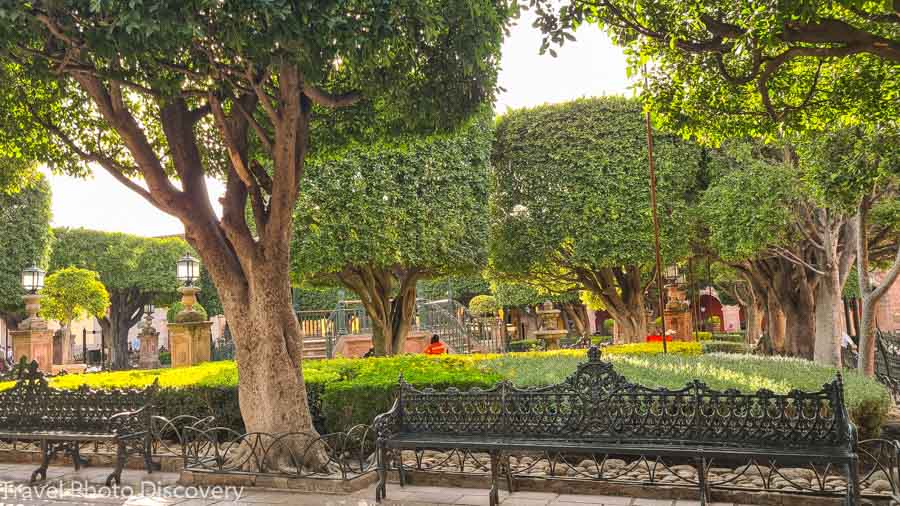 El Jardin – the main square
The life and gathering spot of the city centers at main square of the city called El Jardin. Beautiful topiaries trees and aromatic roses draw you into the square to people watch, enjoy some mariachi music or enjoy some of the local ice cream vendors that do some brisk business around the square for visitors looking for a nice icy treat.
Lining the square are fantastic restaurants, shops, roof top bars and other public buildings you can explore and on one side the beautifully perched Parroquia de San Miguel
Here's a look at the main square called El Jardin below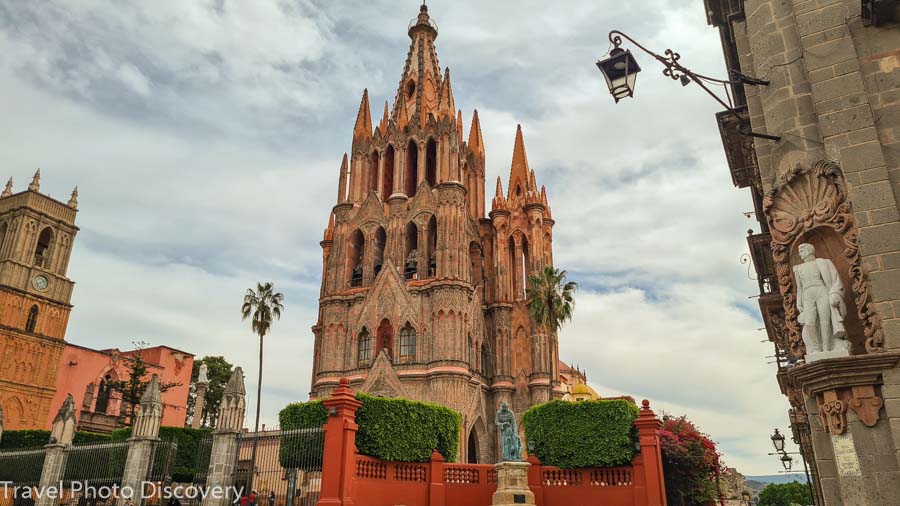 Visit the Parroquia de San Miguel Archangel
Once you've had your fill of relaxing at El Jardin, head out to the entrance to the Parroquia de San Miguel Archangel dominating the entire side of the main square and the city's most iconic symbol. A stunning and colorful pink gothic structure with spires that pop out in Disneyesque fashion, the builder used Gaudi's La Sagrada Familia as inspiration to building this stunning church.
A look at Parroquia de San Miguel Archangel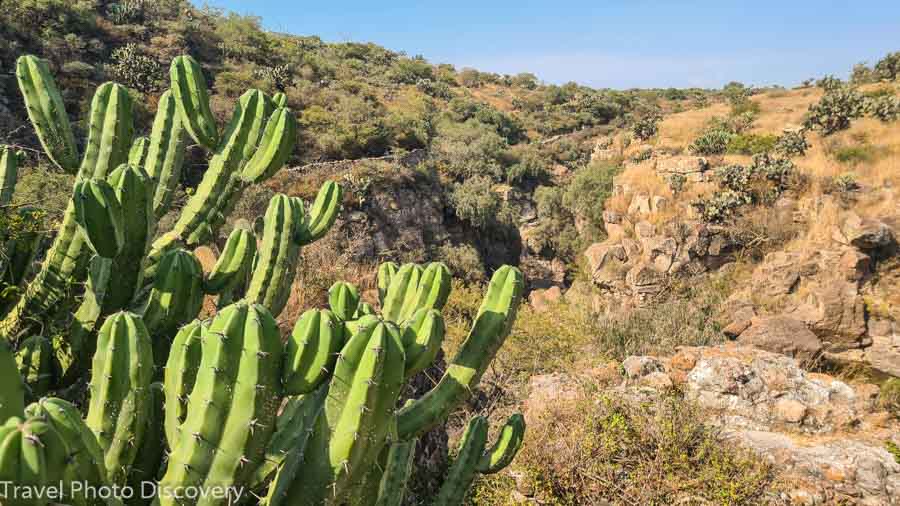 Visit the Botanical gardens of El Charco del Ingenio
Located on the outskirts of the city, the El Charco del Ingenio is an impressive botanical garden that was built by some private citizen initiate in this 67-hectare landscape. The botanical garden houses an impressive collection of cacti from all over Mexico and the world into a beautiful space filled with walking trails, a reservoir and streams, visitors center and café. When you want to see some of the beautiful arid landscape of the area, head out to this wonderful garden and enjoy some time exploring nature, hiking or just admiring some of these really huge and old cacti collections.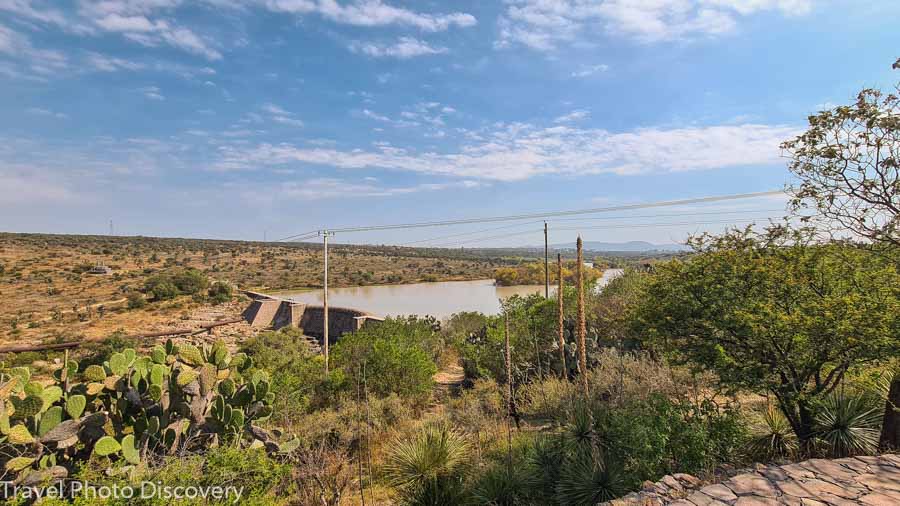 Exploring the outdoors and nature at El Charco del Ingenio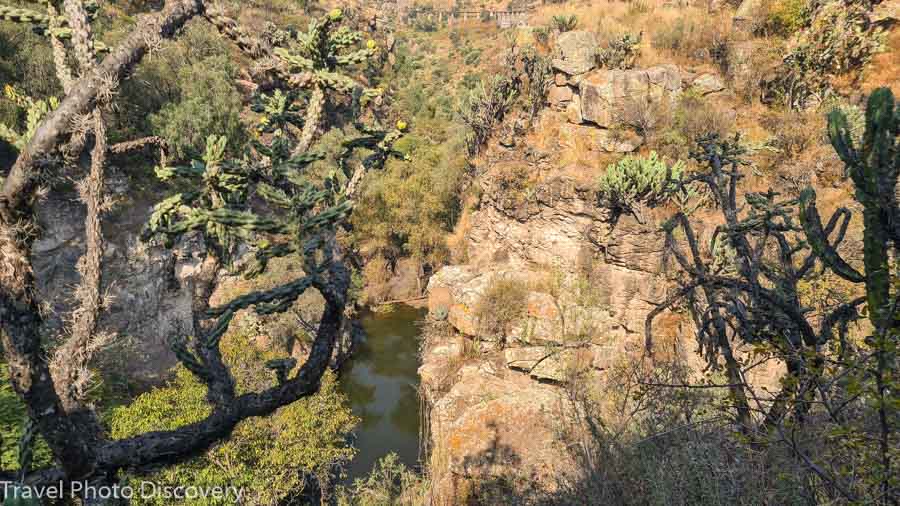 There's so much cacti and succulents to enjoy along with brilliant landscape here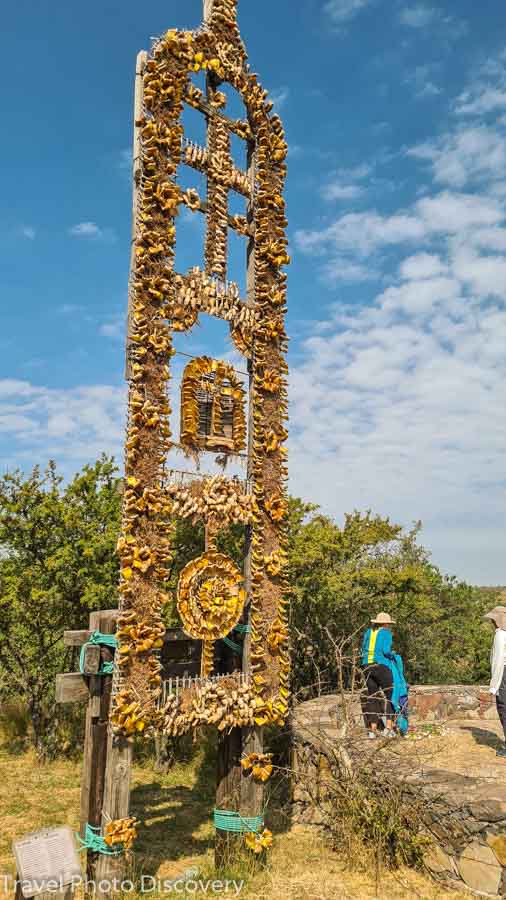 Details to visiting El Charco de Ingenio
Admission – 50 pesos per person
Guided tours offered Tuesday and Thursday at 10am
Here's a fun tour visiting El Charo Botanical gardens below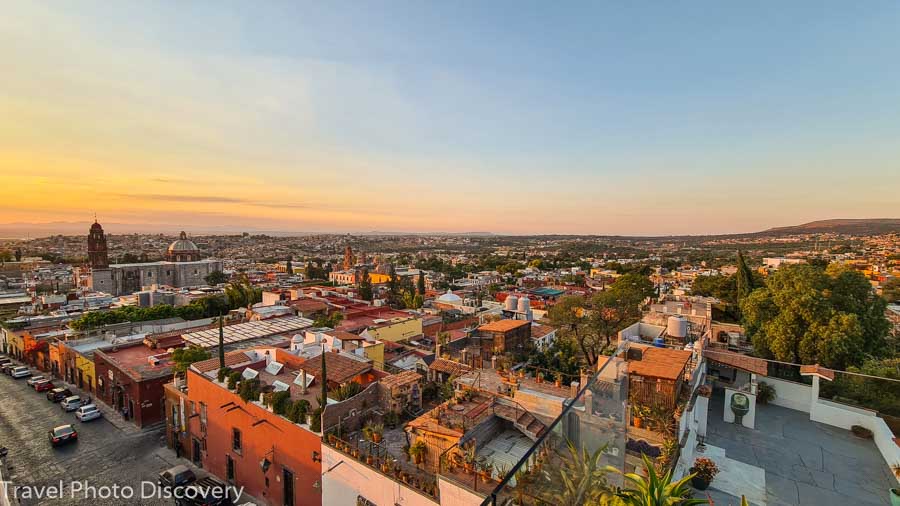 Visit the rooftop bars and restaurants of San Miguel de Allende
Want to get a better vantage point and some fun Instagram moments in town? Head out to the many rooftop bars and restaurants in the historic district to get some unique views from above while you sip some of the local wines or cocktails and sample some delicious food from these wonderful venues in town. Popular places to hang out with rooftop access and views can be found in this guide here for more details to the various cool and interesting venues to hang out in the city and amazing views from above. You'll find some inventive bar tenders and delicious appetizers or full course meals offered at these rooftop locations that are perfect venues from sunset to evening time frames.
Check out these top rooftop bars with views in San Miguel here for inspiration and where to go for a fabulous view, drinks and meals.
Tip – many of the better spots on the rooftops with views are reserved later afternoon to evening time frame so make sure you make a reservation in advanced to going to any of these fabulous places.
For rooftop inspiration, check out these fantastic rooftop bars/restaurants around San Miguel de Allende for amazing views and drinks from above.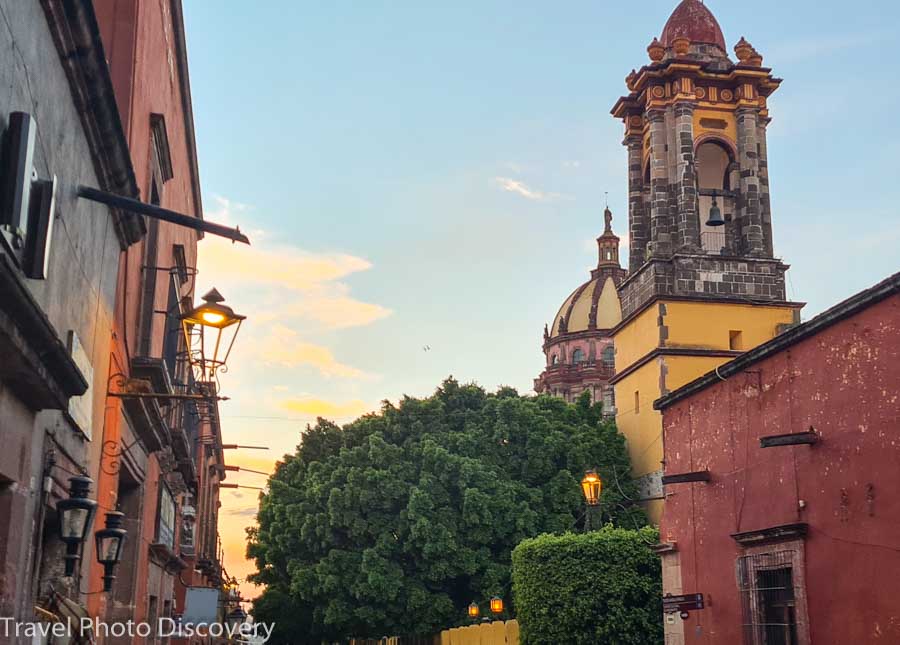 Church of the Immaculate Conception
This historic church and convent were built by a wealthy local family whose daughter wanted to become a nun and asked the King of Spain permission to have the convent built. This beautiful structure has a gorgeous central dome with Corinthian columns and a striking bell tower and the interiors are also beautiful to explore inside with the many chapels inside.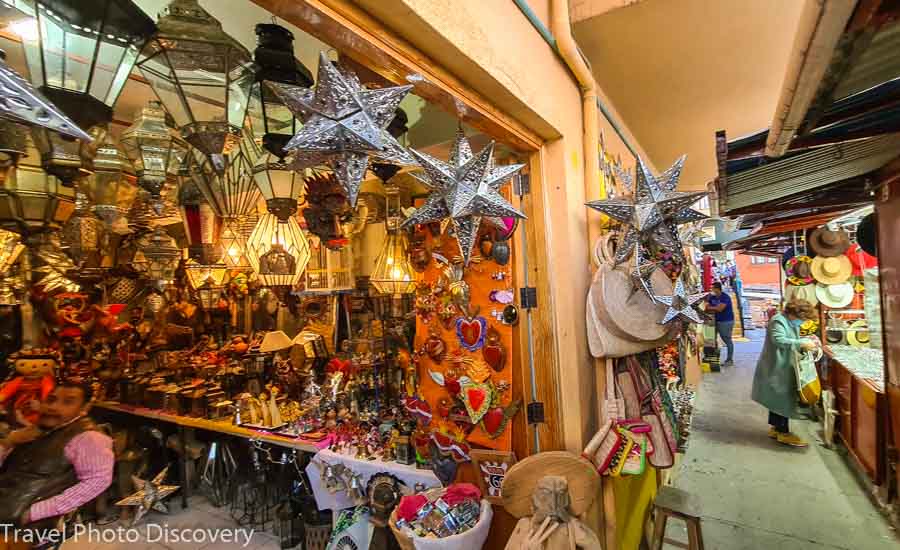 Visit the farmers market of San Miguel de Allende
There are some fabulous markets to explore around San Miguel de Allende to enjoy some of the local street food, wander around the colorful produce and perishable stalls and even pick up some inexpensive souvenirs to take home with you. San Miguel de Allende hosts some unique markets that attract both locals and tourists to see these colorful venues and sample something unique from the region from delicious street food, local snacks and specialty foods, fresh fruits and something that may draw the eye. Check out all these easy to reach markets in the downtown district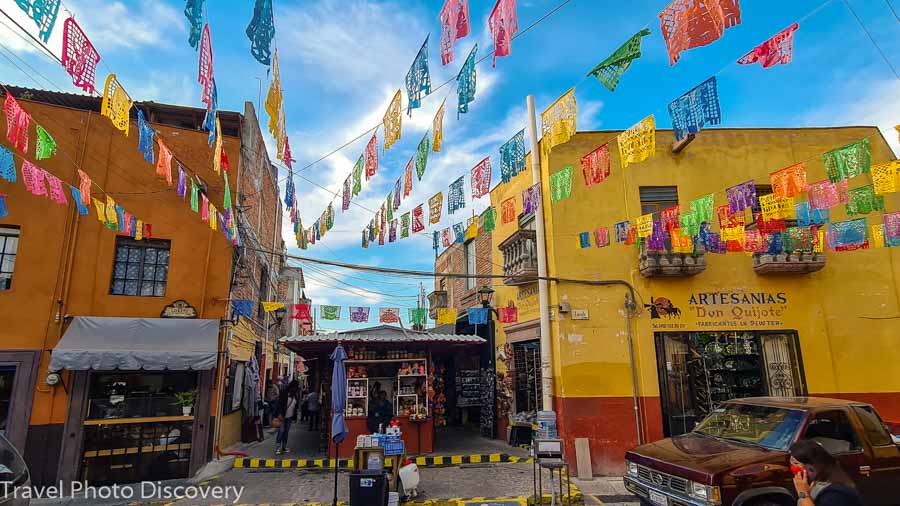 Mercado des Artesianas
You'll find a plethora of fantastic local artisanal handicrafts, jewelry, home furnishings and accessorys, art, ceramics, textiles and a whole slew of fantastic finds in this mostly covered market. Combining a combination of art and crafts stalls, food venues and souvenir stands, you can shop till you drop and bargain like you mean it when you find something that you absolutely want to take home. The city is filled with artisan arts and crafts and you will find many of these here at the market for bargain prices compared to the boutique and art galleries downtown.
Address: Plaza Lanatón, Andador Lucas Balderas, Zona Centro Ruta Centro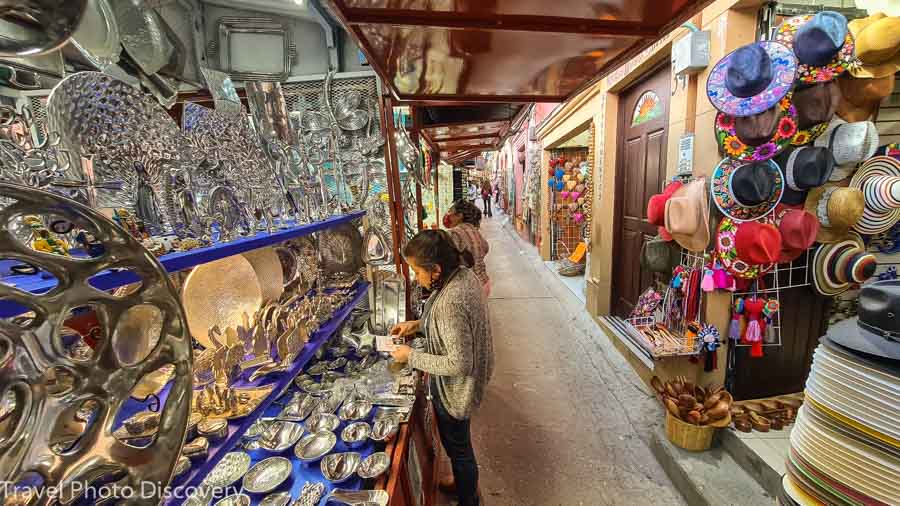 Here's a visit to the craft market at San Miguel de Allende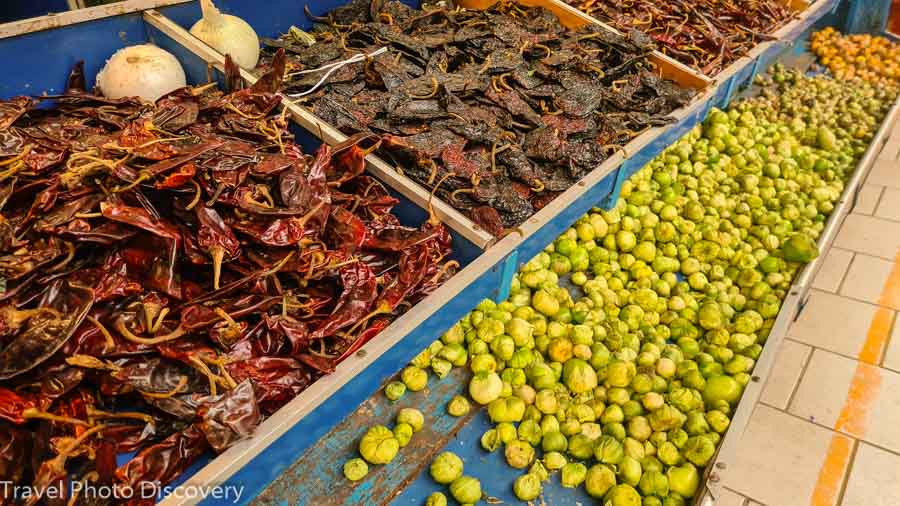 Languis de los Martes
An open air market on Tuesdays that is more of an everyday market and food venues along with fruits and vegetables and other prepared foods. Here you'll find cheap clothing, household items, cleaning products and hot and cold food stalls selling a variety of local food and specialty foods made in the region
Address: Tianguis de los Martes, Arcos de San Miguel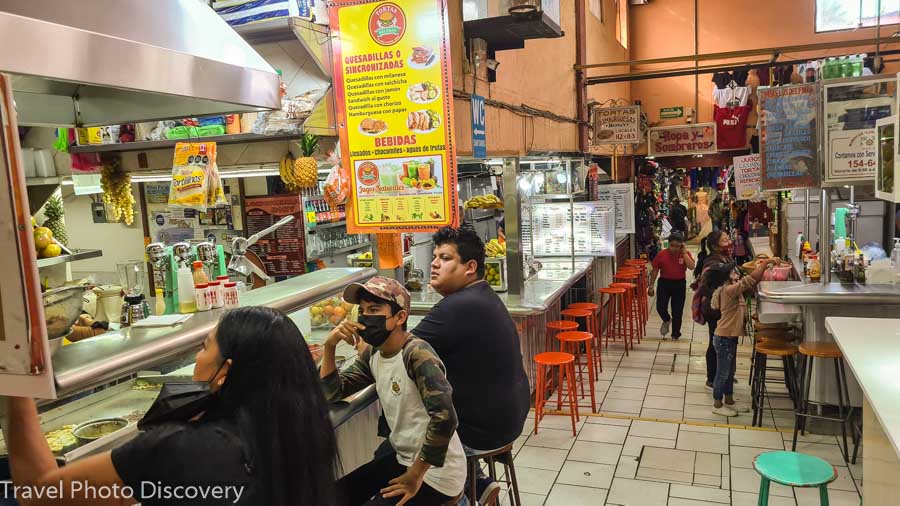 Ignacio Ramirez Market
The main market located in the historic district is popular with locals and visitors to explore the many food stalls, fresh produce and prepared goods, clothing, plants and flowers and everyday household items. It is a fun a colorful market also for visitors to explore, sample some local snacks and street food or shop for some in season produce.
Address: Colegio s/n, Zona Centro, 37700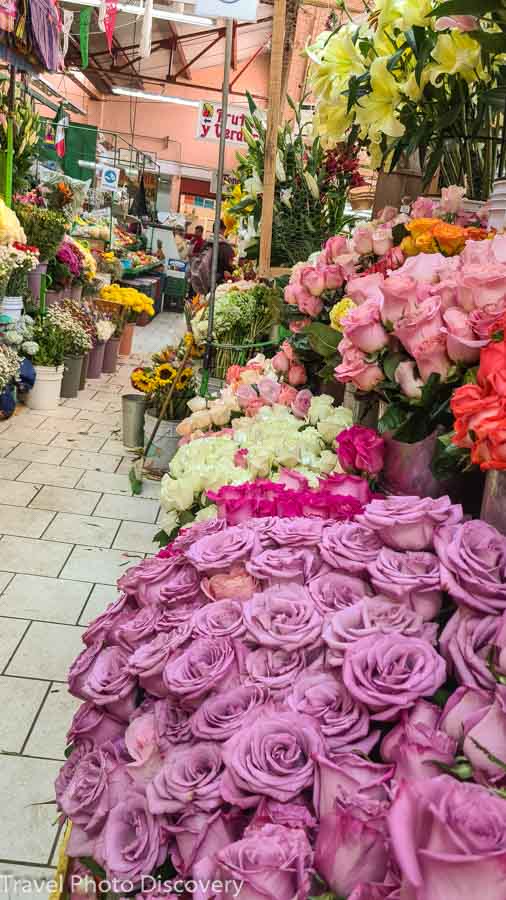 Visiting inside the market, food stalls, fruit and vegetable stalls
Sanctuary of Atotonilco
One of the most beautiful representations of art is considered to be Mexico's version of the Sistine Chapel at the Sanctuary of Atotonilco. Located on the town of Atotonilco, about 15 miles from San Miguel and is a Unesco World Heritage site., the interior is painted with traditional folk-art murals that are magnificent and one of a kind Mexican baroque styled interiors.
Address – Calle Principal 31, Atotonilco, Gto.
Admission – free but donations accepted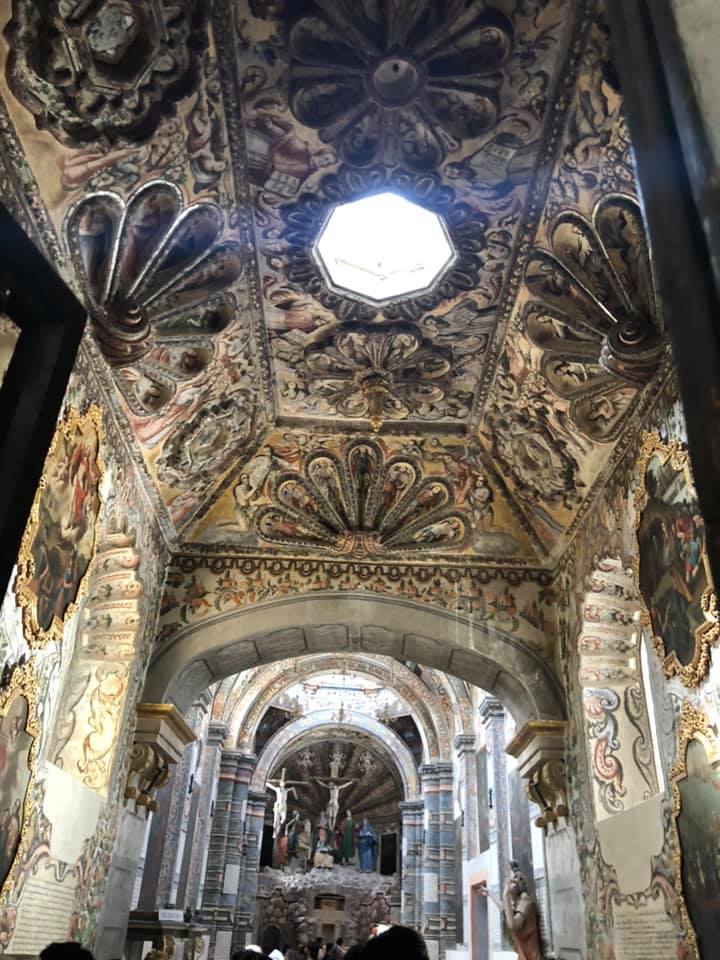 Here's a look at the exterior and interiors and frescoes of the Atotonilco
Museums to visit at San Miguel de Allende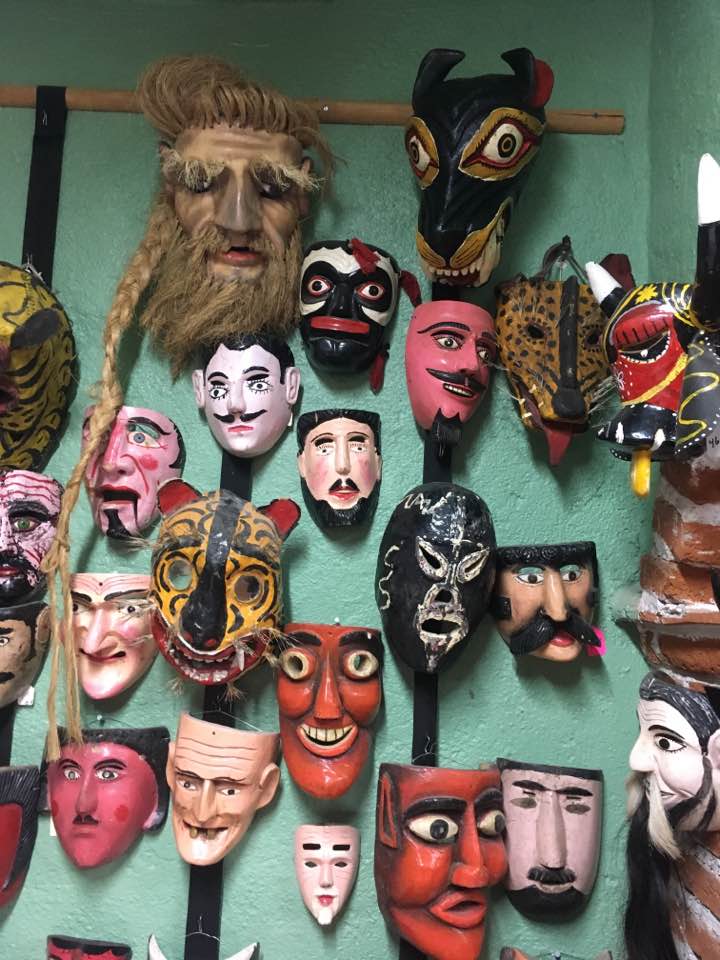 San Miguel Mask Museum
The Mask Museum called Another Face of Mexico was founded by an advertising executive Le Vasseur who's 30-year personal mask collection of Mexican ceremonial masks were donated to this wonderful museum. Over 500 ceremonial masks from Indigenous peoples around the county highlight the colorful dances, culture and rituals that these masks were used for.
Details to visiting the Mask Museum
Address: Cuesta de San Jose #32, Colonia Azteca
Here's a quick look at the Mask Museum below
San Miguel de Allende Toy Museum
If you are looking for some fun and family friendly venue for your entire family to enjoy then check out the Toy Museum. The delightful museum called Museo La Esquina lets you get in touch with your inner child with colorful displays and wonderful toy collections from all over Mexico and that makes you want to touch and play with them, but please don't touch any of these displays – just look and take pictures if you like.
Details to visiting the Toy Museum
Hours
Admission
Check out the fun toy museum below

The Museo Histórico de San Miguel de Allende
San Miguel de Allende History Museum is housed in historic home of Ignacio Jose de Allende y Unzaga, a Spanish army officer who fought for the side of Mexican independence. The museums is dedicated to the life of Allende along with paintings from different time periods, artifacts and other collections to see. There are Meso American and other regional cultures and historic artifacts to check out in the museum.
Address: Cuna de Allende 1, Zona Centro, 37700 San Miguel de Allende, Gto.

Fabrica La Aurora
What was once a large textile mill on the edge of the city was converted into a spectacular, art, design and shopping venue that features local artists, designers, interior design, antique and collections to explore. For art lovers, you'll enjoy exploring all the art galleries, shop in the cool clothing, design studios and even have a fantastic meal in their outdoor restaurant. La Aurora host events, open art studios and tours and everything creative in this beautiful space for locals and visitors to enjoy. Check out their website below for their calendar of events.
Address – Calz de La Aurora S/N, Aurora, 37710 San Miguel de Allende, Gto.
Admission – free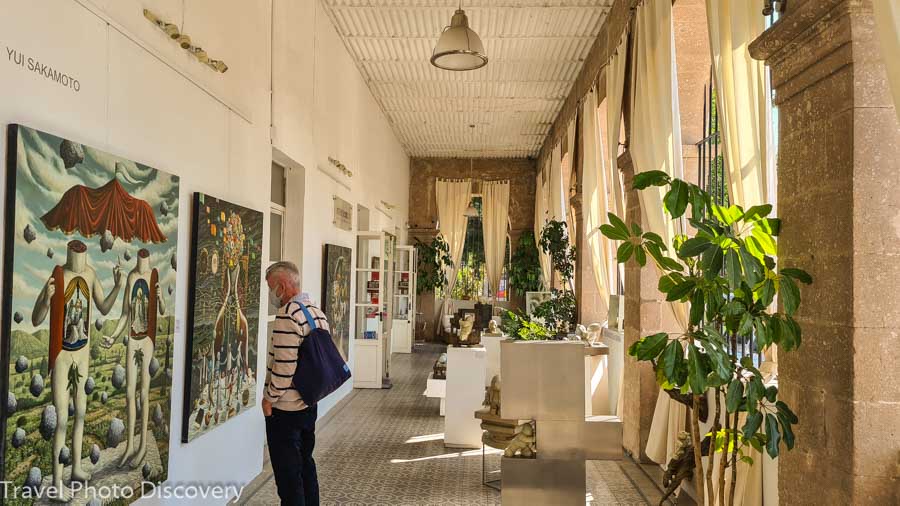 Exploring the fabulous art, design and repurposed galleries and spaces of Fabrica la Aurora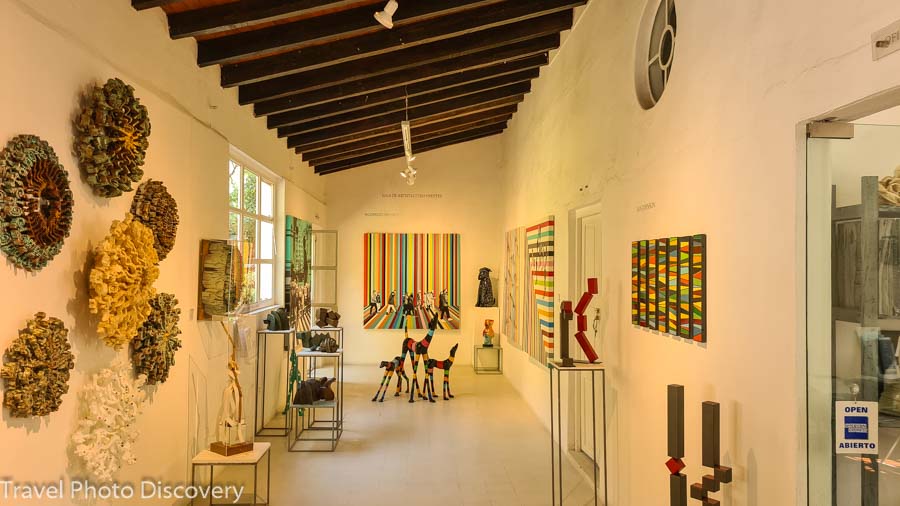 Exploring the colorful gardens, art galleries and spaces around this old textile mill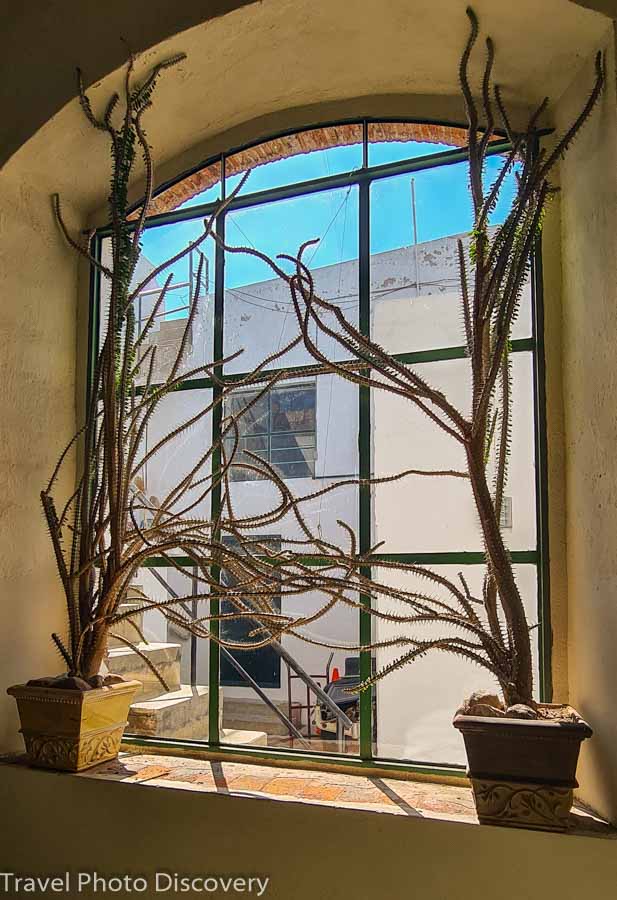 Istituto Allende
The city hosts so many art related activities and events that the Instituto Allende or art institute lures artists to come and visit and learn new techniques and learn from masters and visiting artists. Opened in the 1950s, this art institute serves as an arts education center and is credentialed for those looking to earn an arts degree. An for short courses and learning opportunities covering painting, ceramics, sculpture, textiles and more creative class offerings. There are many 1 hour to short term workshops offered to visitors to learn and hone a new skillset or try something different and incorporate with their other creative pursuits.
Address – Ancha de San Antonio 22, Zona Centro, 37700 San Miguel de Allende, Gto.
Admission – free with nominal costs for attending classes
Beautiful galleries of San Miguel at Fabrica La Aurora and also art tours
The Colonia Guadalupe
The fun and artsy Colonia Guadalupe is fun to walk around and explore. With cool architecture, unique shops and restaurants, you'll enjoying exploring this cool district. You'll also find the coolest street art just walking around the Colonia Guadalupe on walls of buildings, private homes or businesses, fences or walls and just about any part of outdoor space that you can enjoy on an easy walk in the area.
Check out the highlights to visiting the Guadalupe district below.
Fantastic day tours from San Miguel
There's a lot of wonderful places to visit as a day trip from San Miguel and have a fantastic experience or adventure from exploring some of the local wineries to. Check out these cool options below.
If your looking to enjoy some of the famous vineyards and do some wine tasting in the region, check out this fun day tour offered here for more inspiration to enjoying some time outside of the city.
Visit to the historic Otoni site and pyramids of Canada de la VIrgin here and explore this recently excavated site that was just opened up in 2011. This five hour tour will show you the highlights with a local guide to share the history of the site with lunch included.
Horse back riding tour of the city and checking out the fun cantinas in town through horseback. You'll enjoy this unique way of touring with a horse and visit some of the fun cantinas in town. Check out the highlights here for this fun tour on horseback.
Here's a cool outdoor thermal spas and some wine tasting to explore outside San Miguel de Allende
Here's a fun wine tasting tour outside of San Miguel de Allende

Where to eat around San Miguel de Allende
From eating street food vendors to the local farmers markets and then to farm to table and luxury dining venues around the city, you'll find some amazing food venues to explore. San Miguel de Allende offers so much amazing local and regional food and other international foods to eat and enjoy in the city. Check out this quick video of some of the most popular places to eat around the city from inexpensive to fine dining venues.
Enjoying the delicious local street food vendors in the public markets and outdoor streets around San Miguel is easy enough to see the crowds waiting in line and seeing the food that is being prepared.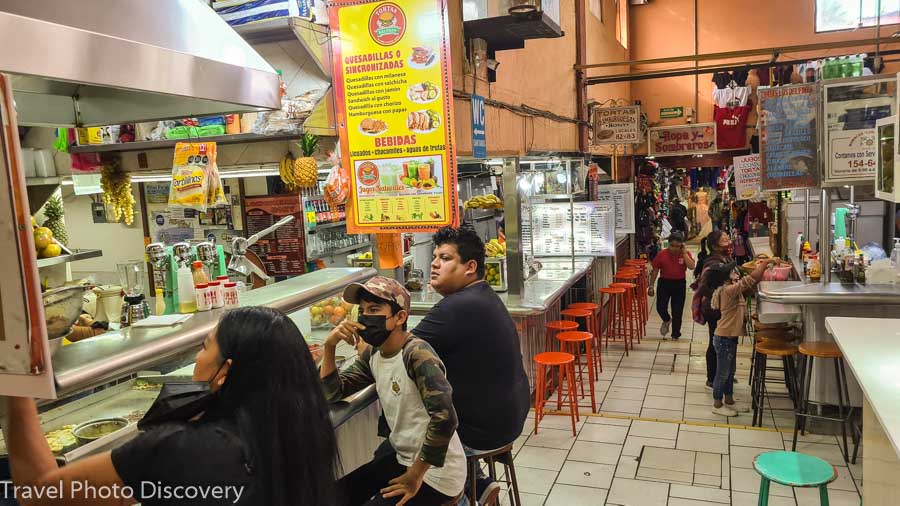 Checking out all the food stalls at Ignacio Ramirez market.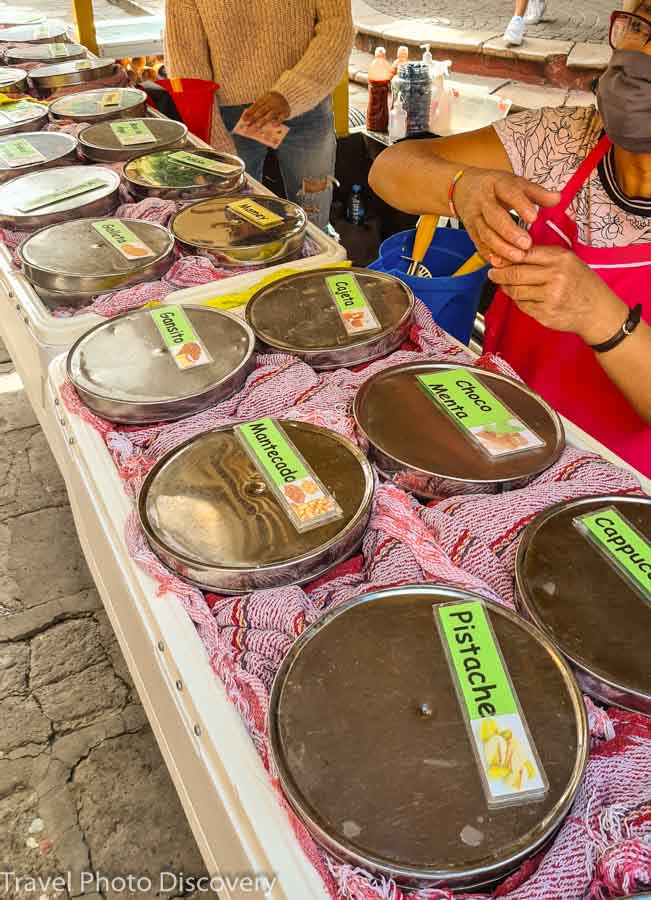 Enjoying a delicious local hand-made ice creams at the public square at El Jardin
Or how about trying some rolled ice cream with tropical flavors?
Have a fantastic lunch al fresco and on the roof at Inside with fab views of the surrounding area and local churches and delicious food and drinks that are inspiring on their own.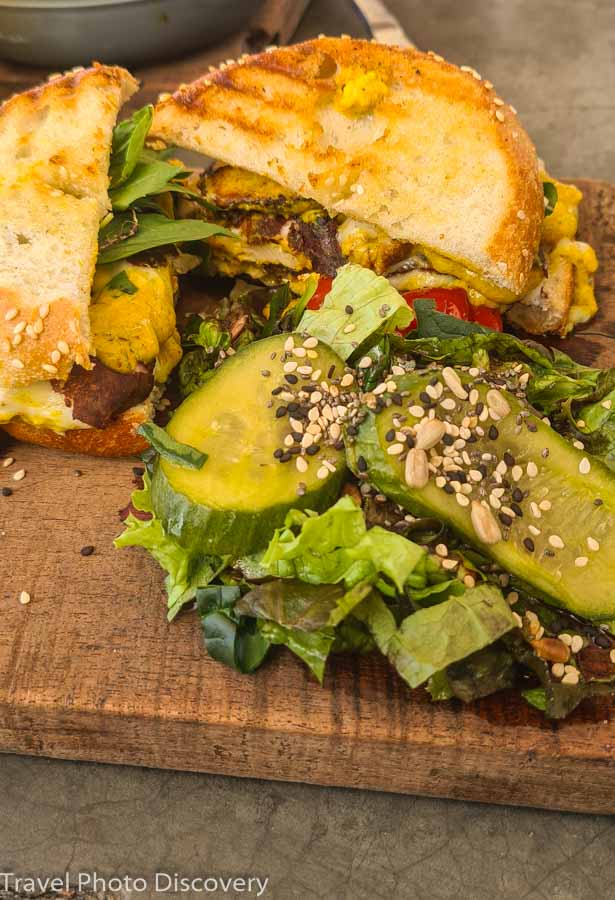 If you are looking for refined and elegant fine dining consider a meal at Restaurant 1826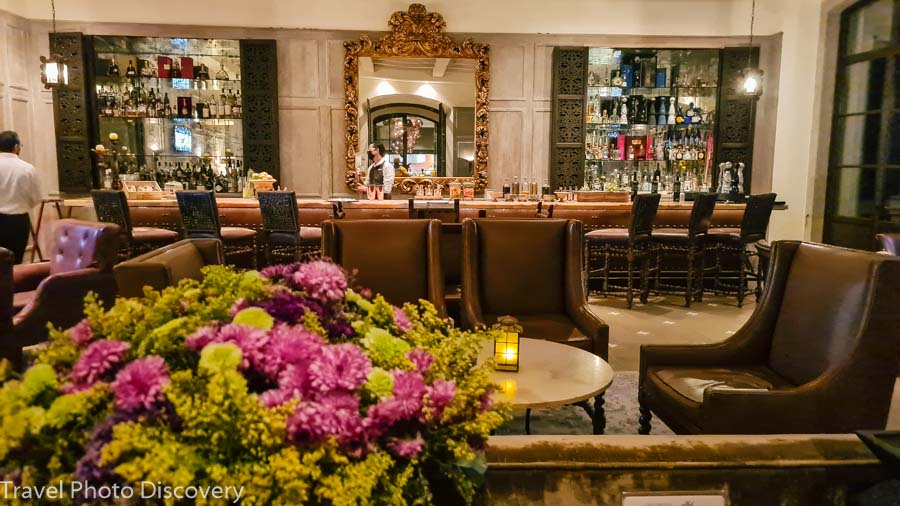 Amazing presentations and delicious food at Restaurant 1826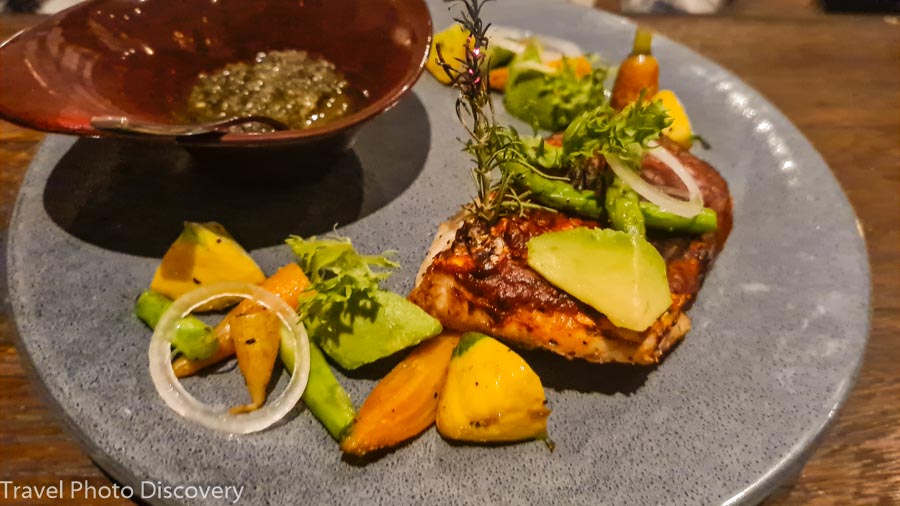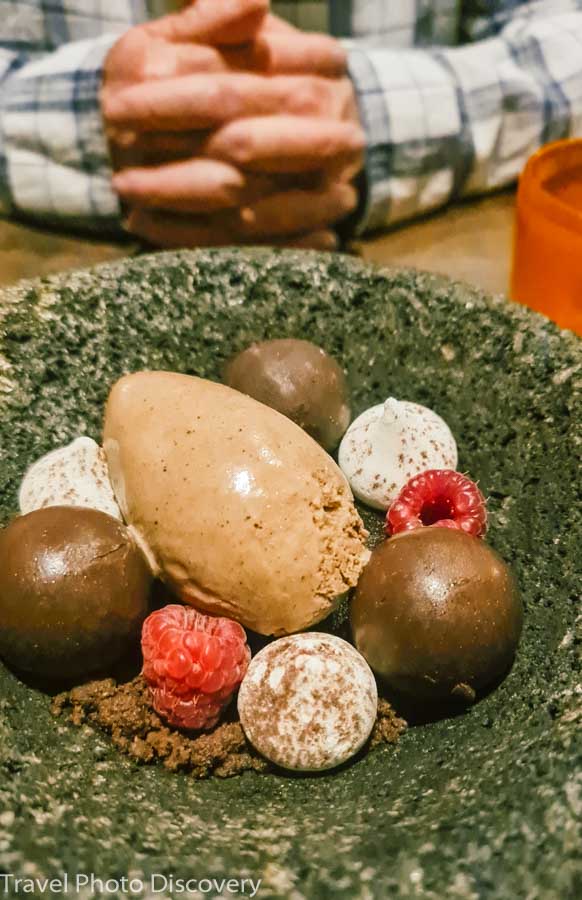 If you want to explore more dining options around San Miguel de Allende, check out this fabulous video highlighting some of the delicious bites around this foodie city below.

Where to stay in San Miguel de Allende
There's a variety of different hotels, small inns and Air bnb style accommodations that are at different price points for you to enjoy a stay in the city. Check out these top places to stay here for inspiration to visiting the city.
For high end accommodations that are classic and luxurious consider a stay here at Hotel Rosewood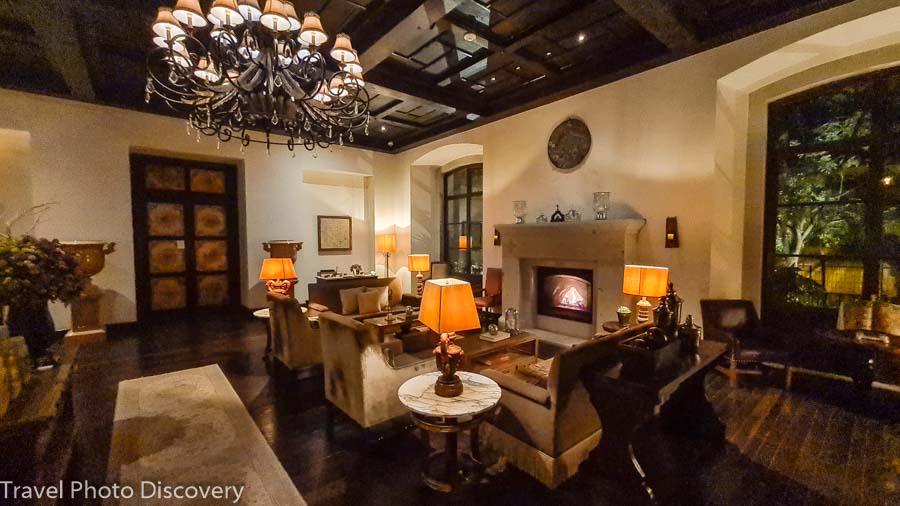 Check out their accommodations and prices here for more details
Boutique style and mid range at a beautiful property here at Hotel Selina with a modern interior vibe and modern rooms.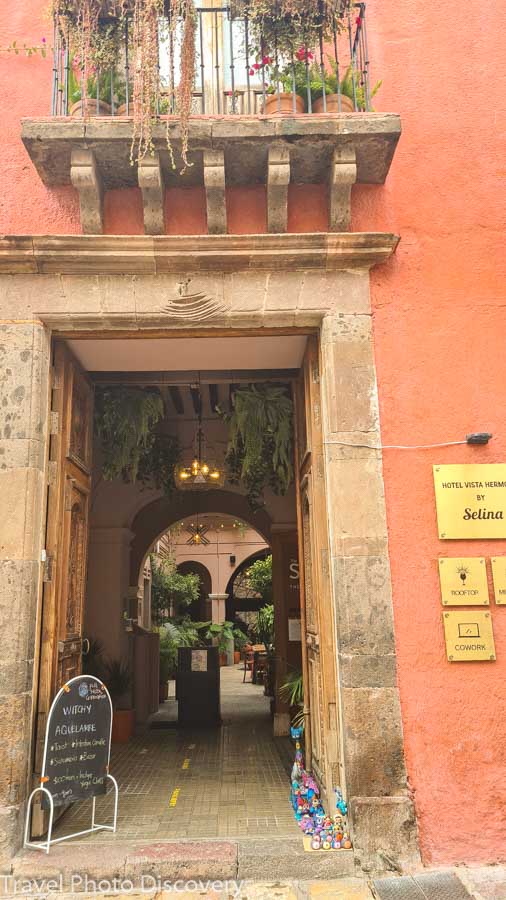 Check out their accommodations and prices at Selina here for more details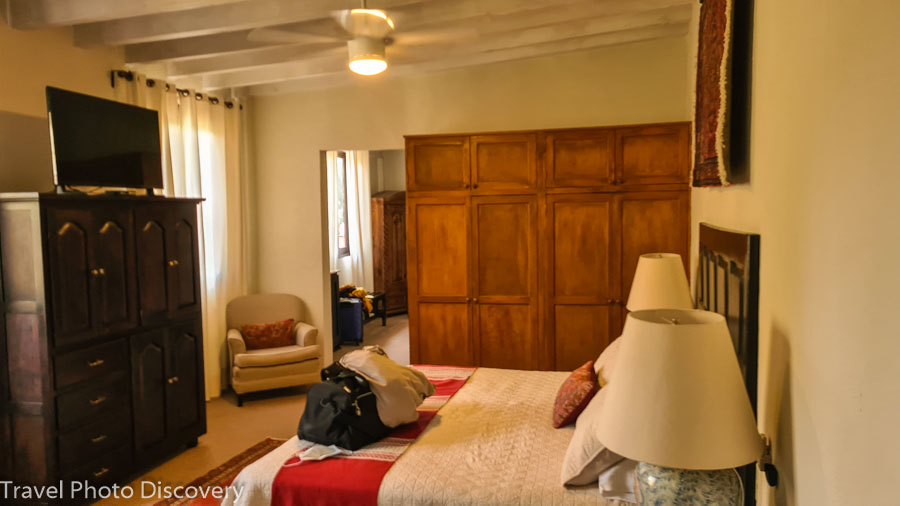 Or consider this intimate and quiet boutique inn with private outdoor patios for each room at Villa Mirasol. Check out their current prices and availability here for updated information.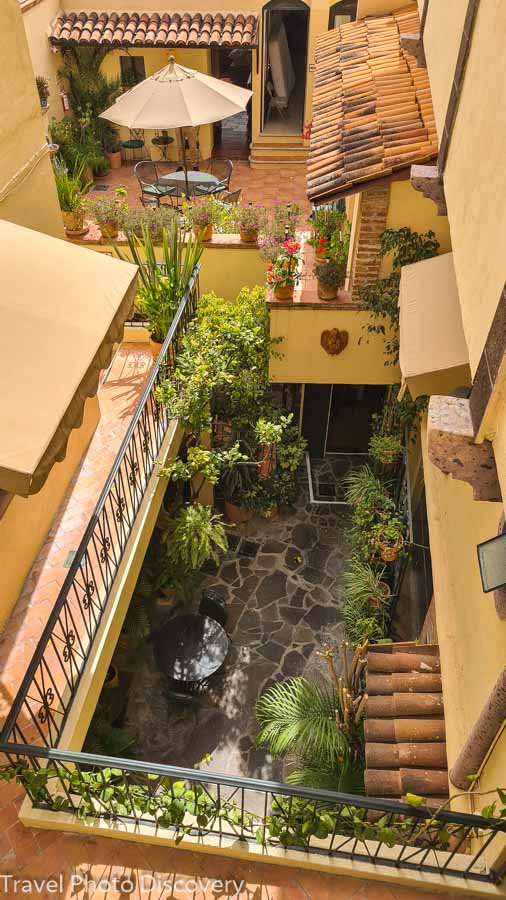 For more fabulous stays and well reviewed inns and hotels through Trip Advisor, check out their top reviewed hotels here for inspiration, availability and current prices.
Getting around San Miguel
San Miguel de Allende is a walkable city with most of the historic district centered around 24 blocks so everything is fun to explore. Areas outside you can easily catch a taxi or Uber or in tight budgets, you can easily catch a local bus with the destinations on the windows shown.
In the downtown historic district it is easy enough to just walk to the main landmarks and explore on foot.
You can take the San Miguel trolley which covers the main attractions around town like a hop on hop off bus
You can catch a cab or Ubers are very easy and abundant in the area and prices are really cheap considering this is a very expensive city for most Mexican travelers.
Public busses are also covering the major routes with the destination typically on the front windshield area.
More inside tips to visiting San Miguel de Allende
Here are some inside tips to enhance your visit to San Miguel de Allende:
Comfortable footwear: San Miguel de Allende's charming streets are paved with cobblestones, so it's advisable to wear comfortable walking shoes or sandals. This will ensure you can explore the city without discomfort.
Layers of clothing: The weather in San Miguel de Allende can be quite variable, especially in the evenings. It's a good idea to dress in layers, so you can adjust your clothing accordingly as the temperature changes throughout the day.
Explore on foot: San Miguel de Allende is a compact city, and most of its attractions are within walking distance. Exploring on foot allows you to immerse yourself in the city's ambiance and discover hidden gems that might not be easily accessible by car.
Sunrise or sunset viewpoints: For breathtaking panoramic views of the city, head to one of the popular viewpoints like El Mirador or Mirador San Miguel. Watching the sunrise or sunset from these spots provides a stunning vista of the city's rooftops and surrounding landscape.
Markets and local cuisine: Don't miss the opportunity to visit the local markets, such as Mercado Ignacio Ramírez, where you can find a variety of fresh produce, traditional crafts, and delicious street food. Be sure to try regional dishes like enchiladas, tamales, and chiles en nogada.
Visit during weekdays: San Miguel de Allende attracts many tourists, especially during weekends and holidays. To experience a more tranquil atmosphere and avoid crowds, consider planning your visit during weekdays.
Cultural events and workshops: San Miguel de Allende is renowned for its vibrant arts and cultural scene. Check out the local calendar for exhibitions, concerts, and workshops happening during your visit. Participating in a traditional cooking class, pottery workshop, or art gallery tour can provide an immersive and enriching experience.
Safety precautions: While San Miguel de Allende is generally considered safe, it's always advisable to take standard safety precautions. Keep an eye on your belongings, be cautious in crowded areas, and use reputable transportation services when needed.
Learn some basic Spanish phrases: While many locals in San Miguel de Allende speak English, it's always appreciated when visitors make an effort to communicate in Spanish. Learning a few basic phrases can go a long way in enhancing your interactions and immersing yourself in the local culture.
Check out more of these inspiring posts in the Guanajuato region of Mexico
A historic tour of Guanajuato city
Things to do in Guanajuato, Mexico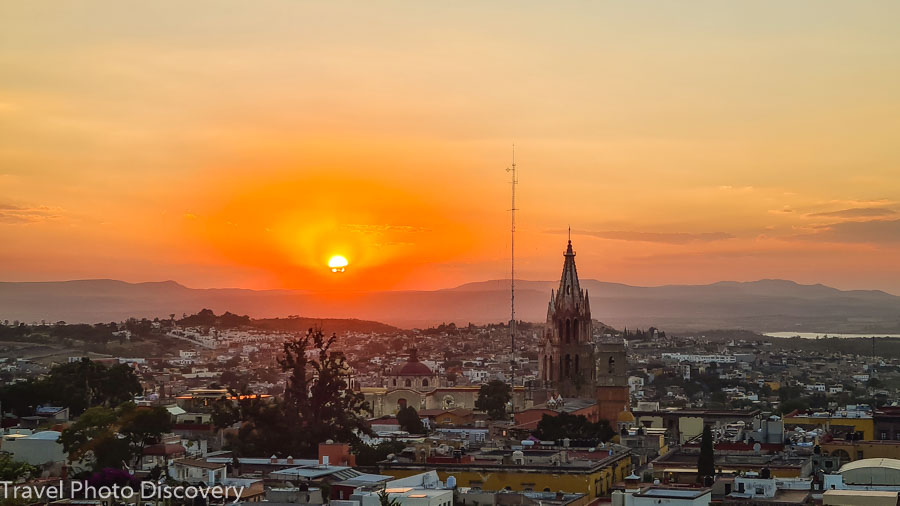 Conclusion to visiting San Miguel de Allende, Guanajuato
In summary, visiting San Miguel de Allende, Guanajuato, is a rewarding experience. With its preserved architecture, vibrant culture, and warm hospitality, the city offers something for everyone. Explore on foot, immerse yourself in local traditions, and enjoy the artistic spirit. Plan your visit wisely, pack comfortable shoes, and dress in layers. San Miguel de Allende will leave a lasting impression and create cherished memories.
So now that your sold on visiting, here are some of the fantastic attractions, historic sites and landmarks to explore, go ahead and bookmark this post for what to do and see when you visit San Miguel de Allende. If you enjoyed this post, please share this post on the social media channels below.
Disclosure – some of the links above are to affiliate sites that are either reviews or recommendations if you book helps to keep our site running at no additional cost to you. We appreciate your supporting our website meanwhile.