This is not just any sunday brunch in Yosemite, it is the once a week Sunday brunch at the Majestic Yosemite Hotel – previously called the Ahwahnee hotel, and the finest dining restaurants in the park – the Sunday brunch is no exception. The Ahwahnee hotel in Yosemite, one of the grandest national park hotels is rustic and elegant within it gorgeous surroundings. Considering it's in a national park with typical park concessions, the dining options and brunch is a level above the regular concessions in the park with spectacular surroundings. The dining room is set apart from the hotel with huge French window/doors overlooking magnificent park views with mature oaks and some dramatic views of Yosemite Falls.
Brunch service at the Majestic Yosemite
A perfect Sunday Brunch in Yosemite
Majestic's Sunday brunch is a casual affair compared to the more formal dinner, but the menu is just as extensive with various serving stations to cater to those interested in more brunch menus. The buffet area has many food stations including a seafood and sushi bar,  a custom-made omelet station, cold cheese and anti-pasta, a carving station with prime rib, ham and various hot meat entrees, a station just for home-baked breads, waffles and French toast and a very impressive dessert bar.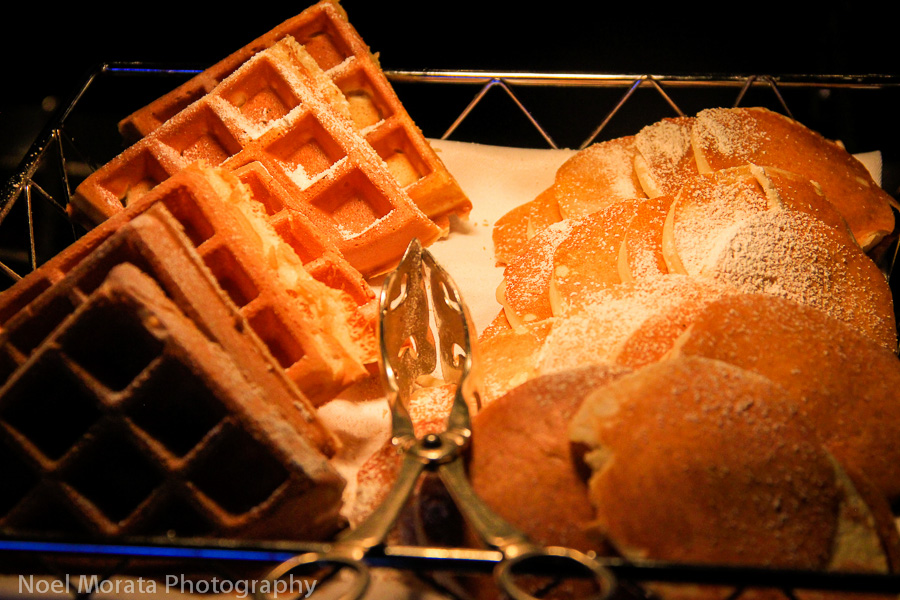 Prices are in line with other grand hotel brunches starting at $43 per person, so it is worth it if you are hungry and want to dine in a beautiful restaurant with gracious service and views. There is even a pianist playing on a grand piano tinkling jazz and classical tunes accentuating the dining experience. The service staff is very attentive and casual and keep at a distance when guests are eating.
Sunday brunch is a nice treat at the Ahwahnee with exceptional views of the park, enjoy your time here and walk around the historic hotel and grounds. Close-by, there are many of scenic photo areas and hiking spots to visit around the hotel grounds and surroundings.
Details 
The Sunday brunch times are from 7am to 2pm
Price is $54.75 for adults and $21.75 for children
Reservations are highly recommended, call the Ahwahnee Dining Room at (209) 372-1489
For sample menus at the dining hall click on this link.
Where to stay in Yosemite
There are many options in visiting the area either if you stay in the valley, camp or just outside in the smaller communities leading up to the national park. Places do book up early during the visiting season, so plan well ahead for your visit and book in advanced. Here are some suggestions on where to stay in the area.
The Majestic Yosemite Hotel – called Awhanee before this classic national park hotel is stunning and with period details and modern amenities.
Yosemite Valley Lodge – centrally located in the park village area with plenty of choices to dine and shop in the village, clean rooms and pick up for shuttle service.
Half Dome Village – Camping accommodation set up close to Half Dome – if you want to experience camping with heat, bedding supplies and bathroom services close by  without the hassle of slepping stuff.
Yosemite View Lodge – located in El Portal just on the outside of the park entrance, with large rooms overlooking the river, large baths with Jacuzzi, friendly service and park shuttles.
For more reviews of places to stay around Yosemite, check out this link for current prices and availability.
Check out these other posts on Visiting Yosemite
Yosemite history and indian culture
Yosemite key attractions and landscapes
A scenic hike to Glacier Point
Yosemite images in black and white
Hetch Hetchy reservoir and dam
If you like this post on Yosemite Photos – key attractions and landscapes, please consider subscribing to the blog by email  below for updates – also 'like' my Facebook page on the sidebar, I show more images, tips and inspiration on my Facebook page, come and visit!
If you like what you see, come and check out my other social media channels for more updates, including Instagram, Pinterest and Twitter
Disclosure – There are affiliates links on this posts which provide a small commission to support this site at no extra cost to you. Thank you for reading.