Mango Season in Hawaii – different varieties, health benefits and recipes (update 2023)
Hawaiian mangoes are so delicious when it's Mango season in Hawaii and everyone on the island goes mango crazy. Mangoes grown in Hawaii are oh so delicious, sweet and definitely worth trying when you visit the islands. When the trees are loaded with mangoes, it's a great time to start asking your friends if you can pick some or find some of the wild trees in secret spots that give the juiciest mangoes all for the taking. If you can't find these spots to get the mangoes for free, then you can always check out the farmers markets, roadside stands or local markets for Hawaiian mangoes that are in season and available to purchase and savor.
Mango season in Hawaii is a great time to visit and try these delicious and tasty fruits.
When is Mango Season in Hawaii?
When its mango season, you typically start seeing fruit available at the farmers markets or local fruit stand from early June until October timeframe with the peak occurring towards the earlier part of the season. Hawaiian mangoes have a nice long production season and different varieties start early and last until early fall time frame depending on the variety of mango fruit grown and location.
Where do mangoes grow best in Hawaii?
Surprisingly, mangoes on the eastern areas of the Hawaiian islands are not as successfully grown compared to the west side of each island which has perfect sunny and dry weather that Hawaii mango thrive in. The dry west side of each island produces larger, delicious fruit and better volumes for sale around the islands and various farmers markets. But even on the lush sides of the island, mangoes do grow closer to the ocean where the environment is dryer and more sunny, so you may find mango trees and fruit stands selling Hawaiian mangoes in season even on the east side of each island.
Some interesting Hawaiian mango trivia for you to ponder
With over 60 different varieties grown on the Hawaiian islands, it's a favorite tropical fruit to eat when there's a lot of places to purchase or even harvest the mangoes yourself.
From its first flowering to maturity, it takes over four to five months to full maturity and only one percent of the fruit ever make it to full maturity.
The mango is known as the 'king' of fruit and its name came from the Tamil word 'mangkay' which the Portuguese traders then adopted to the word 'manga'
Did you know that fresh mangoes are eaten every day all around the world than any other fruit?
The mango is a member of the Anachardiaceae family which include plant relatives including the cashew, pistachio, Jamaica plum, and the very toxic poison ivy and poison oak. The sap from mangoes create different irritating to toxic reactions to many people.
Mangoes are bursting with protective nutrients. The vitamin content depends upon the variety and maturity of the fruit, when the mango is green the amount of vitamin C is higher, as it ripens the amount of beta carotene (vitamin A) increases.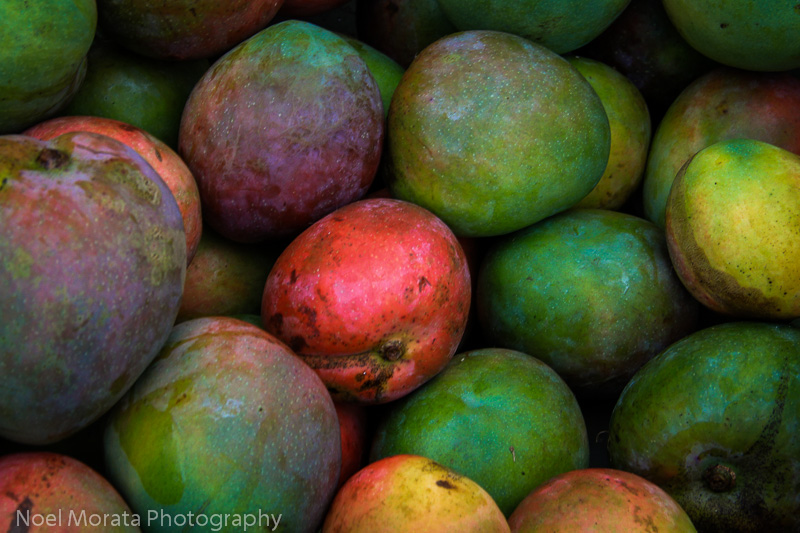 Mango season in Hawaii
Visiting a local farmers market for mangoes in Hawaii
Best places to get mangoes would be at all the farmers markets throughout the islands or even some of the small roadside stands that you can find on a road trip on any island. Of course, if you happen to see a mango tree by the side of the road with some nice juicy mangoes, what a better way to get some as long as they are not on someone's personal property, just help yourself to some Hawaiian mangoes.
Or you can find some fruit stands or local grocery stores selling fresh mangoes in Hawaii.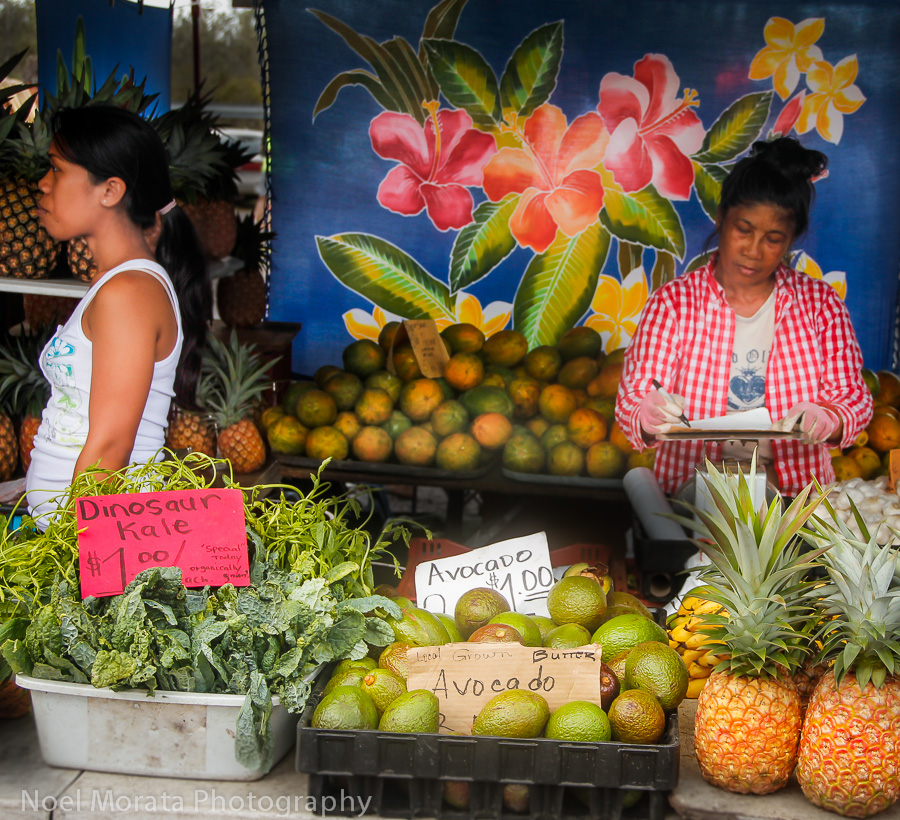 A real Hawaiian Mango Festival 
During the height of mango madness in Hawaii, we celebrate the mango fruit with different festivals throughout the islands to usher in the season. These offer a variety of mango presentations, samples and amateur mango competitions with  recipes available on the winning entries.  It's fun to see how mangoes will be presented into sweet or savory dishes for the competition.
Check out the various fruit events on the many Hawaii calendars for the Hawaii mango festival and other fruit event around Hawaii. Also you can check out this guide of all the different tropical fruits from Hawaii and when they are in season.
Looking for recipes using fresh mangoes?
If you're inspired to try something fun and delicious using fresh Hawaii mango, check out these recipes below. If you can get your hands on some local Hawaiian mangoes then you'll have the best ingredients to make these dishes below.
Try this easy mango Salsa
Nothing better than an easy Hawaii mango salsa to eat pau hana. Try making some mango salsa with this easy to follow recipe below.
Sweet Mango pudding
Hawaii mangoes into a delicious pudding – you'll love trying this wonderful mango recipe below.
Mango and avocado salad
Mangoes in Hawaii with fresh avocado make such a fantastic combination in this recipe below.
Delicious mango pie dessert
Check out these other foods and produce from Hawaii
Big Island locally grown foods
Exotic fruits around the world
Enjoy the post – pin it!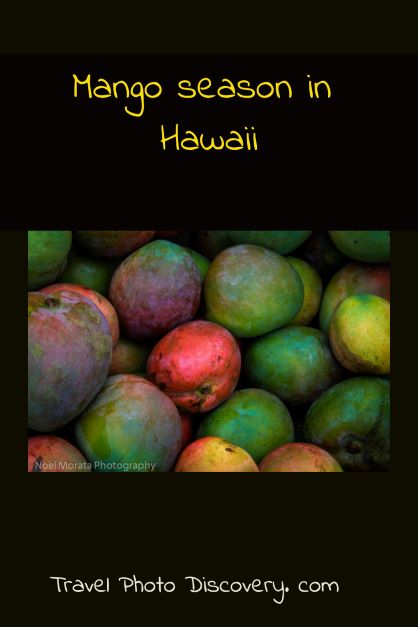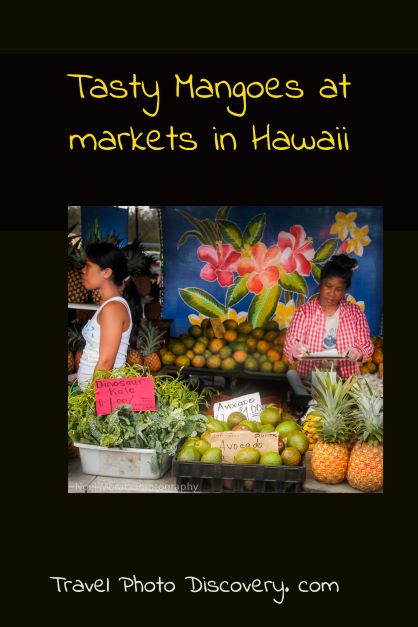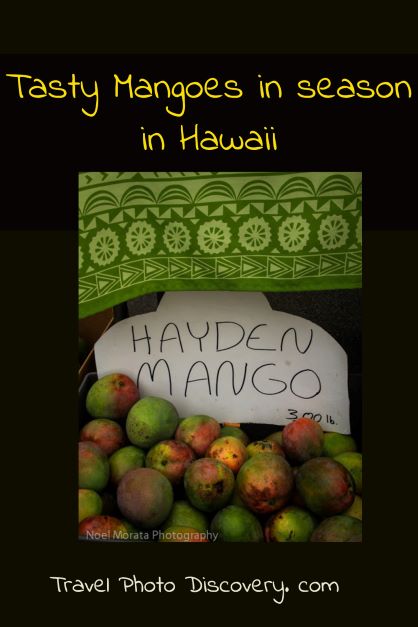 Have you tried fresh mangoes in season in Hawaii?
Enjoyed any of the fresh Hawaiian mangoes in season? Please share your thoughts in the comments below.
Conclusion to Mango Season in Hawaii
If you like this post on Mango Season in Hawaii, please share this post with any of the social media buttons located around the post, thanks for visiting! 
If you like what you see, come and check out my other social media channels for more updates, including Instagram, Pinterest and Twitter