Big Island locally grown foods with Taste of the Hawaiian Range
On an island where most of our food products are imported primarily from the US mainland, producing locally grown and finished products is always something that vendors and buyers always are on the lookout to support locally grown or produced food. This includes producing and selling beef and other meat products from the Big Island and then distributed throughout the island chain. The annual food celebration called Mealani's Taste of the Hawaiian Range, showcases all the amazing meat and locally grown or made foods for this magnificent food eating extravaganza. This includes over 29 restaurants, a variety of  local after market food vendors and non profit organizations offering tasty bites and product sampling to visitors attending this delicious annual event.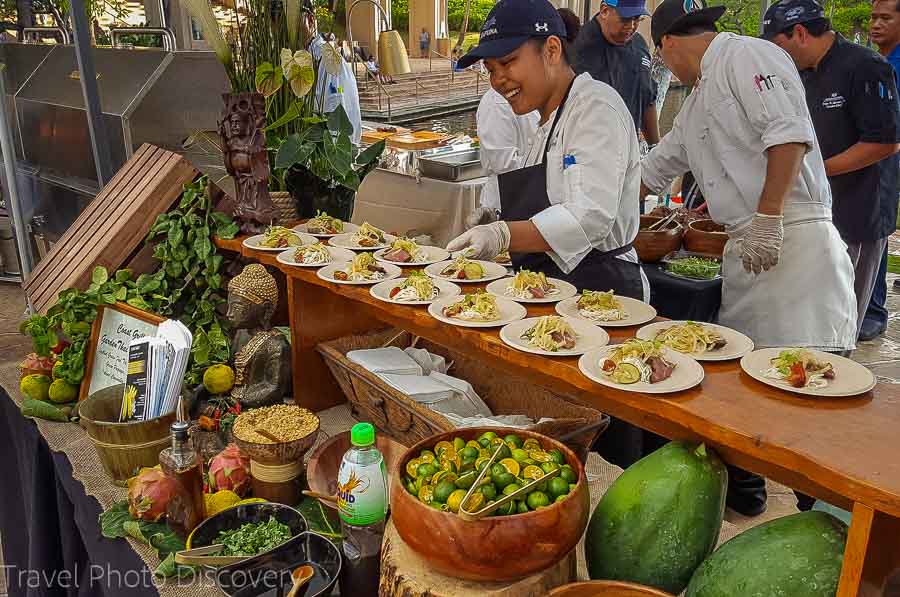 Here are some of the highlights of the event and brands you might want to look for
Mealani celebrates eating local and highlighting locally grown Hawaiian grass-fed beef and other local meats, along with fresh produce and finished food products, all made in Hawaii. 29 participating chefs created outstanding dishes highlighting pasture raised beef, pork, lamb, goat, mutton and wild boar.  Adventurist foodies could even challenge themselves with tasty tongue, heart, tail and yes bull testicles from  chefs who prepared them into amazing bites that only a true foodie would love to experience.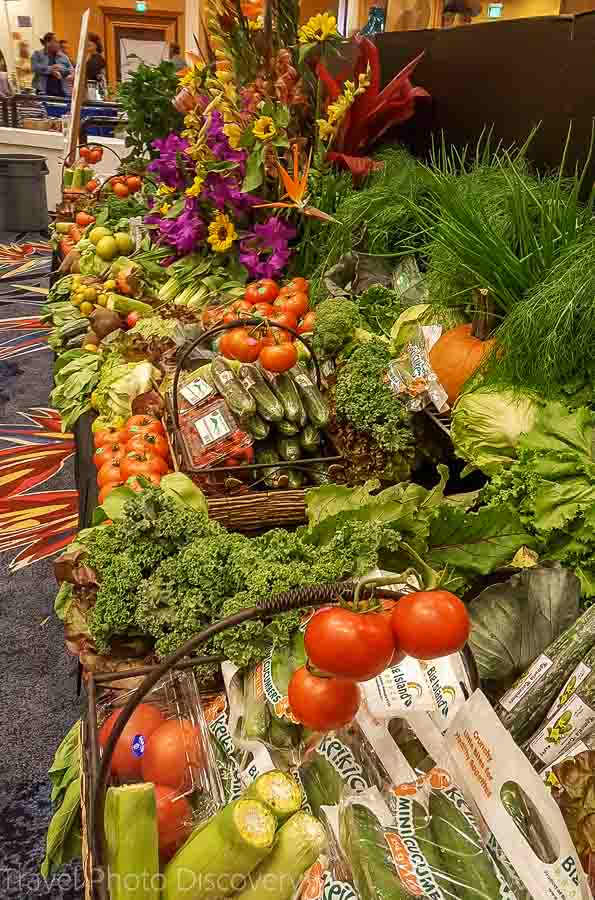 The Taste of the Hawaiian Range is the major food event in Hawaii island and a true 'Locavores' delight, it is the place to try some wonderful food creations with chefs from all over Hawaii. This is also the venue for foodies to learn more about sustainable agriculture, meat preparation and cooking demonstrations, along with the gala food event supporting locally produced Ag products which can be found at many farmers markets around Hawaii island.
Tasty bites that you want to come back for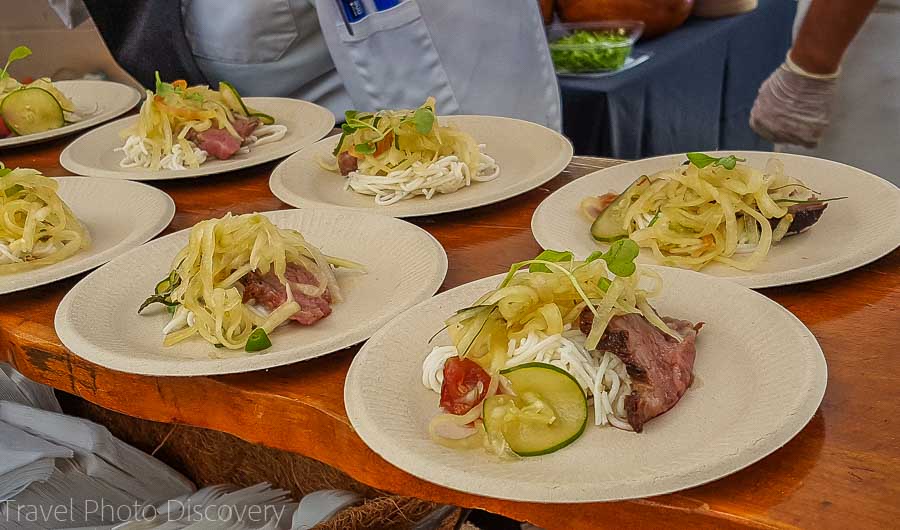 The Coast Grill
First taste for the day was from the Coast Grill at the Hapuna Beach Westin offering a refreshing garden Thai beef salad made with local vegetables with grass fed Tri-tip grilled beef. It was the perfect blend of succulent fresh beef with a sweet and savory Thai noodle salad dish.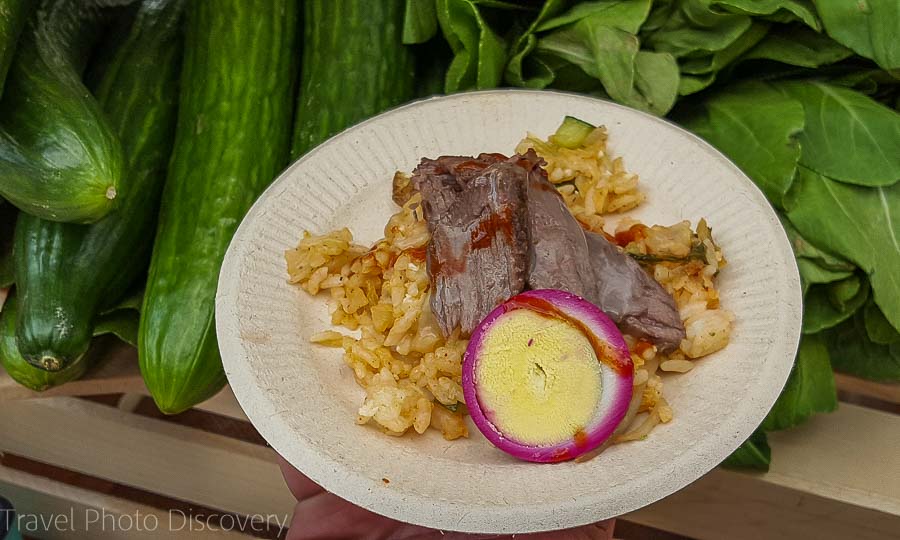 The Feeding Leaf
One of the most popular catering companies on the Big Island offered a delicious Bi Bim Bop dish with Korean flavorings over savory rice,  Poi Gochujung sauce and grass fed beef flank steak. Another winner with a variety of sweet and spicy mixed into one dish. Check out their website here for current events or to inquire about doing an event.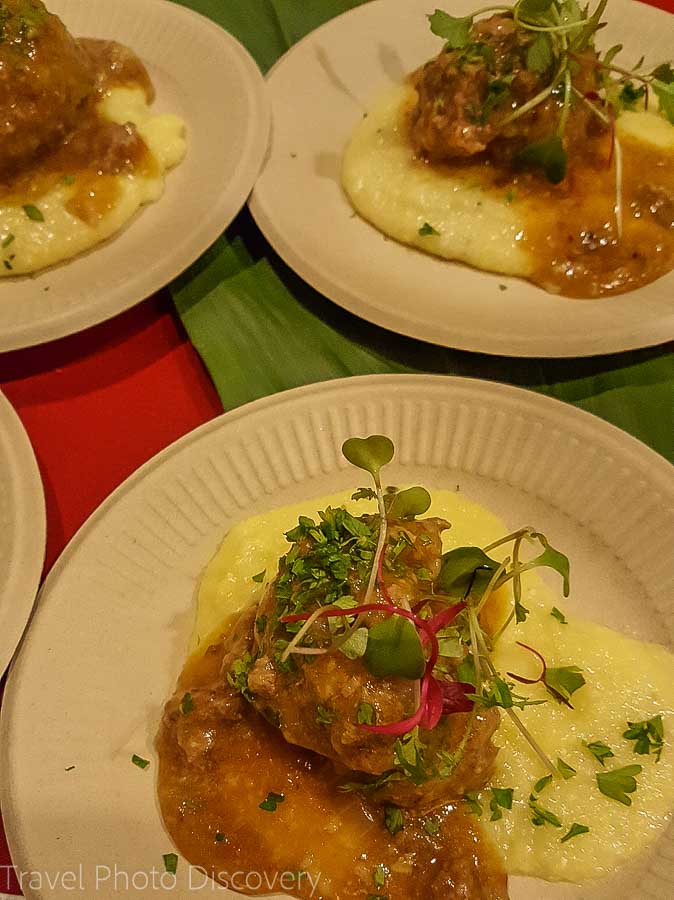 The Fish Hopper
Spanish meatballs or Albondigas made with one giant beef chuck meatball over creamy polenta and parmigiana cheese in a wine infused meat sauce. The meat ball, sauce and polenta was pure perfection and an elevated presentation of true comfort food with a Spanish flare. You can check out the Fish Hopper and other popular places to eat in Kona here for inspiration.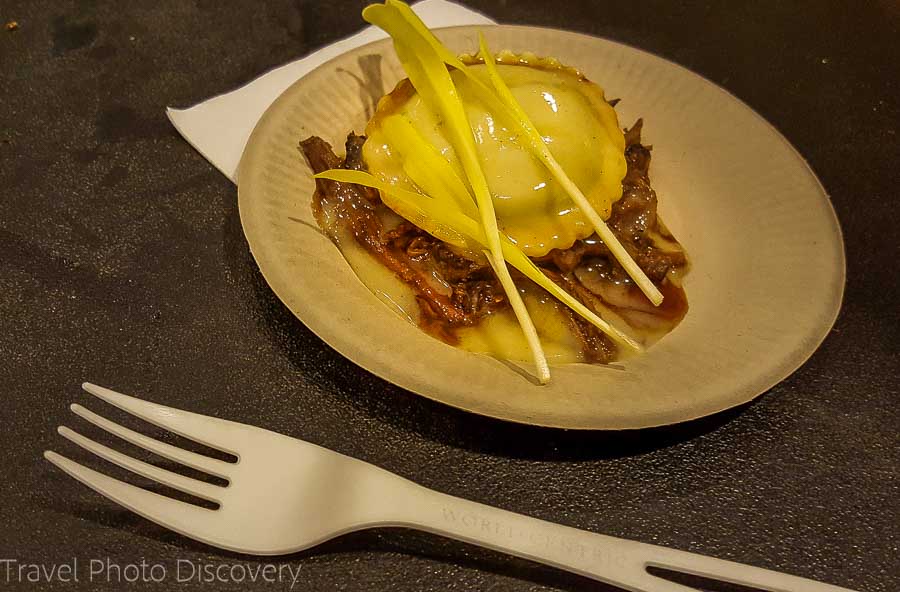 Hilton Waikoloa Resort
A spectacular dish was served from the Hilton Waikoloa Resort with their meat cut – top side pulled beef with a huge ravioli filled with sweet pea shoots and topped with a vanilla lilikoi butter sauce. If there was one dish worth doing another repeat, this was definitely the one to do over! To check out the restaurants and menus of the Hilton Waikoloa resort, visit their website here for more information.
If you are looking for more Waikoloa area attractions, check out the link for things to do in Waikoloa and see in the area on the link before for inspiration.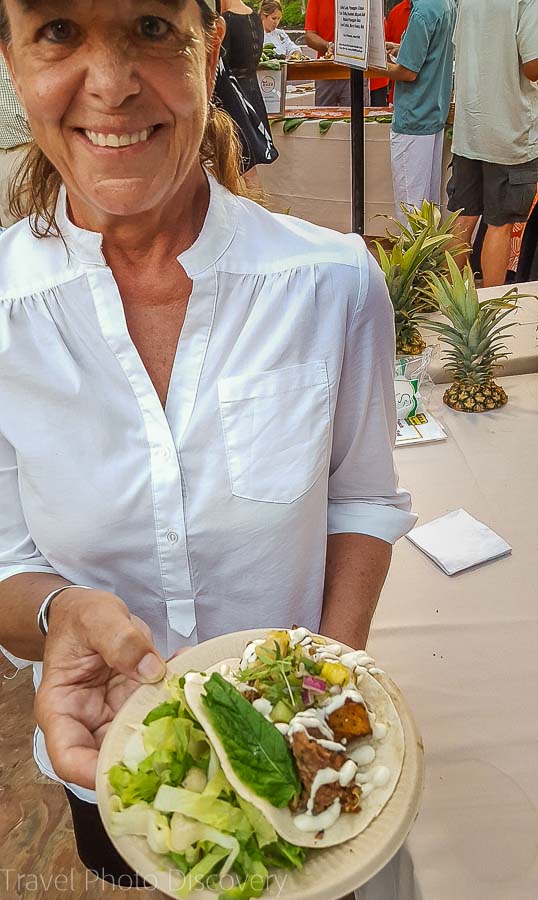 Kohala Burger and Taco
Those craving a taco inspired dish with a twist were in luck with the Kohala Burgers offering of a locally grown lamb and vegetable salad. With a spicy white sauce to complement the lamb, this dish was packed with flavor including the tender grilled lamb. The Kohala Burger offers some to die for burgers and other specialties, check out their website here for their daily specials.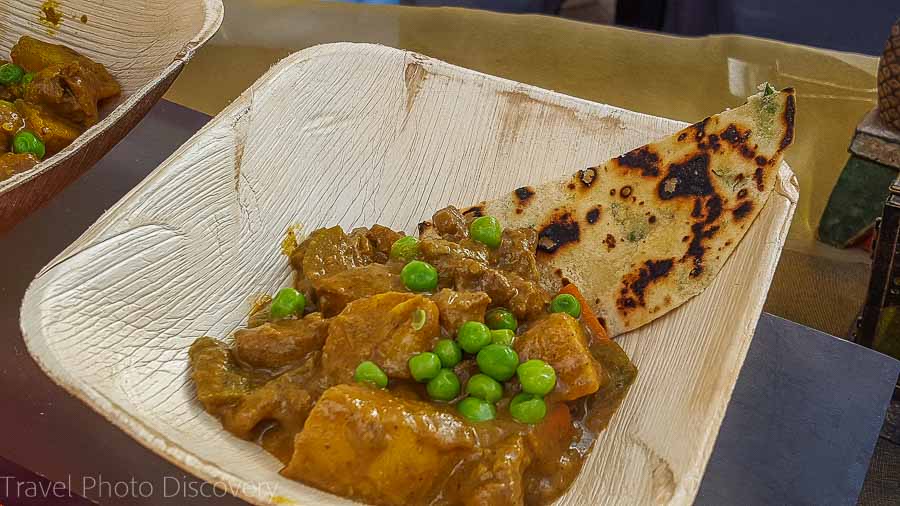 Mauna Kea Beach Hotel
You will get a huge plate of an Indian inspired Goat curry from the Sheraton Resorts culinary team and what flavors! Not only is the goat tender and juicy, the thick curry sauce is filled with potatoes, mixed vegetables and other delicious ingredients too hard to decipher in this rich curry stew. Check out what's cooking on their specials on their website here.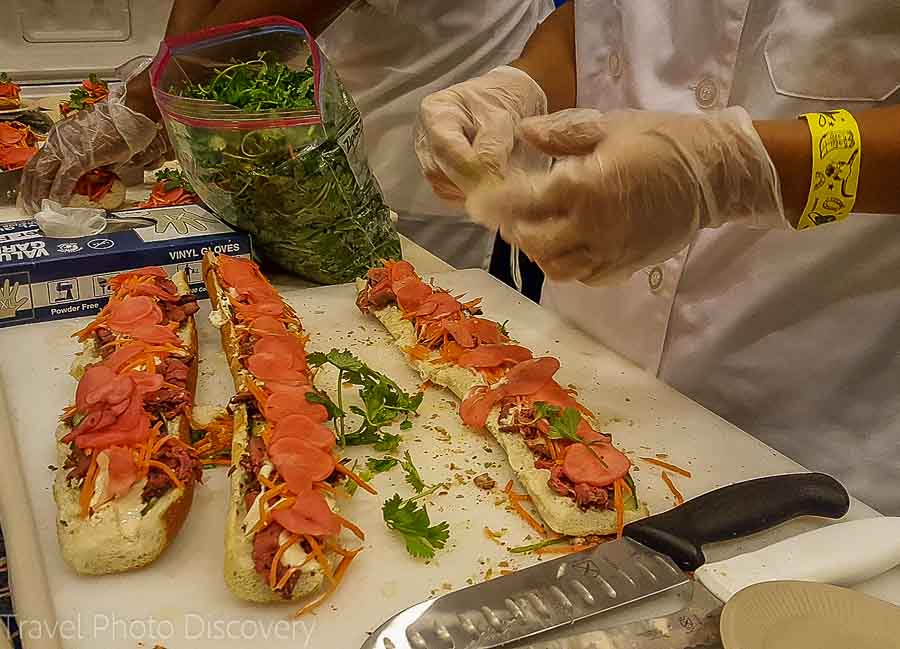 Tommy Bahamas
Kohala restaurant, Tommy Bahamas offers some really delicious bites with their tropical Bahn Mi sandwich made with local grass fed sirloin tips with home made shrimp pate, spicy aioli sauce and pickled carrots and cilantro for dressing. To check out the menu and what's available at their Mauna Lani restaurant, you can check out their website here.
Bahn Mi Goodness from Tommy Bahamas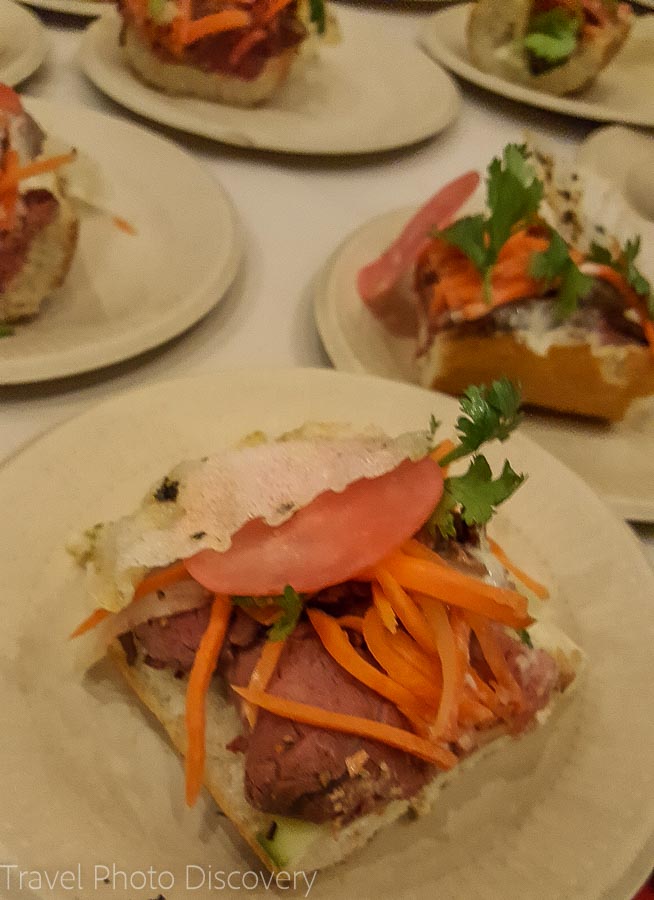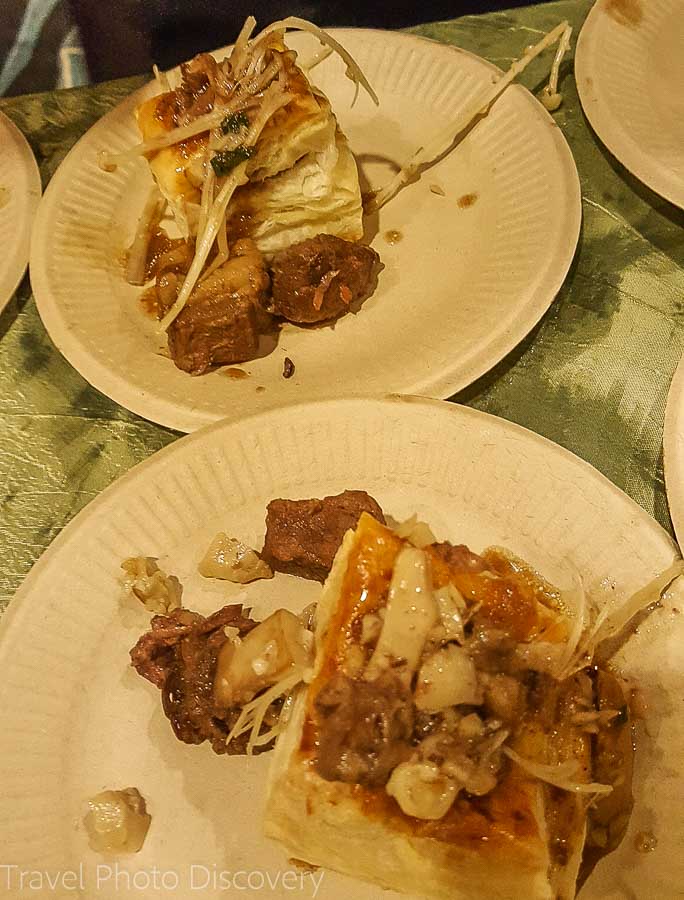 Daylight Mind – this café/coffee shop at the Queen's shopping center offered a delicious tasty bite with puff pastry, three kinds of local mushrooms, Big Island tender cubed clod with Kona coffee au jus. To check out the daily specials at the restaurant, check out their website here.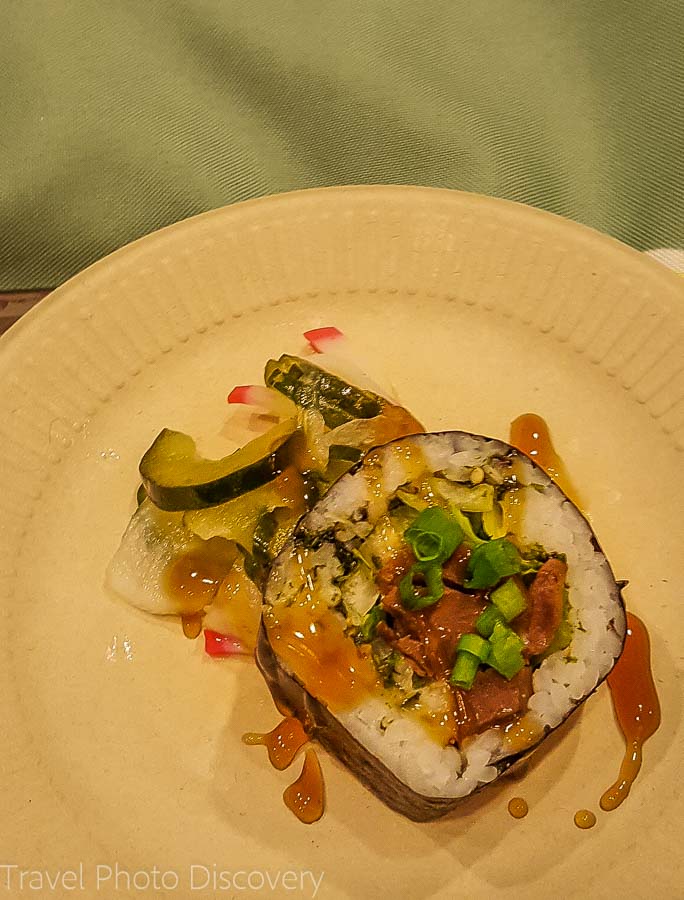 Earl's Waimea – For sushi fans, Earl's offered a different take with tender Teriyaki Beef Heart roll with locally grown cucumber namasu. This was an easy and flavorful bite of the beef heart roll which makes Earl's an innovative traditional to fusion style rolls in Waimea. You can check out their website here for details and what's on their menu.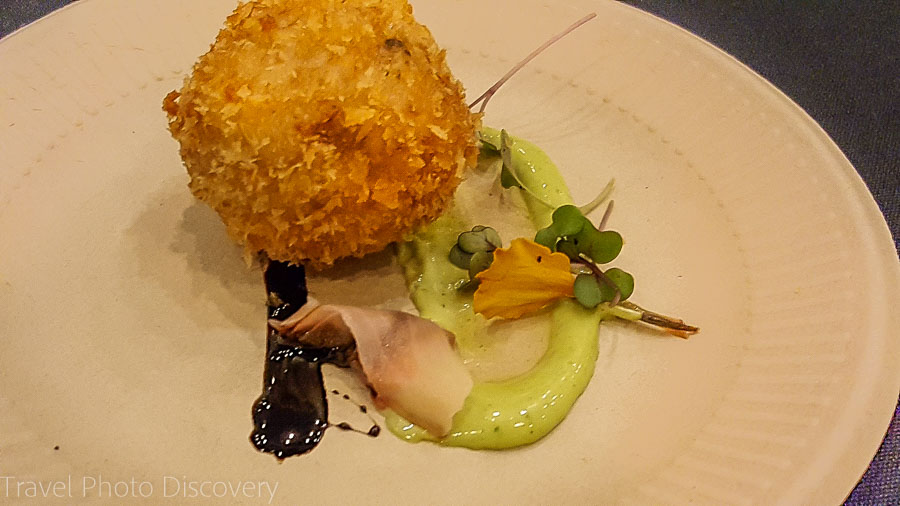 Ippy's Hawaiian Barbeque
Ippy's serves up this tasty Asian Arancini rice ball is easy to pop right into your mouth, but better to savor the filling slowly with char siu with Miso sake risotto and two different sauces: one a spicy Thai basil aioli and the other a balsamic reduction served with fresh pickled ginger and cilantro. In one word it is scrumptious! You can check out the fantastic menu from Ippy's Hawaiian barbeque here for their location and daily specials.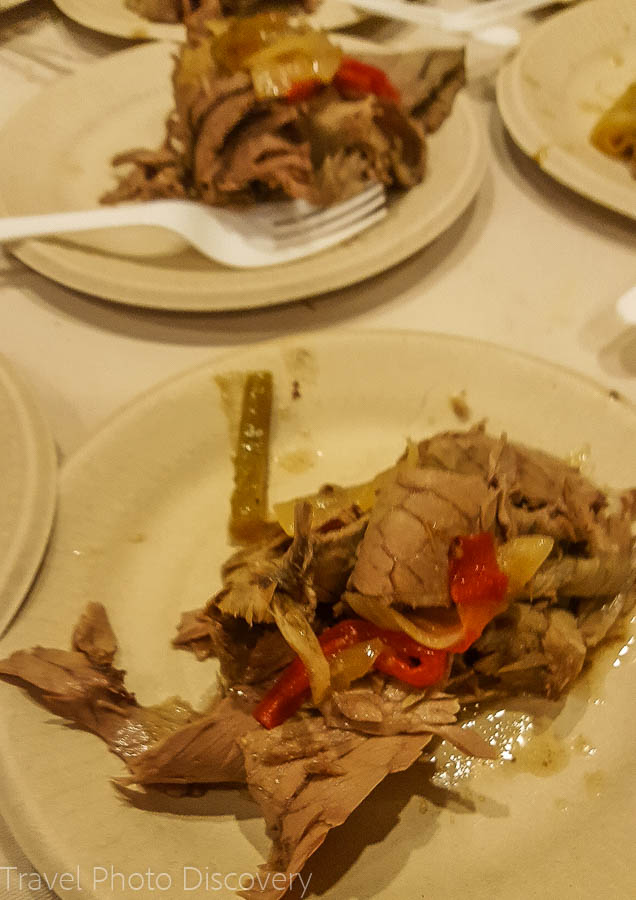 Roy's Waikoloa – Tender beef top round served with delicious au jus and mixed vegetable were a simple but tasty offering from Roy's restaurant at the Kings shops in Waikoloa. You can check their website here for location and daily menu.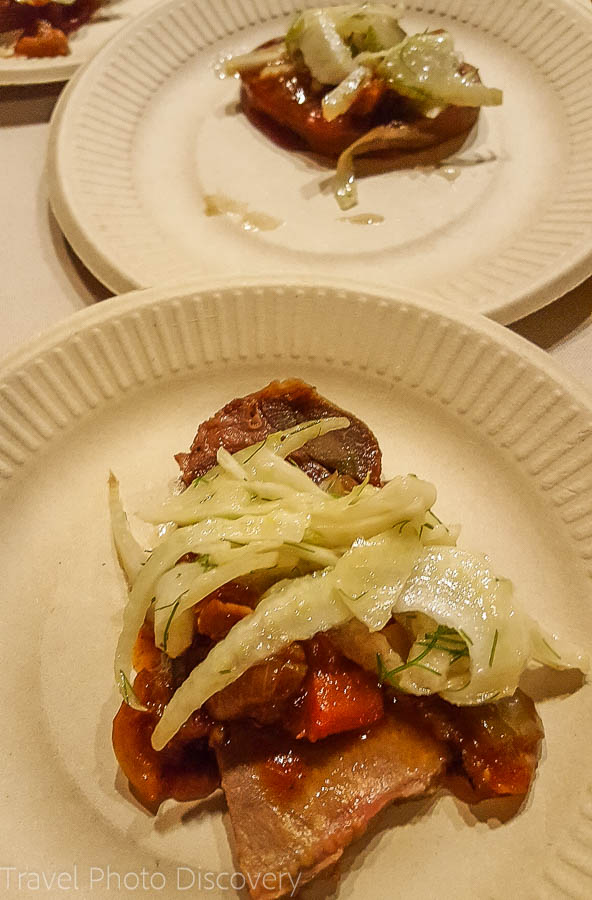 12th Avenue Grill
This Honolulu restaurant offered a truly exotic bite with beef tongue and pickled cucumber.  For those that haven't tried tongue, it is very moist, tender and slightly chewy but delicious, the taste was nicely balanced with a pickled cucumber dressing that added more acidic flavors to the dish. You can check out the 12th Avenue Grill website here serving contemporary American cuisine.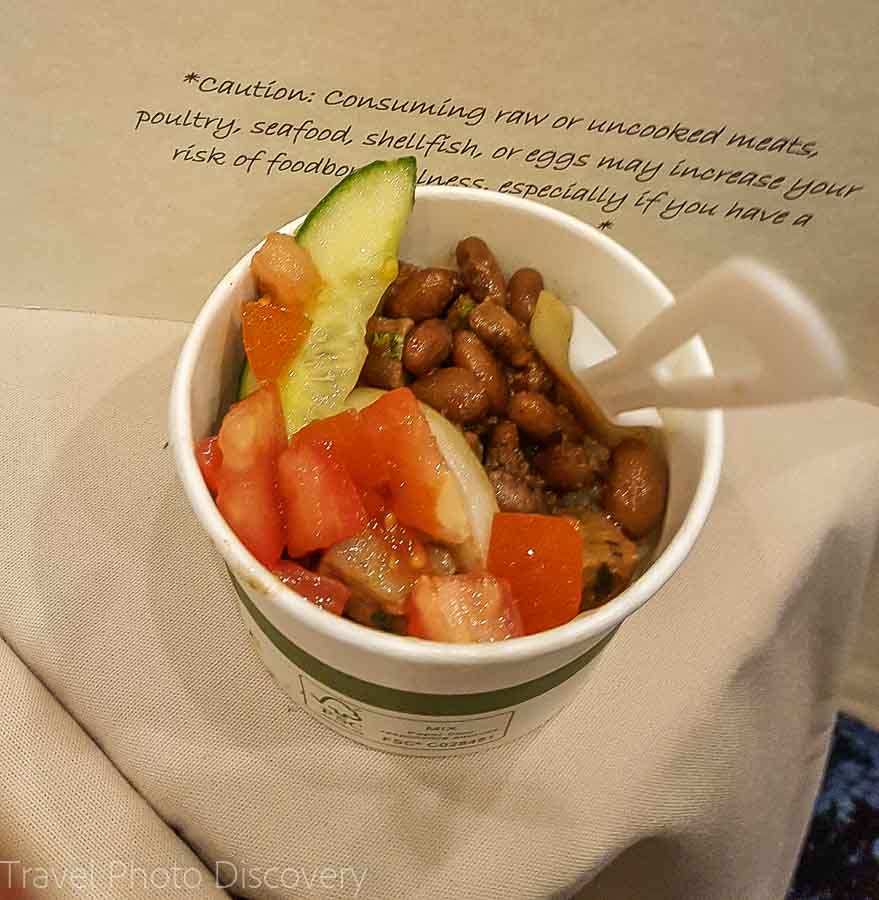 HCC-West Hawaii
A different take on a poke bow, this time made with Big Island beef, beans and mixed vegetables and pineapple jasmine rice. This filling meal is almost as good as it gets for a one pot dish that is satisfying. Created by the Hawaii Culinary college in West Hawaii for their Asian cookery class.
Local products available from the Big Island
The Taste of the Hawaiian Range also features some wonderful vendors and brands that sell locally grown or produced products from the Big Island. If you are interested in supporting local products from our island, check out these brands that are being distributed and sold in various locations around the island.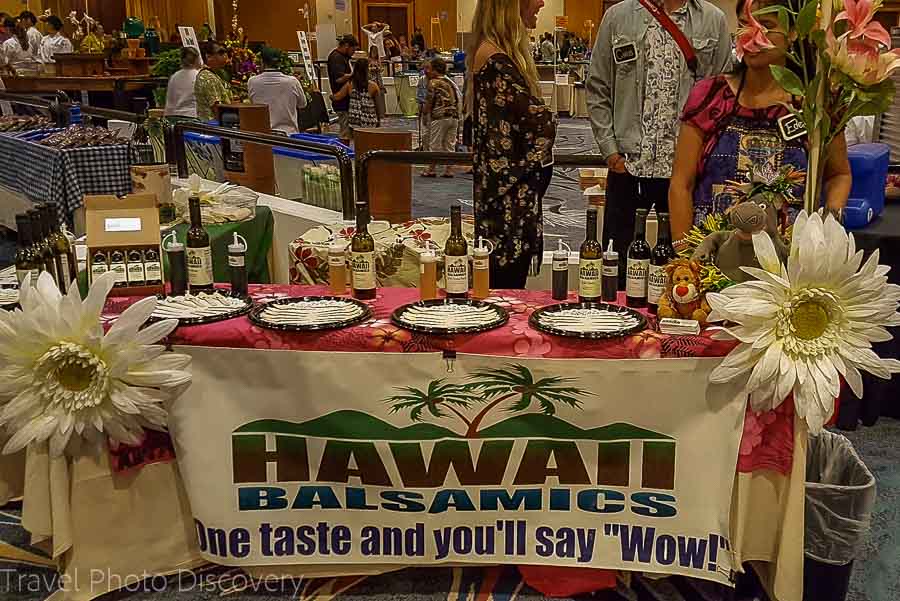 Hawaiian Balsamics – tropical inspired balsamic vinegar in collaboration with Modena balsamic vinegar, these 12 year old balsamic vinegars are infused with tropical flavors that are marketed through various outlets around the Hawaiian Islands, check out more details on their website here and entire product line.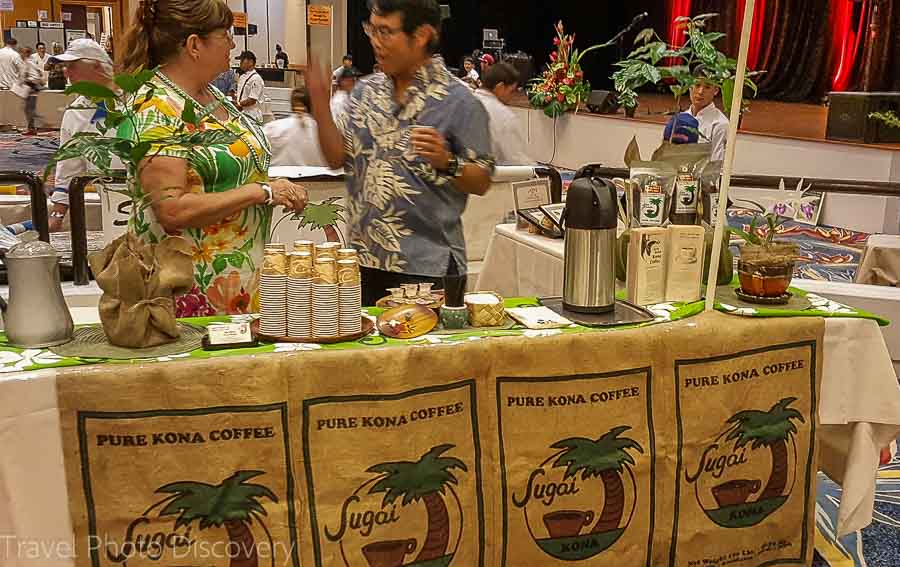 Sugai Kona Coffee – locally grown Kona coffee at its best and this is a delightful local grower offering some delicious blends and pure made in Hawaii Kona coffee. Check out their website here for more details and products offered for sale.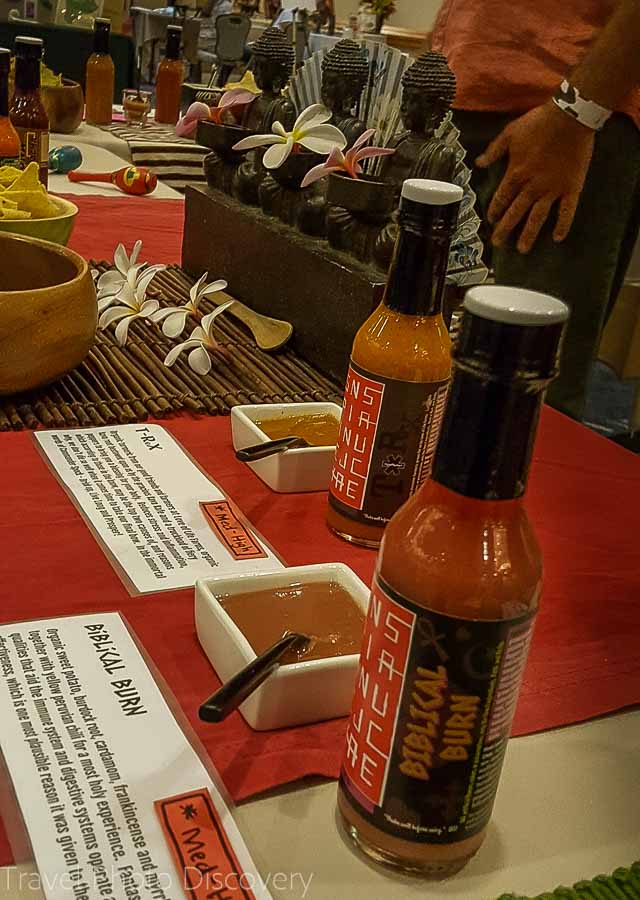 Spicy Ninja Sauce – offers some mild to kick ass hot spicy sauces with locally grown peppers and other added spices to make some amazing heat for your accents. Check out their website here for more information and their entire product lines.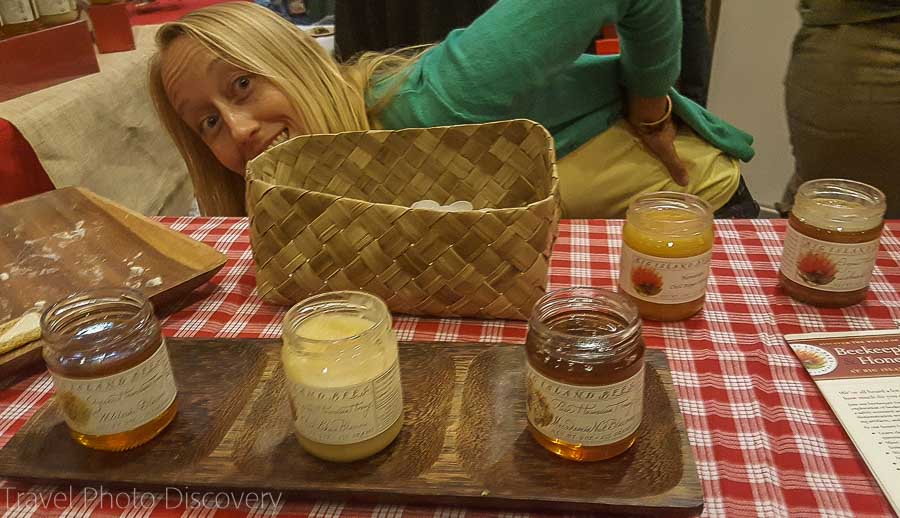 Big Island Bees
Producing delicious varieties of honey on the Big Island since 1972, the honey created  from Big Island Bees are more intense with the selection and placement of hives from a single flower source that is typically rotated when the flower blooms are in season. The honey grown is done organically with no extensive production done to alter the natural ingredients. You can learn more about their honey products on their website here.
Hawaii Lassi – these are some of the most refreshing and delicious lassi drinks produced and sold on the islands. With wonderful flavors ranging from Passion fruit, Mango, Coconut and strawberry, these nutritious and healthy digestive drinks are amazing, you can check out their benefits and product lines here for more details.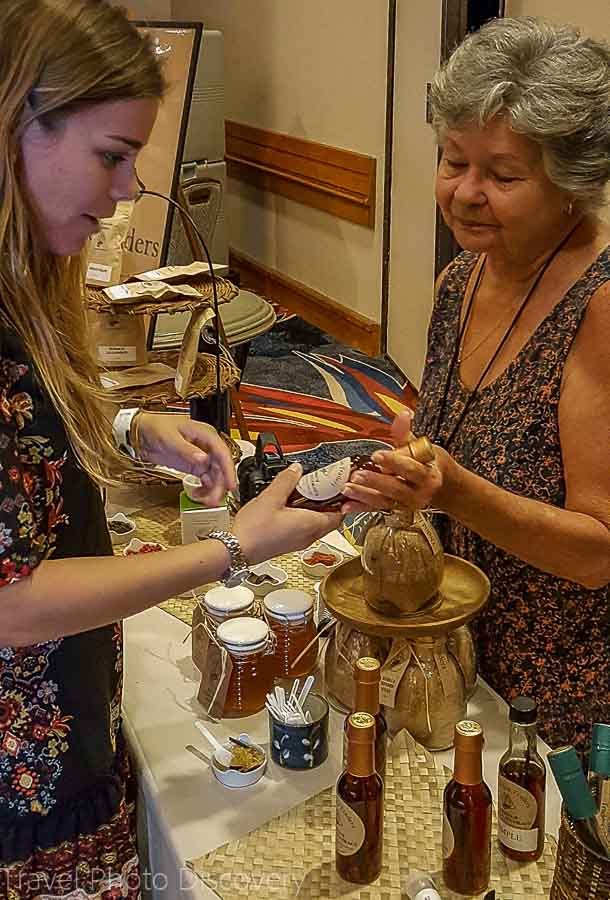 Orchid Isle Traders – locally Hawaii grown spices, fruit butters, Big Island honey, vanilla extracts and other locally sourced value added products are offered through this wonderful Hawaii Island vendor. You can check out their entire product line here for more information.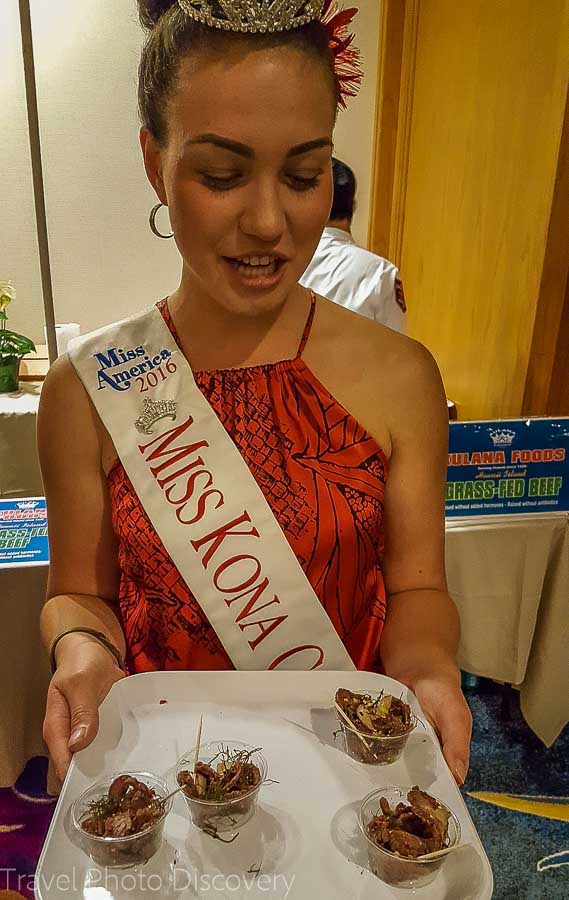 Kulana Foods – A delicious beef jerky style appetizer was offered from Miss Kona Coffee with Kulana Foods and it was really yummy. You can find Kulana meet products at popular grocery stores like KTA and Foodland or check out their website here for more details.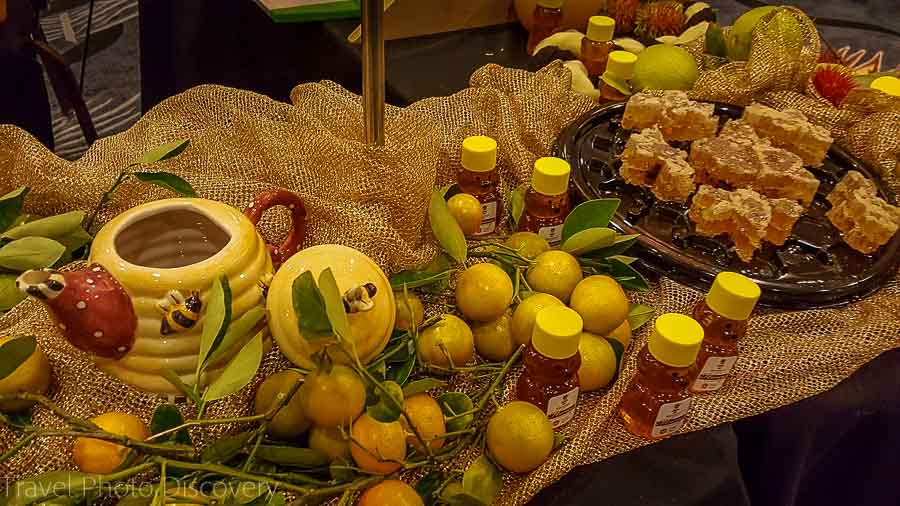 Adopt a Beehive with Alan Wong – A fantastic collaboration between Chef Alan Wong and the University of Hawaii Agricultural program to develop more beehives on the island and to create more awareness to the plight of the bees on the Big Island. This probram is to create more information on the bees on the Big Island and for people to help adopt a beehive. This is a crucial program to learn more about how important bees are for our native plants and agricultural products grown on the island. To learn more about this fantastic joint program, you can visit their website here for more details.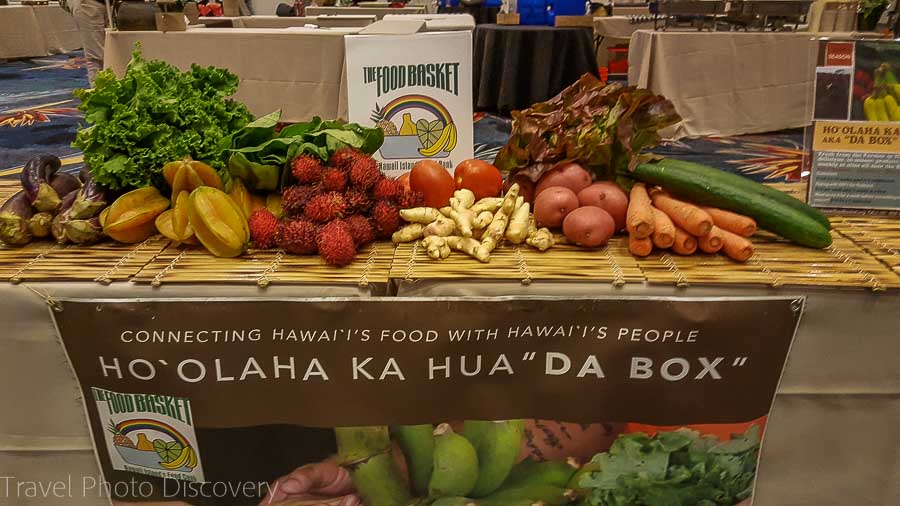 The Hawaii Food Basket – Our local food basket service that feeds many of the non profit organizations around the island with fresh produce and local products. They are actively promoting a wonderful CSA weekly service called  'Da Box' that provides fresh local produce and other products for both customers and families with low income needs. To find out more about this wonderful service on the Big Island, you can check out their website here for more details and information about the CSA program.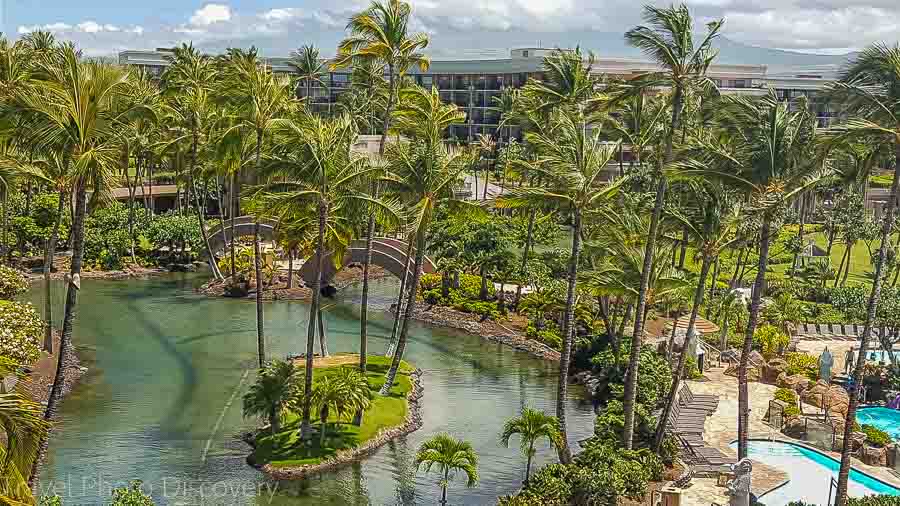 Fantastic accommodations at the Hilton Waikoloa
This years event was hosted at the Hilton Waikoloa, a spectacular Big Island resort located in the Waikoloa district along the scenic Kohala coastline.  The Hilton complex is a series of beautiful buildings with stunning gardens, swimming pools, an extensive art collection, lagoons with boat rides and even an amazing Monorail train ride. Here's some photo highlights of staying at this fantastic resort.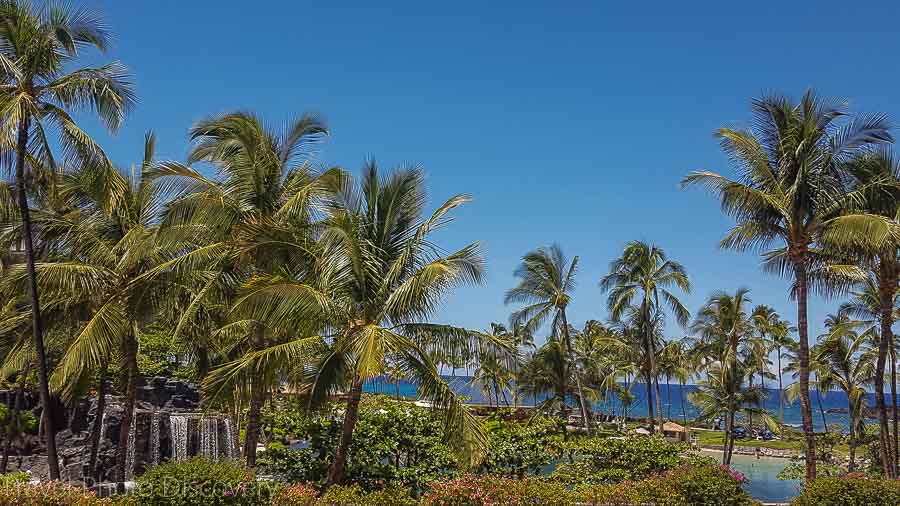 Entry, grand reception areas
With open atriums and outdoor inspired reception areas, the first thing you notice once you enter the expansive lobby area are the beautiful gardens, lagoons and then the beach areas of the resort. All at once you can see thousands of palm trees, waterfalls, tropical plants and every imaginable fantasy tropical scene come true and this is just at the entrance lobby area. The resort also includes an extensive boat ferry service and monorail ride that takes your through the resort to the various hotel buildings on the site. Along the way you will also pass along a walking corridor with some of the most impressive art collections and sculpture on the entire island.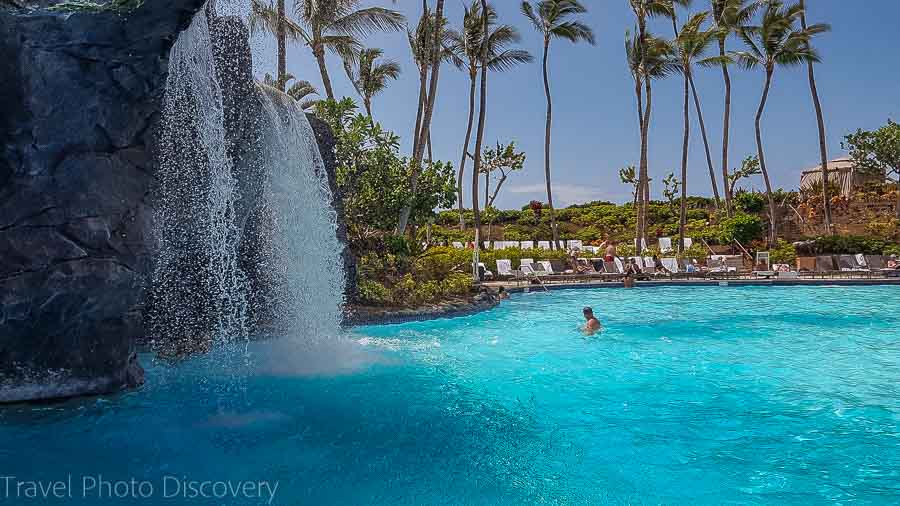 Swimming pool, gardens and other features that impress
The grounds and swimming pools at the Hilton Waikoloa Village are legendary for their spectacular and massive water features and pools throughout the resort. The resort is filled with amazing waterfalls, water slides, jacuzzi and other special water features, this massive collection of swimming pools is the most extensive on the Big Island and includes adult only pools and kid friendly swimming areas.
Here's some more images of the pool areas around the resort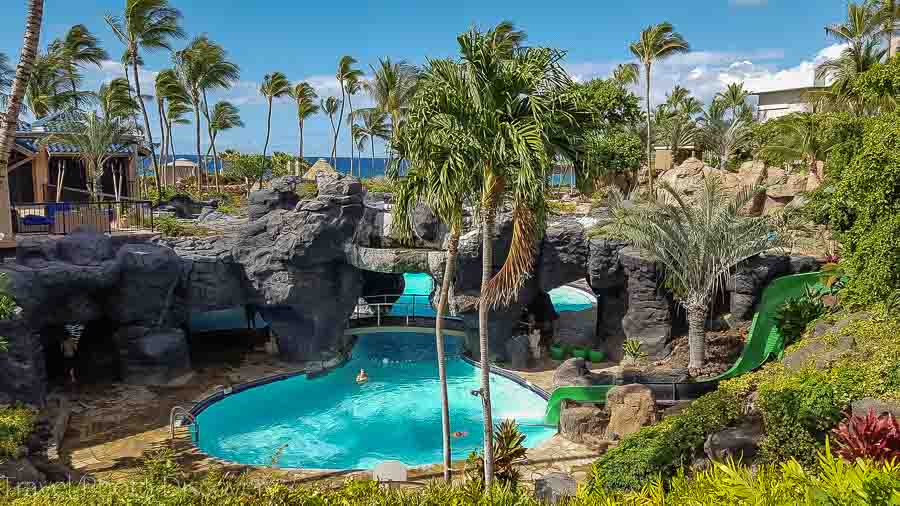 Giant water slide by the main pool area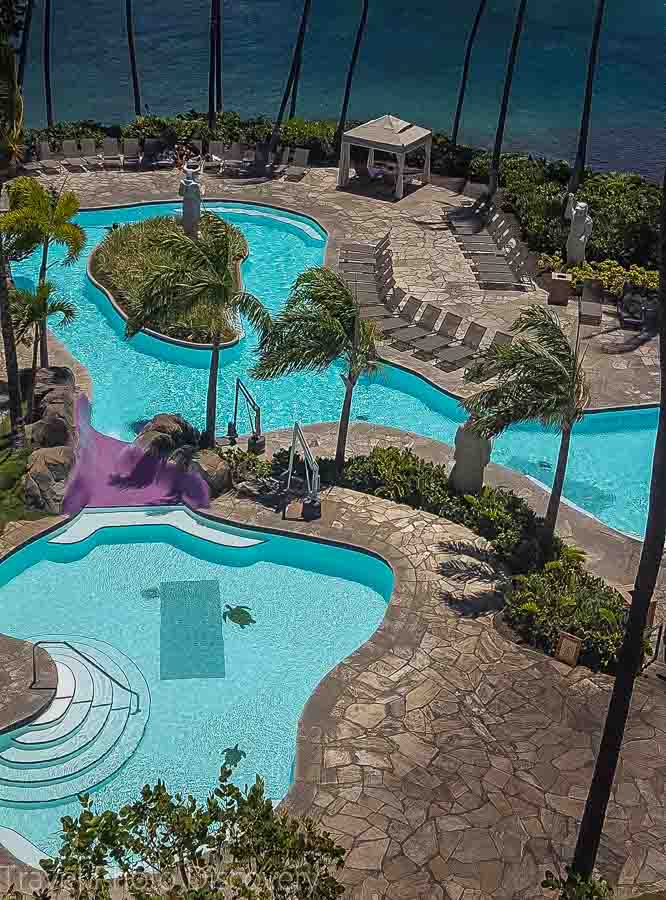 Kid zone swimming areas at the Waikoloa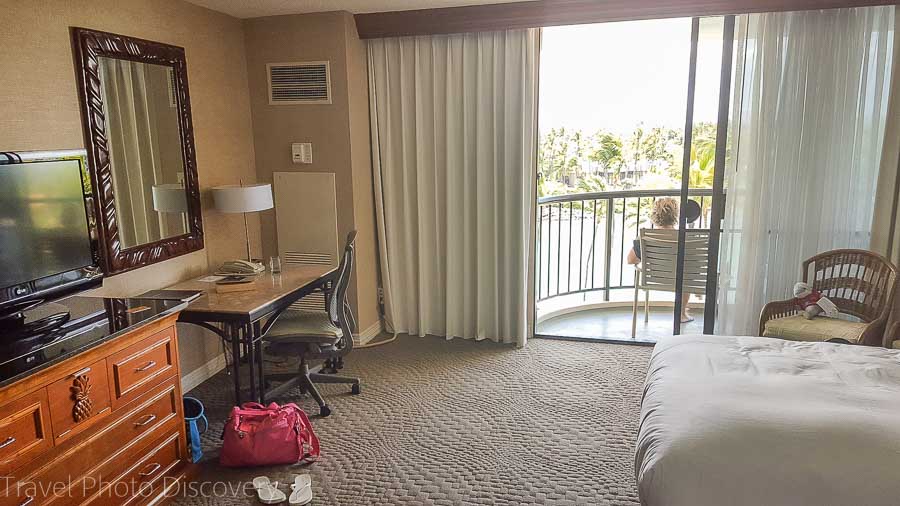 Bedroom and bathroom features
The bedrooms are different in the hotel buildings throughout the resort, but the standard rooms offered in the Ocean Tower hotel are spacious and some have wonderful views of the ocean and outdoor pool areas like the bedroom above. The rooms are large with a nice size balcony area and interior work desk, dressers and extra large bathroom area, closet and separate vanity which is perfect to the private/separate toilet and shower area of the bathroom.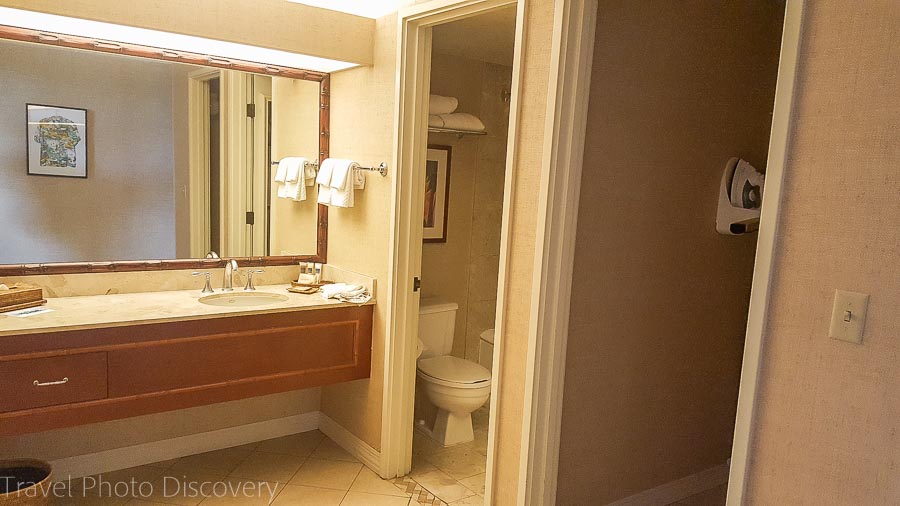 Balcony views from the Ocean Tower rooms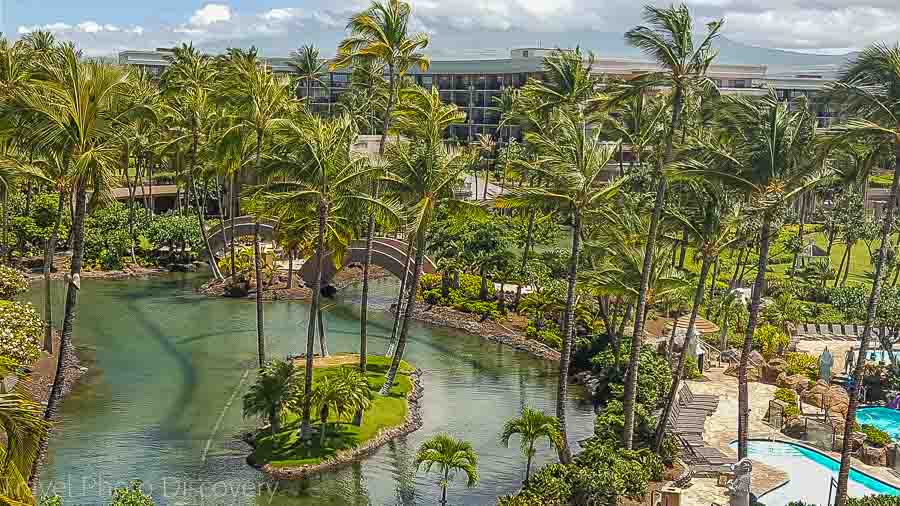 A wonderful stay in Waikoloa
What's not to like at the Waikoloa which caters to almost every visitor that you can imagine, it really is a dream destination resort on the Big Island of Hawaii. For more information and details about staying at the Hilton Waikoloa, check out their website here for the latest updates.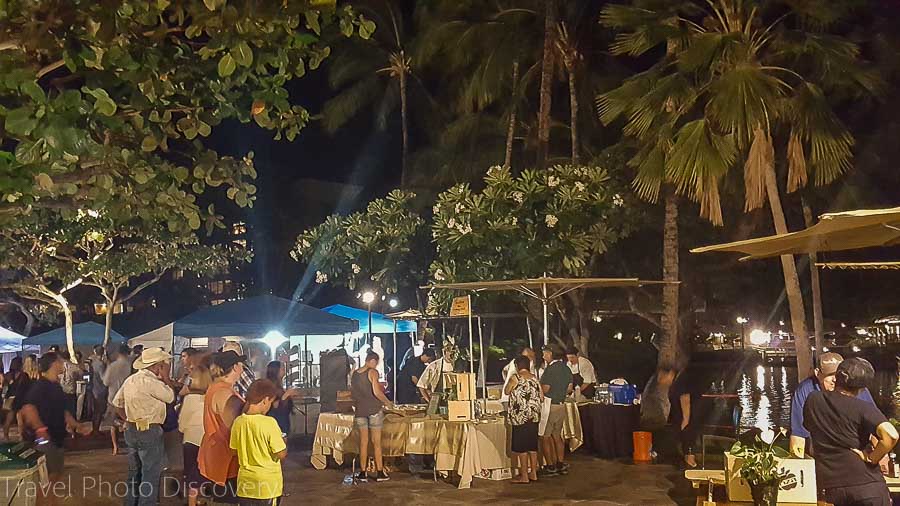 Thanks for visiting today, if you enjoyed reading this post on Big Island locally grown foods, please do share it with any of the social media links below, thank you.
If you enjoyed this post, please check out these other Big Island stories
East Hawaii attractions and places to visit
Big Island key attractions on the West side
Things to do on the Big Island with kids
Big Island locally grown foods
Visiting Keauhou on the Big Island
Road trip to the Hamakua district
If you like what you see, come and check out my other social media channels for more updates, including Instagram, Pinterest and Twitter.
Disclosure – I was a guest at the Hilton Waikoloa and the Taste of the Hawaiian Range, all thoughts and opinions are my own.