Marrakesh, a first day tour and impressions of this exotic and mysterious city is that everything is frenetic, crazy, with people heading out in all directions but at different paces.  Busses are crammed with locals, vying for road domination alongside small donkeys pulling carts laden with fruits, packages and stacked materials heading out to the markets. People are also walking constantly around the city including the old medina in the center, which is very compact and difficult to maneuver.
What to see in Marrakesh in one day
There's no use having a map while walking in the old Medina, most of the streets are not marked and you are bound to get lost trying to find any of the attractions or monuments in the old part of town. In any case, it's fun to just walk around leisurely and explore the medina on foot. The outskirts of the Medina tend to have a very gritty and in your face droll atmosphere, until you approach the more sedate tourist areas. There are so many odd combinations of shops, and very strange mix of products and services being sold in the same shop. (A combination barber shop and butcher stand?) It's interesting seeing these brash combinations jogging your senses, a little shocking but also exciting to view and see.  I almost feel like I'm on the original Star Wars set of the markets at Mos Eisley, the cantina scenes and the very strange characters of Tatooine lurking everywhere on the streets. (These scenes were actually shot on scene in neighboring Tunisia).
What's fascinating about walking through the Medina is that every type of commerce is taking place outdoors and out in the open. Tailors have their sewing machines by the front door, motorcycle and car shops are busy on the street and every kid is carrying something to sell to anyone walking by – everyone one is a self-made entrepreneur.  It's inspiring to see everyone's entrepreneurial spirit thrive with bare bones resources and direct selling gusto, to earn a meager living on the street.
 Vivid patterns on the streets of Marrakesh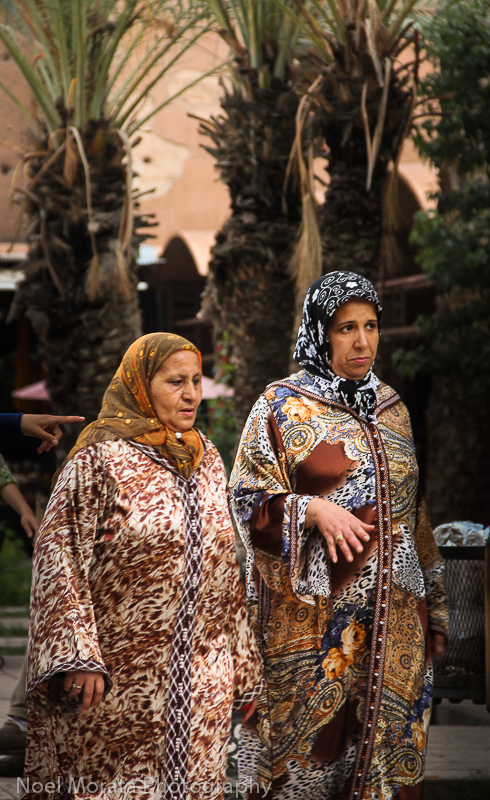 Spices in all colors and flavors
Getting lost in the Medina
After some time walking through an endless array of small business, shops and dusty colored buildings, I easily tire of the repetitive nature of daily life and stimuli. Instead, I start to focus my attention on unusual details, architectural fragments and signage, and camera compositions that draw my eye in to further explore and experiment. I love seeing the odd combinations of the old, new and recycled being repurposed into many objects. I pass these huge bins of colorful spices not easily recognizable, a small bird lounges on top and pecks away on edible seeds. Older women in ornate and patterned robes with contrasting head scarfs are everywhere making a fashion statement and I'm intrigued by the colorful patterns they adorn themselves with. We finally stumble into the main square of the medina called Djemaa El Fna which is a huge plaza filled with more souks(specialty markets), outdoor cafes and ringed with restaurants catering to the tourist crowd.  Costumed and colorful water carriers and snake charmers actively pursue tourists for Moroccan dirham and the obligatory bribe to their staged poses. I'm not interested in capturing these costumed 'actors', it just seems so contrived. I know I can capture something more genuine and unique in this urban grit with its own storyline. I decide to save Djemma El Fna for later in the evening when the markets and food stalls come alive and are more active and colorful to photograph.
Walking along various pathways and peeking into alleyways and private entrances, I take a few snapshots of interesting details and unique vistas around the medina. We go into a few private riads (private homes turned into B&B's), a spice market, some old museums, ancient burial chambers and the oldest jewish synagogue in Marrakesh all done in blue from the tile work to the paint on the walls, shutters and details. I'm starting to hit my stride with seeing some new discoveries and photo opportunities as we ramble around the various parts of the Medina.
Blues, blues and more blues
Crazy vibe
Yes its quite hectic, walking around, observing and taking everything in. I'm glad that I'm traveling around Marrakesh with three close friends, enjoying the tour together and creating a sense of security for each other in these unfamiliar settings. Not that it is intimidating here, but it's not knowing anything about Morocco's rich culture, history and daily regimen. We are just getting a glimpse on our excursion with biased eyes. Westerners are just not used to the different pace, lifestyle and day-to-day rhythms of this energetic and busy city. We relax and enjoy a nice long lunch at a an outdoor cafe. Overlooking an old square lined with restaurants, crafts and art studios, we settle in to a traditional lunch, enjoying the street scenes while gorging on tasty tagine dishes with an endless supply of mint tea. It's nice to take break and recharge after an extensive walk and observing so many new things in the Medina.
Well that was an exhausting, fun and eye-opening adventure today. You'll be in for a treat if your looking for what to eat in Marrakesh, doing some city excursions visiting more historic sites, beautiful palaces and some of the bizarre attractions around Marrakesh. Hopefully you're into Moroccan cuisine, my next few posts will focus on local food and an amazing dinner experiences that just blew our foodie group away with the presentation, food and overall dining experience, something worth checking out.
Have you ever tried an authentic Moroccan style meal cooked outdoors exclusively with tagines made with thick ceramic containers, I write about this delicious dining experience here, enjoy the meal. If your looking for more information and travel tips, check out this Marrakesh travel tips post for more details, what to do and not do while visiting this exotic city.
Thanks for visiting today and checking out this post on Marrakesh a first day tour – photo essay, if you enjoyed the images and post, could you please share it with any of the social media buttons located around the post.
If you like what you see, come and check out my other social media channels for more updates, including Instagram, Pinterest and Twitter