Marrakesh in Black and White
Capturing images of Marrakesh in black and white transforms the city into a different attitude: exotic, moody and yes even mysterious. There is so much that westerners do not understand about the traditions, religion, culture and history of the Moroccan people. All of the places we see are the typical tourist attractions: monuments, the medina and souks, palaces and museums,  and historic centers. But I am here to discover and learn a bit about Moroccan culture. With a little effort and research before and during our journey, the small bits of information we absorb and learn about Morocco's rich culture helps us gain more meaning to the historic monuments and treasures we visit.
While walking around photographing various scenes and attractions around the city, I take my time to discover  and contemplate what makes Marrakesh tick. For some reason, walking slowly around the various venues and seeing things that grabbed my eye helped me to take notice and focus on the many facets of living in this vibrant community.  Following are some images I took while walking around the different neighborhoods and attractions in Marrakesh. I hope these photos convey not just what the city looks like and filled with exotic attractions and entertainment, but also how it functions and survives.
Small details
While walking around, I noticed and photographed the smaller details that tell its own story about this place, the little pieces joined give me a clearer idea about how it works and what daily life is like. Although Marrakesh is very large and tourist driven, it is still a working class city catering to everyday life and normal routines. I pick up the subtle make-up and familiar tasks while walking around, observing their typical activities and daily rituals.  The markets we visit are not all tourist traps (at least the one's outside the city walls) and everyday activities show busy lives and interesting details unfold. I peek and look through the portals and doorways, seeing some intoxicating views and the busy activities happening below. It is fascinating to contemplate the landscape and hustle from above.
I'm glad I took photos of my travel companions on our first day tour of the Medina where we finally made it to Djemma El Fna, the main square of the old Medina. Don't you think my travel companions look great in black and white with the Koutoubia in the background? It was an exciting and exhausting first day adventure for all of us, we packed in a full day of touring too many attractions around the Medina.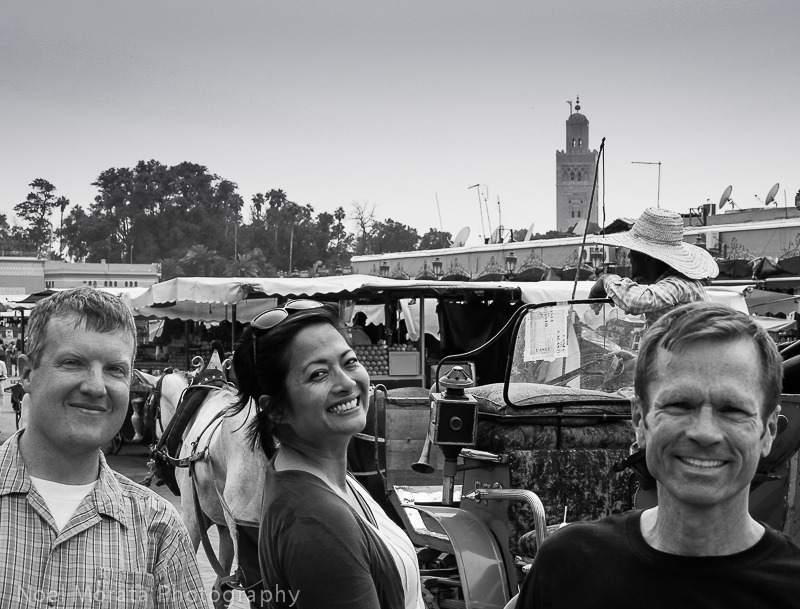 It's sometimes a great exercise to explore an old and sublime city and photography it in black and white. I think this approach creates a more authentic presentation and an aged patina, don't you agree?  If you haven't had a chance yet, please take a look at my post on our  first day adventures exploring Marrakesh, it was a full, exhausting and wonderful day exploring various sites around the Medina. Also, here's a post of our first meal trying local dishes cooked in traditional tagines outdoors, it was an exceptional lunch that we practically gobbled up in just a few minutes.
If you enjoyed this post on Marrakesh in black and white, photo Friday, please subscribe below and also share the post with a of the social media buttons surrounding the post, thank you.