Moroccan tagine meal – A photo essay
Marrakesh offers so many tasty dining experiences around the city and after an entire morning of walking around the confusing and narrow streets in the old medina, our foodie group was famished. Seeing how difficult it was to find some of the key attractions on the map, it would be difficult to find some of the restaurants that we highlighted earlier on our agenda. Although my foodie friends had very high expectations for our first lunch experience, we were also hungry and exhausted from the mornings adventure. Trying to find something that would suit our palates and not just our appetites would be a challenge, but trusting our instincts with our eyes and noses guiding us would instrumental in finding a great first meal.
Fortunately on the way to our next destination, the Bahia Palace, we happened into a beautiful square filled with arts and crafts galleries and lined with some local outdoor cafes serving local specialties cooked outdoors in tagines. Now the tricky part was deciding which of the restaurants to choose from and considering that they all had english menus, it was difficult to decide which cafe offered the most authentic lunch menu. In the end, the most charming and funny barker won us over with his great personality and he quickly offered front row seating so we can enjoy the square and busy and colorful scene.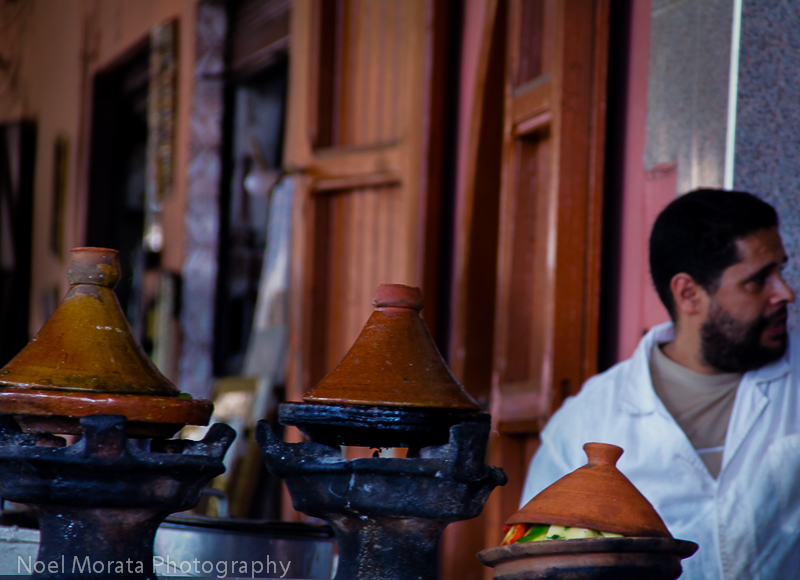 Open style kitchen
Wow, not only were the kitchens small and simple, most of the cooking was done with huge terracotta tagines being fired-up in a row outdoors. Despite the basic cooking style, we all loved the authentic and simple tagines, harking back to ancient cooking techniques that are still being used today. In fact tagines originated with the Berbers in Northern Africa who created different stews utilizing locally made ceramic pots.  What a visual delight it was to see the tagines prepared and cooked outdoors in open flames, and oozing of delicious goodness inside. I asked the cook to open up one of the tagines so I could take a peek and take a few photos –  it looked and smelled so amazing! The different aromas that permeated the air with the luscious combinations of spices and aromatics infused with the main ingredients was truly unique . I think our group was in for a real treat and we all enjoyed plenty of the mint tea while watching scenes unfold around the square.
A feast for the eyes
It all came out quickly, first the salad courses and other appetizer plates or 'mezze'. Lots of olives in olive oil, delicious bean plates, hummus and grilled vegetables.  Afterwards, the tagines arrived at the table in quick succession – it was a feast to behold! Not surprising, there was no conversation outside of expressions of aaah, and oh my god, it all looks good! The tagines were quickly uncovered, exposing a variety of dishes made with chicken, lamb and a mixture of starch and greens.  Bubbling liquids of stewed meats, vegetables and couscous cooked to buttery tenderness and perfection. We slurped up all the gooey liquid with the rest of the couscous until every morsel was wipe clearly from each dish.

Traditional mint tea served at every meal
No rush, just enjoy
The foodie frenzy lasted just a few minutes while everyone gorged on spoonfuls of chicken and melt in your mouth beef with the couscous and a medley of fresh vegetables. More delicious pots of mint tea were freshly made and poured into delicate hand painted glassware. The servers even created a little show by pouring the tea from high above their heads into the cups on the table like a little waterfall, and without spilling a drop. I enjoyed the fun pouring display and thought I would probably spill most of the tea on the tables if I even tried this feat.  Suggestions for desert and sweets were offered, but we were all full.  Instead the host politely offered simple oranges slices to complete the meal. What a perfect way to end the meal and enjoy our first authentic Moroccan meal together.
Sometimes it seems like when you do go out with friends into an unknown area, you just need to trust your instincts when it comes to looking for a great meal. Taking the time to see and look at how the food is prepared and presented, the demeanor of the attendants, and the local clientele can tell if a place is worth trying out. This first lunch was just that – a delicious first experience to the wonderful world of tagine cooking and local Moroccan cuisine.
If you like this post on Moroccan tagine meal – A photo essay , please consider subscribing below – also share this post with any of the social media buttons located around the post, thanks for visiting!