Monte Albán Ruins in Oaxaca: Ancient Wonders Unveiled! (updated 2023)
Monte Alban's Mysterious Ruins of Oaxaca and the pyramids have been mysterious for generations. Highly visible on top a man-made plateau, this archeological site near Oaxaca City was continuously inhabited for more than 13 centuries.
The Zapotec considered Monte Alban a sacred site since 500 BC when they began leveling the mountain. It was not only sacred for the original Zapotec, but for the Mixtecs as well. After the Zapotec abandoned Monte Alban, the Mixtec also buried their elites with offerings for the afterlife at this site. The Oaxaca pyramids are a must visit site if you are also touring around the Oaxaca region of Mexico.
Find out more about Monte Alban and the mysterious ruins of Oaxaca below.
Visit the Monte Alban Ruins of Oaxaca 

Why is Monte Alban pyramids historically important?
At its zenith, the Zapotec amassed a population of 25,000 but it's abandonment has baffled historians to these Oaxaca ruins. Monte Alban in Oaxaca is one of only a few sites in the world where the rise of the State as the government is well preserved. It's believed that this was a powerful government ruling over multiple cities as they merged together. It's also the first culture from Mexico to use written language and a calendar. Though the original calendar only had a cycle of 260 days.
A lot of what has been learned about the Monte Alban pyramids has been through studying the hieroglyphs and Danzantes – a group of reliefs carved into stone slabs that were discovered at this ruin. The Danzantes were originally thought to depict dancers, but it is now believed that they depict victims of sacrifice, slaves, or slain rival rulers .
There are over 300 stone Danzantes showing figures in duress, although there does not appear to be signs of human sacrifice at Monte Alban.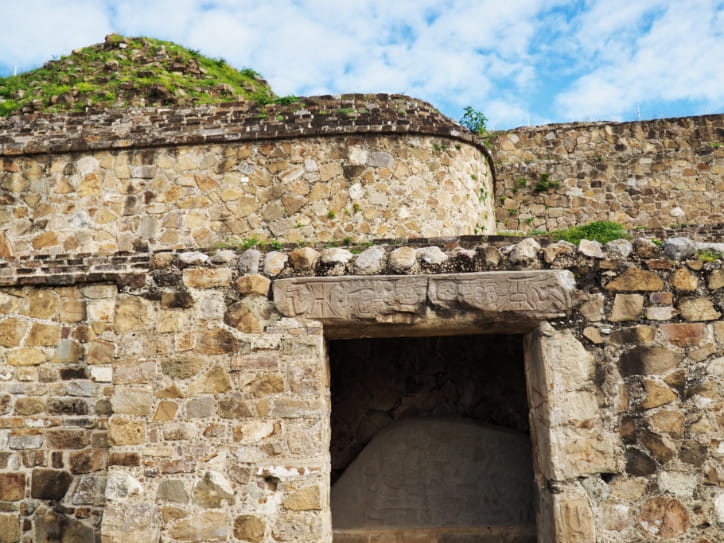 Monte Alban Mysterious Ruins of Oaxaca and the archeological sites
As you enter the archeological site of Monte Alban, follow the path to climb up the backside of the North Platform. When you reach the top you'll be rewarded with open views of the Main Plaza, the ceremonial center of the city.
All of the buildings on the Main Plaza are in a grid pattern except one – The Observatory. It's in the shape of an arrowhead, unlike any other archeological ruin in Mexico. It is believed to be the first observatory in Mesoamerica. On the south wall of the Observatory, you will find 40 hieroglyphs featuring upside-down heads, which are thought to portray the Zapotec's conquests. It's widely believed that the Observatory was one of the first buildings built by the Zapotec, long before the artificial leveling of the mountain. This takes away the notion that Monte Alban was built quickly for defense.
Though with a 360-degree view of the surrounding valleys, the location does make it strategically viable for defense. After exploring the Main Plaza, climb the steps to the South Platform for a bird's-eye view of Oaxaca City. It's an amazing view of the city itself and the surrounding pueblos tucked into the valleys. As you descend and explore the remainder of the site, make sure you stop to see the Ball Court in the northeast corner of the Main Plaza. 
Learn more about the Zapotec culture on this video below
The Five Phases of Growth
-Phase I (500-200 BC)The leveling of the mountain starts, founded by rulers from nearby Etla and San Jose Mogote. The population of the first phase of Monte Alban reaches over 15,000. This is the first sign of human settlement in the area.-Phase II (200 BC-300 AD)
Tunnels were discovered that are presumed to have only been used during phase II. These tunnels allowed priests to move between buildings in Monte Alban. The population declines a little during this time, but is still considered healthy.   
-Phase III (300-750 AD)
Most of the buildings that can be viewed today came from phase III. The population grew to 25,000 people and smaller groups started to expand to neighboring hills. This is the same era that Teotihuacan, an archeological site near Mexico City, emerged. Ceramics originating from Teotihuacan were found during the excavation of Monte Alban. There was also a 'neighborhood' at Teotihuacan that housed many Oaxacan natives.   
-Phase IV and V (750-1520 AD)Not much is known of the decline of Monte Alban. There are varied studies as to why the site was abandoned, but no two scholars seem to agree. The theories range from societies uprising from their royal leaders, disease, and famine. Many other societies in Mexico started to see a decline or abandonment around 1000 AD.
Wildfires and recent earthquakes have had an impact on the UNESCO World Heritage site, but the World Heritage Fund working with American Express and other donors has dedicated more than 1 million dollars to restore the damage that was done. 15 structures were affected by the earthquake, and five required a quick response to shore up the walls. There were a lot of masons working while we visited, so it's clear that the National Institute of Anthropology and History (INAH), and the World Heritage funds are being put to use.
Learn more about Monte Alban and the geography here and the Zapotec culture
Where to eat around Monte Alban area
Around the Monte Alban area in Oaxaca, Mexico, you'll find a range of dining options offering delicious local cuisine. Here are some places to eat and savor the flavors of the region:
Restaurante Monte Alban: Located near the archaeological site, this restaurant offers traditional Oaxacan dishes, including mole, tlayudas, and delicious tamales.
Los Danzantes Monte Alban: Enjoy a scenic dining experience with a view of the archaeological site. This restaurant serves contemporary Oaxacan cuisine with a focus on locally-sourced ingredients.
El Tule Restaurante: Situated in the nearby town of Santa María del Tule, this restaurant serves mouthwatering seafood dishes and classic Oaxacan recipes.
Restaurante Tlamanalli: Just a short drive from Monte Alban, this charming restaurant features a beautiful garden setting and serves authentic Oaxacan dishes prepared with traditional techniques.
Casa Oaxaca Café: Located in the heart of Oaxaca City, this café offers a delightful blend of regional and international flavors, along with artisanal coffee.
Mercado de Tlacolula: If you're looking for a more authentic local experience, visit the Tlacolula Market on Sundays for a variety of food stalls serving traditional dishes like barbacoa and memelas.
Comedor La Abuelita: This cozy family-run eatery in Santa María del Tule offers home-cooked Oaxacan dishes that will make you feel right at home.
Restaurante Hacienda Los Laureles: For a luxurious dining experience, this restaurant in Oaxaca City serves upscale Mexican cuisine in a beautiful colonial setting.
Tlayudas El Negro: This small local eatery specializes in tlayudas, a traditional Oaxacan dish similar to a large crispy tortilla topped with various ingredients.
El Sagrario: Located near the Zócalo in Oaxaca City, this restaurant offers a mix of Oaxacan and international dishes in a historic setting.
When exploring the Monte Alban area, these dining options will satisfy your culinary cravings and introduce you to the delightful flavors of Oaxaca's gastronomy. Whether you're looking for traditional dishes, contemporary cuisine, or a local market experience, these eateries have something to offer for every palate.
How to Get to the Monte Alban ruins from Oaxaca and tips to visiting the ancient ruins
The pyramids of Oaxaca are quite impressive and a must visit attraction when you are in the region. Getting to Monte Alban is easy since it's located just 20 minutes outside of the city of Oaxaca. You have three options to arrive to the ruins. Monte Alban hours are 8 am – 5 pm everyday with weekend and holidays being the most busy.
The bus (55 pesos round trip) departs from 20 de Noviembre and Aldama Streets in front of the Benito Juarez Market every hour beginning at 8:30 am. You can also book a tour to Monte Alban from one of the numerous companies that advertise in the main square. Or a taxi from Centro Oaxaca costs about 150 pesos each way.
Tip: Look for others to share the return taxi. We did this to get back to Oaxaca and got to meet fellow travelers!
We decided to take a taxi since we like to take more of a DIY approach to visiting sites like Monte Alban. You will beat the crowds and vendors if you arrive at the time they open. Also, the pictures are more stunning when you have the place to yourself.
We almost opted to take the bus to Monte Alban because the departure times were close to our desired time. But the 8:30 bus does not head back into town until 12:00 pm and we had more exploring in Oaxaca City that we wanted to do that day.
Tip: Ask around as people are entering to see if they would like to share the cost of hiring a guide. We have used the same strategy at numerous other sites and everyone, including the guides, have always been on board with this cost-saving trick. The tour is the same price whether there's 2 people or 10.
And do hire a tour guide, I say this even as having had a bad experience with ours that particular day. We were only 20 minutes into our tour and he cut it short. There was a little bit of a misunderstanding, but ultimately we believe it was to do a more exclusive private tour for a couple. It's the only time that we've ever had anything like that happen.
Typically hiring a guide at the ruin sites in Mexico has been a positive experience. They're knowledgeable about the area, the flora, and of course the ruins which are typically a part of their own heritage.
Other details to visiting Monte Alban
Guides are available at the site but expensive, so see if you can share a guide with any other visiting the site and share the cost.
Monte Alban ruins is located on the top of a hill and is mostly exposed and hot, so wear protective clothing and sunscreen
At the visitors center, try to purchase your tickets first and then use amenities. there are restrooms, souvenir shops and a small cafeteria on site.
In the parking lot area are more souvenir stands, if you are looking for specific gifts or souvenirs from the historic site, although many of these objects can also be purchased at the many markets in Oaxaca.
There are also group tours that you can reserve to visit Monte Alban and surrounding attractions in the area. Many tour operators and sales people visit the squares and attractions around Oaxaca to sell a variety of tours to Monte Alban and other local attractions.
Hours:
The archaeological site of Monte Albán is generally open to visitors from 8:00 AM to 5:00 PM, seven days a week, including weekends and holidays.
Entrance Fees:
The entrance fee for foreign visitors (non-Mexican nationals) was approximately 80 pesos per person.
For Mexican nationals and residents, the entrance fee was around 70 pesos per person.
Children under the age of 13 and seniors over 60 years of age may be eligible for free admission with proper identification.
Weather and best time to visit Monte Alban
The weather in Monte Albán, located in Oaxaca, Mexico, is generally pleasant throughout the year, making it a suitable destination for visitors at various times. However, the best time to visit Monte Albán is during the dry season, which spans from November to April. During this period, the weather is typically sunny, with warm temperatures and minimal rainfall, providing ideal conditions for exploring the archaeological site.
Visiting during the dry season allows you to fully appreciate the splendor of Monte Albán's ruins without the inconvenience of heavy rain or excessive heat. The clear skies also offer excellent visibility, enhancing the panoramic views from the hilltop and allowing you to admire the surrounding valleys and landscapes.
It's important to note that Monte Albán can still attract a significant number of tourists during peak travel periods. If you prefer a quieter experience, consider planning your visit during the shoulder seasons of November to December or March to April when the crowds are relatively smaller.
Regardless of the time you choose to visit, it's advisable to bring comfortable clothing, sun protection, and sufficient water to stay hydrated during your exploration of Monte Albán. With its intriguing history and awe-inspiring architecture, Monte Albán is an extraordinary destination that can be enjoyed year-round, offering a fascinating glimpse into Mexico's ancient past.
Check out these Monte Alban tour in Oaxaca and other close area attractions
** Check out this guided tour of the area, consider this tour experience to Monte Alban here for more information and booking.
Visit historic Mitla, an artisan village and the El Tule Tree here on this all day adventure tour of the region around Oaxaca.
Experience an Oaxaca walking tour and Mezcal tasting experience here for more information and booking this tasting / walking experience.
Do this Mezcal workshop here with tasting experience
Private tour experience here for touring archaeological sites, artisan centers, outdoor markets and other ancient sites.
Monte Alban FAQ
One of the most important ancient capitals of Mexico and the Zapotec people< Monte Alban is a popular travel destination. The attraction is popular to visit year round and there is a line of cars lined up at the entrance going uphill to the top where the pyramids with amazing views and stunning monuments you must visit.
How much time to spend at Monte Alban?
If you love historic sites and pyramids, Monte Alban is stunning and worth spending all day. For others, maybe a guided tour is more ideal for you to get a better understanding to visiting this historic site and the ancient people's of this region.
How to get to Monte Alban from Oaxaca?
Monte Alban is a very close drive from Oaxaca City and you can easily take public transportation or Uber directly to the site. A guided tour is also good so you get more insite to the story and significance of the pyramids of Monte Alban.
Is it worth taking a tour to Monte Alban?
Yes, for the convenience and a guided tour of the area, consider this tour experience to Monte Alban here for more information and booking.
Where to stay close to Monte Alban
There are a variety of fantastic places to stay in the Oaxaco city area from classic hotels, modern styled accommodations to small inns. Check out the best rated inns and hotels here for the best rated places to stay in the area.
Mision Oaxaca – Value priced and located in a residential area and about 15 minutes with free shuttle service to the historic district
One Oaxaca Centro – Also value priced located about a five minute walk to centro, the hotel is new, clean with friendly service and a great breakfast spread.
Nana Vida Boutique Hotel – this boutique hotel located right in the centro and easy walking to all major attractions is centrally located, clean and friendly service.
For more choices and well reviewed places, check out these Trip Advisor reviews here for more details to staying in the area.
Check out these other posts in the Oaxacan Region of Mexico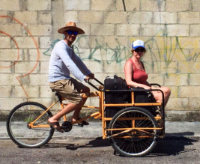 Guest Bio
JT and Julien are traveling the roads of Mexico. They're in love with the rich culture, ancient ruins, and of course the food. Not seeing an end for their love of travel, Cultures Traveled was created to share stories and insights with anyone that will listen.
Guest post with Cultures Traveled 
Conclusion to Monte Alban, Mysterious Ruins of Oaxaca
A visit to Monte Albán in Oaxaca is an unforgettable journey back in time, offering a captivating glimpse into the rich history and grandeur of the ancient Zapotec civilization. As you explore the majestic ruins perched on the hilltop, you can't help but marvel at the remarkable engineering, intricate stone carvings, and stunning panoramic views of the surrounding valleys. The profound sense of awe and reverence that Monte Albán evokes is enhanced by knowledgeable guides who bring the site to life with fascinating stories and historical insights. Whether you are a history enthusiast, an archeology buff, or simply a curious traveler, a trip to Monte Albán promises to be a truly enriching experience that deepens your understanding of the remarkable cultures that once thrived in the region. Soak in the ancient atmosphere, soak up the knowledge, and create cherished memories that will stay with you long after you leave this extraordinary archaeological wonder.
Hope that you found this post informative and worth a visit to the Monte Alban ruins just outside of Oaxaca. If you enjoyed reading the post please do share it with any of the social media sites below.
Thanks for visiting today and checking out this post on the Monte Alban Pyramids in Mexico. I hope you are inspired to plan a visit and enjoy these wonderful attractions and activities. If you enjoyed the images and post, could you please share it with any of the social media buttons located around the post.
Disclosure – some of the links above are to affiliate sites that are either reviews or recommendations if you book helps to keep our site running. We appreciate your supporting our website meanwhile