A visit to Oaxaca city, Mexico really brings you into the heart of the country located in the south-central region and is well known as a food and gastronomic capital in all of Mexico. What makes visiting Oaxaca city so special is not just the amazing colonial capital but the vibrant and colorful neighborhoods, variety of outdoor and food markets, beautiful historic buildings and impressive restaurants and a genuine food scene that inspires many to visit this colonial city in Mexico. Let me show you what inspires us to visit Oaxaca city, Mexico and the must visit places to see and do in the capital city of Oaxaca.
Explore the best 18 things to do in Oaxaca City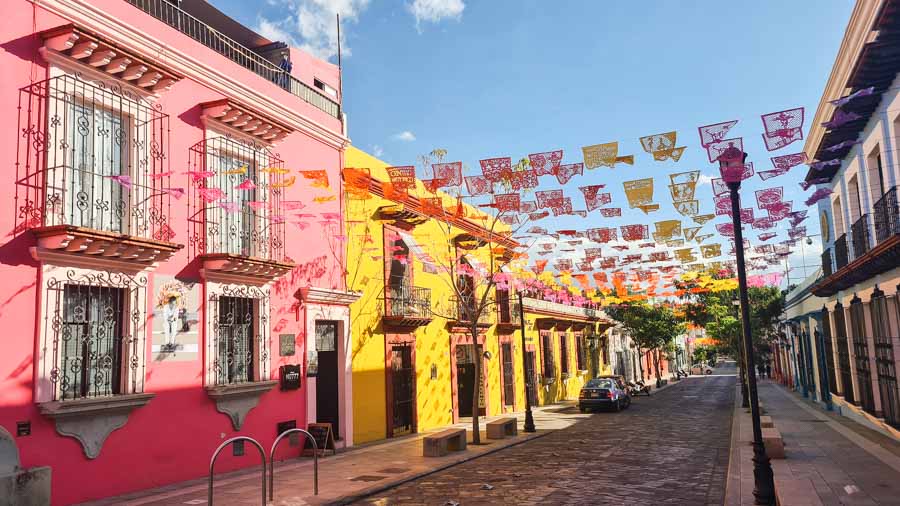 Why travel to Oaxaca in Southern Mexico?
Located in the southern part of the country and in higher elevation, the weather here is almost perfect with 70 to 80 fahrenheit degree temperature (and mostly dry but some humidity) year round. Oaxaca is very proud of its rich cultural heritage, the old historic district with fantastic neighborhoods to explore. You'll notice all the streets and areas are very clean while you explore all the historic places in town. There are many places to explore around the city that is filled with cultural treasures, churches, plazas, museums and repurposed buildings open for the public to visit.
If you're an outdoor person, there are so many fantastic areas to hike, bike and spend time outdoors. Art enthusiasts will love the fashion forward and design aesthetic and a thriving arts and crafts passed down traditions. Foodie lovers will enjoy the burgeoning artisanal food scene, restaurants and specialty purveryors or shops creating a dynamic and exciting city to explore.
In other words, this city has it all and is one of the most beautiful places to visit in all of Mexico. Even the Day of the Dead in Oaxaca celebrations are celebrated with visitors coming from around the world to this famous event in th ecity.
When you plan a visit to Oaxaca, make sure to find the best places to stay in Oaxaca here for inspiration and finding just the right spot.
The food scene = Muy Delicioso
If you love really delicious Mexican food, street food and wonderful dining experiences, Oaxaca is a foodie lover's destination. There are so many amazing specialty food markets to explore. The local street food experience is safe and well established and there are many specialty artisanal food purveyors and fine dining venues to indulge around the city. In between all of those delicious meals, you can walk of some calories exploring the pedestrian promenades, checking out gorgeous galleries and art shops and visit the many churches and beautiful squares throughout the city center.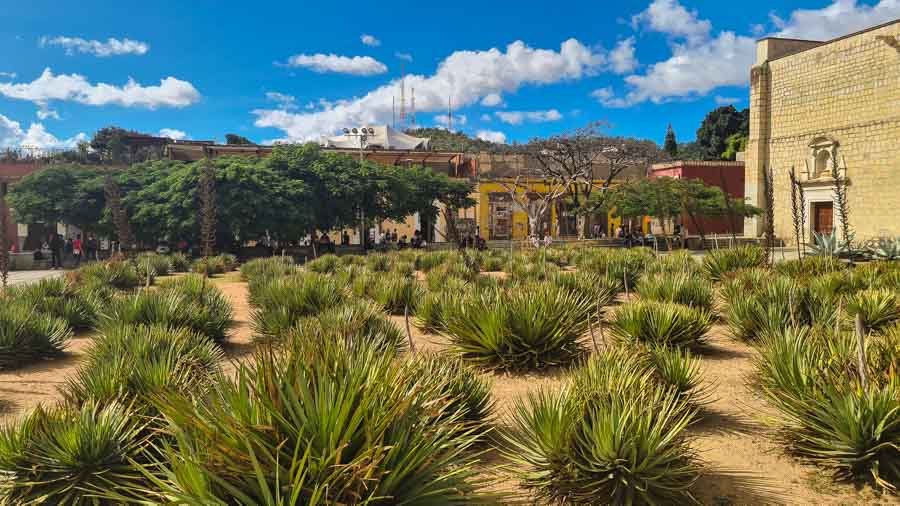 Weather in Oaxaca City
Overall Oaxaca is located in a subtropical environment with a wet and dry season. The wet season occurs during the months of May through October but because of its location and altitude (2300 meters) tends to have less than average rainfall to other comparable areas. The dry season happens from end of October to May with the hottest months happening from March to May time frame. Any time is a great time to visit but cooler and dryer in the dry season which also tends to be the shoulder season and you can find some great flights and hotel bargains to Oaxaca.
Oaxaca, Mexico FAQ
Where is Oaxaca city and how to get there?
Located in the state of Oaxaca in the southern region of Mexico and bordered by Puebla, Chiapas, Veracruz and Guerero, Oaxaca city is the main captial city of the region. The colonial capital is considered a Unesco World Heritage site along with the pyramids of Monte Alban and is called  "la Verde Antequera" for the unique green stone that is used in many of the historic structures around the city.
Oaxaca city is easy to get to with direct flights from Mexico City or you can also take a variety of buses from regional centers of the other states in Puebla, Chiapas, Veracruz and Guerero states and efficient highways that go directly to the main bus terminal at Oaxaca city.
Oaxaca is known for such a variety of popular street food and many other local food specialties. This includes:
Can you eat street food in Oaxaca?
Yes, the street food scene in Oaxaca is unbelievably good with local street food vendors specializing in just one dish that they own and sell in the many markets and corner stands around the city. The food is reliable, fast, tasty and safe to eat but depending on your palate and taste.

Top 18 things to do in Oaxaca City, Mexico
If you are planning on visiting Oaxaca soon, check out the best places and things to do below to inspire you to have a fantastic experience in this amazing city. Very compact, Oaxaca is walking friendly in the many pedestrian areas to different parts of the city to explore. There are so many fantastic events that happen around the city including the Day of the Dead event in Oaxaca that is world famous and visitors from around the world come to see.
** If you prefer a guided tour to show you the best of visiting this city, consider this full day tour of Oaxaca with this outfitter here to get a highlight tour of the best of the city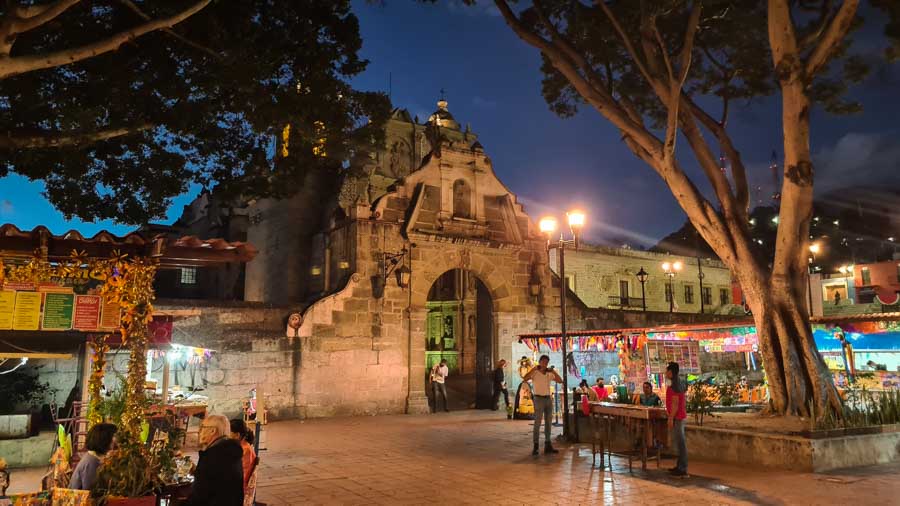 1. Start at the Zocalo
Everything in this colonial capital centers around the main square or Zocalo and Oaxaca's Zocalo is grand but yet comfortable and friendly. The Plaza de la Constitucion is comfortably shaded with large shady trees that welcome visitors from the heat and fronting the grand Palacio de Gobierno (State Government palace). The square is lined with so many outdoor and rooftop restaurants, galleries and the streets are filled with balloon vendors, street food and all the various food stalls and hawker you can imagine. It's vibrant, colorful and fun to explore the square and main attractions in the area. Visiting the Zocalo is also popular with locals that love to flock around the main square to stroll, hang out and eat at some of the local street food and restaurants in the surrounding area of the square.
There are many rooftop restaurants with gorgeous views of the Zocalo and later in the afternoon to night is ideal with sunset views and the main cathedral to enjoy with a lovely dinner is always a fantastic experience to do in Oaxaca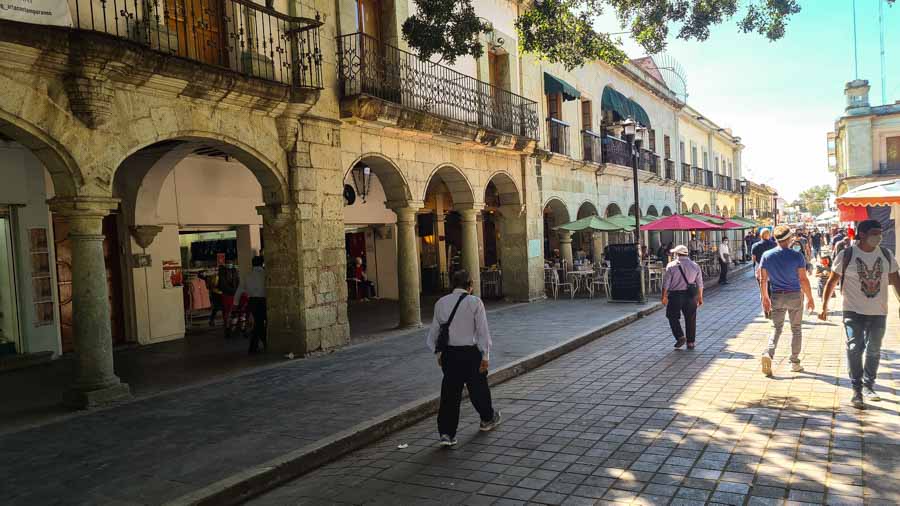 Here's a fun tour exploring the Zocalo of Oaxaca below
2. Visit the Cathedral of Oaxaca Metropolitana or the Cathedral of Our Lady of the Assumption
The main cathedral of Oaxaca built around 1533 is located just north of the Zocalo and is called Our Lady of the Assumption. Having received some damages in the 16th and 18 centuries from earthquakes, the cathedral was reconstructed many times and now sits splendidly in its current state located at the Zocalo or main square of Oaxaca. The design work for the cathedral is the said to be the same design principle as the cathedrals that were built in Mexico City and Puebla, two of the largest cities of Mexico.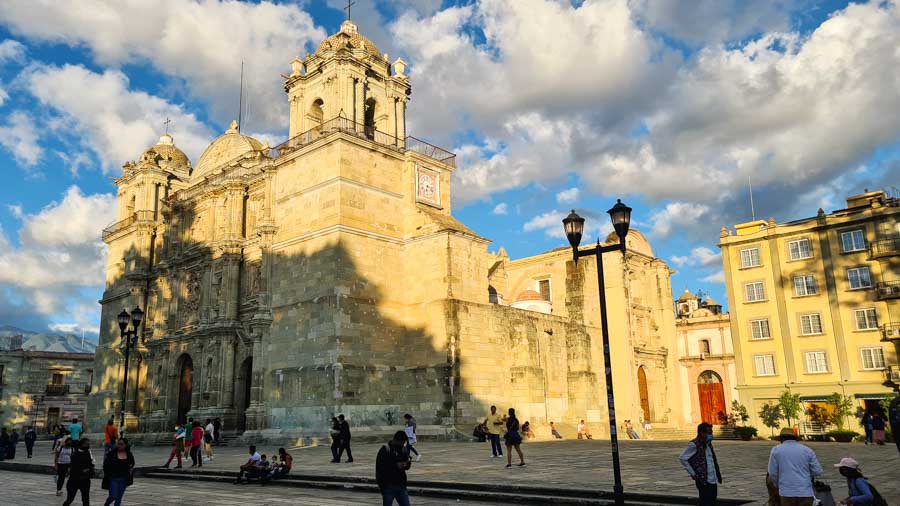 3. Visit to the historic Templo de Santo Domingo de Guzman
Located on the north side of the city, the El Templo de Santo Domingo sits proud and majestic. Set in a small square with a large botanical garden in the back of the cathedral, the vibe and feel around the square is more low key than the more touristy Zocalo and is a quieter spot to contemplate this historical architecture of this colonial inspired building. Done in a fabulous Baroque style, the interiors are lavish and designed with gold leaf, carvings and other elaborate details to check out the main altar and chapels in the church.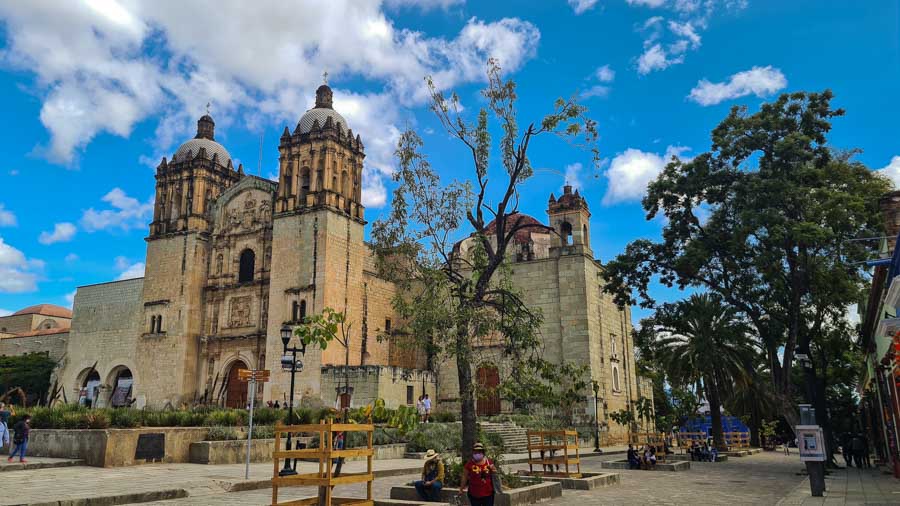 Front gardens and view Templo Santo Domingo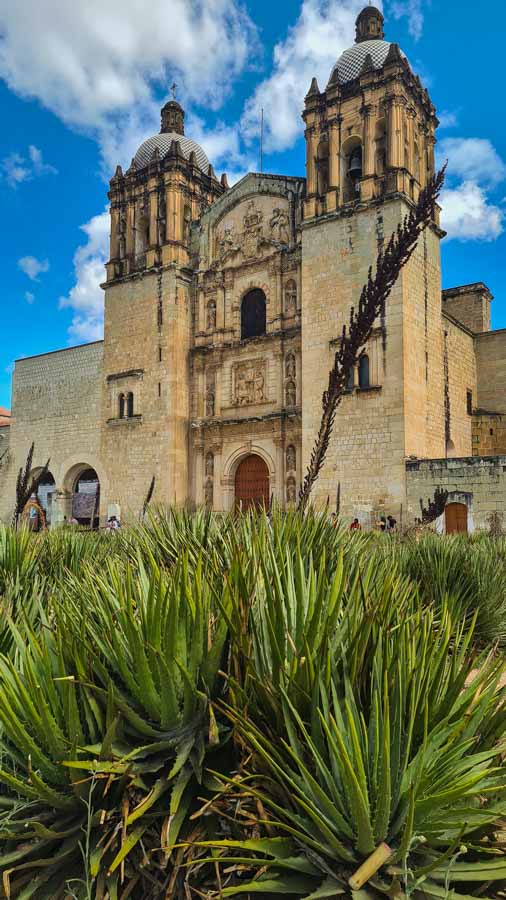 Here's a visit around the Santo Domingo temple grounds
4. Visit the Ethnobotanic Garden
Located behind the Templo Santo Domingo, a visit to this garden is easy and showcases the typical plants and flora of the Oaxaca region. You'll find a variety of cactus, arid landscaping and some colorful plants that thrive and flower in this hot environment. Definitely worth a visit after you check out the cathedral and interiors.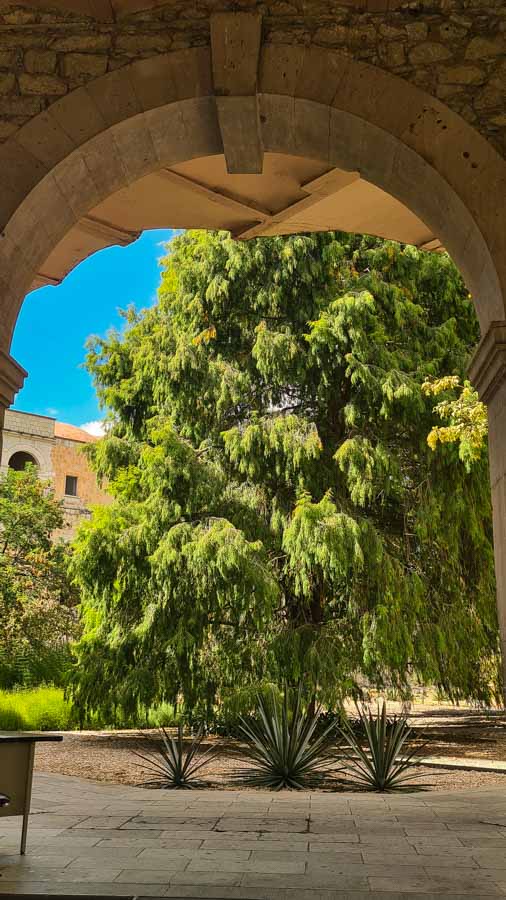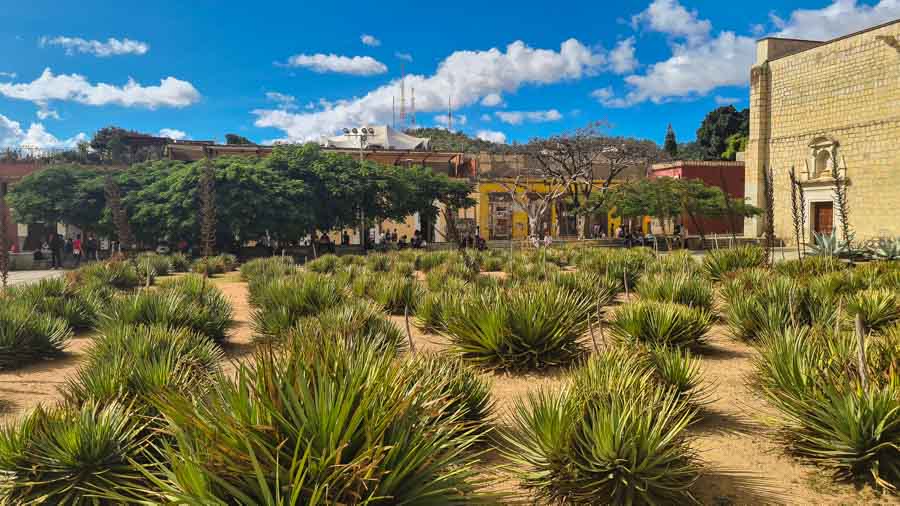 5. Oaxaca Cultural Museum
Also located in the same vicinity of the cathedral (actually attached to the cathedral) the Oaxaca Cultural Museum is housed in an old and beautiful monastery. The collections are broad with Spanish colonial artifacts, artwork and impressive pieces to check out the many displays that span themes like Oaxacan language, music, medicine, pottery and cultural treasures of the area. The central courtyard with fountain is really striking and there are many fantastic photo spots to capture if you're into doing Instagram or any type of live social media video captures in a beautiful space.
(The cultural museum is undergoing some major renovations and is closed at this writing)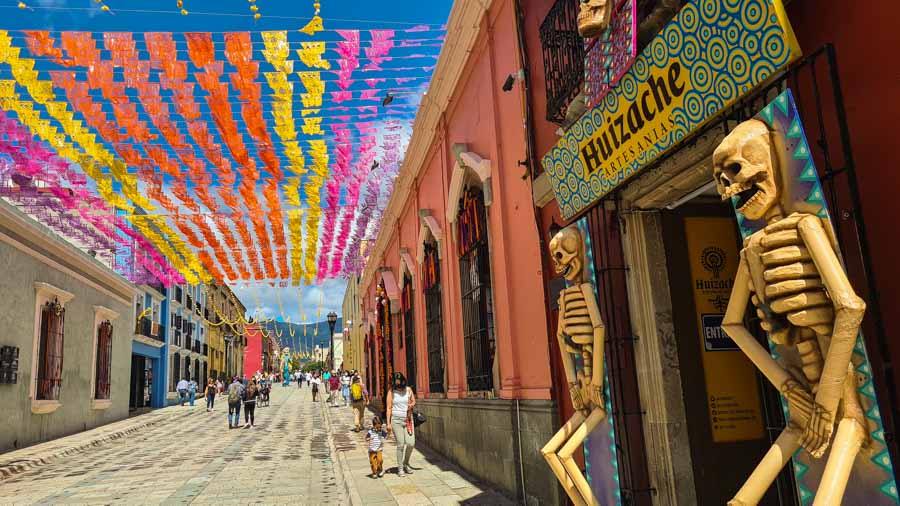 6. The Andador de Macedonia Alcala
This walking promenade connects the Cathedral of Santo Domingo and the Zocalo or centro of Oaxaca. The north to south route is a major axis of the city with many of the historic buildings and attractions located on this walking promenade or close by. Filled with beautiful colonial architecture, the street is full of fantastic restaurants, shops and galleries and well lit and lively at night for visitors that stroll from one end to the other. You'll enjoy walking through this promenade and admiring the beautiful architecture while checking out the fun shops and eateries along the way.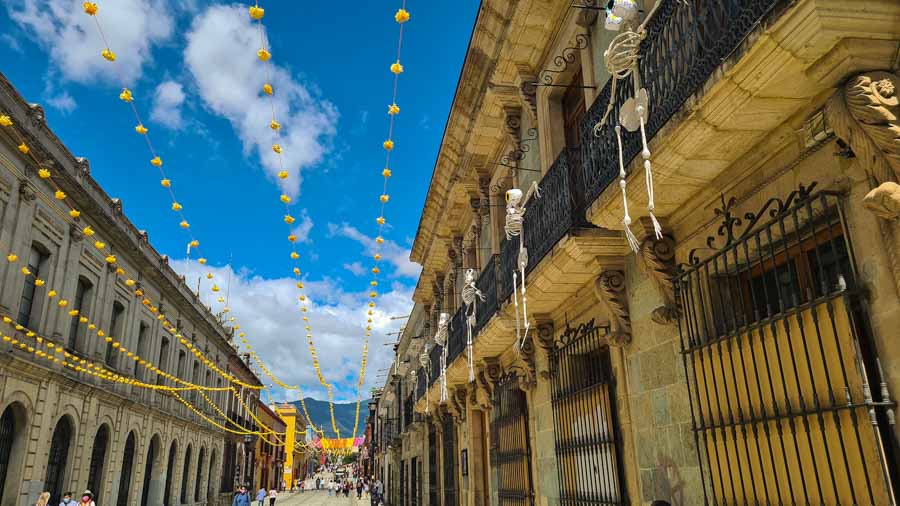 Walking the gorgeous walking promenades of Oaxaca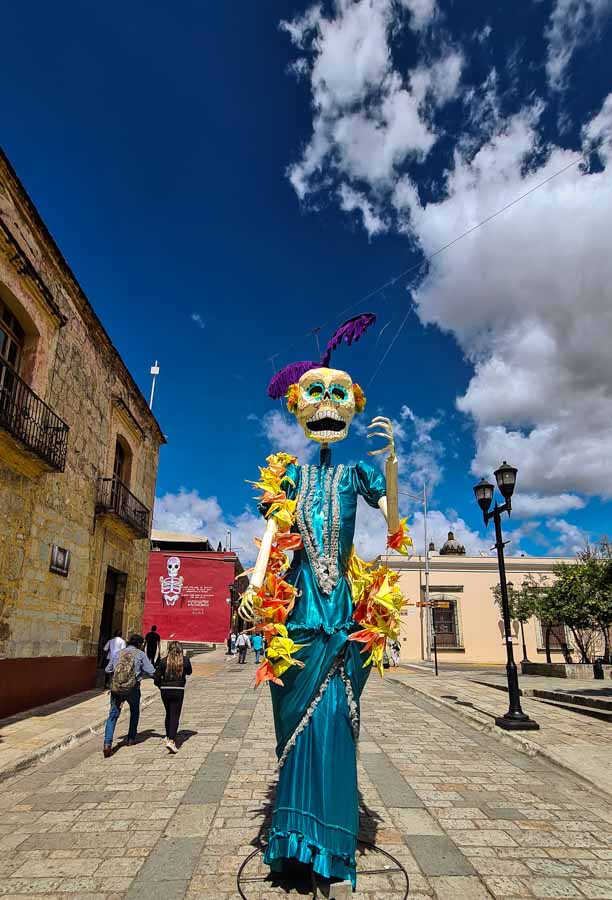 7. Visit to Monte Alban
Just a short drive from the central district or Centro Monte Alban is a stunning ancient Zapotec site with one of the earliest cities developed in Mesoamerica. The cultural hub of the ancient Zapotecs or indigenous people from the area, Monte Alban is impressive and so beautiful to explore even in its ruined state. This historic city is vast with the temple of the sun and temple of the moon as the main temples that dominate the skyline throughout the entire area.
You can easily arrange for a taxi or Uber here, take some of the local buses that go to the site or if you want to have a guided tour with a driver check out this outfitter tour here with pick up and drop off directly from your hotel. They also visit some fantastic arts and crafts villages to get a look at these wonderful villages and towns along the way.
Check out our post to visiting Monte Alban here with fantastic details and history to understand about this significant historical site before you visit.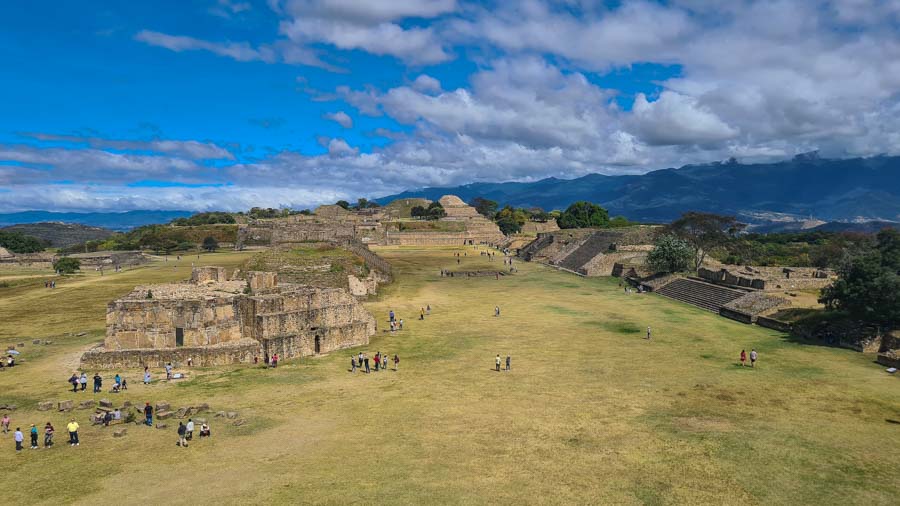 Check out this post on visiting Monte Alban here for an in depth visit to they pyramids and ruins here.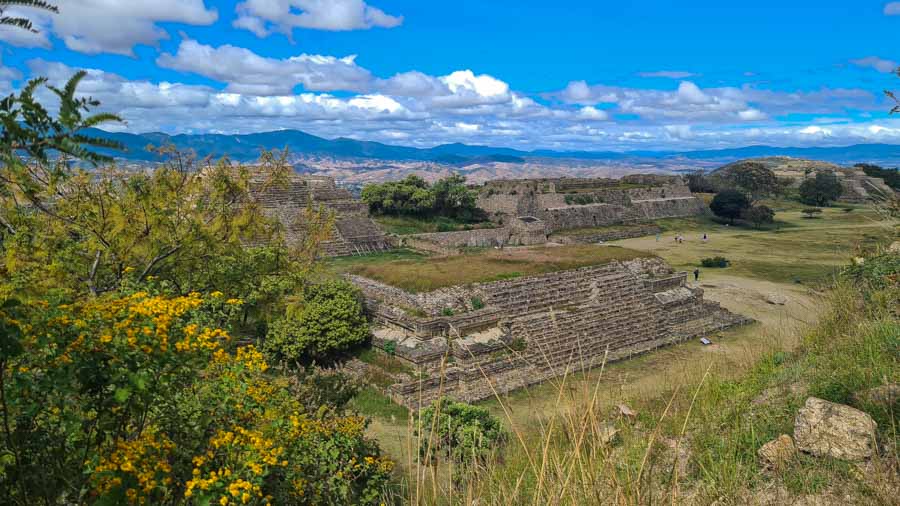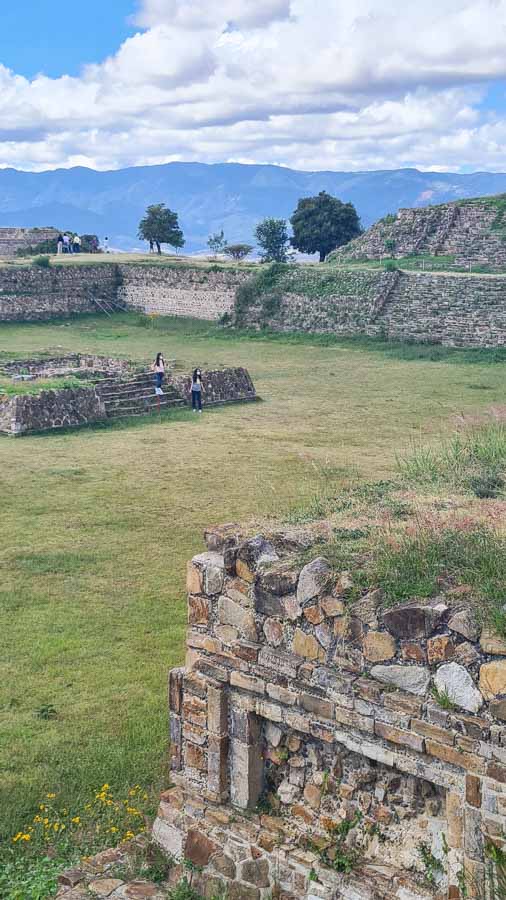 Here's a visit to Monte Alban highlights below
8. Visit the markets of Oaxaca
Being a foodie capital city in Mexico, Oaxaca has so many different markets that appeal to visitors that want to see these lively markets and try some of the real local style food and stalls that sells inexpensive local Oaxacan food specialties from the region. You'll also find a variety of craft and souvenir stalls to check out along with the typical staples of any type of Mexican market you visit in the region. Each of the market is enclosed with different areas catering to produce, raw foods, specialty and cooked foods to various sundry and souvenir and cheap local goods for sale. Surrounding the markets are a variety of food stalls with vendors that make a variety of local specialties that are worth trying if you're bold enough to indulge in the delicious street food.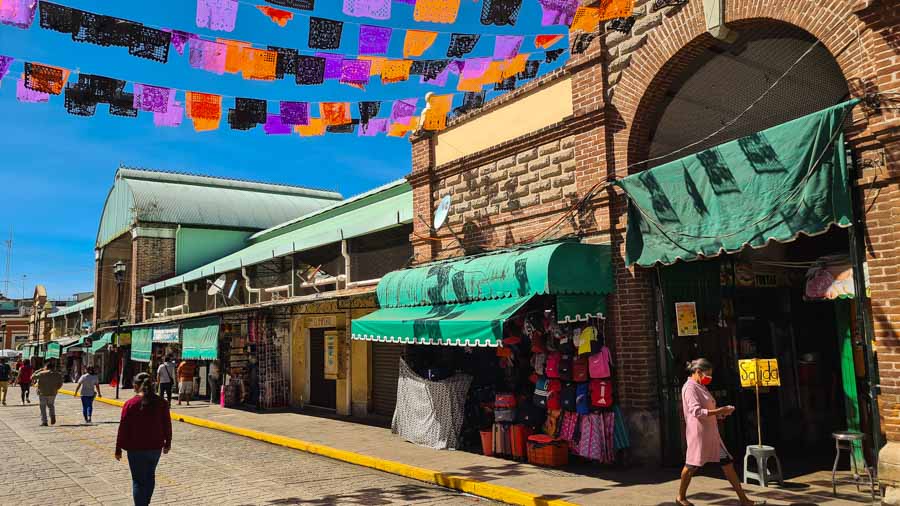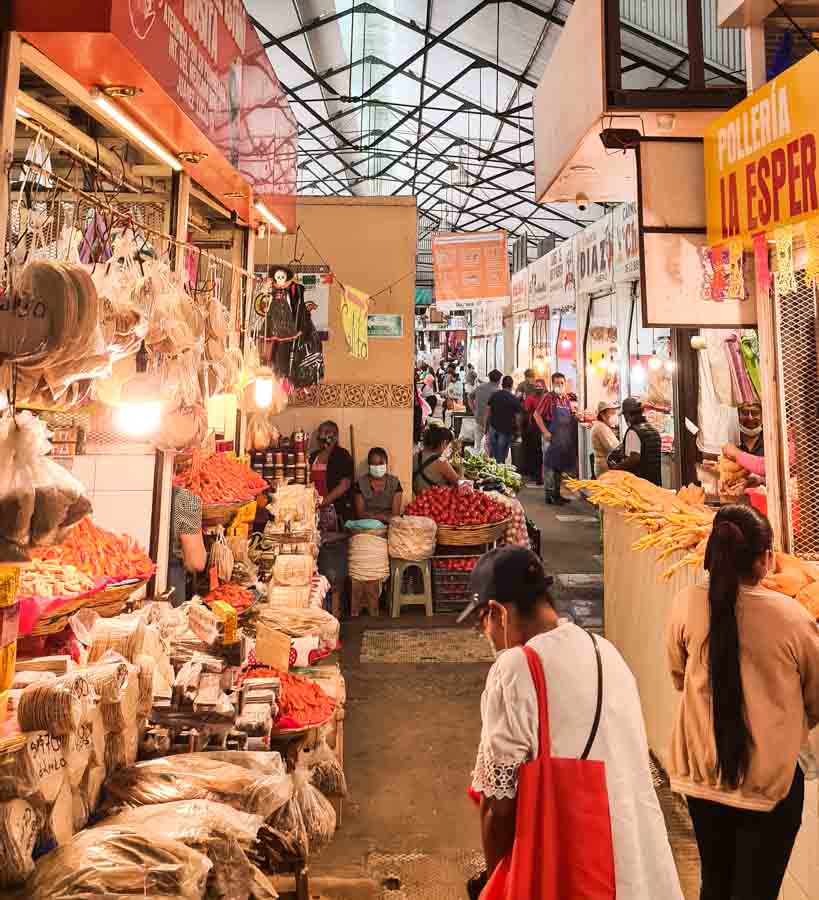 There are many food markets in Oaxaca to explore and easy to get to in the city. Some of the popular local markets to explore in Oaxaca includes:
Mercado 20 de Noviembre
Mercado de Abastos
Mercado Benito Juarez
Mercado de la Merced
Mercado de Artesanias
9. Mercado de Artesianas
Close to these markets is the Mercado de Artesianas in a stand alone building and filled with specialty shops selling a variety of textile fabrics, ceramics and various arts and crafts souvenirs. You'll fabulous finds are very affordable rates and if you're bold even bargain especially if you are buying a lot of presents from the same vendor.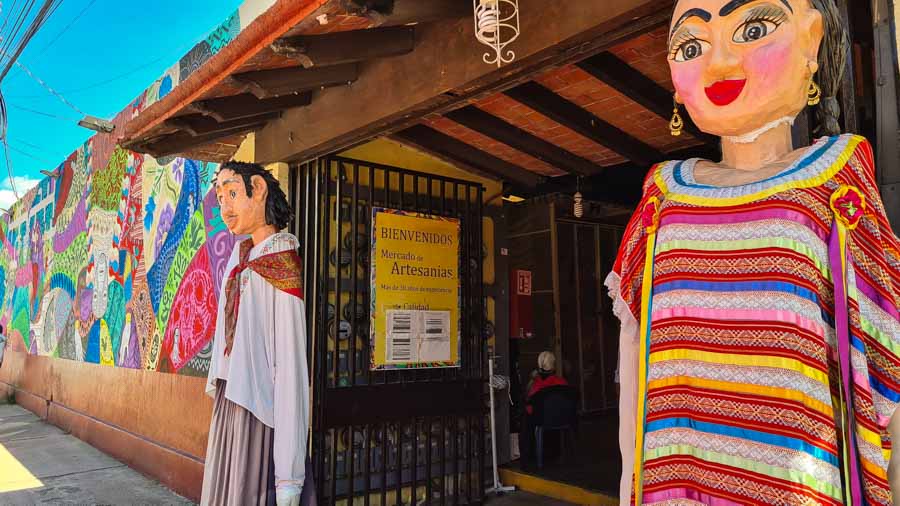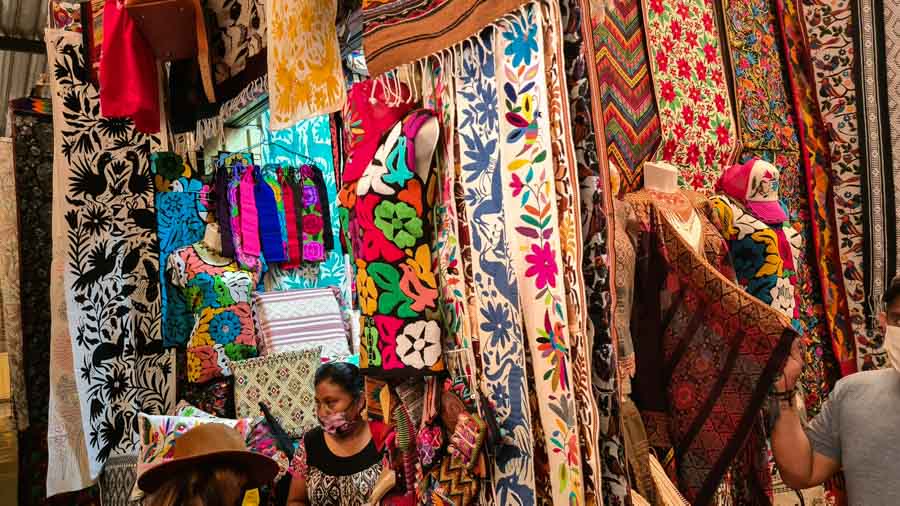 Walking around the stalls of Mercado Artesianas
10. Instituto Oaxaqueño de las Artesanías (also known as Aripo)
If you are into fine arts and crafts, the Aripo is where you should head out to discover the rich craft heritage of Oaxaca. Part cultural center and part arts and crafts stores, you can check out and browse the myriad of design and crafts made from around the Oaxacan state covering ceramics, fabrics and textiles, woodwork and everything in between lovingly made by the artists communities in the region. Check out their main website here for more details to visiting the Aripo.
Or check out this fun arts and crafts tour here to show you the unique and beautiful handicrafts and arts scene in Oaxaca on this fantastic and guided tour.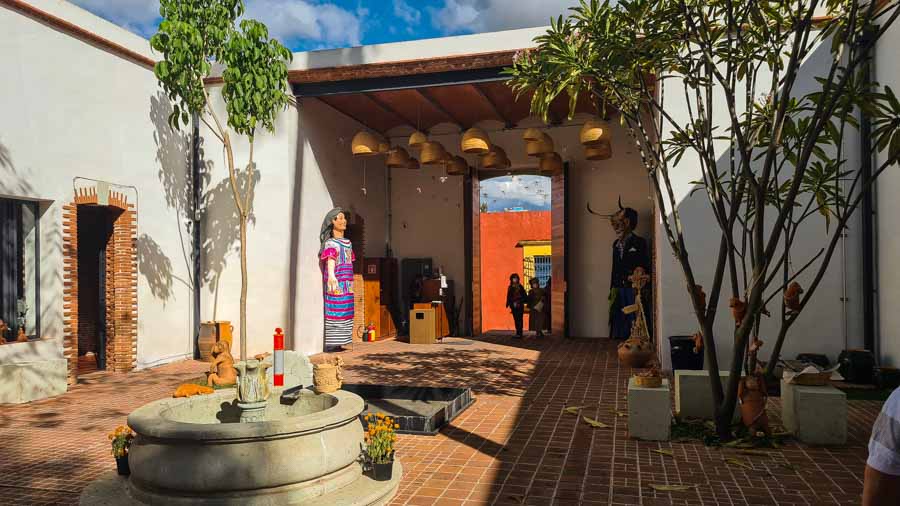 Exploring the outdoor areas and shops at Instituto Oaxaqueño de las Artesanías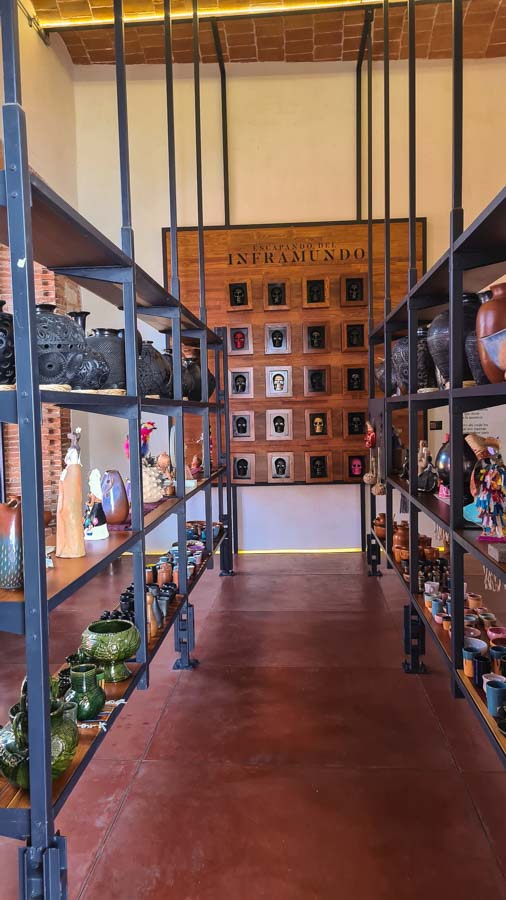 11. Enjoy some helado nieve while exploring some beautiful churches at the Plaza de la Danza
If you are looking for something very local and fun, check out the Plaza de la Danza and the helado stands. A fantastic time to visit the churches and enjoy the popular helado stands or nieve or snow ice eateries is at night time when everything around the Plaza de la Danza is lively and all lit up. You can also explore the beautiful interiors of the Basilica de Nuestra Senora de la Soledad . Come hungry and you get to sample some of the delicious and unusual flavors at these helado stands while visiting these beautiful churches in the area and hang out in the beautiful square filled with some colorful sculpture to enjoy and people watch.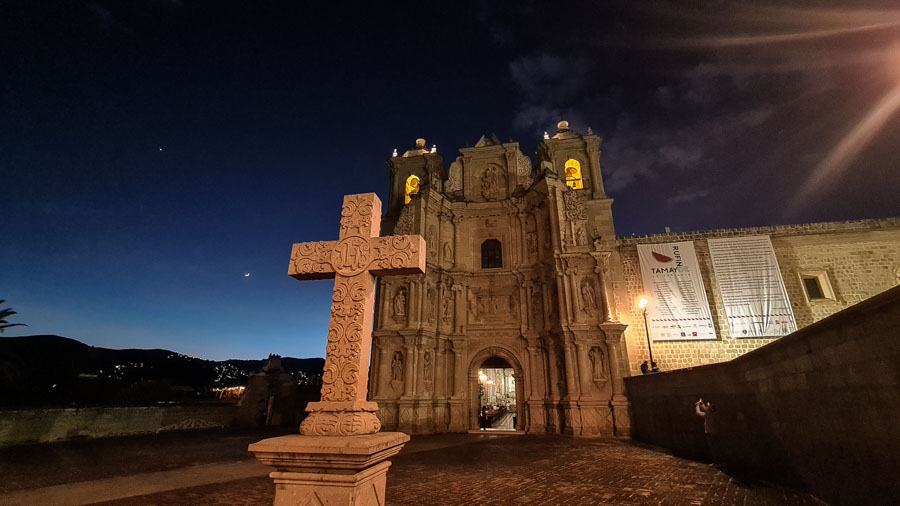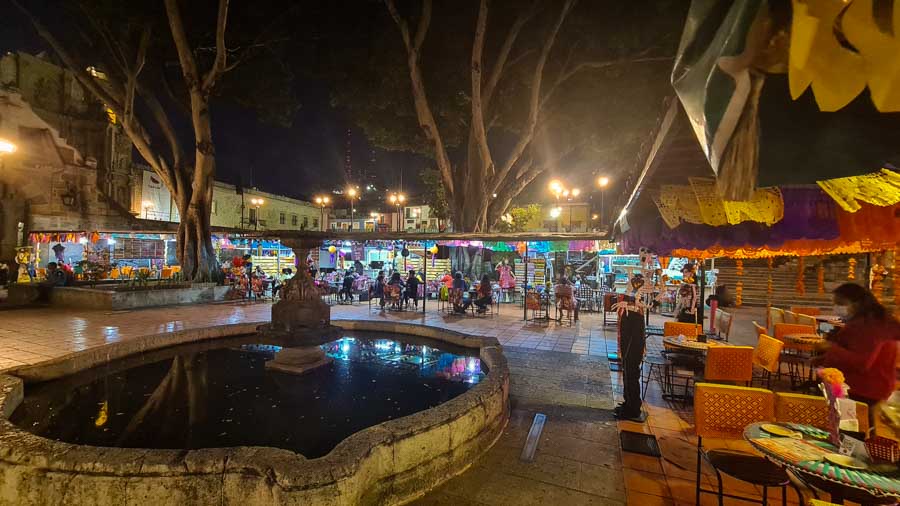 12. Try Oaxaca's famous drink
Oaxaca is the capital of the famous Mezcal grown and produced in the area. The city is filled with mezcalerías (bars specializing in mezcal) where you can drop in for just a casual drink or opt a complete tasting session. Just outside of the city limits are numerous growers and distilleries that you can visit and tour these facilities.
Check out this tour outfitter here for more details to doing a fun Mexology experience for inspiration and maybe planning a visit and mezcal tasting experience.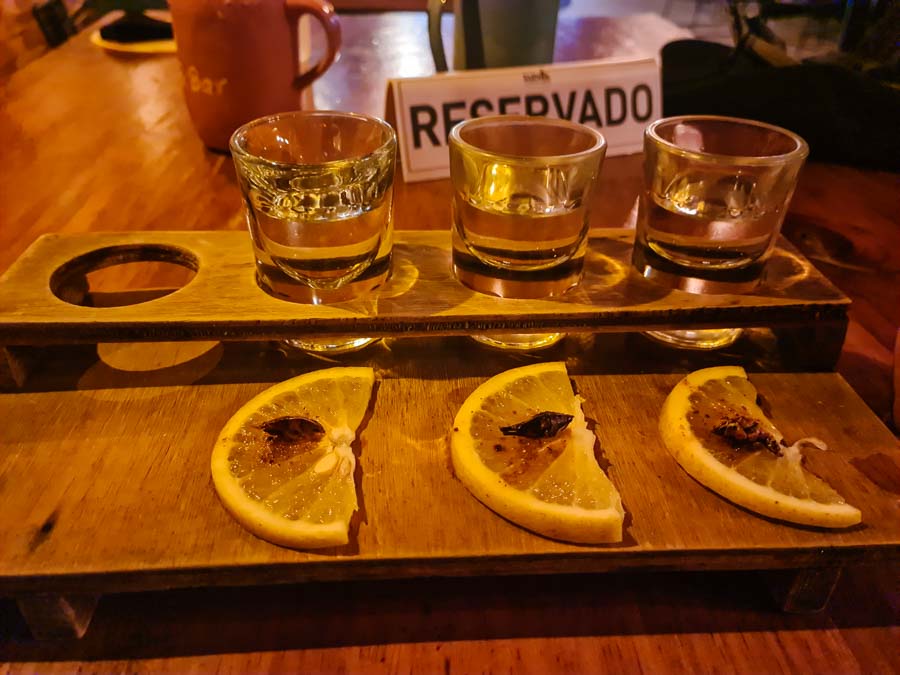 13. Eat Local Oaxacan street food and other specialty food venues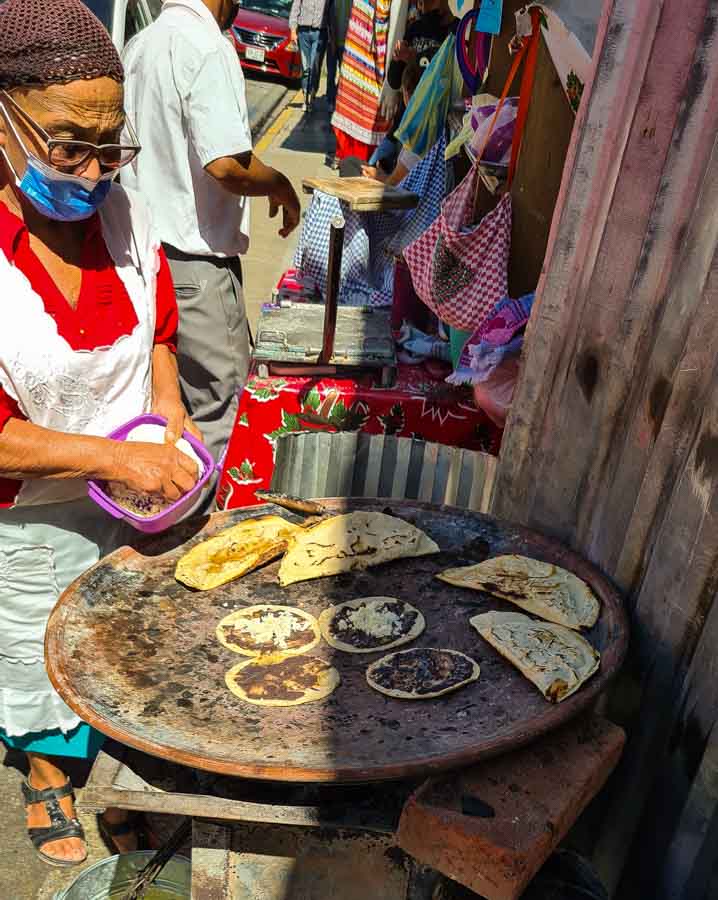 Oaxaca is known for its rich food culture and are proud of it from the local street food stands, rooftop cafes to fine dining establishments that you'll find around the city. You'll find local street food here that is elevated and passed down from family generations and selling in their same spots for decades. Try to look out for the local foods that are Oaxacan specialties from the region to include these popular favorites:
Empanadas – a savory snack, empanadas here are different then typical Latin American empanadas in that these are basically torillas that are filled with different toppings and folded in half and then grilled.
Memelas – this snack food is very similar to a tostada and is made with a corn base tortilla that is typically topped with a meat lard, bean paste, local cheese, salsas and also thin sliced meats and can be eaten all day long.
Quesillo – the iconic Oaxacan cheese is broken up into white chees strands or cut up and is used in every Oaxacan dish you can imagine.
Chapulines – these are a regional favorite fried grasshopper that is typically used as a topping for many savory dishes or just eaten as a snack
Tejate – a local favorite drink that is made with ground corn, cacao and cacao flour into a paste with liquid added and creating a foamy top that really is a very acquire taste for visitors to experience.
Mole negro – this popular ingredient used on many entrees is complex and takes a very long time to make fresh and is one of the signature ingredients to look out for when you visit any market, restaurant and even street food vendor in Oaxaca.
Elotes – grilled corn with toppings mayo, cheese, lime, chiles and other spices
Huitlacoche — Basically this is a corn fungus that is served in tacos and have an earthy and mushroom like texture that adds dimension and flavor to most dishes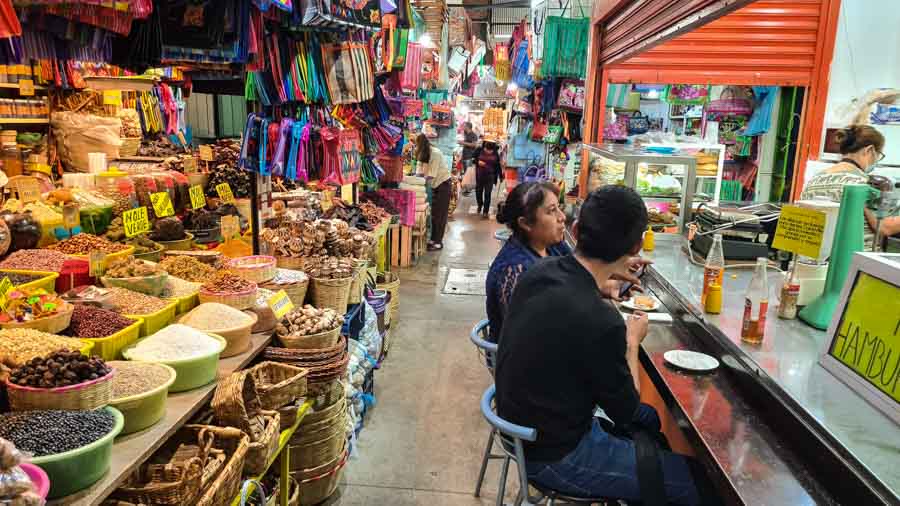 14. Experience a food tour in the area
A fun way to really dive into the food culture with an outfitter that knows the popular places to go to and let's you sample some of the best eats around town. It's good to work with a local outfitter to share the best of Oaxacan street and local foods and know the safe and tasty places and specialty foods to try and experience from this foodie destination. Check out these tour outfitters here to enjoy some really good food and contact them for their current prices and calendar.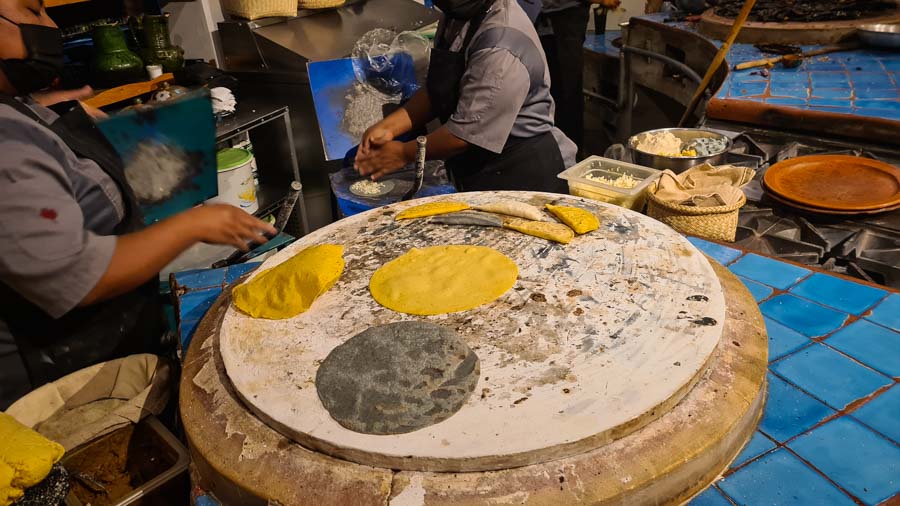 Another fantastic option to experiencing the best of Oaxacan cuisine is to take a cooking class with a local market tour and lesson. These communal inspired sessions are fun and you get to take home some fantastic cooking experiences to try when you get home and impress your friends. Check out this cooking class here for their calendar and current prices and experience making your own Oaxacan dishes to try at home soon.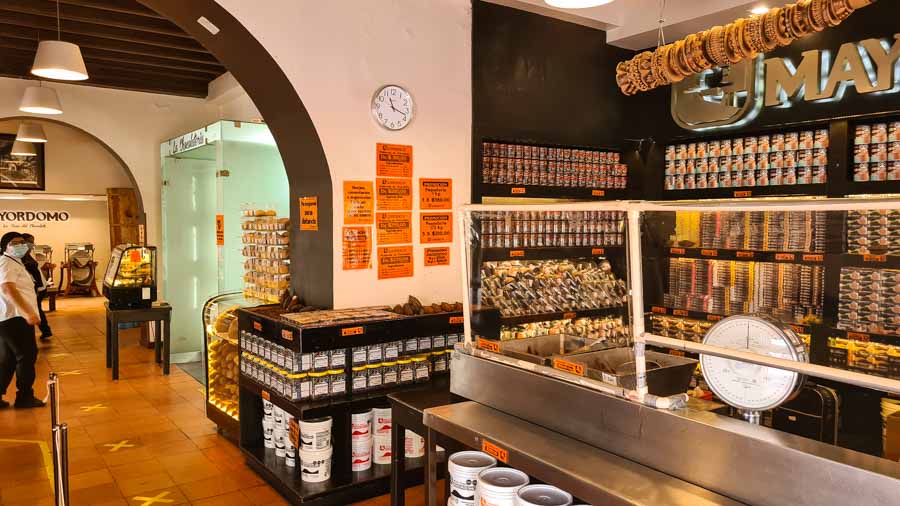 15. Check out a coffee or chocolate shop
Specialty coffees, delicious chocolates and chocolate goodies are sprinkled all around the city and worth a stop to indulge in some wonderful drinks or chocolate goodness. The major specialty coffee houses are oh so worth going to and here are some of the best:
Cafebre
Boulenc
Cafe Brujala
Muss Cafe
Siempre Cafe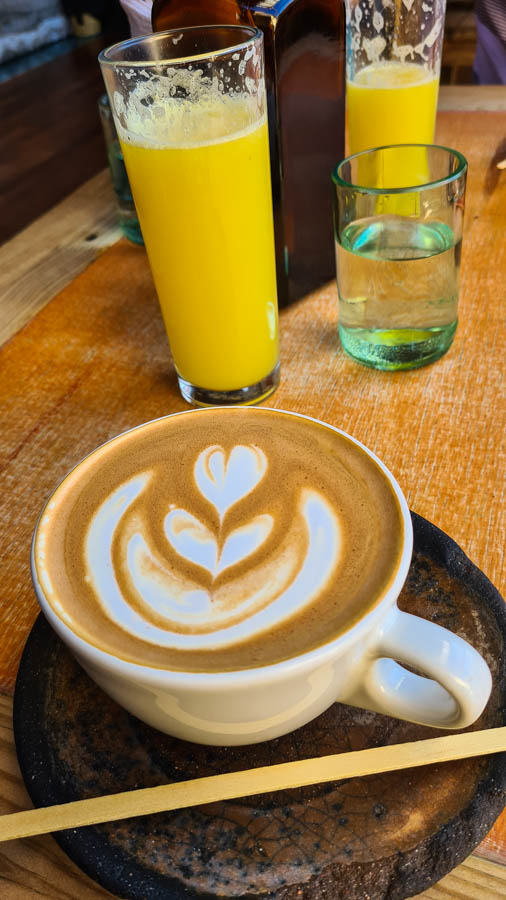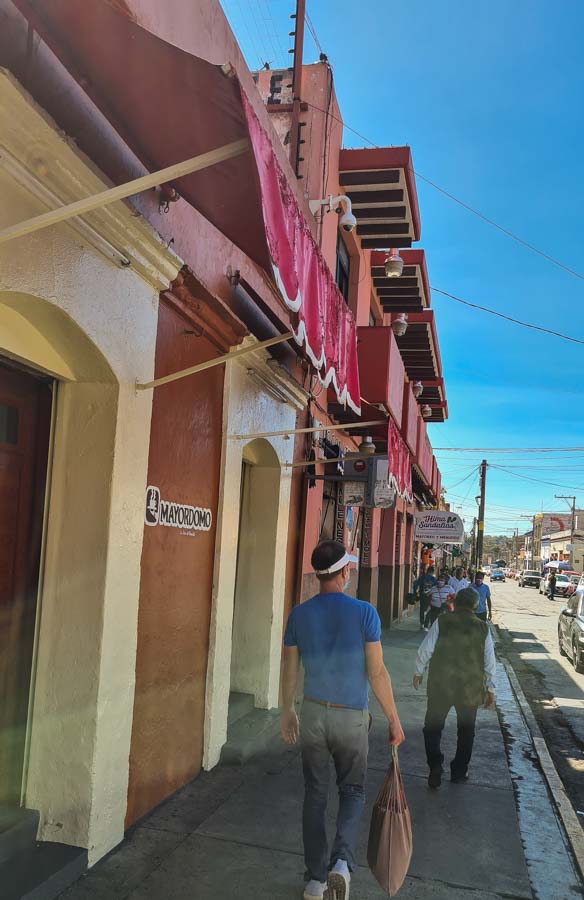 If you're into chocolate drinks and goodies then check out these favorite local spots in Oaxaca for a yummy chocolate fix
Mama Pacha Chocolate
Chocolate Mayordomo
Chocolates Conchita
Chocolates La Soledad
Rito Chocolateria & Tienda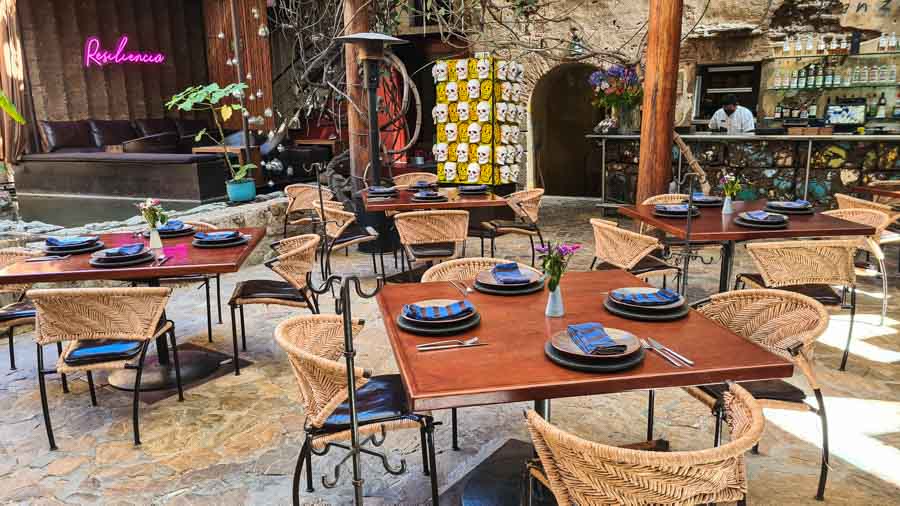 16. Have a fine dining experience in Oaxaca
The food scene in Oaxaca is spectacular with so many amazing artisanal and fine dining restaurants that offer their contemporary take on local ingredients and food and also creating a fusion of flavors and tastes. Definitely worth a splurge to try any of the elevated dining venues and many with roof top dining and views. Consider these restaurants for a dining experience you'll remember from your travels to Oaxaca.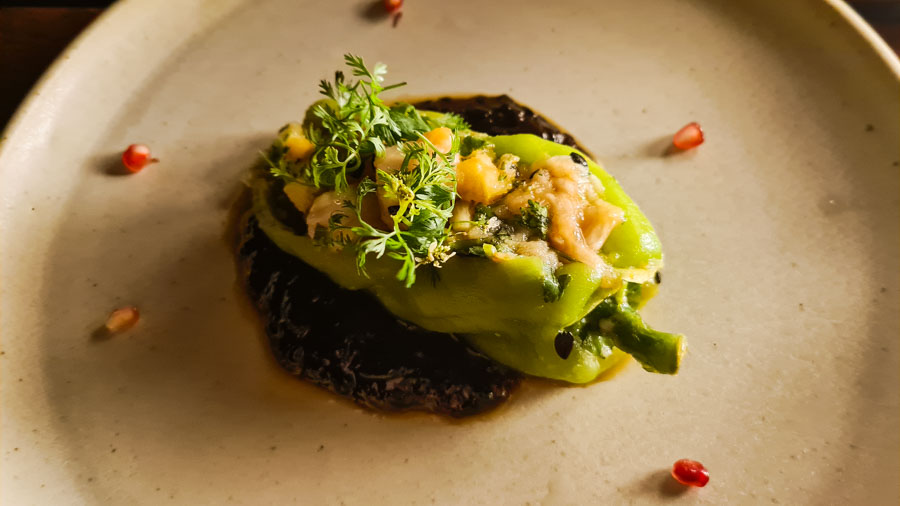 17. Experience the different types of mole specialties made in the area
One of the most renowned culinary delights from Oaxaca is its specialty mole, a rich and complex sauce that exemplifies the region's culinary prowess. Mole, pronounced "moh-lay," is a versatile sauce that comes in various forms, but Oaxaca is particularly famous for its seven traditional moles.
The Oaxacan mole is characterized by its intricate combination of ingredients, including a wide array of chili peppers, aromatic herbs, spices, nuts, seeds, and sometimes chocolate. The result is a sauce that is velvety, thick, and bursting with flavors that range from smoky and spicy to slightly sweet and nutty.
Each type of mole has its distinct characteristics. The most well-known variety is Mole Negro, a dark, thick sauce made with a blend of chili peppers, chocolate, almonds, sesame seeds, and a host of other ingredients. It offers a harmonious balance of flavors, with hints of bitterness, sweetness, and a deep, earthy undertone.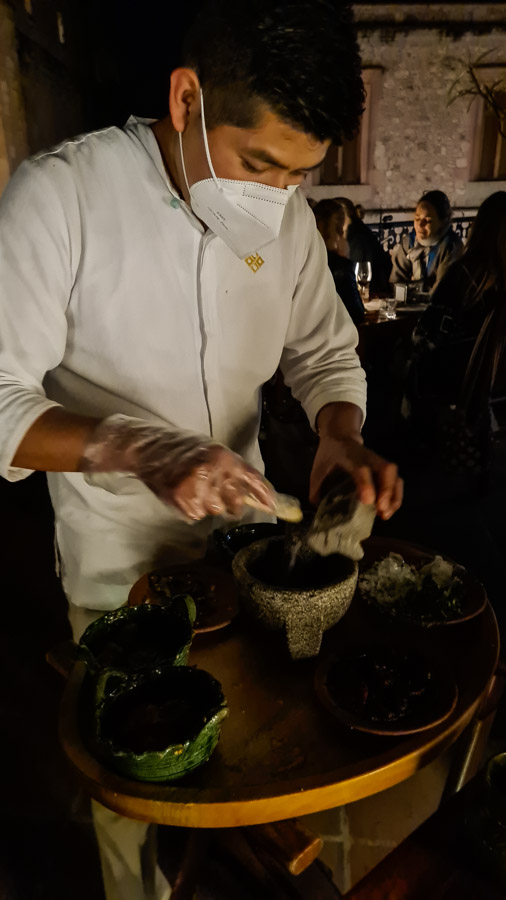 18. Try a Temezcal or Sweat lodge experience to get rid of toxins in your system and purify your body
A Temezcal, also known as a Sweat Lodge, is a traditional and sacred ceremony practiced by various indigenous cultures, particularly in the Americas. It involves entering a small, dome-shaped structure made of natural materials such as wood, stone, or adobe, which represents the womb of Mother Earth.
The Temezcal experience is both physical and spiritual, offering participants a unique opportunity for purification, healing, and connection with nature and the divine. The ceremony is typically led by a trained guide or shaman who oversees the process.
Once inside the Temezcal, heated volcanic rocks, known as "grandfathers" or "abuelitas," are placed in the center. Water infused with medicinal herbs, such as sage or cedar, is poured onto the rocks, releasing steam and creating intense heat. The participants sit or lie on the ground, forming a circle, and the door to the Temezcal is closed to create an enclosed, dark, and womb-like environment.
Throughout the ceremony, the participants are led through a series of prayers, chants, songs, and moments of silence. The heat and steam induce sweating, which is believed to cleanse the body of toxins and impurities, both physically and spiritually. It is seen as a symbolic rebirth and a way to release negative energies, emotions, and blockages.
How to get to Oaxaca, Mexico
Visiting Oaxaca, Mexico, is an exciting adventure filled with rich culture, delicious cuisine, and stunning landscapes. Here's a guide on how to get there:
By Air: The easiest way to reach Oaxaca is by flying into Oaxaca International Airport (IATA: OAX). It has regular domestic and limited international flights. Several major airlines offer direct flights from cities such as Mexico City, Cancun, Houston, and Los Angeles. Check for flight options and book your tickets in advance for the best deals.
By Bus: Oaxaca is well-connected to various cities in Mexico through an extensive bus network. You can take a bus from major cities like Mexico City, Puebla, Veracruz, or Oaxaca's neighboring states. ADO, OCC, and Estrella Roja are reputable bus companies that offer comfortable and reliable services. The journey times may vary depending on your departure point, so check the schedules and plan accordingly.
By Car: If you prefer a road trip or have the flexibility to explore at your own pace, driving to Oaxaca is an option. Mexico has a well-maintained highway system, and Oaxaca is easily accessible from major cities. From Mexico City, take Highway 135D and then switch to Highway 175 to reach Oaxaca. It's advisable to familiarize yourself with the local driving laws, have a valid driver's license, and consider car rental options.
Once you arrive in Oaxaca:
Transportation: The city of Oaxaca is relatively compact and can be explored on foot. Taxis, both private and shared, are widely available for shorter distances. Additionally, there are local buses and colectivos (shared vans) that connect different neighborhoods and nearby attractions.
Local Transportation: If you plan to explore the surrounding areas and attractions outside the city, consider hiring a local tour guide or renting a car for added convenience.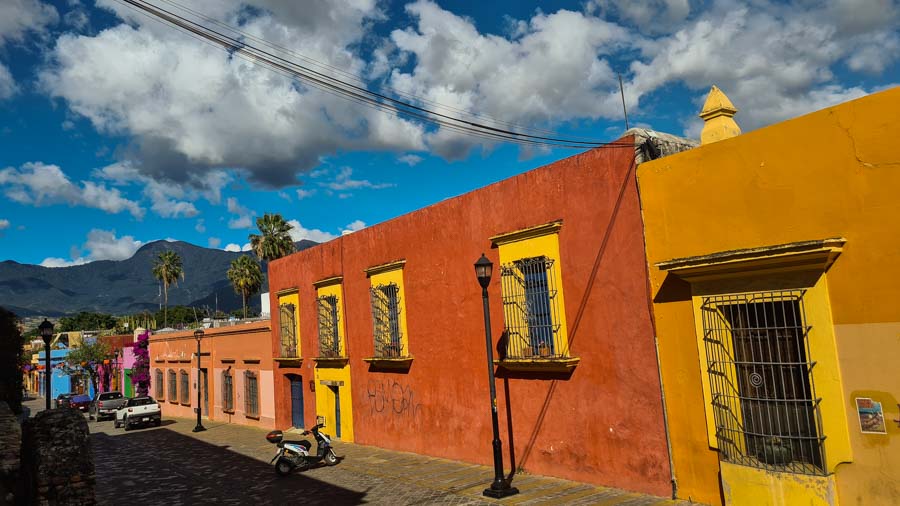 More inside tips and ideas for visiting Oaxaca city
Here are some inside tips for exploring Oaxaca City beyond the typical tourist attractions:
Barter at the Artisan Markets: Venture beyond the popular markets like Mercado Benito Juárez and explore local artisan markets such as Mercado de Artesanías de La Soledad or Mercado de Artesanías El Pochote. These markets offer a more authentic experience where you can find unique handmade crafts and artwork. Engage in friendly bargaining with the artisans for a chance to score some great deals.
Visit Neighborhood Mercados: Explore the neighborhood mercados, such as Mercado de la Merced or Mercado de la Noria. These local markets are less touristy and provide an opportunity to mingle with locals and experience their daily lives. Browse through stalls selling fresh produce, local snacks, and everyday goods. It's a great way to immerse yourself in the local culture.
Attend a Local Workshop or Class: Oaxaca City is known for its rich artistic and cultural heritage. Look for workshops or classes where you can learn traditional crafts like weaving, pottery, or painting. Many local artisans and organizations offer short-term classes or workshops for visitors interested in learning these traditional skills firsthand.
Explore Street Art: Oaxaca City boasts a vibrant street art scene. Take a stroll through neighborhoods like Jalatlaco, Xochimilco, and Reforma to discover colorful murals, graffiti, and artistic expressions on building walls. It's a unique way to experience the city's contemporary art and urban culture.
Visit Local Cafés and Restaurants: Step away from the touristy dining spots and seek out local cafés and restaurants frequented by locals. These hidden gems offer a more authentic taste of Oaxacan cuisine and a chance to mingle with locals. Ask for recommendations from locals or explore lesser-known streets to find these culinary delights.
Attend Local Music Performances: Oaxaca has a vibrant music scene, and you can find live performances of traditional music genres such as marimba, banda, and regional folk music. Keep an eye out for local events, festivals, or small venues that host live music performances. It's an excellent opportunity to enjoy the rhythms and melodies of Oaxacan music.
Take a Walk in El Llano Park: El Llano Park is a beautiful green space located in the heart of the city. It's a popular spot for locals to relax, exercise, or have a picnic. Take a leisurely walk, enjoy the lush surroundings, and observe the daily life of Oaxaca's residents. You might even catch a cultural event or local gathering taking place in the park.
By exploring these off-the-beaten-path experiences, you'll gain a deeper understanding of Oaxaca City's local culture, traditions, and daily life. Embrace the spirit of adventure, connect with the local community, and create lasting memories of your visit to this vibrant city.
Where to stay in Oaxaca
Where to stay in Oaxaca – there are so many fantastic accommodations around the city that really shows how impressive local inns and stays can be here without any of the large international brands that dot every busy metropolitan area. Check out these well rated hotels in Oaxaca here for the best rated hotels to stay in the area.
Hotel Parador San Miguel Oaxaca – A very well rated boutique hotel in Oaxaca within the zocalo area and friendly staff, great rooms, fantastic dining and a really comfortable stay in the city
Marialicia Suites Oaxaca – a nice modern boutique hotel with just 10 suites and kitchenettes, comfortable with friendly staff and nice amenities.
Parador de Alcala – Located in the central historic district, this renovated mansion is stately and very comfortable with nice furnishings and amenities. Large spacious bedrooms and bathrooms with modern and comfortable design.
For the best rated hotels to stay in Oaxaca now, check out these well rated hotels in Oaxaca here for the best rated hotels to stay in the area.
Further reading on Oaxaca and region
Mysteries of visiting the Monte Alban pyramids and ruins
Types of foods to eat in Mexico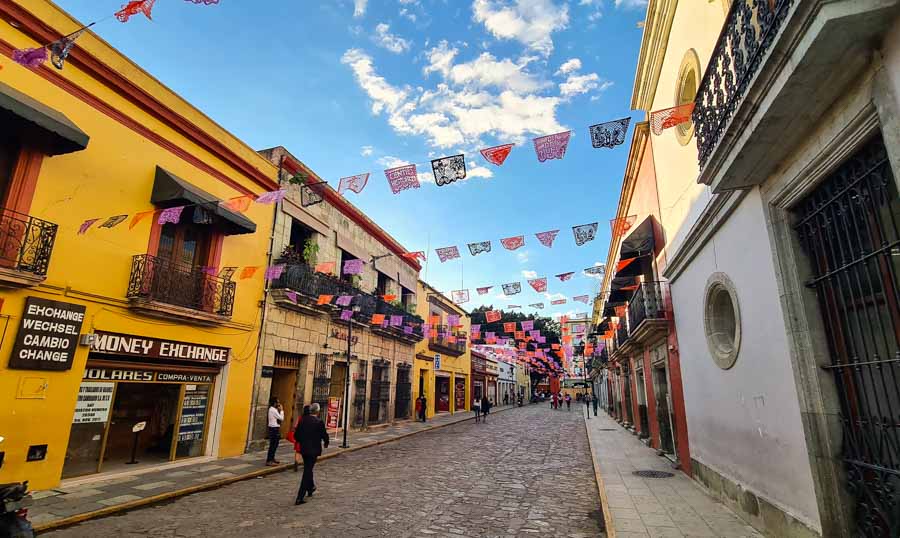 Have you visited Oaxaca?
Please share your thoughts and other recommendations in the comments below with your tips and suggestions for additional hikes to try around the country that we missed above.
Conclusion to the top 18 things to do in Oaxaca, Mexico
Exploring Oaxaca offers a myriad of unforgettable experiences that will leave you captivated by its rich culture and natural wonders. From immersing yourself in the vibrant markets and indulging in the exquisite cuisine to discovering ancient archaeological sites and witnessing traditional celebrations, Oaxaca truly has something for everyone. Whether you're an art enthusiast, a history buff, a food lover, or an adventure seeker, this enchanting Mexican destination will leave you with lasting memories and a deep appreciation for its unique heritage. So pack your bags, embark on a journey to Oaxaca, and prepare to be amazed by its top-notch attractions and warm hospitality.
Thanks for visiting today and checking out this post on Things to do in Oaxaca. I hope you are inspired to plan a visit and enjoy these wonderful attractions and activities. If you enjoyed the images and post, could you please share it with any of the social media buttons located around the post.
Disclosure – some of the links above are to affiliate sites that are either reviews or recommendations if you book helps to keep our site running. We appreciate your supporting our website meanwhile