Discover the Best Places to Visit in London: A City Steeped in History and Culture
Visiting London in my experience is exciting and always changing with new venues and places to visit all the time and amazing food that will make your visit even more special. I've put together some of my favorite old haunts, historic and cultural sites, art venues and museums, spectacular views and other cool spots to explore in this short guide below.
London is an exciting year round destination filled with amazing landmarks, historic architecture and attractions, there are so many exciting places to visit in London. You can always find new and fun attractions and activities to explore all around this vibrant and constantly changing city. What is so exciting about London is that it is constantly changing and recreating itself with more unique and one of a kind attractions to attract every kind of visitor. It seems like every neighborhood you visit is fun to explore with new things things to attract more tourists and even locals to hang out for a longer time frame and just enjoy the people and energy. Here are some of my favorite places to visit in London along with popular attractions that are always fun to revisit when you go back to London town.
25 fun and cool places to visit in London's exciting 
neighborhoods and fun a
ttractions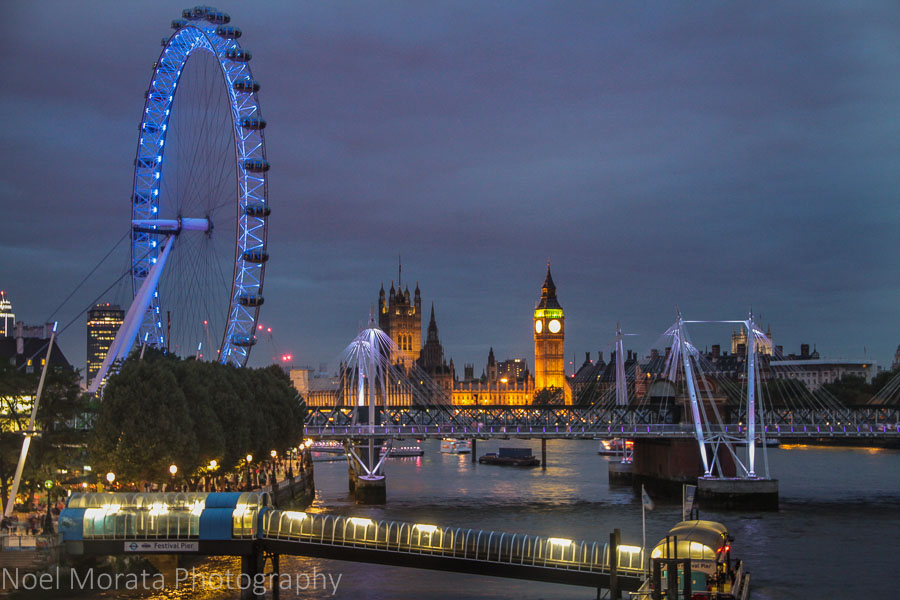 Here's what to do in London
#1 Catch a discount ticket show in the West End
The area around Leicester Square is where you can find a TKTs booth which sells popular shows at half price if there are any available seats for showings going on during the day. London as the most liveliest performance arts venues in all of Europe with fantastic Broadway musicals, dramas, comedy of theater that you can imagine happening anywhere around the world. Check out the TKTs site here fore more information on what's available to see. Watching a performance on the West End is definitely one of the London bucket list experiences that you don't want to miss when you visit the city.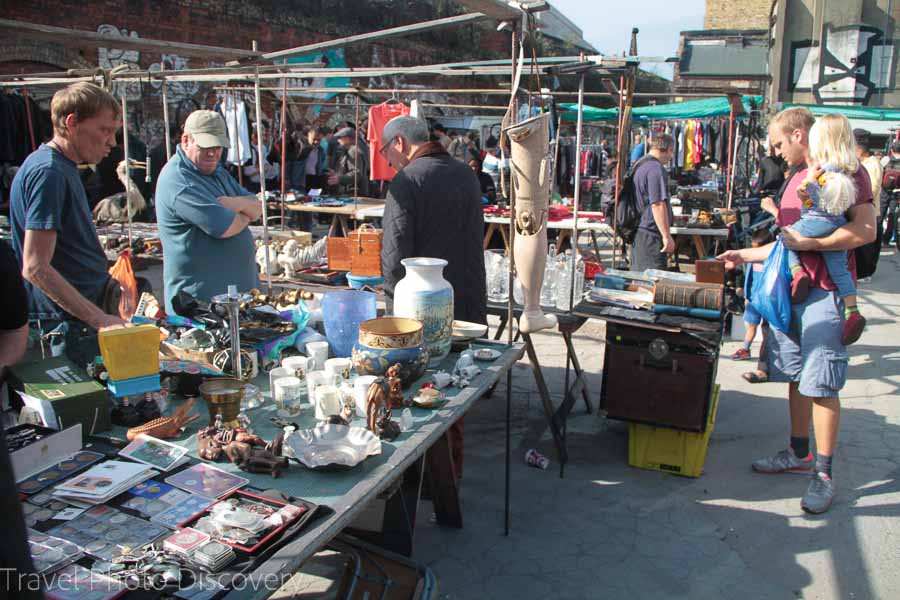 #2

Flea market shopping at Camden Lock and Market
Camden High Street and markets are a cool part of London where bohemian lifestyle rubs elbows with punks and alternative lifestyle. You will find plenty to explore with unique shops, pop-up stores and delicious food courts. The market covers the gamut of flea market shopping for real antiques, collectibles, vintage clothing, children's toys and games, jewelry and a variety of trinkets gadgets and cheap artwork. It's fun to wander around, enjoy the sights and bizarre markets and maybe you can even find some interesting trinket or souvenir to take home or give as a gift.
 
#3 Explore cool Shoreditch and Brick Lane
The East side of London at Shoreditch and Brick Lane are fun places to go for shopping, dining and exploring the hip and cutting edge areas with cool galleries, pop up design studios and other exciting venues that keep this area fresh and always changing. Very similar to Camden market, and it's busy all week. But the main draw is usually on the weekends are when the crowds show up to explore the area and hangout in all the fun bars, cafes and clubs. Check out my recent post here of the Shoreditch and Brick Lane for more images and cool areas to explore in East London.
#4 Check out some of London's bars in Public toilets
Those cheeky Brits always trying to do strange things in the loo and this time it's converting old public toilets into some of the coolest and some bizarre hang out spots in London for those looking for something different to experience in the city. For a peek at some of these strange establishments check out this guide of public toilets now bars here.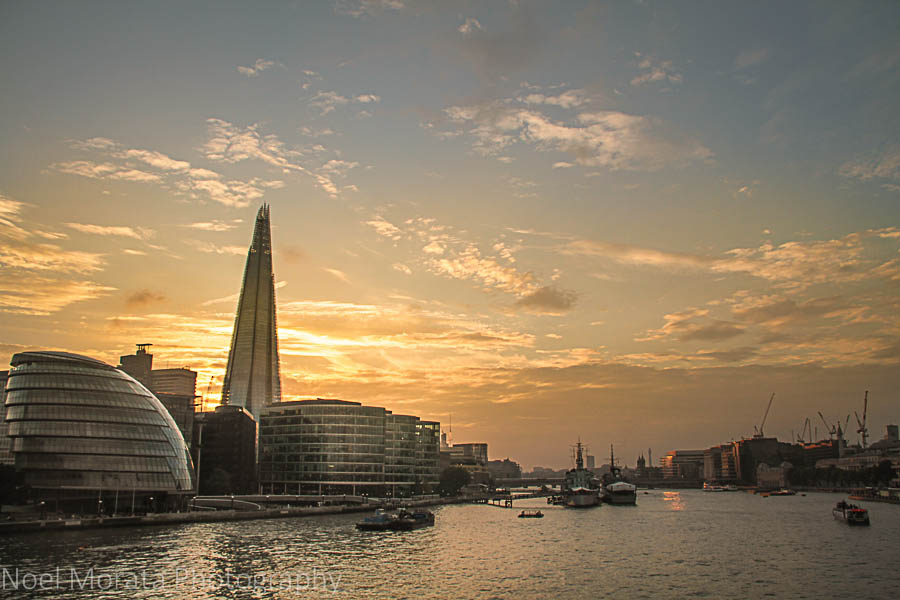 #5 Stroll along London's Southbank
You can walk along both banks of the Thames river, but the Southbank area is really where it's at with new pool museums, restaurants, performance venues and shopping arcades. The views of the main attractions and landmarks across from the Thames makes this a popular area to check out the great views and capture some very nice images of the entire skyline. Try to get to a spot from above from the Shard, the Eye or even the upper deck of the Tate Modern museum where you will get some lovely views of the Thames and the entire city below you. For more images and highlights of this area, check out my post of London's Southbank here.
#6 Enjoy some secret galleries
London has a plethora of art museums that are filled with stunning work from historic collections, international art to celebrated artists. But if you're looking for locally inspired work and what's happening now with today's new artists du jour, you need to check out the gallery scene and some of the underground areas around town to visit. Here's a cool list of galleries and fun art studios to visit in London.
#7 Old Spitafields market
This old railway station in East London has been completely changed into a hip hangout spot with unique galleries, eateries, specialty food vendors and the open court areas are filled with small mom and pop designers and assorted vendors selling locally made products.  The food scene is fun with lots of outdoor style eating open year round and it truly is a see and be scene venue everyday including the busy weekends in the area. I did a fun food tour that explored Spitalfields market along with some other East London institutions, you can check out my post on the East London food tour here.
#8 Take a Narrowboat Voyage from Little Venice to Camden Lock
For a different and quieter look at London, why not take a cruise through a canal that leads from Little Venice all the way to Camden market. This part of London is tranquil from Little Venice on the Regents canal and passes through Regents park, Maida Vale Tunnel  and the London Zoo before heading into Camden Lock. You can take a water bus going in either direction and takes about 50 minutes and if you want to stop along the way at the zoo, you can go out and explore. Once you are at Camden, it is fun to go out and explore all the little stalls at the market there and grab a bite of something delicious that catches your eye.
#9 Free Museums of London
The museums or London are simply magnificent to visit. Most of the major museums are free and open to the public to enjoy to enjoy and cover the gamut from art, ancient treasures, historical objects and collections, royal treasures and too many fascinating choices of museums to discover especially on cold or rainy days in London. Some of my favorite free museums worth visiting include:  The  Victoria and Albert Museum, the British Museum, National History Museum, both Tate Museums and the National Gallery. For a complete list of free museums to visit, check out this museum website here.
 
#10 A walk around Westminster
The inner borough of Westminster has many of the popular attractions in London. This includes Parliament, Big Ben, the changing of the guards at Buckingham Palace and Westminster Abbey, these are the main attractions in visiting Westminster. In addition, there are also five royal parks, a few museums including the London Transport Museum exciting squares to explore like Leicester Square. To check out a few more fun and interesting places to visit in this borough, check the official website of the city of Westminster.

#11 Sunset views on the Thames River
Both walking promenades along the Thames River is where you want to be at sunset to get some magnificent sunset views of the city. Another option would also be along the Thames but looking down into the city from above. Best spots to do that are easily the London Eye and the Shard, so if you do want to go during sunset, make sure you reserve well in advance since that timeframe would be very popular for visitors in the area. If you want to find some cool night spots to hang out in London, check out my London at night post here for more inspiration on what to do.
#12 Shop till you drop
If you are into the latest designer labels or the most popular English design or custom shops, then a visit to the popular department stores and private label galleries on Regent and Oxford Street are not to be missed. Also, close by is Covent Garden, an old converted flower and farmers market that has been turned into a nitch mall with ultra luxury goods and international designer brands from all around the world. You will also find some delicious eating establishments and bars at Covent Garden while checking out some of the fun street performances in the open atrium courtyard.
#13 Hanging out at Leicester Square all day to night-time.
One of the most popular squares in Westminster borough is Leicester Square. The square is packed with fun entertainment venues and it is the spot to hang out during the day time and late into the night. Packed with cinemas, restaurants, a huge casino and music and theater venues including the popular TKTS, London's original half priced theater ticket booth, this is where you go for some action or entertainment.  Night time is very busy and it is fun to enjoy all the neon lights, street performances and other shows happening around the square, or just catch up on the latest film being shown with movies from around the world.
#14 Cool living rooms from different ages at the Geffrye
A really interesting museum that showcases the average middle class living room from the 1600s to present makes this a fascinating tour with wonderful look and feel at the Geffrye Museum. For garden lovers, the museum also has stunning outdoor garden rooms with different periods from the 17th to 20th century. For more details and calendar of events going on now at the Geffrye Museum, check out their website here.
#15 Enjoy an afternoon tea in London
The tea scene is big in London! But it seems like everyone in England loves tea and enjoy have a variety of tea experiences around the city,  and there are plenty of choices to choose from. You might consider a very traditional and formal setting, extremely elegant venues or more relaxed, casual  but still refined tea service. It's all a personal choice, and there are many interesting permutations of this centuries old tradition with even more elaborate food service to up the scene even a few more notches. To help you choose the perfect tea experience, check out London's top choices and best rated tea service here.
#16 A visit to the Greenwich district
The area around Greenwich is filled with historical treasures, stunning architecture and a small town community in busy London. This once thriving maritime area of London now houses the well established Maritime museum, the Old Naval Royal College, the Queen's house and the charming neighborhood of Greenwich, which used to be its own separate city from London. Greenwich borough is fun to explore and there are many different types of local style pubs, eateries to international cafes. When you are tired with checking out all the historical and cultural attractions, explore the town and have a nice meal so you can really get the vibe and maritime appeal of this community.
Don't forget to check out the majestic Cutty Shark, one of the last tea clippers that sailed from Britain to China and was the fastest ship of its day. Now, it is docked right next to the Thames and repurposed into a wonderful museum filled with sailing memorabilia, figure heads and you can even walk down to see underneath the vessels hull and see some very old barnacles clinging on the wood. You can see more images and places to visit on my Greenwich post here for what to see and do in Greenwich.
#17 Columbia Road Flower market
The flower market on Columbia road is probably the prettiest street in terms of beautiful blooms, markets and flower galleries. For anyone who is into photography or wants to capture some beautiful scenes, the flower market on Columbia Road is fun to walk through and explore or even pick up some beautiful blooms to take with you. Make sure to check out the Barrow boys that sell to the local crowd and visitors with very colorful and funny banter.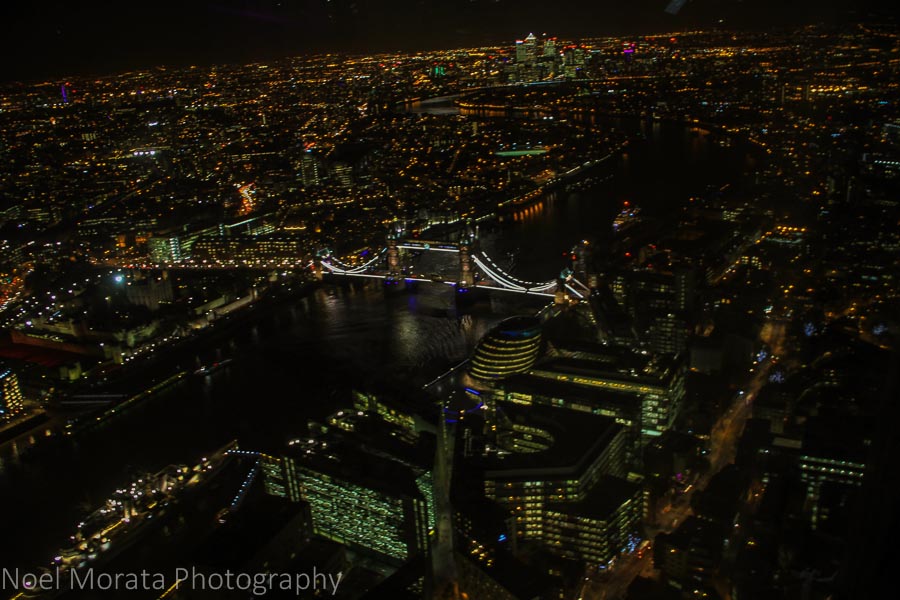 #18 Best views from The Shard
The Shard offers the absolute best views of London from above. Once you are at the observation platforms, you will get spectacular 360 degree views of the entire city and all the cool neighborhoods directly below. In my opinion, the best time to make a reservation would be sunset to evening time when you'll get the beautiful afternoon light into sunset and afterwards,  the city lights up magically below you with all these twinkling lights. You can even go up for a special occasion and visit their champagne bar to toast a perfect evening together with friends or a loved one.
#19 Check out the Globe theater in the Southbank
This reconstruction of the Elizabethan theater located originally in Southwark includes performances of international companies doing Shakespeare's classics of Hamlet, The Merchant of Venice and the 12th Night. For anyone looking for a cheap deal, you can find last minute tickets on the standing room only stalls for only 5 English Pounds.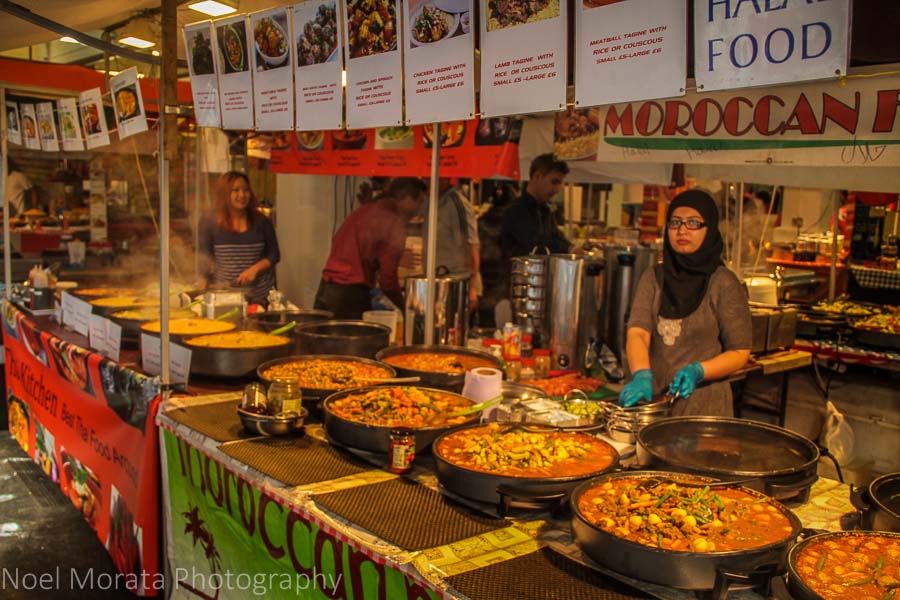 #20 A delicious food tour in East London
It's really fun walking around the city and exploring some of the great food venues with an experienced guide who knows where to go and what to try. One of my favorite food tours to experience is Eating London, which covers the East End of London at Brick Lane, Spitalfields market and the Shoreditch district. The area of East London is a popular spot for international foods with a variety of ethnic restaurants, pop up shops, food halls and fine dining establishments. This area is also where curry is king and you will find a plethora of amazing Indian cuisine to discover. The East London tour goes through some of the most well known and favorite foods (think fish & chips, English pubs and curry dishes), some new and unusual eating experiences that you wouldn't expect and a fantastic dessert finish. For more information on this tour and highlights, check out my post on Eating London here.
#21 Tropical gardens at the Barbican
In the heart of central London far away from the famous Kew gardens and arboretum you will find a tropical paradise in a 60s style concrete complex housing a museum, school, arts and conference venue and a tropical oasis filled with birds and tropical fish. The Barbican is a fascinating visit to the city's 2nd largest conservatory and to check out this interesting public space.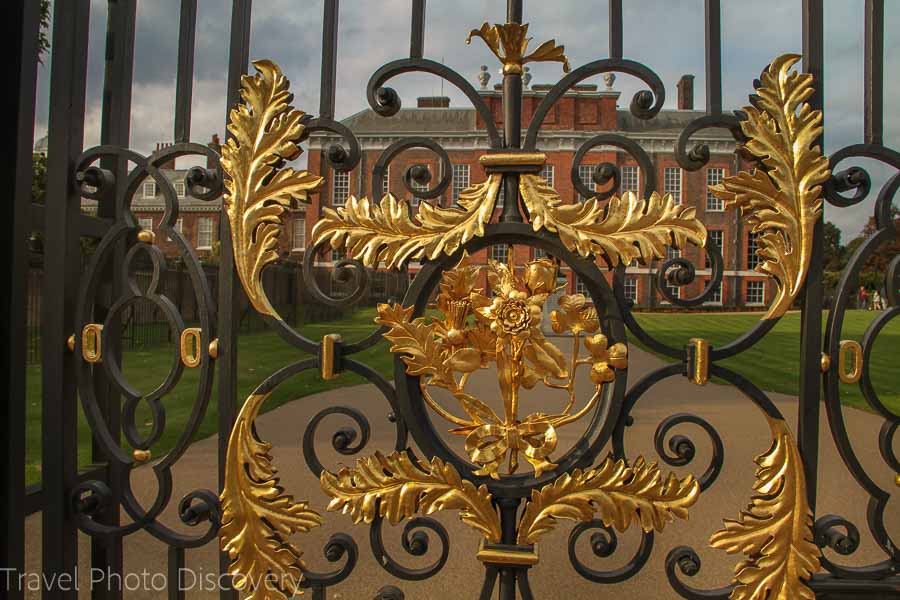 #22 Enjoy former royal grounds and now parks at Hyde and Kensington gardens
Originally the private grounds and estate to the Royal palaces of Kensington, the beautiful gardens at Hyde and Kensington are a wonderful respite from the urban jungle of London. English style gardens with lots of green grassy lawns and semi-bordered gardens and wandering path, the area is fantastic to explore or just take a break from touring all the attractions. This park is well loved by Londoners since it is more relaxed and you can have picnics on the lawn, go biking on the many trails or just enjoy the lovely park views. A visit to the royal palace of Kensington is a must and more relaxed than the formal tours of Buckingham palace. You can opt for a self tour or go with a docent to show you all the highlights and fascinating tales of previous kings and queens living in Buckingham palace. To find out more details and reserve a spot, check out the Kensington website here.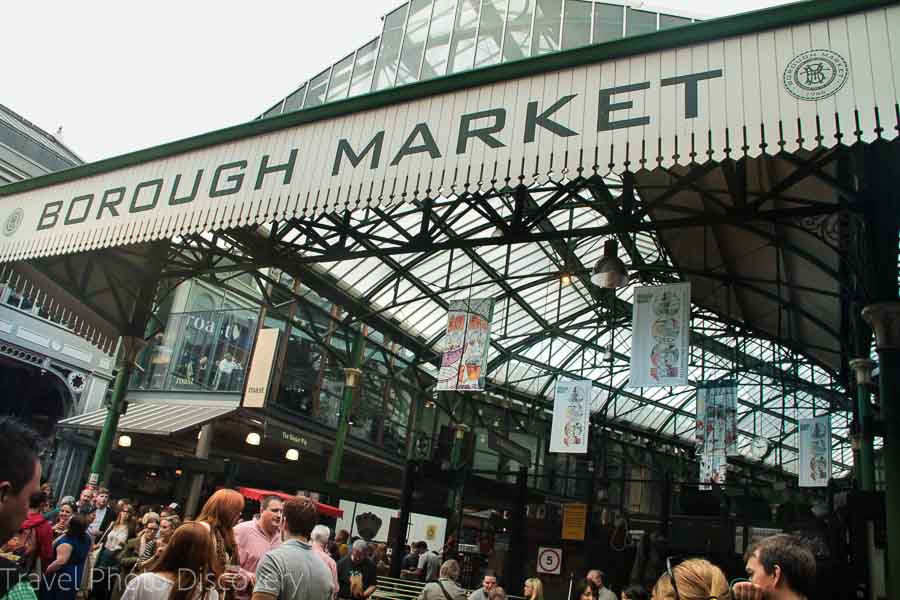 #23 Weekend scene at Borough Market
Borough Market on the South end district is one of the oldest fine food markets in London. The hip area is filled with fun bars, restaurants and the ever popular market itself which hosts an international culinary presence with specialty produce, products and street vendors making the most delicious looking food in the neighborhood. The bar scene is also where it's at with the see and be seen crowd spilling out into the street enjoying a nice pint with friends or even a glass of bubbly in all the swanky new establishments in the area. A popular spot is the George Inn, one of the last 16th intact 16th century inns offering a delicious pub lunch with many local favorite dishes.
#24 Enjoying Trafalgar square at night
One of the busiest squares in London, Trafalgar square is a very popular area to hang out and the square is always a staging area for many events and protests in central London. At night, the square takes on a more magical scene with the fountains lit up including the main monuments and other local buildings surrounding the square. You'll hear impromptu sing a longs and solo musicians along with a hosts of street performers entertaining for some quick tips. If you are looking for a lively square to hang out and enjoy some people watching and the beautiful fountains, check out Trafalgar square at night. For more lively entertainment you can walk to Leicester square close by for all the theaters and nightlife venues open until early morning the next day.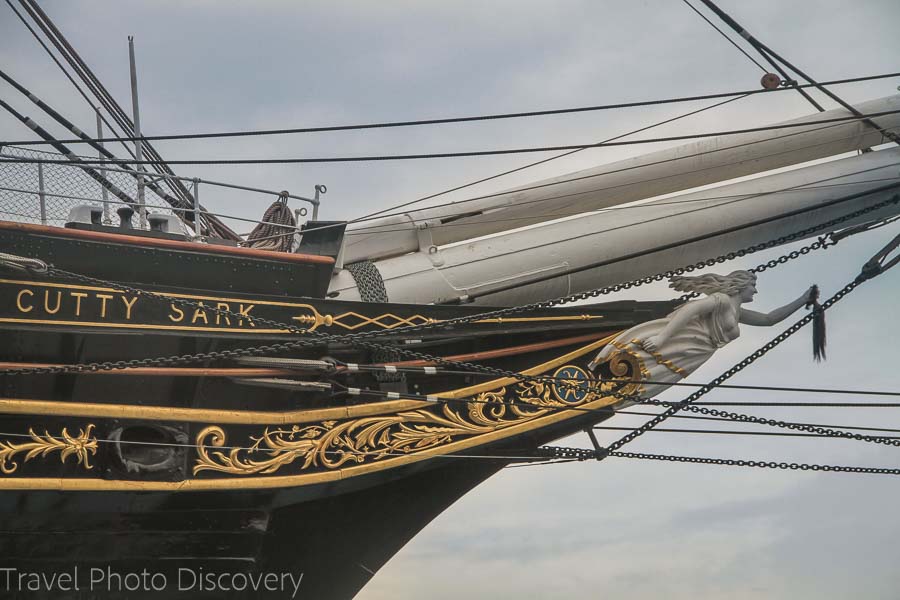 #25 Cruise along the Thames river
Another way to enjoy the main attractions of London are by seeing them on the water and cruising the Thames on a variety of private water taxis or ferries that stop along many of the big attractions and monuments on the Thames river. Hopefully you can pick a good day to enjoy being outdoors and seeing all the main sites along the river, but in case of bad weather, you can check out so many of the interesting spots along the way like museums or palaces that are perfect for rainy day activities. To check out some of the fun river cruises or water taxi systems along the Thames, you can check out this website here.
More inside tips to visiting the top places in London
Here are some top insider tips to help you enjoy the best places to visit in London outside of the tourist attractions:
Explore Neighborhoods: Venture beyond the popular tourist areas and explore unique neighborhoods like Notting Hill, Covent Garden, or Islington. These areas offer charming streets, local shops, and hidden gems waiting to be discovered.
Visit Local Markets: London is famous for its vibrant markets, such as Borough Market, Camden Market, and Portobello Road Market. Sample delicious street food, browse unique goods, and soak up the lively atmosphere.
Take a Walk along the Thames: Enjoy a leisurely stroll along the banks of the River Thames. You'll find picturesque views, quaint riverside pubs, and iconic landmarks like the Tower Bridge and the London Eye.
Attend Cultural Events: Check out London's diverse cultural scene by attending theater performances in the West End, live music gigs in Camden, or art exhibitions in galleries like Tate Modern. Stay updated on the city's events calendar to catch unique experiences.
Explore Parks and Gardens: London boasts beautiful parks and gardens, such as Hyde Park, Regent's Park, and Kew Gardens. Take a break from the city's hustle and bustle, enjoy a picnic, or rent a bike to explore these green spaces.
Visit Local Pubs and Cafes: Experience the authentic London atmosphere by visiting local pubs and cafes frequented by the locals. Enjoy a traditional pint, savor British cuisine, or try specialty coffee in cozy and charming settings.
Take Public Transport: Use London's extensive public transport network, including the iconic Underground (Tube), buses, and trams. It's an efficient and cost-effective way to get around the city, and you'll have a chance to mingle with the locals during your journeys.
Seek Out Street Art: London is renowned for its vibrant street art scene. Explore areas like Shoreditch and Brick Lane to admire stunning murals and graffiti by talented artists.
Attend Free Attractions: Take advantage of London's many free attractions, such as the British Museum, the National Gallery, and the Victoria and Albert Museum. This allows you to enjoy world-class art and history without breaking the bank.
Embrace Local Cuisine: Don't miss the opportunity to try traditional British dishes like fish and chips, pie and mash, and afternoon tea. Seek out local eateries and indulge in the flavors of London.
Final thoughts on the top places to visit in London
I hope that this has inspired you to explore some of these wonderful attractions and landmarks when you visit London.  If you have you been to some other interesting places to explore and photograph, please share them in the comments section below for everyone to enjoy.
Please do check out my other posts about London below
Exploring London's East End district
Discovering London at night time
Eating London – a delicious food tour
Cool attractions to explore in South Bank
Conclusion to 25 fun and cool places to visit in London
In conclusion, London offers a plethora of fun and cool places to visit that cater to a wide range of interests. From iconic landmarks like the Tower of London and Buckingham Palace to vibrant neighborhoods like Camden and Shoreditch, there is something for everyone in this bustling city. Explore the world-class museums, indulge in delicious cuisine at local markets, or immerse yourself in the vibrant street art scene. Whether you're a history buff, a foodie, an art enthusiast, or simply seeking a memorable experience, London will not disappoint. So, pack your bags and get ready to embark on an unforgettable adventure in the diverse and captivating capital of England.
Thanks for visiting today and checking out this post on 25 fun and cool places to visit in London, hopefully some of these places will inspire you to visit when you come to the city. If you enjoyed the images and post, could you please share it with any of the social media buttons located around the post.
If you like what you see, come and check out my other social media channels for more updates, including Instagram, Pinterest and Twitter.